Thenmala's ecotourism is India's first planned eco-tourism destination. Located in the foothills of the Western Ghats, in Kerala's Kollam district, Thenmala is also a UNESCO World Heritage Site. A government-managed facility, this unique destination offers great opportunities for adventure and leisure, along with being one with nature.
It's an ideal spot for any and every type of vacation seeker and offers lush green forests, butterfly safaris, musical dancing fountains, and adventure activities such as trekking, hiking and night camping.
Ecological tourism is the next step in responsible tourism and the Thenmala Ecotourism area focusses on preserving, protecting and even improving the environment.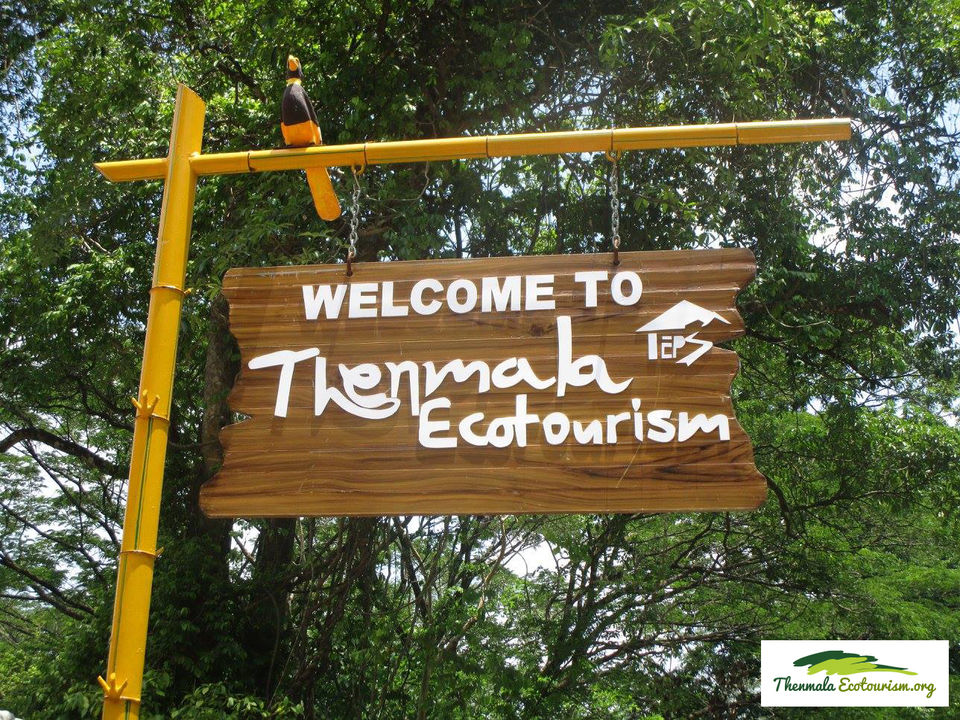 How To Reach Thenmala Ecotourism
The nearest airport is in Trivandrum or Thiruvananthapuram. From there you can take a taxi to Thenmala.
Distance from other major cities of Kerala –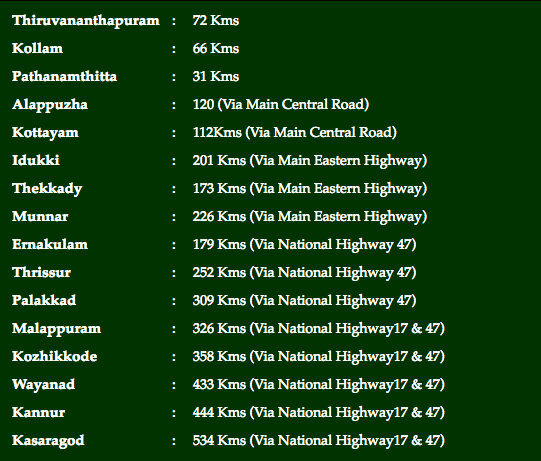 Activities On Offer
1. Culture Zone
The culture zone at Thenmala Ecotourism focusses on showcasing the best of Kerala's cuisine, crafts and natural wealth. Here are the activities on offer –
1. Soft trekking: A short (4km long) guided tour of the nearby wildlife sanctuary that keeps you on its periphery, instead of going inside. The timings are from 6am to 4pm and costs about Rs.100 per person.
2. Butterfly safari: A guided tour of the Butterfly Park give you an opportunity of seeing many varieties of butterflies in their natural habitat. You also learn about the plants that serve as hosts for butterflies that live in this small park.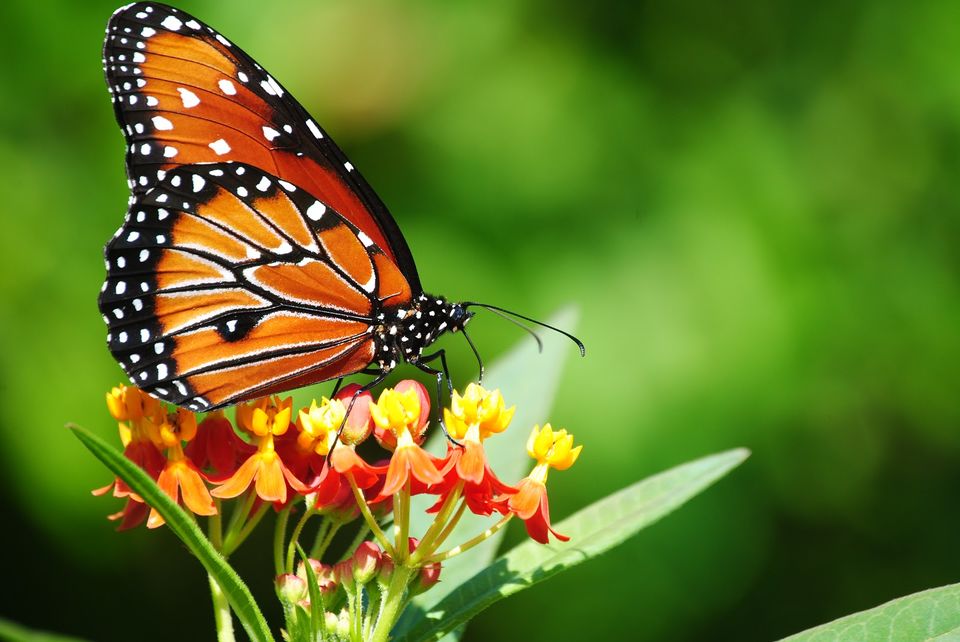 3. Musical dancing fountain: An open air fountain that performs a synchronised ballet of water, sound and light to create a magical sight – what they call 'nature's dance'.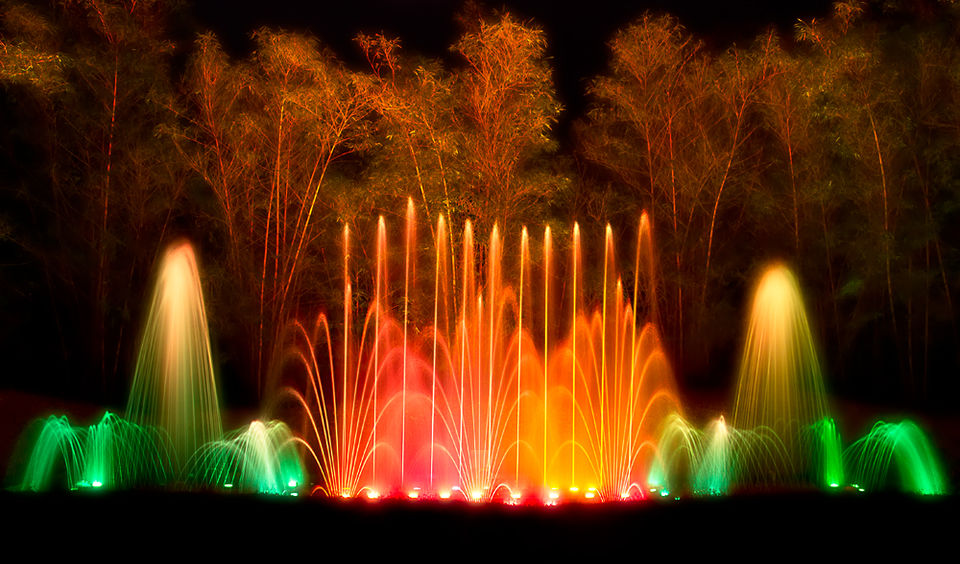 4. Nakshatravana: This small garden has 27 trees associated with the 27 birth stars, according to Indian astrology. Besides this aspect, the trees also have medical, social and aesthetic value. Stroll around to see their shapes and sizes.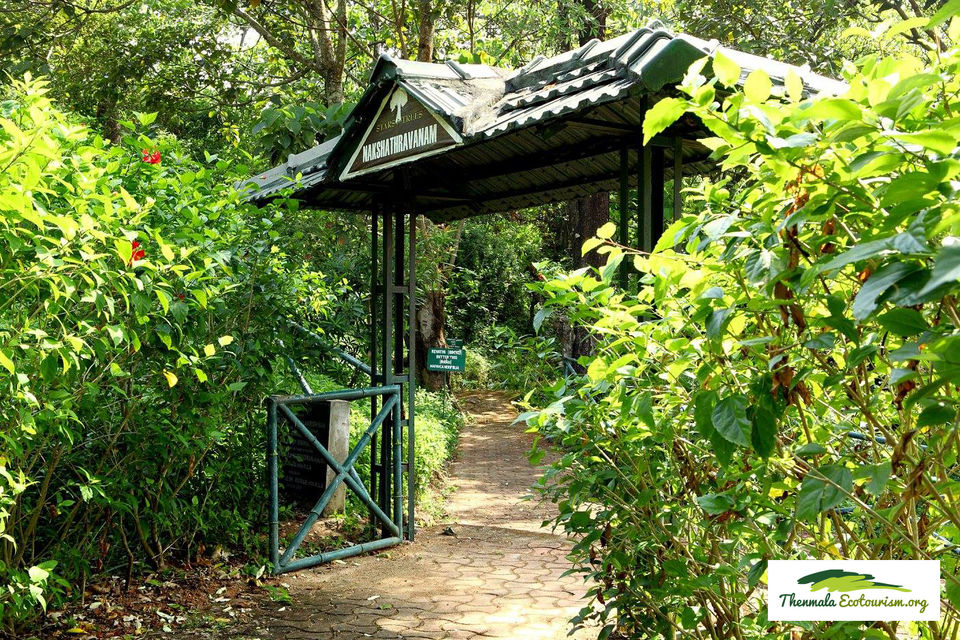 Adventure Zone
Adventure Zone is the perfect place for adrenaline junkies. Rock climbing, elevated walkway, zorbing, river crossing, flying fox, mountain biking and archery and short range shooting are the activities on offer. Take the elevated walkway for a journey that winds through the canopy of trees and goes over rocky terrains bringing you closer to life at different heights.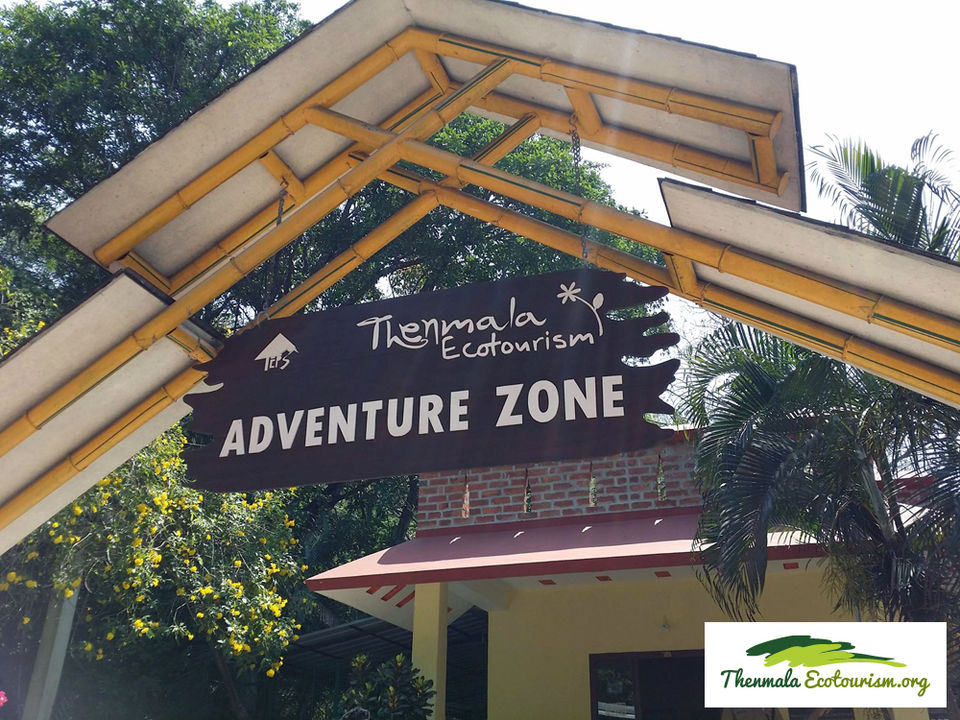 Leisure Zone
The Leisure Zone is a forest conservatory with pathways suited for appreciating the nature around you in all its glory.
1. Hanging Bridge and Sculpture Garden: A Hanging Bridge, one of its kind in South India, leads to the Sculpture Garden – a garden built on the theme of 'man and nature', where are displayed carved stone art pieces depicting the relationship between man and nature.
Thenmala Parappar Dam and Shendurney Wildlife Sanctuary are both part of the Leisure Zone and only a short distance away from the resort.
2. Thenmala Parappar Dam: It is the second largest irrigation project in Kerala and has the longest reservoir in the state. You can visit the dam between 8am to 5pm. Entry charges are Rs. 5 per person.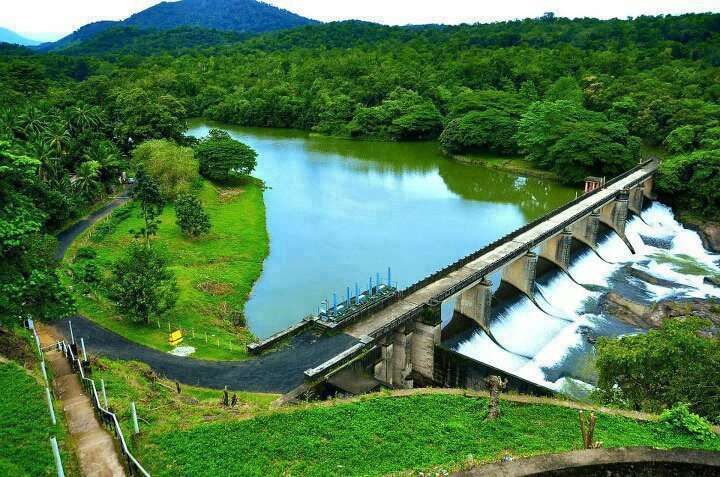 3. Shendurney Wildlife Sanctuary: It is a 171-sqkm protected area and a home to rare birds, vipers and vivid foliage. Situated inside the sanctuary is a tropical treehouse, from where you can see the wildlife around.
4. Deer Rehabilitation Centre: It is a small centre established to cover the deer that stray out of the jungles into the urban areas. The centre accommodates three species of deer – Spotted Deer, Sambar Deer and Barking Deers.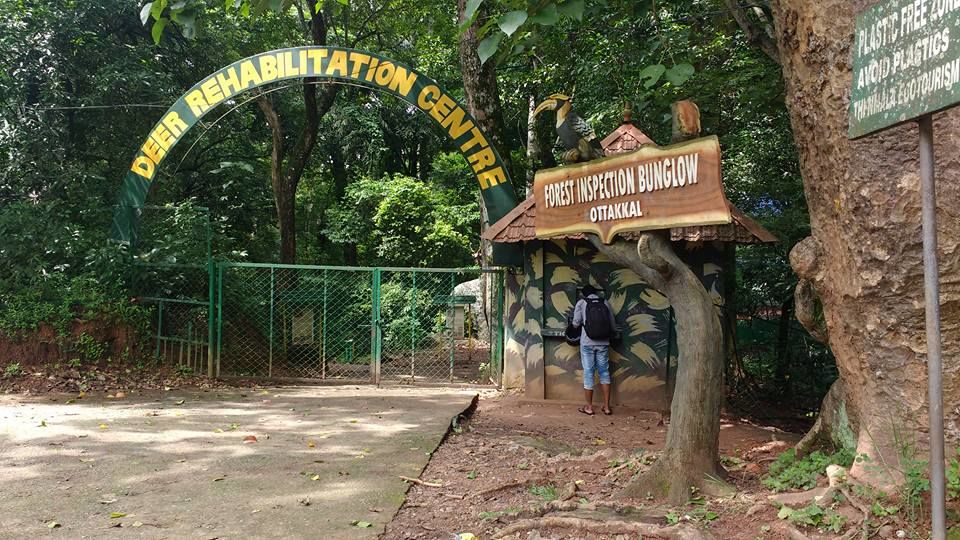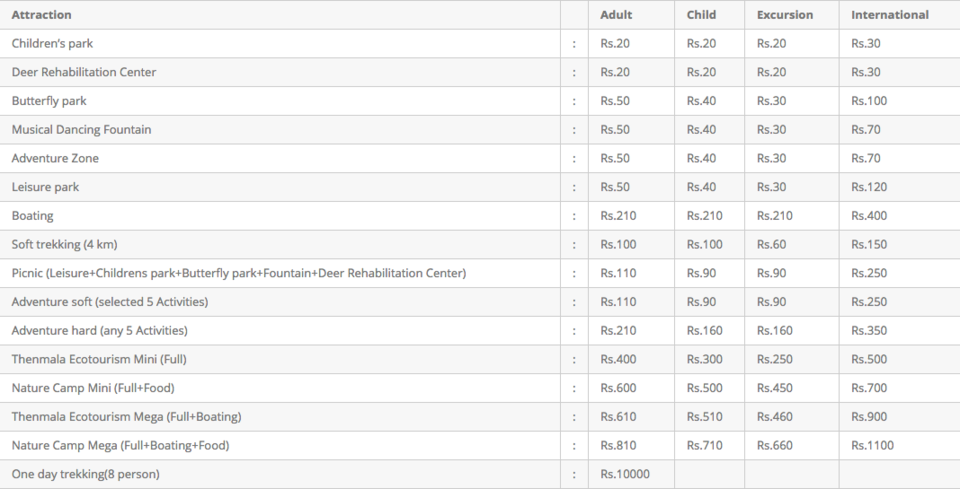 1. Palaruvi Waterfalls: Palaruvi means a stream of milk and this waterfall is Kerala's most pleasant waterfall falling down from a height of 300ft. Located at a distance of only 16km, Palaruvi Waterfalls is a great place to spend an afternoon.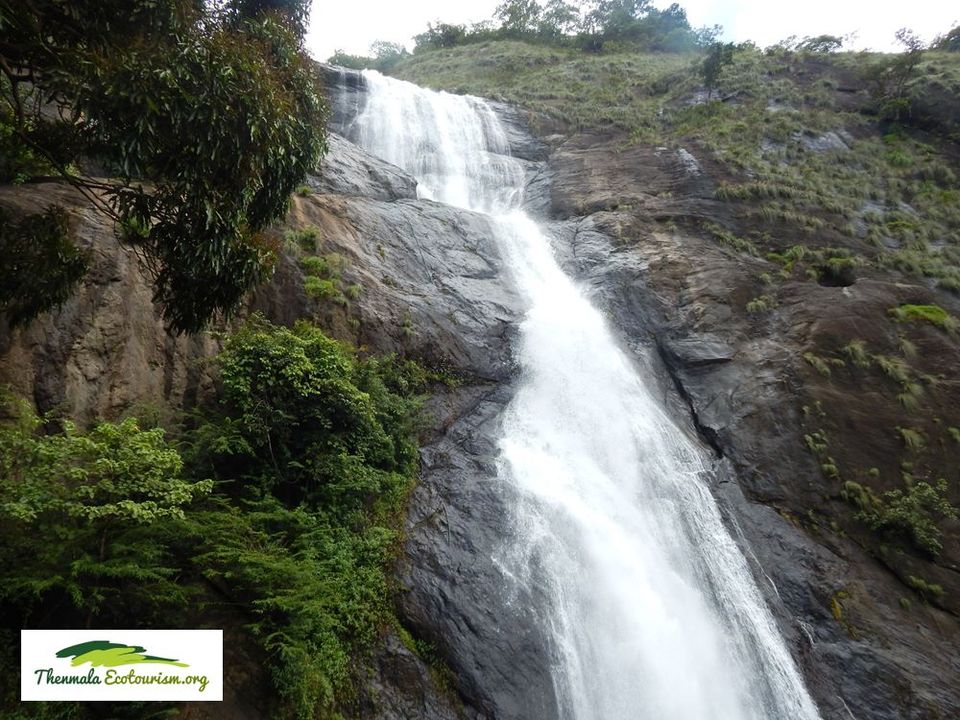 2. Pathimoonnu Kannara Palam: It is a 13 arc bridge built by the British using only rocks, jaggery and limestone. It is a very special bridge and a must see attraction for all Thenmala Ecotourism visitors.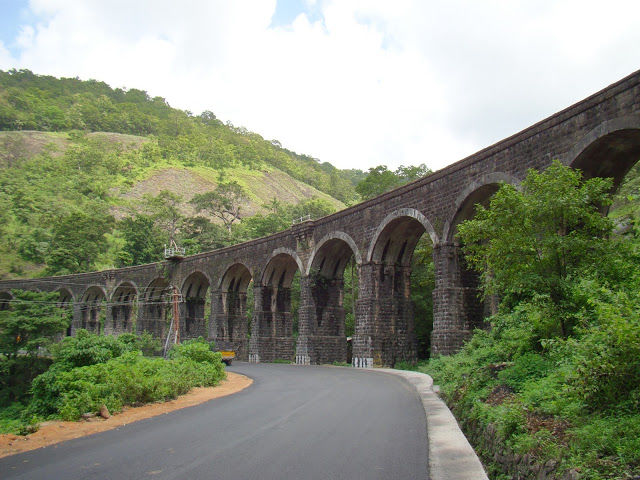 3. Ambanad Hills: This is one of the few tea plantations in the Kollam district of Kerala. It is an old estate that was established by the British. The entire area has many trees and plants and the air smells of spices. There is a factory that was set up by the British, but is still in use. The machinery inside the factory is also of the British era. Currently, the factory and estate belong to Travancore Rubber and Tea Company and various stages of tea production can be seen in the factory. This tea estate is only 32km from Thenmala Ecotourism.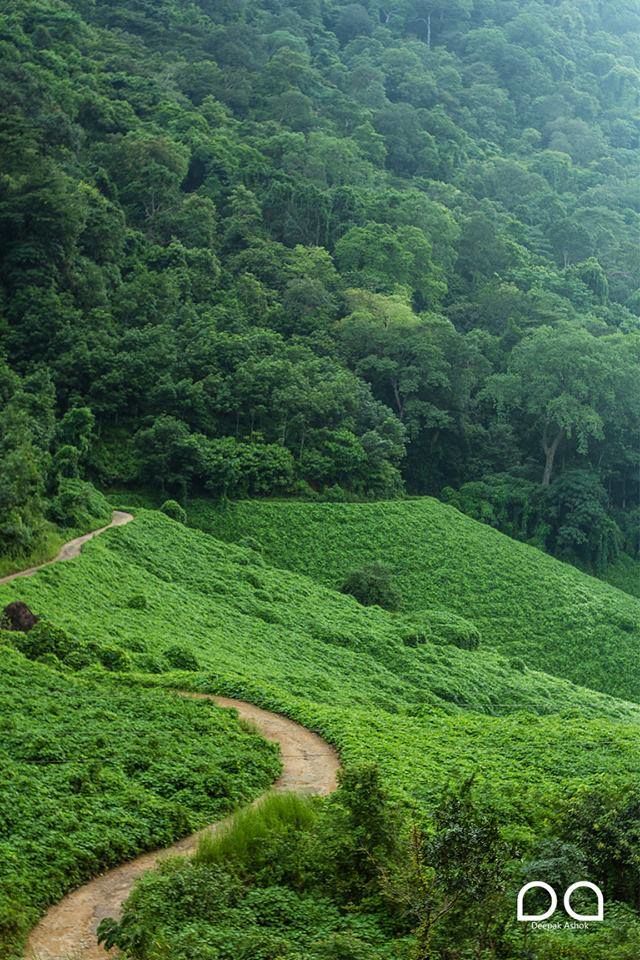 Accommodation At Thenmala
They have 5 different types of accommodation.
1. The Bee Hive is a big dormitory with shared washrooms. The price is Rs. 140 a night for Indians and Rs. 300 for foreigners.
2. The Honey Comb is a cluster of budget homes. For Indian visitors, the prices are Rs. 700 for Non-AC rooms and Rs. 980 for AC cottages on weekdays. Rs. 1000 for Non-AC and Rs. 1400 for AC cottages on holidays and weekends. For international visitors, the prices are Rs. 1600 and Rs. 2000 for Non-AC and AC cottages.
3. Koodu are canopy huts on four poles with attached washrooms and balconies. Charges are Rs. 1400 on weekdays, Rs. 2000 on holidays and weekends and Rs. 2400 for international visitors.
4. The Cocoon or as they locally call it 'jungle camping' is a Swiss cottage tent with an attached bathroom and closets in the tent. They have double and triple occupancy options. Prices are Rs. 1400 on weekdays, Rs. 2000 on holidays and weekends and Rs. 2400 for international visitors.
5. The Nest is a group of Swiss cottage tents that are pitched near the riverfront. All facilities are the same as the Cocoon but the view of the river is what makes these tents more attractive. The prices are Rs. 1820 on weekdays, Rs. 2600 on weekends and holidays and Rs. 3000 for international visitors.
Have you visited Thenmala Ecotourism yet? Or have you spent some time at any other Eco Tourism Resort in the world? Share your story here. And if you have any questions about where to travel next, ask our community of travellers today.
Frequent searches leading to this page:-
thenmala ecotourism holidays, thenmala ecotourism package, thenmala ecotourism vocation