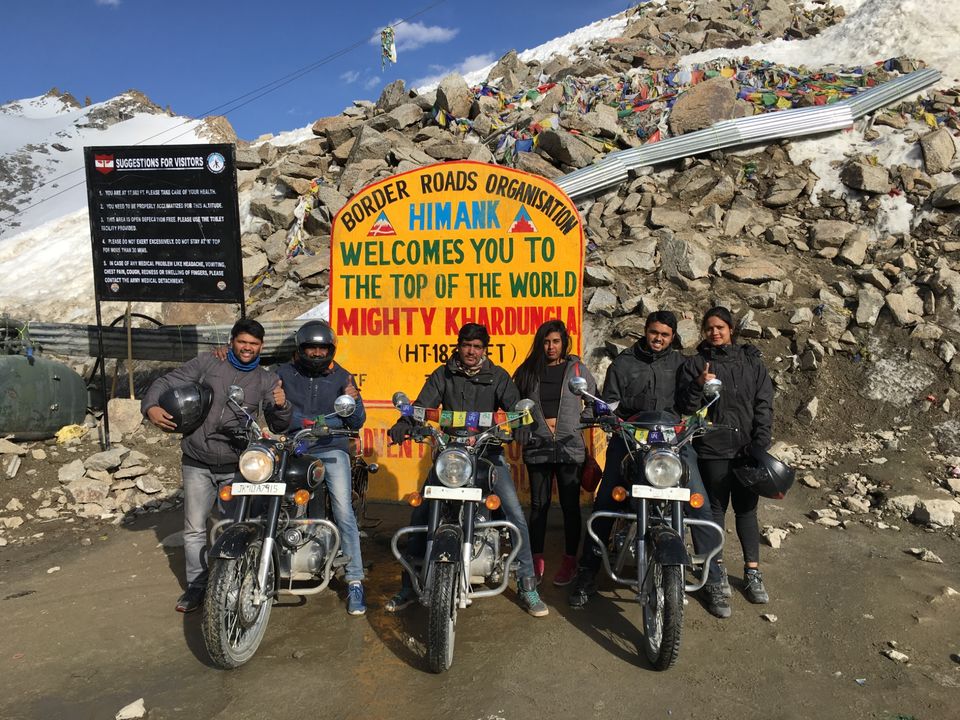 Manali-Leh the most adventurous and difficult rides in India. It's a bikers paradise and one such place where a biker can quench their thirst by riding in one of the most challenging terrains of the Himalayas. This ride will definitely test the rider's skill, patience and strength.
Having completed 3-4 mega rides (travelling distance more than 2000kms) in South India, it was time for me to test my riding skills in the Himalayas.
Me and my friends finally decided to ride in the Himalayas and we are going there without any planning or bookings to make it more adventurous. All we did is book a flight ticket and bus ticket 1 month prior to our departure.
4 Guys 2 Girls on 4 Bikes! So it will be thrilling!
Bengaluru to Delhi.
We had our early morning flight from Bengaluru (Kempegowda International Airport) and reached Delhi around 10-11am. We boarded an airport taxi and drove towards our friend's house. We got freshened up and planned to see a couple of places in Delhi. We took local auto to see Qutub Minar, a famous monument and a heritage site at Delhi, built by a Turkish General - Qutubuddin Aibak. The weather was very hot and for a South Indian it is something like staying in an oven. We took a couple of hours to see Qutub Minar and to quench our thirst we drank a goli soda, a perfect drink for this weather. Later we rode towards India Gate, a war memorial place which was built to honour the Indian soldiers who died for the country. It was already mid-afternoon and we had lunch in a nearby hotel. Later we boarded bus to Manali at 5:45pm from Delhi and we would reach Manali around 6-6:30am. The bus stopped for dinner around 9pm (somewhere near Kurukshetra - Haryana) the food was great and the ambiance was even better, the name of the hotel is Motel Goldensaras (this place is must try in case you are travelling via Kurukshetra, Haryana).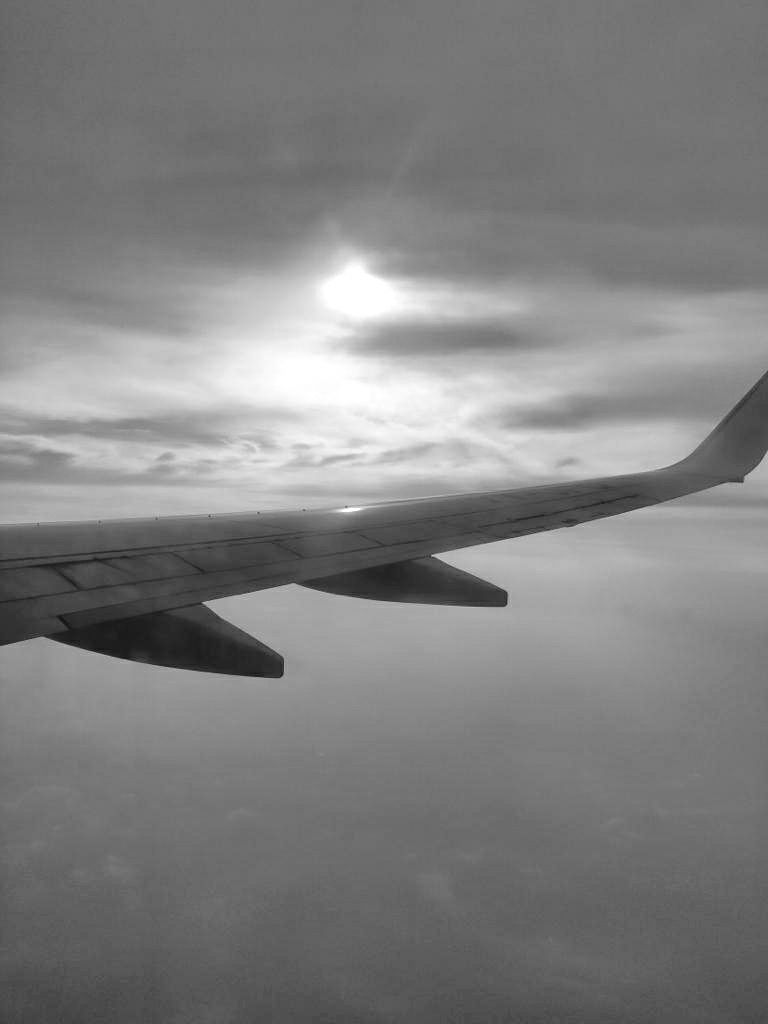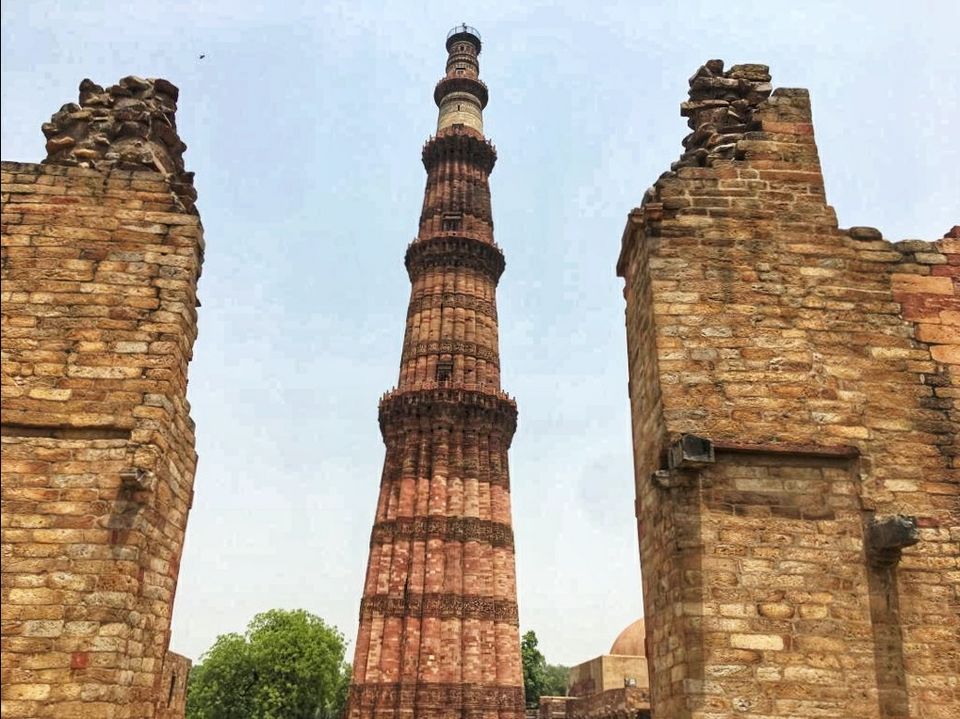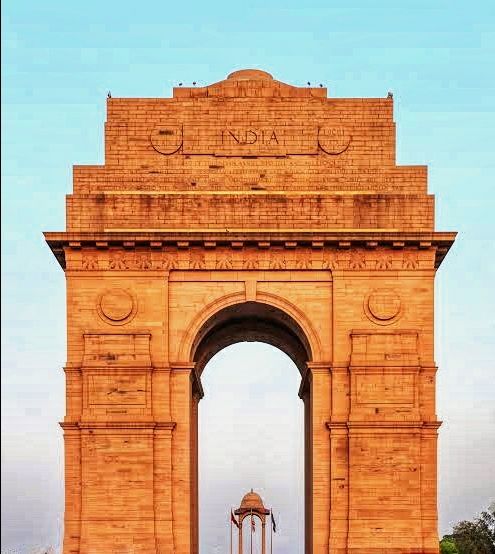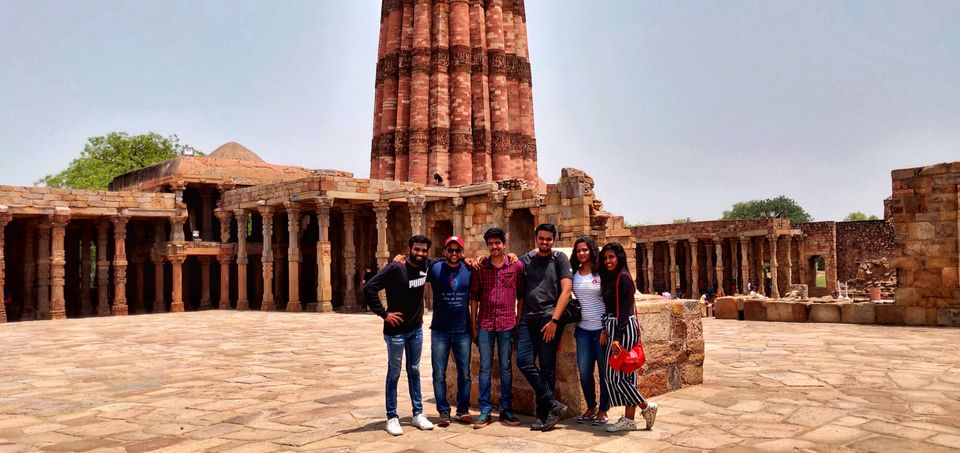 We reached Manali around 7am and took an auto to the main bazar. Most of the shops and hotels were closed however, we managed to find one hotel and the owner was kind enough to serve us early breakfast. Since we had not planned anything, it was time for us to book some good rooms. After searching couple of applications and websites we found a lodge which suits our budget and location. The room was about 3kms away from the main bazar, heavy traffic and pollution. We got spacious rooms and the view from our rooms were very scenic. The name of the lodge is Hotel Mahaveer. We took 2 autos, which are way too expensive for the tourists. After going to the room, it was time for us to enquire about a lot of things, like bikes, permits, etc. We had heard about a rental bike shop called Anu Motors, it was reliable as per Google and information we received from a couple of friends who had hired bikes from Anu Motors previously. We got in touch with the rental shop to book 4 bikes and also went to the permit office to get our permits done for our ride. People need to have permit when they are traveling to Leh from Manali. The people in the rental shops charge a lot of extra money for the permits (I guess ₹500) but if we go to the permit office by ourselves we can get the permits done for ₹50 and probably it will take couple of hours depending on the crowd for that particular day. We would require few things for the permit like government issued ID card of all the people who are traveling to Leh, bike registration details and place of stay in Leh (as someone said that they might ask the hotel details in Leh, so we booked the hotel while we were standing in the queue for Permit. However, the officials did not ask this piece of information). It took about 3-4hrs to finish all these things (booking bikes and getting the permits). Permits will be checked in multiple places, make sure to keep your permits handy and submit them whenever required.
It was afternoon now, we went back to the hotel to take some rest and have some good lunch. We had to collect the bikes in the evening. The rent for Royal Enfield 500cc was ₹1,200 per day and we had to pay ₹10,000 per bike as a refundable deposit, in case there were any damages to the bike/if we use any of their spare parts they will deduct the amount and pay us the remaining when we return the bikes. When we went to Anu Motors our bikes were serviced and ready for us. The bike mechanic gave us all the extra spare parts that we might require in case of emergencies, like extra tube, break/clutch wires, tool kit, puncture kit, blow pump, etc. With these we also got free training to change tyres, chain sprocket, break/clutch wires, attend to someone in case of emergencies/accidents etc. Post this we had to test ride our bikes and make sure everything is in proper condition, as there is only 1 service station (Keylong, approx 150kms from Manali and 350kms to Leh from Keylong) between Manali-Leh, there were other small bike service stations but they only help you in fixing puncture or any other small things, probably you might find a couple of service stations inside villages. So we had to know all the possible things to fix a bike in case of breakdowns. It was time for us to pay advance and purchase oil cans to carry extra fuel and also fuel our bikes. There is only 1 fuel station between Manali-Leh (475kms). We went to the hotel early, had our dinner and good sleep was much necessary as rest is needed before we started riding the next day. We had prepared a rough itinerary after our lunch and it was crazy as it seems.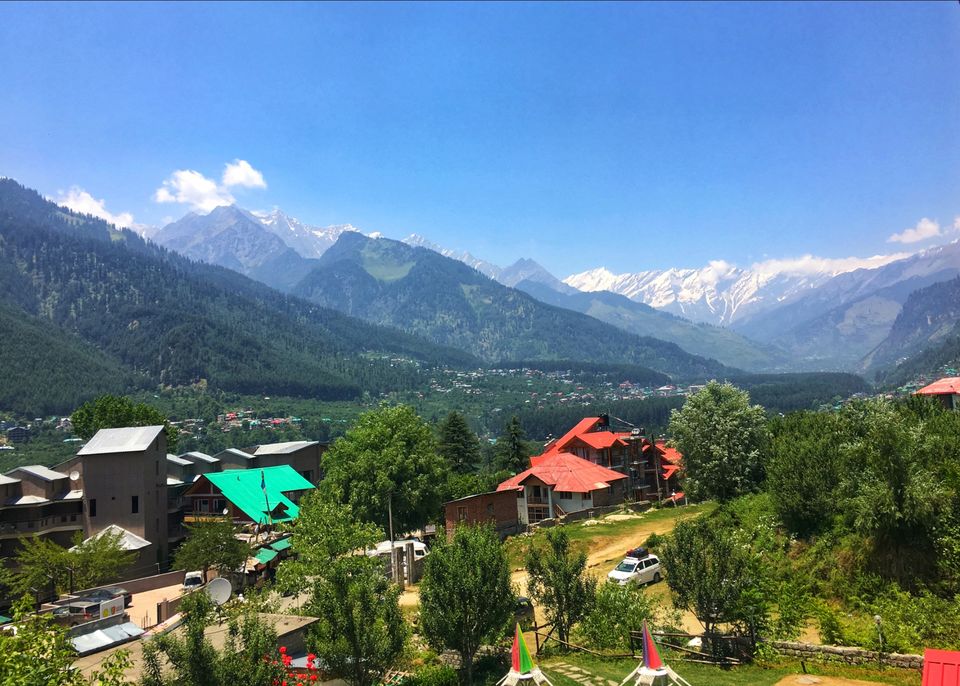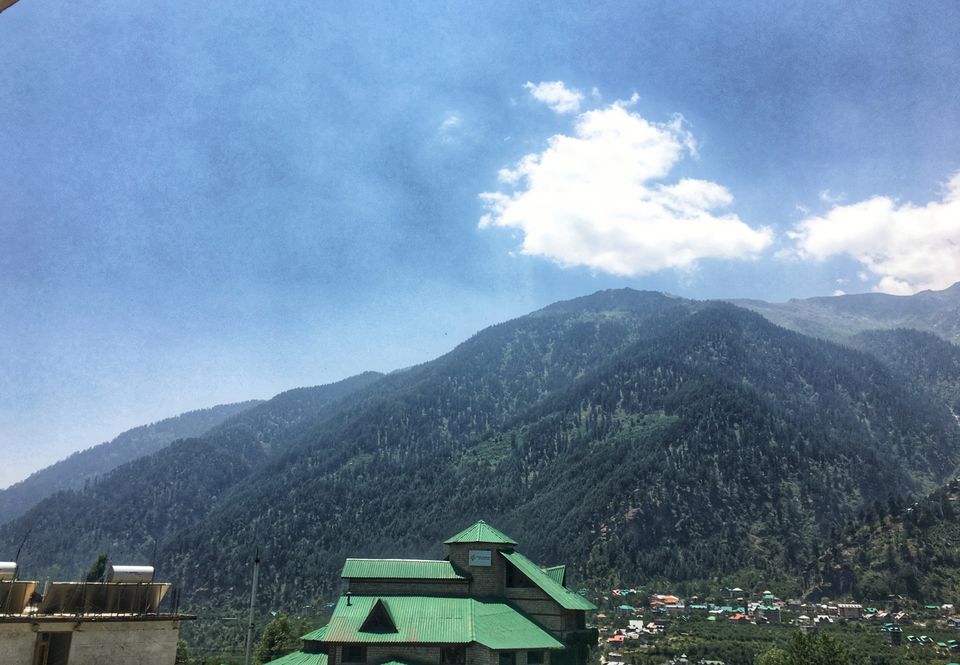 First day of our ride.......
Manali to Sarchu (Via Rothang Pass, Keylong, Jispa and Baralacha Pass - 230kms).
Yes, as per our plan we had to ride 230kms on our first day. We got up early and we planned to leave our hotel by 6am in the morning and we planned to reach Sarchu by 5-6pm at any cost! Riding 230kms in the Himalayas is not an easy task as per Google maps it takes 8hrs and we had planned to take break every 70-80kms/2hrs once.
Our initial stretch was good till the Rothang La Pass, though we maintained the speed, the journey was slow as you will experience slow moving traffic as the permit checking will be going on. Once the permits were checked we rode for a couple of kilometres and stopped there for some time, clicked few pictures and started soon with our ride. We saw beautiful mountain ranges, mesmerizing waterfalls and snow everywhere. After the pass, the road was very bad and slushy. The tyres were slipping and it was difficult to ride, we took some extra time to come out of this stretch. Once this stretch got over, we found few food tents and stopped over to have breakfast. The menu is small and food tastes good, we can find rice, rajma/dal curry, maggie, omlet, cup noodles and other quick bites. We started riding, after sometime we saw some riders riding towards Manali and told us to be careful about a stream/water crossing which is a couple of kms away. We finally reached the place and there was a bit of traffic. Bikes and cars slowly crossing the stream of water and now it was our turn, the water level was about 2-2.5feet and we had to ride slowly and carefully to cross the stream. The pillion riders got down, walked over the boulders/rocks and crossed the stream easily, but it was a tedious task for the riders. One by one, we crossed the stream and the water flowing down the mountain was very very cold. We took sometime to drain our socks and changed our shoes. It was about 1pm when we reached Baralacha La Pass, the weather was cold and we drank hot tea to keep our body warm. Sarchu was less than 50kms and we will reach in next 2hrs.
Things changed-situation changed when we were 20kms to Sarchu, it was around 2:30pm. We noticed traffic jam, we made our way riding between the cars, trucks and buses and then came to a stand still. There was lot of chaos between the people, a broken walk over bridge, a stream and I can see a truck pulling Innova which was stuck in the middle of stream. By the look of the situation I guess the water level is more than 3-4feet and there were more than 50bikes and the traffic jam was more than a kilometre. We waited and waited for the water level to come down. Meanwhile I could see a couple of SUVs like Tata Aria and Chevrolet Tavera making way and trying to get into the water and cross the stream. Guess what, they were stuck half way and the truck had to pull them to the other side using chains. After that no one dared to cross the stream. It was now around 6:30pm and I could still see the sun setting behind the mountains, the sky was dark orange, the weather was getting colder and colder every hour we stand here. I heard that the temperature drops to minus during the night. Finally, couple of my friends broke the silence. We made a plan, the 2 girls will carry our baggage on the half-broken walk over bridge to the other side of the stream, 2 of my friends will get into the cold, gushing waters to push the bikes and the other 2 will ride the bikes in the water and come again on the walk over bridge and take the remaining 2 bikes. After 30minutes we crossed the stream, all of us shivering and rubbing our numb legs. Something I had ordered on Amazon came in handy, it was the Warmees, a packet that contains some kind off gel, you shake it continuously and put it inside the gloves or socks and it makes us warm. I saw the other bikers had started what we did and the plan worked out well. People got down into the stream started pushing bikes. We took some time to make ourselves comfortable and rode towards Sarchu. It was 9pm when we reached Sarchu. The entire stretch was filled with camps and we had another situation, we had no bookings and most of the camps were full. After searching each and every camp, we found a camp that had 2 tents and we decided to stay there for the night. Since the temperature was close to zero, it was hard time for us to withstand the cold. The camp served us hot soup, rice, curry and some bajji. We rolled ourselves in the blankets, keeping ourselves warm and making sure that we don't fall sick next day.
End of Day. Overall we had a tiring and a chilly day!
Road conditions:
Manali to Rothang La pass - Good
Rothang La pass to Kokhsar - Bad and Slushy
Kokhsar to Keylong - Very Good
Keylong to Baralacha Pass - Good
Baralacha Pass to Sarchu - Very Bad.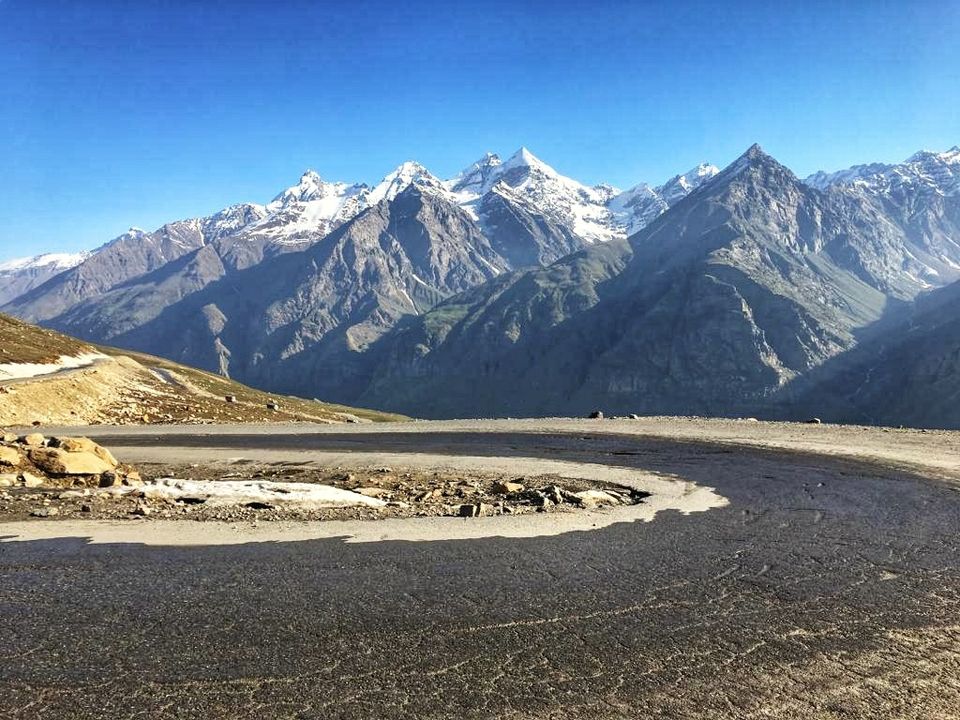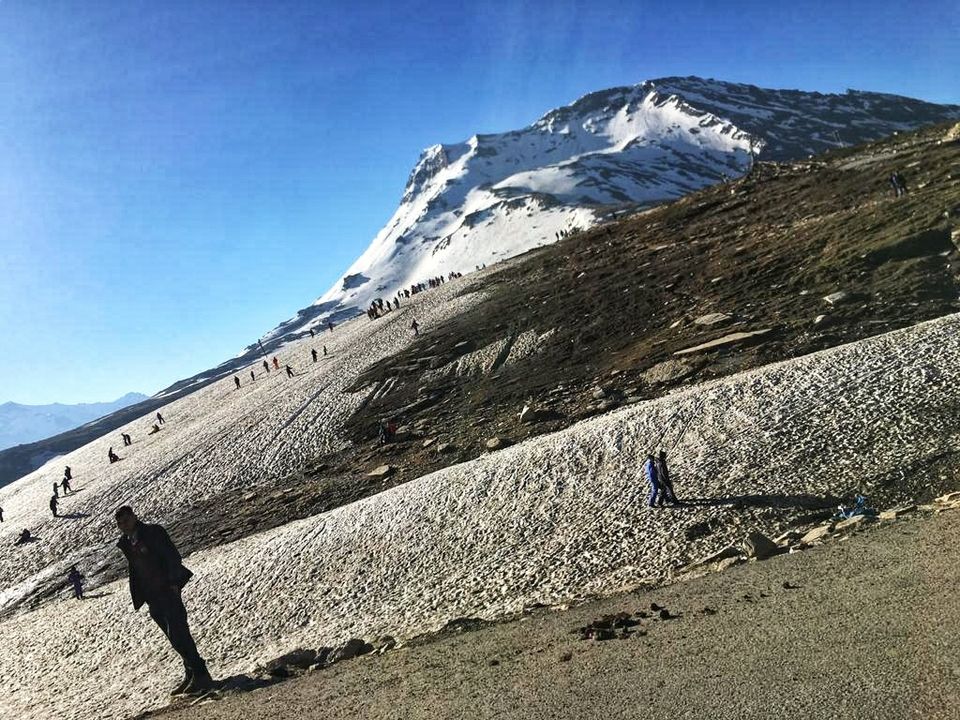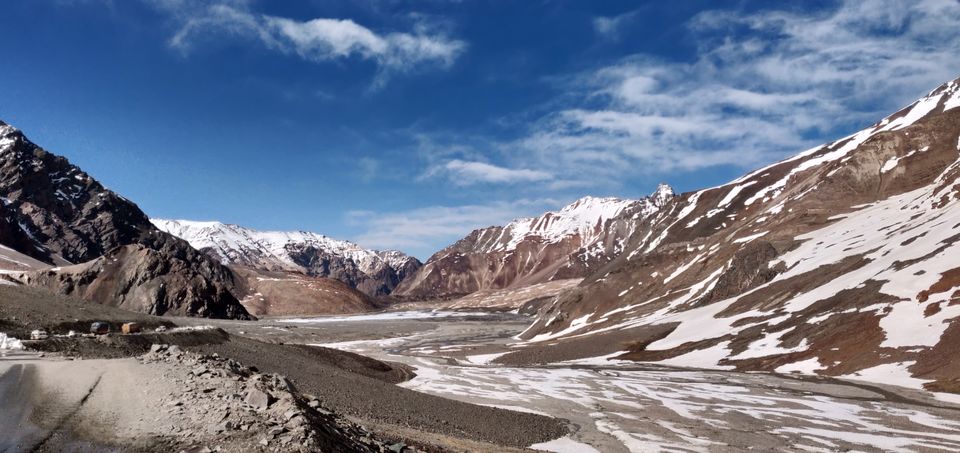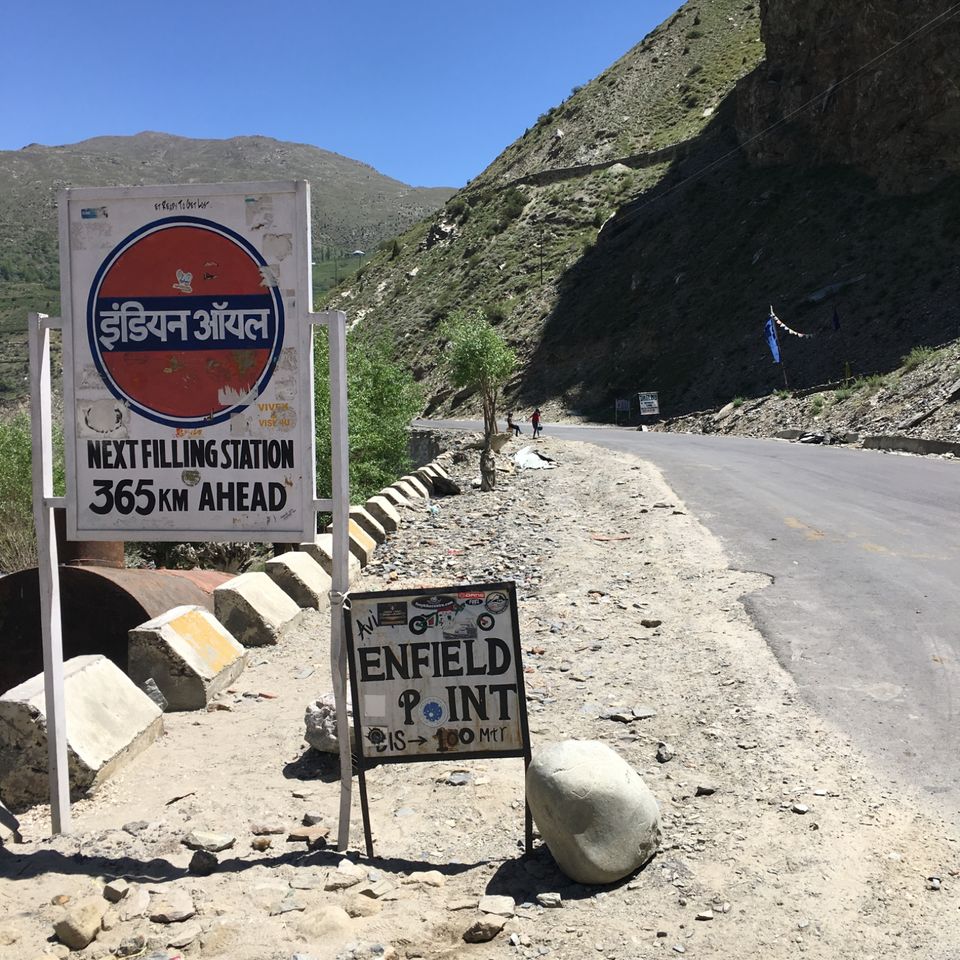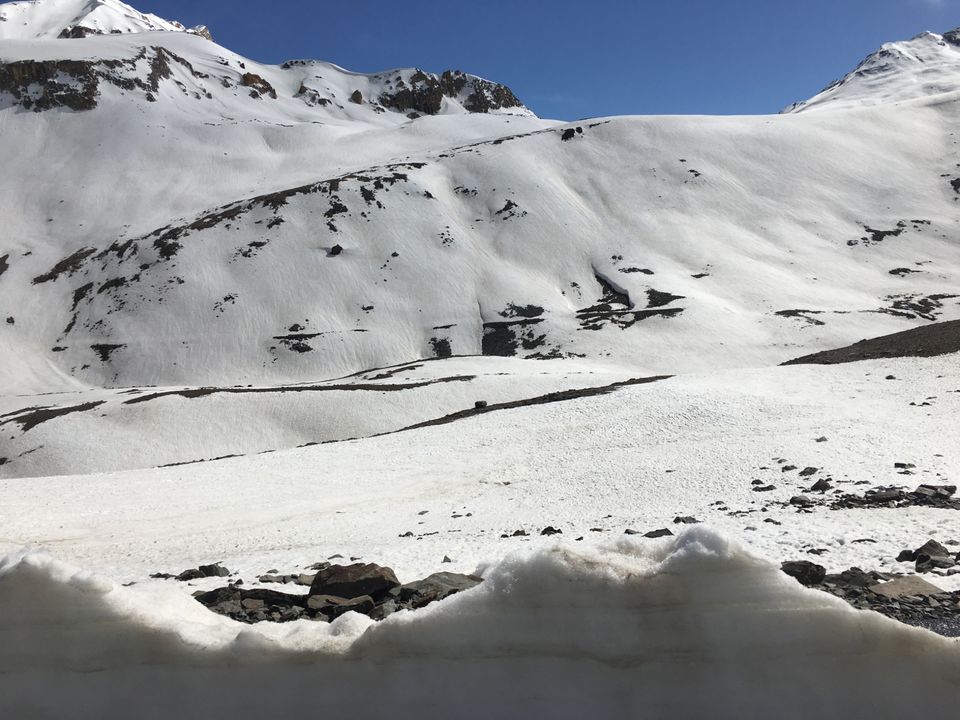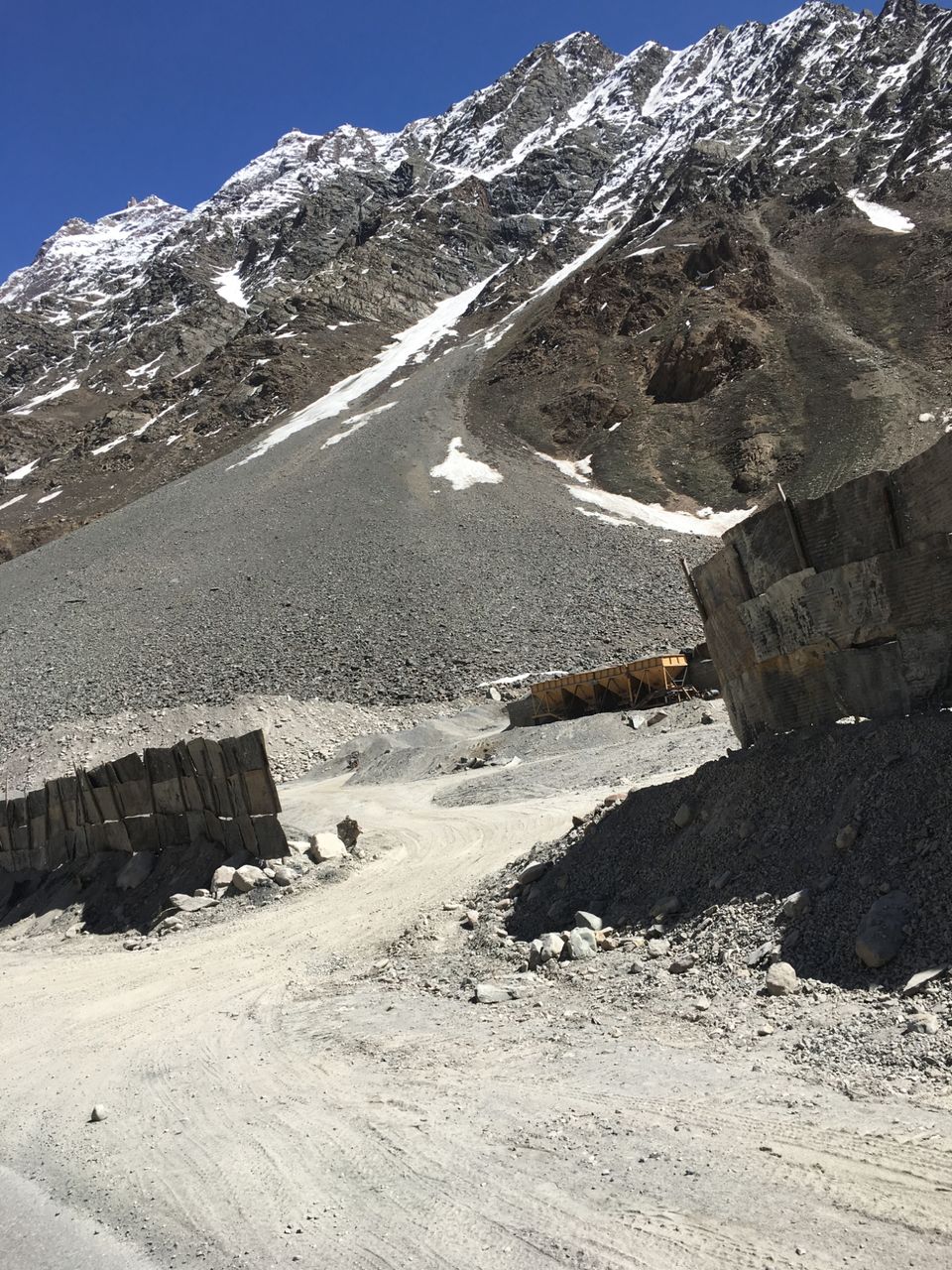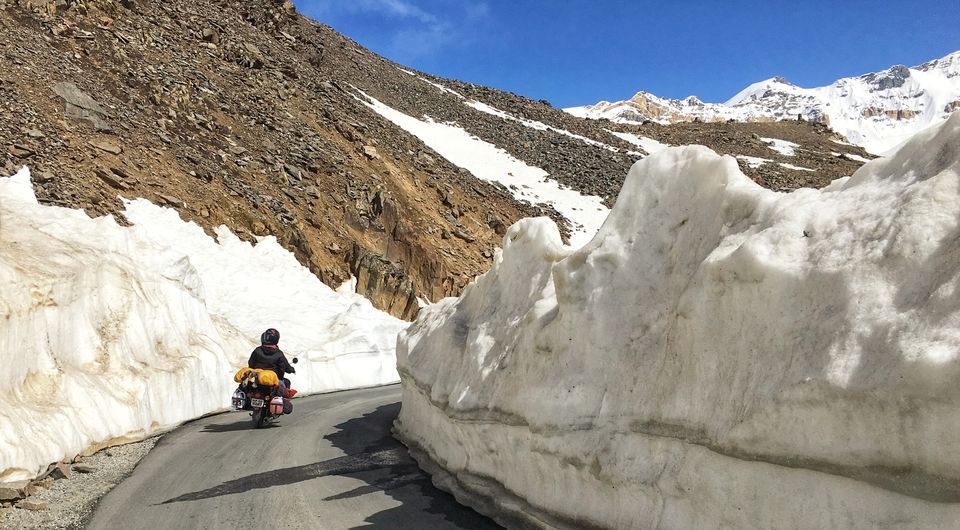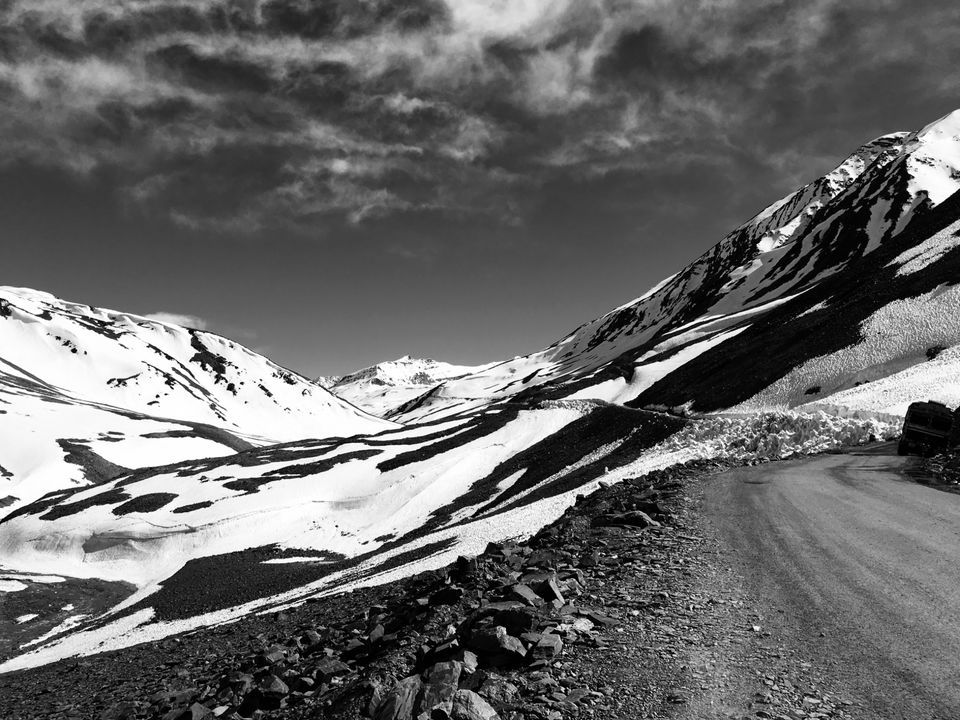 We woke up around 6:30 in the morning, it was bit bright outside so we got up from our comfort zone to check out what Sarchu looks like. We were awestruck when we stepped out of our tents, snow capped mountains everywhere. The temperature was around 5-6 degrees, it was cold but we had our woollen clothes put on. We saw the name of our camp in the morning, it was called Goldrop Camp. I guess we were too tired the previous night to notice the name of the camp we entered. We just wanted a shelter to beat the cold, some hot food for the climate and a place to rest our backs. The staff gave a bucket of hot water for the morning rituals. There is water scarcity, so 1 bucket of hot water per room. Once we were ready we had good breakfast and it was time for us to leave to Leh!
Keep in mind - before we started riding we had to kick start 20-30times to start our bikes. Due to the temperature it's very hard to start the bikes in 1-2kicks. It is also necessary to 'open the lid of the petrol can and then close it after a couple of seconds'. Due to the altitude a pressure is created in the cans and the petrol erupts if we open all of a sudden. We do this 'everyday morning' before we mount the petrol cans on our bikes.
Today's route map:
Sarchu - Pang - Upshi - Karu - Leh! (260kms).
When we started riding we found out that there is a Tsarap river that flows next to our tents. So you could imagine the view of the place. Camps either side of the road, a river next to the camps and these two are situated between the mountains.
Our first stop was after the Gata Loops around 40kms after the camps. Going in and out of Gata Loops was thrilling as well as amazing. There are more than 20 hairpen bends, lot of curves, good roads and adding altitude to that is an adrenaline rush. We rode fast and sometimes slow to enjoy the scenery and stopped once to take pictures.
Our next stop was Lachulung La, a short tea break, which is about 20kms from Gata Loops. The view is beautiful and you can see the entire plateau from here. Since it was almost afternoon we did not feel that cold, all we had to do is sip some hot tea, eat some biscuits and change our socks as we had crossed a water stream just before the pass. We had purchased water resistant shoes and water proof shoes but it was of no use once the water gets inside. One benefit was it used to get dried up early when compared to other shoes.
We continued our journey towards Pang, where we had planned to have our lunch. We reached Pang around 3-3:30pm as the roads were terrible. The entire stretch was off-roading. We were hungry and tired by the time we reached Pang. We ordered rice and rajma masala as we did not have patience to wait for the food that needs to be cooked. The meals were delicious and we got the best hospitality here. The food tent was run by an elderly couple who came out running in folding hands and requested us to try out food in their tent when we were looking for some good looking food tents (that's how our mind thinks. Good Looking Food Tent = Good Food). There were no people inside, not sure of the reason and the other food tents were running full. Atlast we were very happy about the food, the way we were treated or greeted and we did not hesitate to pay some extra money as tips. They too were very happy seeing extra penny and told us to please stop here when we were returning to Manali. We all said "Yes" at once.
We started riding towards Leh! Each and everytime we stop the first thing we do is open Google maps to see how nearer we are getting to Leh, the numbers seems to be reducing slowly! The road is from Pang is slightly bumpy and can test your vehicle's suspension and your stomach. They are called as Moore Plains. There are no curves, hairpen bends, ascent or descent, just straight roads where your can take off your legs from the gear leaver and stretch them for a while. The roads are good and clean so that you can also take your eyes off from the road to see the scenery, this is the only place where we touched 100kmph in the entire journey. The next stop is Tanglang La, one of the highest passes and claimed to be the 2nd highest motarable pass. The ascent from Moore Plains is like driving towards the clouds given that you are so close as well. A small tea break, have some quick bites and get ready with your cameras to click some amazing photos of the mountains.
As we descent from Tanglang La, we head towards Upshi, a quaint and picturesque village, where we have planned to take some time off and have Maggie, nothing else comes to your mind at this time and the only food that suits the weather. Not much to ride as we are just 1hour from Leh.
It was around 7:30pm when we reached Leh! Since we had already booked rooms, we went straight to the lodge. We checked in to our rooms and went to the main bazar in Leh to do some shopping. It's a great place to buy woollen clothes and souvenirs. After shopping we went to a German Cafe to have our dinner, a very nice place to eat and the cafe was hardly 5mins walk from the Hotel Admiral - Leh, that's where we are going to stay for the next two nights. We will definitely need some extra sleep as we have travelled about 500kms in 2days.
Road conditions:
Sarchu to Pang - Bad and Dirt Track
Pang to Tanglang La - Good and Little Bumpy
Tanglang La to Leh - Very Good.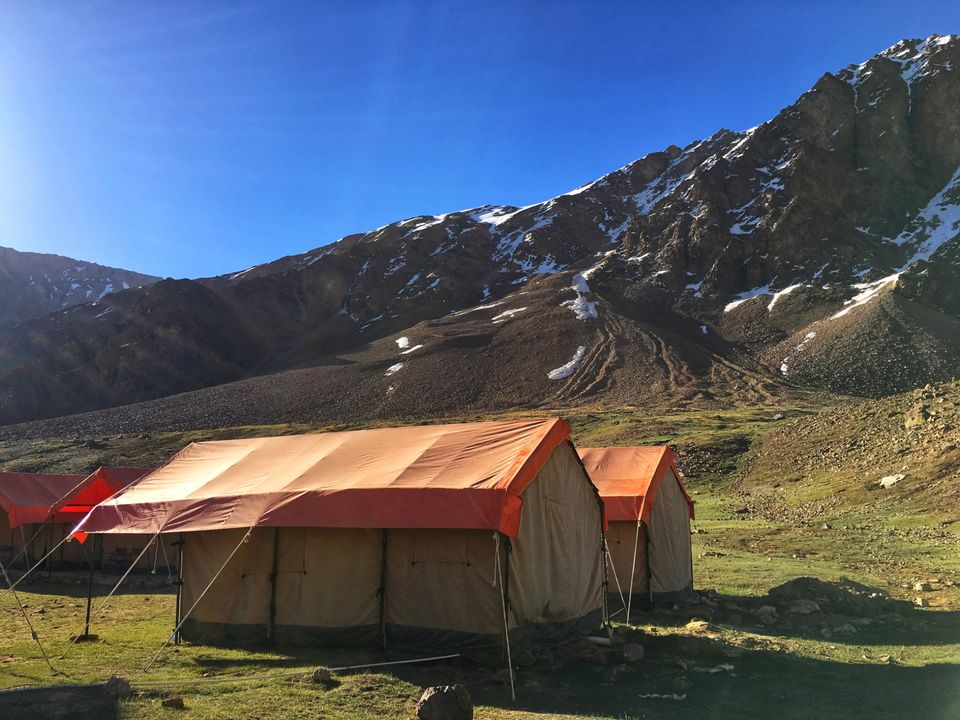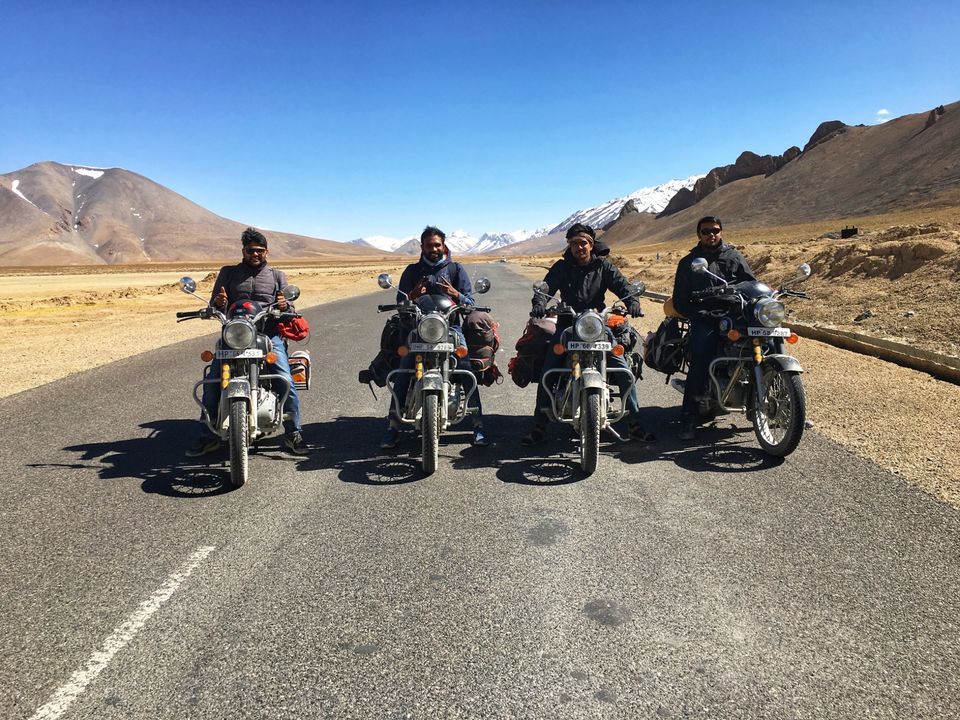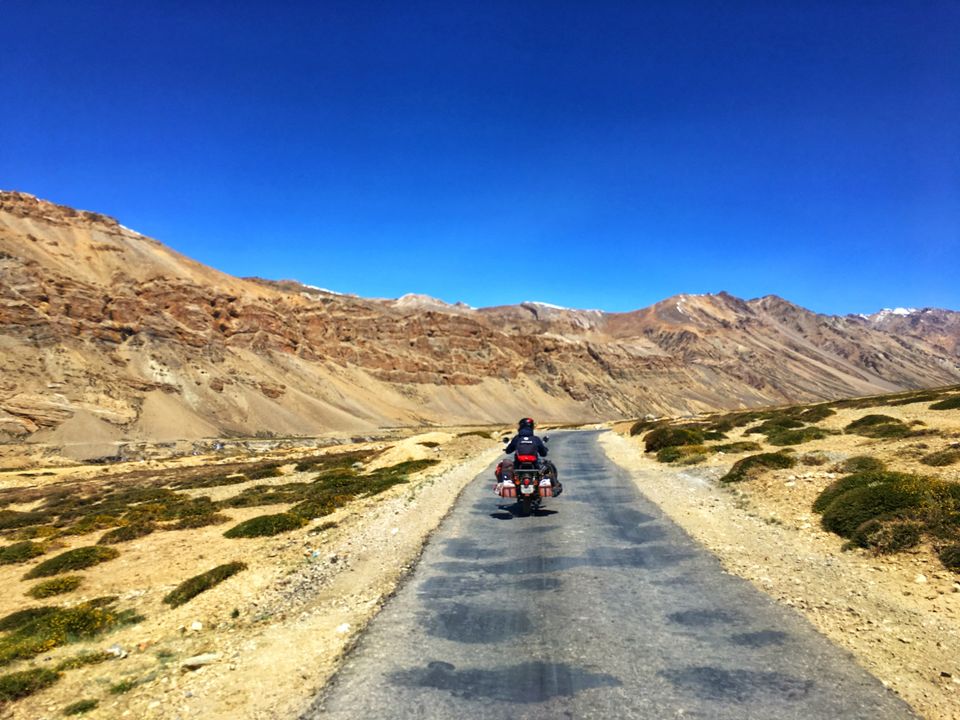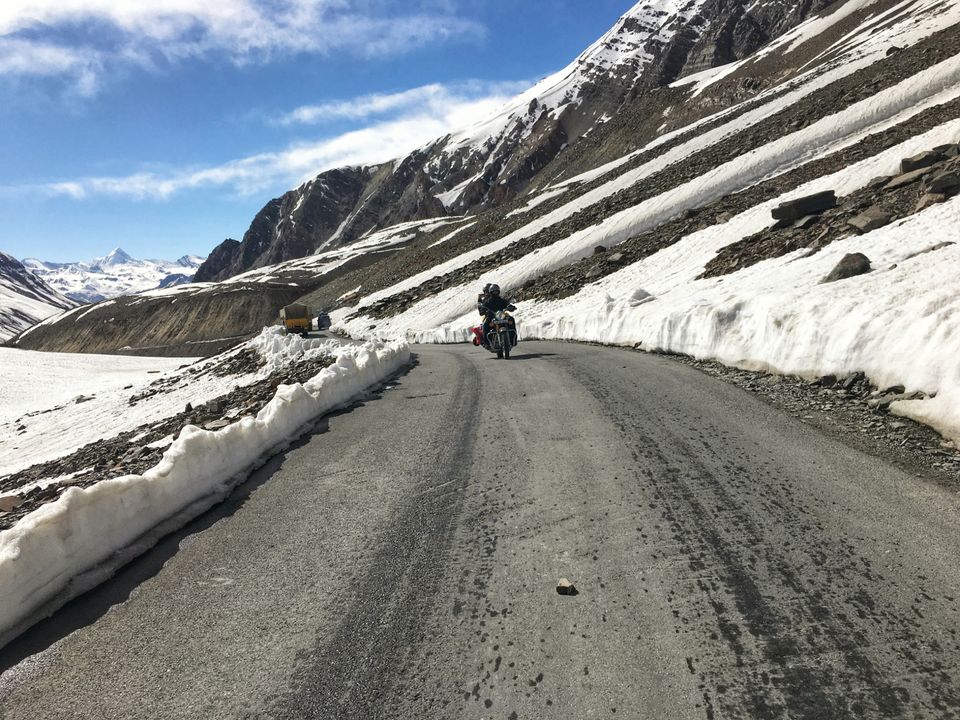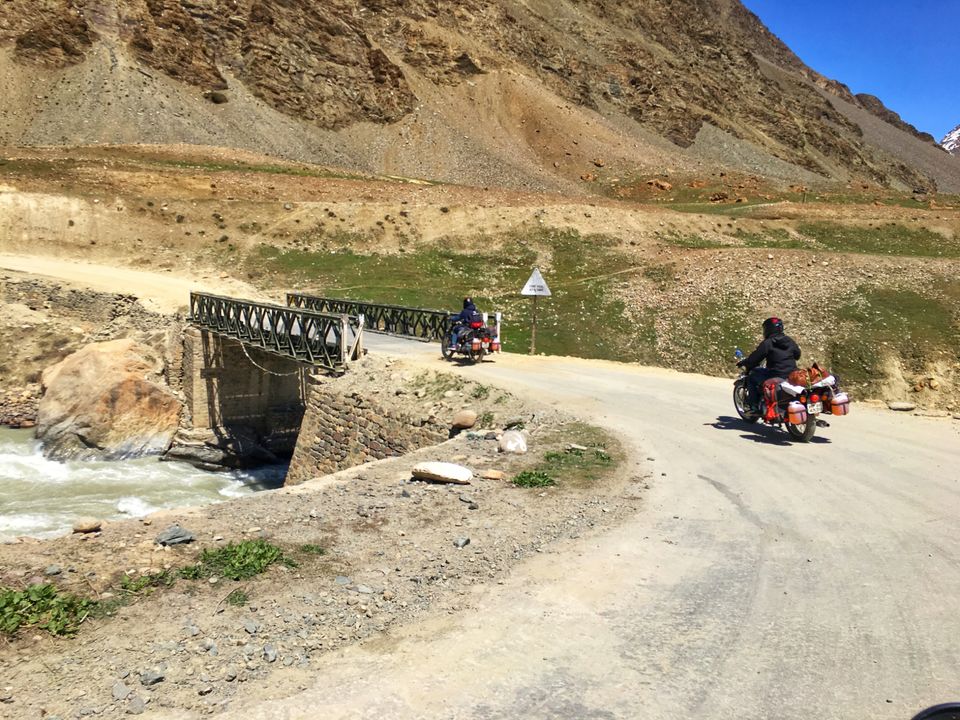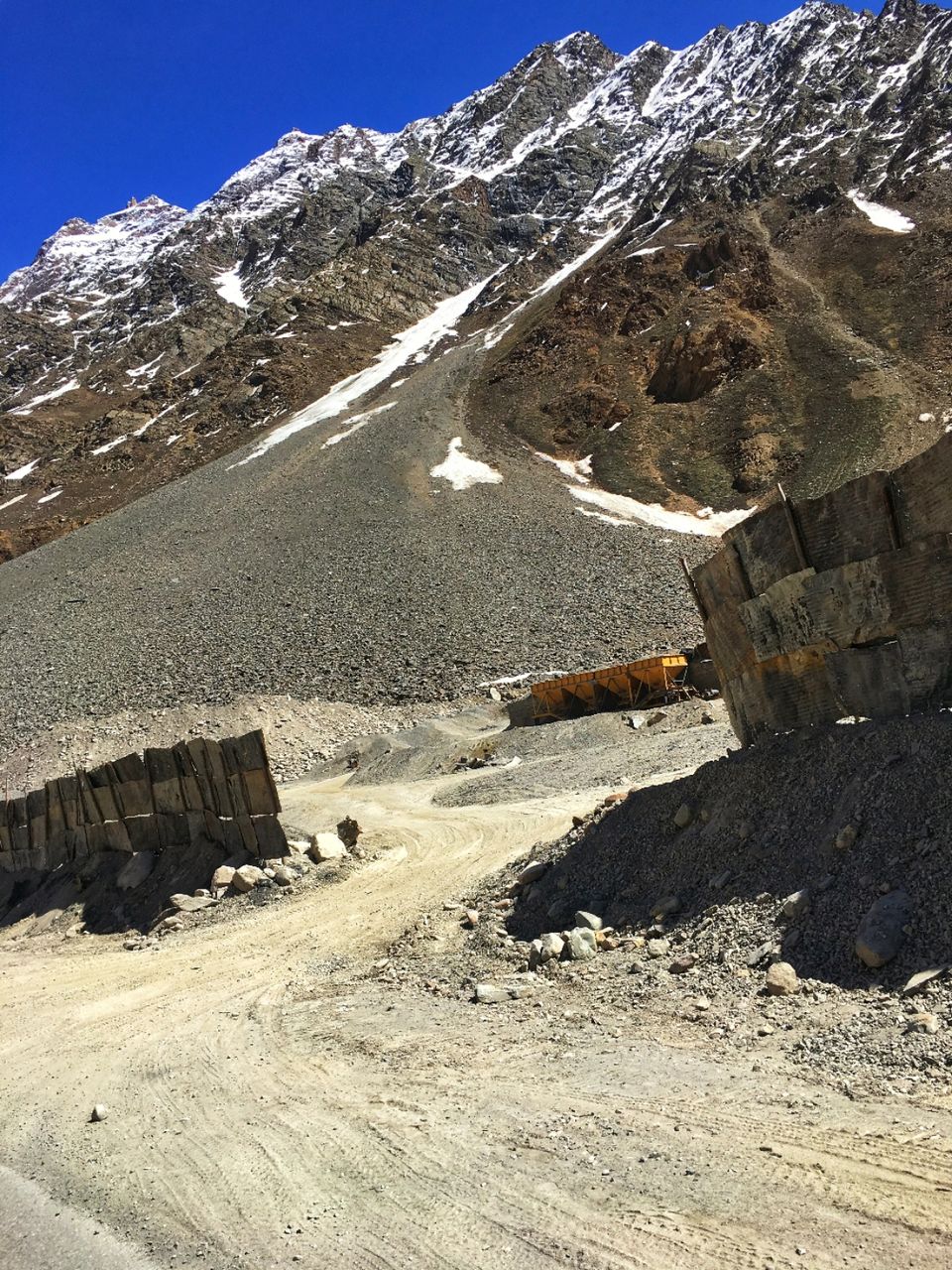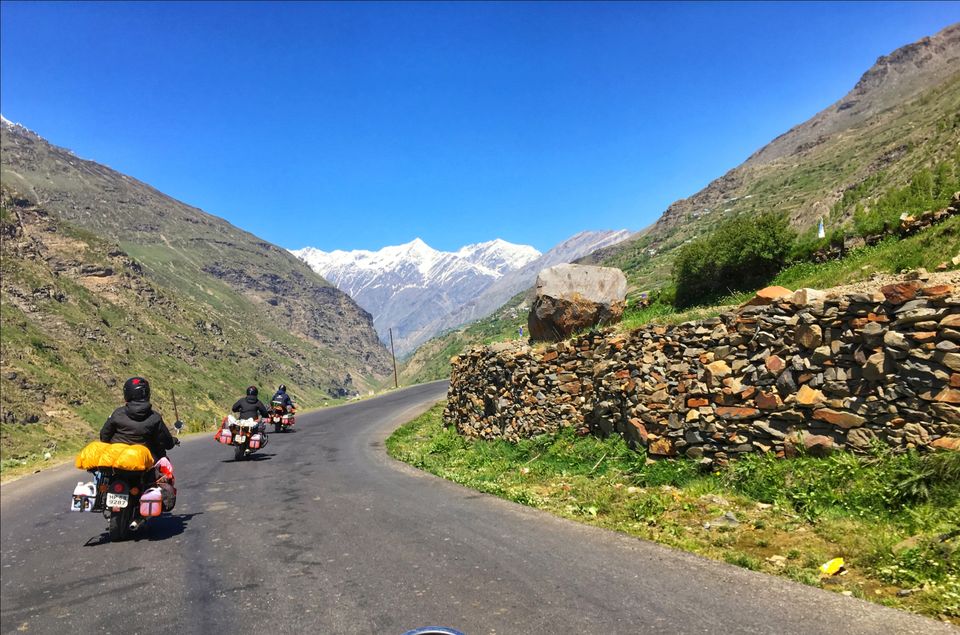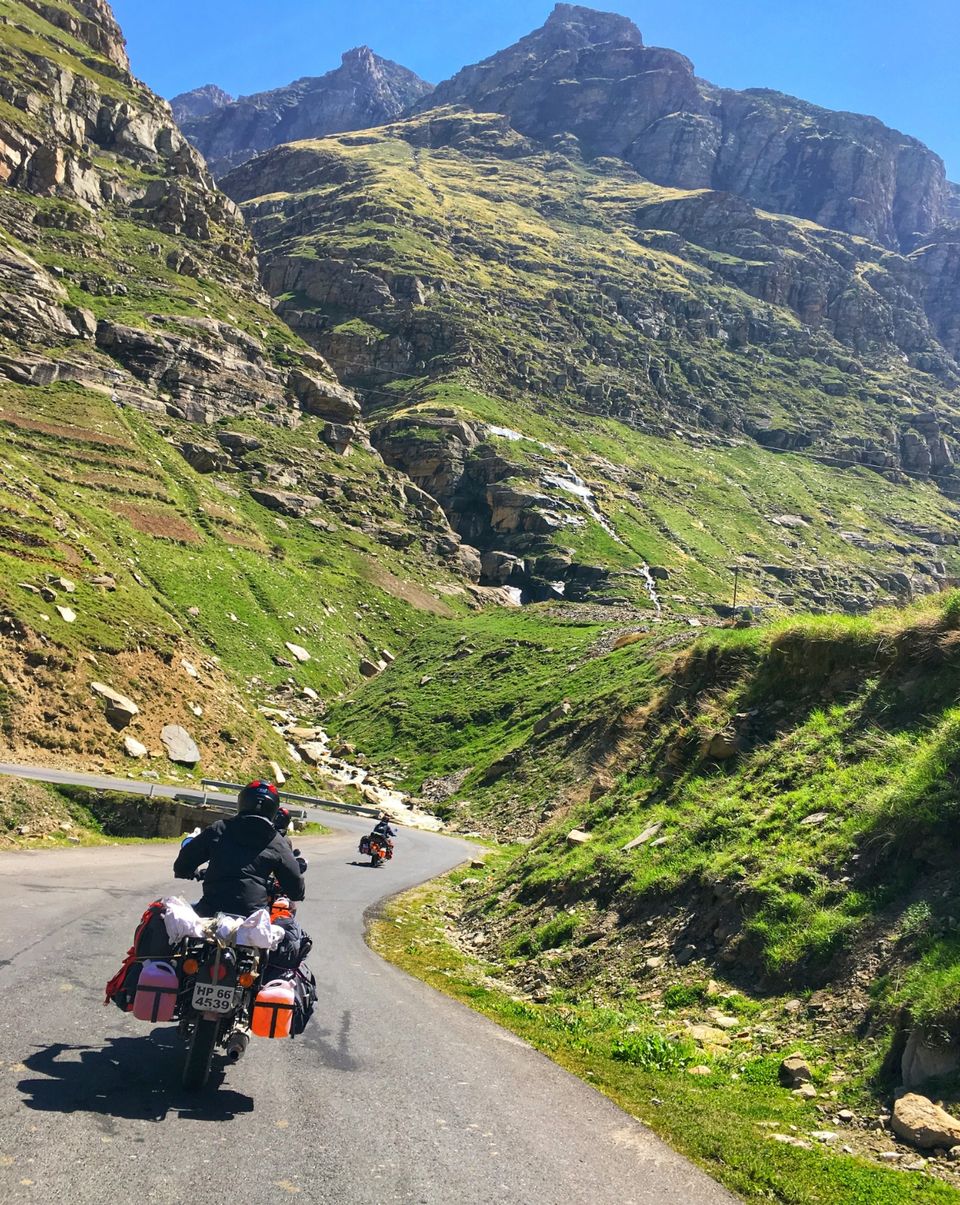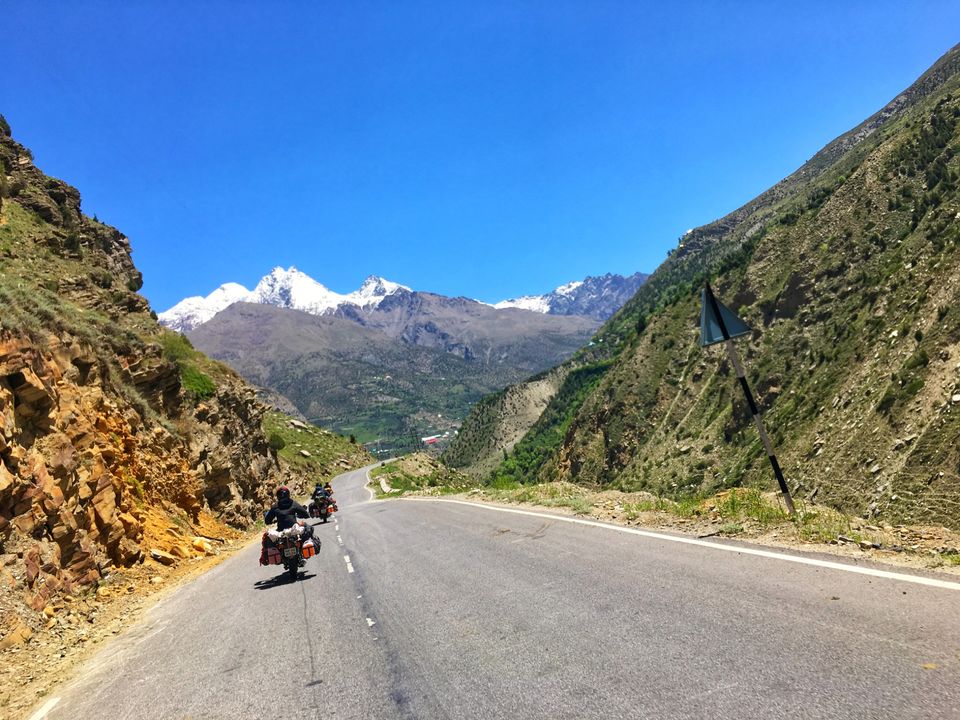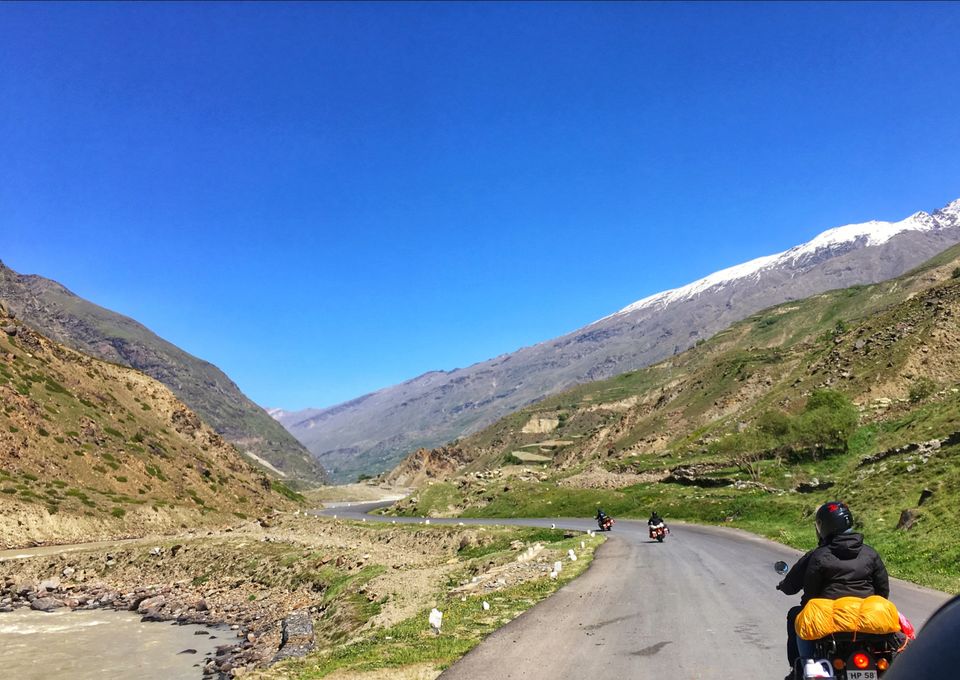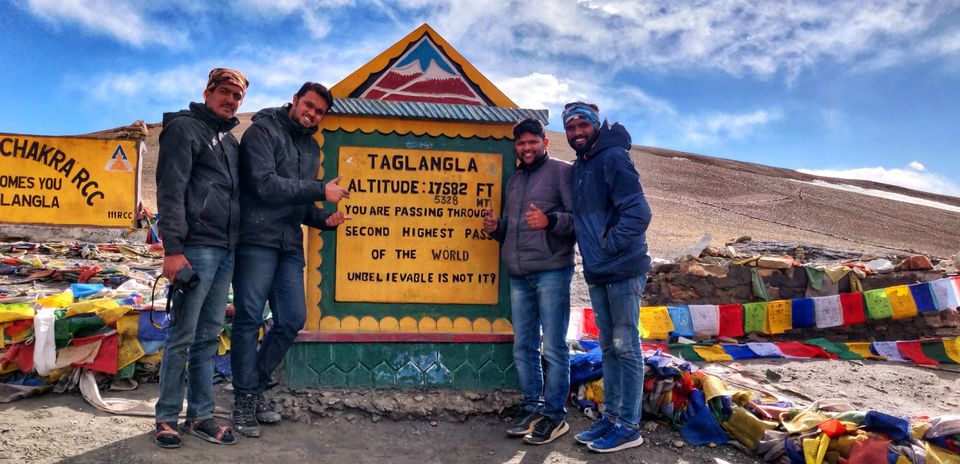 Local sightseeing at Leh!
You will have a different feeling altogether once you reach Leh! A sign of accomplishment and also relief. Due to this we took some extra care about our health and we got up around 8am. Today we will have to hire the new set of bikes to roam in and around Leh! The buffet breakfast was good and during this time we made some plans for the day and places that we will be visiting for the day. We also decided that we will not be spending too much time in one place.
Important - the bikes that we hired in Manali cannot be used in Leh due to some local governance issues. We will have to hire another set of bikes that has Leh registration number. Instead of hiring 4 bikes we hired 3 bikes for 2days. It costed us 1,500 per bike inclusive of permits that is used to travel to Khardung La Pass and Pangong Lake.
We started off with test riding the bikes that we had just hired and they were in good condition. The first place that we will visit is the most famous Museum - Hall of Fame. A museum dedicated to all those Indian soliders who fought and sacrificed their lives in the Indo-Pak war.
The second place for the day is Magentic Hill. A science behind this phenomenon is still unknown to me but it was observed that if we leave the vehicle with brakes unlocked, it starts moving uphill on its own. Some sort of super power a vehicle gets.
The third place is Zanskar Valley. A place where you can see 2 rivers merging as one. A wonderful place with a lot of scenery.
On the way to Khardung La pass we stopped for lunch and had some nice hot parathas.
The fourth place that we are going to visit is Khardung La pass, the highest motarable road in the world. After an hour we are on the sumit of Khardung La pass. It is an achievement for any biker who reaches the sumit of Khardung La. After taking a lot of pictures and sipping hot tea we headed back to hotel around 8pm.
Overall the road conditions in Leh are very good and the road to Khardung La is not that bad.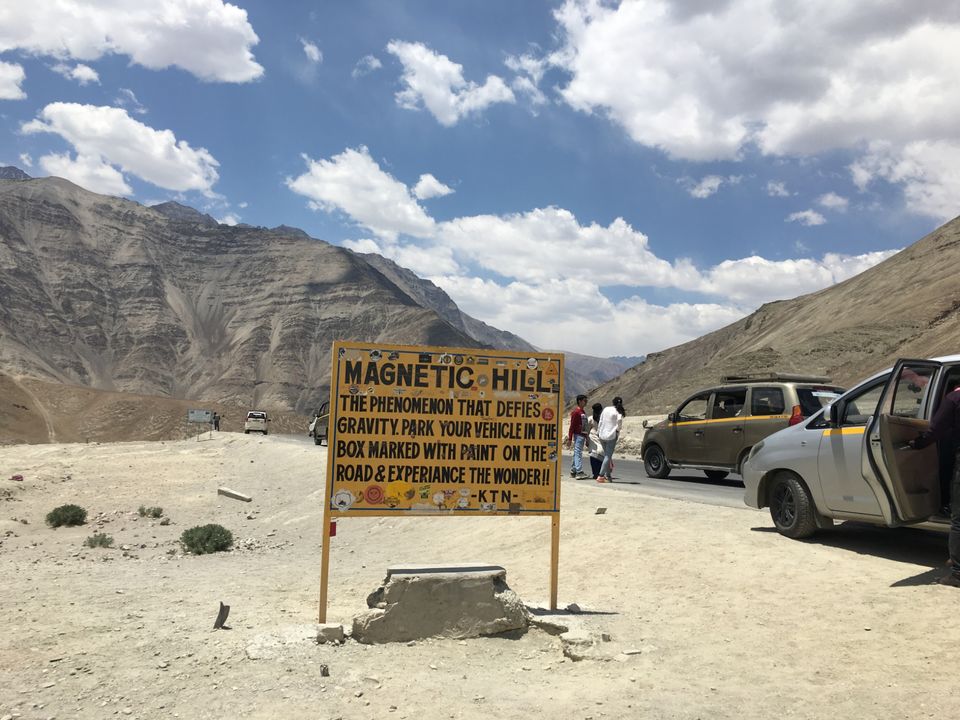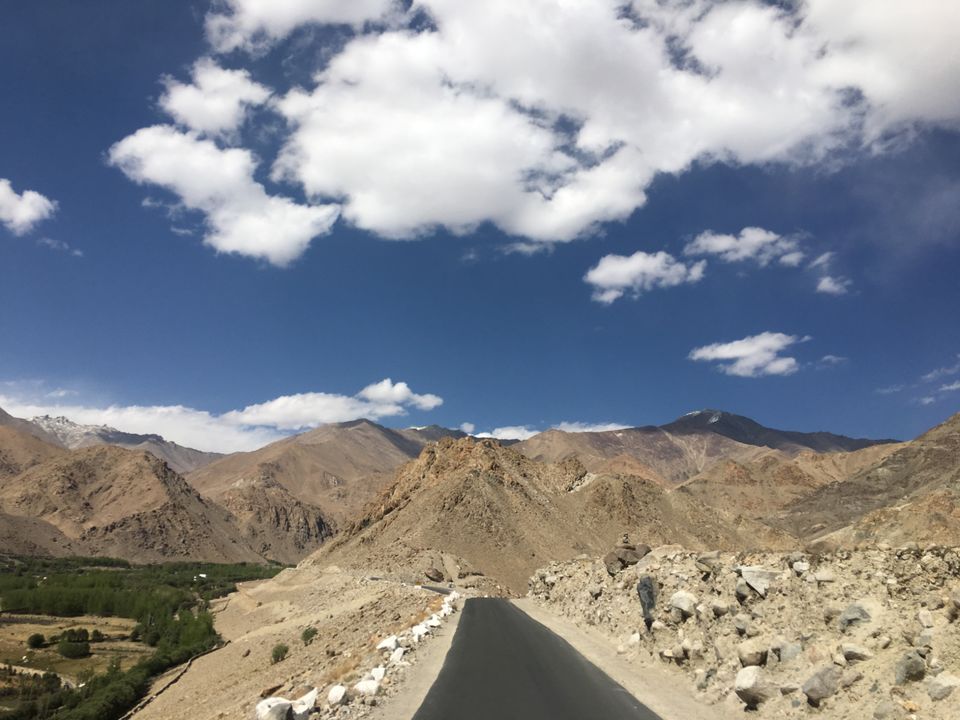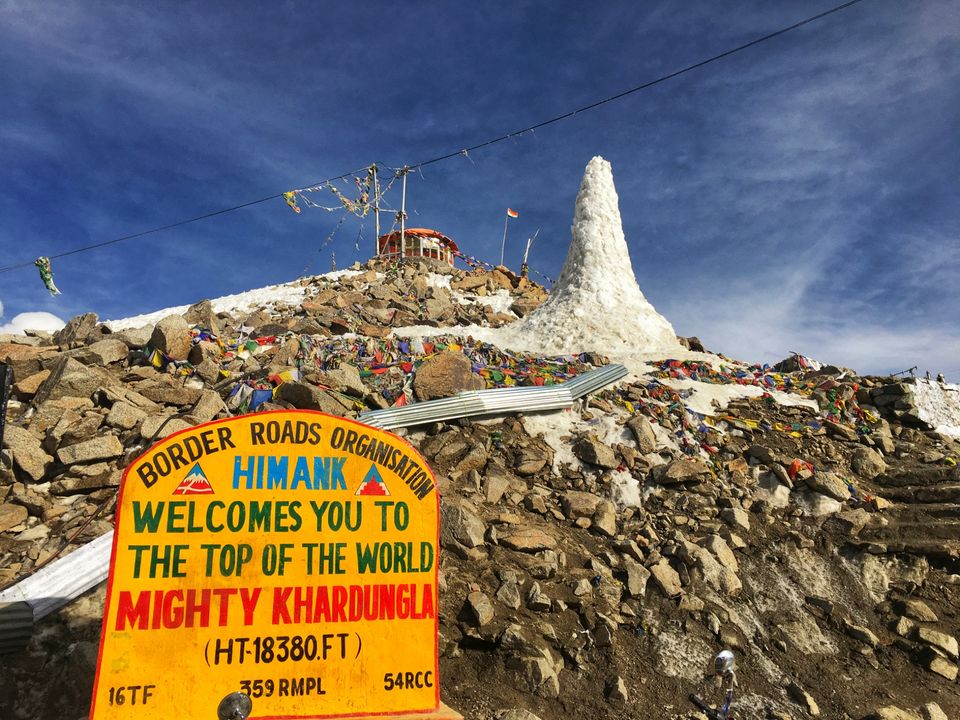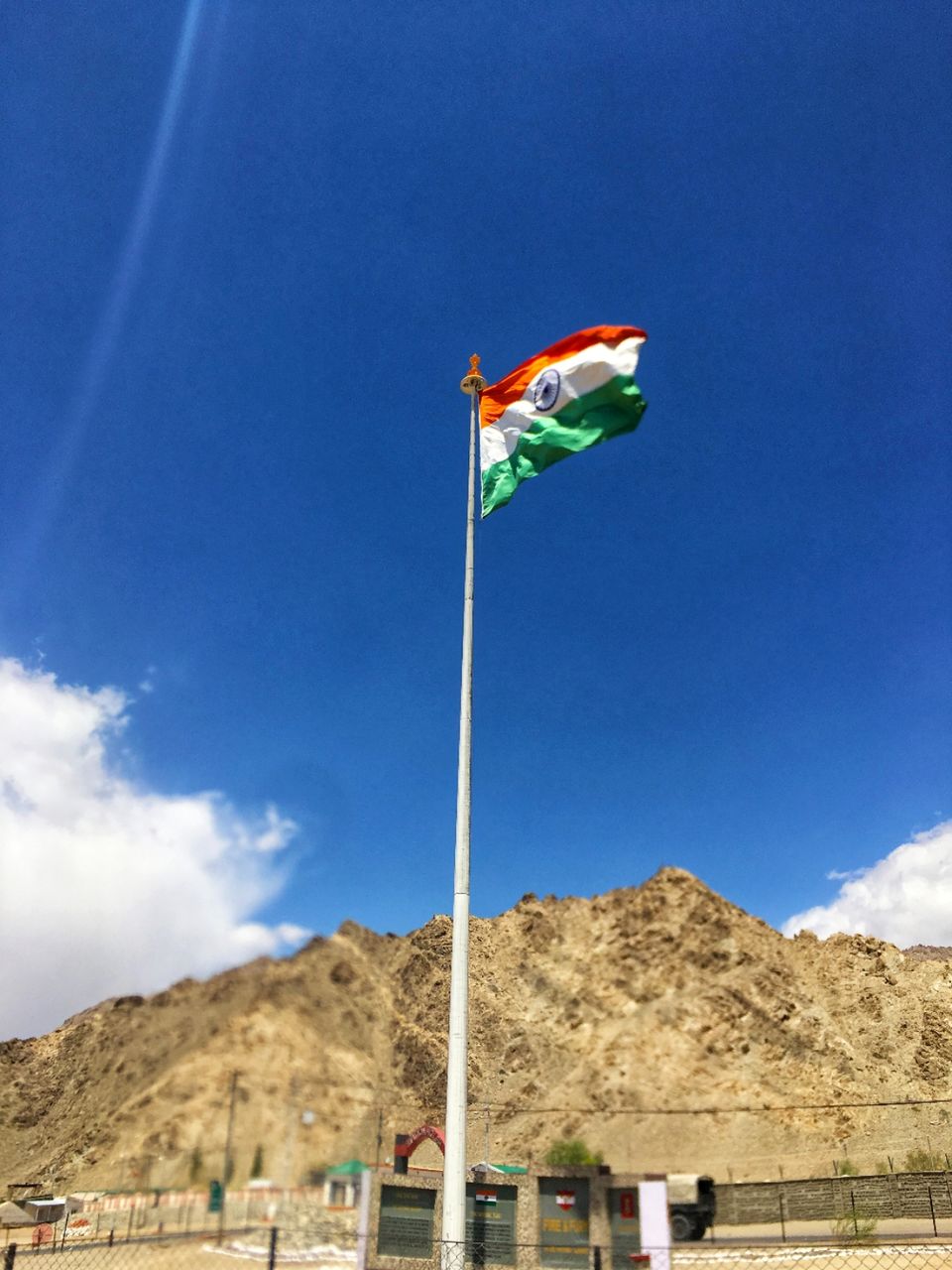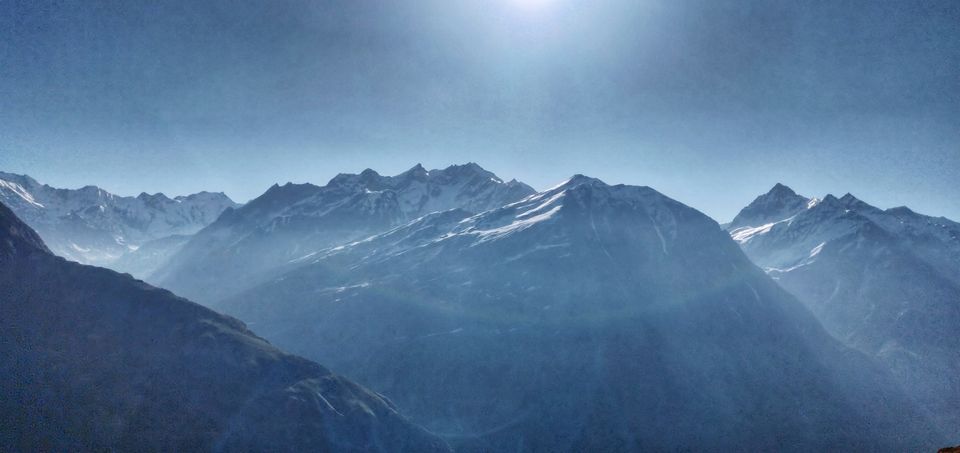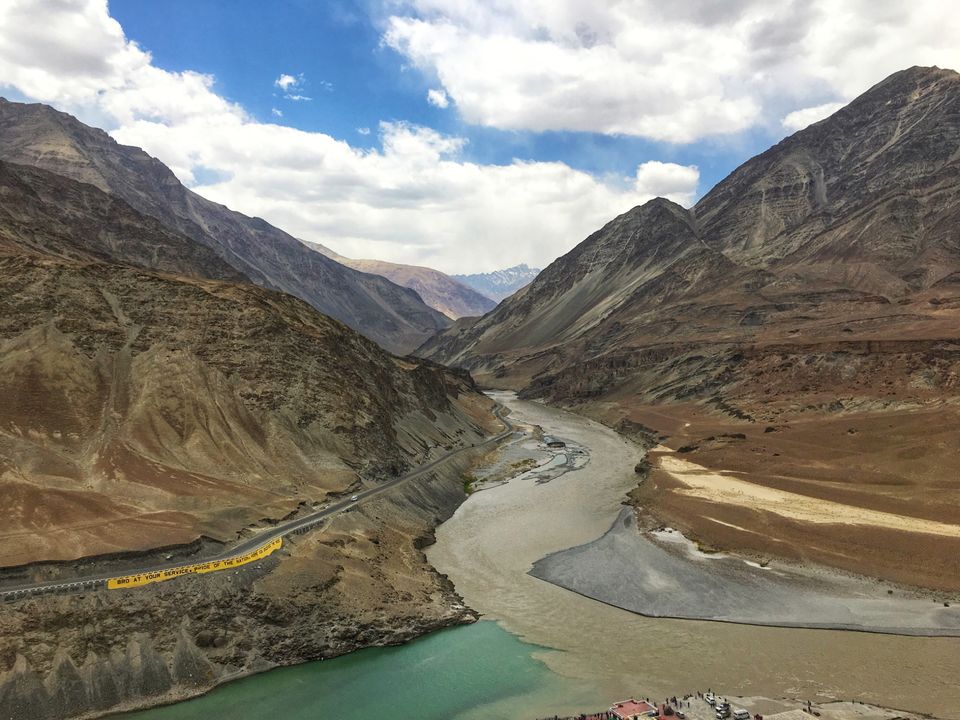 Today we got up very early to cover 300kms. A journey to Pangong Lake, one of the biggest lakes that stretches till China and Tibetan countries.
We had to take a deviation near Karu to go to Pangong Lake, so we made a stop to have light breakfast. Post breakfast we kept travelling and travelling to reach Pangong Lake and reached the place around 1pm. The lake was a mesmerizing place, it had different shades of blue/green in it.
This place became very famous after the 3 Idiots movie's climax scene was shot. You can find many yellow scooters and Kareena Kapoor's bridal dress to take lot of pictures. We did take lot of pictures and enjoyed some time sitting by the lake. It was almost 2pm and we decided to leave. We decided to have lunch in a dhaba which we saw while coming to Pangong Lake, the place was about an hour's ride. The food was very good and I quite don't remember the name of the dhaba. Post lunch we left the dhaba and reached Leh around 8pm. We had our dinner at the hotel and returned the bikes.
The road conditions to Pangong Lake are not so good. But the scenery you will get to experience here is surreal.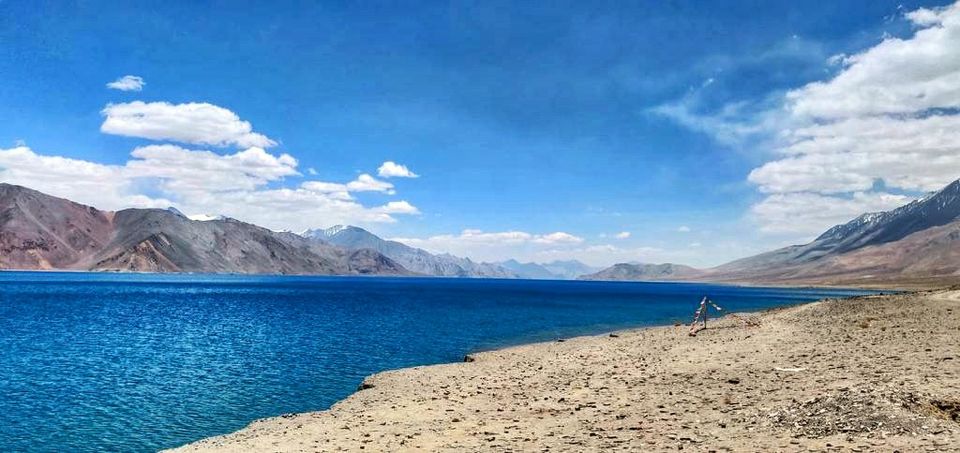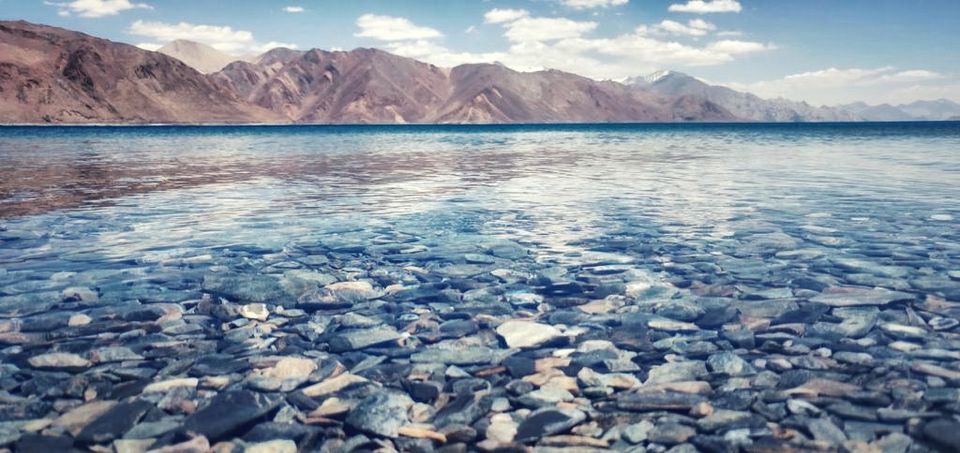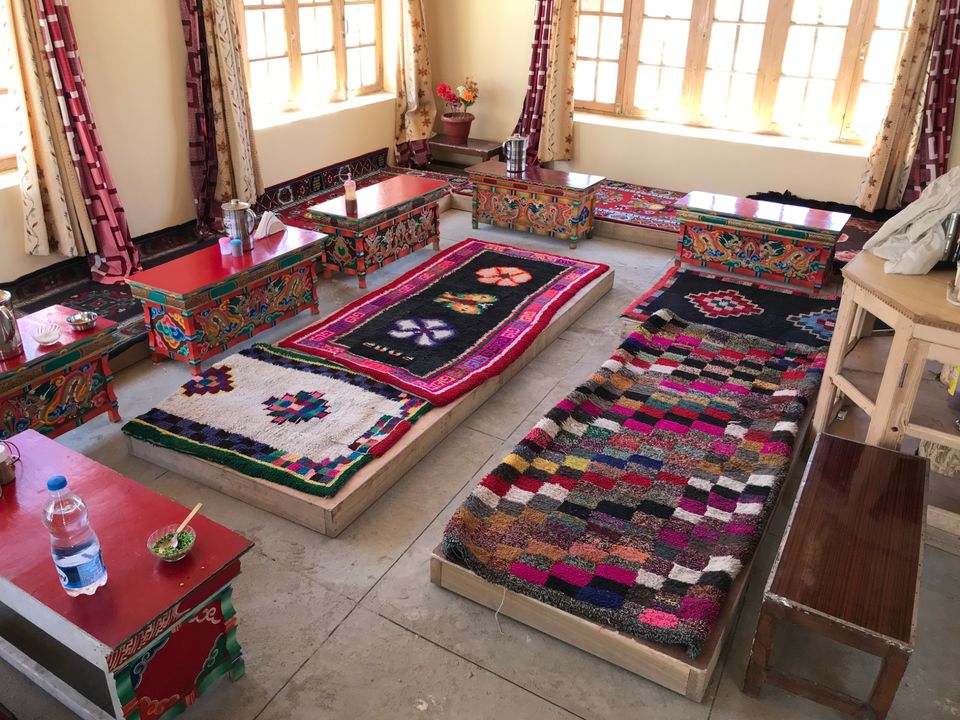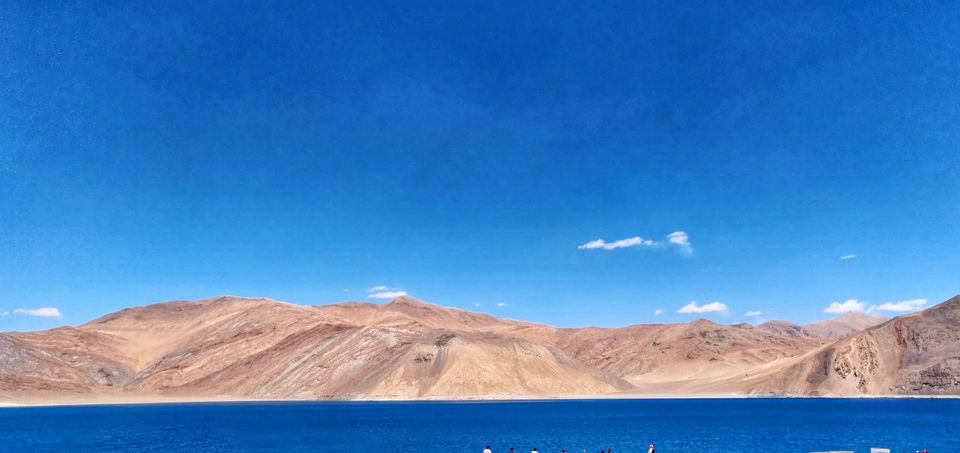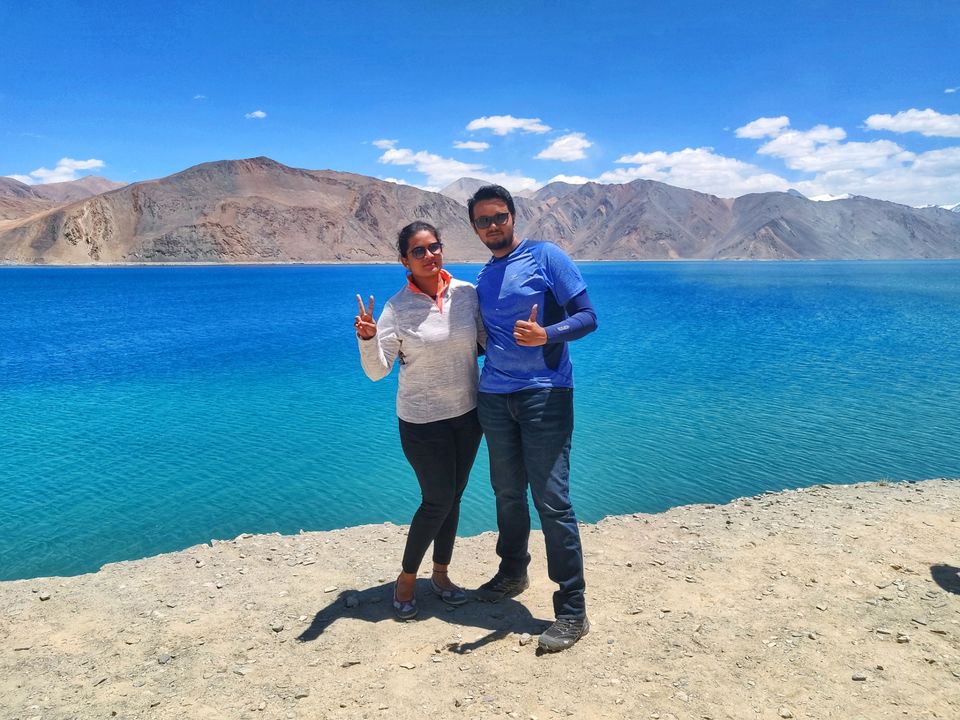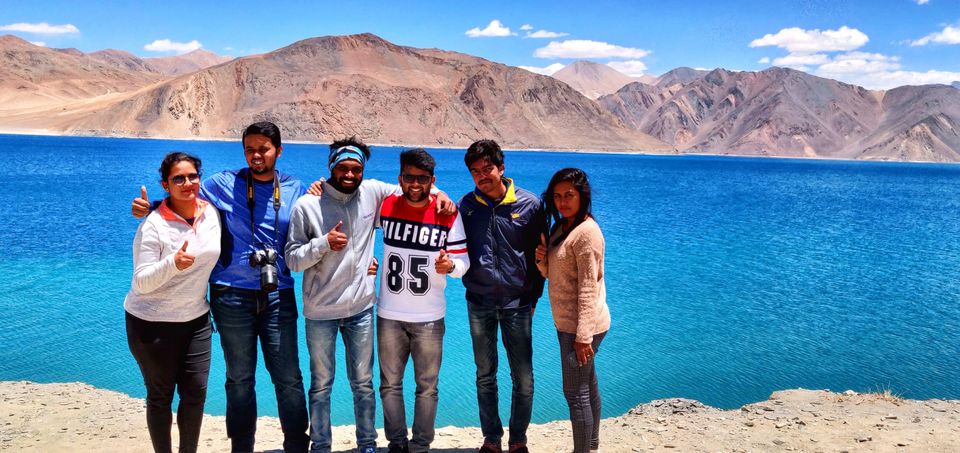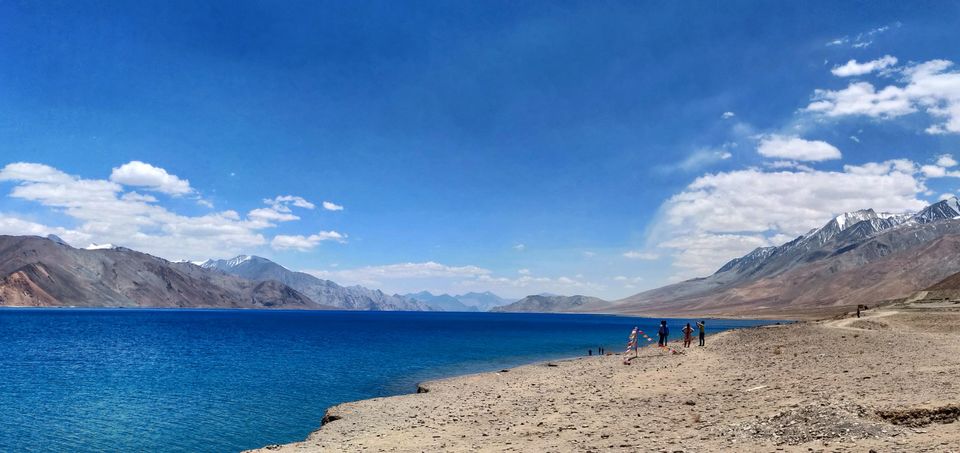 We got up around 7am packed our stuffs, mounted our bags on the bikes and we are all set to say Goodbye to one of the amazing places in India, the Leh!
We stopped at Karu, it was around 9am to have breakfast and hot tea. The temperature was around 10degrees and we wanted to keep our bodies warm. We gave short breaks here and there to stretch our bodies and walk a bit.
We reached Pang around 1:30, 30minutes earlier than expected and we went to the same place where we had stopped a couple of days back to have lunch. Guess what? The couple remember us and they were very happy to see us again! I believe they did not expect us. This time we ordered a couple of items from the menu. We had power nap, then some delicious lunch and then we were ready to rock and roll!
We planned to leave a bit early so that we reach Sarchu before sunset. Driving 250+ kms again. Though we know the route, road conditions and terrains, we might expect some unfortunate things on the way. Also to keep in mind that we have not done any bookings at Sarchu. So it would be better to reach the place before sunset and also the temperature at Sarchu drops to sub zero during night.
We were about 15kms away from Pang and we saw a couple of riders stranded. Their bike's rear tyre was punctured. Unfortunately they did not have the necessary tool kit and just had the spare tube. When we enquired, we got to know that they were stranded from an hour. It was time for us to help them and with great difficulty and after 30minutes their bike was ready. It was a sign of relief for them as well and we started to continue our journey.
It around 5:30 we reached Sarchu, we rode for longer hours and gave less breaks as we had spent some extra time during lunch and again 30-40minutes to help the bikers. We went to the same place, Goldrop camps to check if there are any empty camps for night and I would say almost 30-40% of the tents were empty. To our time management techniques we were able to pick the best tent with the best view. We ordered cup noodles to fill our tummies with the evening snacks. We spent the rest of the evening speaking to other riders and sharing experiences with one another. Atlast we ended our day with a perfect dinner and then went on to sleep with a note, early to bed & early to rise!
Road conditions are mentioned in the previous day's story. Please do refer that. Pang to Sarchu has the worse stretch that gives you back aches.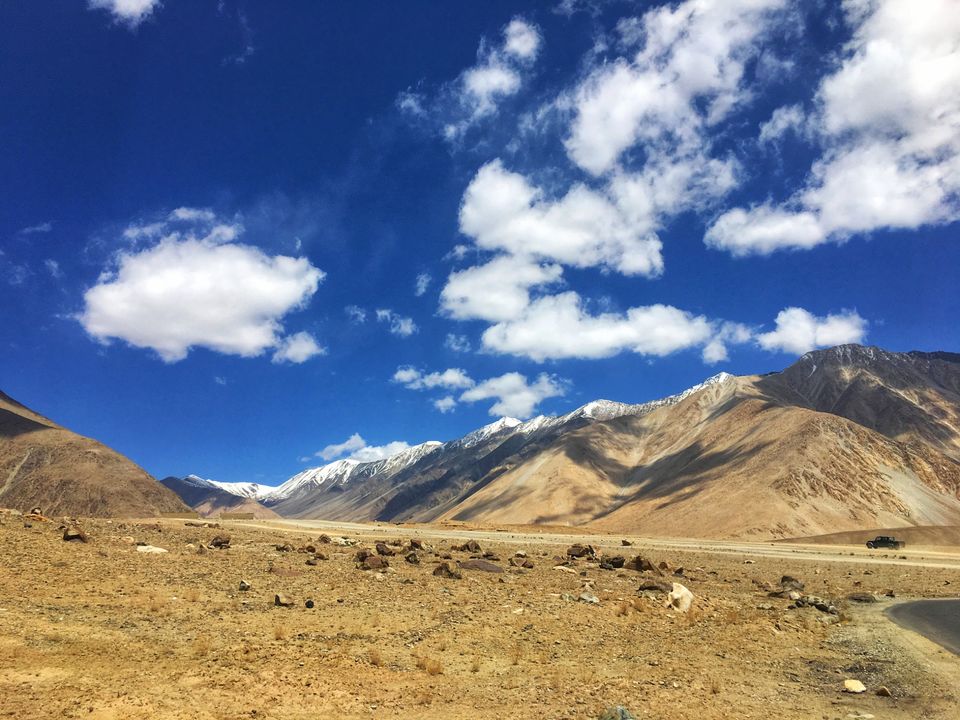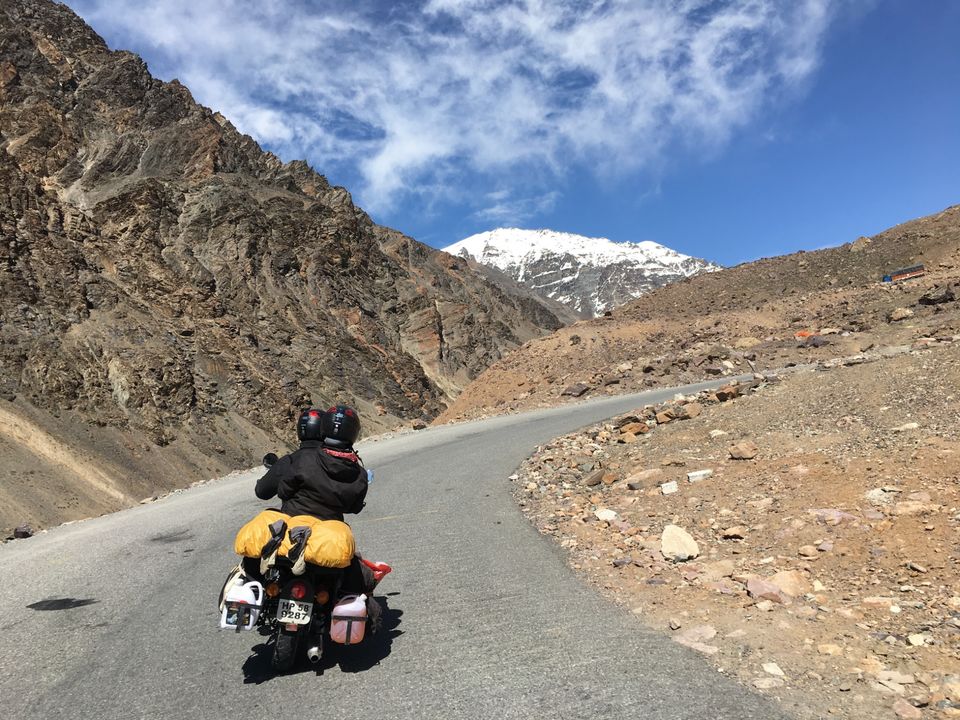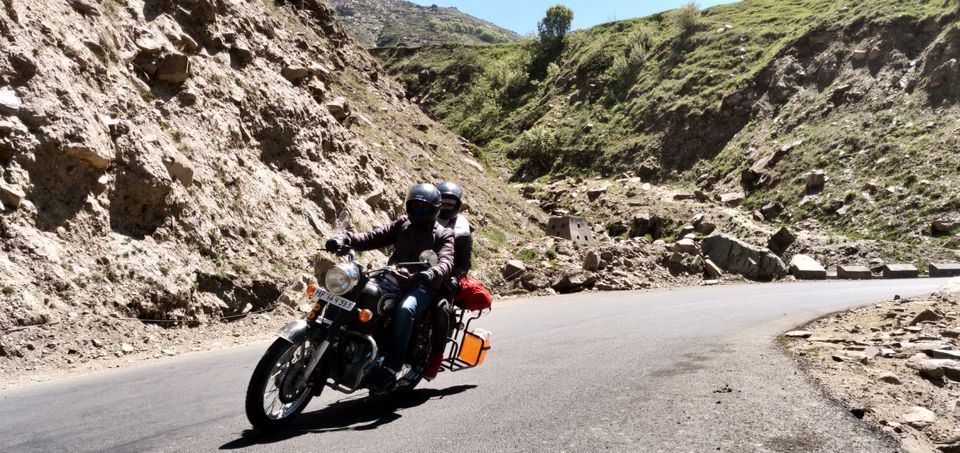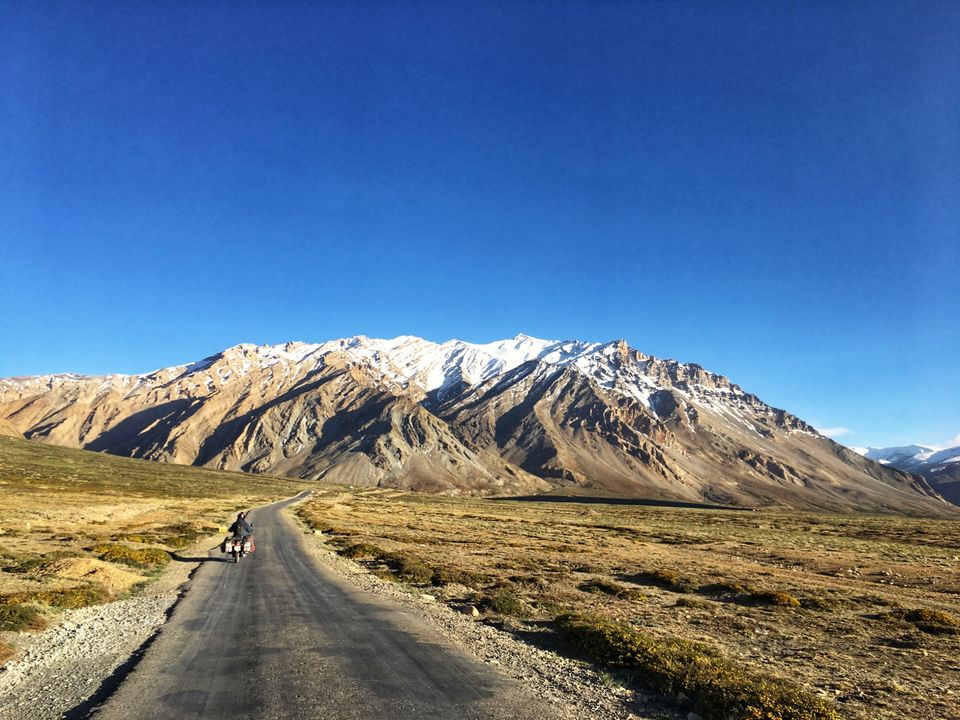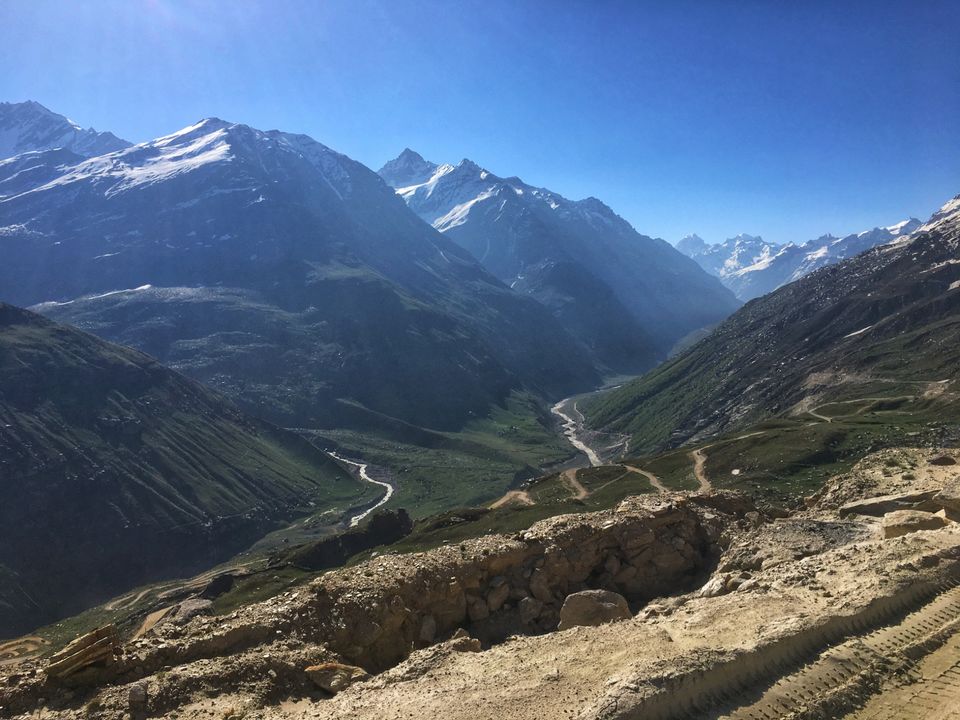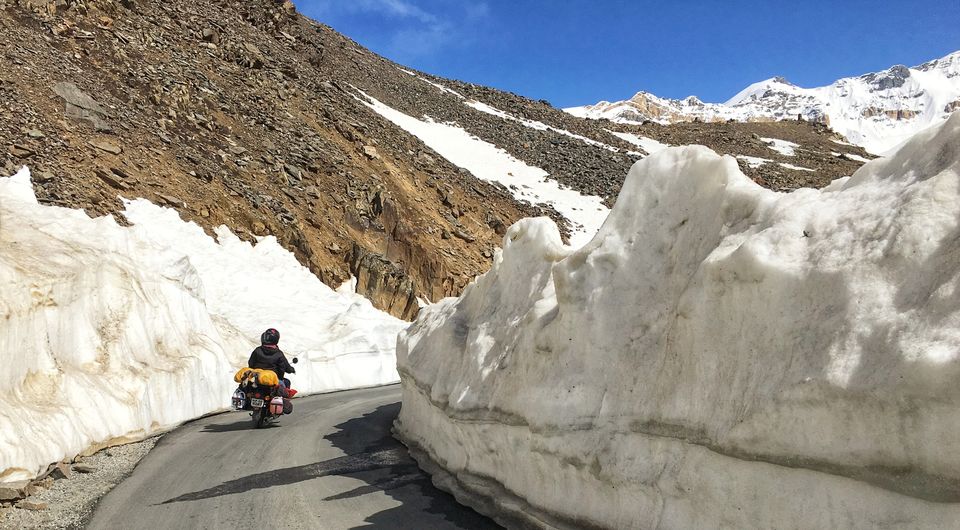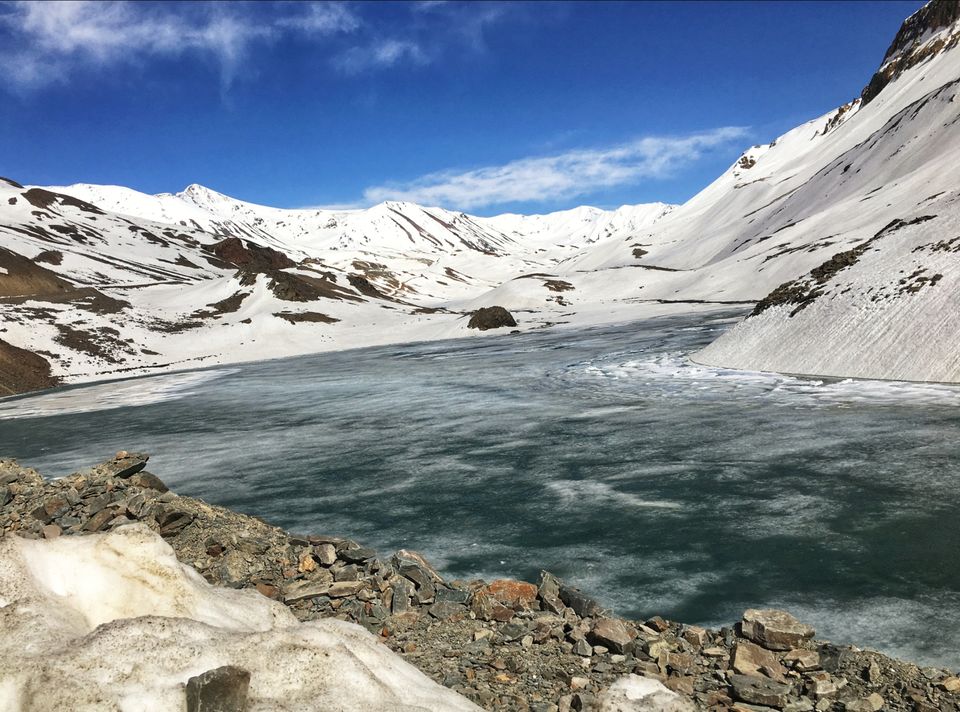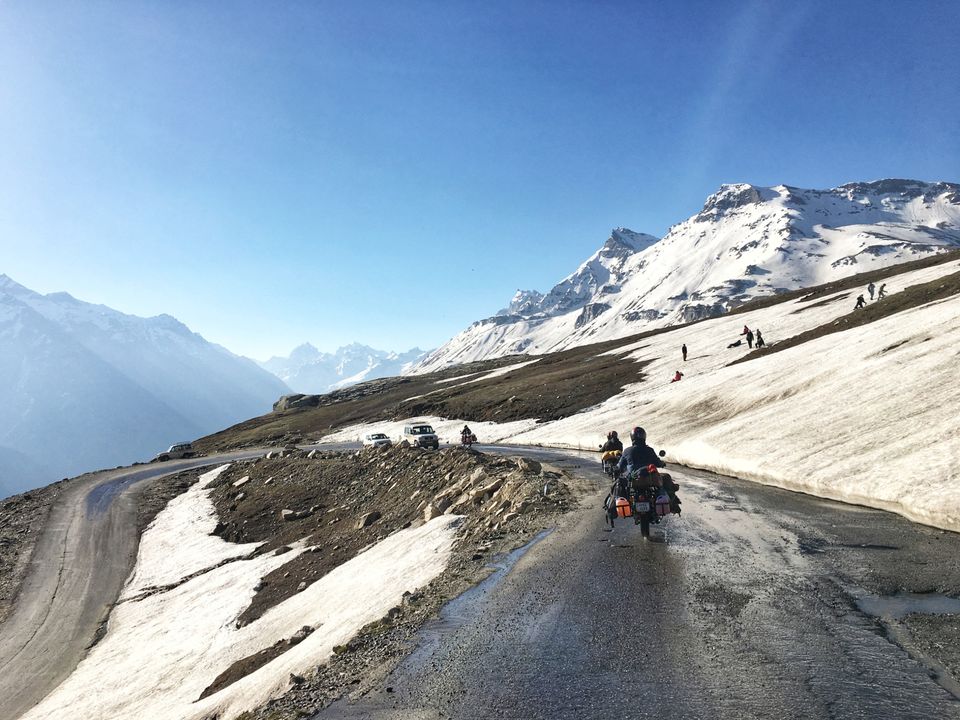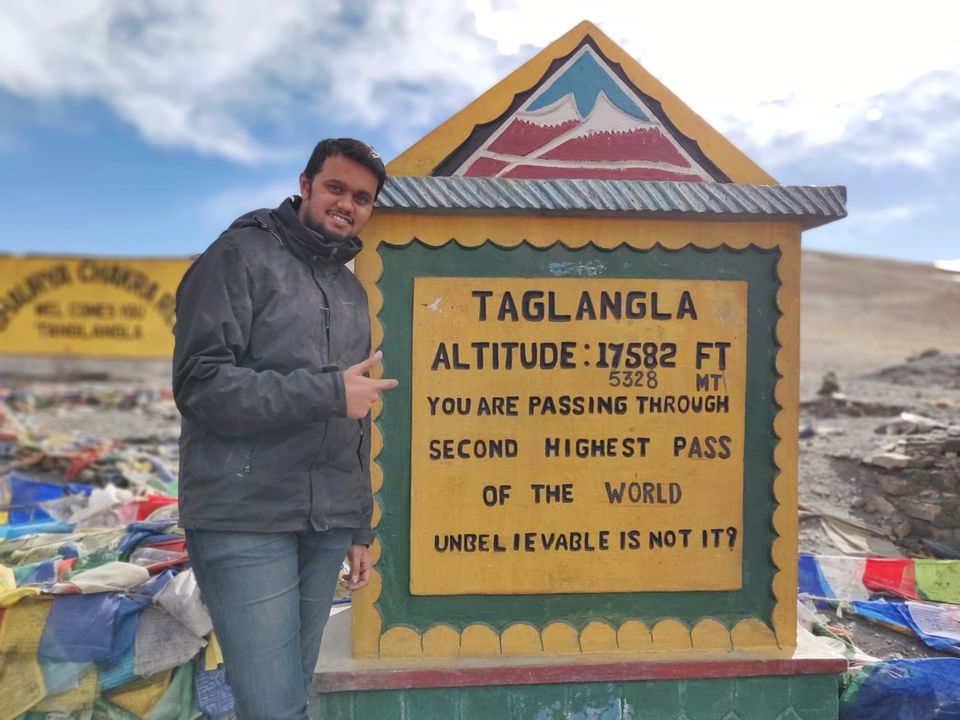 We got up around 6am, the sun had already risen. We could see the sun shining a bit bright and making its way through the tent's transparent window. Again on this day we came out to complement the scenery and location of the camp site. As described in my previous day's story, we could hear the gushing water of the river and chill breeze that sweep on our faces. We remembered the water crossing where we were stranded for more than 4-5hours. So we decided to leave a bit early so that the water level will be less and it will be easier to cross. So we left the Sarchu before 7am and we were near the water crossing before 8am. To our eyes the level of the water was not much and with some extra effort we should be able to cross the stream. So we started off with 1 bike, we unmounted the bags on the bike and one my friend was ready to cross the stream, the 3 of us were ready to sprung into action in case he gets stuck in the mid way. The water level was a bit high but he was able to cross without help. By seeing this we unmounted all the bags and one by one we started to cross the stream and all of us managed to cross this without any help. The girls carried the bags from one end to the other end on the half-broken bridge. We spent next 20-25minutes in mounting our bags and draining our shoes and socks. It was good as we had never experienced these kind off things down south, something adventurous.
We stopped in Baralacha La Pass for breakfast and it was almost 9am. Later we found a couple of more water crossings near Baralacha La Pass. It was not that deep or big, we were able to cross that in no time and with very less effort. We stopped near Keylong to have our lunch and it was still 1:30pm. We were sure to reach Manali in next 4hours.
Everytime when we are happy that our journey is going as expected and sure to reach the destination before the calculated time, something unexpected happens. While having lunch we heard people speaking about a water crossing that was opened previous day has become very difficult to cross and a crane was standing near the water crossing to help the vehicles that are getting stuck in the middle. We had to gulp everything that was in our plate to resume our journey and to see what awaits us.
We reached the water crossing, it was few kilometres front the restaurant, many vehicles stopped and are waiting for the water level to come down. This time is not possible to get into the water as the force of the water is more, the water level is about 3-4feet and the distance is about 40-50feet, this is not a normal water crossing for anyone. We don't know what to do and we had to just wait for the right time. After an hour and continuous effort from the cranes to stop the gushing water, the water level came down a bit but still impossible for the bikes to pass. We waited, the trucks started to pass and we started to make plans. We came up with an idea. We asked favour from the truck driver who happily obliged to help us. We unmounted all the bags, put them behind the truck and the girls climbed the truck to cross the stream. We guys have to cross the stream when the truck passes. Everytime the truck gets into the stream to cross, the water level comes down for seconds due to the trucks tyres and acceleration. It was our only chance to cross the stream. So we decided that 2 bikes will cross the stream when the truck gets into the water and then the other 2 bikes will wait for their turn. Me and my friend were the first ones to try this and the other 2 were waiting to give us help in case something goes wrong. With lots of effort and strength we were able to cross the biggest water crossing. In next 5minutes the other 2 bikes crossed the stream and were next to us smiling at each other. Looking at us, the other riders started to cross the stream the way we did. Sounds like we became the motivational factor to others.
We started our journey to Manali and it was time for us to ascend Rothang Pass. On the way to the top there was another water crossing but it was not that difficult, we managed to cross the stream with less effort. We were on top of the Rothang Pass and it was almost 7pm. Then started another problem, the Fog! The fog was so dense it was impossible for me to see the bike in front of me. We started riding very slow and truck driver behind us gave some extra light to lead us the way, thanks to him, we managed to descent Rothang Pass slowly and safely. Our hands and legs were numb and we wanted to ride until we hit the lower terrain of the Rothang Pass. Finally we could see city lights and we found a restaurant which serves hot food and tea.
It was around 10pm we reached Manali and we headed to the same lodge where stayed on the first day. We had called up the lodge while having dinner and found out that the rooms are available. Not sure how we are feeling, we just crashed on our beds.
The road conditions are mentioned in my previous day's story. Please do go through it.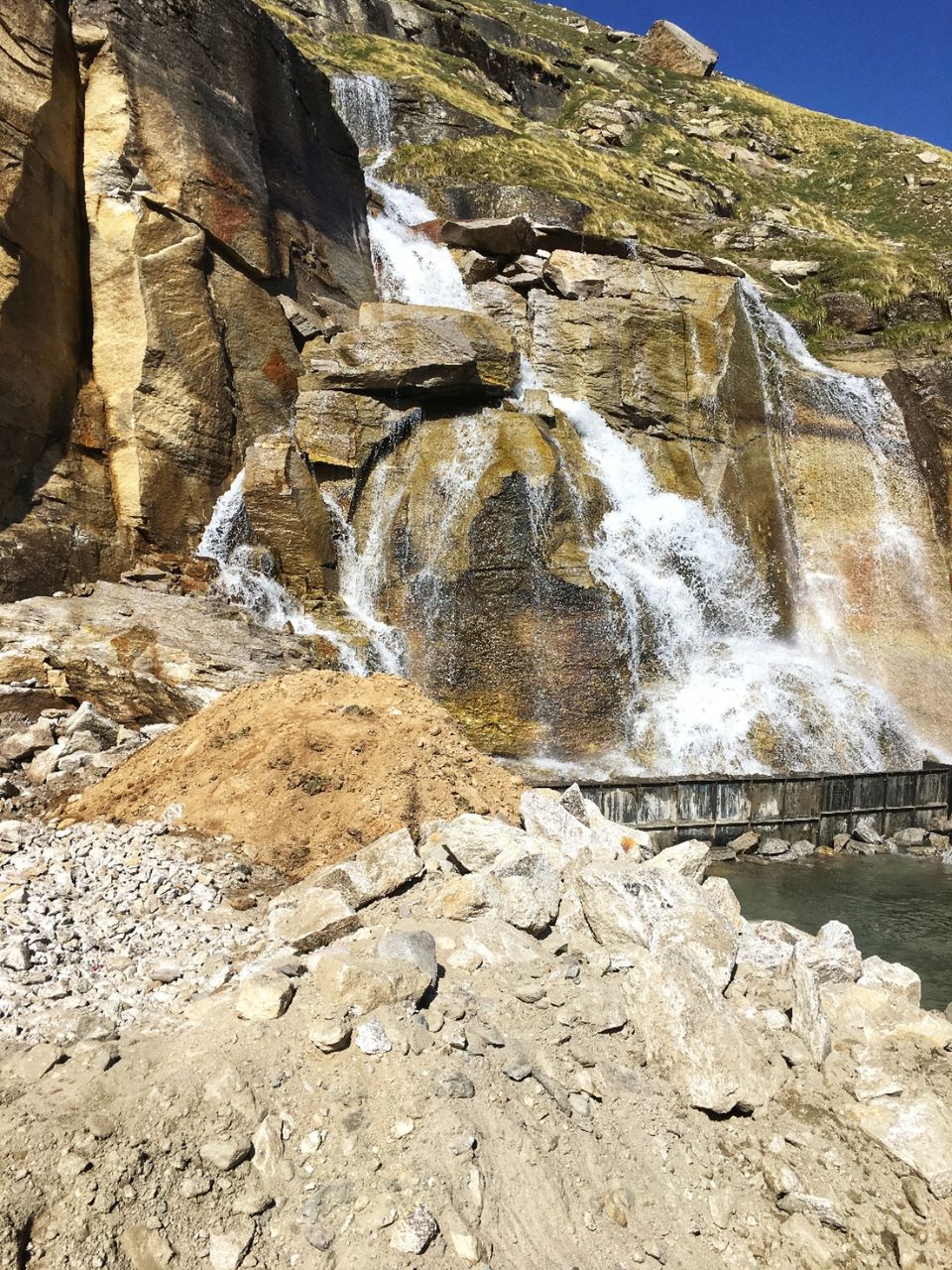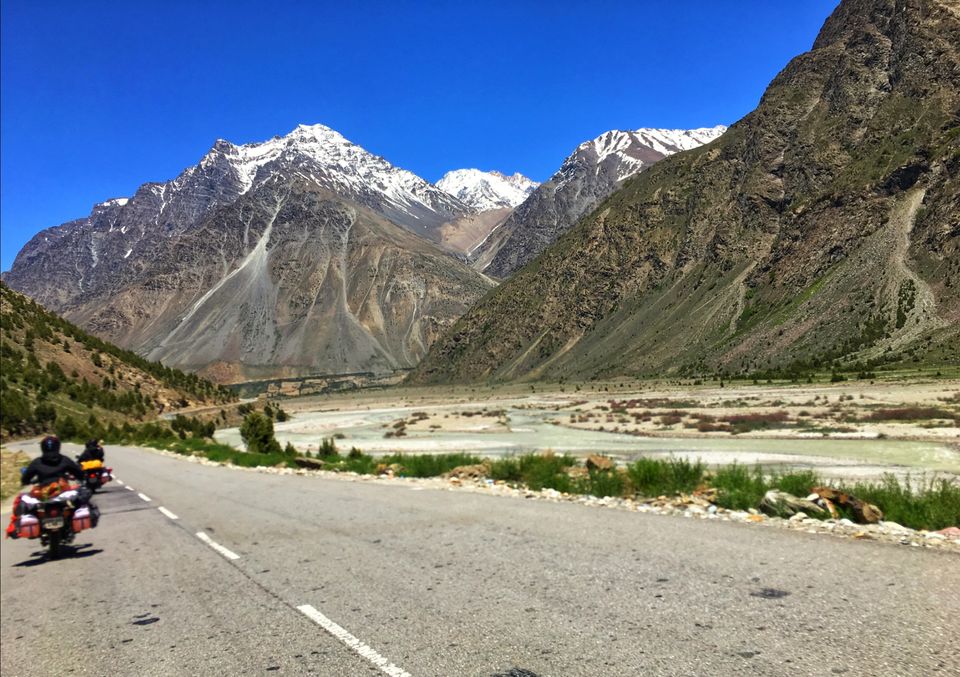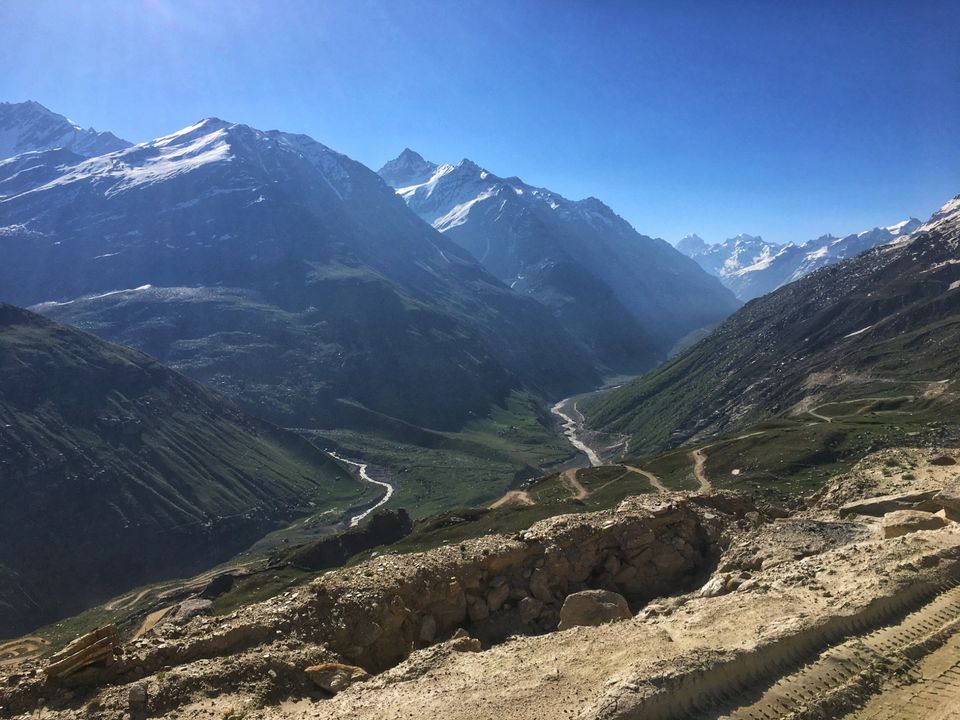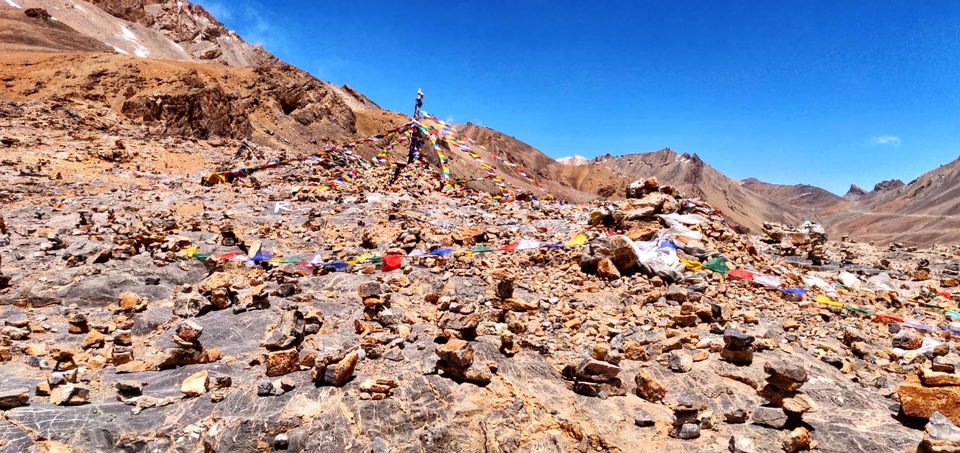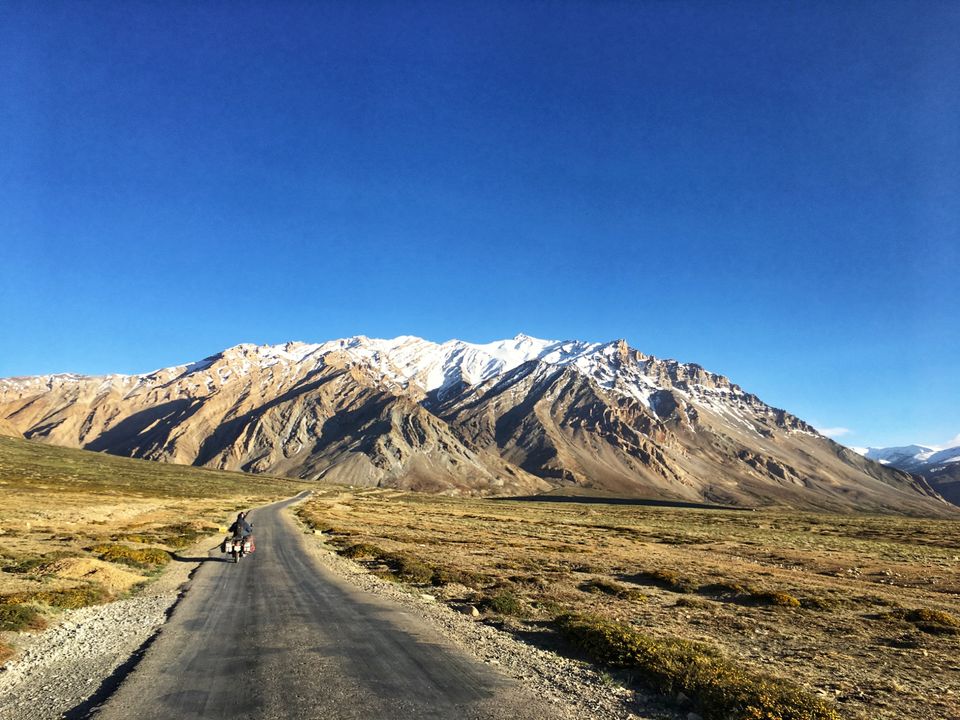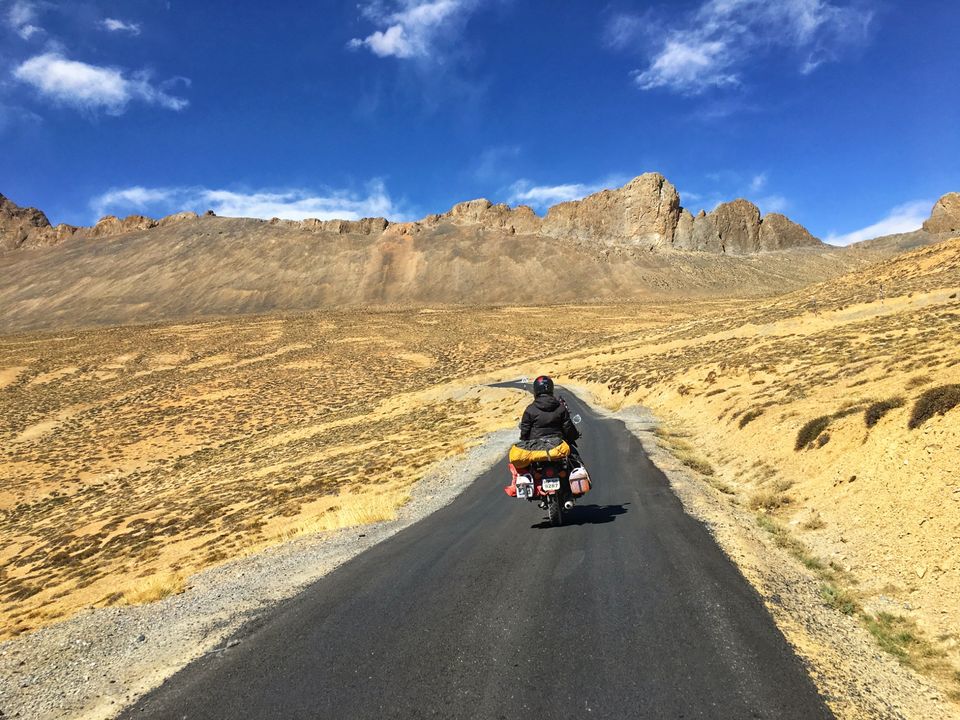 It was around 9:30-10am when I got up, to see all my friends still sleeping and enjoying their sleep. We were completely tired and wanted good rest. One by one woke up, freshened up and ordered breakfast. We spent the rest of the time playing mobile games and speaking what happened previous day.
We checked out from the hotel around 4pm to deliver the bikes and settle the rental bookings. We shared our experiences with the rental company and discussed lot many things over a cup of coffee.
Finally when everything settled we headed towards the main bazar to board the bus to Delhi. The bus left Manali around 6 and we were to reach Delhi by 8 in the morning.
It's usual that the bus journey this long is hectic but we did not feel anything, all we did is sleep peacefully.
We got up due to the Delhi traffic and we were in the outskirts of Delhi. We reached the main point and boarded taxi to reach our friends place.
We had breakfast and spoke a lot of things sharing our first time experiences with our friends who were not part of this trip and they had definitely missed a great journey. We spent the entire day chit chatting, eating junk food, playing games and taking some power naps.
We had our flight from Delhi to Bangalore around 6pm and we were to reach Bangalore by 9:30. We reached home safe and sound with a lot of memories and stories to tell our friends in Bangalore.
The entire Manali-Leh circuit can be completed like how we did (not about the unplanned stuff) it in 6days or the same itinerary can be extended to 8days or more. Due to time constraints we had to complete this trip short and crisp. People do put in extra day to stay overnight at Jispa (between Manali to Sarchu) to get adjusted to the terrain and altitude. Also, we missed Nubra Valley and couple of other places due to time constraints. We will definitely do another trip which will be a 15-20day trip from Manali to Srinagar.
The bike ride in the Himalayas is a must try for any biker. You not only test your riding skills but also be a part of this beautiful landscapes, get away from the city's hustle, work tension and explore new roads. You will also get to learn a lot things like being more social, cultural diversity, flexibility, time management, camaraderie and much more.
Since Manali-Leh-Srinagar is the most happening ride and most difficult ride, I would like to take sometime to share some best practices.
✓Dont be overconfident or over excited about the trip as it is your biggest enemy
✓Make sure you have First Aid kit and all the essential medicines with you
✓Make sure to carry spare parts if you are going by bike and learn the important bike services
✓Be sure to be physically and mentally fit during the trip
✓Be sure to carry and have enough amount of high energy food in stock, carry glucose and chocolates as well
✓Carry atleast one extra pair of warm/water resistant/water proof shoes and warm clothes for the cold
✓I would suggest Warmees, which can be ordered on Amazon as it's freezing out there.
Last but not the least,
RIDING IS A THERAPY THAT KEEPS YOUR SPIRITS HIGH AND MAKES YOU FEEL HAPPY INSTANTLY!