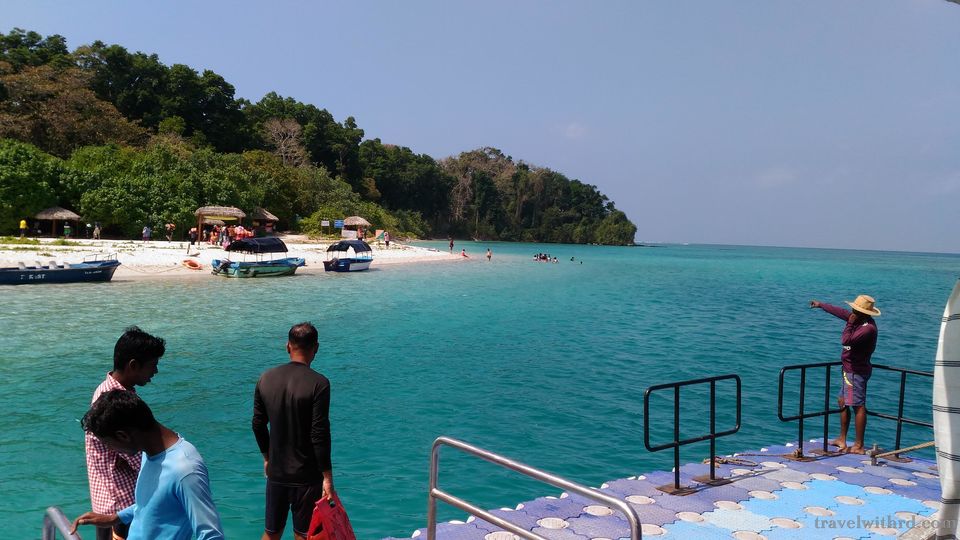 In a nutshell, write this trip. There is a lot of work pressure and a huge decrease of time.
Every government employee gets government funding to visit the country. LTC it is said. There are so many rules to take it that it is not possible for anyone to remember all the rules. Then there are some rules that change from time to time or continue to expand for some time. I ltc Do not know the rules of much. Anyway, you can avail of this facility once or twice in four years. It is a work to go out fifty times in four years. Once the expenditure is given to the government, then he has to spend all his money in his own pocket. So I often forget this feature given by the government.
LTC Is a master circular of your here I read it and booked the ticket accordingly. This circular says that to go to Andaman, you have to go to Kolkata before the Delhi train and then from the airplane. Later ... after returning it came to know that a temporary rule is also going on, as per which we can also get a flight from Port Blair directly from Delhi. But first I did not know this rule, so booked a berth on the train till Kolkata and after that the flight.
At first, he used to book a berth in Sealdah distant place, but when he started walking for eighteen-twenty hours, he was scared. Then got booked in Kalka-Howrah Mail. There was a high margin in Howrah Mail, so there was less chance of a flight off when it was late.
So at 7 a.m. on January 16, 2017, we sat in Howrah Mail at old Delhi station. Second Ace In. Good sexton ace category. The first time you traveled. Not crowded The hitchhik was a Bengali family. There was a good family. I gave my battery bank to charge them mobile and I got the charging point of my coupé to charge the laptop. More than 24 hours laptops were charging, but the Bengalis did not say anything.
I will not say anything about the Allahabad division. This single division has defamed the entire Indian Railways. I do not know what is the only problem in this division that after the departure from Delhi, the train will have to lie eight to ten hours till Mughalsarai.
Trains of other routes like Sridham Express or Gondwana Express, if there is a delay, then there are some reasonable reasons, but if the trains of this route are leased then there is no other reason than this division's poor working system.
Following the time from Delhi, the train reached Mughalsarai for six hours. All trains in Mughalsarai get rid of Allahabad division. Then till Howrah it was lying for six hours. At eight in the morning, to reach Howrah, reached at two o'clock in the afternoon. Yesterday is the morning flight.
Directly at Kisan Baheti's shop - Chandni Chowk. There is also Chandni Chowk in Kolkata. And like the moonlit chowk of Delhi and Hoo-bhu. But we proved to be such a wretched person that his elder father-in-law died as soon as he reached. They went to their in-laws after giving us the necessary instructions.
I do not know how important the metro is for the Kolkataites, but we only had to travel in it for the glory. Take a token and there is no checking - just go to the Metro. The non-air conditioned metro inside the ground According to Kisan ji - "Your luck is good, then the AC. The metro can also be found. "But our luck was not good.
It is amazing that the other Metro lines of Kolkata are also making Indian Railways. Indian Railways had made full preparations to operate the Delhi Metro itself, but Sreedharan Sahib did not allow this to happen. Indian Railways had felt that the Delhi Metro would fail without it and then its EMU here. Will play. For this, there is also a link line connecting Indian Railways and Metro at Shahdara Station in Delhi.
According to the suggestion of Kisan ji, we reached Victoria Memorial. After five o'clock, there was no entry and we were the last passengers to enter. The ticket clerk closed the window with a knock and many passengers standing behind us were disappointed. But we could not even go inside it. Just go to the Garden. As long as the eyes and eyes were removed from the dazzle of the garden and exterior decoration, the order to clear the memorial came.
Sitting in the ground for a while. This is a huge field. Equally, there is a 'ground' metro station. We are not used to the north Indians as a 'plain' word. Nothing should be added; Like Ramleela Maidan, Gandhi Maidan On the other side of the field, the Hooghly river flows. But my slippers had so far damaged the feet so that Hooghly could not move towards the ghat. These were the slippers that I had taken from Indore to Sumit doctor some time ago. There is a walk on foot in Andaman, so second slippers will have to be taken. This work has been done today. And Sumit has made these 'tyrannical' slippers toilets slippers.
Reached Esplanade. Do not know how the Bengali people will spell it right? I still speak this plainly Here's just a baseline. I did not feel much bigger, but it may be too big and not show me. It was dark. From here we had to catch the bus to the airport and the temple that was added on the way had to go to Kisan's house.
There was a bus stand of Bhutan on the bus stand. It was the official bus of Bhutan number and wrote 'Bhutan' instead of Thimpu or any other city. It just goes to Thimpu. Government buses run for Pakistan and Nepal from our Delhi, but they can not move from any basement to moving from different places.