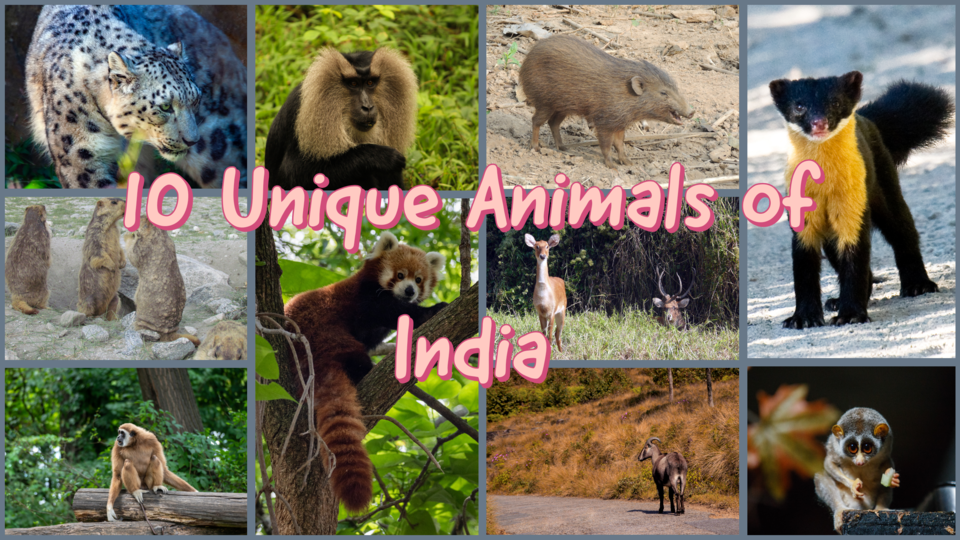 India is one of the world's most biologically diverse countries. It contains three of the world's 36 biodiversity hotspots, because of their extraordinarily high levels of species-richness and endemicity, and threatened status.
Celebrating the diverse wildlife that thrives in this country, let's have a look at these 10 unique animals found in India.
1. Hoolock Gibbon
Hoolocks are the second-largest of the gibbons and the only gibbon found in India. They are approximately 60 to 90 cm in height and weigh 6 to 9 kg. Males are black-colored with remarkable white brows, while females have a grey-brown fur, which is darker at the chest and neck. White rings around their eyes and mouths give their faces a mask-like appearance.
Hoolock Gibbons can be found in North-East part of India, majorly in Arunachal Pradesh and Assam.
2. Red Panda
This cute animal has been listed as Endangered on the IUCN Red List. The red panda has reddish-brown fur and a long, shaggy tail. Red Panda are generally 50-64 cm long (without tail) and weighs between 3.7 to 6.2 kg. The red panda lives between 2200 and 4800 m altitude, inhabiting areas of moderate temperature between 10 and 25°C with little annual change. They mostly eat bamboo and may eat small mammals, birds, eggs, flowers and berries.
Red Panda can be found in the forests of Sikkim, Arunachal Pradesh and West Bengal.
3. Nilgiri Tahr
It is the state animal of Tamil Nadu. The Nilgiri tahr is the only mountain ungulate in southern India amongst the 12 species present in India. They have been listed as Endangered in the IUCN Red List of Threatened Species. Both male and female variants have curved horns reaching up to 30 cm to 40 cm. Adult males weigh 80 to 100 kg and stand about 100 cm tall at the shoulder. They feed on various grasses, shrubs, leaves, and forbs.
Nilgiri Tahr can be found mostly in Nilgiri Hills. They can also be found in the southern portion of the Western and Eastern Ghats in the states of Tamil Nadu and Kerala.
4. Snow Leopard
One of the world's most elusive cats, Snow Leopards can thrive in the most extreme environments. In summer, the snow leopard lives at elevations from 2700 to 6000 m. However, in winter, it descends to elevations around 1200 to 2000 m. They prefer rocky, broken terrain, and can move in 85 cm deep snow. The snow leopard is a carnivore and actively hunts its prey such as Himalayan blue sheep, Himalayan tahr, markhor and wild goat.
In Hemis National Park, Ladakh you can find them abundantly. It is believed to have the highest density of snow leopard in any protected area in the world.
5. Sangai Deer
Sangai is an endemic and endangered subspecies of brow-antlered deer. It is the state animal of Manipur. The height and weight of a fully grown stag may be approximately 115–125 cm at shoulder and 95 to 110 kg respectively. Sangai feed on a variety of water living plants, grasses, herbaceous plants, and shoots.
Sangai Deer is found in its natural habitat only at Keibul Lamjao National Park over the floating biomass locally called phumdi in the south-eastern part of Loktak Lake.
6. Himalayan Marmot
Marmots are relatively large ground squirrels. They are the heaviest members of the squirrel family. The Himalayan marmot has a dense woolly fur that is rufous grey on the back and rufous yellowish on ears, belly, and limbs. Total length is about 45 to 67 cm, with a tail length of 12 to 15 cm. Average body mass ranges from 4 to 9.2 kg, with weights lowest post-hibernation in spring and highest prior to it in autumn. The marmot eats plants growing on pastures, in particular the soft and juicy parts of grassy plant.
The Himalayan marmot occurs in the Himalayas at altitudes of 3,000 to 5,500 m in northern India. In Ladakh, you can find them abundantly.
7. Nilgiri Marten
Nilgiri Marten is the only marten species native to southern India. The Nilgiri marten is deep brown from head to rump, with the forequarters being almost reddish. The color of the throat ranging from yellow to orange. It is about 55–65 cm long from head to vent and has a tail of 40–45 cm. It weighs about 2.1 kg. Nilgiri Marten is omnivorous and preys on birds, small mammals and insects.
The Nilgiri marten mainly inhabits the shola grassland and high-altitude evergreen forests. They can be sighted in the Pampadum Shola National Park in the Munnar Wildlife Division.
8. Pygmy Hog
Pygmy Hog is the world's rarest and smallest wild pigs. It is one of the very few mammals that build its own home, or nest, complete with a 'roof'. Pygmy Hog is listed as Endangered on the IUCN Red List. Pygmy Hogs are about 20-25 cm high and 45-51 cm long with a short tail. They weigh 3.2 to 5.4 kg. They feed on roots, tubers, insects, rodents, and small reptiles. Pygmy Hogs make small nests by digging a small trench and lining it with vegetation.
In India, you can find only a small population of Pygmy Hog in Assam.
9. Lion Tailed Macaque
Lion tailed macaque is an Old-World Monkey, endemic to the Western Ghats of South India. The hair of the lion-tailed macaque is black. Its outstanding characteristic is the silver-white mane which surrounds the head from the cheeks down to its chin. The hairless face is black in color. They are about 42 to 61 cm in length and weigh 2 to 10 kg. The tail is medium in length and has a black tuft at the end that is similar to a lion's tail.
Lion Tailed Macaque lives scattered over several areas in Tamil Nadu, Kerala, Karnataka. It ranks among the rarest and most threatened primates.
10. Slender Loris
Slender Loris is a type of Loris native to India and Sri Lanka. They spend most of their life in trees, travelling along the tops of branches with slow and precise movements. They are about 25 cm long and have long, thin arms. They weigh around 275 grams. Apart from insects Slender Lorises are also known to eat leaves, flowers, slugs and sometimes eggs of birds. They face a threat from poachers due to the misplaced belief that these animals have magical and medicinal powers.
In south-western India, the Malabar gray slender loris occurs in the wet forests of the Western Ghats and the Mysore gray slender loris inhabits the tropical dry forests of the Eastern Ghats.
Did you know about these animals, or have you spotted any of them yet? Let me know in the comments below!
Explore 'Mera Shandar Bharat, Safar Anokhey India Ka' where we are showing you a never-before-seen India!
Ready to travel for free? Earn credits and redeem them on Tripoto's weekend getaways, hotel stays and vacation packages after the pandemic is over!
Share your stories on Tripoto's Clubhouse channel!