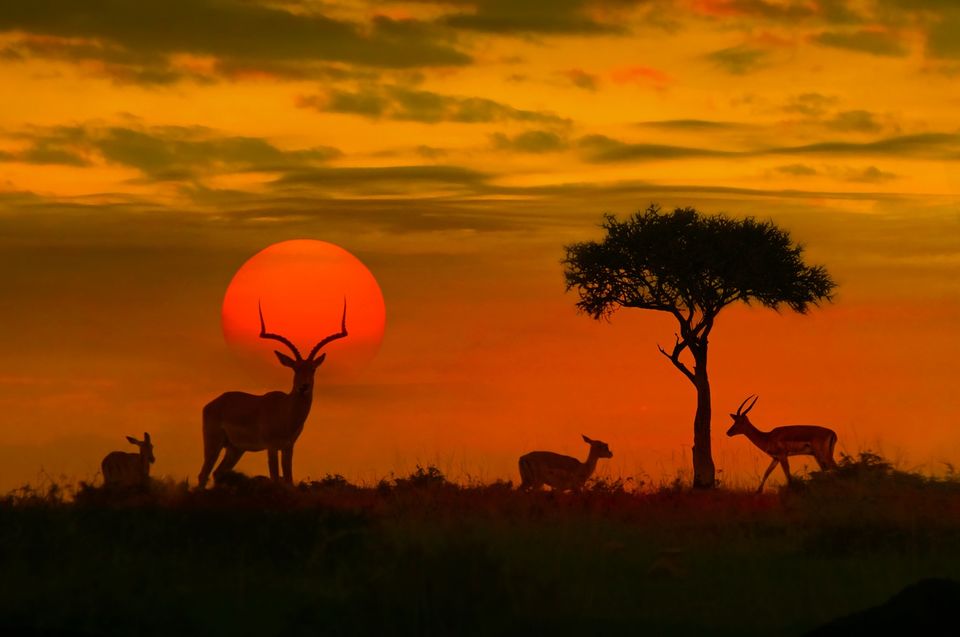 The List of National Parks in India is as diverse as the terrain and traditions of India. With a count of 103 diverse National parks in India, India has the third highest number of national parks in Asia, after China and Thailand. There is immense variation in the national parks and wildlife sanctuaries in India including Tiger Reserves, Desert Sanctuary, Bird Sanctuary and Marine Parks.
So,here is a list of National parks which will take you closer to nature and the magnificent creatures residing there.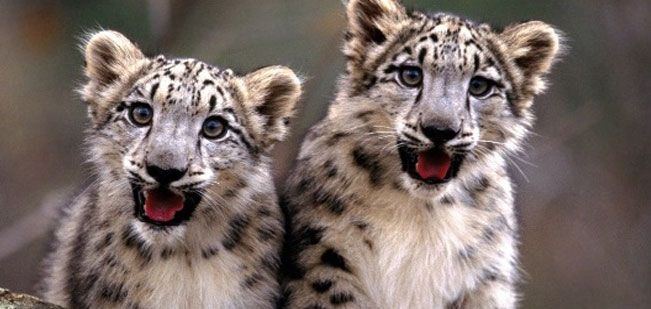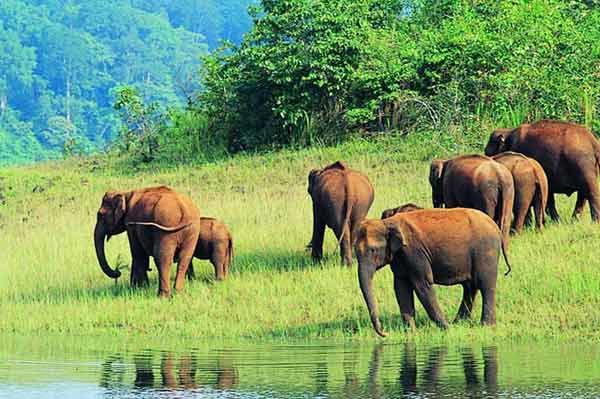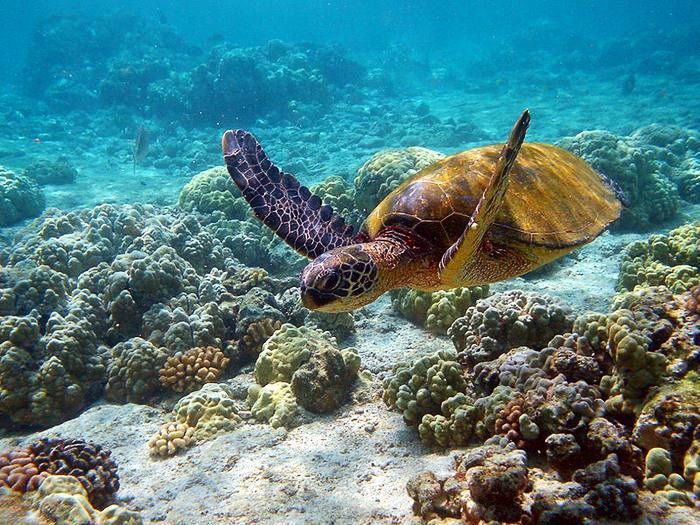 Best time to visit : October-June
Animals found- Tigers, Asiatic jackals, foxes, sloth bears, striped hyenas, jungle cats, leopards, Wild boars, Nilgai, Chinkara, Gaur.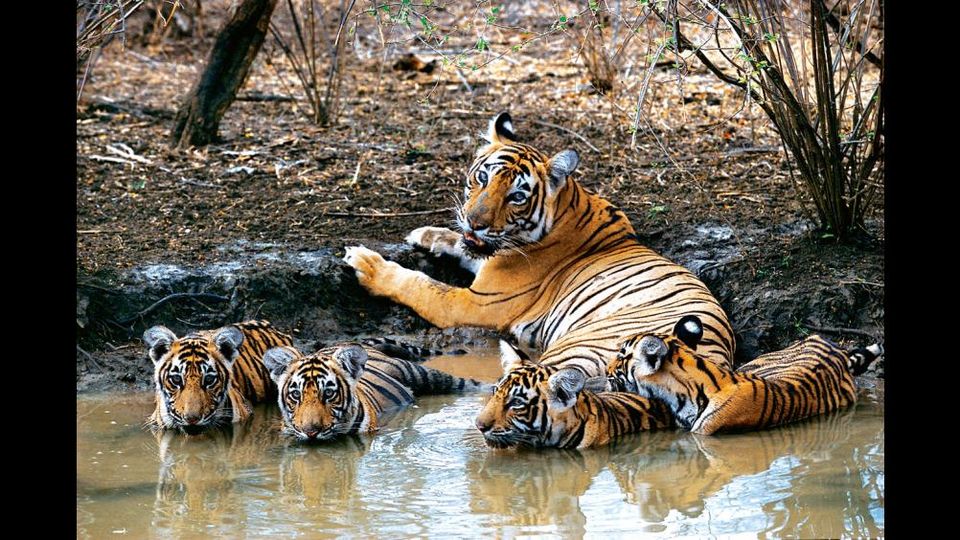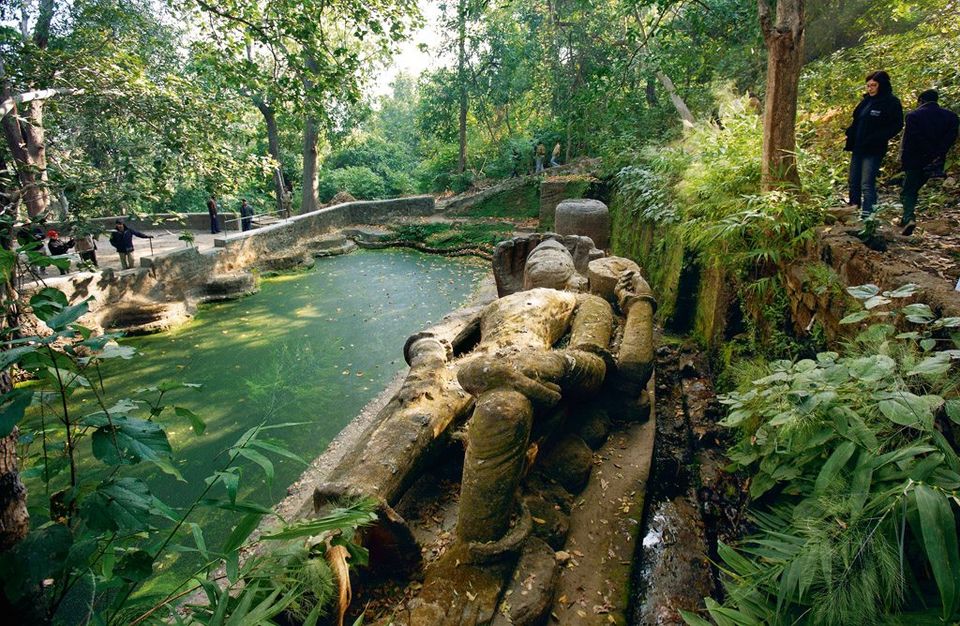 Formerly a hunting ground for the Maharajas of Rewa, this National Park is world-renowned as a tiger reserve. Bandhavgarh is known to have the highest density of Royal Bengal Tigers in the world and the frequent sightings of royal tigers make this national park a must-visit for all wildlife enthusiasts. The park got its name from the Bandhavgarh fort situated at the height of 800 m high cliffs nearby. The fort is in ruins now, but an hour trek to the fort is worth it as it provides a generous view of surroundings.
Best time to visit: Sep-Mar
Animals found- Bengal tiger, Fishing cats, Leopard cats, Indian grey mongoose, Fox, Jungle cat, Flying fox, Pangolin, Chital.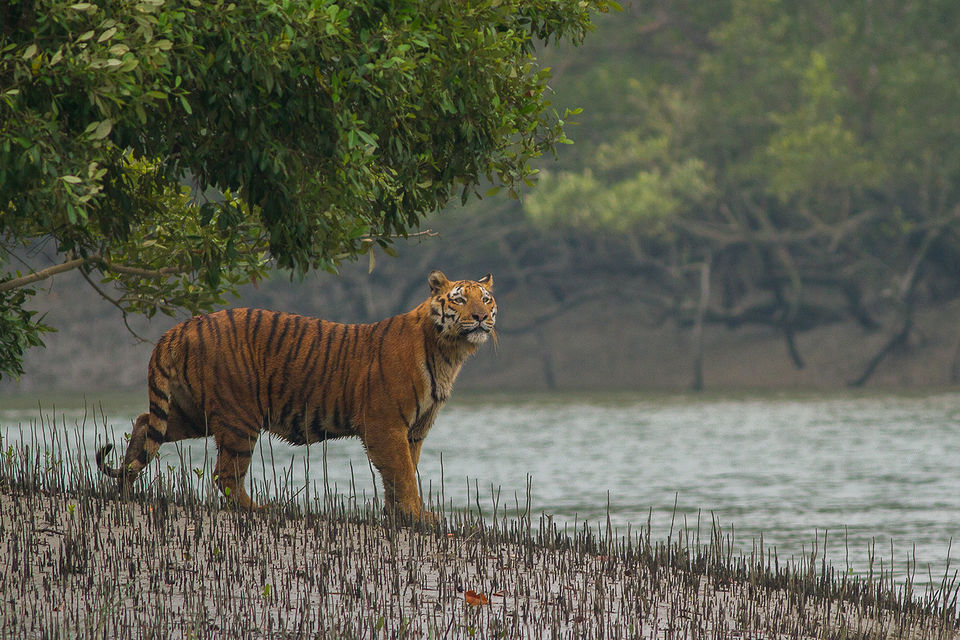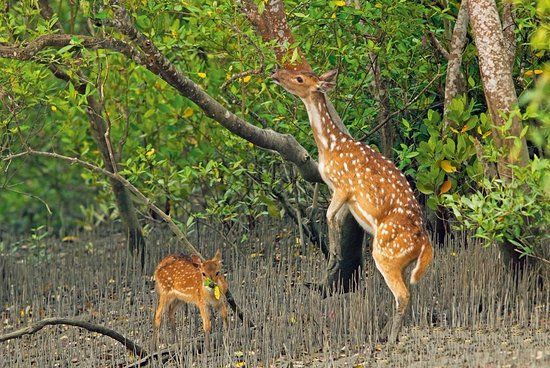 Sundarbans, one of the top tourist places in West Bengal, is a magnificent tangle of mangrove jungle that's the only one of its kind in the world.The large mangrove forests of Sunderbans are interwoven by numerous tributaries, making it one of the most attractive places remaining on earth. The Sundarbans is only accessible by boat and exploring it this way is a thrilling experience that shouldn't be missed.Gliding crosswise the river in the boats takes you to the nature walk as you see varied cultural adventures and close encounter with the tigers has enough to make your eye-catching memories.
Best time to visit: Oct-Jun
Animals found- Indian rhinoceros, Wild boar, wild water buffalo, Barasingha deer, Golden langur, Hog deer, Rose-ringed parakeets, Pallas's fish eagle.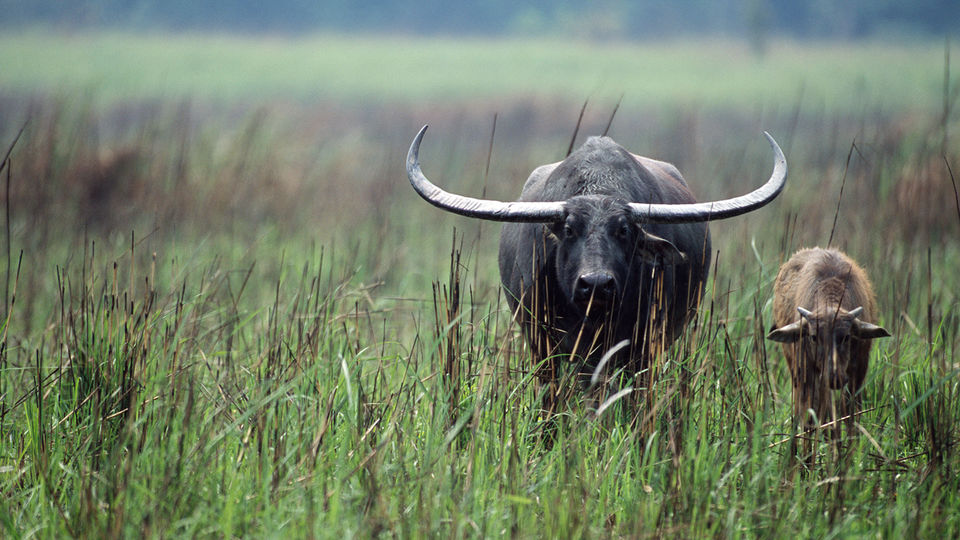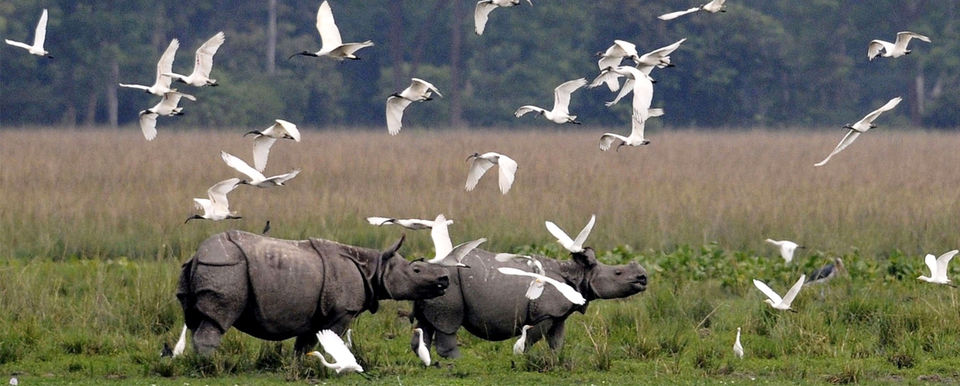 Kaziranga National Park is one of the prides of India. Kaziranga is the place where the nature unwinds its pristine form in millions of hues, where wildlife roams fearlessly, where man and nature meets together.Much of Kaziranga National Park consists of swamp and grasslands, making it the perfect habitat for the one-horned rhinoceros. This picturesque park can be explored by elephant safari.It is a special treat to the travelers to move in the open grounds on these majestic animals.
Best time to visit: Mid Oct- Mid Jun
Animals found- Greater One-Horned Rhinoceros, Alias Indian Rhinoceros, Nilgiri Tahr, Bengal Tigers, Asiatic Lion, Black Buck, Lion Tailed Macaque.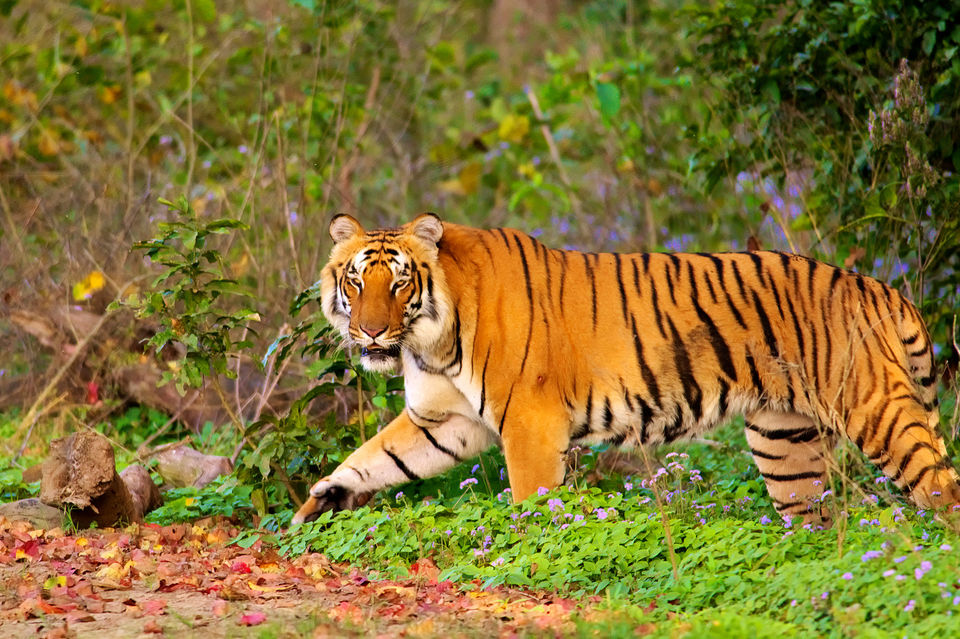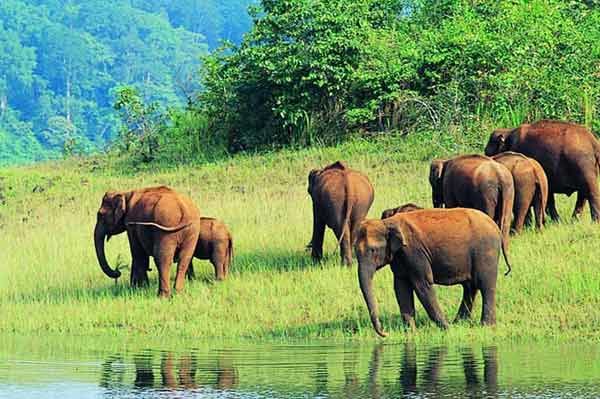 Nestled amidst the dense and rugged settings of Nainital district in Uttarakhand, this wildlife abode is one of the pioneer projects to protect the majestic Bengal Tigers.The magical landscape of Corbett is well known and fabled for its tiger richness. It is among the few tiger reserves in India that allows overnight stays in the lap of the National Park. Nature watch and wildlife viewing in the park is done in an open four wheeler Jeep and on elephant back.
Best time to visit : October to June
Animals found- Tigers, Barasingha, Barking Deer (Muntjak), Chital, Gaur, Hyena, Jackal, Jungle Cat, Langur.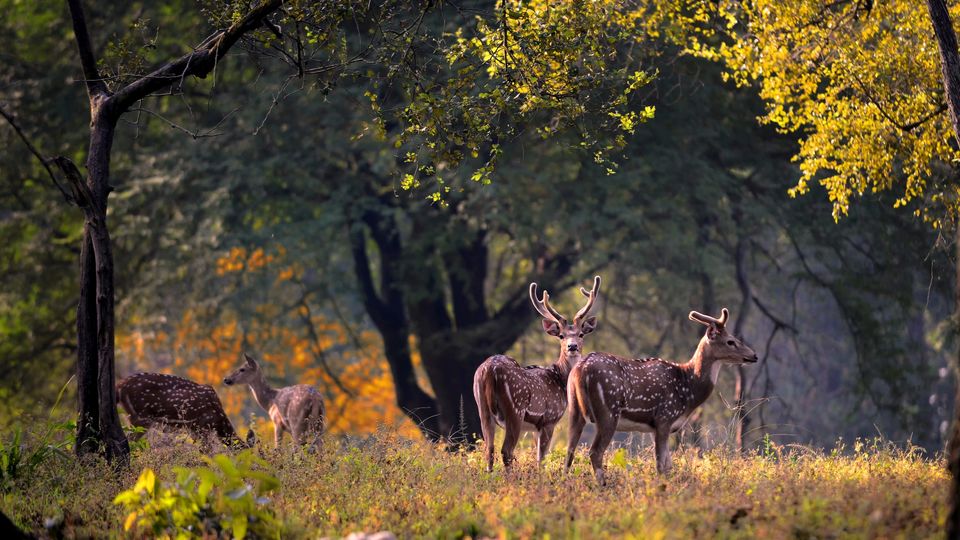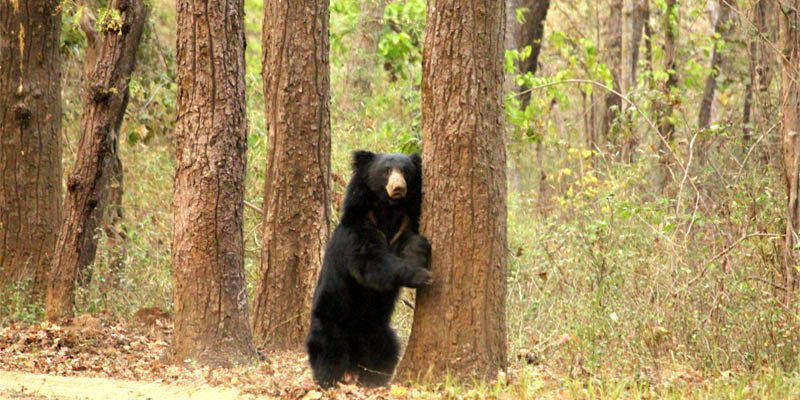 Kanha National Park has the honor of providing the setting for Rudyard Kipling's classic novel, The Jungle Book.The landscapes and the surrounding luxurious meadows along with the wooded strands and the dense maroons of forests offer magnanimous sightseeing experiences for the nature lovers. Making the land more beautiful and adorable, the crystal clear streams amidst the dense jungle cleanses the surroundings and makes the wildlife unrivalled.It's perfect for nature lovers.
Best time to visit : Jul-Mar
Animals found- the Asiatic lion, Indian leopard, jungle cat, striped hyena, Golden jackal, Indian and Ruddy mongoose, honey badger, Desert cats and rusty-spotted cats.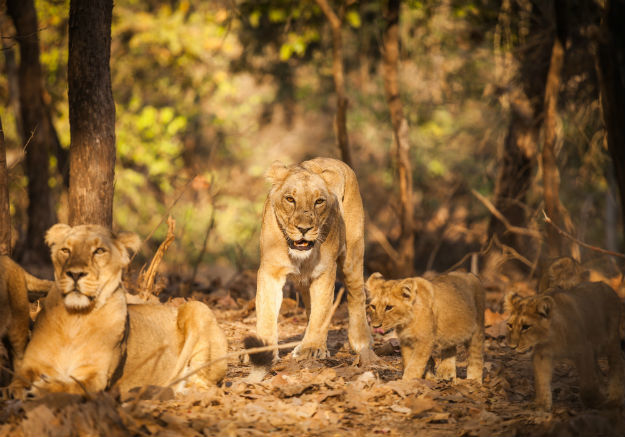 Gir National Park is the only remaining home for the Asiatic Lions that are almost a definition to this park in Gujarat, which has a lot more to offer.Gir provides you with the unique experience of visiting a place which almost singularly plays a crucial and defining role in the preservation and sustaining of a certain species.Rare species such as Lesser Florican and the Sarus Crane are recorded in the grasslands along the periphery of the sanctuary.
Best time to visit : Oct-Apr
Animals found- Tigers, Leopards, Striped Hyenas, Sambar deer, Nilgai, Caracals, Sloth bears, Black bucks, Rufoustailed Hare, Indian Wild Boar, Chinkara, Common Palm Civets.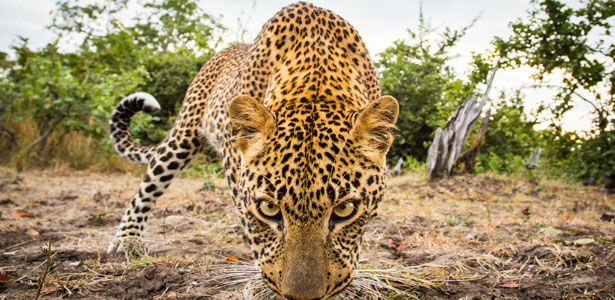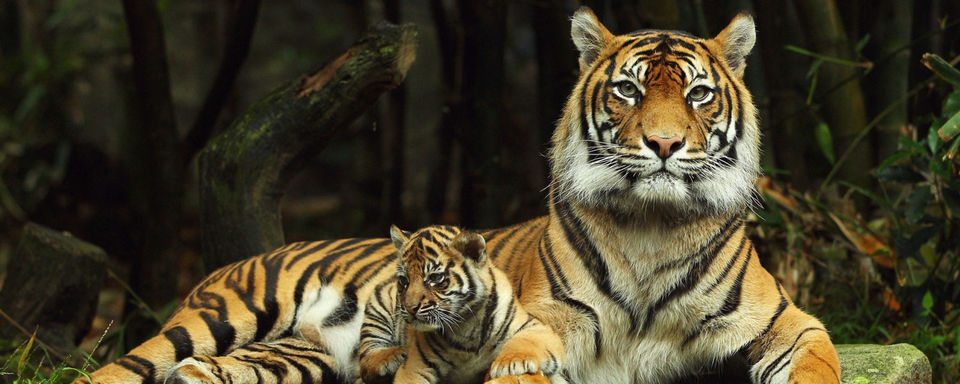 Ranthambore is a fascinating blend of history and nature.Ranthambore is also counted as the famous heritage site because of the pictorial ruins that dot the wildlife park. Certainly, a visit to Ranthambore National Park is a treat for every wildlife and nature lover. The time spend on watching tigers roaming around, verdant greenery, a gamut of other species of chirpy birds and animals is priceless and worth enough to be explored at least once in a life.
Best time to visit : Oct-May
Animals found- Chital, bengal tiger, gray langurs, Indian giant squirrel, gaur, leopard, sambar deer, indian elephants, honey badger, red-headed vulture.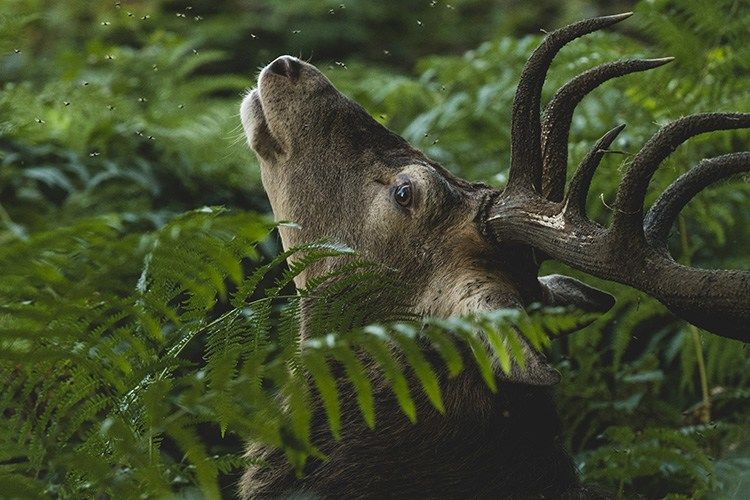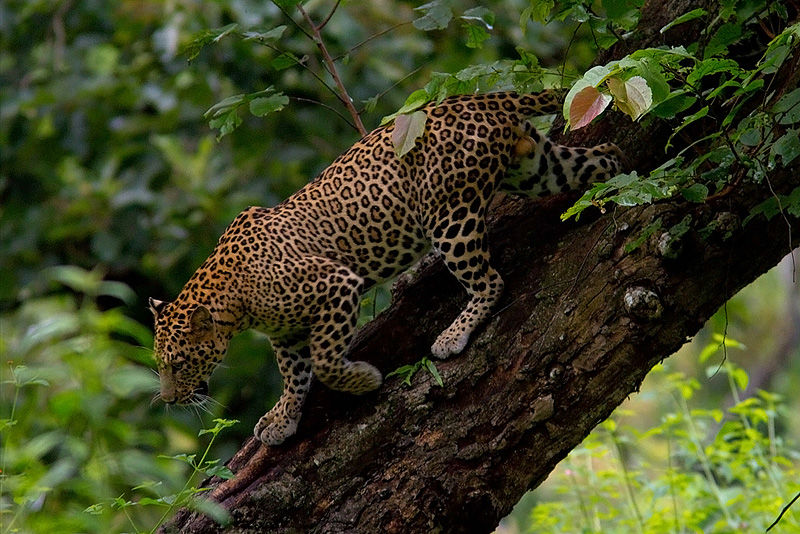 Replete with a wide range of beautiful wildlife and multitudes of teak and sandalwood trees, this is the first Biosphere Reserve of the country. Bandipur National Park is regarded as one of the most beautiful and the better-managed national parks of India. Located amidst the picturesque surroundings of the towering Western Ghat Mountains on the Mysore-Ooty highway in Karnataka,this is a must visit for nature lovers.
Best time to visit : Nov-Feb
Animals found- Cranes, Pelicans, Geese, Ducks, Eagles, Hawks, Shanks, Stints, Wagtails, Warblers, Larks,Sambal, Chital, Nilgai and Boar.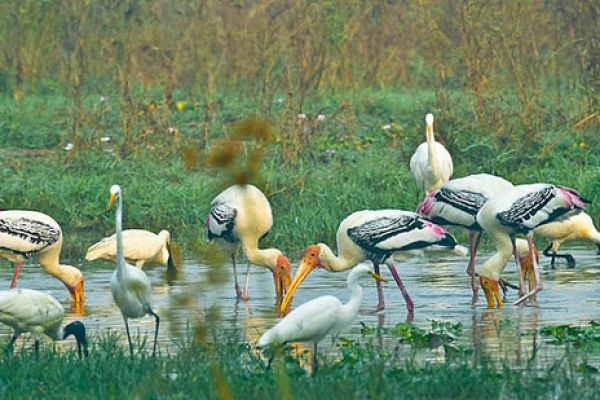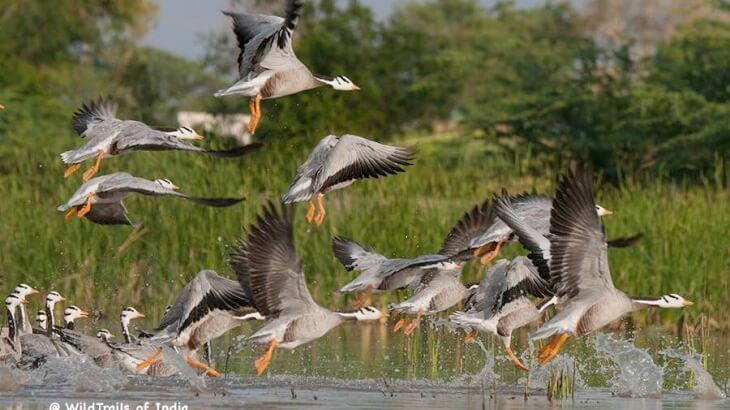 The city is drenched by its culture, chivalry and romance woven into ballads and folklore can be heard from miles. An exotic offbeat destination that serves tourists with authentic Rajasthani traditions, religious occasions mark devotion of the state people. It is also the home of Keoladeo National Park, which habitats over 370 species of animals and birds.
Best time to visit : March-June, and September-November.
Animals found- Brown bear, musk deer, thar, goral, snow leopard, bharal, monal, koklas, Tragopan and tahr and blue sheep.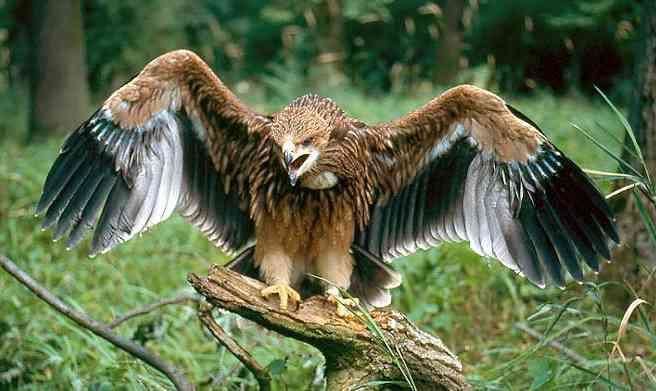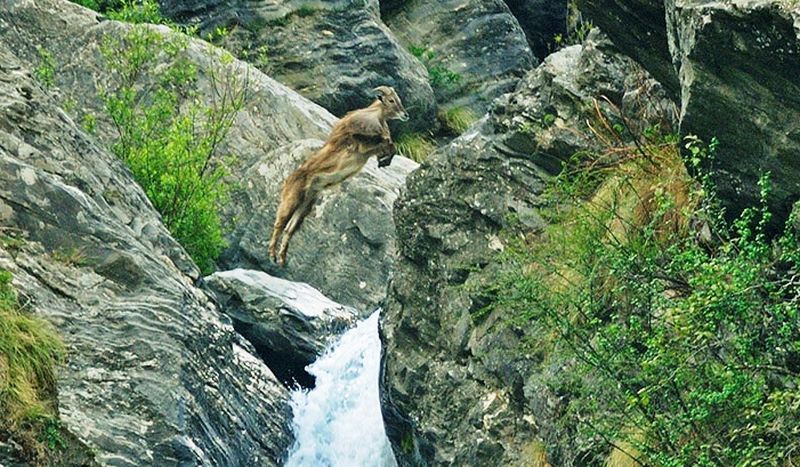 One of the top places to visit in Himachal Pradesh, the Great Himalayan National Park became a UNESCO World Heritage Site in 2014. The park has four valleys and covers more than 900 square kilometers. Its remote, rugged and untamed terrain makes it sought after by trekkers but only the fittest and most adventurous reach deep inside the core area.
Best time to visit : Oct-Apr
Animals found- Indian elephants, Indian rhinoceros, gaurs, Asian water buffaloes, tigers, leopards, clouded leopards, Asian golden cats,golden langurs, hoolock gibbons, smooth-coated otters, sloth bears, barking deers, hog deers, black panthers,red panda.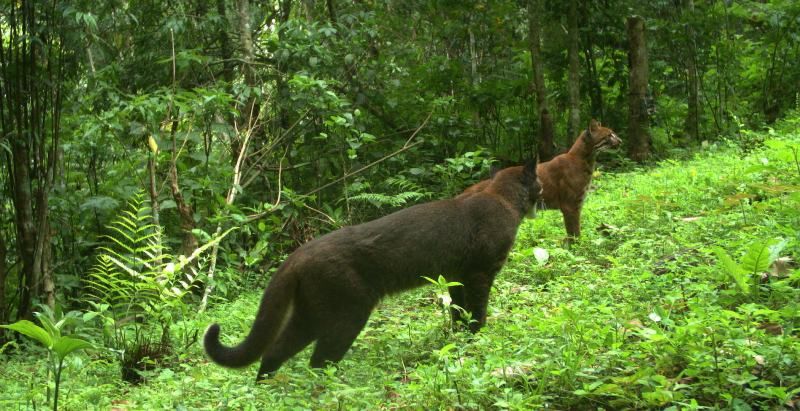 Manas National Park is a UNESCO Natural World Heritage site, a Project Tiger Reserve, an Elephant Reserve and a Biosphere Reserve in Assam.Manas is recognized not only for its rich biodiversity but also for its spectacular scenery and natural landscape which includes a range of forested hills, alluvial grasslands and tropical evergreen forests. It's home to India's second-largest tiger population. It is also famous for its population of the Wild water buffalo. One can easily spot rhinos and tigers while sitting on an elephant.
Best time to visit : October-March.
Animals found- It has the highest number of fish species in the North Bengal region. Tigers, elephants, bears, civets, giant squirrel, gaur, chital, clouded leopard, wild buffalo, antelope and snakes including the regal python are found here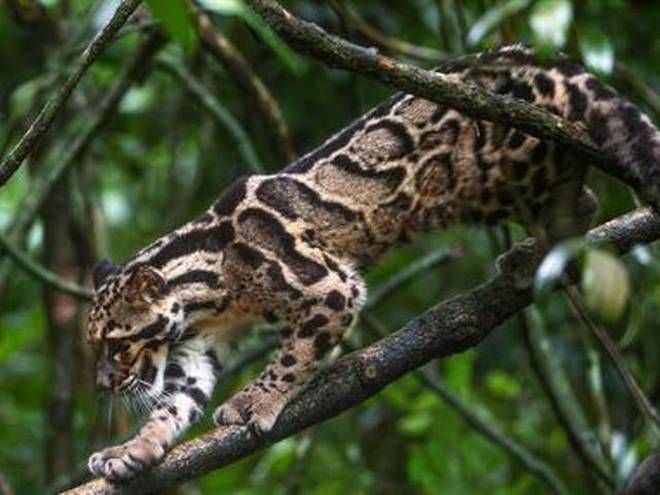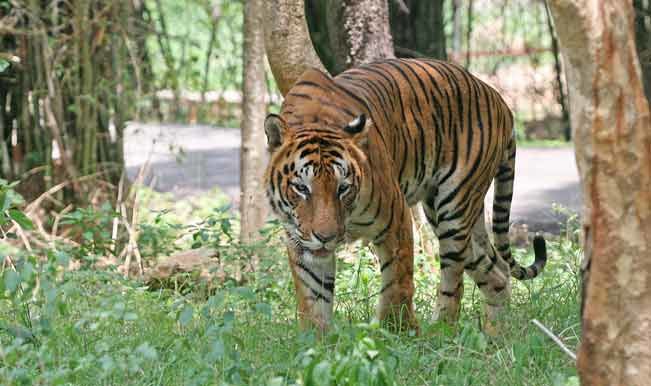 Spanning over a whopping 759 sq. kms, this tiger reserve is crossed by several rivers and their tributaries and is proud of a diverse and breathtaking landscape. In fact, because of the rocky terrain, many parts of the forest in the Buxa hills that lie in the Sinchula Range are inaccessible by the authorities, and hence remain unexplored even after so many years.Another interesting fact about this tiger reserve is that it serves as an international corridor for the migration of elephants between India and Bhutan.
Best time to visit - May-October
Animals found- The Tibetan wolf, snow leopard, the Eurasian brown bear,the red fox, the Himalayan marmot, mountain weasel and the Himalayan mouse hare. Among birds, the golden eagle, lammergeier vulture, and Himalayan griffon vulture are also found here.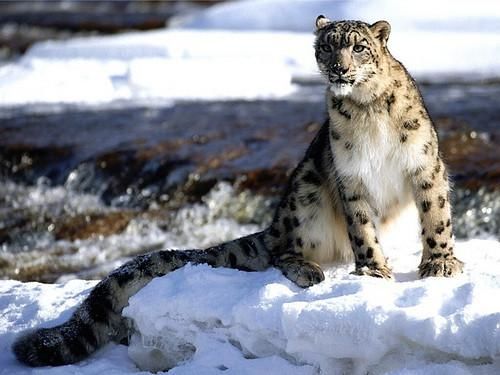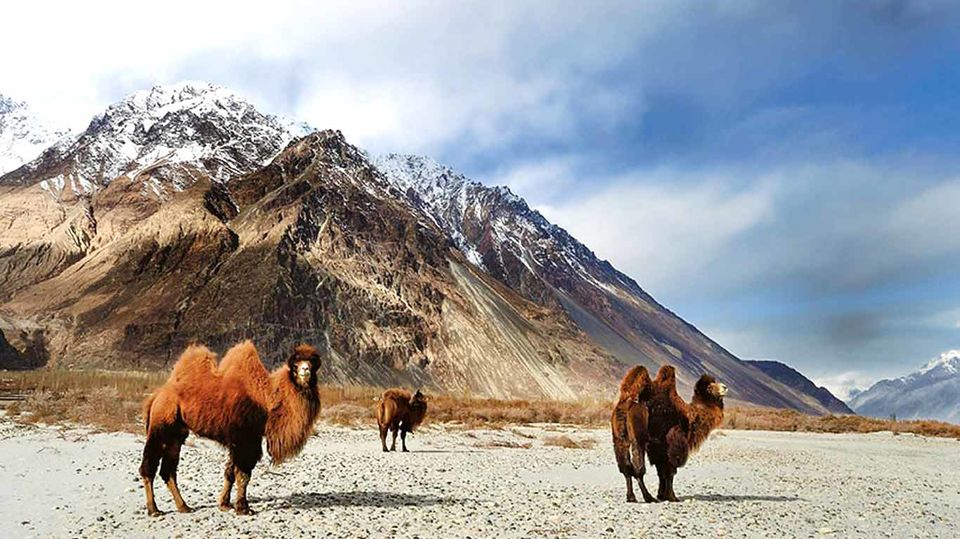 At an altitude ranging from 3,300 m to 6,000 m above sea level, this sanctuary is known to be the highest in the world as well as the largest park of South Asia. It is also a habitat to the rare Snow Leopards.The Hemis National Park offers nature lovers a varied landscape, the mountains of various shapes and sizes, vast flatlands, cold deserts, and more. The biome of the park consists of dry Himalayan subtropical pine forests; Western Himalayan alpine shrub and meadows; and Himalayan Alpine tundra.
Best time to visit: December-April
Animals found- Dugong, dolphin, water monitor lizard, blue whale, the Green turtle, the Hawksbill sea turtle, olive ridley turtle, The Estuarine Crocodiles and the Coconut Crab.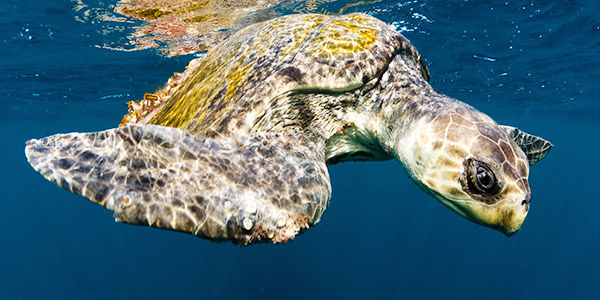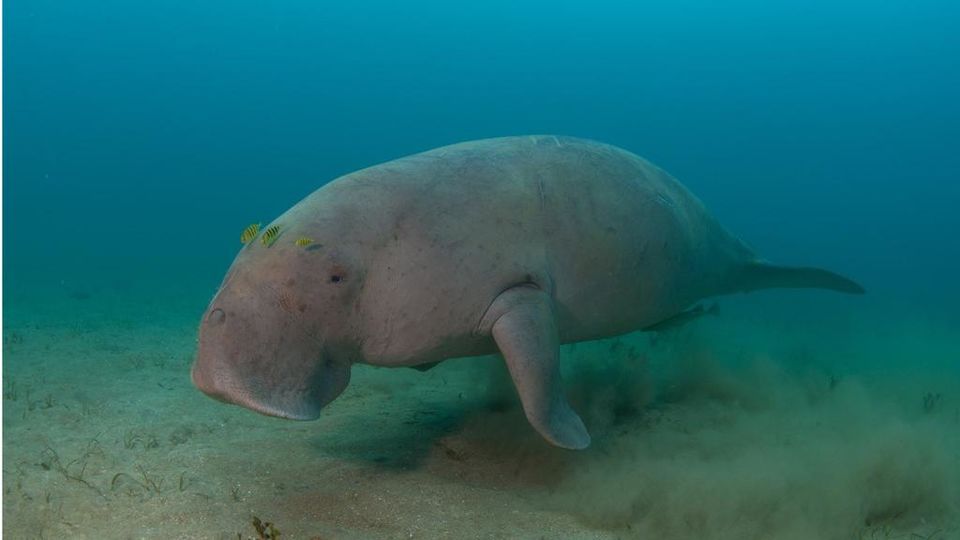 The national park and its surrounding areas are like heaven on earth with pristine white-sand beaches, azure skies and clear water which mesmerise the senses. Covering over 220 sq. km area, the national park is a great place to try some snorkelling and diving in the crystal clear water of the islands giving one an opportunity to see nature's glory from a close view. The coral reefs are the highlight of the park exhibiting their glorious forms and enchanting one and all.