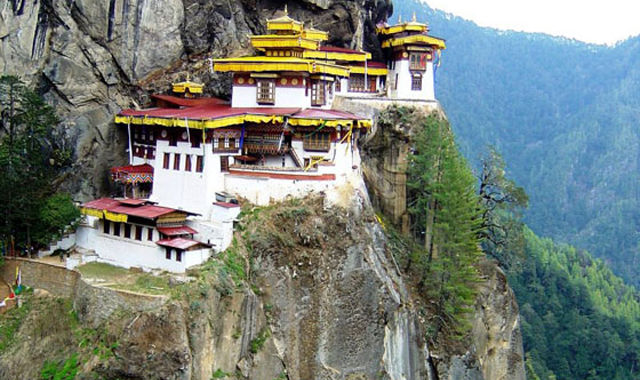 Bhutan—the Land of the Thunder Dragon—is a kingdom of contradictions. Democracy and Dominion. Gross Domestic Product and Gross National Happiness. East and West. In the west, a well-lit trail takes you through the tourist attractions, there are decent hotels and the food is basic. The secluded east remains just that! In this country, buying cigarettes is against the law, the rice is pink and a red chili is not just seasoning but also the main dish at times!  
My trip to Bhutan was one of the best trips I have done in my history of travel, beginning with the breathtaking sight of the Himalayas and the magnificent Mt. Everest spread out beneath us. The sole landing strip runs along the base of a deep valley and it sure required a skilled pilot to guide the airplane over and around the mountains! With a prayer on our lips, we joked that the flight into Paro made us feel as though we were entering a magic kingdom. Later, ancient Buddhist sites in Bumthang Dzongkhag, serene [almost otherworldly] culture, beautiful woven textiles in the village of Khoma, fishing in the shallow streams, the Phobjika Valley terraced with flowers, Paro's National Museum housed in a watchtower built in the 1650s and the dzong or fortress that now serves as a school for monks made it a picture-perfect vacation. After a few days in Paro, we moved on to sightseeing, beginning with "tiger's nest"—the burial place of Guru Rimpoche. Getting to it requires two-hour hike to 10,000 feet above sea level. The "white cliff" carved out of the side of a hill awed us. To get there we carefully walked up a narrow path and then climbed a ladder to the entrance. Inside were elaborate altars with fruit, flowers and torma i.e. butter sculptures. The temple keeper suggested we lean into a human-shaped depression in the wall—a custom said to bring good luck.
Thimphu, our next stop, is Bhutan's largest city, with a huge population. Here we found handicrafts, the Textile Museum and the philatelic store at the main post office. If you are extremely lucky, as we were, you may see one of the queen chauffeured through town in a Land Rover or the king himself playing basketball! Looking back, perhaps due to its topography, religious convictions and traditions, the average Bhutanese lives at a languid pace, is meditative and has a calendar marked with religious holidays during which trade and commerce comes to a standstill. What made this trip special was the opportunity to witness one of their sacred festivals where Tibetan horns saturated the air—in an attempt to arrest sins of the people present there and send them heavenward. The colossal embroidered silk that was lowered from the roof to reveal Tibetan Buddhist deities awed me; the thondrol, painstakingly hand-stitched, covered the courtyard. In that hour, we waited expectantly for a miracle to occur. The monks were calling on God to take away our suffering, regrets and wrongdoings. Caught up in the spiritual ambience I reflected on why I had come here—the reason I would tell no one about—and made a wish. As the rising sun peeped over the mountains, the sounds of the horns gradually faded. "Examine carefully whatever terrifies you," came a line to me from The Tibetan Book of the Dead, "and see the voidness." In the silence that followed, dawn broke the spell and the sacred moment had passed. There is another reason I hold Bhutan close to my heart. In this country, a smile on your face is more precious than a coin in your pocket. The myth goes: Once upon a time in a country far, far away lived a king who proclaimed that in his Himalayan kingdom, "Gross national happiness is more important than gross national product." It was a learning curve; although most of us agree with the cliché "Money can't buy you happiness," in our hearts we believe money can make a down payment!  
When I was checking out, a monk in the Buddhist temple inside our hotel offered us blessings for a safe journey and gifted us prayer flags. Their importance became clear when I arrived at Dochula Pass 10,000 feet high on a smoggy highway where dangerous blind curves and precipitous drops were lined with prayer flags. The sight remained with me for days after we left Bhutan and reflecting back it is easily to observe Buddhism is part of their daily life… summed up by our hotel manager in a sentence pregnant with wisdom, "In our most beautiful places, we build monasteries and everybody gets an opportunity for fulfillment. In your most beautiful places, you build luxurious resorts, and only the rich go there." Who knows if the people in the remote Kingdom of Bhutan will live happily ever after but for now its government policy to foster that objective.  
My advice: Travel to this country and imbibe its culture before it changes. Happiness and gratification here is contagious. A bit of it even rubbed off on a skeptic like me!