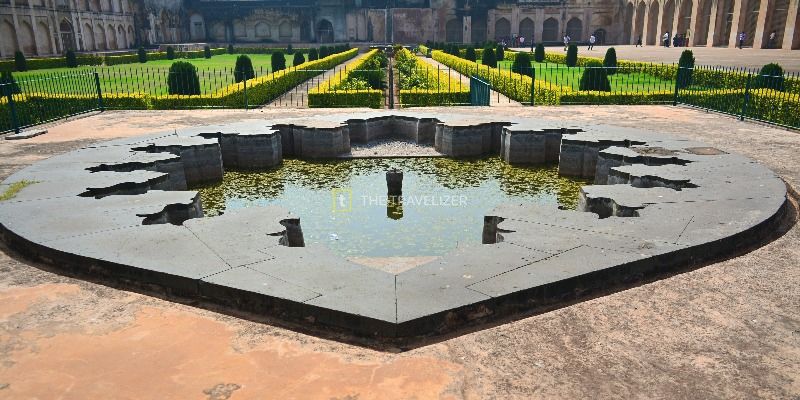 SHRI JHARNI NARASIMHA CAVE TEMPLE
After lunch, we headed for Shri Jharni Narasimha Cave Temple (6 kms away from bus stand) in a rickshaw for Rs. 80. It is a cave temple associated with Lord Narasimha, an incarnation (avatar) of Hindu god Vishnu. The ancient temple is excavated in a 300 metre tunnel under the Manichoola hill range. The temple was flocked by devotees and we decided not to enter the temple as there was a long queue.
The temple premises has a large hot water spring/ pool for devotees to bathe in. From there, a rickshaw driver agreed to drive us to Bahmani Tombs (5 kms away from Narasimha Temple), then to Chaukhandi of Hazrat Khalil Ullah (1 km from Bahmani Tombs) and then back to our hotel (8 kms) all for Rs. 300 (seems expensive but the guy was going to be with us till evening so that was okay).
BAHMANI TOMBS
Situated in the Ashtur village, the place is literally a complex of huge tombs. Out of the 13 tombs, 9 belong to the Bahmani Sultans and other 4 belong to their wives. It is located some 9 kms away from the city centre.
For Bahmani Tombs, you drive along the Mangalpet Road from Narasimha Templeand then take a detour to drive along the Ring Road. After another detour along the Ring Road towards Ashtur, you get to see Chaukhandi; another kilometer ahead of that and you get to see huge domes which are the Bahmani Tombs. It took us 15-20 minutes to reach there from the temple.
The earliest and grandest among them is the Tomb of Ahmad Shah-al-Wali, the ninth king of Bahmani dynasty. Built in 1436 AD, it honours the Sultan who shifted the Bahmani capital from Gulbarga to Bidar.
The tomb is decorated with calligraphic bands and inscriptions. While the most recurring color schemes include vermilion, turquoise and gold, there are also instances of cobalt, gray terra-verde and buff.
Near the tomb of Ahmad Shah, is that of his wife which essentially has the same layout, on a much smaller scale. However, it is placed on a four feet platform and rises about 29 feet above the Sultan's own tomb.
A guide named Sultan Khaleel Shah Bahmani claimed to be the descendent of Bahmani dynasty. He showed us couple of coins from the Bahmani era. You may contact Sultan on 09739486771, to guide you about the place and its history. You may also check his credentials on Youtube here.
There's a tomb which is partially collapsed but gives a wonderful view of the interiors of the dome. It belongs to Humayun Shah, son of Sultan Allauddin Shah. The structure seems like a cross-section cut model of a tomb. Sultan told us that the two walls and most of the dome collapsed due to lightning.
CHAUKHANDI OF HAZRAT KHALIL ULLAH
After spending more than an hour at Bahmani Tombs, we moved to the Chaukhandi which is a tomb of Hazrat Khalil Ullah. He was a spiritual advisor of Sultan Ahmad Shah. The structure showcases stucco work on walls, intricately carved pillars and beautiful arched doorways. The tomb is a two story octagon with a freestanding square domed tomb chamber within. The doorway walls are adorned with beautiful calligraphy depicting Quranic verses.
PAPNASH MAHADEV TEMPLE
Having left from our rooms at 6 pm, we reached Papnash Mahadev Temple (2 kms away) by rickshaw (Rs. 100 including journey back to Gurudwara Nanak Jhira Sahib). The temple is located in a beautiful valley and has a natural spring pond, called as "Papnash". It is believed that Lord Ram while returning from Lanka installed a Shivalingam in this temple.
GURUDWARA SRI NANAK JHIRA SAHIB
We reached the Gurudwara post 7 pm which proved to be the best time to visit as it was less crowded. The gurudwara is about 2 kms away from the main road/ bus stand. The Gurudwara consists of:
Darbar Sahib
Diwan Hall
Langar Hall
Sukhaasan Room (Rest room for Guru Granth Sahib Ji)
Likhari Room
A beautiful sarovar (sacred pool) is built in front of the Gurudwara stairs. The water from Sri Nanak Jhira (natural spring) is directed to this pool for pilgrims to take holy dip.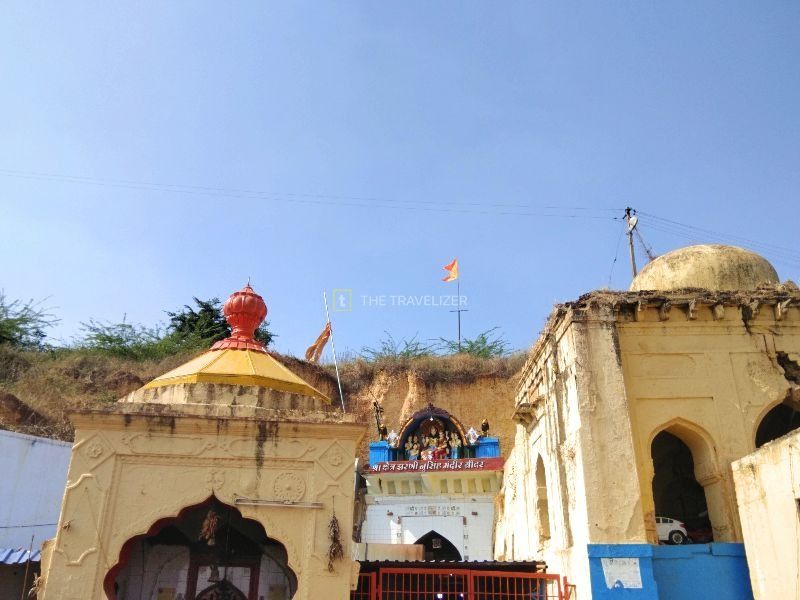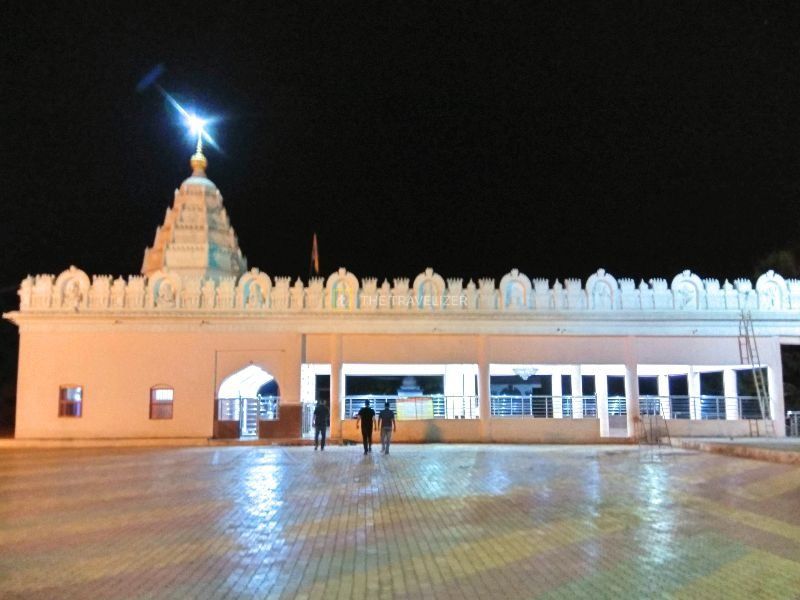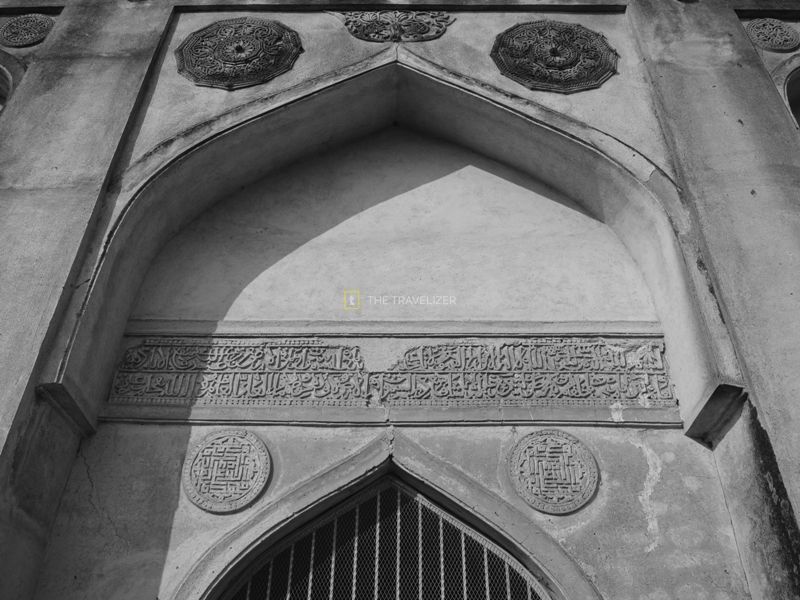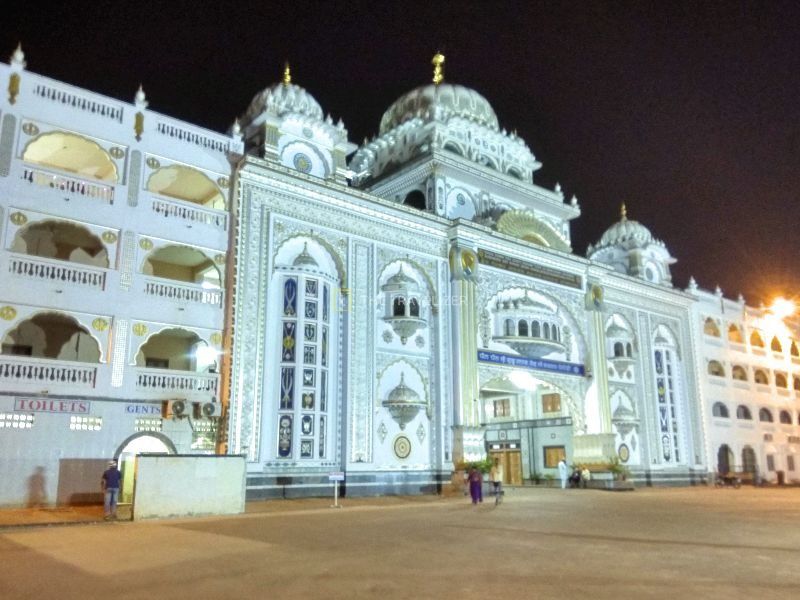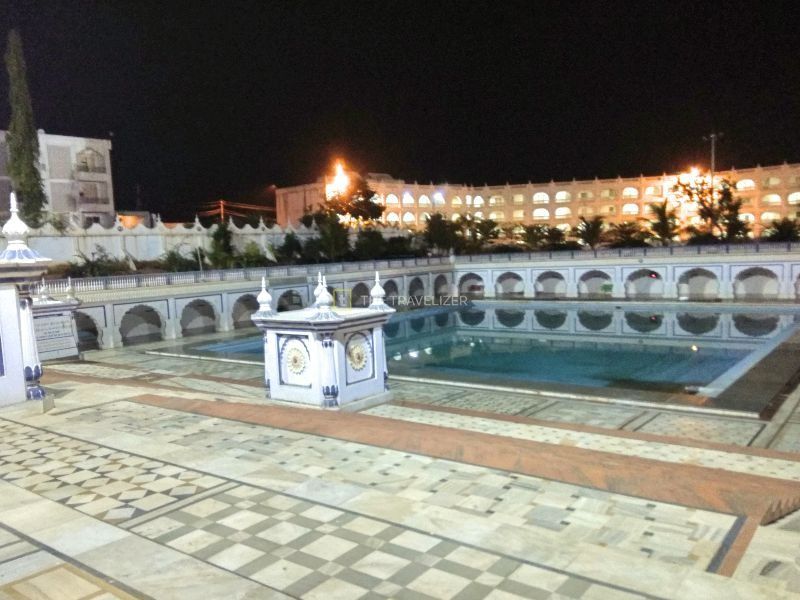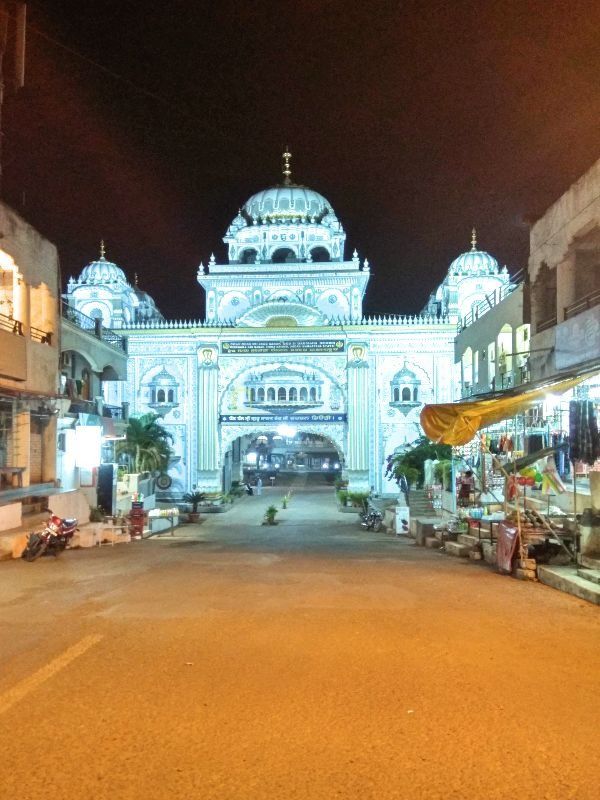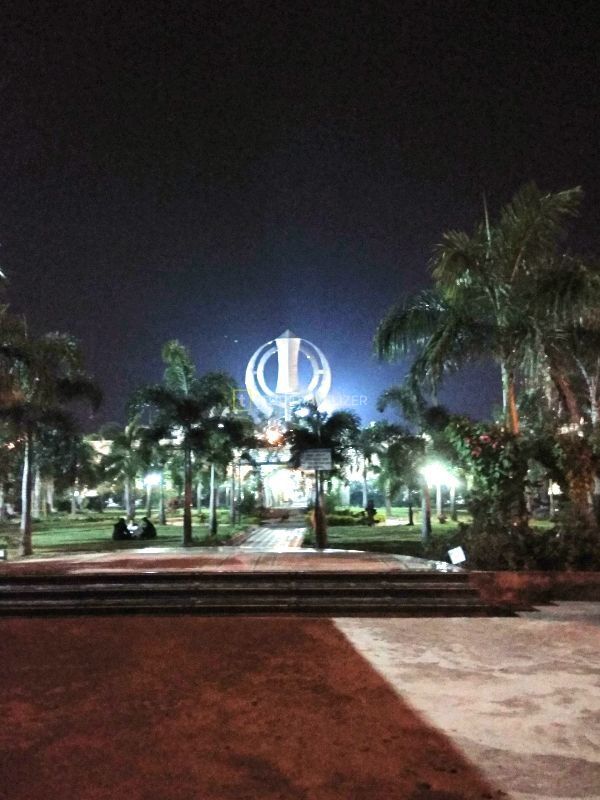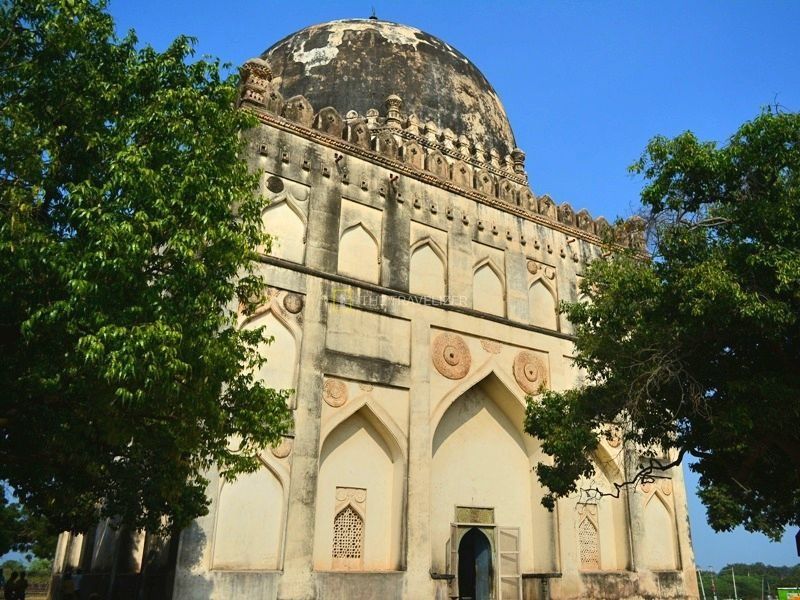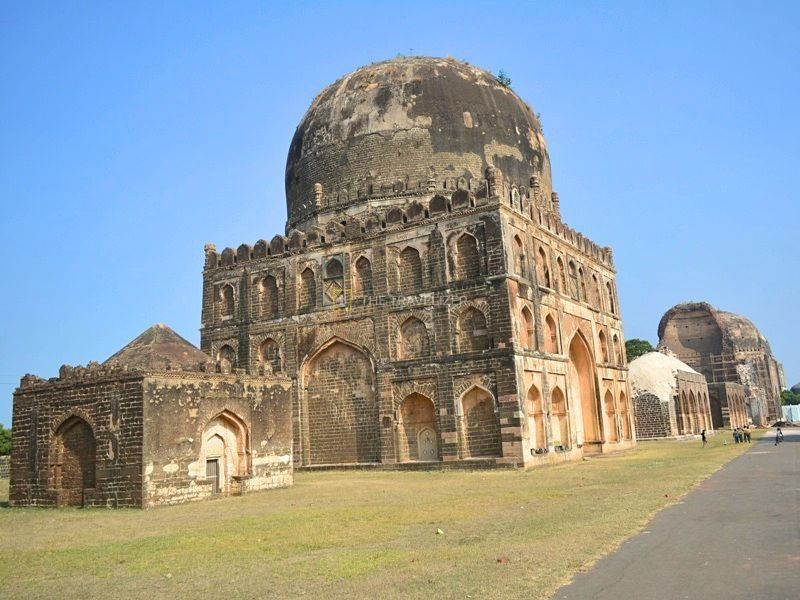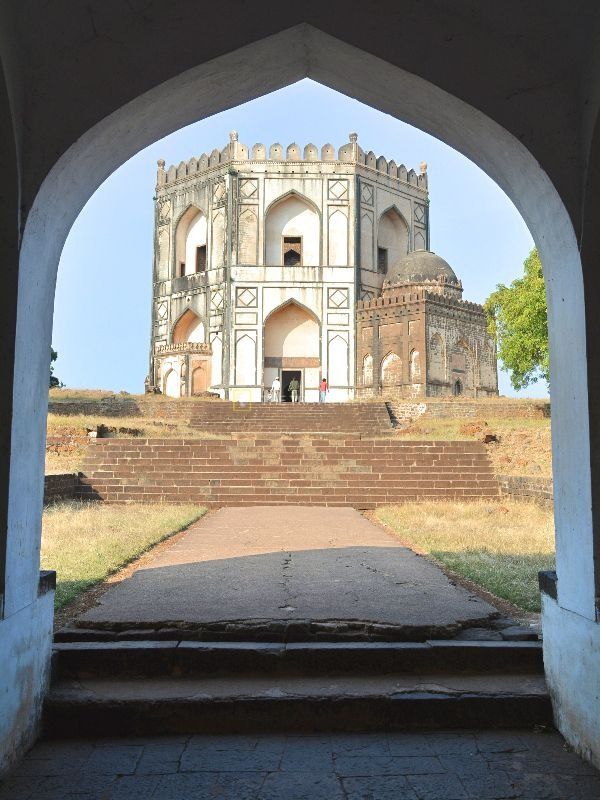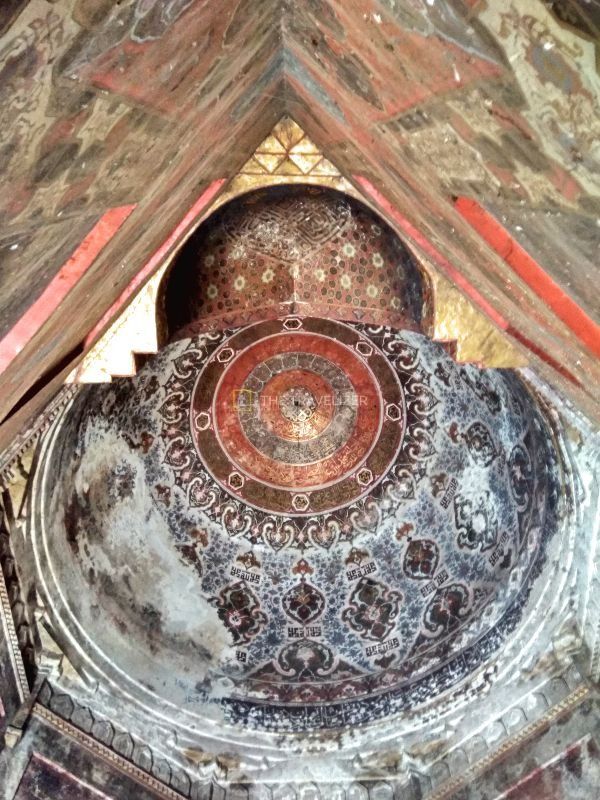 BIDAR FORT
The present-day Bidar fort was rebuilt using red laterite stone around the old fort in 1428 by Ahmed Shah Bahmani. Constructed on the edge of the plateau, Bidar fort has a haphazard rhombus-shaped layout. There are over 30 monuments inside the fort.
The major attractions inside the fort are:
Bidar Fort Museum
Rangin Mahal
Solah Khamba Mosque
Tarkash Mahal
Gagan Mahal
Diwan-i-Aam
Diwan-i-Khas/ Takht Mahal
Gunpowder Room
Shahi Matbakh
Naubat Khana
Bomma Gondeshwara Tank
With a 55 km long thick wall, the fort has a unique triple moat with depth of 30 feet.There are 37 bastions on the fort wall with The Munda Burj being the most prominent one.
Rangin Mahal is situated near Gumbad Darwaja and we were told that it is unique due to its decoration with coloured tiles and other art work.
Solah Khambah Mosque derives its name from the 16 pillars erected in the middle portion of the prayer hall. Built by Qubil Sultani, the mosque is also called Zanana Masjid and is one of India's largest mosques.
The Takht Mahal or Throne Palace is located in the Old fort area. Built by Ahmad Shah Wali, it is one of the grandest buildings in the fort. The Takht Mahal reflects the strong Persian influence on Bidar's architecture.
MADRASA OF KHWAJA MAHMUD GAWAN
After exploring the Bidar Fort, we moved to Madrasa of Khwaja Mahmud Gawan, a distinguished example of Bahmani architecture (Persian style). It was built in 1472 by Mahmud Gawan, the Bahmani dynasty's celebrated Persian origin Prime Minister, who served Muhammad Shah III from 1458 to 1481. It functioned like a residential university and was maintained on the lines of the Madrasa of Khurasan.
BARID SHAHI PARK
After having our lunch at Royal Anmol Restaurant, we went to the Barid Shahi Park (Rs. 50 by rickshaw), which is a complex of tombs of Barid Shahi clan. The entry fee of Rs. 5 is applicable. The 55 acre garden houses many graves belonging to the royal line of Ali Barid Shah. The most notable among them belong to Ali Barid, Qasim Barid, Ibrahim Barid Shah and Chaand Sultana.
We had to skip Chowbara (a large clock tower situated near Mahmud Gawan Madrasa) and 108 feet statue of Basaveshwara as we had to board a KSRTC bus for Gulbarga.