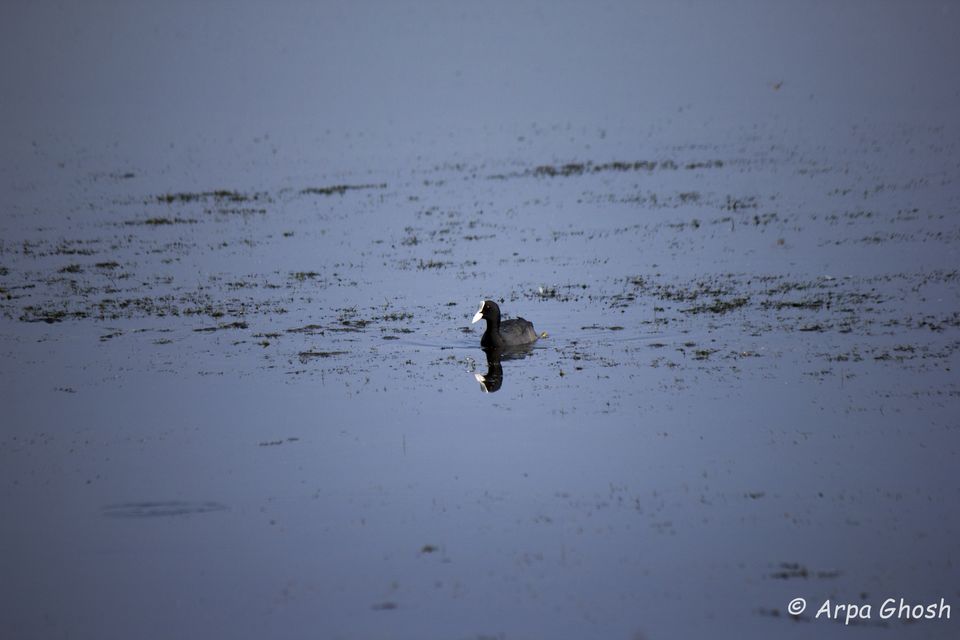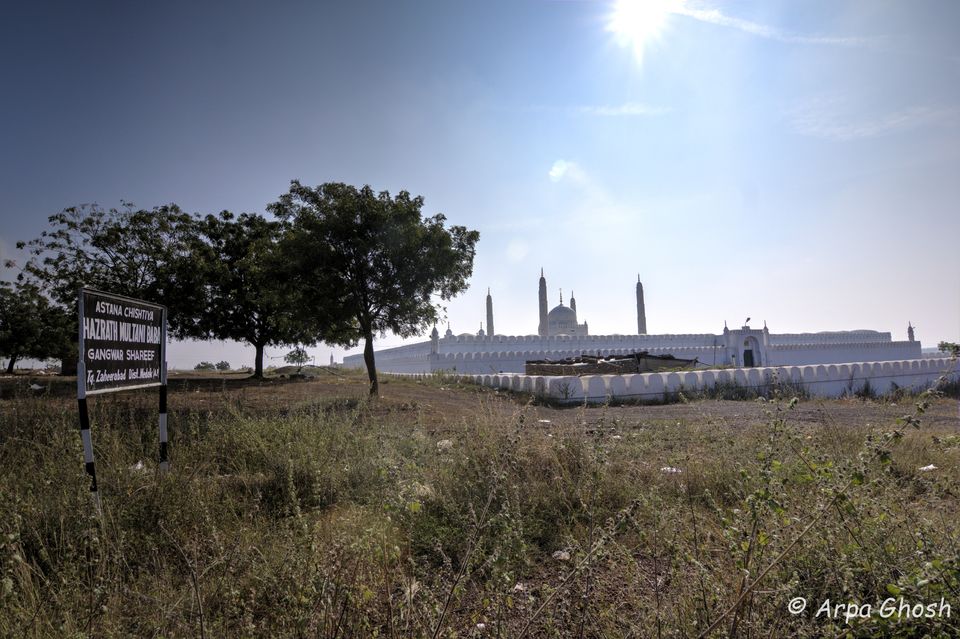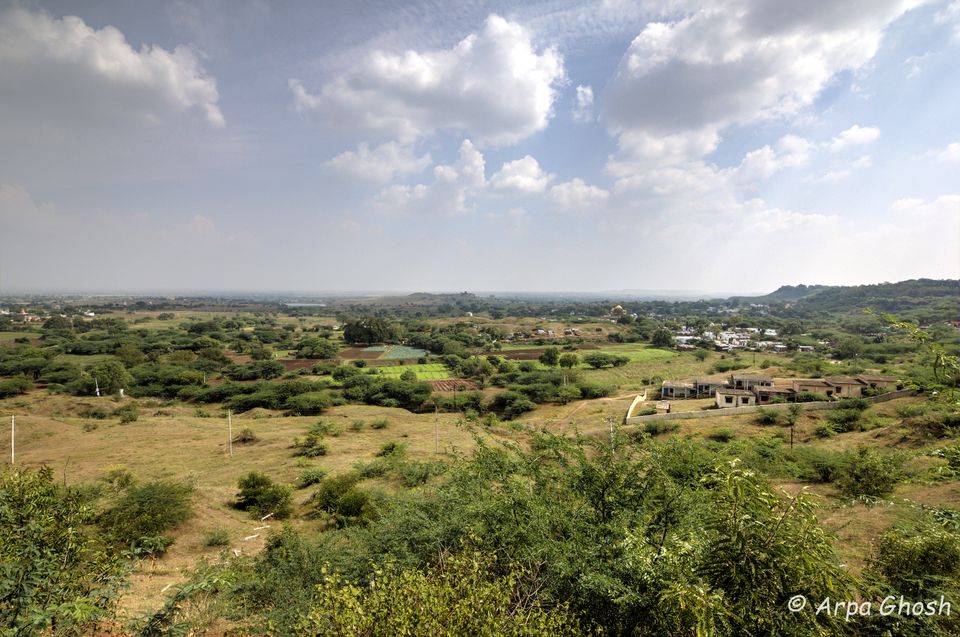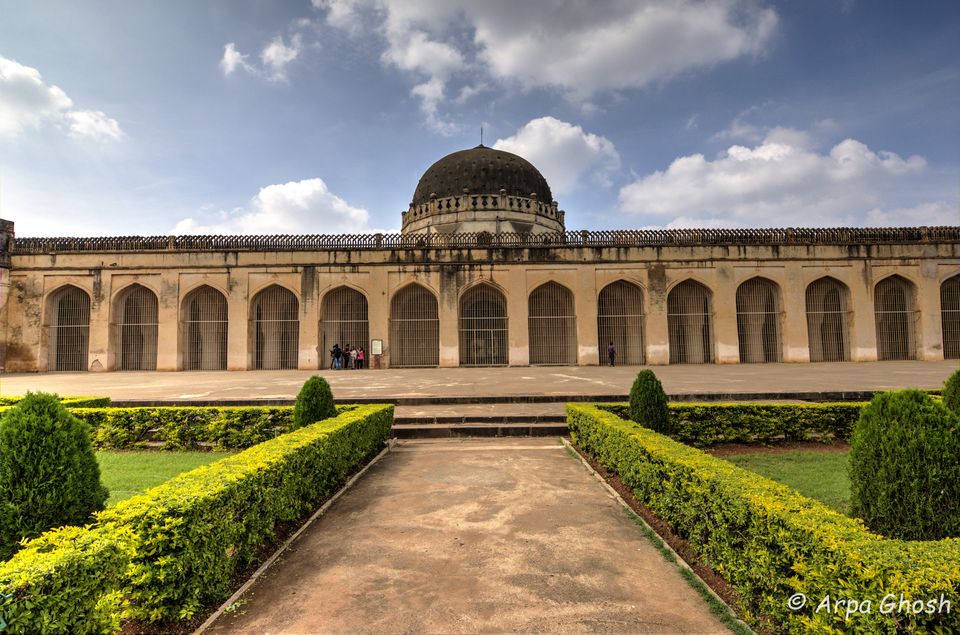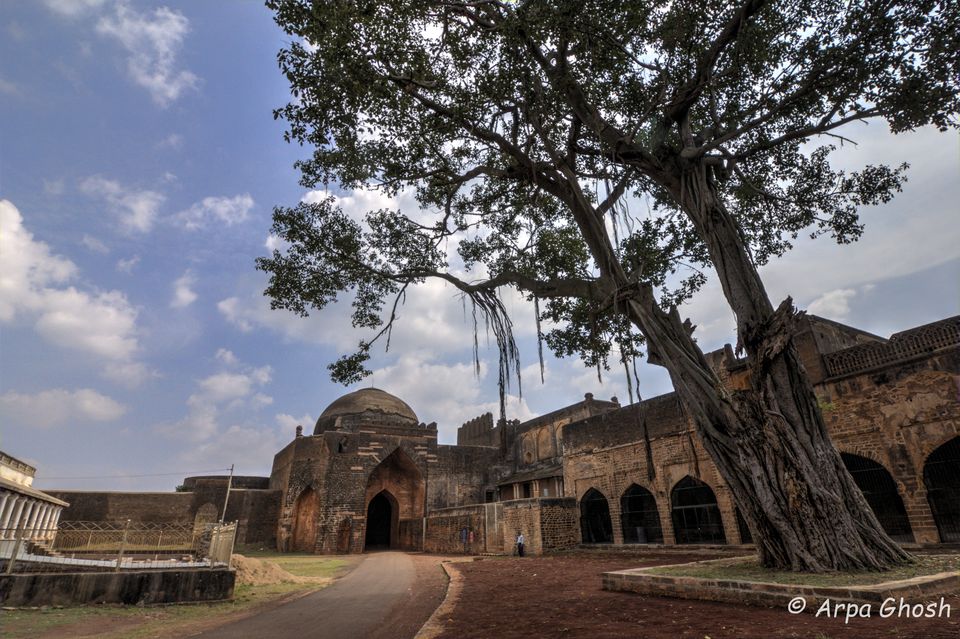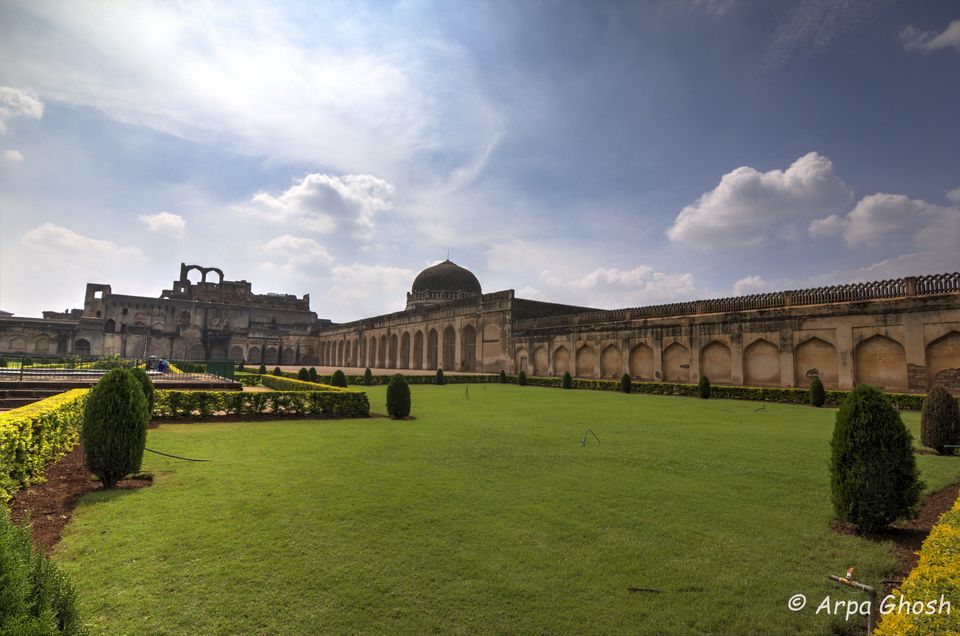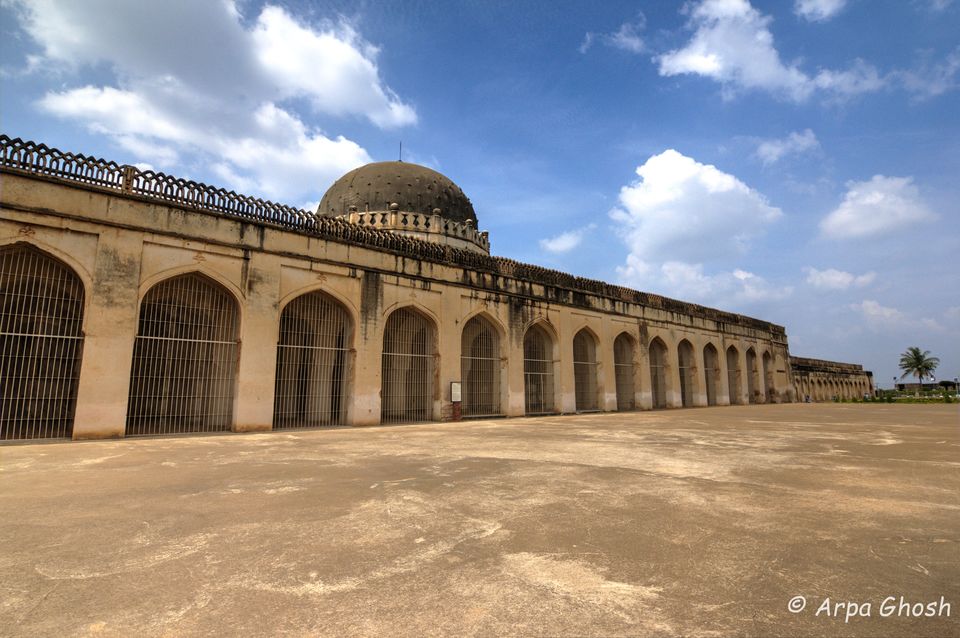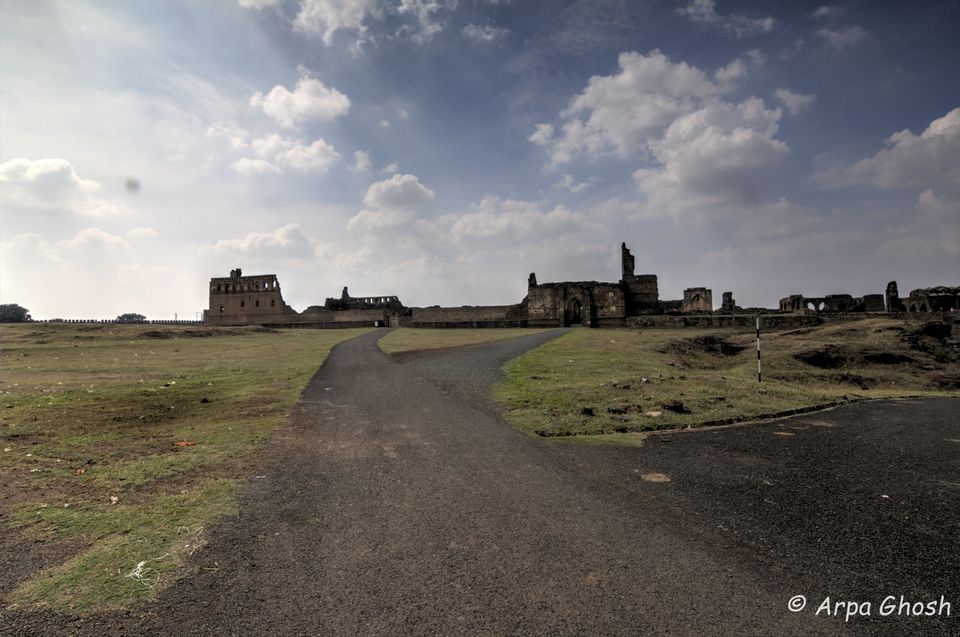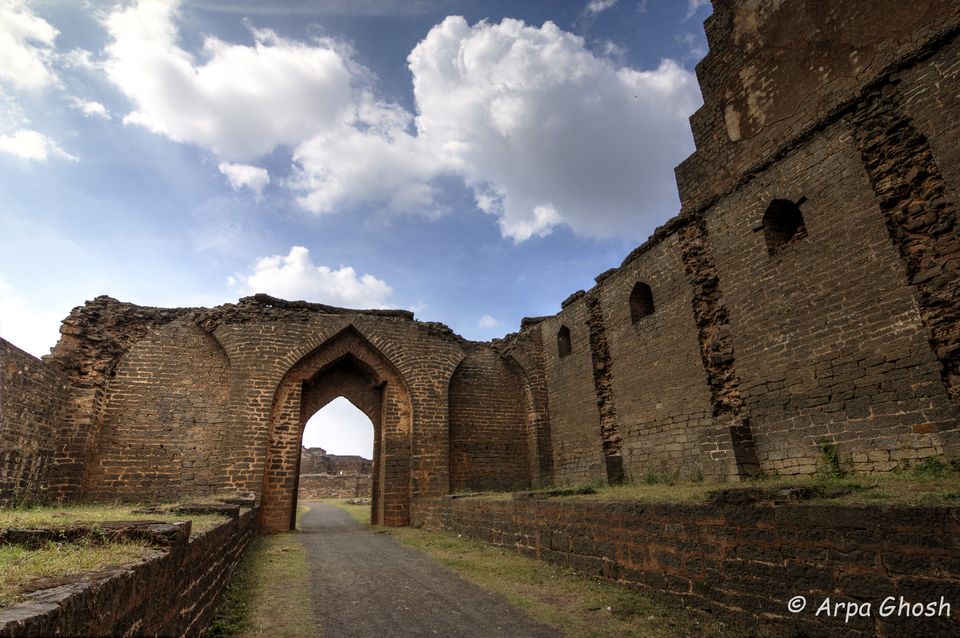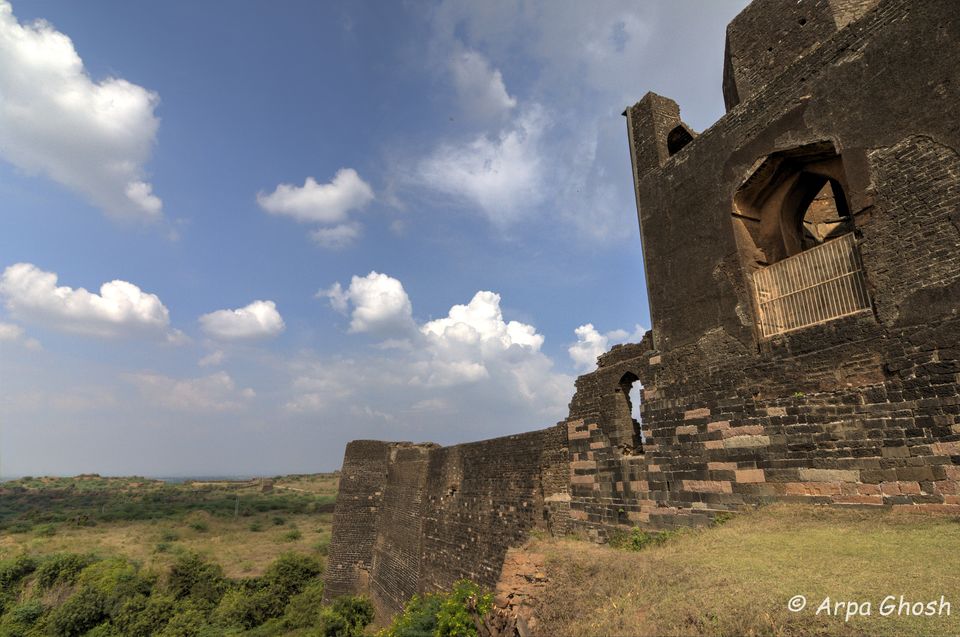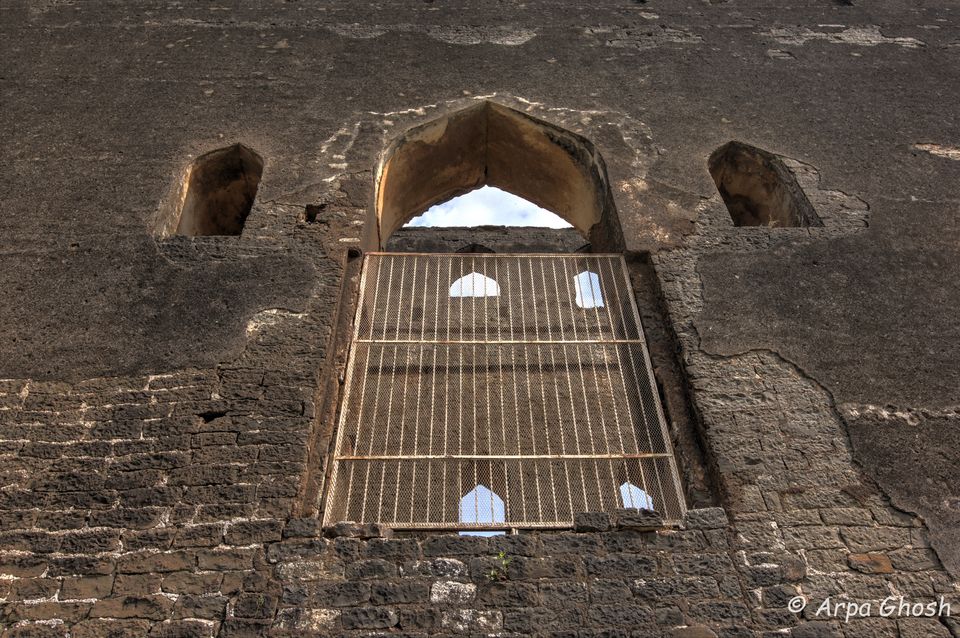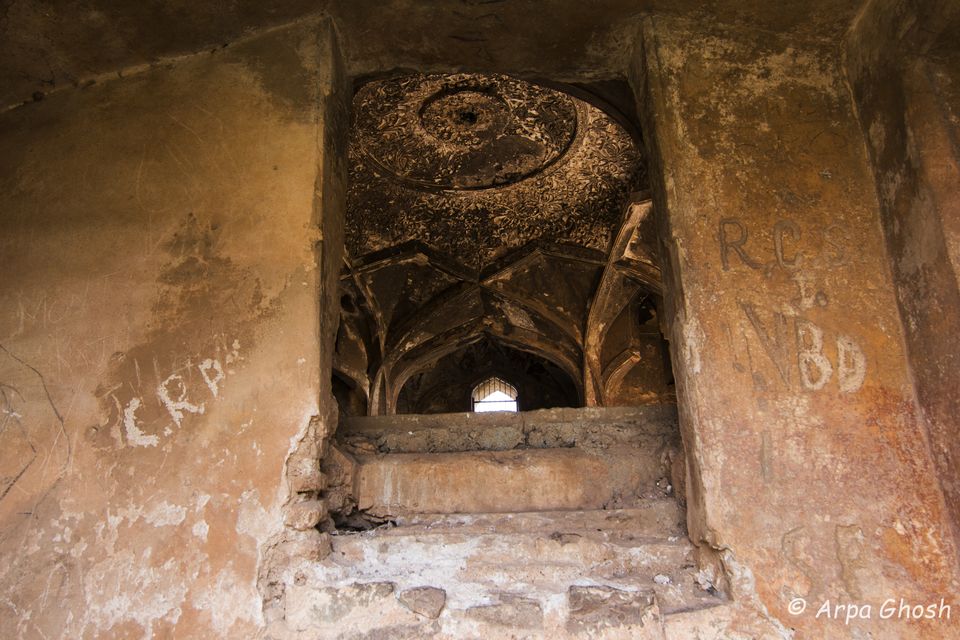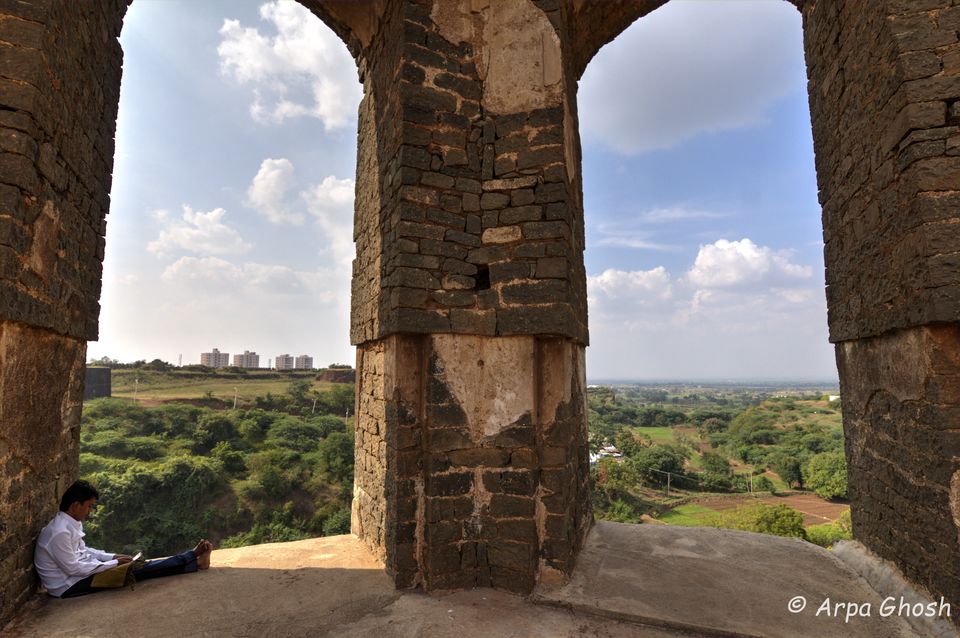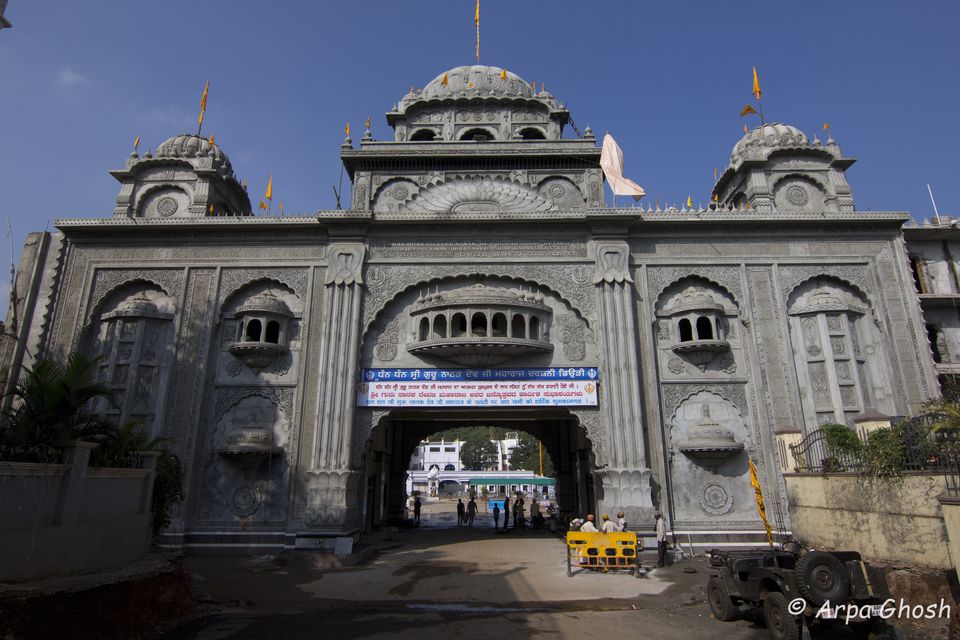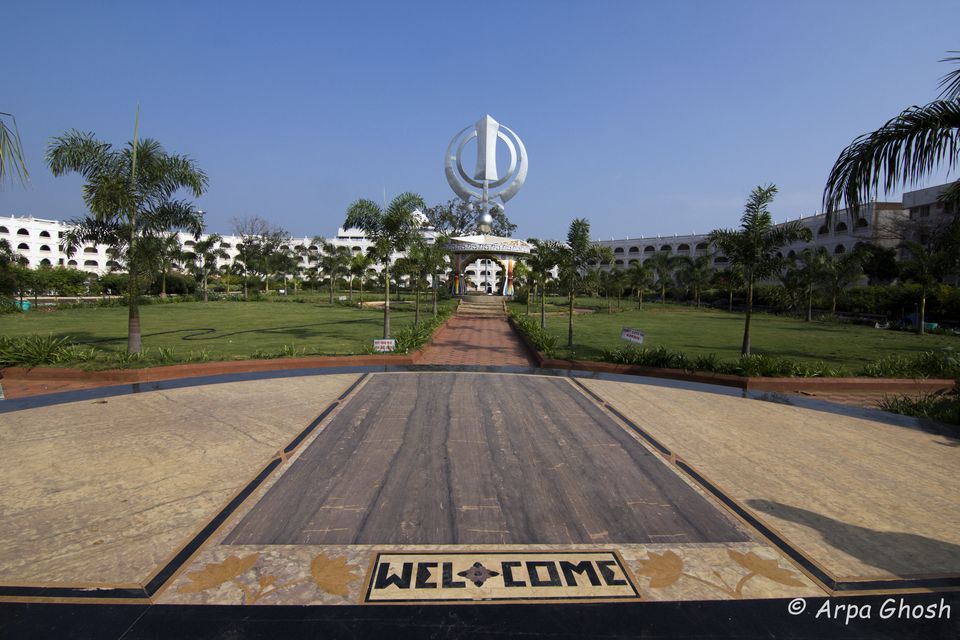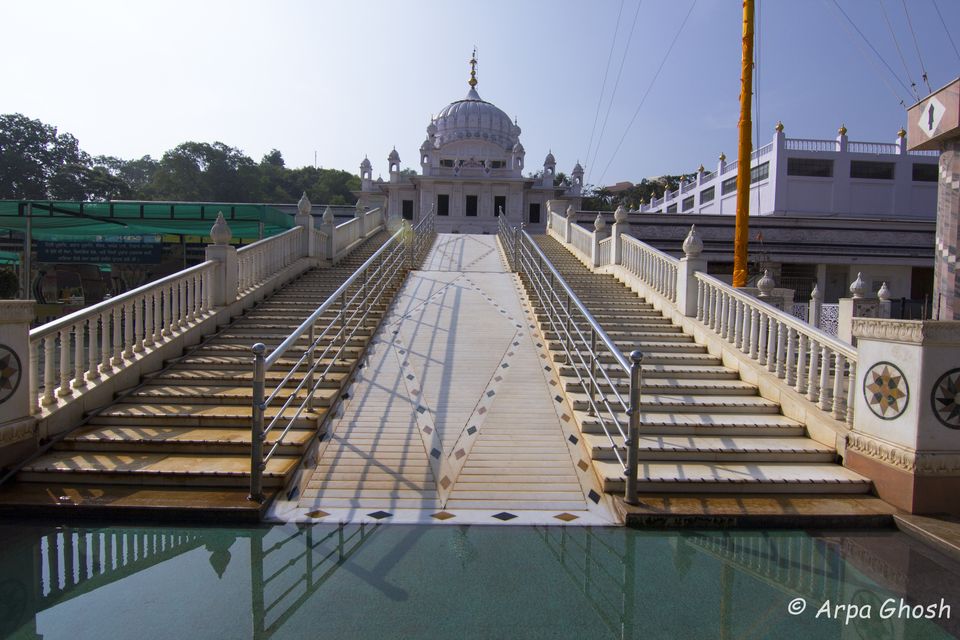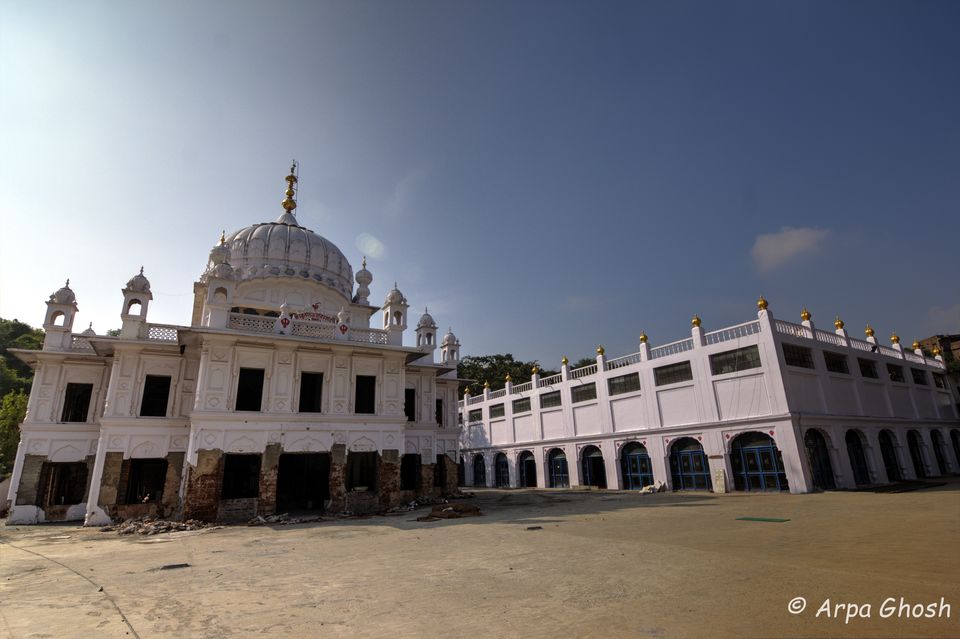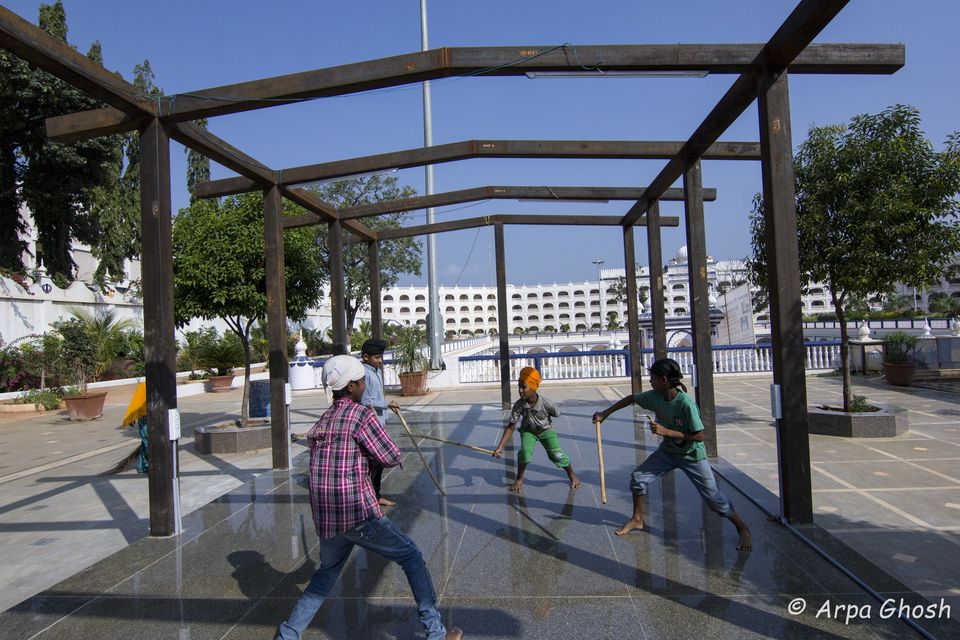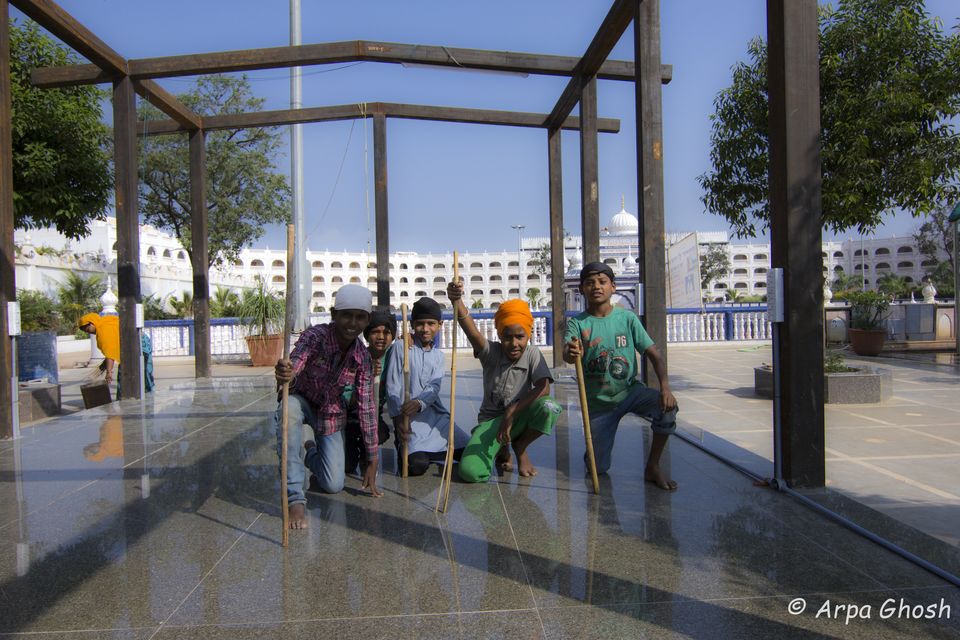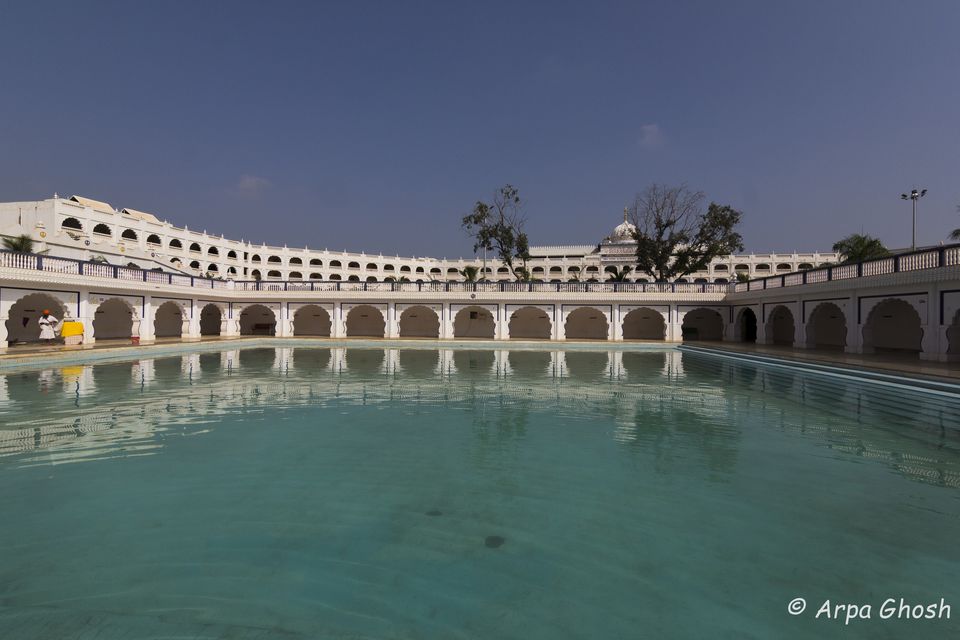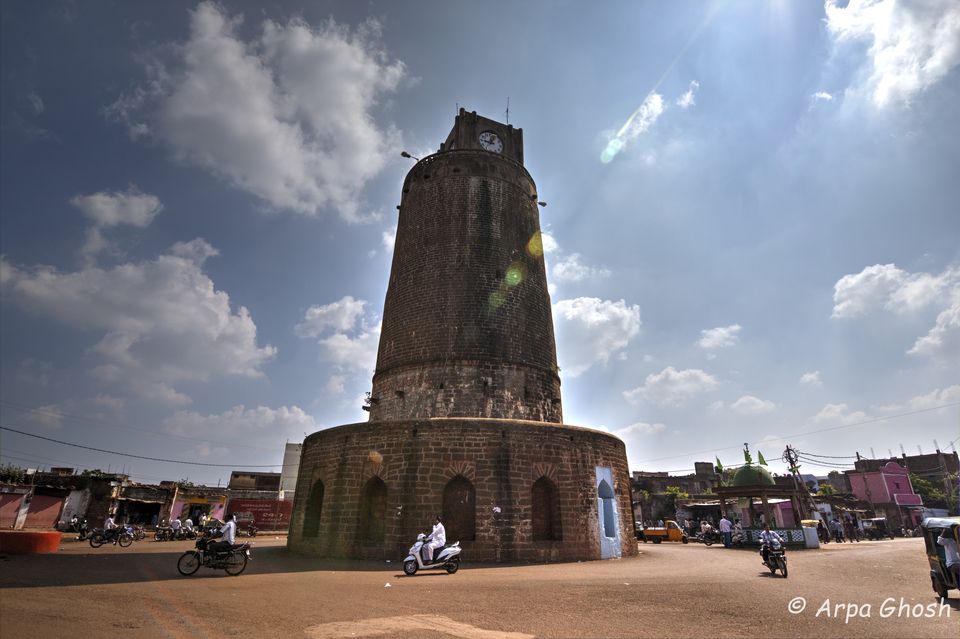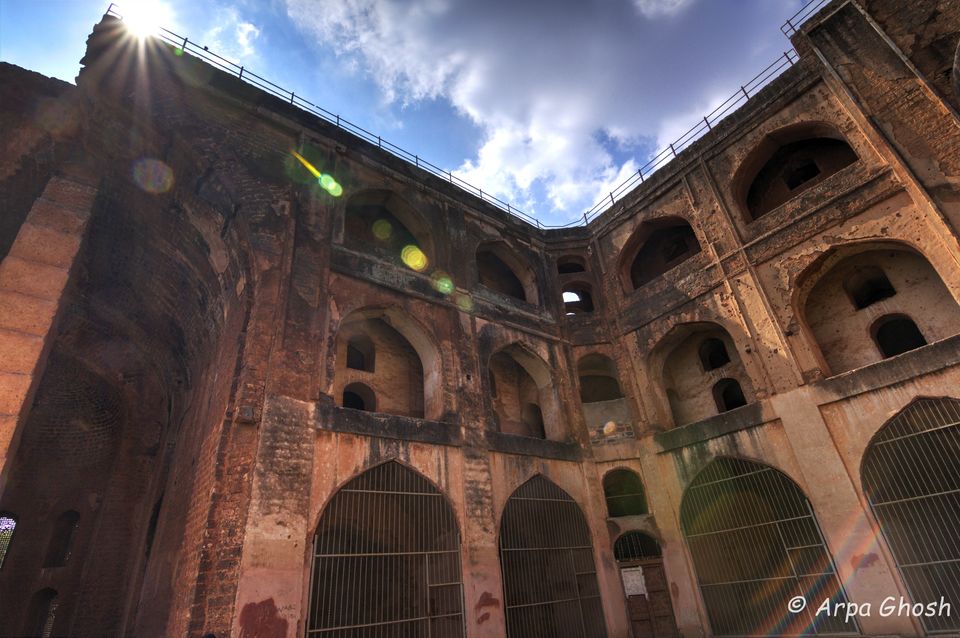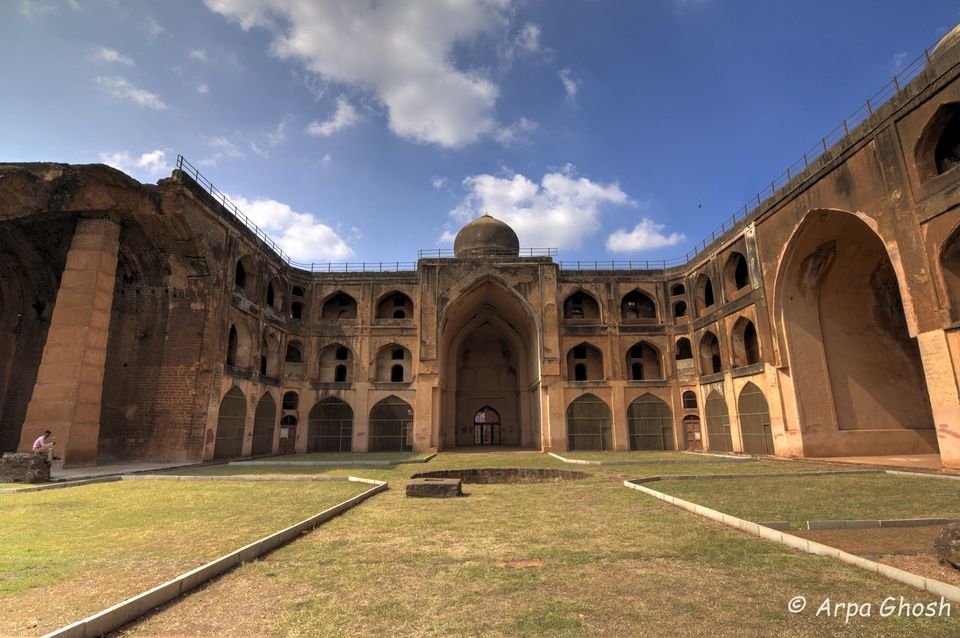 This is my ever first road trip on bike. Earlier, I always used to envy boys for having fun on road trip. How I wished I were a boy! Nevertheless, my hubby fulfilled my desire of taking a road trip on bike.
It was 15th November 2014. Me, my hubby Arpa Ghosh along with 4 of our friends, total being 6, decided to take a road-trip to Bidar, Karnataka on bike. Bidar is situated nearly 120 kms from Hyderabad. We set off our journey around 5:15 am. It was dark then. Riding through vacant lanes in dark night was a thrilling experience for me. We started from Kondapur, Hyderabad, made way through Miyapur – BHEL – Patancheru – Mumbai Highway – straight to Zaheerabad – then right direction to Bidar. The route was straight and simple. Besides, Google Map came to our rescue at times of any confusion. By God's grace, the condition of the road was pretty good except few areas; as a result, we had an enjoyable ride.
It was a chilling morning, when we started our journey. Enjoyed the sunrise en-route. Fog had engulfed the fields. It was a mesmerizing sight of foggy fields. We thoroughly enjoyed the nature on our way. We took several stops. Our first stop for breakfast was around 7:30 am at a small roadside shop, where we were served with yummy idlis. Having light healthy breakfast, we moved ahead. On reaching Zaheerabad and taking right turn to Bidar, our excitement knew no bounds. We were just 26 kms away from Bidar then. Riding through beautiful nature was undoubtedly an awesome experience. On our way, we came across a small dam. We stopped there for a while. Enjoyed the waterside. Ducks were swimming across the water body. We took rest under the shed of trees near the dam. It was cool, soothing experience for us.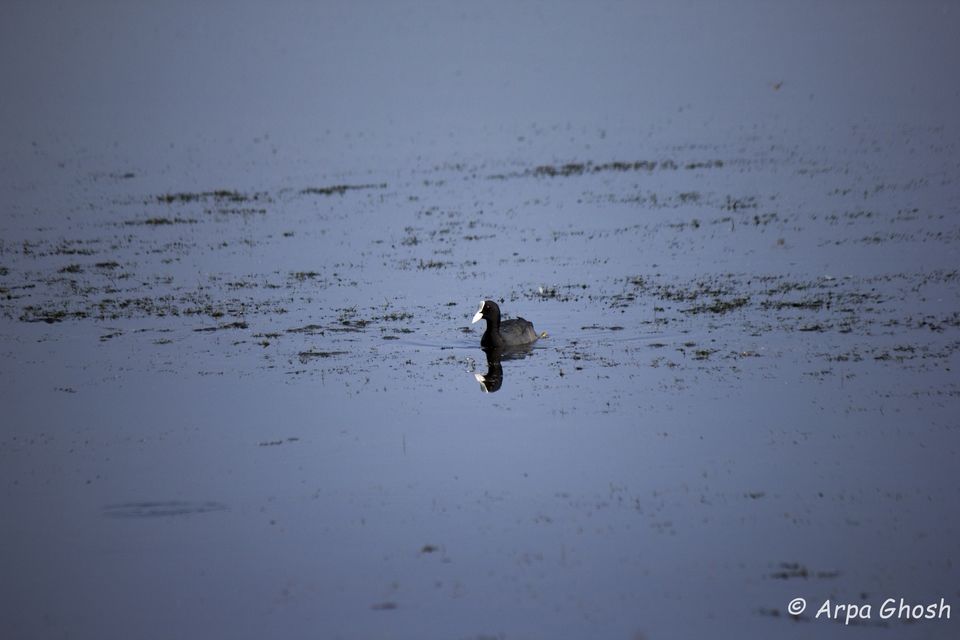 || En-route Bidar ||
Having fun for a while, we again started moving towards Bidar. On our way, we stopped by a Mosque. It was a beautiful white structure. We didn't go inside but admired its beauty from outside.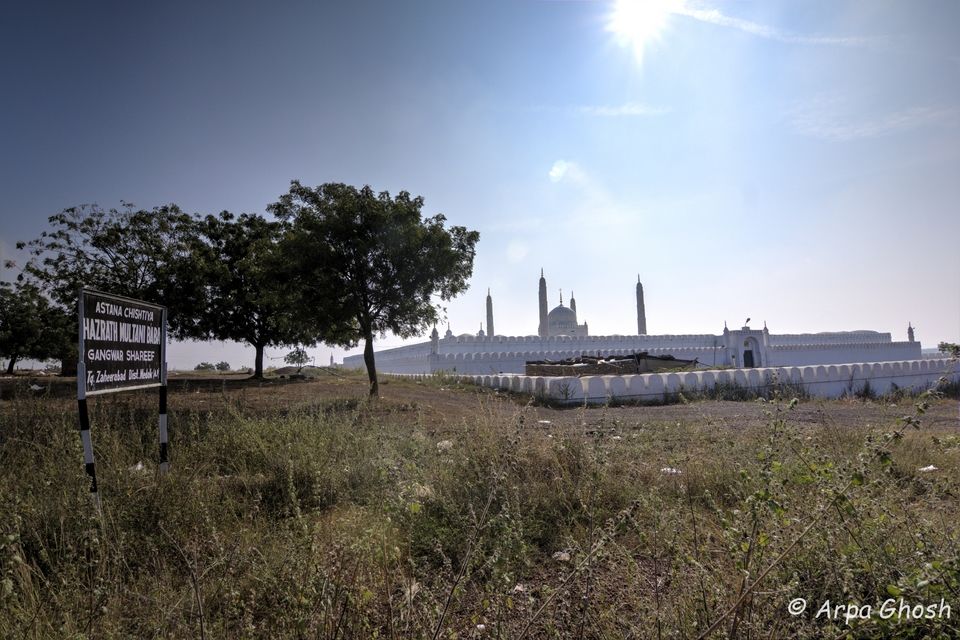 || Astana Chishtiya- Hazrath Multani Baba ||
Finally, we reached Bidar. We searched and found out our hotel- Hotel Shiva International, near Bidar Bus stand just next to Reliance Petrol Pump. It was a basic hotel with only lodging facilities. However, on request, they do arrange for breakfast/lunch/ dinner at much higher rate than MRP. We had already booked through makemytrip.com. Hence, the check-in was smooth. We just got refreshed. On our request they arranged breakfast and served it in our room. We 6 were quite hungry by then. After having breakfast, we started our journey to explore Bidar around 11:30am.
First, we went to Bidar Fort. Before entering Bidar Fort, we stopped by to enjoy picturesque nature around. Karnataka plateau is indeed beautiful. Bidar Fort is magnificent. Sultan Alla-Ud-Din Bahman of the Bahamani Dynasty shifted his capital from Gulbarga to Bidar in 1427 and built his fort along with a number of Islamic mo || Karnataka Plateau at Bidar ||
The history of the present fort at Bidar dates back to the Sultan Ala-ud-Din Bahman Shah, the first sultan of the Bahmani dynasty to 1427 when he shifted his capital from Gulbarga to Bidar since it had better climatic conditions and was also a fertile and fruit bearing land. With the establishment of the Bahmani dyanasty, Bidar was occupied by Sultan Alla-Ud-Din Bahman Shah Bahmani. During the rule of Ahmad Shah I, Bidar was made the capital city of Bahmani Kingdom. The old Fort was rebuilt and beautiful madrasas, mosques, palaces and gardens were constructed. Bidar remained under the Barid Shahi dynasty until it was captured by the Mughal emperor Aurangazeb. In 1724, Bidar became a part of the Asaf Jahi Kingdom of the Nizams. Later it became a part the Mughal Empire in 1686.Third son of Asaf jah l (Nizam l) Nawab Said Mohammed Khan Asaf ud Daula (Salabath Jung) ruled from Bidar fort from 1751 to 1762 till his Brother Mir Nizam Ali Khan Asaf Jah III imprisoned him in this fort, and was killed in Bidar fort in 16 September 1763. Thus, Bahmanis ruled over Gulbarga from 1347 to 1424 and from Bidar from 1424 till the extinction of the kingdom and its disintegration into five independent and warring kingdoms of Bijapur, Golconda, Ahmadnagar, Bidar and Berar. After the empire was split, Bidar came under the rule of the British in 1724. The architecture of the building is similar to medieval European structures.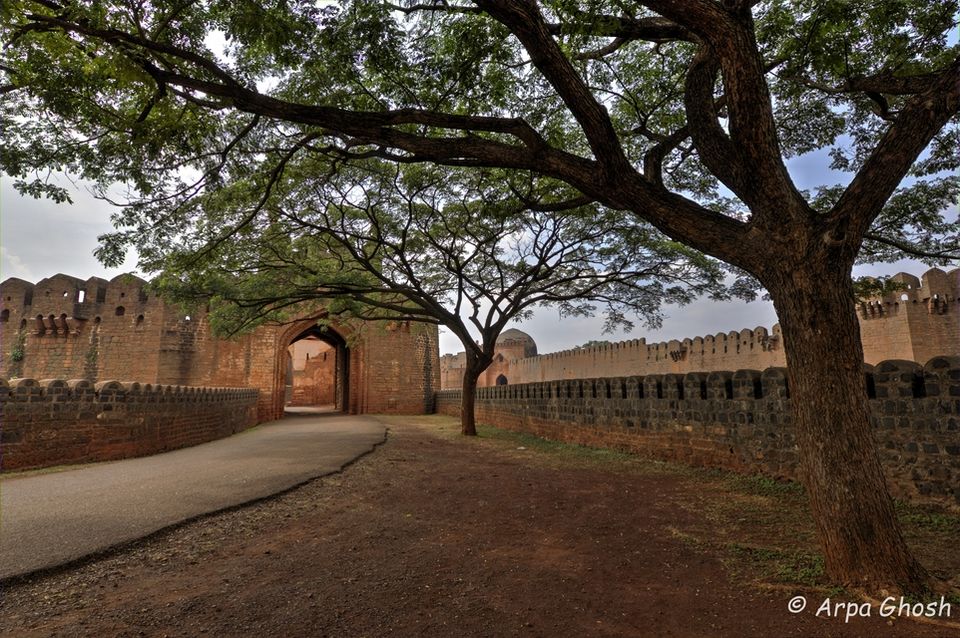 || Bidar Fort ||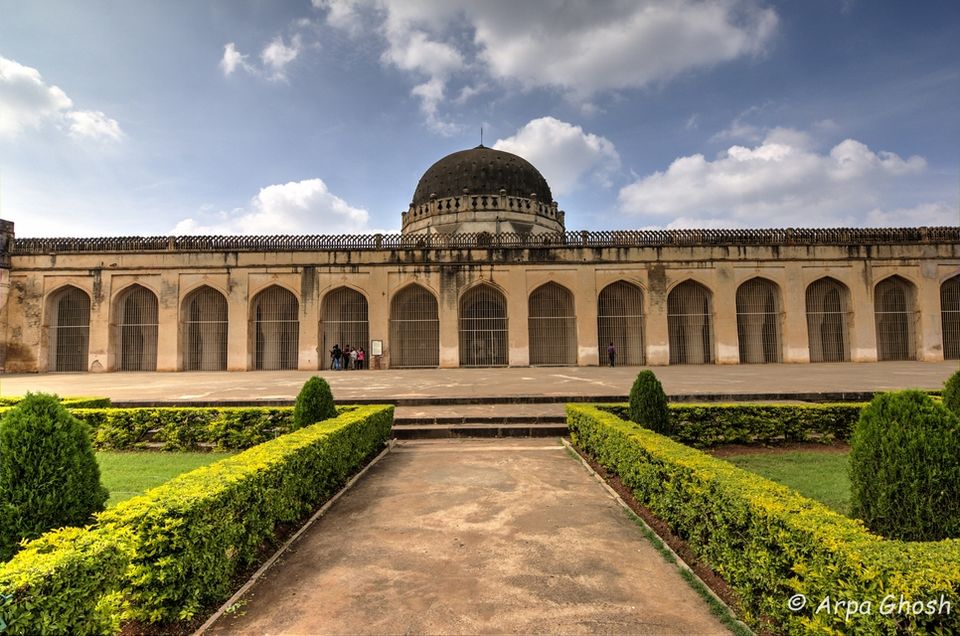 || Shola Khamba Masjid ||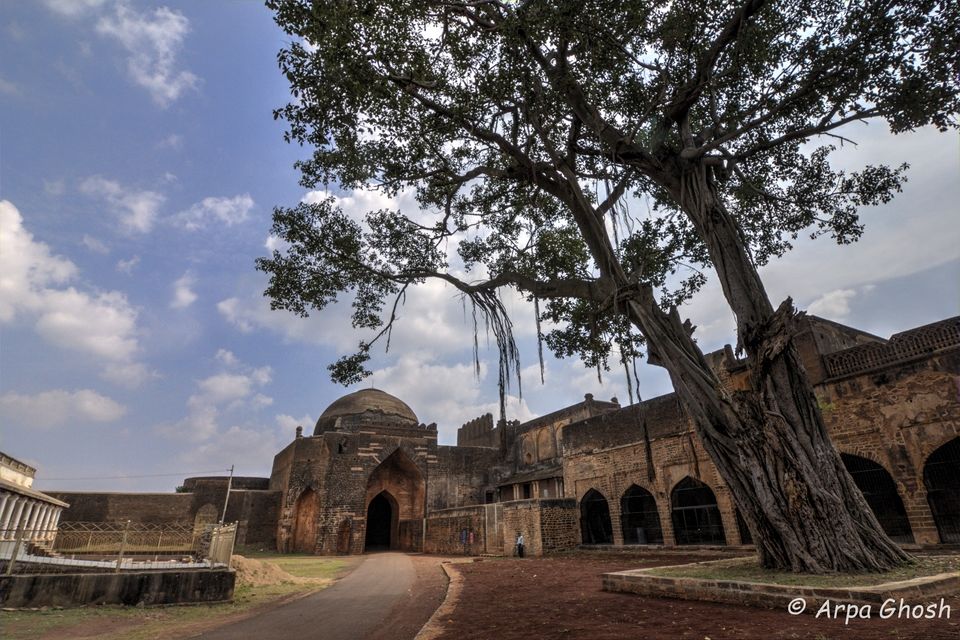 || Bidar Fort ||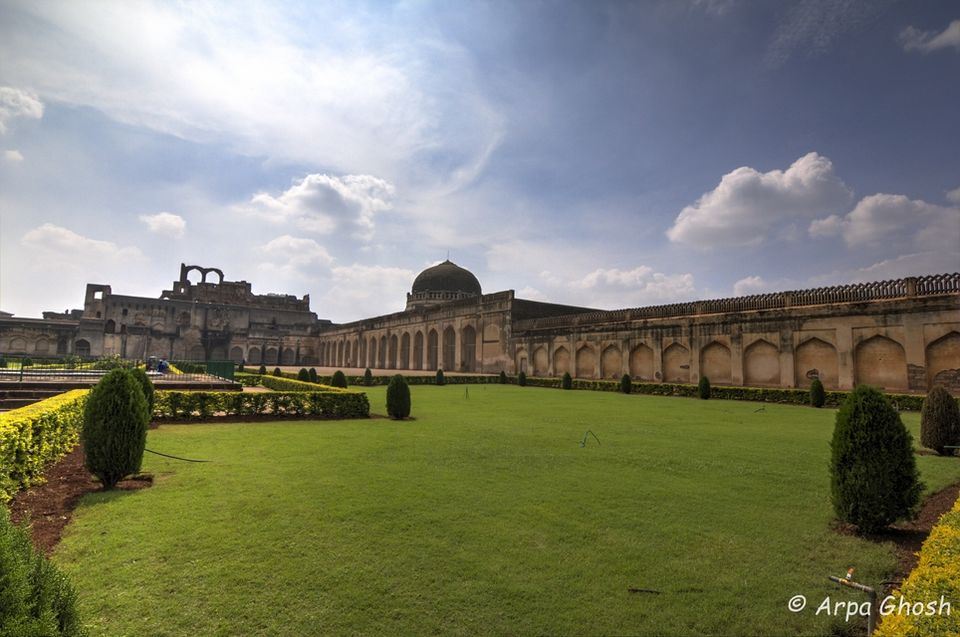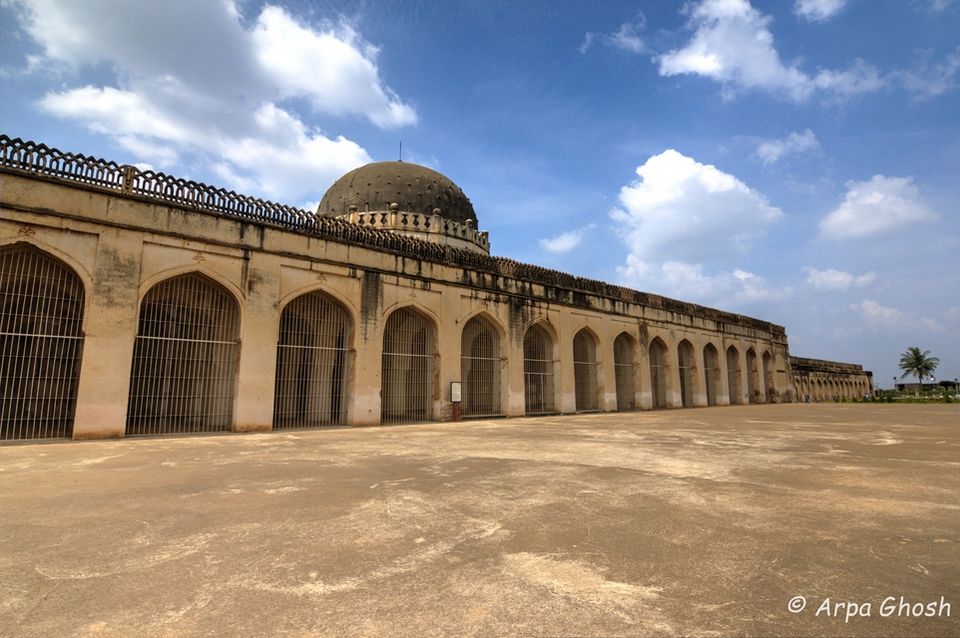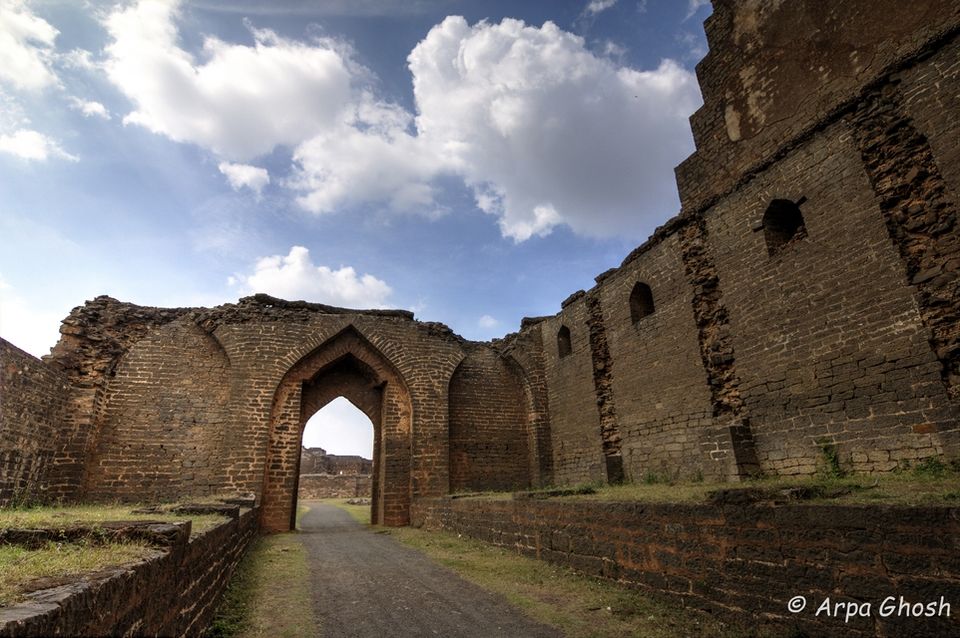 || Bidar Fort ||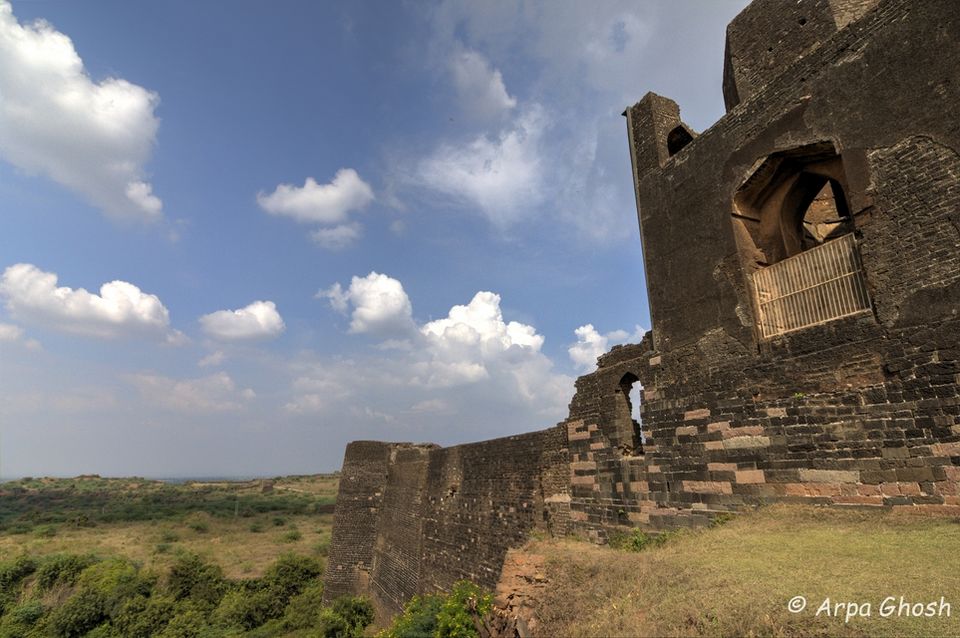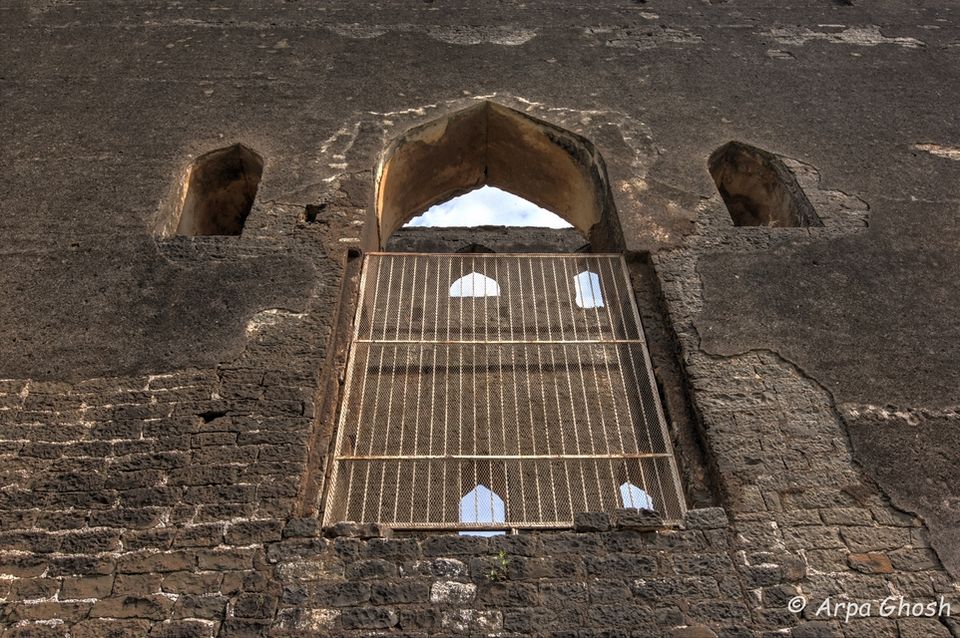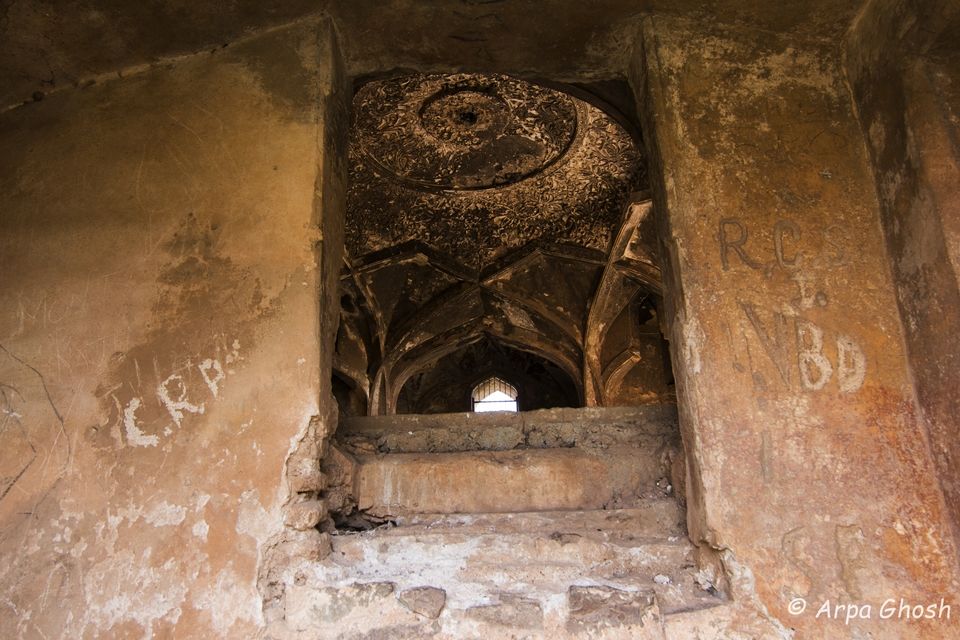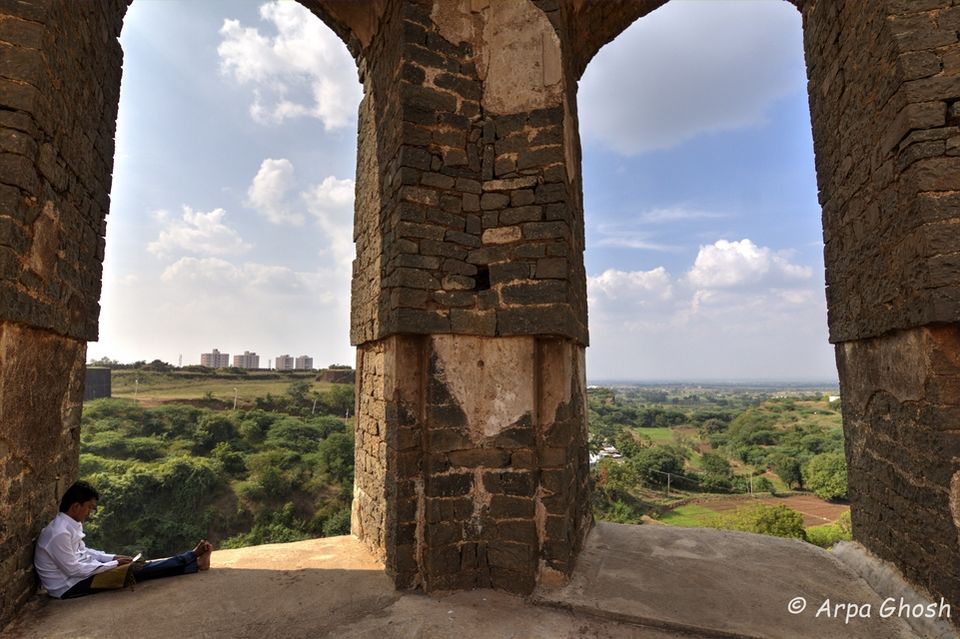 || Bidar Fort ||
It was sad to find that the fort is not that well maintained. No one was around to describe you the history of the place. The history of Bidar has been researched from Internet. Most of the doors of the Fort were locked and inaccessible to the public, hence you can only admire the beauty of the forts from outside. It covers a huge area. Walking around the fort under the scorching heat of the sun was bit tiresome for us. However, We managed to enjoy and took some beautiful photographs.
Having explored Bidar Fort, we were almost drained out of energy. We halted at the restaurant right in front of Bidar Fort. Then, we planned to visit Bahamani Tombs. We kept on asking localites for the route to Bahamani Tombs. It was quite surprising to find that the localites couldn't help us. They gave expression as if they heard the name for the first time. Their guidance kept us roaming around Bidar from right-left; left-right for long time, yet we landed nowhere. We were too exhausted by then. It was already 4 pm, so we decided to take lunch and rest for a while. Our tired body compelled us to make an alternative plan. We decided to have good chat and fun ourselves and explore the remaining the following morning.
Day 2:
On the following day, first we went to Gurdwara Sri Nanak Jhira Sahib. It was very beautiful. On my birthday, I wanted to visit a Temple. I went to Gurdwara to seek blessings. It was undoubtedly an abode of peace. You will feel to sit and meditate for a while. As we were running out of time, we couldn't afford to wait there for long.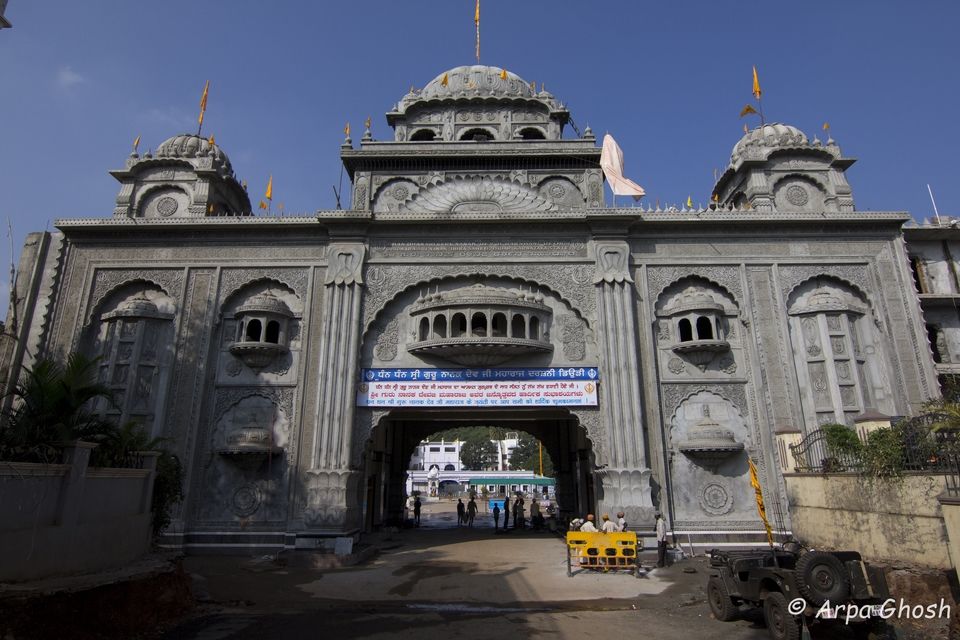 || Gurdwara Sri Nanak Jhira Sahib ||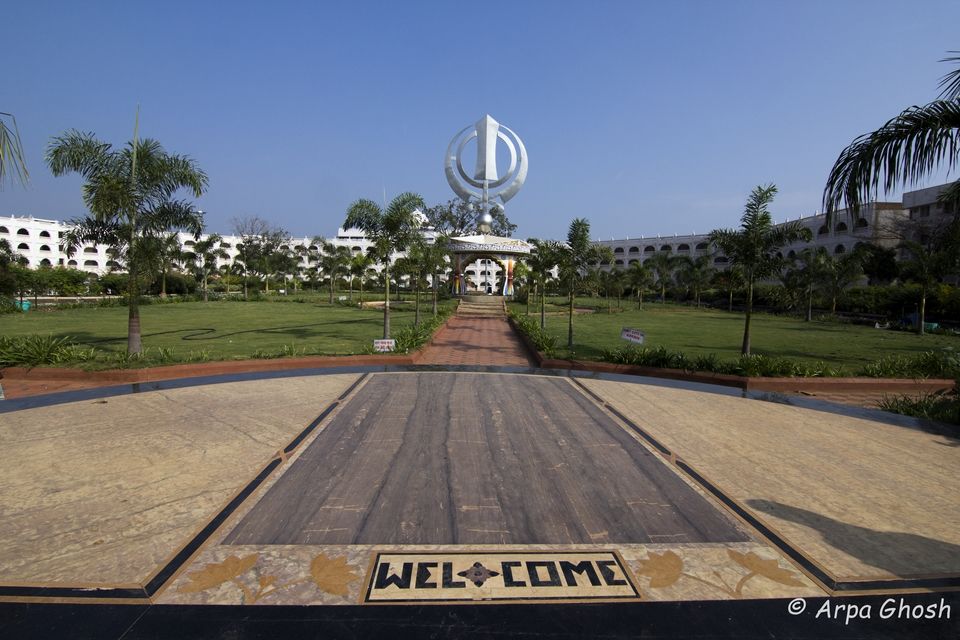 || Gurdwara Sri Nanak Jhira Sahib ||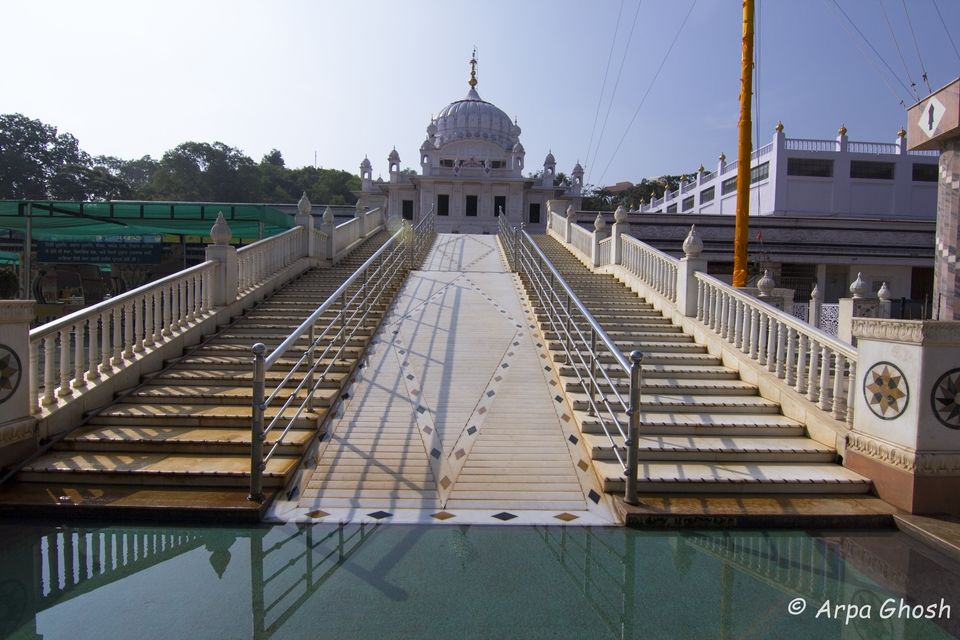 || Gurdwara Sri Nanak Jhira Sahib ||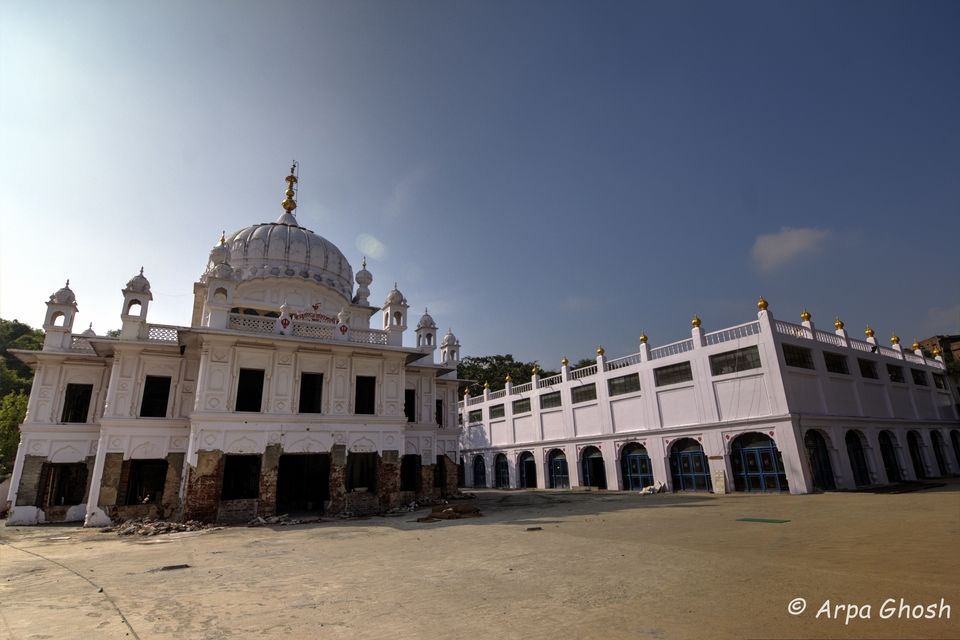 || Gurdwara Sri Nanak Jhira Sahib ||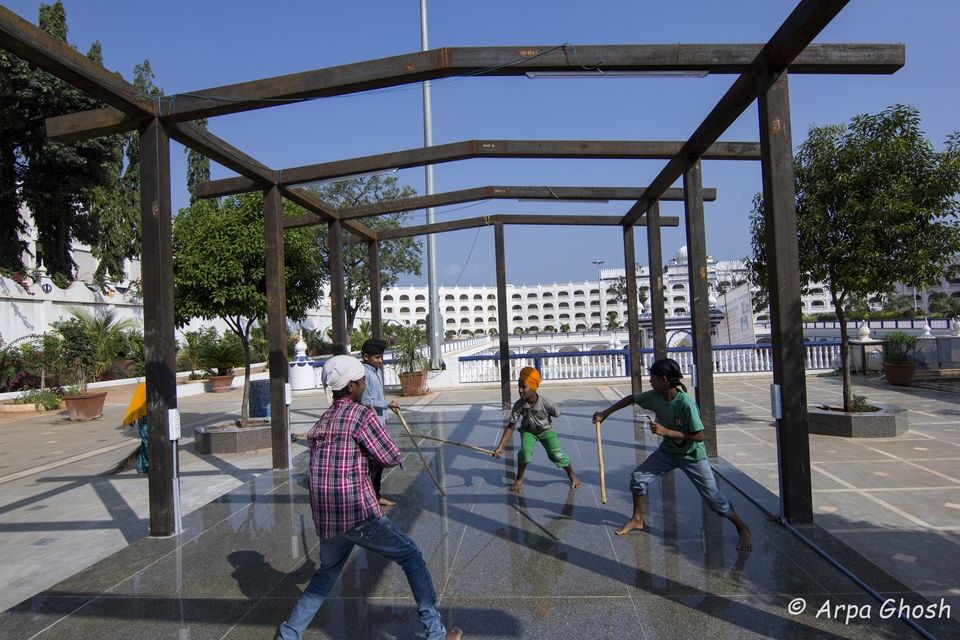 || Kids playing at Gurdwara Sri Nanak Jhira Sahib ||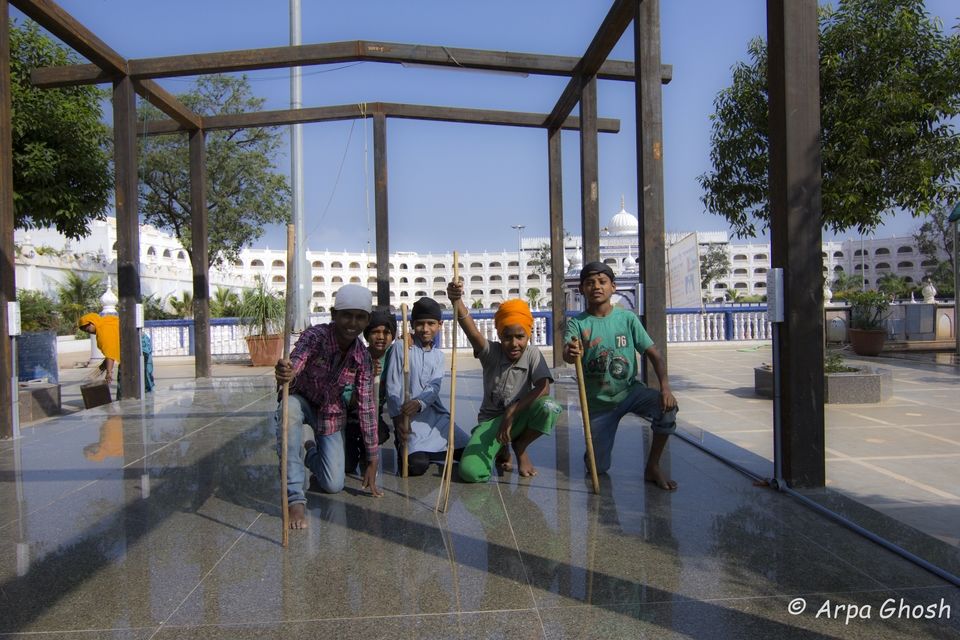 || Kids posing at Gurdwara Sri Nanak Jhira Sahib ||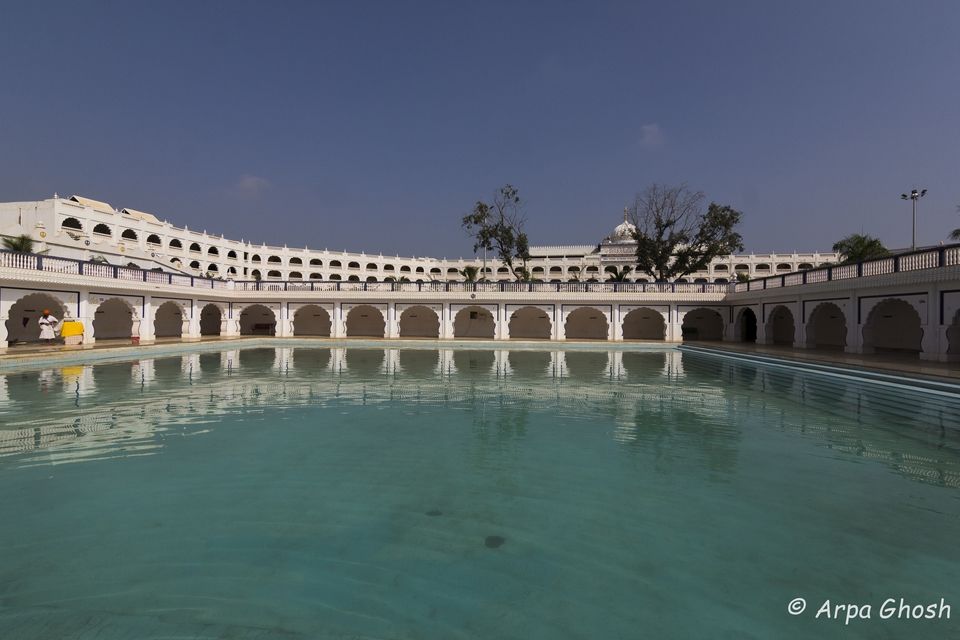 || Gurdwara Sri Nanak Jhira Sahib ||
We had an awesome breakfast at a Punjabi dhaba next to the Gurudwara. We tasted varieties of parathas- aloo paratha; methi paratha, paneer paratha, peyaj paratha and a glass of sweet lassi. Having a sumptuous breakfast, we returned hotel just to check out.
We explored the remaining of Bidar. We went to Chaubara, first. Chaubara is an old cylindrical tower, which is 22 metres high and is situated at the heart of Bidar town. This building serves as a watchtower, from where beautiful views of the entire plateau can be seen.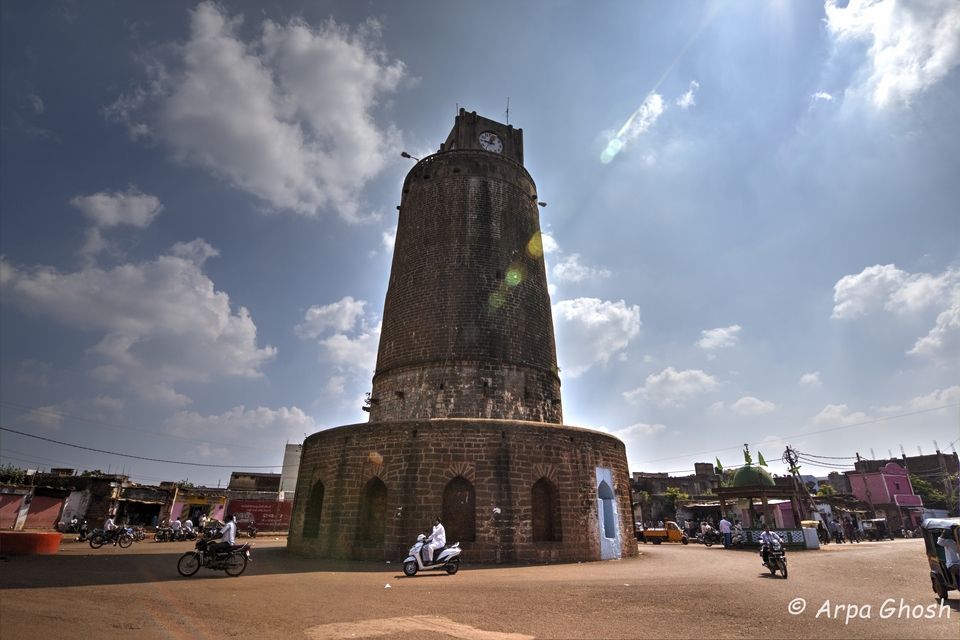 || Chaubara ||
Then, we went to Madrasa of Mahmud Gawan. The Madrasa is standing in a deplorable condition. Yet its beauty was fascinating. The gate keeper was a good guide for us. He explained the history and showed us the classrooms. We got to know that Mahmud Gawan was an Iranian Merchant who arrived in the Bahamani Sultanate. With his honesty, simplicity and knowledge he impressed the Bahamani kings. He was promoted to the post of Prime Minister and was much respected among local population. One of the reasons for the collapse of Bahamani Sultanate was that Mahmud Gawan was murdered by one of King's men. Mahmud Gawan had seen the greatest architectural marvels in the form of Madrasas from round the world. He decided to construct something similar. Mahmud Gawan was very rich due to his international trade and hence he funded the construction of this Madrasa at Bidar. The Madrasa had an imposing three storied building with 100 feet tall minarets in four corners of which presently only 1 remains. There were 36 rooms for students. boarding and lodging for travelers were free. It had a huge library of more than 3000 volume. The Madrasa ran effectively for over 2 centuries. Then, after Aurangzeb conquered Bidar, the Madrasa was then used as a Military barrack. An explosion in the Military Barrack caused a large portion of the Madrasa to be destroyed during tht time. There is a section in the structure still inaccessible to women due to imposing dictate by the Mosque hence I couldn't enter the same.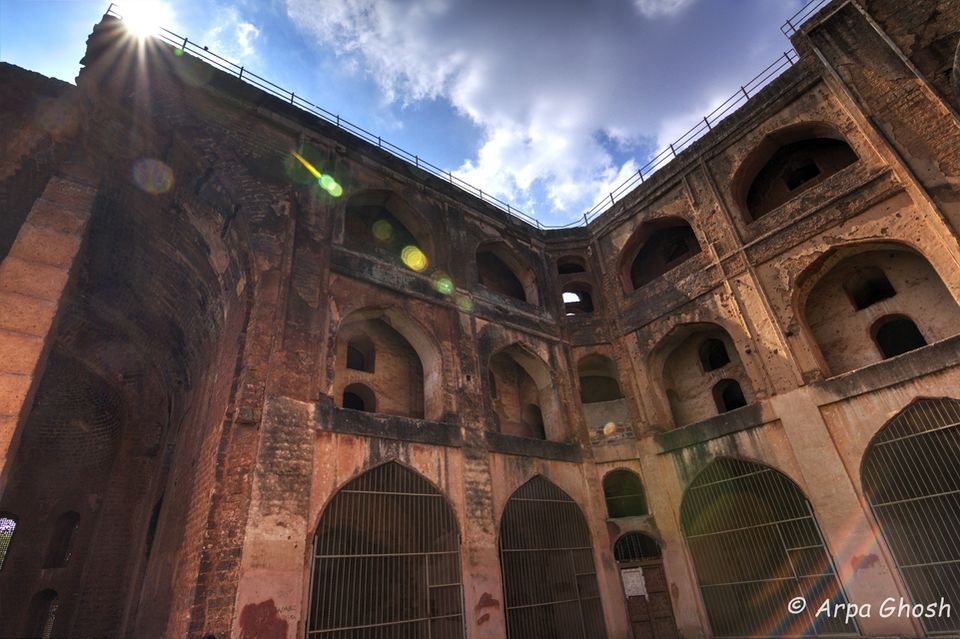 || Madrasa of Mahmud Gawan ||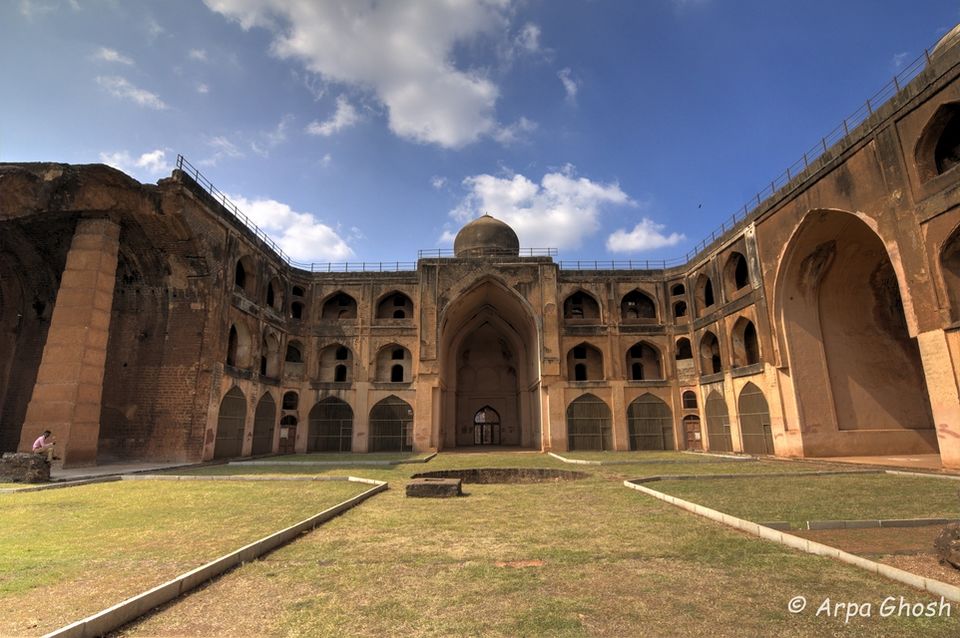 |
|| Madrasa of Mahmud Gawan ||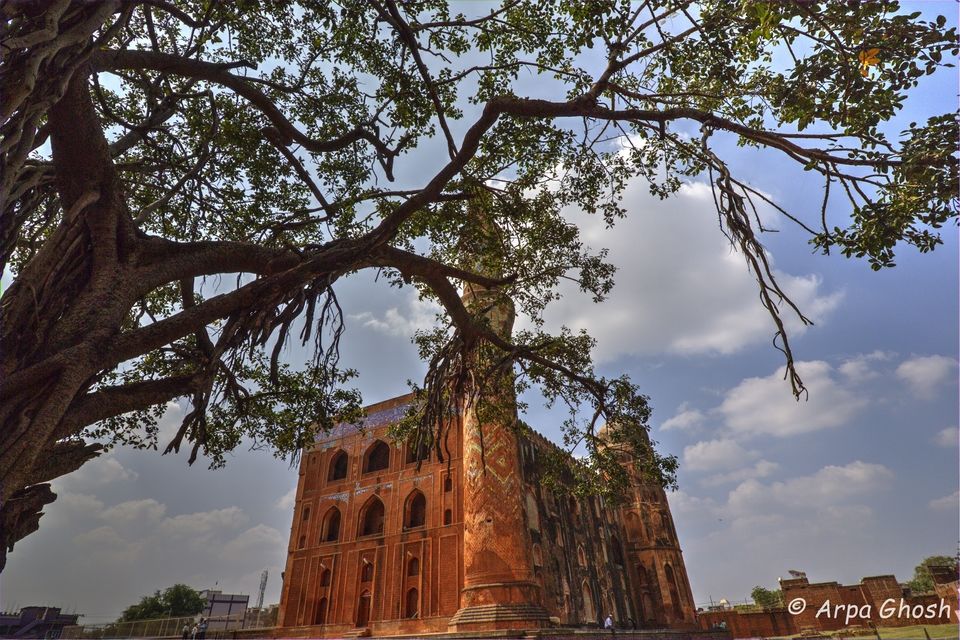 || Madrasa of Mahmud Gawan ||
It was nearly 12:00pm. We had to leave Bidar as we had to cover a long distance to reach Hyderabad before sunset. It was time for us to bid adieu to Bidar. Before bidding adieu to Bidar, we wanted to get a souvenir from Bidar. Bidar is famous for Bidri work- popular vintage art form of Persia for over 800 yrs. We bought some bidri handicrafts for ourselves and our families. Then we left Bidar. On our way to Hyderabad, we stopped at Deva Deva Bana (Botanical Garden). It is an Eco-tourist place which means "God's forest". It is in the lap of Shahpur Reserve Forest, maintained by Karnataka Forest Department. One will come across number of medicinal plants in this place. Children entertainment in the form of swings, slides were available. After inhaling fresh air for a while, reliving childhood in swings and feasting our eyes with beauty of nature, we left for Hyderabad around 1:15pm.
We stopped at Zaheerabad for lunch in Hotel Mahindra Paradise. After having tasty lunch, we again set for Hyderabad. After travelling for a while, our scooty's Tyre got punctured. A road trip is so incomplete without this kind of hazard! By God's grace, we noticed it right in front of a garage. Quickly, we got the tyre fixed and left for Hyderabad. The return journey was smooth and seemed to be quick. We took few breaks in between, halted at Patancheru for evening tea.
After having a fun filled road trip, we reached home at 6pm. It was a lovely day! My birthday couldn't have been better with a lovely trip and loving wishes of my friends and family.
Frequent Searches Leading To This Page:-