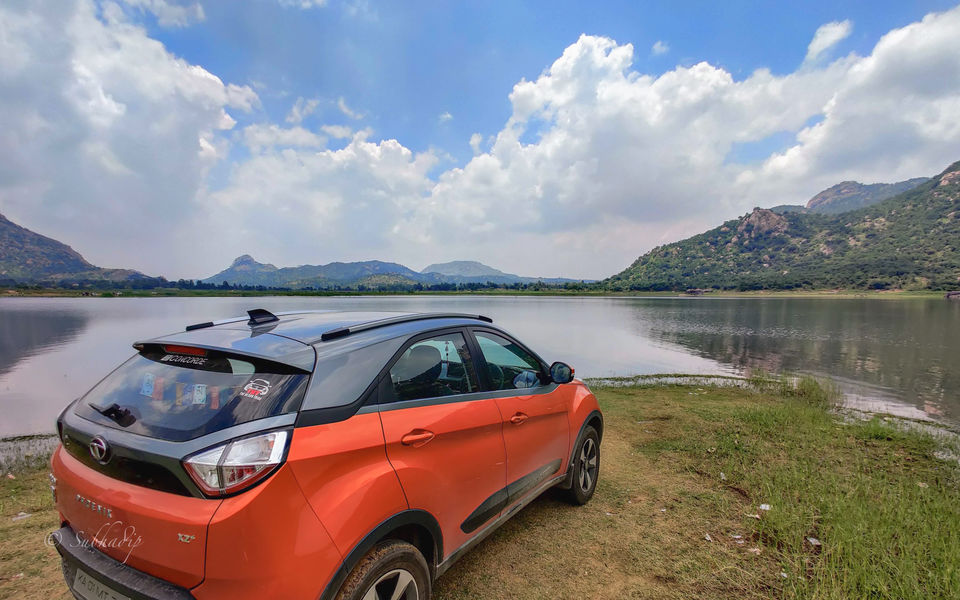 I have been working from home like all other techies since March 2020. Staying indoors for 5months in a row had made my urge to travel grow in leaps and bounds. But nothing really could be done in such a situation where the whole world was fighting to survive from the rampant destruction brought about by the dangerous SARS-CoV2 (COVID-19) virus.
But slowly, the Karnataka government started to lift up the lockdown restrictions in a phased manner. I was in a dilemma whether to venture out or still stay put at home (though I had to get out for my daily groceries). One fine Saturday, one of my friends suggested this place to me: Vatadahosahalli Lake. I had never heard of the same before. So I instantly turned to Mr. Google to help me understand the place more. It was about 109km from my home and the route via NH44 (the new airport highway) showed about ~2.5hrs. Without further hesitation I thanked this friend of mine and green flagged the plan. I was very excited for this drive but on the other hand I was skeptical about the imminent invisible threat outside. So I decided to visit the place quite early in the morning, have some home made breakfast there and return asap. I set up an alarm for 5am and went off to sleep.
The alarm went off but the past 5month's lockdown had made me lazy and I snoozed the same to only wake up at 7 in the morning. It was pretty late and I had missed the morning advantage of less people's presence at the site of visit. But still it was not that late and if I started in another 15mins, I could reach there on time for brunch maybe. Quickly I brewed up some tea, filled it up in a flask and packed food for brunch and rushed off to pickup my friend. A drive post the lockdown not only gave me immense joy but I could feel Phoenix (yeah that's the name of my car) loving the fresh air through its bonnet. We reached Hebbal in no time and started cruising through NH44 northwards. Then took the left from Ramaganahalli towards Gudibanda fort. But you can also take the left from Nandanaganahalli which rejoins the route we took at Myakalahalli. The road was very smooth and we were greeted with lush greenery on either sides of the road. There were many crops planted, paddy being the majority of them. In no time we reached Bhairasagara lake, which was huge and serene. The view of this lake from the Gudibanda fort is magical. We zoomed past the Gudibanda fort on our right but the landscape got more and more greener. I couldn't resist and stopped to appreciate this beautiful landscape. I parked Phoenix on the side of the road and masked up to step out and soak into mother nature's beauty.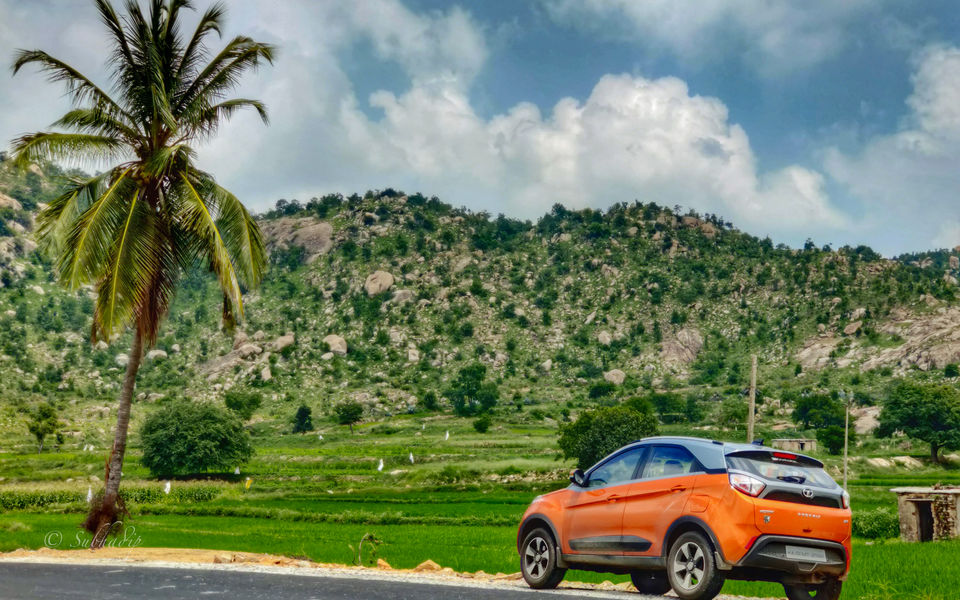 The hillocks with small rocks surrounded by vegetation in patches and paddy fields beneath reminded me of Hampi. After stopping here for 5-10mins and taking a few more snaps, we went ahead towards our destination which was another 8-9kms westward from here. We drove through the greenery and in another 10-15mins reached the Vatadahosahalli Lake. It was almost carved out of a postcard scenery with the pristine clear lake just at the foothills of a towering hill. We saw a couple of cars parked on the road but a couple more near the bank of the lake. The cars at the bank attracted me for an off-road drive through the muddy roads leading there. I spotted a small part of the bank which was aloof from these cars and went almost into the lake just opposite the peak of the hill. I knew right then that was my parking spot and I drove down to reach there. It was not only me but Phoenix also loved the off-road adventure after so long.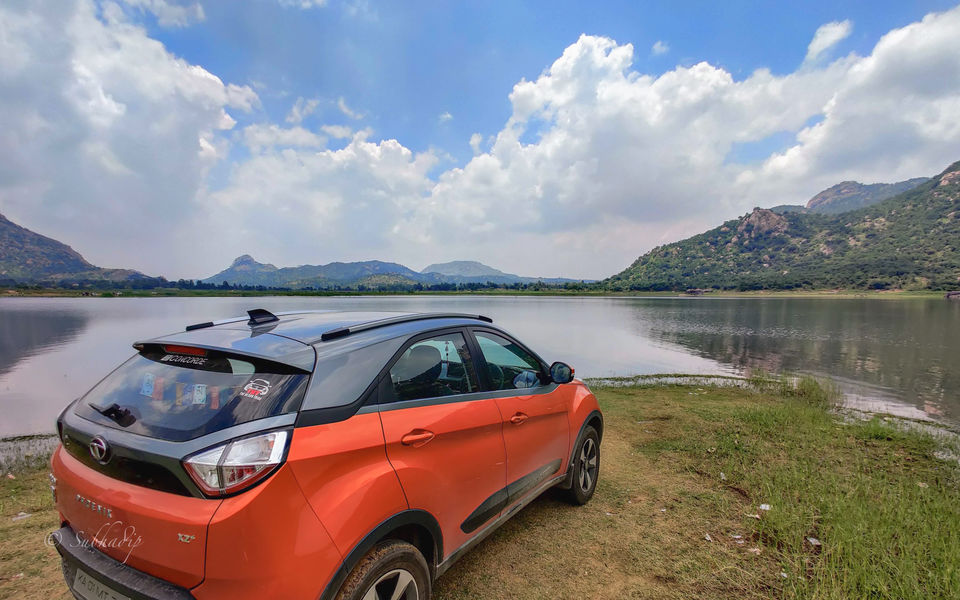 There were almost 20-25 people including 2 cars and a biker's group. But this part of the bank was totally empty with no one around in a 40-50metre radius, hence I was successful in social distancing.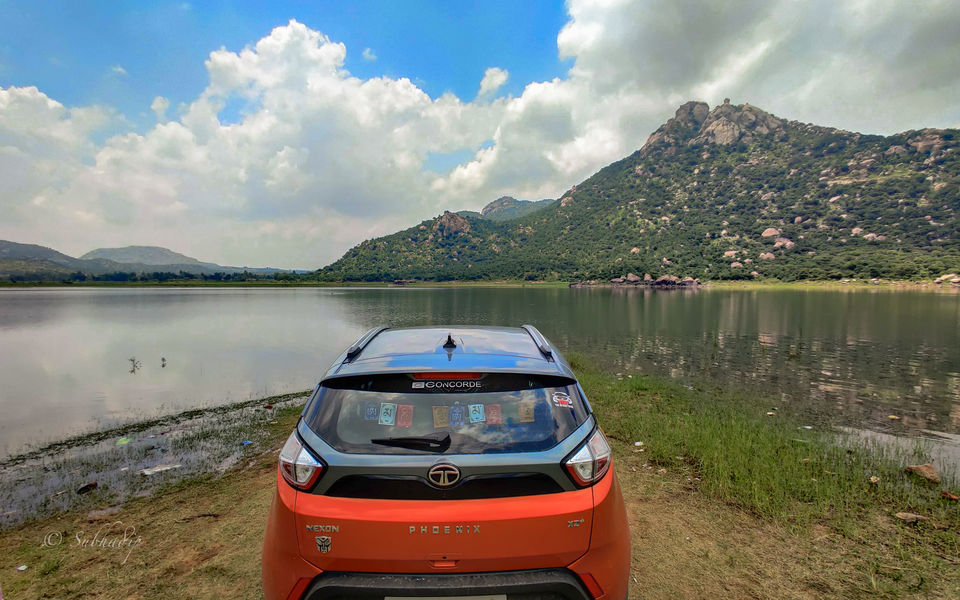 We reached there at almost 11am and were quite hungry. My friend had brought a jute mat and we set that up between Phoenix and the lake and started devouring on the sandwiches he brought. The place was really serene and soothing. The reflection of the adjacent hills and the cotton clouds onto the lake was exquisite.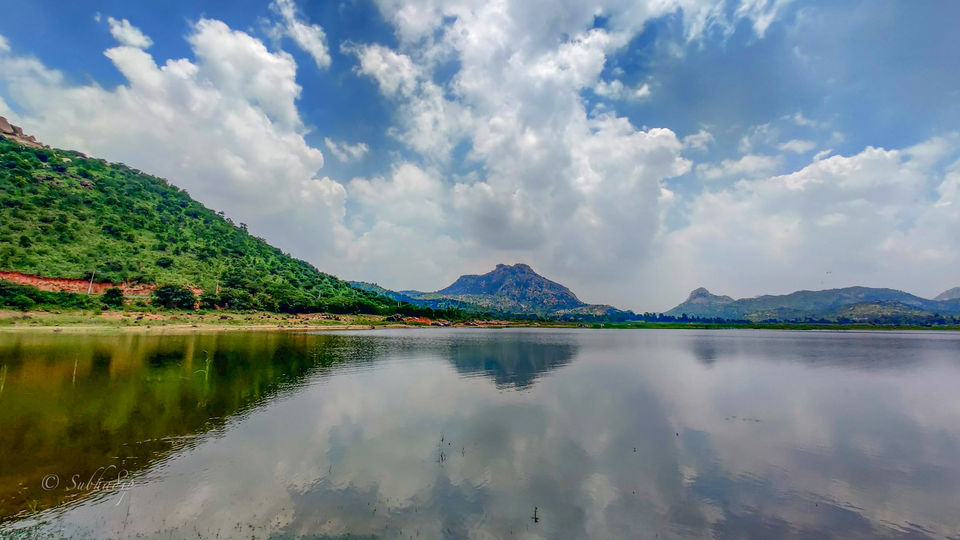 Despite periodic cloud covers the scorching sun kept on troubling us as it was close to noon. I kept blaming myself for waking up late. Nevertheless we spent a very good time here having our brunch by the lake and finally concluded the trip with a cup of tea while rejoicing the quaint creations of mother Earth.
Overall it was 6-7hrs outing, but it was so refreshing and felt so good after so many months. I would highly recommend this place for people from Bengaluru for a morning drive. It's perfect spot for a picnic and even you can spend the whole day with your kids.
Few tips from me would be: There are no eateries nearby so do carry your own food and water. Do carry an umbrella or some shade covers if you want to spend more time here as the sun gets harsher as the day progresses. Do not forget your masks, hand sanitisers and do practise social distancing outdoors. Last but not the least do not litter at the camp site or on the lake. Finally drive safe.