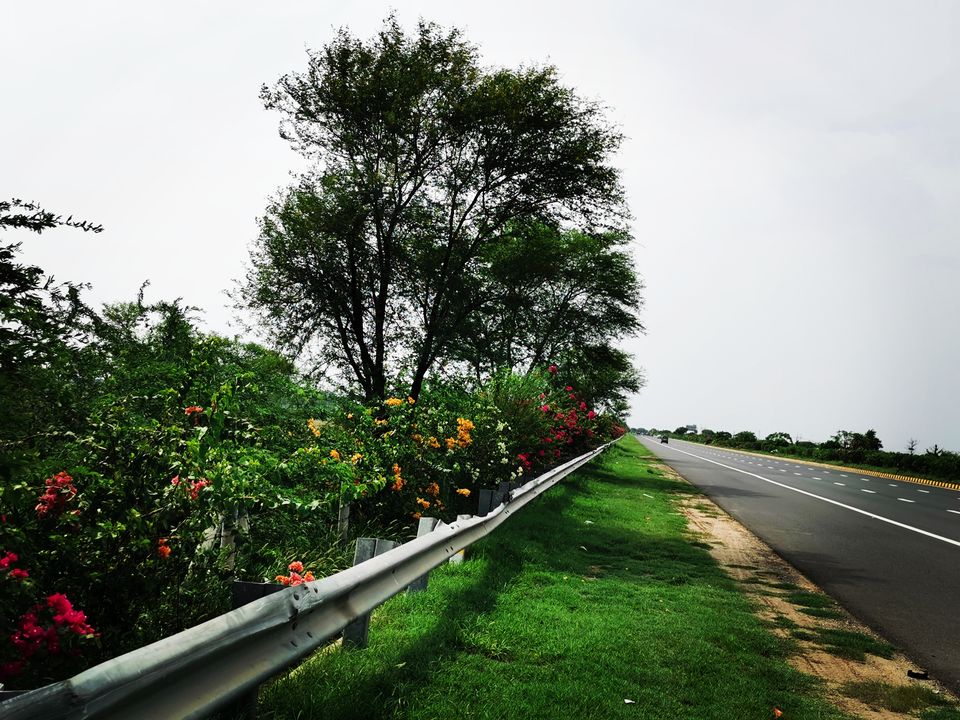 The last time we checked into a hotel was in last February. We, nine friends, went to Corbett National Park just when the Covid-19 cases were spiking in Italy. We thought just like other pandemic that hit the world in the last few decades, this won't really be this severe. We were wrong.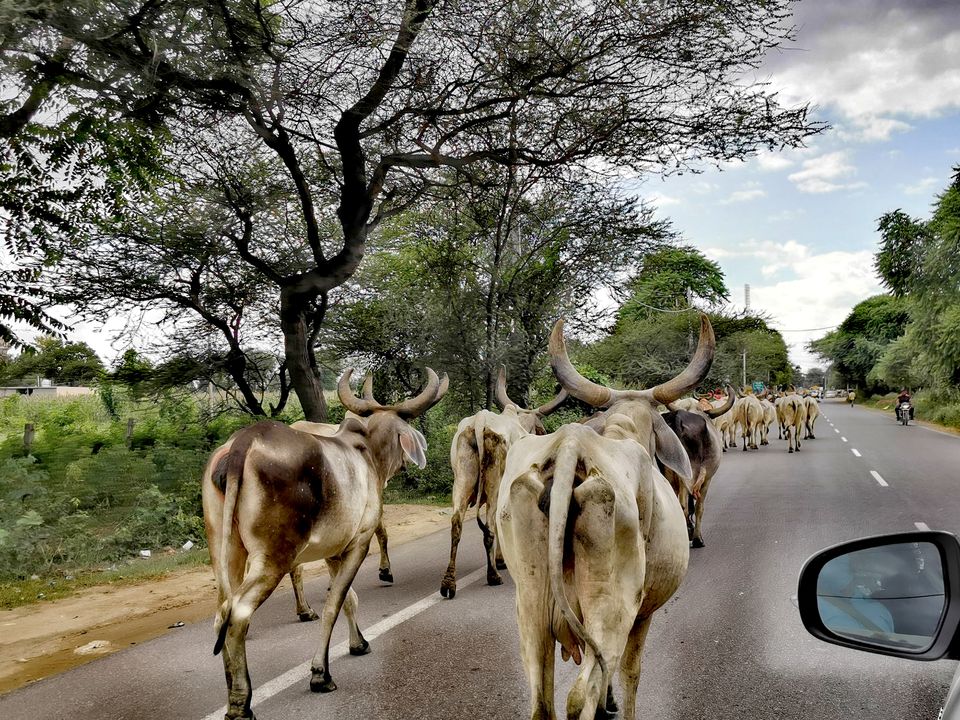 Locked into our homes for almost six months, which is very rare for people like us who love to travel, I was getting stifled with boredom. It's not that I was in any distress. I have been working from home since the last six years so getting used to the 'new normal' wasn't new. But this lockdown had clipped my travel wings, which had taken a toll on my mental health. Stuck in these four walls of my apartment in Noida, I was gasping for fresh air.
Well, the blessing came in form of a display ad. A leisure hotel brand called Treehouse has just reopened in the second half of August and I was all set to make my first hotel check post the lockdown. My partner and I packed our bags and set off.
Bhiwadi, the neighbourhood Rajasthan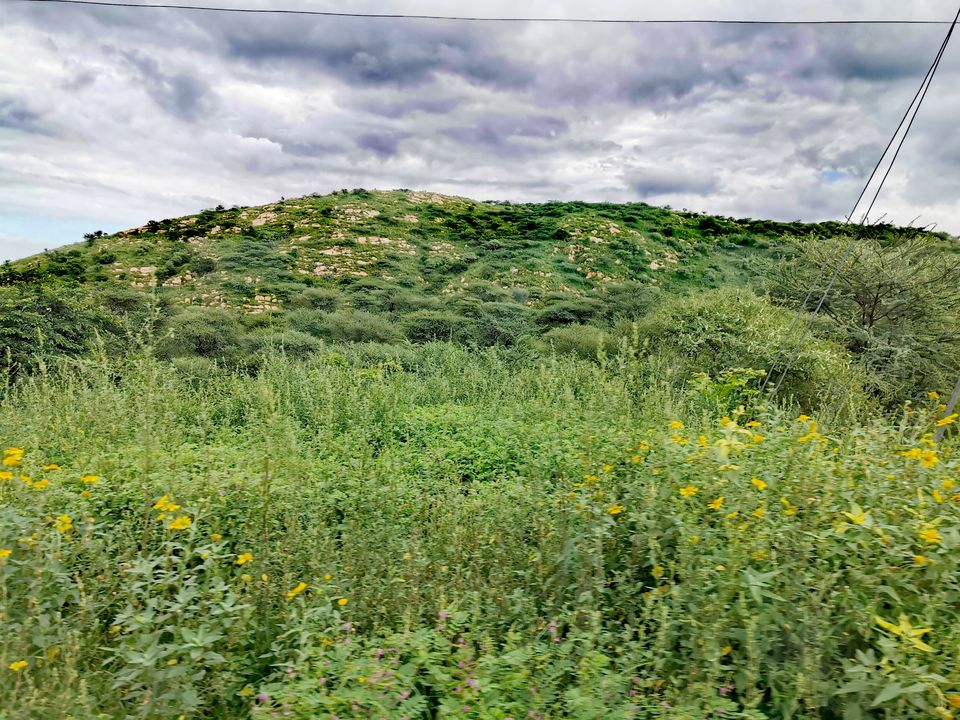 Let me tell you. One of the primary reasons to choose this destination is because we didn't want to go somewhere that would require us to halt midway for washroom usage. To keep the hygiene and sanitization level within our control, we ensured zero stops in between. A Jaipur or Shimla would require too many stops in between for breaks.
The other reason being Treehouse Hotel Club and Spa, Bhiwadi has an amazing chef who cooks Kaala Maas, his own twist to the conventional Laal Maas, which I have heard a lot but never tried.
From Noida to Bhiwadi, it was a drive of only two hours.
The Road Scene: Do you need an epass?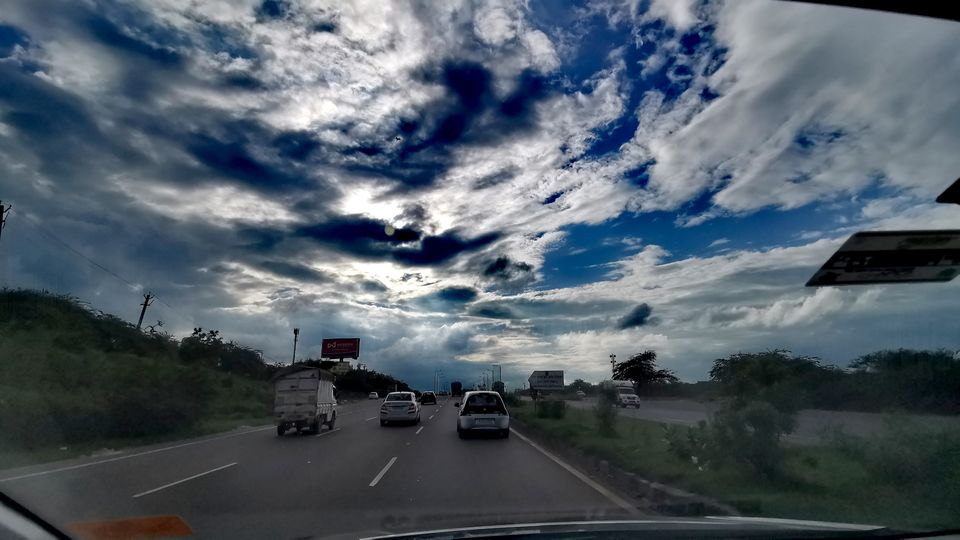 We were utterly confused whether we need an epass to change states and other permissions. After thorough research, I found that epass is required for easy access of commercial vehicles attached in essential service. For private cars, that's not required either for Haryana or Rajasthan.
We weren't stopped anywhere for any questioning, although police had put numerous barricades on the stretch after Manesar Toll. Once you cross the urban territory of Gurgaon, you would see very few people taking precautions. There weren't many who were wearing masks and spitting here and there. But fret not. Keep your windows rolled up and music volume high.
Enjoy the drive as much as you can. There were cars on the Jaipur expressway but not in usual numbers. Even though I paid the toll by cash, there weren't a single car at the toll gate in Manesar.
Entering Bhiwadi
Once you take a left from the expressway into the Bestech City at Bhiwadi, you will be welcomed into a Rajasthan that is evolving into new age urbanity. The roads are filled with potholes, but the high-rise apartments look ambitious enough. But your eyes will soothe when you look and find the Aravalli range peeping out from here and there. The green hills looking lush in the monsoon.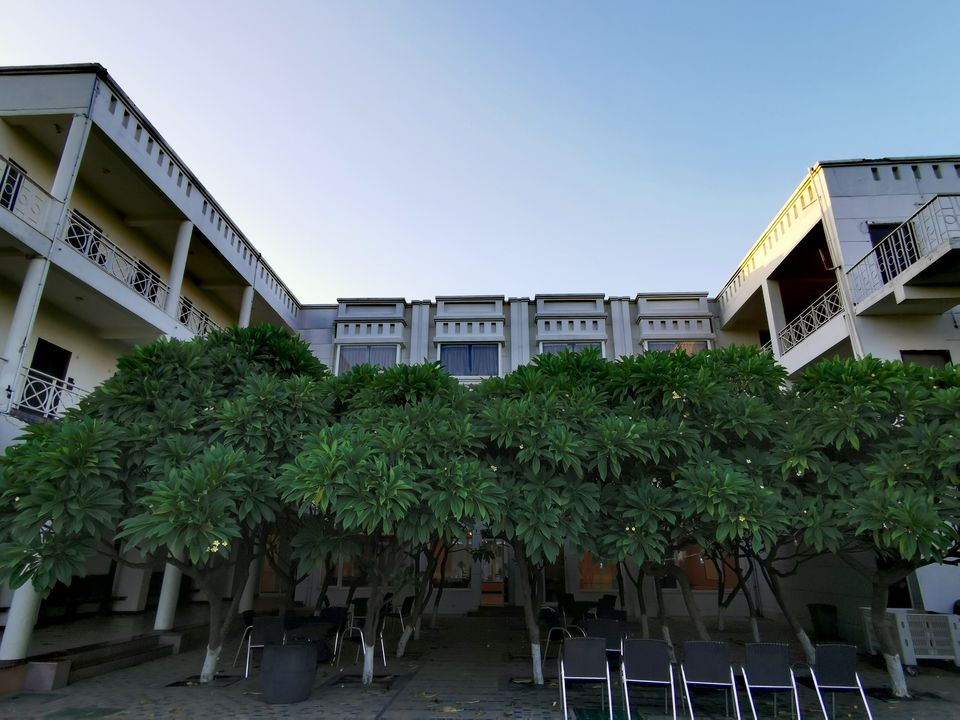 On reaching the hotel gate, the security personnel asked about the whereabouts. In the post Covid scenario, the hotels are emphasizing on this particular part to ensure no outside guests get into the hotel without reason. After providing us with sanitizer and checking our temperature with thermal scanner, we were asked to park at a reserved spot outside the main entrance.
To make sure, there are less contacts, the person asked us if we need a valet to park. But given the situation, we preferred parking the car ourselves.
Checking in
Getting down from the car, the bell boy was awaiting at a distance. With a wide smile, which was visible under the mask, he kindly asked if he can carry our luggage. Seeing us a bit confused, he sanitized his hands till the elbow for the assurance.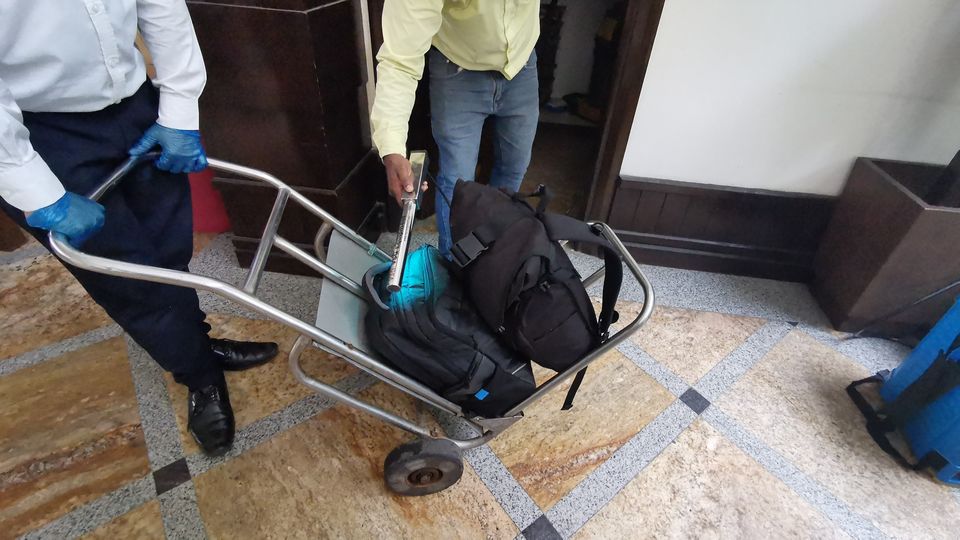 The luggage was taken to the scanner, which again is being sanitized frequently. We were asked to get our own hands sanitized before entering the hotel. The staff ensured you don't need to push the glass door ourselves.
We could see our bags and trolleys being sanitized with UV through a handheld device. The luggage sanitization also included manual spraying of chemical solution.
Immunity boosting welcome drink
The welcome drink, unlike pre-covid times, isn't just a syrup. The chef and the general manager have formulated a drink that is healthy as well as refreshing. So, we had a turmeric based lemon drink, which gave us immense respite after the mask-laden long drive.
Contact-less check in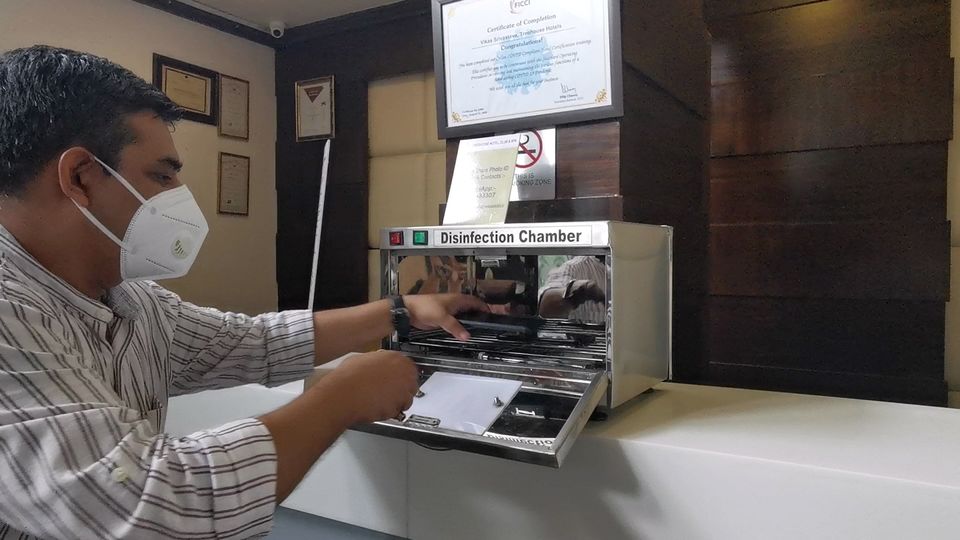 Nobody asked for the id cards and physical signature. FICCI (an industry body of India) had trained the staffs here to take all preparations to keep covid virus at bay. The certificate has been displayed to give you an assurance that this hotel has walked extra mile for your safety.
For checking in, the hotel has provided a Whatsapp number, where you can share copy of your id cards. The check in process didn't take more than two minutes.
Well, sanitization isn't over yet. We were asked to put our phones, wallets and car keys in an UV Box. Post this sanitization, we were finally give the room key, which again was sanitized in front of us.
While there are so many steps for of maintaining hygiene, it's surprising that the whole process didn't take more than five minutes.
Upgraded room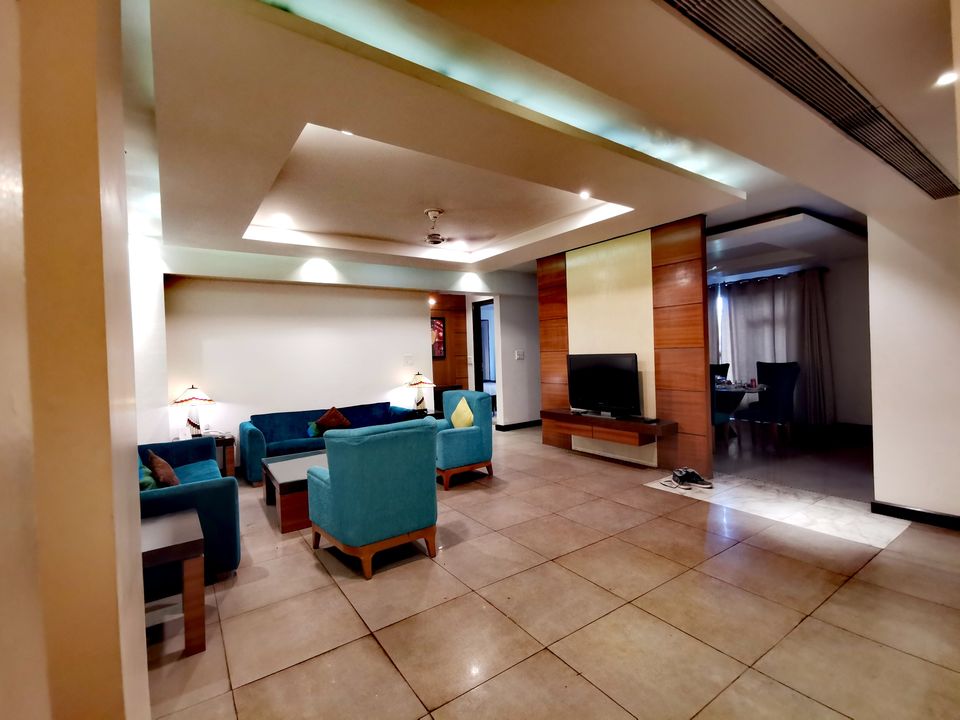 When escorted to our room, we were surprised that the kind souls at the hotel has provided us the presidential suite. It's like having an own apartment at the resort. This suite came with two bedrooms, a huge dining area and a living room, a pantry and a well-stocked bar. That's like a suite of dream!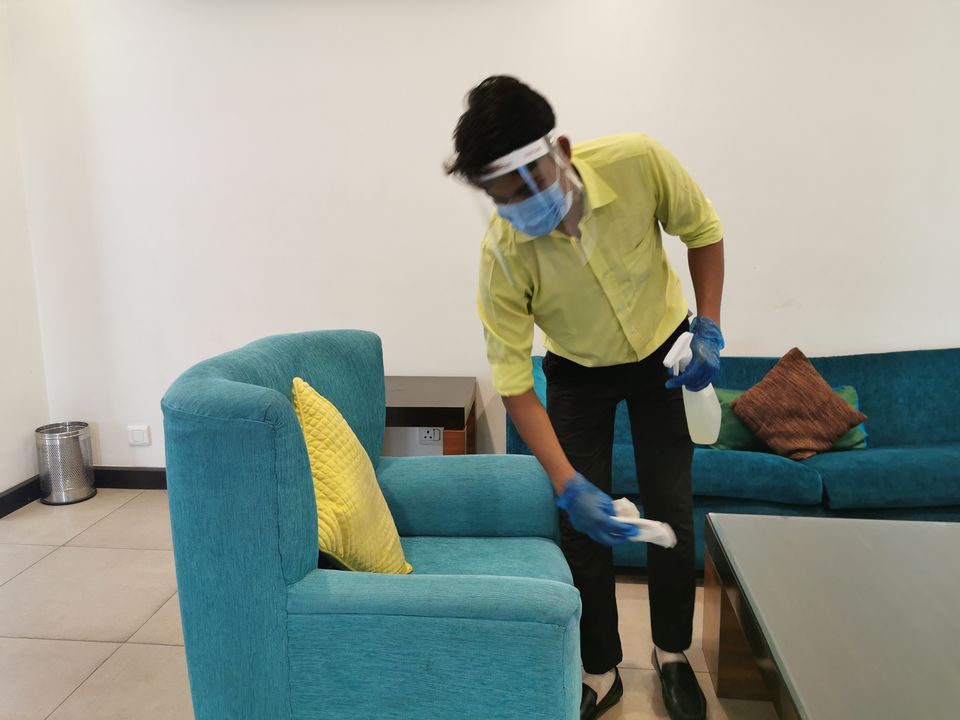 The bedrooms opened into an open-air terrace, another plus of this suite. You could feel the suite has aged gracefully but everything is fully functional.
Returning during local lock-down
After two days of a superb stay, the day we returned, there was lockdown in Bhiwadi. We were stopped by the cops, but when we stayed, we were here for staycation, they didn't bother at all. It was indeed a memorable stay at Treehouse Resorts and Spa with unwinding and good food. We returned carrying oxygen to steam up the next few weeks.