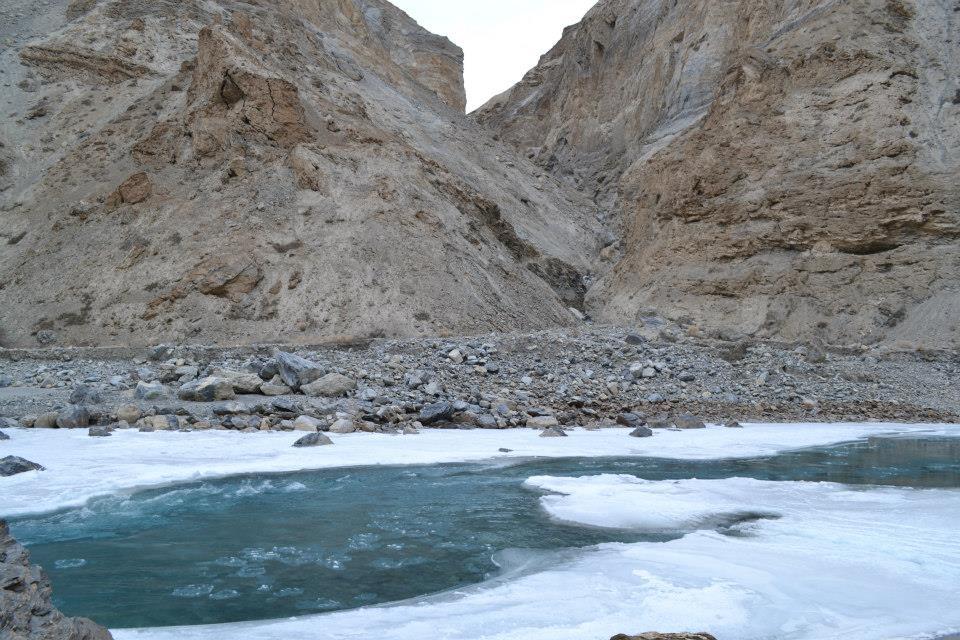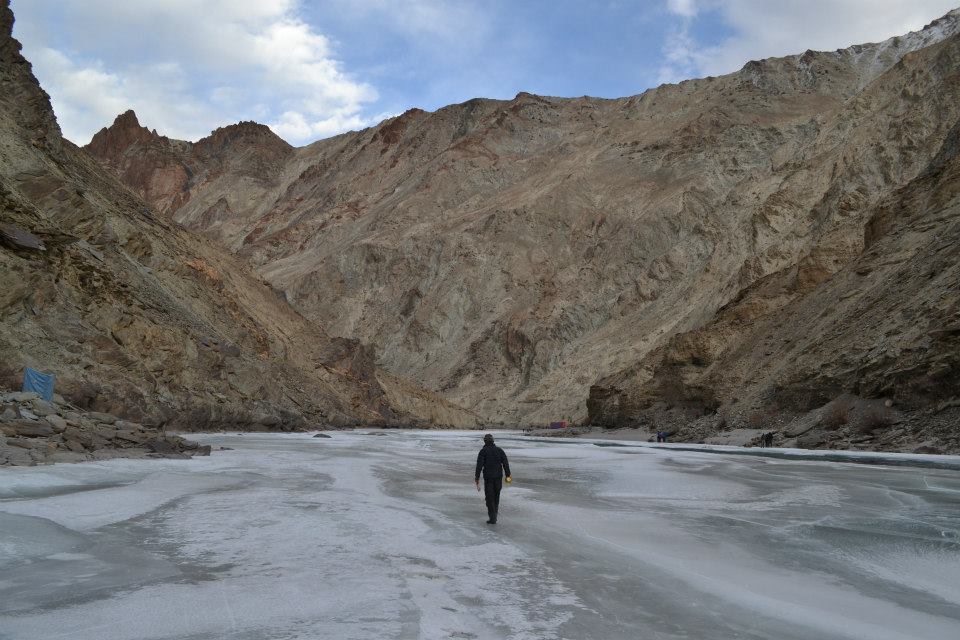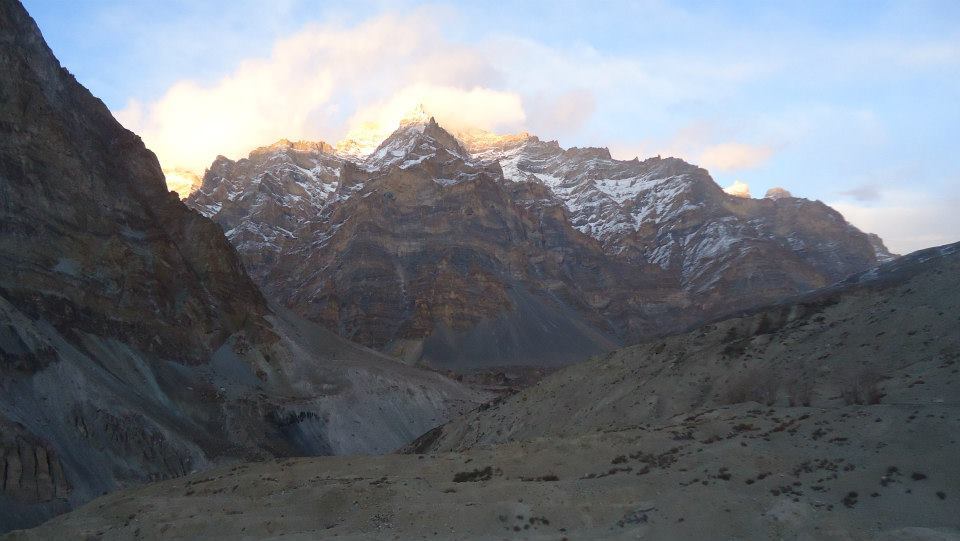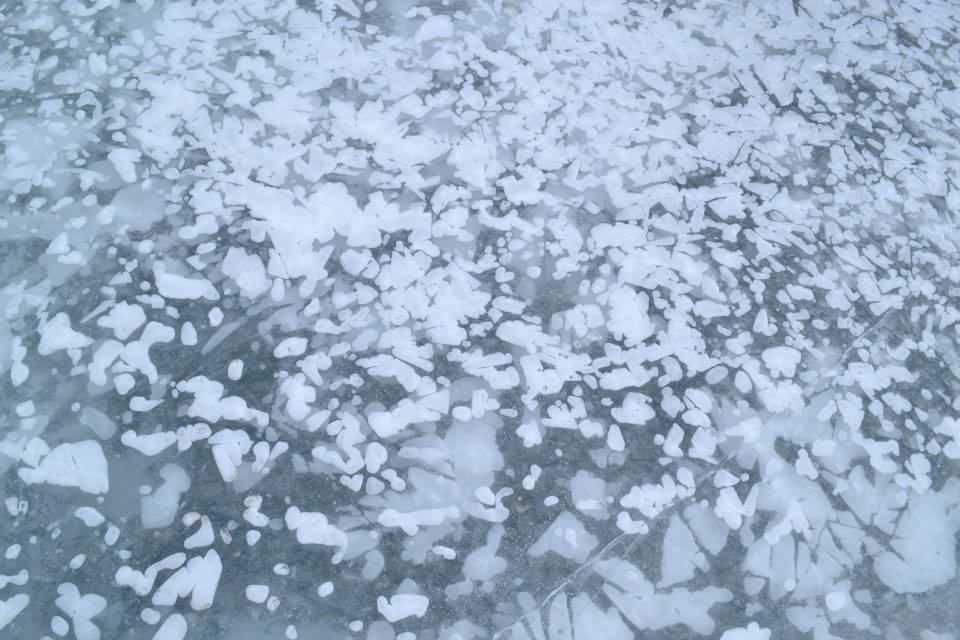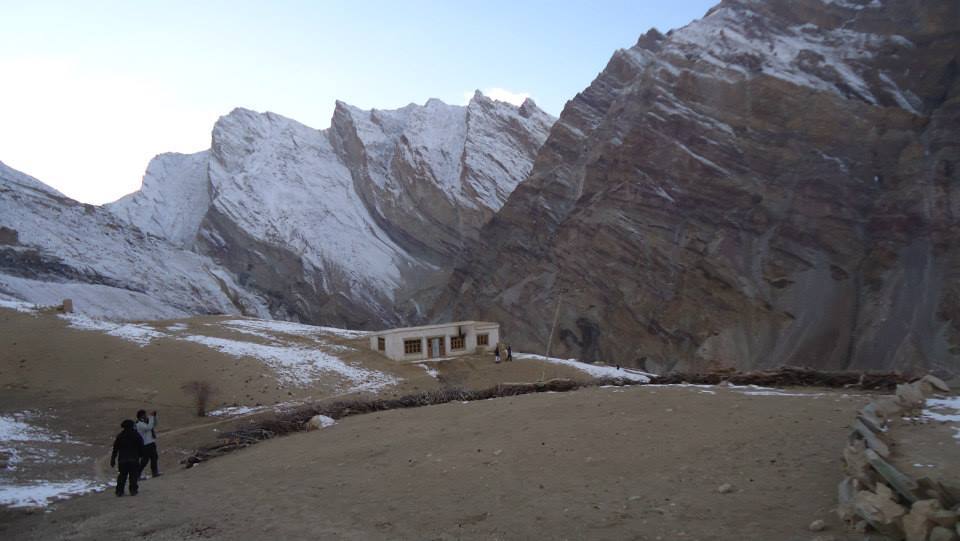 It's over 3 months now since I completed Chadar trek (one item ticked in my bucket list :)). It is considered to be one of the toughest treks in India as trekking here is not through curvy steep rocky trails but on ice. Yes!! It's ice that too a rich variety of it. Zanskar river metamorphoses into thick sheet of ice as daytime temperature falls to as low as -15 deg C. So, here the journey goes.
I landed on the beautiful city of Leh on 9th Jan'15 and was wearing some 3 thick layers to survive the killing temperature of -10 deg C. Yeah!!!You heard it right....it was -10 which is the average daytime temperature there(night time average is -25 deg C :'( ). I had booked the trek with "Altitude adventures" managed by a local guy. My friend Niketh had to join me at Leh for the trek.
Our batch was having 11 travellers with only one girl (me :P). First day was only for acclimatisation. I along with fellow travellers explored some places in Leh like Shanti stupa and Thiksey monastery. This was day 1. Day 2 started with us heading to our base camp for the trek. It was in a village called Chilling (aptly named). Here, we had our first experience of walking on ice (the Eureka moment!!).
This marked the beginning of a wonderful trek with me being oblivious of the fact that it'll become the experience of lifetime! Walking on land is different....but here you walk on frozen river and ice-sheet might break at times if the thickness is not apt with Zanskar river carrying you in her gargantuan lap :P. That's why Jan is considered to be the best time as Chadar is well formed and thickness is sufficient enough to even allow a truck to roll over it.
We had a wonderful guide named Tunduk who helped us tremendously and empathised with us whenever we slipped :P. Slipping was pretty common on first two days after which one becomes accustomed to walking on ice :) Though, locals prefer gumboots to walk, I used forclaz 600 which ultimately turned out to be a good choice :) . A typical morning will begin with his wake-up call and bed tea(it was a blessing in disguise at temperature of -15 deg C.) followed by breakfast, trek, lunch at 12pm, reaching next camp by 3pm, having evening tea and snacks followed by some relaxation in our cozy tents and then dinner at 7pm (and obviously some great talks :) during that time).
From Chilling, we went through Shira, Dibb to ultimately reach Nerak village...our destination!! While one traverses through deep canyons, one can't prevent oneself from getting mesmerised by the grandness of valley, rich ice textures, ultra pure river water and humble locals :) The journey was marked by some great lunches (soupy noodles, soupy pastas :) ), awesome stories, slipping sprees, light jokes, trekking on rocky terrain sometimes(which becomes deadly at times as there is no vegetation to hold rocks and one have to maintain a good grip else you might be kissing Zanskar's bed :P ), greetings(hell many!!Everybody who meets in path will shout "Jhooley" which means hello in Ladakhi!). From Nerak, we took the same path to return back to Chilling. This marked the end of a wonderful journey which is going to linger in my mind for forever. Calling it awesome surely would be an understatement!!All the picture credits goes to Nitish and Rahul :)
Some wonderful moments are captured in a short video. Again the credit goes to Rahul :).