Two is a company, three is a crowd but 16 my friends is a team. After a lot of planning and postponing we started out for Coorg from Bangalore in 4 cars on a friday evening. Note to self: Never try leaving Bangalore in the evening, the traffic is a nightmare. Anyways we finally managed to cross the city and hit the NICE road, which actually is the only nice road to drive on in Bangalore.We were hitting 120 on the meter in a fortuner  and an Ola Car and more importantly an indica which sped past us, the driver giving us a stare which looked like he had achieved what he set out for in life and sped ahead( we overtook him again though ). There are multiple routes to reach Coorg, so plan your trip accordingly according to the road and traffic conditions. As we left late  we couldn't take  the road which passes through a national park and had to take the route via Mysore and Kushalanagar. After several pit stops and pee breaks ( the number of pee breaks and directly proportional to the number of people in the group) and following the direction given by the resort caretaker we reached the resort at 12 in the night.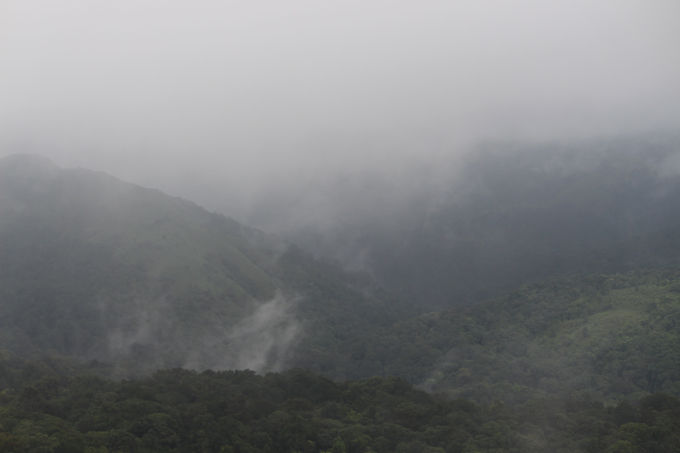 These roads are so different in the night, completely deserted and spooky yet much more prettier. The friend who was driving for us made it one hell of a ride. As soon as we reached we were served really delicious food, One should always go for local cuisines as they are different and tastier. Food was followed by the next round of things on a trip - Booze and games. Booze went on throughout the night with people getting competitive in dumb charades. Everybody, Almost everybody was in bed by 6:00 in the morning.
Every body was up next morning and some of them were really hungover, we had guzzled a lot of alcohol the previous night. That's one of the things to do in such awesome weather! we were off to see Kaveri sangam and man that was disappointing. Just two small streams meeting a forming a little bigger stream. Unless you are very pious or you want to visit temples, would recommend this place to placed on the low priority list.
After a lot of deliberation to go to Mandalpatti or not as the place was bit far and it was already 3, we decided to go and left for Mandalpatti,a place made famous by being romantic spot in most of kannada movies.The journey was scenic, I was enjoying the breeze outside with my head outside the sunroof of the XUV500 till the car splashed a puddle, more like a pool and I had muddy water all over me. This is a must visit for anyone coming to coorg. As you begin approaching the place you are engulfed in white clouds and it's time to put off the AC, roll the windows down and feel the freshness in your face. Everybody was just mesmerized by the beauty and photo session ensued with a lot of selfies, The decision to come was going to be vindicated in one big awesome way. we are self-ish people. From the starting place you are taken further in rickety jeeps and unless you are a pro off-roader do not even think of taking your vehicle there. we were already between the clouds and we kept going higher and it was getting cooler. The 15 minute ride is nothing short of a day in an amusement park and you reach the end with all your bones rattled. We paid the minimal entry fee and set off for the top of the hill which is a 10 min trek. we were just meters from the top and rain gods just went berserk with a barrage of rain bullets hitting us.
We had 2 umbrellas for 8 people so it wasn't going to help much, we just put our phones and wallets away and embraced the fire at us. It was so romantic seeing a couple ( see the picture closely and you will notice them) trying to save themselves with just a small umbrella to save them from rain droplets the size of mangoes.
After getting drenched in rain and enjoying every bit of it we started our journey back to the start and attacked maggies and tea like an army hungry for days! The rain had calmed us all and we drove back listening to shayaries from Zindagi Na Milegi Dobara. In the night we had a nice bonfire to warm us all followed by customary booze and games. The Mafia game we played was made fun by corrupt gods and perennial targets.
We set back for Bangalore on Sunday morning, skipping the golden temple. This is different from the one in Amritsar as it is a Buddhist monastery. Its a really beautiful and calm place and should be one of the first few places in Coorg that you have to visit. One should also visit Talakaveri which is starting point of river kaveri also is a holy place and elephant camp if you want to row in still water and look at a lot of elephants. There are a lot of falls in Coorg and almost all look the same, The one which is most famous is Abbey falls(In the picture below) and it is no Niagra falls. If you just want to see a small waterfall you are most welcome to come.Other than falls there a few view spots like Raja's Throne which are okayish at the most and should be gone to after the main places have been covered.
One of wanted to do a hangover on the way, only a slight problem as there were no tigers to kidnap from Mike Tyson. We zeroed in on Sheep and goats to kidnap and finally decided to go with the goat as there would be a lot of fur if we took the sheep. We stopped right before a herd of goat and almost took one but decided against it as the herder had a big stick and it would been an embarrassing story to tell people about the dent on the fortuner we would have got trying to kidnap a goat in a village. So we ditched the idea and decided to do it on a later trip.
For any trip the main thing is to find a nice place to stay in and we were thankful to Linger resorts for the awesome hospitality and the countless number of teas and coffees we consumed. Looking for a place with a good setting and service is of paramount importance. Coorg is the prefect place to escape the world for the weekend primarily due to bad networks( You get Airtel 4G at the top of the mountain though) and also because of its serene beauty and peacefulness.