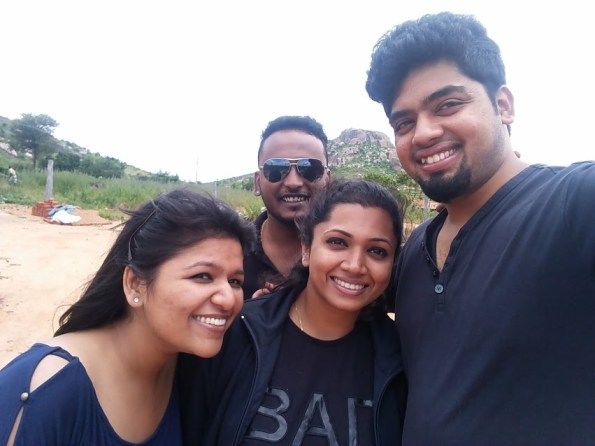 "Hey! You are kidnapped!", exclaimed Rakesh as Danisha pulled me inside the car. "What are you guys upto?Are we shooting a bollywood flick? Where are we going? " I asked all three of my supposed kidnappers excitedly. I was the happiest to be kidnapped. "That's a surprise! Let's go!" hooted Prithvi. "I always wanted to kidnap a girl! Fortunately, YOU are our PREY! Hehehahaha !!" declared Danisha. All four of us burs-ted out laughing. All three of them had successfully kidnapped me from a client's office and were taking me to an unknown land.
I pulled down the window panes while we were passing by Malnad. The place had got its name from two words- 'Mal' (means rain) and Nad (means land). The rainy-land experiences rain for around 8 months annually. Probably, ranks third as the land with the most rainfall. As we drove down the beautiful roads leading to Madikeri on NH-209, no sun was to be seen till a far flung land. The tall betel-nut plantation along with coconut trees created the green cover on both sides of the highway. I pulled down the window panes, put my head out, closed my eyes to set myself free. The cool breeze fondled my face and rumbled my hair with a little sprinkle. I could breathe the freshness of the damp red-soil and muddy trails alongside. Mera falsafa, kandhe pe mera basta..le chala mujhe, le chala jidhar rasta....Ilahi , Arijit Singh voiced it just perfectly!
A right-turn to Coorg and the world seemed upside down. Freshly brewed coffee plantations, adorned with black pepper creepers marked with silver oak somewhere in the middle.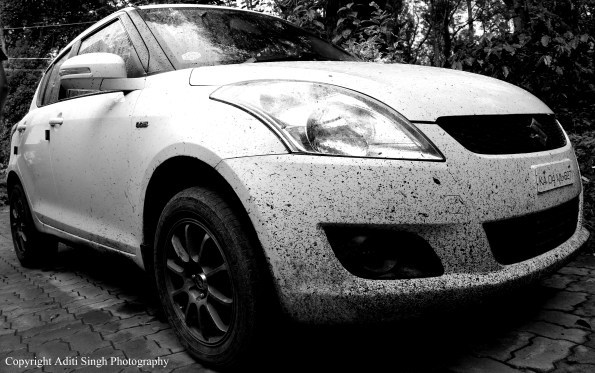 Our white beauty stomped hard on the mud track.
Merely 4 feet broad muddy-roads, puddle-full of water. SPLASH! Our car bumped and raced and did her best for me to experience off-roading. "I miss my red beauty!" exclaimed Rakesh. "I wish I had her with me right now!! Am missing her badly. sniff sniff*". We stopped in front of two-floored wooden cottage.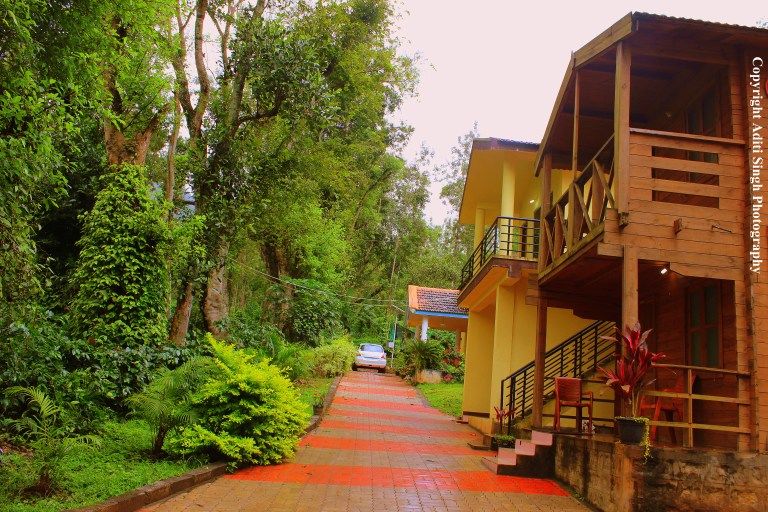 I could not stay calm and almost jumped in excitement. "Guys! If this is how it feels to be kidnapped, please kidnap me forever!" For once, I became that little kid who got the entire coffee-estate full of happiness. All shades of green, wooden home stay that sighed warmth and myself. All at once. I couldn't stop smiling. It was dusk, as a pale sun didn't shine so bright, sun-rays peeped among the tall pepper and oak trees as we took a stroll in the estate.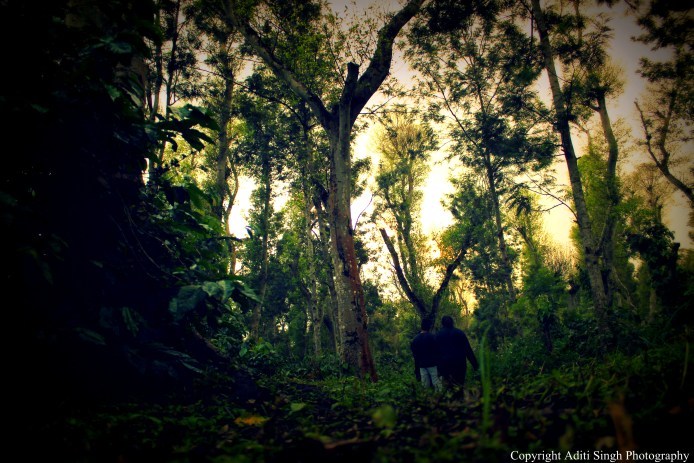 P.S.: The estates provide a natural habitat for insects like leeches which if bite wound you.Do wear shoes which roaming around.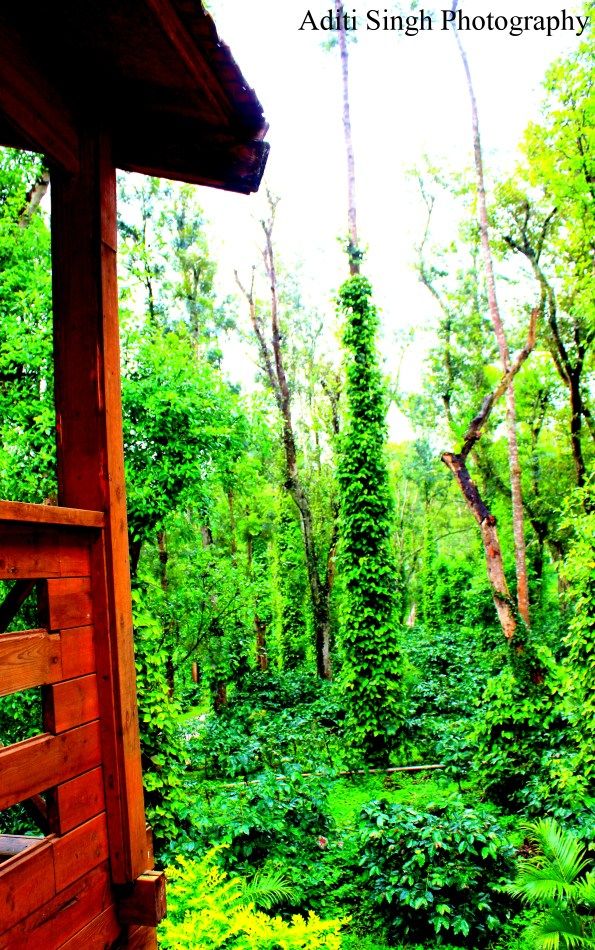 Chit chats, a few selfies and pictures later, we walked back to the cottage. The temperature started to drop. It took a few steel GLASSES of Coorg-special filter kaapi (filter coffee) to bring my frozen senses back to normal and feed the my forever coffee-hungry soul. It was dark by now. Silence all around, with only the cricketing sound of insects, with light rain that made a rustling sounds when it fell on the greens. Though a bit scary and cold, there exists a warmth in the ambiance that won't make you feel home-sick even for a moment. All four of us comforted ourselves outside our cottage and then started a session of chit chats in the middle of the sky-high greens. Endless talks and all of us could talk forever.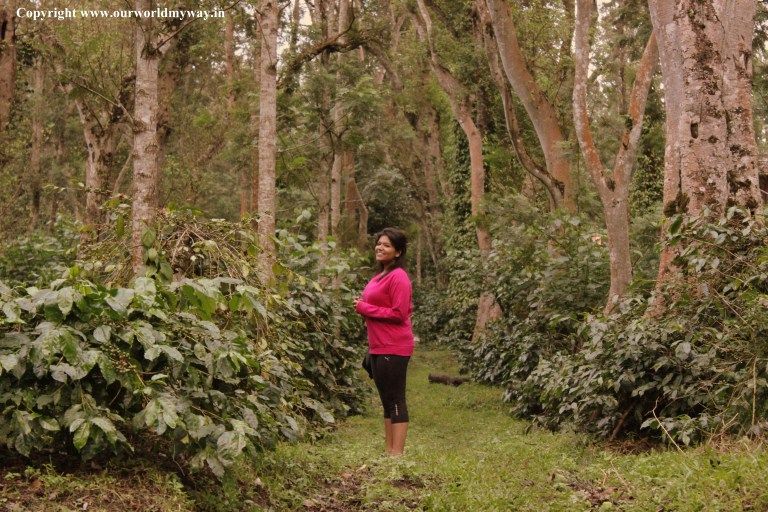 The next morning after my tummy full of the authentic south Indian flavored upma (I still feel hungry). "Where are we going next?" I queried Rakesh. Hoping we might drive back to Bangalore in some time as we had already seen the coffee plantations. "Harangi backwaters" he replied. Trust me, I had the longest smile ever on my face.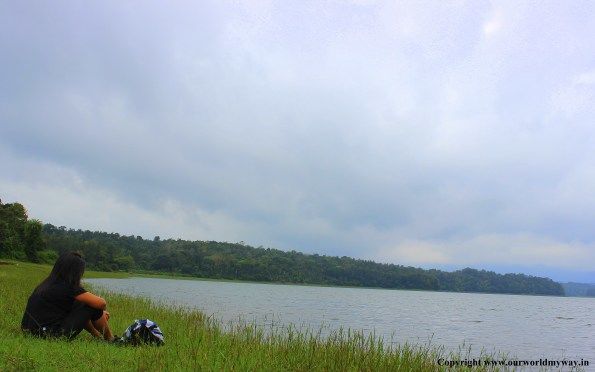 Five kilometers from Vara Estatestay (www.varaestatestay.com) home-stay among the dense betel-nut, coconut and coffee plantations settles Harangi backwaters , an unexplored wonder that embellishes Madikeri, Coorg. A small by-lane is a drive through on a sodden muddy off roads that makes being their an experience. The heavy yet tall plantations in the left, River Cauvery, must be around 20 feet deep, short mountain ranges and endless water stream made it just perfect. I settled myself on the wild grass as Danisha took charge of the camera for sometime and the boys figured out a coracle (a round shaped, traditional light-weight boat found in southern India) to sail across the stream.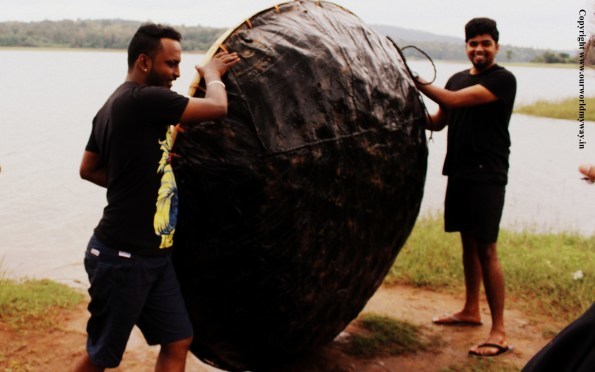 Prithvi (left) and Rakesh (right) figuring out ways to sail on Coracle.
The dark clouds, light drizzle made it picturesque. It took me a while to absorb the beauty the place beholds with itself.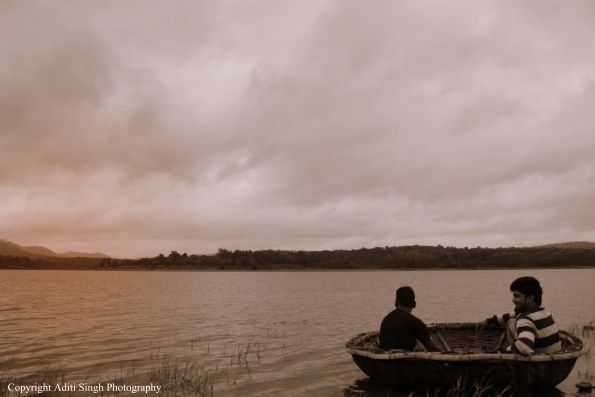 It isn't fair to only keep you imagining. If you are traveling to south, do visit the simplistic beauty of the place to experience it yourself! Trust me, you would have the longest smile and memories that you will cherish forever.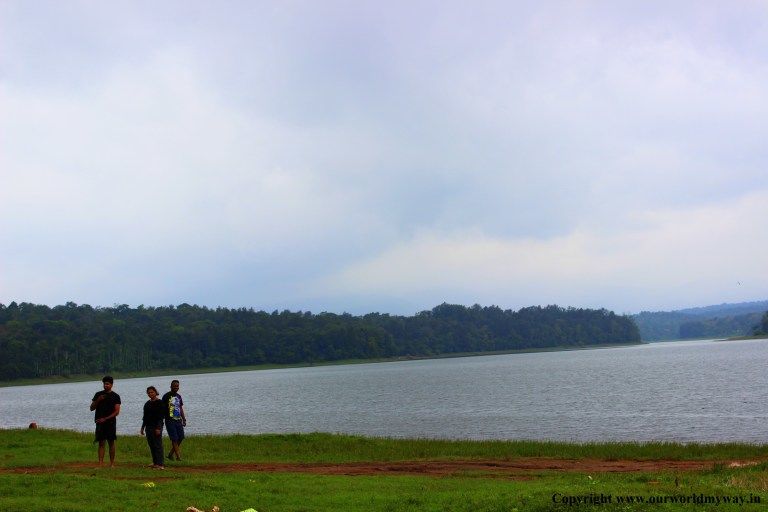 This blog was orginally published on 'Our World My Way'
Frequent searches leading to this page:-
bangalore to coorg tour package by car, chikmagalur and coorg tour packages, coorg 2 day tour packages, coorg and ooty tour packages, coorg and wayanad tour packages