Note: Camping is prohibited at Tadiandamol
It's one plan which had been haunting me since last October. What was supposed to be a huge get together of nine people went down from nine to eight to seven to finally one. And even the last one missed the train by fraction of second. So it was me all alone. I had never done a solo trip. May be I have, for the Goa trip, but that was different case, I was more happy and confident and it was a YHAI trip, also towards the end, my trip mates were to come so that kept me going but this one was different, I went there and couldn't complete the trek, rain was just an excuse and the solo days in Mysore were as depressing as it could get.

We climbed down quite fast and reached Nalknad Palace in no time. The place as such wasn't big but thanks to the guide who made it interesting by telling the story of the king who used this as his out house, the secret passage, the dark room, old age paintings and the best of the lot, the shooting zone in the bottom, where, as he said, any hole could make us aim at the people coming at the entrance.
We decided about the rest of the plan there. Upon Srikanth's insistence, Mohan and him decided that they'd be leaving home post the trek. We inquired few people and as per their advice, decided to visit Igguthappa Temple and Chelevara Falls, in the same order. We had buffet breakfast for hundred rupees which consisted of upma and Idly along with Coffee and Tea.
The water flow increased and police personnel came and stood at dangerous junctions, also it started to drizzle so we hurriedly went down. We went to the temple there which was beautiful and we were the only ones inside the temple. We called the auto and had sugarcane juice in the meantime. Once the auto came, we got down at Srimangala and took a direct bus to Virajpet, but we were dropped at Gonikoppal and were asked to change bus. In that bus we had to again talk with our broken tongue saying that we already got tickets in previous bus. We got down at Virajpet around 1 PM, packed our bags and went again in search of pork.
We thought, being august 15th pork and liquor shops would be closed, that's why we hurried for both the previous day but fortunately or unfortunately both were open. We didn't get pork in the restaurant we were recommended. We settled for meals, fried rice and fish. Fish was best for that rate. River fishes are always good.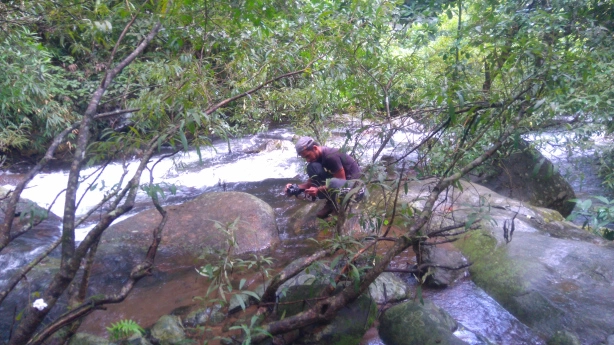 We got on the bus at 3 PM and settled in two three seaters, saying 'bye bye' to the mountains and greenery. We reached Mysore by 6 PM. We decided to go have dinner at famous Mylari dosa, we walked till there, settled in a park nearby as if we were in Manhattan. But the quietness at the end of the trip always makes me sad, it happened then too. We had amazing butter Dosa there and walked back to station, almost 4 km but we wanted to kill time so walked to station.
Funny thing was, only our name was in the reservation list, but the coach was fully crowded. We watched the photos that we took and shared them between us. That night's sleep was interrupted because of all the unreserved people who had got into the coach. I had to constantly keep an eye on luggage but all is well that ends well. It ended well and in fact very well.
Our bus reached Virajpet at around 11 AM. We immediately inquired bus to Kakkabe and got to know that only private buses ply there. Last time my only time pass was to walk and have tea at various places. I never miss a chance to have tea whenever I travel, so ordered tea in the shop next to bus stand. To my luck the bus came immediately, everyone except me either had tea or parceled it into the bus. Only me who so wanted to have tea had to get into the bus without having it. Damn it. Little did I know that, it's how the story was gonna be for the next three days.
After getting into the bus and the conductor forcing Mohan to throw the tea cup out of the window. We settled in the seats we got and asked the conductor to drop us near the base of Tadiandamol which was a few stops before Kakkabe.
After a point, we heard Mohan and Srikanth shouting that they had reached the peak. It was even more pleasurable to see that there were already a couple of tents there. Even though there was less space for us to pitch the tent, we were happy that we were not the only ones up there. After crossing the zero point we could see a couple of foreigners who had pitched tent.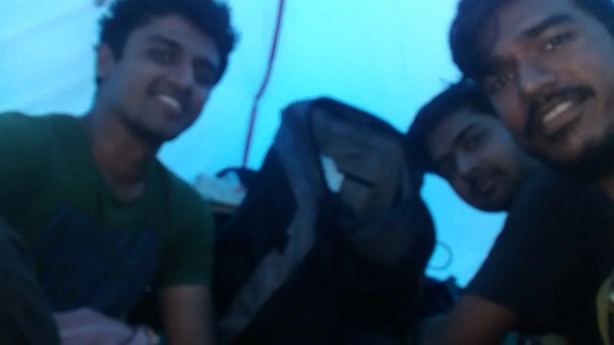 We went to the bus stop where we started the trek the previous day. A lone girl sitting there had to go out of the bus stop seeing us. Within minutes Mohan and Srikanth got the bus to Virajpet, we were relaxing in the bus stop and got bus (the same one we took the previous day to this bus stop) to Kakkabe post that. From there we took an auto, a share auto type of auto for fifty rupees to reach the temple. Everyone there inquired whether we had lunch there but as we had just had breakfast we couldn't eat there. The temple severely reminded me of Thirunelli Temple in Wayanad, for which we had to take bus like this and have lunch. In fact the whole Coorg trip reminded me of Wayanad. We returned by the same auto to the bus stop where we had to weight about an hour to get bus to Chelevara Falls. These bus stops and public transports are the ones which make the trip interesting. Also loved the location where we were waiting for the bus stop. We even had a local cola but wasn't cold. It was tempting to take out the camera for such scenic locales, it'd have been a great spot for portrait shoot, but didn't as it would become a problem if the bus arrives. I settled for a couple of selfies and finally boarded the bus.
Once we got down at the Chelevara falls, we again had to search for an auto and get to the falls, a normally 100 rupees one, we got for 80 rupees. Like Prasanna mentioned he looked like a fellow from Nappathi Moonu gang. We couldn't agree better. But the falls was a disappointment as it was crowded and not allowed to take bath. It started drizzling again and we got wet in our only dry dress. We called the same auto to return. That's the concept there, they give their numbers and ask you to call back instead of waiting, for which we have to give extra charge. But the best part was, even for the return he charged the same eighty rupees. We wouldn't have mind giving hundred rupees too if had been asked for.
Once we returned to the bus stop we went and had tea and puff in the only bakery present in that area, in the process missing the bus to Virajpet. We had to wait another hour to get bus to Virajpet.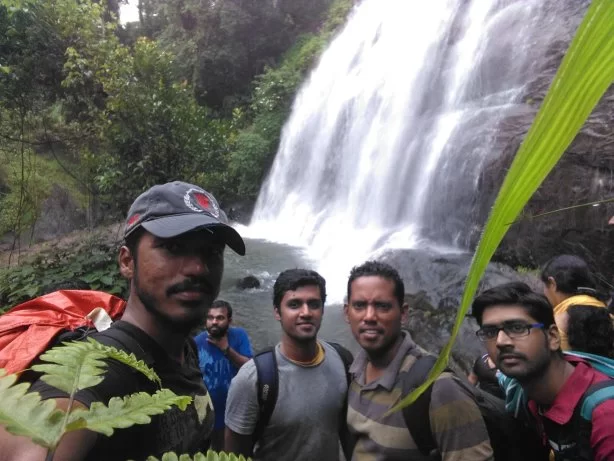 From there we took an auto for Rs. 150 and reached Irupu falls. As we had a lot of time we took a lot of photos, few good ones too and finally reached the falls. As we had camera, mobile and wallets, one had to take care of luggage while the other too took bath. First Vignesh and I went and next I and Mani. Nothing like being in water, especially falls. Those few minutes were the best of the tour.
This time I boarded the same train. There were two new folks to our gang. Mani who is a friend of friend and Vignesh, my school friend from Satya School joined along with Prasanna, a regular. After getting to know each other and some chatting and as per our luck, an elderly aunty who occupied half of three seater and another uncle slept sharp at 9.30 PM, compelling us to get a good night's sleep.
Day 1 - Get Down and Walk
It was cold and as usual I slept like hell which got both Mani and Vignesh shocked but as Prasanna was used to it, he woke me up when we got to the Mysore station. I was overhearing something or dreaming as if Prasanna was telling, "ivan epovum ipdi than thoonguvan" (This is how he sleeps all the time)
Everything was just the same, just like last time, same train, same roads, same auto drivers thronging. Like last time went to the same road and took bus to bus stand. It's a distinct joy to use public transport when you are travelling to some other place. You feel as if you've achieved something.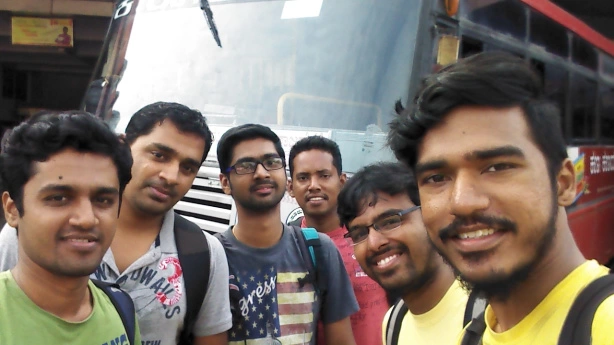 We went to Mysore bus stand by 7 and met up with the remaining gang of Mohan and Srikath who had trekked with me to Kumara Paravartha. As soon as we came Mohan hurried us to breakfast, rightly so, I thought of having it in Virajpet but we had in Mysore. Better decision.
There were tons of buses to Virajpet, we got one and settled comfortably in three 3-seaters. I slept throughout the journey. That's my way of conserving energy, I don't spend even an iota of energy before the trek.
We got into the bus stop, one good thing about Virajpet was all the bus stops were covered, so it was a good escapade from rains. We used the bus stop as our changing room to get ready for trek. After getting into our trek gears we started our trek, first four km was walk in the roads with rains playing hide and seek.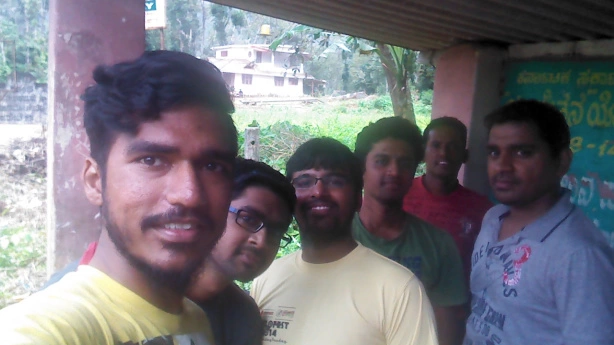 Prasanna who smelled Biryani first, along with Mohan, went and asked whether it was available but it wasn't. It was super foggy at 1 PM and as it was drizzling, it took a long time for us to cross the road or we felt it that way. I guess, we reached the end of road at around 3.30 or 4 PM. Post that there were a couple of detours here and there and finally we got on to the right track. Not before being warned a couple of times to not camp at the peak.
It was around 4.30 PM when we reached the watchmen's place who was nice and caring and asked us not to camp. We proceeded with the trek and after half an hour reached a point where people were descending. We asked them how long would it take, they said that we had to cross the forest area and walk sometime post that.
People started getting into dilemma then. Prasanna was not able to walk so shifted his bag to Vignesh who was hesitant but took up the bag under compulsion. He who was walking first slowed down post that. As we were about to hit the forest area the winds got heavier and it started to rain. Vignesh and Mani were hesitant to proceed, Mohan too was doubtful but we decided that we'd cross the forest are and then decide.
The forest area was dark and even scarier. Prasanna said that it would be risky to come back during night, so we should tent there. There were lots of things running on my mind. I was definitely not willing to fail for the second time. I just kept on pushing the rest of the people. Decided that around 5 PM we'll take a call. If it has to fail, it has to fail. There was one last batch crossing us who were so carefree and went up without any inhibitions. That gave me some encouragement. One of them was even wearing formal shoes. Seriously? Post the forest, Mohan proceeded at a fast pace followed by Srikanth, I and Prasanna were coming at the last. Prasanna was finding it tougher and tougher as time passed by.
That place was less windy but definitely didn't have space enough for two or three tents. After discussing with rest of members Mohan suggested we pitch at the initial place itself. I was suggesting that two tents was enough as it was starting to get cold and rainy but thanks to Mohan's insistence, we pitched three tents.
Vignesh, Prasanna and I were sitting in my tent. Srikanth and Mohan were in a tent and Mani was sitting in separate tent. As it was raining we all were chit chatting, once it got somewhat less I went and took cheese from Srikanth who had got us for all. After having dinner at 6.15 PM, Prasanna and I settled in one tent, Srikanth and Mohan in one and Mani and Vignesh in one. I slept at 6.50 PM. When Vignesh came to tent to ask something, I woke up with a thud. I thought it had dawned but the time was 9.50 PM. I had 3 hours of uninterrupted sleep. Post that too I slept considerably well, when compared to rest, till next day morning 6 AM.
Day 2 - Mission Accomplished
It was still raining every now and then in the morning. There were intermittent fears as to what would happen if the rain gets heavier but as we had already got to the top, half our task was already done. I knew that by some means or other we'd get down.
Once the rains got slightly less we started to pack our tents. It was darn cold and misty so was very tough to remove the tents. We took few photos at zero point and started climbing down. We had put most of our wastes in a paper cover which Prasanna had carried for his shoes. We had to take it down.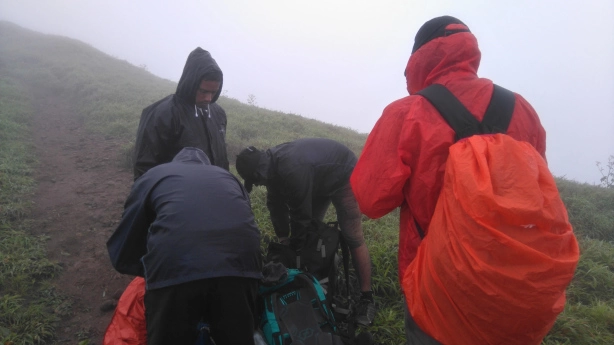 As Vignesh and Mani's phone was charged the previous night with power bank they were clicking nonstop photos. A few good ones too.
I threw the bag in one corner, only to be taken by another camper and taught a lesson on how to not kill nature. My mistake. We reached the big rock in no time and started having snacks. I was damn hungry so ate a lot. Srikanth continued with the previous day's task of removing leeches from his body.
Actually it was lot of fun to see Srikanth removing leeches while walking as well as sleeping. We would hear screeches every now and then at the night, also the other group kept on singing or laughing depending on the rain. As usual I slept well.
The other group went somewhere near the big rock and we continued with our regular path. But after sometime we could hear a sound of stream so thought what if we go on that path. It was the same place where Srikanth said the previous day that his friend could turn face using Prisma. Mohan and I decided to try the alternate path which the other guys took. When we took the path we noticed a small stream where they were freshening up. We filled our bottles and got back on track.
There was a place post watchmen's house where there was a board, we thought of taking that path while returning as it would help us avoiding the watchman but right at the junction we were caught by him and got scolded for staying overnight. But like the rest even I was relieved as the scolding stopped after a few minutes.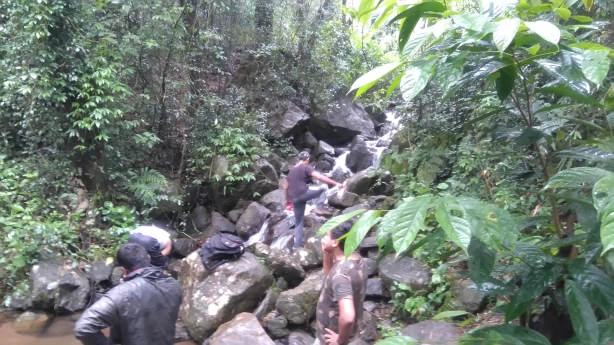 Once we went there, we got to the same Seethalakshmi Lodge where I stayed last time, only difference being, this time with success of having completed the trek. After taking bath in ice cold water, we went to bus stop to inquire buses to Irupu falls and then in search of famous Coorg pork but we couldn't find it in any restaurant. We had to go to a bar to get it. It was quite tasty though. And had Arabian dishes for dinner. What happened during that time was quite heart wrenching. A group of people shouting 'Jai Shri Ram' and 'Bharath mata ki jai'. Only that I couldn't find the connection between the two. The procession which happened with so much police protection raised the tension in the air and was quite unsettling. That totally spoilt my mood.
Post that incident we crashed in the room by keeping alarm at 5.30 AM the next day morning
Day 3 - Best for the Last
Even though there was satisfaction of completing the trek, the real fun was saved for the last day. We got up at 5.30 AM and Prasanna said that he was feeling tired so wouldn't like to join. We three went to the bus stand, had Tea and got the bus we inquired about the previous day to Gonikoppal. From there we had to take private bus to Srimangala where we had breakfast of Poori and Pathiri along with Boiled Egg and Masala. The masala was terrific, the best I've had yet.
Frequent searches leading to this page:-
coorg honeymoon packages from bangalore for 2 days, coorg honeymoon packages from bangalore, coorg honeymoon packages from chennai, coorg honeymoon packages from mumbai, coorg honeymoon packages with prices, coorg holiday packages 4 days, places to visit between coorg and mangalore, hotel in coorg below 1500, hotel at coorg, things to do in coorg in december, coorg trip blog, cheap weekend coorg packages