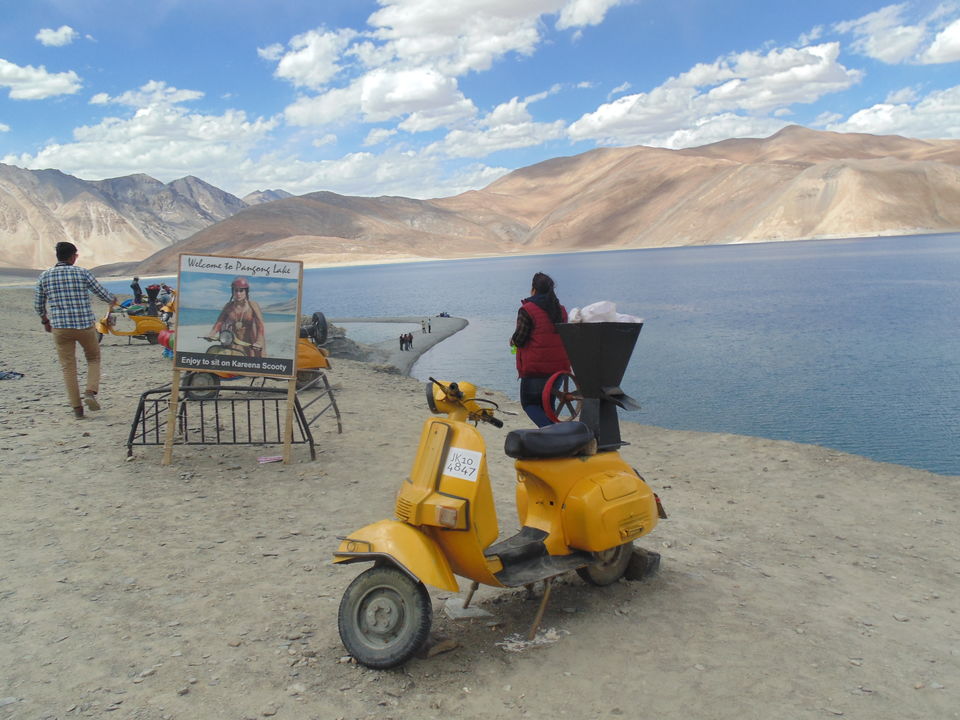 Writing my first ever blog and that too about the most beautiful place on this planet- Leh Ladakh- and i was about to tick off the highest ranked place on my #BucketList.
I have been planning to visit Ladakh from last 2 years but just like everyone says "Its not easy to execute your Goa plans" but in my case it was Ladakh. Hell lot of times i made plans to visit this place but every time they got cancelled for one or the other reason.
This year in June when i was sitting in office and was developing some SAP Jobs(Typical techie work), i got an e-mail from one travel agency along with the itinerary for Leh Ladakh.
I rushed to my friend who was sitting on the other side of the cabin and asked her to go through that email.
She agreed to travel with me and then the first thing that we did-
CREATED A LIST OF PROBLEMS THAT WE WILL HAVE TO OVERCOME :D
and i think most of you will guess few of those easily.
She had to ask her parents for this trip and as expected- They said NO..!! As they wanted at least one more girl to go on this trip with her.
I immediately rushed to another friend and asked her to come with us for this trip and to my surprise she immediately said YES.
We did come across many problems but this time we were able to sort all of those and somehow we managed to gather 1 more friend, so total 4 (2 boys, 2 girls) of us booked our trip to Leh Ladakh.
We were coming from Pune and as per our itinerary we had to reach Delhi Airport on 29th July by 6 a.m. Yes we were going via flight and not bike (All thanks to our IT organization for not allowing us to take more leaves).
So we boarded our flight from Delhi and trust me, i didn't get such a great feeling in my life till now. After all we were going to LADAKH..!!
At 10.30 a.m. we reached Leh Airport and wow, we were very far from that polluted and over crowded place we were coming from.
The driver was already at the airport to pick us and we reached our hotel (HOTEL ROYAL PALACE) within 20 minutes. The hotel was at a walking distance form the Leh Market.
After having our breakfast we were advised to take rest and get acclimatize to Leh weather as its almost 5 times above the sea level as compared to delhi.
NOTE: This is very important for everyone otherwise you will get severe headache and you'll end up ruining your entire trip.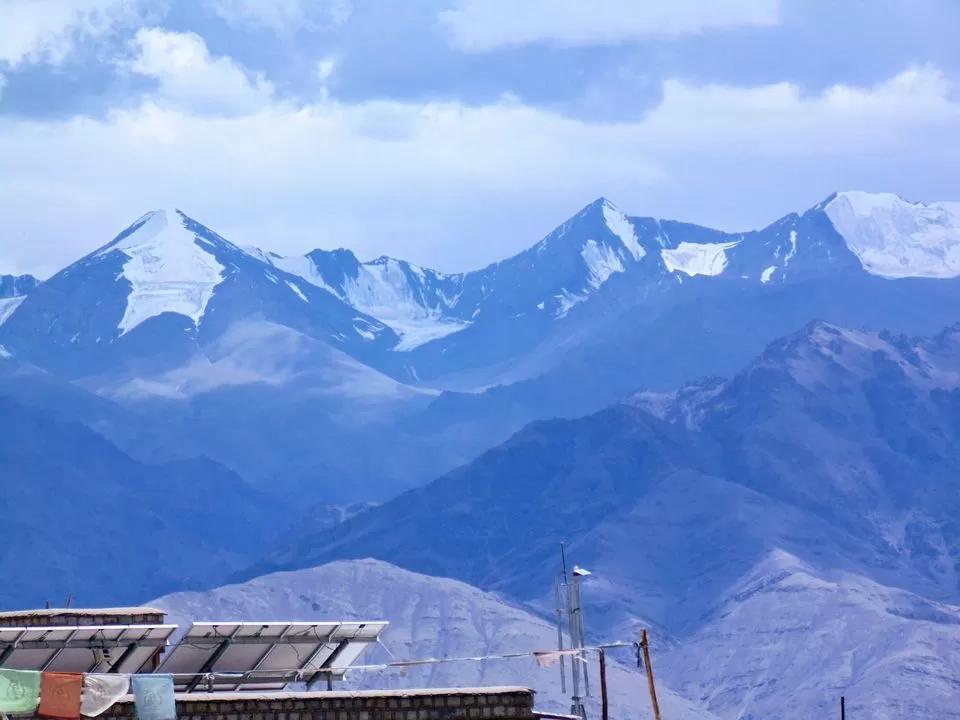 In the evening we went to SHANTI STUPA which is located on a hilltop in Chanspa. I immediately felt in love with the architecture and beauty of this place and i decided to come here again on the last day of my trip and i did go there again, but not in car this time, instead i decided to climb stairs (450). Sounds crazy, but it was fun.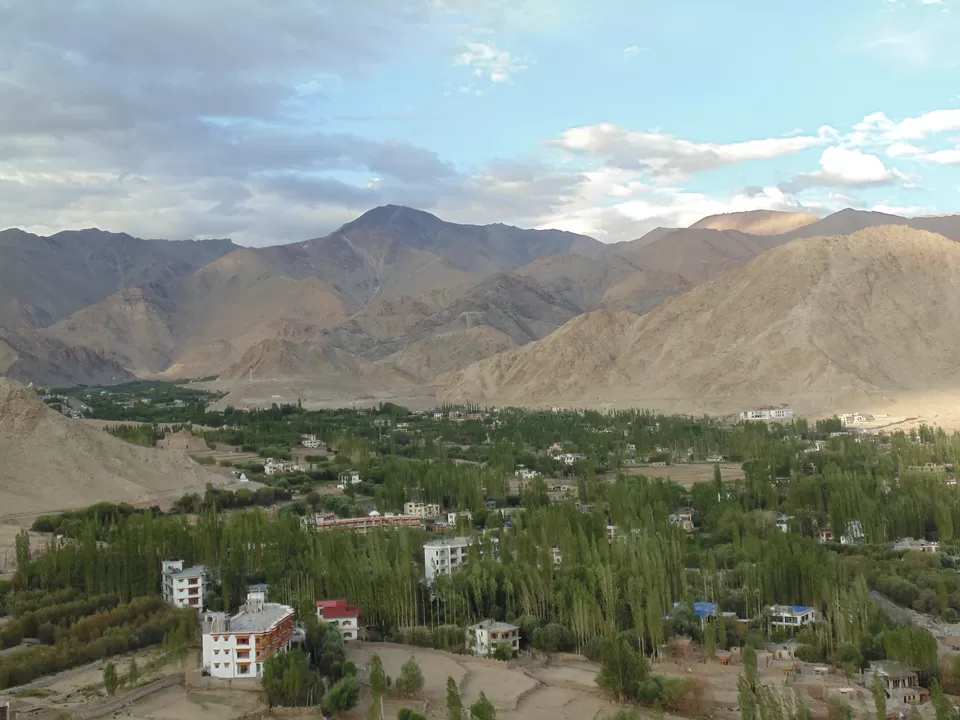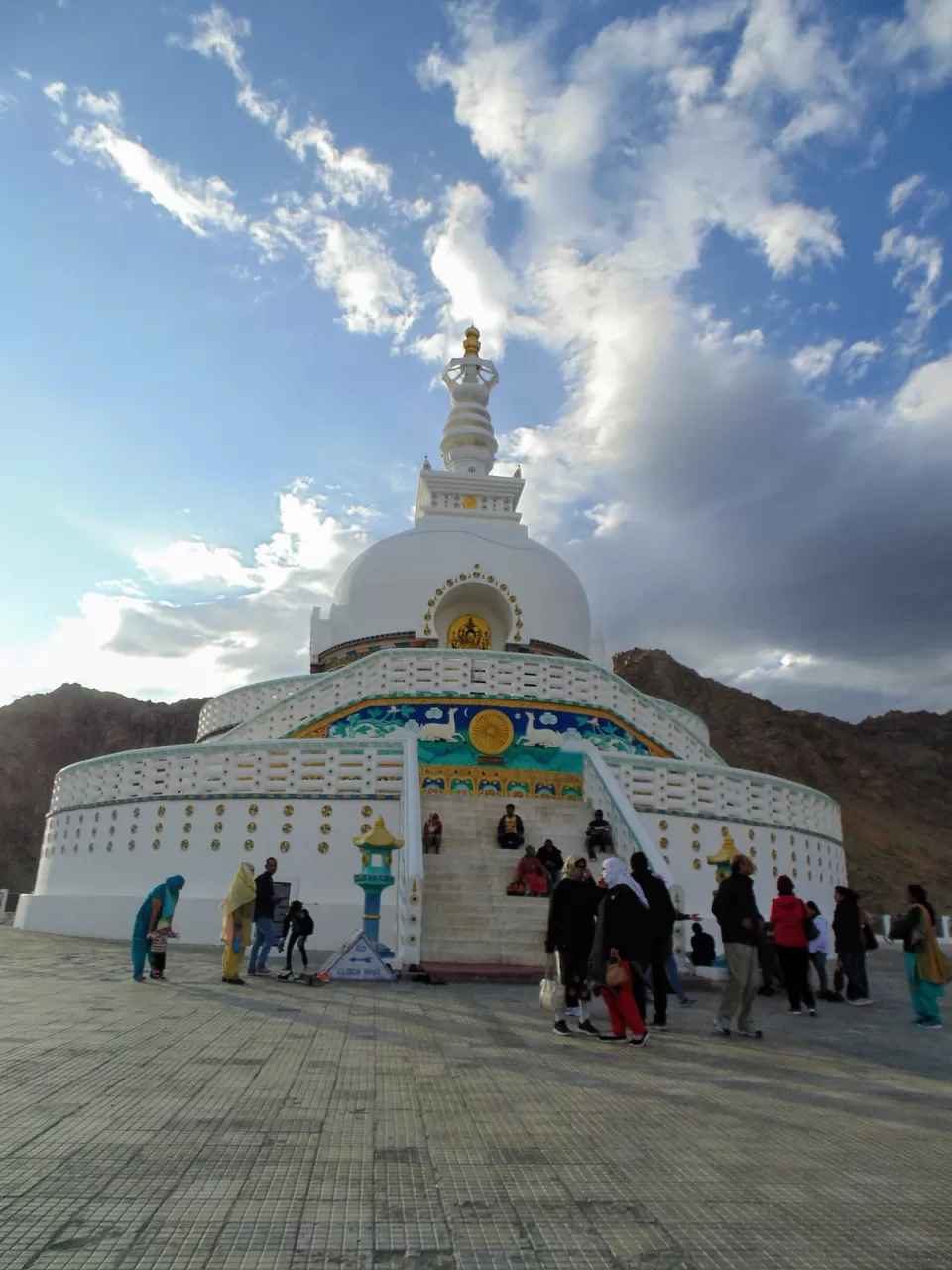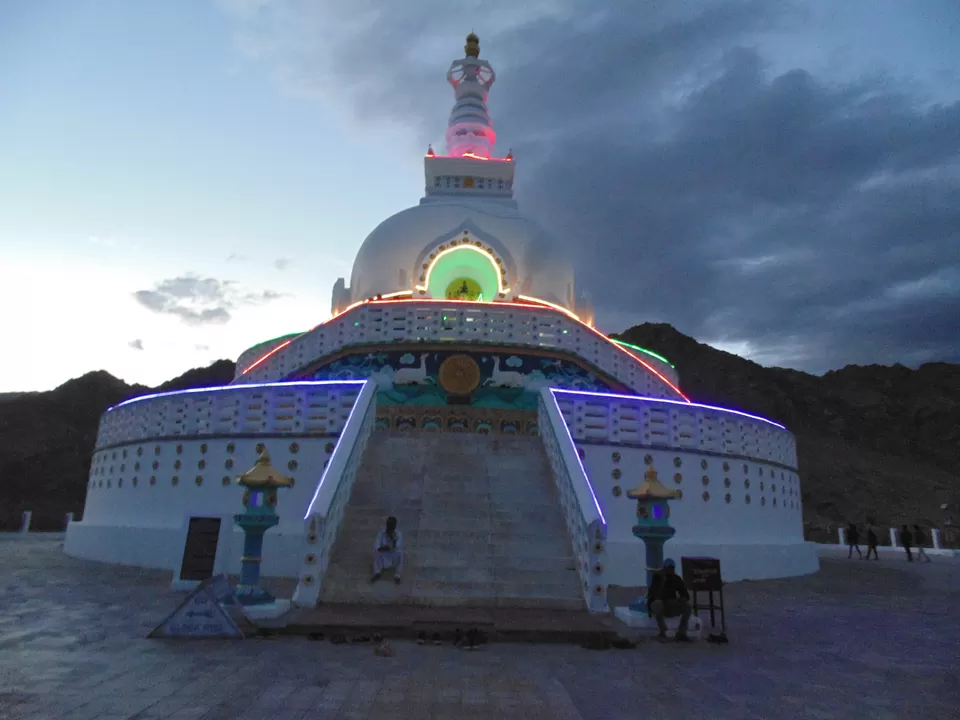 On Day 2 we had to cover 4 places:
DESTINATION 1: HALL OF FAME
We started from our hotels at 9.30 a.m. and it took only 25-30 minutes to reach Hall Of Fame, and i loved this place the most on my entire Leh trip. This place is dedicated to Indian Soldiers who have fought various battles for our country.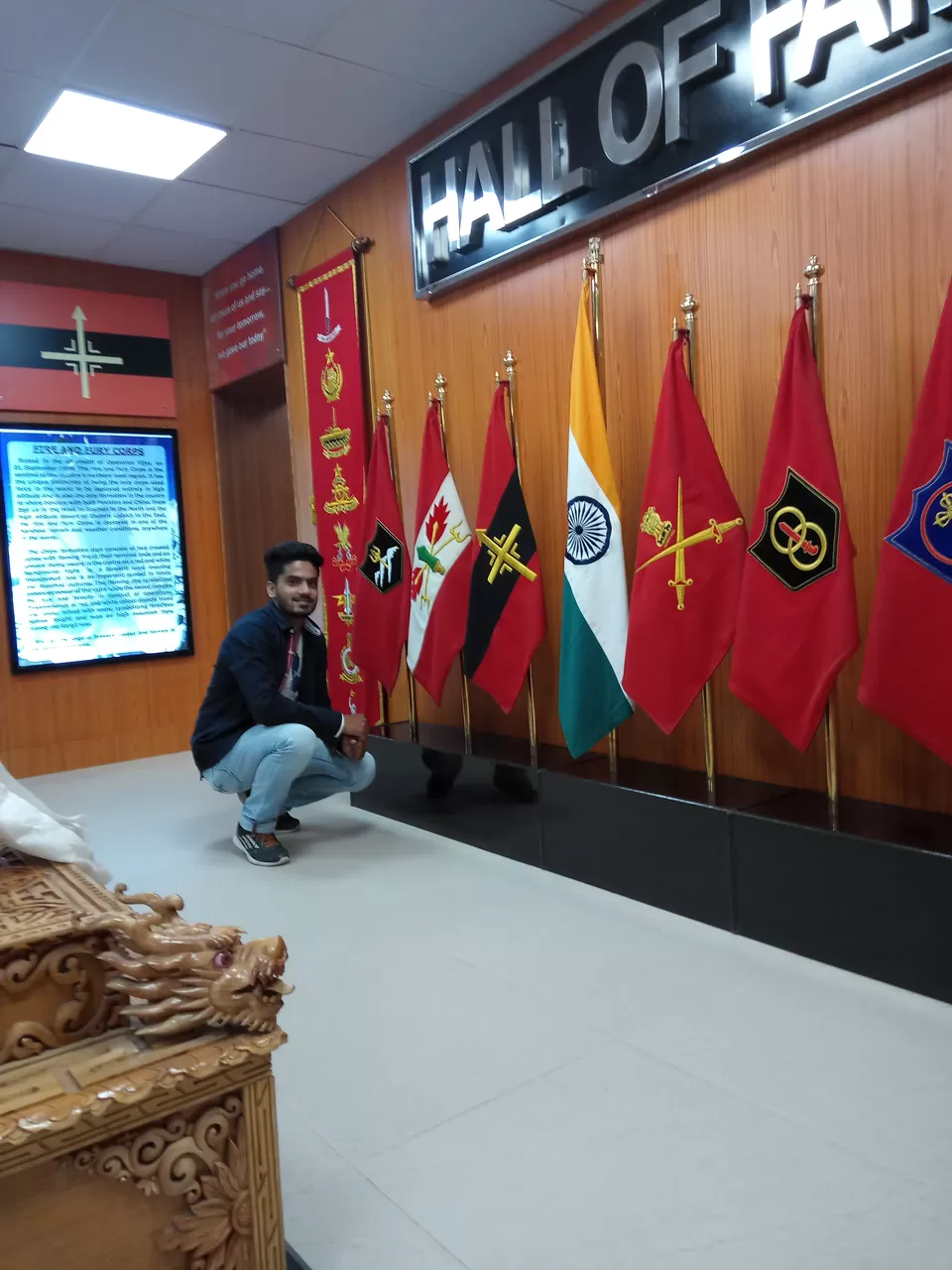 You will surely get goosebumps when you will see those beautiful images of our soldiers and it also showcases weapons and documents recovered from the enemy during various wars.
DESTINATION 2: SPITUK MONASTERY
Next destination was the grand Spituk Monastery, dating to the 11th century. While here, we can see the statues of Lord Buddha and yes, don't miss the panoramic view of the Indus valley below.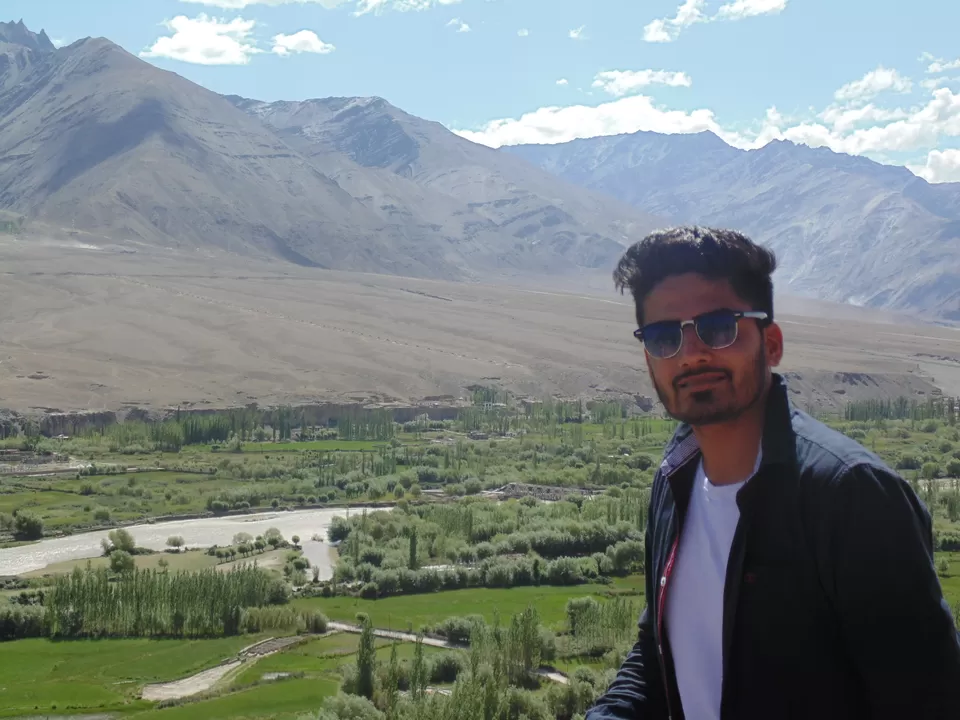 DESTINATION 3: MAGNETIC HILL
Next it's time to move to the famous Magnetic Hill. I have always read in blogs and on google that it pulls vehicle upwards when left on neutral and i was amazed to see this phenomenon when our car was actually moving by itself when the driver left it on neutral.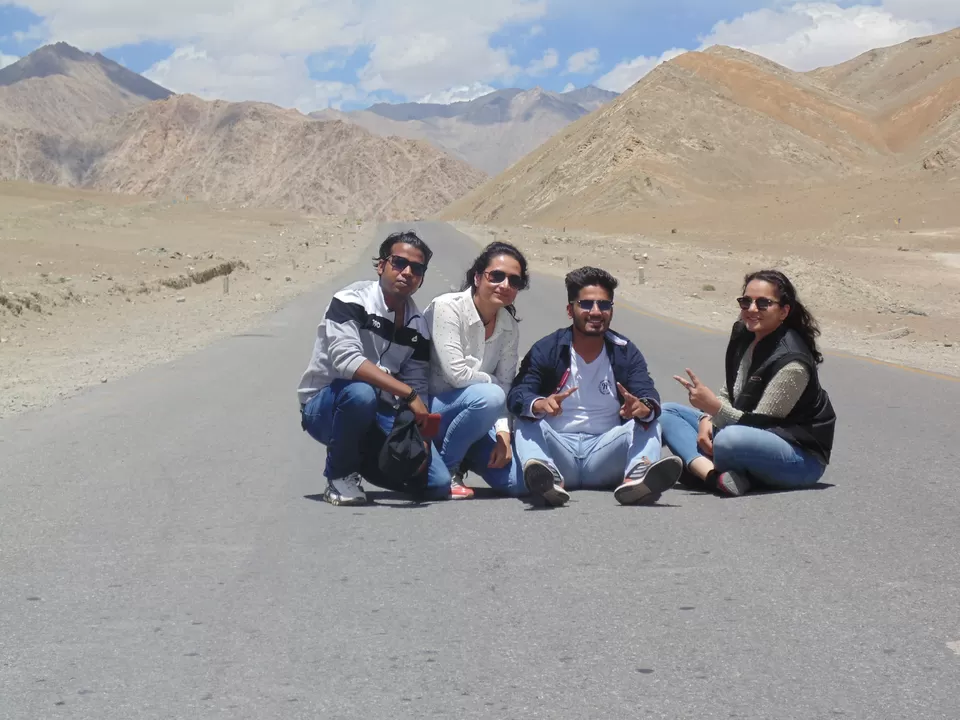 NOTE: You should also visit the famous SANGAM (where INDUS and ZANSKAR river meets). To be very frank, i didn't like that place much as when we went there, the water level was very less and there was no difference int he colors of these 2 rivers. But the images that i have seen on google looks really attractive so may be we should try and visit this place in June.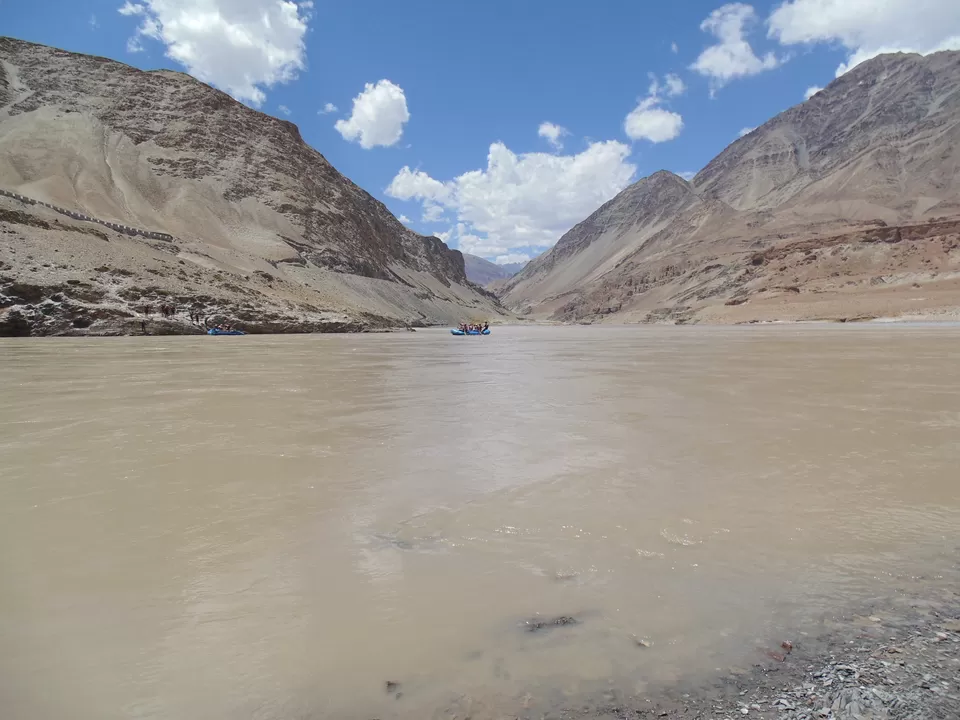 DESTINATION 4: GURUDWARA PATHAR SAHIB
This is one of the most sacred places and it houses a huge rock believed to have been hurled at Guru Nanak Ji by a demon.
As this was our last destination and we were really hungry so we decided to have the langar in the gurudwara itself as it is one of the best food that you can get anywhere.
The food was extremely delicious and soon after we decided to return and we reached our hotel by 5.30 p.m.
So it's day 3 and we all knew that this day would be really amazing as were going to Khardungla and Nubra.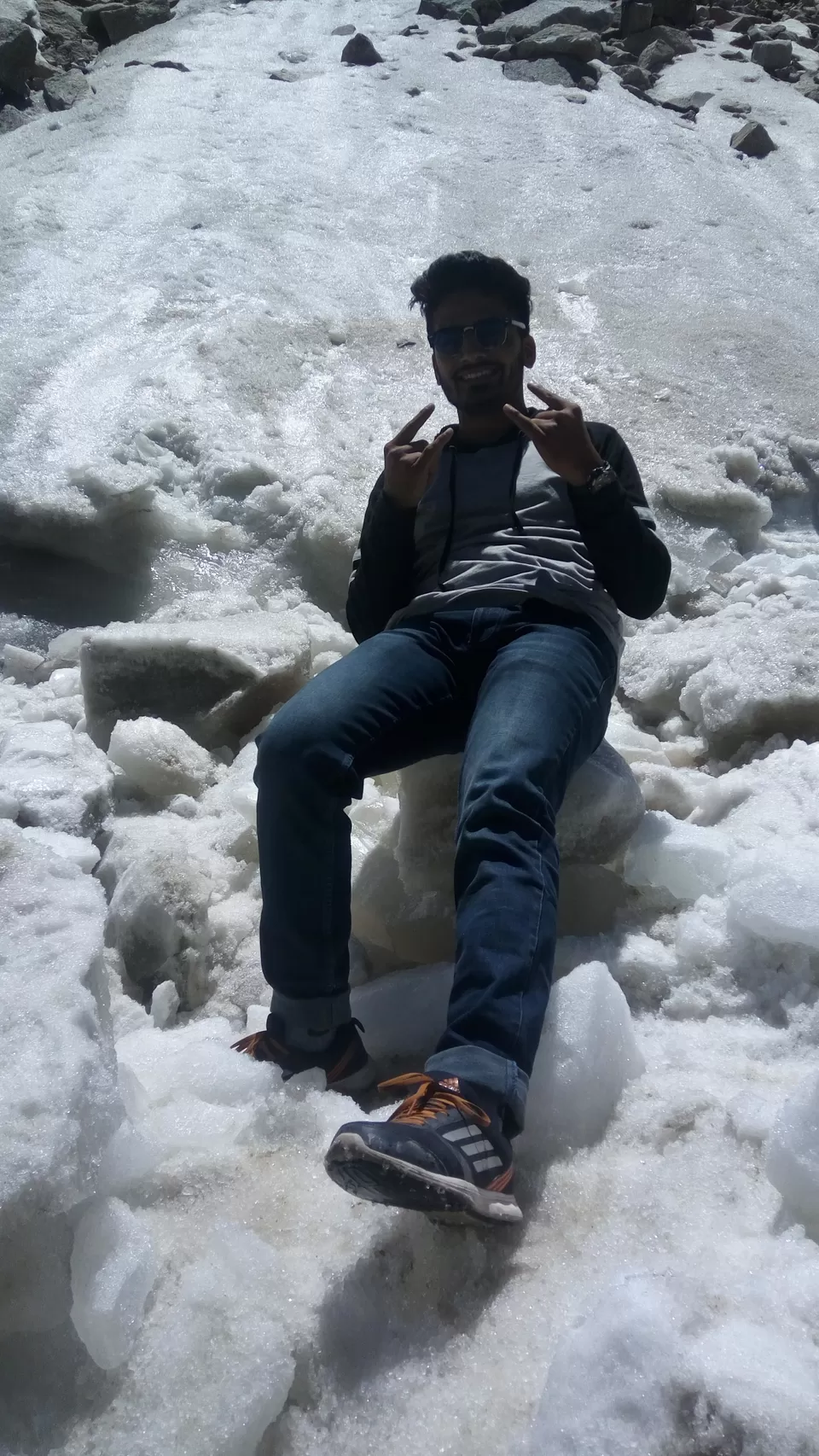 Khardungla- highest motorable road in the world (18,380 ft) is approx 39 km from Leh. The road from Leh to Khardungla was good with some patches in between and it offers some breathtaking views with snow covered mountains.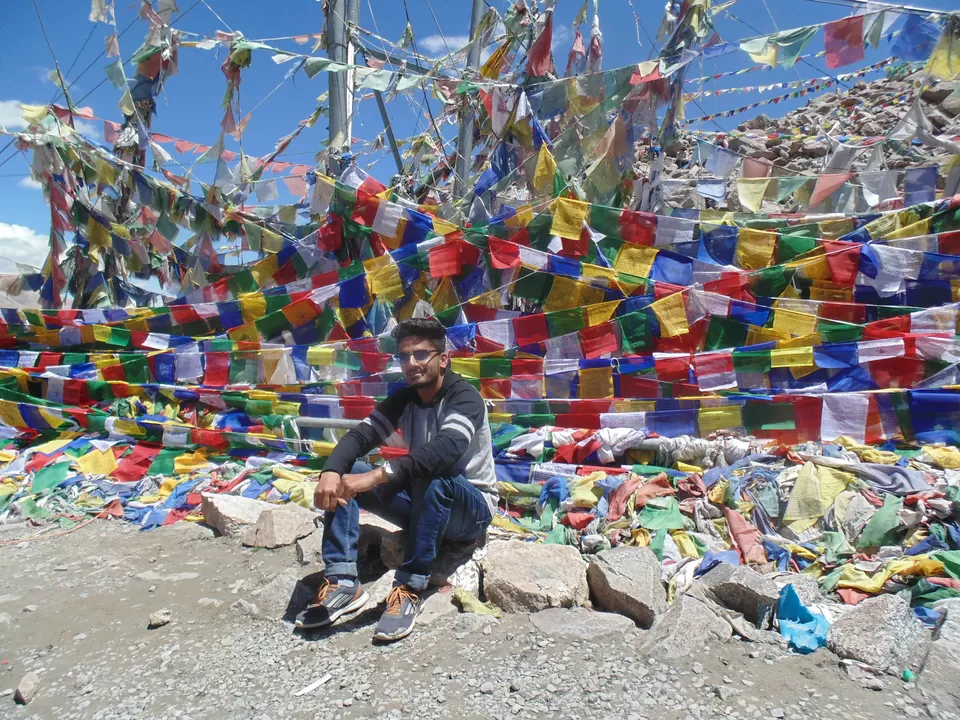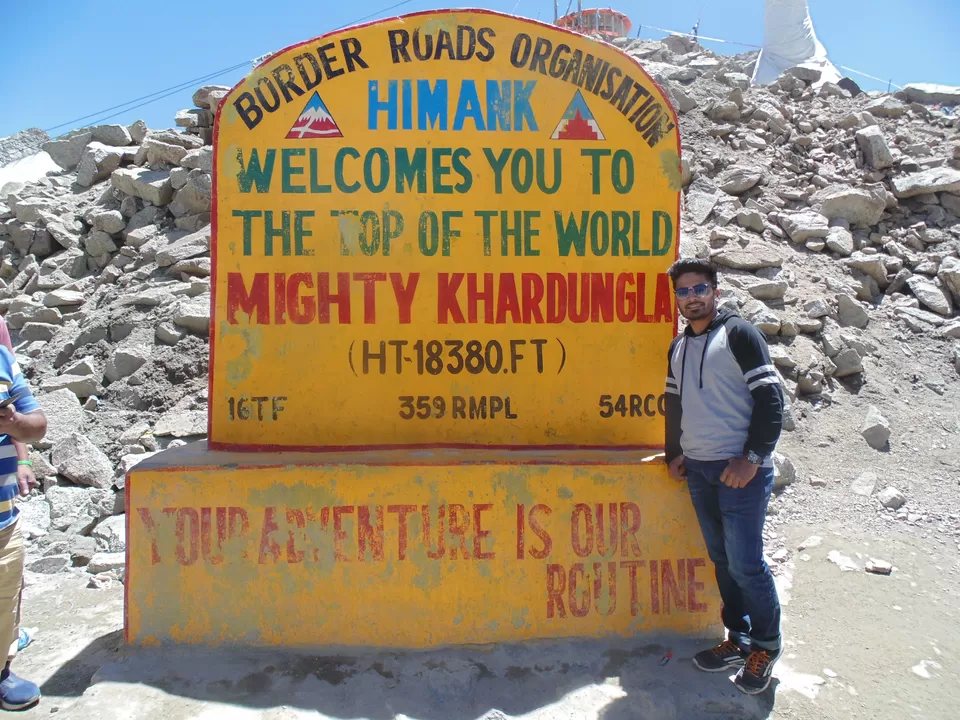 We clicked few pics here and then we left for Nubra Valley and the entire excitement vanished because the road from Khardungla to Nubra was so bad that everyone in the car started to feel severe headache. After few kms we stopped at a restaurant and decided to have our lunch and then everyone felt a bit relaxed.
But the pain was not for a very long time as we were yet to come across the amazing view of HUNDER and the SAND DUNES at Nubra.
This place is really amazing, it has greenery, water, desert and mountains covering this entire place. You also get the option for Camel Safari there but we decided not to go for it and sit there and feel the freshness and silence covering that place.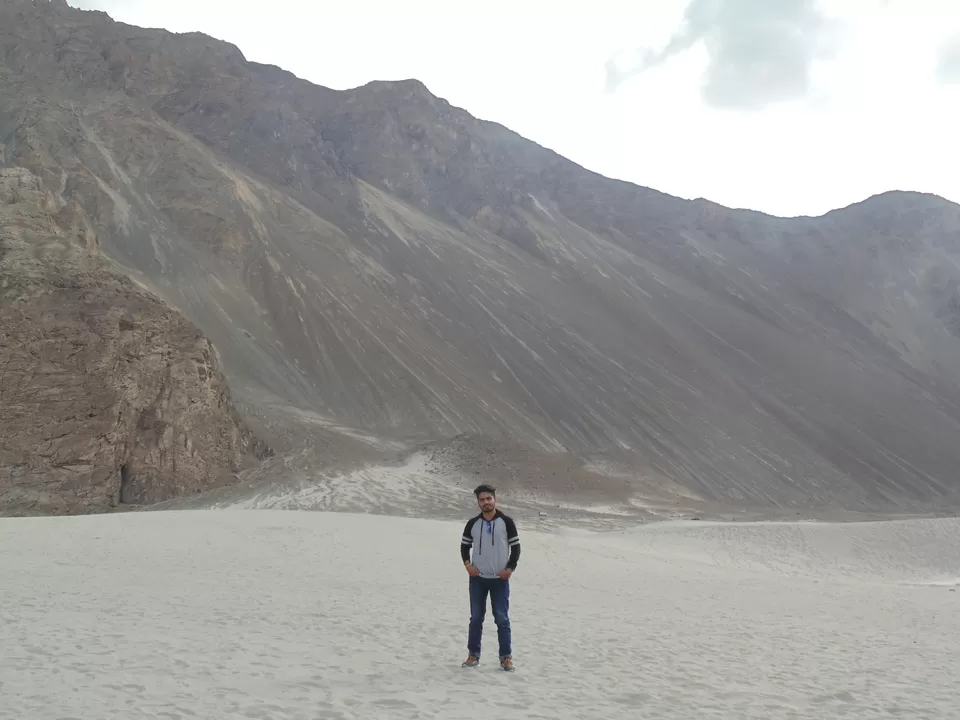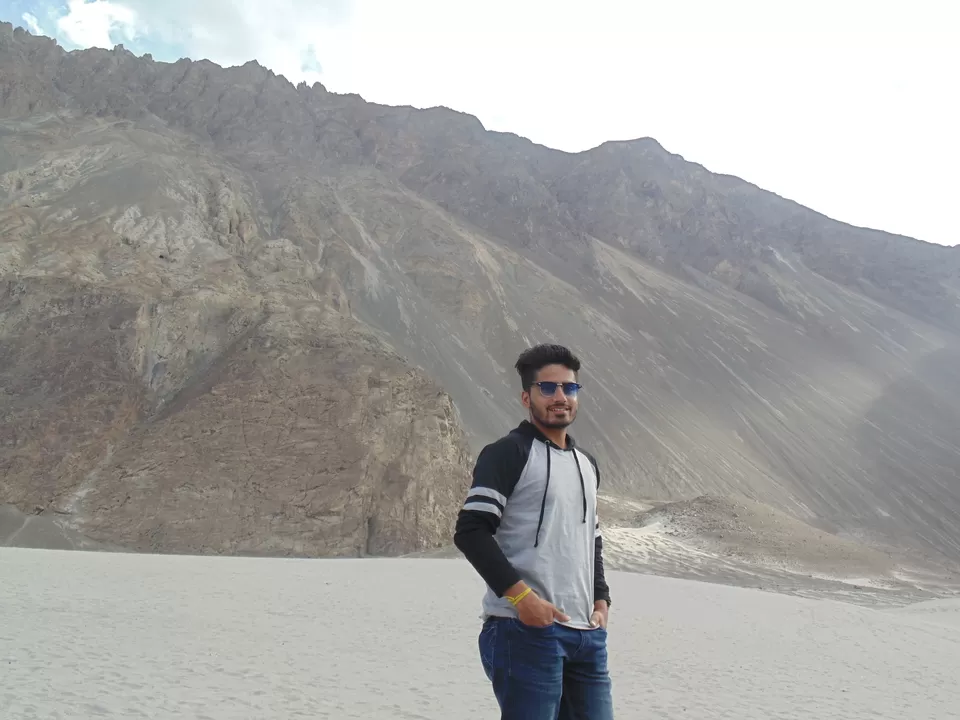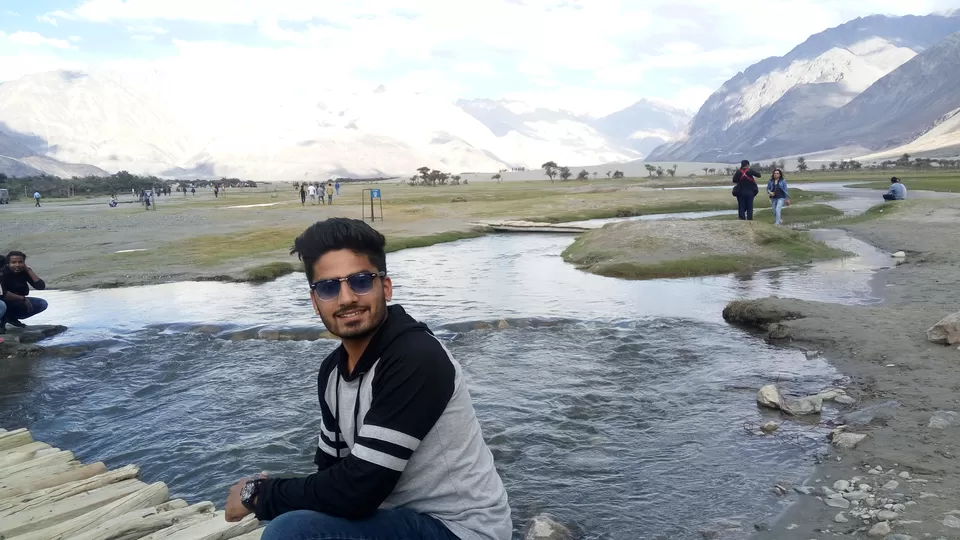 We had the overnight stay at Nubra Camp.
Day 4 and we started our Journey from Nubra towards Pangong and out of all the days, the view that you get to see from Nubra to Pangong is the best. Road was also in good condition except for some places where it was hard for cars like Innova and Travellers to cover the water bodies that were crossing the road and flowing into the valley.
It took 5 hours to reach Pangong Lake from Nubra and what shall i write about this place. The beauty of this lake is undefined.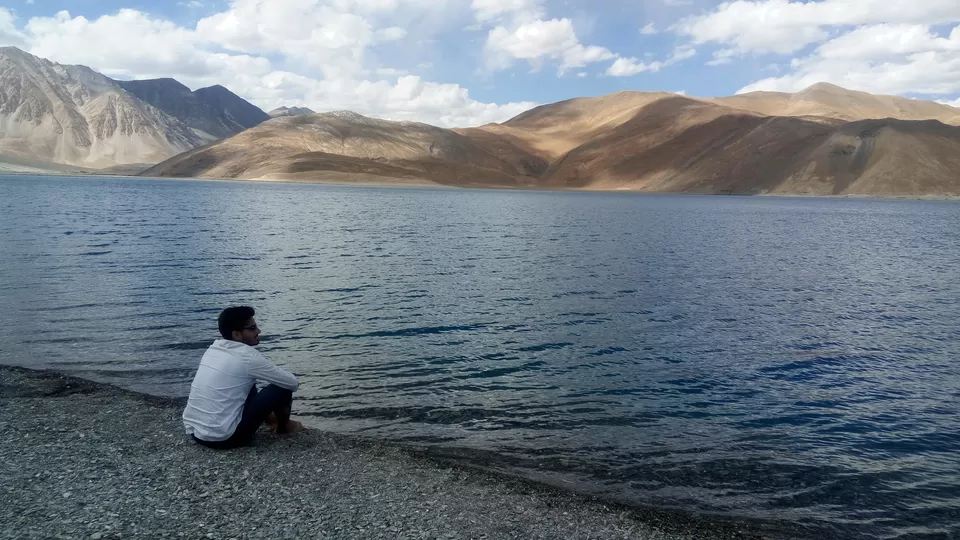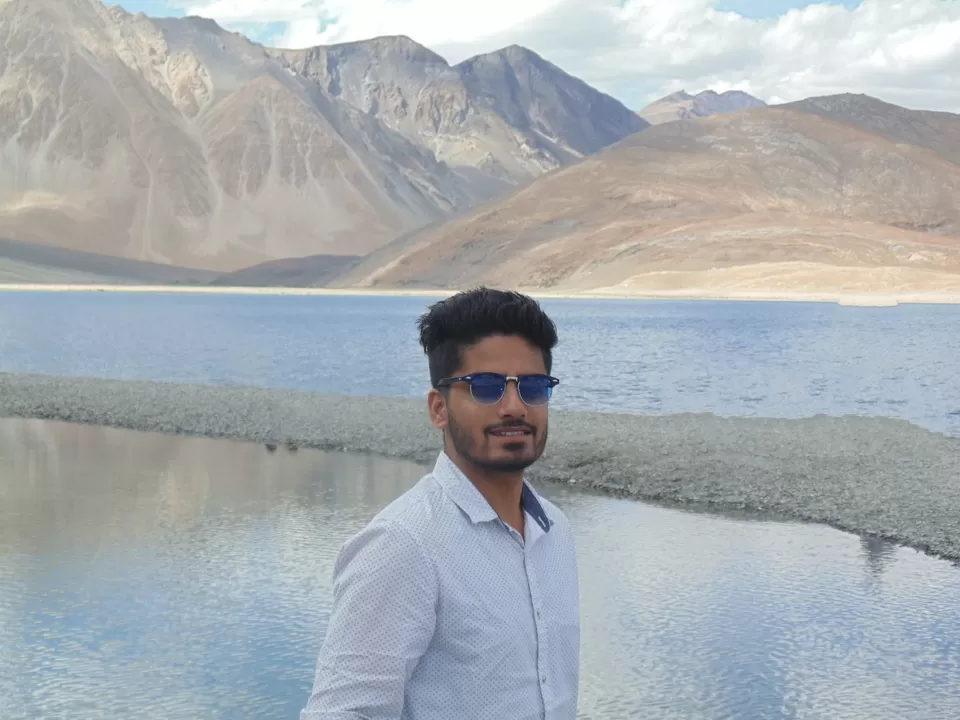 "Lake of Changing Colors".
It wears the deepest shade of azure and flaunts a beautiful scenery.
Have a look at these amazing pics. Although you will find me in all of them, but ignore that and have a look at the beauty of this lake.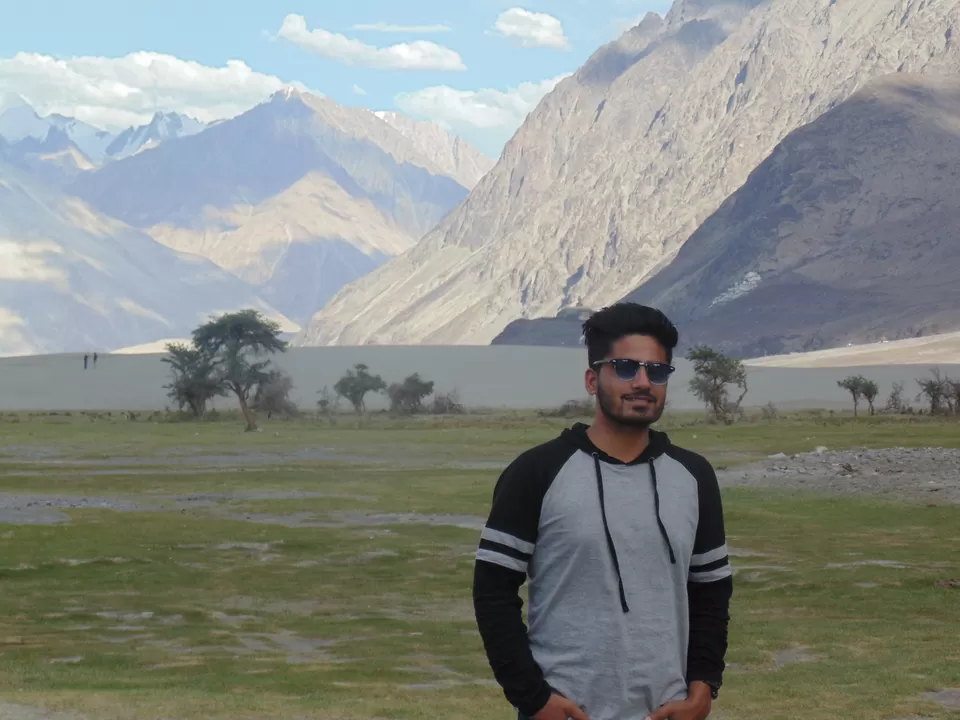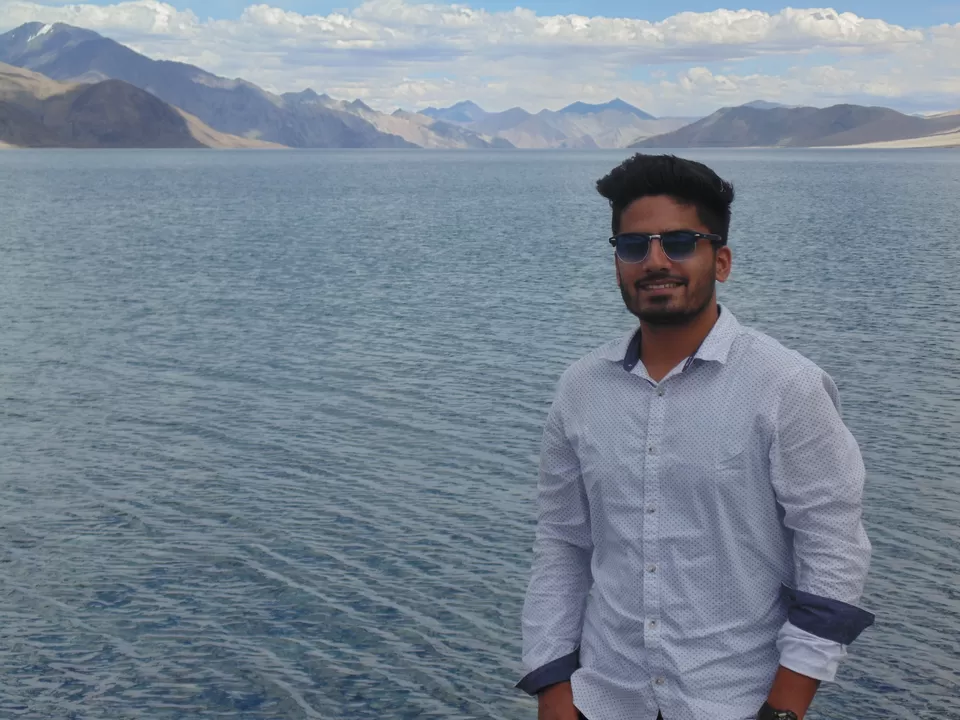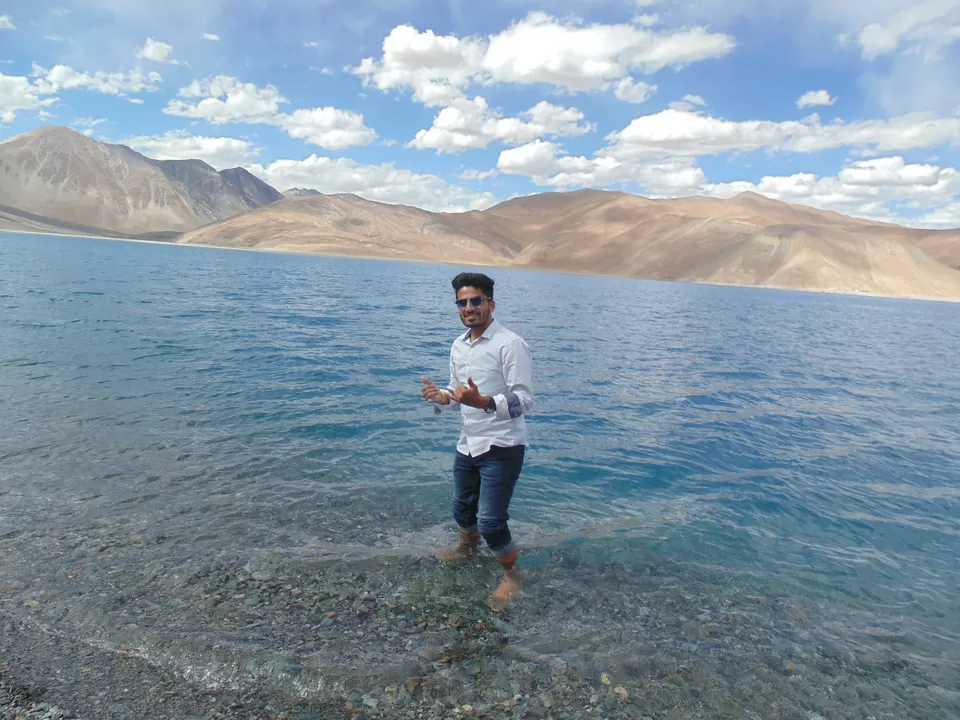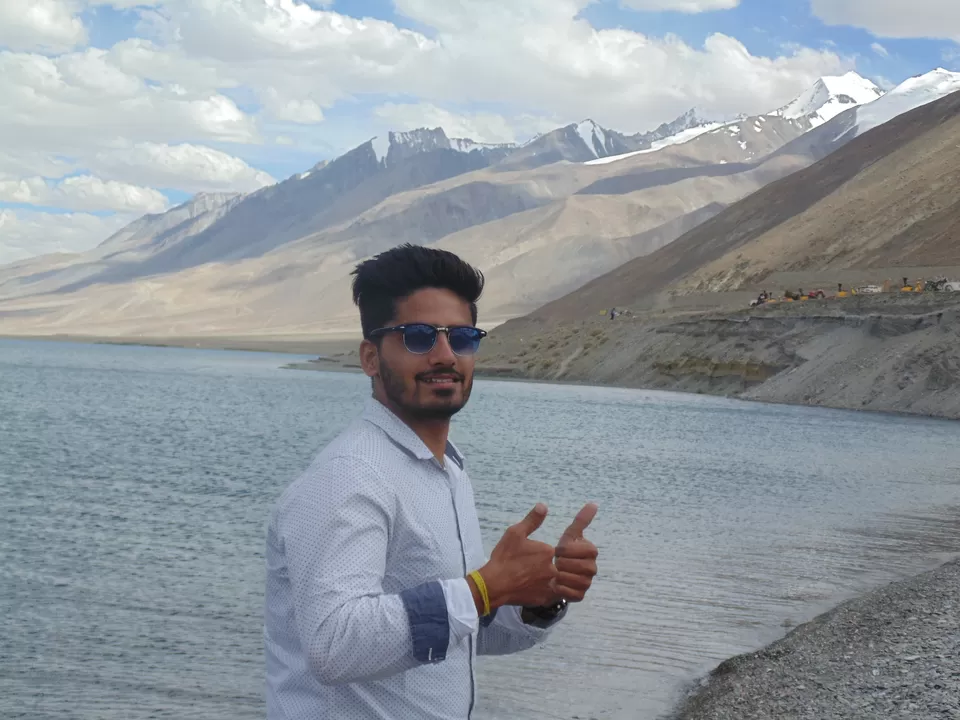 IMPORTANT THINGS TO REMEMBER:
1. If you want to travel at cheaper cost, plan your trip at least 3 months in advance and don't opt for any travel agency.
2. Try not to book hotels online as we got to know that many hotels offers huge discounts when you directly book after reaching there.
3. Don't forget to take Sunscreen(70 SPF), UV Protective Sun Glasses, and mainly an Oxygen Cylinder when you are travelling to Pangong Tso.
Now for all those who make plans for Leh every year and have not been their till now, common guys, don't cancel your plan next time and go to this amazing place. You will love the beauty of this place for sure and try not to ruin the cleanliness that this place offers.