Travelling to places nearby, is no great deal. Stretch a bit far, and see the unseen and the unheard, because there lies the real beauty of the alien lands. Tourists who folk to Andaman Islands, I have observed, usually go to the nearby islands of North Bay Islands, Ross islands, Havelock Islands, Jolly Buoy Islands and at best, go a little further to Baratang Island, and that too, those who are curious to watch the Jarawa Tribes.
You left the mainland, and flew 1400 kilometers and landed in Andaman. Can't you stretch your journey a bit more, and reach Diglipur? Or didn't anyone tell you about this end of the Northern Andaman Islands?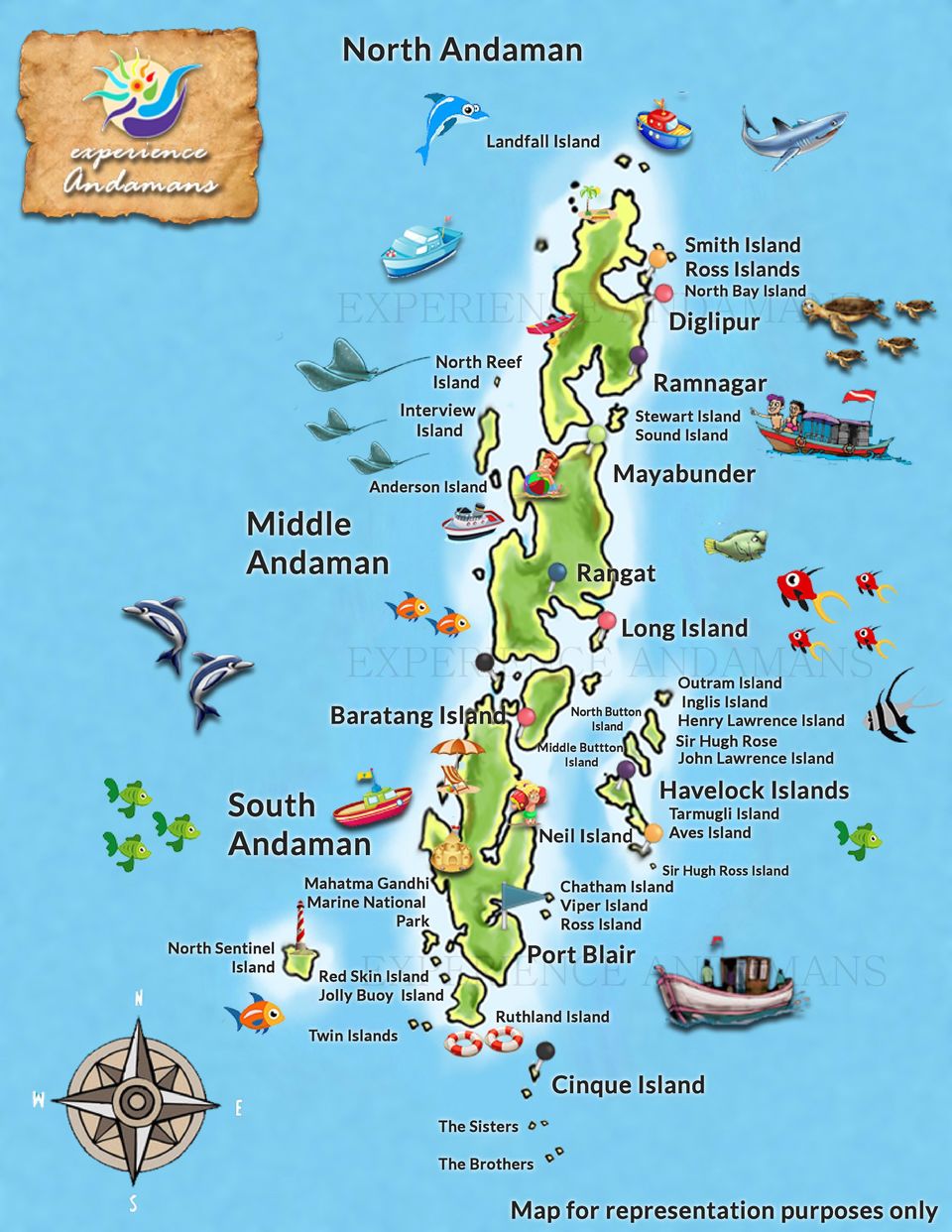 Picture Credit: http://www.experienceandamans.com/andaman_map.php
Watch this Map above and see where you stand now, when you are in Port Blair. Trail your finger upwards and pin Diglipur on this Map. Where is it? Where are you? Now, un-zoom the Map and see the mainland? How far did you fly to reach Port Blair? All questions answered, does it make sense to go to Diglipur and see the Unseen and the Unheard?
Andaman Islands have always fascinated me, so much so, that I wish to settle here after my retirement. Wish my children won't object to my decision. This archipelago of islands has a magical element to them. When I first landed at Port Blair, and was walking down near the clock tower, I saw buses with the Name Boards Mayabunder and Diglipur. It caught my fancy. Instead of travelling in chauffeur driven cars of the Travel Agents, I prefer travelling in these State Run buses, because it is here you get to know the real culture of the place. Just start a conversation with the person next to your seat and you can feel the pulse of the local culture and the language. You can talk to the locals, see them speak in their dialects, hear their stories and their struggles.
The beauty of life lies in the struggles of the common man. No, I am not a sadist to find stories in their struggles. What I intend to say is that, poetry comes out of poverty and stories are born out of struggles of the common man. Kings can make history, but it is the common man who evokes and weaves tales out of common daily chores.
The moment there is reference of Diglipur, I am reminded of these twin islands called Ross Island and Smith island. What is interesting is that these two islands are connected with a 50 meter narrow sand bar, on which you can walk and reach the island on the other side.  If my words don't convince you, then look at the cover picture.   Don't you feel like running on the sand bar,  what are you waiting for then, GO, fly to Andaman!
I started my journey to Diglipur by Bus from Port Blair at 05.30 AM. Mind you, there is only one bus daily, and you have to book your tickets in advance. The distance of 240 kilometers takes roughly 8 hours to reach Mayabunder Jetty. From there you can head to Diglipur. The bus takes the Andaman Trunk Road crossing across the forests and creeks which separate the South Andaman, Middle Andaman and the North Andaman. Sitting by the window, with mouth wide open, like a small school child, I looked at the wonderful nature around me.
I think, God intended man to live in peace in the forests, breath fresh air, eat the fresh fruits, fish, drink the purest coconut water and lead a life of contentment. But man decided otherwise. He chose to live in hell and so he converted the beautiful world into a concrete jungle and heaped himself with untold miseries. The Jarawa tribes have thus rejected the offer of the modern man to convert them into social animals. I think they live a life of bliss. I wish I were a Jarawa too!
Diglipur can be reached by Air, by water and by Road. I advise you to take the road, because it is only here you can enjoy the scenic beauty of these lovely islands. The flora and the fauna of the thick tropical forests fascinates you to no end. There is only one State Run bus at 05.30 AM daily, but you find other private operators plying buses on this route.
That evening I went to the Ramnagar Beach to see the Olive Ridley Turtles. The Sun looks different at different times, and at different places. I had seen the setting Sun from the Sunset Point at Chidiya Tapu. The view of the Sunset from this beach was no less fascinating. The golden rays of the Sunset always enrich your imagination. So come out of the cubicles of your workstations once in a while, and spend your time with Nature. What better place can you find than the Andaman Islands?
Food should not be your priority when you go out. Rather, try and relish the local food, so that you can take home memories. Believe me, you can spend the whole day like a small child, strolling on the sand bar and crossing the islands of Ross & Smith Islands. For once, become a child and enjoy life in all its glory. Bring back your childhood days. Your legs won't give up. May be distance, or may be ignorance that daunts, but there are very few tourists here. And it adds up to the beauty. Virgin beaches have their own charm.
The next day, unwittingly, I had to board the bus back to Port Blair. But the trip got etched in my heart. So the next time you visit Andaman, don't forget to visit Ross & Smith Islands.
I would like to quote Khalil Gibran here,
"Forget not that the Earth delights to feel your bare feet, And the Winds long to Play with your Hair"