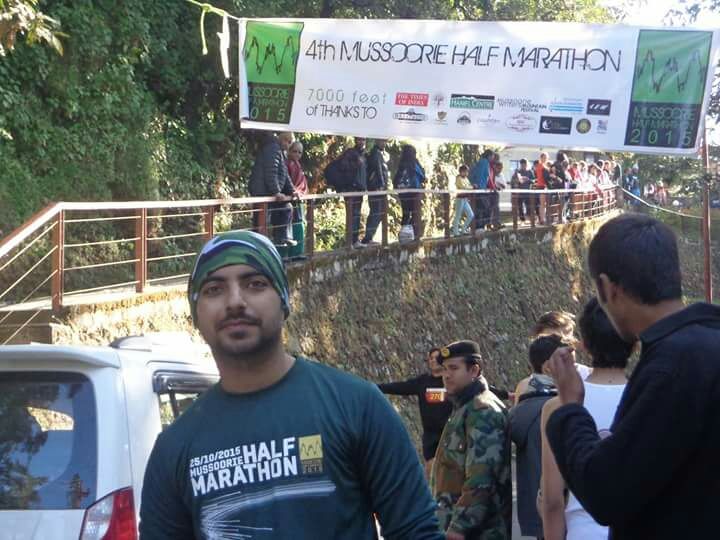 well..to start with,i wud definetely b proud to say it dat i created my way wen i was jst 11 mnths old(young)..i went to some different street by crossing over my house gate nd reached to a 'rickshaw vala' somehow..i feel i was lucky enuf coz he brought me back to my home by asking in d colony..dat was full on adventure i guess..LEAVING DIS STORY ASIDE..let me come to d story i got inspired from..
it was dis MUSSOORIE HALF MARATHON 2015 gng to happen..nd i had decided to go on a solo byk trip from lucknow to mussoorie..dis was my time to xplore my passion..so i dared nd tried to do d most daring task till now..dat was to convince my parents..u know how parents r..dey vill b obviously worried..bt nehow,i succeeded in convincing dem..
So it was d dream day..23/10/15 @0600 hrs i took my backpack..took blessings frm mom-dad..mom insisted me carrying d small tiffin box vid me..coz she had prepared some koki-aaloo nd paneer parantha fr my breakfast on d way..dey say.."bahar ka zada ni khana"..i must tell u 'koki' is a sindhi roti/paratha..mere according..it tastes awesome vid achaar nd aaloo pyaaz ki sabzi..CHLO AB SAFAR K LIYE NIKAL PADEY..fr d frst 150 kms my mind was telling me k ghr vapas chala jaa..sab pareshaan honge..bt fr i thot k "abhi ni to kabhi nahi"..i had d koki breakfast at a dhaba nd den moved on..by d time i reached maigalganj i was feeling exhausted coz of d sun's hotness nd my leather jacket which was nt a biker one(dat means nt having proper air passing vents)..AS soon as i reached bareilly it was a moment of relief fr me coz i thot i have completed half of d trip..bt as dey say..'D BEST IS YET TO ARRIVE'..I KEPT RIDING ON..keeping in mind k ghr vaalo k naak ka sawaal h..i reached moradabad by 1700 hrs nd d sun had started to set in d meanwhile..so near d moradabad border i took a view of sunset vid a KADAK CHAI..it waz d moharram day nd moradabad was full crowded..somehow i managed to leave d city vid d blessings of an old man who guided me in taking d best route to haridwar..HE ASKED ME,,'FRM WER M I COMING..??' I ANSWERED..'LKO..'TO WHICH HE SAID DOSE BEAUTIFUL WORDS..'MASHA-ALLAH'..i guess dis helped me a lot in reaching my destination..wen i started riding towards haridwar..i again MET WID A MISFORTUNE ..d main bypass was blocked due to some construction work on d route..so in d darkness of dat windy evening..i FELT HAUNTED literally..ven i had to take a shortcut..i wud say a silly cut..coz it wud have been an end to my jrny if some mishap happens..bt i crossed dat area safely by god's grace nd my parents' blessings..i had a plan in my mind to take a halt fr d nyt near haridwar so i started searching fr a lodge..bt i was in d outskirkts near BHAGUWALA..so i cudn't find any..i tried my luck at a school vich was on d way..bt d guards din't allow me..i went ahead..den after a few miles i found a lodge luckily nd i was lucky enuff to get a parking space as well for my ZMR..MY BEST COMPANION..
I had some issues vid d lodge authorities as dey were nt believing me..dey took copy of my id card,etc..jst fr sake of recognition..dat was fair enuff..bt i must say going on a solo trip is in itself a haunting experience..raat ko washroom tk jaane ki himmat ni ho rhi thi coz I WAS D ONLY ONE LIVING ON DAT FLOOR ND WASHROOM BHI COMMON THA VAHAN..BT ACHA EXP RAHA..
so dis was day 1 nw lets c wat comes up next..
so..subah hui..had my tea nd breakfast,vo bhi mouth-watering choley bhature. Now me n my ZMR were staring at each other with all d love and affection..coz i was abt to to take it to d hills now.With every single curve which i found on d way..i saw beauty at its best in d garhwal ranges.
From dense forests to clean patches of road heading towards mussoorie via haridwar..i was loving it all.
as soon as i reached haridwar i went towards d SHIV MURTI(a famous one in haridwar),stayed der fr a while n interacted vid some locals..dey were more dan happy to c me coming all d way from lko on a solo byk trip nd dat too fr a marathon..well guys i forgot to tell u dat how i got inclined towards my devotion to shiv ji..so my grandmother had a vision of me born on d day of bholenath i.e. monday..i do believe in dis not becoz m afraid of nething..bt it gives me strength to fight back..i still remember wen i was in 5th or 6th std. my mother dressed me up like shiv ji for a fancy dress competition..dat was d moment.
i know m being so self descriptive sometimes in between..plz bear it.
as soon as i reached d hilly areas i searched fr d venue n got d info dat d marathon wud b near mussoorie dhanaulti road from d WOODSTOCK INTERNATIONAL SCHOOL.
so i went der nd got my race packet..8t had my sweatshirt with d tagline of MUSSOORIE HALF MARATHON 2015...got super charged up after seeing dis..den chilled out der fr sometime as a music show was going on der..had my lunch der found some souvenier fr home..
NOW WAS D TYM TO SEARCH FOR SOME NICE STAY..GOT IT IN HOTEL OAK WOODS.. had a nice stay der..ab it was was tym to take some rest to get prepared fr morning marathon.
c u guys tomorrow...
so this morning 25/10/15 0500 hrs..i woke up with a plan..plan to go towrds dhanaulti after finishing my marathon..i took a bath n got ready fr my run..reached d venue by 0630 hrs..had some bananas nd glucose drinks before d race..now came d moment i waited for i wud say my running experience was an ICING ON D CAKE..i have never tried dis before.Completed my race spent some tym vid d officials..met some really hardworking guys dr..i m nowhere doing any kind of hardwork wat dese hilly guys do on a regular basis..so as planned i den reached my hotel..checked out from der nd den i went to dhanaulti..explored d place..took few pics..nd introspected myself DAT HOW BADLY I NEEDED DIS TRIP OF MY LIFE..rest is history..trip came to an end as i took a u turn nd started riding towards LKO..MY HOME.
bt dis tym i was full of energy nd different emotions..i was tired at d same tym nd was thinking about how my parents have brought me up dat i performed dis much..I SALUTE MY PARENTS FR DIS.
all thru my jrny jab bhi give up krne k mann ho raha tha..yahi yaad aa raha tha..agar ghr sahi salaamaat nhi pahuncha toh ghr vaalo ka dil hi ni mujh par se bharosa bhi toot jayega..bt DER TRUST ND MY DEDICATION WON..i reached my home safely on 26/10/15 nd njoyed a local cricket tournamnt dat was going on in d city on dat day..
DIS WAS ME..NITIN RAICHANDANI..NOW SIGNING OFF..THANKU RANNVIJAY SIR FOR INSPIRING GENERATIONS.