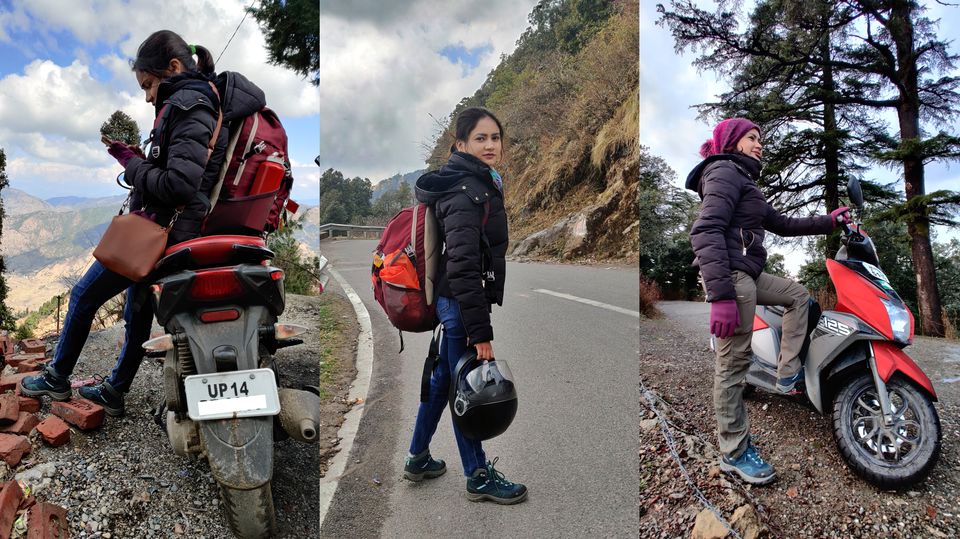 Want to explore more road trips that you can take in 2022? Head to this page to find your next favourite holiday!
A long week at work. A scooty and two bikes at our disposal. A road trip was inescapable. Six people on One Aprilla, One Ntorq and One Duke. Our journey started from Noida on a Friday evening with no itinerary or plan of action. How Romantic! Right?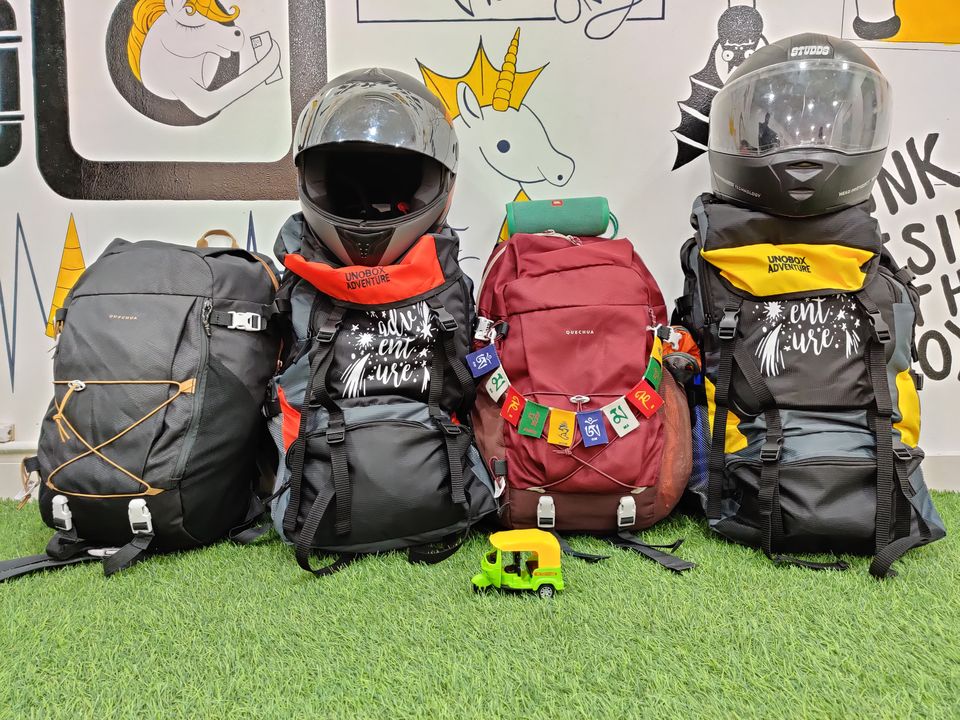 Somehow, we managed to pull off this stunt without any goof-up or I must say, except for one which is very embarrassing, Kyuki Gaalib… Meri kashti hi dubi wahan jahan paani kam thaa. For which you'll have to stay with me till the end.
Please note, this was the first road trip on a two-wheeler for most of us. Till Meerut, everything was filmy, nice with ZNMD vibes . It was after covering first 60-70 km that our back started dying a slow death. However, by the time we reached Dehradun, our body got the hang of it (or you can say that it was dead already).
Day 1: Delhi - Dehradun - Mussoorie (280 km + 20 km)
We reached Dehradun around one in the morning and found a humble place to rest.
The next morning when we woke up, it was raining. Doon mornings are amazing anyway but when they are accompanied by rain, the experience is heavenly. Ohhoooo, mere nostalgia can do the magic. However, without getting carried away. We left for Mussoorie around 9 in the morning after having tea and coffee because Breakfast toh Maggie Point par banta hai na.
Tipsy Note: While you are travelling by road to Mussoorie you'll find various Maggi Points with an amazing view of Doon Valley. If not for food, take a stop for the view. The valley looks beautiful from some specific spots.
After riding for an hour or so we stopped by a random Maggi Point, had our Breakfast, relaxed, clicked a few pictures, got on our respective wagons and rode off.
Around 12 pm we reached Mussoorie and went straight to Diamond Hotel. It's a small lodge with basic facilities but amazing food and a crazy view. After stretching our legs for a while we left for Happy Valley.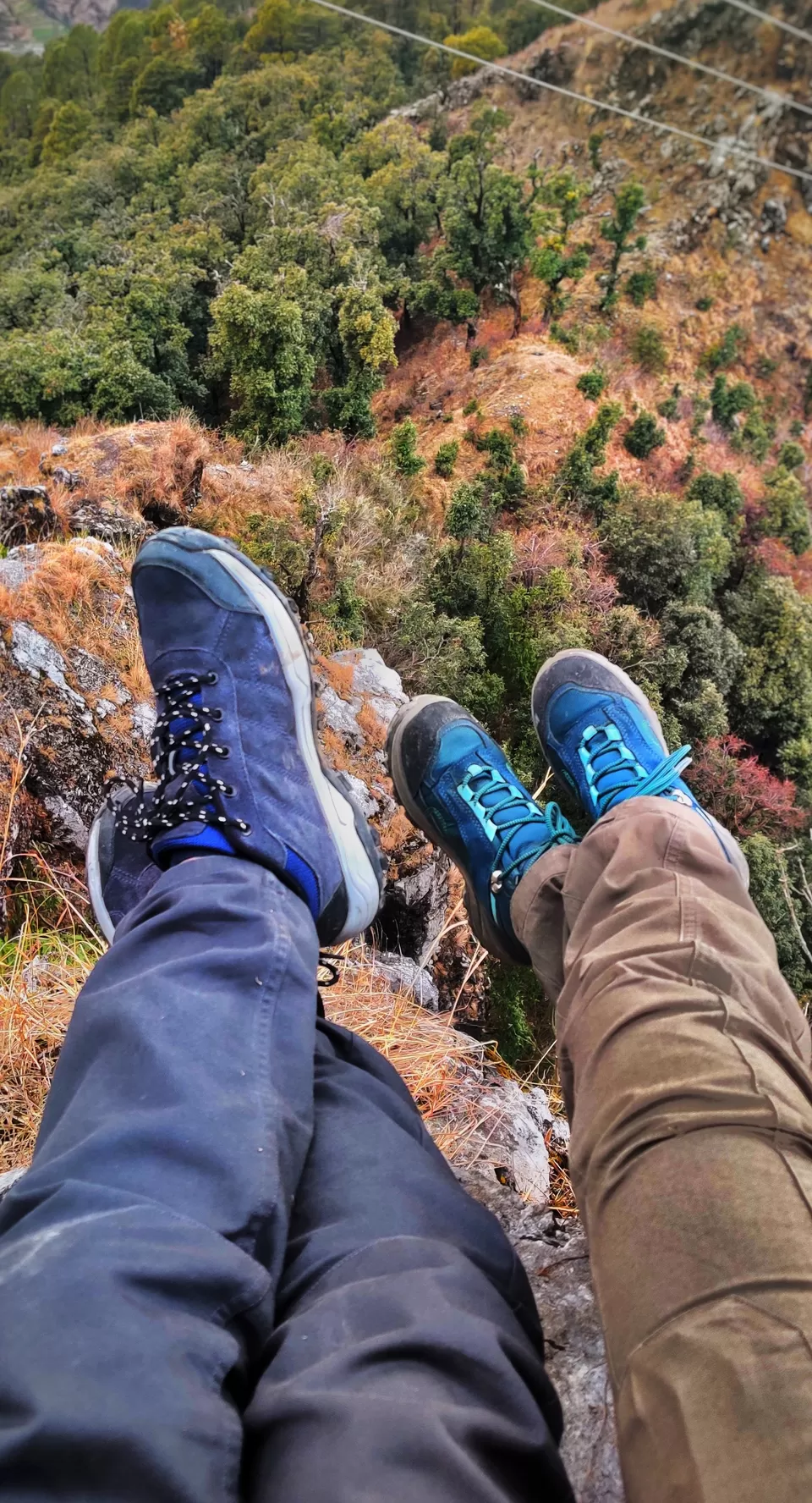 Gyan Pind: Happy Valley is a Tibetan Monastery established in 1959 when the 14th Dalai Lama fled Tibet. This is one of the earliest Tibetan Shrines built by Dalai Lama and where he lived before he moved to Mcleod Ganj, Himachal Pradesh.
After Happy Valley, our next stop was Clouds End. As per our last-minute itinerary, George Everest was our next stop. Apparently we lost the way and went to Clouds End instead.
Tipsy Note: Clouds End looks breathtakingly beautiful in the morning when clouds drift away, unveiling the beautiful Doon Valley. I suggest you visit the place in the morning around the sunrise.
There are so many amazing places to explore in Mussoorie, Read here.
The tracks leading to Clouds End are steep at some places in the middle and it becomes tougher to ride in the rain or snowfall. So please be a little cautious. Our Ntorq and Aprilla managed to pull it off in the rain but Snob Duke was getting a little cranky, throwing starry tantrums.
We came back to our abode for the Night, Diamond hotel and dozed off after 3 hours long dancing session. Yes, exactly the kinda dance session you guys are thinking of.
Day 2 - Mussoorie - Dhanaulti - Chamba - (90 Km)
We woke up to the lovely drizzling Mussoorie morning and got ready for the Nag Tibba Trek. See now, this happens when you, out of the blue, plan a backpacking trip with 6 people. One superpower vetoed the plan and we had to look for alternatives and we wasted two precious hours of the day in just deciding on one plan.
How the game plan changed
Everybody voted in favour of Dhanaulti so, Dhanaulti it was. We had our brunch, packed our bags and rode off to our next destination which was 60 km away. It took us two and a half hours to reach there. The road is nice, the view along the route is amazing and a road trip makes the experience all the more exciting. As we were getting closer to our destination, the roads were getting tougher and tougher to ride on due to snow.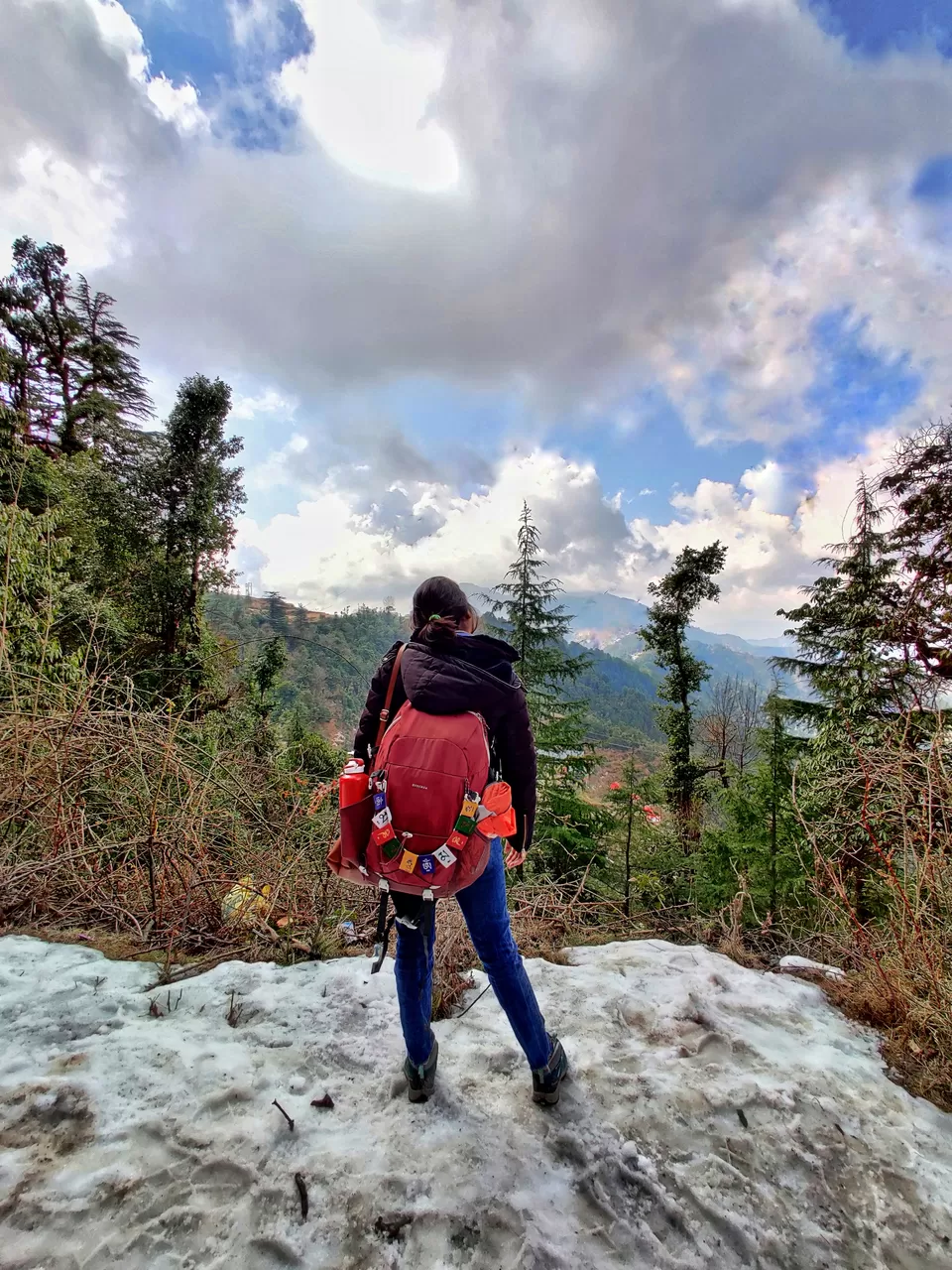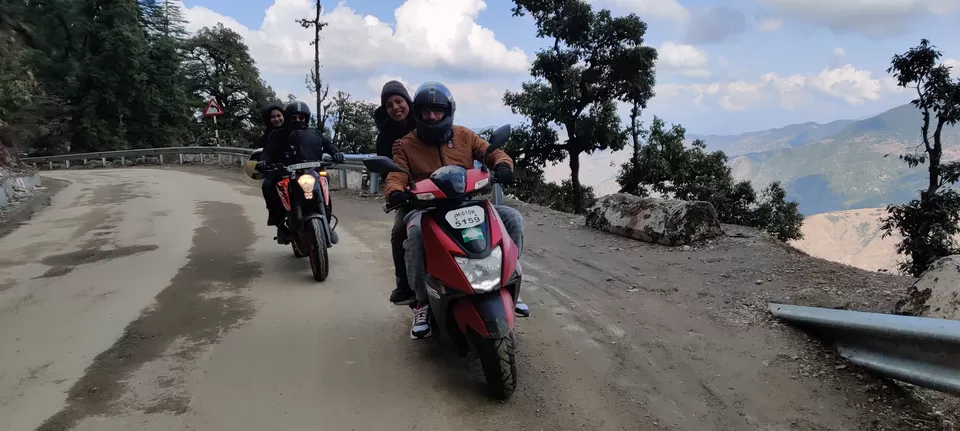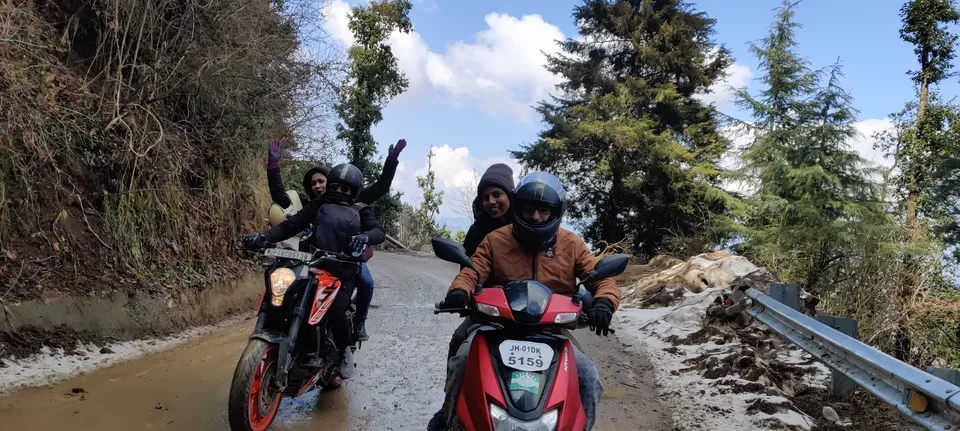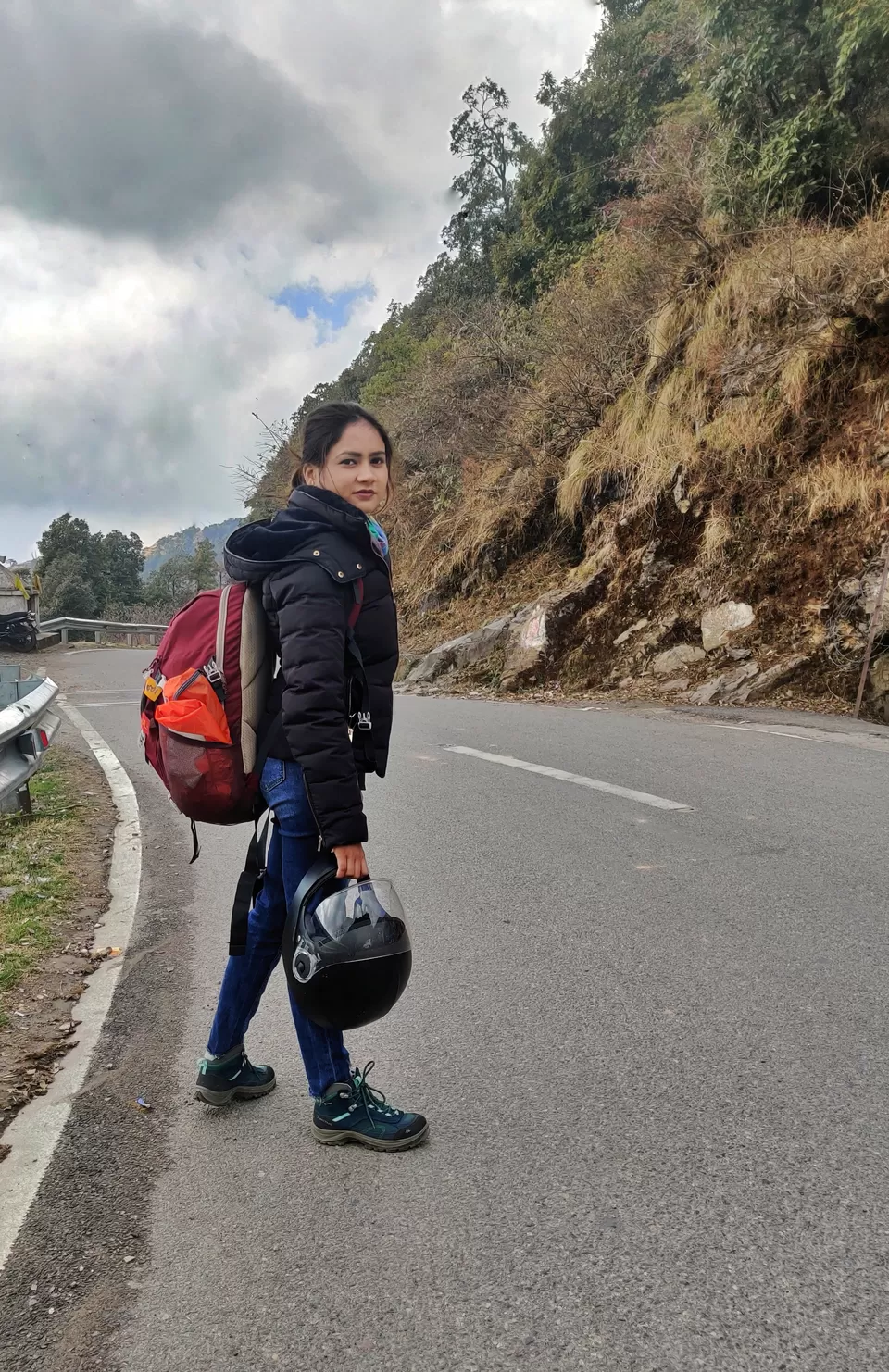 Now the fitoor of a road trip made us so high that we only took a pit stop of 15 min in Dhanaulti and planned to travel another 30 km to Chamba and explore that small town instead. (for we felt it was overcrowded for some reason, weekend maybe)
Kyunki Chambey Jana Zaroor...
Chamba is a small beautiful town in Tehri Garhwal and very close to New Tehri. We reached Chamba around 4:30 in the evening. It has a small market that you can explore and a few temples that you may visit. Otherwise, Tehri Dam is the only major tourist place closest to Chamba.
After staying on the road for more than 4 hours and 90 km, at least I was not in a mood to go anywhere but to my bed. A power nap of 15 min. was all I wanted. Some of us sneaked out to stroll around the town, the likes of me just sat at one corner and were busy soaking in the serenity of the mountains for we knew that the next day we would be back on our way to Delhi.
Day 3: Chamba - Haridwar - Delhi (300 km)
We woke-up amidst so much hustle-bustle because if you leave four guys in one room for a night, do you really think they'll have some human traits left in them till the next morning? We girls woke up to their "Chalo chalo late ho gaya…' and then later on their photoshoot didn't end. Okay, enough of tabloid spice, moving on.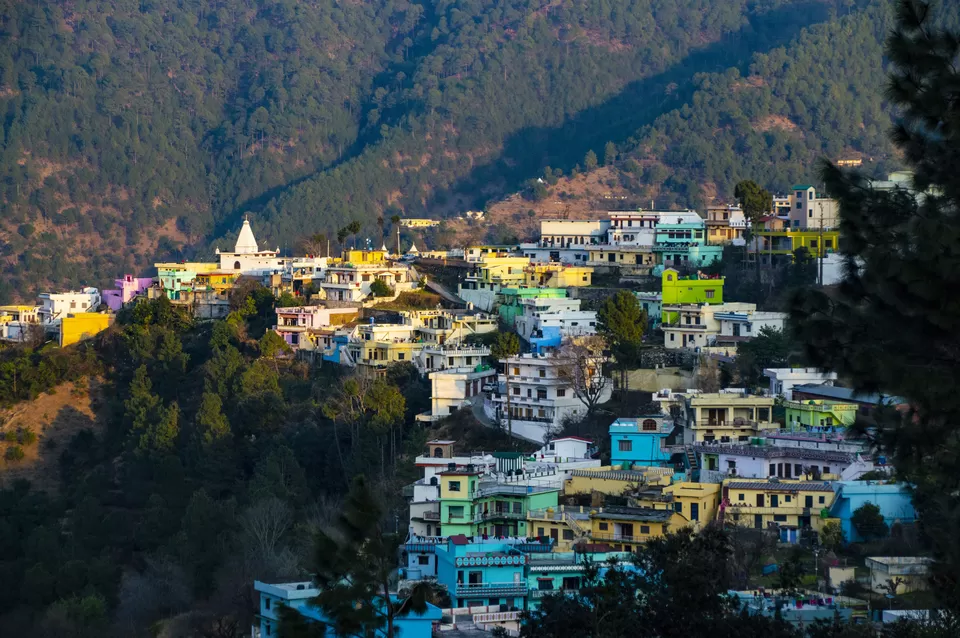 We left the beautiful vibe of Chamba around 12:30 pm for Delhi. It started drizzling again as we rode some 1 km and it rained almost half of the way to Haridwar. None of us was in a mood to go back to Delhi. We, in fact, almost stopped our caravan to stay one more day in the hills when the snowfall started. But, Naukri ka Chakkar tha Babu Bhaiya, Naukri ka. Imagine 5 team members on a leave the same day. So, before our boss would enter his super Saiyyan Mode, we only said one thing to ourselves, "Kaam hai, kaam hai, haaaaan" and carried on.
The Goof-up!
For the last 2 days, everything went well, no goof-ups for the last 500 Km. Snow, rain, high altitude, steep roads we won over everything and we tripped on a nice, broad road a few kilometres from Haridwar. Well, nothing happened, no injuries but Galib, Uchaio mai kahan dum tha, hume to…. Yeah, whatever.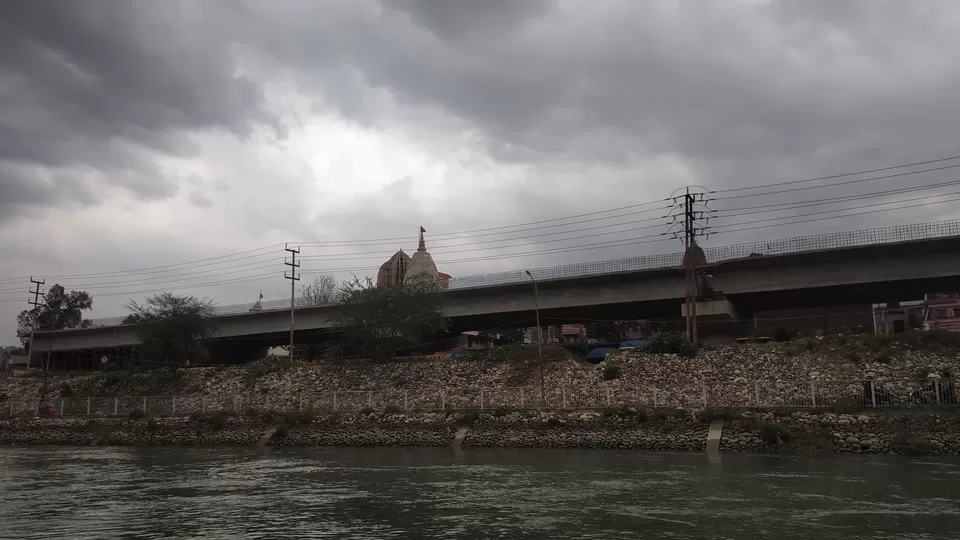 We reached Haridwar, took a small dip in the Ganga, stretched our back for a bit and dashed off.
Reached Delhi around 9 pm after riding approx. 700 km and for 72 hours in the mountains on Scooters.
Why do I call it a life-changing road trip? Because it gave me a new perspective on travelling. I don't think I would have ever done a road trip on a scooty, if not with these guys. I have been to Mussoorie before but this was a different experience. Read about my leisure trip to Mussoorie.
I had a blast on this 3-day trip that cost me around INR 2300 including everything. Could you imagine? I hope you had an equal blast while reading it. Now I am thinking, how about going to Manali on a Scooty. What do you guys think?
For more such crazy travel stories and experiences, follow Gypsy Pahadan on Instagram.