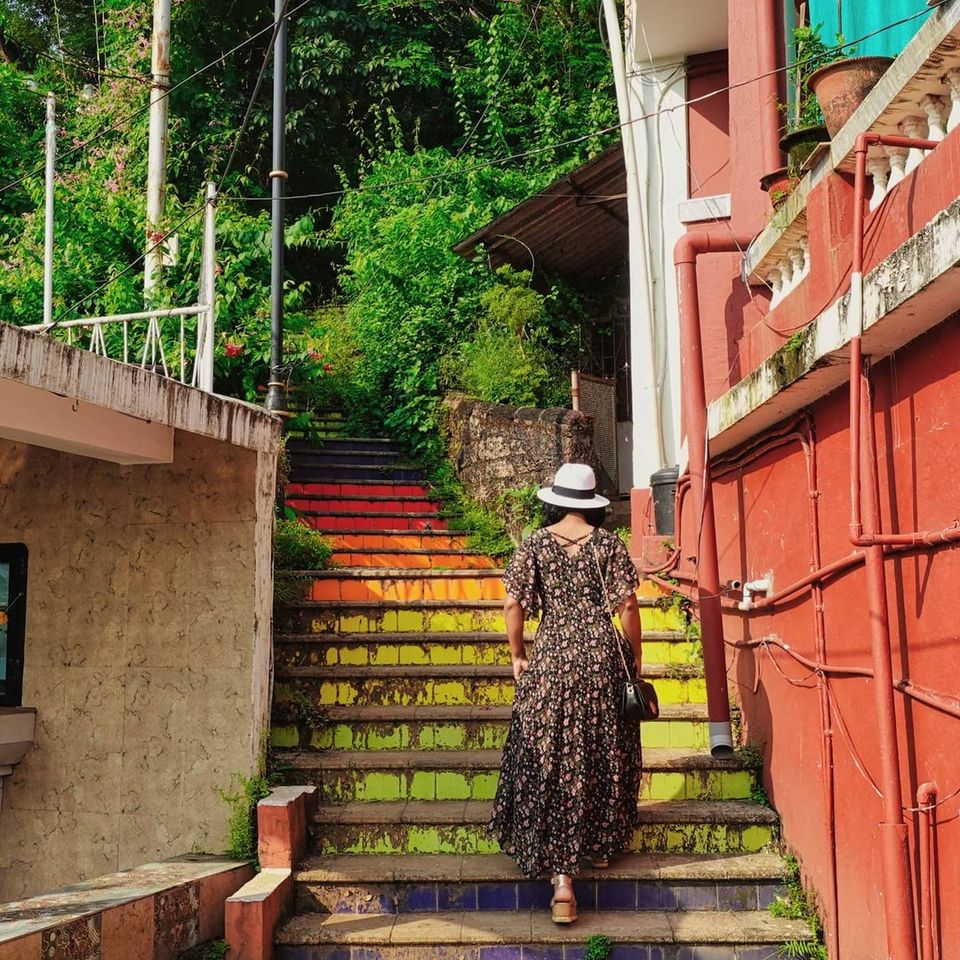 Who says you can't travel back into time? And I am not talking about using some fancy time travel machine like in Predestination or befriending a witch for some Abracadabra time turning spells. All you need is a ticket to Goa in India, some walking boots and an open mind ! Oh yes, I mean it. In Panjim, Goa's capital city, lies a tiny embodiment of Portugal clinging to the nostalgic past of the 450 year old Portuguese rule.
For those of you not very well acquainted with the history of Goa, let me summarize it in a few lines. If you already know the history or if history bores you, skip the rest of this paragraph. In the beginning, Goa was inhabited by the Dravidian hunter-gatherer tribes. Then during the Iron ages, Goa was ruled by the Mauryan and the Satavahana empires. Then during the medieval period, Goa was ruled by the Kadamba kingdom, the Vijayanagara empire, the Brahmani sultanate and the Bijapur sultanate. Then in 1510 the Portuguese invaded Goa and ruled Goa for 450 years. Then in 1961 the Indian army invaded and annexed Goa and Goa became part of the Union territory of Goa, Daman and Diu. Then finally in 1987, Goa became a state of India!
Yay!! Finally!
So since the Portuguese were the last rulers of Goa they left behind a huge influence on the art, architecture, food and culture of the Goan people. And yes, they also left behind the beautiful area of Fontainhas! (Pronounced fon-te-naash)
But how did Fontainhas come into being? After Old Goa (former capital of Portuguese India) was hit by a plague, the Portuguese Government headquarters were shifted to Panjim and Fontainhas became their new home. Fontainhas means 'little fountain' in Portuguese and this area was given the name because of the marvelous fountain, Fonte Phoenix (fountain of the phoenix) that was located at the base of the hill. Although I am a native Goan I had never visited this place before. However, I didn't think that anything I would see would impress me because come on. what could be so different from what I spent 23years of my life seeing? Nevertheless, Victor was from Bangalore and I was hoping this little local exploration would get him excited.
We met Leroy and Joshua from Soul Travelling and after a brief introduction took the first left from the Panjim post office and started walking on a street called Sao Tome (the street name definitely sounded fancy!) As we strolled under the early morning sun getting to know each other a bit better, I noticed that the streets got narrower,windier and extremely clean, and the path turned from tar to cobblestones. The houses got prettier as well and stood out because of the bright colours that adorned the exterior of the walls. All the houses were either red, blue, yellow or green but the shades were so different that no two houses had the same colour. Most of the houses had a beautifully architectured balcao (balcony) on the first floor with many of them filled with vivid potted plants. Some houses even had roosters on their red roofs which was definitely unlike anything I had seen before (apparently part of the Union territory during those days having a rooster on your roof showed your allegiance to the Portuguese empire). But the most interesting thing which would never go unnoticed were the Azulejos (blue hand-painted tiles) nameplates at the front of every house.
Wow! What lay in-front of me was indeed a sight to soothe sore eyes. I felt like I had been instantly transported to some part of Europe. 'Bom dia! Como estas?' and fascinating chatter in Portuguese could be heard as women clothed in floral dresses and gentlemen in well pressed shirts, pants and black hats occupied the seats in their balcaos sipping coffee and reading the newspaper. We smiled back at them and continued walking while admiring the quaint details that surrounded us.
A path along an extremely narrow street with a balcao so low (Victor had to mind his head because some parts were really Sooo low :P) led us to what one may describe as a hidden gem. I definitely wouldn't have found it if I didn't know that it had existed. In-front of us was an antique yet functional gorgeous hole in the wall bakery. It had a Portuguese name: 31 de Janeiro which translates to 31st January (which was actually the day that Portugal attained independence from Spain ). The scent of the freshly baked bread and that of the spread of Goan sweets filled the air and I instantly felt hungry. I entered the dimly lit room and quickly scanned the place. There was no sitting area inside but just a counter and tons of snacks. There was a lady behind the the counter and a door behind her with 3 men chirpily and effortlessly going about their day baking fresh bread. The lady behind the counter was so sweet and friendly and the the items on display looked so unique that I bought one of everything. (I'm working on another post for the best local snacks and sweets so I will spare those details for now). I stepped outside with a big bag of Goan treats, and along with the boys, sat on the porch and savoured a few. They were 'delicioso'! They were literally so tasty that I ended up going back the next day to buy more.
The colorful houses that adorn the Fontainhas
The entire walk has so many Instagram worthy places. Omg! It is a photographers heaven. Coloured steps.. murals.. graffiti.. Azulejos.. bright and colourful beautifully architectured houses and of course the church. I definitely had my share of modelling around for fun shots for Gram while Victor did the hard work of holding all the bags and photographing me. Did I mention that the St. Sebastian Chapel is also a beautiful location for a photo?. It has a white exterior which perfectly stands out in the presence of the vibrantly cololured neighborhood. And the crucifix inside also has a secret behind it. (Ask around to know what it is when you pay a visit to the place)
Well, while looking at the exteriors of the myriad houses we couldn't help but wonder what the inside would look like!
Well fortunately for us Leroy managed to get us invited to the house of Mr Aires Andrade whose family is one of the original families of the area. The house was incredibly wonderful and was filled with ancient treasures. I particularly loved the concept behind the oyster shell windows and was as excited as baby when I discovered the holes in the wall that were used for guns in the old times.
We visited a few coffee shops after that (I suggest that you sit by the window so that you can people watch :P) My favourite one was Bombay Coffee Roasters which was also a bag packers hotel and had a beautiful mural painted on the exterior of one of its walls. This place had a lot of books that you could read and had wifi as well which was awesome.
These are just a few of my experiences. There are a lot more things to do in Fontainhas. Like I said before you just need to wear some comfortable shoes and have an open mind. And maybe you can wear a hat too to get you in the Indiana Jones character (also because it can be really hot in the afternoon).
I hope you have already started planning your trip to Goa right this second and I hope that you uncover one of Fontainhas' many secrets. To have a similar experience like Victor and I did, you don't have to look too far, just go buy yourself a ticket at soul travelling ( https://www.soultravelling.in/tours/explore-panaji-64007) for just Rs.499 and explore every nook and corner of this incredible place.
Saude!