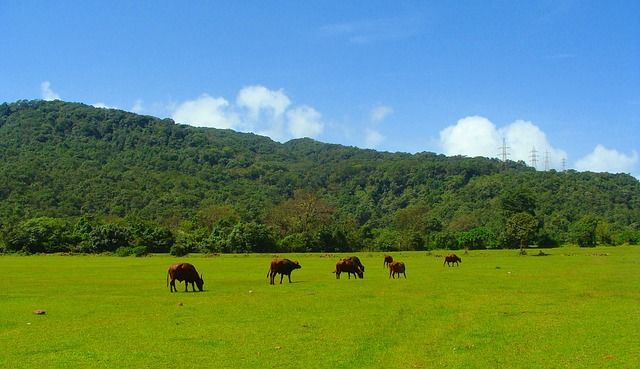 Who hasn't been to Goa! The quaint little state in the Konkan coast line of the Arabian Sea has maintained its exclusivity amongst Indians as well as foreigners for decades. If you have ever come across those monochrome photos of the 70s, you will be amazed to see a thriving hippie culture with Russians dominating the Goa tourism scene. It is post 2000 that Goa has picked up for Indian travellers.
To be honest, Goa isn't like any other beach town. Unlike other beaches, Goa doesn't depend only on the sea, rather it has got a wide range of awesomeness ready to make each traveller happy. If sea bores you (though, I doubt your humanity), you can just relax at any of the thousand quaint little cafes or shacks. If nightlife is what excites you, there are clubs.
But then many are kept aloof from an essence of Goa that has made the town a traveller's delight. In my recent trip to Goa last week, the agenda was to explore the not-so-popular places in Goa. The place where I was staying Lazy Lagoon Portico Sarovar, the beaches of North Goa were almost stone throws away. So when I wasn't fishing at the lagoons, I would drive around the town to explore.
In late 18th Century, Antonio Joao de Sequeira, a Goan expatriate established Fontainhas.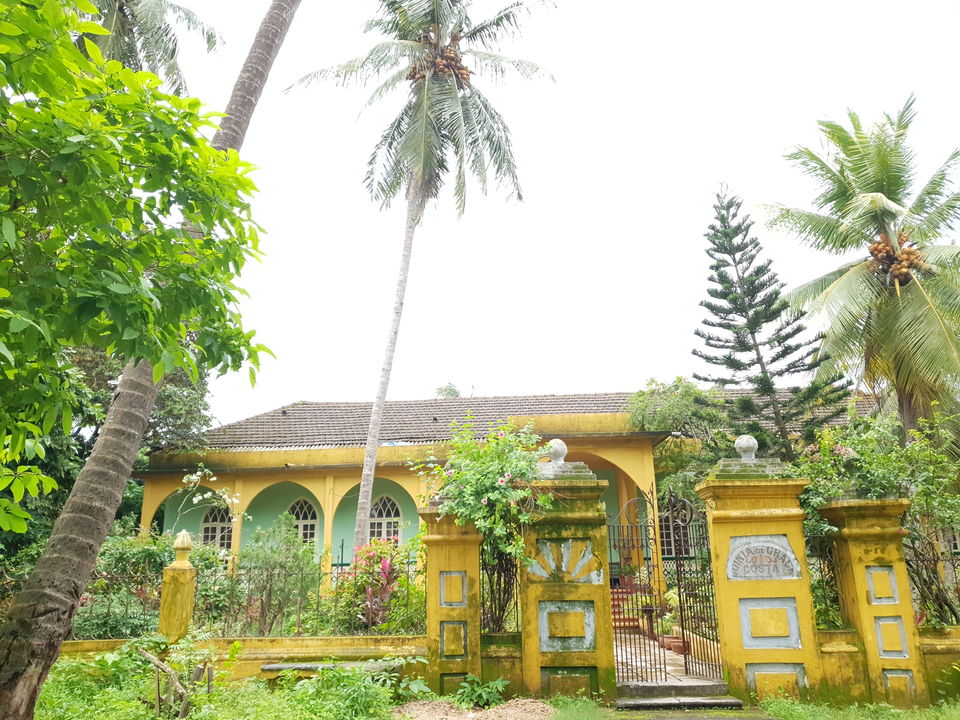 The world knows of Portuguese colonizers invading Goa when Vasco Da Gama anchored in 1498. Since then Goa has a significant amount of Portuguese population. After Miramar Beach in Panjim, our Google Map lost signal and we kept manoeuvring around the city without a destination. After a few uphill and downhill, the road started lining up with colourful houses. While the houses wore solid yellow, turquoise, blue, there was something about the architecture that made it look like Cape Town. We parked the car in one side of the street and took a stroll. That's when we realized we have arrived at Fontainhas, an old Latin Quarter that dates back to 1770.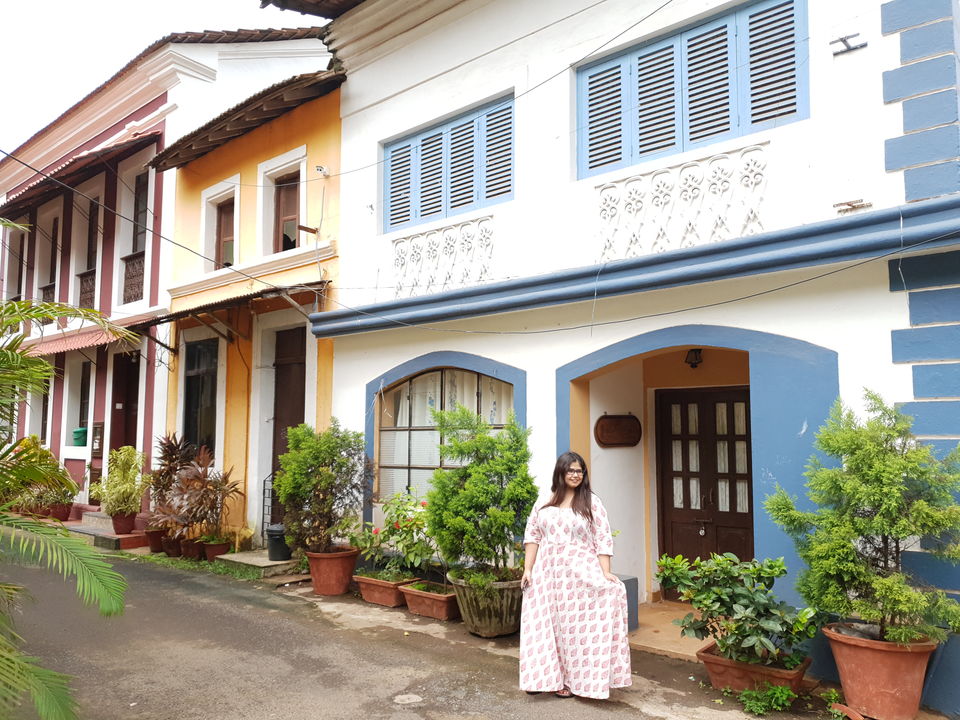 In late 18th Century, Antonio Joao de Sequeira, a Goan expatriate established Fontainhas. It was around noon when we walked around. On a double storeyed house painted yellow, there was a woman sitting at the terrace wearing a red floral dress and a hat reading a newspaper. Such attire and attitude isn't something you find every day. On the next building painted in white and green stripes, two young women chitchatting at the balcony in a tone that is quite loud. While the place looks ancient, the level of cleanliness makes you wonder if you have landed in Europe.
We decided to have our lunch at Viva Panjim, located in one of the narrow alleys. Inside sat a septuagenarian lady in the counter. Just to mention, the interior isn't fancy and takes you back to the 60s. And there is no AC. We sat at the open veranda while gorging on the pork vindaloo.
What we loved about this colony is while rundown Volkswagen Beetle has been replaced by a Grand i10, the old world charm is looming large all over the place.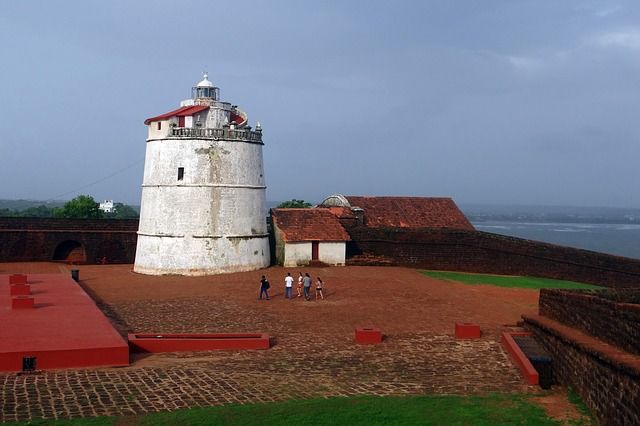 While Aguada is one of the most popular forts in the state, what most people don't know, being a very important location from defence point of view, there are numerous forts all around. We drove almost 12 km from Panjim city and landed in Corjuem Island. There stands a fortress named Corjuem Fort overlooking a river. No you won't be able to see the sea from here but you can feel an absolute silence all around the place. It was initially occupied by Desais of Sankhali, but Portuguese invaded it and rebuilt. There's a folklore around the fort. An ambitious Portuguese woman named Ursula e Lancastre, who determined to see the man's world, dressed like a man and travelled the world. She landed up at Corjuem as a soldier but was later captured and stripped.
We drove almost 12 km from Panjim city and landed in Corjuem Island. There stands a fortress named Corjuem Fort overlooking a river.
Another fort that deserves to be visited is Fort Tirakol. Around an hour and a half drive from Panjim, this fort can be reached by a ferry from Querim. The fort was originally built by Maharaja Khem Sawant Bhonsle, the Raja of Sawantwadi, in the 17th century. The Bhonsles of Sawantwadi kept a sizeable fleet of native vessels which sheltered in the Tiracol River. The fort initially consisted of 12 guns, a barrack and a chapel. On 17 February 1819, following the defeat of the Marathas, a treaty was signed by Raja Bhonsle Khem Sawunt of Savantwadi who recognised British suzerainty. This treaty effectively abolished the strategic importance of the fort, as it became an enclave in territory controlled by British allies.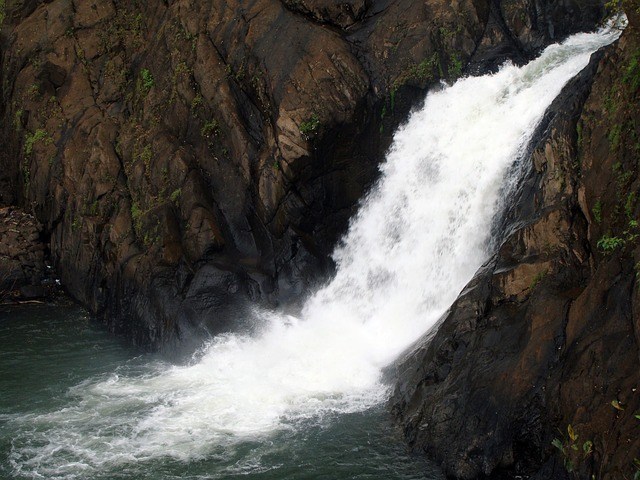 If you find yourself suffocated in the touristy crowds of North Goa - Chorao Island is your escape route. An island along the Mandovi River near Ilhas, it is the largest among other 17 islands of Goa. Take a ferry from Ribandar and arrive at the island. You can ride a scooty to this village as well and witness the panoramic view of the whitewashed village churches and picturesque Portuguese homes on the way.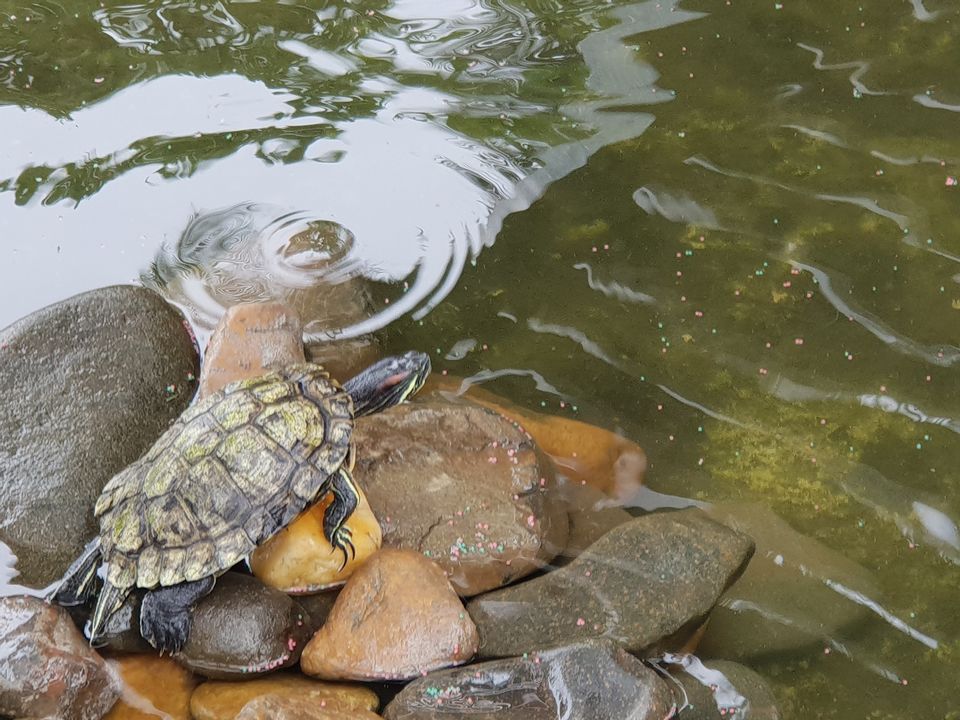 There's a slightly cheesy story associated with this island. It is said, Chorao had a great cattle population and the people there produced Queijo da Ilha de Chorão(Island Cheese of Chorão). The cheese used to export to various eastern countries including China and Macao. However immigration of the islanders led to gradual loss of the traditional cheese.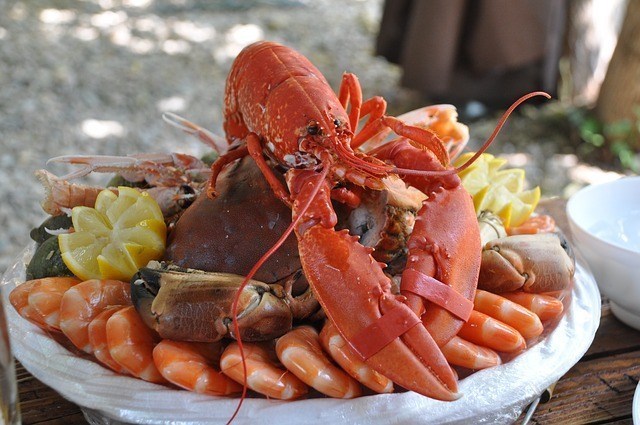 We have tried a couple of popular places to taste authentic Goan food. It was at Balcao at Lazy Lagoon Sarovar Goa that we understood how different Goan cuisine actually is compared to the coastal cuisine available at the state. You can also gorge on Goan fish curry, crabs and lobsters. The best part of Balcao is that chef has stayed in Goa for years just to master his Goan cooking skill. He explained how a few spices - coriander, cinnamon, peppercorns and Goan chillies bought by the Portuguese sailors changed the food scenes. So if you love Rawa fried fish fillet or Mutton Xacuti, you have to rush to this place.
To explore off beat Goa you need to hire a self-drive car or scooty. Car charges: Rs 1200/ day Scooty charges: Rs 400/day
(Ensure commercial registration plate)
Get the answers to all your travel related queries on the go with Tripoto Chat!