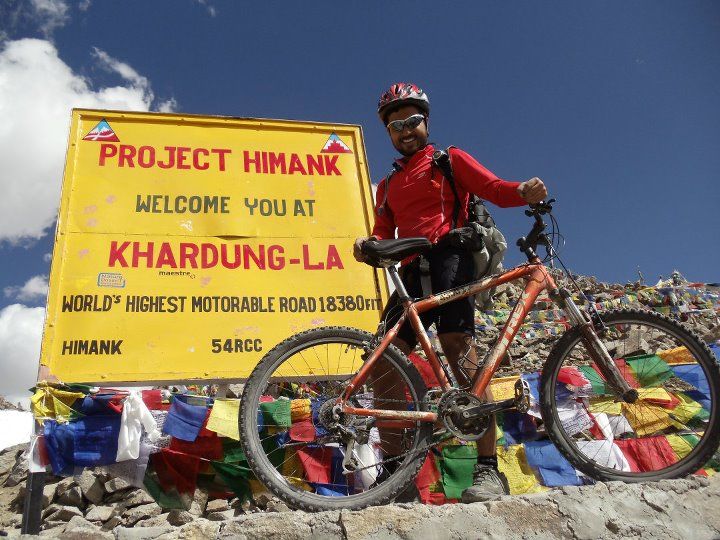 I am not exactly the kind to sit and write nor am I that good with words or sentence making. I am better off out exploring things than wondering how to put it in words. After repeated requests from friends to write a travelogue I told myself that if there was something I could do to inspire or help someone go out, live and explore this wonderful world.. why not give it a try?

Not so long ago days were lazy and nights were easily forgettable - you couldn't have imagined then that traveling would someday become such a big part of me. I don't remember what came over me but before I could realize it I was hooked .. addicted to being on the look out for something new all the time. Suddenly I went on from being content to being an unsatisfied and a curious soul. For me traveling is not just about point A and point B. A and B are just like the day you were born and the day you will die; what you really live, remember and take with you is the distance between A and B. So I would rather cover that distance slowly, realize each step that I take towards B rather than rush into B. So I make sure I travel as much as I can un-motorized, without any man-made motorized mode of transport. I try to keep my travel as raw as possible but sometimes there are shortcomings and I end up hitchhiking. The challenge is to develop immense stamina and physical strength to keep up with tough terrain and the amazingly beautiful but merciless landscapes on foot or by bicycle. But preparing yourself for such a challenge is a constant process as we all know "Rome was not built in a day".

It was in early 2009 that I seriously got into cycling, swimming and running marathons, not because I wanted to be some kind of an athlete but in order to develop the mental and physical strength required to travel raw in the most primitive manner of traveling that the man has known. You never know what challenges a journey holds for you. So I want to be prepared for everything: Water, Land and Air. My dream is to be able to completely use my own strength and courage to traverse across. I am still miles away from achieving something like that but that's for me to keep trying and accomplish someday. After spending couple of years cycling, swimming and running various marathons, doing a decent amount of distance and getting used to the pain (where after a point the body gets numb of the physical pain and agony converts to an out of body experience, you would understand what I am talking about when you do it for yourself :)), I decided it was time I started my first expedition the way I always dreamt of. At first I thought of doing it solo without any help from anyone. Then I had my share of inhibitions about it, I was not sure if I should really go solo as the destination I had in mind was well known for its unpredictable nature..
The Land Of High Passes
"LADAKH"
Fantasy and reality, it's a place which makes you realize both. The forces of nature conspire to render a magical unrealistic landscape, a landscape of extremes. With its desert and multicolored waters, burning sun and freezing winds, glaciers and sand dunes,small villages it takes you into the world of fantasy and its harsh weather , frostbites, sunstrokes get you back to reality in a wink. Such is the irony that Ladakh is the only place in the world where you can get a sunstroke and a frostbite at the same time. At an jaw dropping altitude from 9000 ft to 25170 feet, Ladakh is a land like no other. This land is the bridge between the earth and the sky!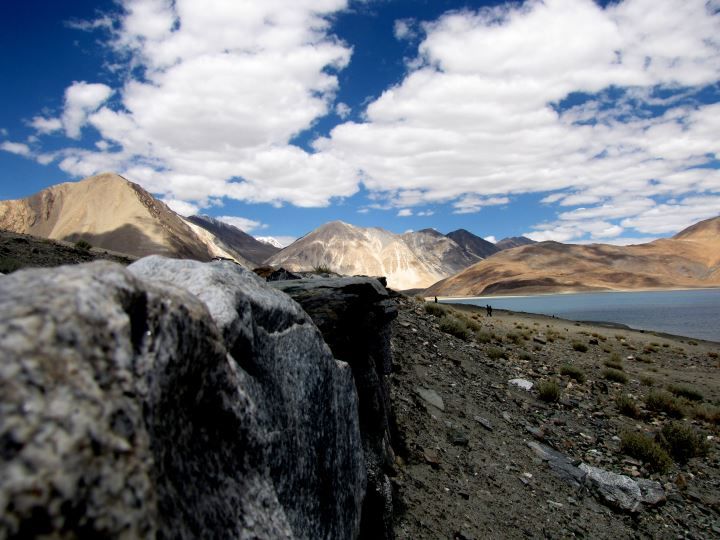 Coming back to reality now… 8 months before the journey I planned to start training for the trip. I always knew it was going to be more of a mental challenge than a physical one. I was confident about my physical strength at this point of time that would enable me to survive the challenge but was not sure if I was ready mentally to be able to withstand the pressure of being in a no man's land all by myself. But where's the fun in planning something when you don't have any inhibition - the joy of being able to overcome it and reaching your destination is what pushes you to do it. 8 months before the actual journey I had already pictured myself on top of the world, holding my cycle above my shoulders next to a board which said "Khaurdungla- Highest Motorable Pass at 18000 plus feet". It was that image and the feeling that spurred me on and finally got me there.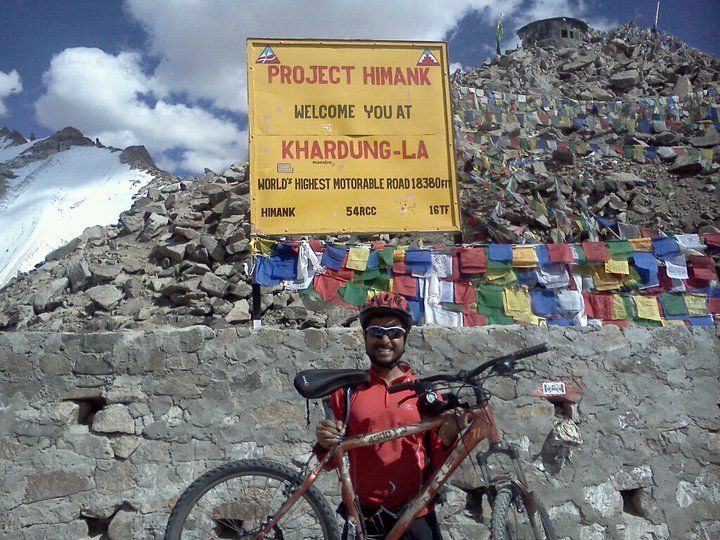 So here I am after 8 months and 13 days, standing exactly under that sign board, holding my cycle (not exactly above my shoulders but almost). :)
The possibilities are infinite and so are the opportunities. Human mind is so funny (I say funny because I find it so) it can be tamed and controlled by how you think. If you trick it into believing that you have already accomplished something even before you have set your first step towards it, it makes the path easier for you because it thinks you have already done it once and you are just going for it once again.
22nd August, 2011. Sitting at 18,380 feet above sea level, "Just Breathe" a song by Pearl Jam playing in my ears, sipping some local tea, looking at people being overjoyed, clicking pictures, tired and exhausted but ecstatic at having reached this point on their gas guzzling bullets and SUVs. Slowly the thought that my trip from
Manali
to Khardungla: 500 odd km, 13 days of a grueling but spectacular journey has ended now sinks in. There is a feeling of sadness that creeps into my heart, tears roll down my eyes. I am happy at being able to achieve something that people thought was humanly impossible but sad at the same time that I have to go back to the concrete jungle, lose myself again in the crowd.
I get up and start moving again, as I promise myself a new place, a new challenge …..
10th August 2011. Jagadish and I start our journey to Manali from
Bangalore
. Jagadish is an old colleague of mine, a nerd of the highest order ;), who thinks that life beyond wireless network is wired network. Actually we both developed an interest in cycling together though I ended up cycling and running more often than he did. Well, I don't blame him "once a nerd, always a nerd" ;) but jokes apart he is an awesome guy. I wouldn't have been able to accomplish this adventure without his help and moral support.
He jumped in excitement when he heard about my plans of cycling to
Leh
and Khardungla and desperately wanted to be a part of it. Frankly speaking I wanted him to accompany me but at the back of my mind was the nagging doubt that he might prove to be a liability for me because he was not that well trained and ready for the trip. But I took it as a challenge, he had 4 months to train and a newly wed wife to deal with (which I left to him to sort out). I could only help him with things I am skilled with because to be frank I am the last person on earth you would consult when it comes to dealing with women. It's not that I have any issues with the opposite sex, it's just that it's one of the challenges I haven't dared to accomplish yet. ;)

So we plan out our training and Jagadish gets back to cycling regularly and is a little confident about the whole trip by now. We train for around 4 months together .. Cycle, run, swim .. Discuss about the trip, the routes, possible situations that we might have to face. We chalk out everything. We learn how to repair our cycles, fix a tent, everything we could think of that would be handy in the trip.
August 12th 2011. We reach Manali, hire our cycles as planned and stroll around the city for some last minute shopping, gearing up our cycles for the trip while getting acclimatized with the weather.
We plan to get a sumptuous meal and a good night's sleep that day as we know that for the next 13 days we would barely get things to eat and sleep will be hard to get in tents , road side shops, inside sleeping bags and under extreme weather conditions. We pack our stuff that evening and go to bed early.
I wake up early next morning only to realize that the weather has turned bad as if it was just waiting to. It's pouring heavily- what a beginning to a journey! We wait for some 4 hours before we call it a day because that's how we have planned it, we have a 4 hour window to start every morning throughout the trip so that we reach our destination before dusk and avoid getting stranded in some unknown place in the dark. So on any particular day if we don't start within that 4 hour window we decide to call that day off and wait for the next day or in the worst case hitchhike.

The rain gods are in no mood to stop pouring and we spend the rest of the day sleeping and eating as we know we would set out the next day for sure, come rain come shine.
The next day we start our journey really early, around 4:30 AM, when it is still drizzling. We quickly pack our stuff and load it on our cycles while making a last minute check of all the essentials that we would need for the trip.
"Living the dream".
 
As we make our journey I will keep sharing pictures and small facts about those places to keep the read interesting rather than boring and drawn out.
We start our journey from Manali and I'll take you through the journey to Khardlungla :
Manali - Marrhi - Rohtang Pass - Kokhsar - Sisu -
Tandi
-
Keylong
-
Jispa
- Darcha - Baralacha La - Sarchu - Gata Loops - Nakee La - Lachulung La - Pang - More Plains - Tanglang La -
Upshi
- Leh - Khardlungla

Day one:
Wet and chilling conditions ... favorable weather for cycling though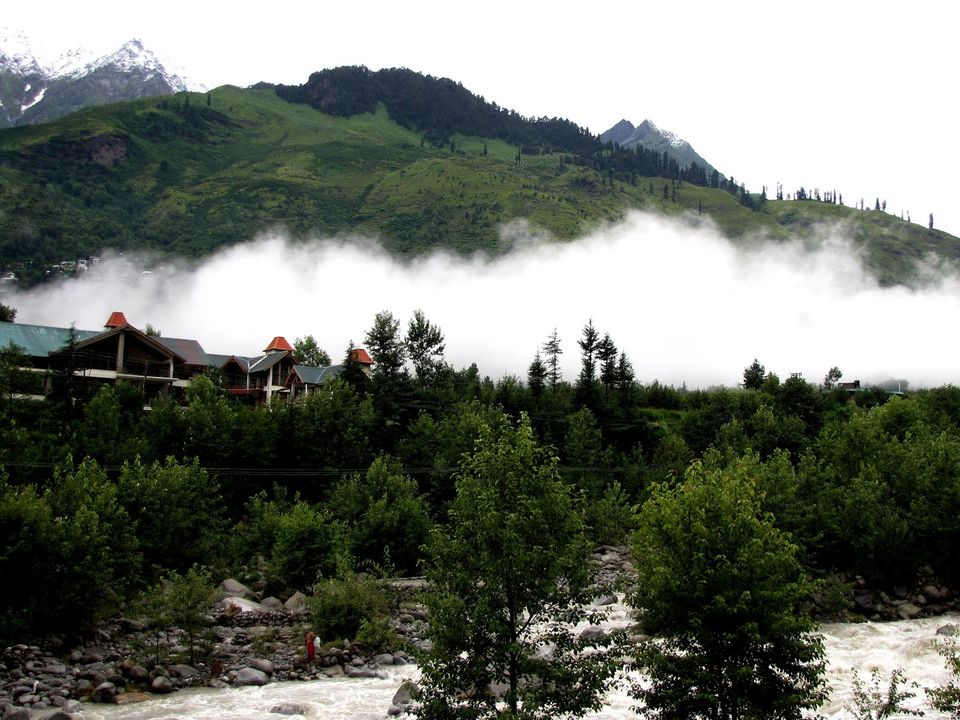 Manali - Rohtang La (52kms): as we make our way to the first high altitude pass, Rohtang La 13,050ft via
Marhi
Jagi checking out the wooden bee hives and learning how to handle the queen bee from the professionals :P . Don't forget to stop by if you spot one of these en route.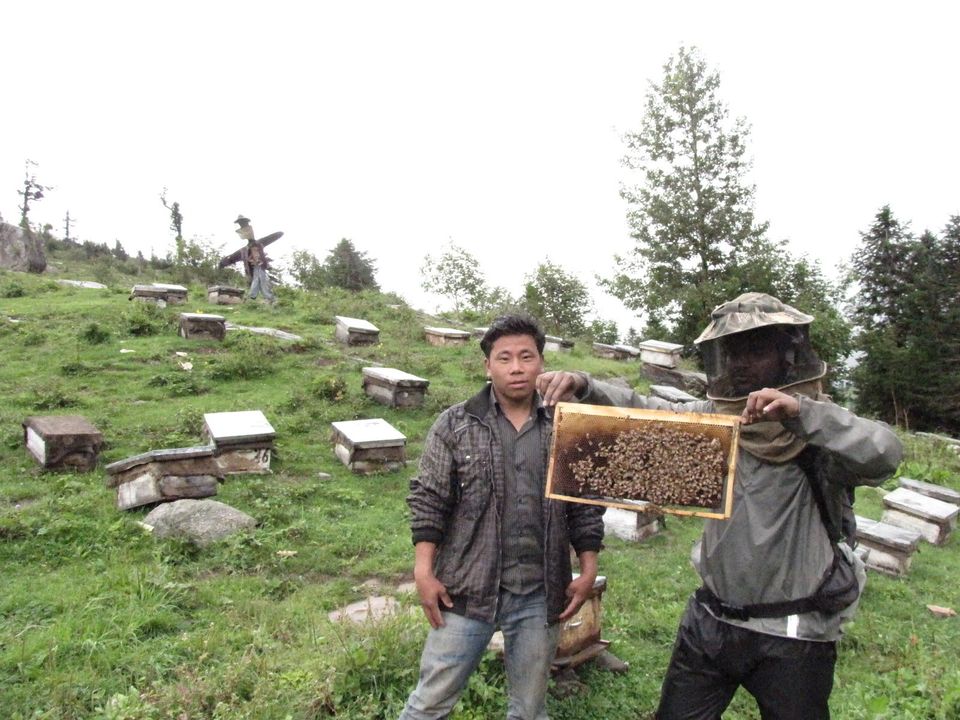 Day 2. The most difficult day in the whole journey as we have to deal with landslides and negative temperature, snow, rain. We almost have frostbites and the whole body goes numb. We have to push our bikes in the mud for around 12 kms. My jaws are almost stuck for a couple of hours and I can't speak. Even after being extra careful our bags are wet. I have to keep getting off the cycle several times and do push ups on the road to keep the blood rushing through my fingers.
The roads are pretty inhospitable - potholes, loose stones, slurry ponds, ripped off tarmac, wet and winding up all the way. At Marhi (read muddy), 16km before Rohtang la.
 We stop that night in
Khoksar
, a small village afterRohtangPass. Next day we get up to realize that we are stuck. Because of relentless snow and rain the roads are blocked on both sides of the village and there is no way to get out of this place. We have to wait for 2 days before we can move again. We are lucky enough to get some place to sit and sleep for those 2 days. We find some really interesting people who share their food with us. These 2 days are tough but with the company of such people we manage to pull it through.
Rohtang La - Kokhsar (19kms): Even though the road from Rohtang to Kokhsar is downhill all the way, it is mostly in bad condition.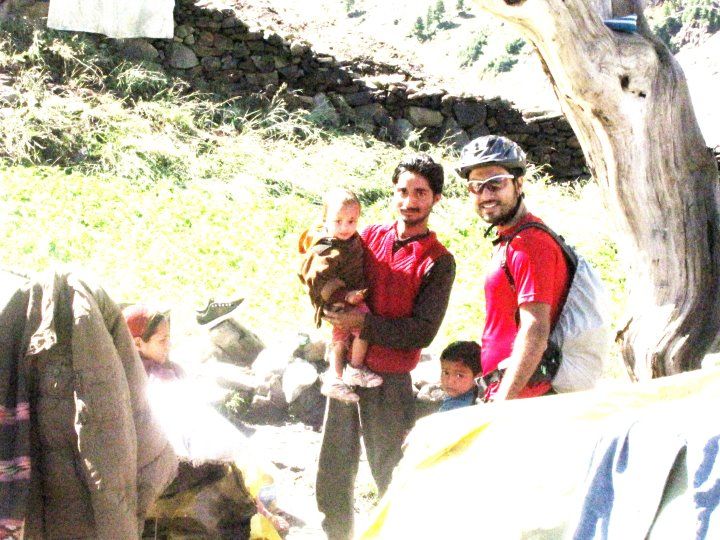 These people stay inside tarpaulin tents in the most unpredictable weather conditions one can imagine, but they never stop smiling.. they offer us food and tea, I offer them money but I realize here are few things you can't buy.. so I give the little ones chocolate that i have for the trip !!! :)
Kokhsar - Tandi (38kms): Journey from here is also downhill till Tandi and roads are mostly in a state of disarray.
Tandi - Keylong (9kms): Keylong is the last place where your mobile phone will work before you reach Leh.
Keylong - Darcha (28kms): From Keylong roads are in somewhat better condition and only get smoother as you approach Jispa and eventually Darcha.
Darcha - Sarchu (84kms): Roads are mostly in bad shape and as the altitude increases, you might start noticing the first effects of Acute Mountain Sickness. It is advisable to take it easy and not over stress yourself, especially at the summit of Baralacha La, 16,500ft. From Baralacha La it is again a downhill but a rough ride till Bharatpur, after which the road condition starts improving gradually as you approach Sarchu.

Sarchu, at an altitude of 14,000ft, is a collection of tents and a military base. Even though it is quite a windy place and high in altitude, it is the preferred night stop for most travelers. You will need to register at the check post in Sarchu before proceeding further.

Sarchu - Pang (80kms): Roads from Sarchu till the start of Gata Loops are in good condition and the progress is fast.

Gata Loops are a collection of 21 loops that take you to an altitude of 15,302 ft, roads in the loops are in a not so good condition and the slow moving trucks leaving clouds of thick smoke make the ascent feel tougher than it actually is.

Next up is the third pass on the Manali Leh route, Nakee La, 15,547ft. While a few km down the road is Lachulung La pass situated at an altitude of 16,616 ft.

Pang - Upshi (125kms): The road from Pang will take you to the famous Moore Plains; situated in a plateau, you will be hard-pressed to believe this relatively flat piece of land is located at an altitude of 15,400ft. Roads here are relatively straight and in good condition, inviting you to indulge in speeding. But don't! Road is quite bumpy.

Upshi - Leh (55kms): A small break for a cup of tea/coffee at Upshi to unwind is recommended before you continue your journey on the Manali Leh highway to reach Leh,

Things to do in Leh:

Hemis Monastery:
Hemis Monastery is the largest monastic institution in Ladakh. It belongs to the Drukpa Lineage or the Dragon Order of Mahayana Buddhism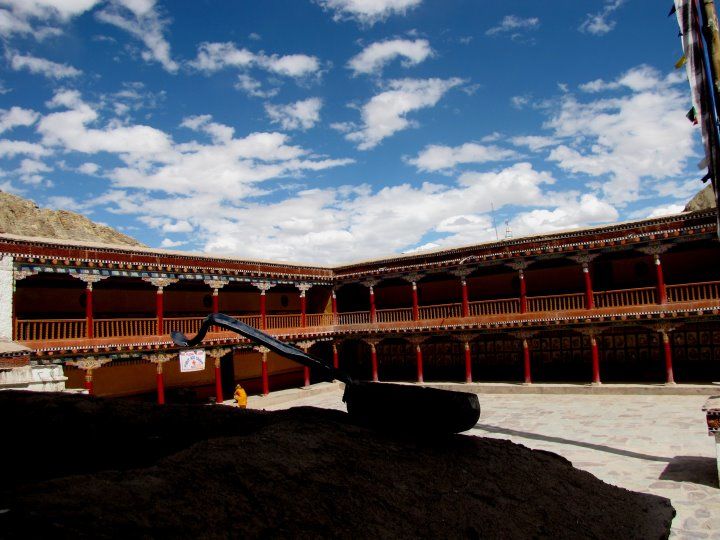 Thiksey Monastery:
Thiksey Monastery is located 19 km from Leh, the capital town of Ladakh Himalaya. It is situated on a hillock overlooking the Indus Valley with full face view of the magnificent Stok range.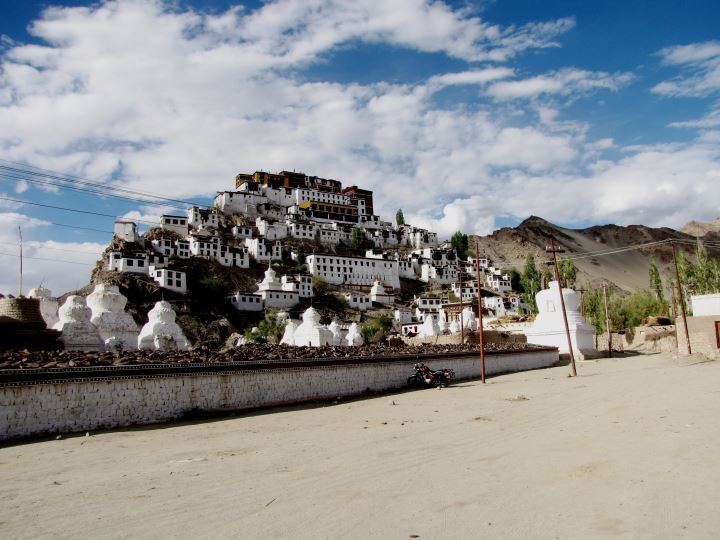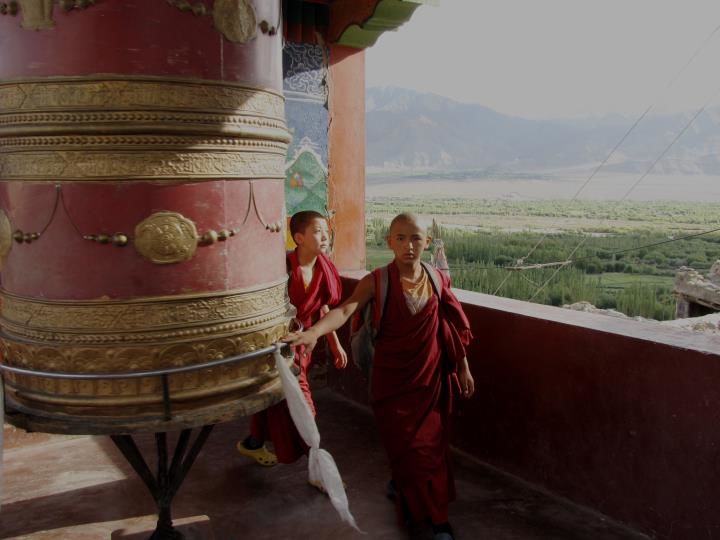 Pangong Tso Lake:
Pangong Lake or Pangong Tso (Tso:Ladakhi for lake) is a high altitude brackish/salt water lake situated in the himalaya at a height of about 4,350 m (13,900 ft). A third of the lake lies in India while two thirds of the the lake lies in China. The lake is supposedly 5 km wide at its broadest point.
Pangong Tso is about five hours drive from Leh, most of it through spectacular valleys. The road also traverses the third-highest pass in the world, the Changla pass, where army sentries and a small teahouse greet visitors. A special permit is required to visit the lake.
Khardung la:

Khardung La is a high mountain pass (elevation 5602 m) situated 37 km by road North of Leh.

It is the gateway to the Nubra and Shyok Valleys.
There are two police check posts on either side of the pass, South Pullu and North Pullu. You will need an Inner line permit to cross or visit Khardung La. The permits can be procured from the District Commisioners office in Leh. Make sure to have photocopies of your permits (at least 6), as each checkpoint needs a copy to be deposited with them. Weather is pretty volatile here, build up of snow will leave the pass unusable from several hours to days.
Due to its sheer height, the pass gives you jaw dropping views of deep valleys and narrow twisting roads and high altitude traffic jams.
Make sure to have a cup of high altitude tea at South or North pullu and a bowl of hot tasty Maggi.
I complete the climb from Leh to Khardungla which is around 40 + kms in 7 hours. It is a hot, dry day so I stock myself with enough water and food. Jagi accompanies me till some 19 kms and returns to Leh as he gets altitude sickness. So I have to do this alone, all by myself. As the day progresses, it gets really hot and dehydration starts creeping in. I say to myself constantly that I have to do this. I keep taking breaks sitting beneath rocks and telling myself what it would be like on the top. Imagine myself in that picture that I saw 8 months back. I have put a lot into this physically, emotionally, mentally ... I am not going to give it up that easy. I keep going. Some 6 kms before the pass Khardlungla my derailleur gives up and I constantly have to get down and fix the chain which keeps popping out in order to keep moving smoothly. Dehydration and now a broken cycle but there is no way I am giving it up because of all this. 7 hours into the ride and I make it to the top.
Sitting at 18,380 feet above sea level, "Just Breathe" a song by Pearl Jam playing in my ears, sipping some local tea, looking at people being overjoyed, clicking pictures, tired and exhausted but ecstatic at having reached this point on their gas guzzling bullets and SUVs. Slowly the thought that my trip from Manali to Khardungla: 500 odd km, 13 days of a grueling but spectacular journey has ended now sinks in. There is a feeling of sadness that creeps into my heart, tears roll down my eyes. I am happy at being able to achieve something that people thought was humanly impossible but sad at the same time that I have to go back to the concrete jungle, lose myself again in the crowd.
As I descend back to Leh, away from the dream which is no more one, it is now a reality that I have just lived, accomplished. I remember this quote I have heard or read somewhere"how important it is in life not necessarily to be strong... but to feel strong." and that's exactly how I feel about myself. And I promise myself that I would never let that feeling go away from me and I will do all I can to preserve this beautiful world from all kind of human intervention. Spread the awareness through my pictures , music , anyhow. I owe this atleast to these beautiful landscapes for their hospitality and magnificent beauty which motivated me to achieve this feat.
Here is a a short video of the trip: