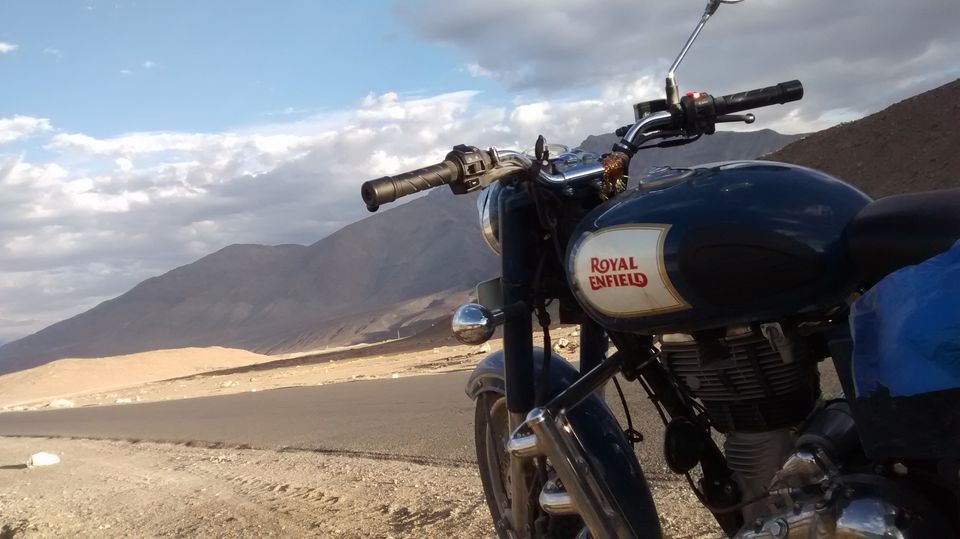 Leh-LADAKH(Hallucinatory mind-boggling psychedelic place on earth) (2nd July 15 - 15th July 15)

So, if it has to be a road trip in India that's to be lived in memories for a lifetime, it has to be LADAKH! The colorful monasteries, steep curves, snow-topped peaks, double humped camels, burning sun, freezing winds and a destination that comes straight out of the world of fantasies. Bordered on the northwest with Pakistan, north with the Chinese province of Sinkiang and east with Tibet, stands this GIANT kingdom.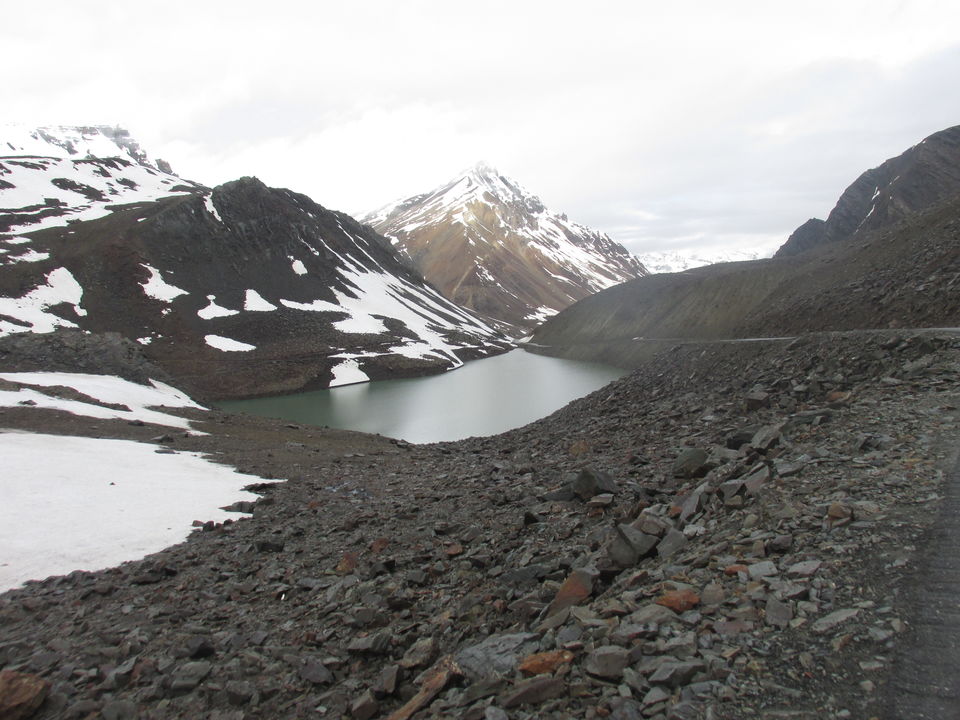 So, before I start writing about the heaven let me introduce myself. Other than being an Engineer and working for some IT firm, I am a traveler, foodie, socialite, devil-may-care guy.
I have left my job for this trip as I don't want to be disturbed.
Though I love being with friends but for this trip I choose to travel alone (just wanted to explore on my own). There are basically two routes for Manali to Leh
Manali-Rohtang Pass- Sarchu- Leh :- Shorter route, more adventurous. Around 450kms.
For going to leh I took the 2nd route and while coming back to Manali the 1st. So I have covered whole terrain. Benefit of following this is being 1st route little harder to drive you have already drove around 1500 kms and you are confident enough to drive on that route. Most of the people get back from Sarchu as that route take the hell scared out of you.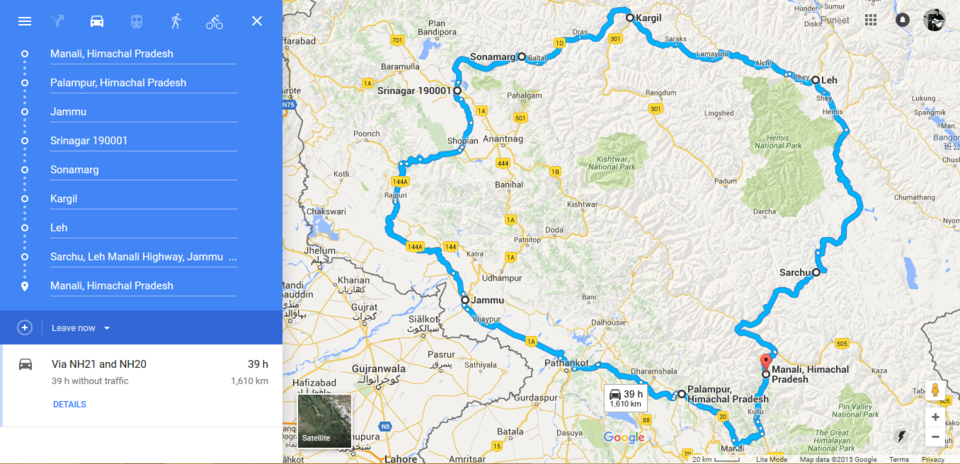 Itinerary for Leh-Ladakh
Day 1:- Bangalore to Chandigarh (9:20 am flight.) reached at 14:10.
I had a bus from chandigarh to Manali at 11 pm at night so I got some time to check out places in Chandigarh. I stayed at sector-45 as it is near to bus stop. In chandigarh you can see sukhna lake, elante mall, sector-17 (chandigarh di kudiya ufff…..).

Many buses are available from chandigarh to manali.Try to opt bus which will drop you Manali early so that you can start your journey ASAP.
Day 2:- Reached Manali at 7:00 am. Fresh up there and rent a bike. (Kapil- +91 9816197256, I hired the bike from him. Nice guy helped me in everything and pick me up also from manali bus stop ;) )
Note: - Before starting the journey make sure you buy bike gear stuff, taurpaulin, 2 five liter cane for extra petrol.
Started for Palampur (180 kms).Route Manali-Kullu-Diyar-Suran-Palampur. (There are other route option also but this route has more scenic beauty). Road condition is little bad but absolutely drivable. Stayed at Palampur overnight.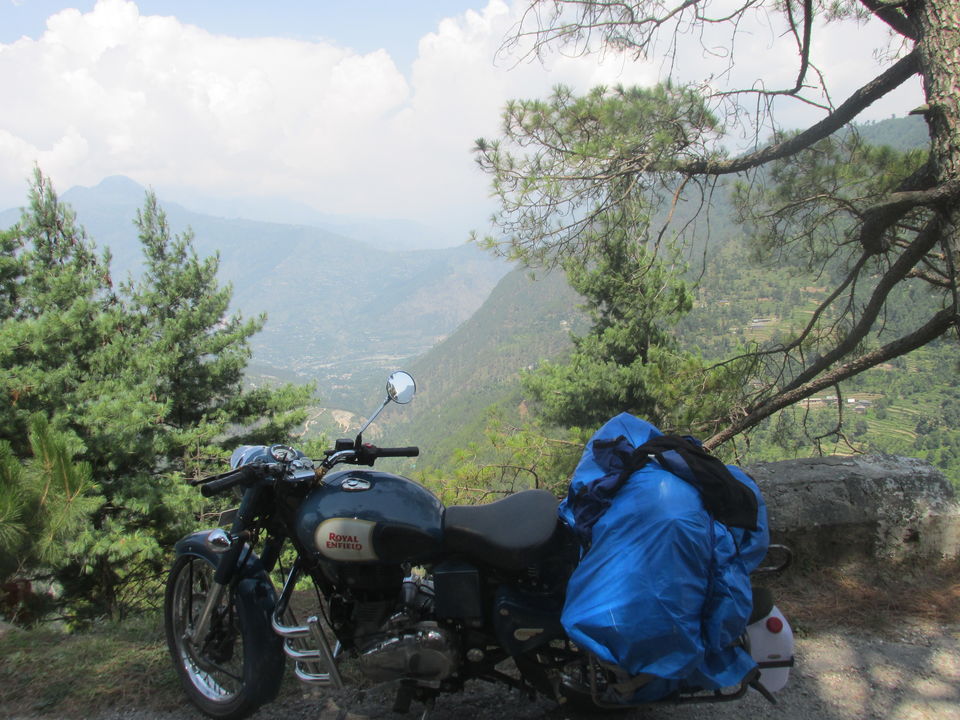 Day 3:- Started for Jammu (220 kms) via Pathakot. The road till Pathankot is single lane, but from Pathankot to Jammu is highway. Reached in afternoon and took rest for the day.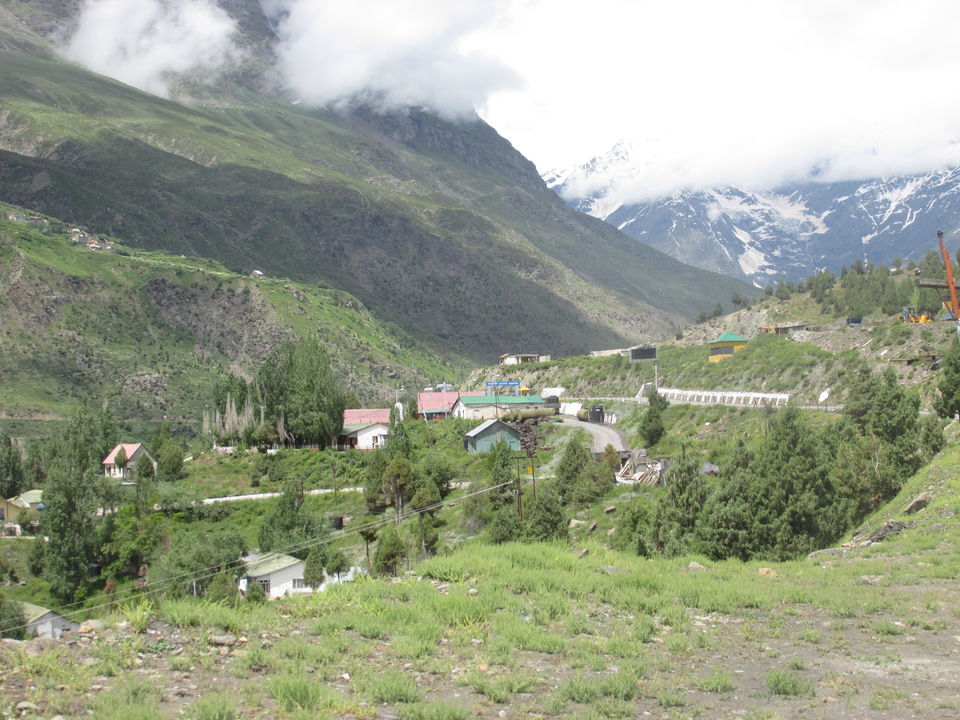 Day 4 (5th July):- Started for Sonamarg (370 kms). Beautiful terrain. Crossed Udhampur, Patnitop, Anantnag, JawaHar tunnel, Srinagar. Make sure you start very early from Jammu as it's a long journey and the roads also are not that well at few places. This was a very tiring day but the beauty which follows all the way won't let you feel it.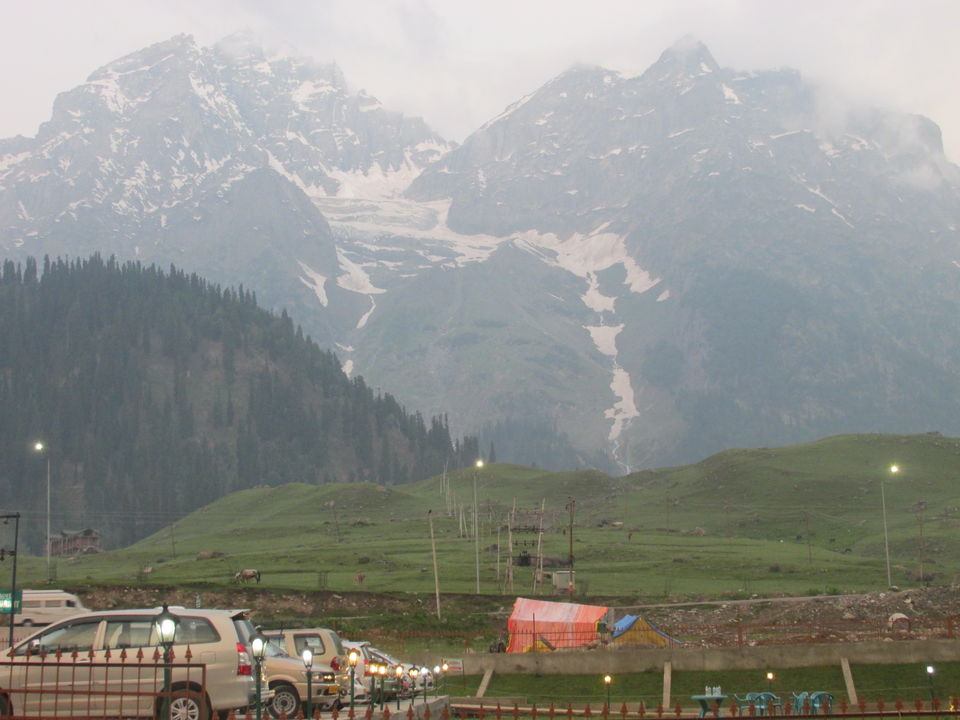 Day 5 :- Started for Leh via Kargil (340 km). Route from Sonamarg to Dras has no proper road. But you will cross Zoji la pass, Zero point, parts where Kargil war affected most which are epic.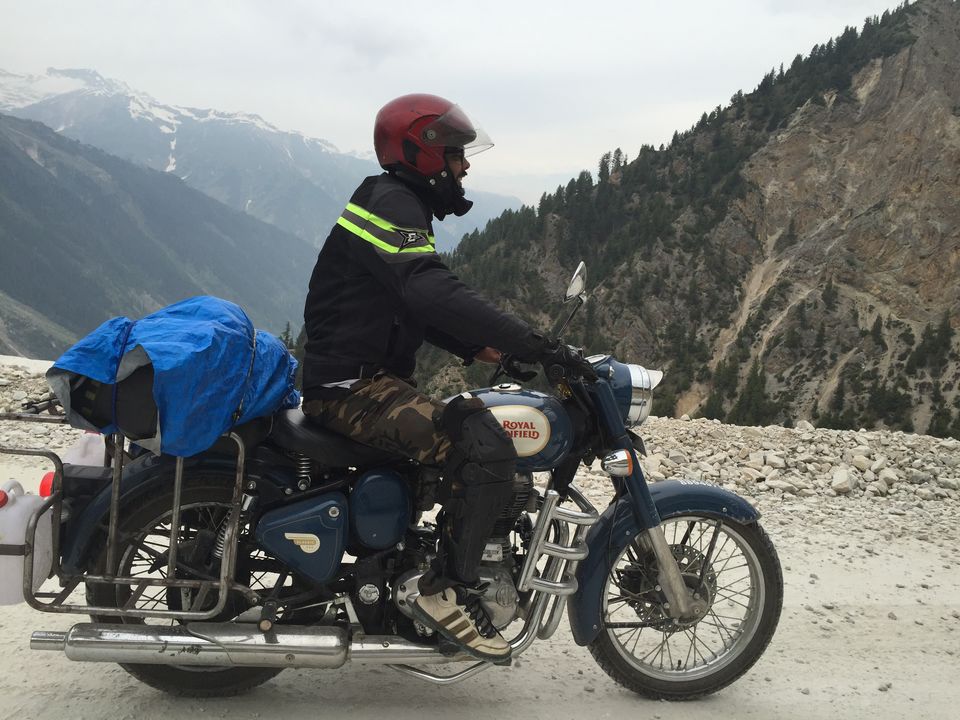 Dras to kargil is one of the best road you will find in this terrain. A heavy flowing river on one side and mountain on the other with not even a single pothole on road. You can have your lunch at Army canteen Kargil , hygienic and well maintained plus you can talk to soldiers , as they have lot of inspiring stories to share.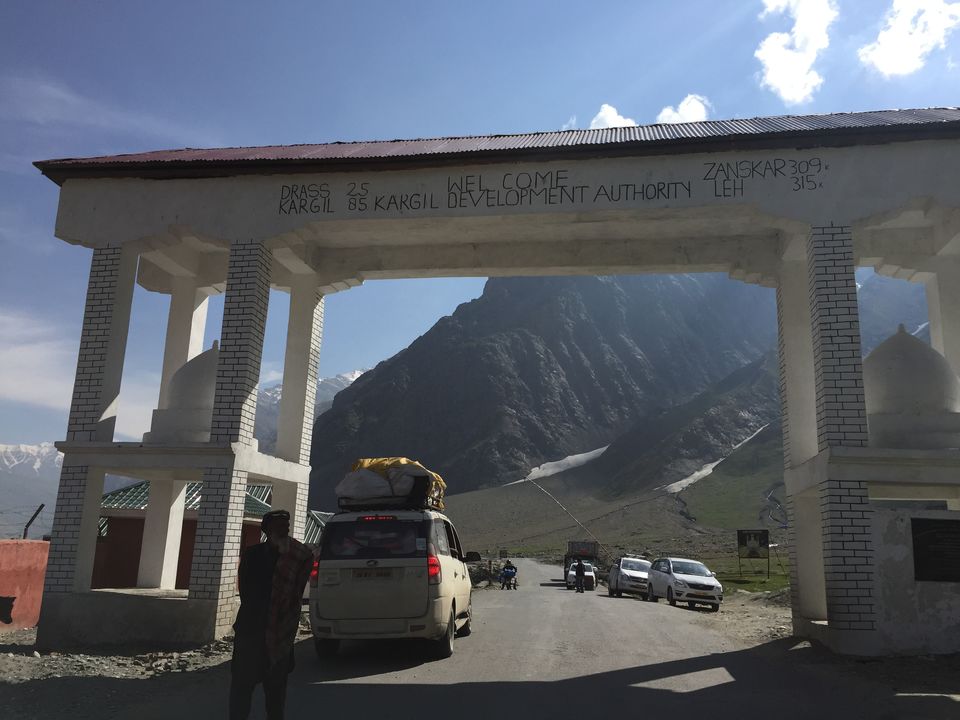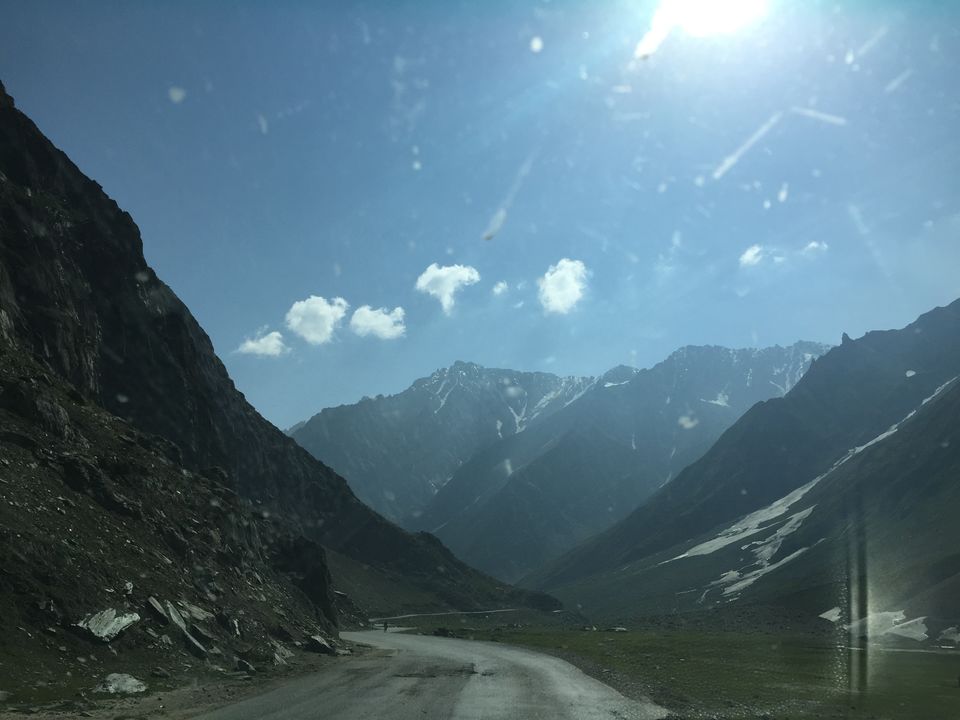 Kargil to Leh is all mountainy route. After crossing all this you will enter Leh city (immense happiness). I entered Leh after sunset so just checked into hotel and called the day off.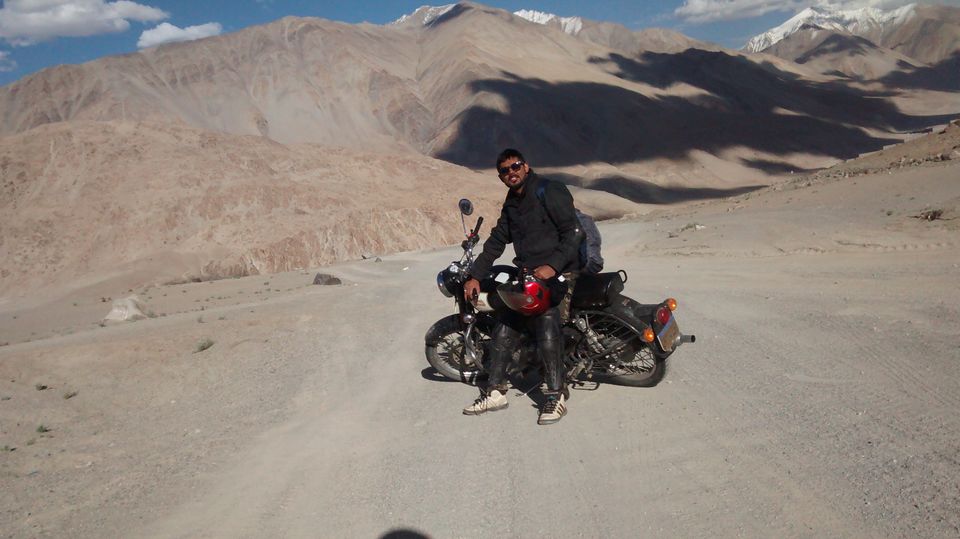 Day 6:- Stayed in Leh to acclimatize altitude.
Note: - Start taking Acetozolamide medicine for AMS (Acute mountain sickness) from a day before you reach Leh. Take 3 tablets a day after food. It's very important as it may result ruining your whole trip.
Life at Leh is characterized by intense spiritualties. When you are here, visit the monasteries of Alchi, Diskit & Hunder, Hemis, Lamayuru, Shanti Stupa, Spituk, Thiksey etc. Another thing to look here is the priceless antiques and art. You might even bump into students from different parts of the world, studying Buddhism here.
Try food of Tibetan kitchen, bon Appetite, KC garden.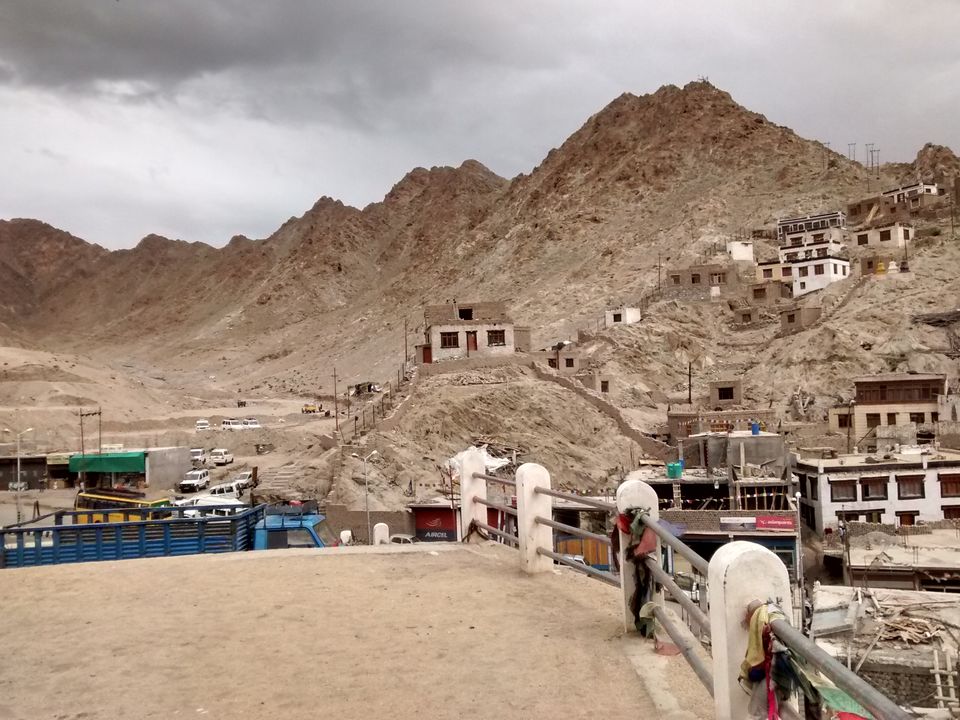 Day 7:- Started for Pangong Lake (160 Kms) located next to China border. Start early in morning as melted water from ice above the mountains start coming on roads in good amount. The road condition is too bad but adventurous. You will cross Changla pass(world's 3rd highest motor able road). Pangong Tso Lake is one of the best gift of nature. Absolute blue water, stunning night sky and camps there are too awesome. You would be awfully smitten by the beauty of this "3 idiot's" lake.

Note:- Pre book the camps from Leh itself.
Day 8:- Back to Leh.
Day 9:- Started for Nubra Valley (140 kms). Same for this route as well, start early. You will cross Khardungla pass, and feel proud to be at the highest motorable road of the world. Speak to the military men on the route, they have some mind boggling stories to share and then head to the Nubra valley. The major attractions here are White sand dunes and double humped camels for ride. You might remember Bhag Milkha Bhag scene where Farhan circling on sand. Stayed there in camp.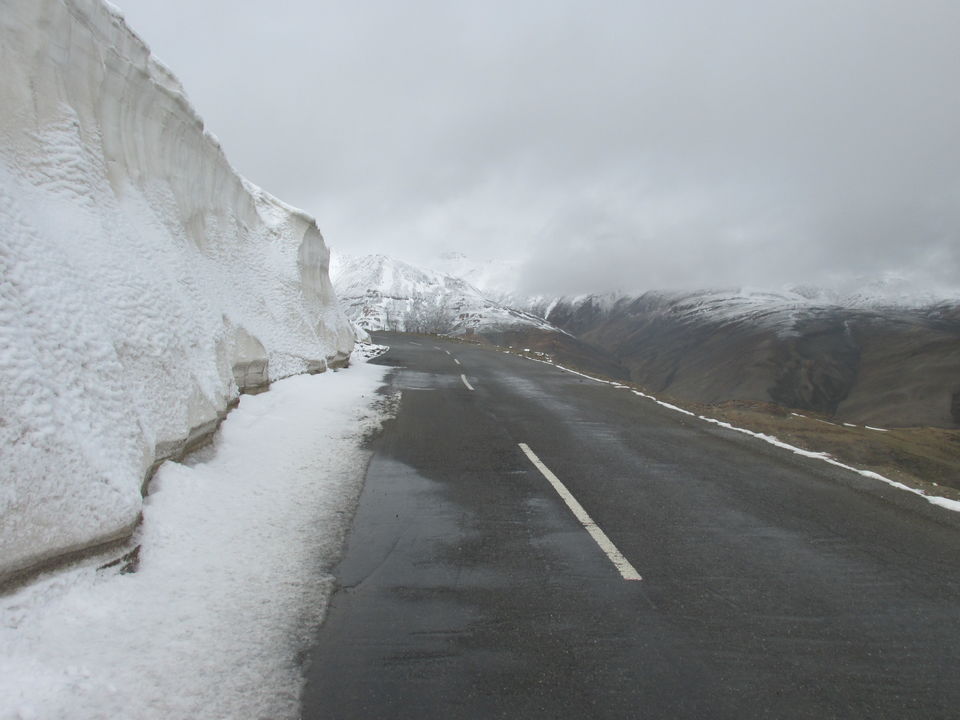 Day 10:- Back to Leh. One of adventure happened on-route was there is a big waterfall that fall on road itself. An eco-car was stuck in that, and I and one cab driver took it out after 2.5 hrs. Of efforts. Water temperature is freezing so after 10 mins I dint feel my legs.
The best thing about this terrain is the people who live there. I have never saw so much helping and caring people anywhere. There are lot of incidents happened that proves it.
Note: - Pre book the camps from Leh itself.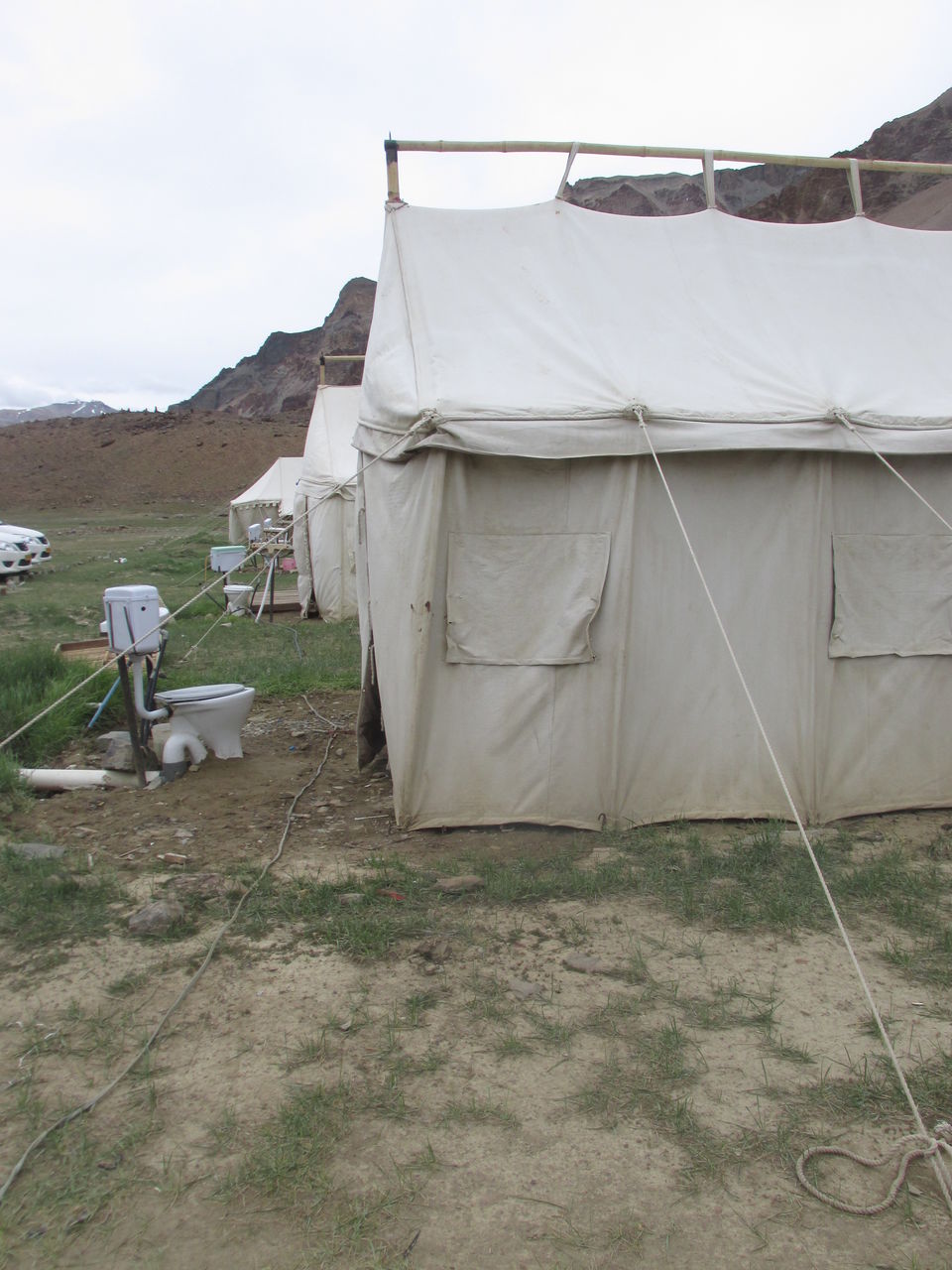 Day 11:-Rested in Leh. Was supposed to leave for Sarchu next day but as I was not wearing helmet in Leh, traffic police caught me and they took the bike.
Next day I appeared at Leh Court, begged to judge and he left me for 200rs. penalty. And my trip got extended for one more day.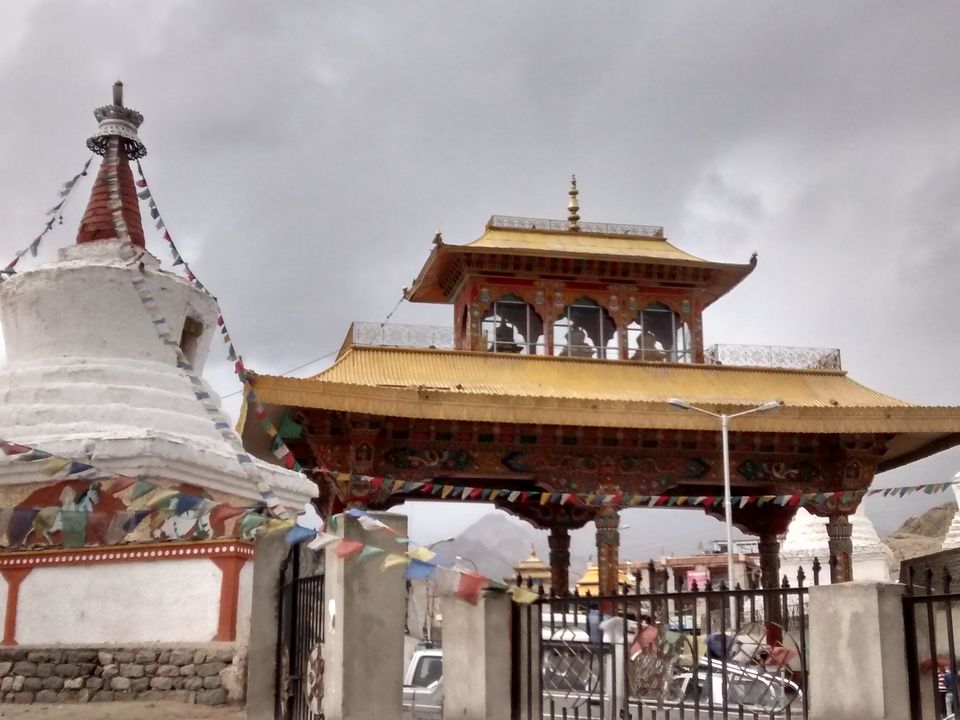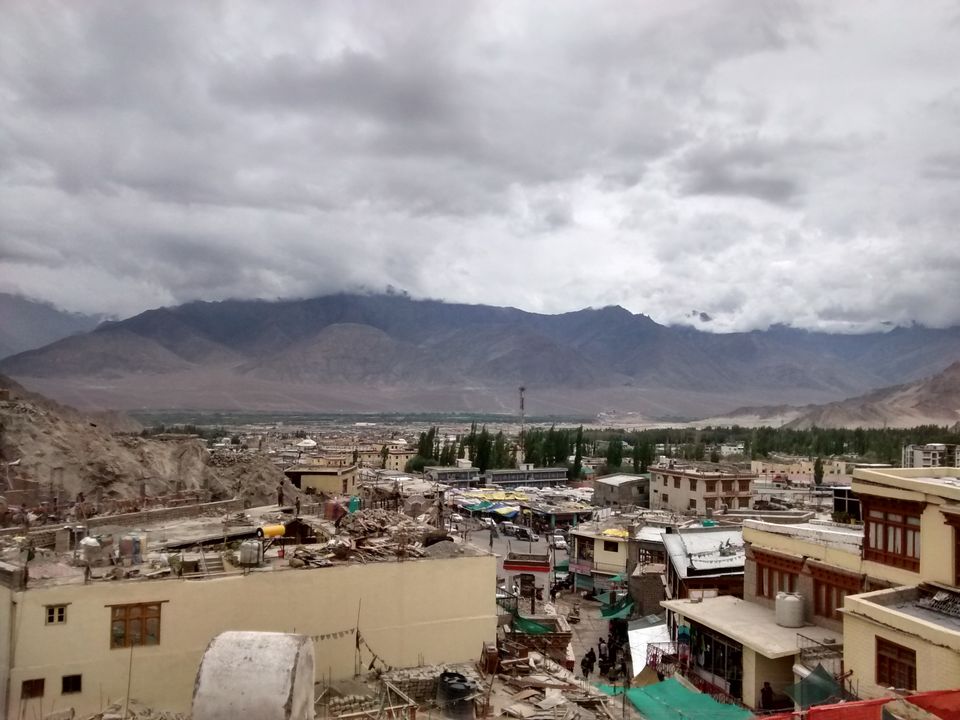 Day 13:- Started for Sarchu (251 Kms). This is one of the most beautiful terrain. And you will cross Taglang La pass which is world's 2nd highest motorable road. Camps at Sarchu are in mid of mountains and weather is extremely cold at nights.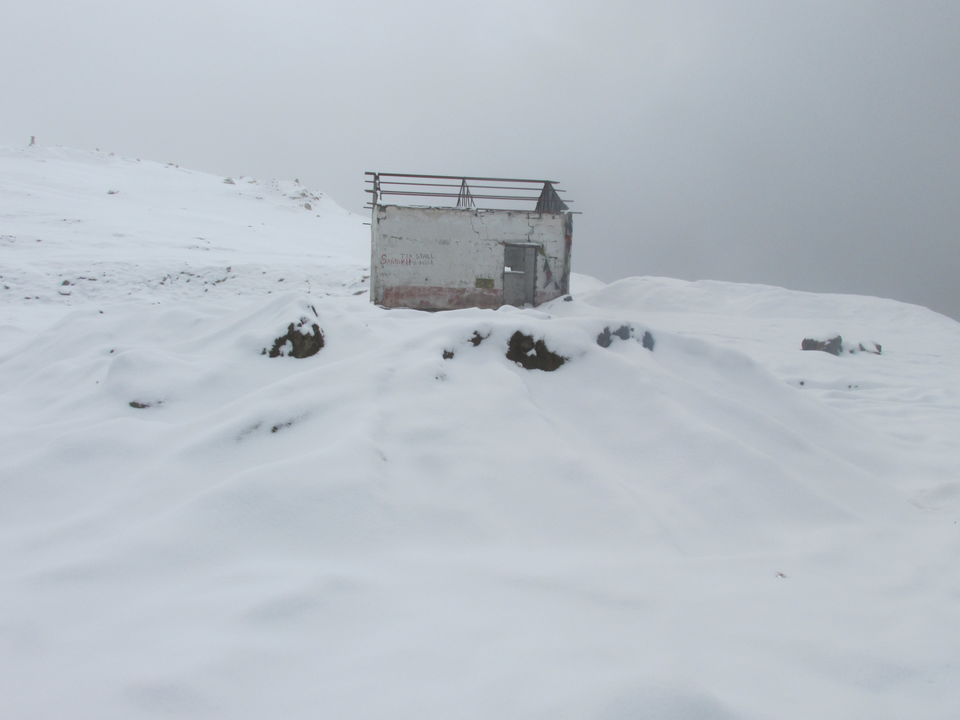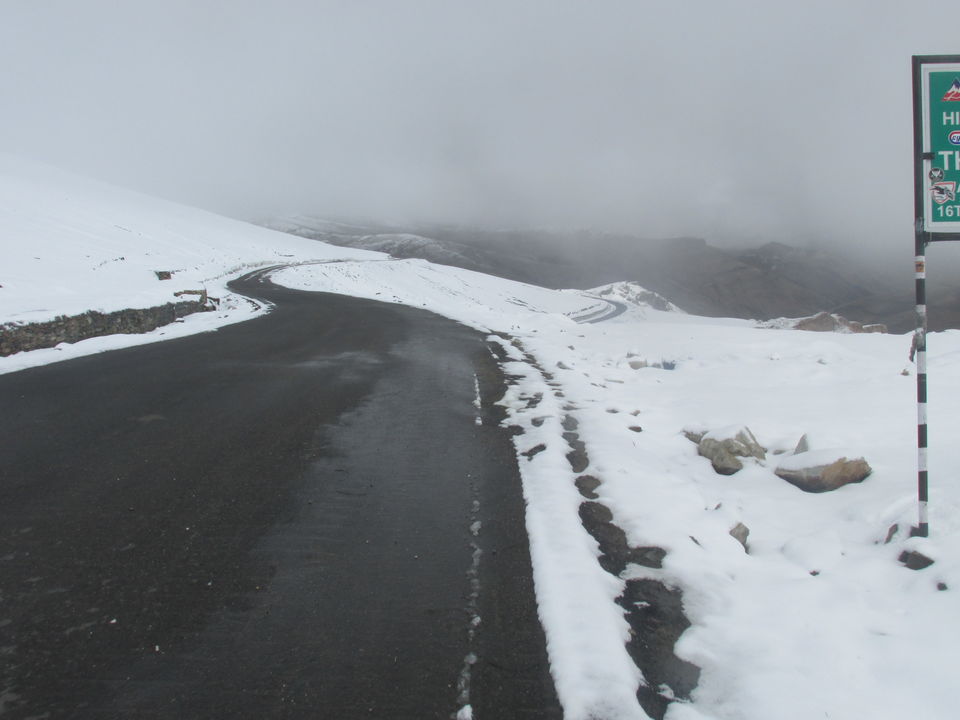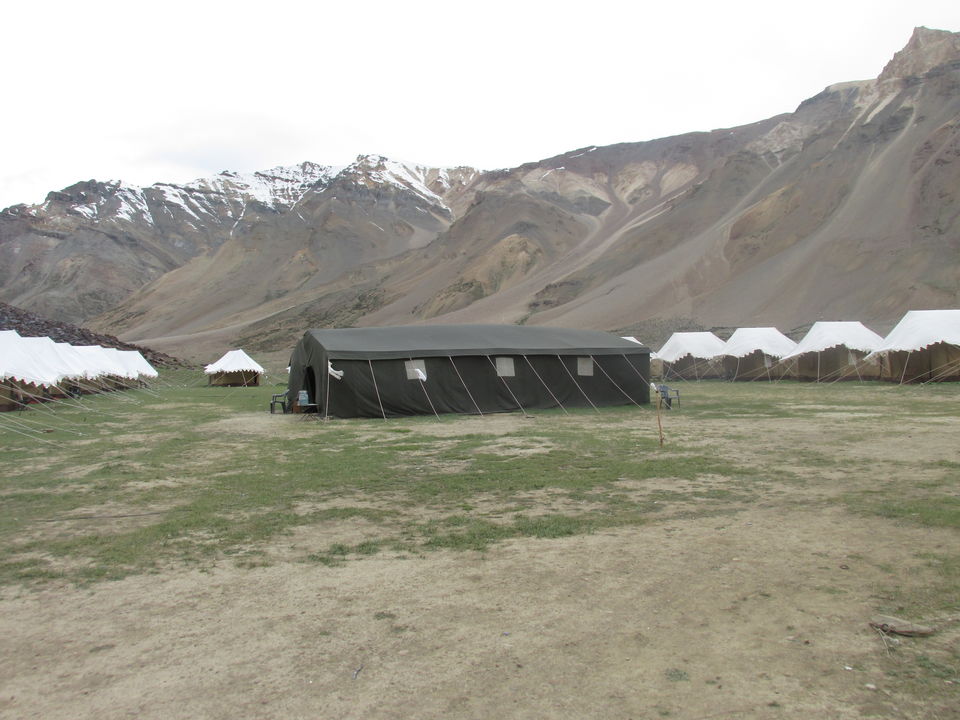 Day 14: Reached back to Manali crossing Rohtang pass(260 kms). This road is too adventurous. Rivers to cross, muddy roads, heavy flowing water on roads. "All's well that ends well".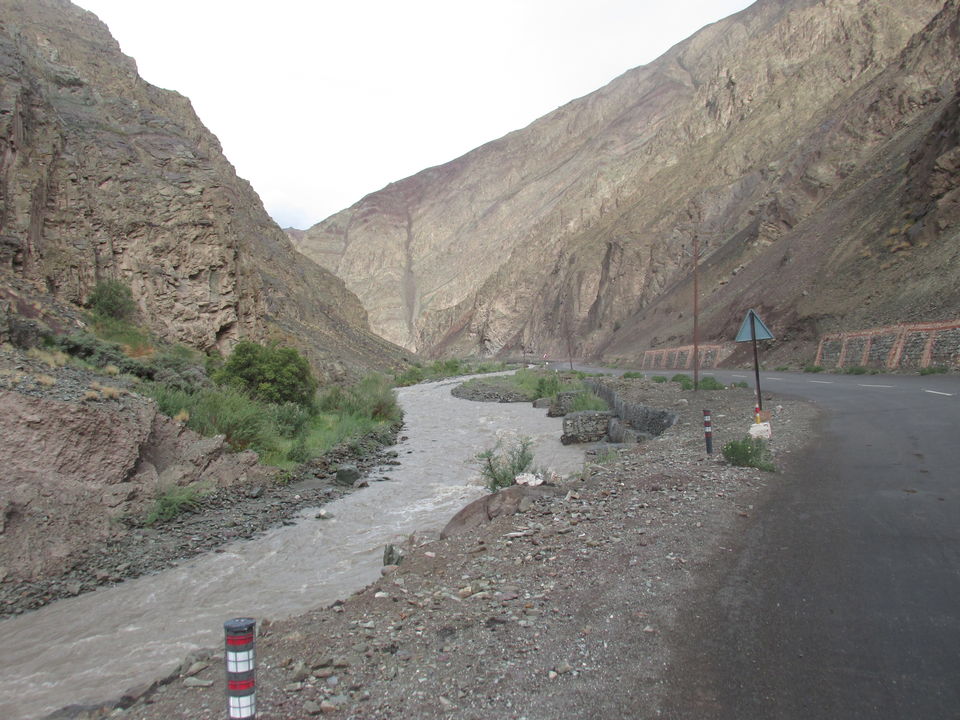 Things you may need during the trip:-
Medicines and cosmetics:-
ORS
Crocine
Disprine
burnol
Bandade
Digene
Eno
betnovate
Acetozolamide
Lip guard
Sunscreen
Paper soap
Face wash
Face wipes
Mouthwash
Tooth brush
Tooth paste
Hand Sanitizer
Other accessories:-
Woolen socks
Full sleeve t-shirt
Thermal inner ware
Biker's jacket and gloves
Knee guard
Cargo pants
Power bank