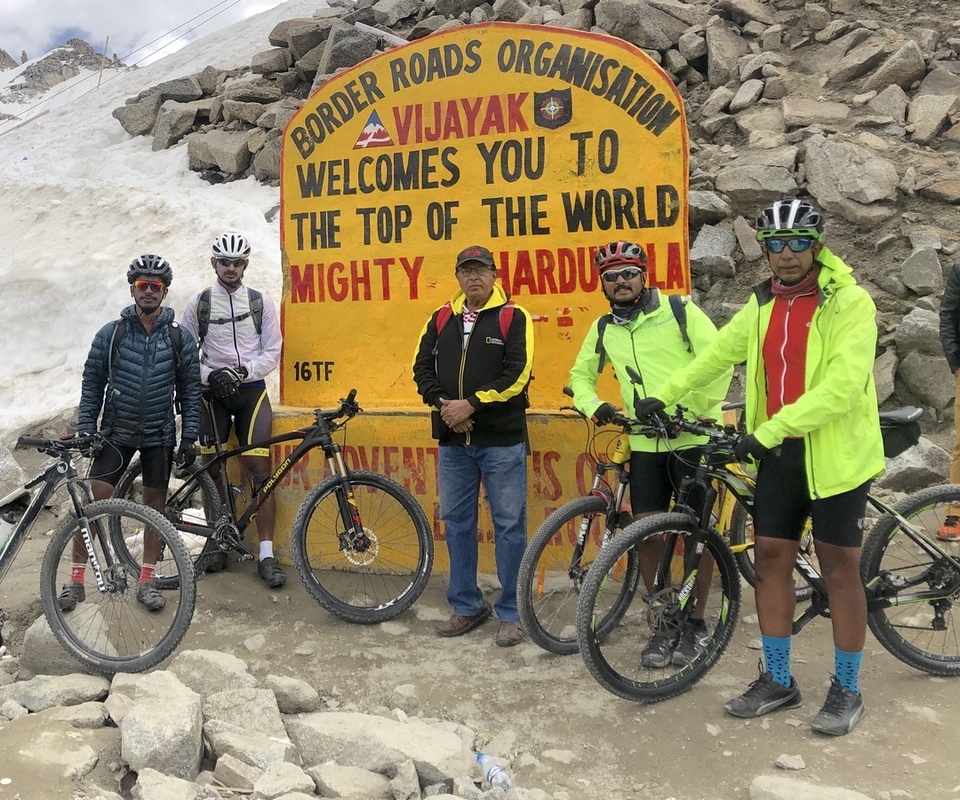 We were 5 members Dr Shankar, Balu,Yashas, Vinay(Myself) as riders and Babu uncle for supporting us throughout tour with equal challenges, we call him as Babu mama.
Bangalore - Delhi, we had booked Air India flight @10:30 AM, we packed our bikes and make sure we reach Airport by 9AM, we reached as per plan but as usual Air India flights never starts on time there was a delay of 1hr, we roamed inside and took photos, after 1hr we got another announcement of 1hr delay, it's now 12:30 we expected to reach Delhi by 4:30, so that we have a buffer of 2 hrs. to catch manali bus booked @ 6:30 PM from Delhi. Now we got an announcement that flight is delayed for some more time. We were like almost messed with our plans and thinking what to do next if we miss manali bus?. Then our team lead by Balu went and complained Air India team, they arranged lunch as bribe to cover their delay. Anyhow Lunch was pretty good, just after lunch we had an announcement that flight will be departed in 15 min. We finished our lunch and boarded flight. Finally, flight started@1:10 PM, we arrived to Delhi by 5PM, Now challenge with us is to collect bikes from luggage bay and catch metro to reach Old Delhi, finally we reached old Delhi by 6PM, took local car to reach Manali Bus stand, it was exactly on time boarding our luggage's onto bus with relaxed breath. Bus started on time, he stopped to have dinner in-between around 10pm near Highway Dabha, we had Beer, Roti and Dal charges were almost double, light dinner with heavy price. After that we don't know anything till morning 5 AM ,we just remember when he stopped @Kullu for coffee break.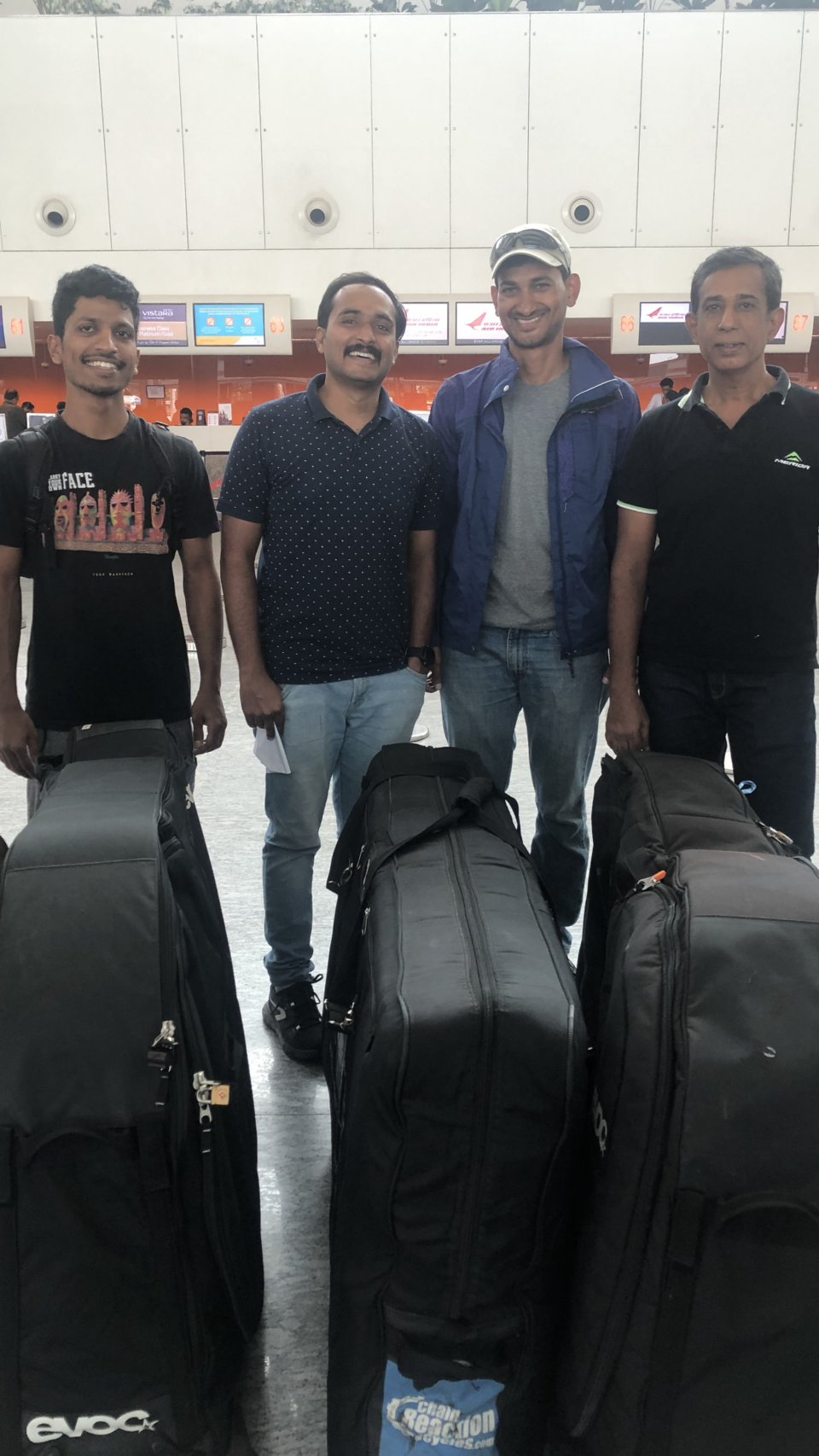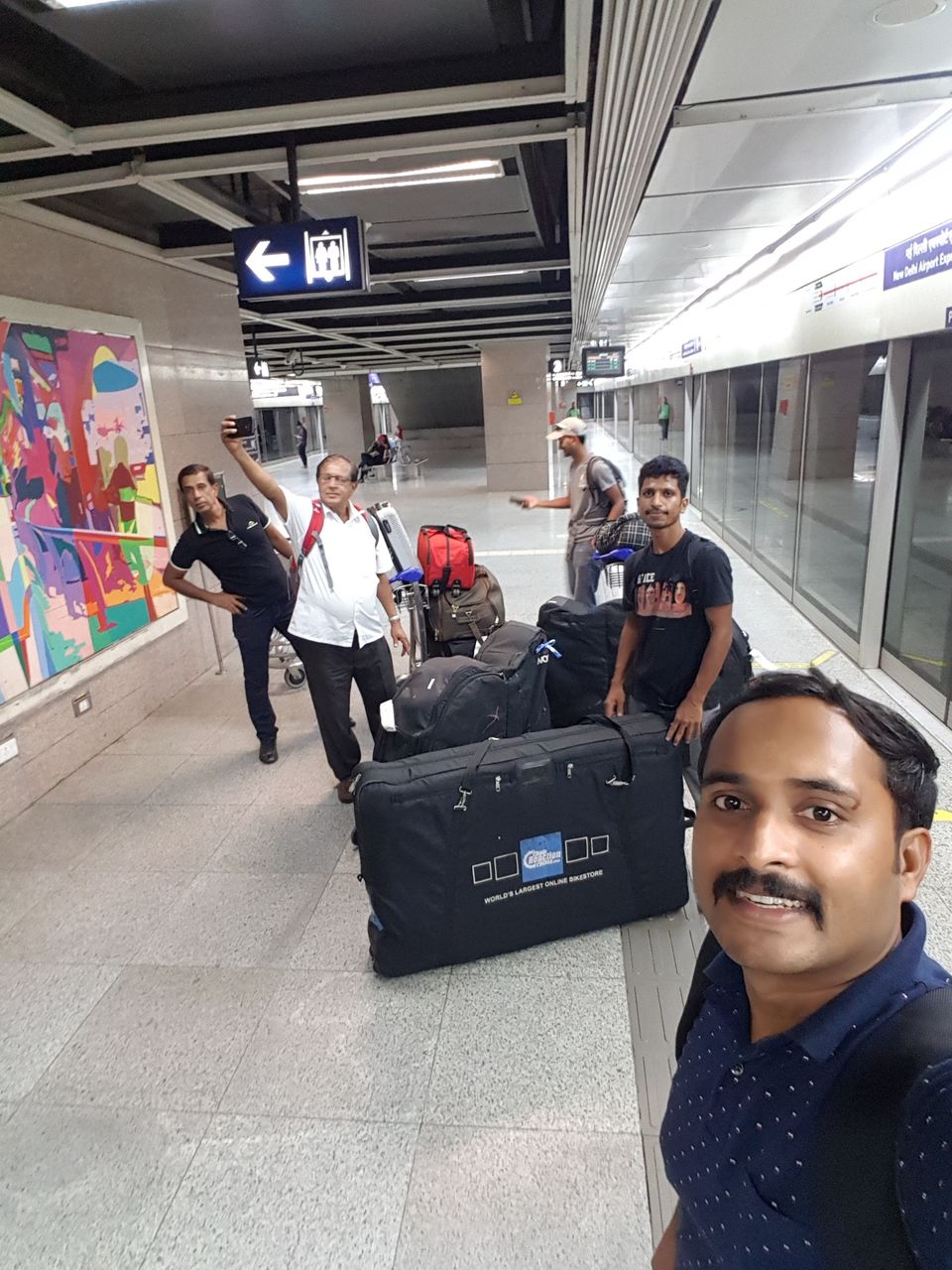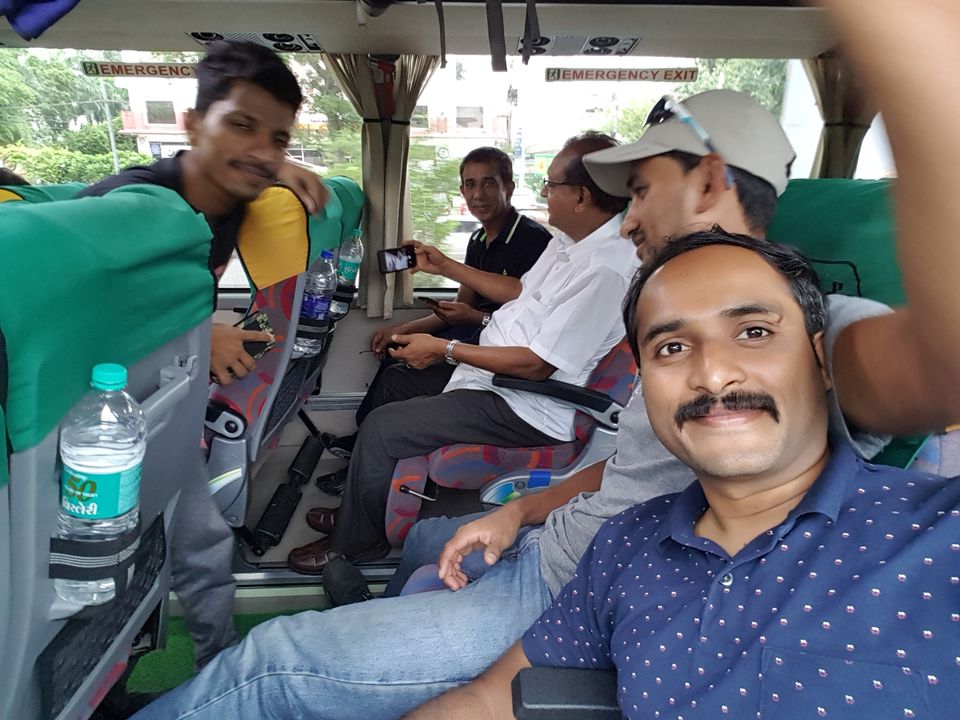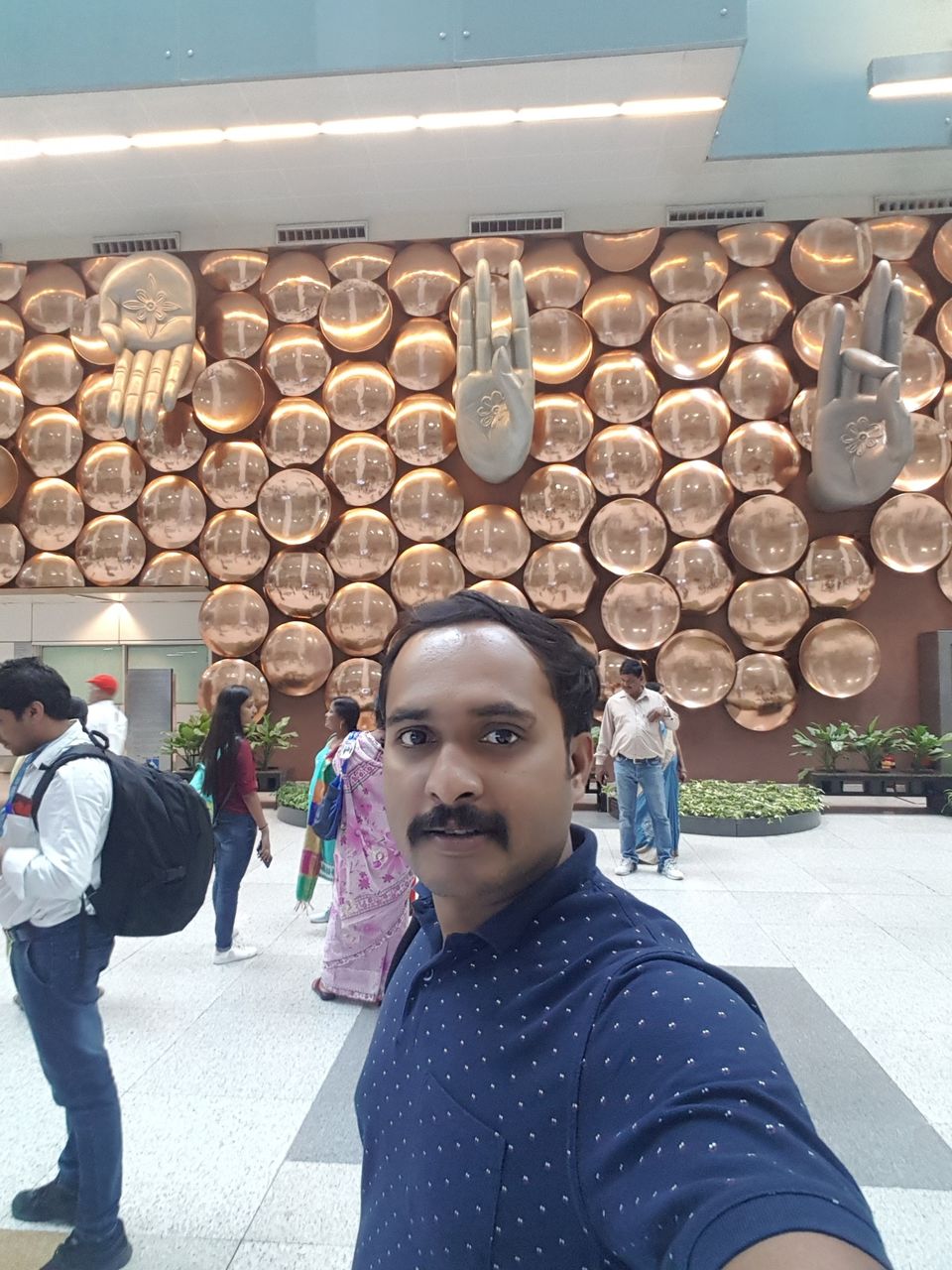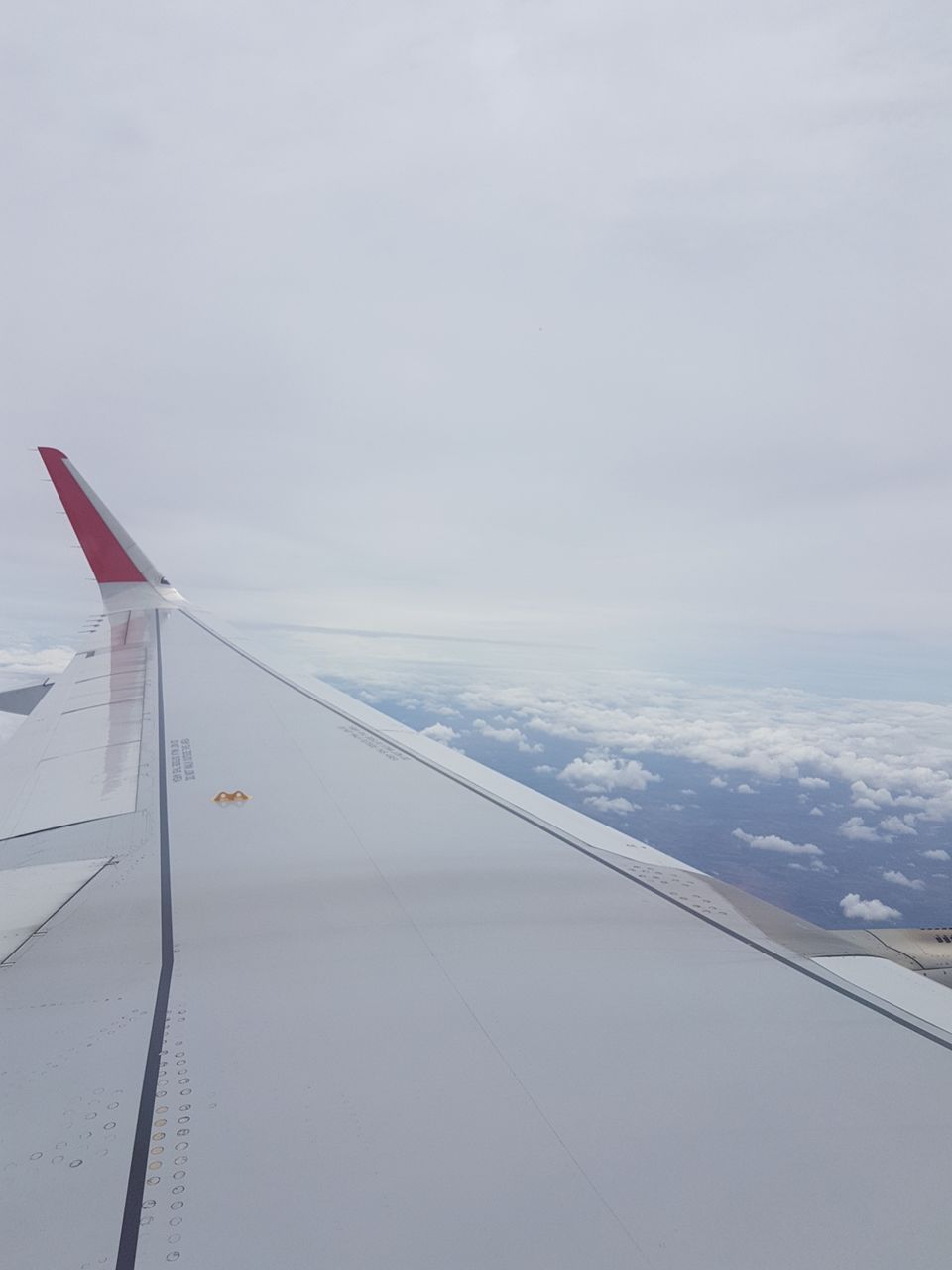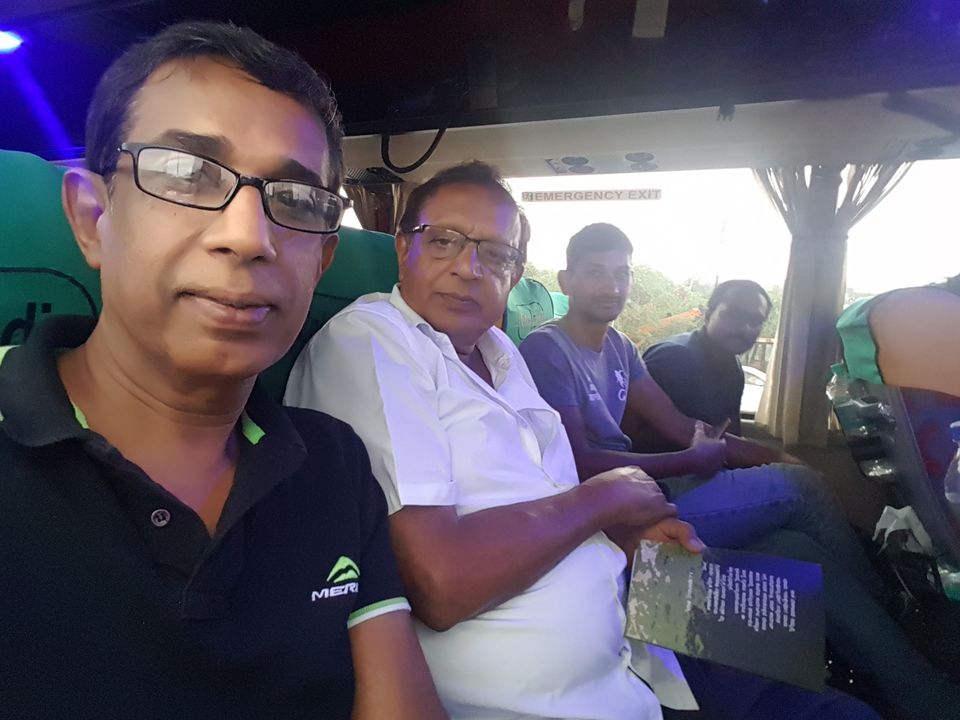 Wah!!, A panoramic view of mountains and a river between mountains was a breath taking.
We unloaded our bikes from bus and moved towards hotel, hotel located near to town, food and stay was decent. we had enough space around to assemble our bikes.
Our next agenda was to get our Jeep and my MTB from our Manali friend Vikas who arranged for us on Rental basis. We received Jeep and bike by noon.
We went for local site seeing and witnessed a wonderful restaurant "Himalayan Trout Fish Farm & Restaurant Manali" for lunch who cooks live wish just taken out from water in front of us and we enjoyed lunch with beer.
It was raining in the evening and we drenched as we went out for shopping, started assembling our bikes to start our epic journey towards leh.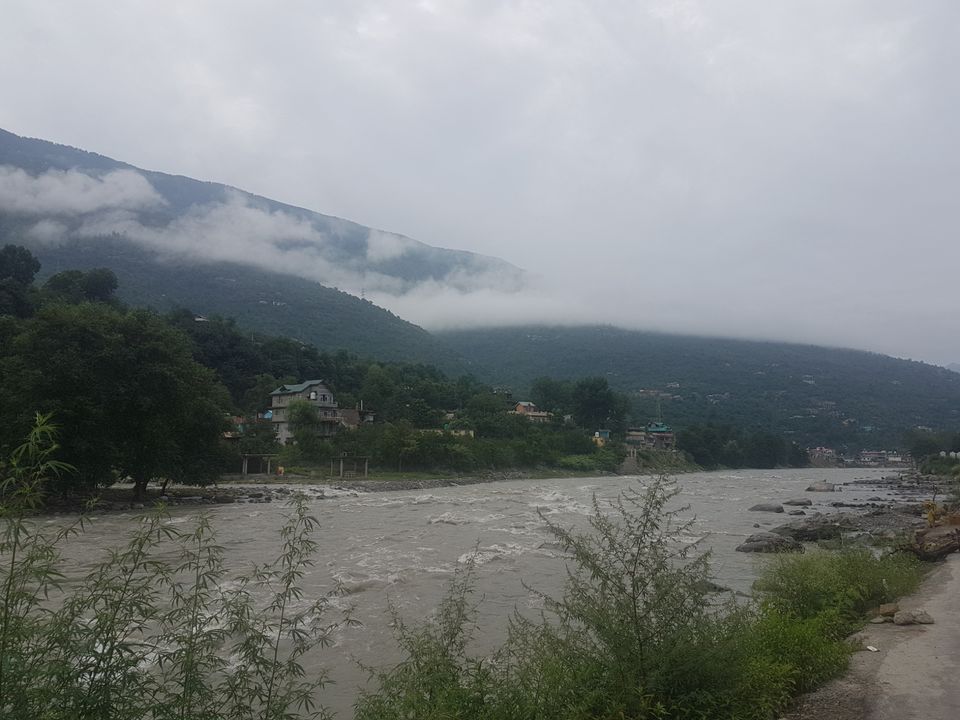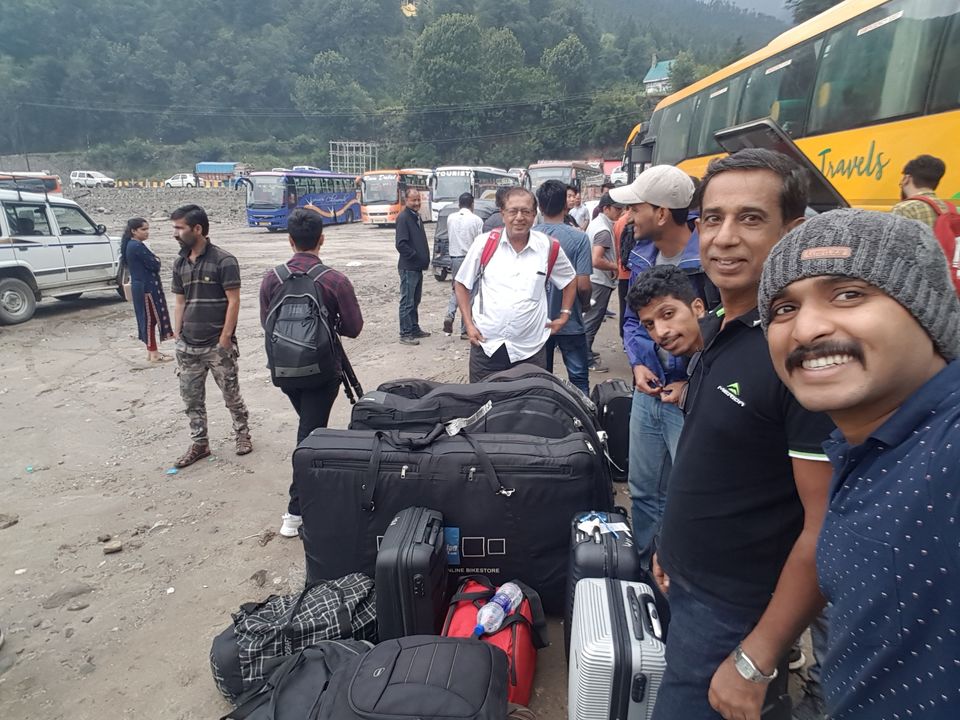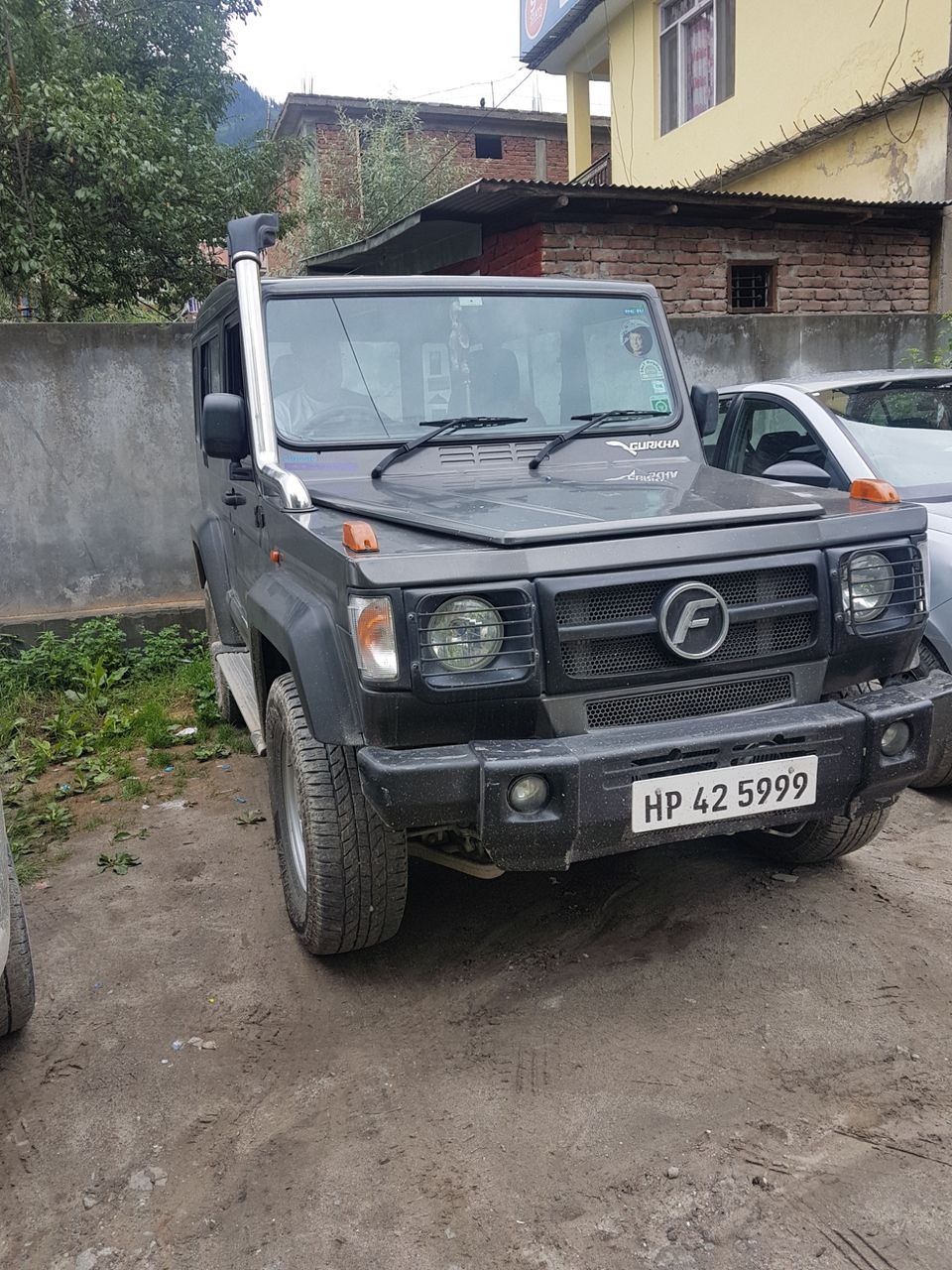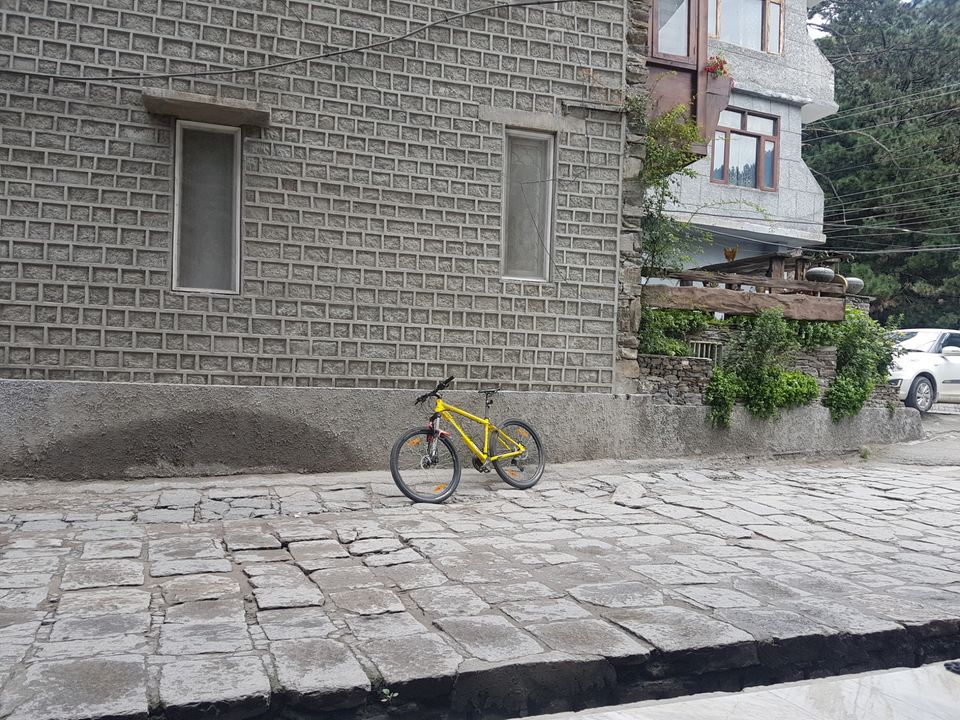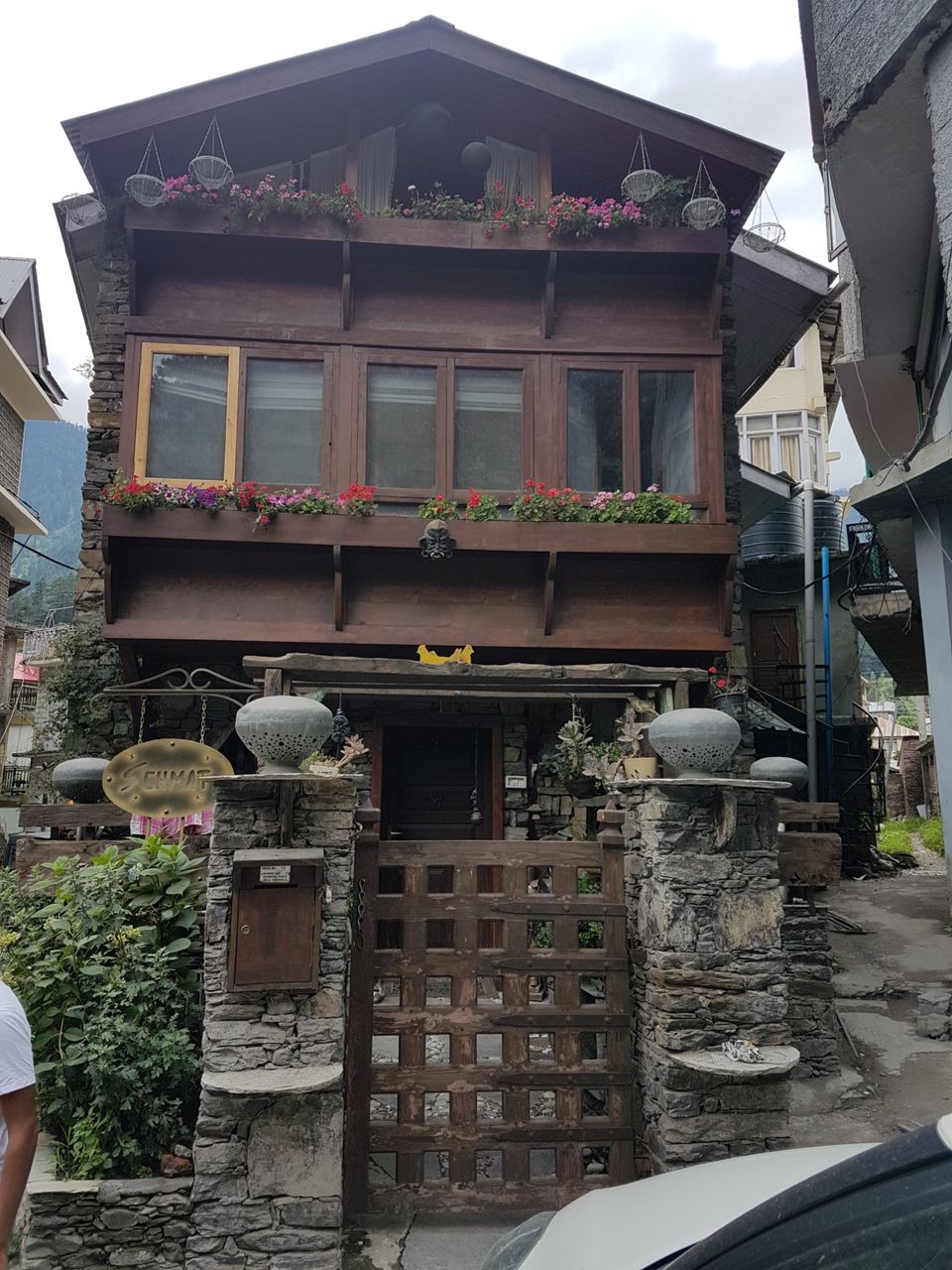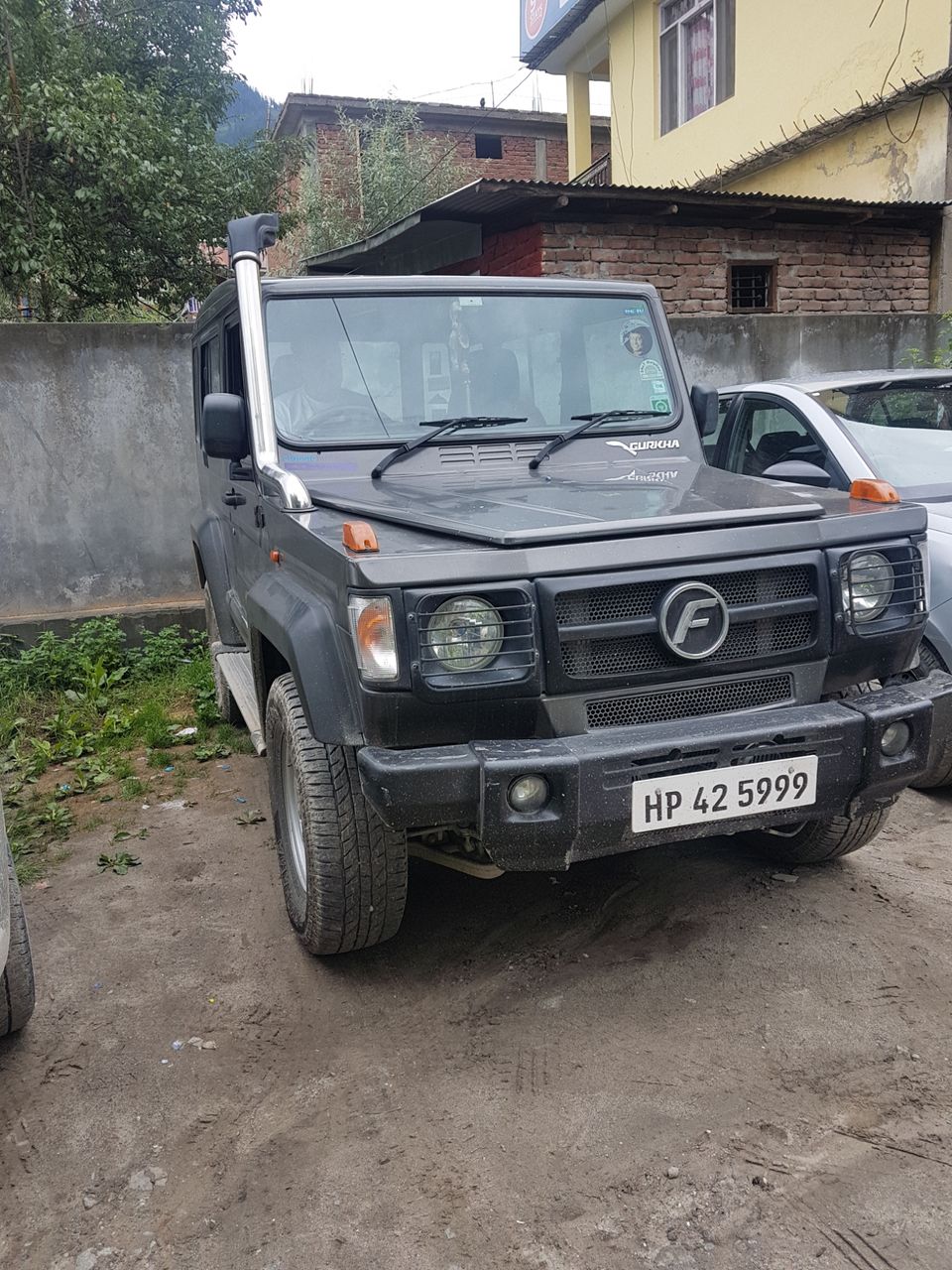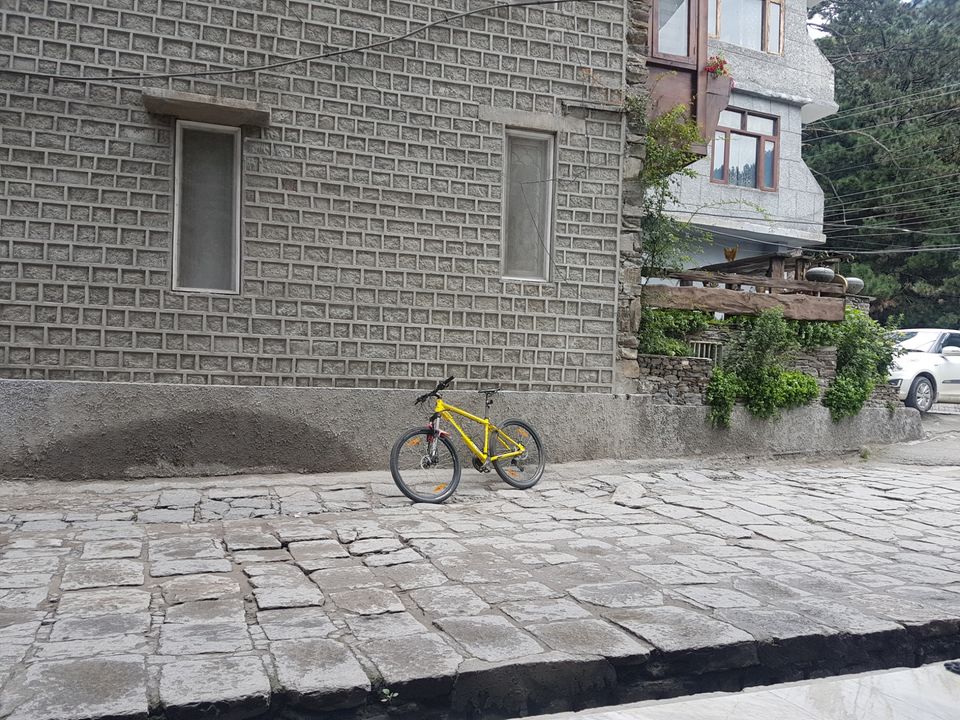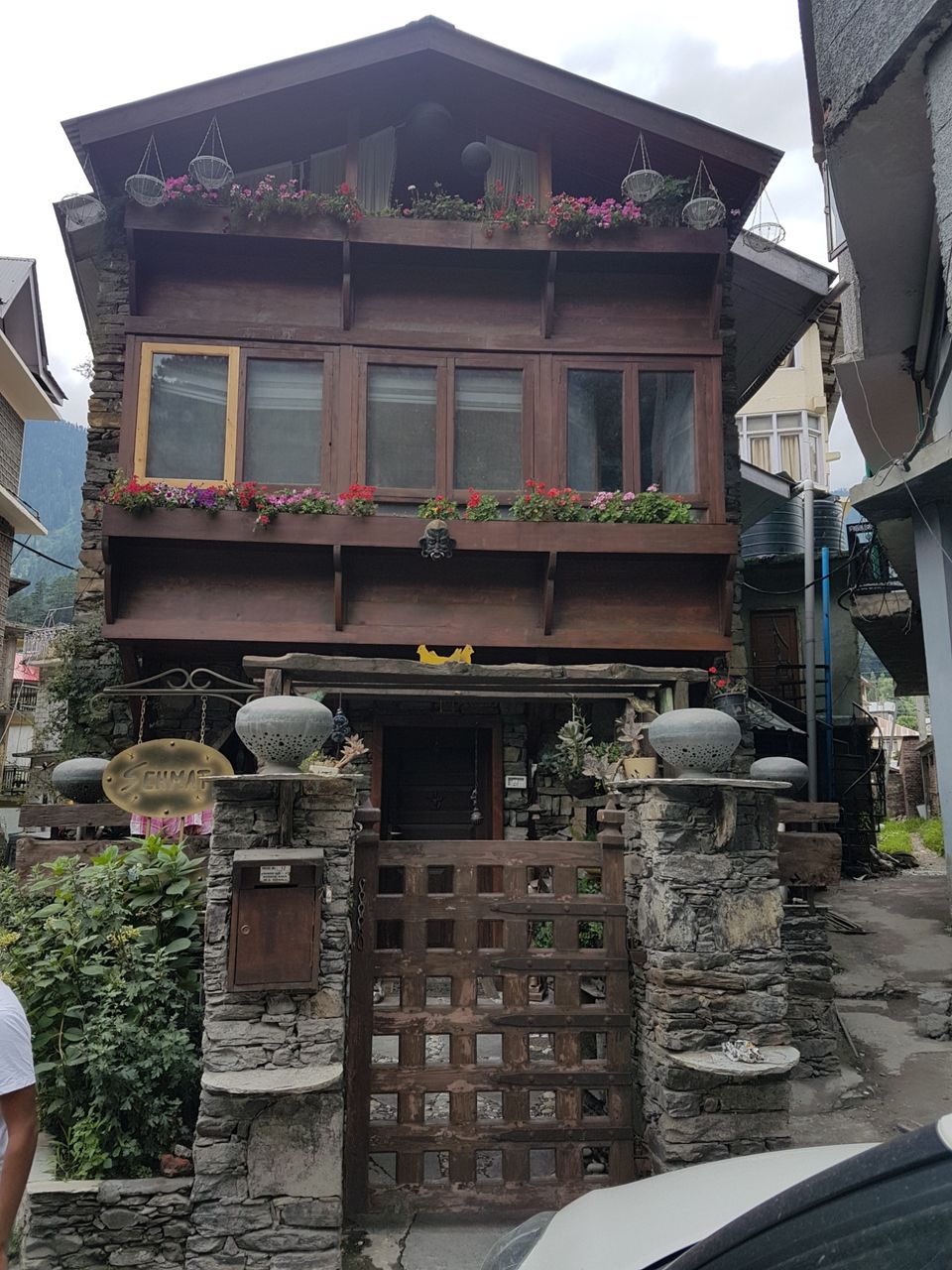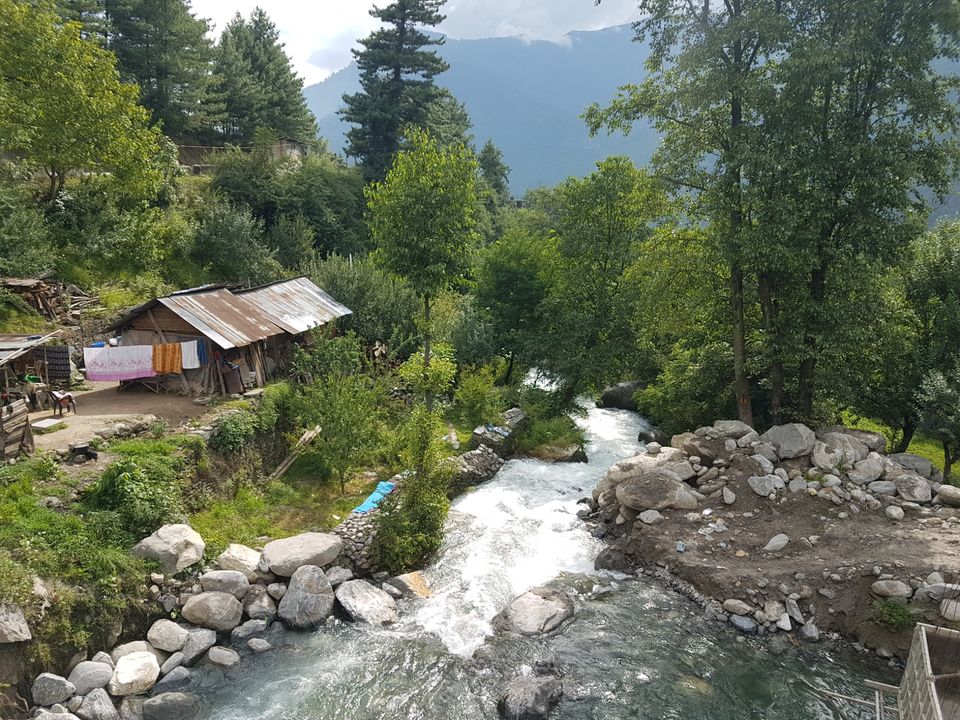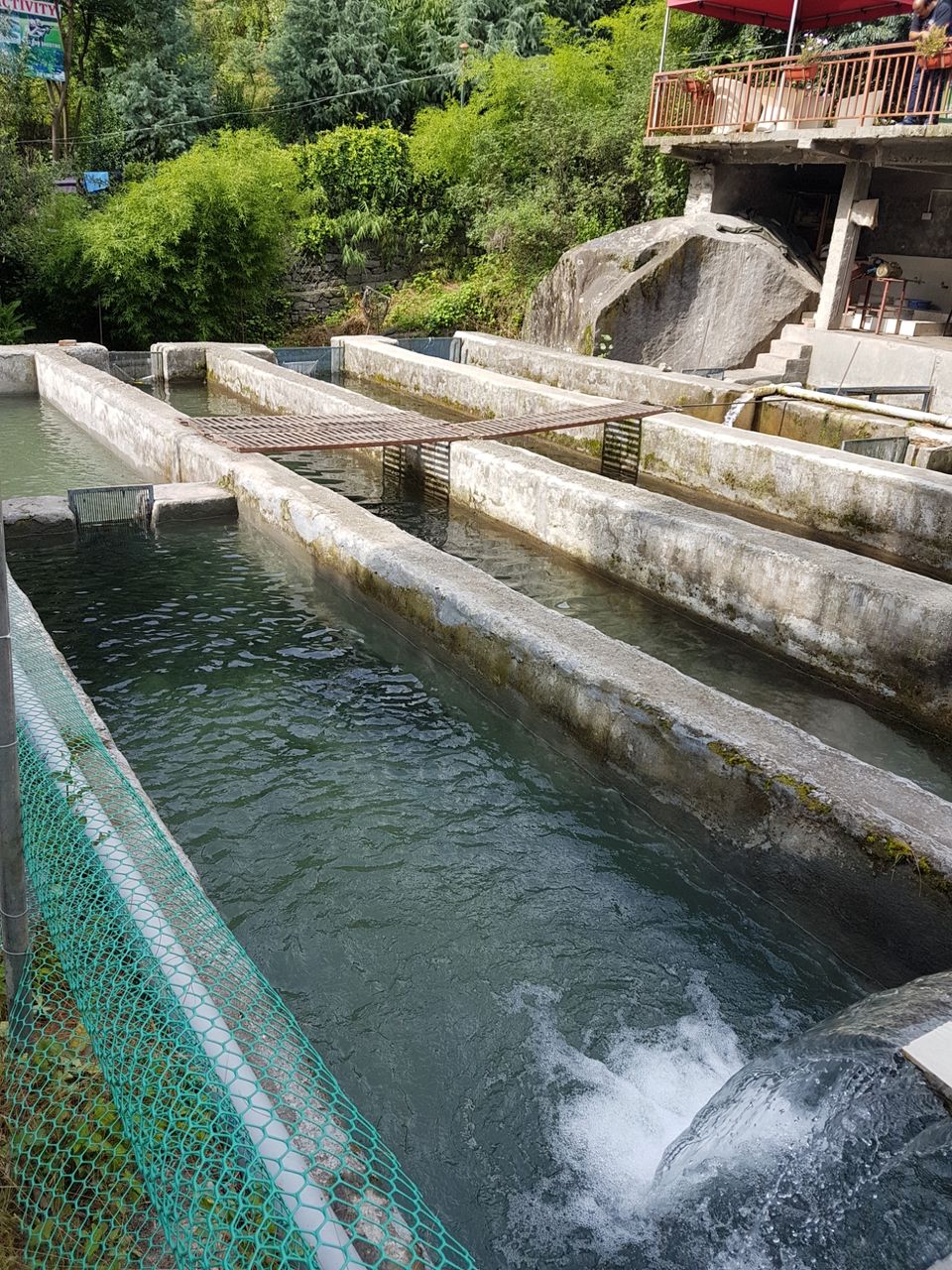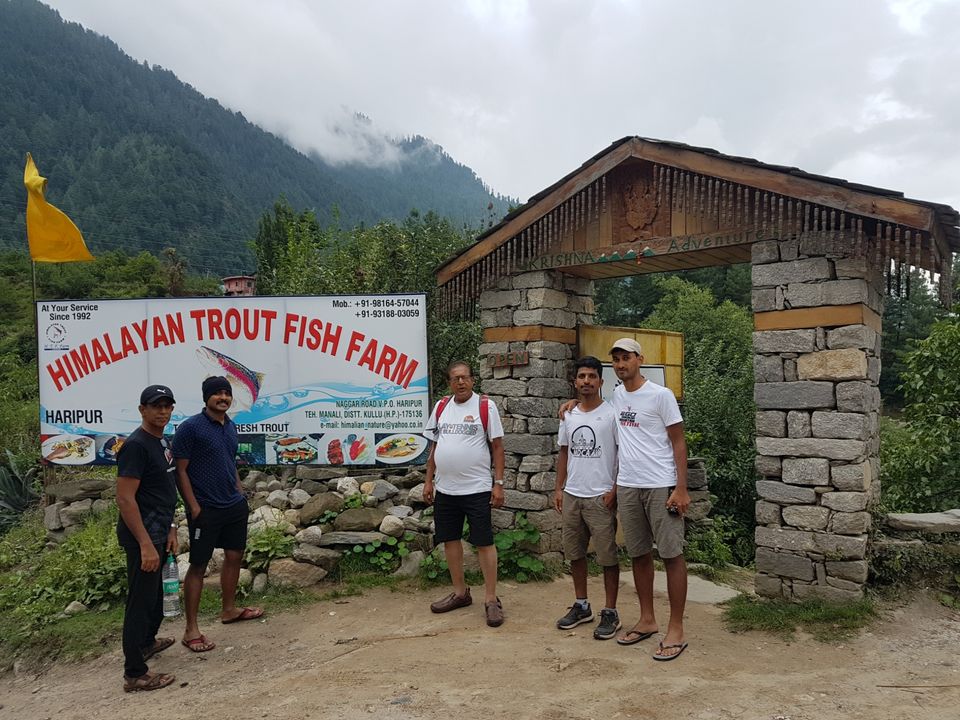 The Day has come to start our Journey towards leh around 500 Kms.
Plan :Manali - Koksar via Rhotang Pass around 80 kms
As planned we started our journey around 7 Am had light breakfast, in spite of drizzling we started our journey, manali welcomed us with full of sludge on road just after we crossed Manali bridge and started climbing towards Rhotang Pass.
With great support for water and snacks by Babu uncle we climbed several hair pin curves and reached half the way with great difficulty in rain. We stopped for lunch and everyone were shivering as we drenched completely and external climate was chilling and some of us got demotivated and planned to stop there itself but unfortunately we didn't find any rooms we left with only option to continue. Dr.Shankar stopped his ride for day 1 and packed his bike to jeep. Myself, Balu, Yashas continued our journey towards Rhotang Pass.
Since it was Sunday Rhotang road was flooded with tourist vehicle, as it was raining road was jammed for more than two hours, but we made our way till Rhotang pass by evening 5 PM, Balu and Yashas overtook me and they reached 30 minutes before me, jeep was behind me as there was heavy traffic. I got tempted to stop for a tea after Rhotang pass, as it was my first experience I didn't Know we shouldn't stop when our body is heat and outside temperature is low, somehow it took me 1hr to come to normal mode after having 2 teas and 3 pegs of whisky offered by tourists, later our support vehicle reached my spot then I continued my cycling with the help of jeep headlights for another 20kms to reach Koksar as it was downhill and reached home stay around 7PM.
The tent at Koksar was lifesaving, we got hot soups and food for dinner and woolen blankets inside tents, we had a decent stay and whole night was dreamt about Rhotang ride, it was a lifetime experience riding with rain and continuous climb for hours. Done with ride with confidence to move forward.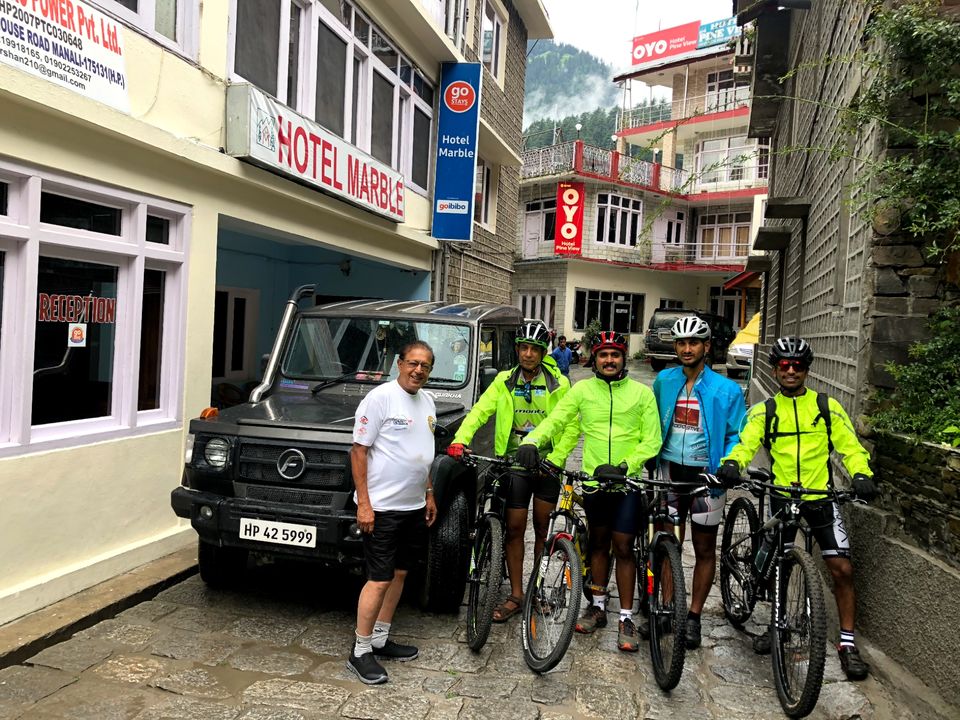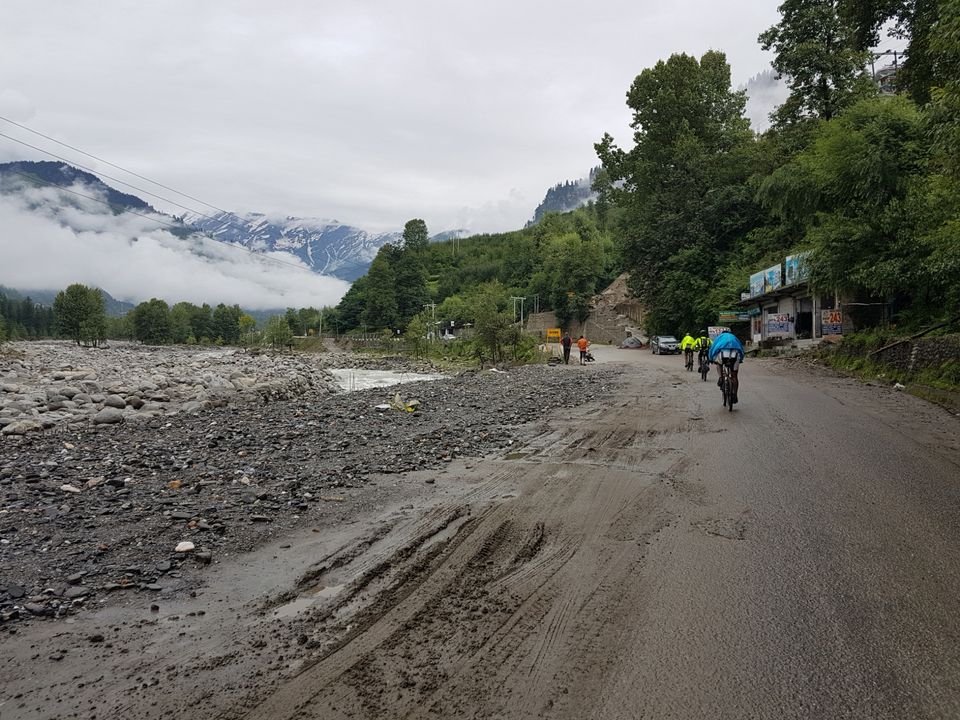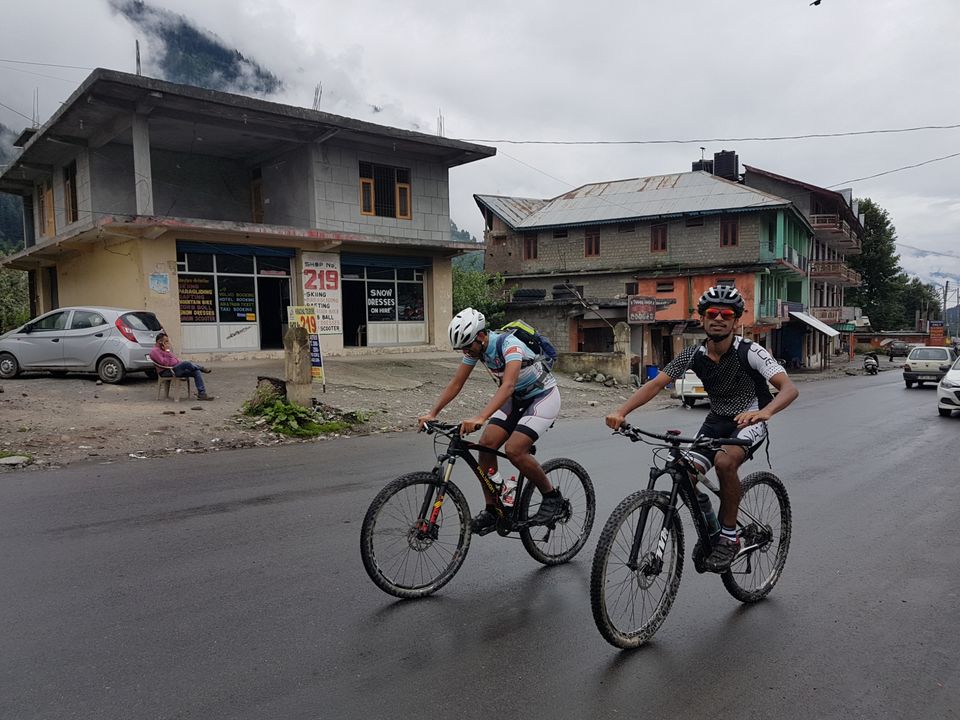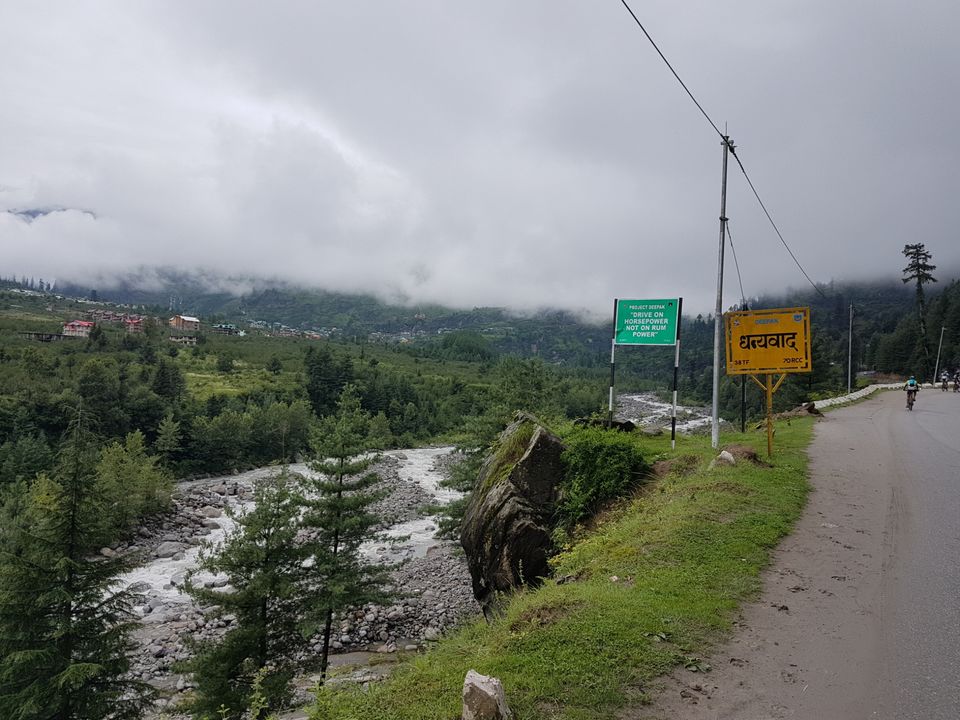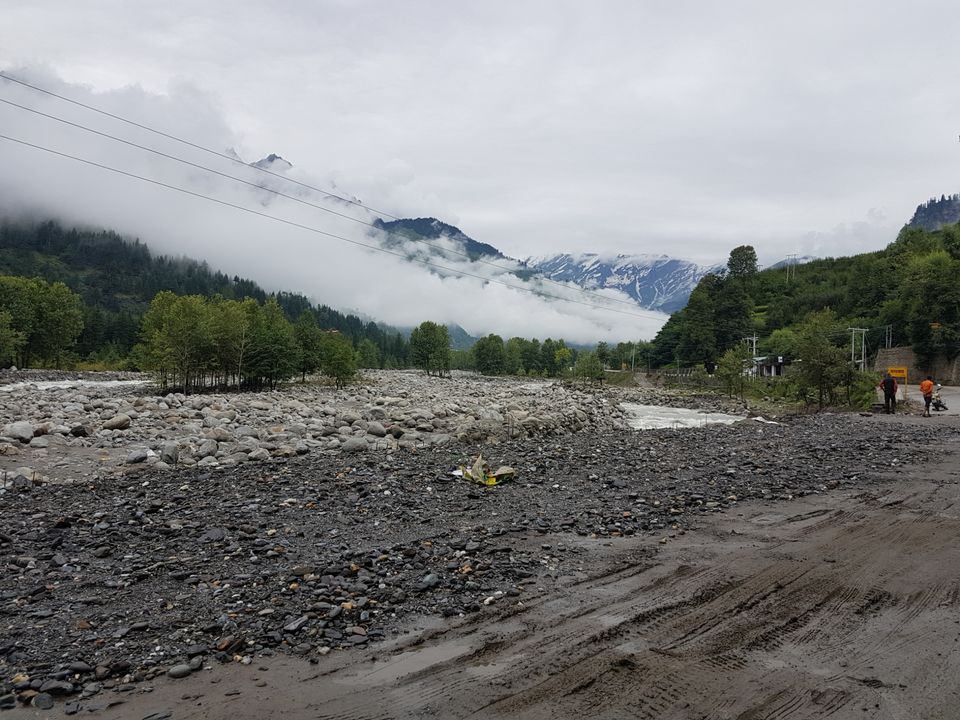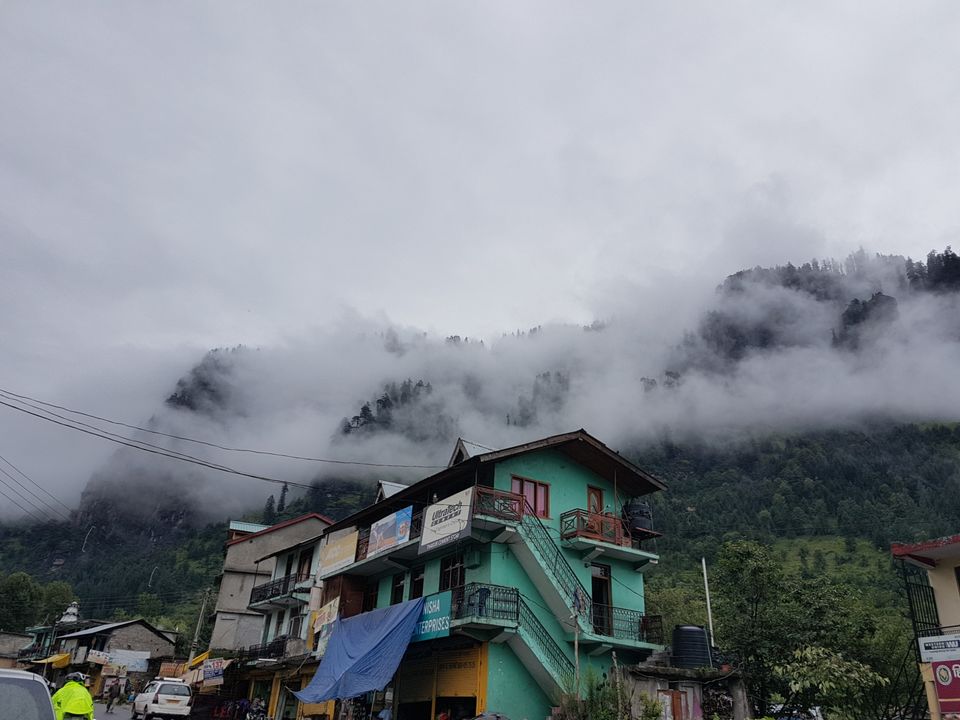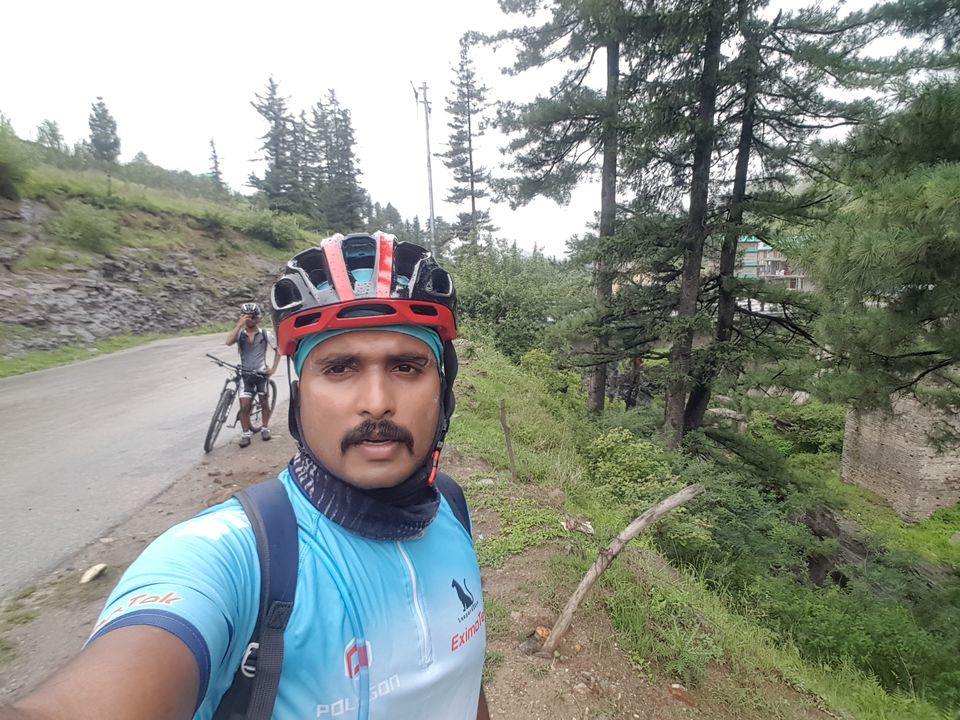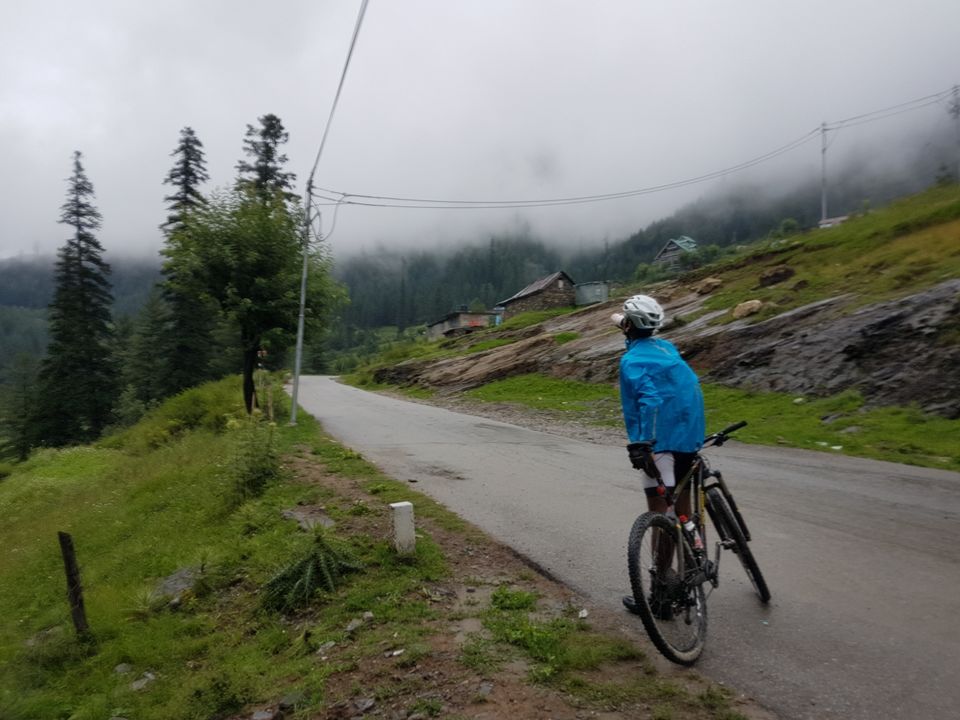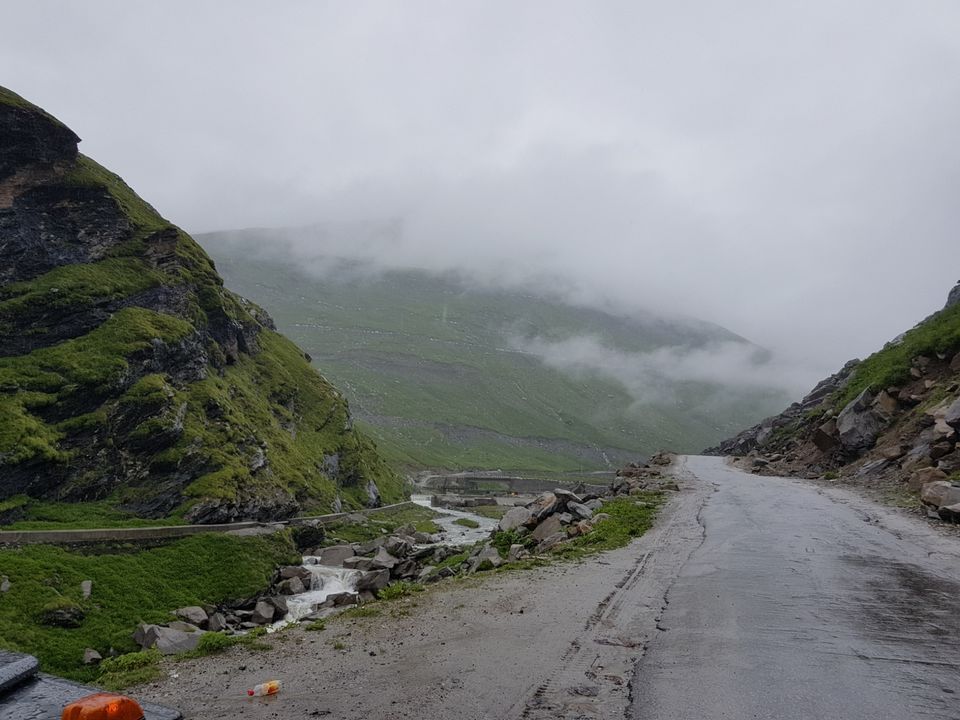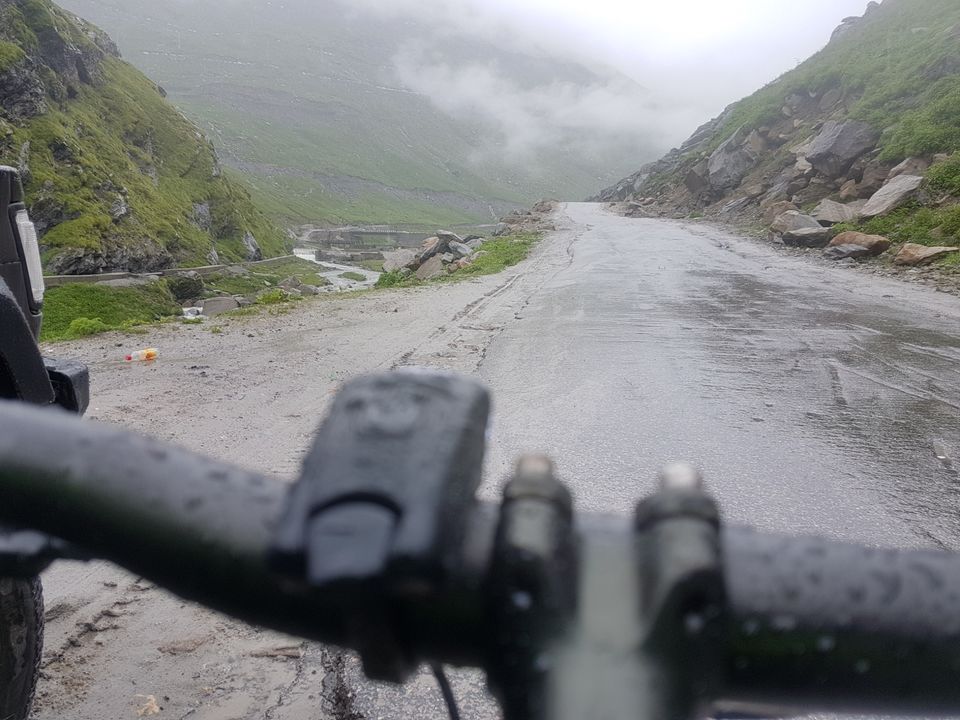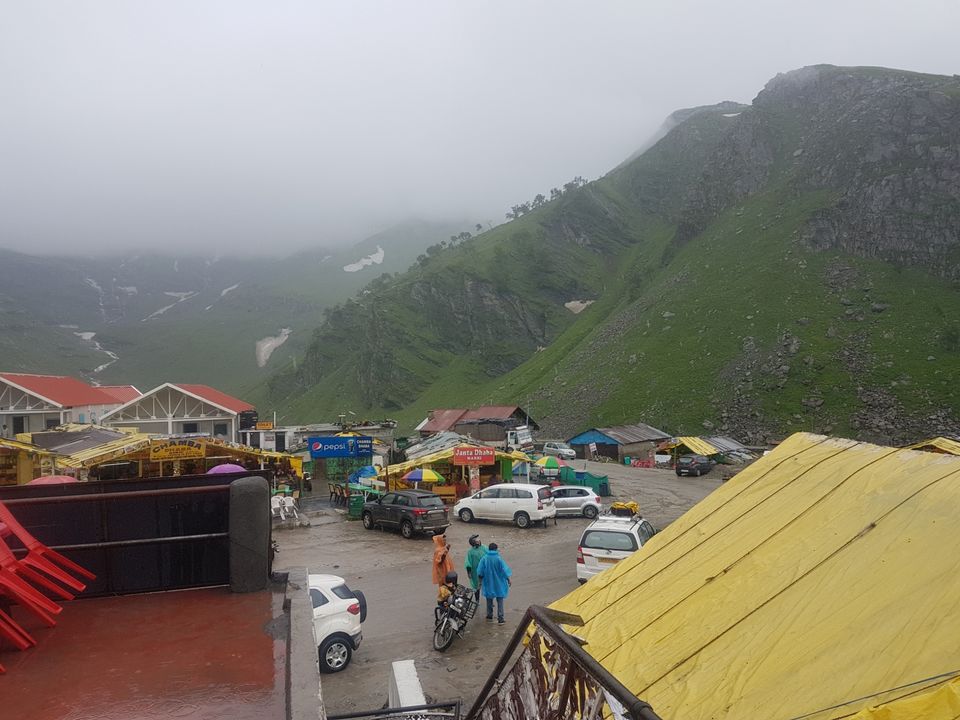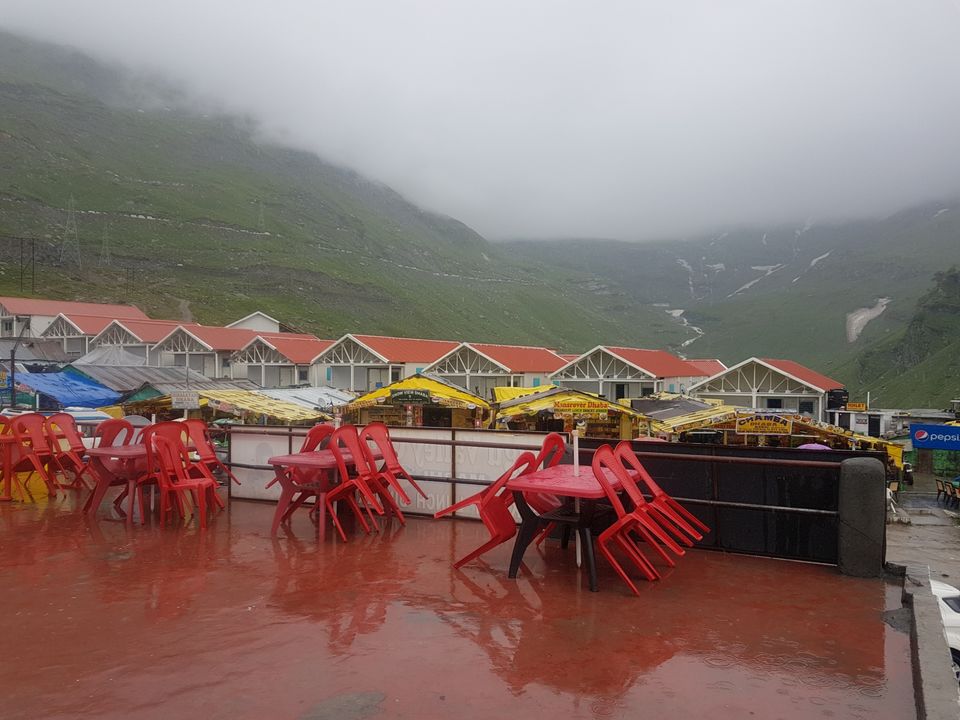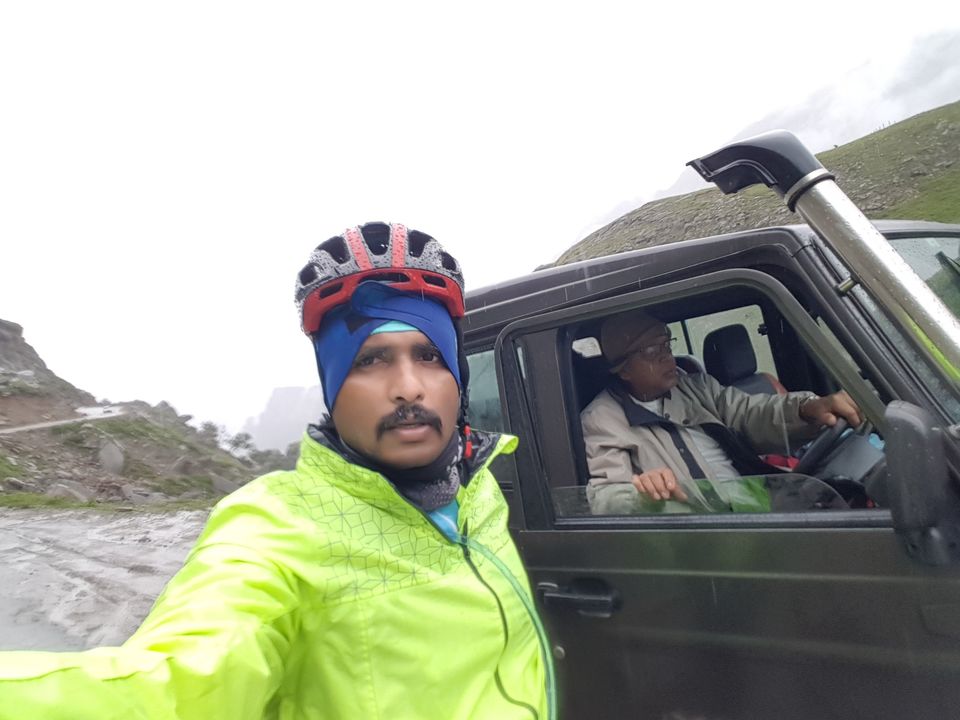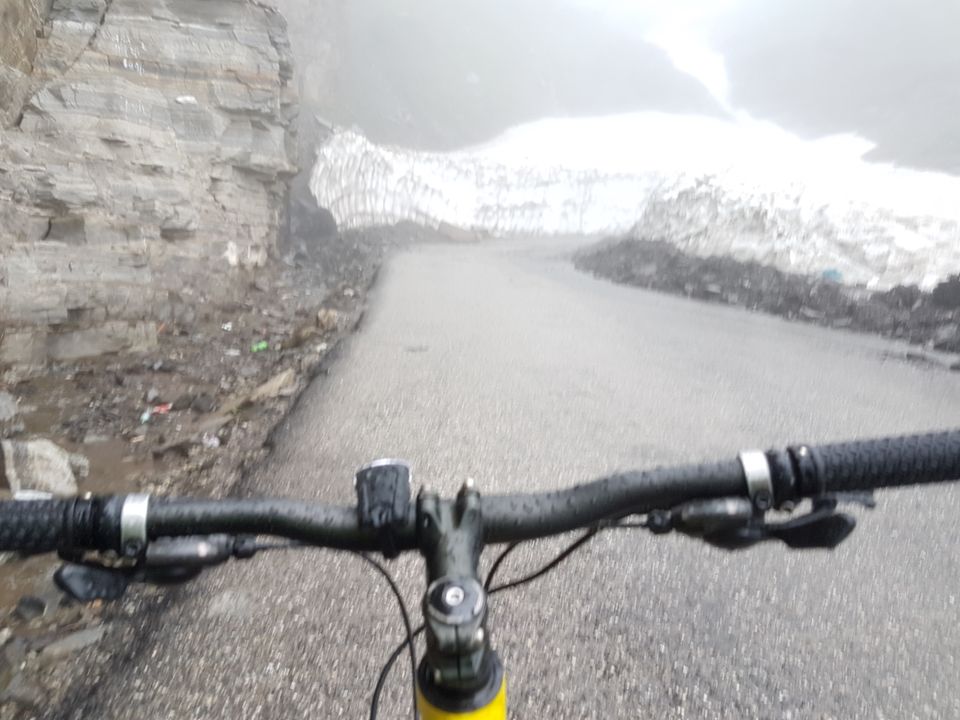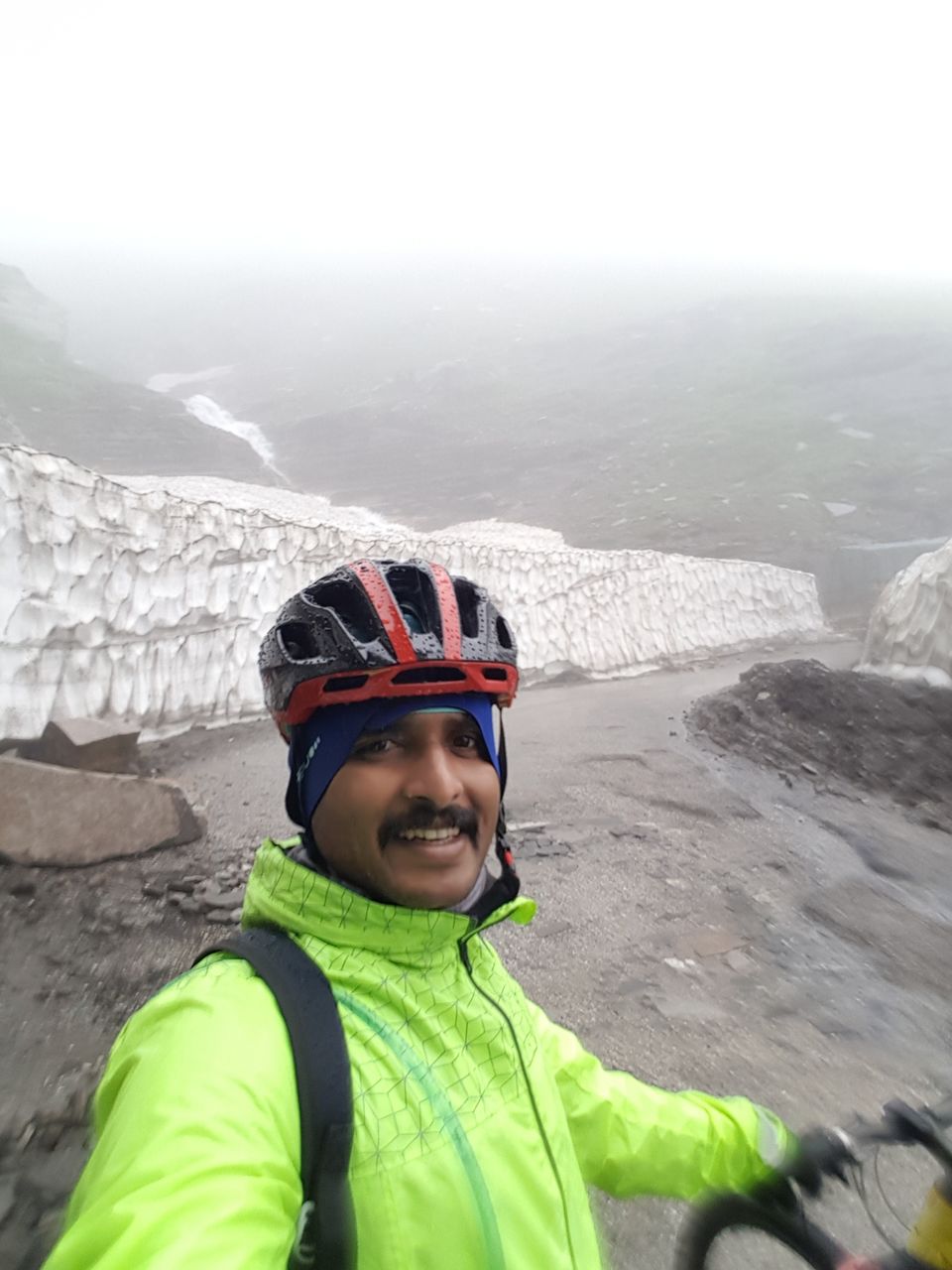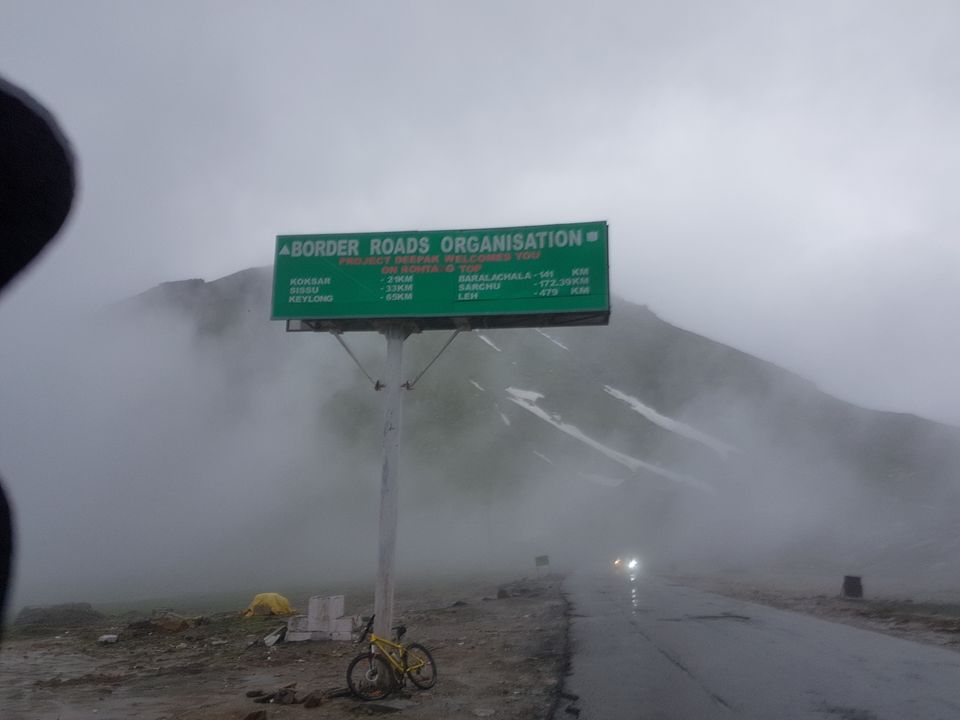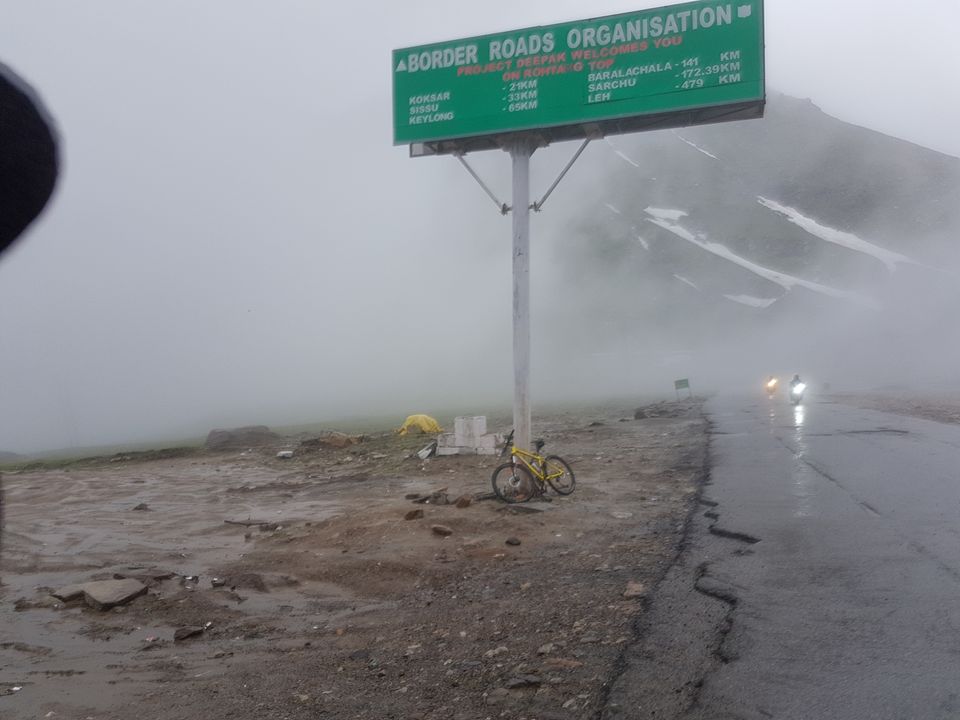 From Koksar to Jispa via Keylong.
Today it was around 70-80 kms ride, No much elevation today was kind of relax ride with a scenic mountains and river passing next to us till Leh. We finished breakfast at Koksar camp and started our ride around 6:30 AM made our way to Keylong by 12:3o and stopped for lunch. We reached Jispa by 6 PM and stayed there in a hotel, this hotel is situated between mountains and beautiful river passing just in front of the hotel. Panoramic view of mountains and river is like one of the best images captured in mind forever.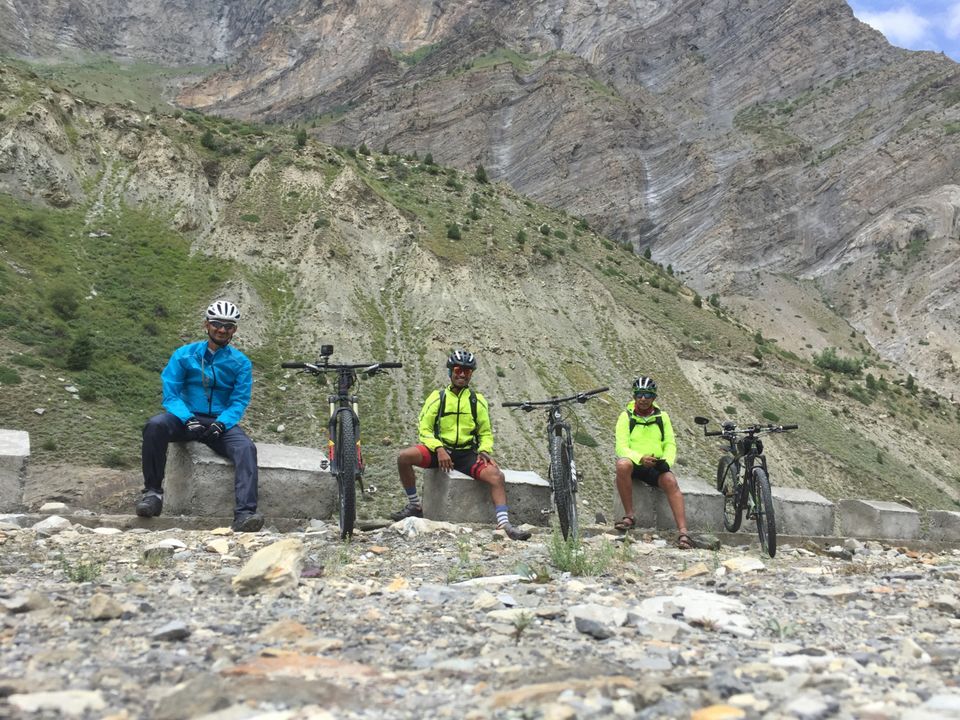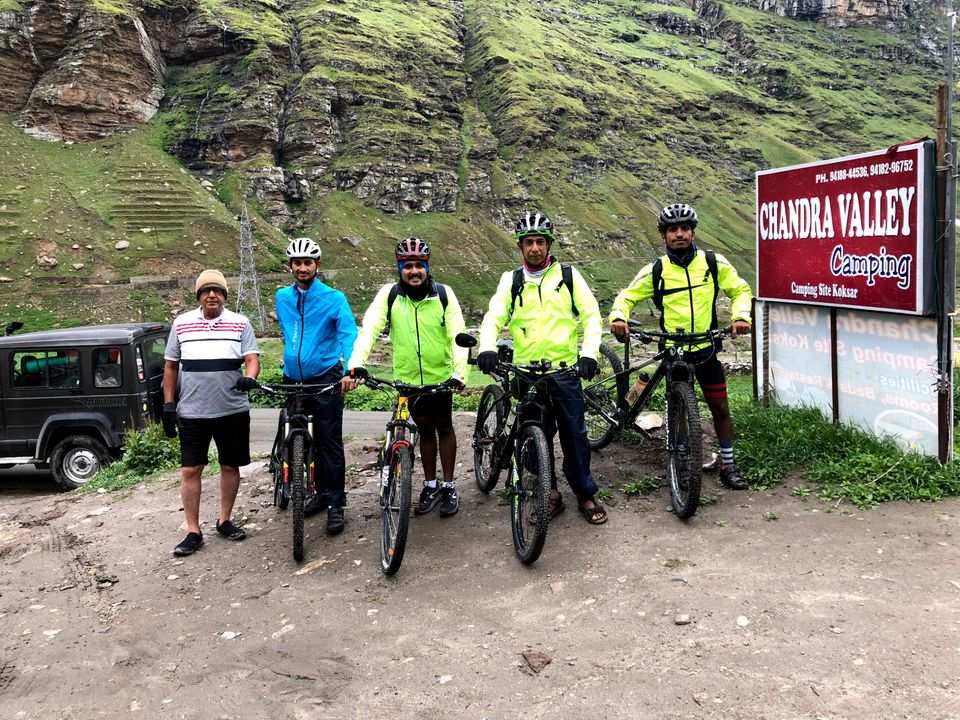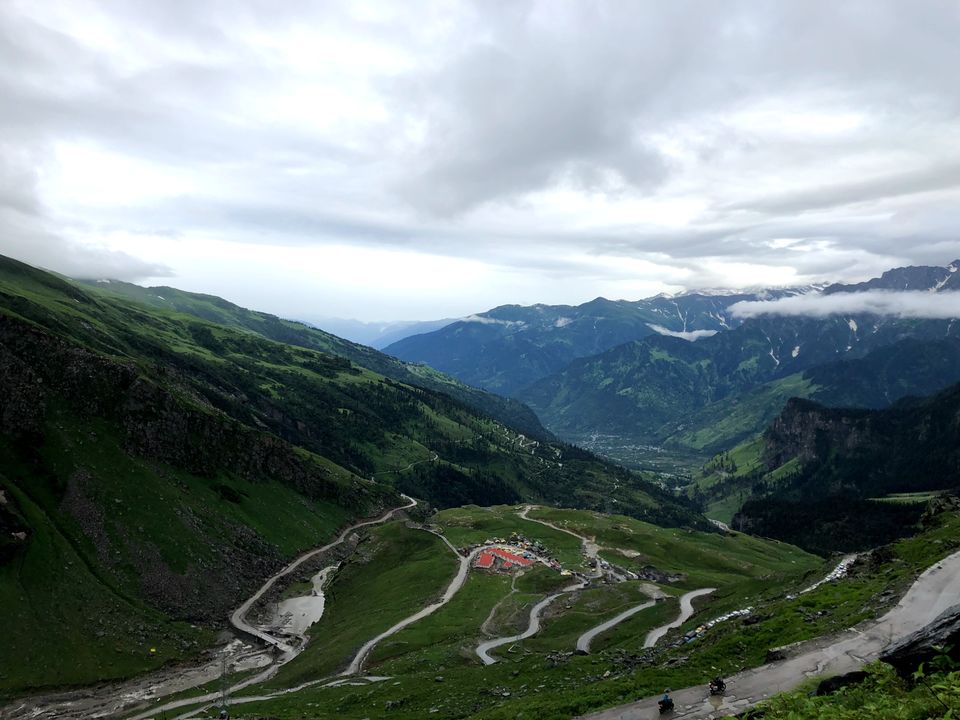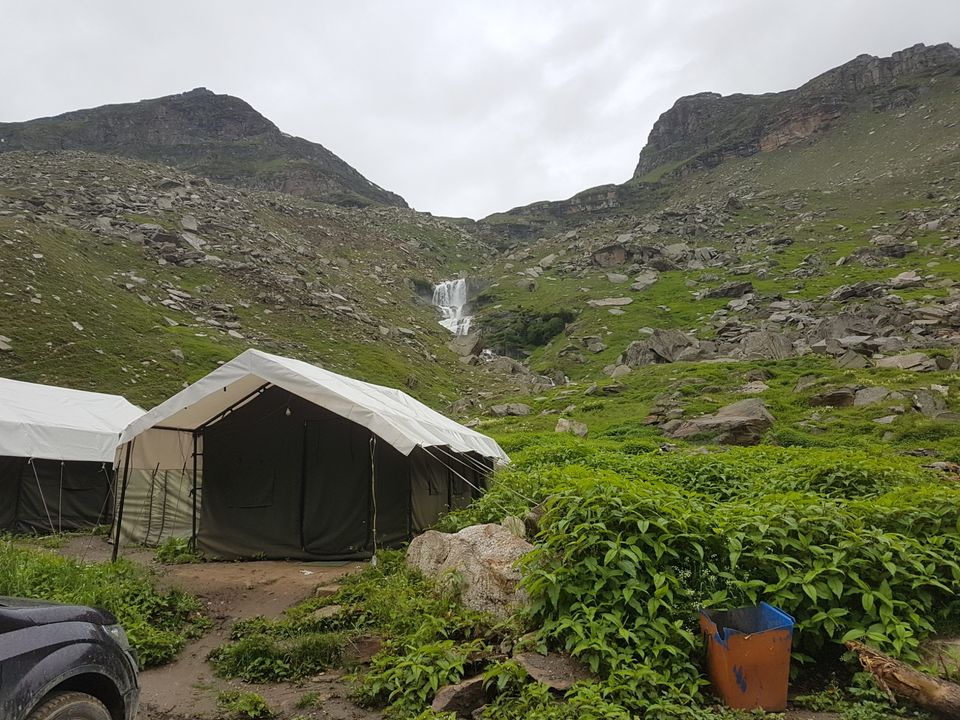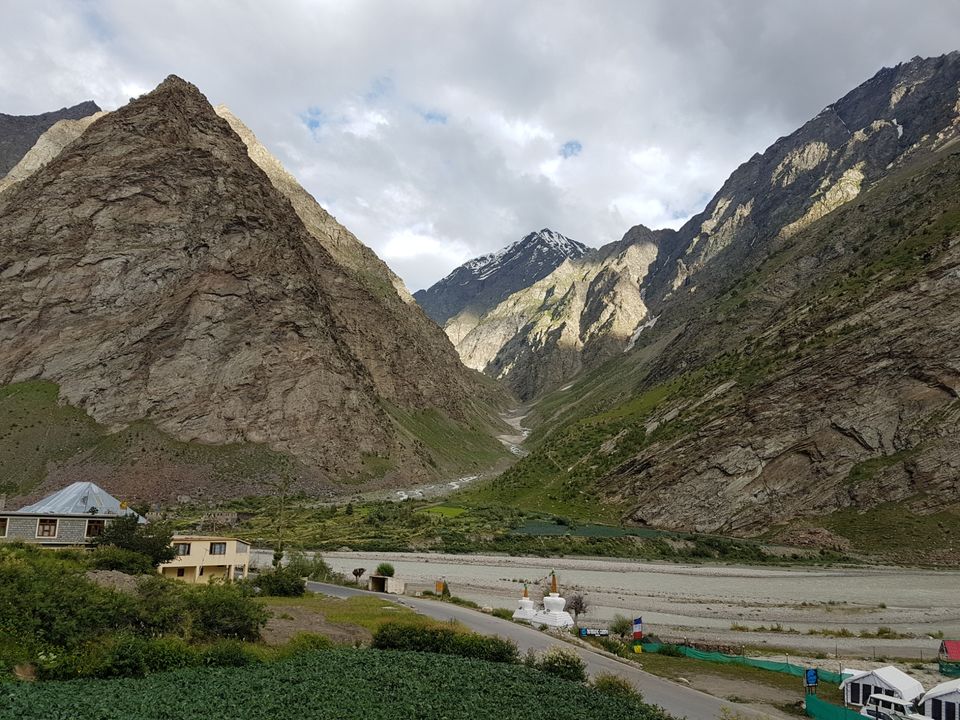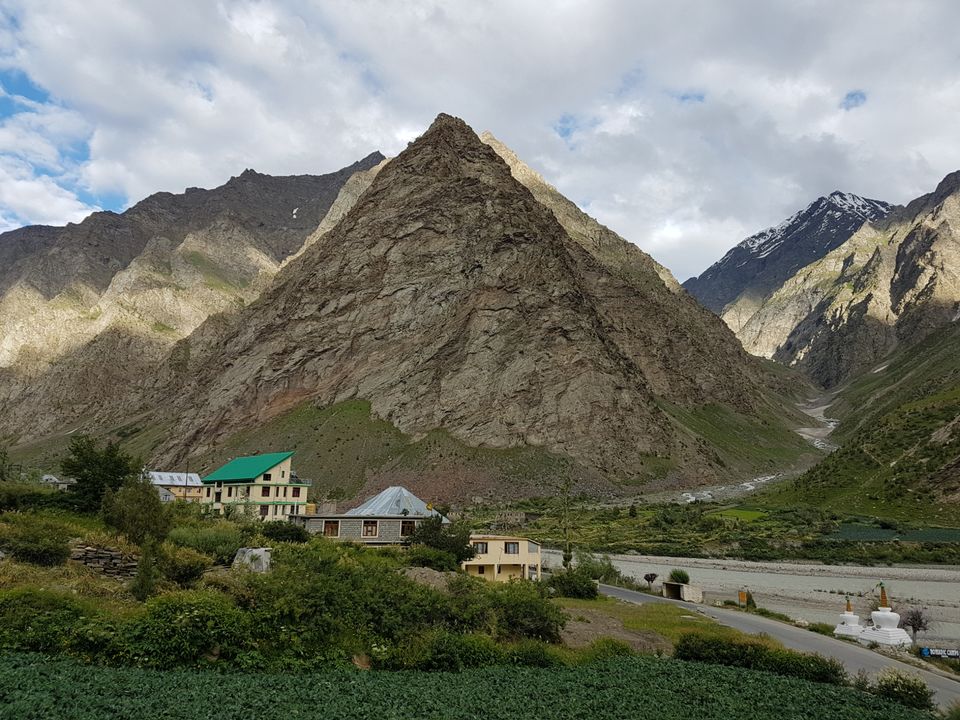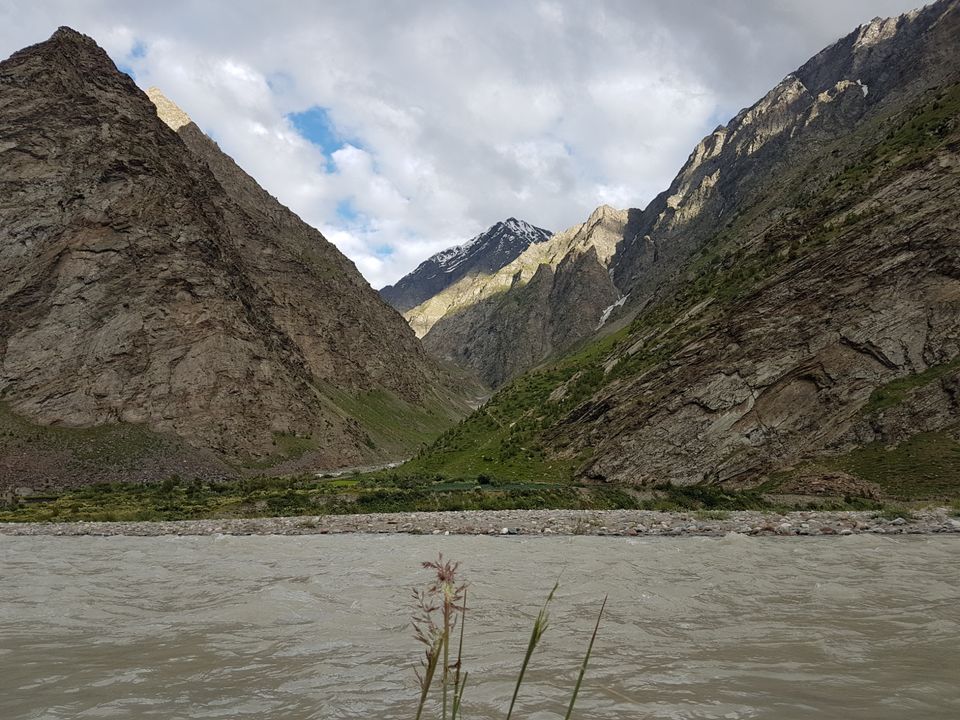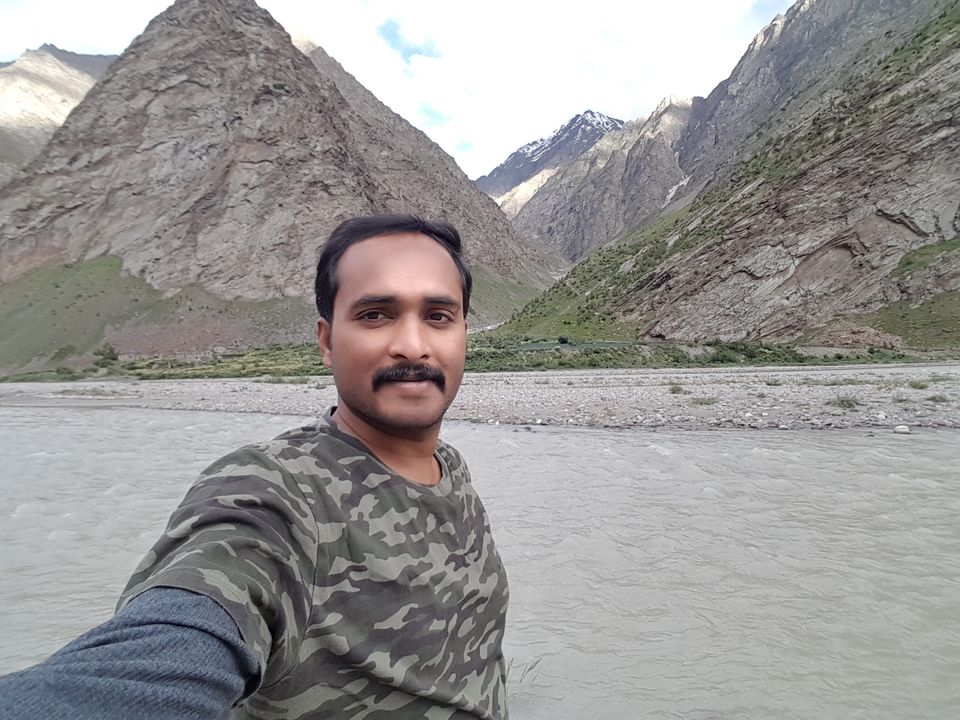 From Jispa to Sarchu via Bara-la-cha-la pass
The toughest days full of climbs starts from today.
We had breakfast at hotel as our toughest journey starts from today we were ready with enough water bottles filled and our next stop was at zing zing bar for lunch, till that you should manage your food and water, as we have 2 pro cyclists and 2 average riders.
We started with enough Josh after 20 KMS we literally rode in bumpy roads and could witness two water falls on the road, some of us hold our bikes in hand as water flow was high, on the way Dr Shankar had a fall before reaching zing zing bar and he was almost down with pain, I was getting sick with altitude, we both reached zing zing bar with great difficulties. our Team Leader Balu misguided our lunch location and made us to ride another 10km climb, we were almost bloating and sick of climate, was completely down with head ache.
Lunch was pathetic we had dal, rice,omlet and took rest for 30 minutes ,filled our bottles next Target to climb Bara-la-chala after that it's downhill completely till Sarchu.
Shankar sir was again inside jeep till Bara-la-chala after that he planned to do downhill till Sarchu, Balu & Yashas started as usual with energy ,myself was sick but didn't wanted to give up, my struggle started after some climbs and felt am over straining myself then finally stopped 7kms before Bara-la-chala and got into jeep, I was done for the day, my body heat got reduced and didn't had any motivation to start ride after bara-la-cha-la , but Balu & Yashas finished climb and started towards downhill, Shankar sir did downhill from Bara-la-chala till Chamba Daba. As river flow was heavy on road we were stuck and finally everyone decided to stay at Chamba Daba 25kms before Sarchu, I was completely down with cough and cold, everyone tired of riding peak. The tent stay was something we experienced first time, we felt at that time we are blessed to stay at city like Bengaluru. Overall stay was very relaxing and we decided to rest next day at Sarchu to acclimatize ourselves for altitude sickness.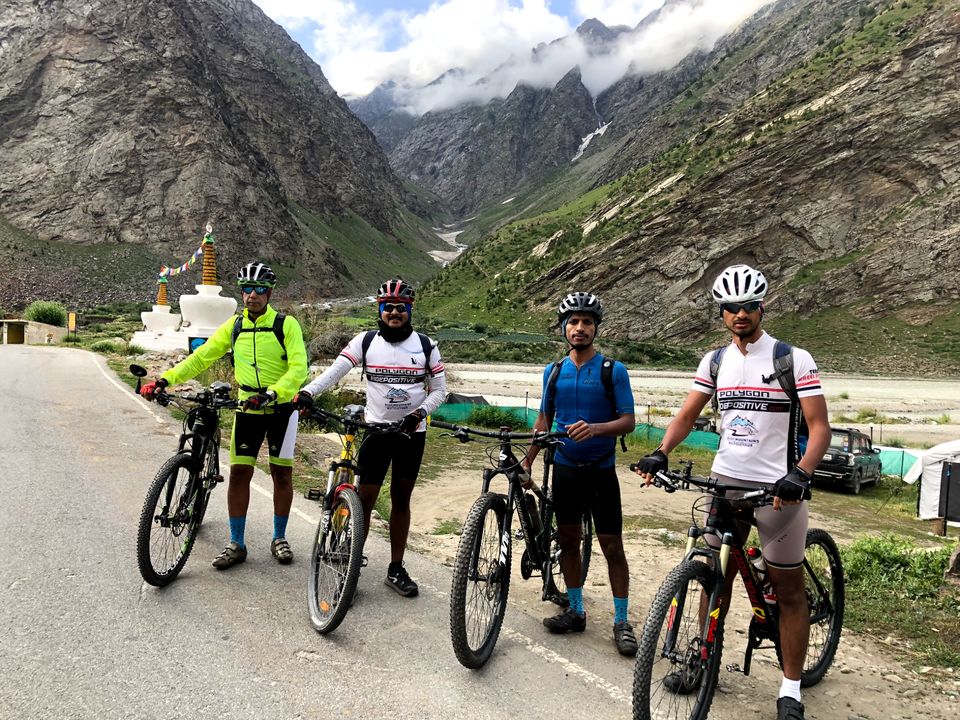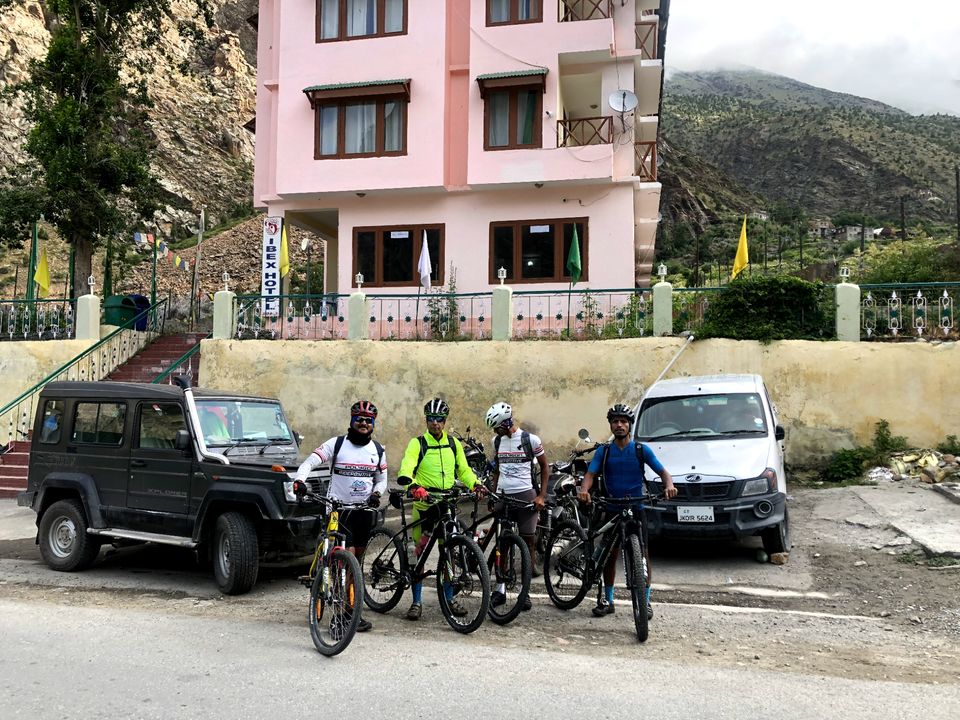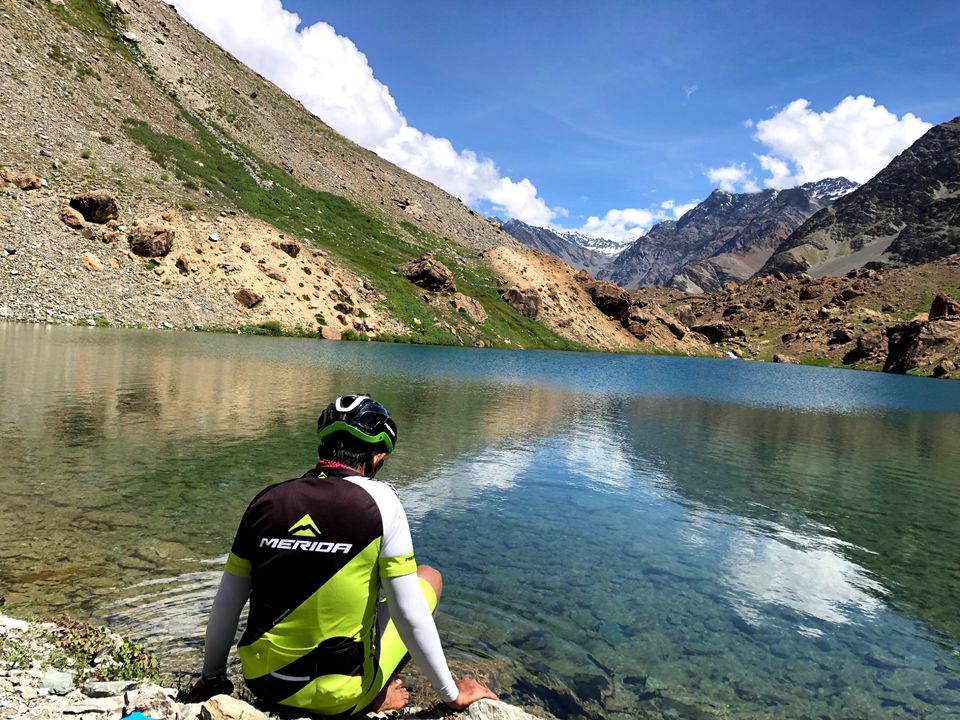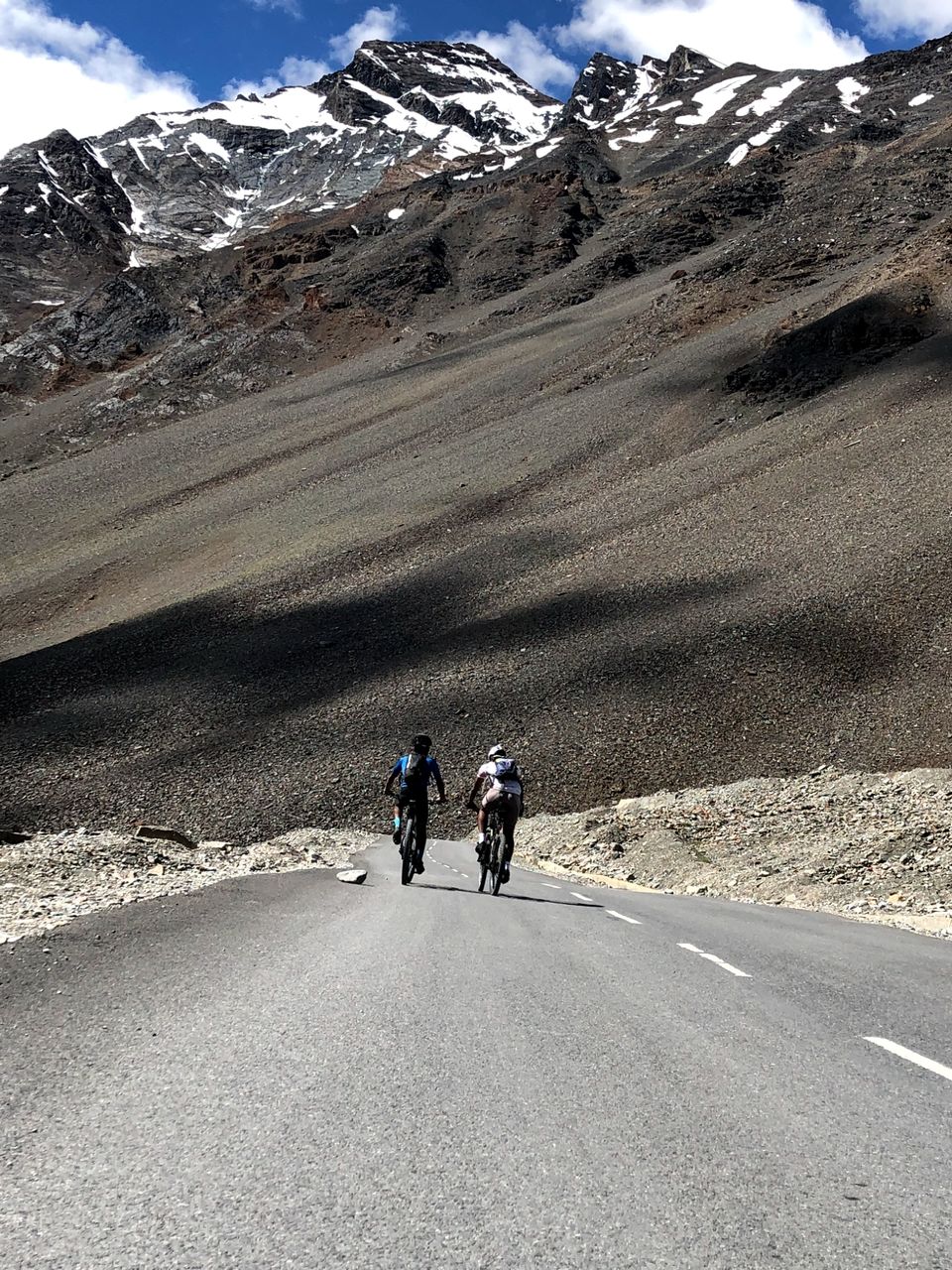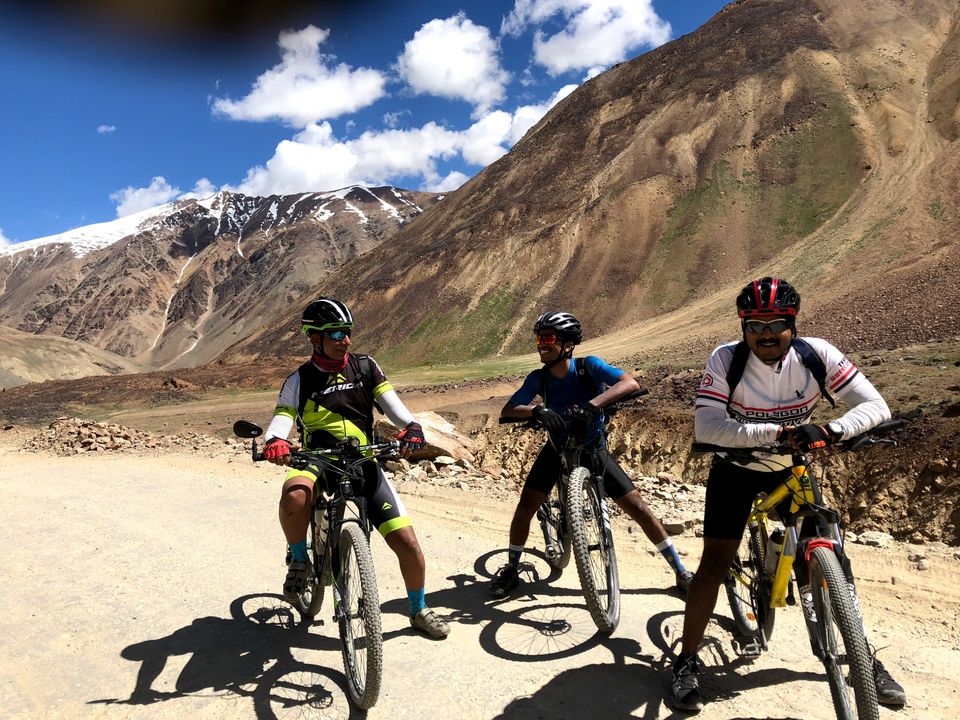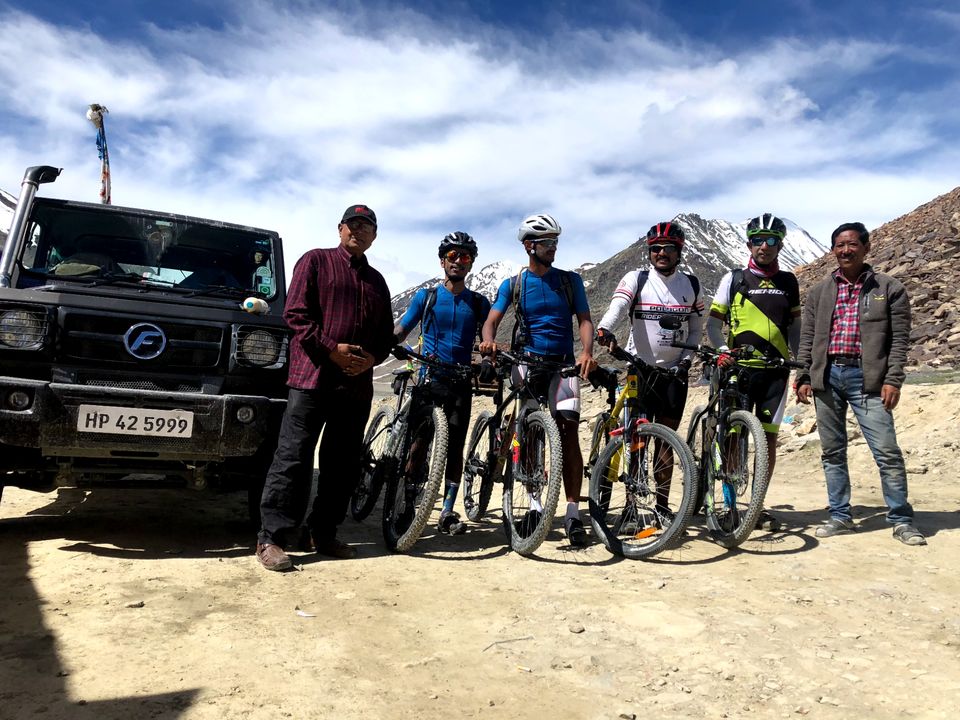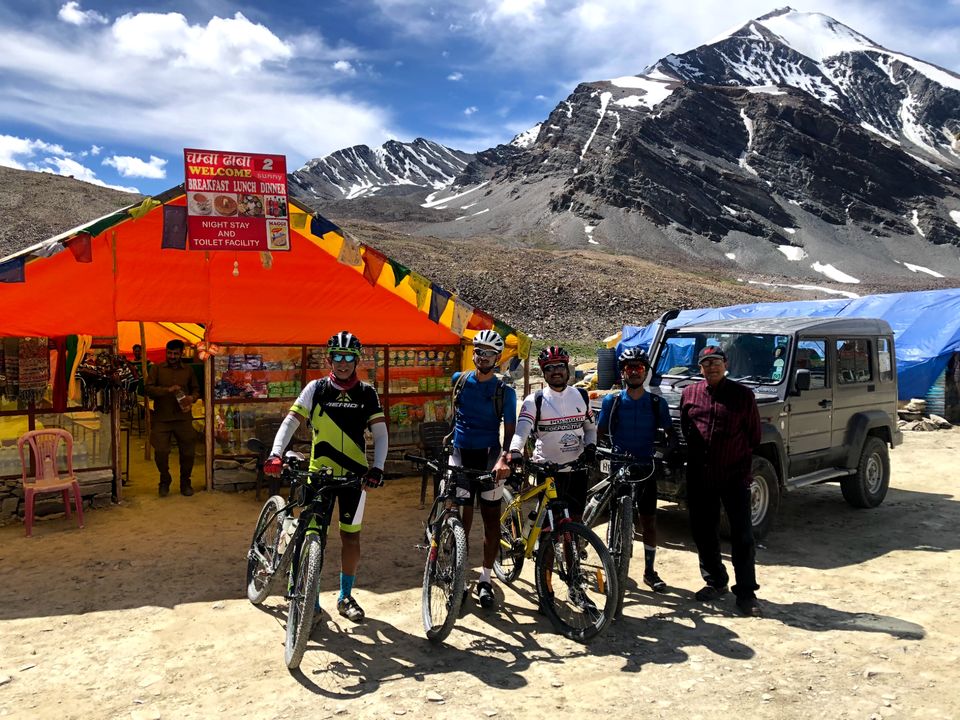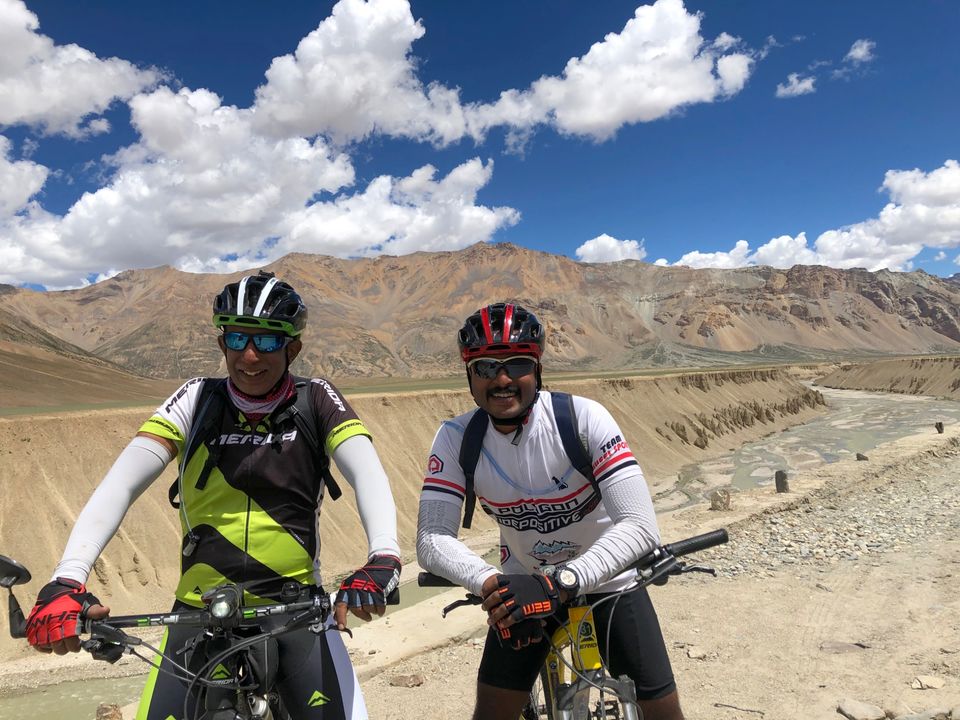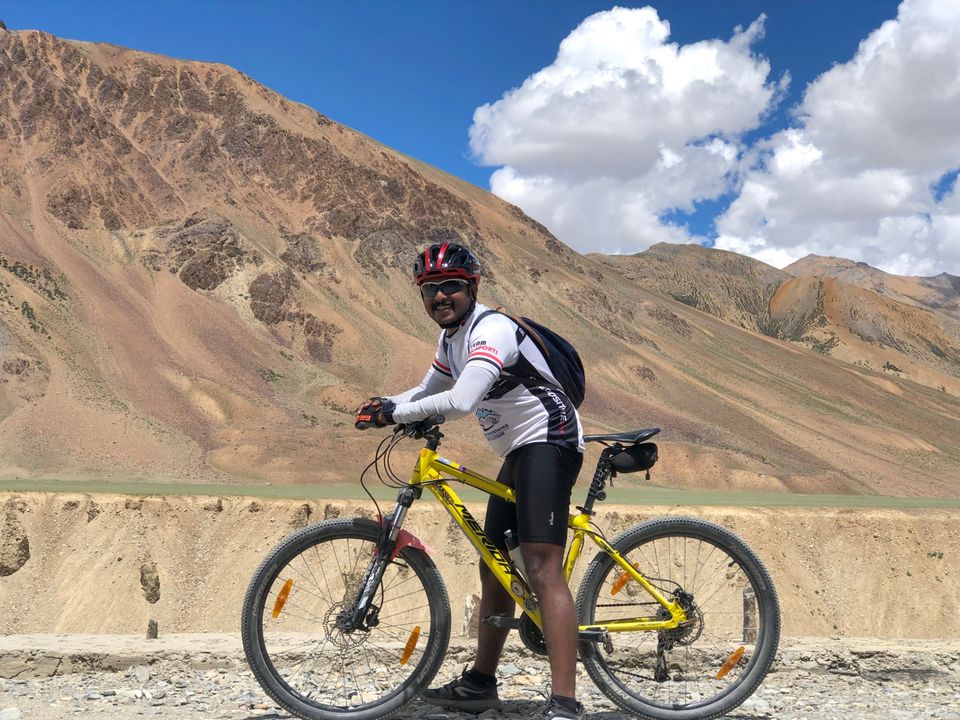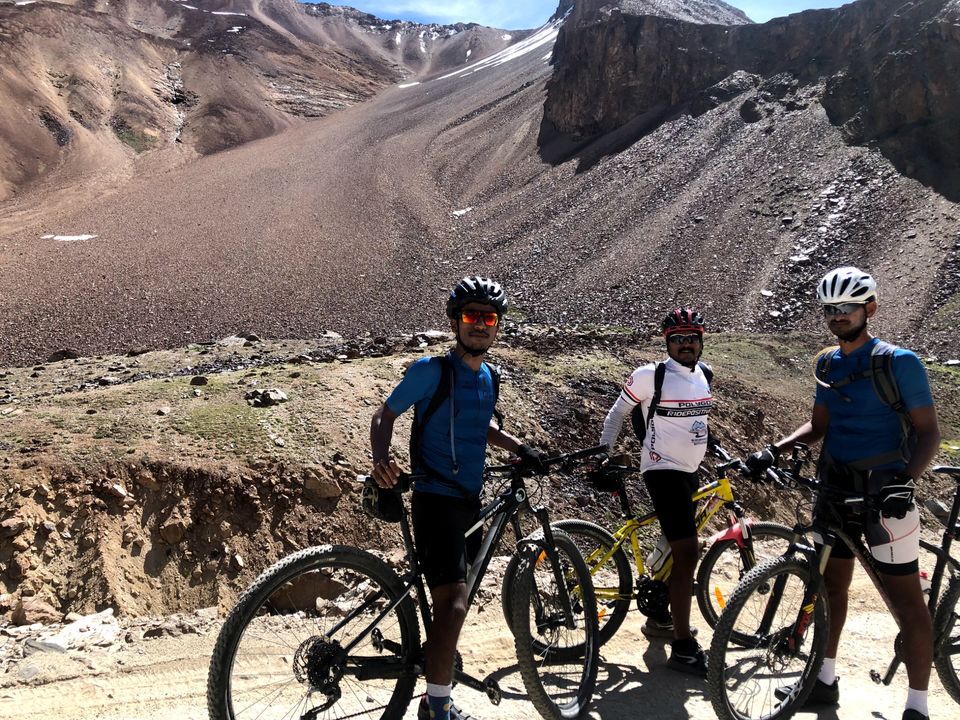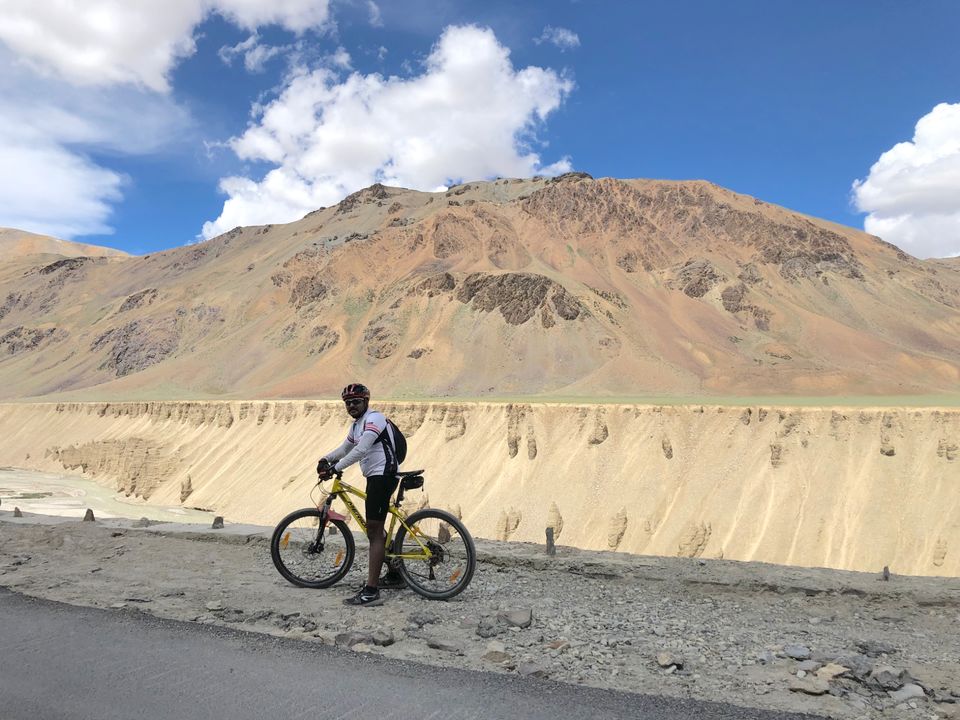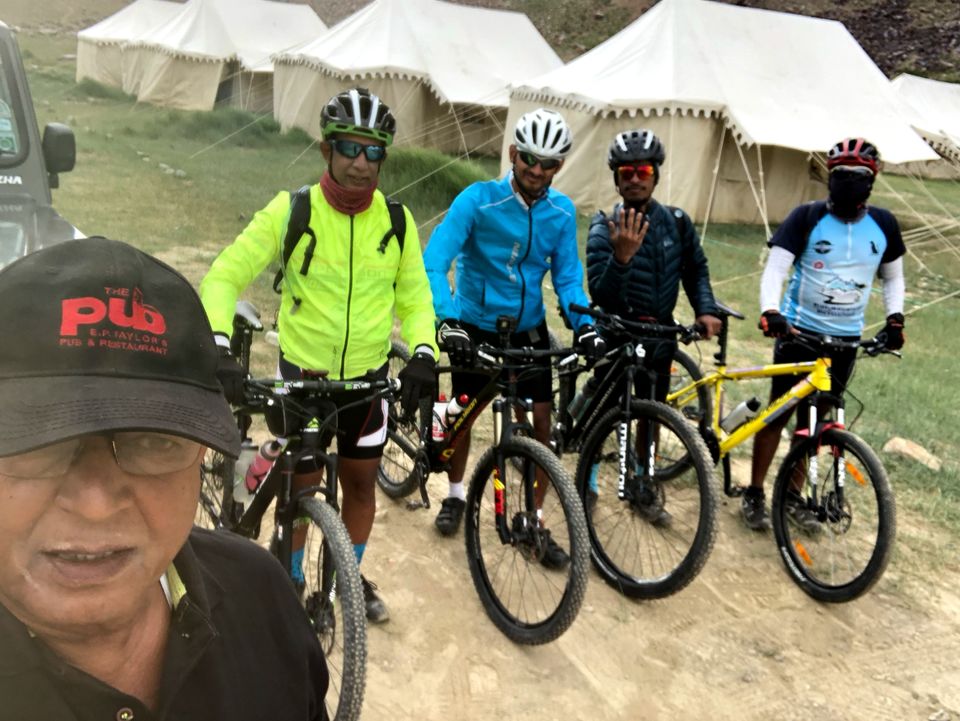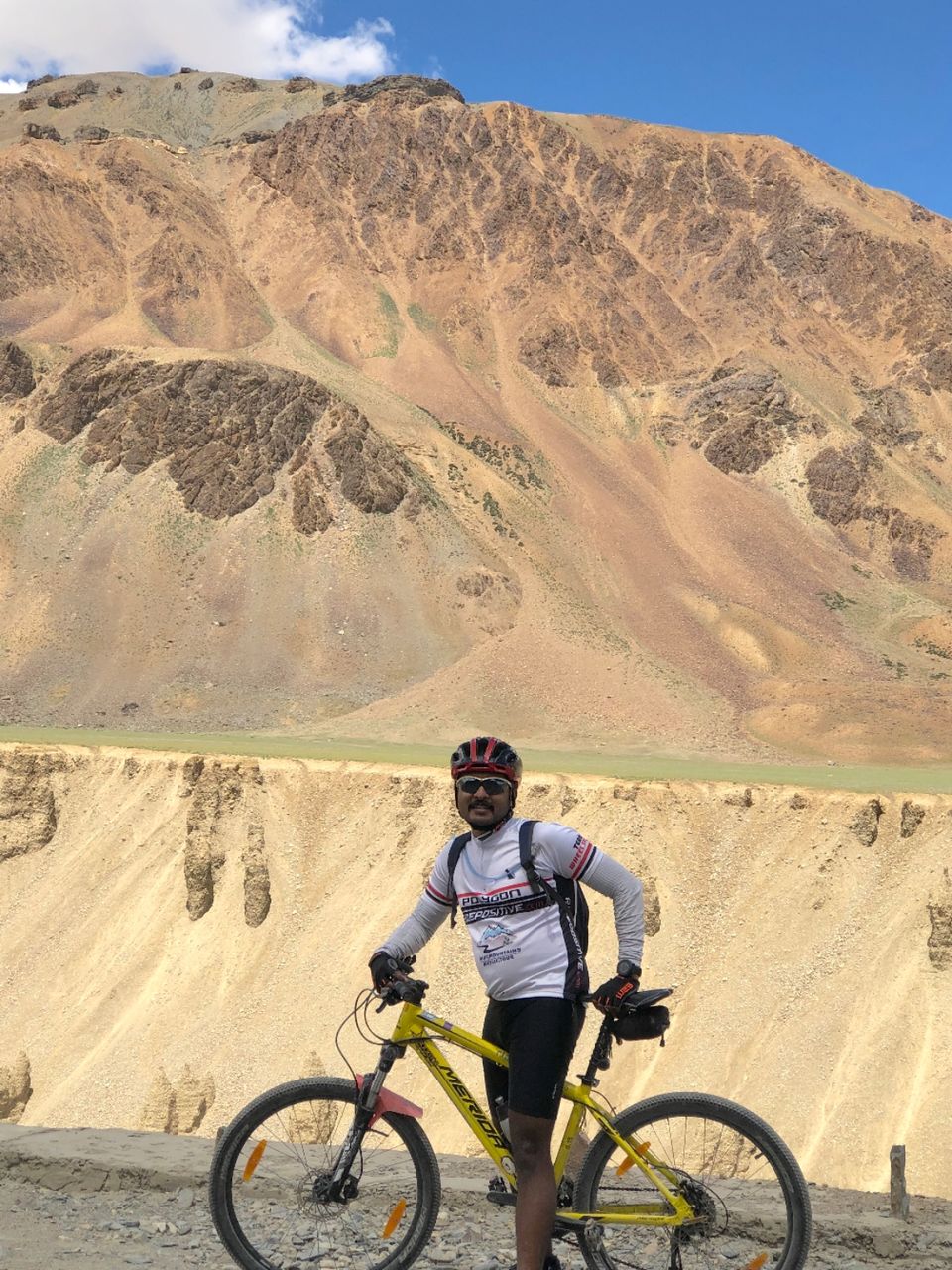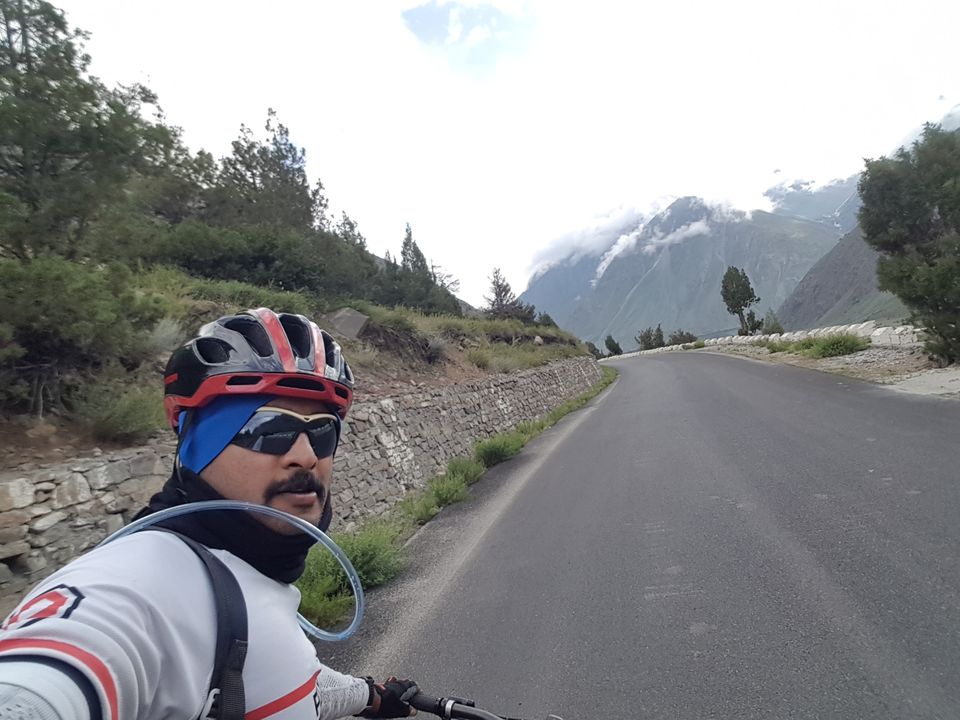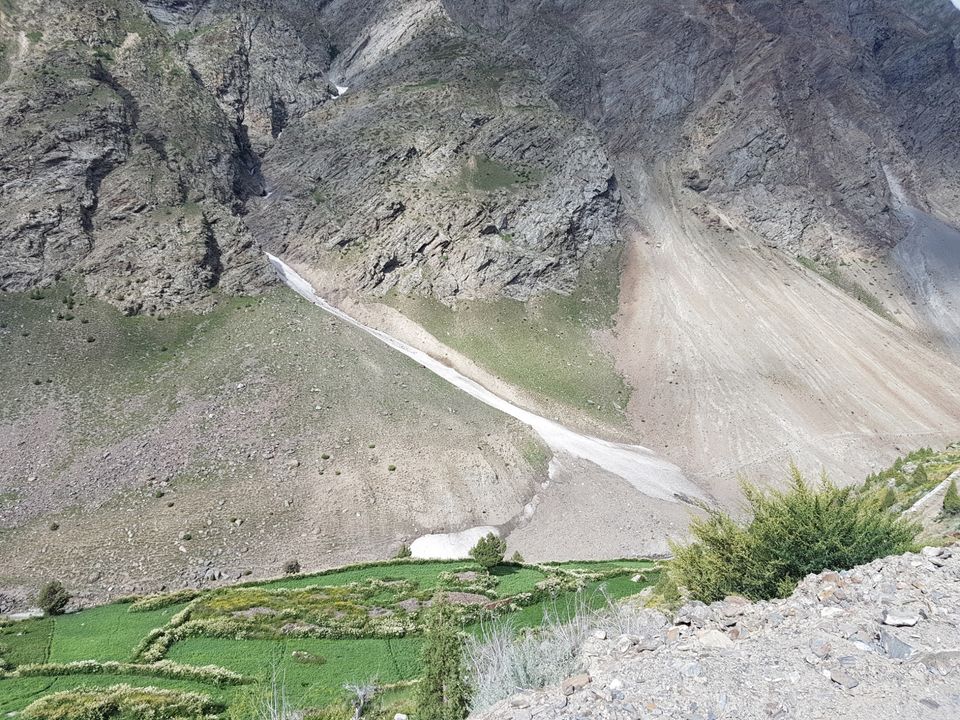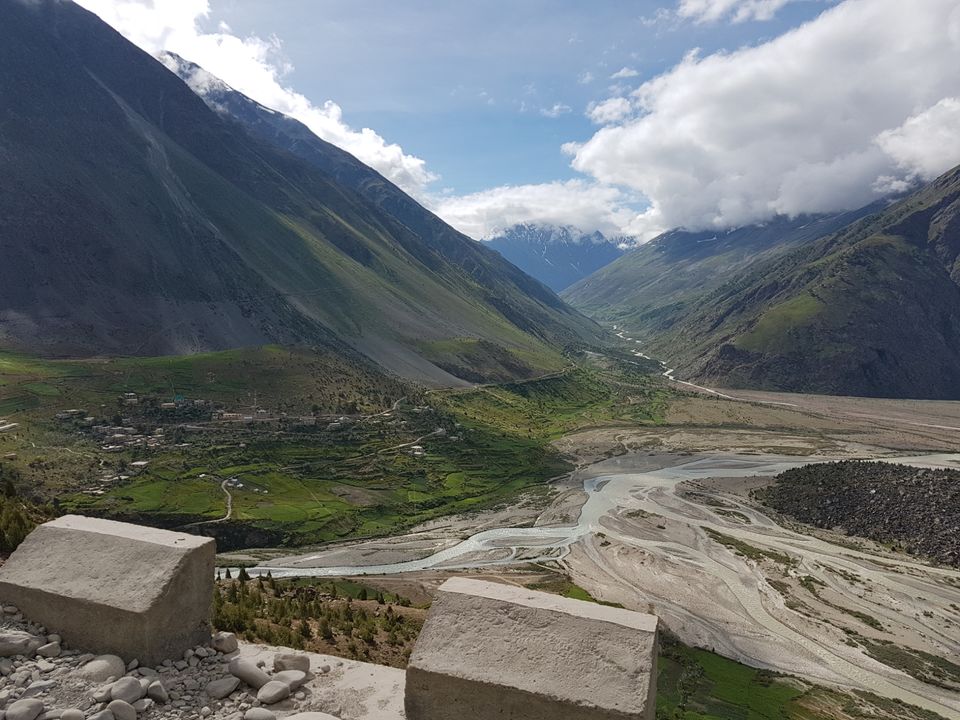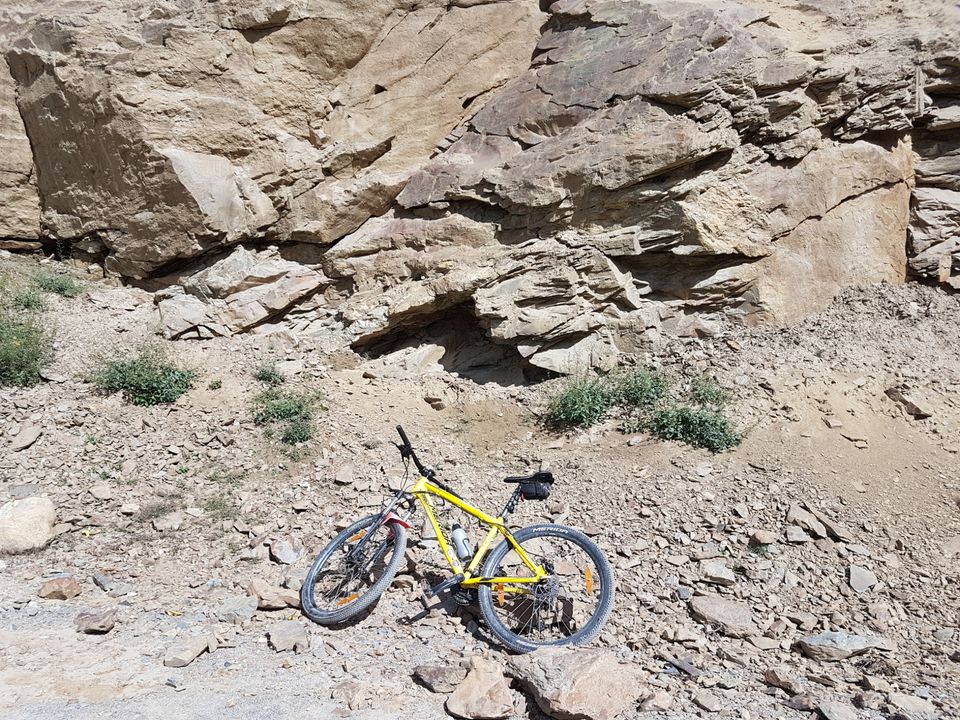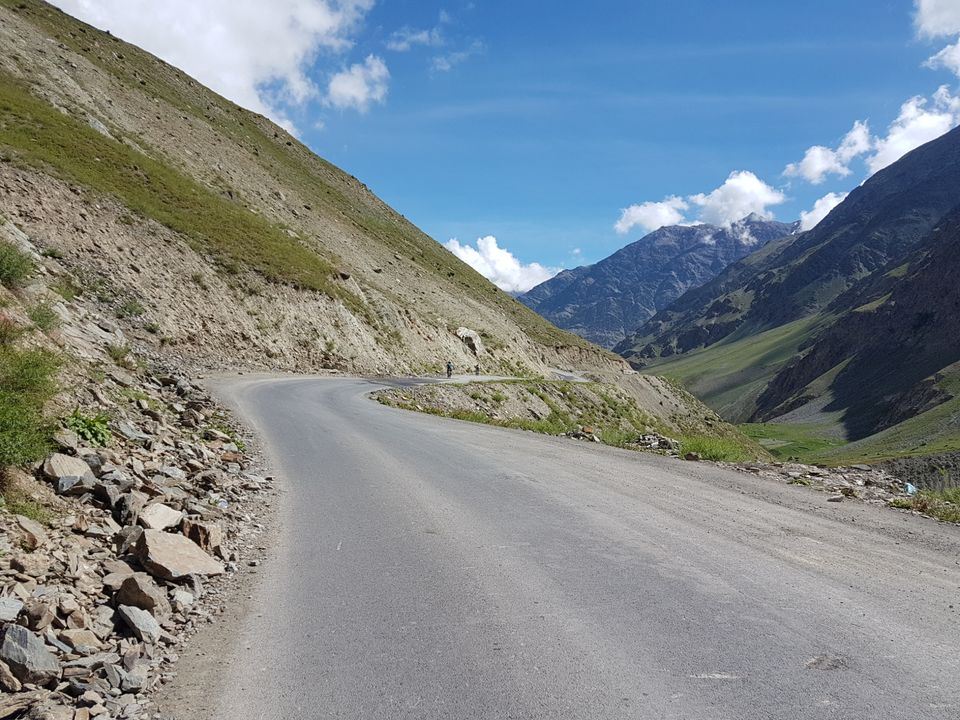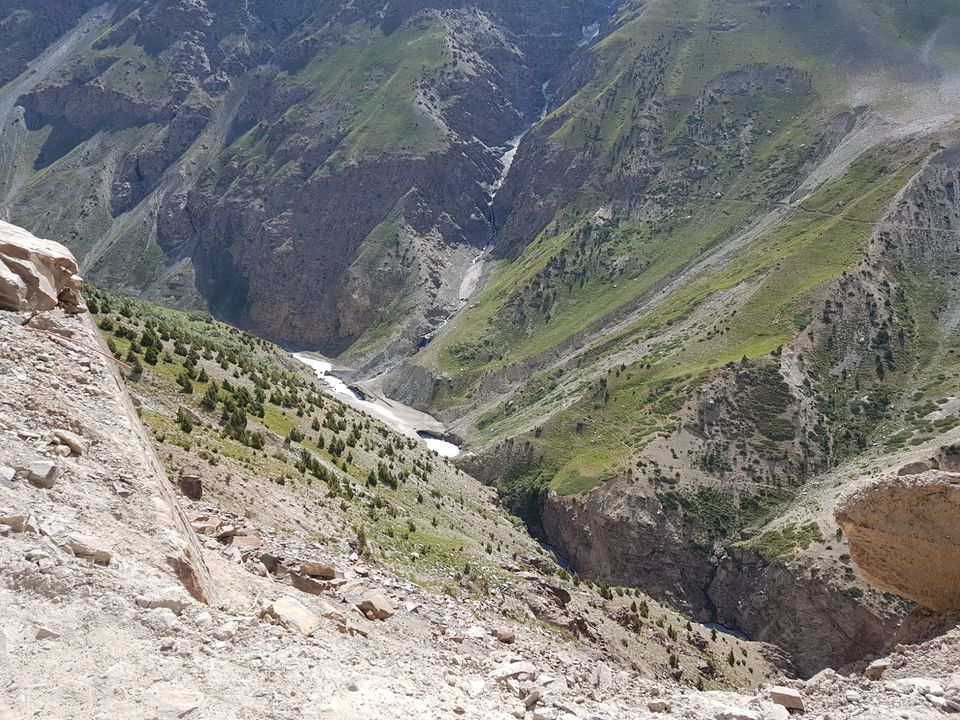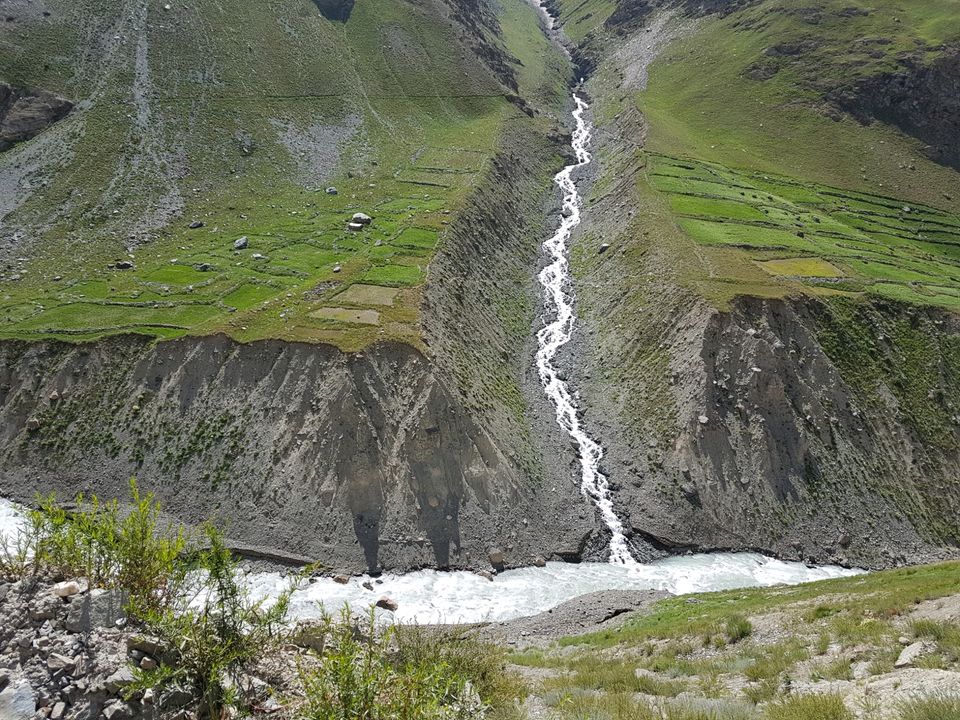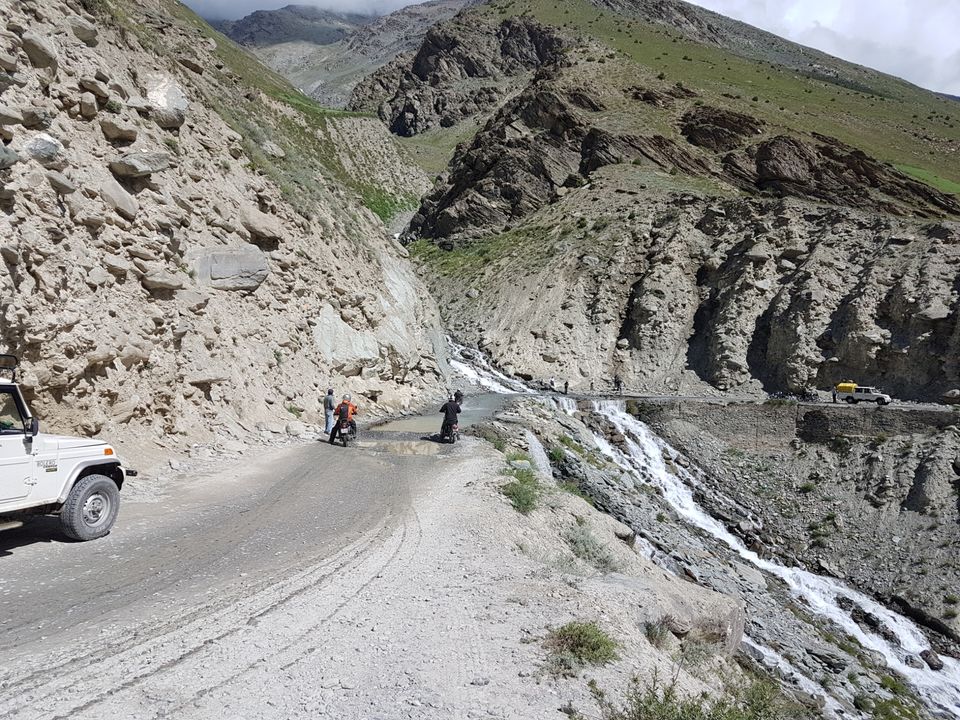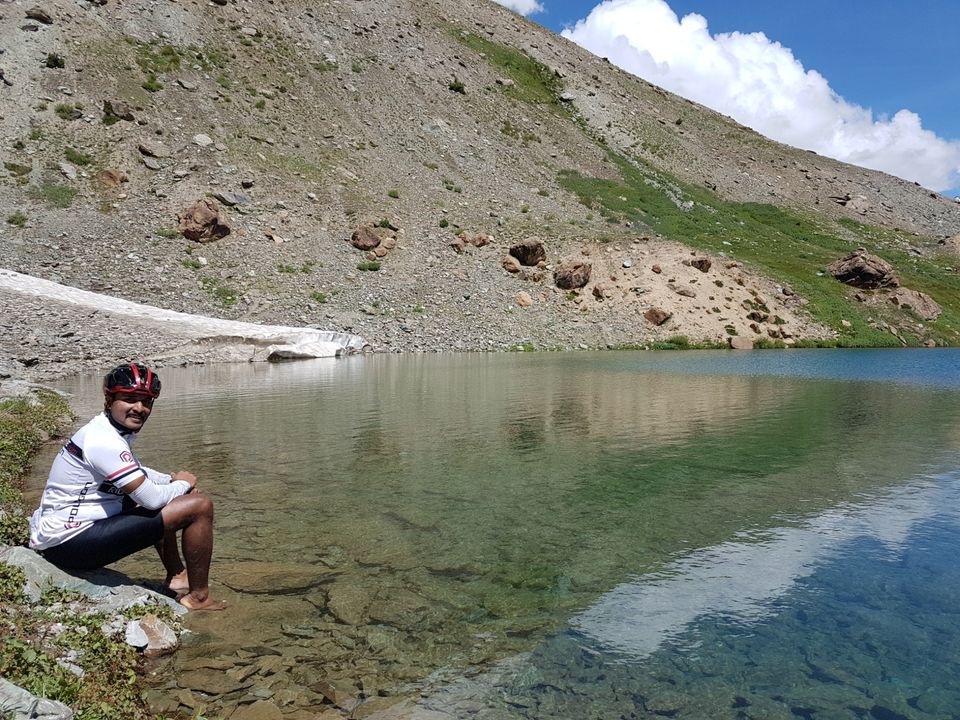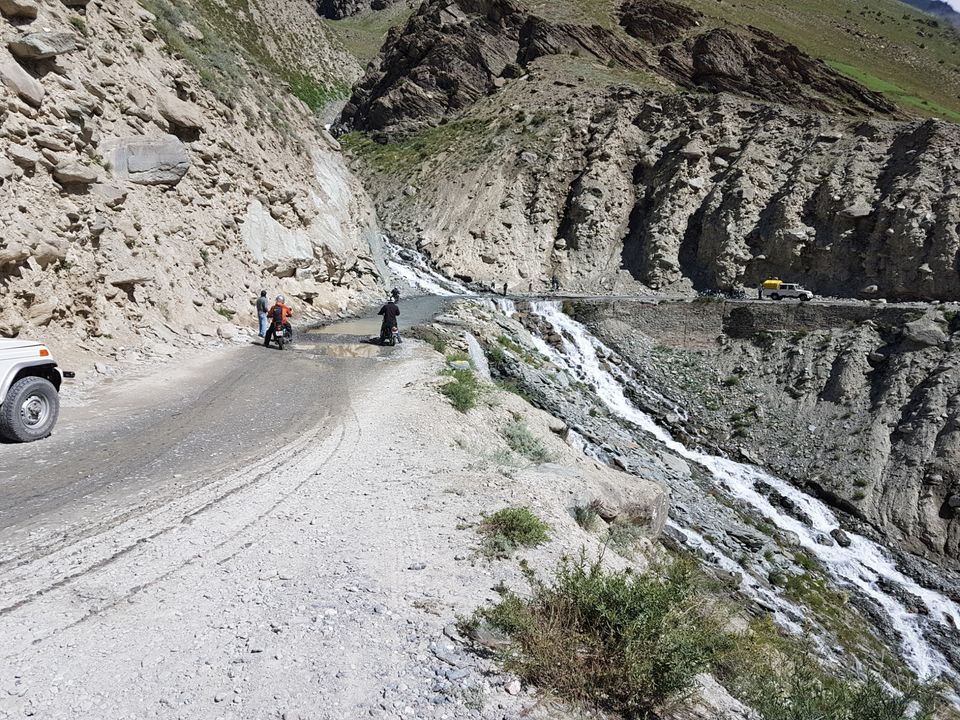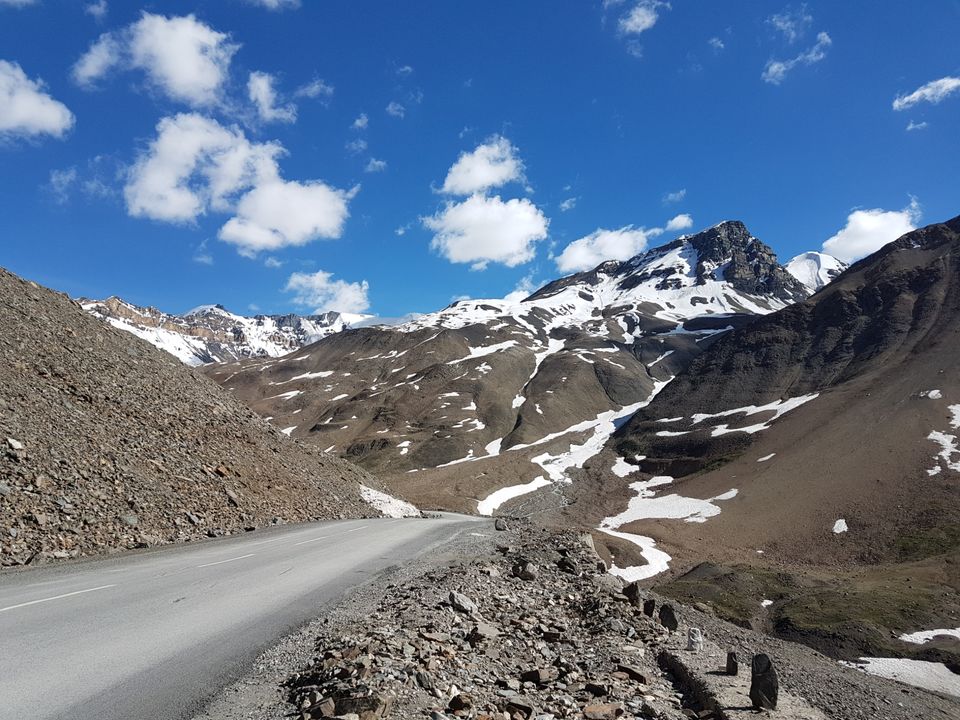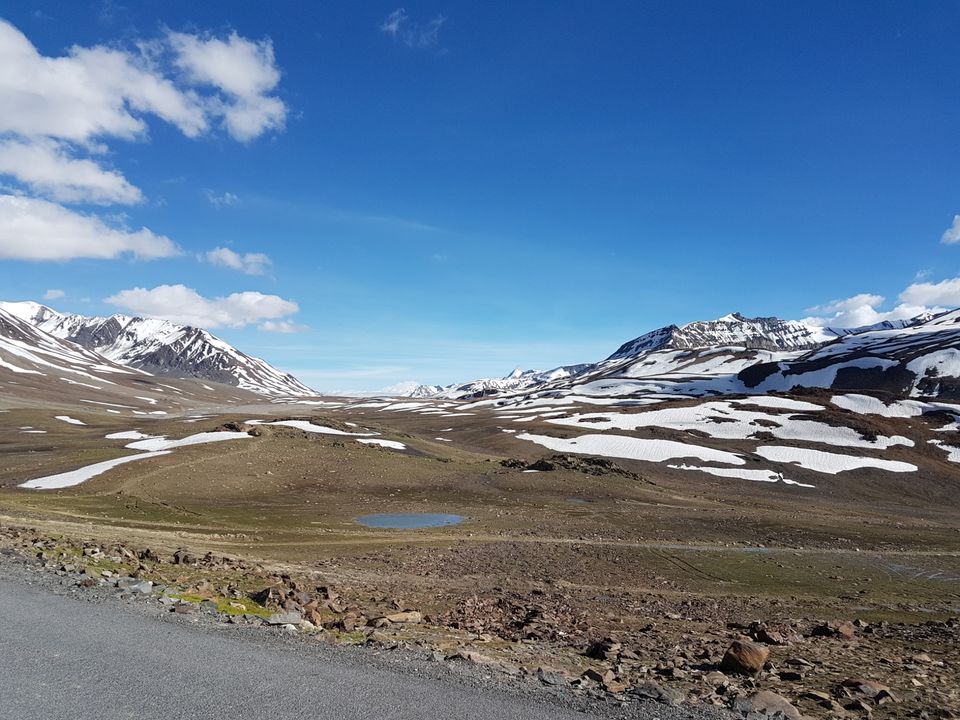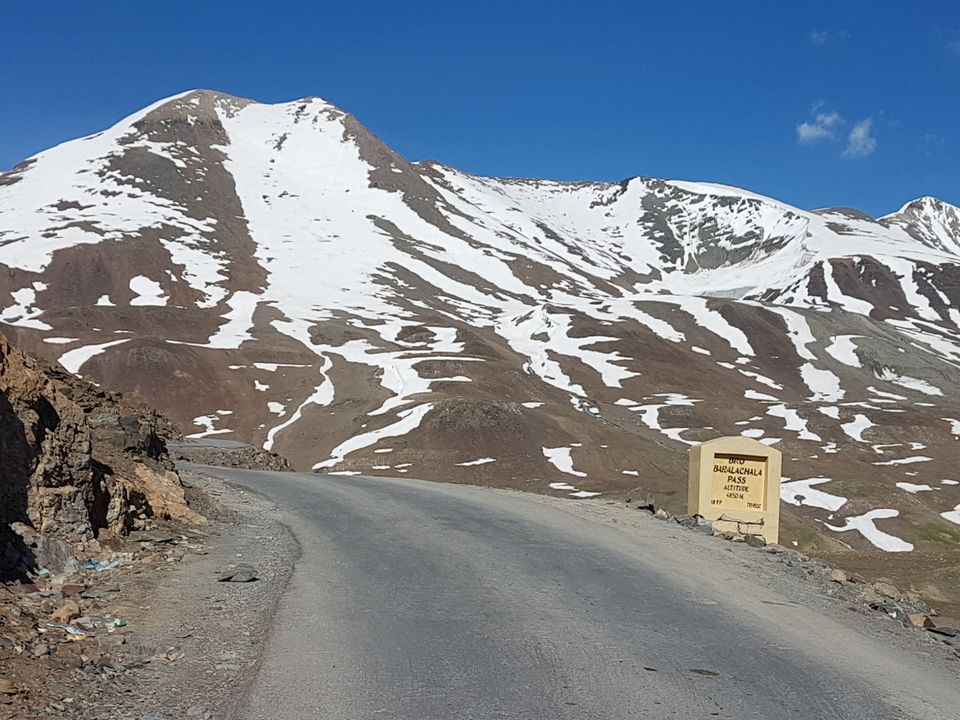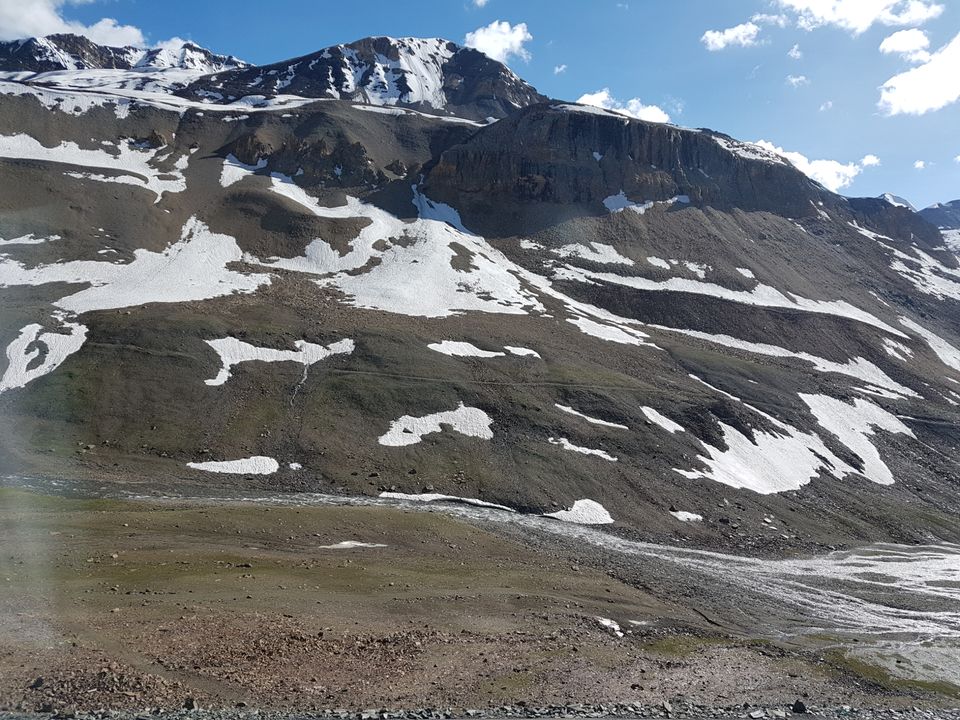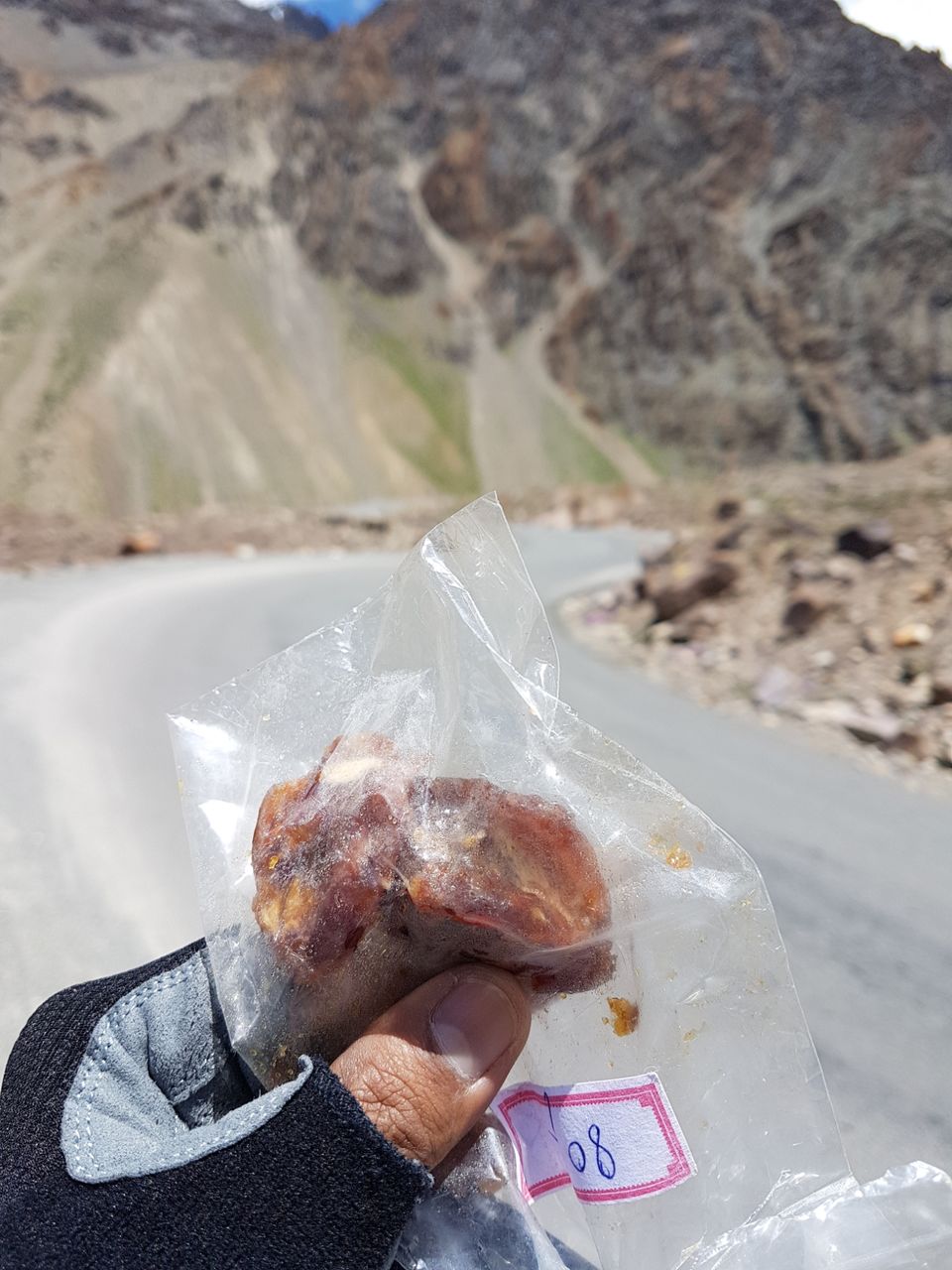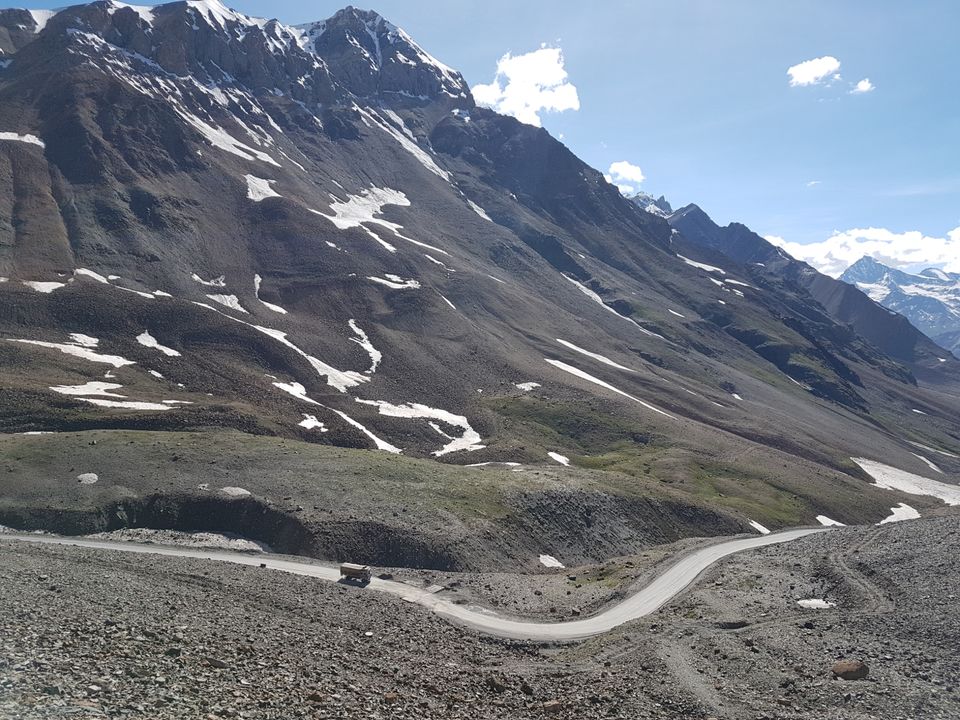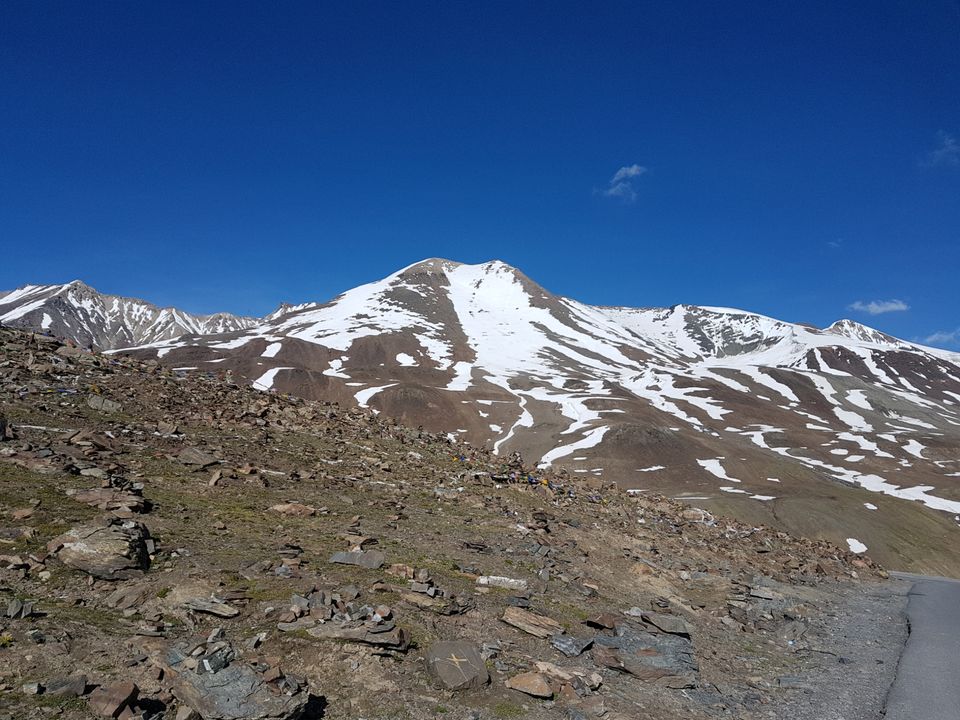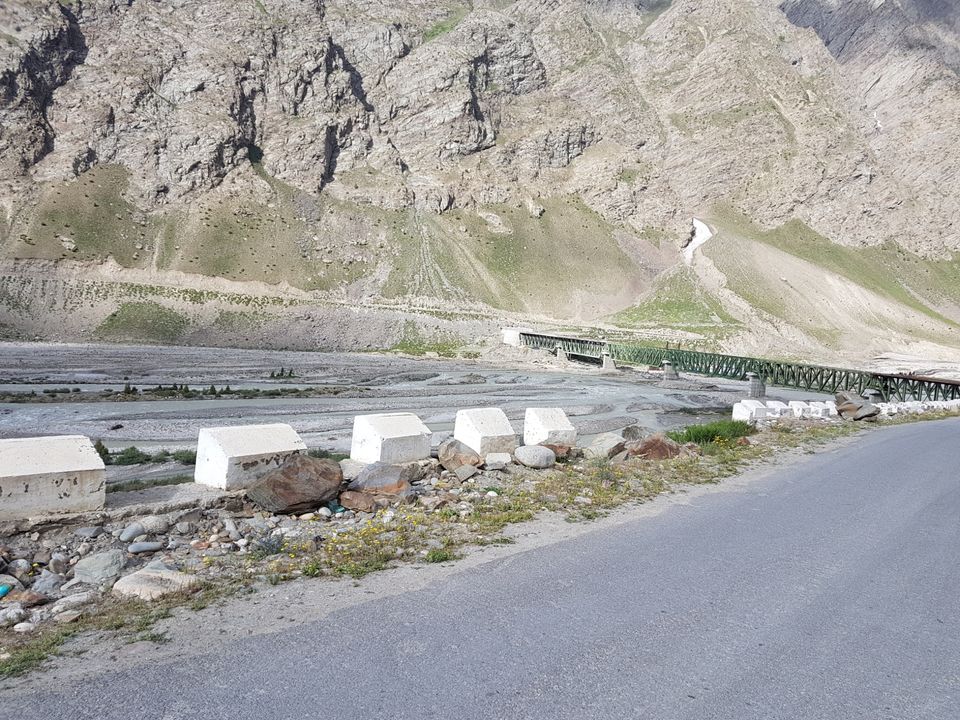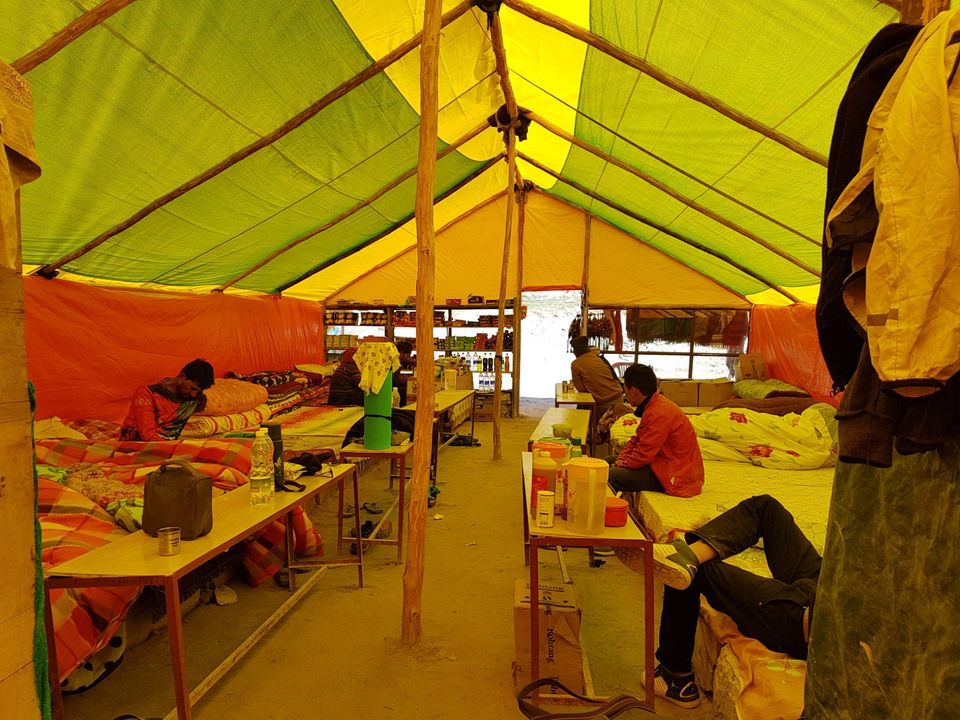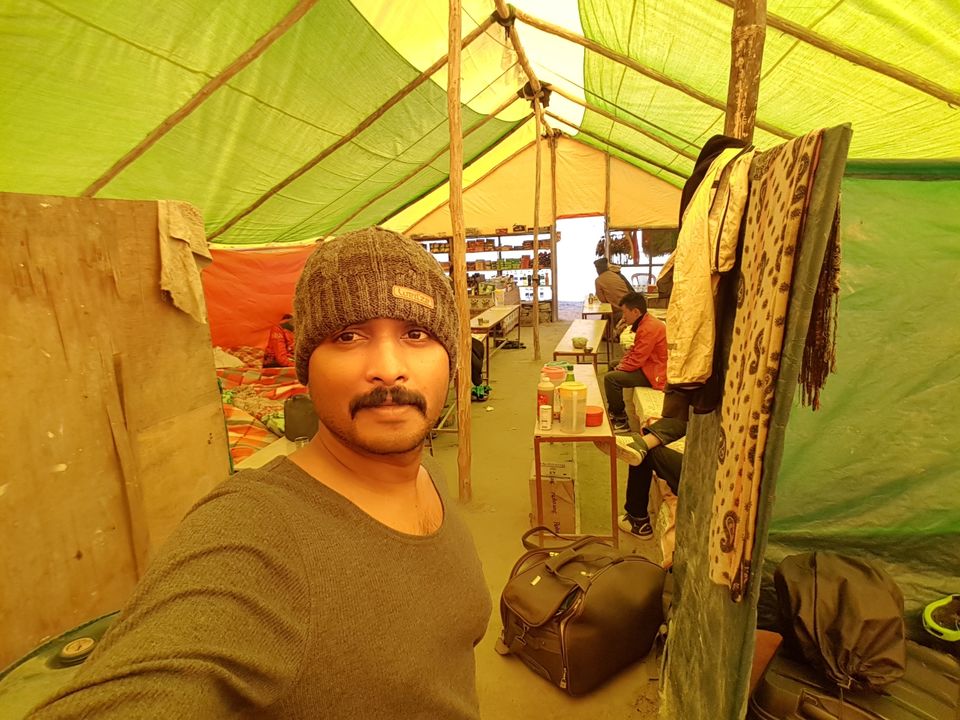 Ride to Sarchu 25kms from Chamba Daba.
Again we were in the lap of beautiful mountains around. 4626 meters from sea level, food was mostly bread omelet, dal rice and Maggi. Sarchu was just 25 KMS and flat road, it was an easy ride as it was rest day, we took some snaps and boarded luxury tents of Sarchu, luxury means you have commode for toilet, separate beds in tents, hot water for bath and buffet @ common dining area. As I was sick with altitude me and Shankar sir visited military camp for checkup they suggested to do top up my oxygen level after that I was better for next day ride.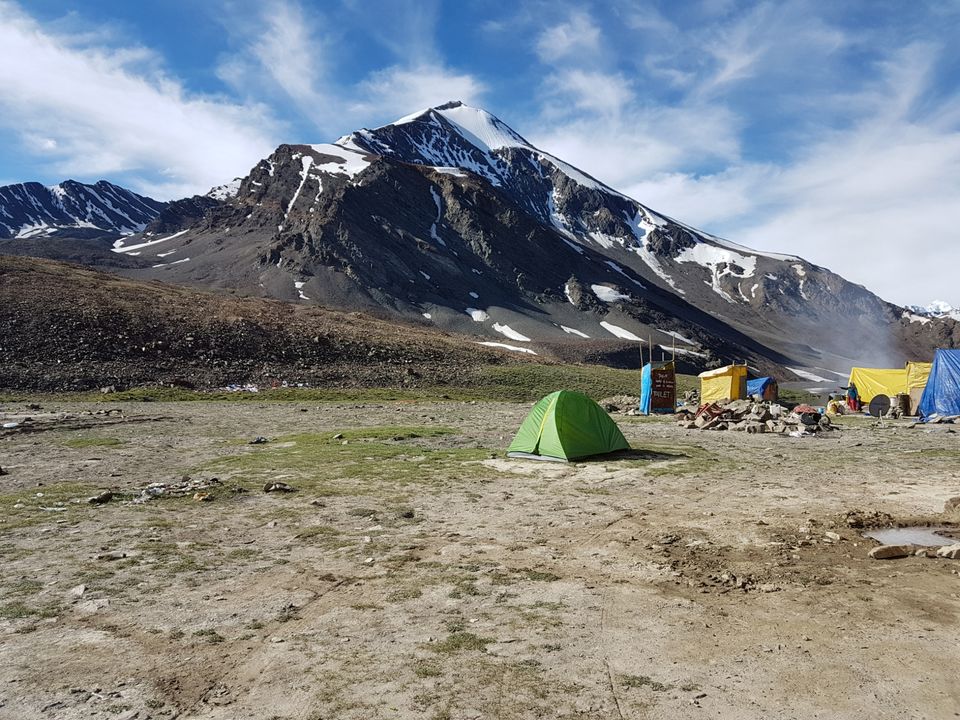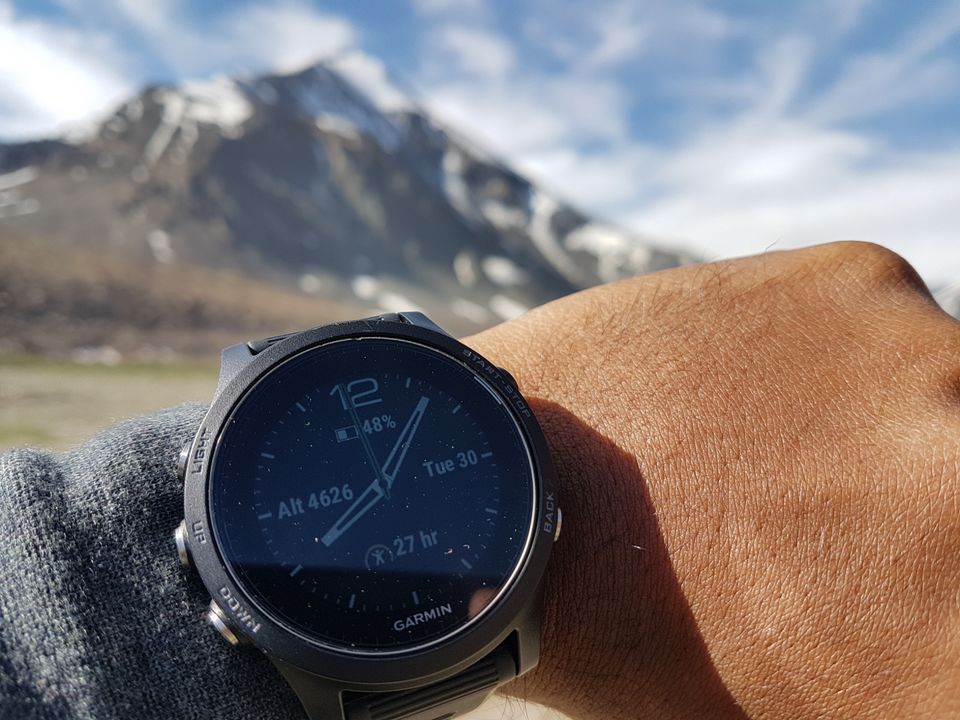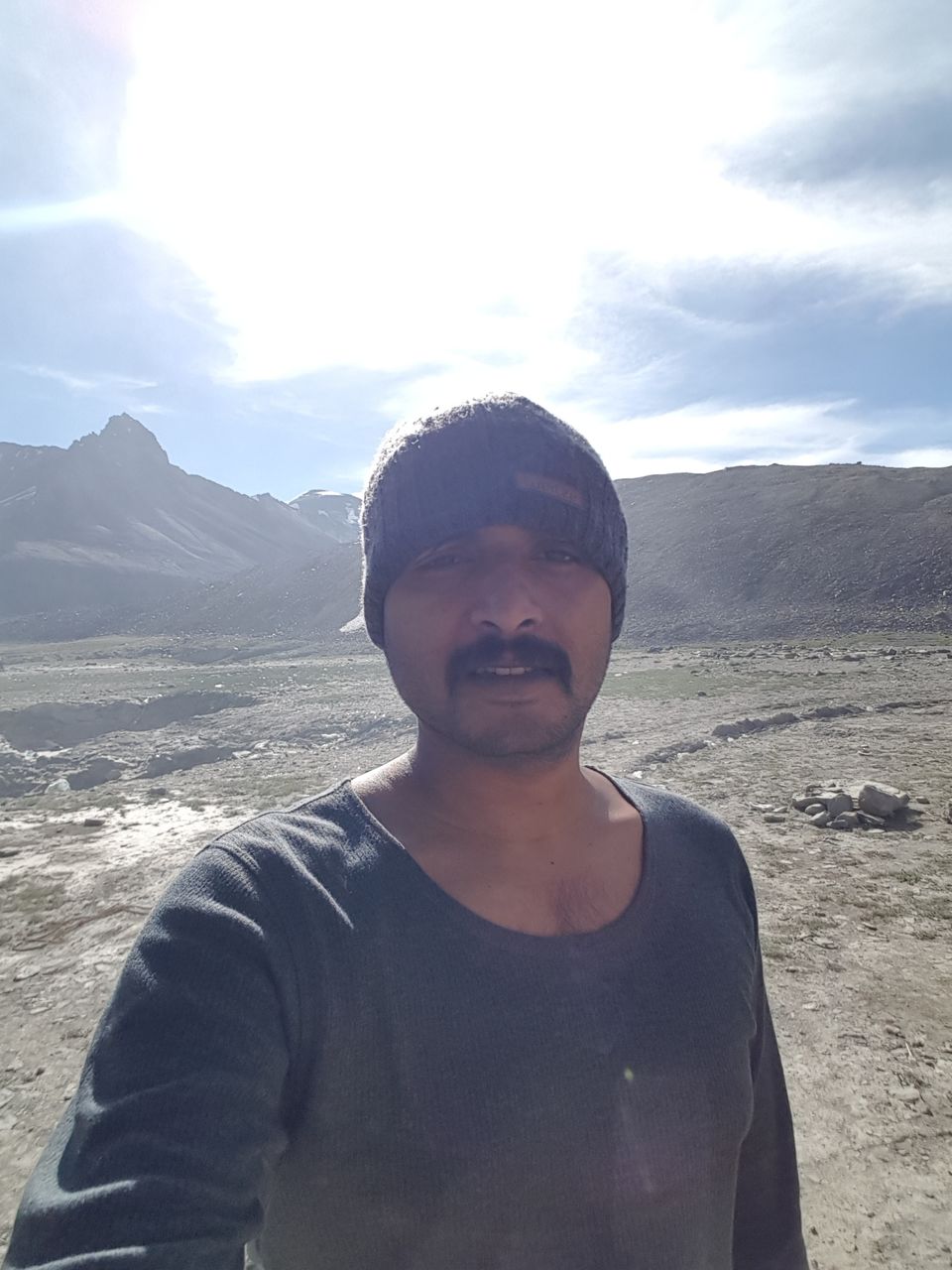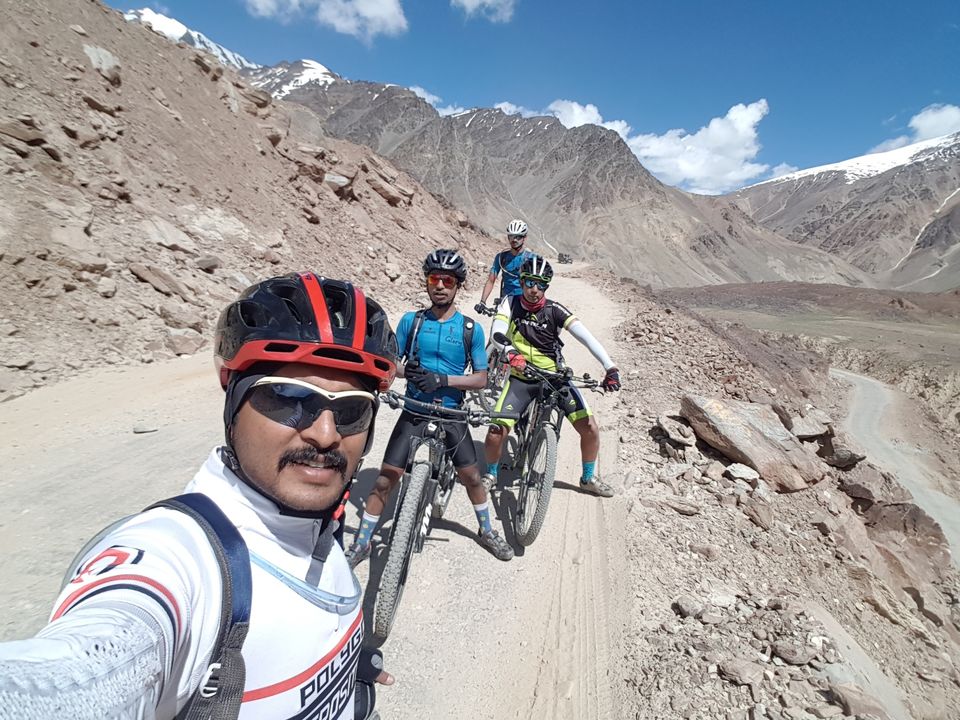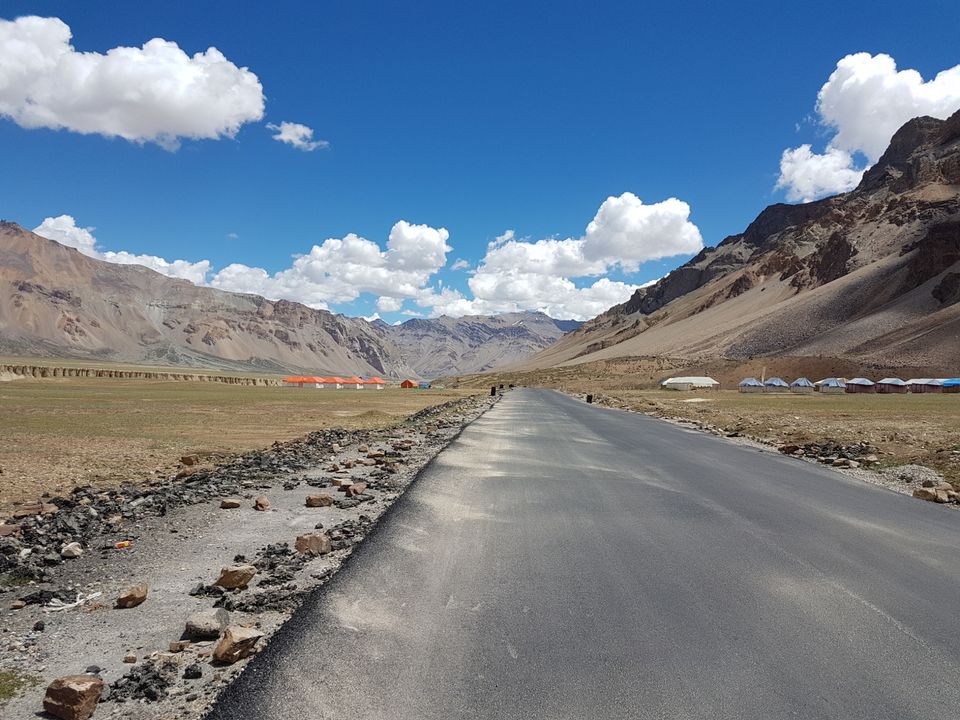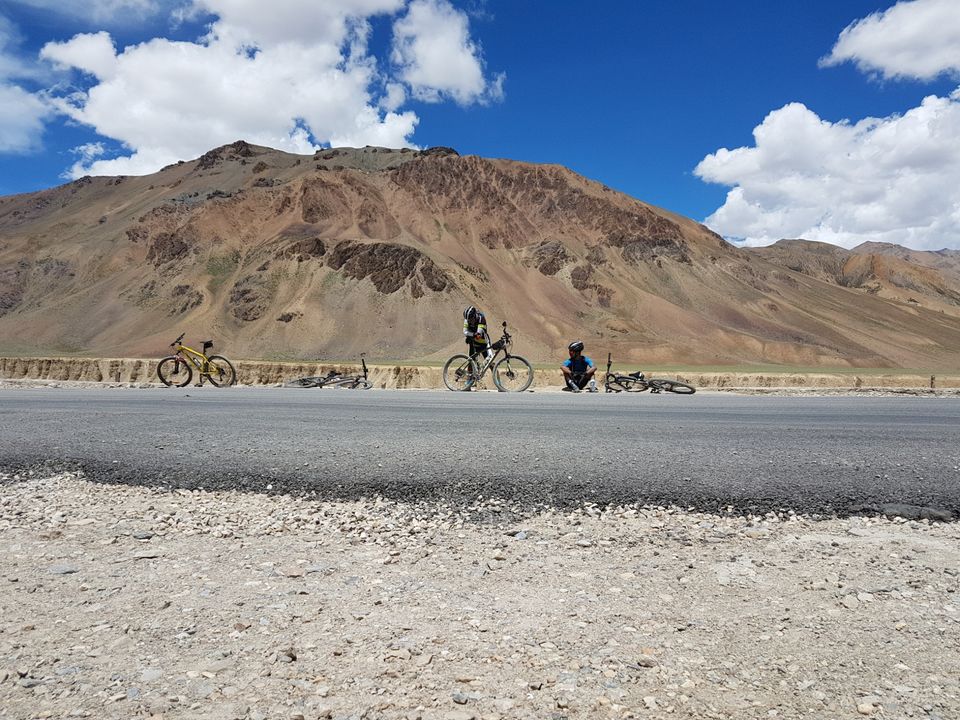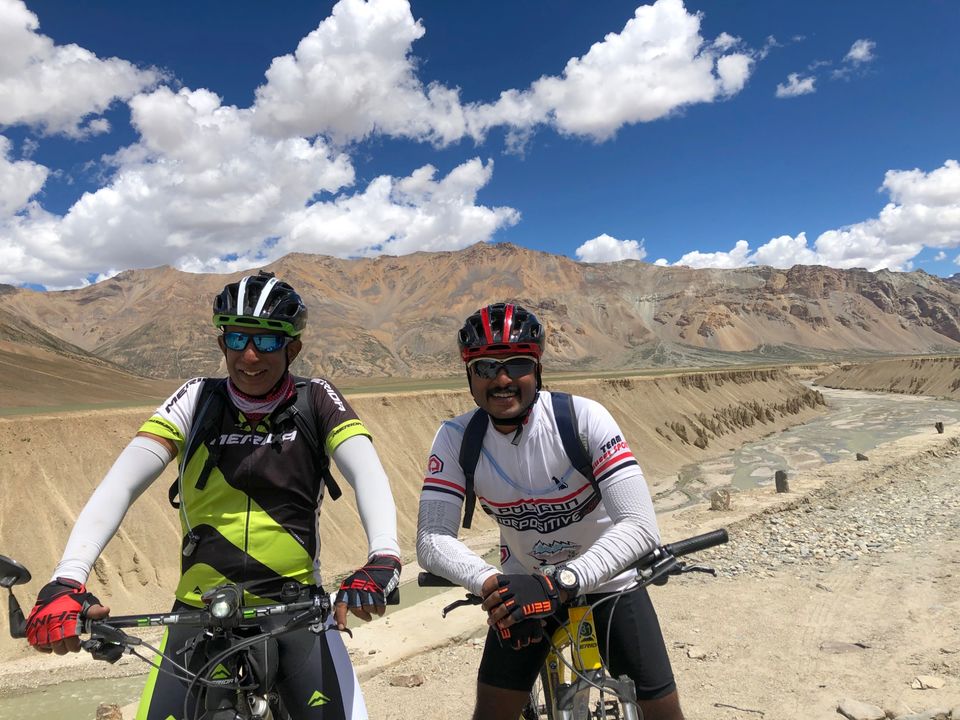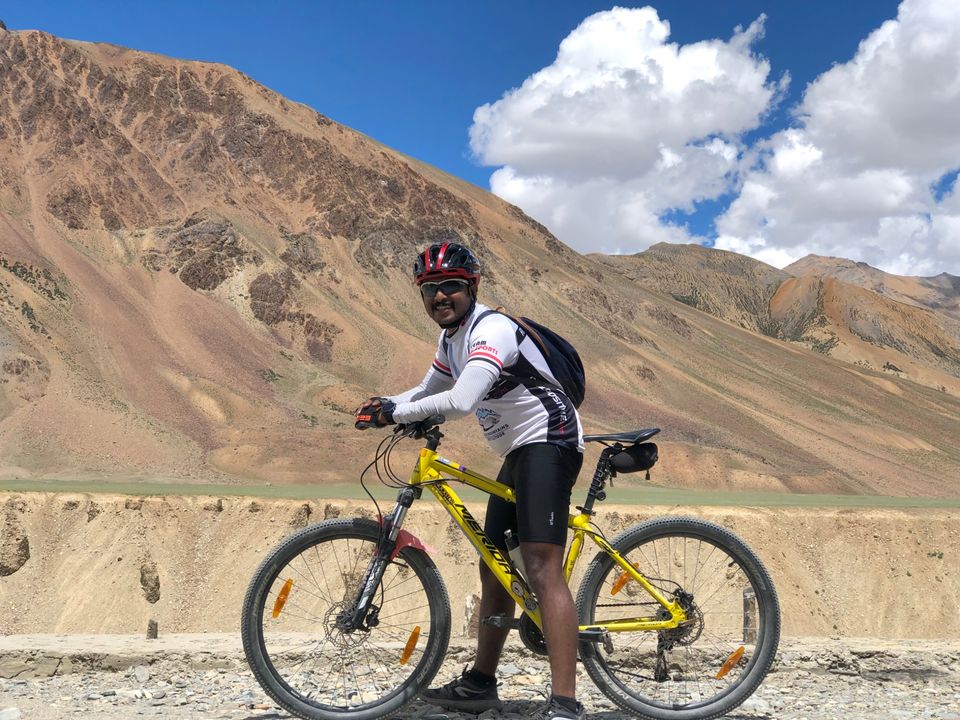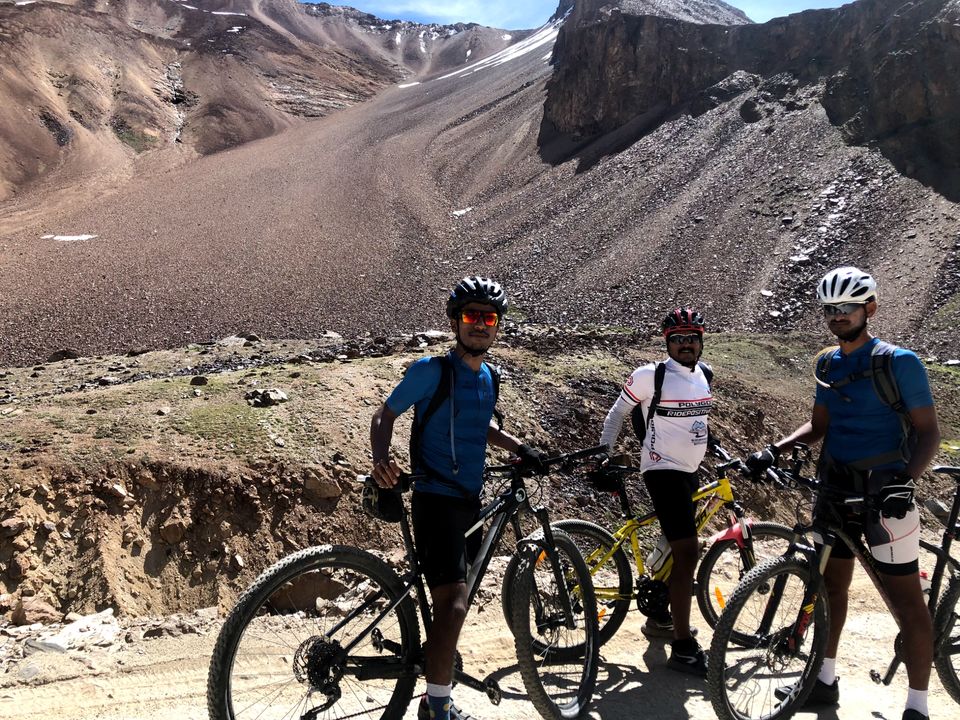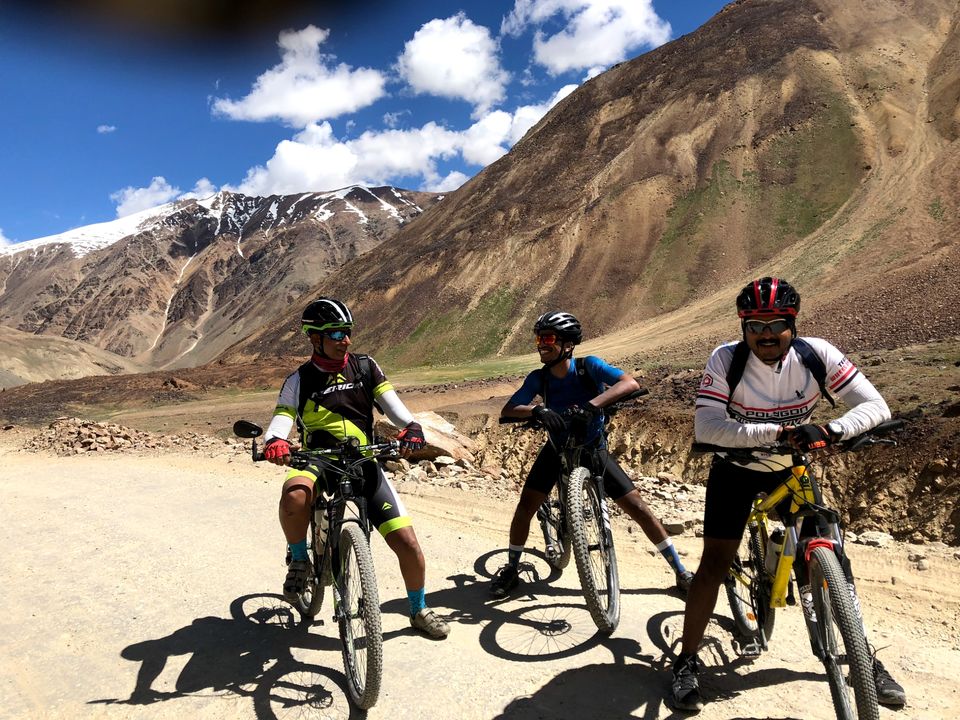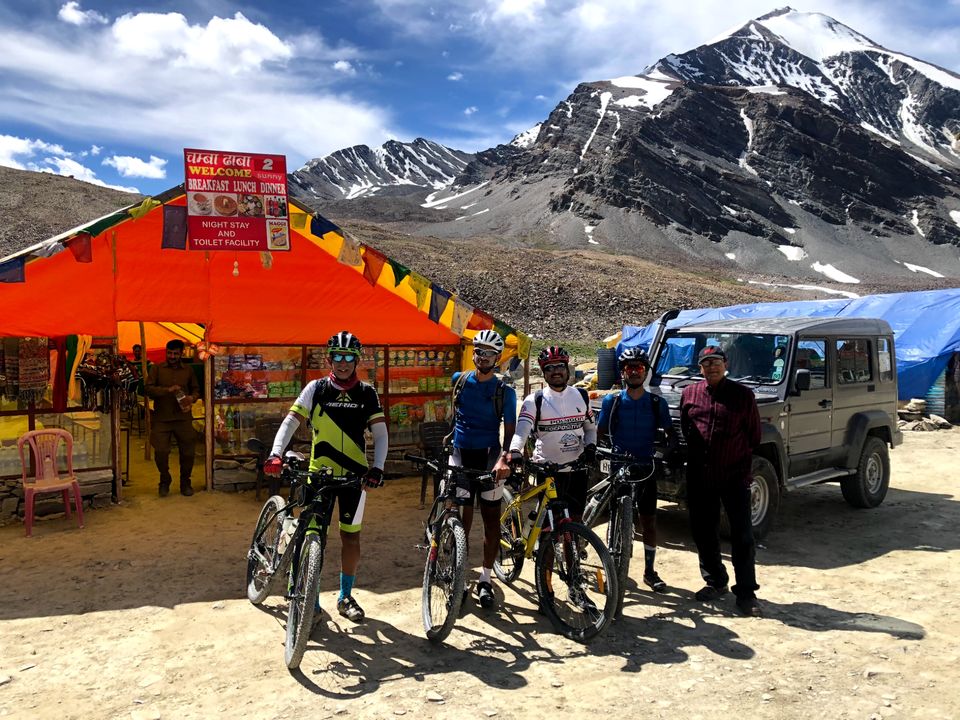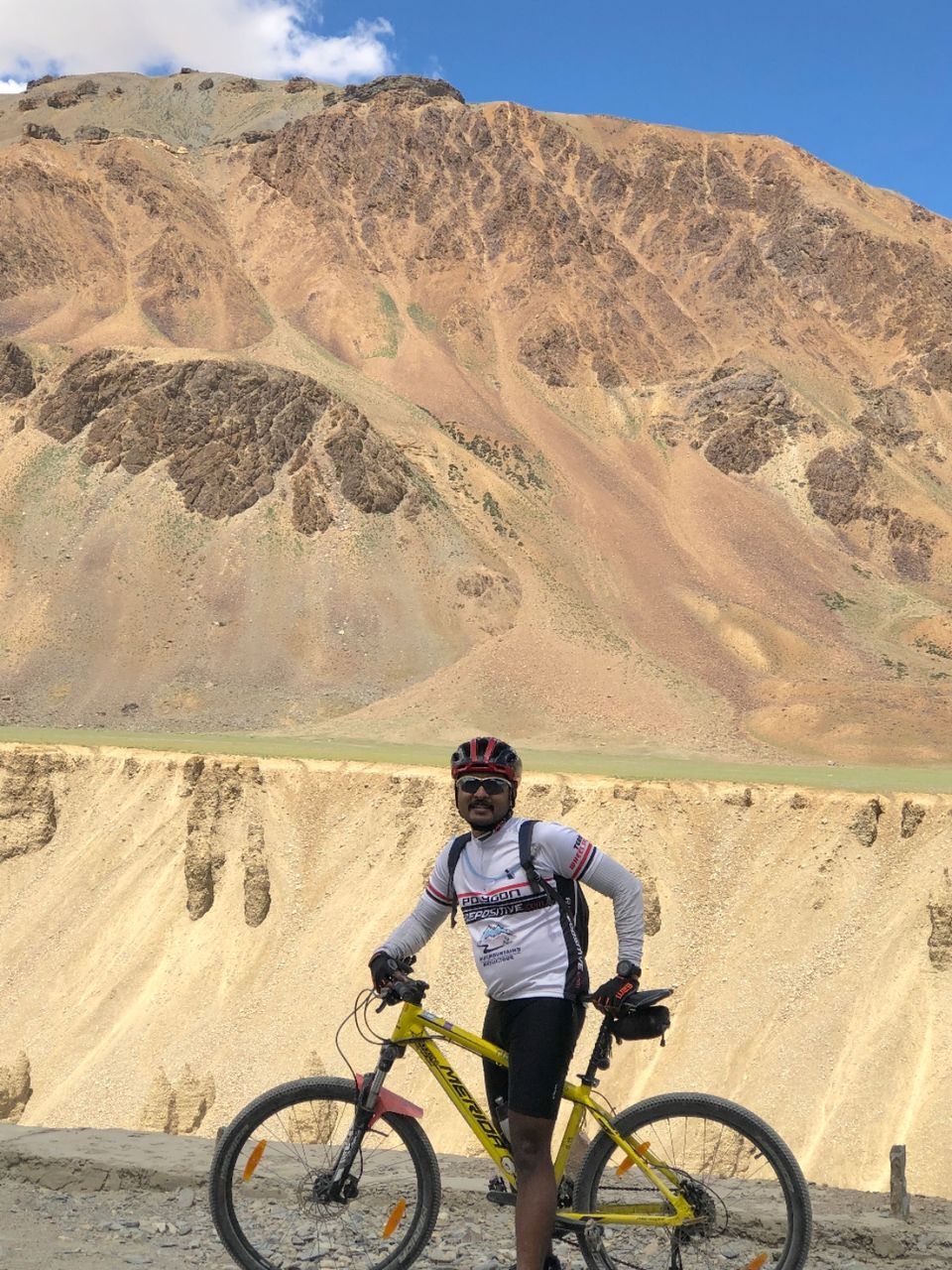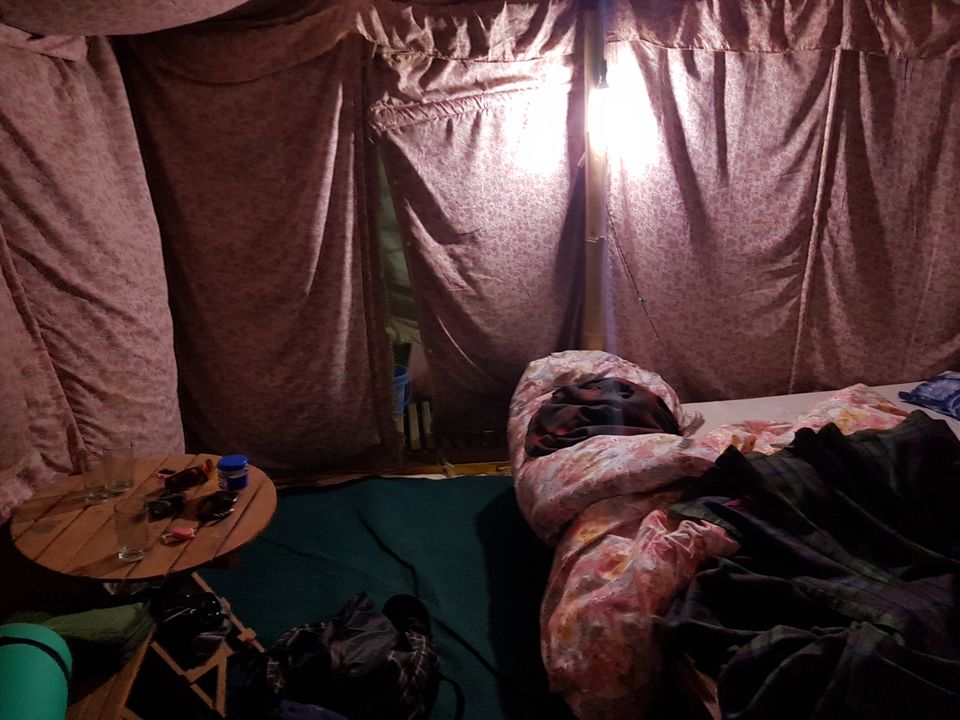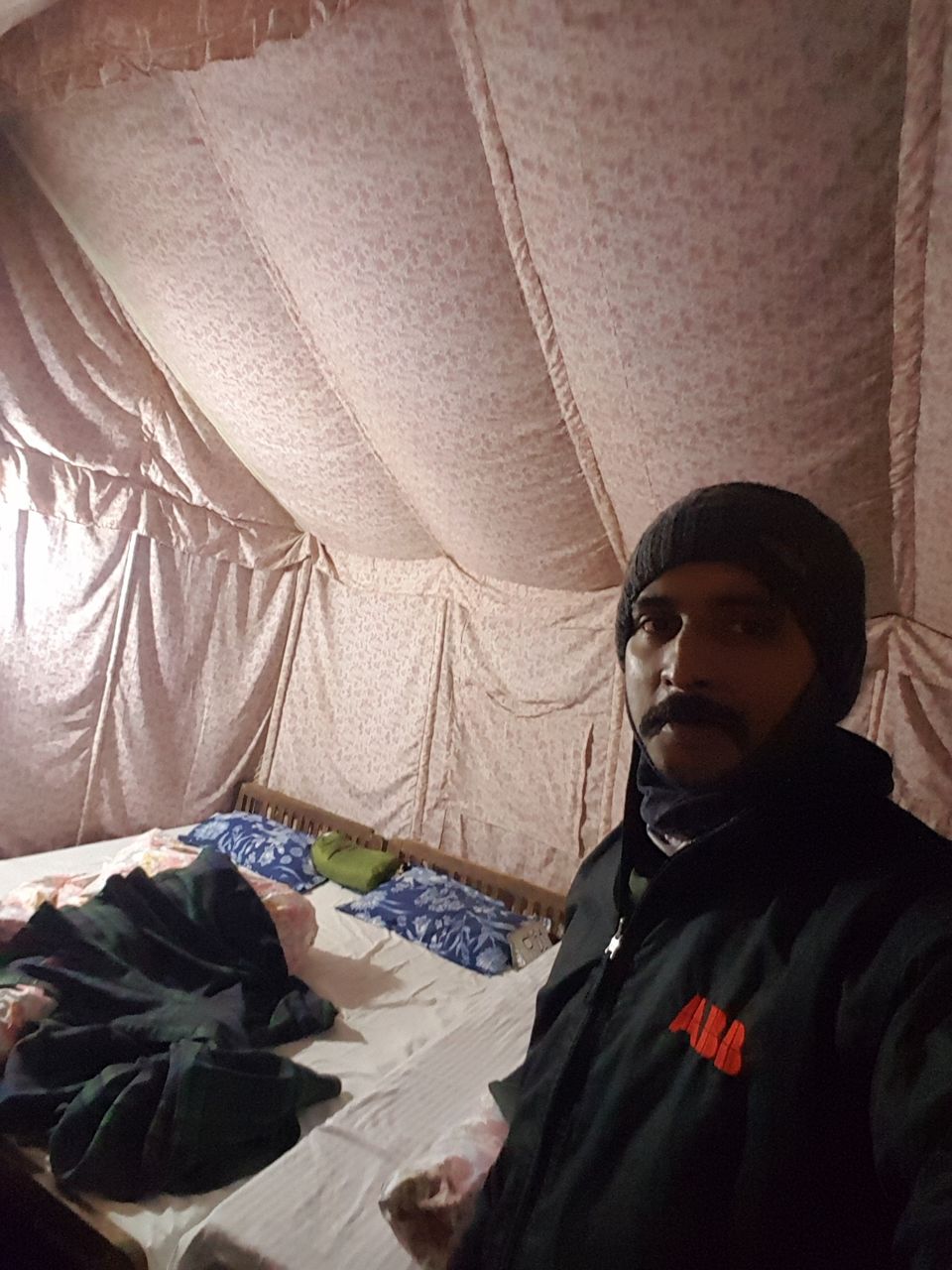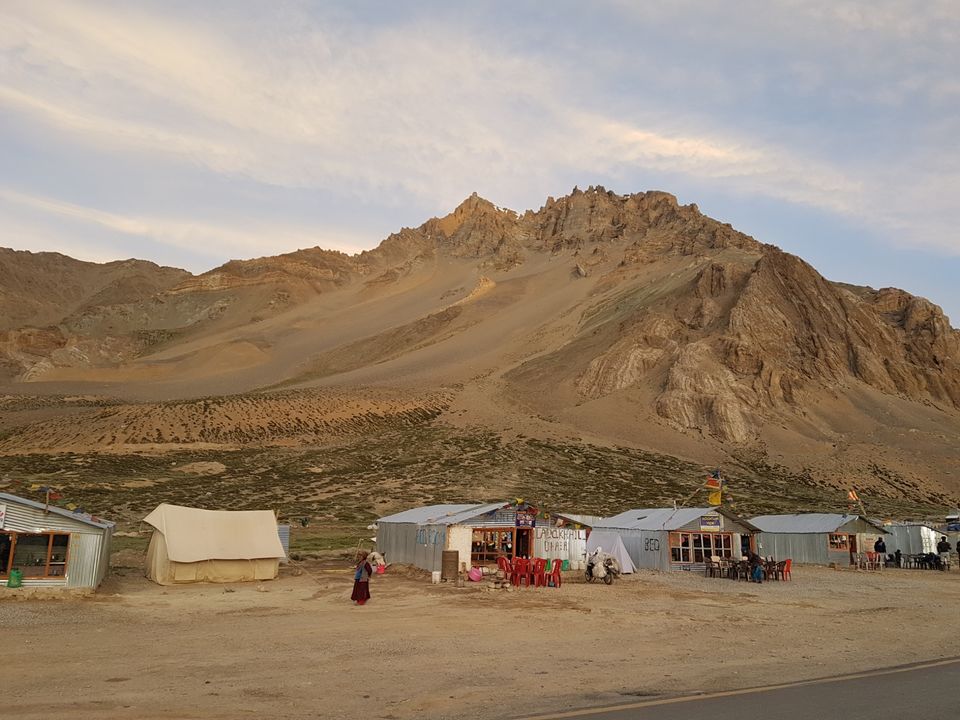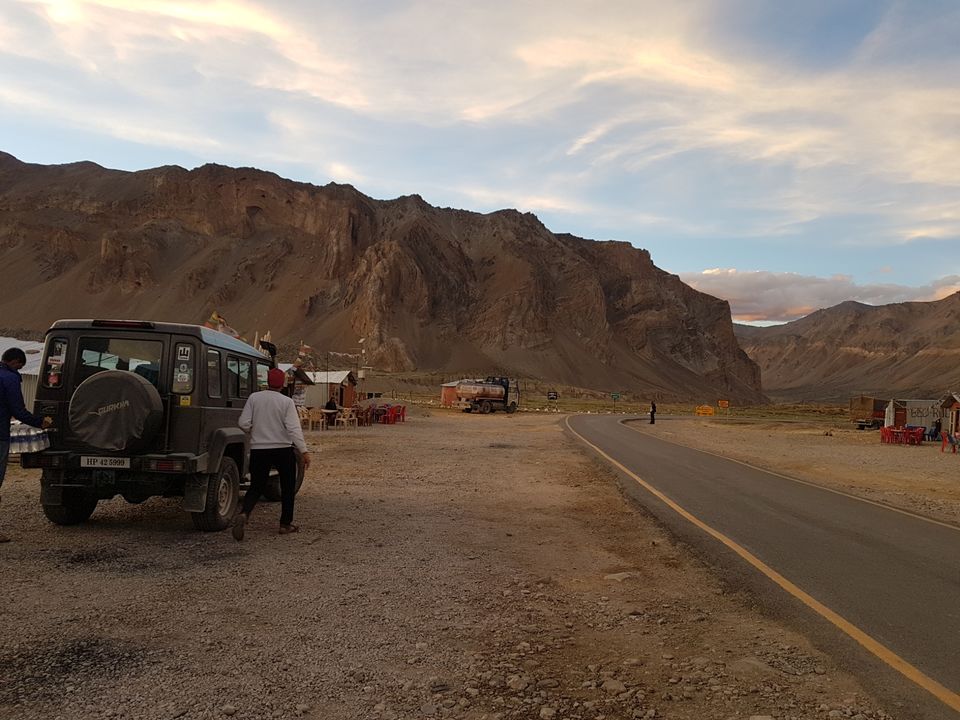 From sarchu to Pong around 80 -90 Kms.
After yesterday's rest, today we are ready to ride to pong via GataLoops around 80 kms from Sarchu. It was cool ride till we reach GataLoops, after covering several hairpin bends we conquered GataLoops by afternoon reached Nakeela Pass, after that expected downhill till we reach lunch point, after having soup and omelet we continued our journey towards Pong. Again climb started with bad roads and finally we could reach Pong by 6PM, checked into home stay, home stay was good, food was delicious but i was almost sick due to cough and cold, Dr Shankar did his ride only till GataLoops after that he was inside support vehicle, our super heroes Balu & Yashas rode as usual.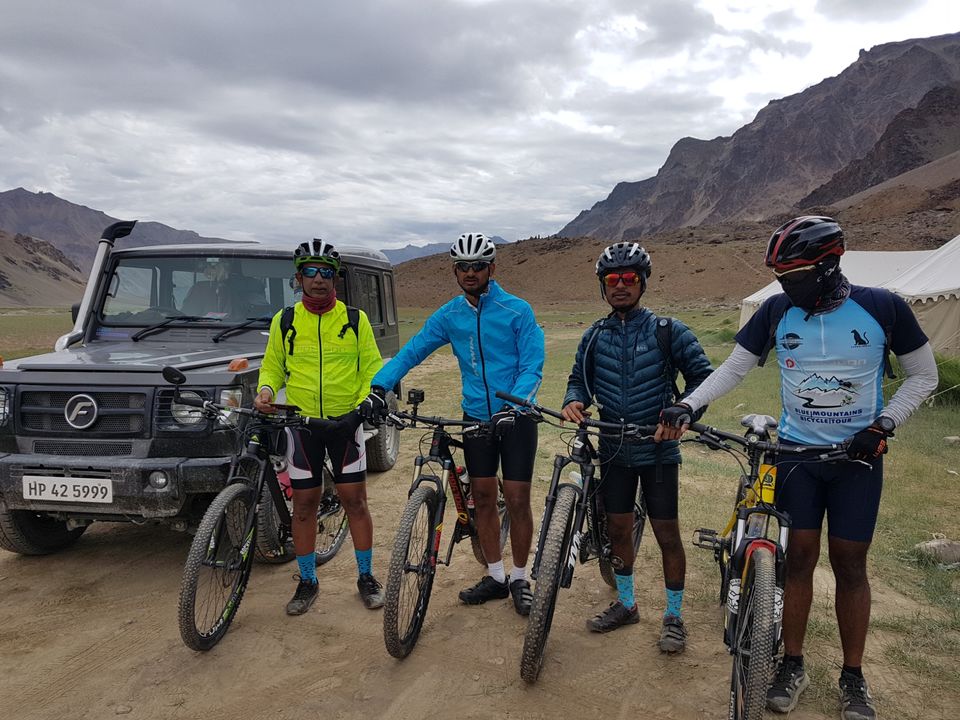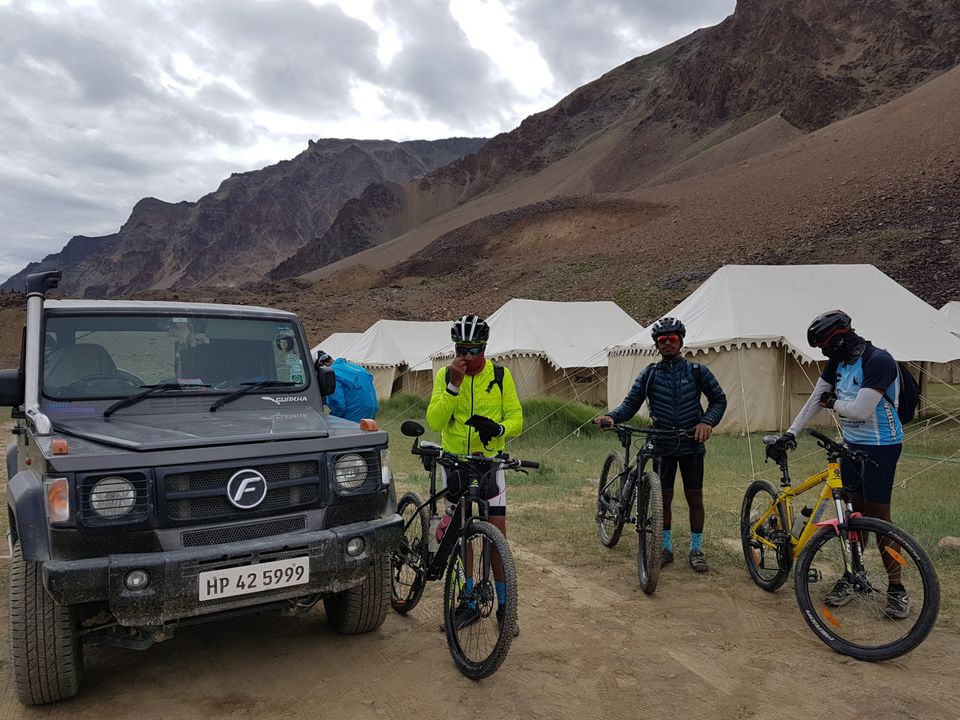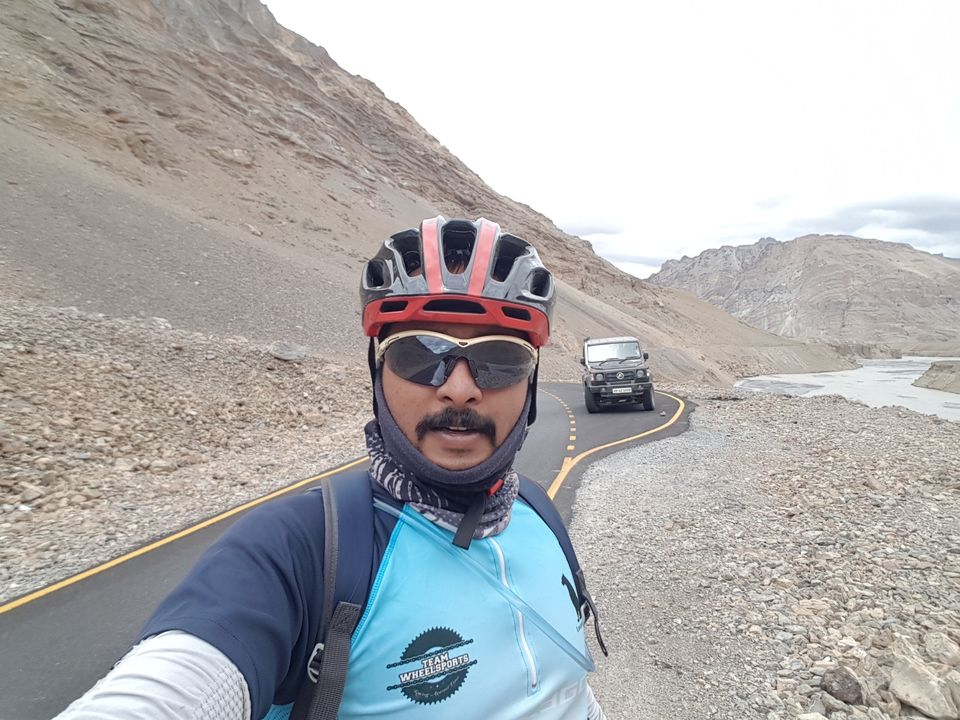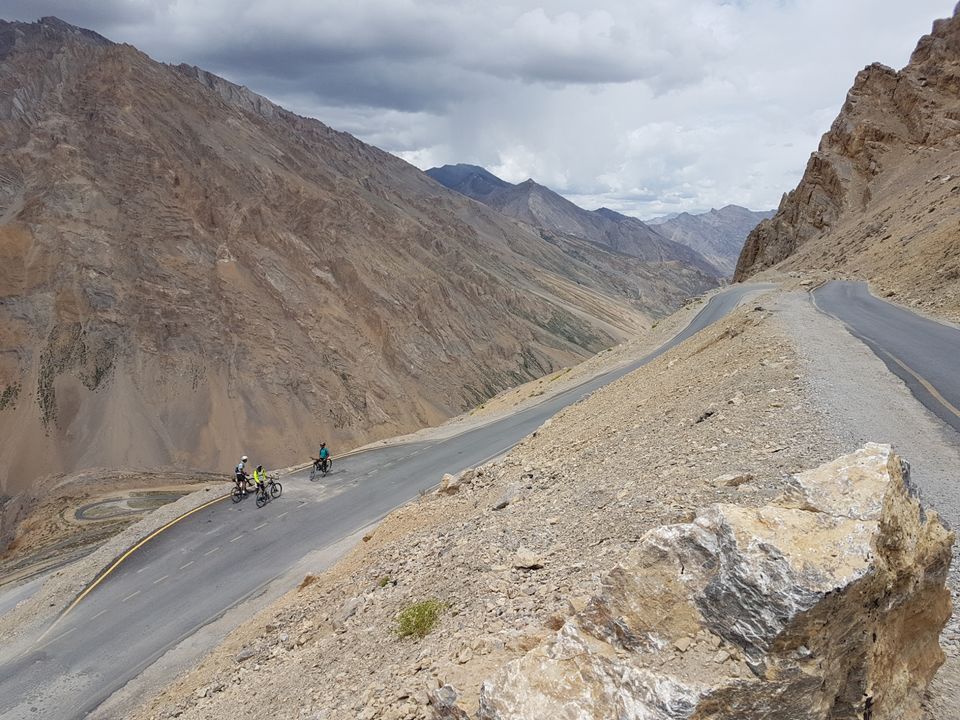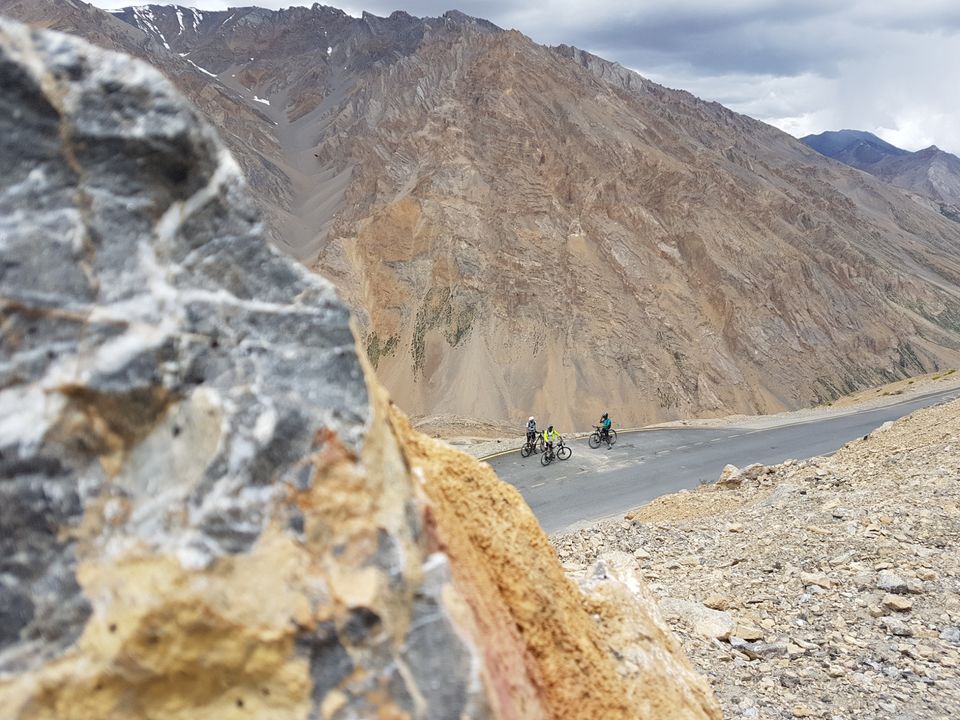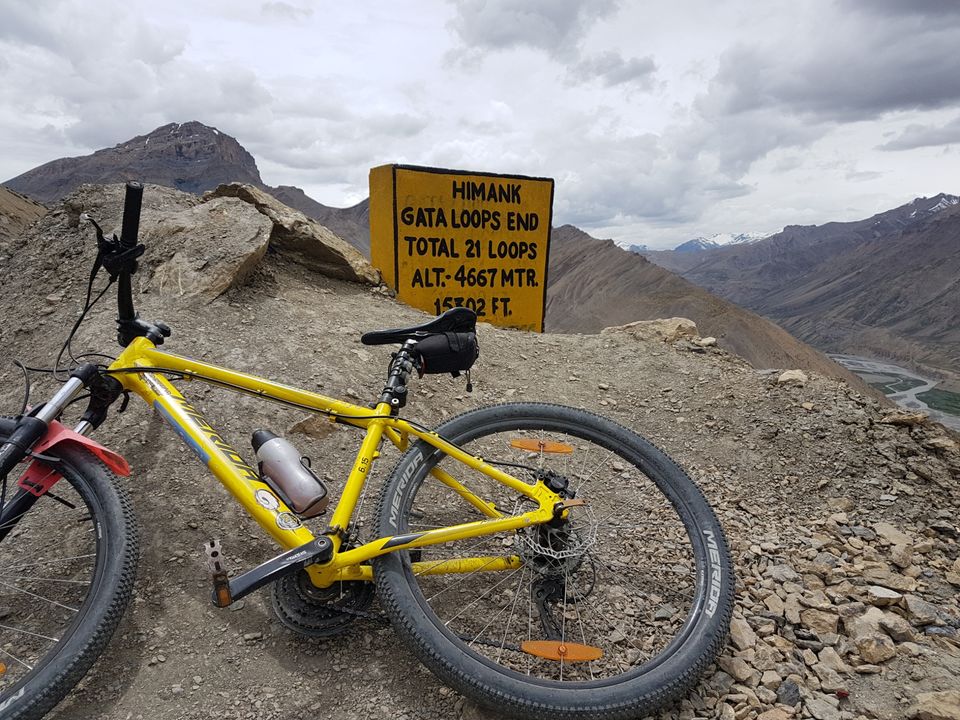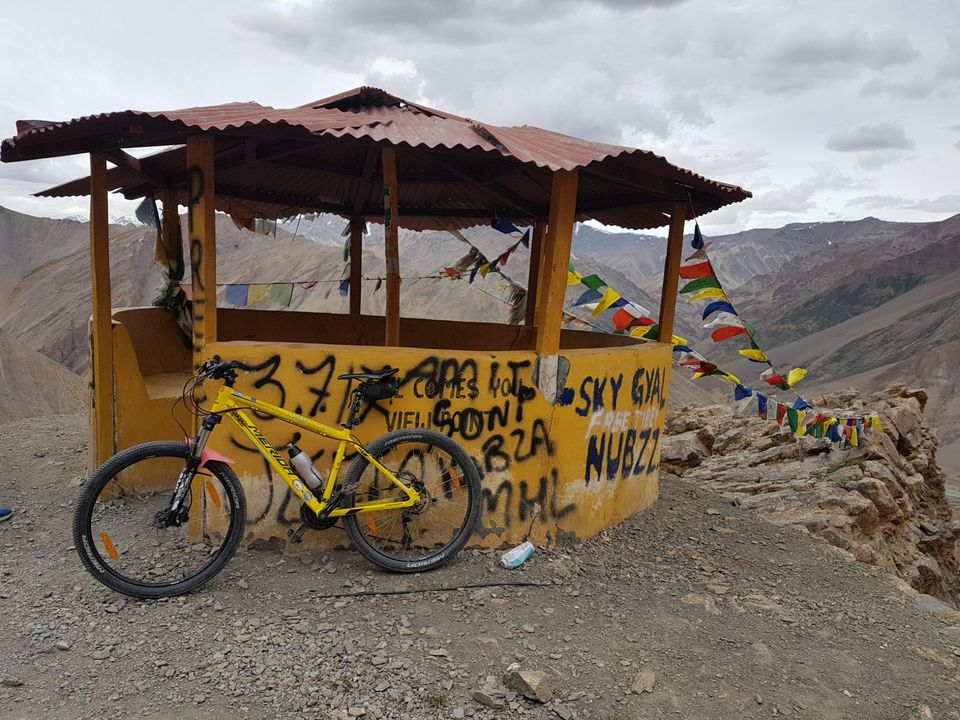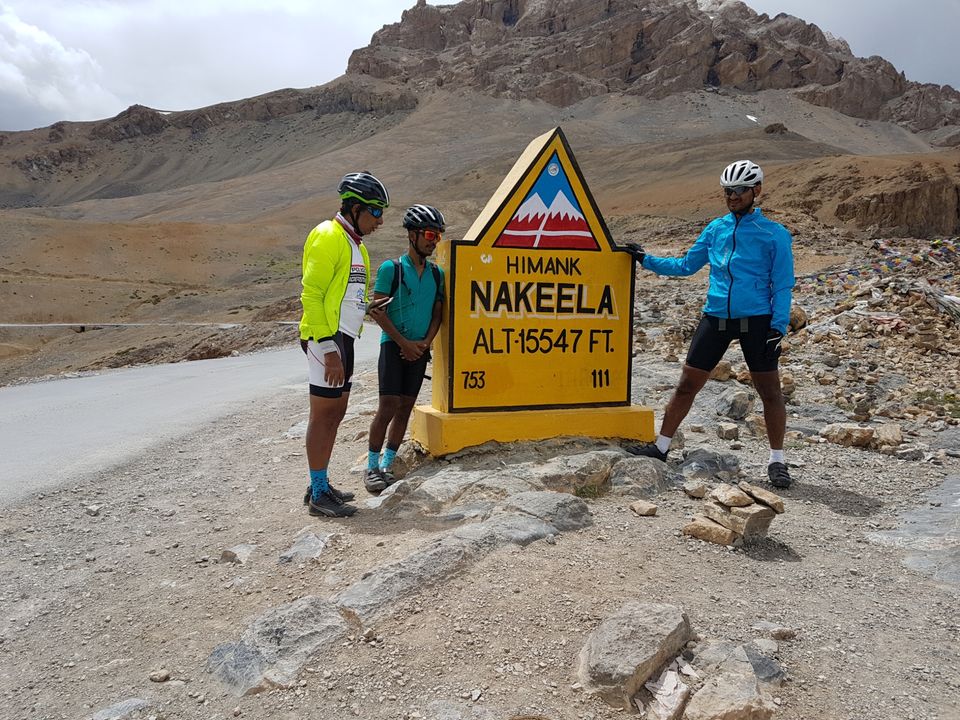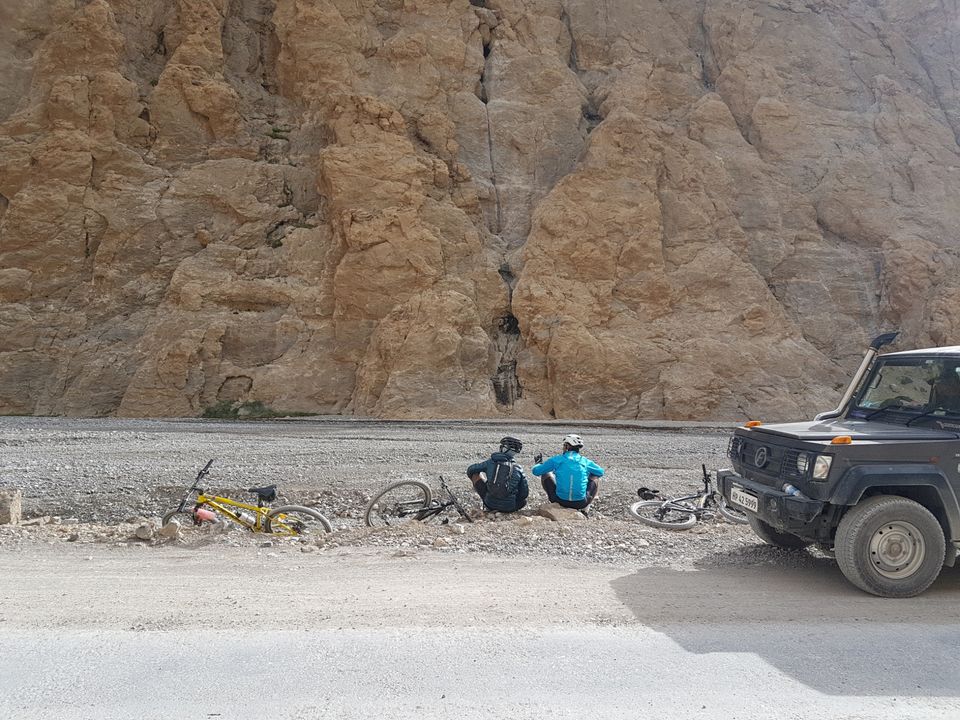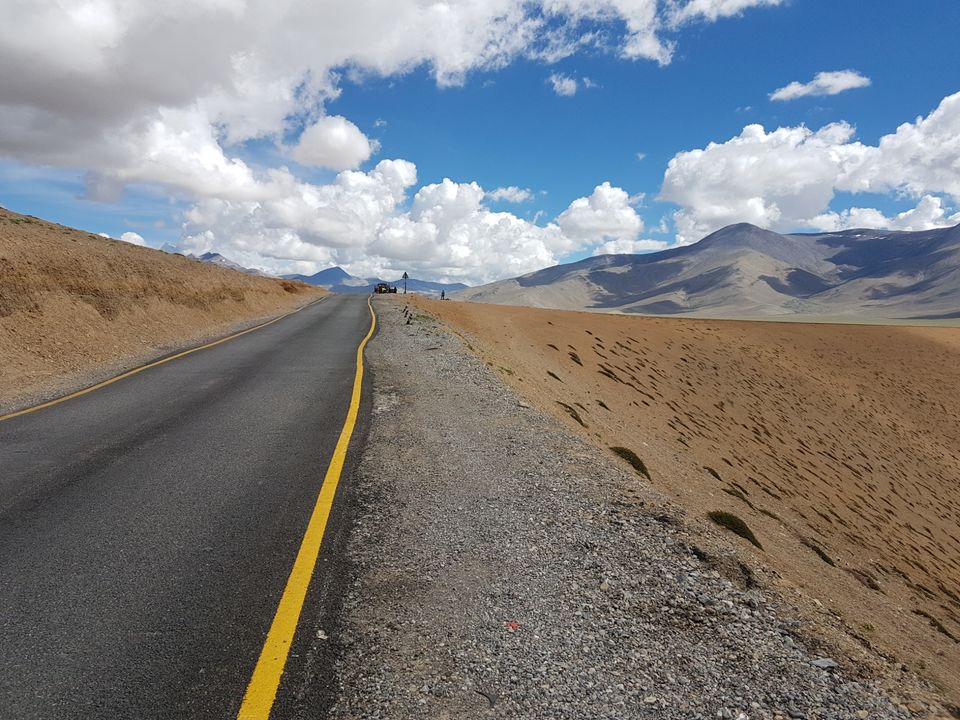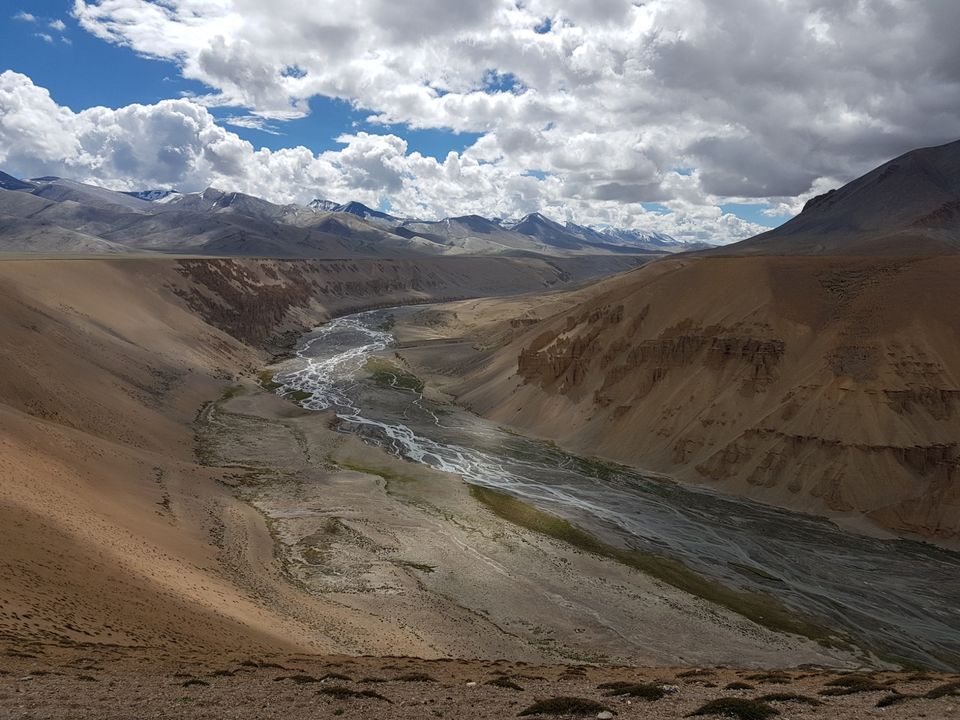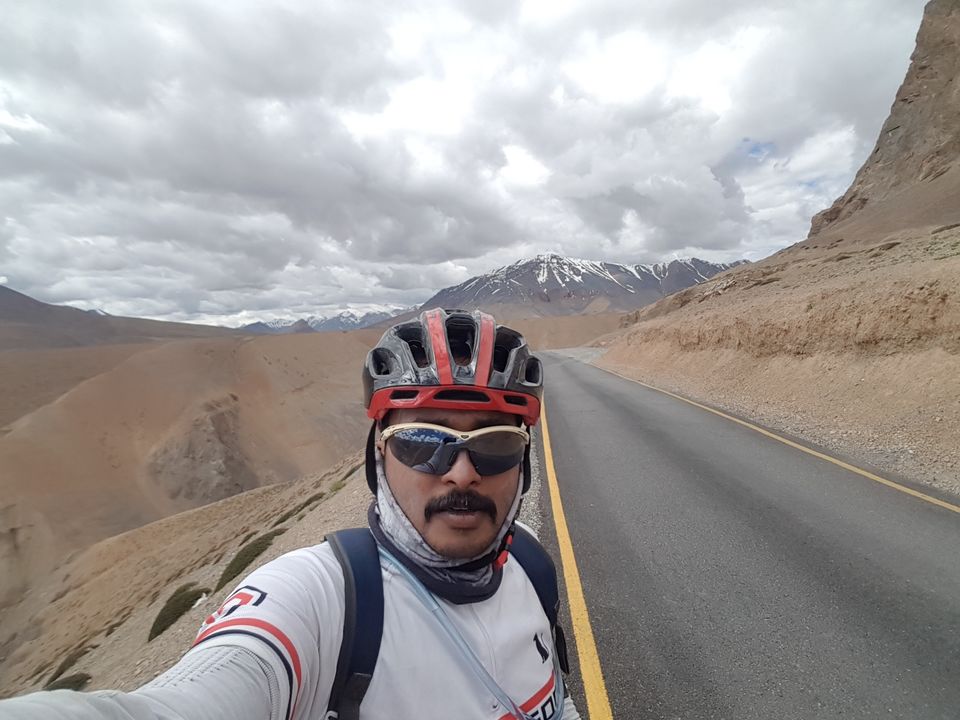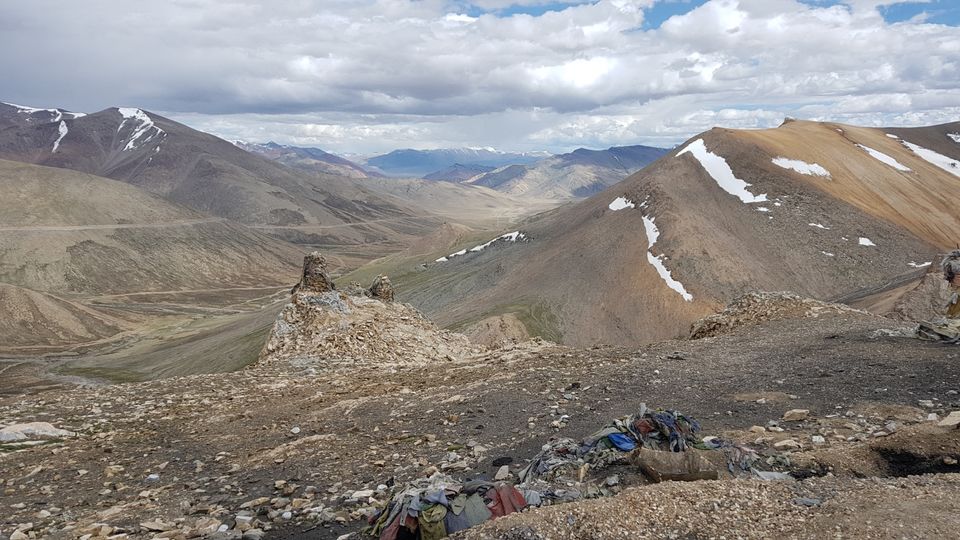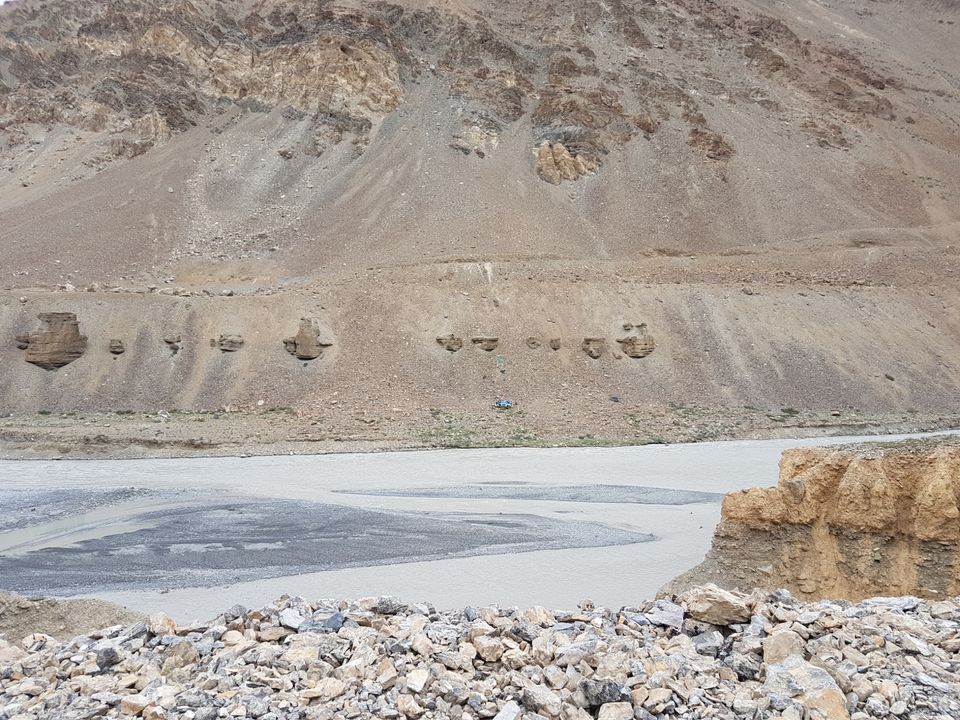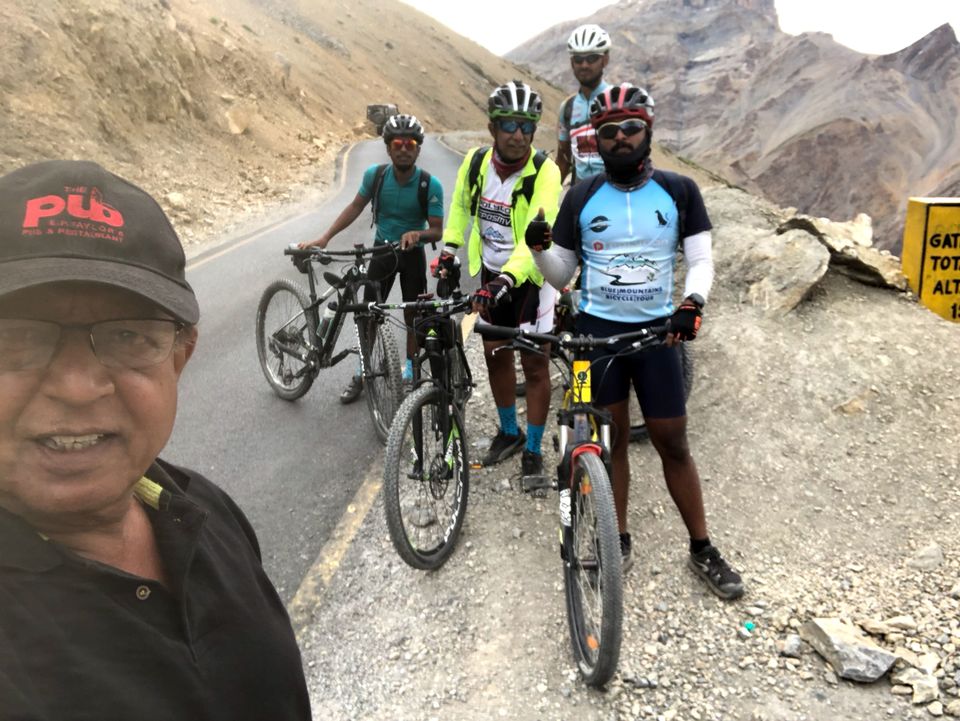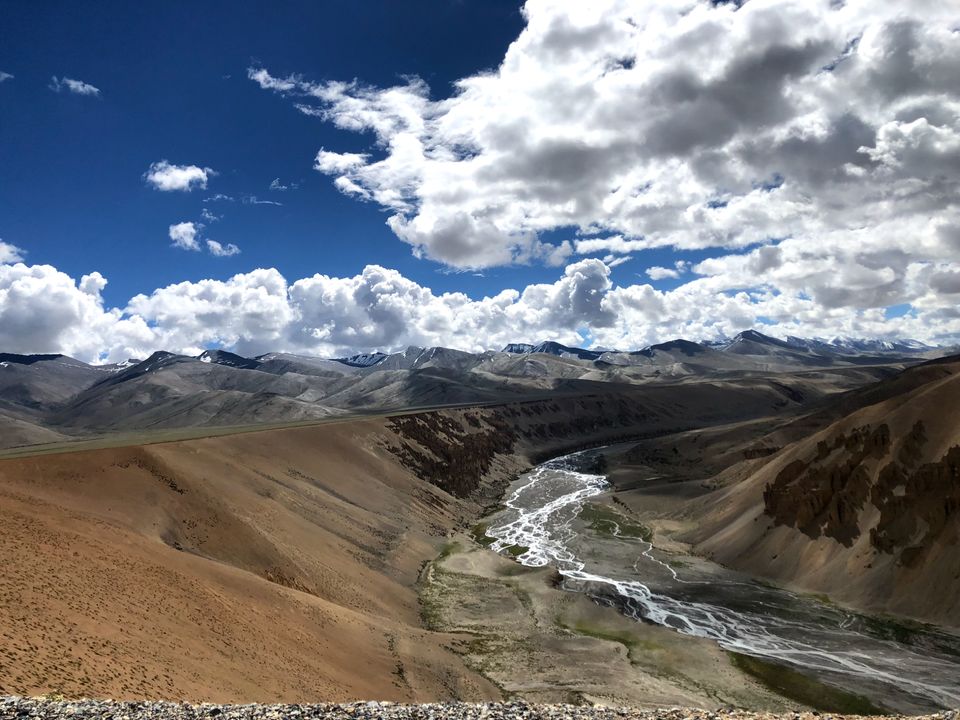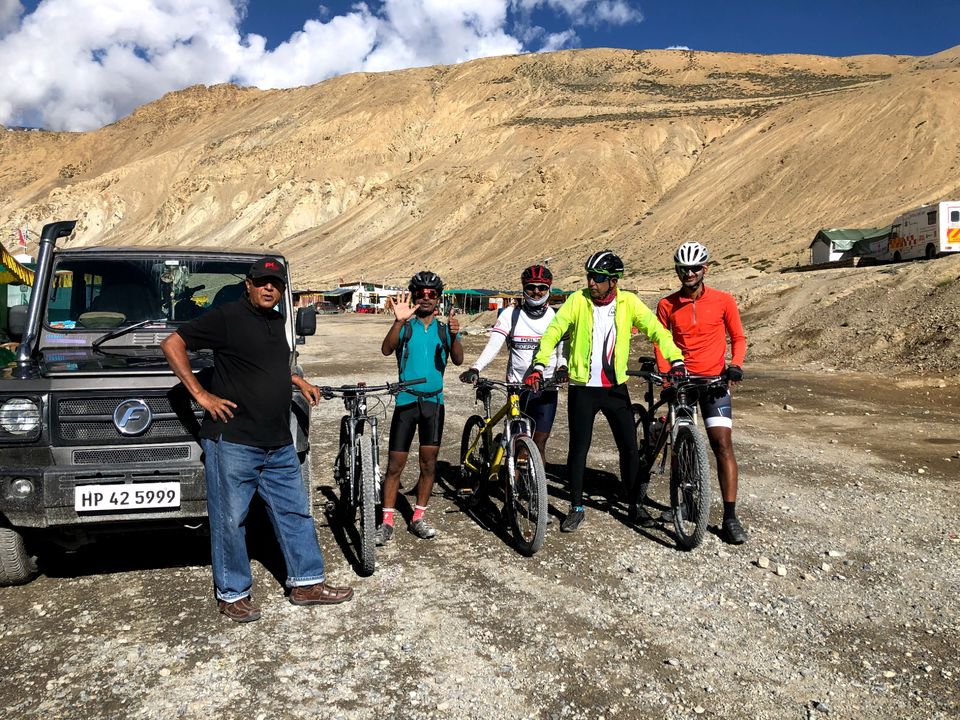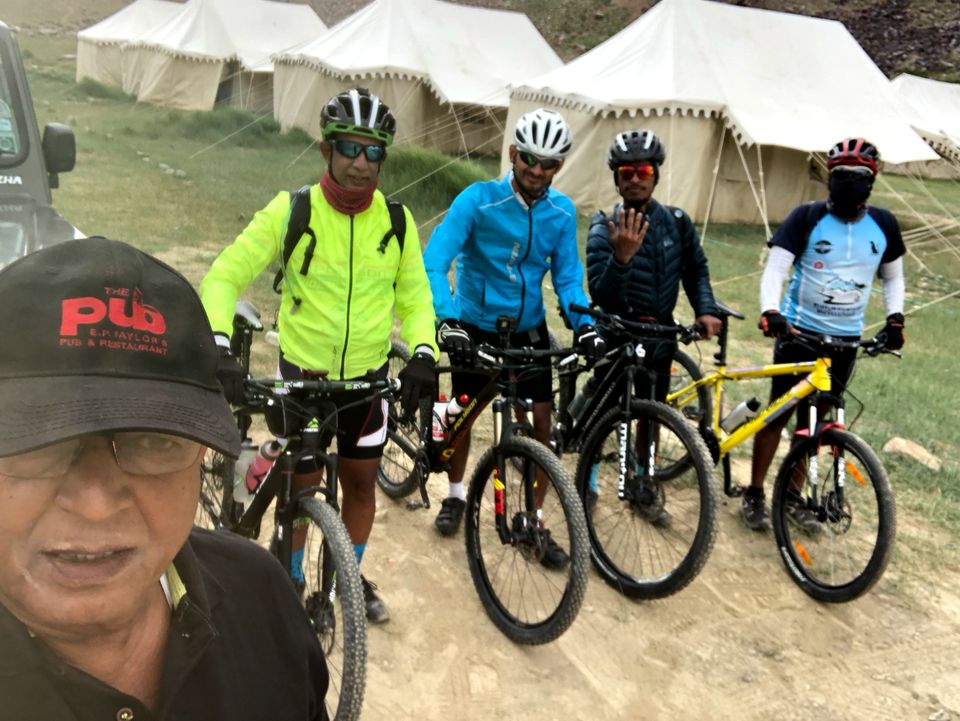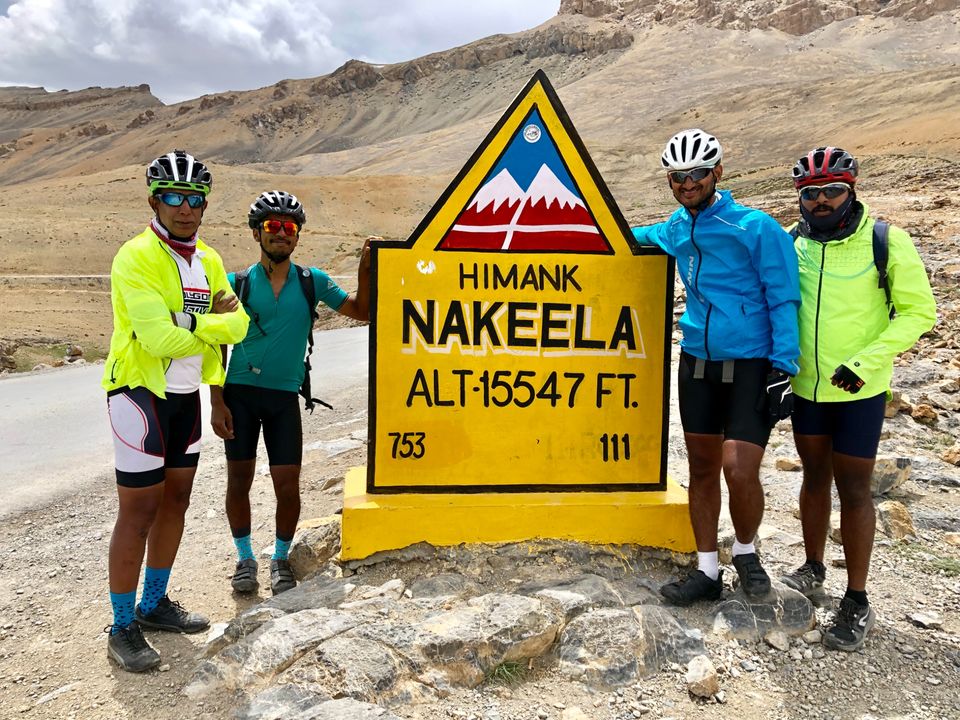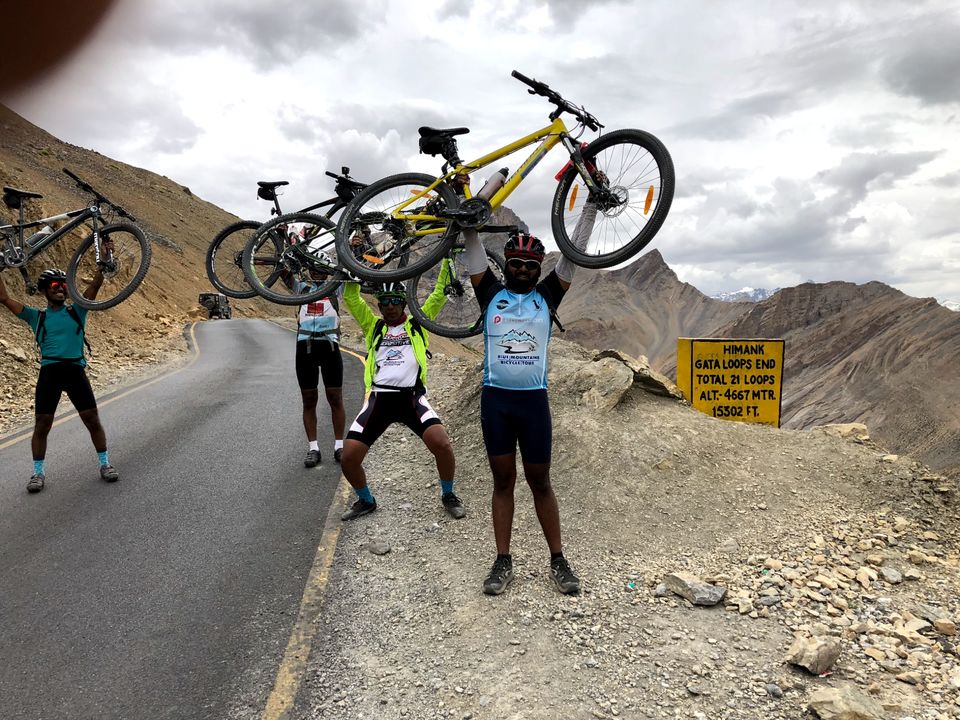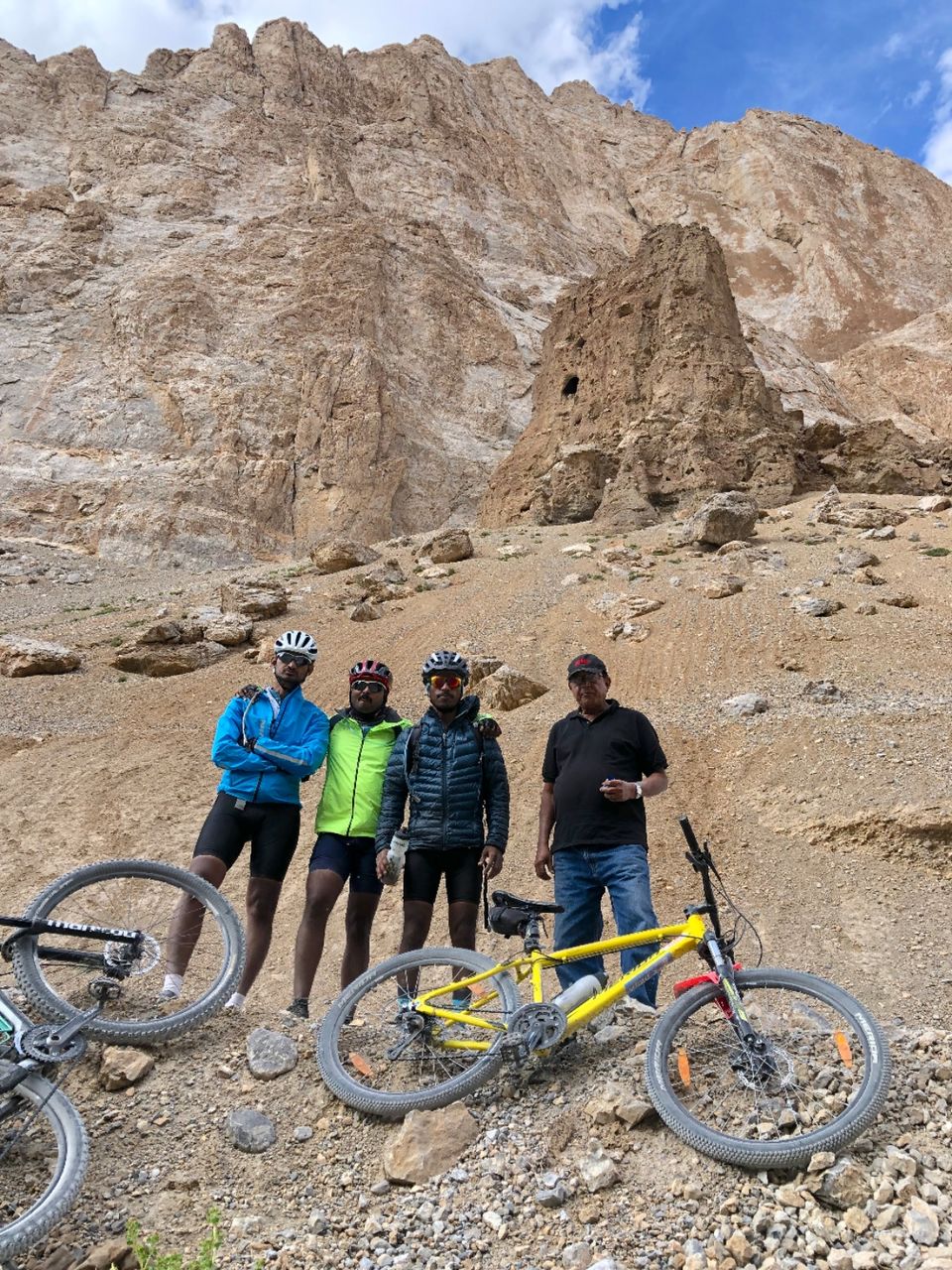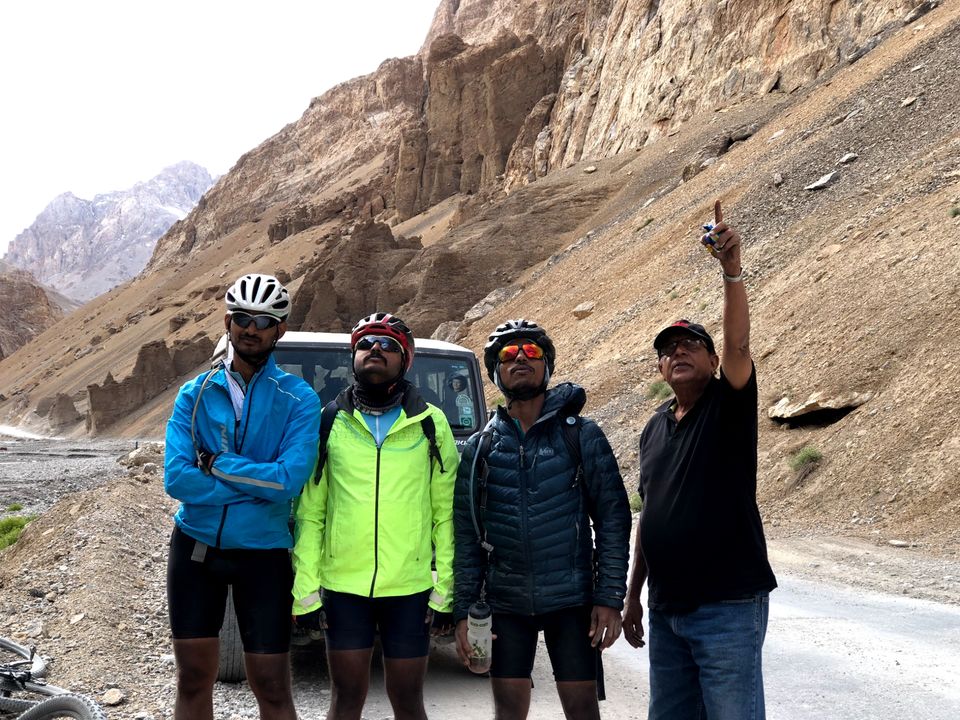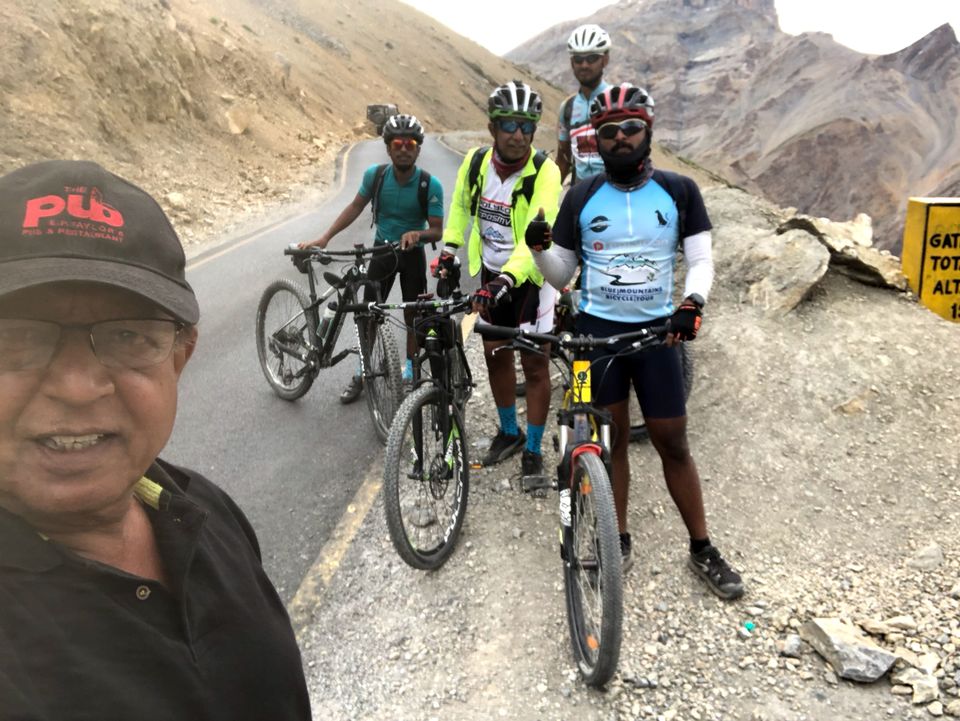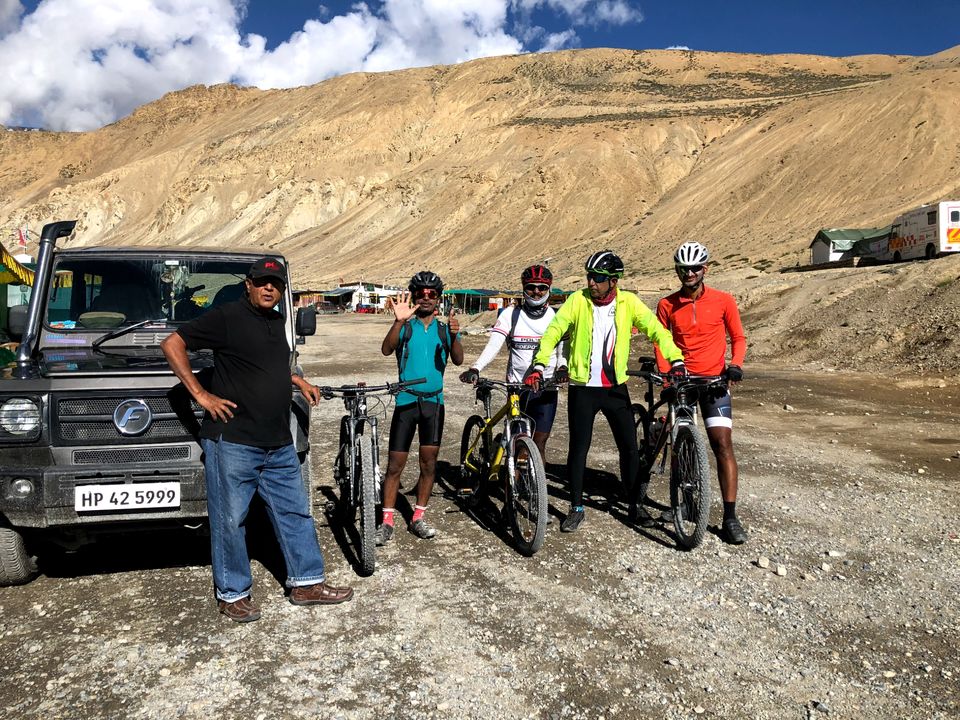 From Pong to upshi via Tangla-la Pass.
If my eyes were closed and remember Tangala-la pass till today, only two things come to my mind,
1. Flat road for 30-40 kms called as Moore Plains and
2. Second largest peak compare to Kardungla pass, with chill iced breeze.
After 15 kms from pong we stopped for photo session and started riding towards Moore Plains, you cannot see single living being on a straight road for kms, as it was plain we had head and side winds, anyways was left behind as usual because was almost down with severe cough and everyone reached 30 mins before me. just before Tangla-la pass we stopped for food but there was a festival celebration as dali-la-ma was arriving, we didn't find any food or tea, so we are forced to ride with no food, Me and Dr Shankar stopped ride after 60kms , our heroes continued conquering Tang-la-la peak and started towards downhill. Just before reach peak they experience ice stone rain for a while and after that even downhill was more difficult in that chilled cold. finally, we reached Upshi around 5PM and stopped for food.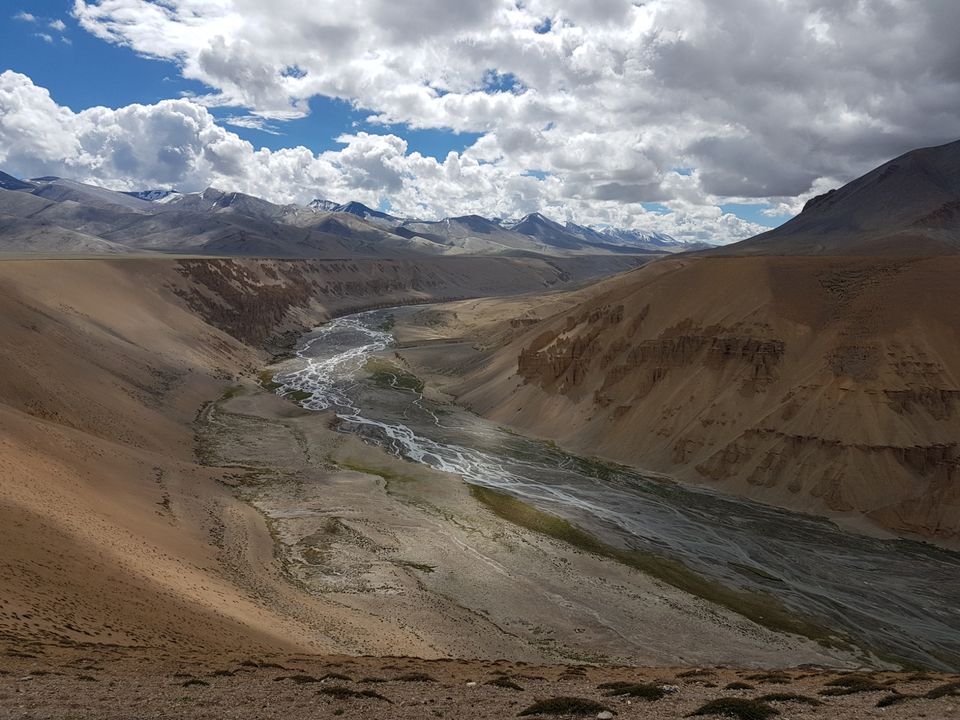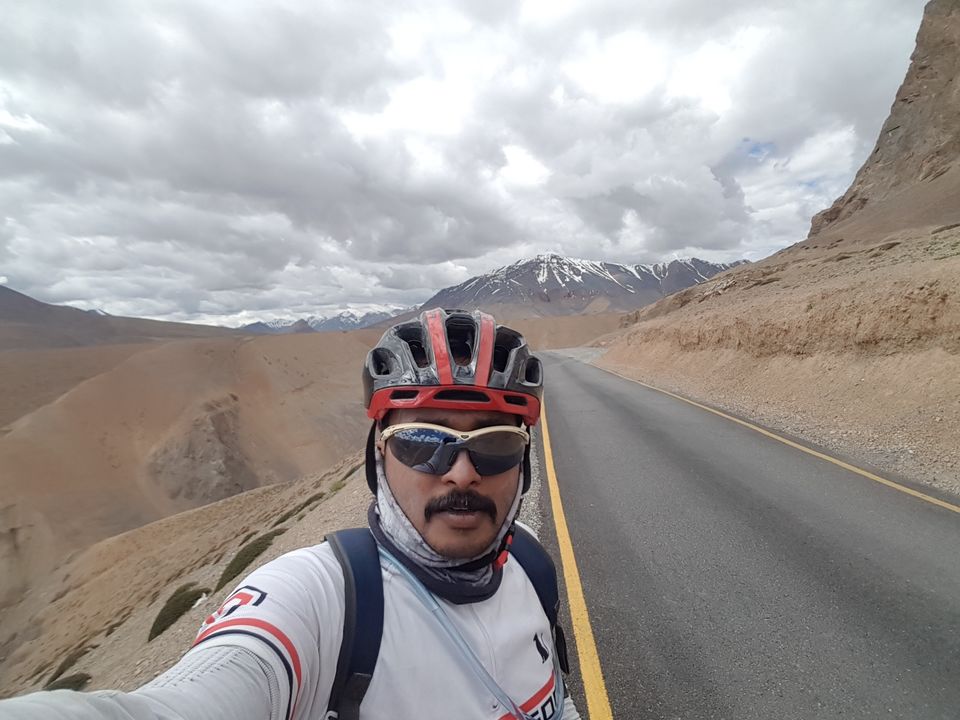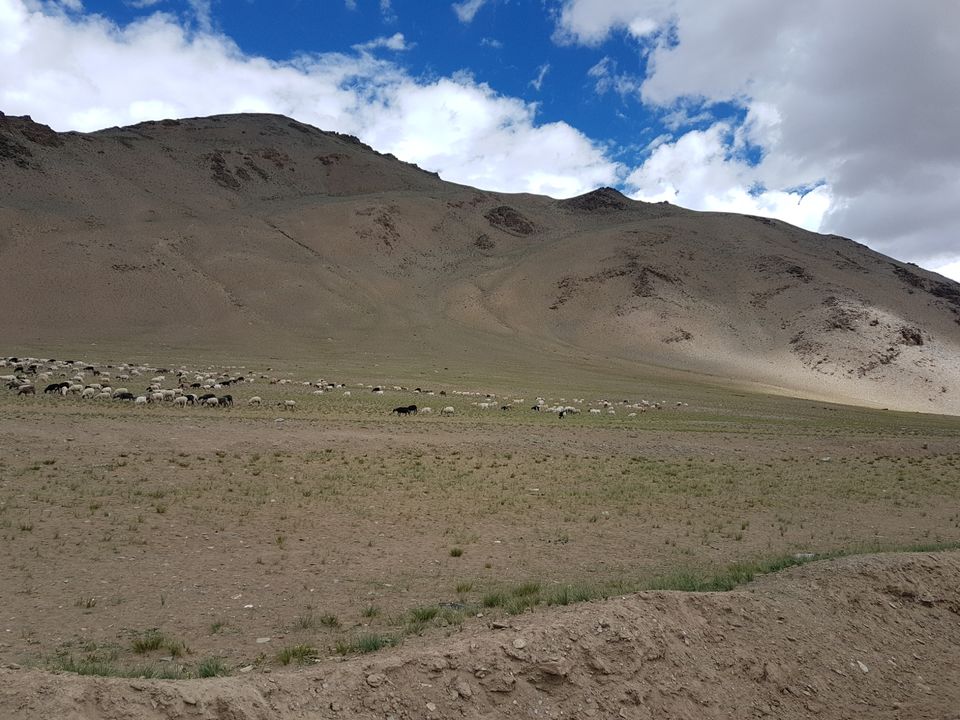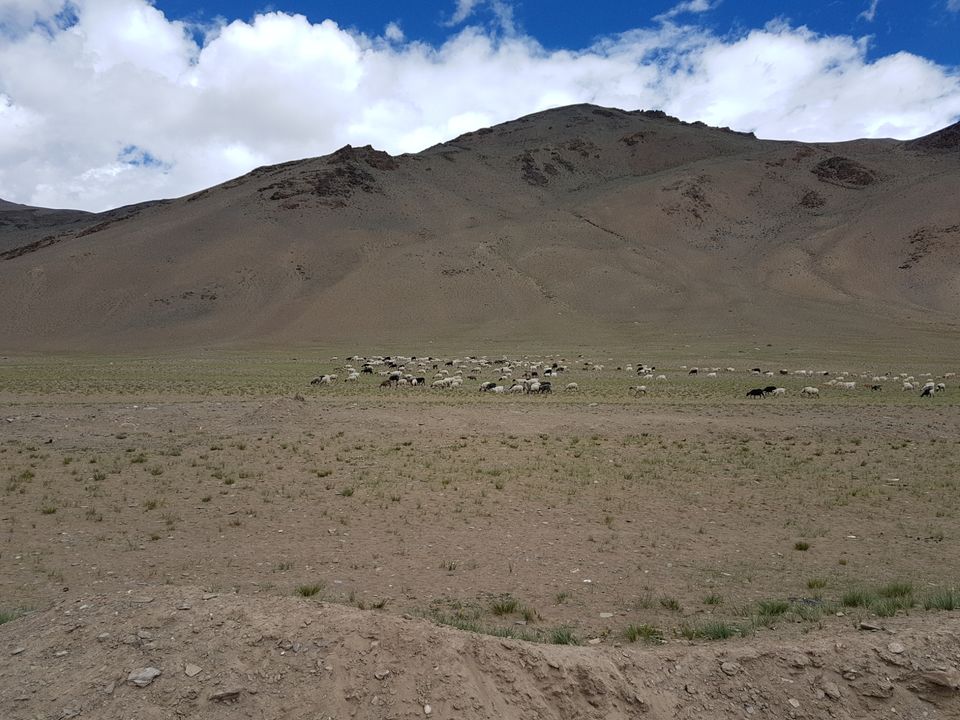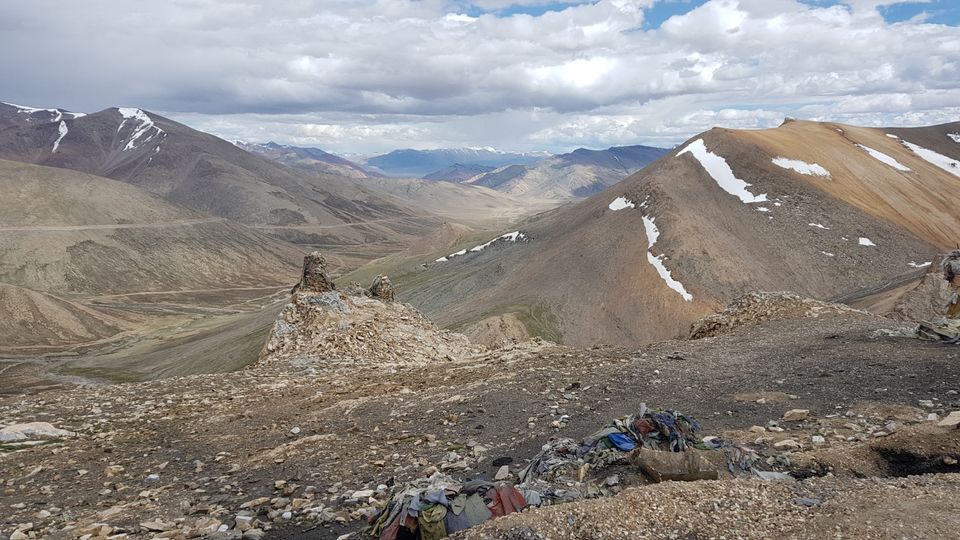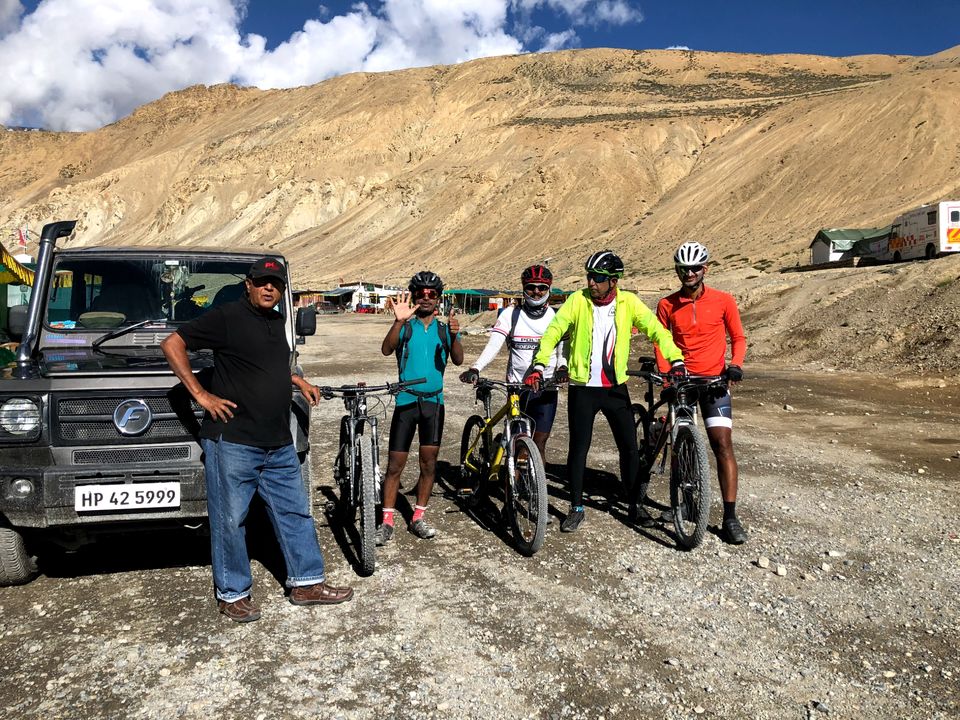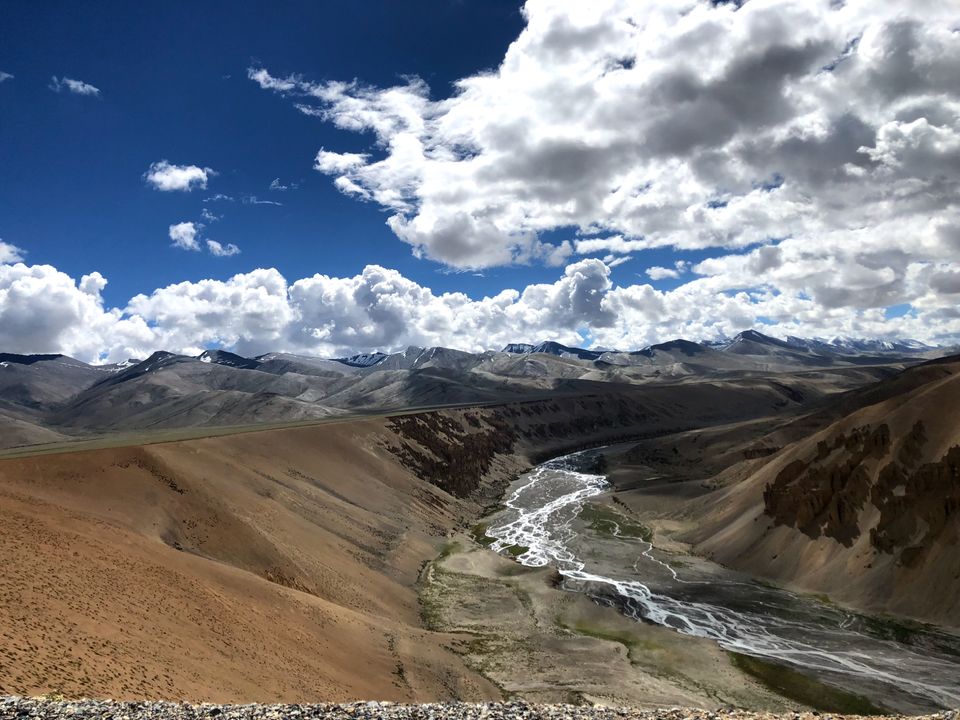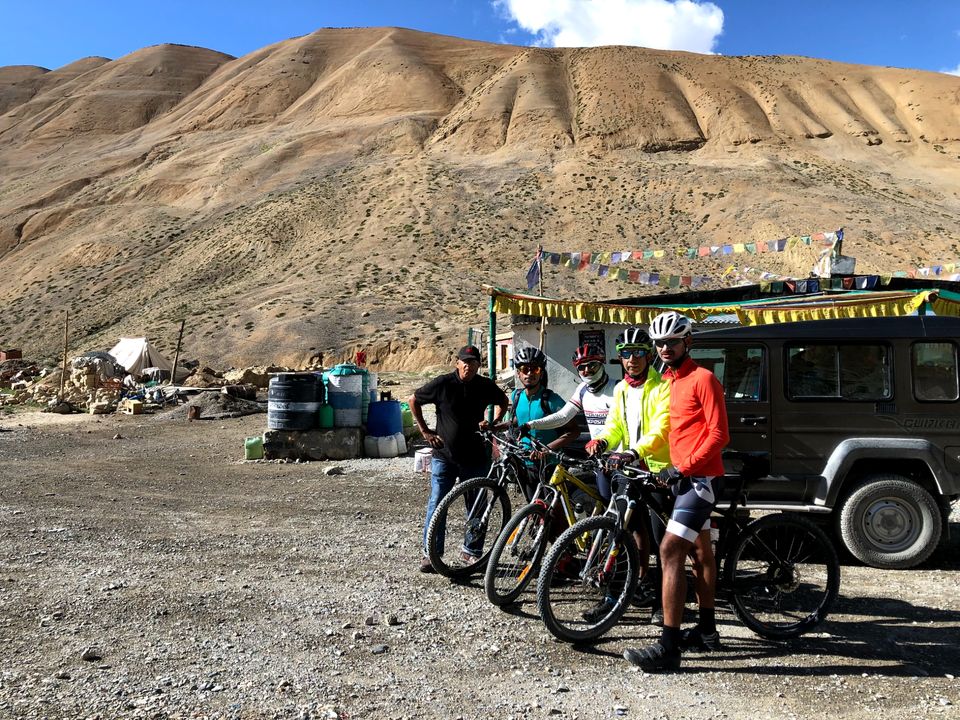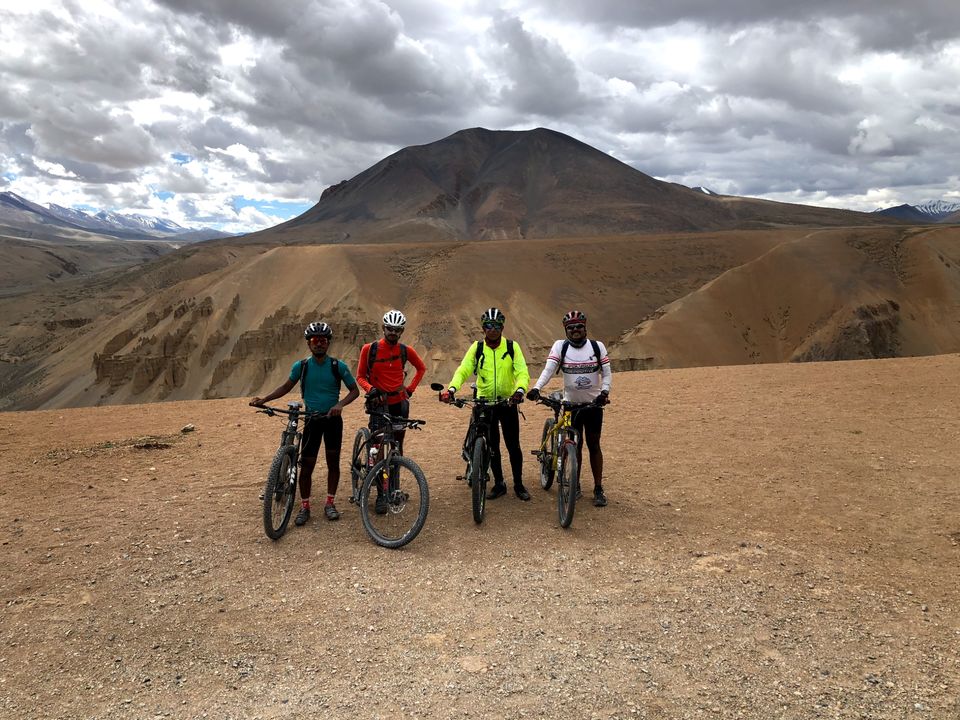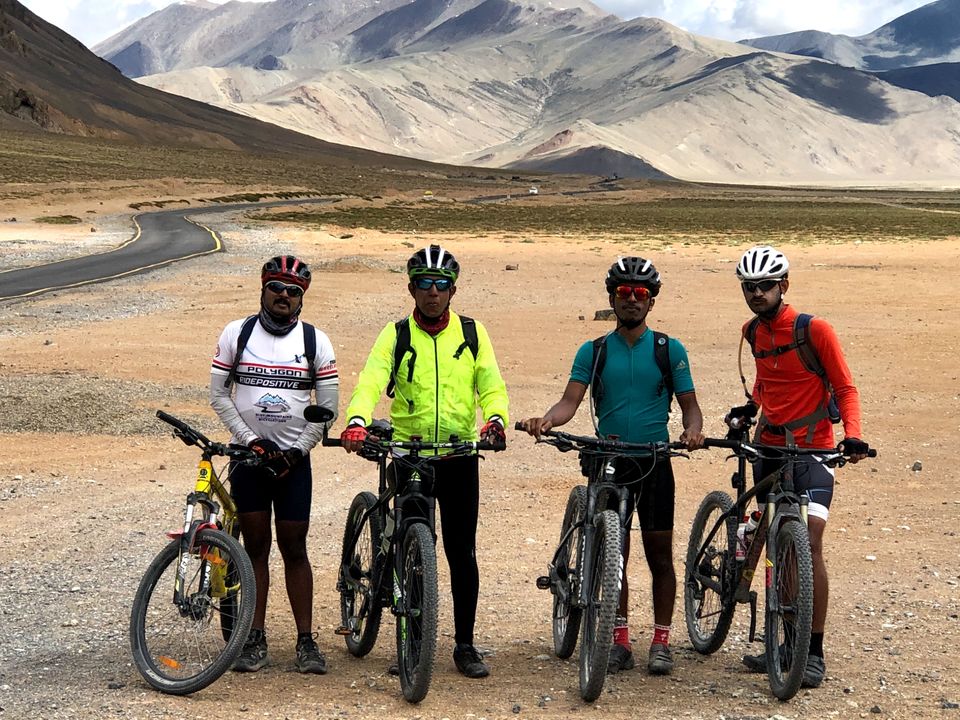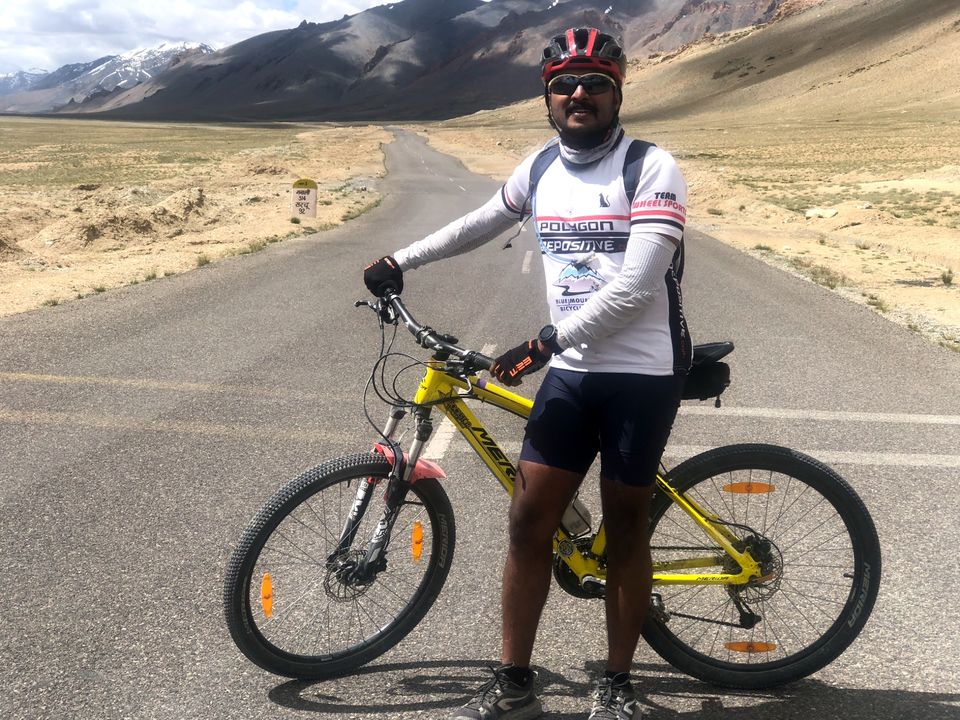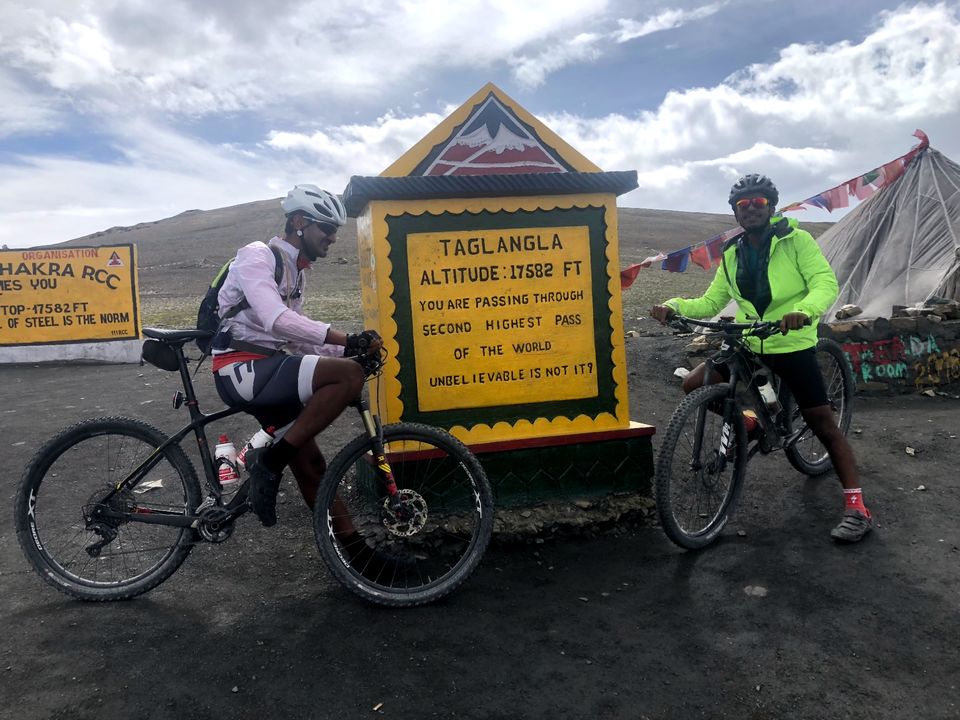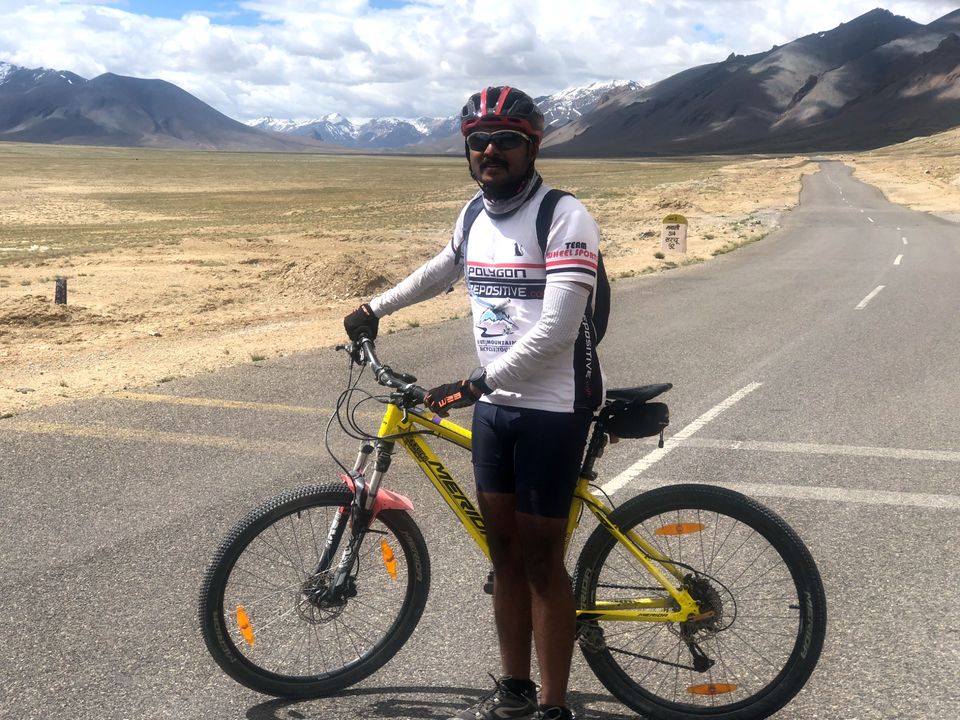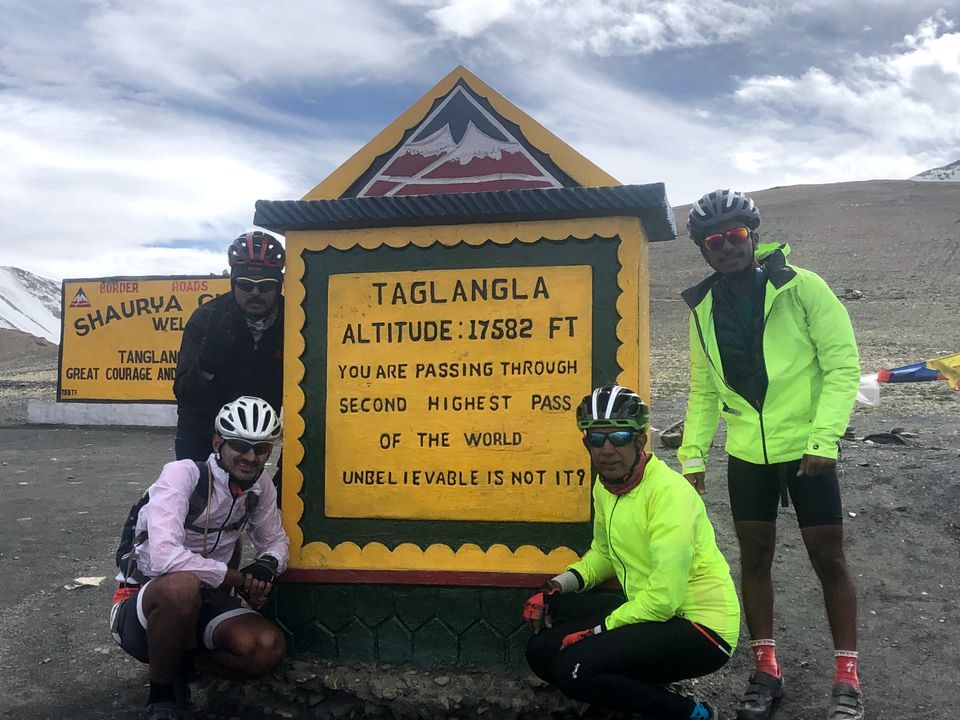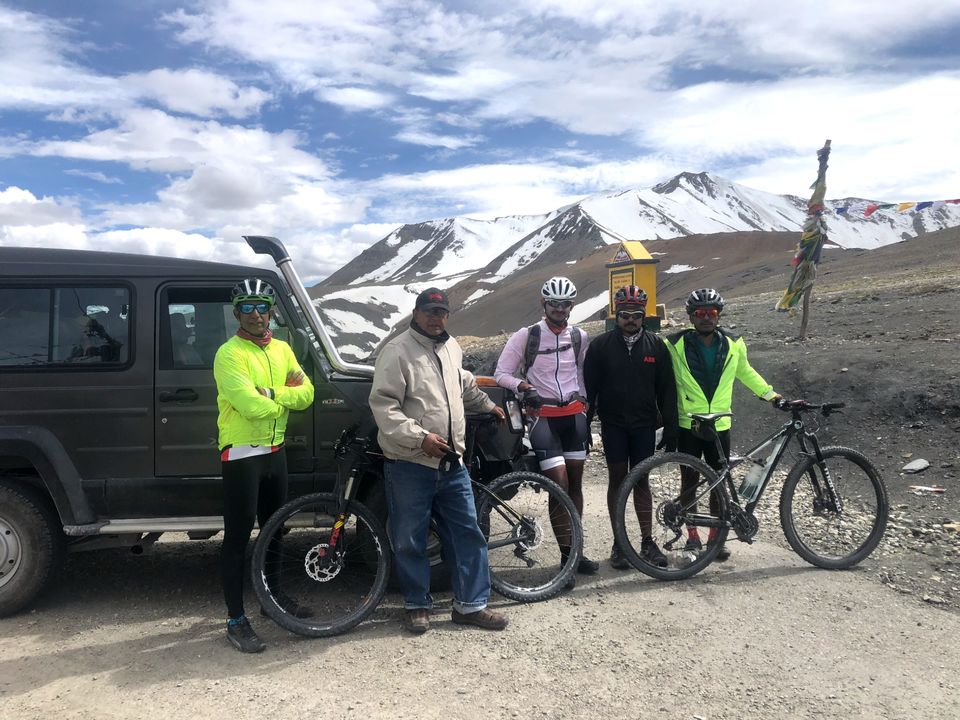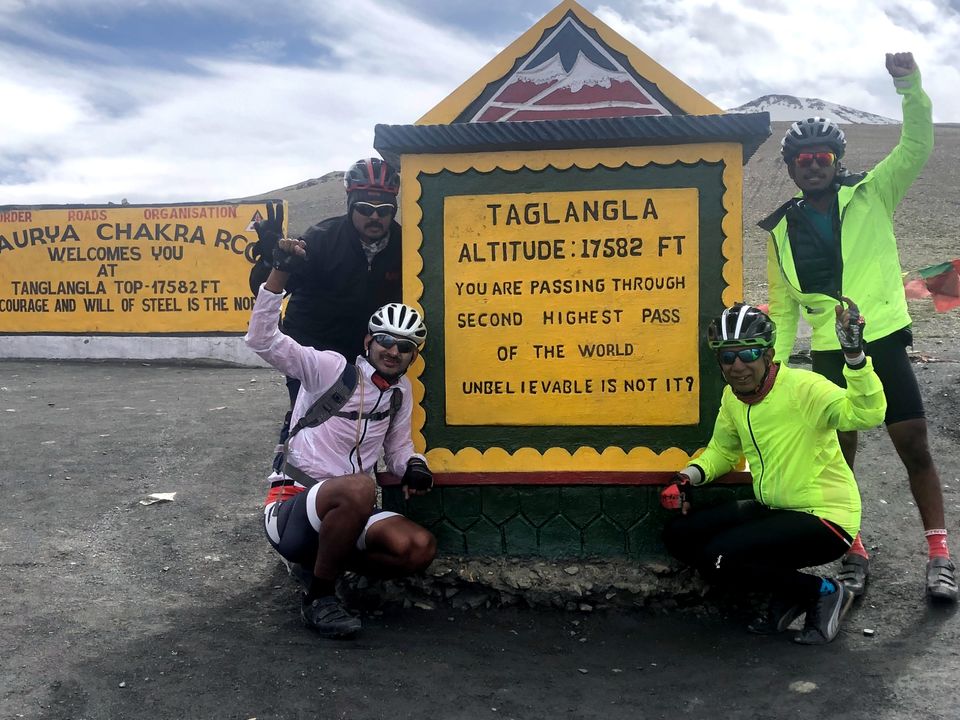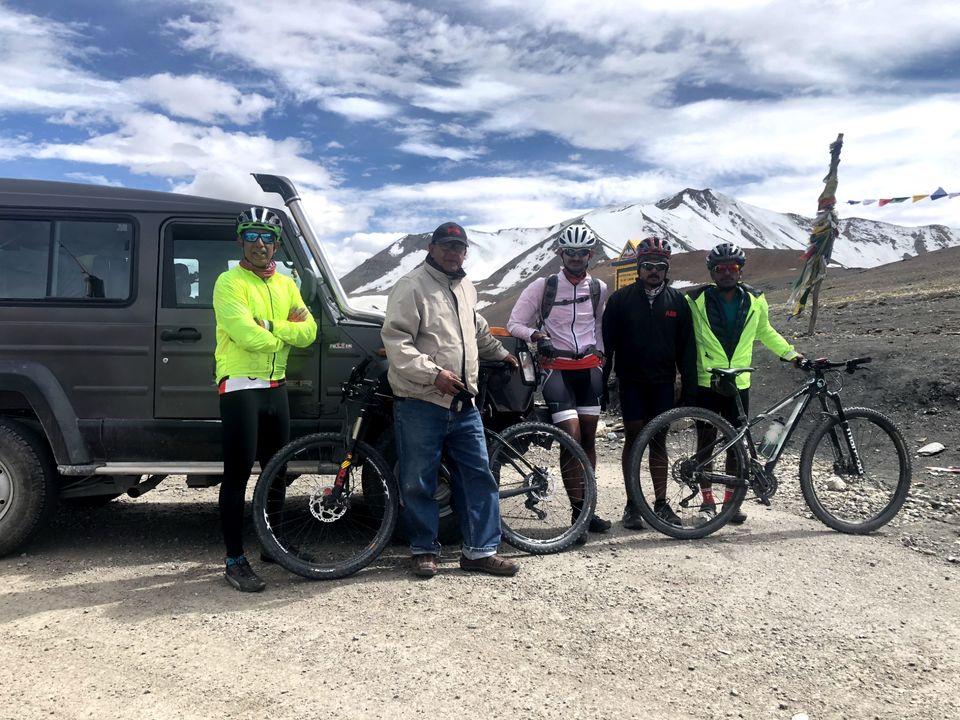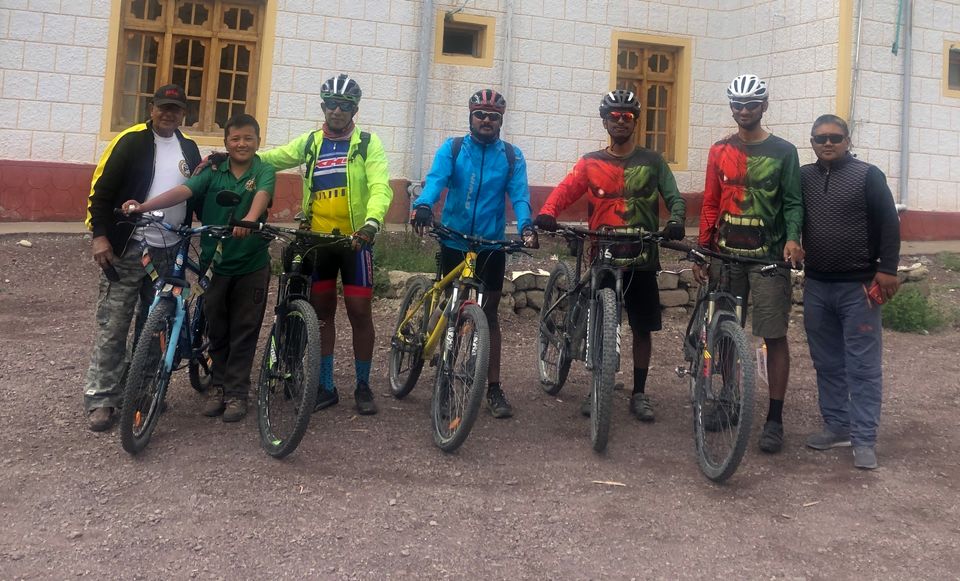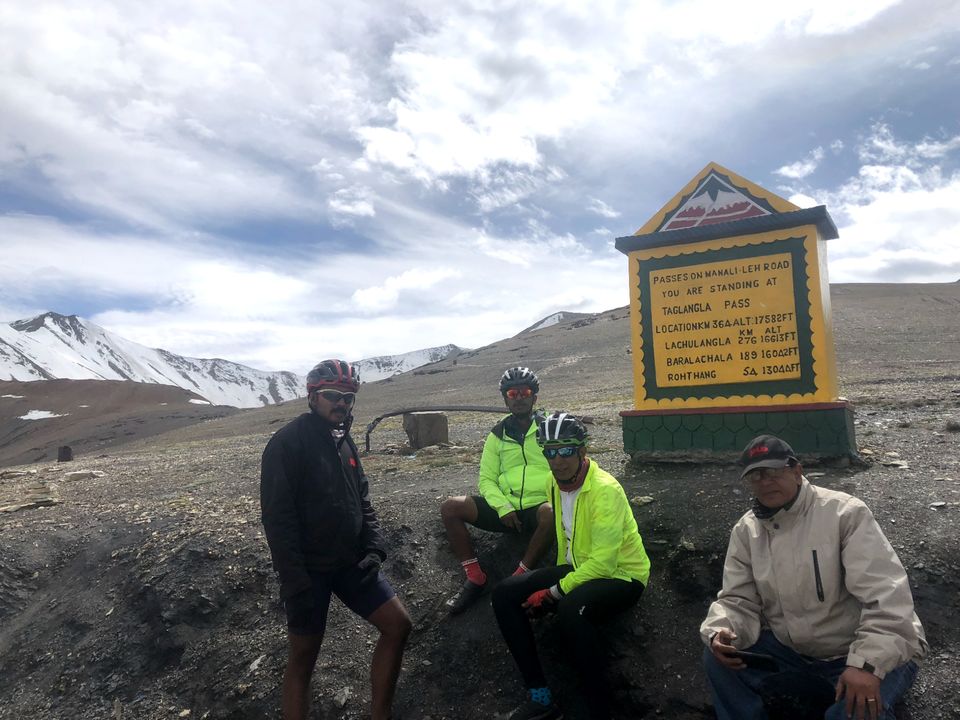 From Upshi to Leh.
Till today we didn't contact to our families as there was no signal, we sent a chit with biker to inform families that we are safe when we stayed at Sarchu. but we were happy to get signal just before reaching Leh. Today's ride was mostly downhill and little uphill before reaching Leh.
Just after Upshi we stopped for lunch and we called to our home just informed we are safe and we are almost ending our journey after 8 days of cycling.
As usual 3 musketeers Shankar, Balu, Yashas rode together, myself lagged behind enjoying my ride, just before reaching Leh city we were badly missing mountains after seeing same traffic and heat at Leh.
We took nearly 1 hour to search hotel as it was interior and lot of climbs during end of our ride. Finally, we reached hotel by 4PM in the evening and unloaded our luggage and went for lunch, of course celebrated with beer.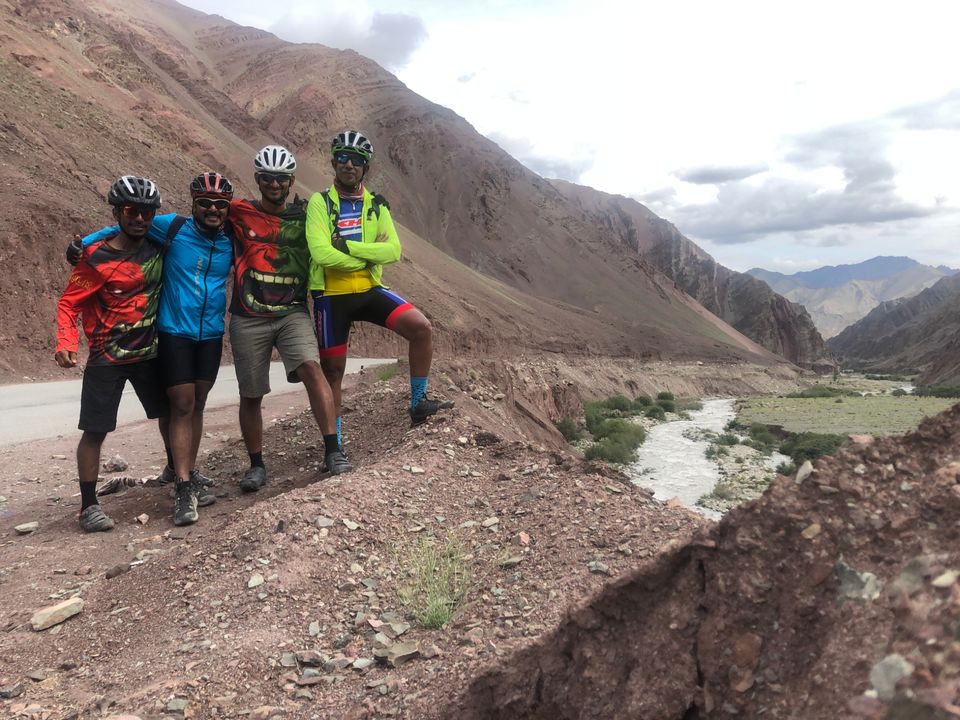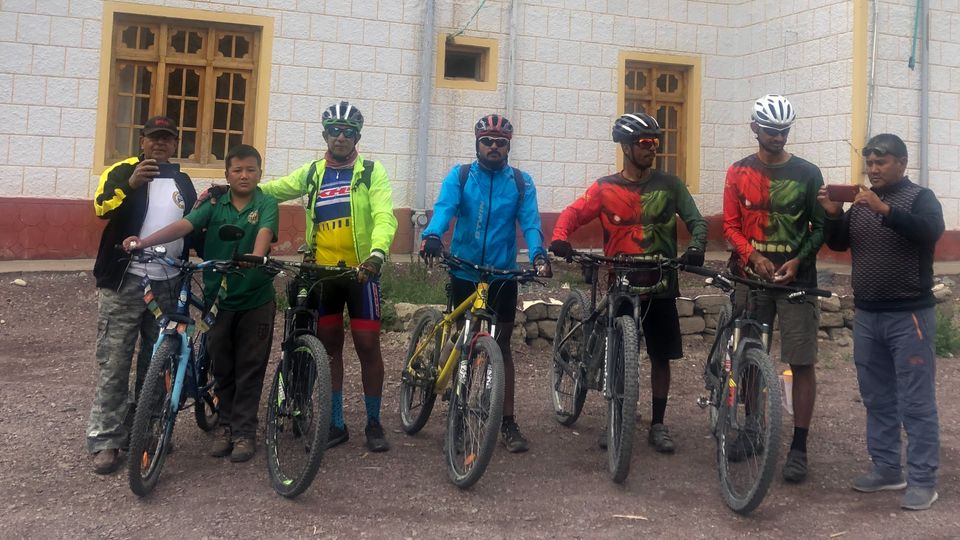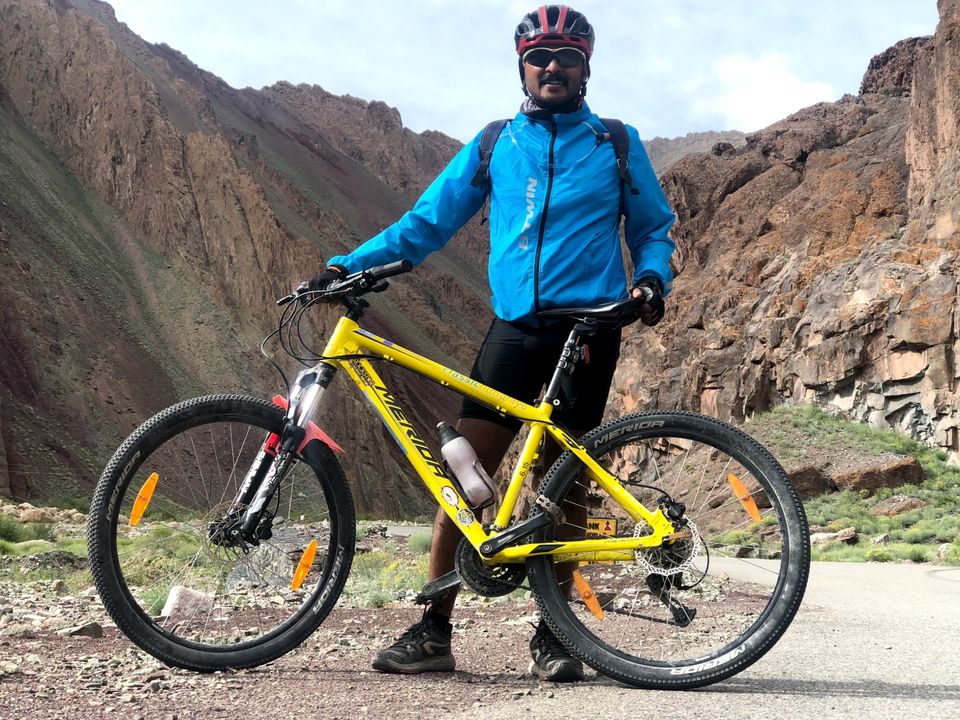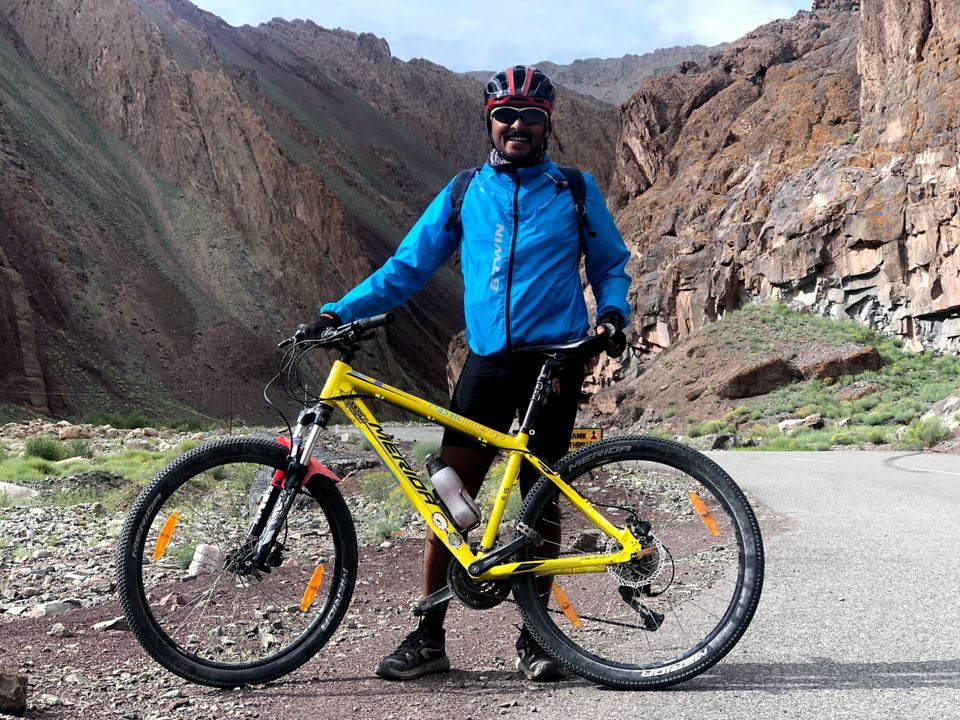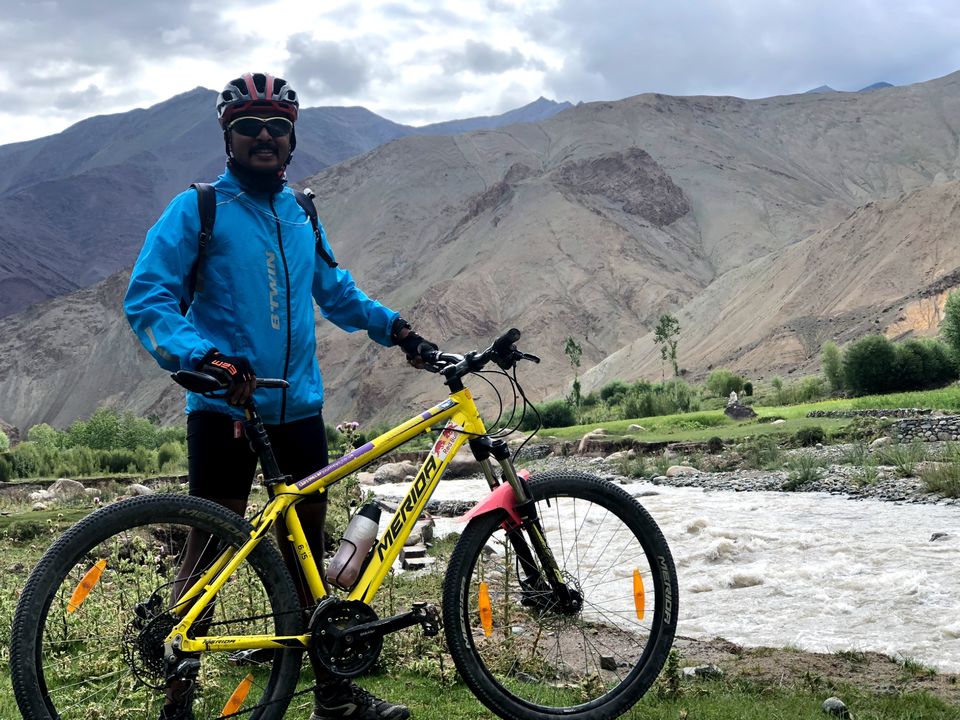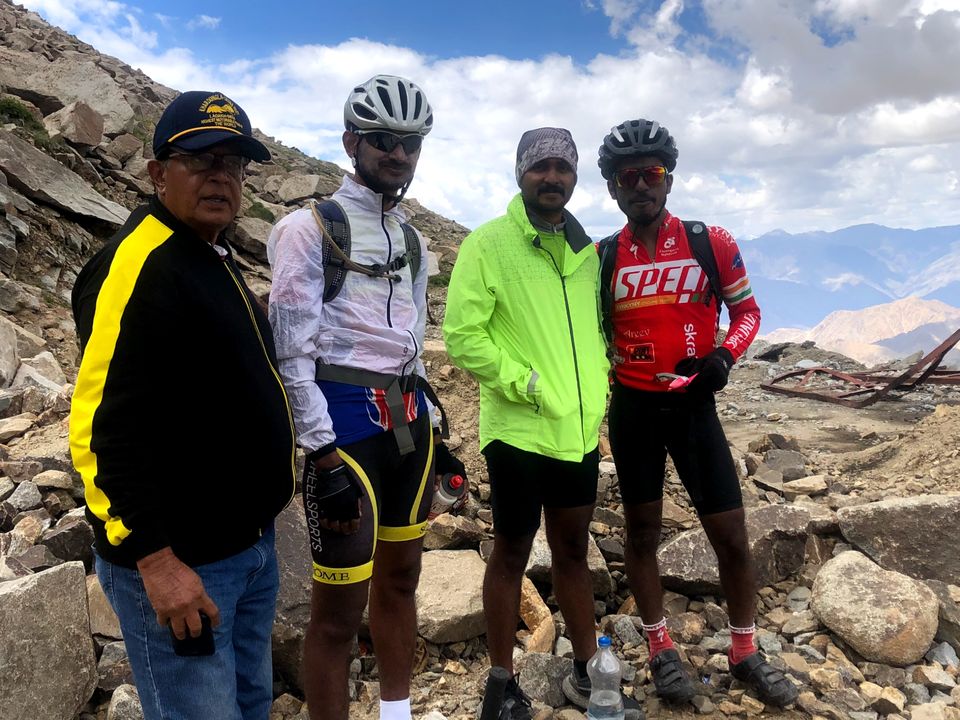 Rest @Leh and visit to military camp.
Today is completely rest at Leh, we had site seeing and we got a chance to meet Major Manjunath at military camp, he is brother in law of my engineering friend Vijet. We had Tea and spend some time seeing campus later before saying adieu he offered us for a dinner on next day.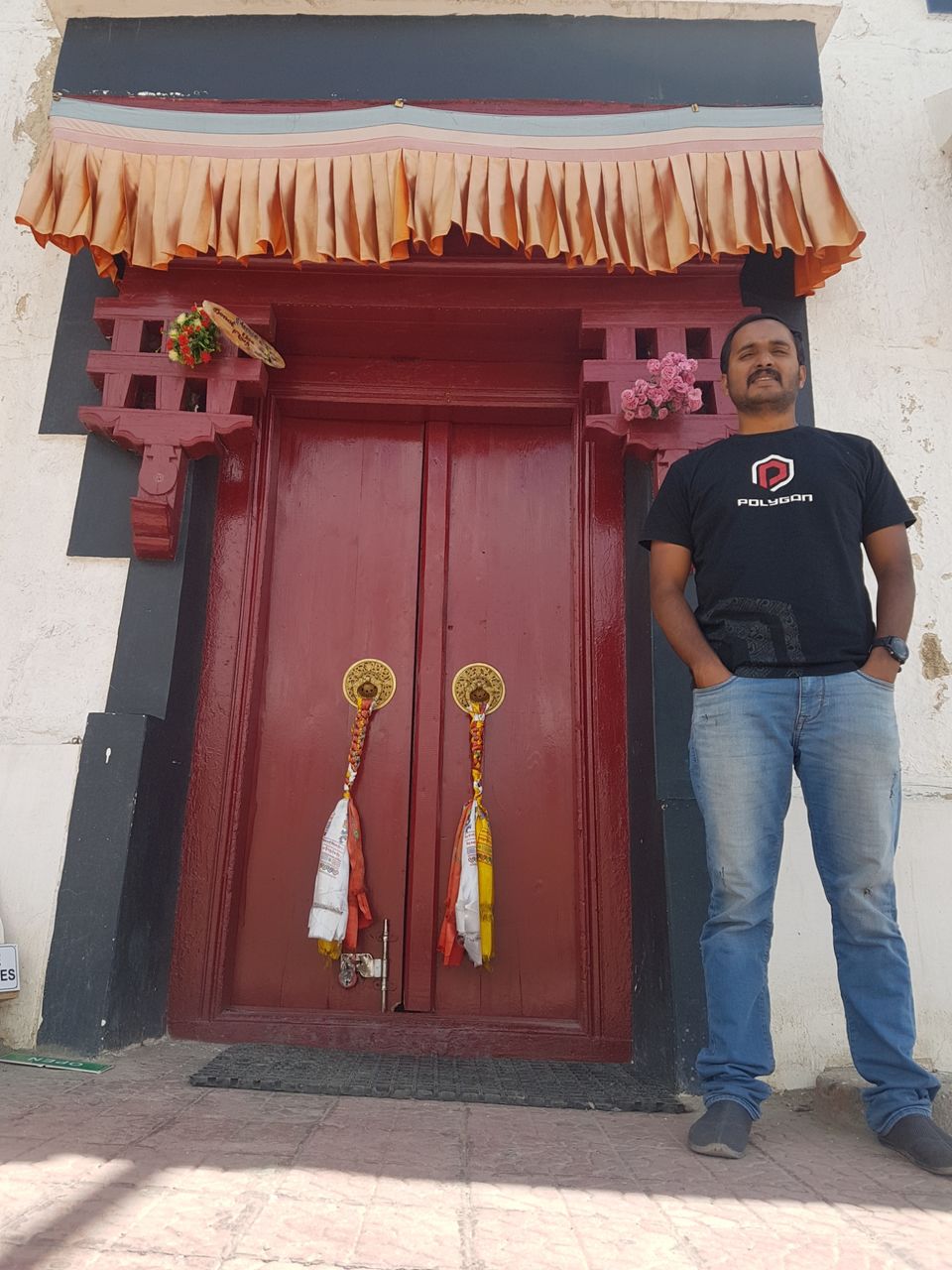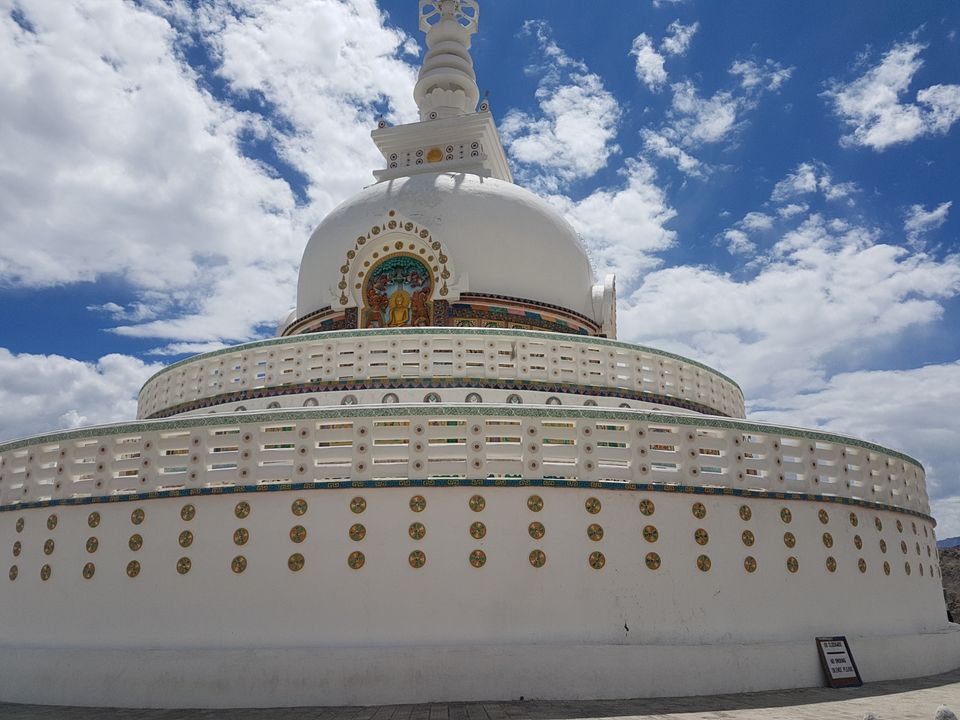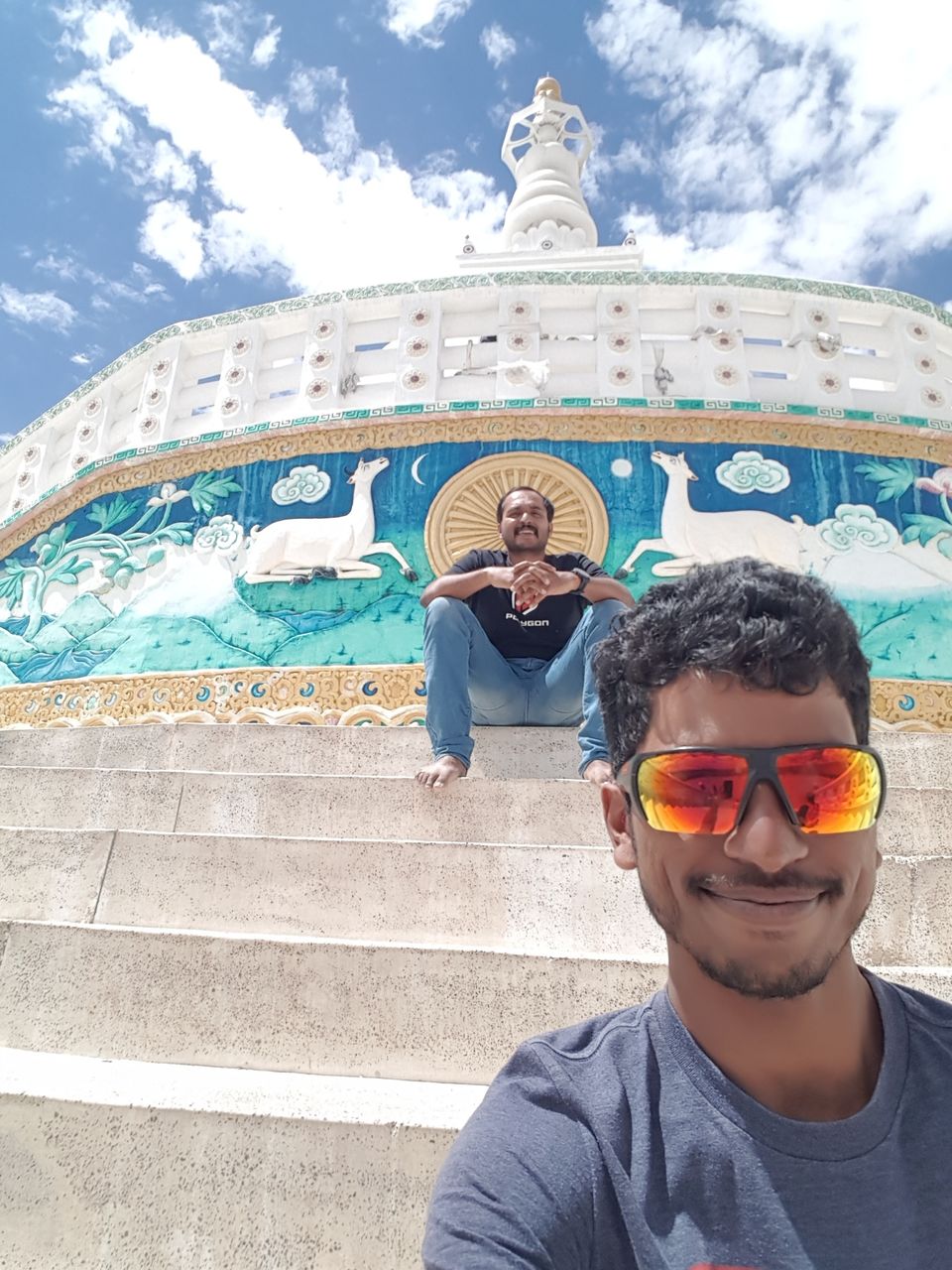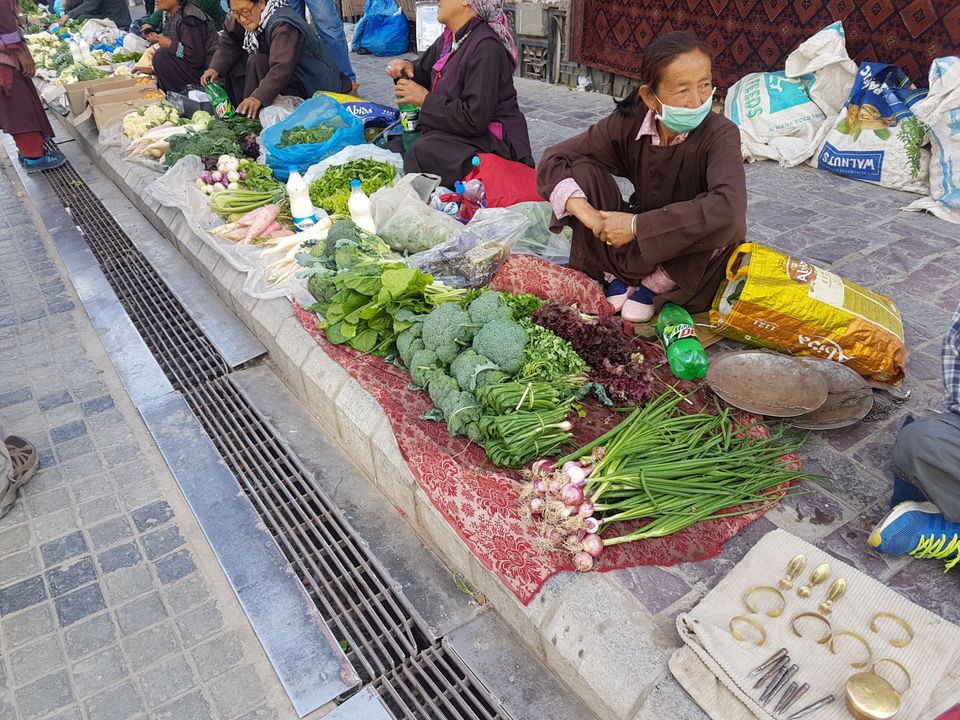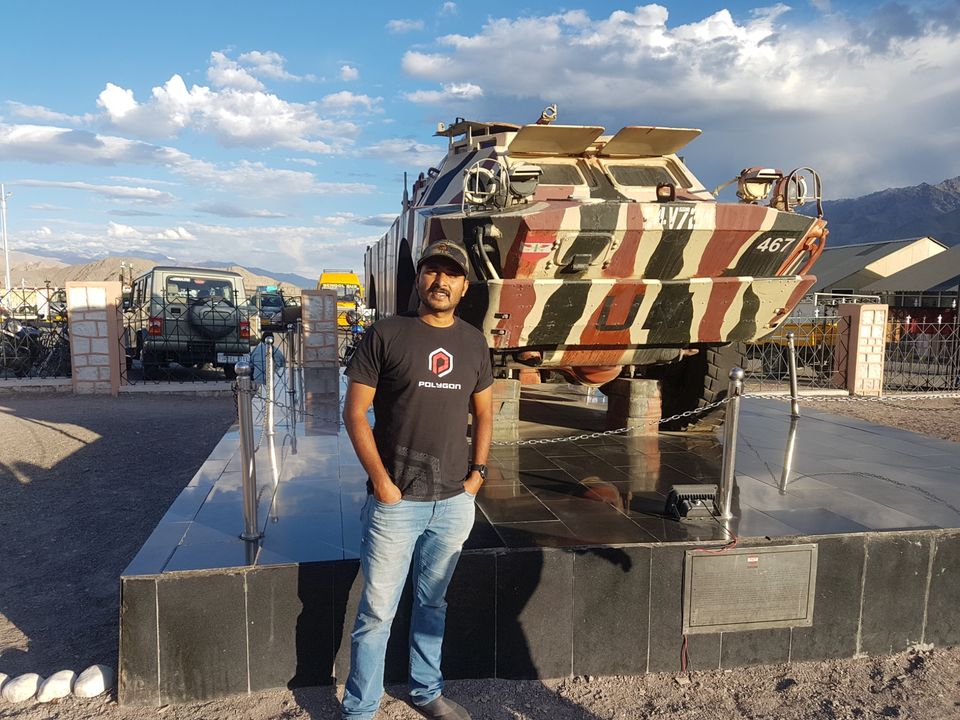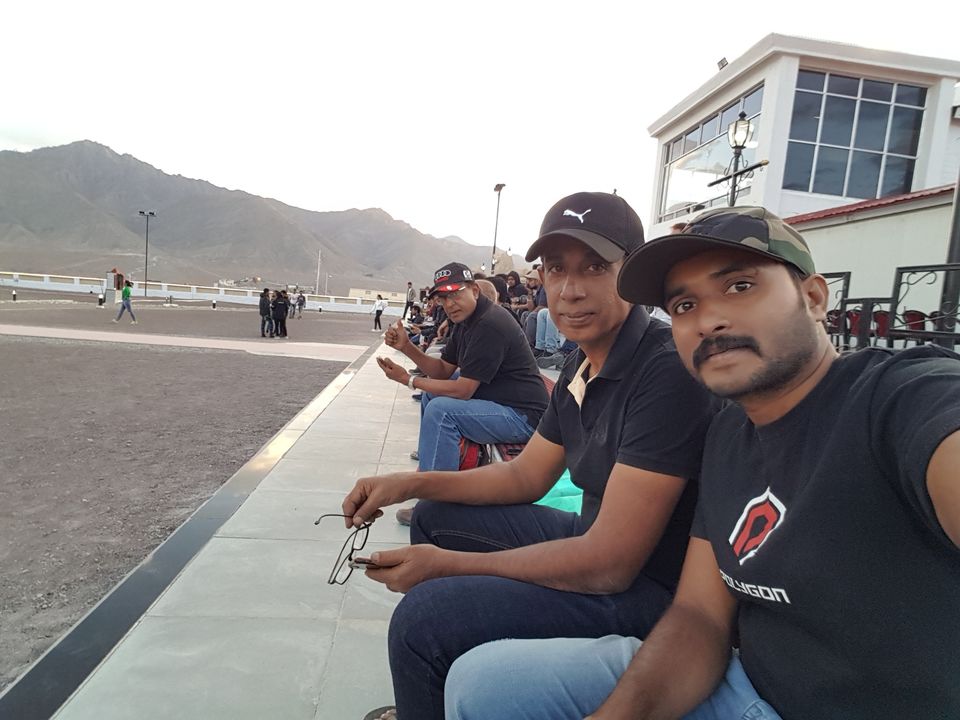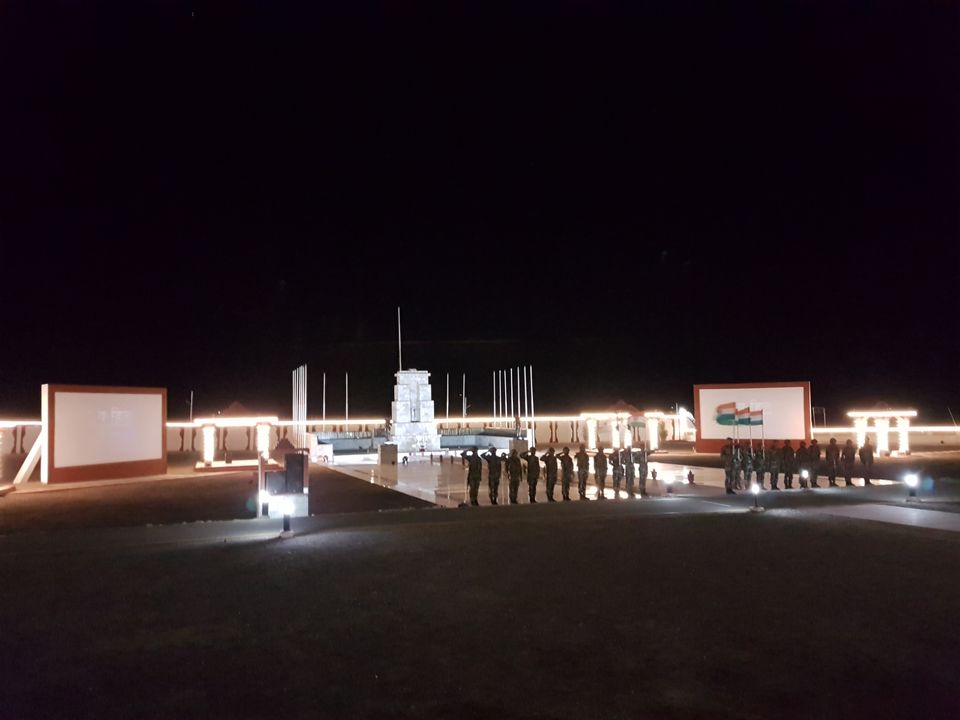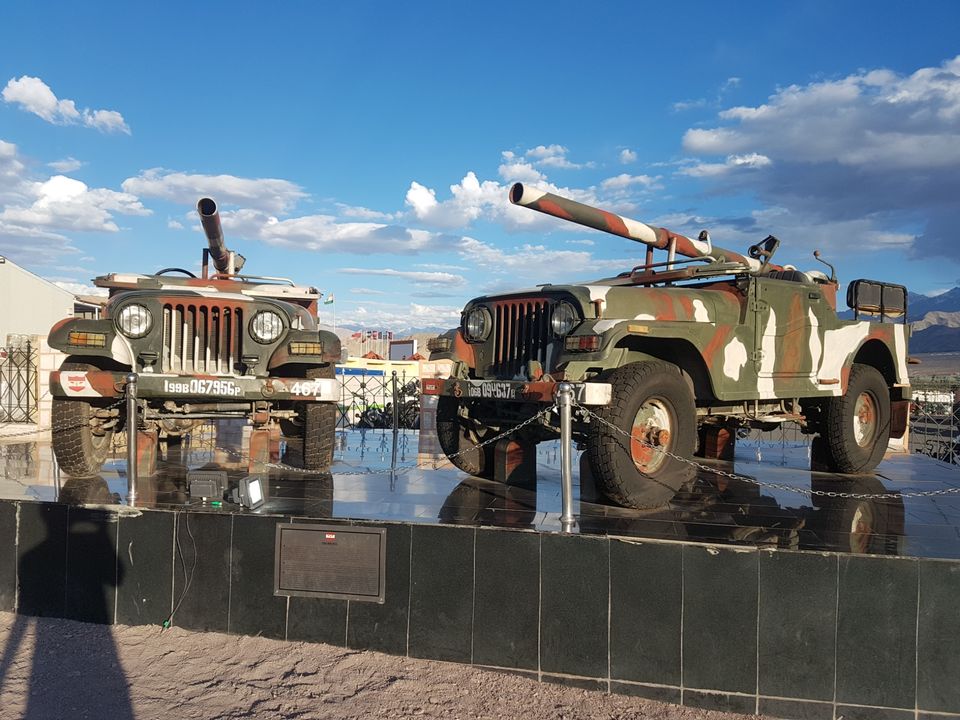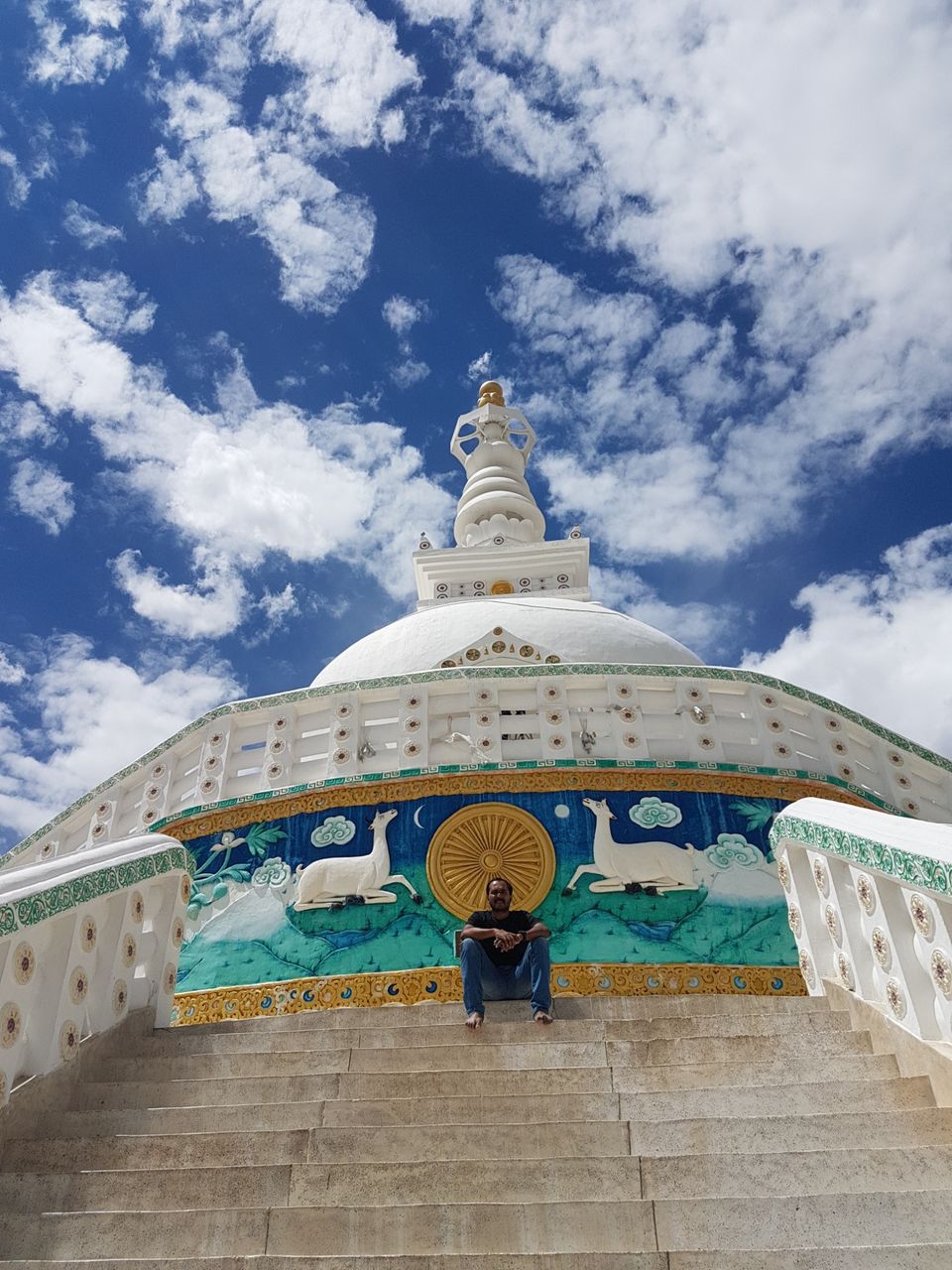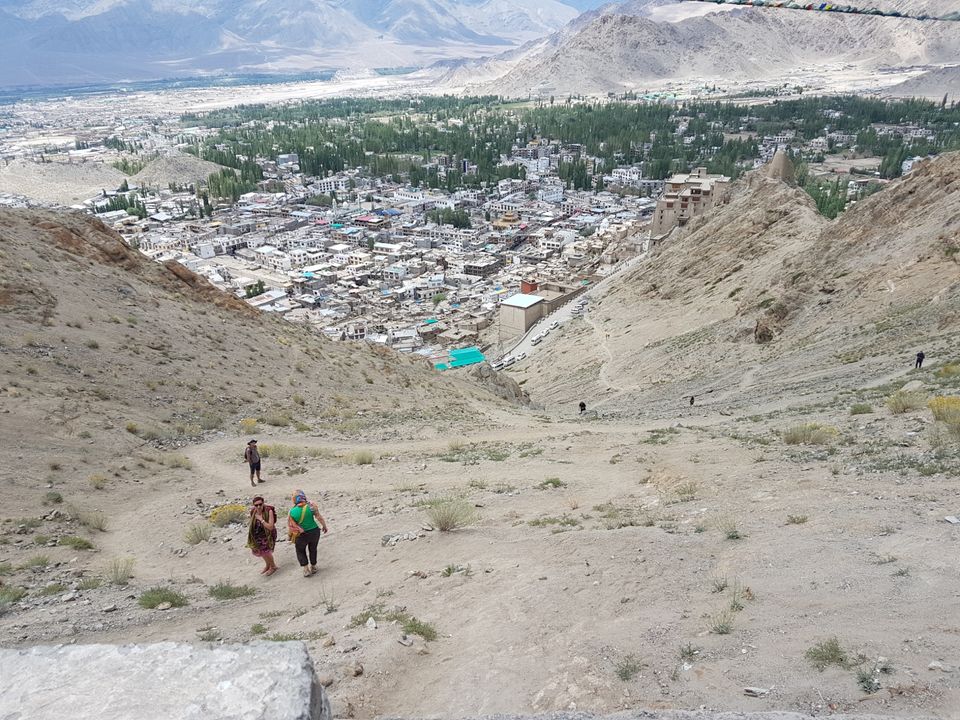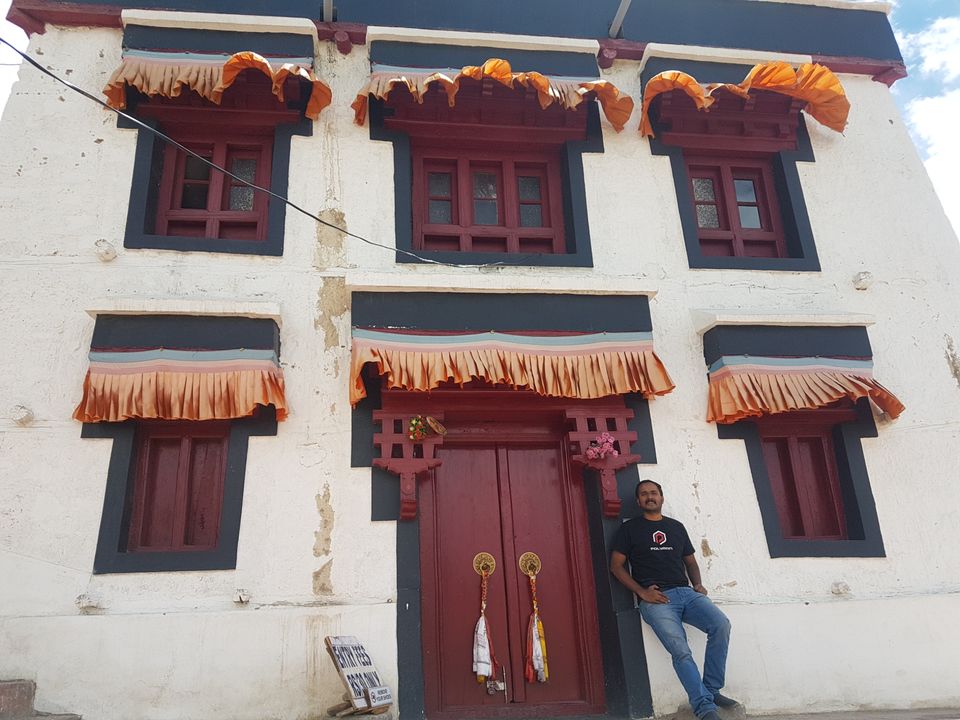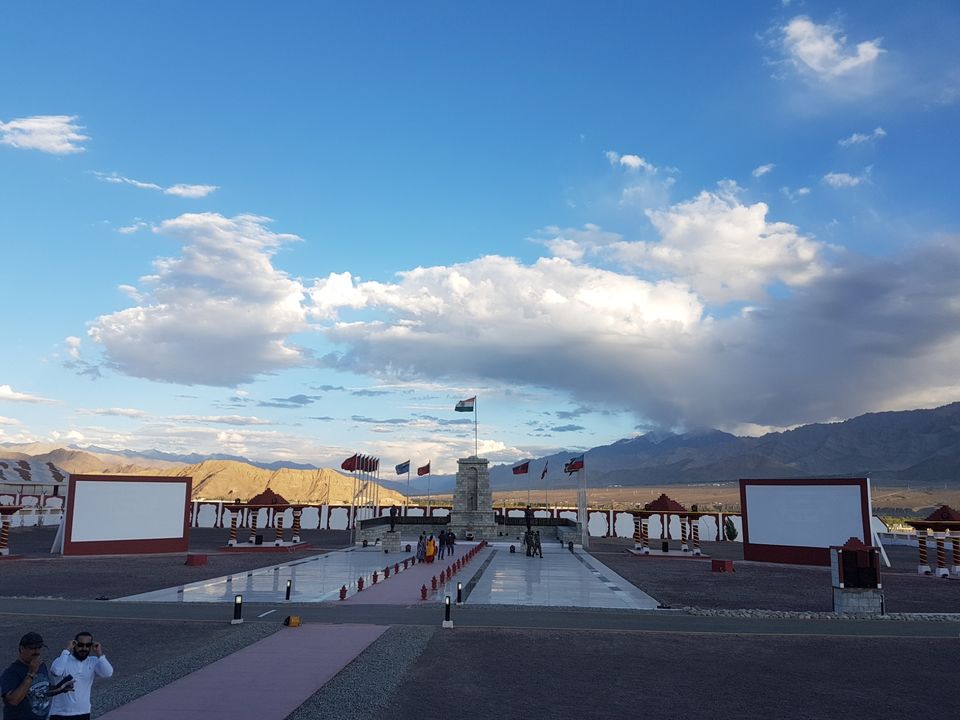 Kardungla Ride (Highest Motor able Road) 40 kms from our room.
Today's Agenda.
1. Kardungla ride
2. Dinner with Major Manjunath at camp.
Me and Shankar sir decided we don't ride uphill and just do downhill from Kardungla peak.
Our heroes Balu and Yashas started there ride by 5 AM climbing towards Kardungla, its gradual climb of 40 kms from my room itself, we hired Maruthi Eco to take us to Kardungla. Me, Shankar and Babu mama started by 7AM, on the way we met Balu and Yashas and stopped for breakfast. We took prior permission from govt authority to take car to Kardungla. They continued to climb on toughest roads and climate, Me and Shankar reached Kardungla before them in vehicle and took a prices to honor them for completing the epic journey. After a small refreshments and photo session we all headed back towards Leh with beautiful downhill. we reached room by 4PM finished lunch, washed and packed cycles, handed over my cycle to Vikas and ready for dinner with Manjunath.
Ah having dinner in a military canteen with a panoramic view of Leh Airport and zipping whisky is you can imagine nothing much to say about this. we could witness the beautiful culture and hospitality of Indian Army, I am proud to be an Indian having officers like Manjunath and subordinates. We had a group photo with officers and it was like happy ending for our cycling tour.
Last but not least,
Prime minster Mr. Narendra Modi ji announced Leh as Union Territory when we were at Leh, it made us to bookmark this journey in our minds, whole India was in panic mode but Leh people were celebrating. we felt safe as we had support from Manjunath sir.
Finally, Entire journey was memorable and safe.
Thanks to Balu, Dr. Shankar, Yashas and Babu Mama. (cheers)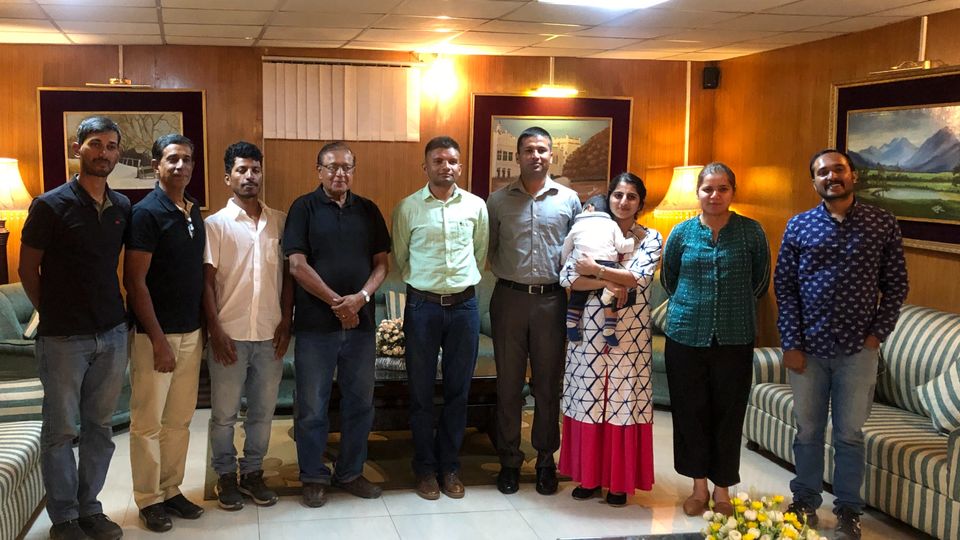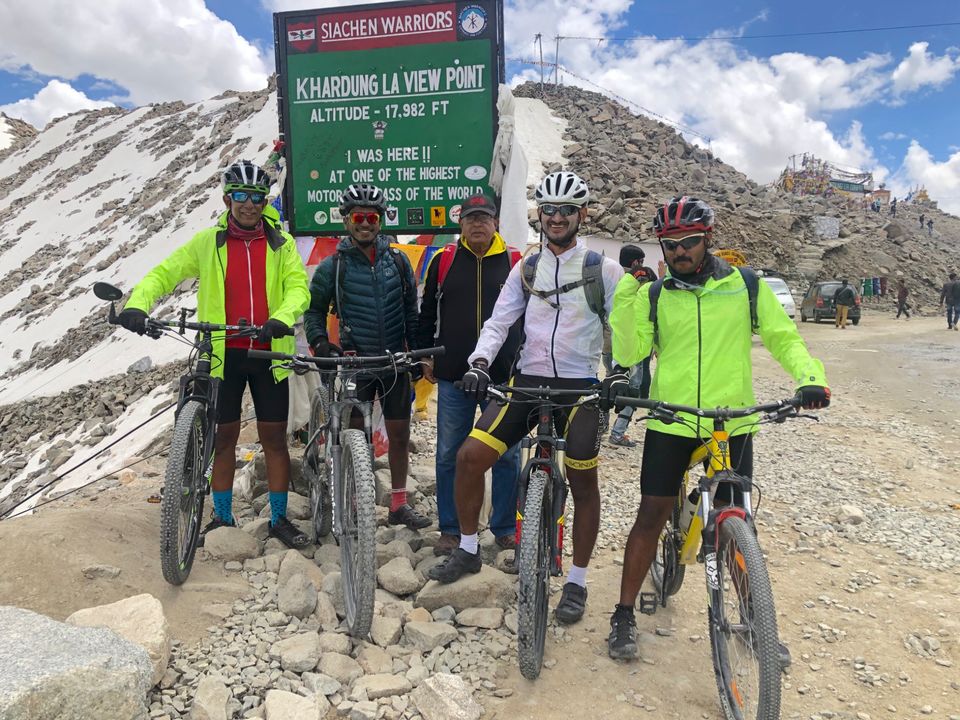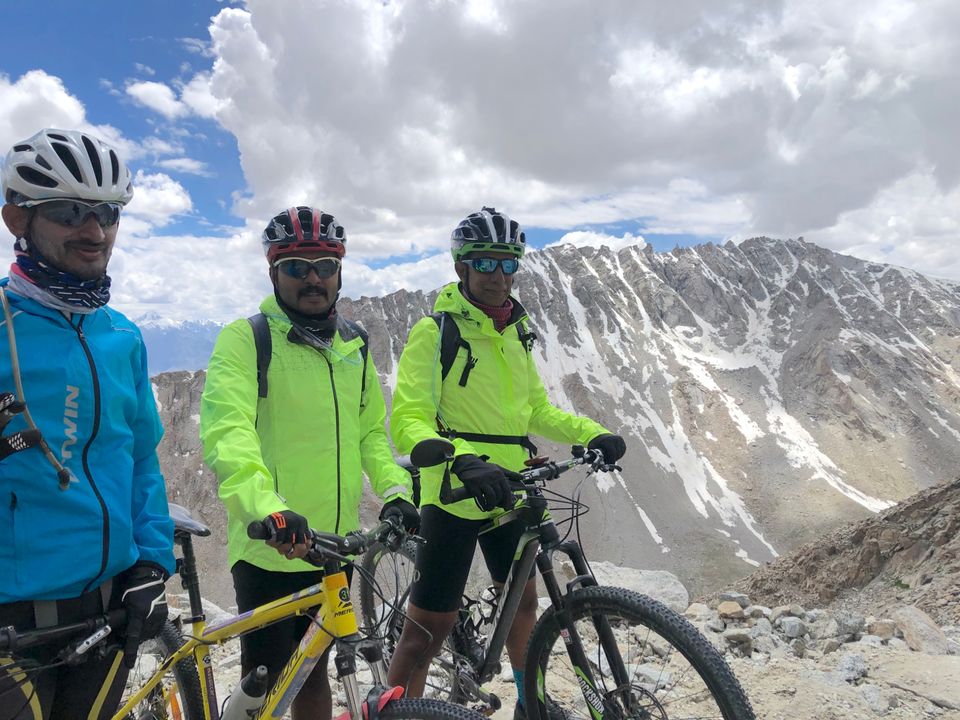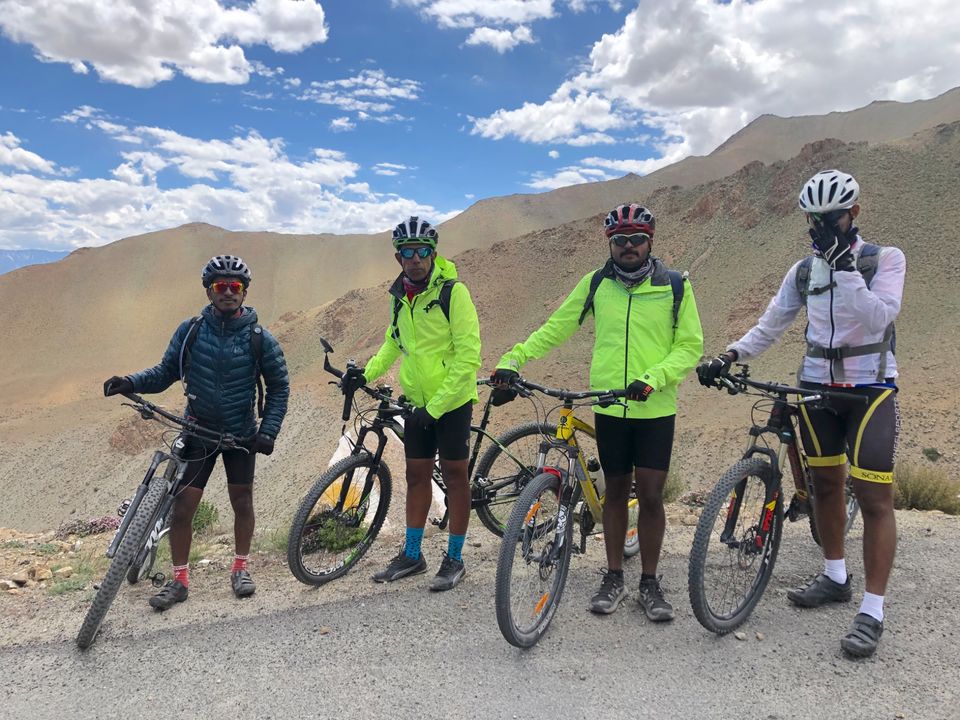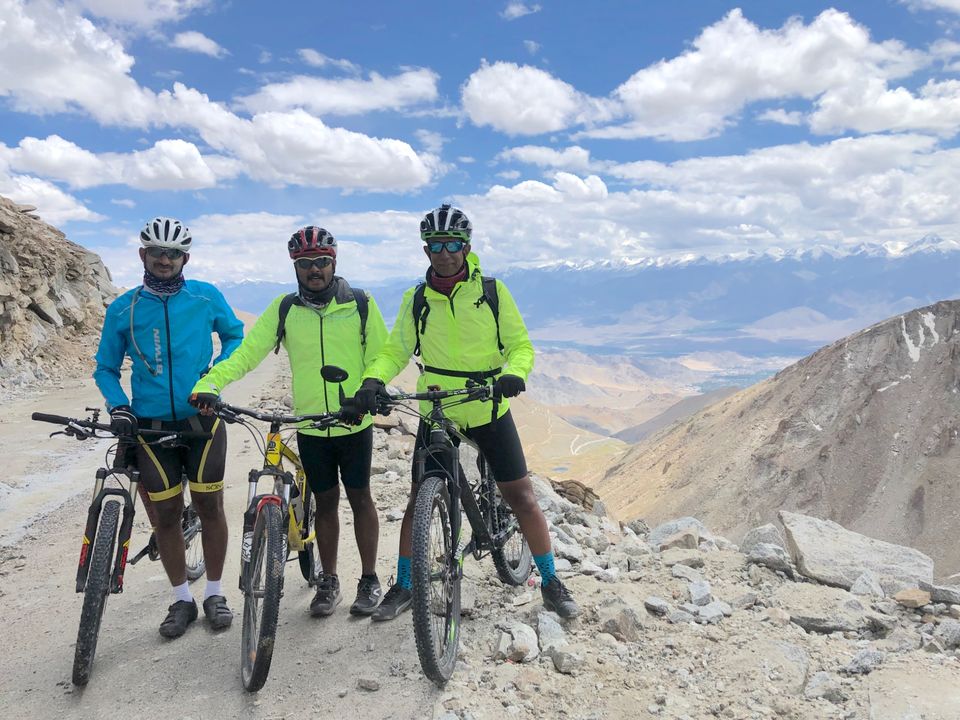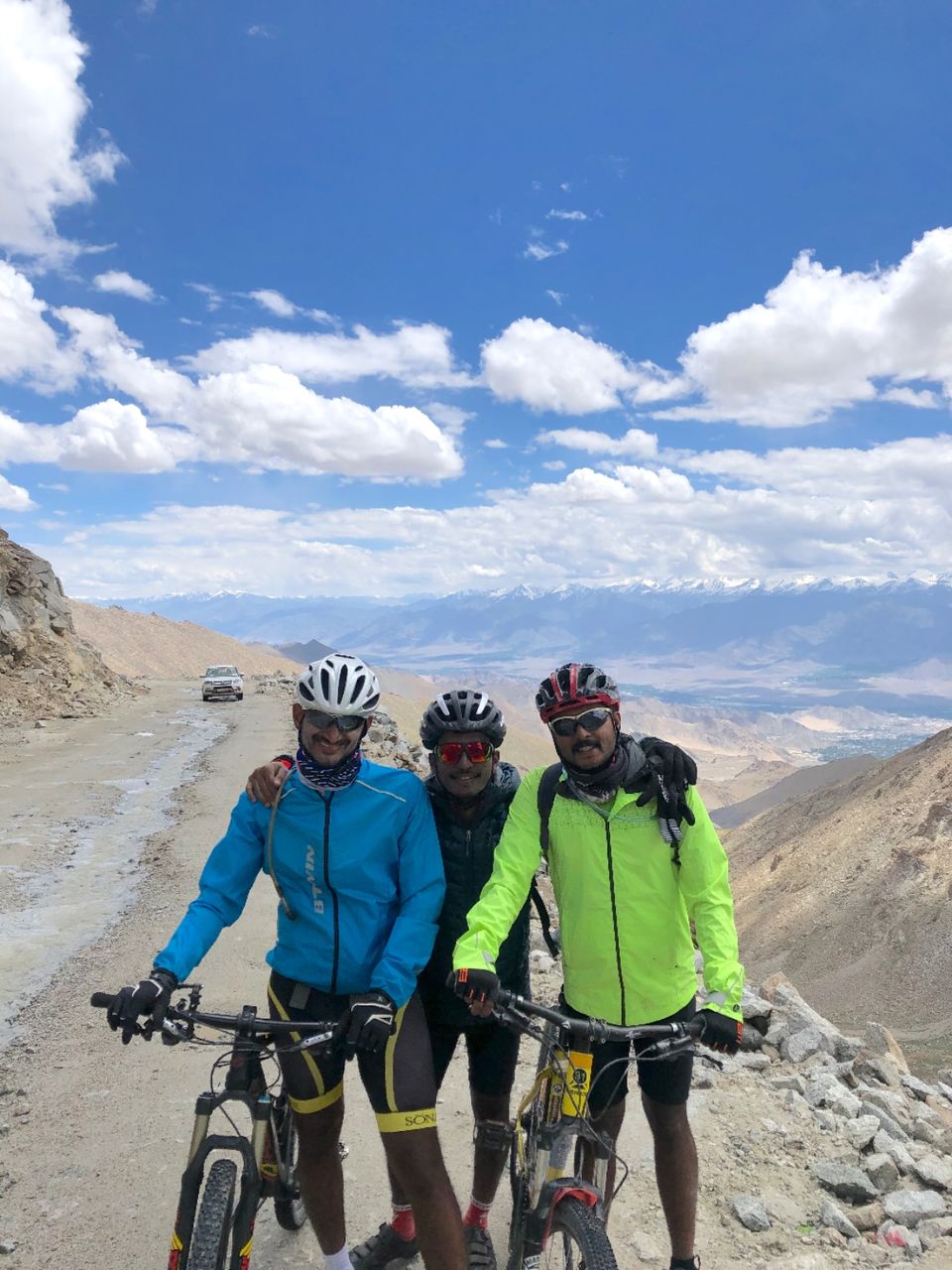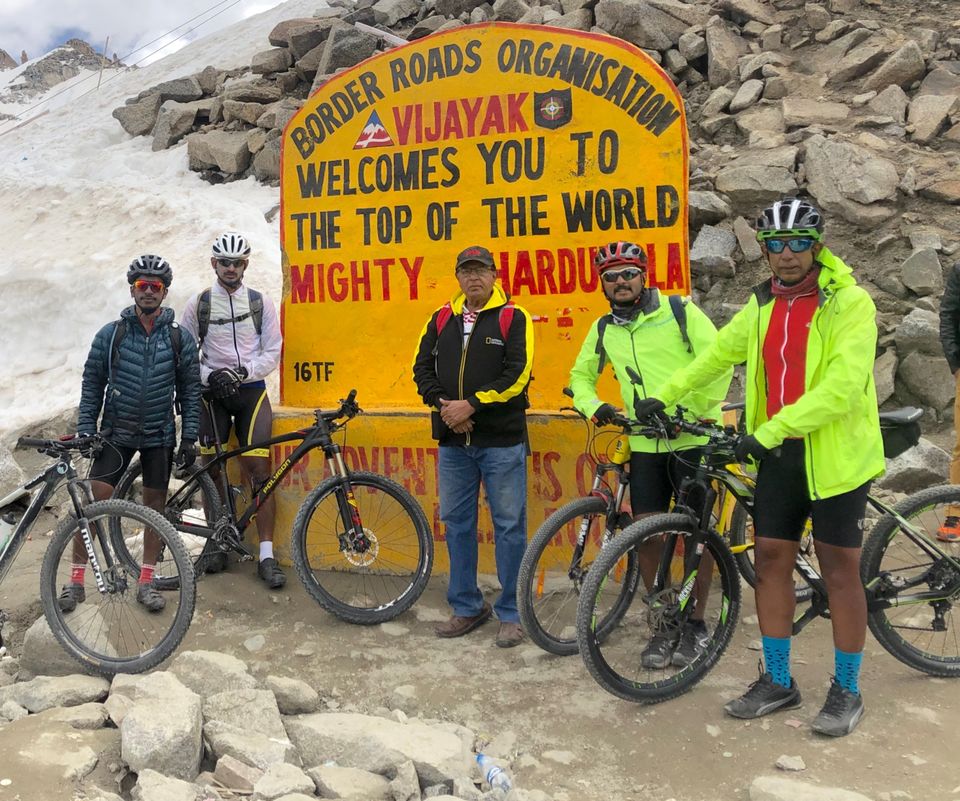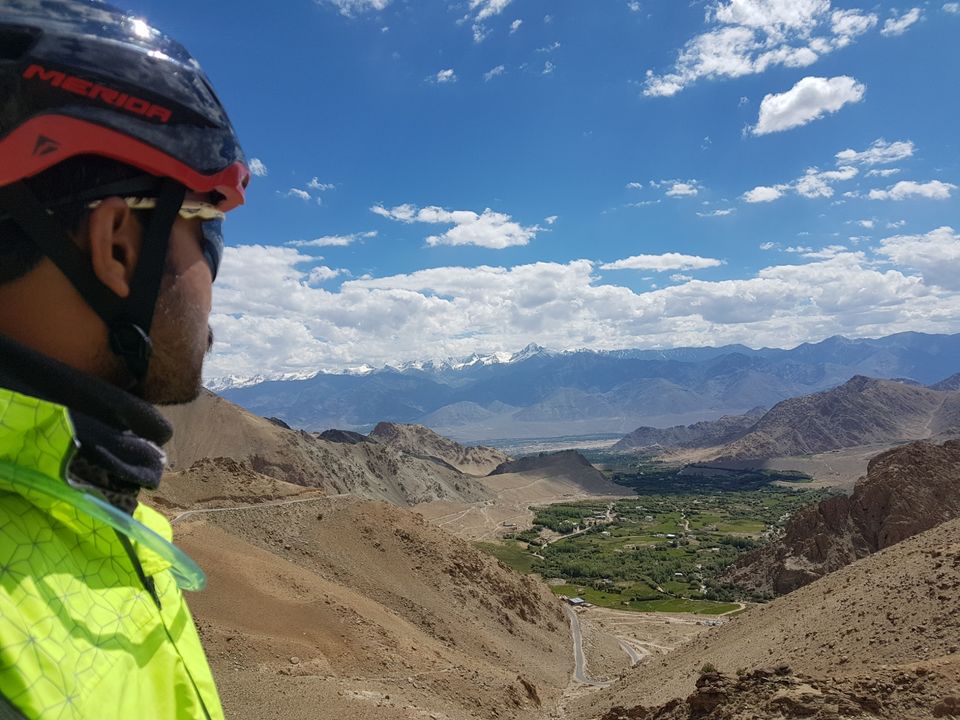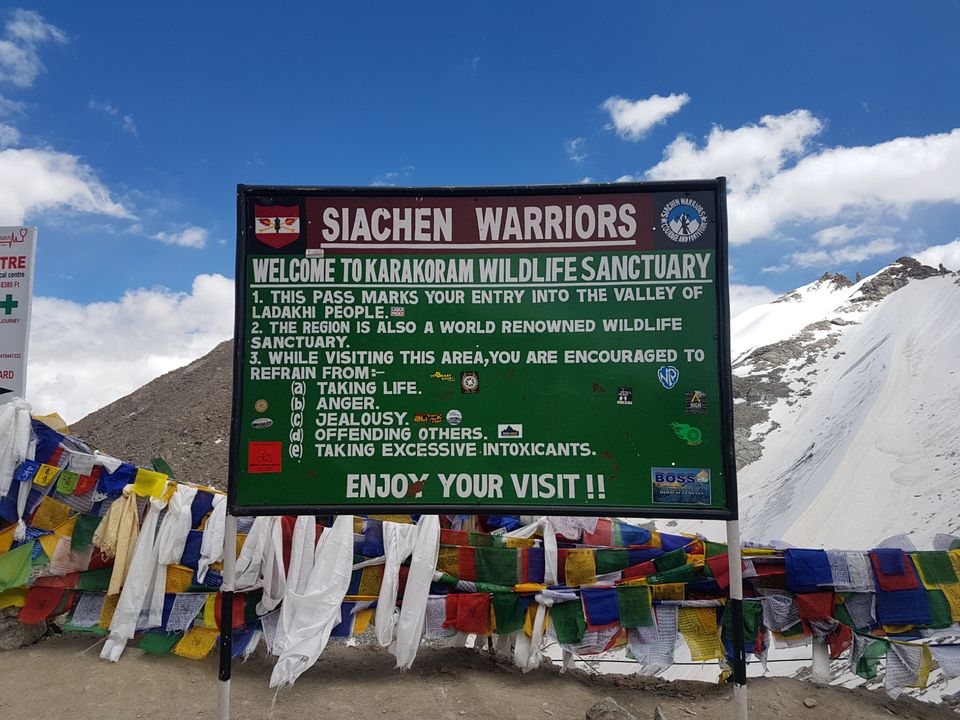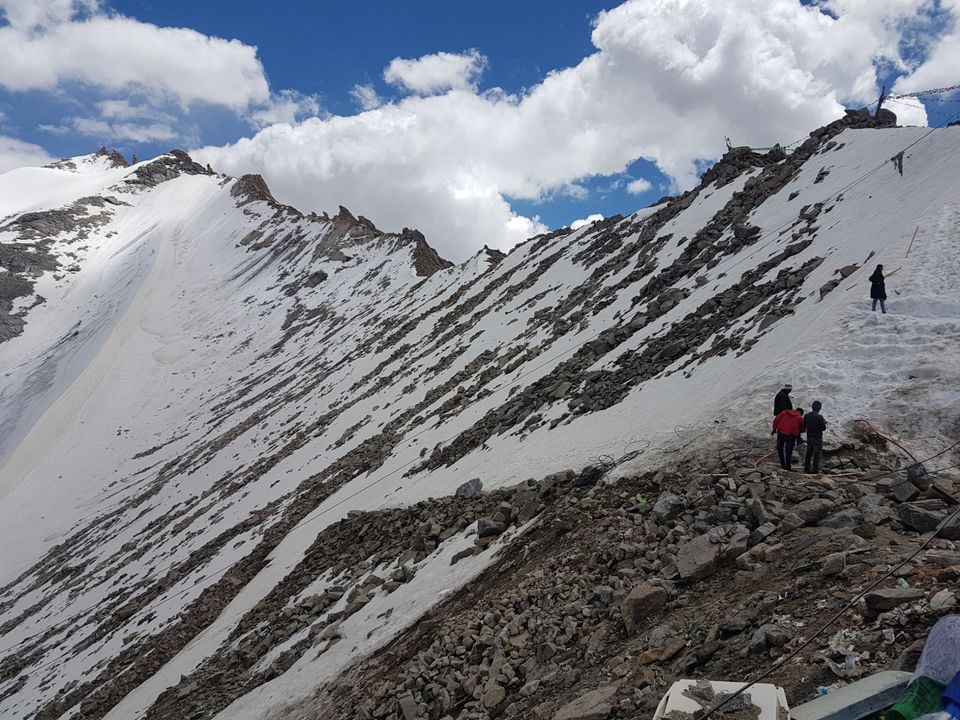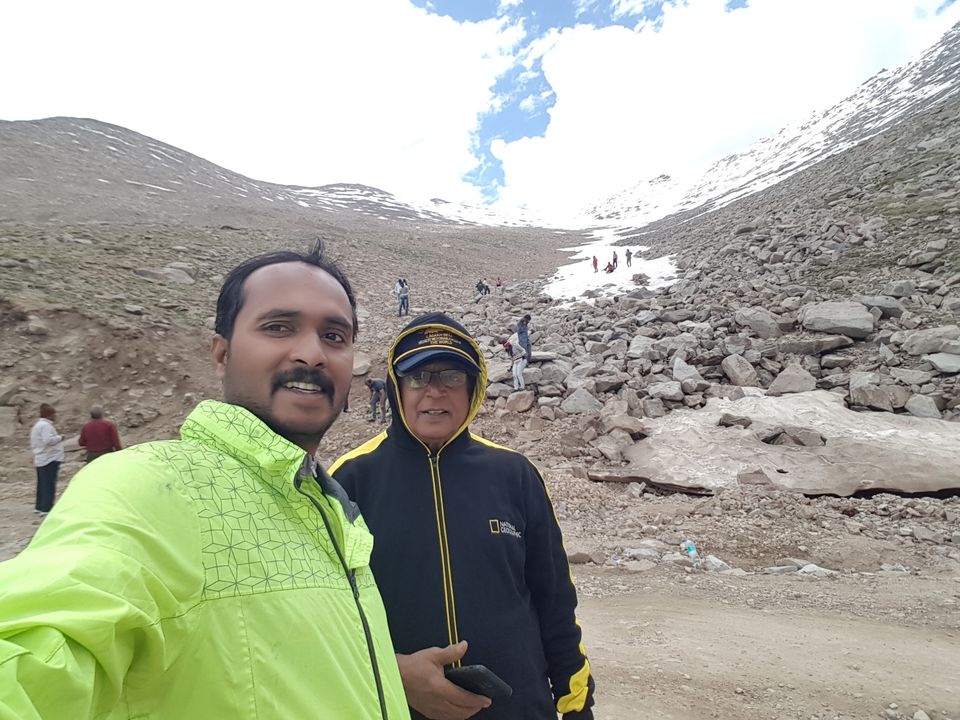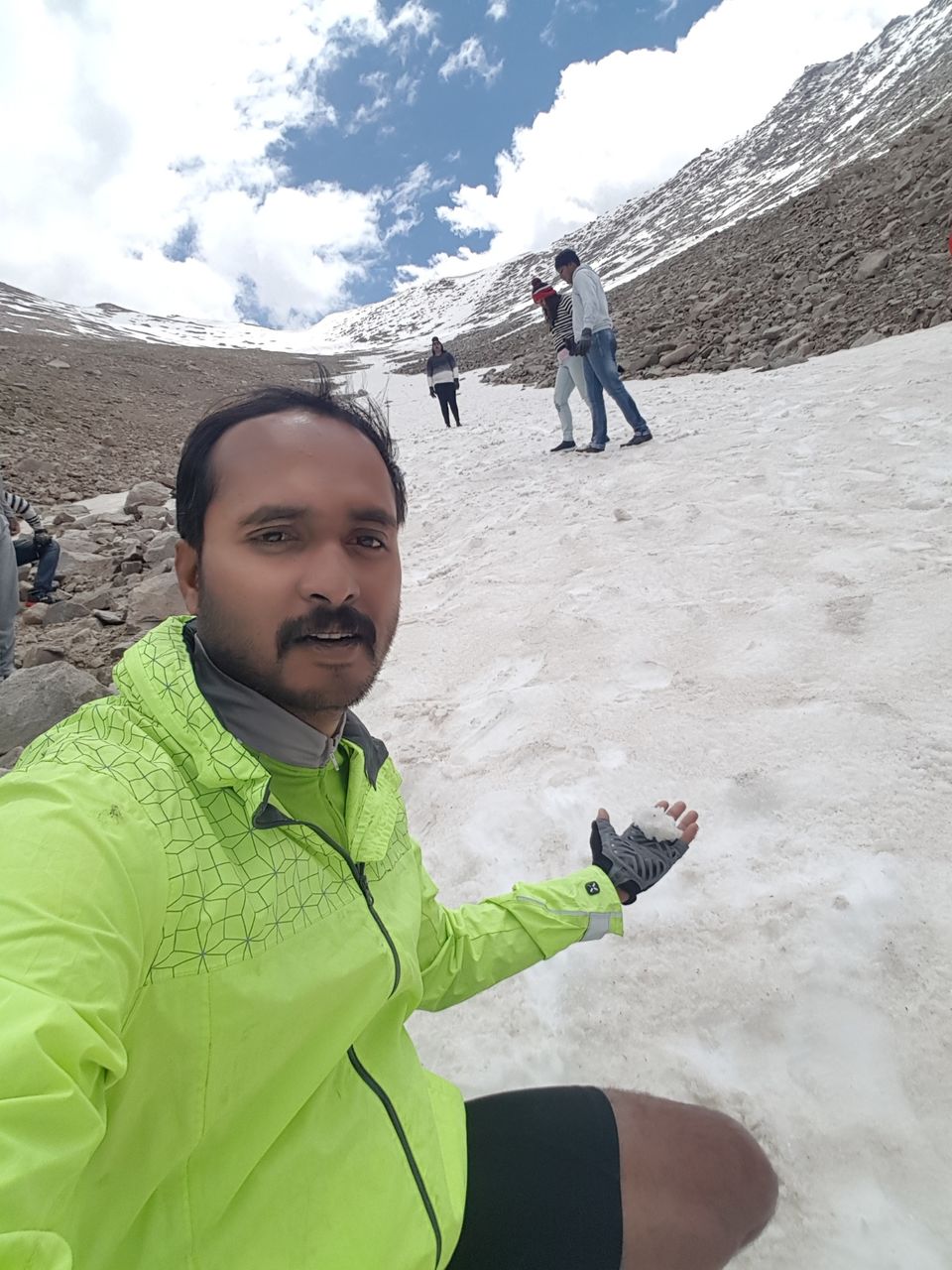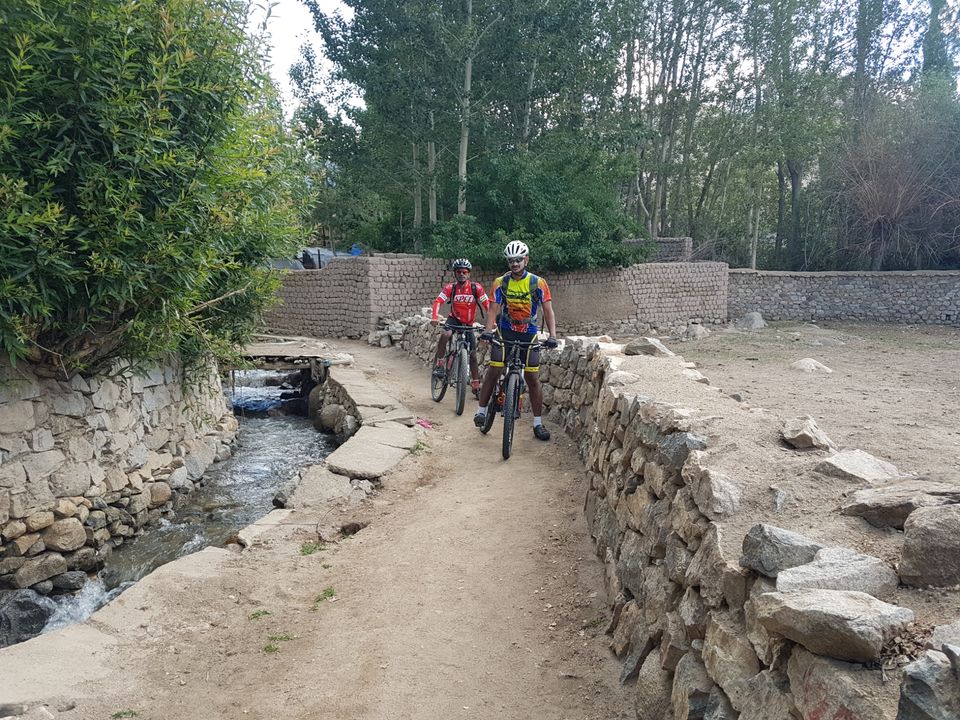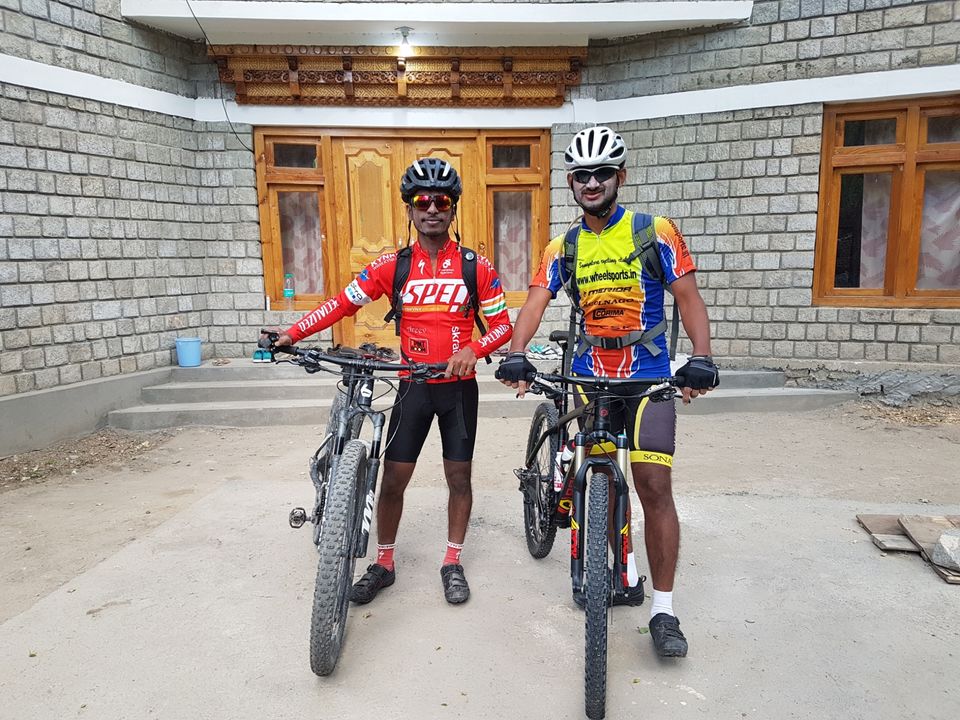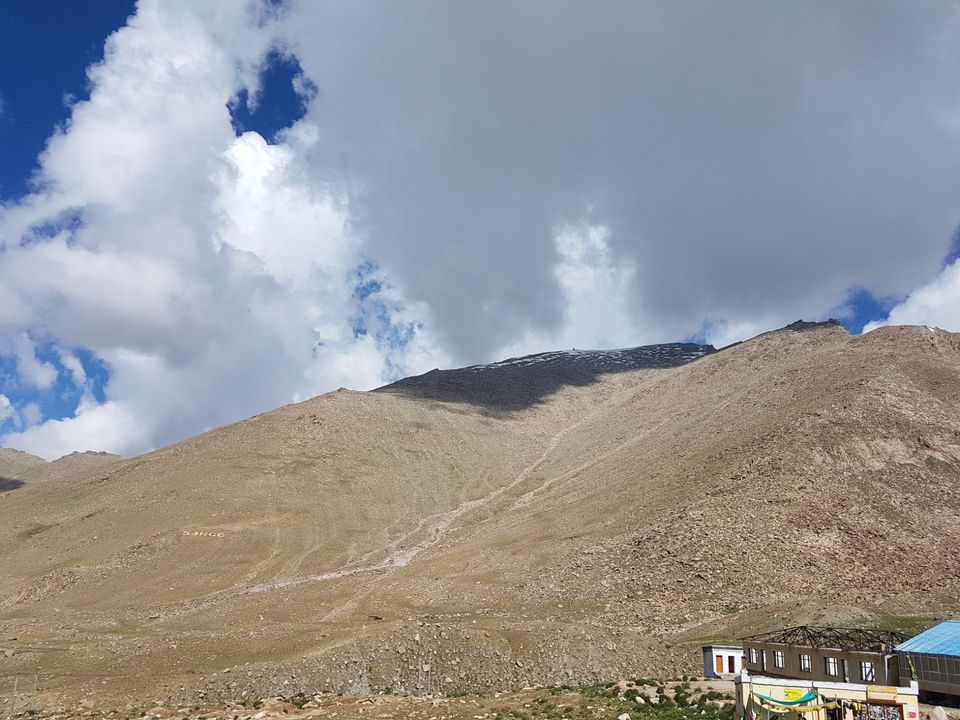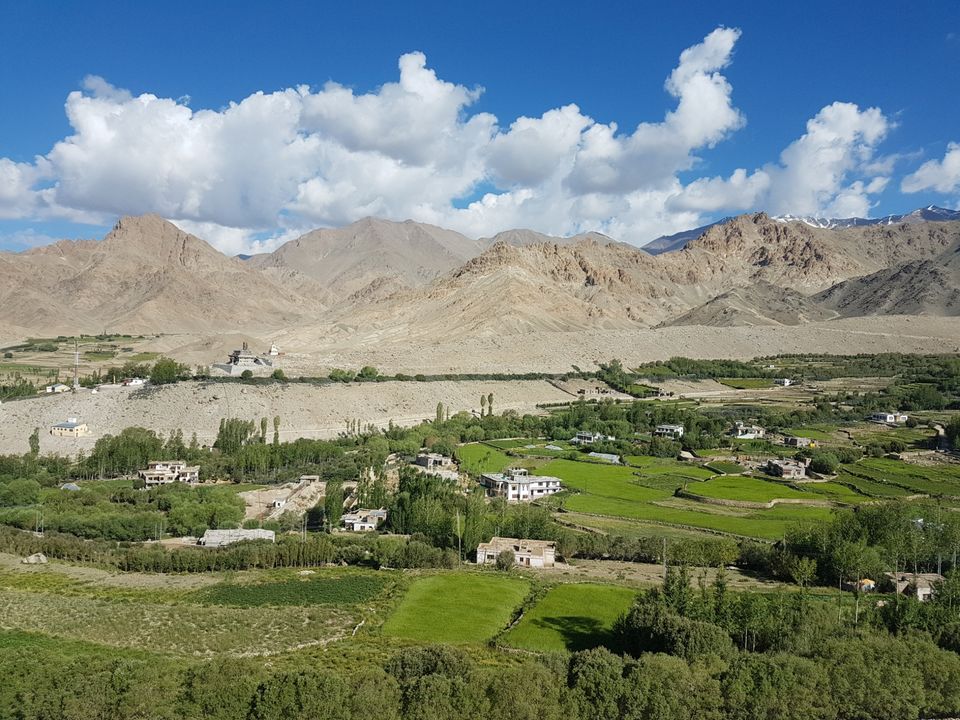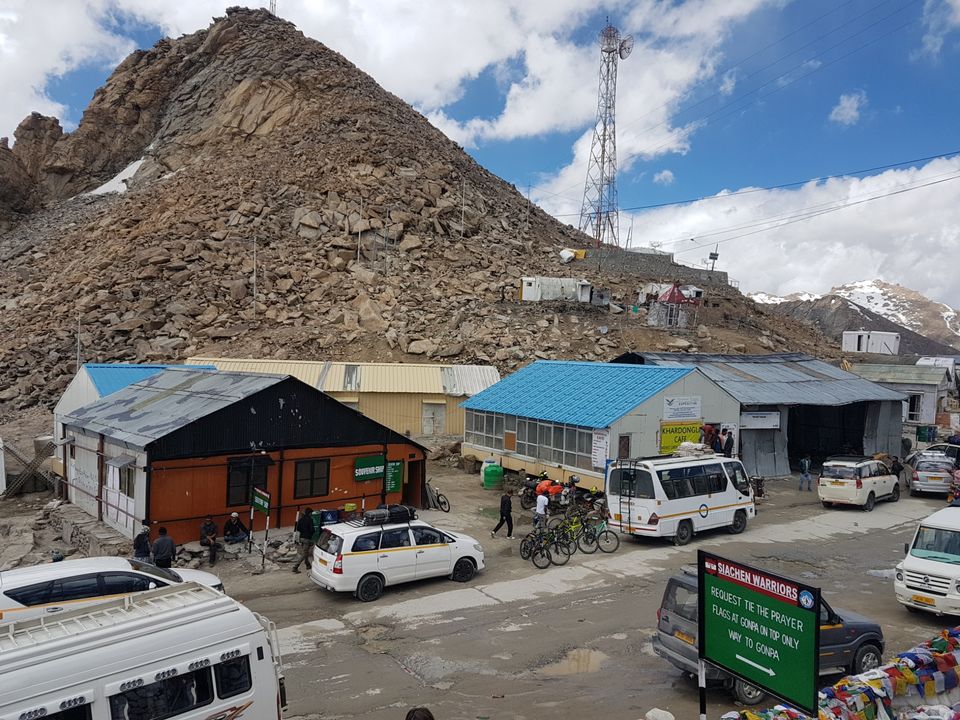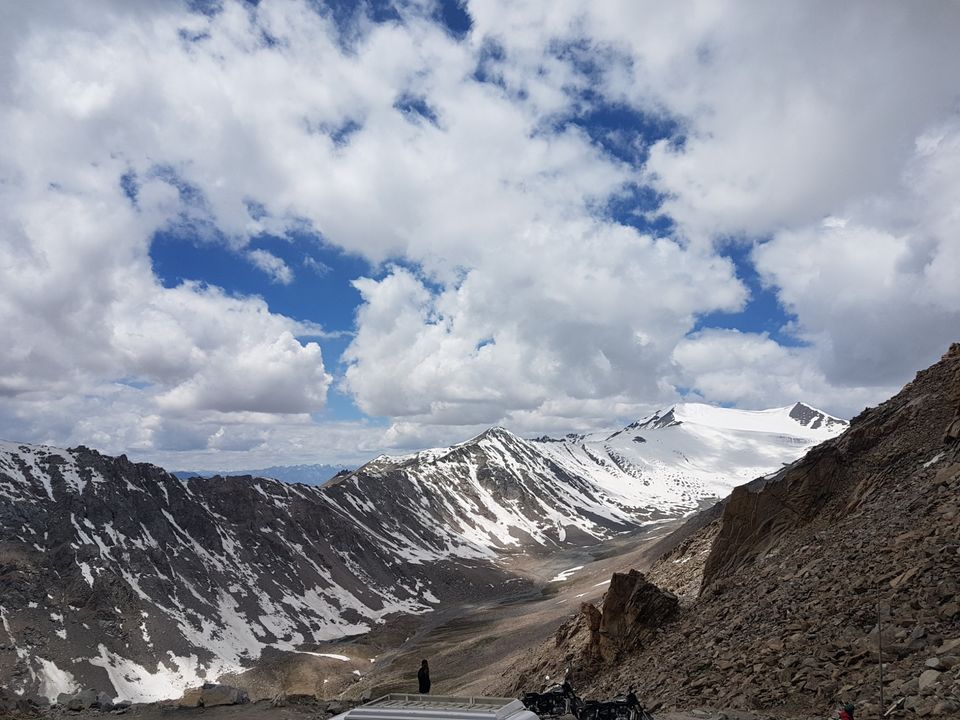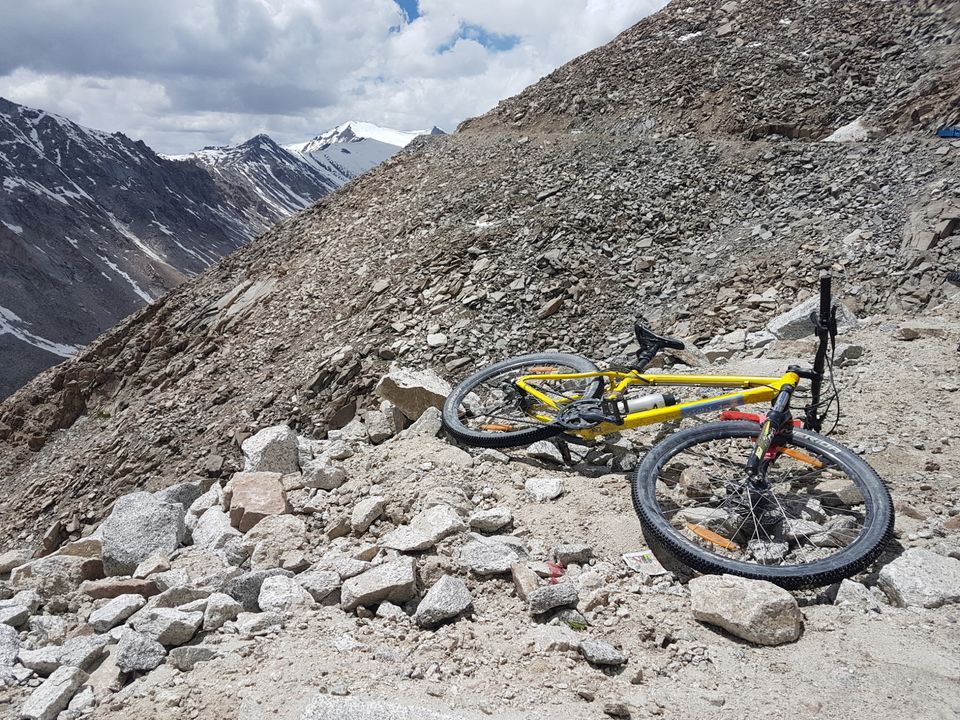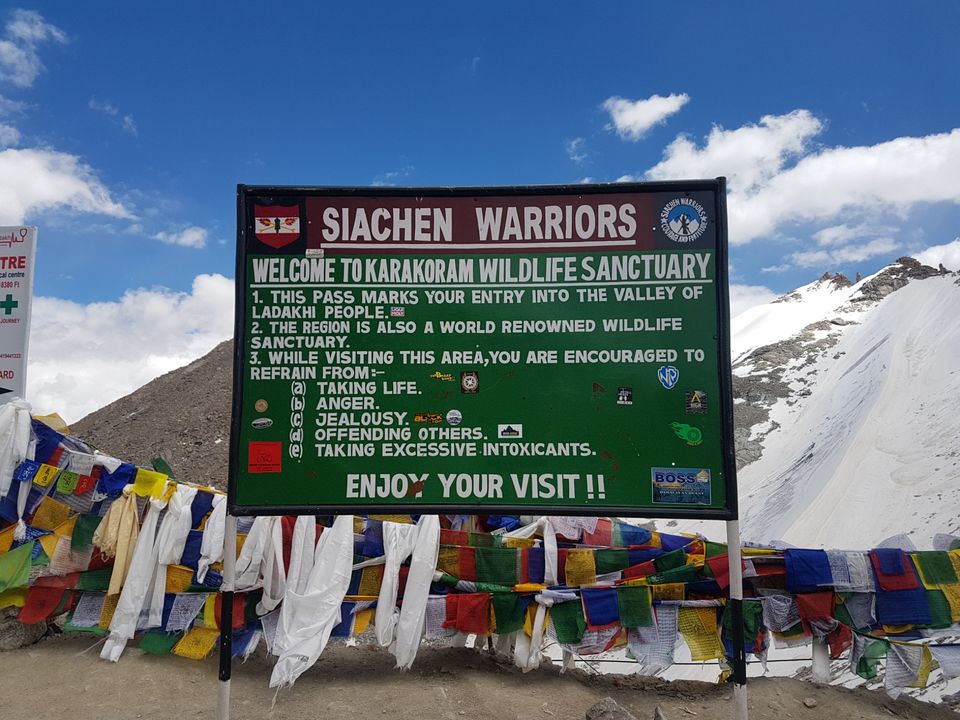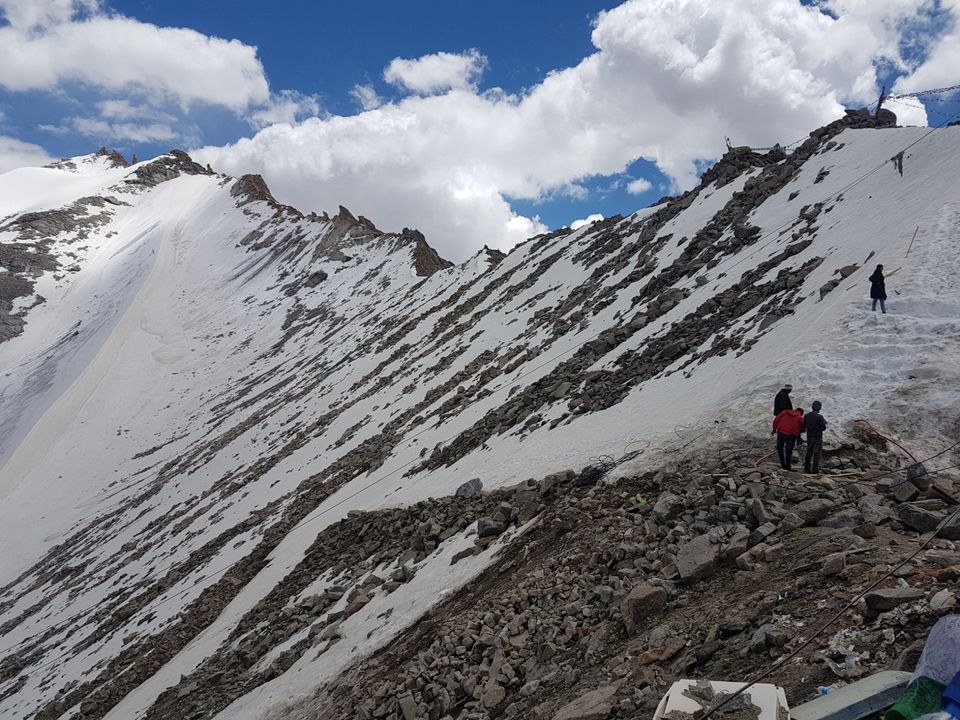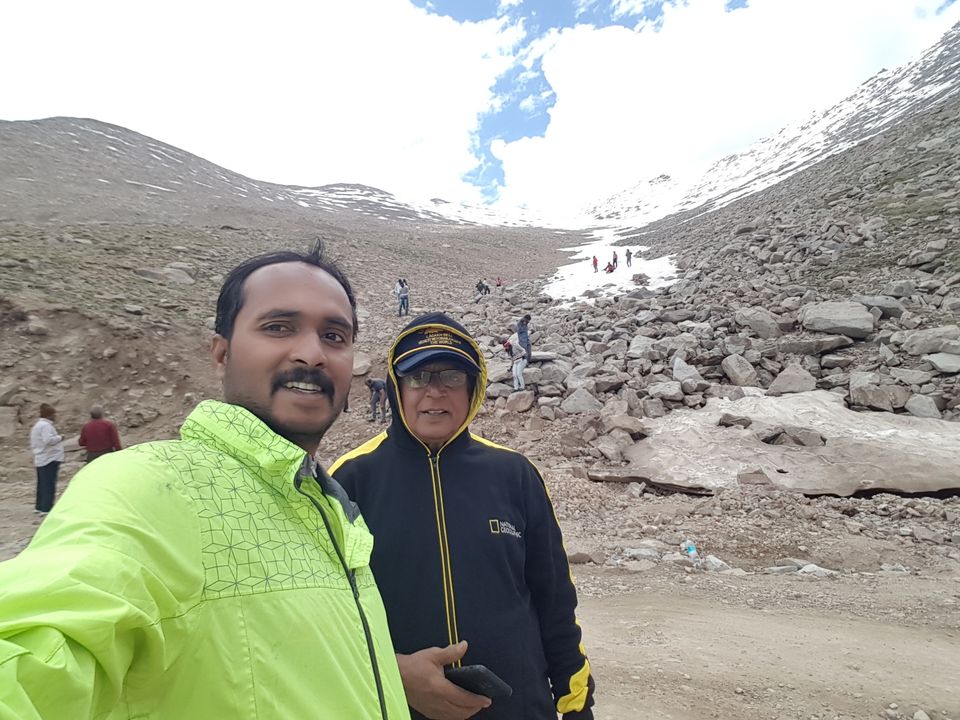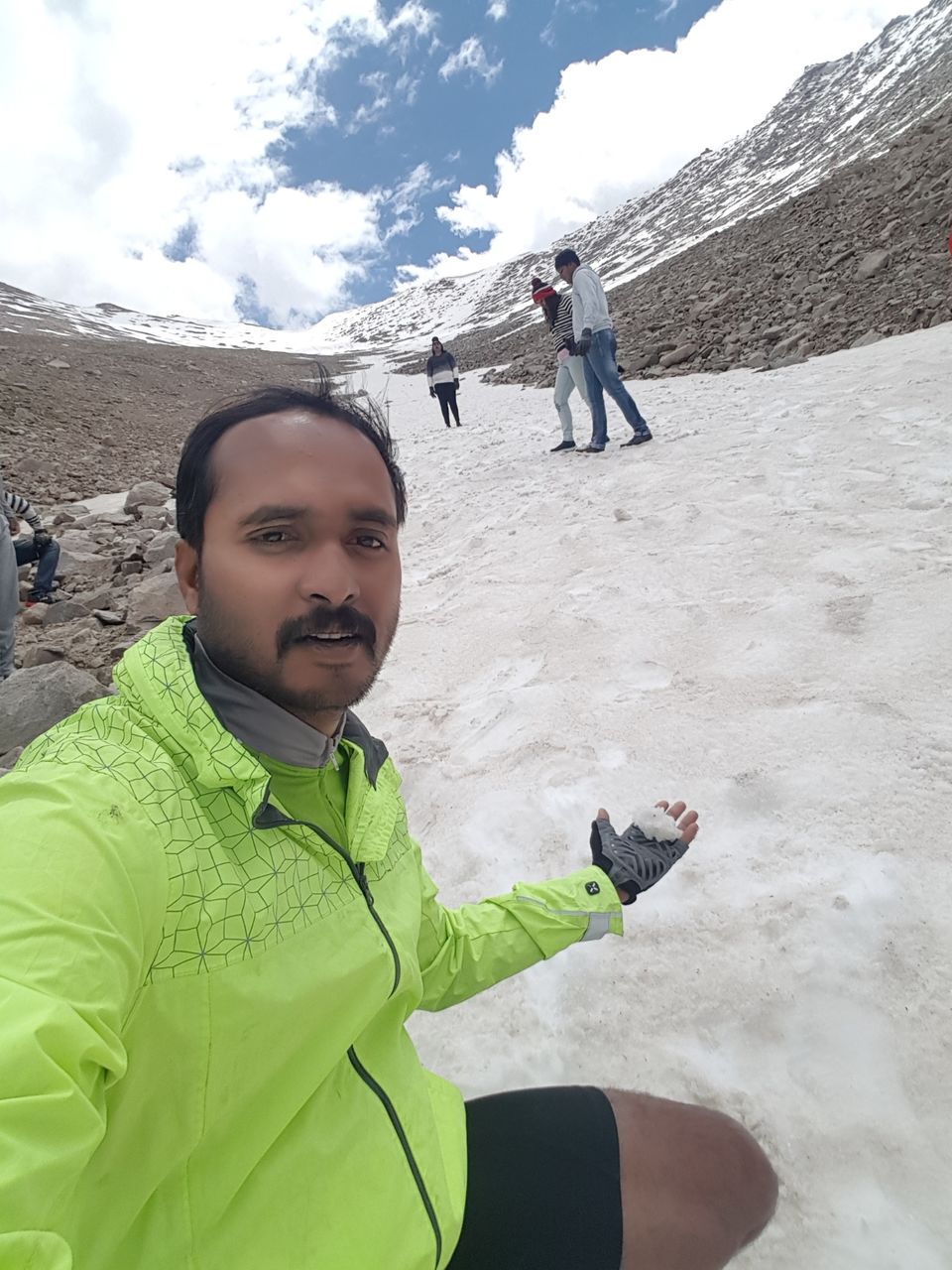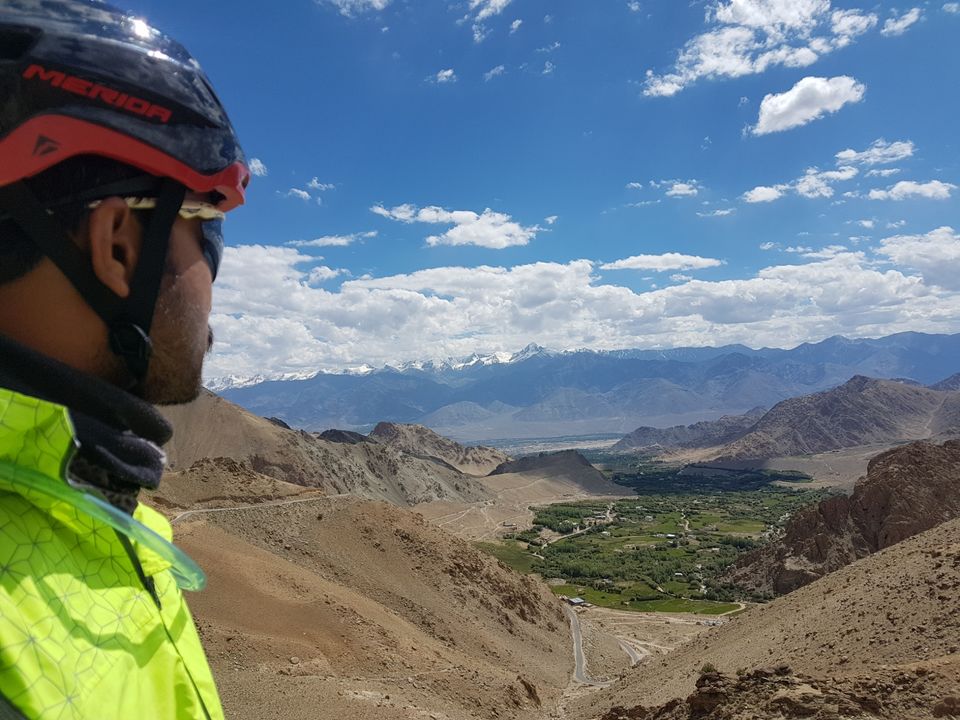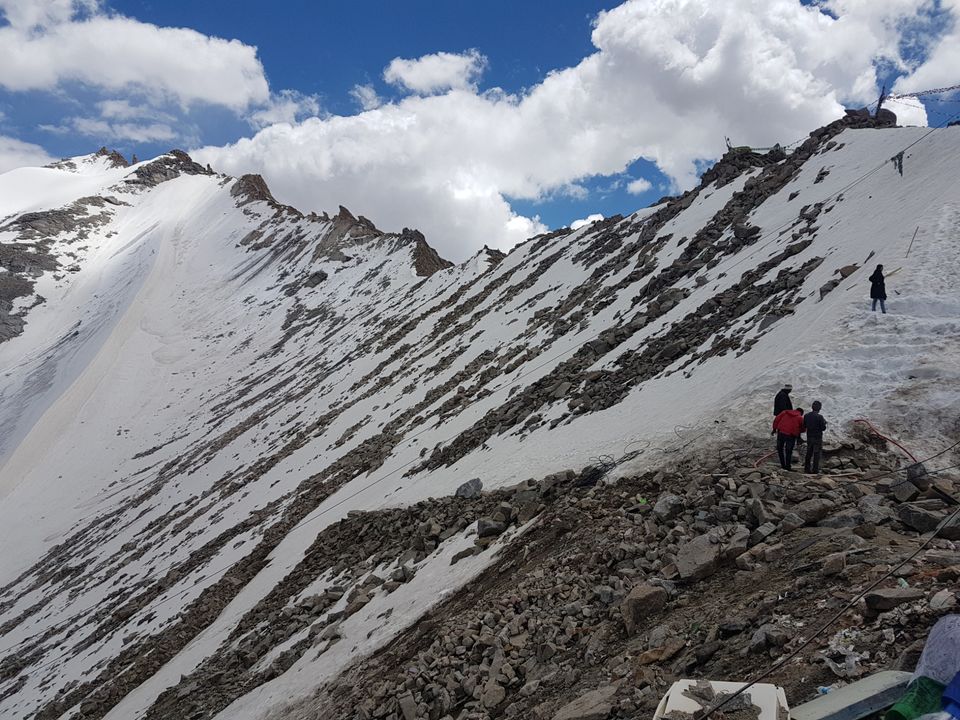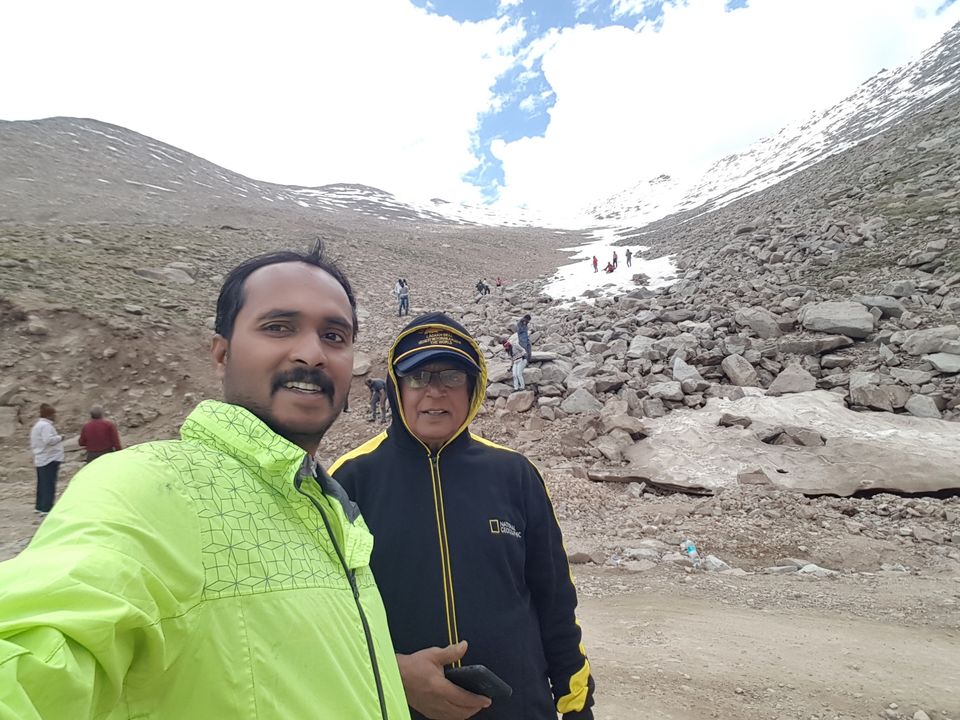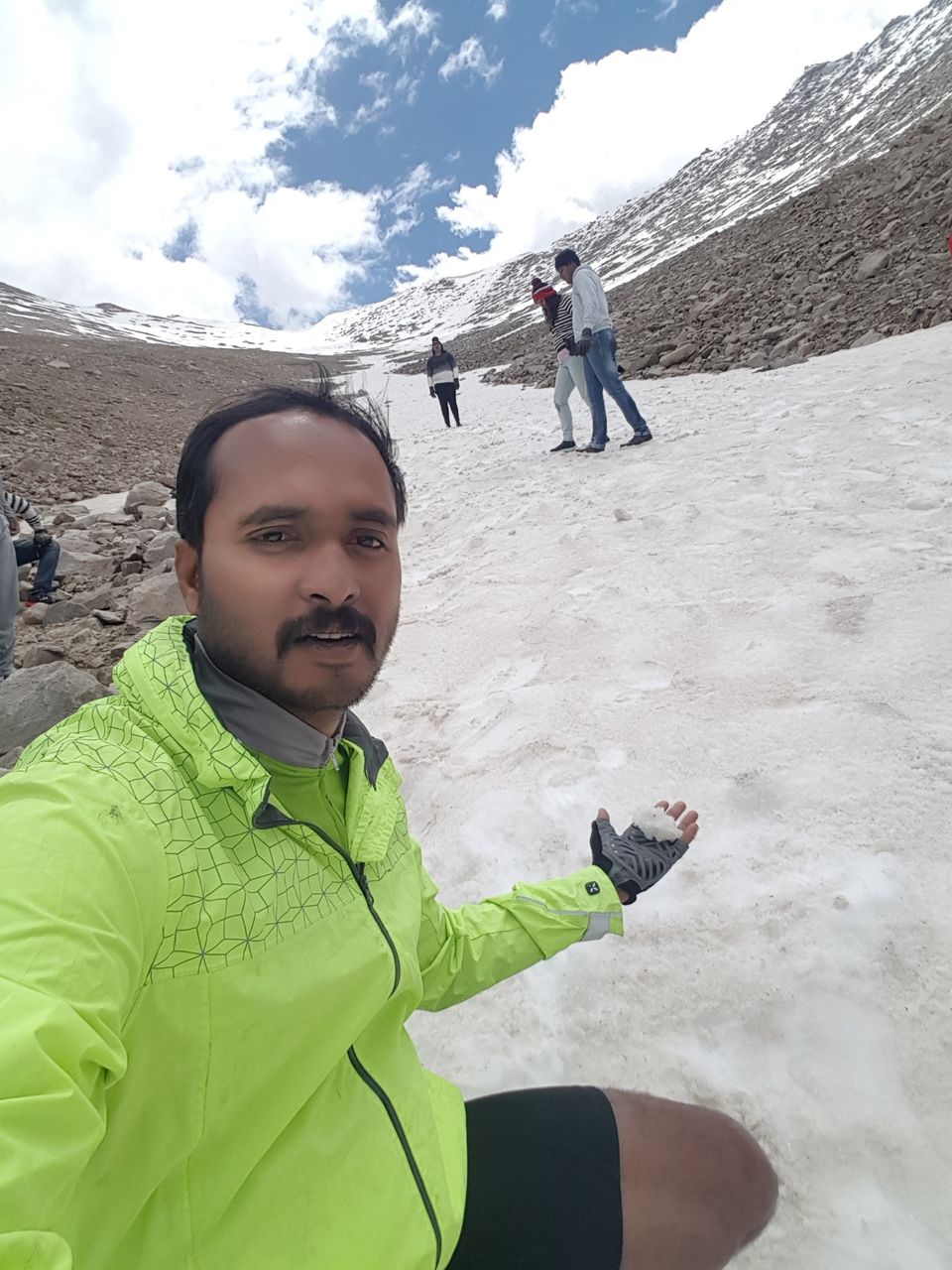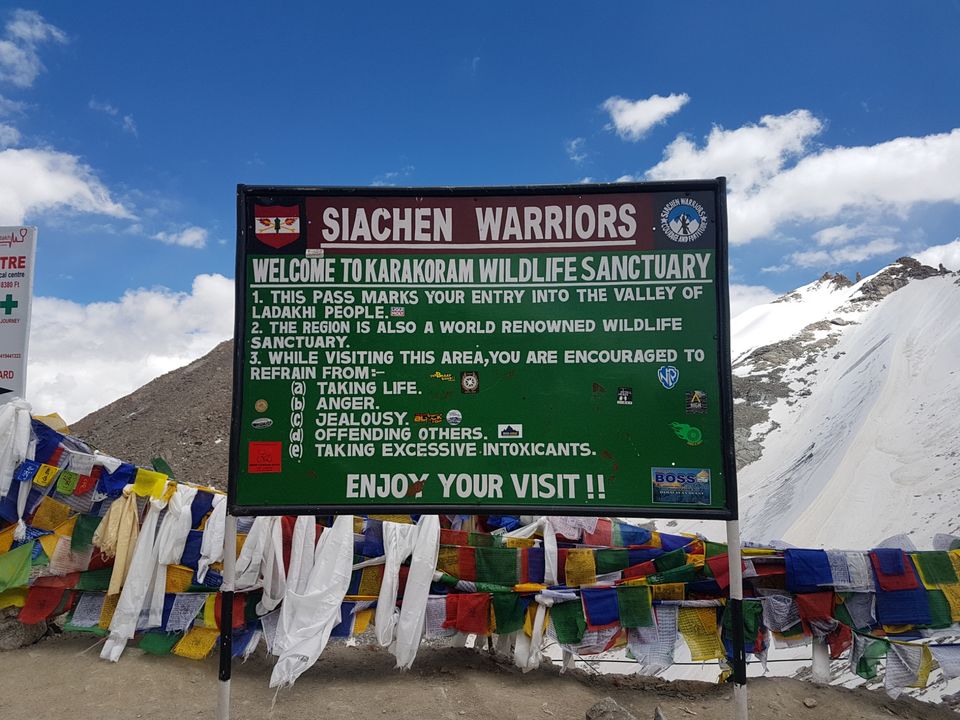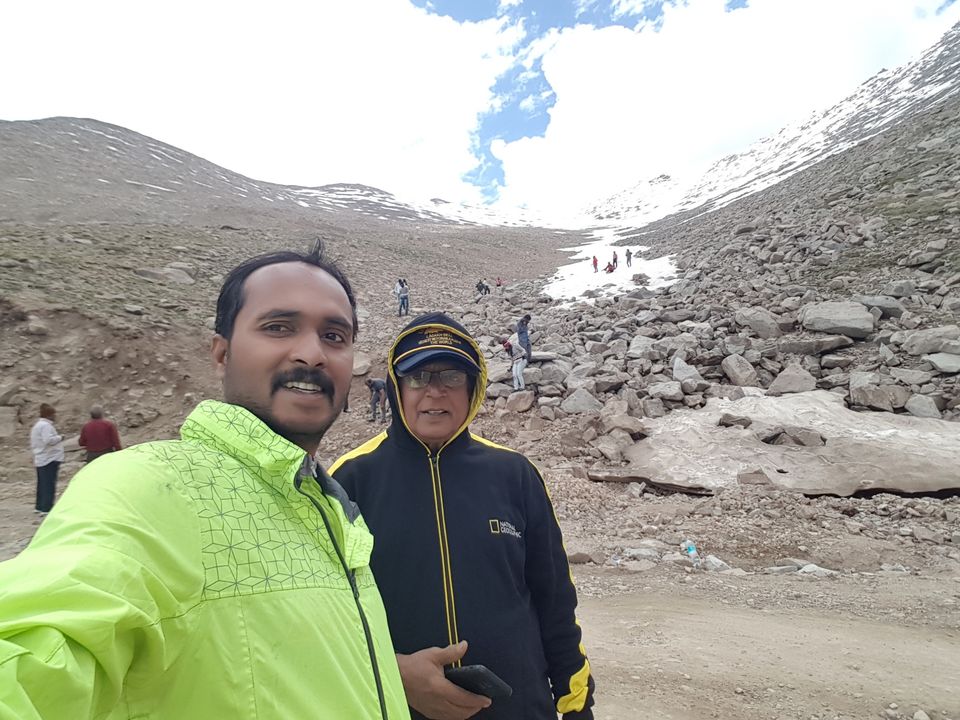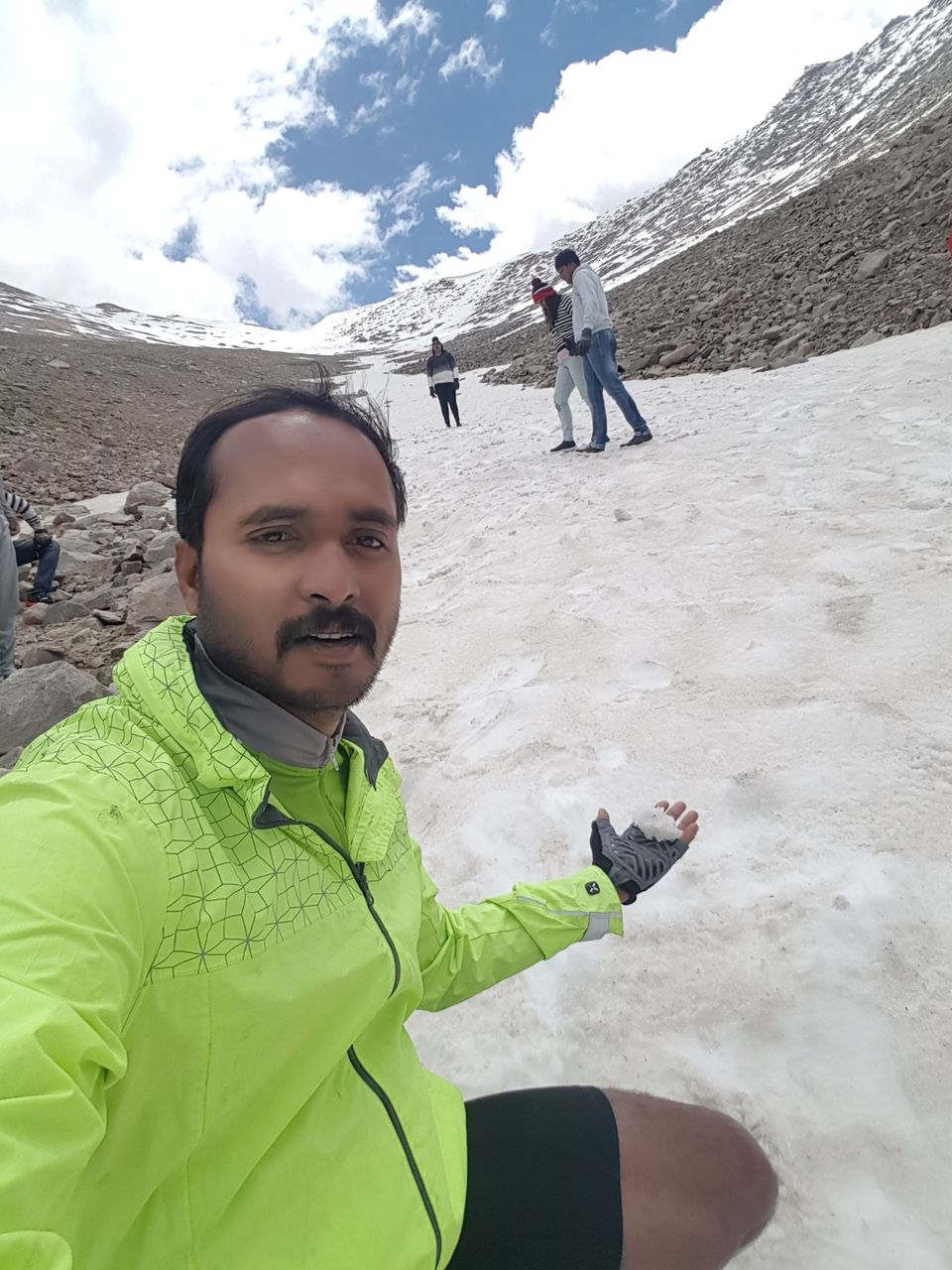 Return from Leh to Bangalore.
Seeing mountains from flight is awesome experience, everyone should take flight from Leh to Delhi.
Same day we had a flight back to Bangalore from Delhi, Dr Ramesh (Cycling buddy) and Poornima (Dr Shankar wife) mam received us with flower bouquet.
That was a wonderful feeling altogether completing a tour as Dream come True.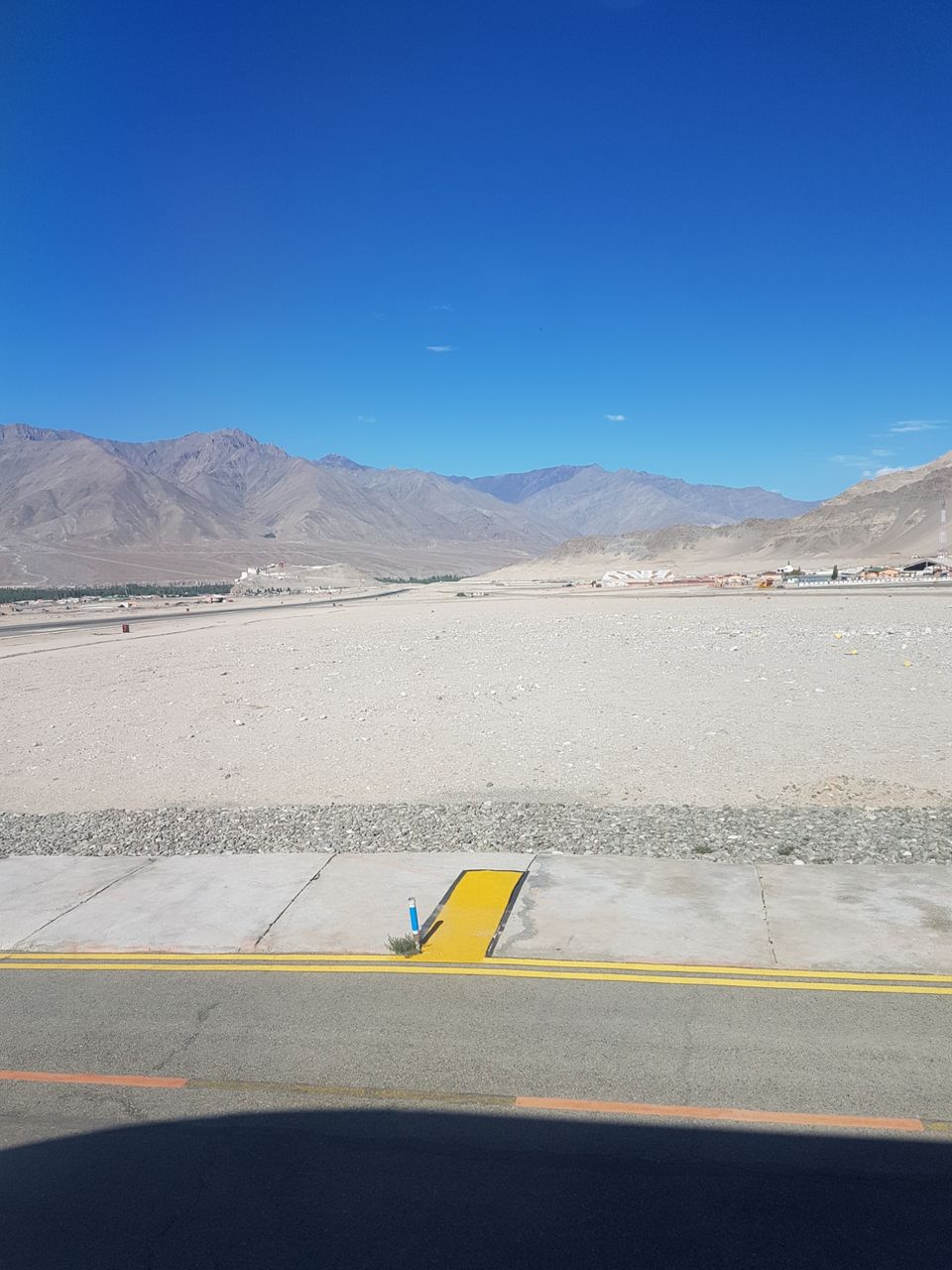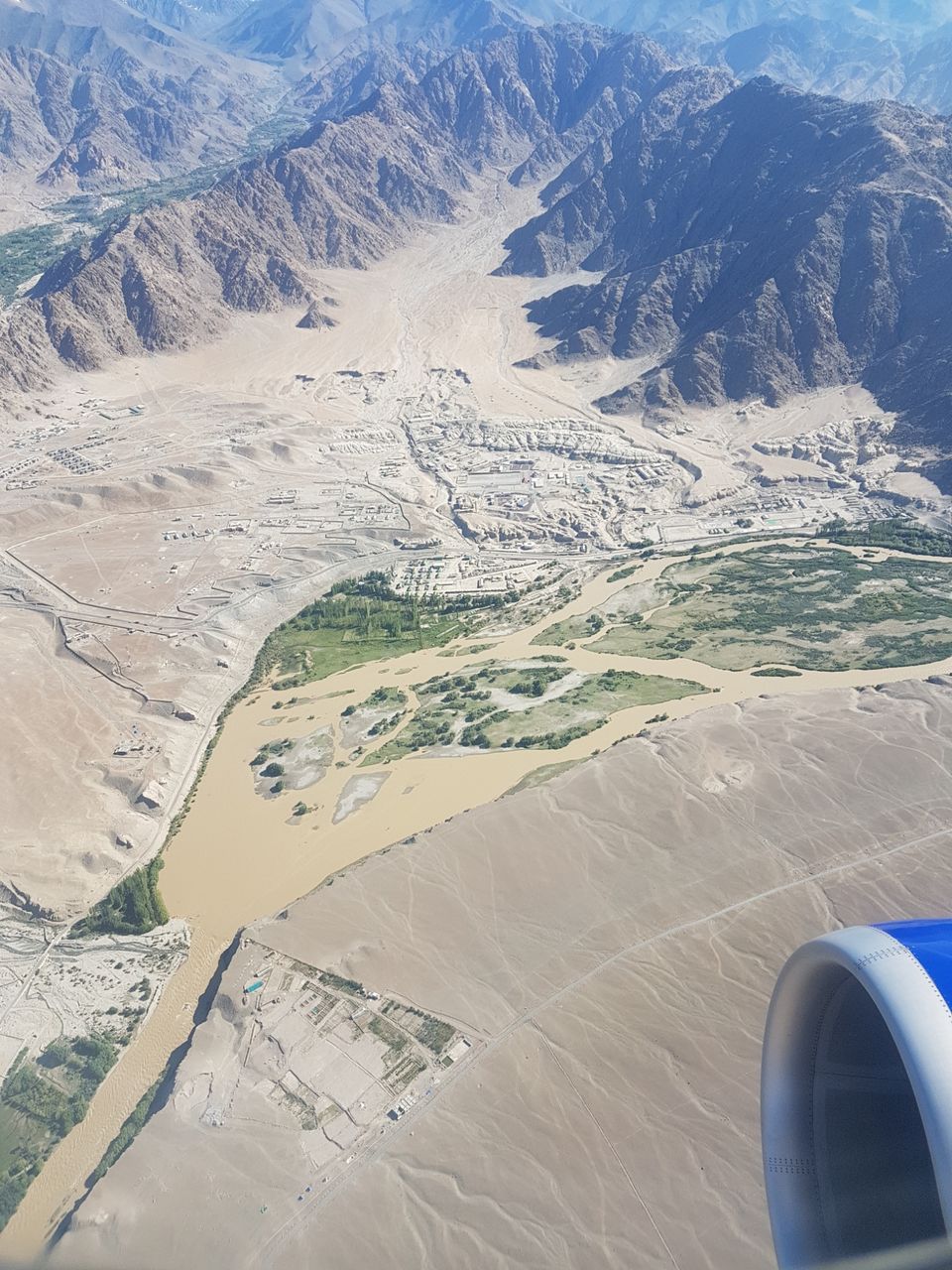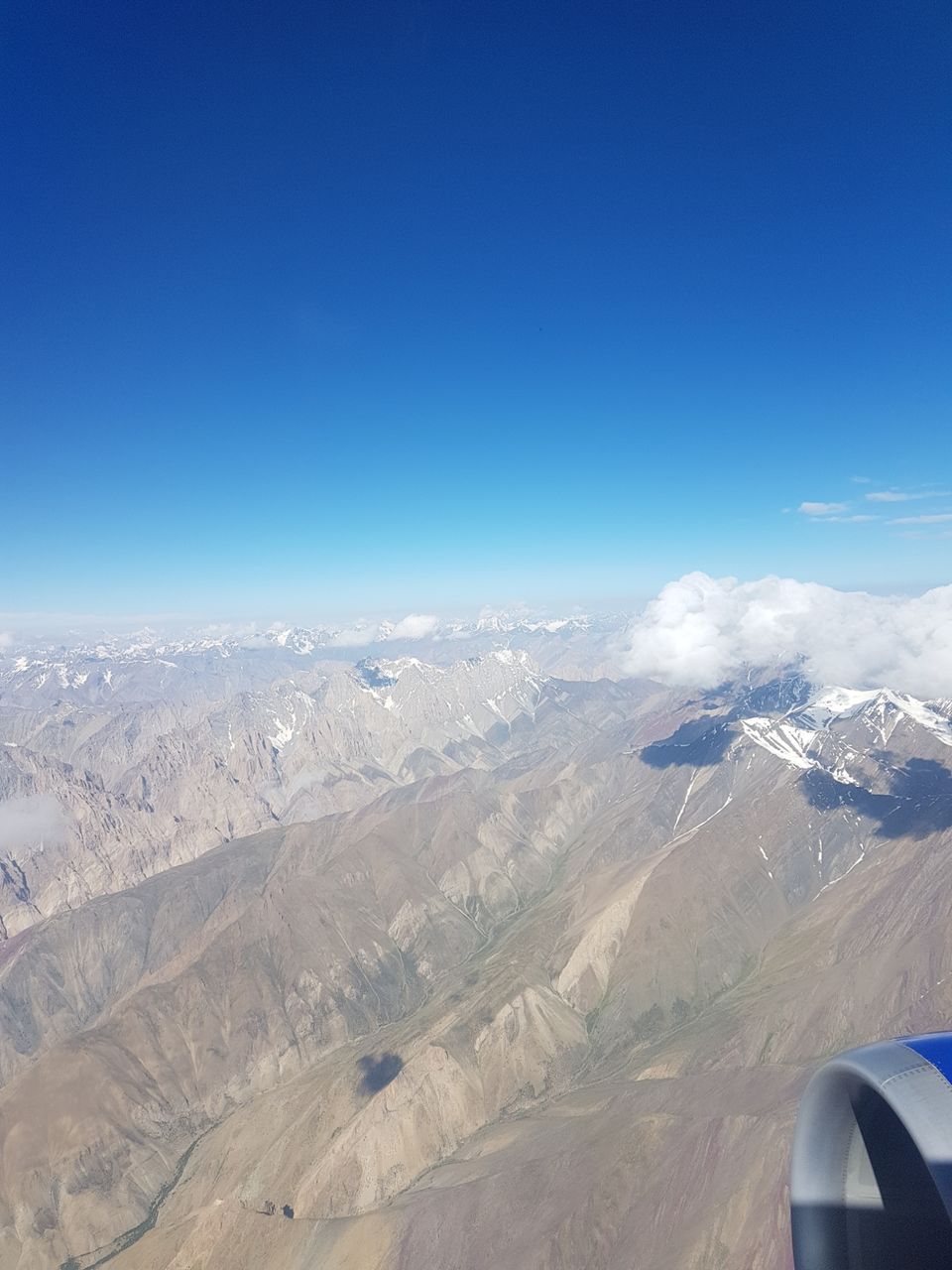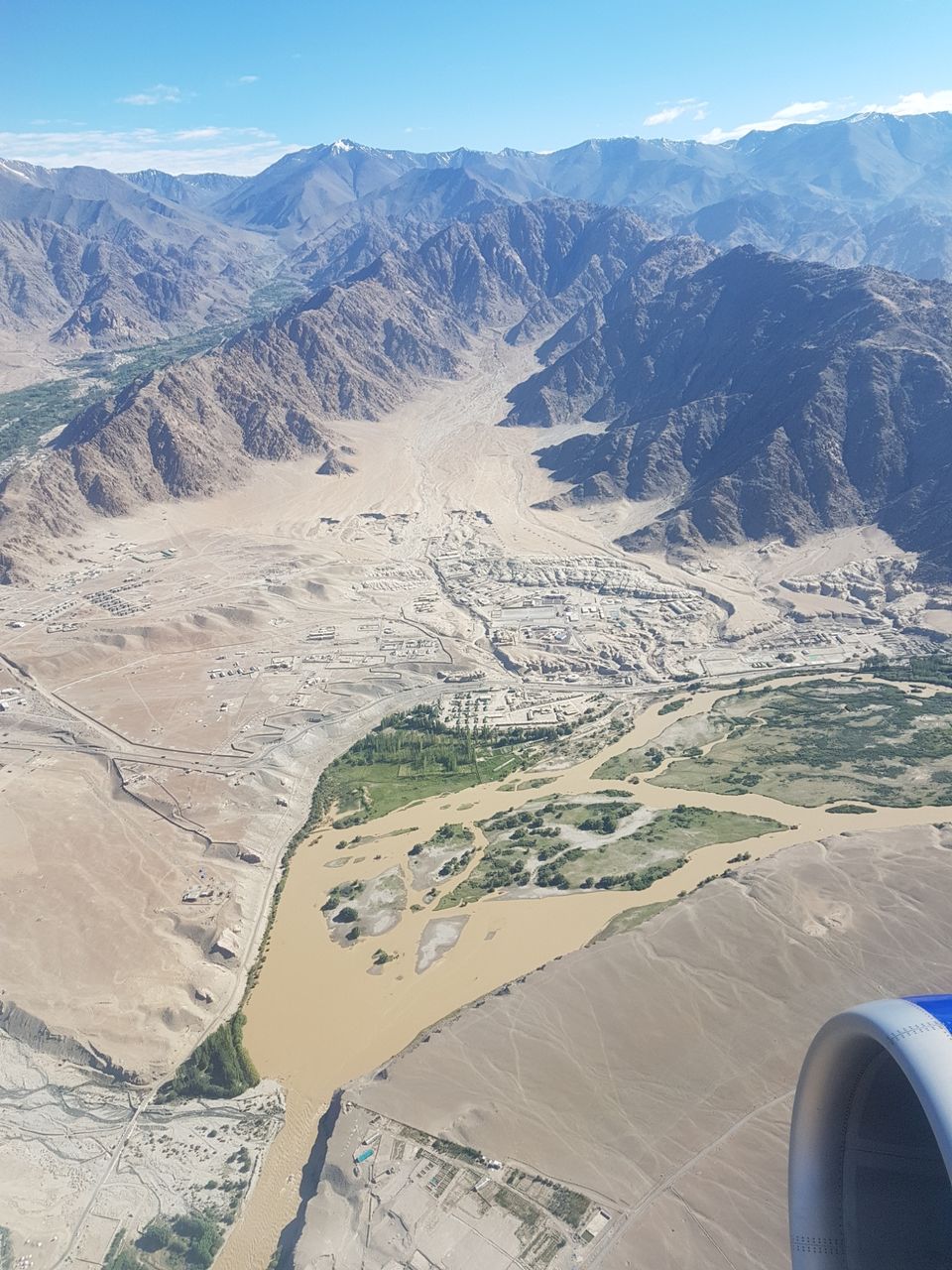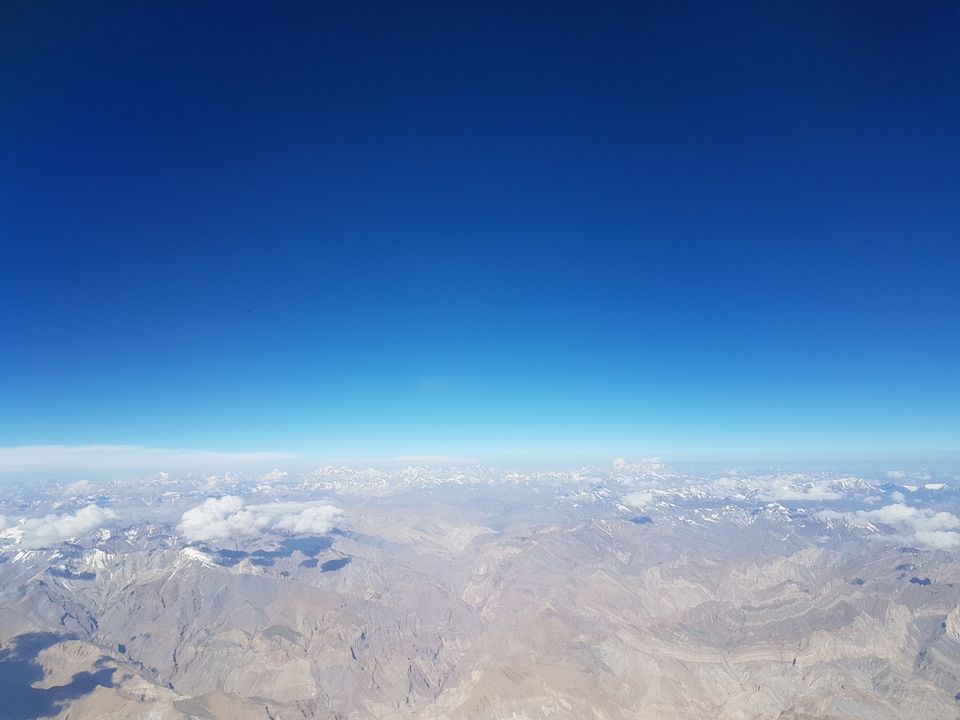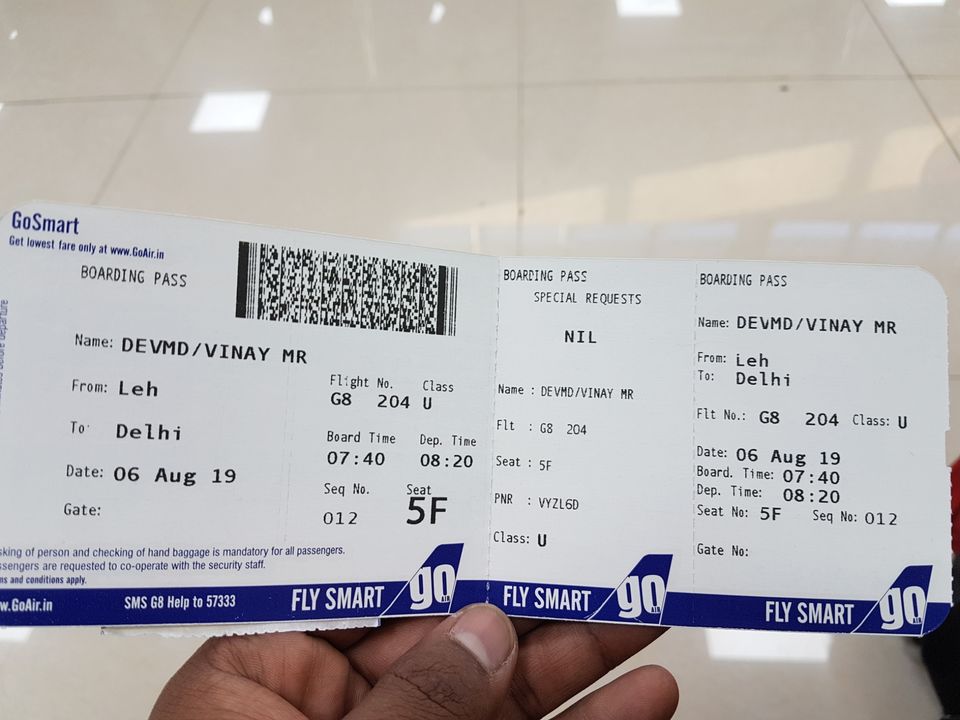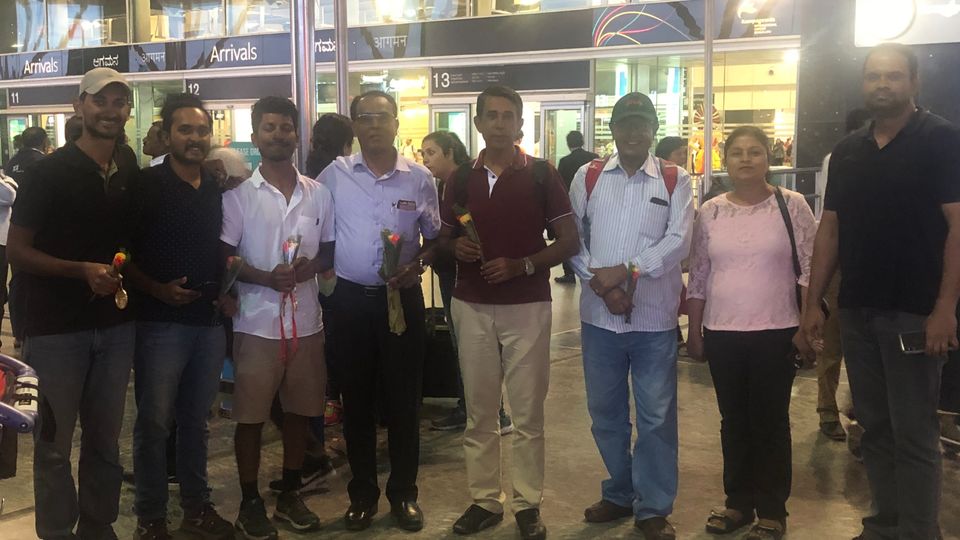 Articles published in news papers and in Toastmasters International news letters.
Courtesy : Dr Shankar and Myself.