Everest is a dream not only for every mountaineer but also for each one of those who have experienced the freedom of trekking at least once in their lifetime. With an whooping altitude of 29000 feet, a few shades less the height where commercial plane flies. This peak attracts travelers, mountaineers, climbers from around the world. There are two main routes to trek - one from the north in Tibet which is more challenging and the other from south through Nepal. In addition to the cost of equipment, training, there are whole lot of permits required to climb the tallest mountain of the world. Four permits are required by any individual planning to summit the peak.
Note : In addition to the below mentioned permits there is a royalty fee to be paid to Government of nepal. The fee ranges from $25000 to $70000(7 members) through southern ridge. Other routes are lesser $50000(7 members).
You also need to have a 600000 INR insurance cover by any Nepal recognized company plus an additional of 50000INR for medical purpose.
1. Tibet Tourism Bureau Permit
It is a must-have permit from the Chinese government for all foreign nationals coming to Tibet. Popularly known as "TTB Permit" or "Tibet Visa" or "Lhasa Visa".
Who should apply: All non-chinese nationals who do not have chinese passports and overseas Chinese people with no Chinese passport. Chinese people who hold SAR passport, Home visiting certificate from Hong Kong and macau doesnt need to apply for TTB Permit. Journalists, national ambassadors, government officials who are travelling to Tibet arranged by Foreign Affairs Office of Tibet Government.
Procedure to apply: If you are going through a local travel agency (best option), you need not to apply more than 20 days prior to your starting date. you need to send the passport copy along with your dates and travel itinerary.
Once the payment is done, they process your permit and the permit reaches to your required address. This is required when you board your flight or train to Tibet. If you are traveling by road, then also you need to show it at the China-Nepal border.
Cost of permit: Tibet Tourism Bureau does not charge anything for the permit but it usually takes lot of follow up and time if you apply through them. Applying through any travel agency costs you around 6000- 7000 but it is more smoother and you escape the hassle.
Notes: Avoid visiting Tibet when there is any significant political uproar is going on in China. Try to be in groups. Send your documents well in advance to reduce last minute hurdles.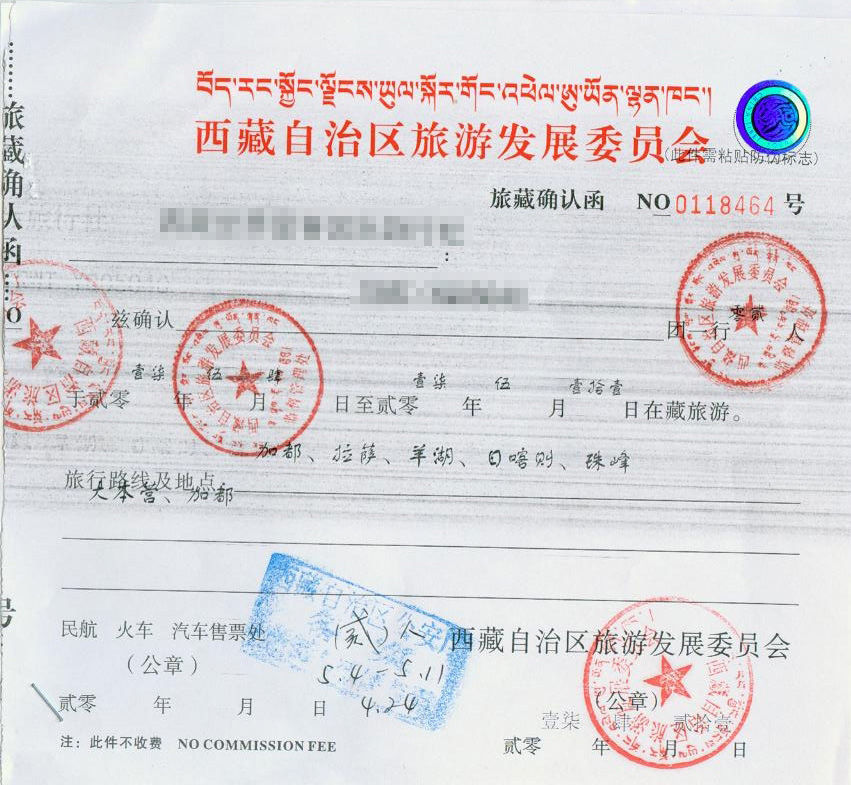 2.Frontier pass - It is required by all traveler s whether foreign or Tibetian nationalists who want to travel the border between Tibet and other countries
Who should apply: Everyone should have to apply for this permit
Procedure to apply: This is issued by Armed police Tibet Frontier Corps in Lhasa. it is always suggested to book it through local travel agency. The application process takes round 5 days. You need to send the passport copy along with your dates and travel itinerary and one copy of your Tibet Travel Permit.
Cost of permit: Nominal charges. you can get it for free if you can bargain well.
Note: You need to produce this permit at Everest Base camp, Mt Kailsah, Zhnagmu - China Nepal border and when you fly to Kathmandu from Lhasa. So keep it handy.
3. Aliens' Travel Permit - Popularly known as "PSB Permit" issued for those who are planning to travel the restricted areas outside Lhasa
Who should apply: All foreign tourists should apply through agency except government officials and journalists who need to apply via foreign Affairs office of Tibet Government
Procedure to apply: Your original passport and Chinese visa along with their photocopies are required for the permit. You need to apply previously as it gets made within an hour.
Cost of permit: It is free
Notes : If you are not travelling outside Lhasa region, you not necessarily need this.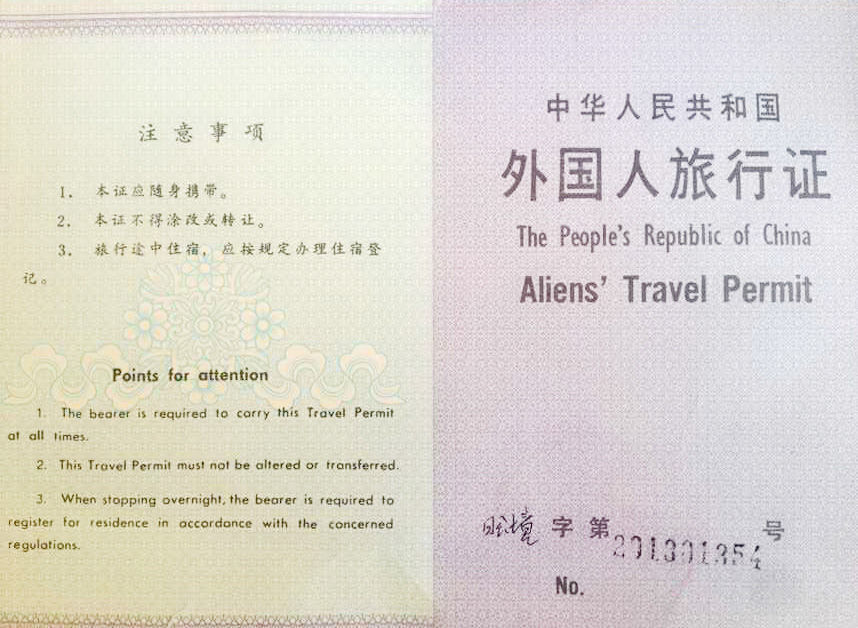 4. Mountaineering license: Anything above Everest Base camp or any altitude above 5000m requires this license issued by Tibetian Mountaineering Association.
Who should apply: Everyone should apply for this permit except government officials and journalists who need to apply via foreign Affairs office of Tibet government.
Procedure to apply: Submit the application to Tibet municipality administrative department of physical education more than a month prior your expedition. If you are Chinese and joining with foreign team application should be submitted by Chinese mountaineering representatives. Once it processed it takes 20 days for the application to reach you.
Cost of permit: For Nepalese it is 10000 INR, $1900 for SAARC countries and $3000 for foreign nationals.
Notes: If there is any change in routes or plan, you need to get it approved from the same authorities once again or have to apply for a fresh license.
Keep yourself updated and keep climbing!!