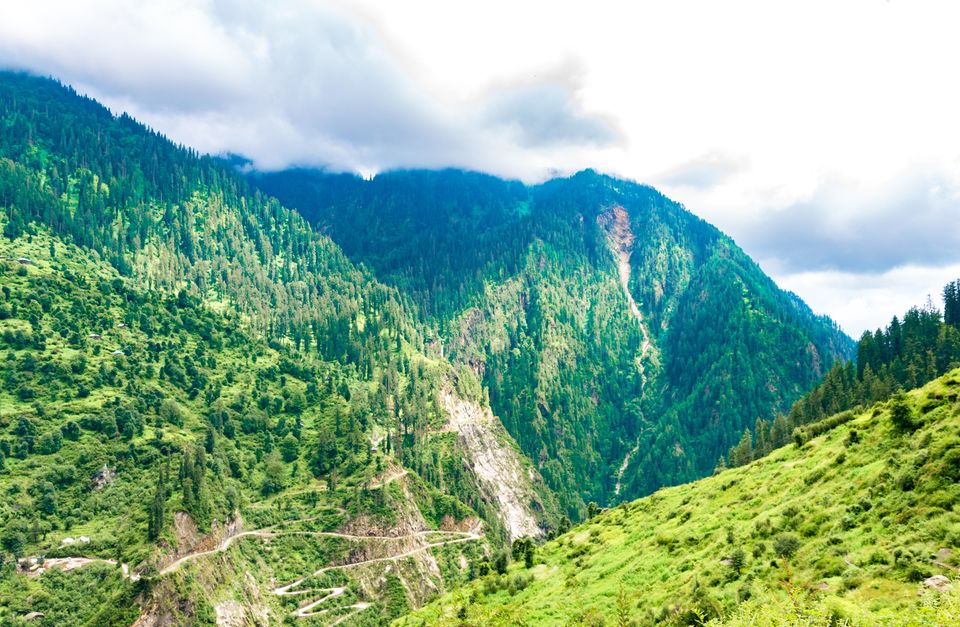 I love Himalayas, especially less explored areas. So we (me and my friend Sudhir) decided to explore Parvati Valley this time. It was month of July, the monsoon season, so everyone stopping us to visit hilly areas as there might be some landslides, but we were excited to see such views so we kept going.
Earlier, I have read about Malana and Kasol so I decided to explore these beautiful places by my self and who knows I will end up with Tosh and Kheerganga too?
The Itinerary:
Delhi-Bhuntar-Kasol-Malana-Tosh-Kheerganga-Delhi
Estimated Cost:
Basic expense for This trip would involve:
Volvo bus tickets Delhi to Bhuntar(to & fro): INR 3,000
Bhuntar to Barshaini (to & fro): INR 200
Kasol to Malana (to & fro): INR 1500
Lodging at Kasol: INR 800 per day + Food: INR 500
Lodging at Tosh: INR 500 per day + Food: INR 500
Lodging at Kheerganga: INR 300 per day + Food: INR 500
Total: INR 7800
We have two person so the rooms, food and Malana taxi expenses was divided among us. In that case per person expense would be: INR 5500
About:
Parvati Valley: A Mini Isreal in Himachal Pradesh! The valley is nestled comfortably among conifers and mighty deodars in Kullu district of Himachal Pradesh. The valley, no stranger to backpackers and tourists, has some of the most beautiful villages in the Himalayas. Kasol is one of them. It is situated on the banks of the Parvati River, on the way between Bhuntar to Manikaran. It is at distance of 5 kilometre from holy place Manikaran.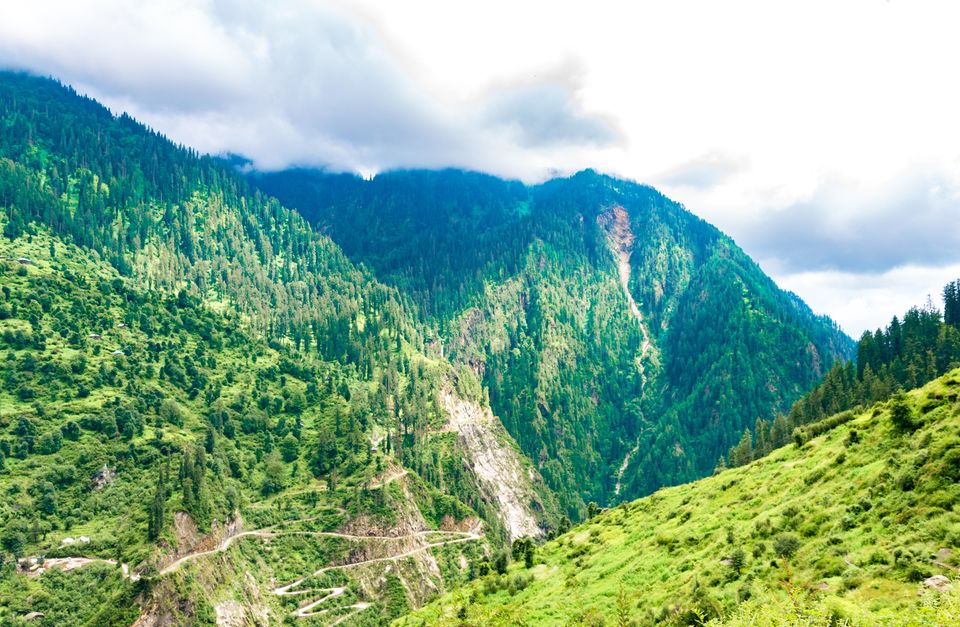 Items to Pack:
The weather in Parvati Valley is cold and you can expect light rain so carry a good pair of sturdy and comfortable shoes, rain-cote and some warm clothes. Below is the list for references, some of them can be bought at Bhuntar
Hiking Shoes
Water bottle
Raincoat
Medicines
A spare bag to keep used packaged
Few candies for uphill climbs to keep a supple supply of blood sugar and prevent dryness of throat.
First Aid Kit,
Sunglasses,
Flip flops
Walking stick
Enough cash!!
Getting there:
Departure from Delhi
There are ample buses available from Delhi ISBT, Kashmere gate (nearest metro station). The buses from Delhi ISBT ply from 4 PM to 9 PM in the evening. These buses go straight to Kullu-Manali. Very comfortable AC and Private Volvo buses are also available. You can book the bus from HRTC website. You have to book bus from Delhi to Manali as that's the only route available, it will cost you around 1400-1800 per seat. If you are heading to Kasol, remind the conductor to drop you off at Bhuntar and stay awake to make sure you don't miss your stop.
We took the 8:30 PM bus from ISBT and the bus halted twice on the way. A long stop for dinner somewhere in Punjab and another one at Mandi for late night tea. Our bus reached Bhuntar around 8:45 AM. The bus dropped us off right outside the local bus stand.
Arriving at Bhunter, Trek to Malana
By early morning you will reach Bhuntar between 7 am - 10 am, depending on the time of the bus you took from Delhi. Get down at here and take another local state bus from Bhuntar bus station to Kasol.
Bus ticket – INR 40-50/seat, Taxi also available for INR 800-900 (accommodates 6).
Cash Alert! : There is only few ATM in Kasol which are out of cash or not working many times. There are 8-10 ATMs in Bhuntar, so if you don't have enough cash for the trip already, now is the time to withdraw. If you miss it by chance, you can get cash by swiping your card at the Currency Exchange Booth or at Travel Agencies in Kasol by paying 4-5% surcharge.
While we were waiting for bus we decided to withdraw some cash from the ATM and purchase some imported stuffs like
Toilet rolls
Biscuits
Energy bars
Glucose
Some common medicines
The weather was pleasant and the sky was clear and there was no sign of rain yet. Once you have boarded the bus, it's a good idea to sit on the left to be able to see the beautiful valley properly.
The bus takes another two hours to reach Kasol and this bus ride gives you your first view of the Parvati valley. The chill in the breeze, the sharp turns of the road and the beautiful sight of the beas river and the snow capped mountains tell you what you are in lap of divine valley for the next few days.
After reaching Kasol don't book any room. Directly book a cab for Malana (It will cost around INR 1500 and accommodates 6) and keep your stuff in that cab (they are trustworthy). Book cab from the Cab Union they have there as it will give you a more trustworthy cab. Taking a cab from non-union will save you only 100-200 bucks but it's not worth as you can't really trust them (maybe you can). We ate some momos and had tea with some pastries and started our ride to Malana. As this was month on July, greenery was everywhere. And finally! first time rain dribbled down for us on this ride. You can also see Malana Hydro Electric Plant on the way. The cab took 1 hr to reach Malana village's base.
Once you reach at Malana village's base leave your stuff in the cab (they are trust able as I have experienced). Hike to the village and get inspired by the different life people are living there. And once you reach the village nestled in the middle of mountains you are greeted with the rules of the land. No outsider is supposed to touch the residents or the houses or enter any of the houses. In case one does that, he/she has to pay a fine of INR 2500 which goes upto INR 25000 and the locals are quite serious about this. You can also have parathas, tea and Maggie at the corner of the village, they just put the items on table for you (but no touching!!).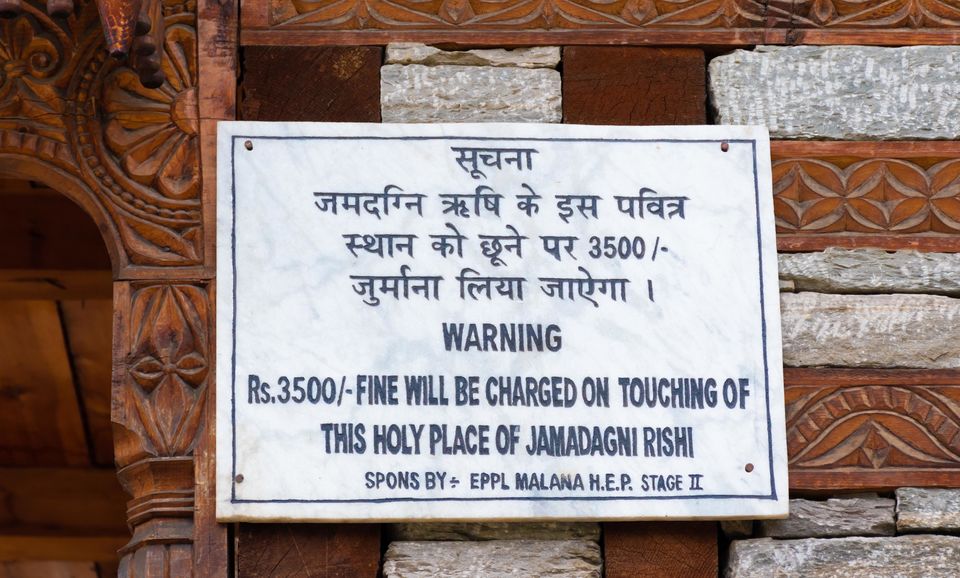 But this doesn't mean they are not friendly. We found one guy who invited us to his house and offered us some smoke. We talked for half an hour, he told us all about the village, the tradition and people.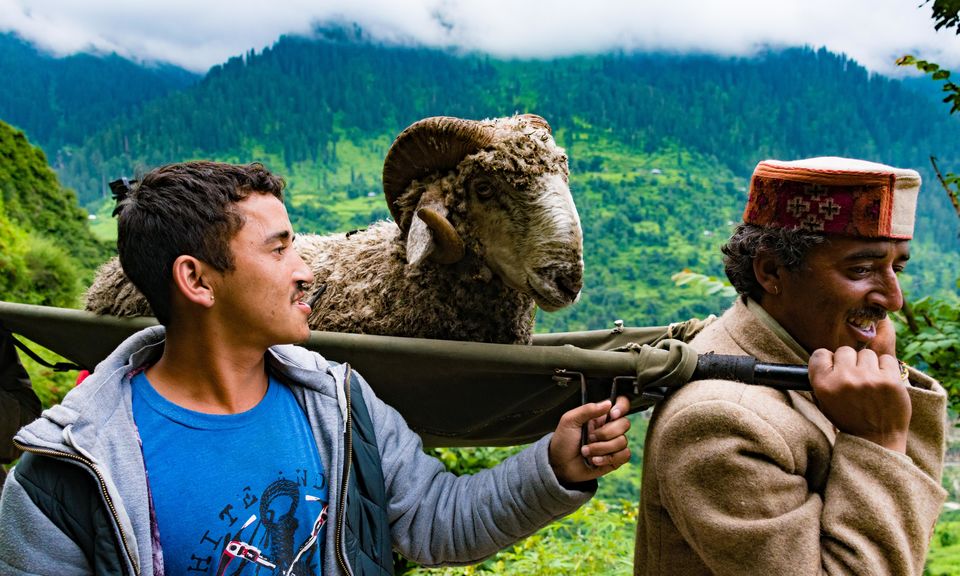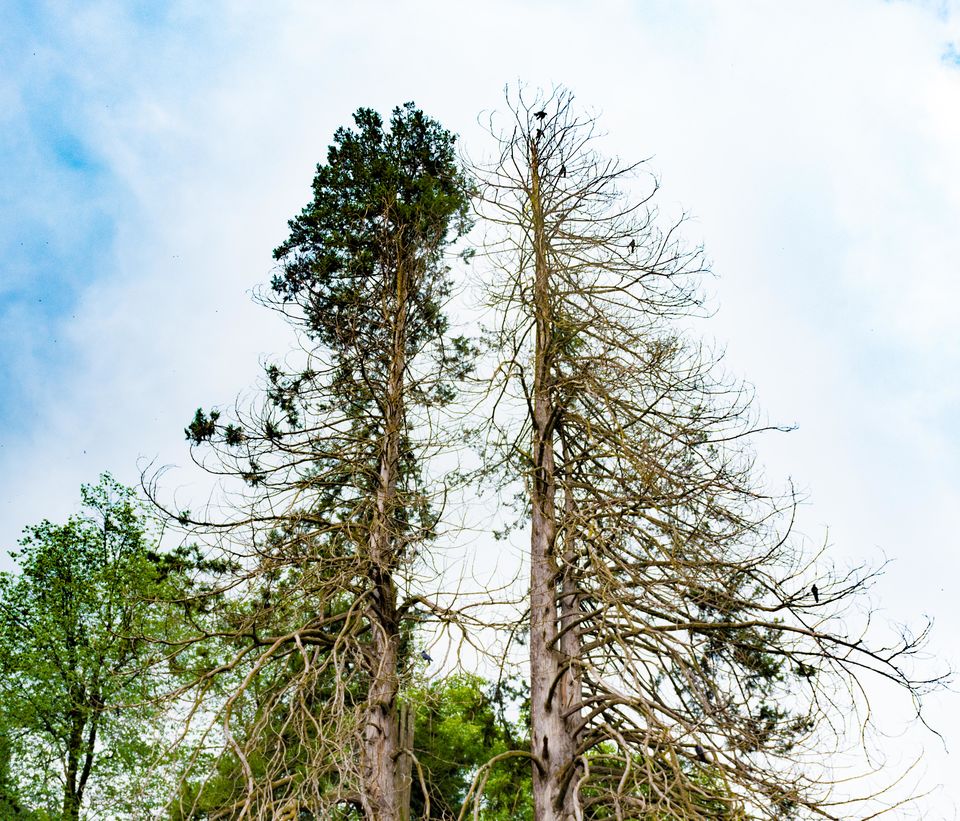 Ride to Barshaini, Trek to Tosh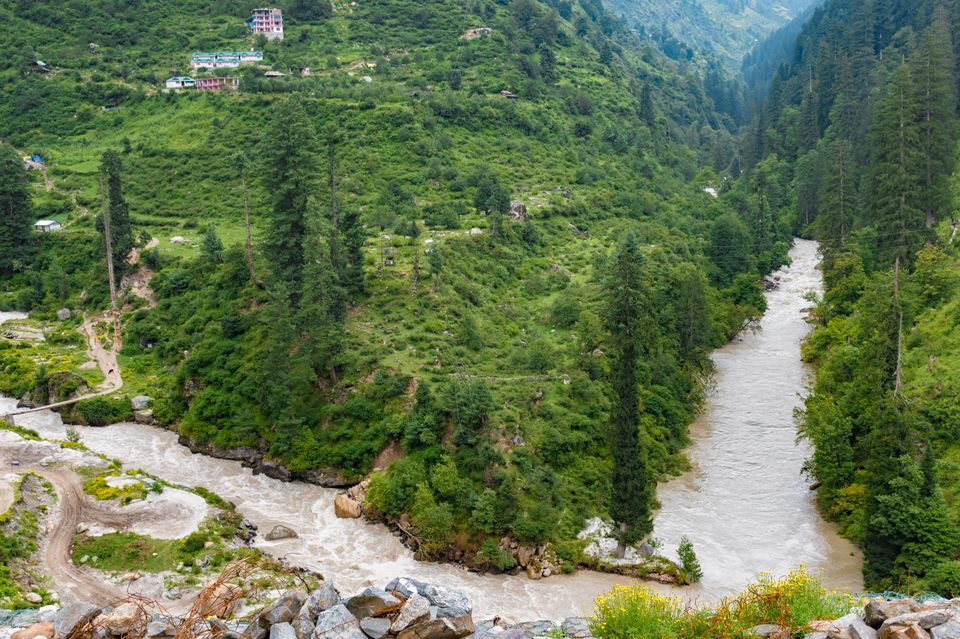 Next day in morning take bus to Barshaini (it will go via Manikaran, you may stop there to visit the famous Gurudwara), reach Barshaini and take another cab till Tosh (I preferred walking which took me 30 mins and little extra energy, I would recommend you to take the cab though, costs around 300INR).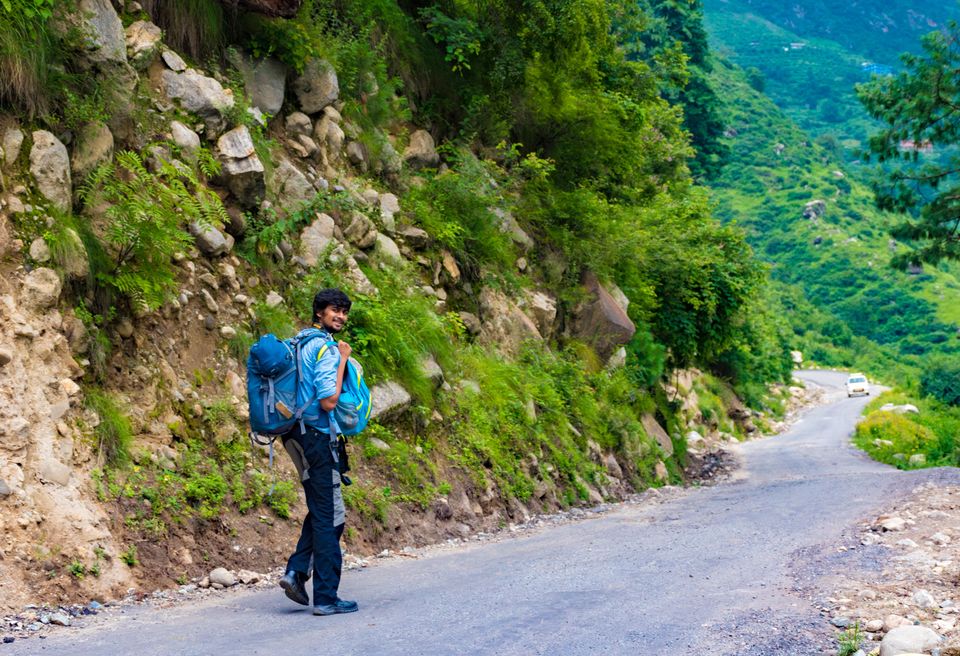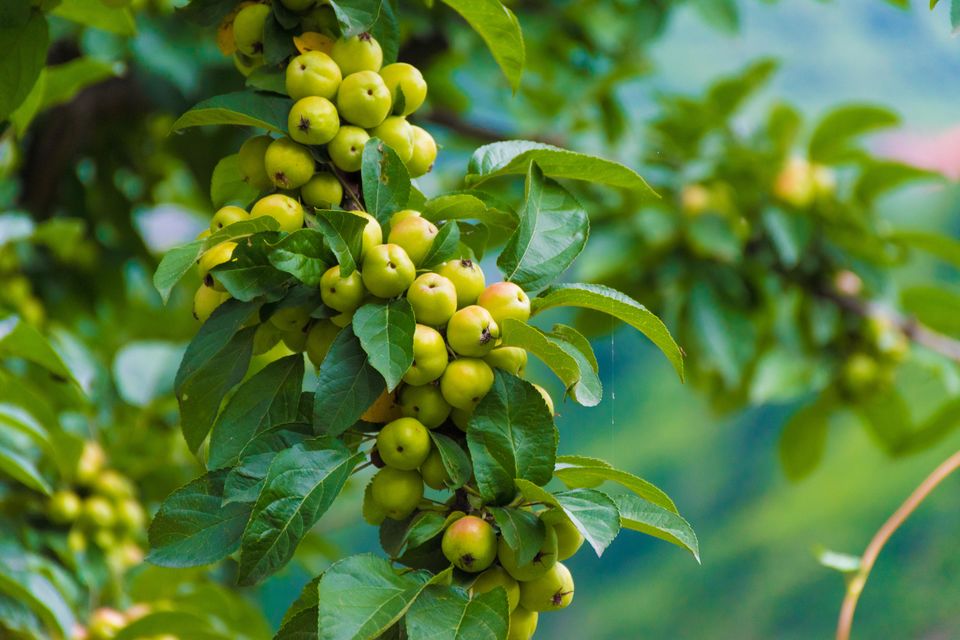 Get hypnotized by the village surrounded by mountains. Spend your night there and chill. We stayed at the most famous Shiva cafe as it has beautiful place, We picked one on the first floor in small wooden house. It was super cute and beautiful. If you aren't staying there then also it's worth visiting the cafe, they make amazing PAN cakes.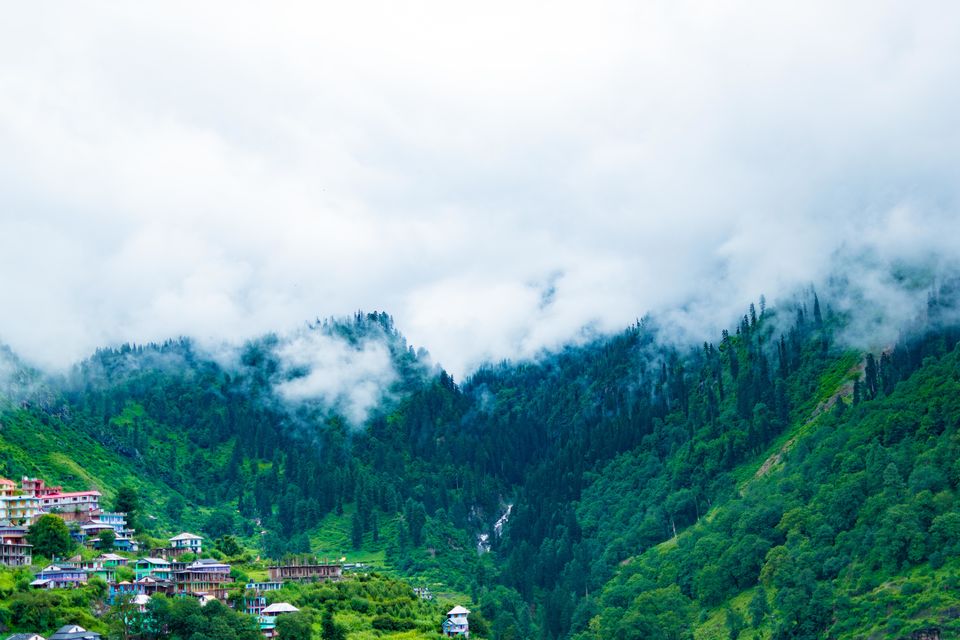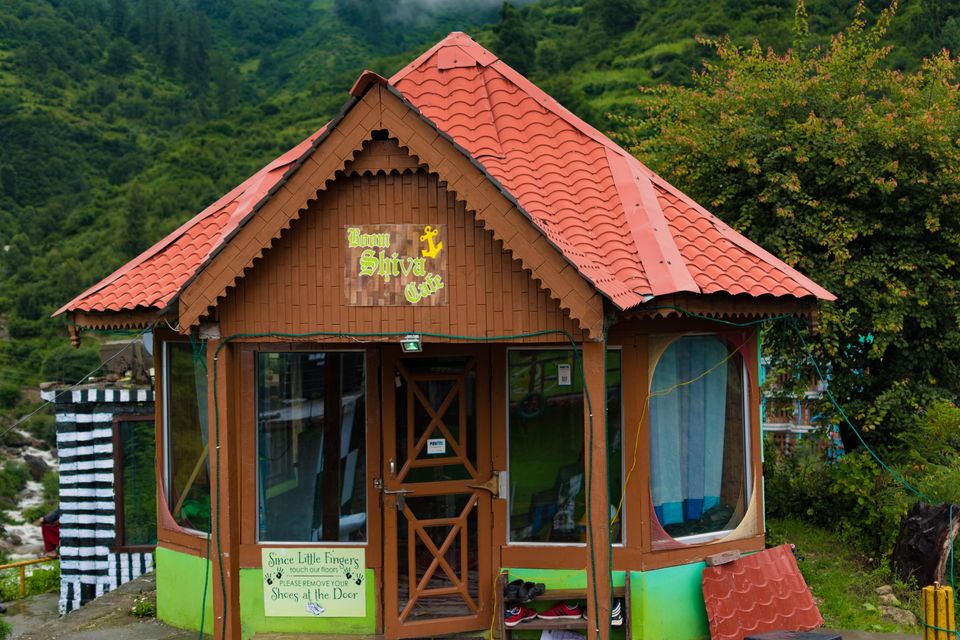 There is another space where you can stay which is further on the same route to Shiva cafe. I loved that place as it was on the edge.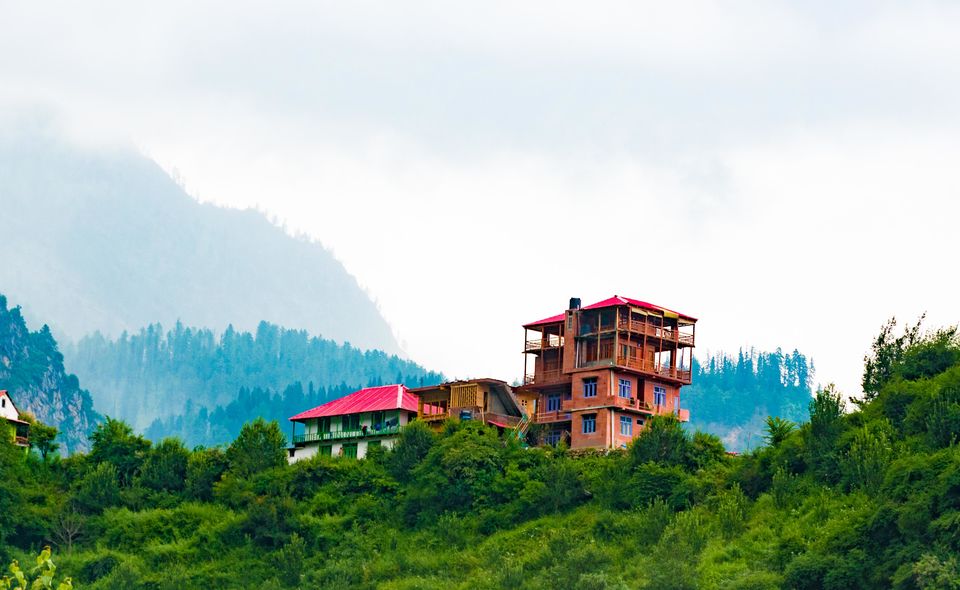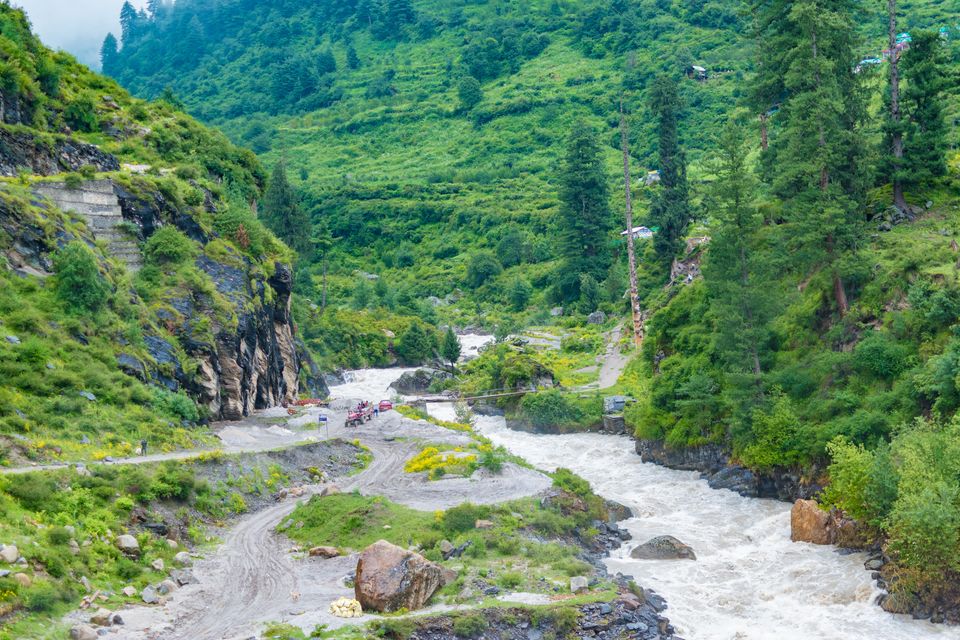 Leave early morning from Tosh and reach Barshaini, drop you luggage there (There are shops which keeps your stuff for a night at 50 bucks and it's safe) and carry the necessities, which means you have to carry small day bag with you.
Trek to Kheerganga (it's moderate difficulty but worth, you will never forget this trek as it passes through one of the most beautiful scenic forest sort of place, don't worry you will find people all the way during your trek as it is slightly commercialized).
Before starting the trek prepare a bottle of glucose. This will help you hydrated and give you energy on the way.
Refreshment along the trek: There are many shops on the way to Kheerganga for refreshments, where you can have water, Maggie, biscuits, Energy bars, tea/green tea, and delicious pan cakes! Though they are quite expensive, so be ready to shell out more than usual.
You will find many waterfalls on the way to Kheergagna in the Monsoon season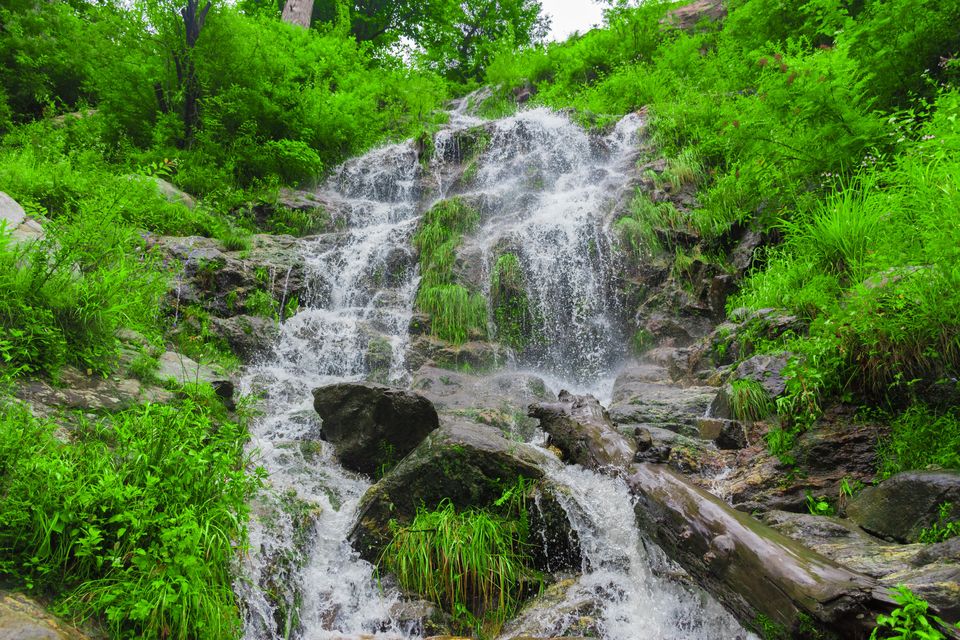 Rudra Nag: A sacred and spiritual site. You can have some rest here before continuing to Kheerganga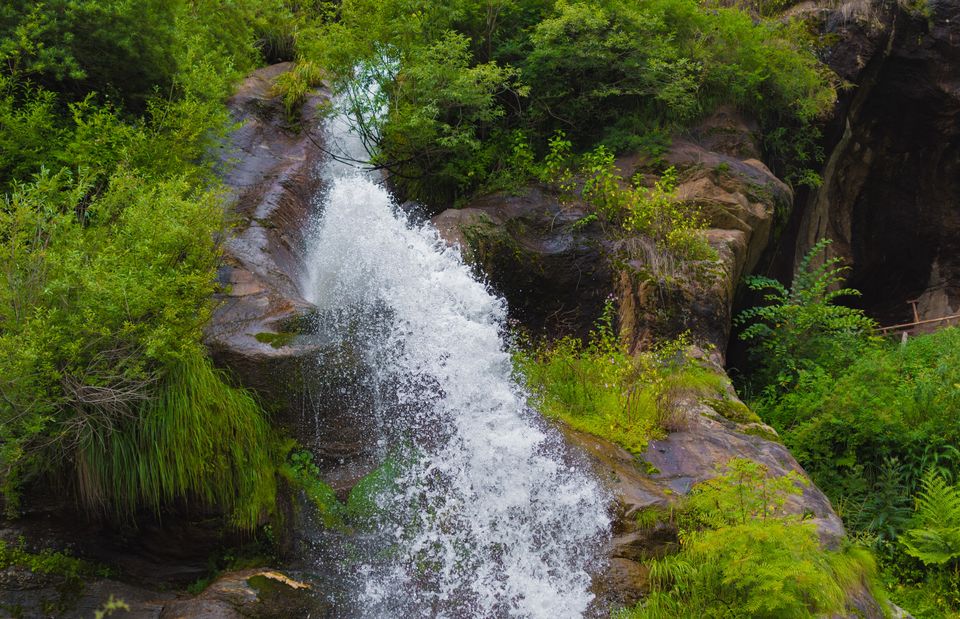 Kheerganga Forest: This is the real beauty of this trek and also the last part of it. The forest's smell was fresh and organic. The beauty of the forest comforted our hearts.
Note: You need to cover it before sunset if you don't want wild animal give you company along the rest of the trek!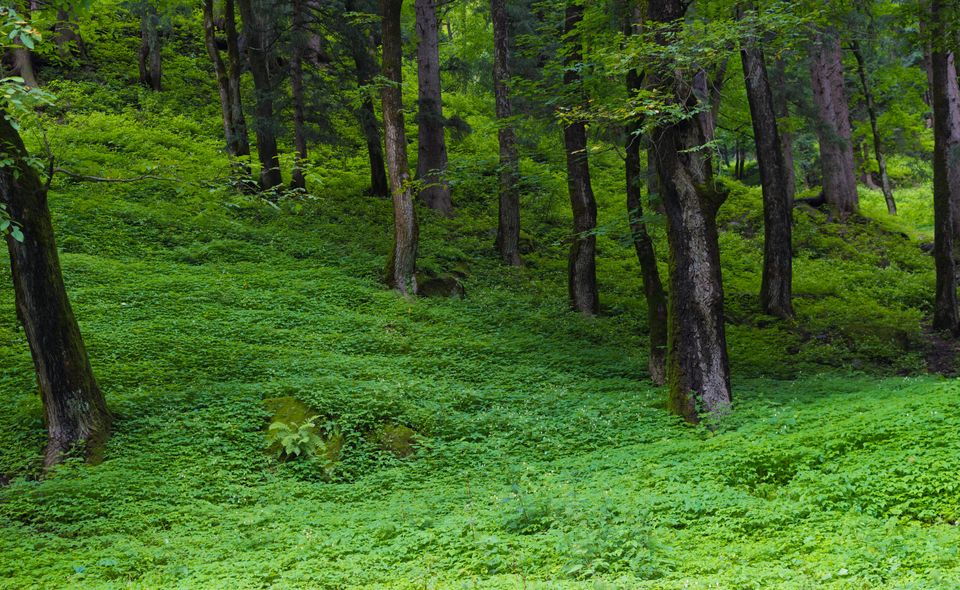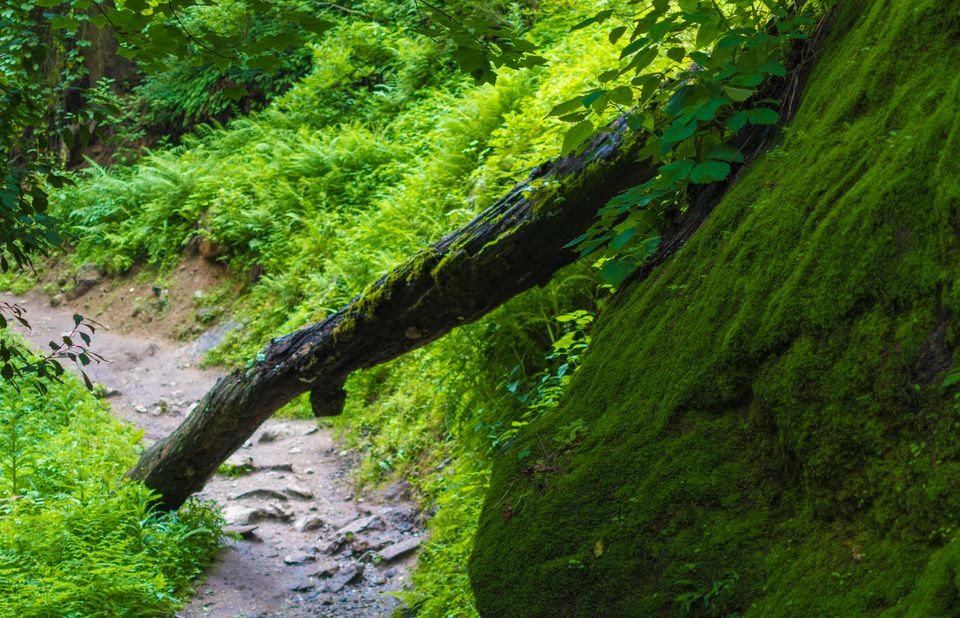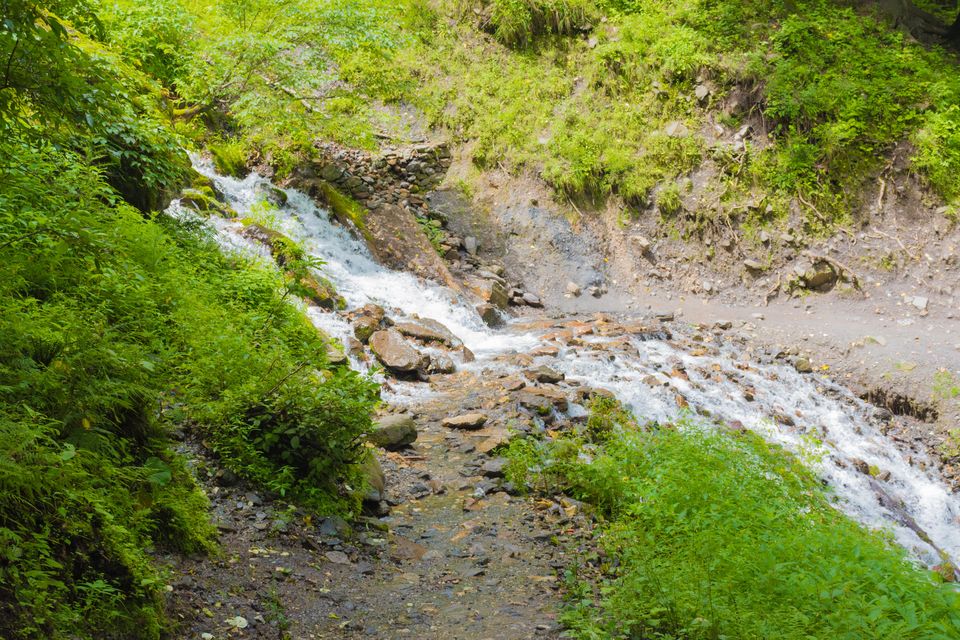 You will reach Kheerganga in next 3-5 hours (it depends how much time you take, there are people who did this in 2 hours and there are people who covered this in 5 hours, take your time and don't rush. We covered this in 2.5 hours).
Reach the top and directly head to the natural hot spring bath which is on the top of Kheerganga without booking your tent (though you can do that and would be compelled to do so considering you would be half dead by then due to all the walking (I didn't choose the tent and directly went to that hot spring). You can keep your stuff there. Also there is a separate section for girls to take bath in that natural hot water spring that covered with planks and wood, so you have the privacy. Get out of the spring after releasing all the pain in your muscles you got from the trek (trust me, it will pain but it's a sweet pain, at least for me it was).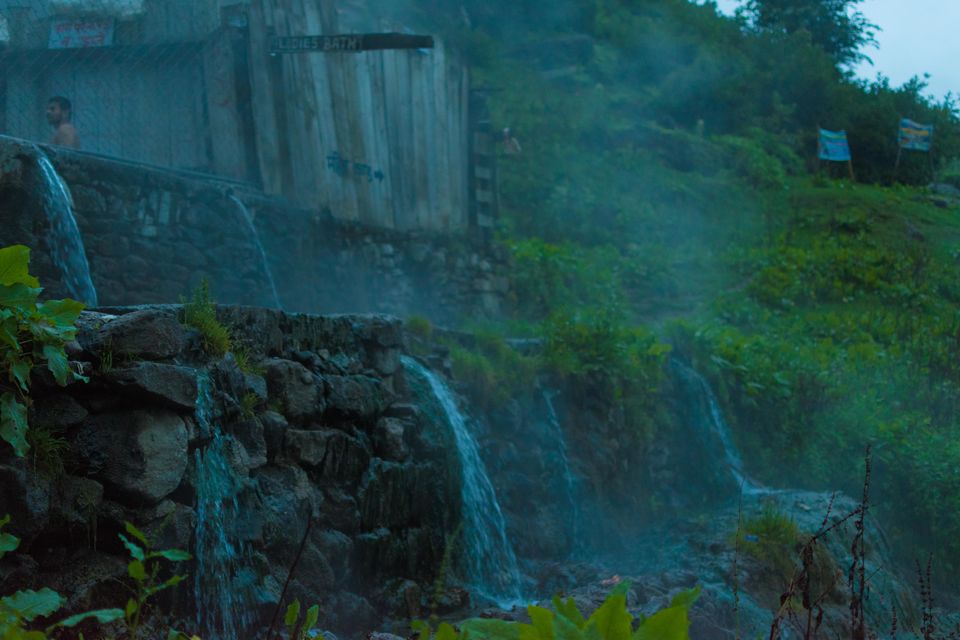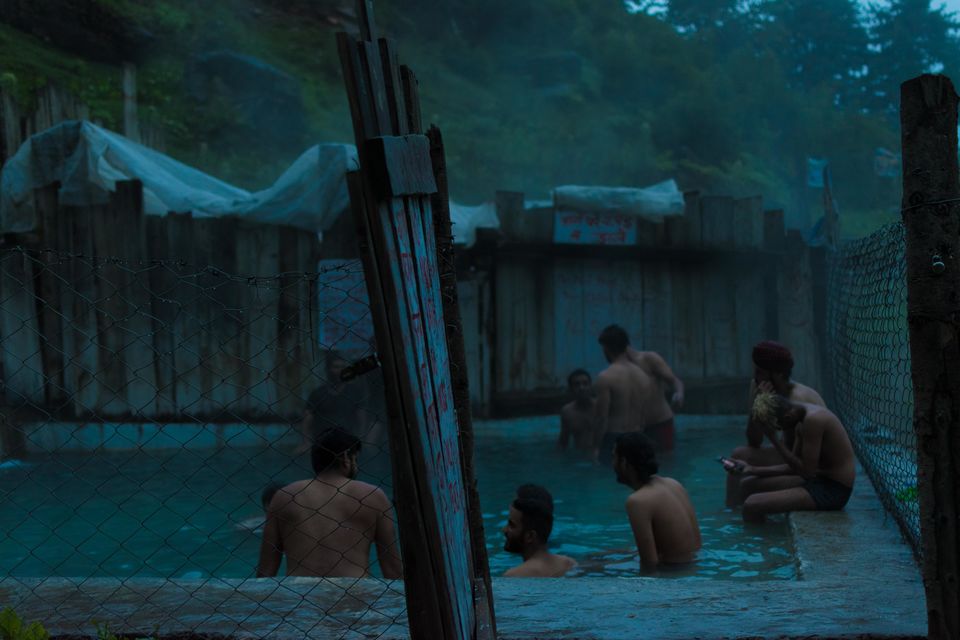 After taking the bath get down and pick your place of your choice, as you will be in better state so you would pick something which you will love the most). They have single tents costing around INR 400 to sleeping beds in community space at INR 100. I would recommend you not to take those 100 ones just because in the night there will be people coming there to smoke up together which might be intimidating for you. Have a nice dinner (you won't find chicken there, at least it wasn't there at my time), enjoy the cool breeze and chill. (The price I quoted is of off season so I wouldn't know the current price as it is the tourist time, but it would still be very much affordable.).
Witness the magical valley
Get up in the morning and witness the magical valley after recovering from the trek. Roam around and click zillions of pictures, go to the edge on left side of the valley (while you face towards the valley).
Take your time in chilling there and start trekking down before 12. While taking the same route back cross the magical Parvati valley and reach Barshaini.
Back to Delhi
There is bus going back all the way to Bhuntar every hour. Take one of those and reach Bhuntar. Catch the bus which you have booked previously of night from the same HRTC (from Manali to Delhi) and reach Delhi next day early in the morning around 7 am.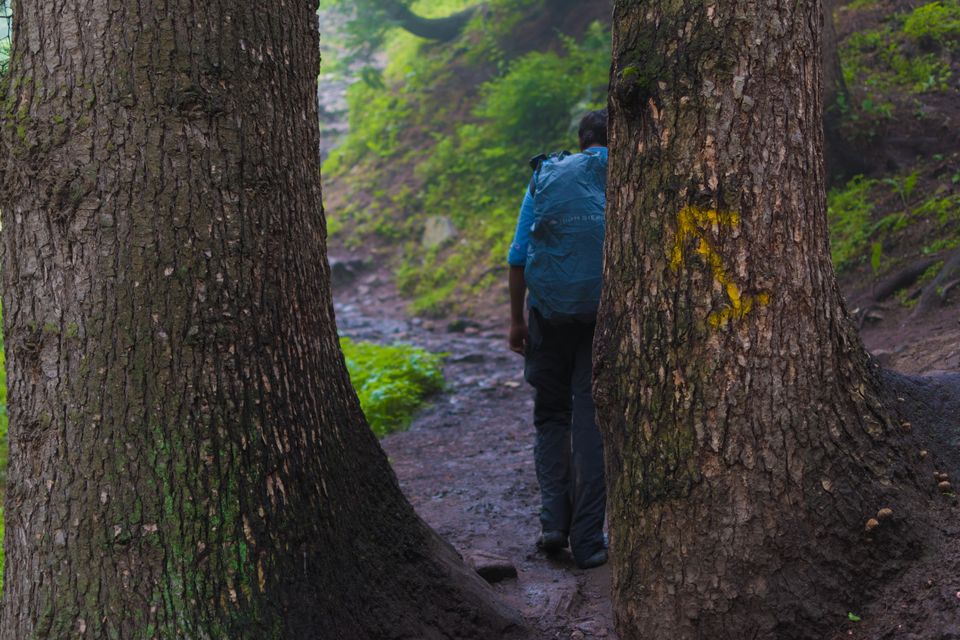 Credits:
Thanks Sudhir Kumar for making this trip happen.
We did this trip in July 2017 and the total cost of the trip was approx INR 6000 per person for 5 days including travel, stay and food.