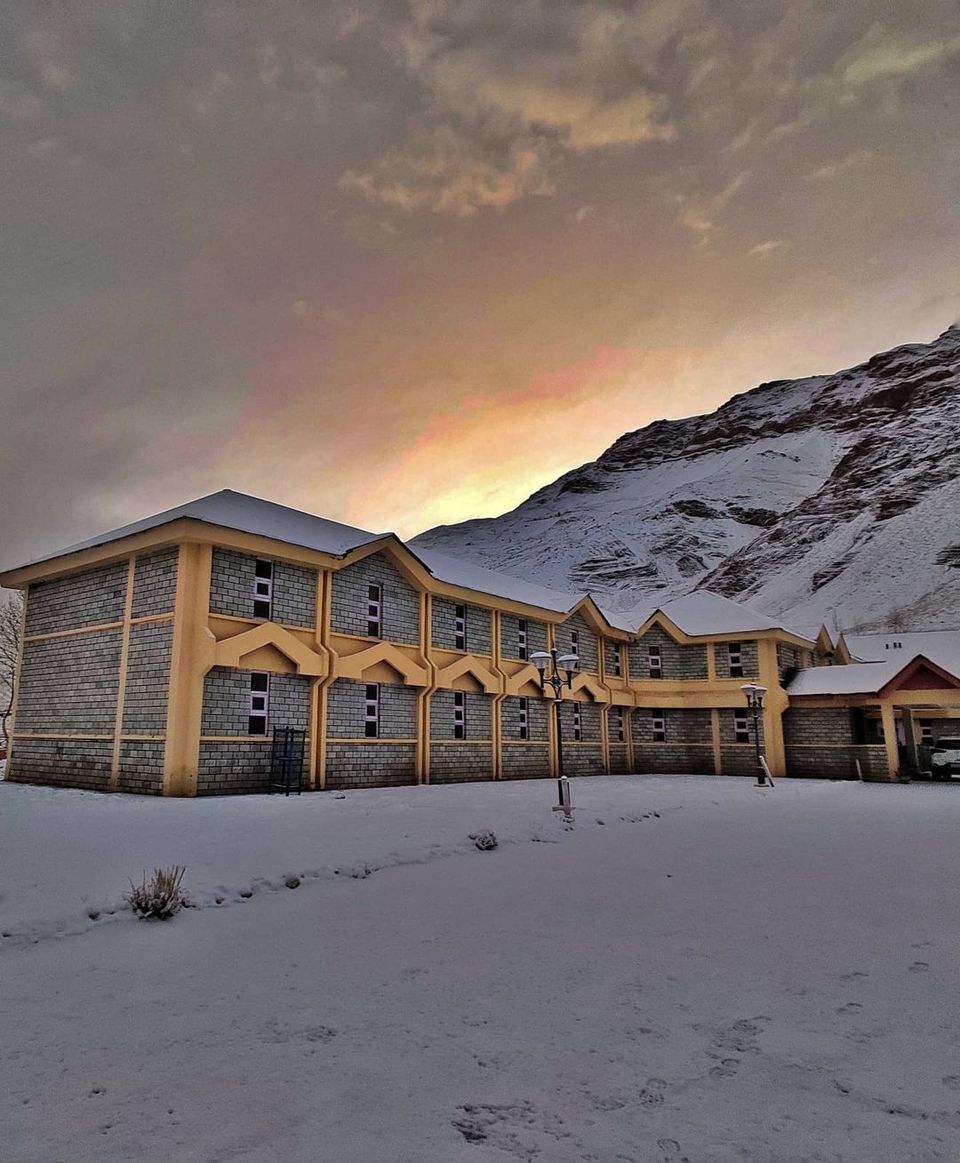 Sometimes, after crossing lines of hotels and chaotic shopping outlets in Himachal Pradesh, you come across a vintage looking building that stands against the panoramic beauty of the Himalayas! Most likely, they are rest houses. These rest houses are more popularly located in sublime, remote areas of important towns, which offer accommodation facilities to government officers.
More often than not, to avail these rest houses, you need to be a government officer. Or at least, your acquaintance or one of your family members should be a government officer. This conscious thought always restricted me from approaching the staff, until I reached the PWD rest house in Reckong Peo.
If you've been to Kinnaur, you would know when you take a left from the exit gate of the Inter State Bus Stand and keep walking for a while, you'll come across a beautiful bungalow against an unending view of the Himalayas.
Now, there are many reasons that might make rest houses an ideal option for you while travelling. Let me tell you how.
• First, they are super cheap! You can get a double room with the most basic facilities for as low as 400 or 500 bucks. You get a bed, an almirah, a mirror, an attached washroom, mattresses, sockets- what else do you need?
• Second, they always offer some amazing views! These rest houses are usually located in quiet, remote areas and always offer the greatest views.
• Third, you get proper home cooked food. They cook home cooked meal for as low as 80 bucks per head- with unlimited food. Usually, the caretakers are great cooks. If not, you can also get some raw vegetables and Maggi and cook for yourself.
• Fourth, you get ample parking space. Owing to the huge acre of land they own, you can easily park your car right outside the guest house.
• Last, but not the least, you get those huge dining, living areas and gardens to explore. Usually, these rest houses have separate, beautifully constructed dining halls and great range of souvenirs for display. So you never get bored!
Usually, you come across two types of government owned guest houses- the Rest house, belonging to the Public Works Department & Circuit house, which belongs to the Forest Department. Circuit houses are usually more beautiful, well-maintained and a little more expensive than rest houses (but still as low as 500-600 bucks).
How should you book a rest house?
The most ideal way of booking a Rest House is by getting in touch with their respective booking offices. You can either get in touch with them over call, or you can even visit their office and book. Although preferably you should be a government officer, or someone from your acquaintance/friends/family should be a government officer, you can still get a booking if rooms are available. Once the representative confirms you of the availability, you will be given a slip confirming your payment and stay. Following this, you have to simply visit the rest house/circuit house and hand over the slip to the caretaker. He will then check you in for your stay.
You can also send them an email, but from personal experience, I never got a response. But you never know. However, if you are not a government employee, you will surely be given the last priority. Hence, booking during the off season should ideally work in your favour. For a list of all the rest houses available across Himachal Pradesh, their contact details and their email addresses, click here.
The second way is a little bit tricky, but it's easier and less time-consuming. If you are travelling during the off season, you can simply go to the rest house/circuit house and get into a conversation with the caretaker. The caretaker is usually aware of the availability of rooms. During off season, most of the rooms are empty. Hence, the caretaker might simply handover the keys to an empty room and check you in for your stay. But again, do not trust on this decision blindly. I was successful in my attempt in Reckong Peo and Kaza. However, I couldn't get a stay in Dalhousie as there were some government officers who were supposed to arrive the same evening. Like I said, if you haven't pre-booked, you aren't always lucky.
But I can never deny that my stay in both the guest houses have been beautiful beyond explanation. I couldn't feel luckier having spent so less and getting to be in the lap of nature for good number of days. The caretaker in Kaza even went out of his way to cook mutton 'Boti' for us, something that I had never thought I can eat in my life before! The rest of the evening was all about sipping on some local wine and listening to his stories about his family and years of working in Spiti.
If you have an exciting travel news to share with us, feel free to drop your inputs in the comments below. Or write about it here on Tripoto and earn Tripoto Credits!
You can also follow me on instagram to stay on top of my updates.