I had been pretty sure that I would never go to Shimla again in my life. The last time I was there, when I was coming back from Tirthan Valley. The crowds and commercialisation had put me off completely and I swore to never return. But when I got an opportunity to stay at Meena Bagh Shimla, a boutique property that had been awarded the Outlook Responsible Tourism Award in the Best Boutique Property 2018 category, I was intrigued enough to give it a shot. I crossed my fingers and decided it was a weekend away from Delhi, so why not?
Ideal for
Families of four to nine people who are looking for a comfortable and tastefully-decorated place to stay not too far from Shimla, but away from the main city's crowd.
About the Meena Bagh Shimla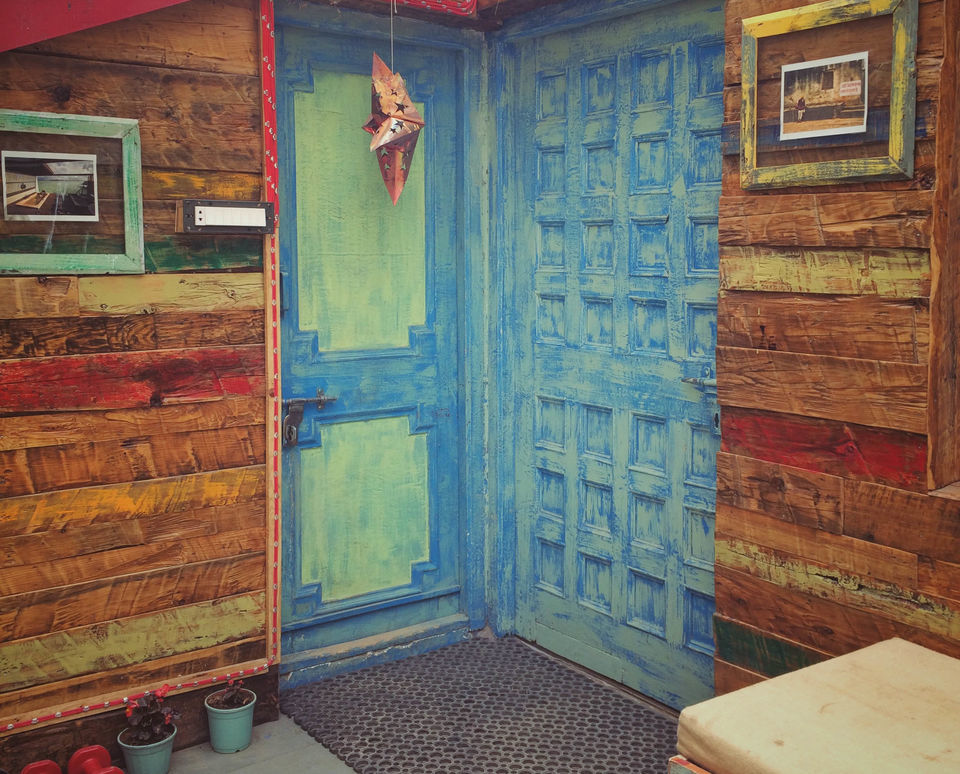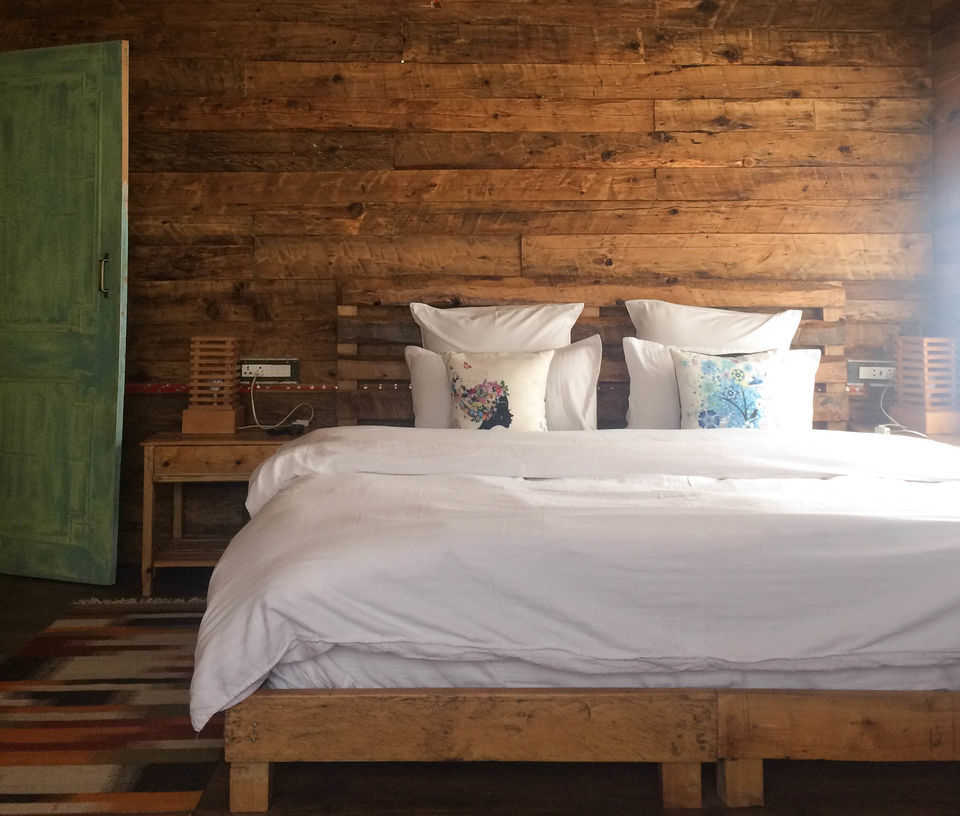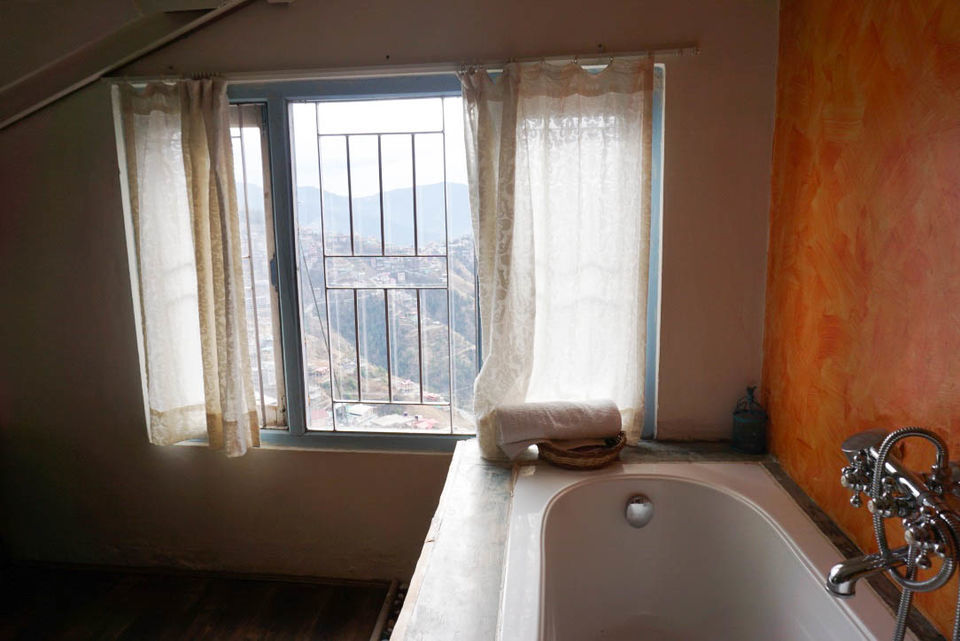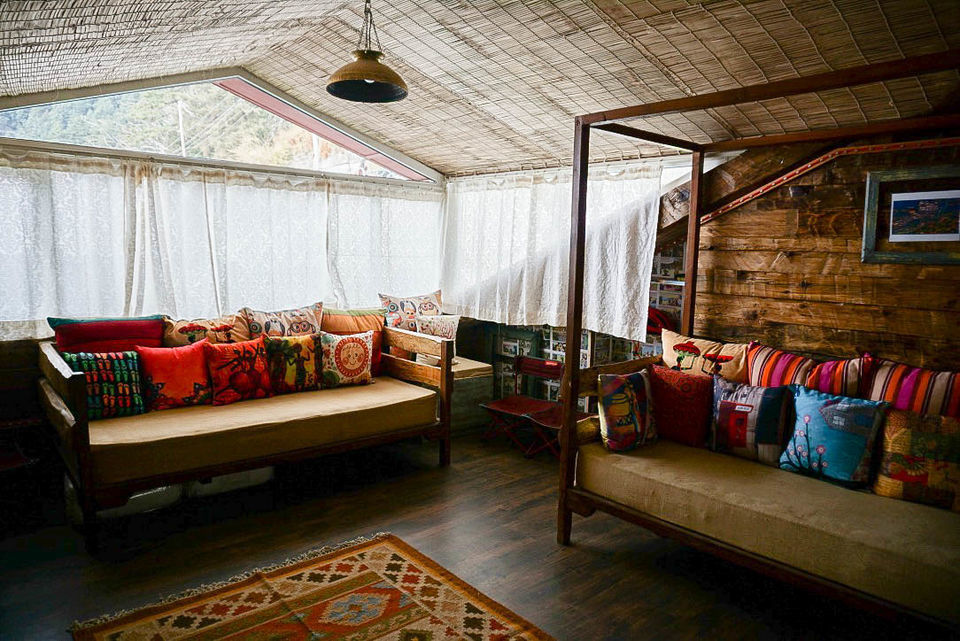 Located 2.5km from the Mall, a cute sign greets you at the wooden gate of Meena Bagh Shimla and a couple of steps take you down to the property.
From outside, the house is painted in distressed blue, green and red; wooden panels and quirky frames offer a clue to what awaits inside. A step forward takes you to the interiors of this authentic Himachali home, which is made only using waste wood and mud. If the changing climate and land degradation has you worried, then rest assured that a stay here will not increase your carbon footprint. The water here is harvested and recycled, solar energy is used to power the geysers, and the furniture and interiors are created keeping sustainability in mind.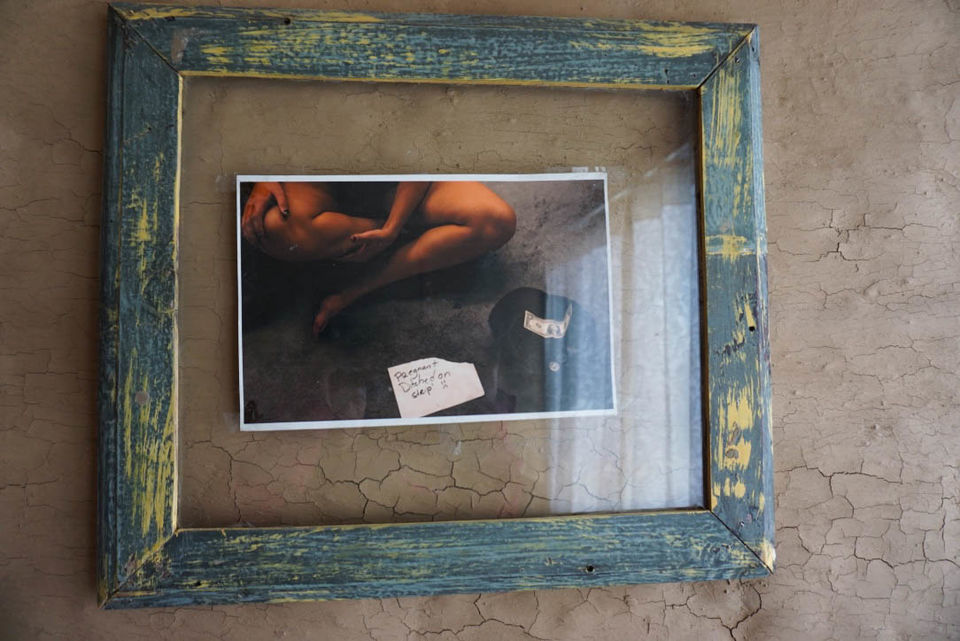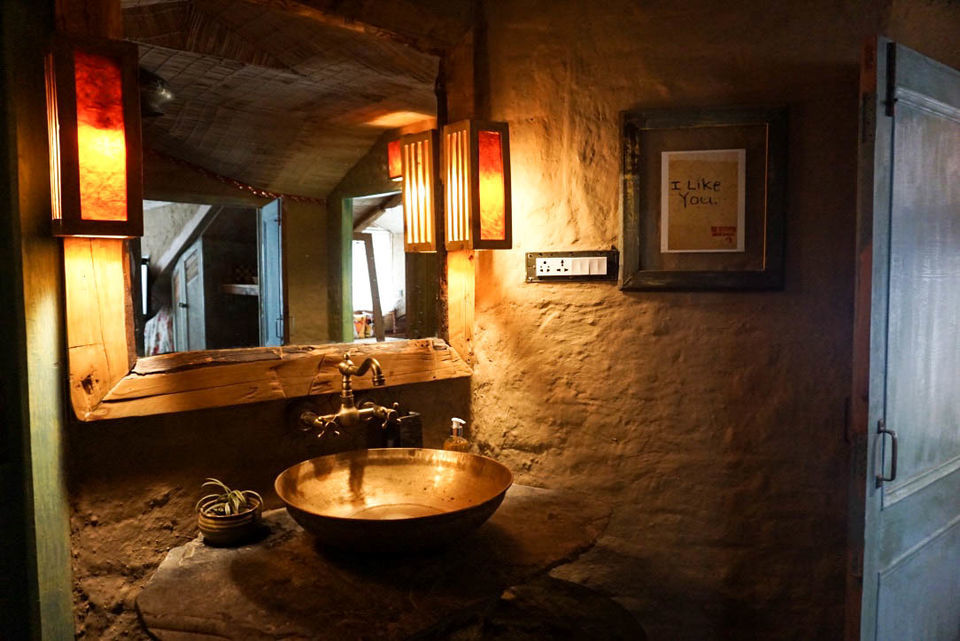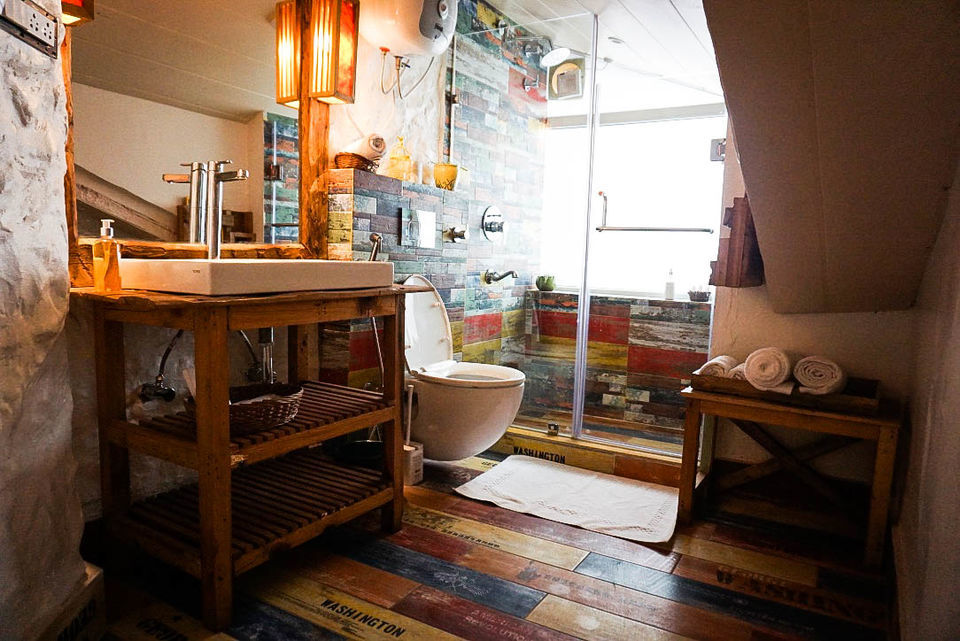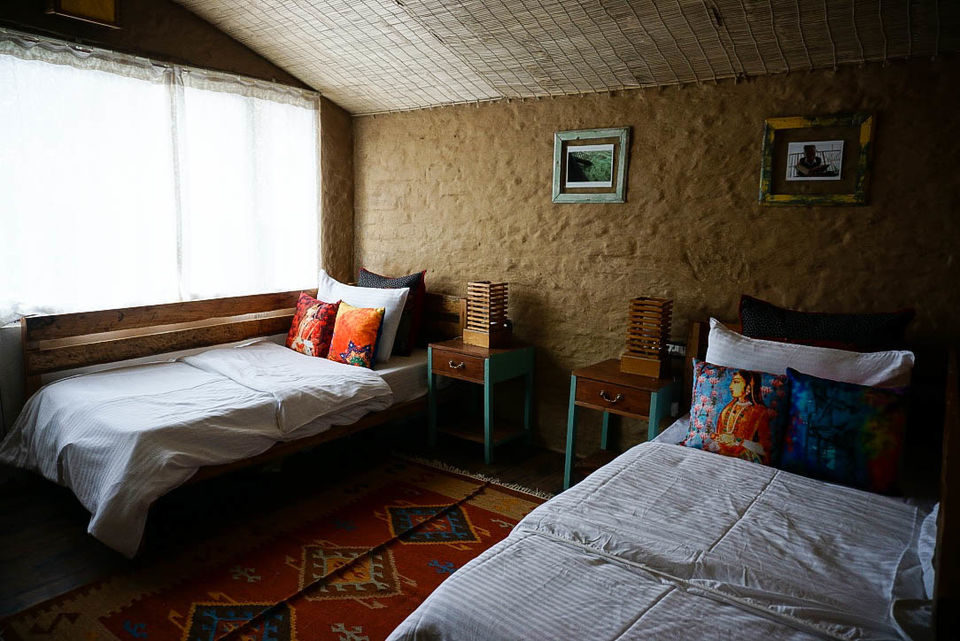 This "Pahadi Cabin", as the owner Sanjay Austa likes to call it, has three rooms that can accommodate nine people in total. Two rooms have double beds and big windows that let in plenty of natural light. One of these rooms even has a bathtub next to a window, an area that can easily become one of your favourite spots in the house. The third room has two single beds, and would be perfect for kids in the family. The two bathrooms are inviting and beautifully-decorated as well. Chemical-free toiletries from company Five Elements promise to leave you feeling pampered and fresh.
Food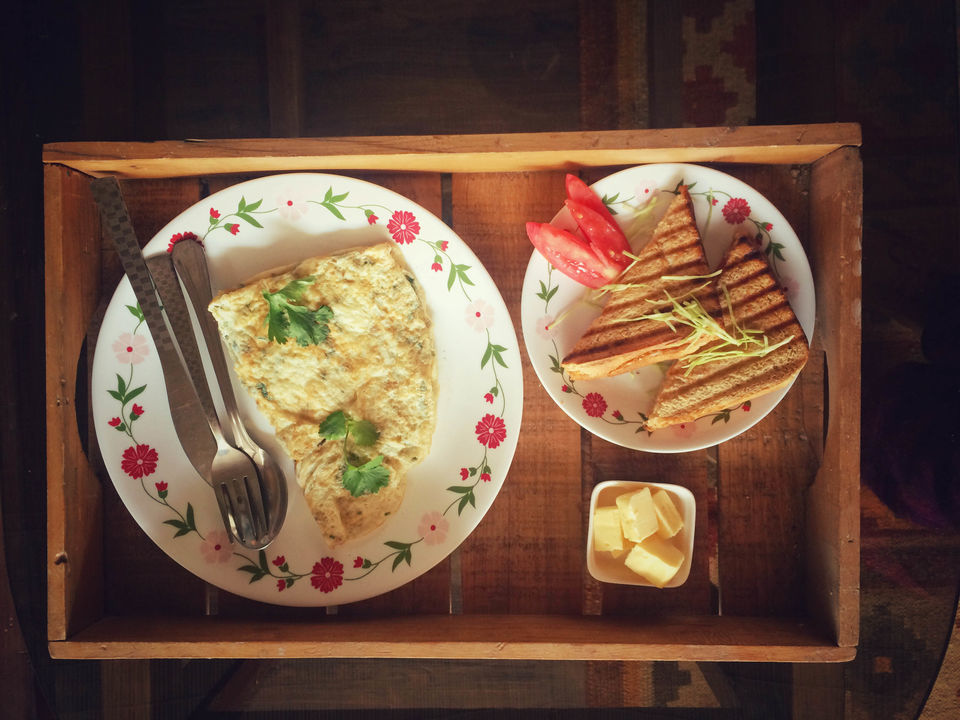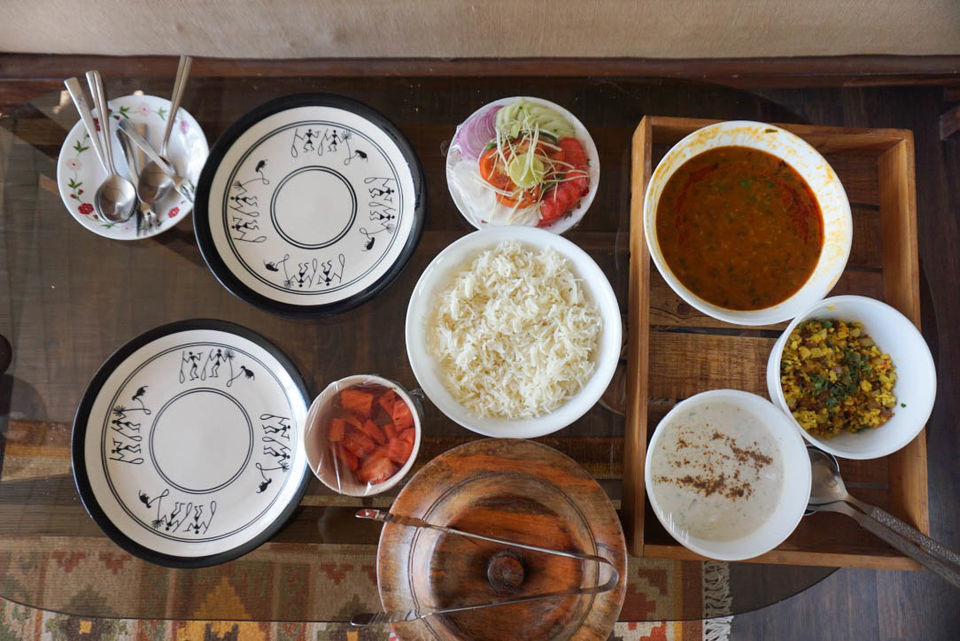 Simple, but wholesome Indian food is served at Meena Bagh Shimla. Breakfast is included in the price per night, but you can also request for lunch and dinner at an additional cost. Cooked on-site by the caretaker and cook, Satpal, the food includes the regular North Indian fare, but the spread is elaborate. Breakfast includes toast, parantha, cucumber and tomato sandwich, poha, washed down with a choice of tea or coffee. Lunch and dinner includes an Indian curry, a dry sabzi, salad, raita, roti and rice.
Cost
A night at Meena Bagh Shimla costs around ₹16,850 per night for six people. You can easily make a booking online via Airbnb. If you are a writer, artist, journalist or anyone associated with any sort of conservation activity, you can score a cool 50% discount on this price. Ask for a discount here.
Best time to go
There are two good seasons to visit Shimla. One is during spring and summer, which are the months of March to May. The weather is pleasant at this time and you can comfortably head out and explore the area. Winter, from November to February, is also a great time to go to enjoy snow and winter activities.
What to do here and around the property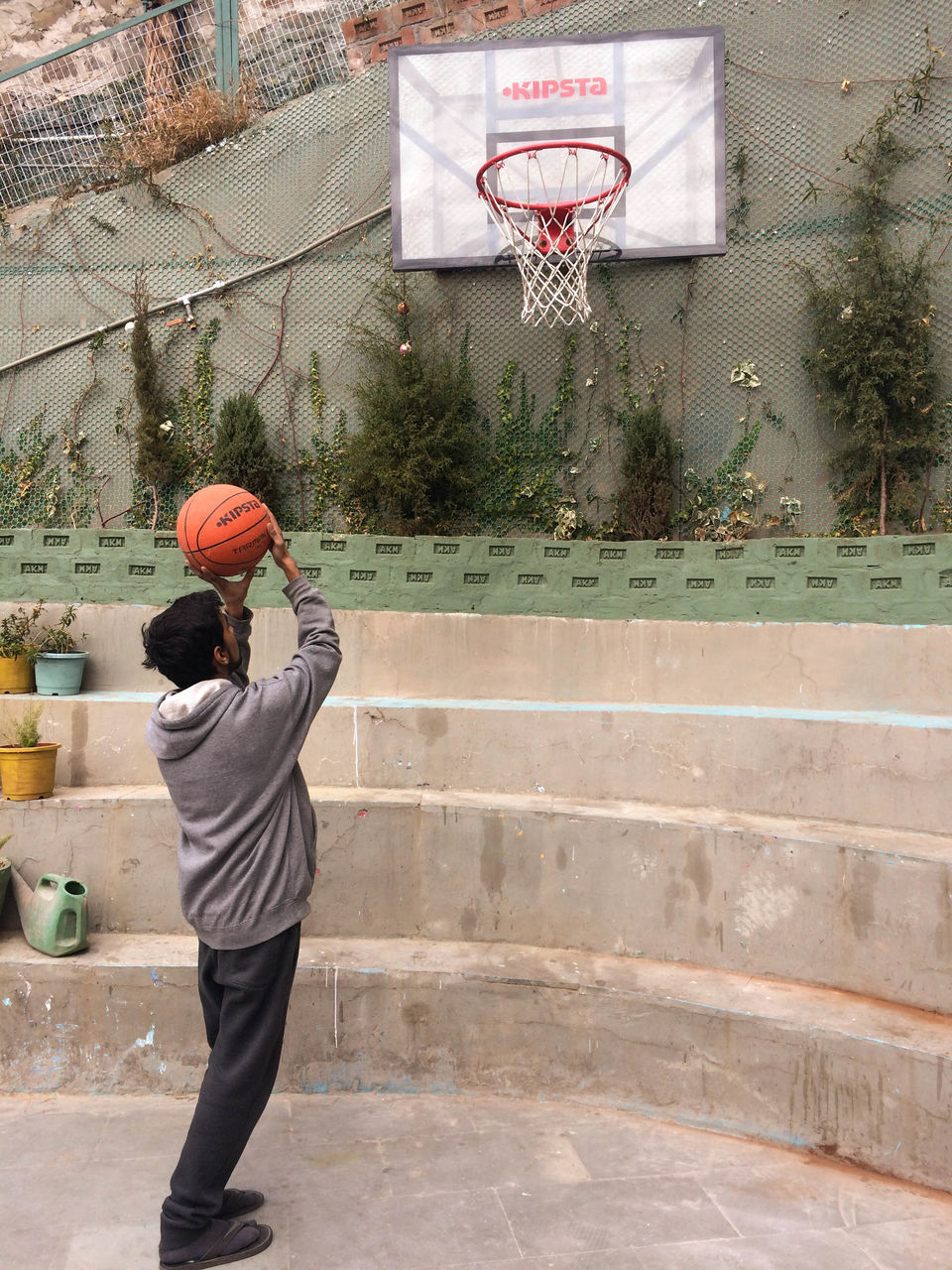 There is a decent number of things to do at the property to keep you engaged. There is a small, but decent collection of books to read on the several window seats in the house. Their Bose bluetooth speaker can play all your favourite mountain songs. Outside the house, but within the property premises is a courtyard with a table tennis and pool table, along with a basketball hoop for some outdoor entertainment.
For those times when you manage to drag yourself away from the comforts of Meena Bagh, there are several things you can do in Shimla.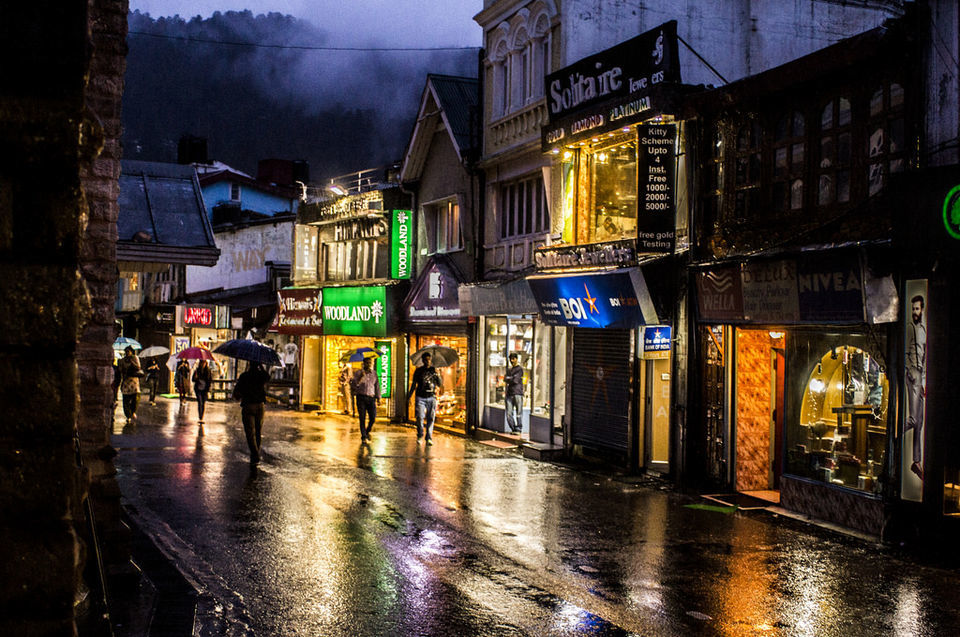 Take a half-hour tour of the Viceregal Lodge, an impressive building that functioned as the official summer residence of the British viceroys. Walk around to see interesting photo exhibits. Stroll along the Ridge and shop for woollens, books, toys and stop at a cafe for cake and coffee. Visit the Jakhu Temple, surrounded by hundreds of monkeys, and savour the prasad offered. If you like bird watching, head to the Himalayan Bird Park, to see exotic birds.
Getting there
Shimla is easy accessible from the capital city of New Delhi.
By bus: A Himachal Road Transport Corporation (HRTC) bus is the most convenient mode of transport to Shimla. The buses depart at different times during the day, and drop you at the Shimla bus stand in seven to ten hours. From there, the Meena Bagh resort is a half an hour away by a taxi or local bus.
By train: The closest station to Shimla is the Kalka Railway Station, which is around 90km away. From here, Shimla is around four hours away by taxi and bus.
All pictures have been taken by me and should not be reproduced without permission.
Want to stay at Meena Bagh Shimla for free? Check out the opportunities available on Tripoto. Did you know that Tripoto is doing inspirational travel videos? Yup, you can watch them here, and don't forget to subscribe.
Frequent Searches Leading To This Page:-
meena bagh shimla, meena bagh shimla to mall road shimla, meena bagh shimla booking