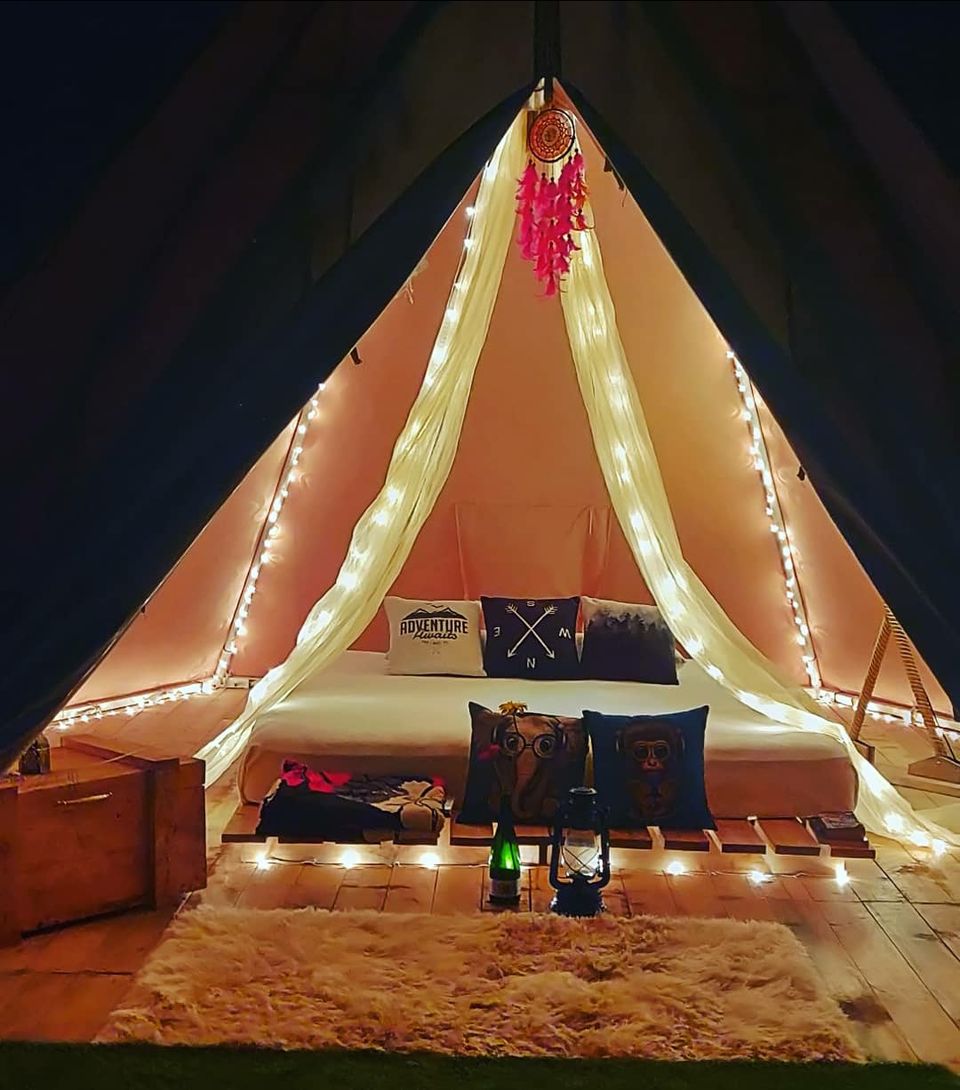 Searching for an adventurous getaway over the weekend I stumbled upon this new concept called GLAMPING....Being busy on weekdays in office work and getting tired of the hectic schedule ,I wanted something rejuvenating. So found this concept with GLAMP EVEREST site .They are on instagram and Facebook. Located in between Lonavala and Karjat exactly the village of THAKURSAI these lovely GLAMPS can be found. Pawana lake adds cherry on the top to this location.
I and my partner decided to meet at KAMSHET station as it was closest to site .If one owns their private vehicle they can drive through as well.
Check in time is around 5PM so that you have glimpse of sunset over the clear waters of Lake Pawana.
Our hosts and founder of this concept were ANJU -The IT person....ASHUTOSH - business person and offcourse RAHUL -" naam to suna hoga " the backpacker guy ....these 3 are the ones who made this experience awesome for me and my partner.
This was the first Glamping site of INDIA.
GLAMPING in short is luxurious ...glamorous camping.
I reached around 7PM as my partner's train was delayed from Mumbai. Driver was arranged by ANJU but you need to have good negotiation before you decide the price .Normally it is Rs 1000 per person from Kamshet station to GlampEverest site. But we managed to settle it at moderate price.
Glamps are settled at a little height from the ground it's like one whole unit settled and supported above the ground on iron pedestals .Not like ideal camps.
The first sight of my Glamp's interior made me feel like wowwwww..... I love travelling and adventure so Anju ensured every cushion and interior is organised as per my passion and interest. The pics will define my happiness on watching the entire site.
Dining area is perched on top from Glamp site and it is wide area giving one a feel of lounge effect just that you are in open and close to nature. You get served with welcome juice and fruit salads .One can order hookahs and booze has to be arranged by self . Barbecue and everything was arranged on site. Food taste was amazing . One can live witness barbecue with music being played out under the night sky and you are in midst surrounded by mountains and lake.
The bonfire is just close to the dining area and has a round table wooden tree trunks arrangements to give it an extra touch of oomph factor.Bathrooms are bamboo built and quite spacious has all essentials gives you feel like open showers in Bali...but it is enclosed and privacy maintained.
All 3 hosts are prompt and quick .You just name it and they are there to help you with same. Veg and non veg both options are available to opt from. One can opt according to occasion. Let it be couple or single or family.....this experience will make you feel rejuvenated.
You have to just let the host know whether you are coming there for exploring or celebrations. They get the arrangements done accordingly.
The morning view from your bed is a sight of mountains and lake once you open up your Glamp's flap which made me love this place more.
Just 500 metres down the road from the site you take an offbeat track and reach the edges of Pawana lake where you can sit and enjoy the beautiful mist covered mountains and lake water kissing your feet. Spent at least one hour there in morning and got back to Glamp.
It is good site for pre wedding shoots as well since we saw clients coming from Pune for same.Basically it is a luxurious offbeat experience of camping in mountains. I loved it hope you also do same once you try it.....
Cleanliness at top for this site which kept me interested in exploring it .
They have open theatre movie shows for new year celebrations ....fireworks etc....and costs are upto 14k for one night for new year time.
On off season depending upon your interest they can provide you packages in 10k or 7k for 2 people .
We checked out around 12 pm next day headed back to our work.