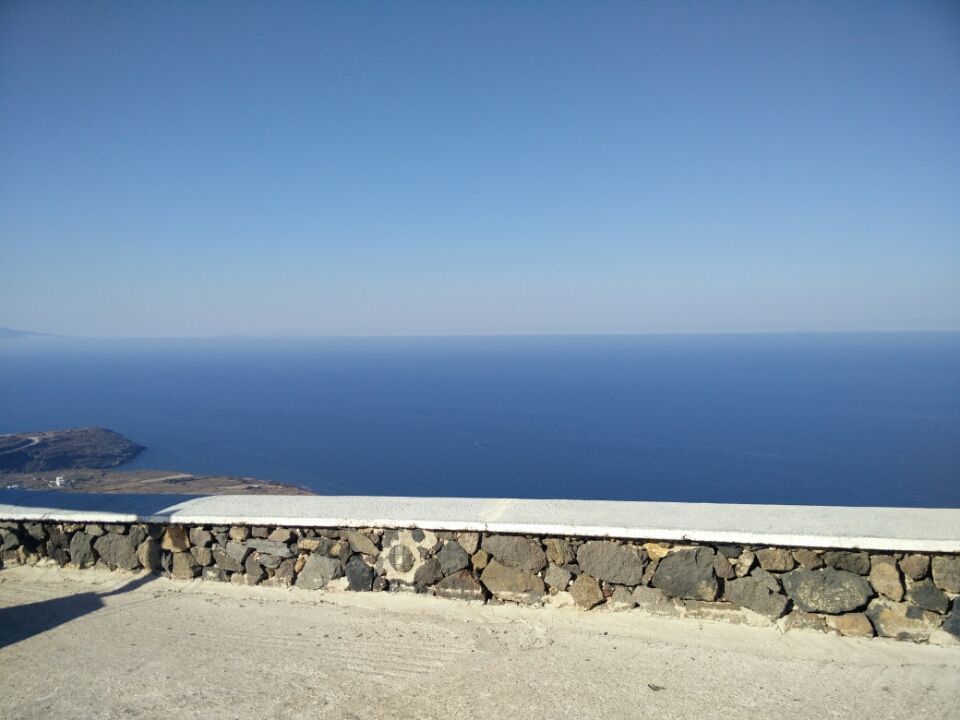 After months of plotting and planning the two of us finally started out on our vacation to the much awaited destination - Greece.
Reasons you should take a trip to this island country:
1. The sea, the crystal blue waters your eye never tire looking at.. Perfectly romantic
2. The food.. Absolutely loved Greek cuisine. There's something for everyone.
3. Partying scenes .. So many pubs and clubs. Our Itinerary included Athens, Santorini and Mykonos.. But since we love exploring and doing something different, we decided to explore another island called Naxos as well. Our travel dates were September 3 to September 13, 2016
Athens : Day 1 to Day 3                  
We loved the city, it has a lot of history and if you don't care about history you may skip it, but I still suggest you visit the Acropolis, the National Gardens and the Temple of Zeus if you have the time. We travelled by metro as it was cost effective and well connected. We also visited Filopappou hill (suggest you catch the sunset from there) and Monastiraki flea market (buy your souvenirs from here – you can haggle as well). The next day we went to Piraeus port and walked to see the Lion of Piraeus (avoidable). In the evening we watched a show at the Odeon of Herod's Atticus (book online in advance). A must have experience.  Stayed at  : Diros Hotel.
Santorini : Day 4 to Day 6 (half of day six)
The land of white and blue. We stayed at Fira near the main square, hence we had easy access to most places.  Visit the old port by cable car. We decided to walk down and I slipped and fell on the steps and hence had to take a donkey ride down (yes it turned out to be a hairline fracture). The boats from the old port take you to see the Volcano Crater and the Hot springs (you need to know to swim really well for this one). Wear good shoes at all times, carry slippers, ensure you always have your bikini under your clothes. The water beckons anytime. Since I had a cast on, we hired an ATV to move around. Must visit places : St. John's Cathedral, Wine Museum, Kamari beach. Please do eat the frozen yogurt at Louyo below the steps of the Cathedral. Oia : The drive to Oia is beautiful, the sunset is overrated also it is very expensive. We had dinner at Blue Sky, Skala is also a good place to eat. Do not miss Lolita's Gelato and the Atlantis book store.
Stayed at : Santorini Youth Hostel, Fira
Naxos : Day 6 to Day 7
We decided on Naxos as that was where we were going to rest after a hectic five days. Naxos is the largest among the Cyclades islands. It has 52 villages. The villages have small eateries in the evening. The hotel was bang on Plaka beach. It was serene beautiful and relaxing. The ATV came to our rescue and we went to a few more beaches like Mikri Vigla, Kastraki and Glyfada. Most restaurants are open only for dinner so please carry food along for lunch on the beach. Gylfada restaurant was the only one open. It was one of the best beaches.
Stayed at : Depi's Aqua Beach resort
Mykonos : Day 8 to Day 10
Mykonos is crowded and touristy. The hustle bustle of the traffic and streets reminded me of Mumbai ! We visted the Mykonos Town to see the windmills and we watched little Venice. The sunset from there was lovely. You can pick up a few souvenirs from the shops but overall, it's an expensive place. A must place to eat is Niko's Place Tavern (please reserve a table).  The next day we headed to Vioma Organic Farm in Ano Mera. While my friend took the bicycle three hour tour I waited at the farm with the animals. They also are known for their wine tasting. I made some wonderful friends sitting there while I waited. Chcek out Yummy pedals / Vioma Farms online. We then headed to Elias beach, and Super Paradise beach (I suggest you take the bus there, as we couldn't go by the ATV on the steep slopes). The night life is buzzing, Cavo Paradiso had an entry fee - book it online for cheaper tickets). No need to be overdressed for these parties, let your hair down and dance. We spent the next day at Paraga beach – which I loved a lot. It's a calm beach and a must visit for a swim. We wanted to do the Delos tour, but couldn't because of my foot. – suggest you don't't miss out on the Delos island tour.
Stayed at : Hotel Milena
Greece left us with memories of a lifetime !