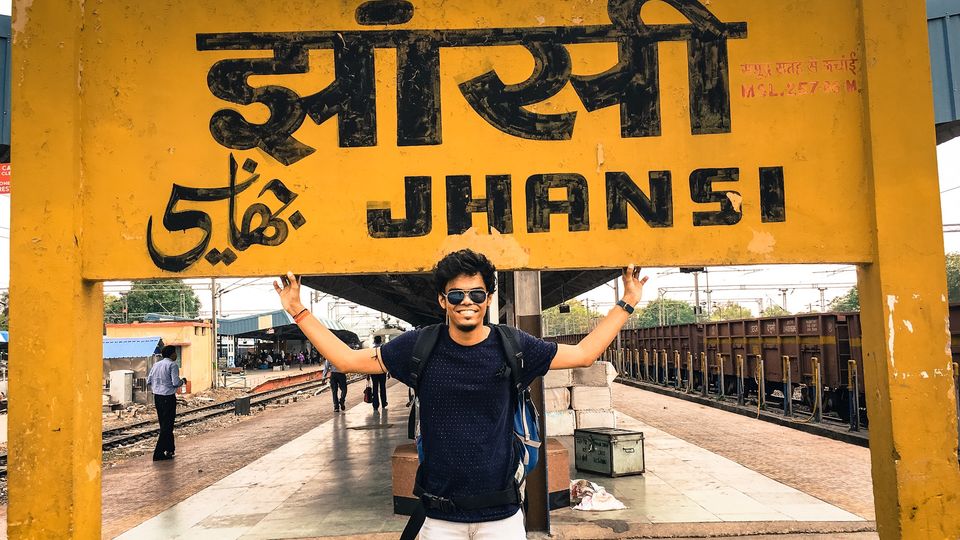 This one was out of the ordinary. Group of 3 is always special. We were searching for 'not so crowded' travel destinations and as usual I suggested them (Rahul and Abhijit) about Gwalior and Jhansi. It is not easy to digest this, right? Even they felt this way. Who travels Jhansi for a long weekend they wondered. I m sure Goa, Gokarna, Mahabaleshwar would be top hits on their mind. But I had a contrasting rationale. Eventually they agreed. How? I am still not clear. After using Suresh Prabhu's exceptional services, thats right, IRCTC, we booked to and fro tickets for Gwalior from Lokmanya Tilak Terminus (Mumbai).
It was the Lashkar Express (12161) which starts at 16.25 from LTT. We boarded the train with RAC against our names, meaning no seat to sleep. But no one bothered. We were up for the expedition, it was 3 destinations, 2 states and 1 one crazy obsession, TRAVEL. Since it was June end, monsoon already showed up in Maharashtra. The train journey happened to be scenic and enthralling.
Next day at 11am we hit our first destination, GWALIOR. If you go by google maps, major city would be on the west side of station, but the convenient way to go out there is by stepping in the East side.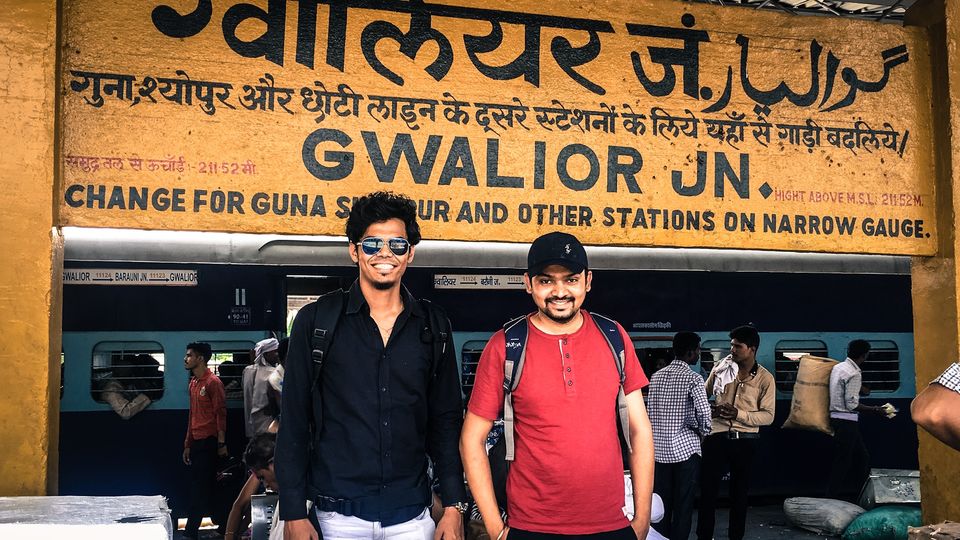 We quickly found out a habitable place to stay who charged us ₹1200 for a night, quite a deal. After having lunch from Indian Coffee House, which is very famous restaurant near Gwalior station, we headed to our first venue, Gwalior Fort.
The entrance of the fort from north side is quite admirable. Few kids were playing cricket here with their unorthodox playing styles. The temperature was not that friendly, but our spirit for exploration were lighting up.
As soon as you enter the gate, to your right you will find this beautiful place. It is a Archaeological Museum, a must visit for all art lovers.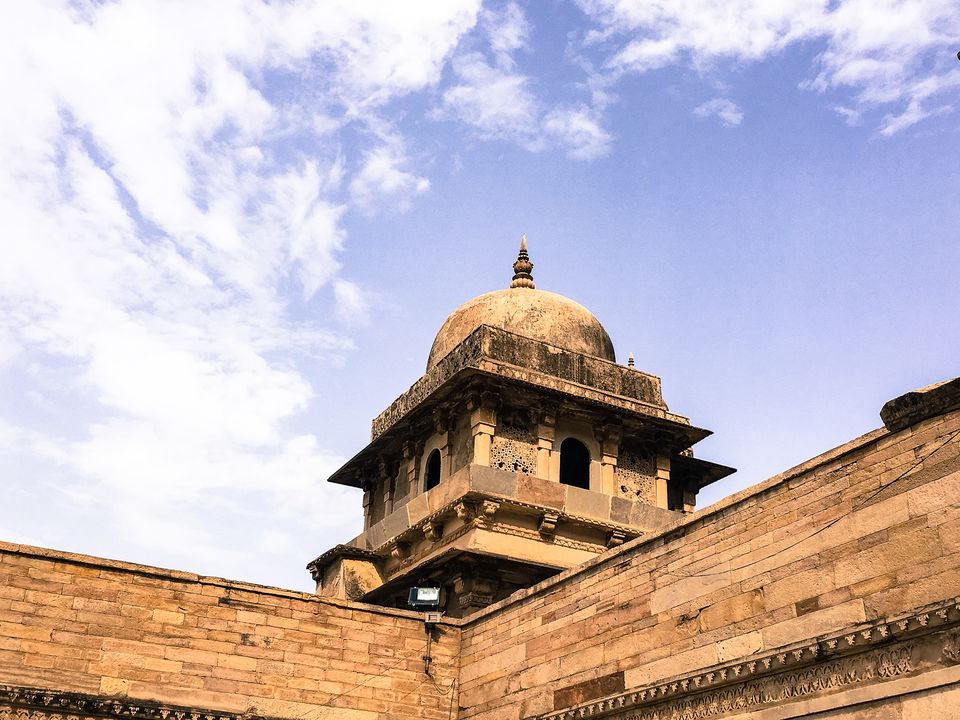 Gwalior fort looks elegant from here. You just cannot wait to go and see how beautiful this fort would be.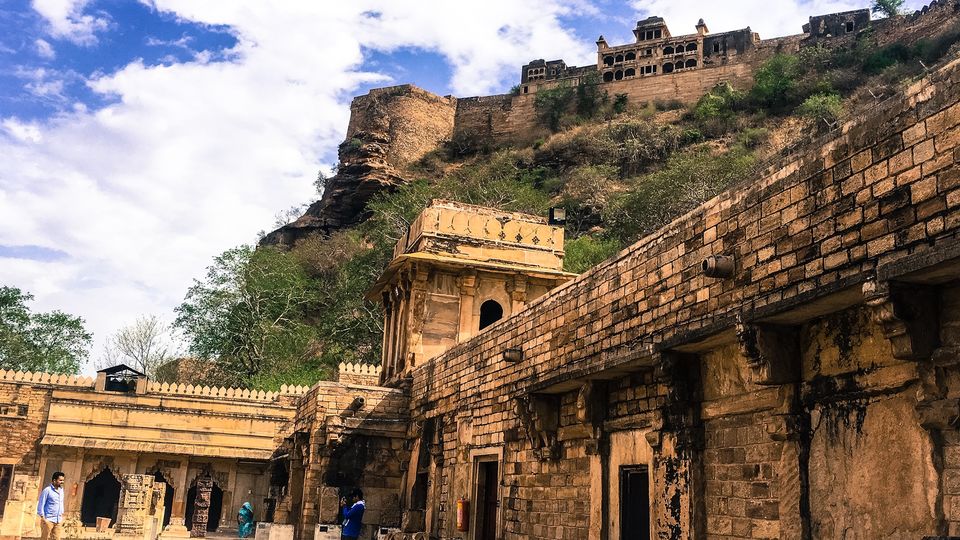 The origin of 'Zero' relates to this place. Its also called as Ground Zero.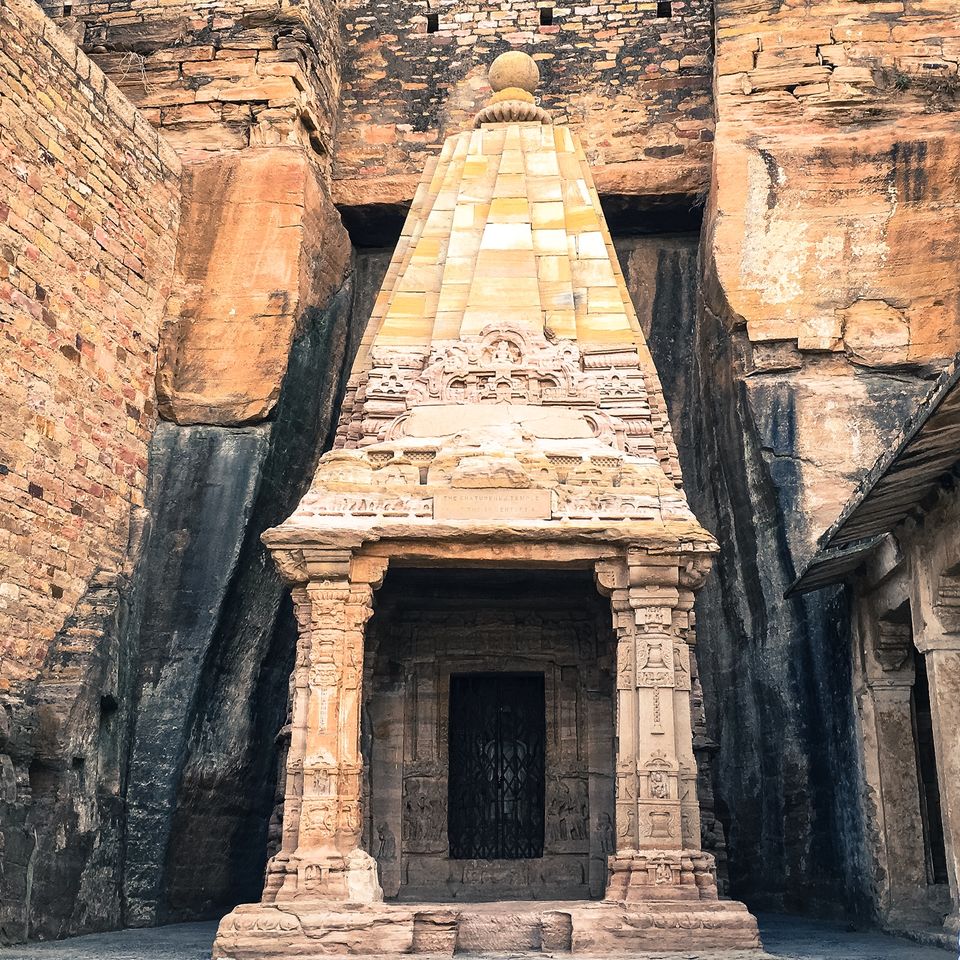 Well the walk towards the fort is not that easy, especially when its 36 degrees. Although the pathway is quite interesting.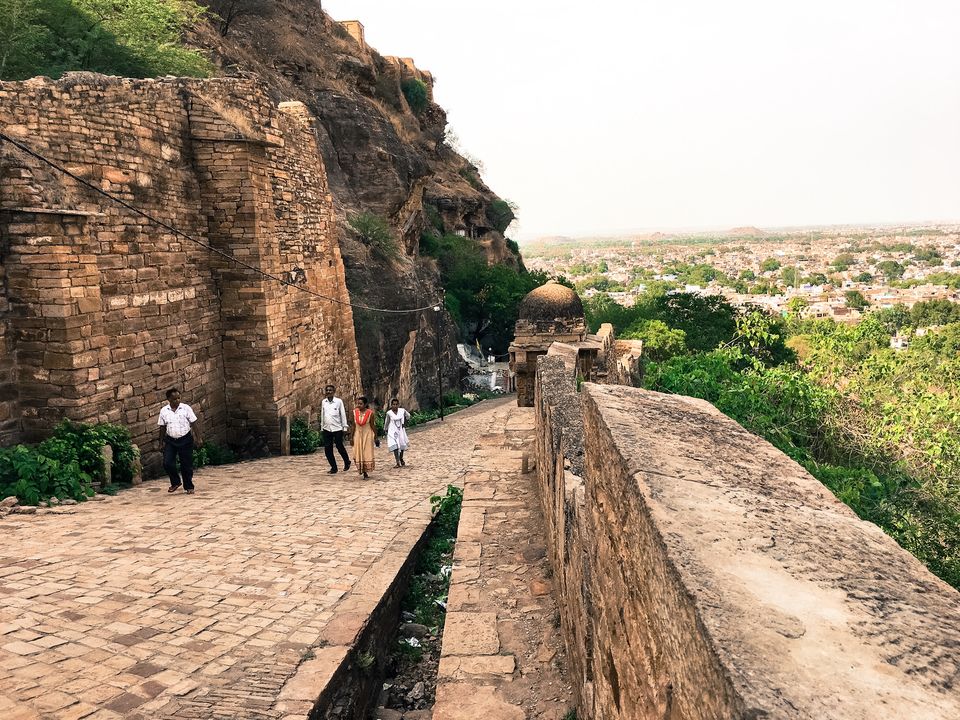 Your effort pays off once you get to see this incredible view.
The tickets are cheap for Indian travelers, some ₹15. The palace looks stunning from outside.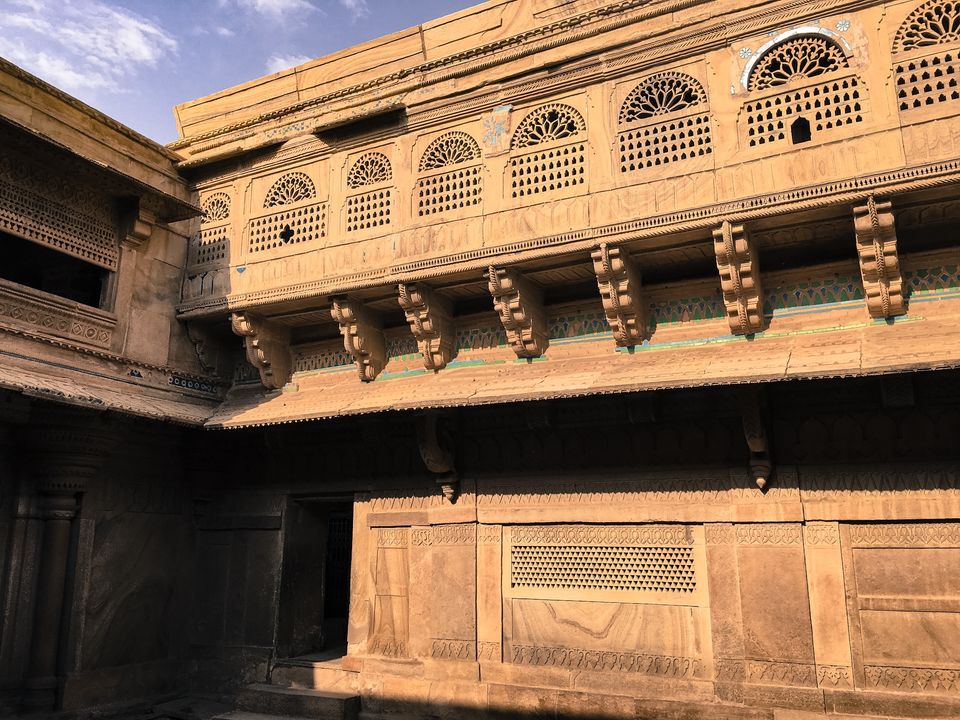 But there is not much to see inside the palace. So we tried to make it interesting by clicking some unconventional photos.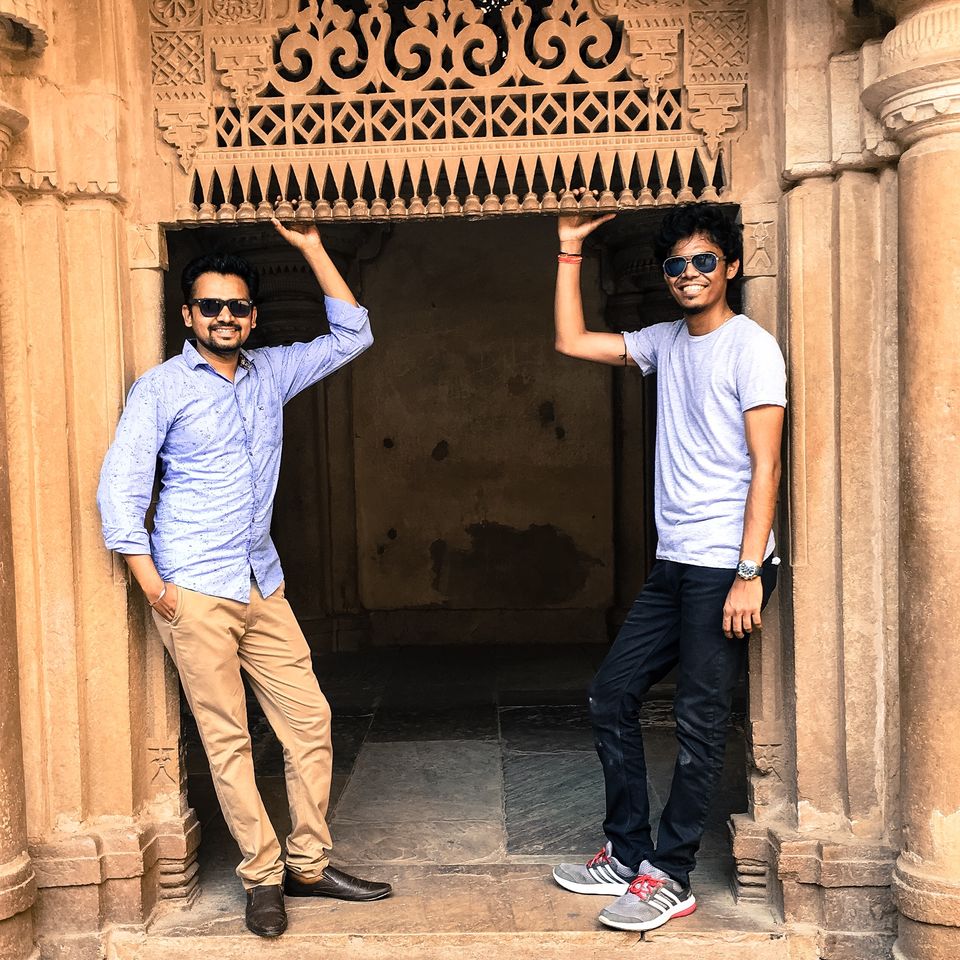 Then we just came by a window from where we could view the city. Group of 3 friends were standing down, and one my friend, Rahul, got this wild idea to ask them to click our picture from other side and then ask them to send the picture via bluetooth. To this, Abhijit responded them "Tanik ek foto to nikali". As soon as we heard this, it cracked us in laughter. Indeed it was the best part of the trip.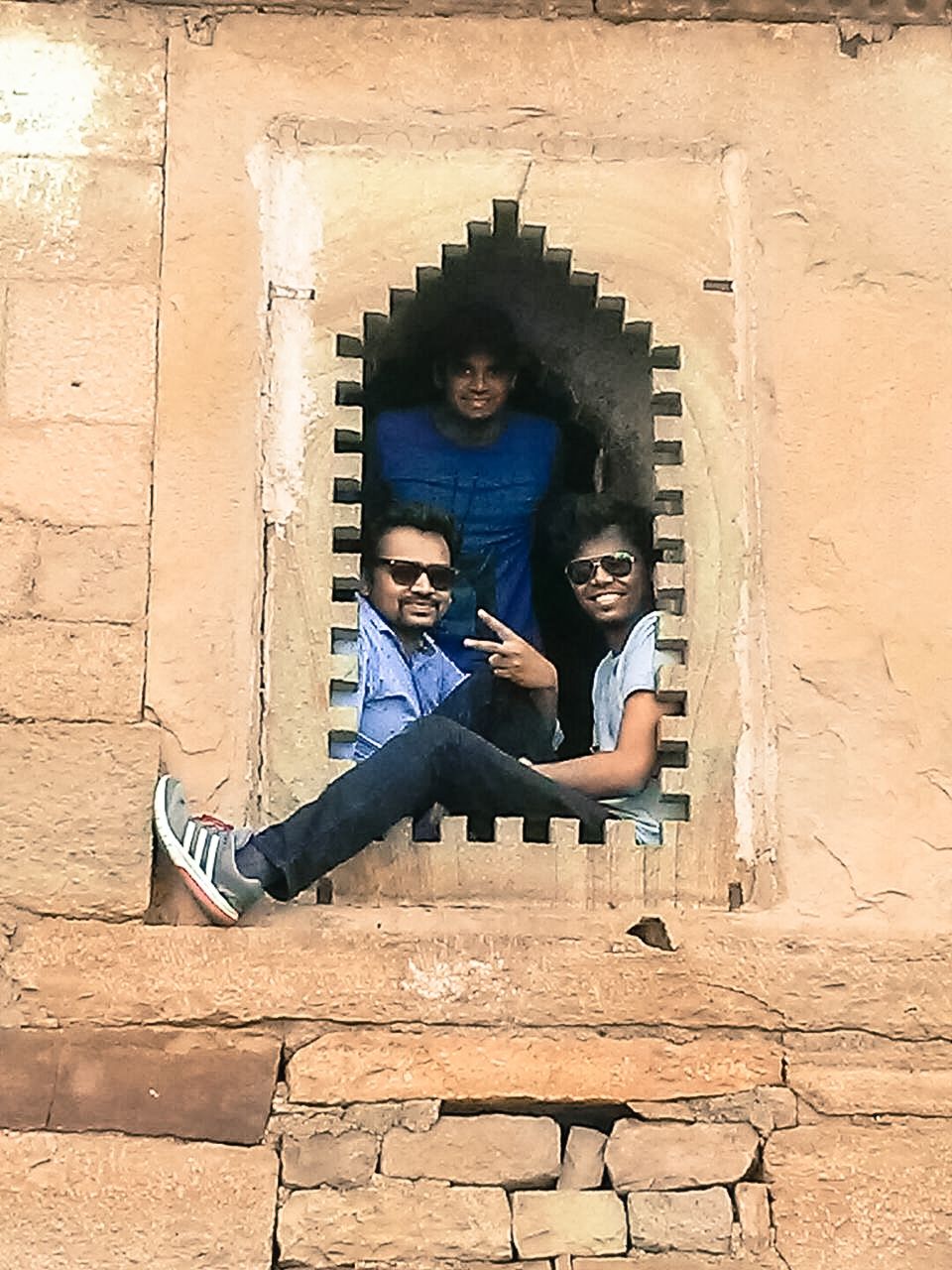 The palace is dark from inside and you ll see many bats flying out here, not what you came for eventually.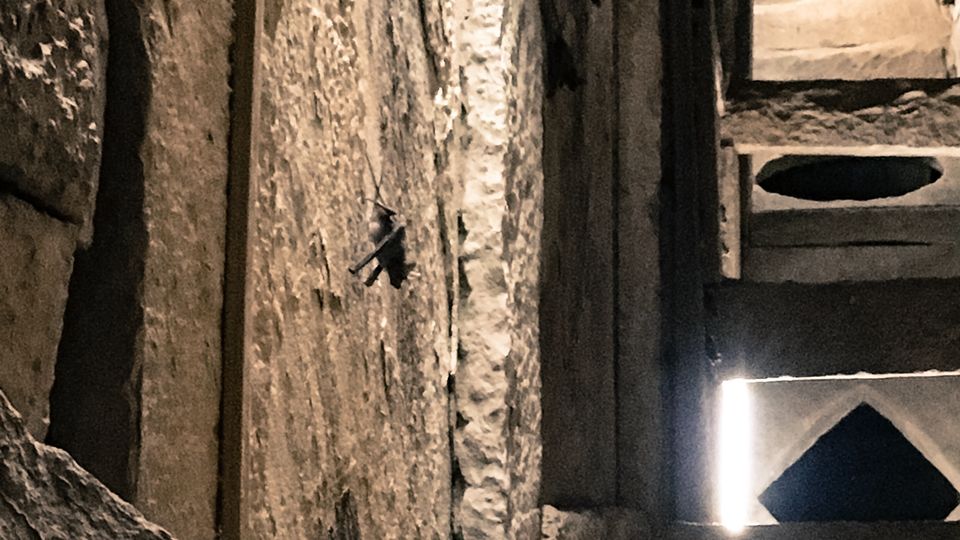 Well this place defines the beauty of Madhya Pradesh. Perfect Structure.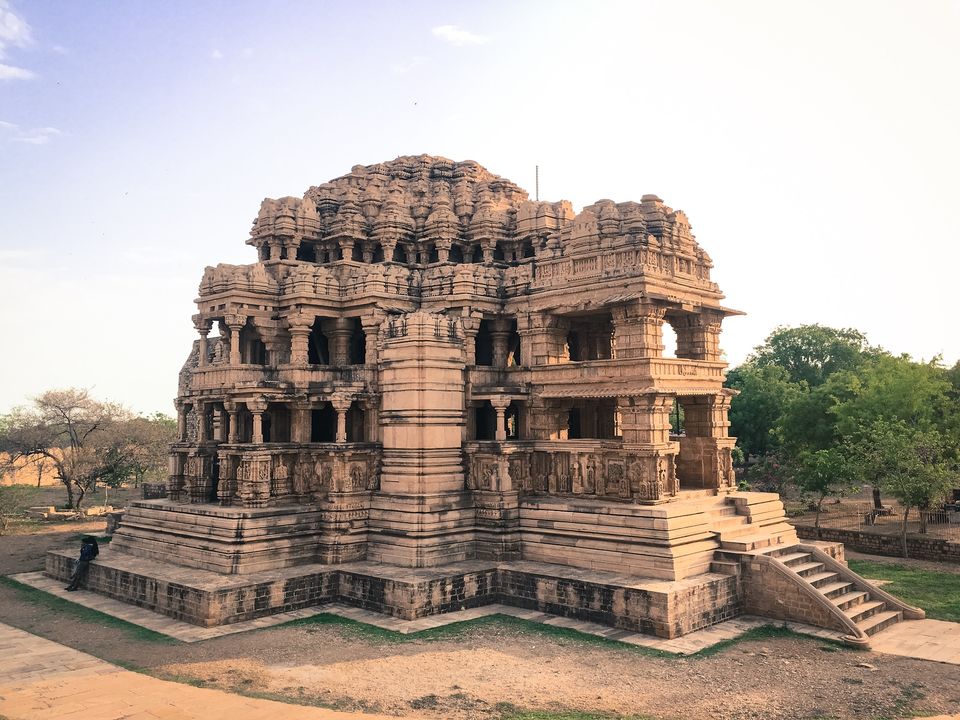 There two temple like figures, one is called as Saas and the other one is Bahu. Yes, they go by their sizes. The smaller one is always Bahu.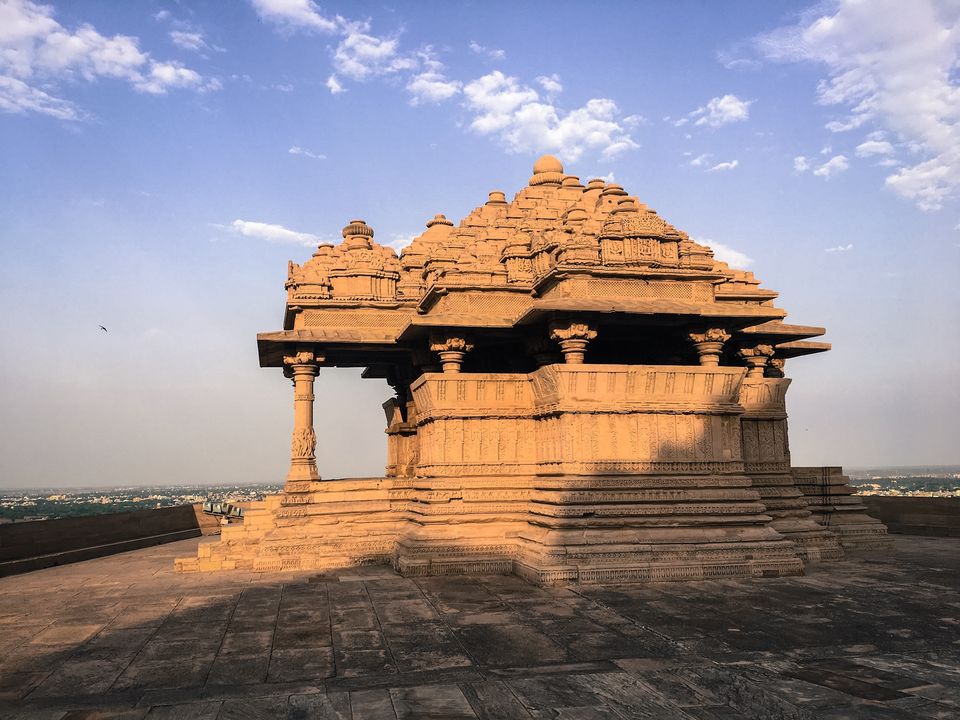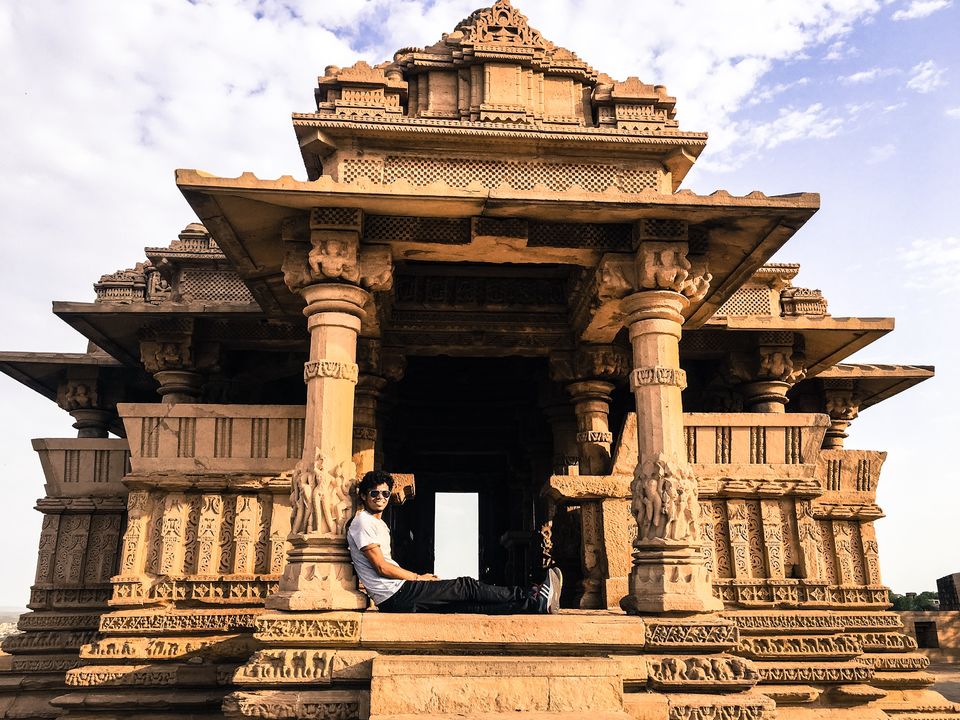 Finally after walking for 2 kms we reached our last destination.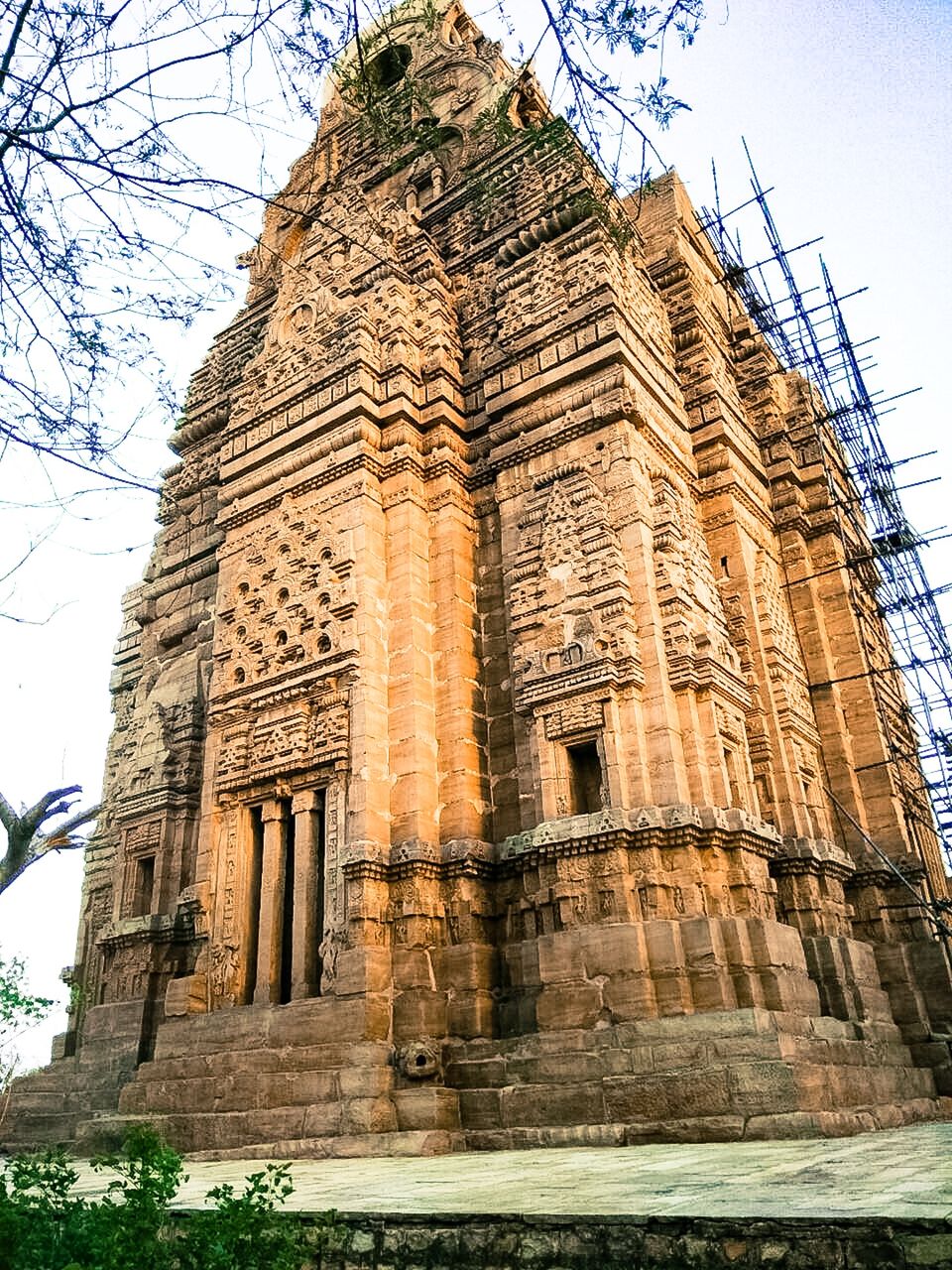 After that long day we just laid on floor behind the temple. Already it was 06.30pm and we could rarely see any people around.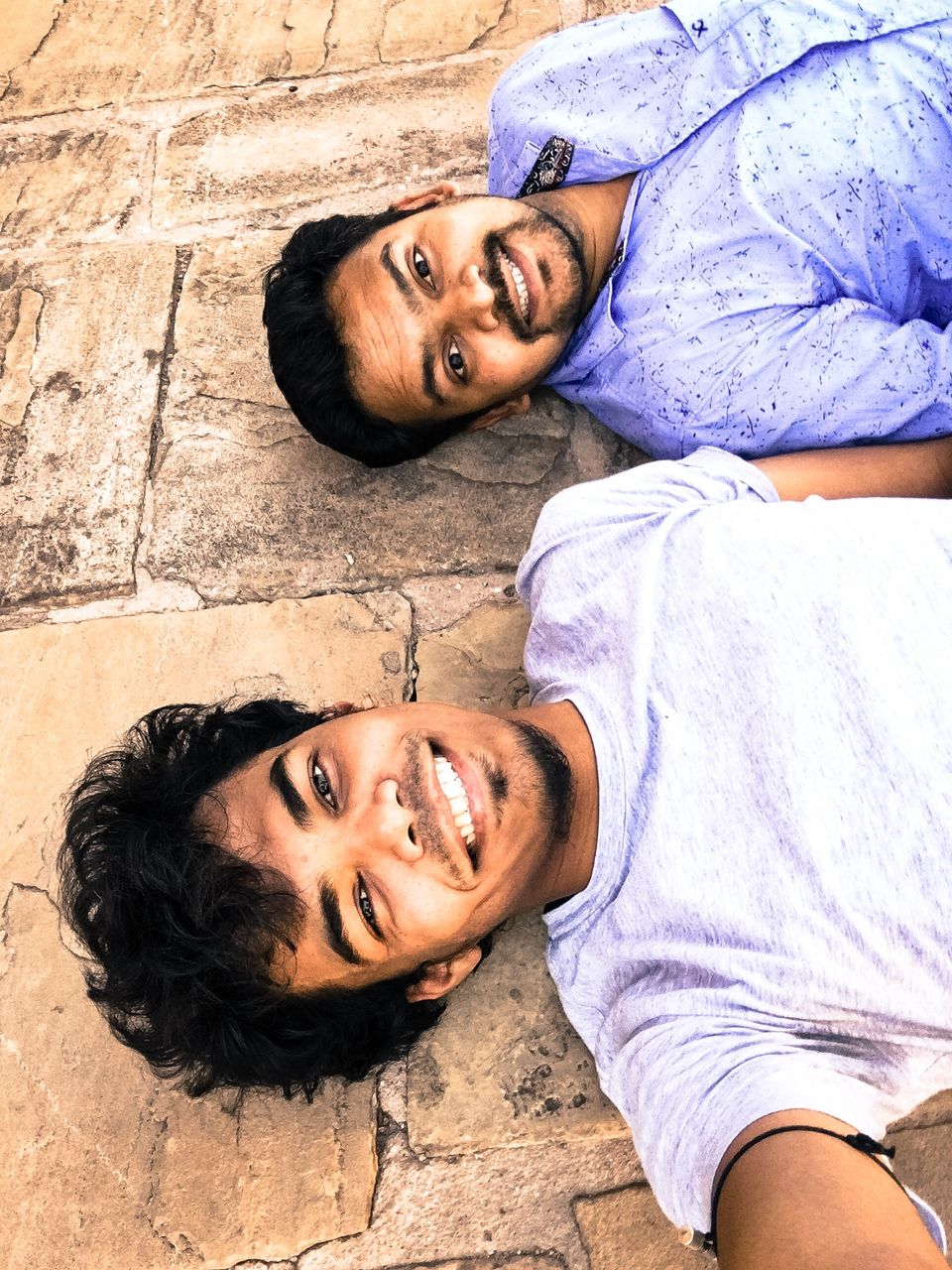 We started our way back to the hotel room. But the day was far from over.
On our way back we spotted one small marshy lake beside the temple, it had Lotus all over it.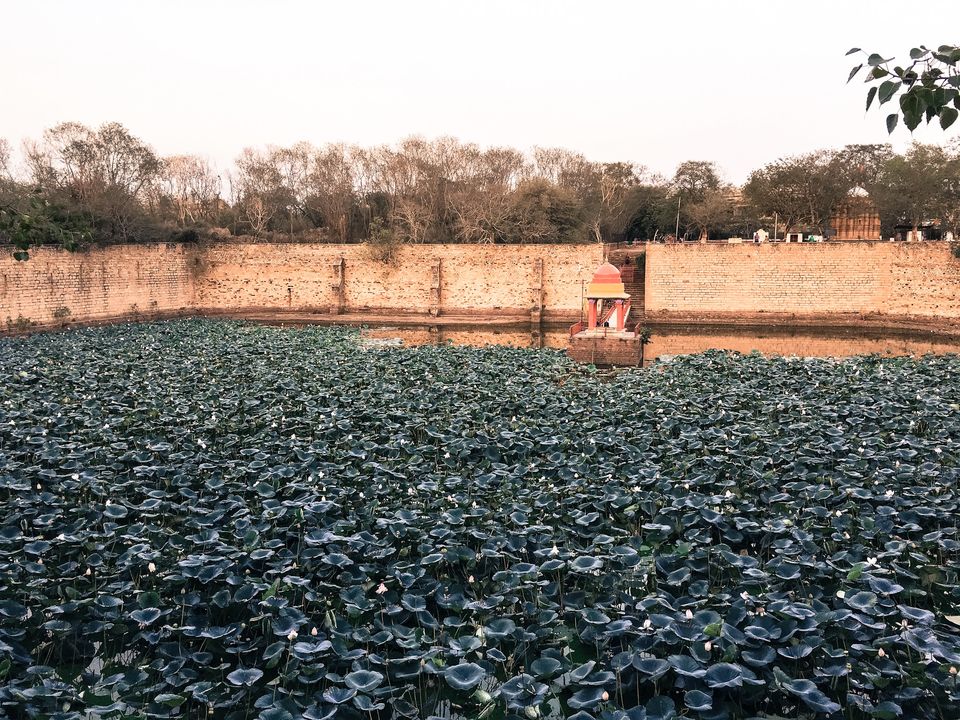 And after few steps, we found a perfect sunset spot. All your fatigue just goes off by looking at this beautiful view. It surely ticked off one city from my list of viewing sunset from different cities.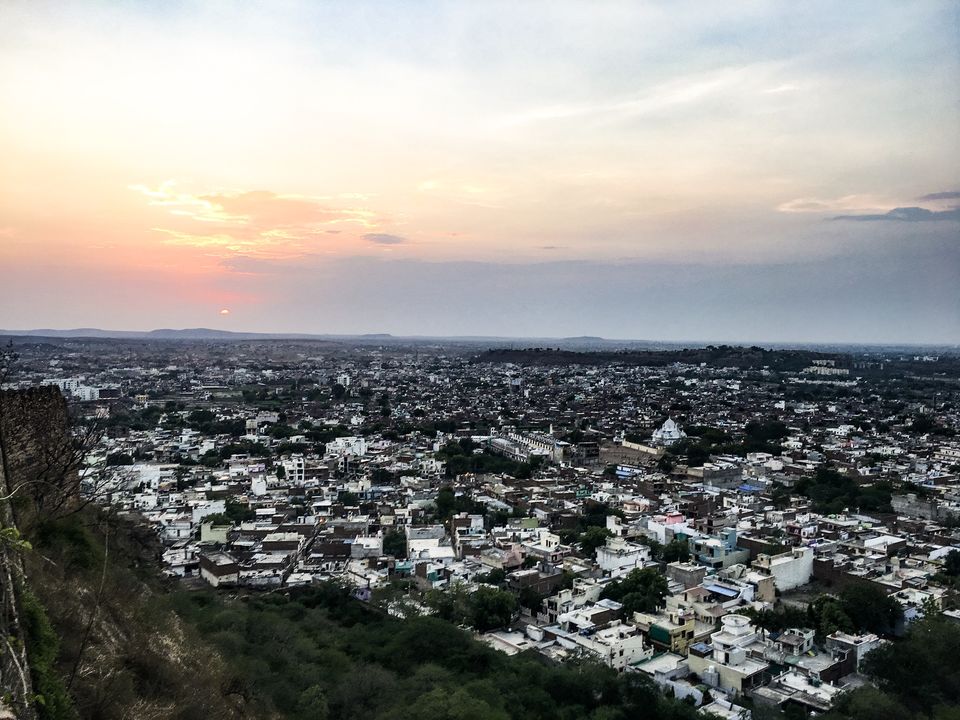 On foot exploration is the best thing one can do in a new city and so we started with it.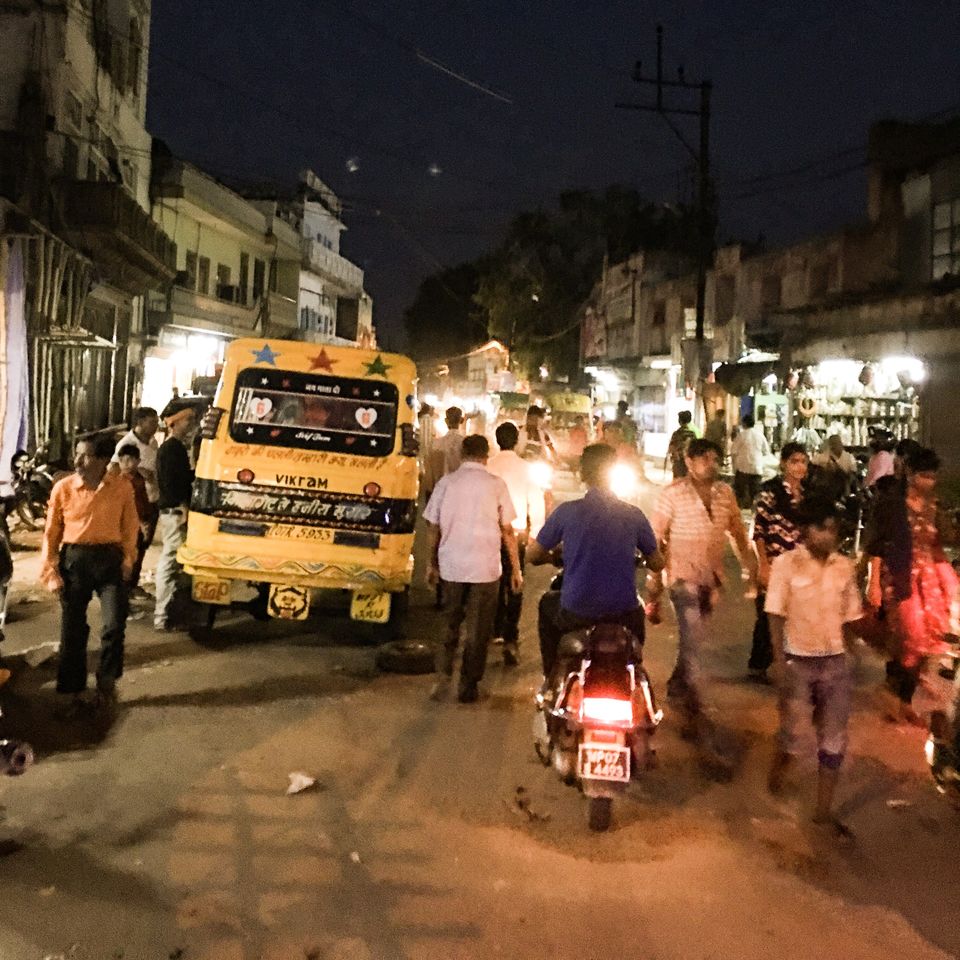 The city is quite ordinary but few places are just out of the box. This 'Golgappa' stall for that matter.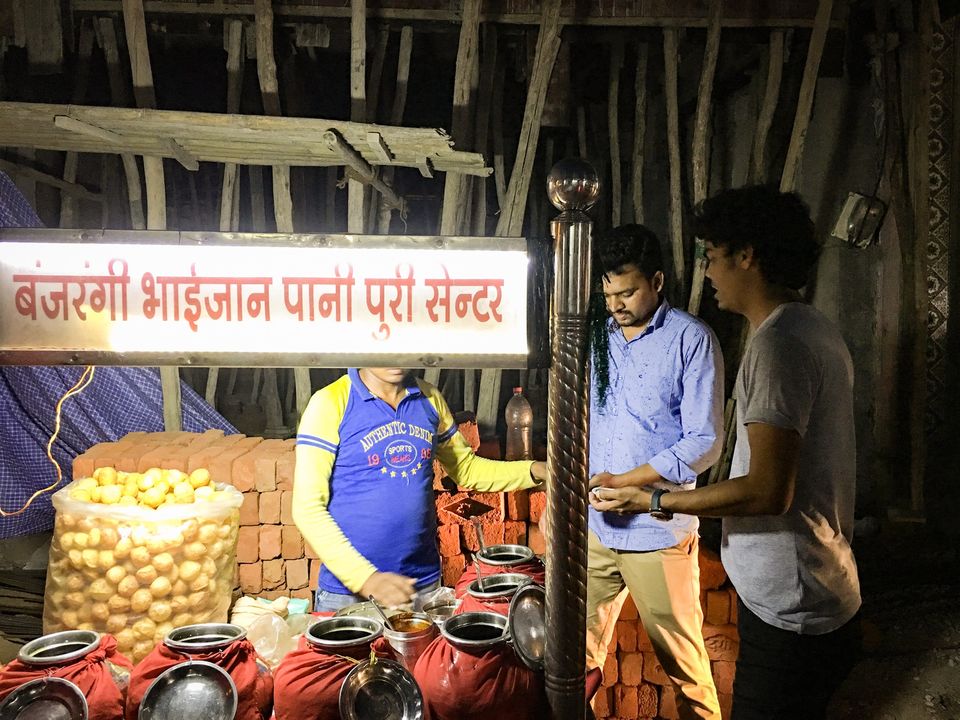 The name says its all. He offered us 6 different flavors of pain puri and each one had its own unique taste. It ranged from Garlic to jaljeera to even mint. Awestruck. Everything for just ₹10/plate. Few steps ahead there was one other chat corner serving a unique dish.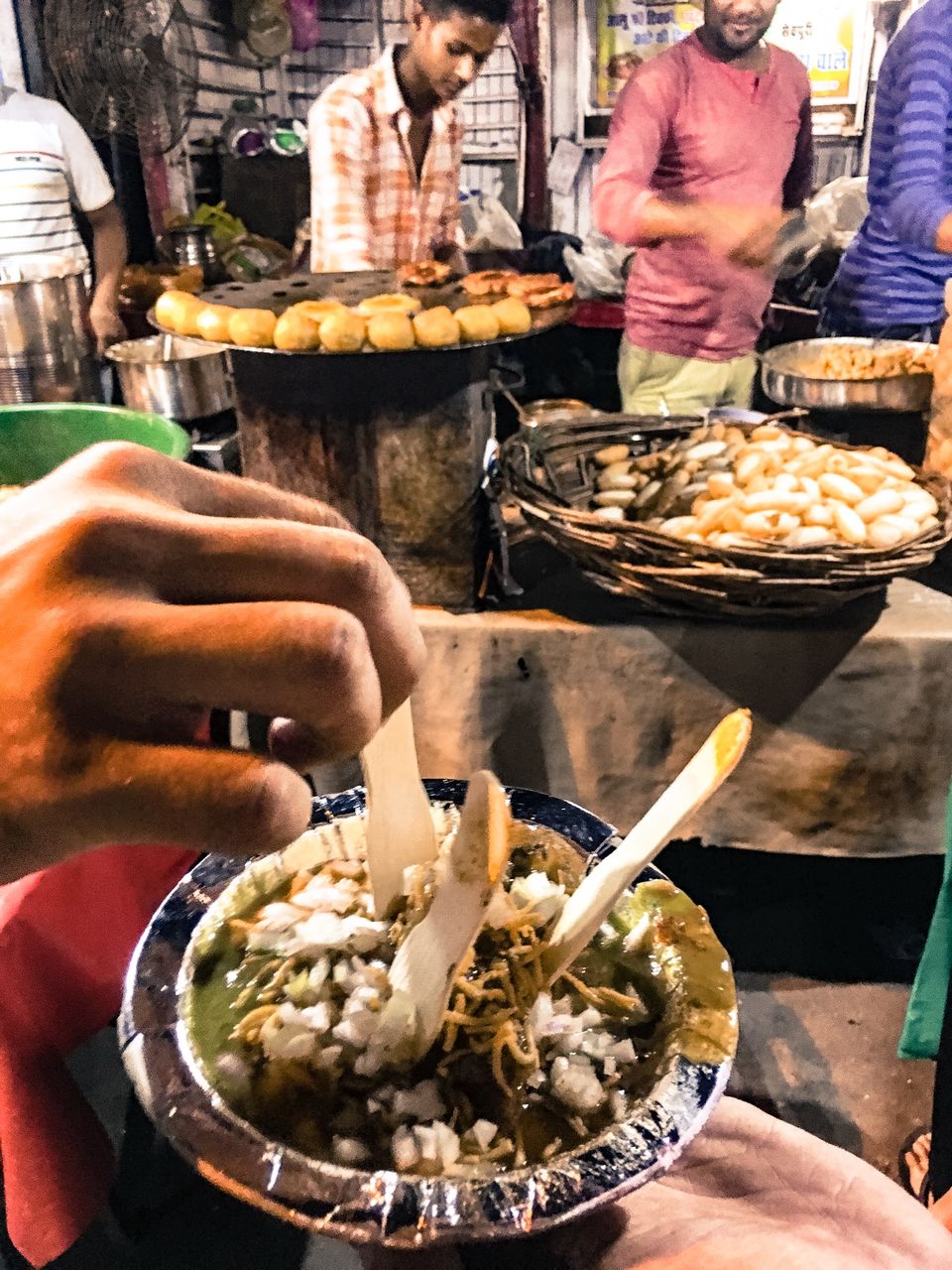 We were running on tight schedule in morning. This place was the only one left from Gwalior. We reached well before time that is 0930 and took the tickets which were crazy expensive. ₹120 per head, and ₹100 extra for mobile phone. The structure is worth watching and can visit here once.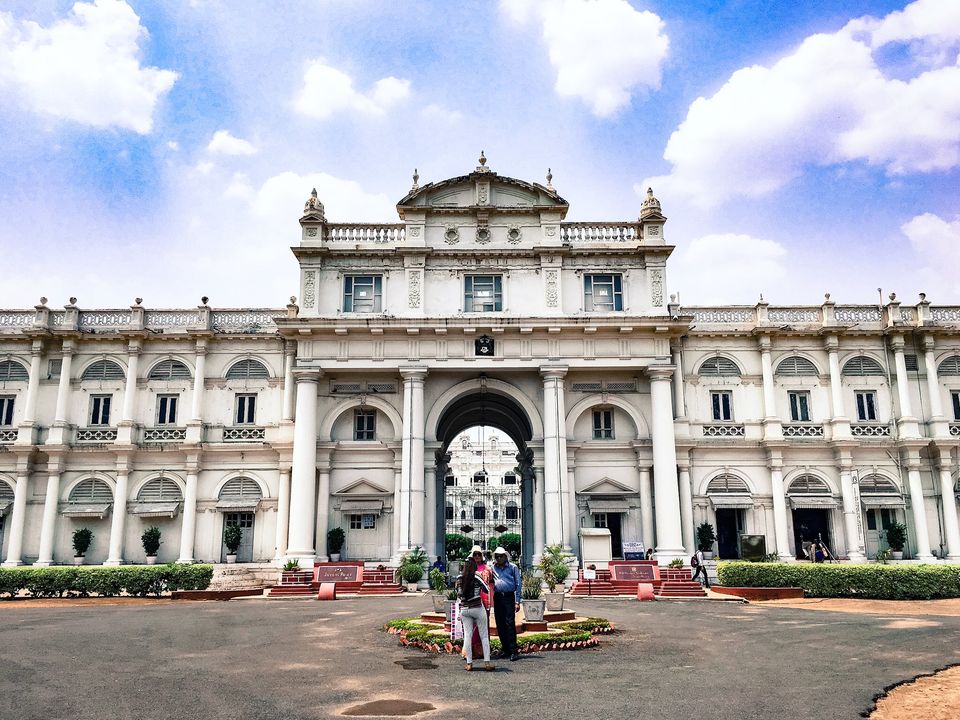 The museum displays the royalties of the family. Each one of it is an art in itself.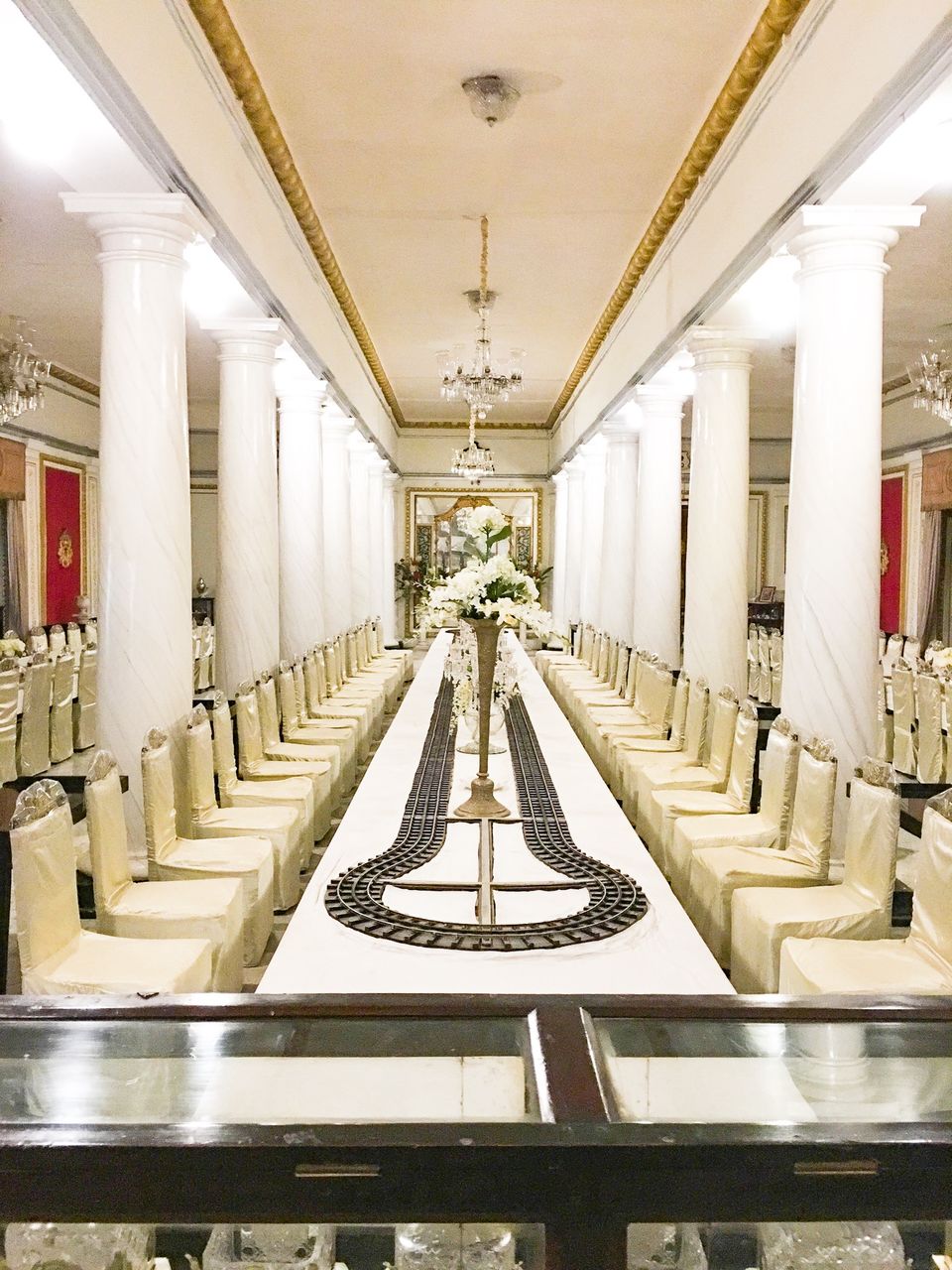 It will take 1 hr to completely visit this palace, but its worth visiting here.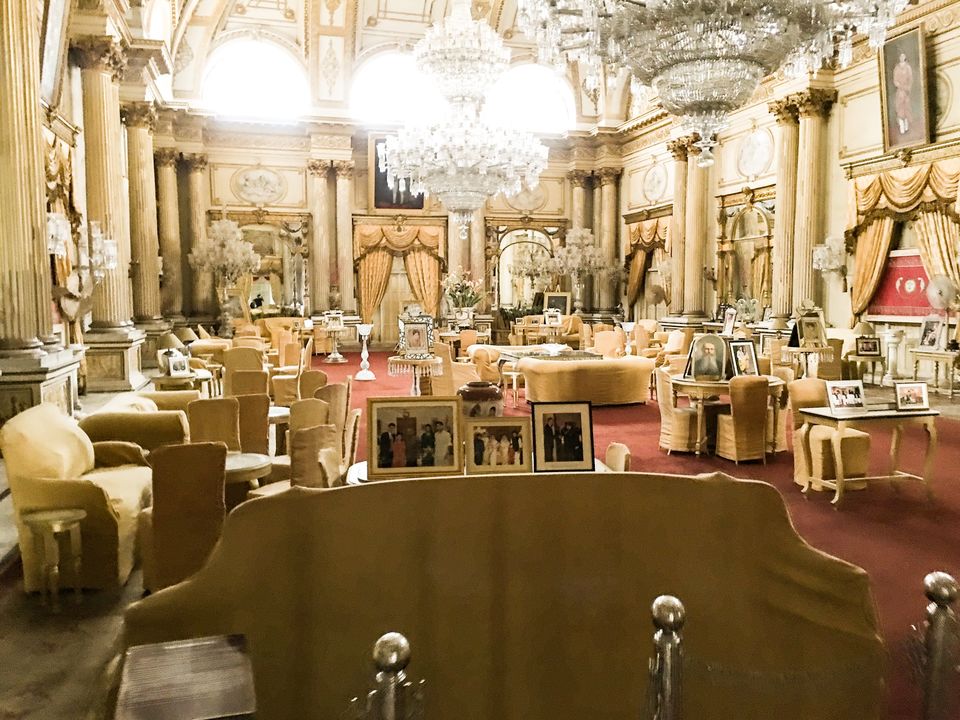 We booked a sleeper class ticket for Jhansi from Gwalior for ₹120. Fair deal. Temperature was almost half the boiling point. But as I said, you never get bored in the journey of 3 people. we enjoyed our way to Jhansi, which was 1.45 hrs from Gwalior.
Beautiful Station. The city is very cheap and have lot to offer. We booked a hotel here for ₹700 for 3, that too an AC room. Dirt Cheap.
We were hungry by then, but we had to reach Orchha before 4pm. Panipuri and Mango is the best buy in such situation. Orchha is a beautiful place which is 50 mins away from Jhansi. You can get a share auto to Orchha for ₹20 from Jhansi Bus stand. Please note, this auto experience is must have for all the travelers. Too good.
City has few beautiful structures and a Ram Mandir. Must visit for art lovers. Bundelkhand Palace looks stunning from a distance.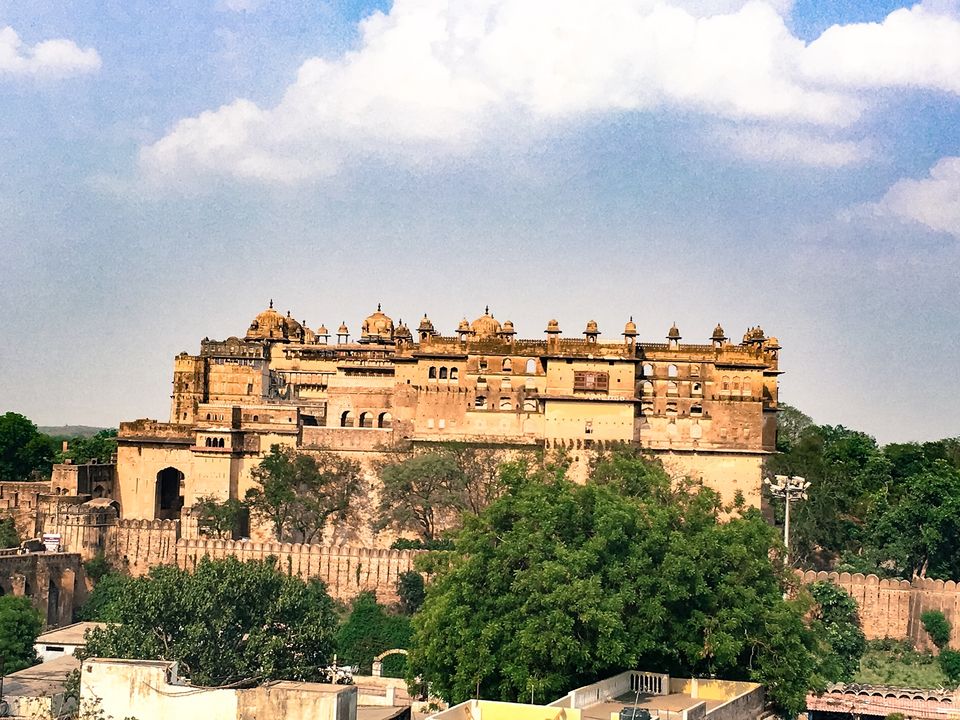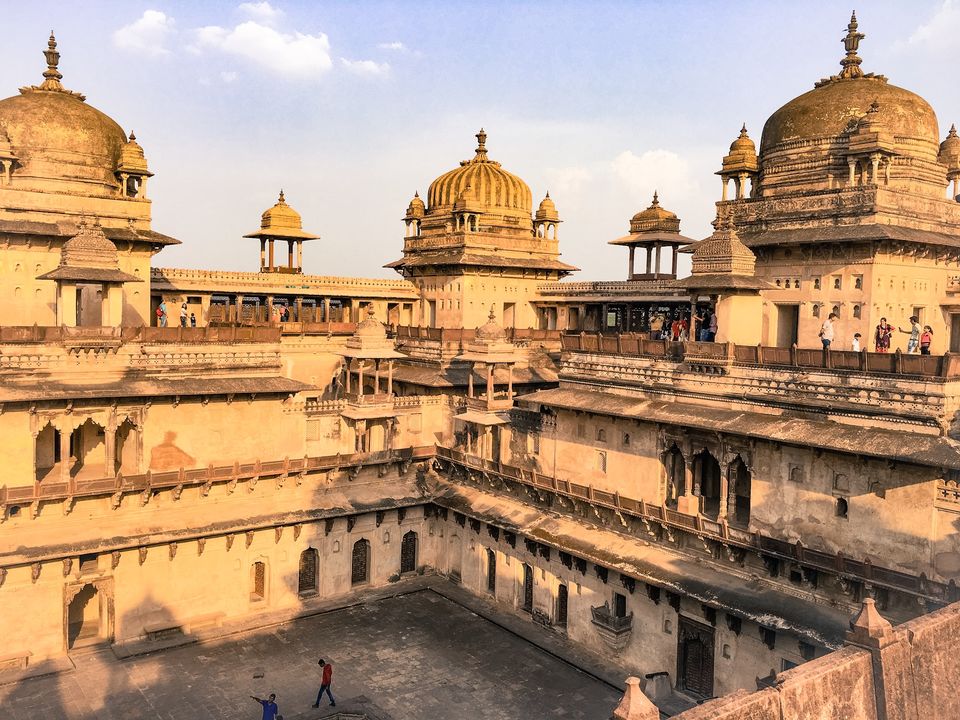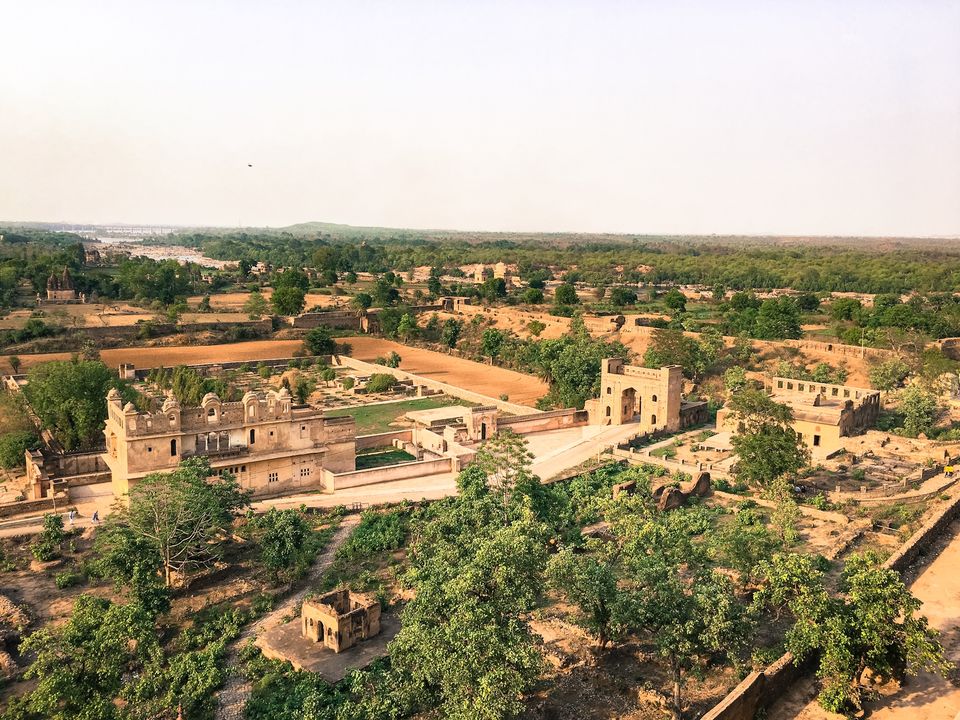 As the temperature was not convincing at all, we decided to take a leap in the calm Betwa river.
It was a memorable experience indeed. Recommended for only those who can swim.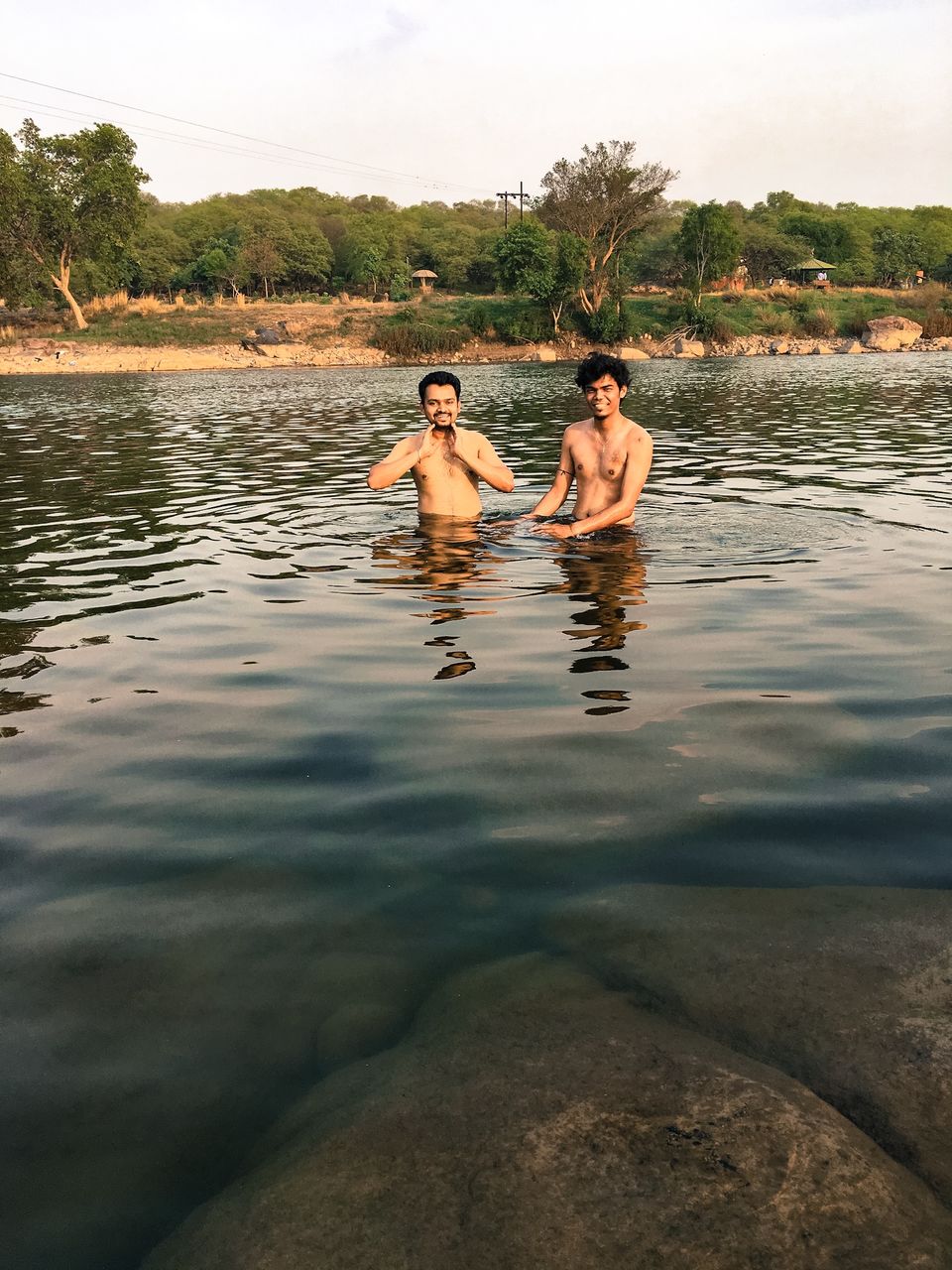 There is no public transport from Orchha to Jhansi apart from highly colorful and fully lit auto rickshaws. So we took one and the Bhojpuri songs in this disco auto were just an add on. He ade sure our day ends well.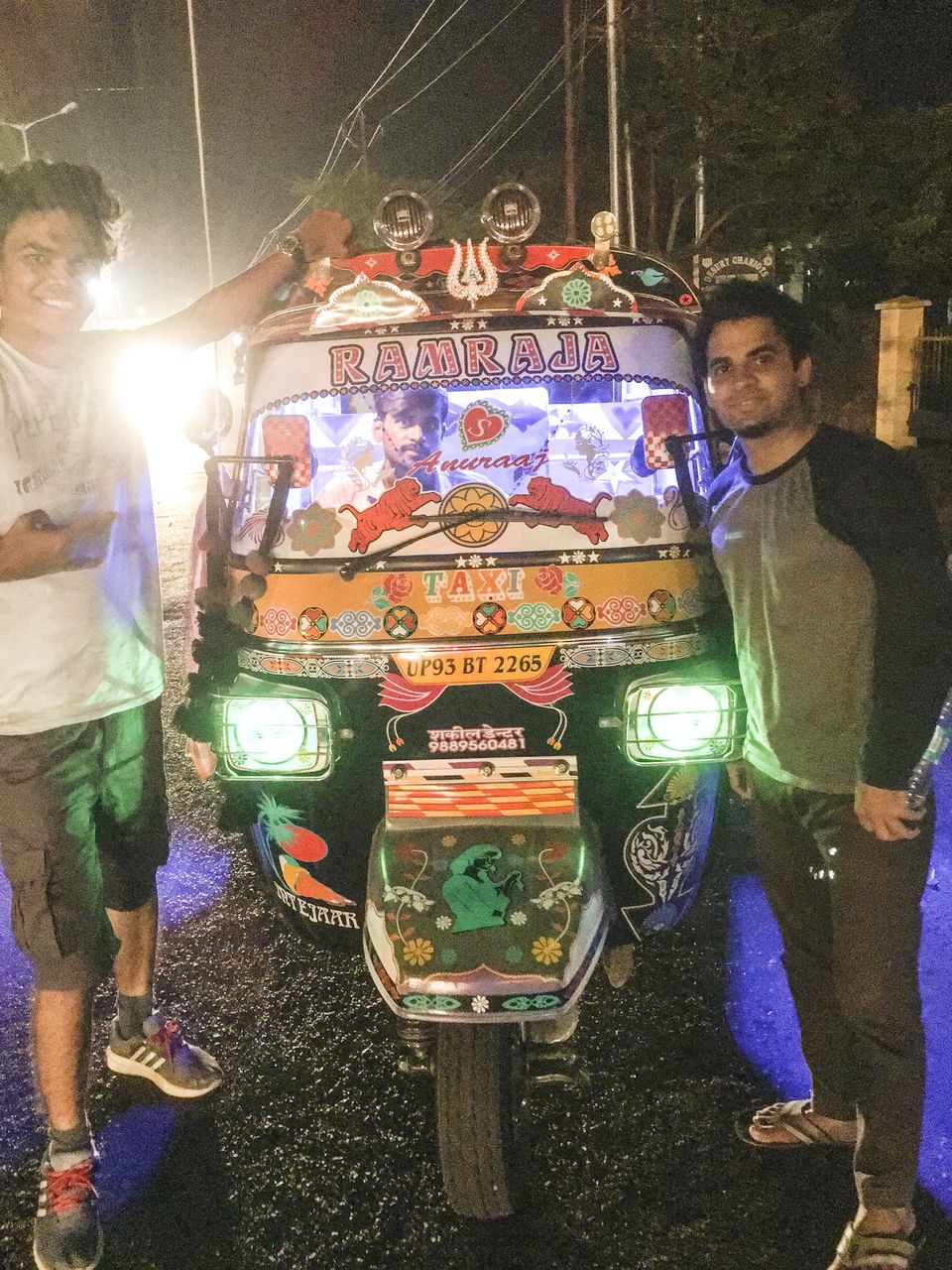 The last day had to be special so started with typical U.P. Hair estyle.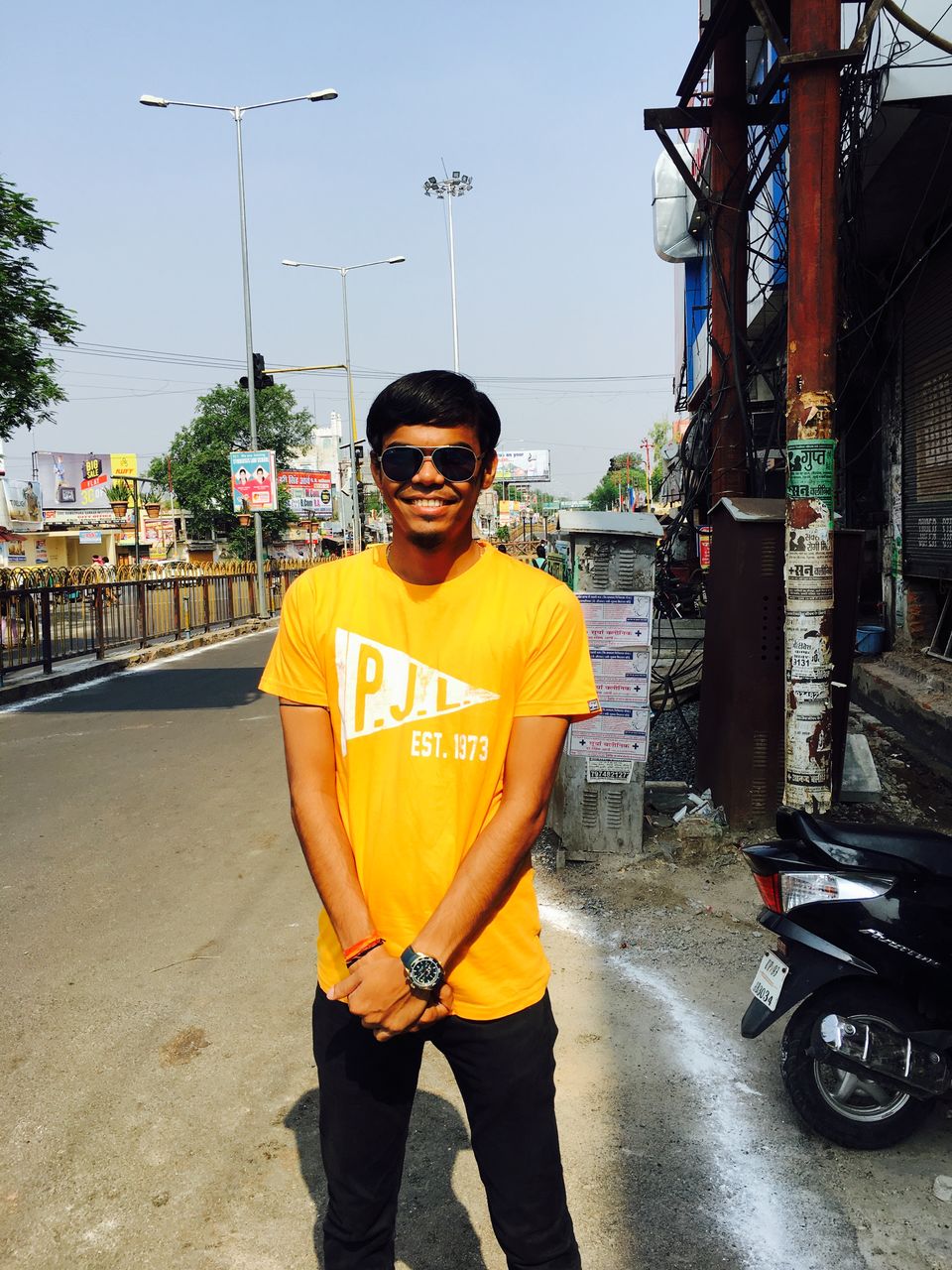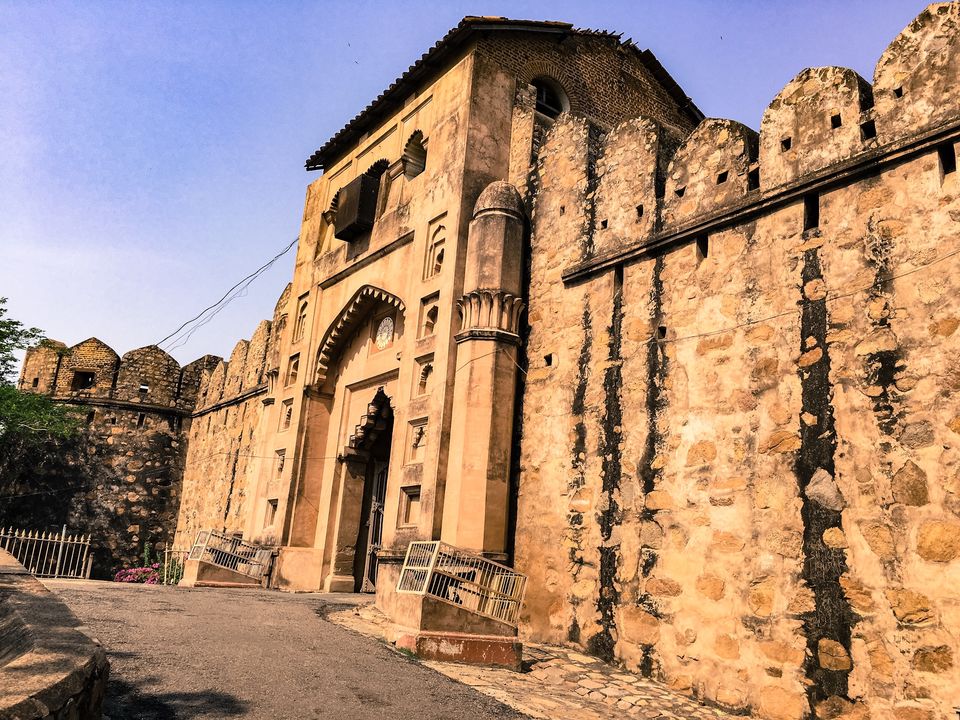 This place has nothing special in store apart from the great history of Ranilaxmi Bai a.k.a Jhansi ki Rani. The fort is average and becomes monotonous after sometime. 30 mins is enough for this place.
We boarded the train by 1230pm of Mumbai. I had a best long weekend after a long time :)
Some crazy pictures to end on a good note.