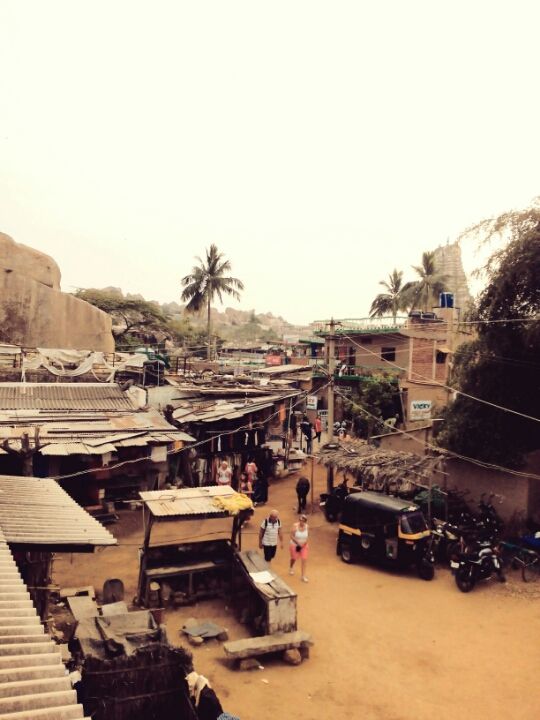 There are mirage of places in and around Hampi, which are intrinsic part of the place but yet not appreciated and maybe not even seen by many. People don't stop at such places and see around, thus don't talk about it.
With an intention of exploring around, I found some mind-blowing locations that the place has been hiding for a long time. But now,
I guess, it was time to open the Pandora box ;-)
a. Sanapur
Sanapur is a small village 7 kms from Anegundi, and 40 kms from Hampi. There are two ways to reach Hampi from Sanapur, longer route via driving down the road and a shorter way via crossing the river Tungabhadra by boat (Latter I will touch upon later). This tiny placid place comes when you are on your way to Hampi, coming from Anegundi. And I have to say that the place is a stunner. Calm, peaceful with abundance of local tadka (spice). It has got an old village look, just like the one we saw in movie Swades, giving cow-shit smell all around, local people's murmur and selling buying going on in tiny Kirane ki dukaan
Village people are seen chilling on the road, doing their antics. No seriousness and alertness with which they would cross the road. Not bothered of, what vehicle is coming from behind. They look secure in their world, with at times throwing happy smiles at tourists which shows they like outside world noticing them.
Sanapur adorns beautiful landscape as well, with vast farm fields spread all over the place. They grow rice and wheat in full capacity. And after harvest, the big mountain of grain heap, is seen kept on the road sides for drying, and then eventually getting packed in big borees (bags).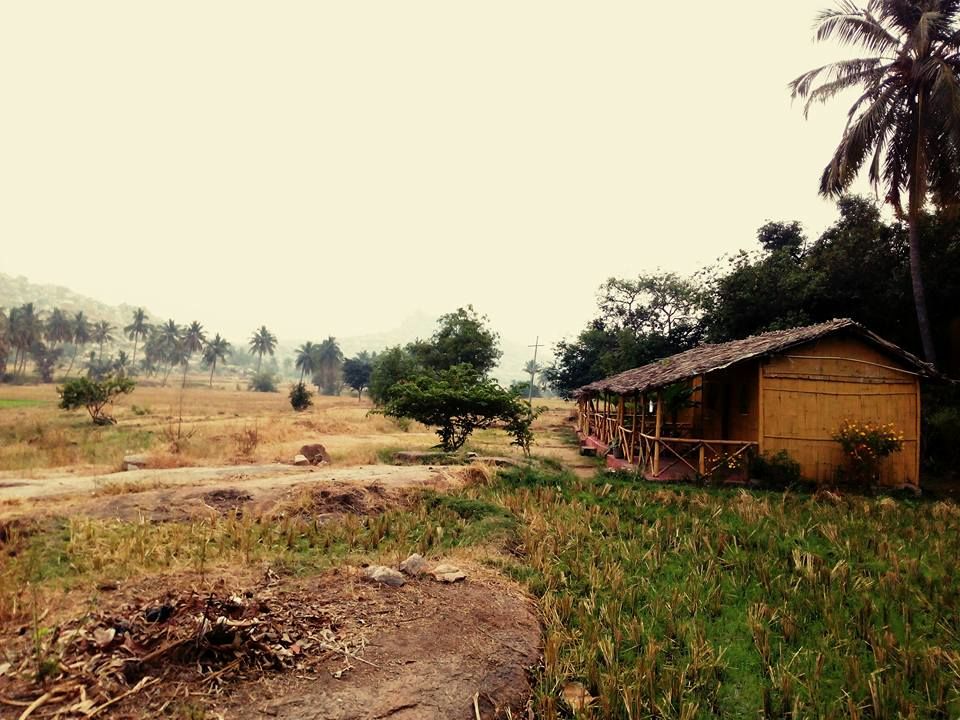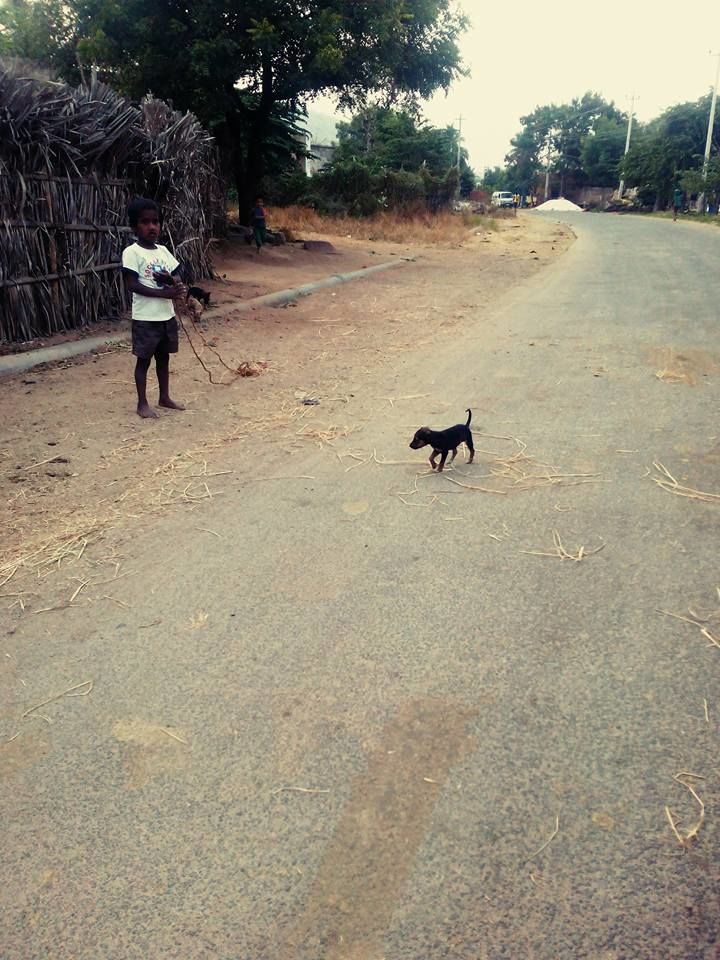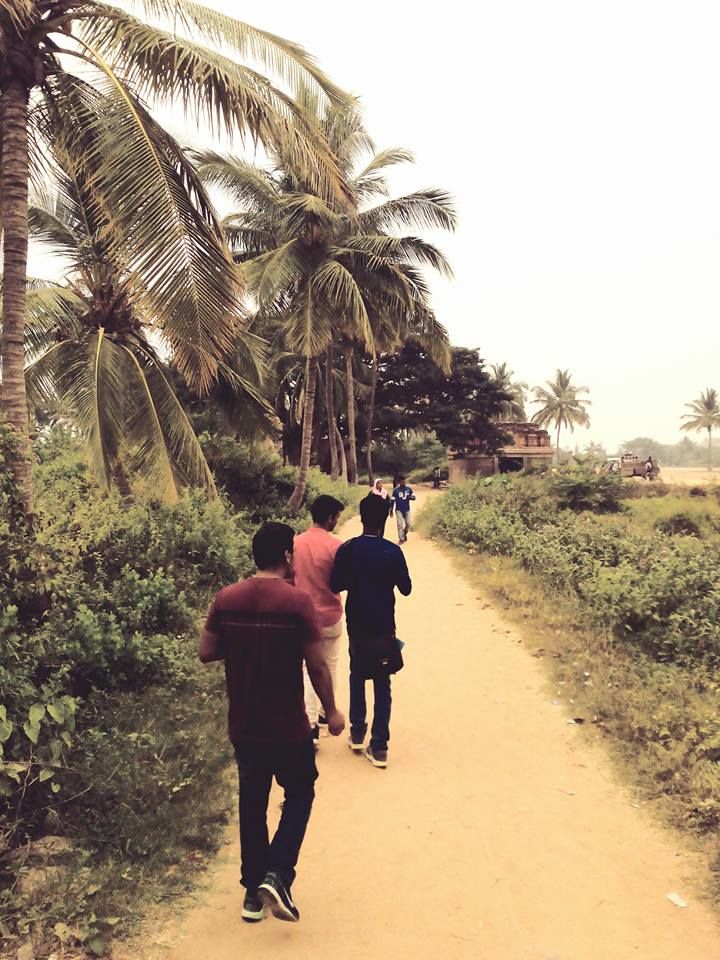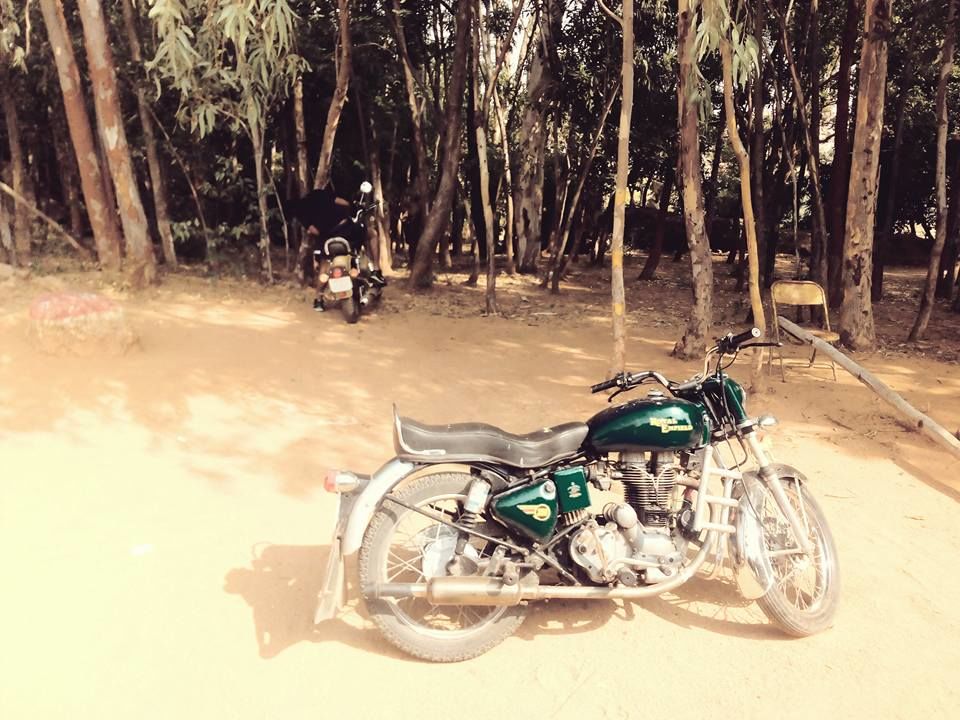 And when I thought I had enough of the place, someone told me that I should check out the Sanapur lake. Heard there were crocodiles in that lake, and thus people were not allowed to jump in.
When I took a right from the main road towards the lake, this is what I saw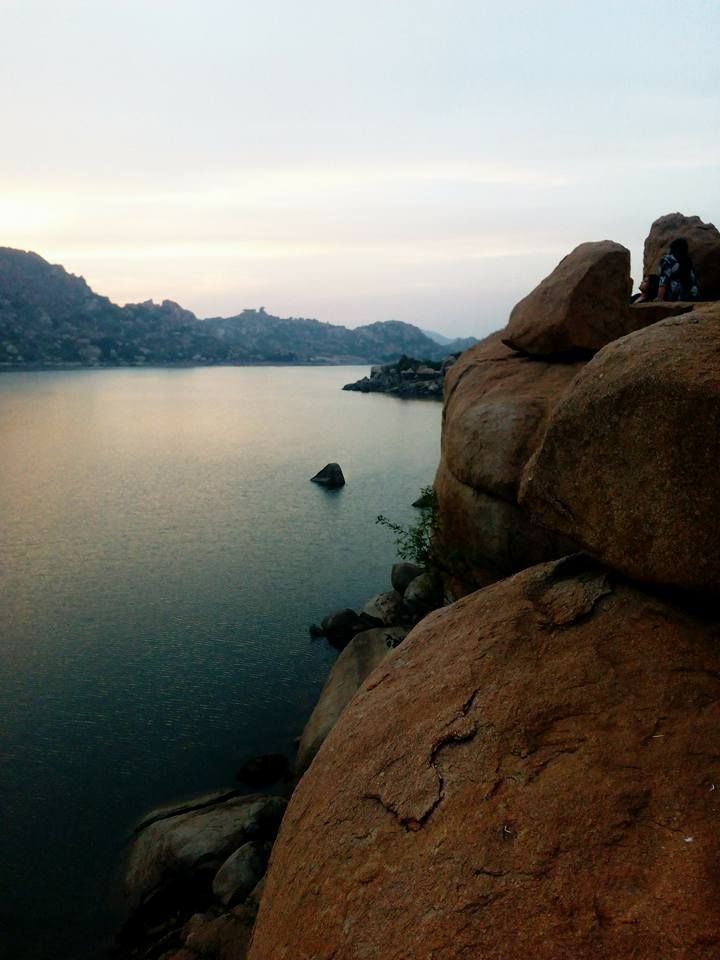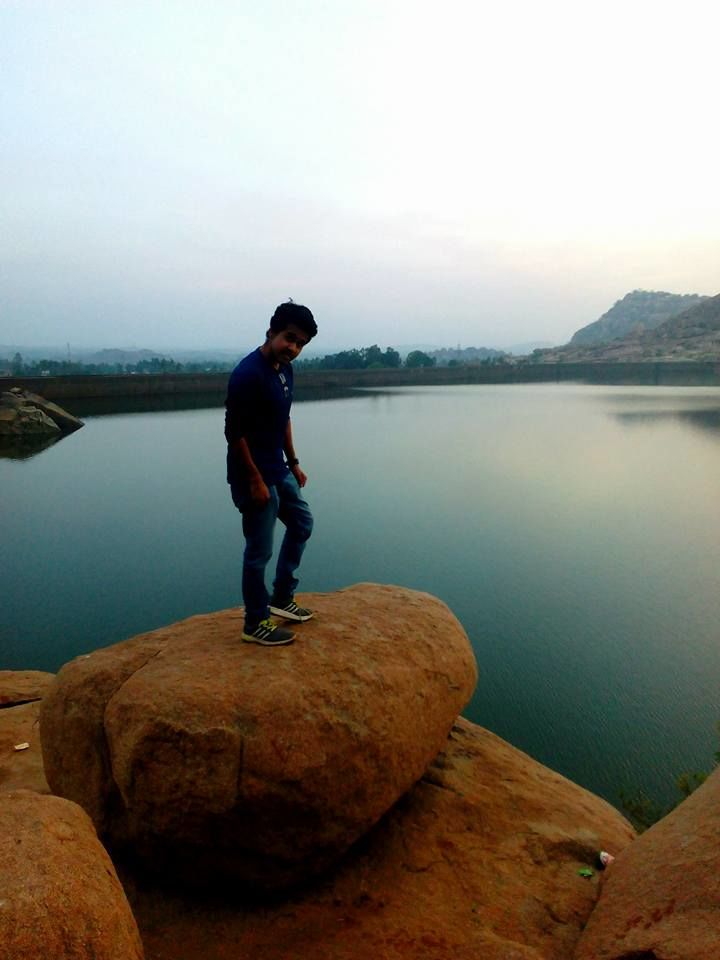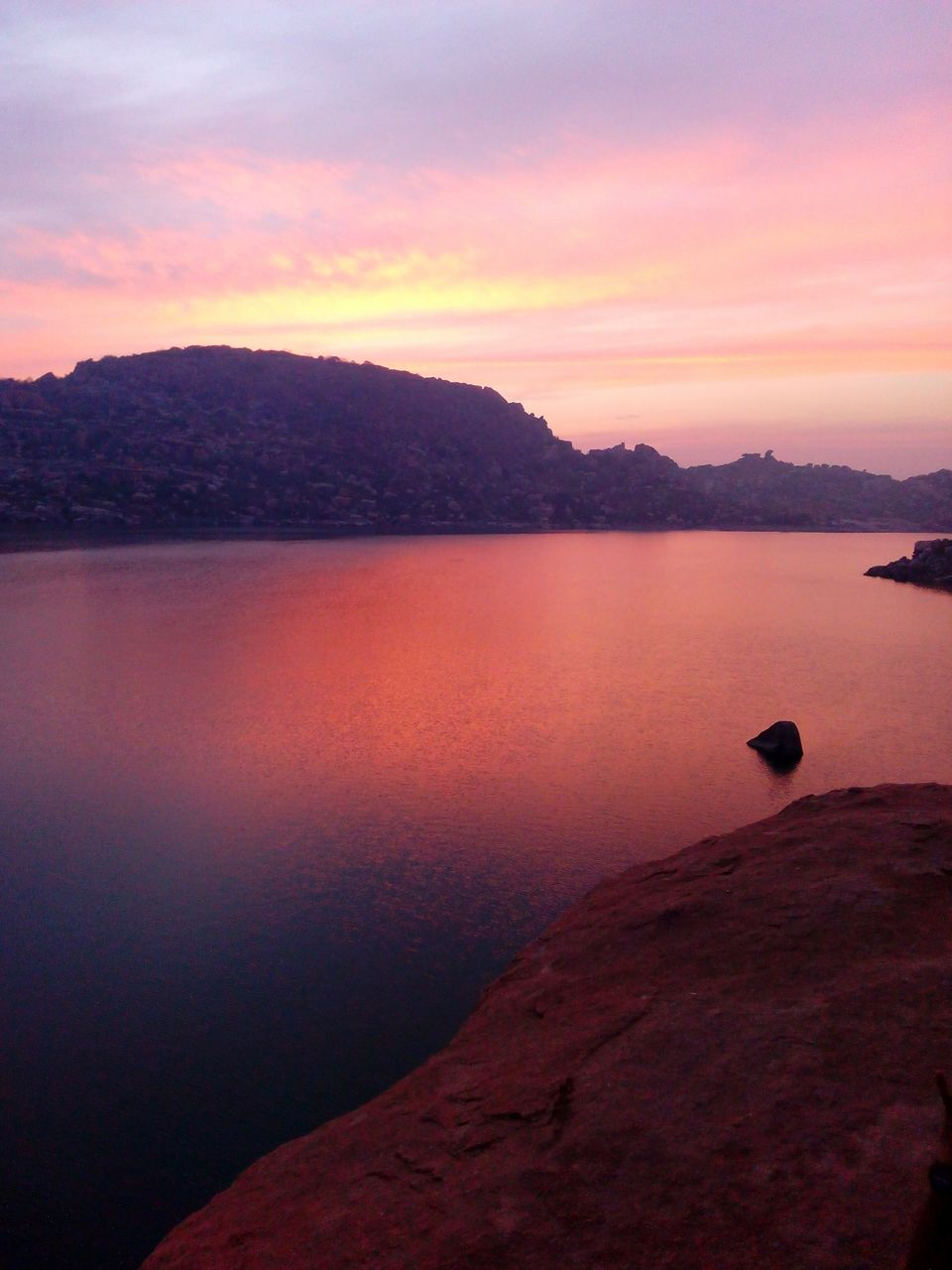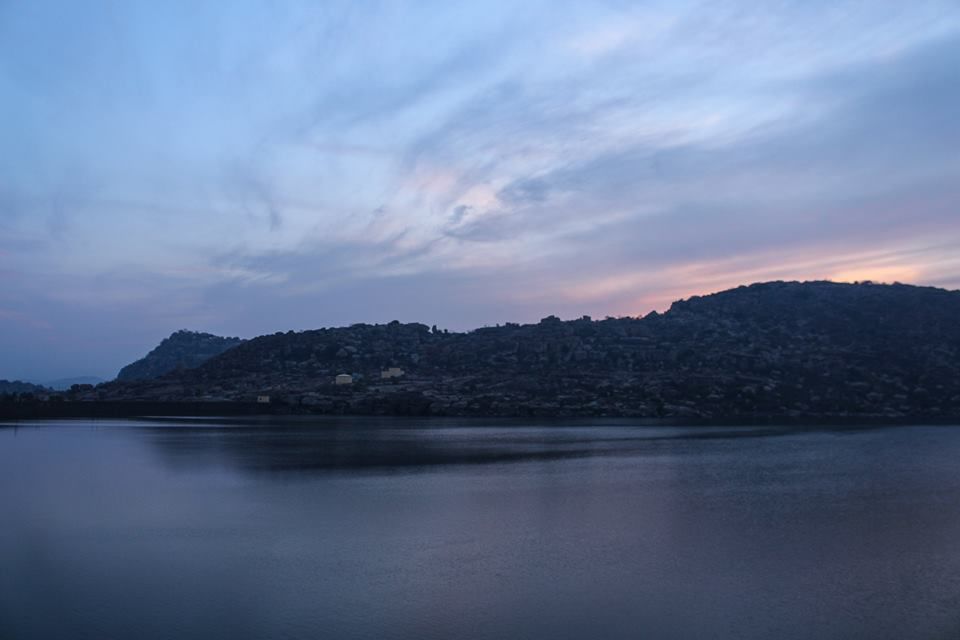 I started talking to a local there who was selling coracle ride on the lake, and when I asked that whether we can jump in the lake, he said –
"Yes you can sir"
I asked
"Crocodiles?"
He says
"Nahi hai sir. Woh aise hi daraane ke liye likha hai board pe taaki log lake mein na koode" (It's not there. We have written it to scare people from jumping in the lake)
I asked
"Kyun?"
He says
"Log bewakoof hain sir. Tairna aata nahi hai, aur kood jaate hain paani mein" (People are stupid sir, don't know how to swim and yet they jump in)
He didn't say the word bewakoof though! Ah!
b. Hampi Island
Or famously called the 'Hippie Island'
Why?
Coz, people from all over the world come here, spend weeks maybe months, and are seen smoking joints, painting, reading books in cafés, playing music, and what not. Totally not bothered about what people with conventional jobs may think. They have a smiling face all the time, and ready to make friends. A perfect attitude and way of living, which is selling the place just right.
You have to cross the Tungabhadra River to reach Hippie Island. It's situated very close to Sanapur village, maybe some 2-3 kms and the road goes through a small jungle, finally opening up to a heaven like place which has shops, cafes, resorts on the right side of the road, and irrigated fields on the left.
It's some kind of hidden gem if I have to do a metaphoric association, since placed inside and cannot be seen from the main road. And no, it's not some piece of land surrounded by water as you may think from the word 'island'. It's a small cosy place which gives you a feeling of freedom and bliss, consistently.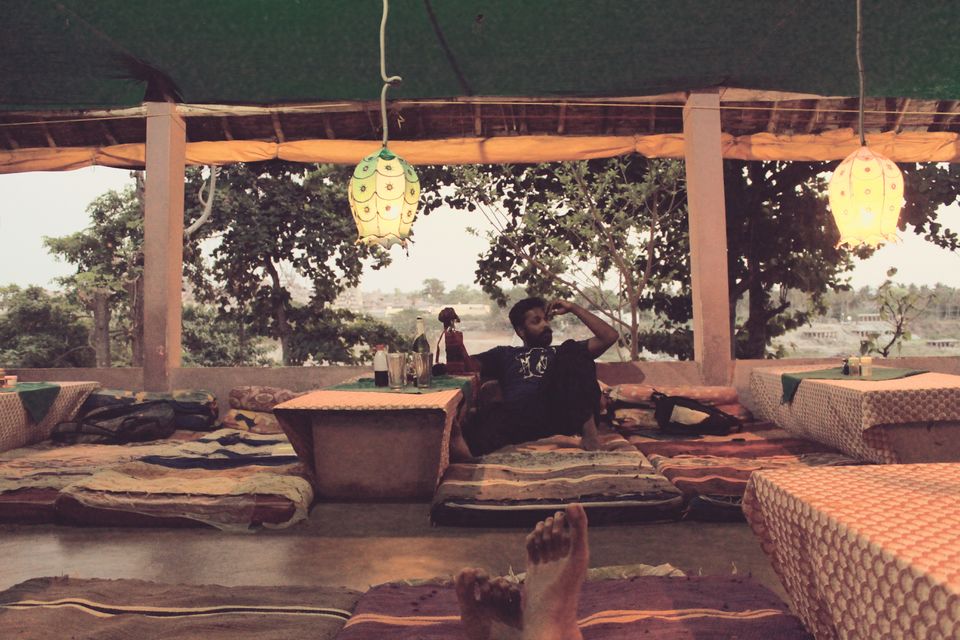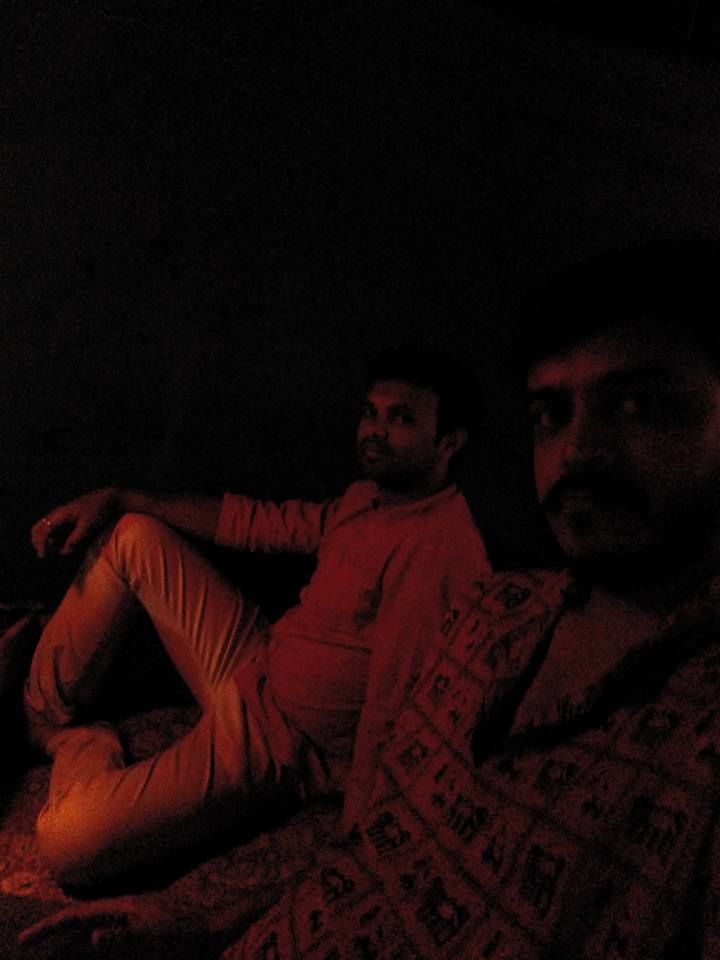 c. Gali Music shop
The Hampi Island adorns lot of wonder filled places, be it Sri Uma café, Mougli resort, local retail shops or water irrigated fields, one place that made an impression on me was this tiny shop selling musical instruments. The owner 'Gali' (pronounced Gaali) was himself a skilled musician and composer. I and my friends had met him in a café, passionately singing and playing drums and then he invited us to his shop. My friend Niranjan is himself a professional piano player, and so he connected with him well.
His shop was packed with all kinds of instruments which he got from all over the world, and there were tourists/travelers passing by and greeting him from a distance. He was a famous guy around.
When we visited him, it was just a matter of time that we started jamming with him.
Presenting Gali on the guitar, and Niranjan on Piano, doing some Jammin -
If you are a musician and looking to explore some instruments in Hampi, this is the place to be
d. The boat crossing near Anegundi
This is a very interesting part of the journey when you are heading towards Hampi town, or coming from Hampi to Anegundi/ Sanapur. In either ways, you will have to cross the river Tungabhadra which is a long river cutting the place into two parts (one part has Hampi, other has Sanapur and Anegundi). And to reach to any of these parts, you will have to cross the river.
There are two ways of reaching to either sides, one is to use the road and make a long way U-turn which is around 40 kms of drive,
OR
Now here's the interesting part,
Cross the river on a boat!
How did it sound?
Wait for it….
If you have a bike, the boat will even carry that.
Kaboooooom!
When I heard that, I went all nuts. I had to try this option for sure. And there I was :)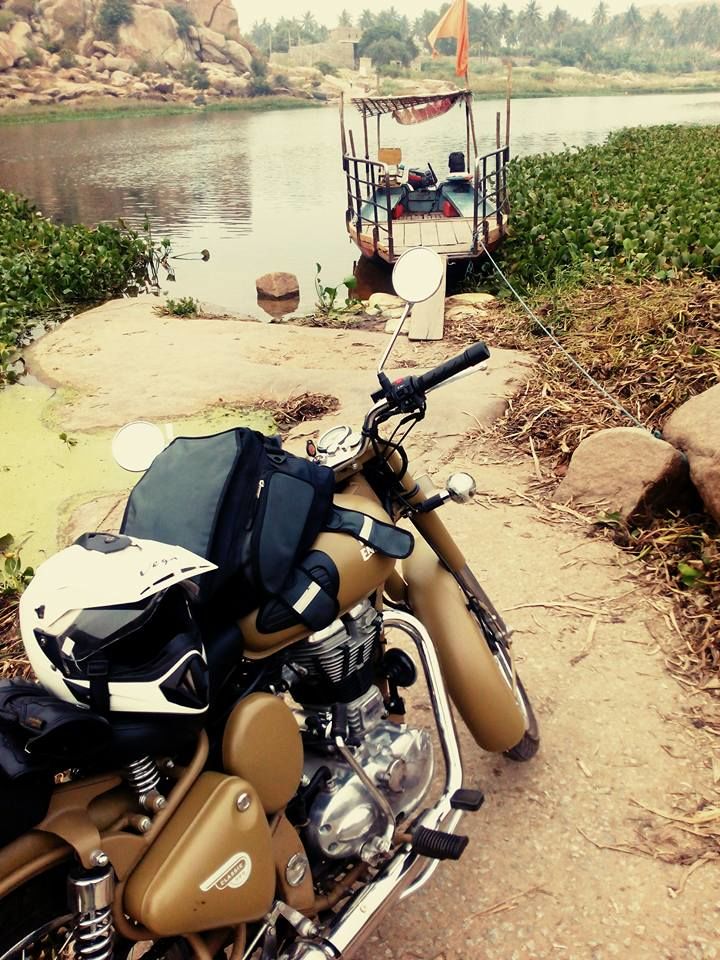 Unfortunately my camera went weird at this time, and i couldn't take pictures. I crossed the river with my bike loaded on the boat, and it took us 3 mins to reach the other side.
e. The 40 km scenic road from Sanapur to Hospet
My idea of a road trip is not to just hang around in one place. Stopping at one place limits your possibilities of knowing something more. There could be something new and different waiting for you, which you may simply love. And to experience that love, you have to move around.
Though Hampi island was a phenomenon of its own, but I still decided to move out. And with this driving force, I started moving towards Hampi main town via hospet, by road. I wanted to see what the road had to offer.
And wow!
Big mountain of rocks one after another. Incredible formations! Villages, fields, coconut trees, and a perfect road going through these amazing scenes. This is what Hampi is all about. When you look at all these scenes, you feel a certain connect with nature. You feel liberated! A certain spiritual energy that makes you realize that you are one with everything.
Well, not getting much into philosophy, my suggestion is that you go there and feel the road for yourself.
Warning - Don't go during summers otherwise all this philosophy will fail. Courtesy – extreme heat, Haha!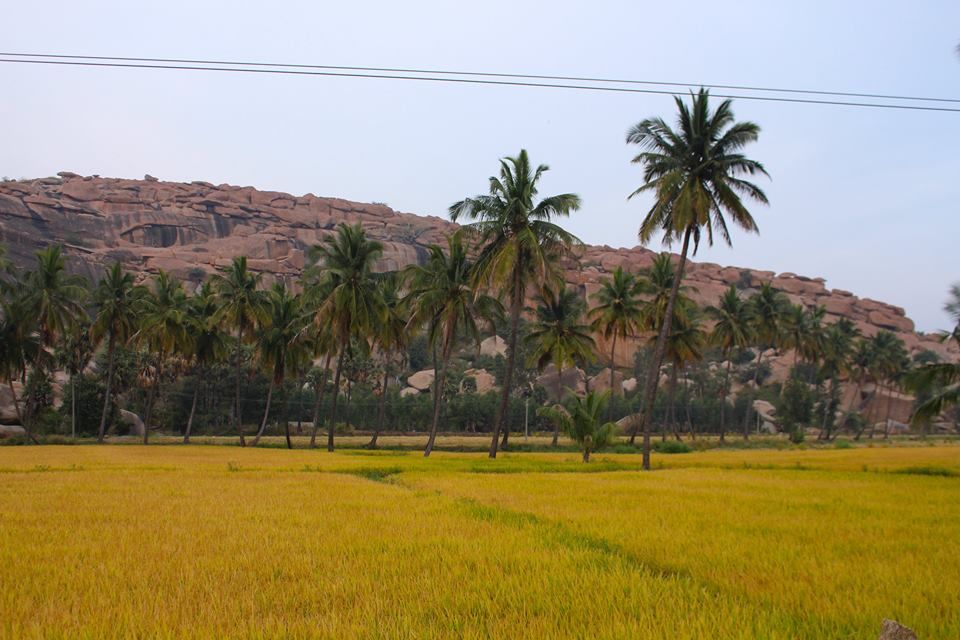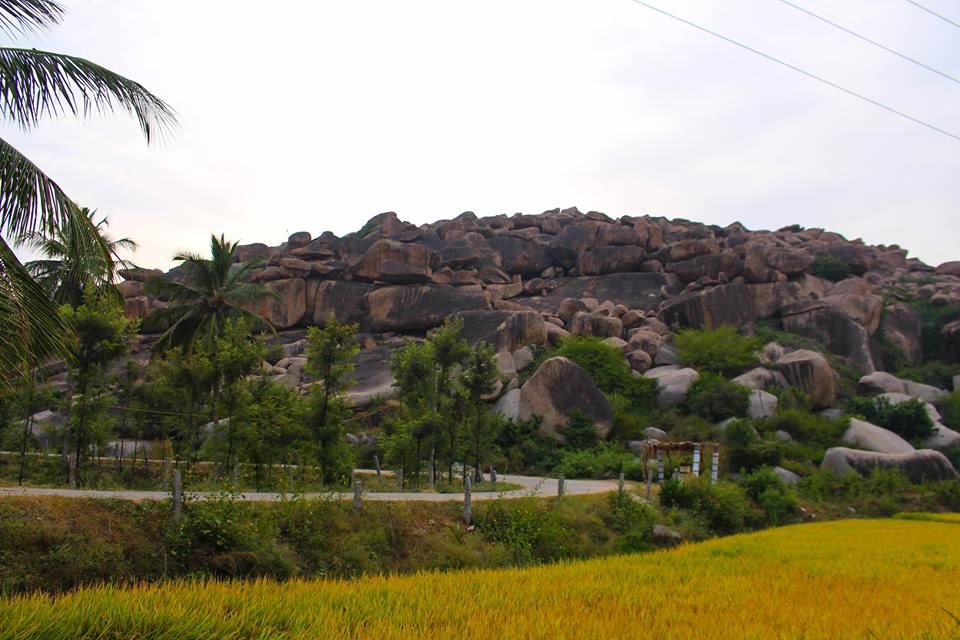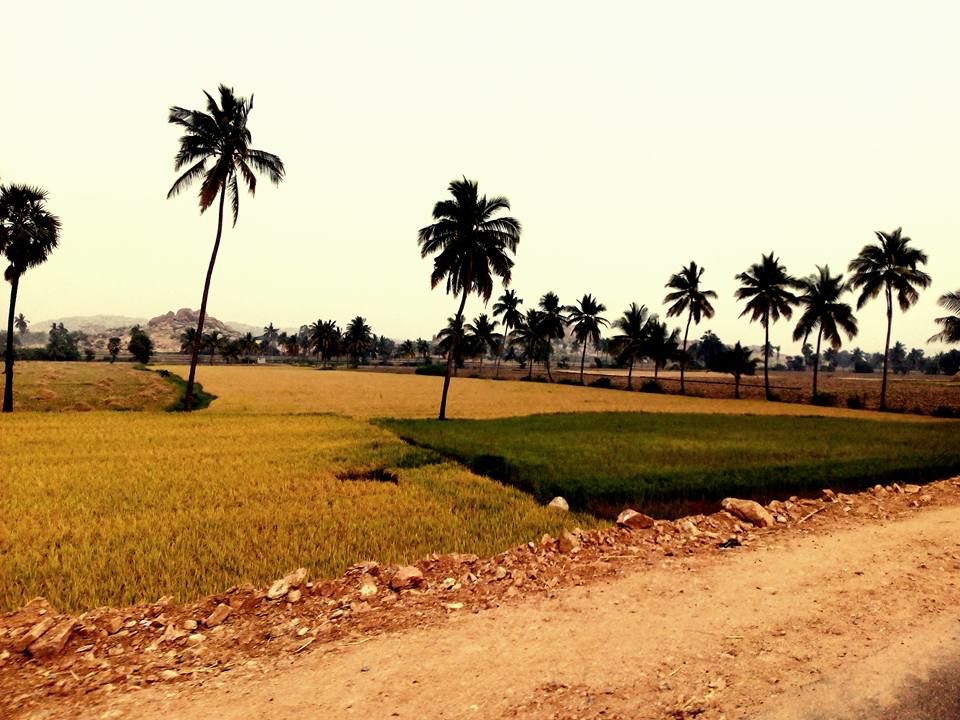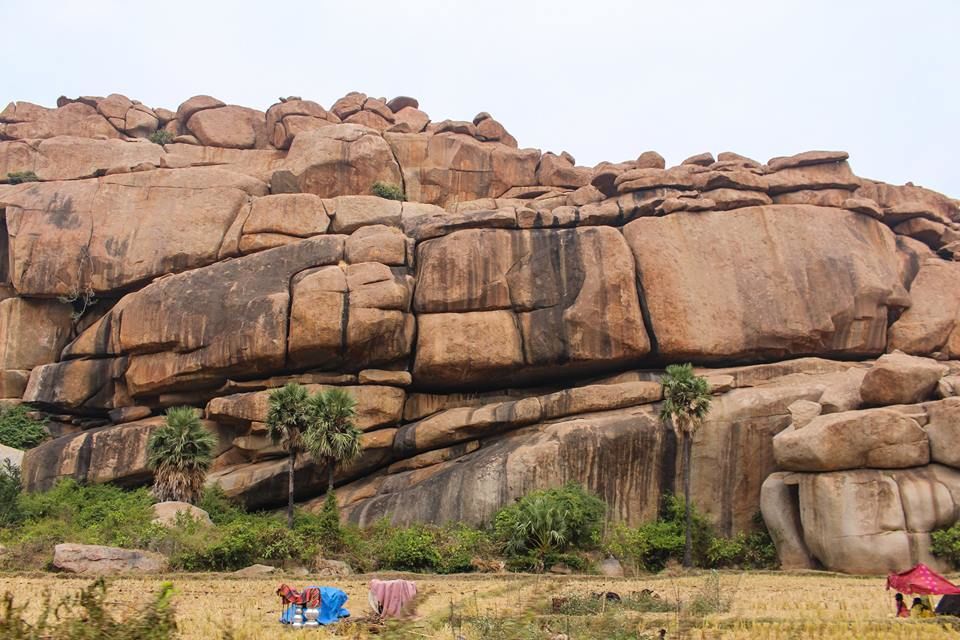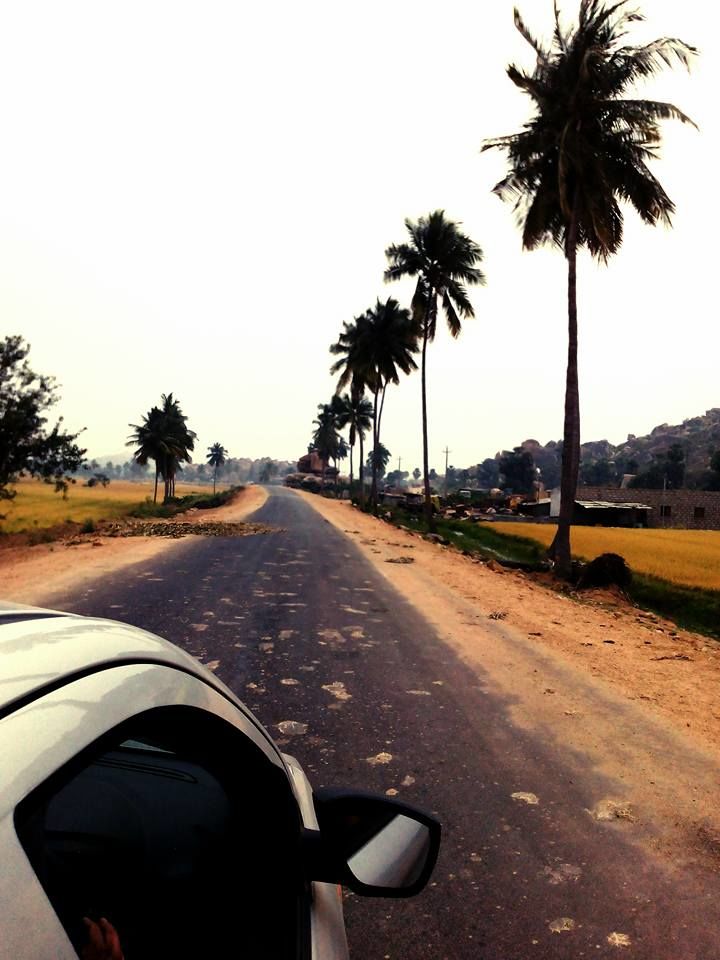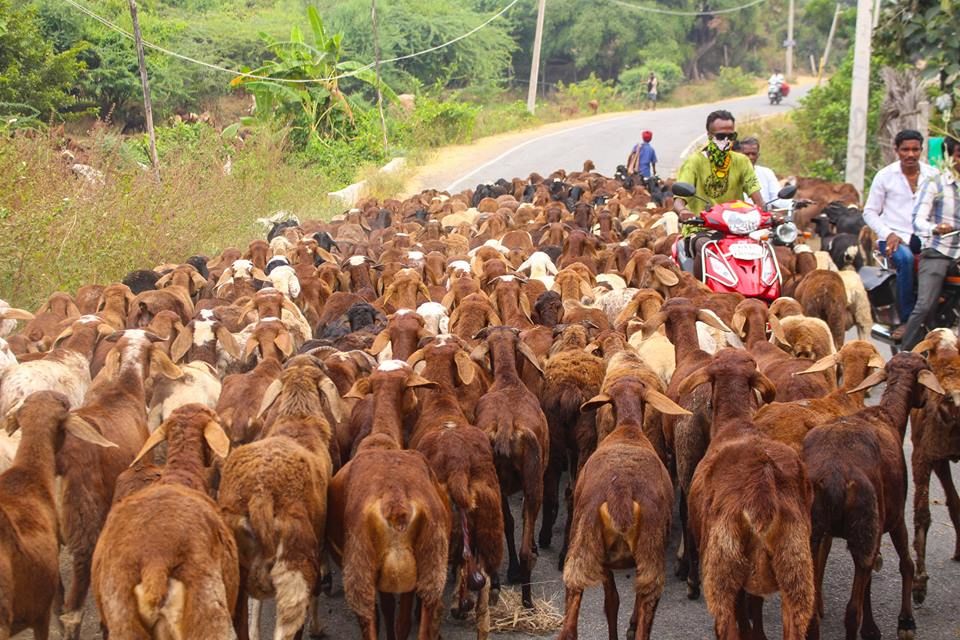 f. Daroji Water Reservoir
This is one more unusual place which I am guessing not many know about. This is not exactly in Hampi or surrounding places. Slightly placed far from Hampi (say 30-40 kms), there comes a huge water reservoir on Bellary – Kampli road.
It was desolated and silent when i went there. The 'kaccha raasta' along-side the lake was going to a steel plant.
And when I saw the lake for 5 minutes, I had to wait till the sunset. There was some kind of magnetic pull which made me stop. A perfect spot for sun going down and fading as dark orange.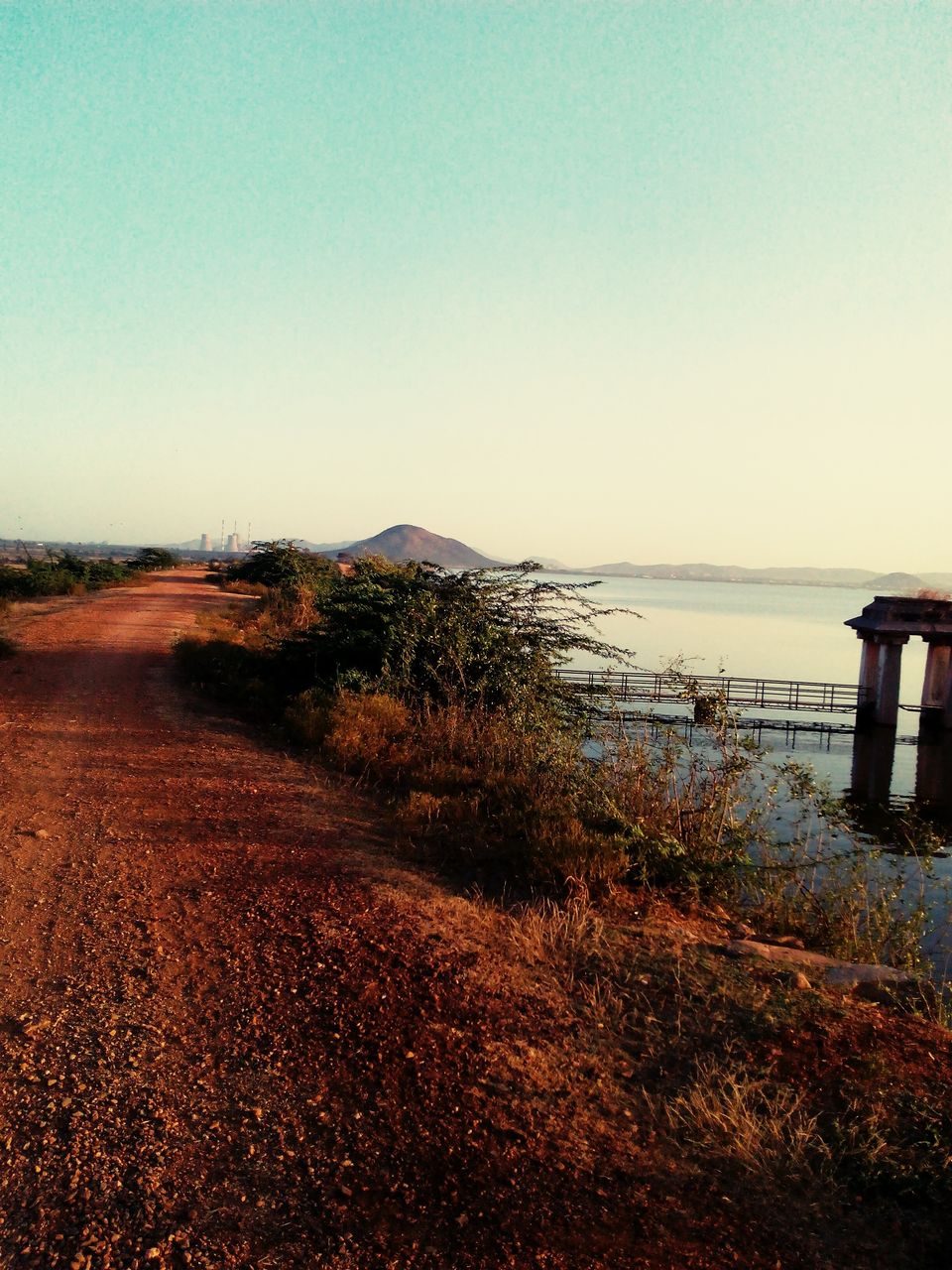 g.Hampi Main Town
Ok guys, I and my friends were not savages who would dwell on the rocks and jungle for the entire time. We decided to check out the main town area, and famous temples of Hampi
Here goes, hope you enjoy the collage -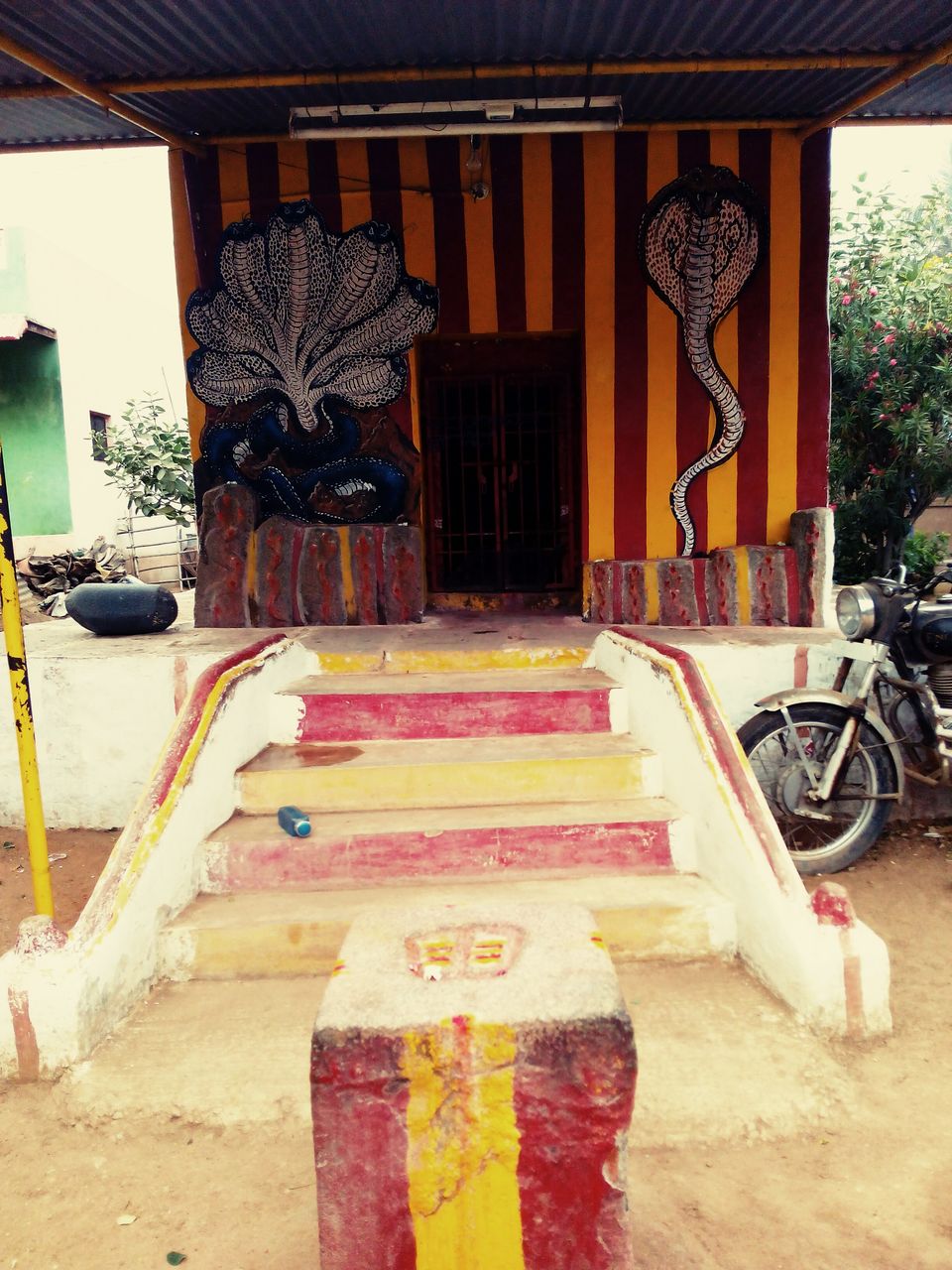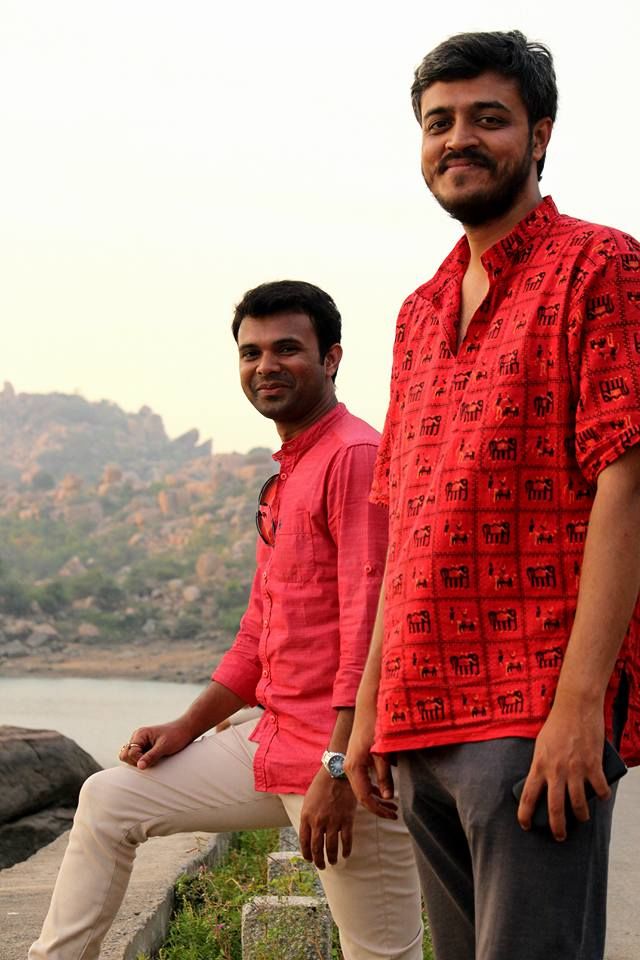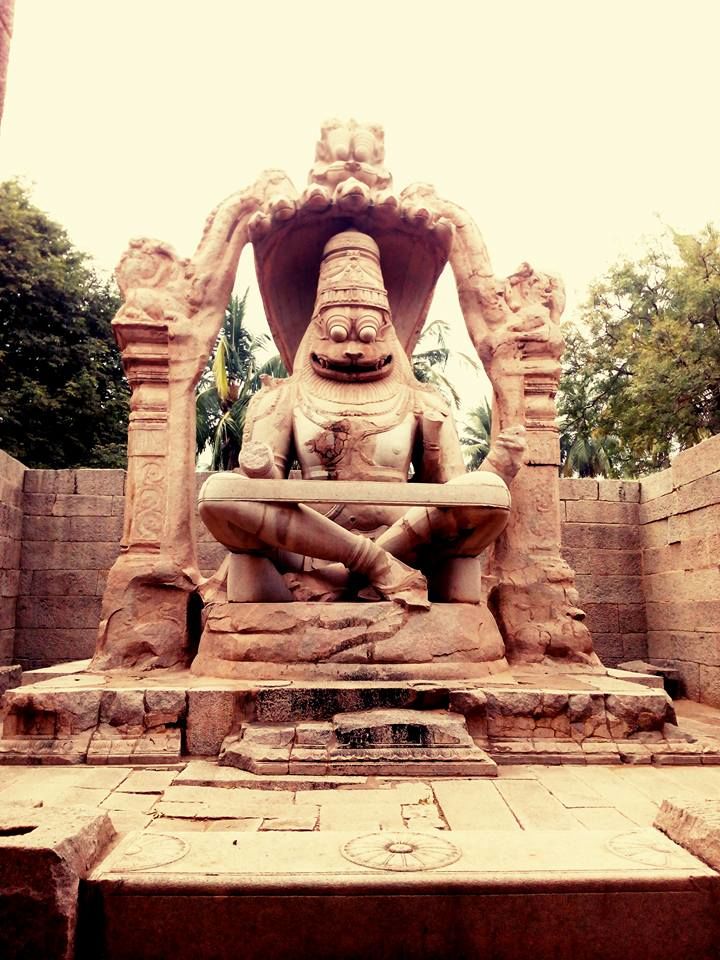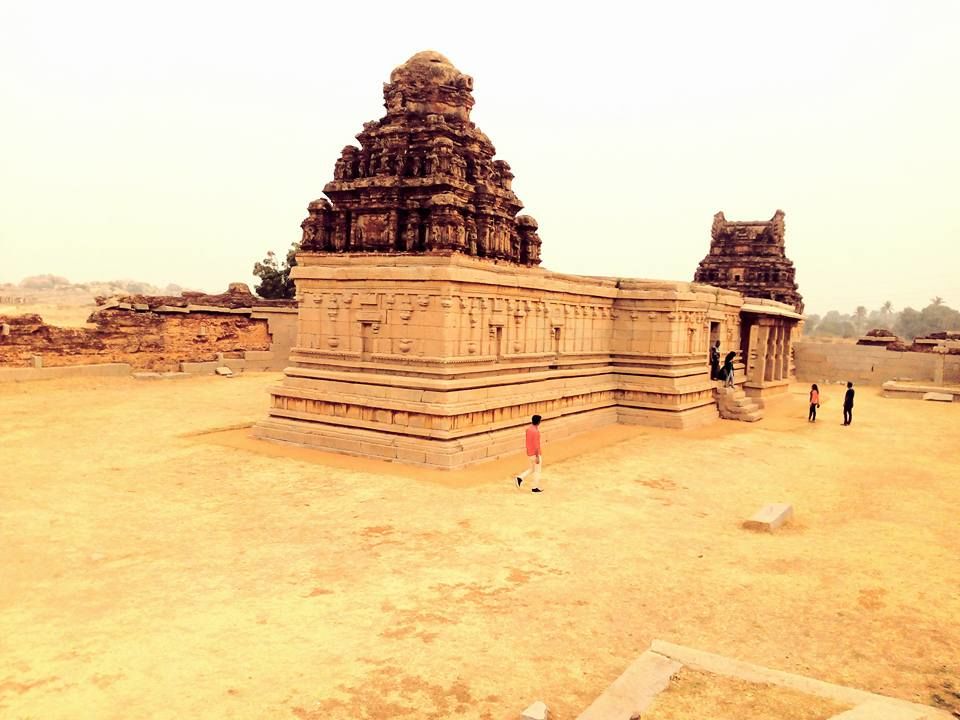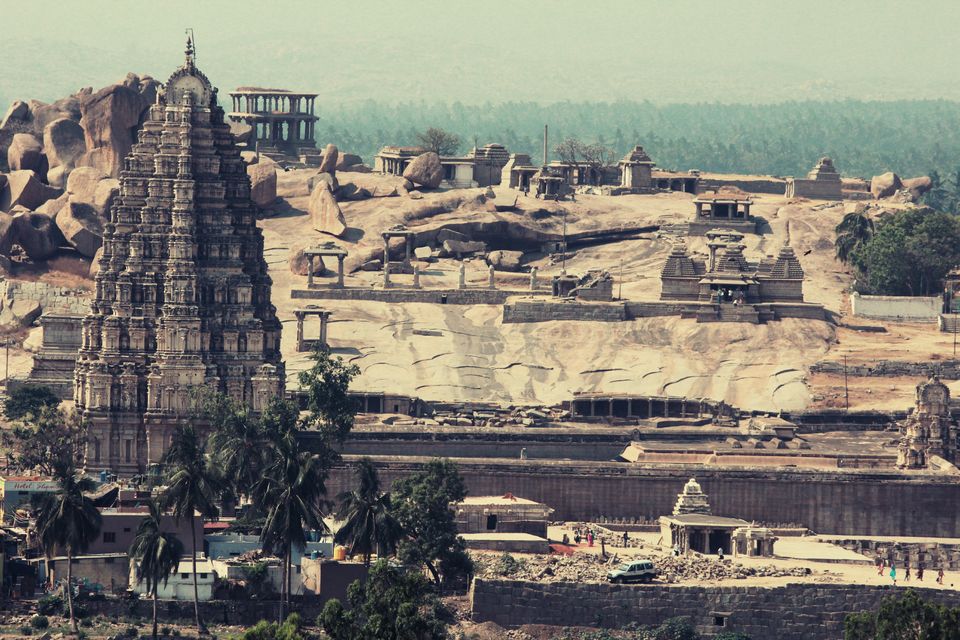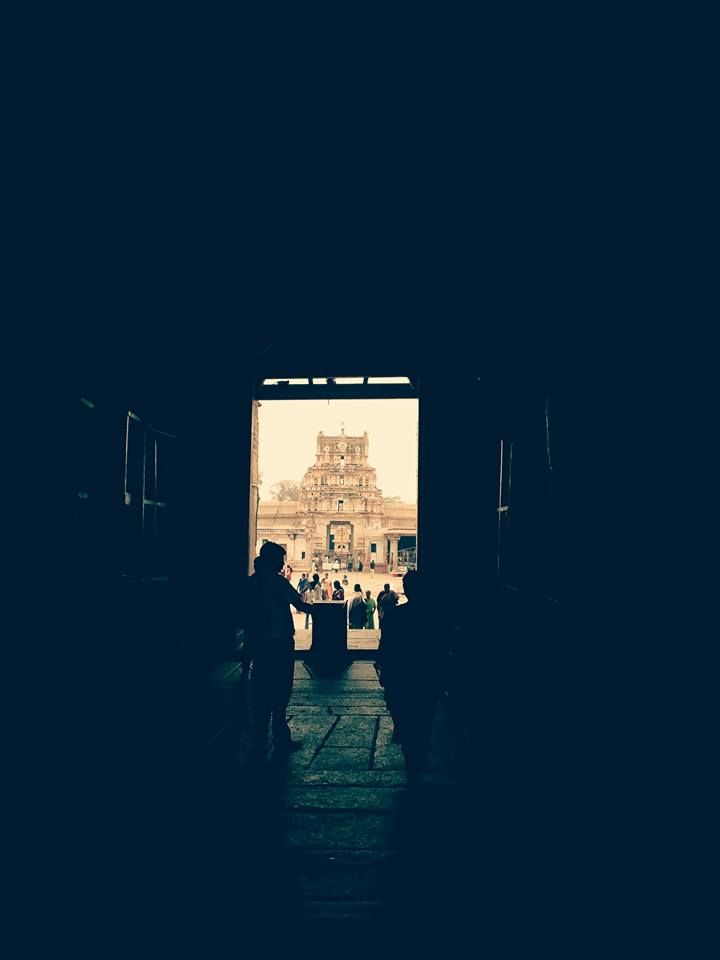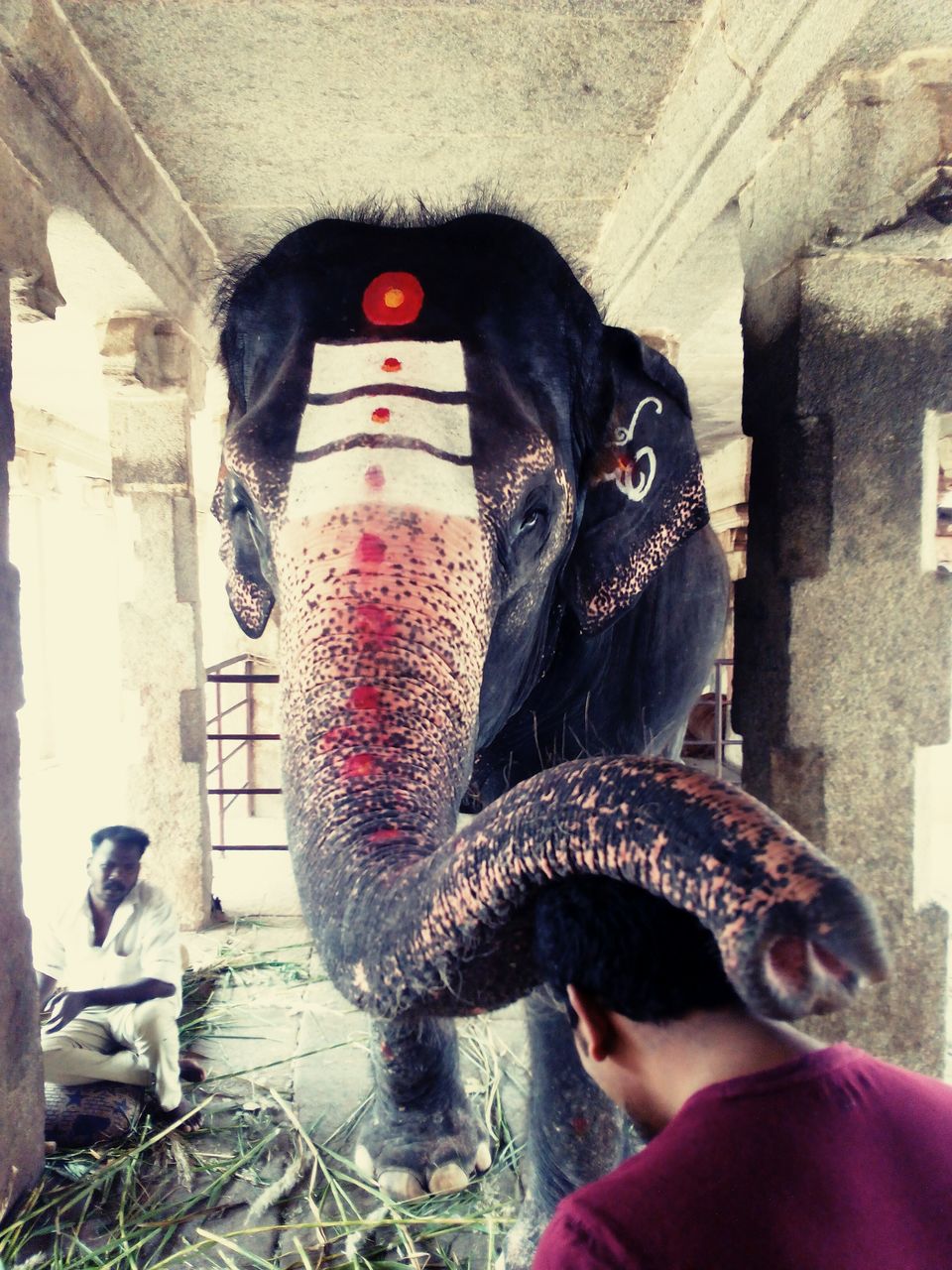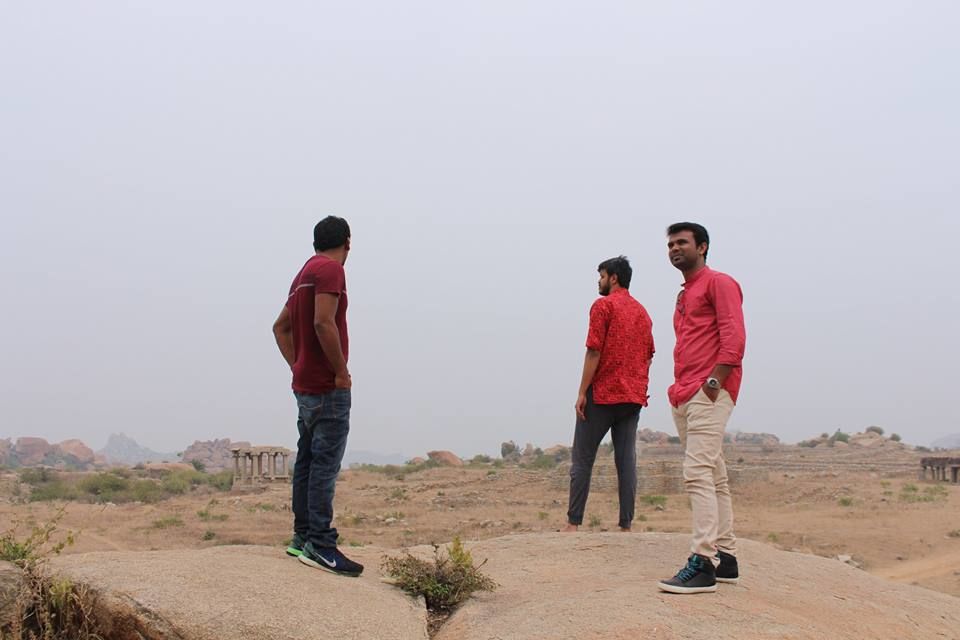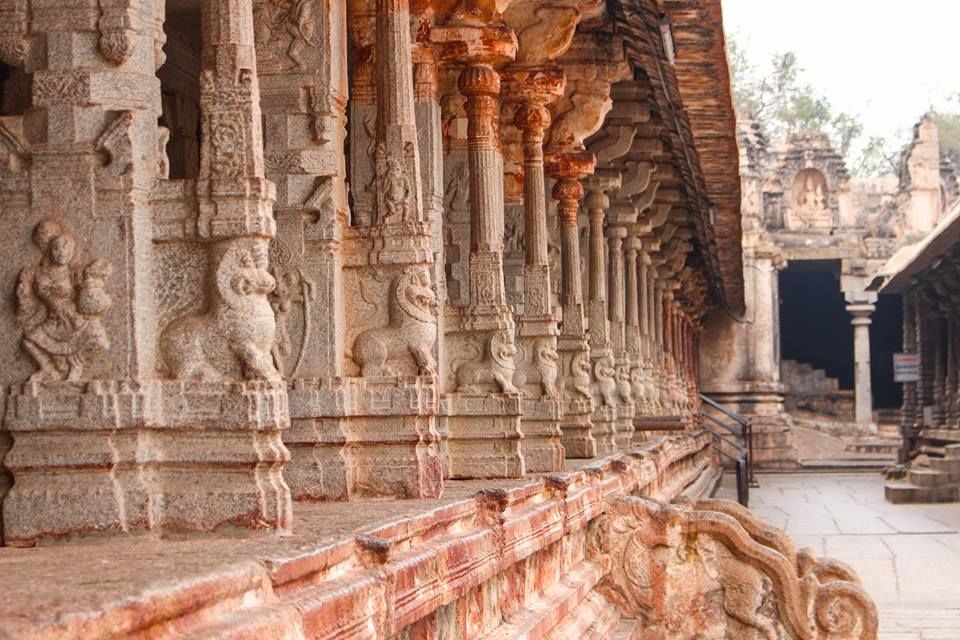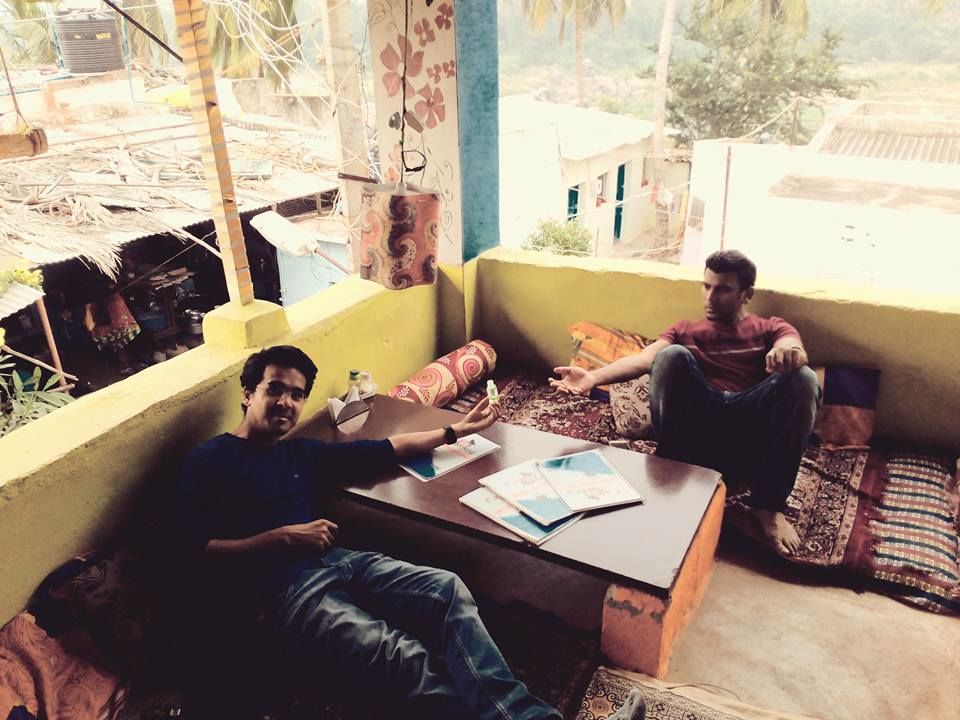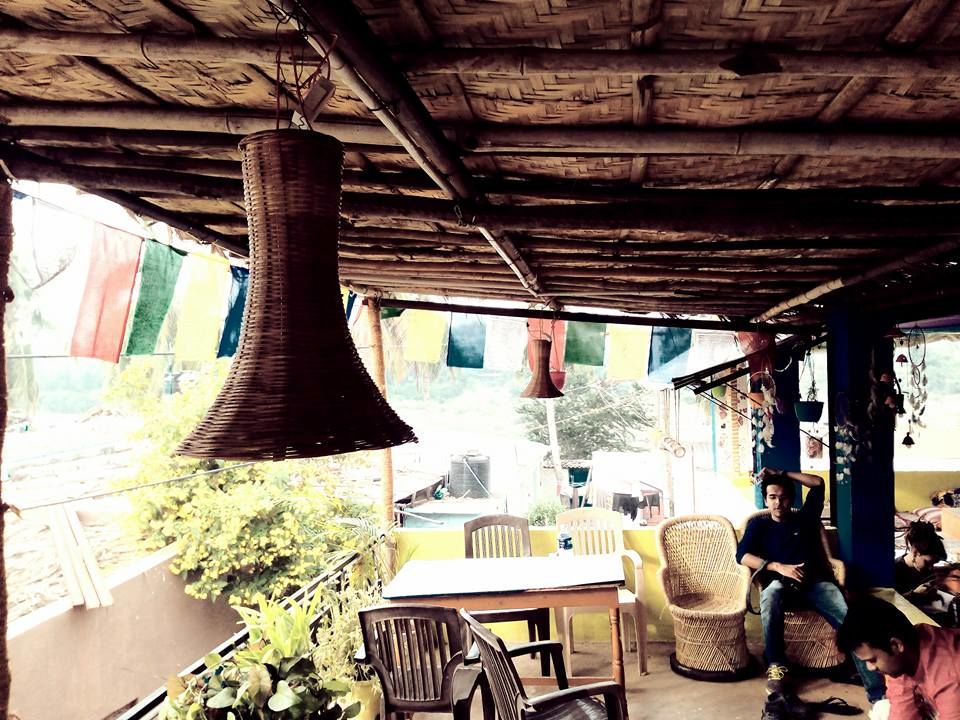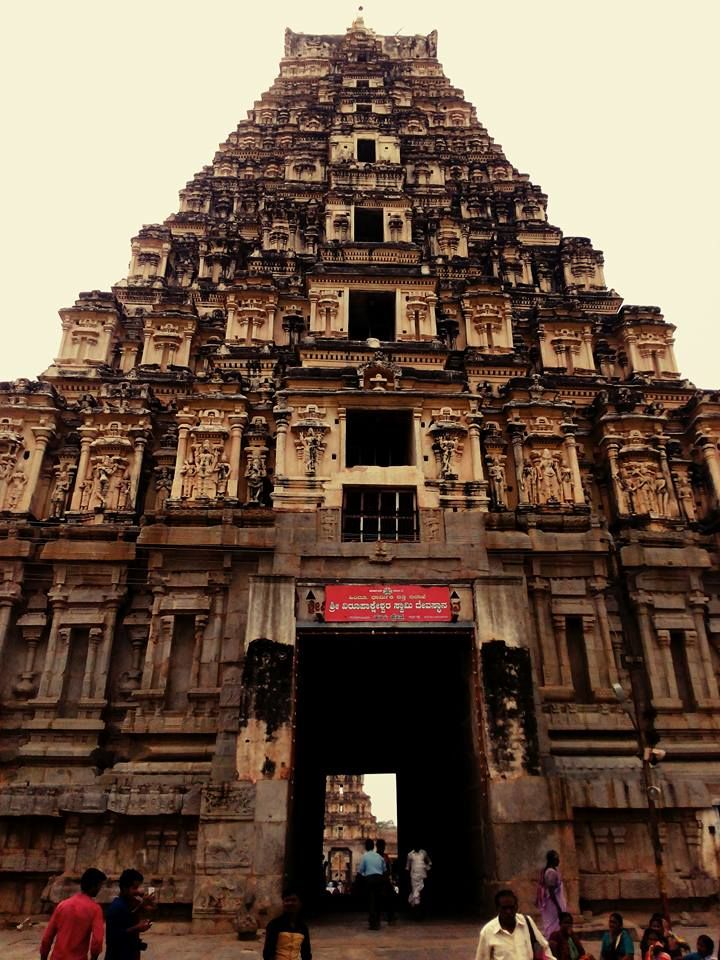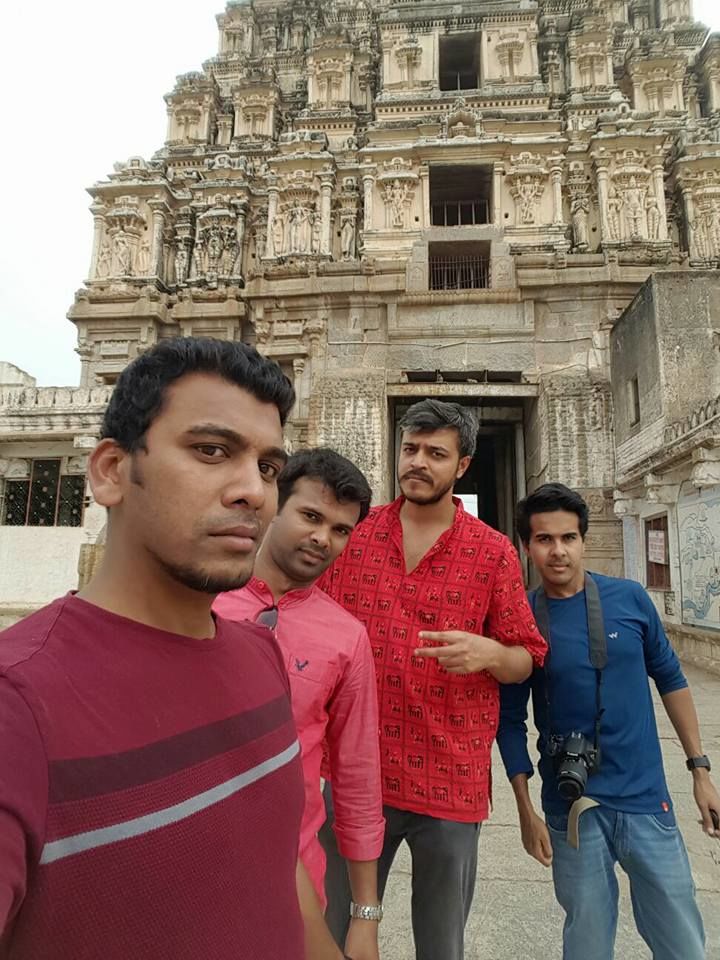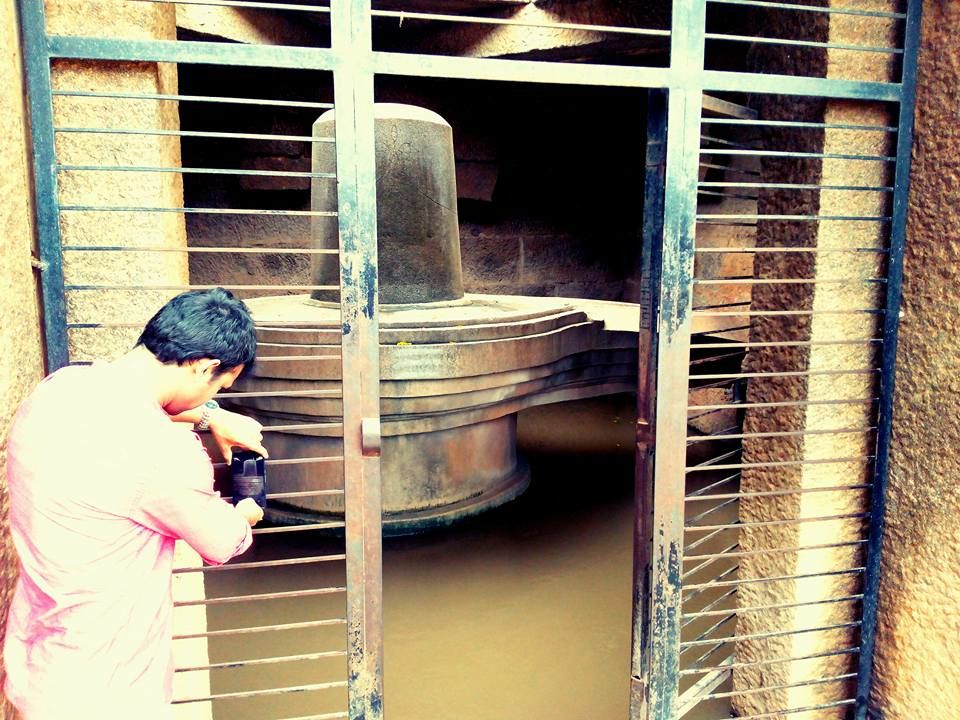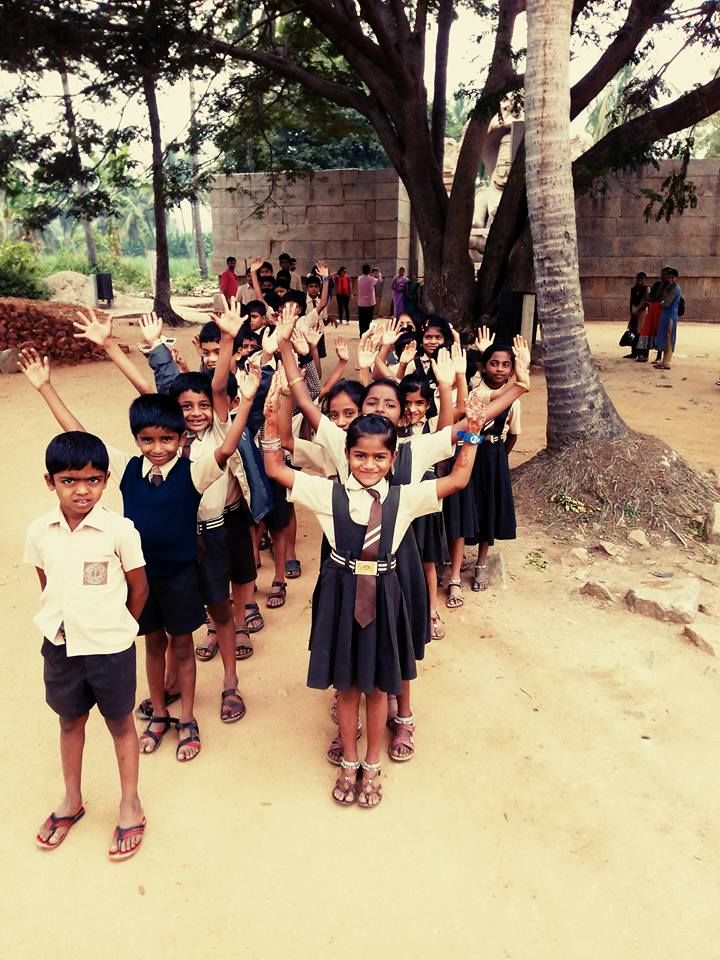 Guys, I am Deb based out of Bangalore and a travel freak. I am owner at travel company 'Rubber and Torque', and organize bike road trips to exotic locations in India.
Recently we concluded 'Hampi' and it was an awesome experience!
Below is the facebook url. Please visit and like my page. Thanks
https://www.facebook.com/RubberandTorque/?fref=ts
Instagram Account - @rubberandtorque
The journey doesn't end here. There are many travelling and biking to be done, update of which you will get on my page.
So stay tuned folks
Cheerz!