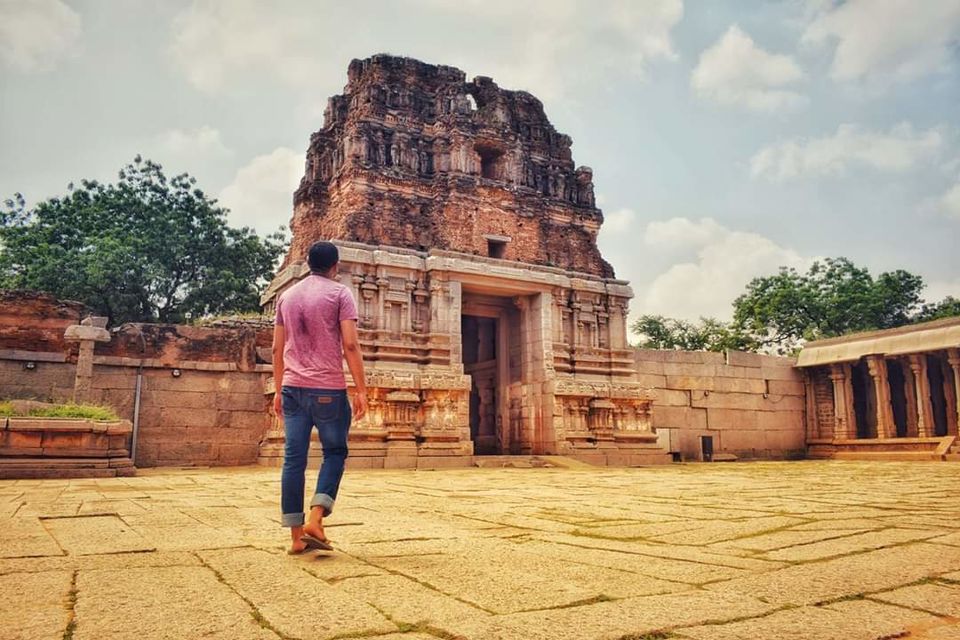 In the mid November with my travel partner Mr. Srinivas Prasad, I planned our heritage trip to City of Ruins & capital of the Vijayanagar Empire – Hampi.
Hampi is situated on the bank of river Tungabadra, located near Hospet town in the Karnataka state, India.
Hampi is known for its beautiful temples, ruins of palaces, remains of aquatic structures, ancient market streets, royal pavilions, bastions, royal platforms, treasury buildings... the list is virtually interminable. Hampi is a hitchhiker's paradise as well as pilgrim's pleasure.
Hampi is well connected with train as well as buses. Hospet Junction railway station, located about 13km from Hampi.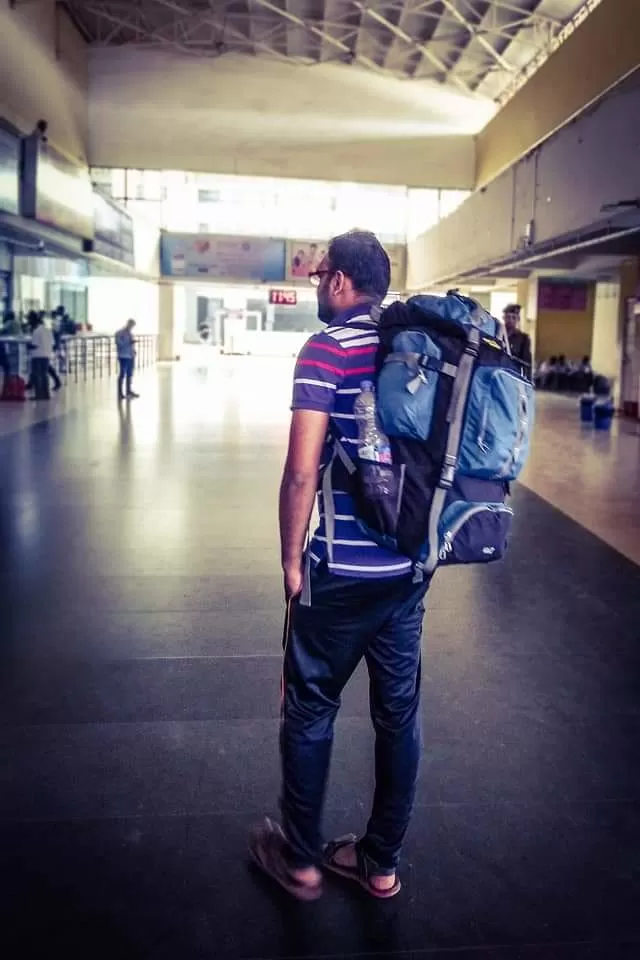 Hampi an open museum with abundant architecture requires minimum 2-3 days to uncover. We went Hampi by bus from Hubli, Karnataka. We reached Hampi in the morning 9.30 AM. We hired an auto to hitchhike. the monuments are widely dispersed over 4,100 hectares (16 sq mi) and it has been described by UNESCO as an "austere, grandiose site" of more than 1,600 surviving remains of the last great Hindu kingdom in South India that includes "forts, riverside features, royal and sacred complexes, temples, shrines, pillared halls, mandapas, memorial structures, water structures and others".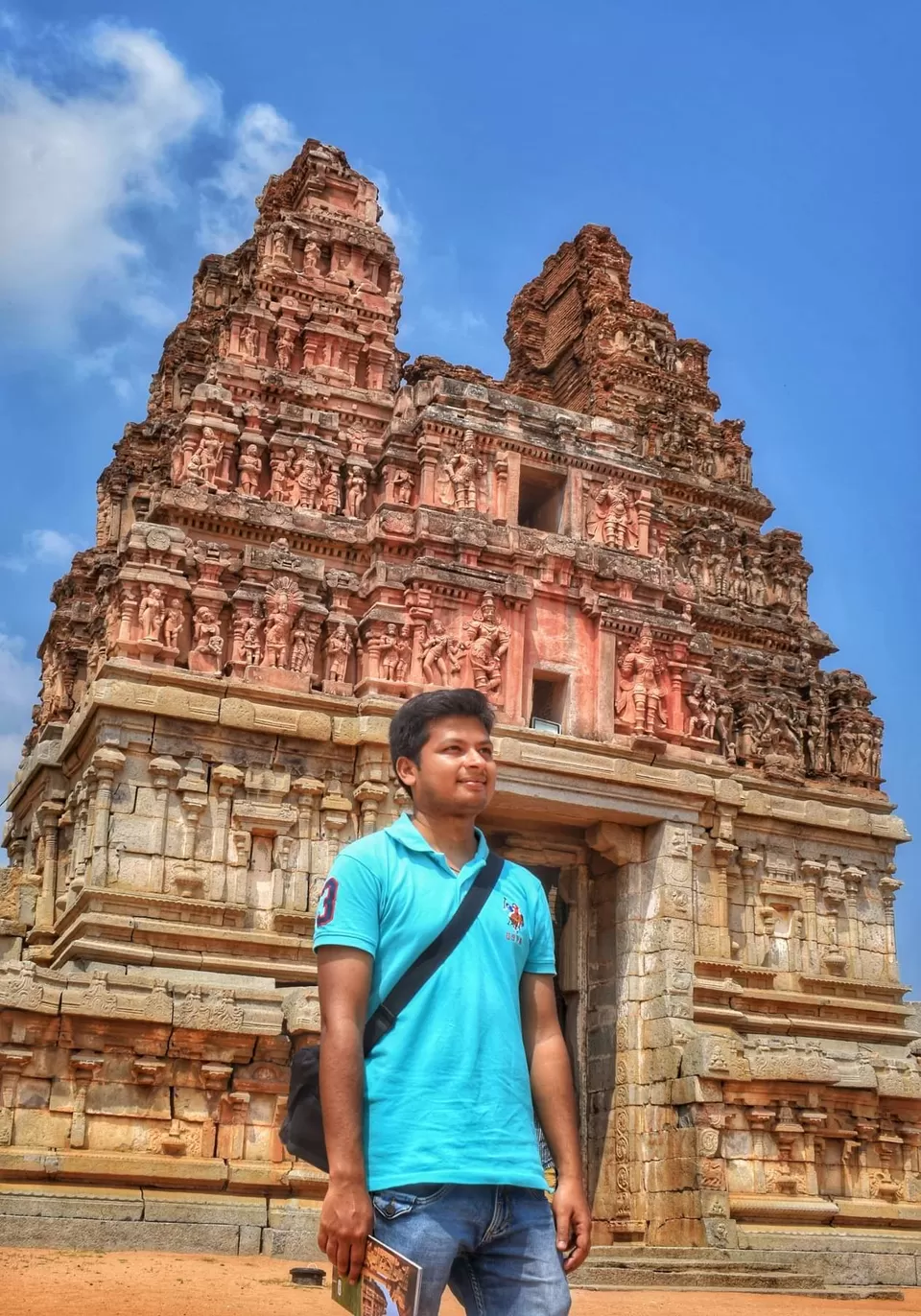 In the morning First we visited Vijaya Vittala Temple. the temple is most ingeniously sophisticated with Music Mandapa and Stone Chariot. The mandapa has 56 carved stone beams of different diameters, shape, length and surface finish that produces musical sounds when struck.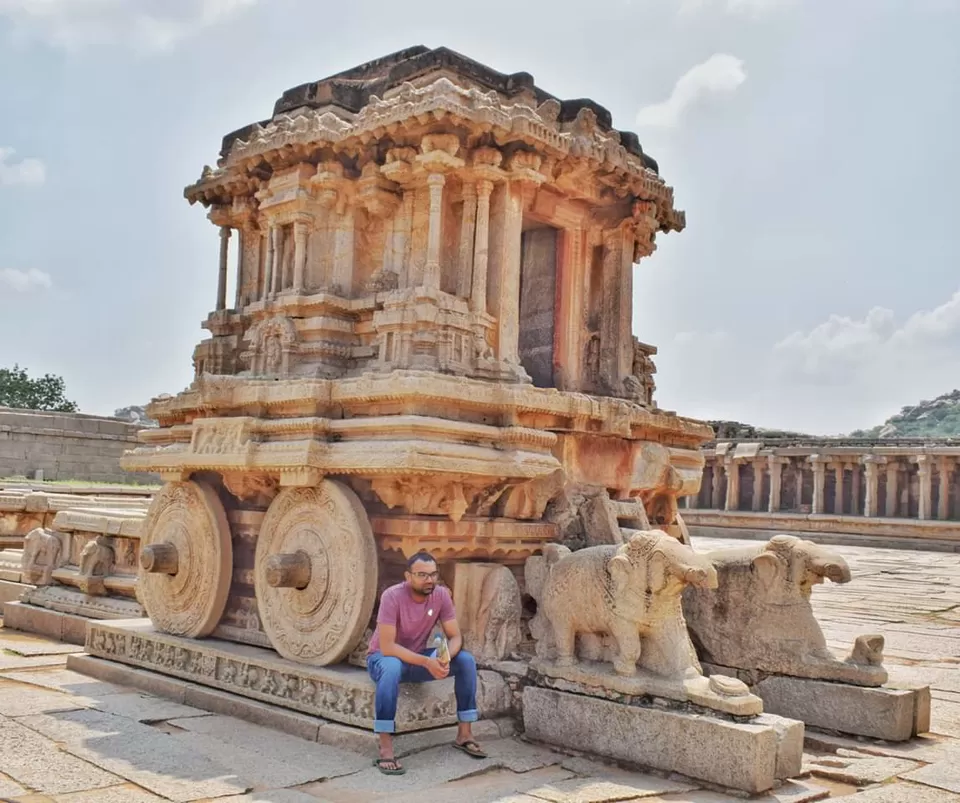 Near to the temple we can see the market complex, where the gold, silver and gems were selling on roads!!! this is what makes us Proud Kannadigas and Proud Indians!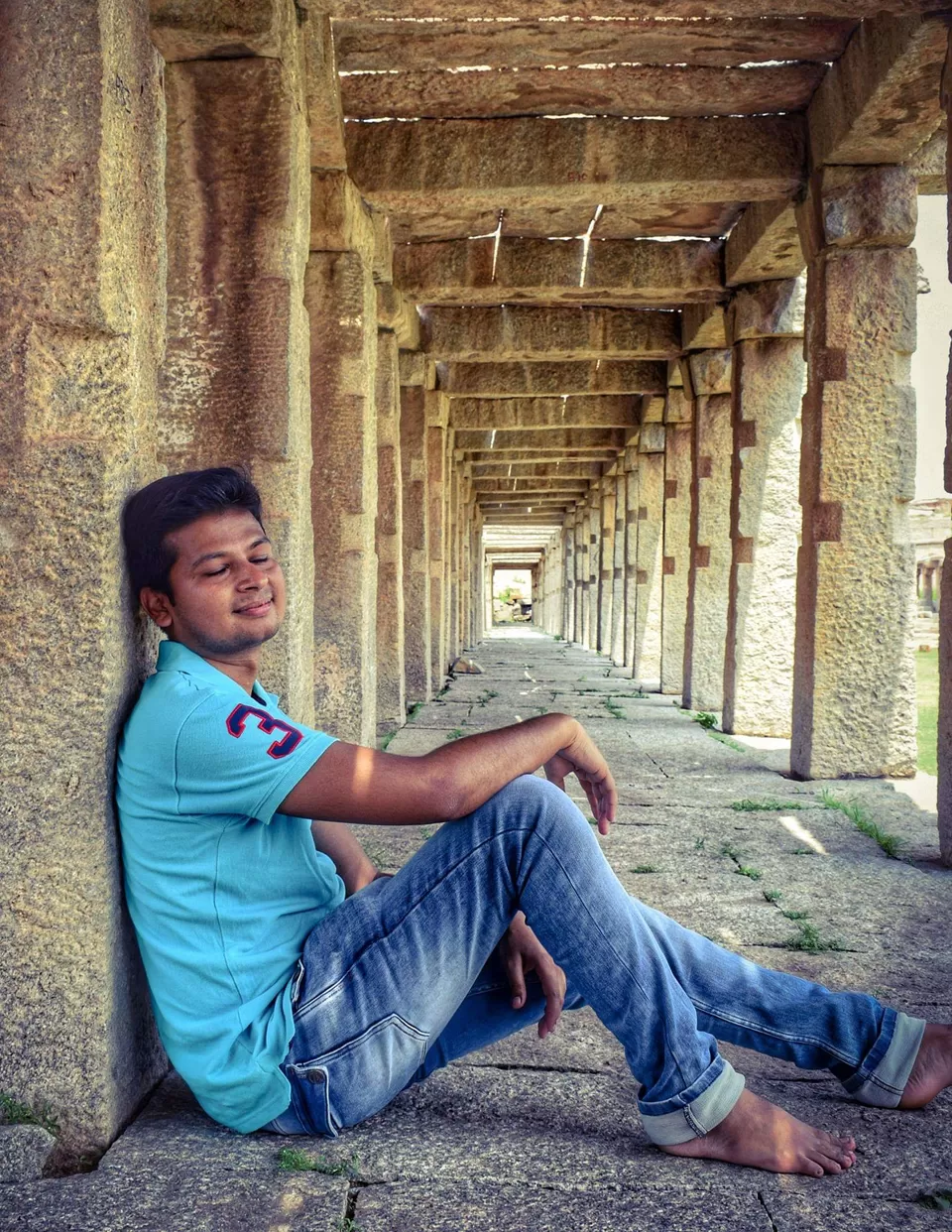 Then we moved to The Hazara Rama temple, dedicated to Rama of the Ramayana fame. The inner walls of the temple has friezes containing the most extensive narration of the Hindu epic Ramayana.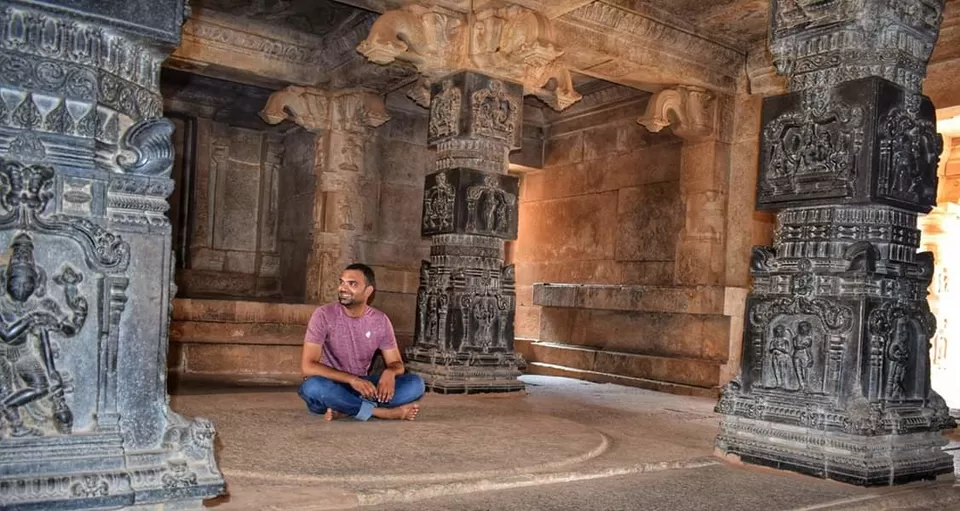 On the way towards center of the city we visited Mahanavami platform, water pavilions, Gajashala, or elephant stables, lotus mahal, monolithic Badavi Shivalinga, Yoga Narasimha, Kadale kalu ganapa, Sasive Ganapa and also Hemakoota hill temples.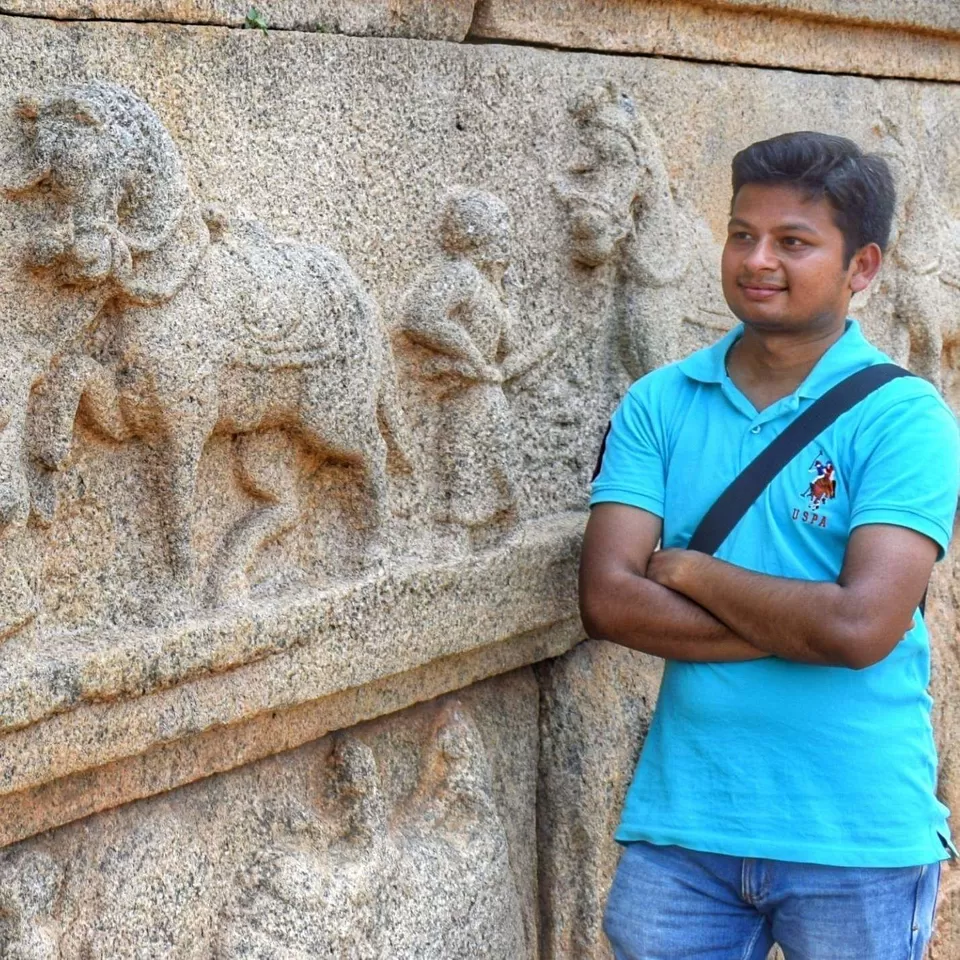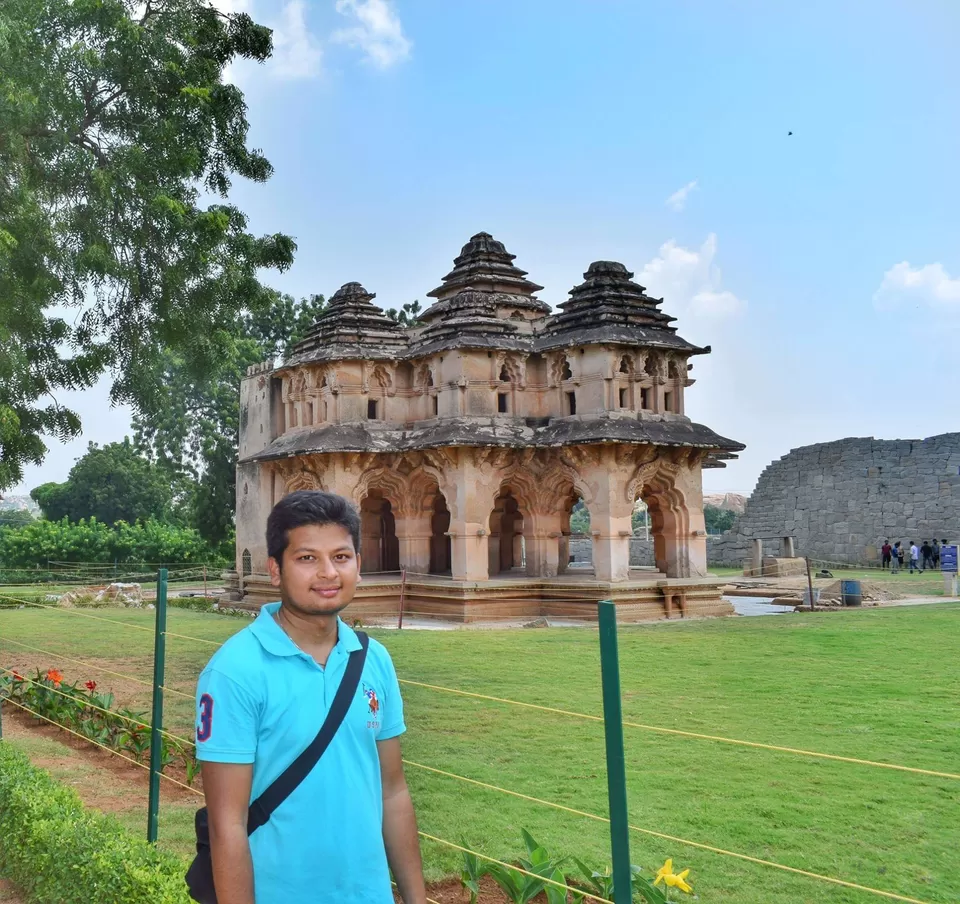 Mahanavami Dibba is an excellent platform made to ceremonial clebrations especially Dasara. Archaeological excavations revealed more than twenty-three wells and cisterns in the Hampi. Near to the Mahanavami Dibba there is a large, square-stepped tank that was fed by an aqueduct. The city plan of Hampi is fascinating!! Each monuments, sculptures will hypnotize with its beauty and tells the mighty stories. Hampi was declared a UNESCO World Heritage site in 1986 and many efforts have been taken to restore the lost glory of the place.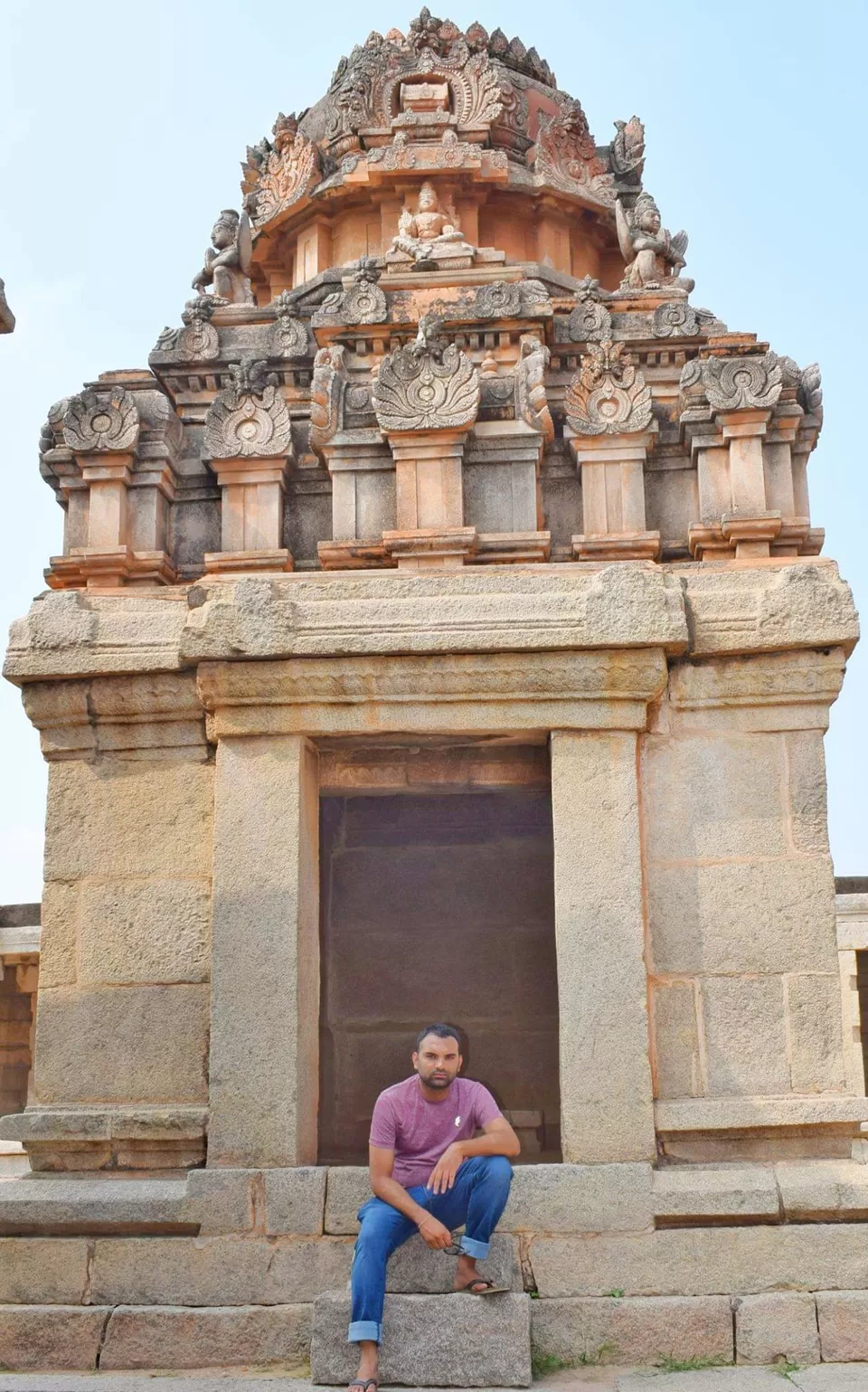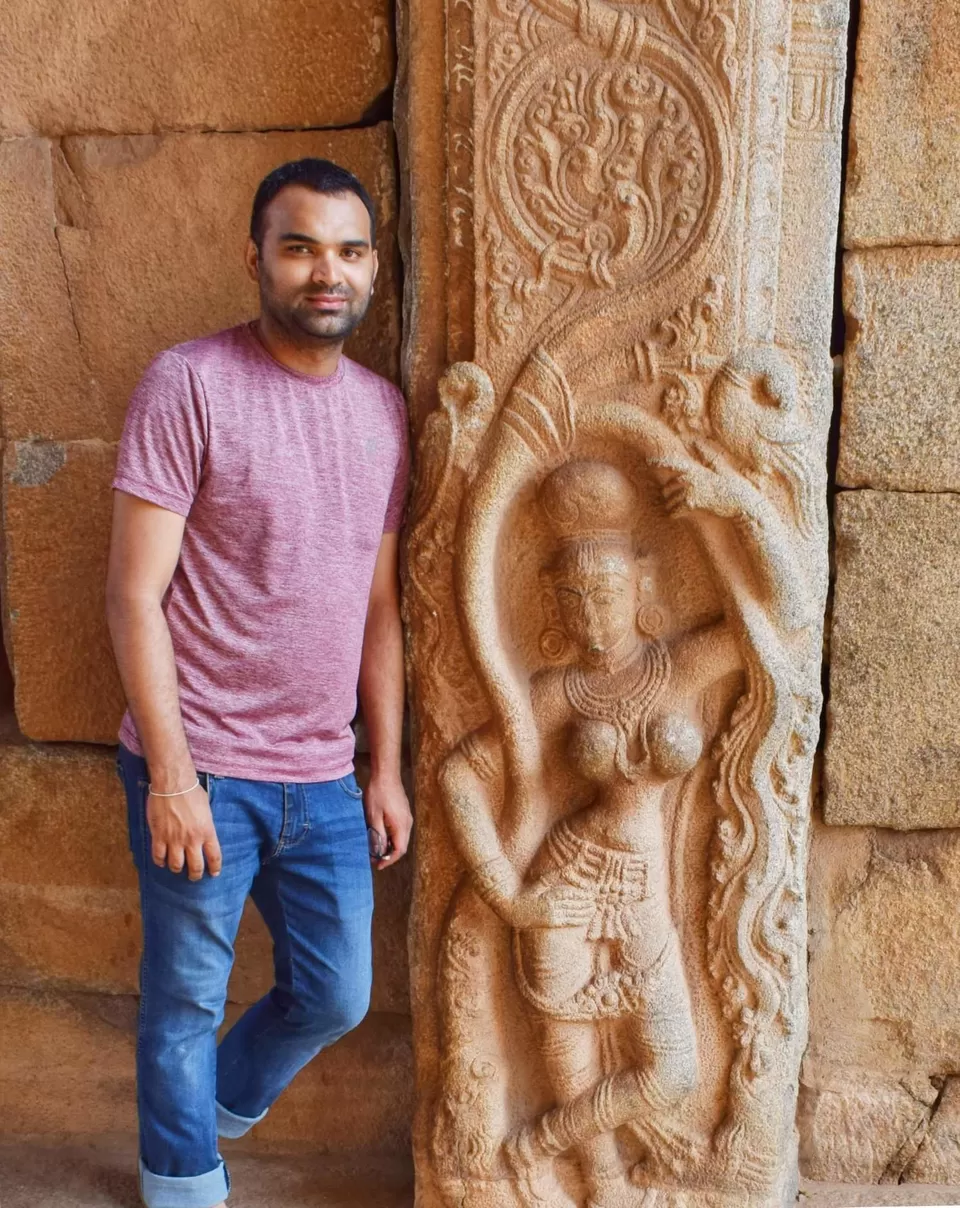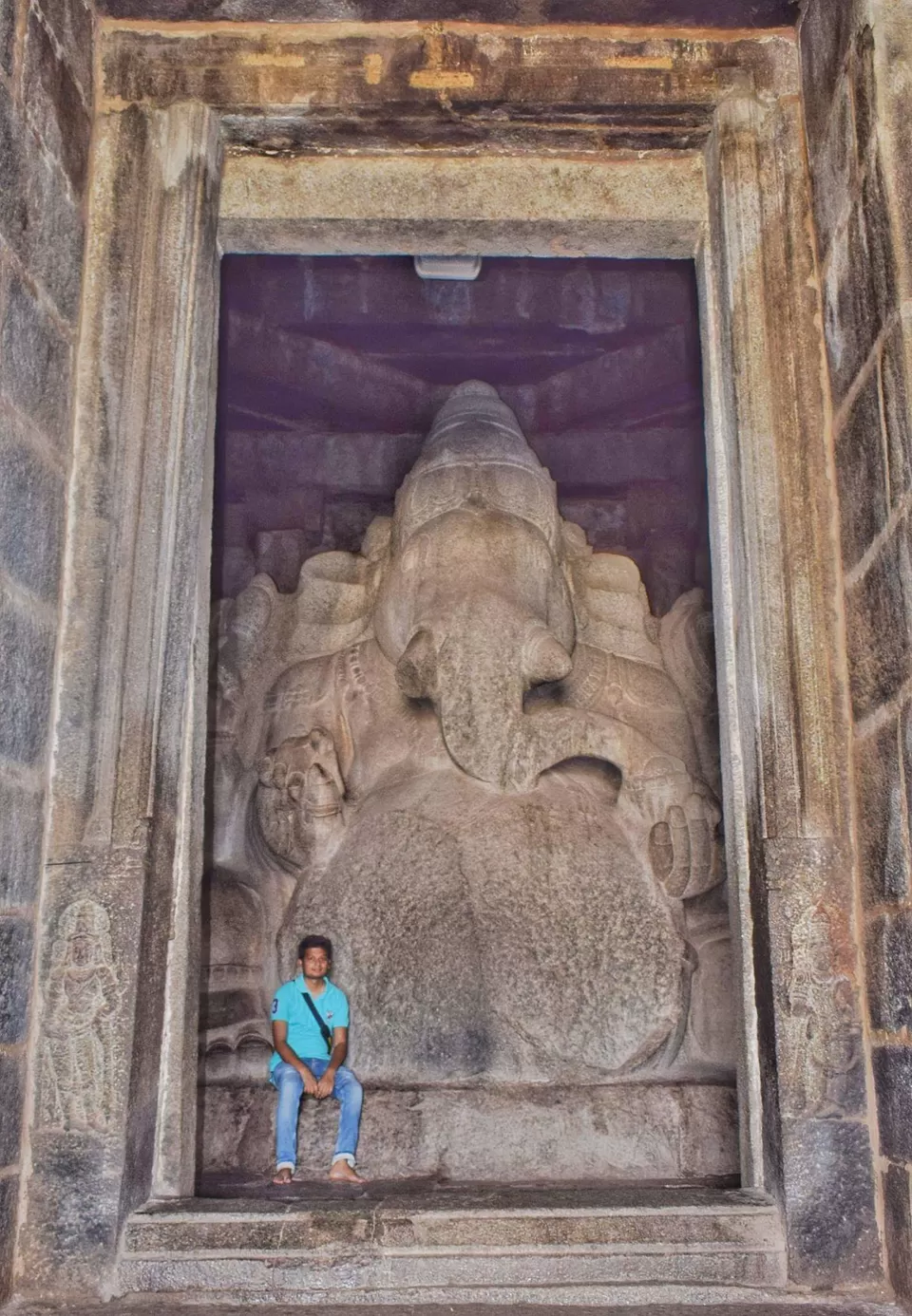 By the evening we went Virupaksha temple, with the blessings we left core of the city Hampi.
We booked our accommodation in Hotel Shanthi Guest House, Virupapura Gadde. Virupapur Gadde is the island surrounded by Tungabhadra river. It located just across the river from near the Virupaksha Temple. The place is known for Hippies Camps, lodges and tourist huts. there is no bridge to connect this island from Hampi, hence we took coracle ferry.
Next day morning, we hired a scooty to visit Anjanadri Hill & Pampa Sarovara. Anjanadri Hill is located in Anegundi previously called Kishkindha. This is the birth place of Anjaneya/Hanumantha, imperative charisma of Ramayana. We climbed the hill top. The Hill is full of monkeys. the view of Hampi from the hill top was magnificent.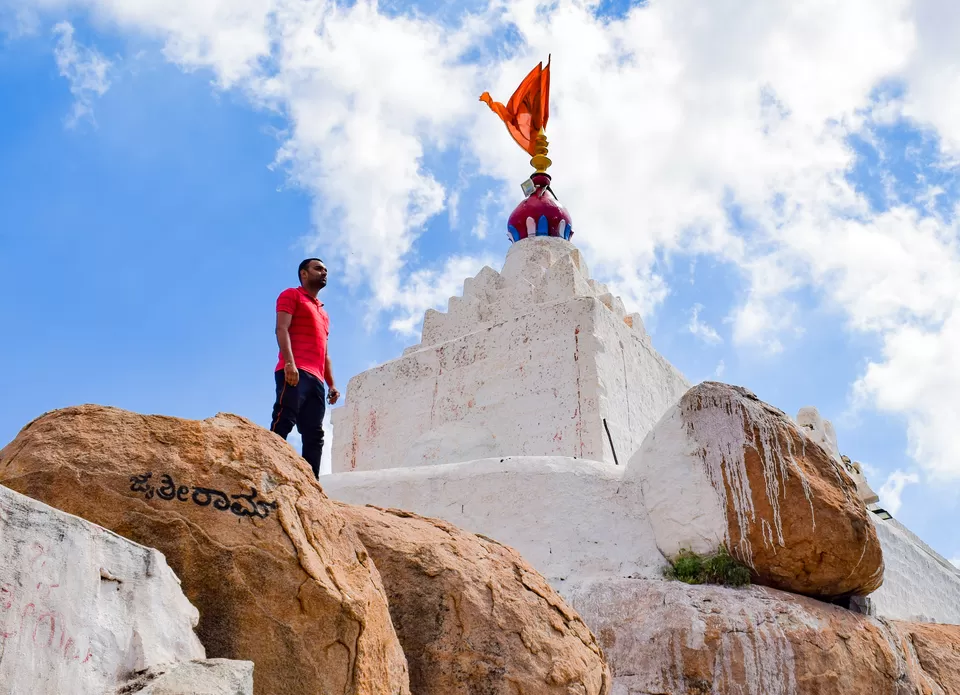 We rested and relaxed for an hour on hill top. Then moved towards Pampa sarovara.
After Pampa sarovara, we returned back to Virupapura gadde, cached the ferry to go back Hampi-Hospet-Hubli.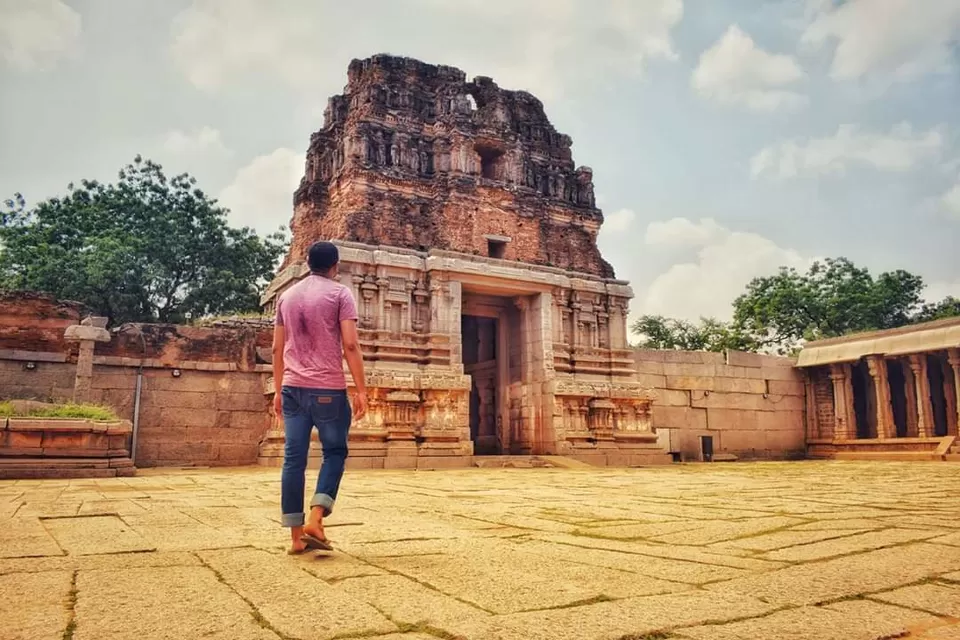 The 2 days Journey in and around Hampi, took back us to past history of Rama, Hanuma, Kingdoms of Vijayanagara and their pride. This is what makes us really proud of our bygone culture.