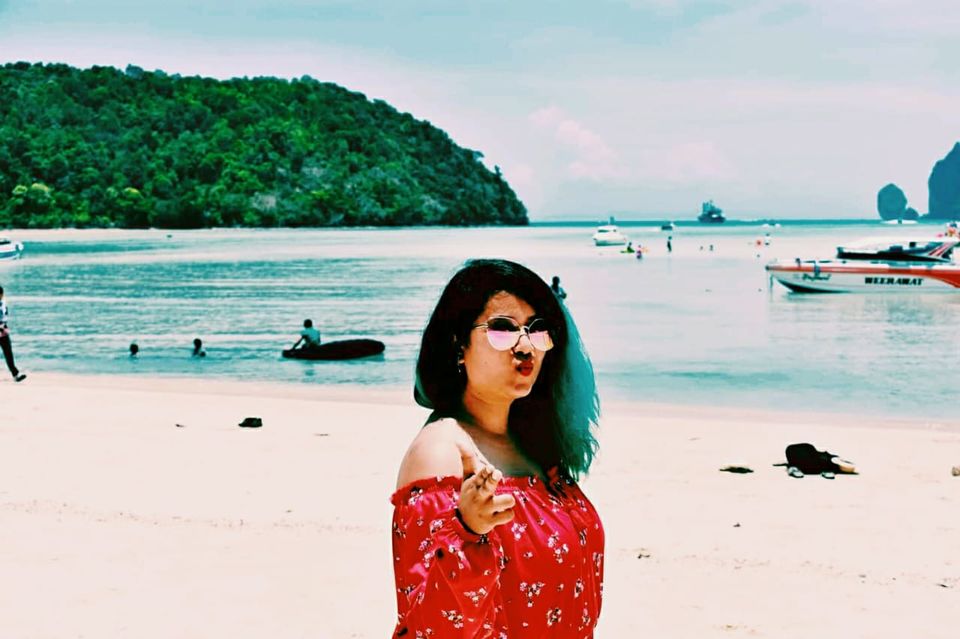 My idea of traveling to a place is always obsessed with the fact that I want to explore the Unexplored. And in doing that I somehow get caught myself in an unexpected mess. Exhausted from my mundane life and 9 to 6 job, I decided to visit to a place where I can freely roam around without giving a thought to whatever mess I have created in the past. My research landed me on one of the most beautiful and scenic countries in the world- THAILAND. This was going to be my first trip towards a foreign land and I didn't want to miss a single thing about it. I booked a ticket to Phuket without giving a single thought of what am I going to do or how am I going to manage everything. All I knew was I need a break from my own thoughts. Although in my own excitement I didn't notice that I selected the most humid month of the year in Thailand i.e. April. Thailand is an abode to all the exotic and breath taking beaches and that is the reason most of the time you will find humidity there. But nothing is going to minimize your excitement once you reach there.
As soon as I reached Phuket I noticed everybody on street is running with a big plastic shotgun in their hands and throwing water on each other. I asked my driver what's going around and he replied 'WELCOME TO SONGKARAN IN THAILAND'. Now my excitement reached to the zenith as I was going to witness one of the most thrilling and exciting festival of all time. There is a famous saying in India 'BURA NA MANO HOLI HAI!' I feel Thailand followed it by heart! I won't say my resort was one of the most beautiful resort in Phuket. But it has all the peace and calmness that you look for in a hotel or resort. Blue Ocean Pearl Resort, situated nearby Patong beach is a perfect resort that fulfills your yearning for spending some alone time. No wonder, the place was crowded due to the festival, but you won't find it clumsy and uncoordinated. Try giving preference to rooms nearby swimming pool side! You will get a soothing view in the evening.
Songkaran:
The festival starts from 13 April and ends on 18 April!
If you are planning your trip at this time then do remember to carry a raincoat and plastic bag otherwise your cell phone and wallet will be wet. The term Songkaran derives from a sanskrit word 'Sankranti' which means starting of the new year in Hindus. Sankranti is one of the most celebrated festival in all over India. Likewise, Songkaran also signifies the new beginning of the Traditional Thai Year. Although, the month of April is a bit humid month in Thailand, but I can bet, you don't want to miss this electrifying festival! In India we have colors in Holi, but here they have ice freeze water! If you have made up your mind to enjoy this festival then be ready to get splashed.
Travel:
Phuket, Pattaya, and Bangkok, these three are the main hub for Songkaran. I liked Phuket most! Here you will get lots of tourist agencies from where you can book a TUKTUK (if you are with family), a Bike (couple), and scooty ( single). Obviously! it's a festival time so everything going to be way more than costly. You should know how to negotiate with them!
Safety:
I know I can be bit harsh in this but enjoying holi in India for girls is still not a safe thing on roads. But here, the concern of safety is negligible. From a girl perspective all you have to do is wear a short and a T shirt and you are get to go for the festival. I would prefer carry a colorful bikni! Do not carry excess clothes because all were going to be wet. Instead of shoes, prefer sleepers. People throwing buckets of chilled and freezing water, not caring about what you will think about them. Girls roaming in colorful bikni, boys in shorts! What else you need to call it a perfect vacation!
FOOD:
If you are a non-vegetarian, this festival is going to be YUMMILICIOUS for you! You will get ample amount of sea food, chicken, lamb, and what not on all over the roads. Just carry some LOCAL THAI BHATT (local currency) with you and you can enjoy the splashing festival along with some relishing sea food. Getting Indian Food is not a problem in Thailand. There are many Indian restaurants in phuket, pattaya, and bangkok.
People in Thailand are very much punctual and we Indians are always some minutes late even in our own marriage also. But not in Thailand! Be on time if you have booked a taxi or a cab, otherwise driver won't pick you up!
Songkaran is an important as well as popular festival in Thailand, but it has opened its doors for people from all over the world. People from Mexico, Europe, Pakistan, Egypt, and so on were enjoying the essence of Songkaran with same zeal and warmth. What are you waiting for then? Go pack your bags! And get ready for one of the most thrilling experience of your life! Have a blast! Happy Songkaran!
For 2nd part click here:
https://www.tripoto.com/trip/enjoy-the-most-exotic-night-life-in-pattaya-with-cabaret-show-of-all-time-5dbb25622a072