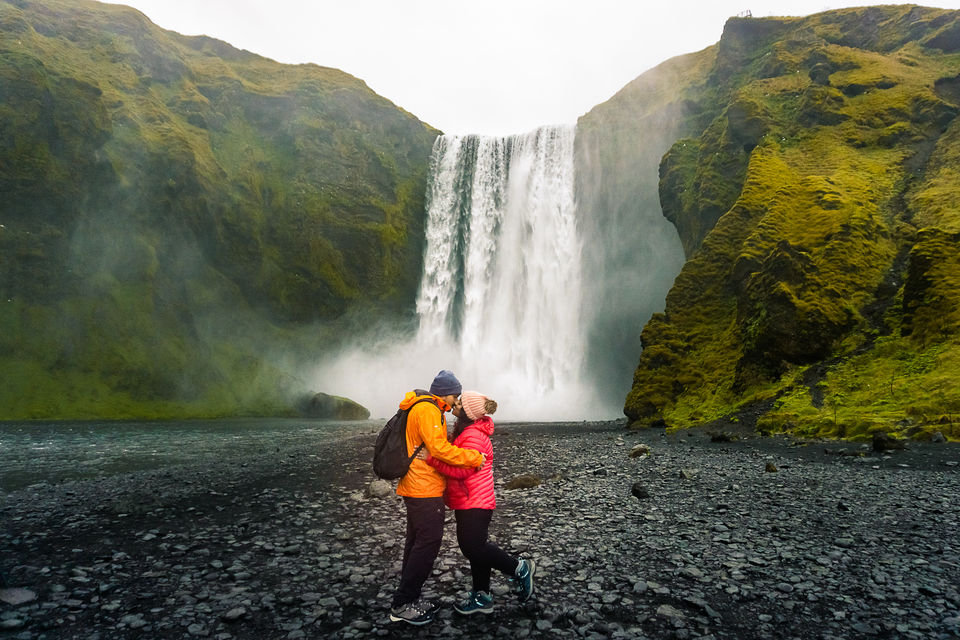 An impractical dream
Sometime in 2015 when I was new to photography, I stumbled upon a video from my favorite photographer Elia Locardi and his work with FStoppers called "Photographing the World". Elia was standing in front of a rather unique mountain explaining what this series was going to be and how he was going about photographing this mountain. I had no idea where this location was and what that mountain was called until then. I fell in love. I dug into more videos from this series and that's how I got introduced to Iceland, a country I had no clue of how beautiful and out of the world it was.
More videos I saw of Iceland, more addicted I got. I shared it all with my the then girlfriend and now wife and in no time we both were drooling over pictures and videos from Iceland. I thought one day I'd stand at that very location which Elia introduced me to and take a photo I could call my own. At this point though, it was simply a dream that was unlikely to become reality and we were kinda okay with that given how expensive and hard to reach Iceland was. We were happy simply gawking on Iceland from the comfort of our home.
What if the dream becomes a reality?
Fast forward 2 years to 2017 - my girlfriend and I got married after quite some drama at home and are finally ready to live our lives the way we always wanted to. By this time, gawking at Iceland on YouTube and Instagram had become a therapeutic drug for us and it continued after marriage. Our addiction only multiplied with the fact that a lot of Game of Thrones was shot in Iceland.
After marriage the number of travel videos we watched on Iceland only increased and we knew deep inside we had to make our Iceland adventure a reality. While I kept hoping it would happen in a distant future, my wife is more of now or never personality. Sometime in early 2018, we decided we would go to Iceland. While I was dreading the practical problems and challenges involved, my wife wanted none of it. She just wanted to do it no matter what!
And thus began the research on the logistics of visiting Iceland. Immediately my concerns multiplied. This is not a country you take a bus tour to experience - That would be an insult to the out of the world beauty of Iceland. It's a country best experienced driving around all by yourselves. As Indians, we are expected to drive on the wrong side of the road and to top it off, staying in hotels and eating in restaurants is a super expensive affair. It was quickly evident that to do Iceland on a budget, the best option is to hire a car and camp at places around the country. But camping was not our cup of tea and then we discovered the perfect balance - A campervan. Campervans let you drive around at your own pace and double up as your bed anywhere anytime.
Now that stay and transport were figured out, soon itinerary and other logistics started falling into place one by one. We planned all the minute details and procrastinated about leave plans and other responsibilities that would come in the way till the end of 2018. By November of 2018, we decided we were going to do it in early summer of 2019. We began our visa process in Feb 2019, made our bookings and started buying all the winter gear.
We were in touching distance and still had so many uncertainties. How are we going to manage driving on the right side of the road? Where are we gonna camp? How are we going to manage our meals? How much time do we spend at a given location? What photographs should I take? When is the best time to photograph each location I had in mind? What iconic photos of ours should we take? The more we planned, more uncertain it became. This made it even more exciting (and terrifying). Probably more terrifying - Haha!
Moment of truth
The day arrived when we had to start our most important journey. We took our flight from Hyderabad to Delhi where we would begin our journey to Iceland the next day. After reaching Delhi around noon, we mostly spent our day in the room taking calls and messages from friends and family wishing us happy and safe travels. For the first time ever, this adventure felt like one that needed these blessings and messages.
The next day, we took our early morning flight from Delhi to Finland where we would switch flights to Iceland. The flight to Finland was a breeze. I slept most of the time and enjoyed the best meals we had on a flight. After reaching Finland, we had 1.5 hours to make it to our flight to Iceland and it was unexpected rush as the airport in Finland was huge and we are expected to go through immigration here (1st point of entry into SCHENGEN region). However, we made it comfortably in the end. There we were in the flight to Iceland waiting nervously for it to take off. This flight felt like the longest one ever given all the enthusiasm and nervousness, while in reality it was only 3.5 hours compared to the 11 hours from Delhi to Finland.
Touchdown