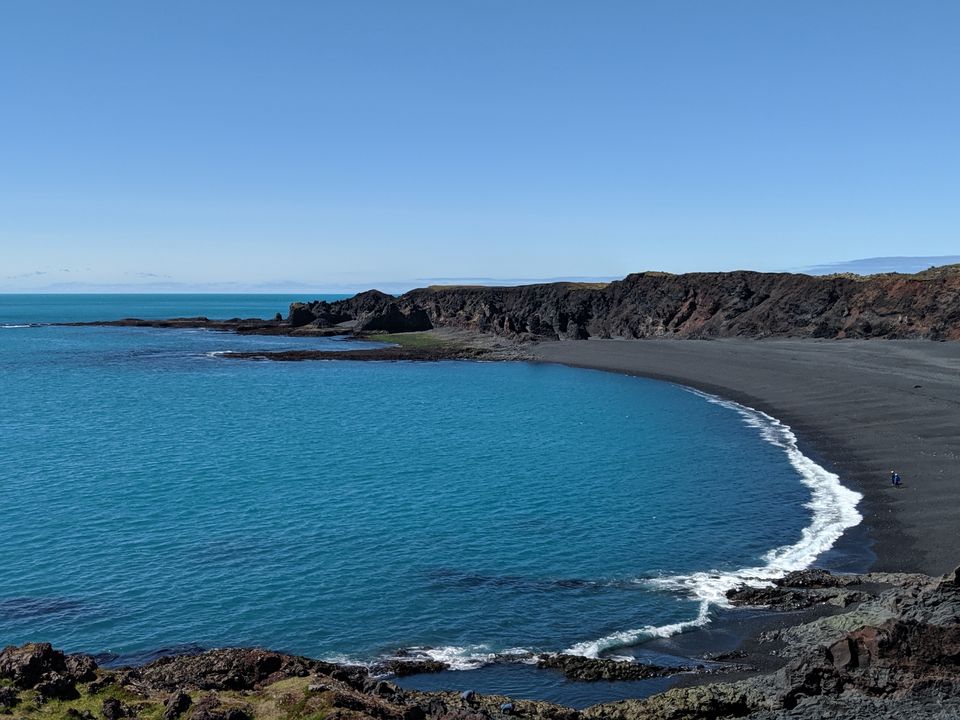 It was still raining in the morning, so we had to cancel our plans of visiting a natural pool in Saudarkrokur.
We left after having breakfast and bidding our host goodbye to drive further towards West Iceland to Grundarfjordur which was our next destination. Grundarfjordur is a town in the north of Snaefellsnes Peninsular in West Iceland.
We were looking forward to visit the popular Game of Thrones shooting location at Kirkjufell mountain today. The long drive in the rain was now getting a bit tiring.
But, Iceland never lets you loose your spirit of exploring fascinating places. While driving, we suddenly came across beautiful shiny green moss covered mountains from the ring road itself. We couldn't resist stopping here to find out more about this place despite the rains.
Grabrok crater
This unplanned visit to the crater was extraordinary. We parked our car and took the stairs up towards the crater. Since, it was raining we just visited one of the 3 craters here but the view of the crater and the lava fields around were astonishing. The view of the crater resembled to a brownie cake with shades of brown falling downside like an icing on a cake.
The view of the countryside from the top is also worth the effort to take the steep stairs till here.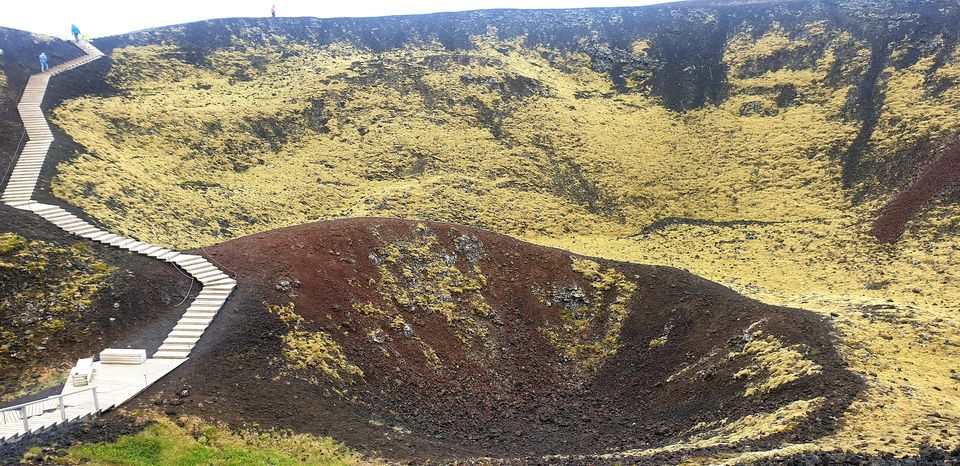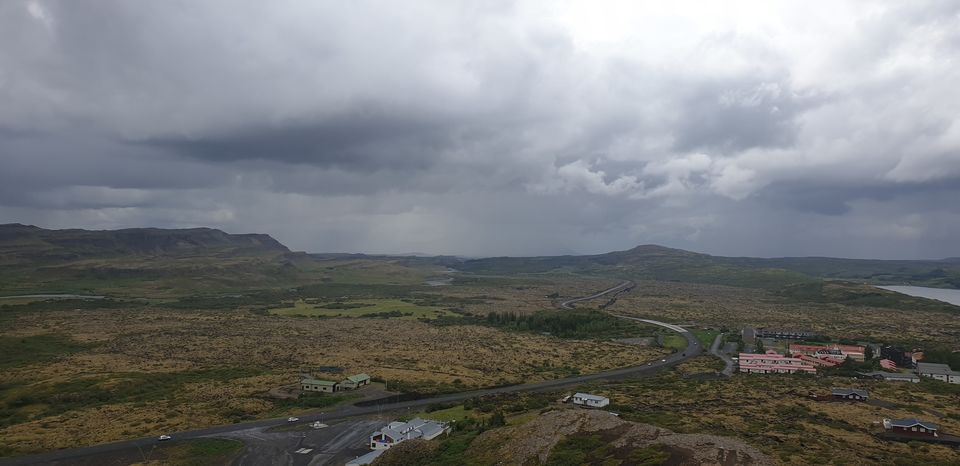 The West Iceland is also filled with dramatic unique landscapes. As we were approaching our destination, we spotted vast lava fields with red mountains which made us stop and park our car at the parking stops located off road. I had never seen so many shades of green's and brown's and red's mixed together into a cocktail of colours spread over mountains and lava fields with a stream of river flowing in between.
There were fascinating lava fields, completely untouched by human intervention though with Iceland's popularity, I am not sure how long it will take for humans to establish their presence here.
It was a disappointment to see people stopping their cars on the road here to take pictures or walking on the lava fields which can be threatening to Iceland's unique untouched landscapes.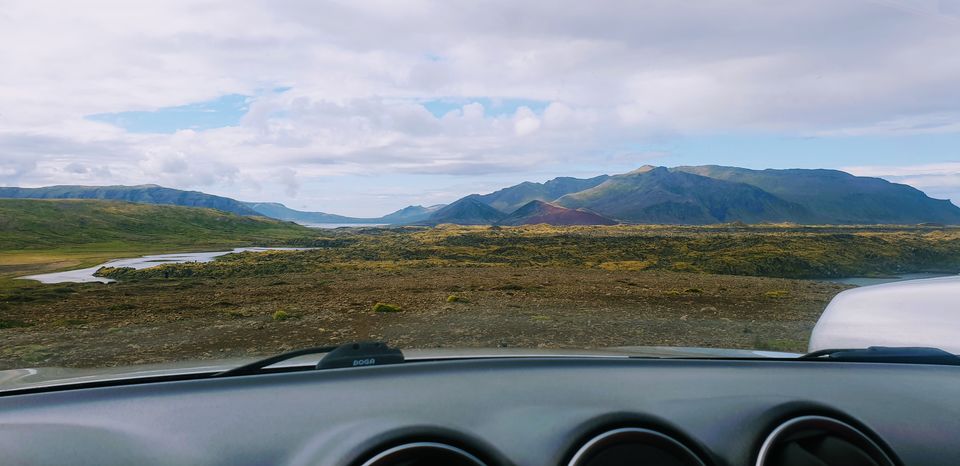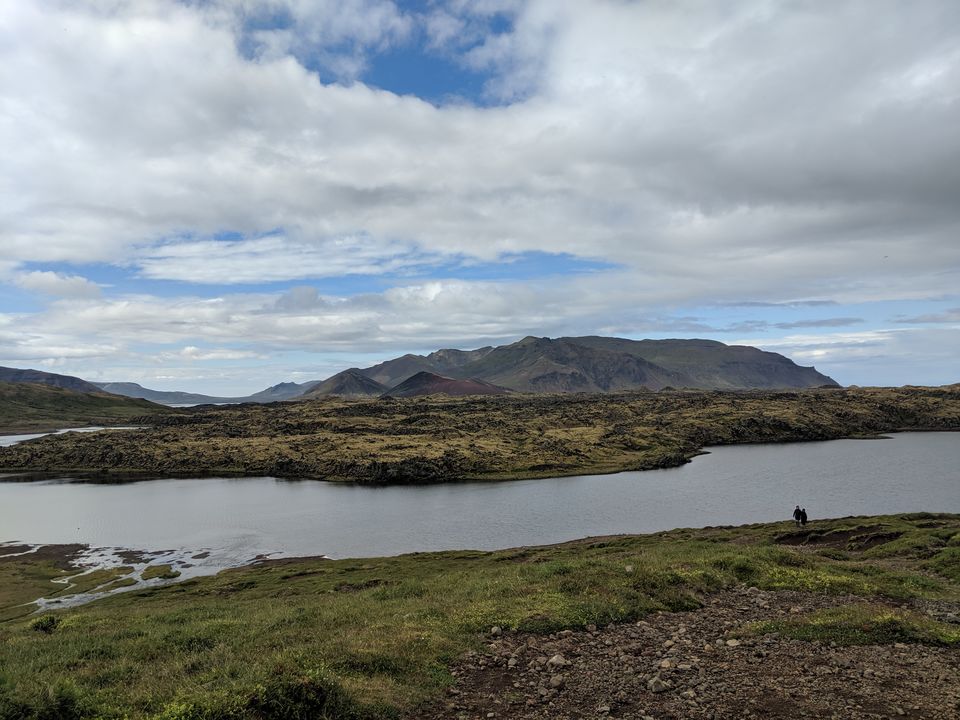 We took a short detour to a fishing town Stykkisholmur to have lunch. There were food trucks near the port where we sat in front of a fish and chips food truck and relished the sunny weather in this pretty little town. We also stocked our food supplies from Bonus here which was very close to the port.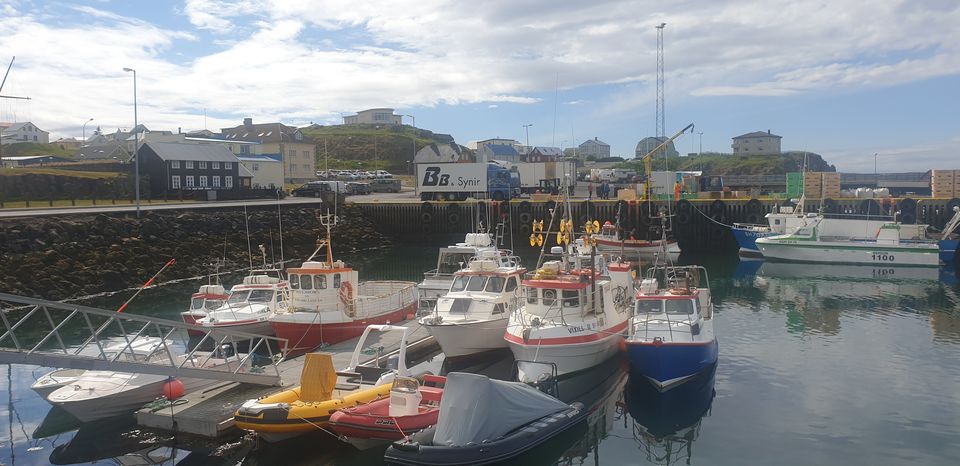 After a long drive with interesting stopovers, we finally arrived at our airbnb destination here in Grundarfjordur. It was a private room in a house with multiple rooms, like a guest house.
It was a beautifully designed house which looked different and pleasing. We could view the popular Kirkjufell mountain right from our window which is an iconic spot.
But, after seeing so many unique natural wonders in Iceland, the beauty of this mountain wasn't as inspiring as the places we had visited before.
After freshening up and having our dinner, we thought of exploring the nearby Kirkjufellsfoss along with Mount Kirkjufell.
It was just 5-10 mins away from our airbnb, and turned out to be a disappointment. The parking area was completely filled up and there were vehicles parked on the road as well which was the first time I saw people breaking rules here in Iceland. We decided to comeback later at night when it would be less crowded.
We drove further ahead to spot some scenic spots from where we planned to watch the sunset today which was around 12:30 AM. We drove through some towns, and stopped by to have coffee at one of the restaurants.
We came to Kirkjufell later at night when it was less crowded. Even at 11:30 PM, the place was filled with photographers and visitors. We walked up and crossed the bridge to view the waterfall. It was difficult get pictures here as they were people walking around. But, we still managed to enjoy the beautiful surroundings.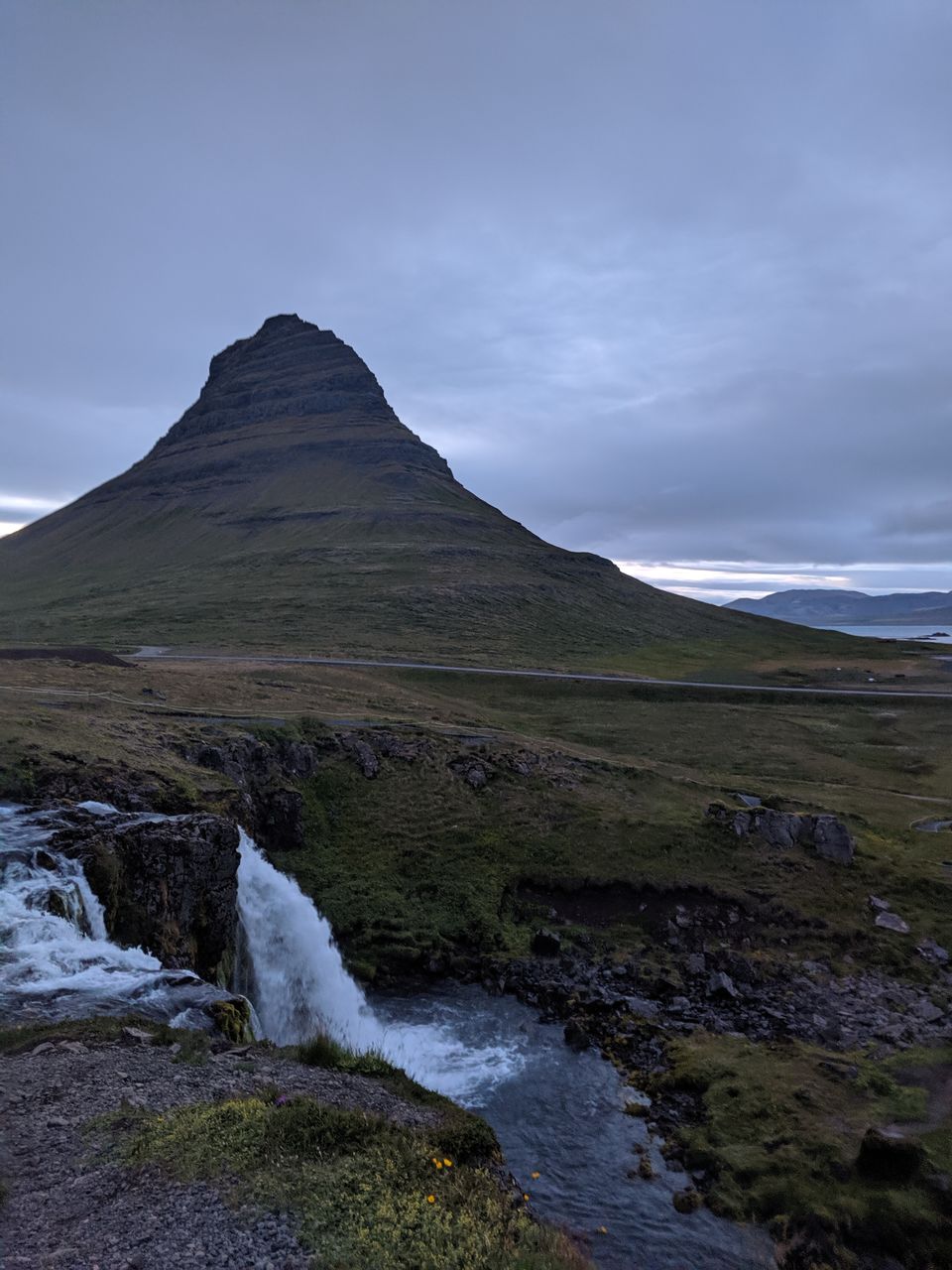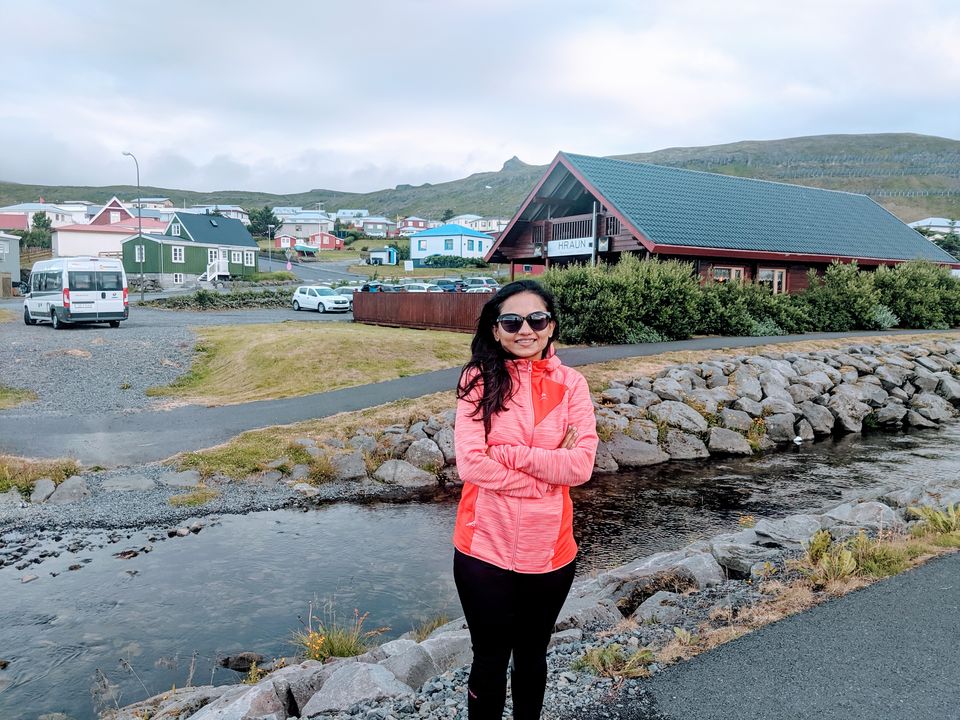 Near Kirkjufell, We explored some off road parking spots which offered stunning views of the coastline and the mountains. We waited for the sun to set in the land of midnight sun where the sun never sets completely in summer.
After a long tiring yet exciting day, we decided to head back to our accommodation for tonight and call it a day.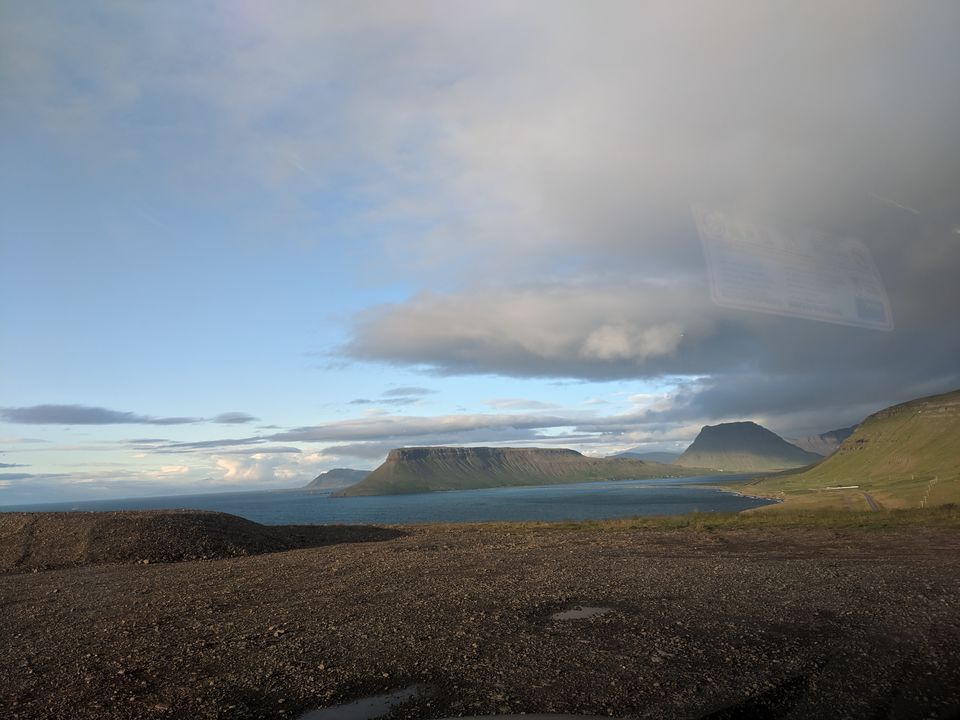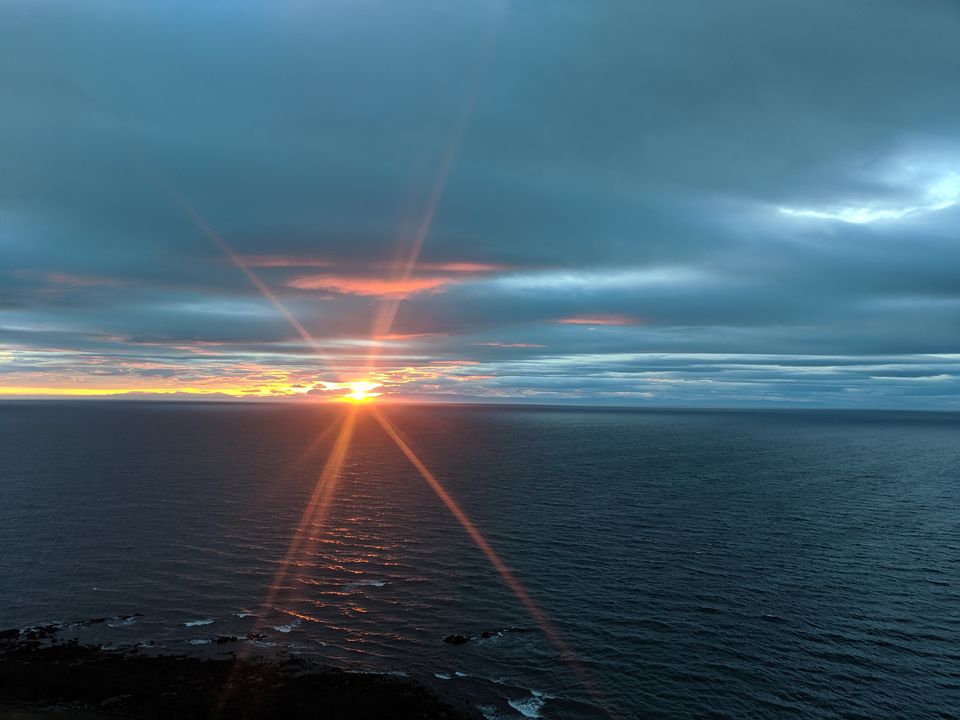 The next morning, we had planned to visit some of the places in Snaefellsness Peninsula. We first drove through Snaefellsnesjokull National Park to a golden sand beach Skardsvik beach. It was very windy here, so we couldn't stay here for long. So, we left soon to get to our next destination here which was the Djupalonssandur Beach.
The parking area here was quite packed, but we found a spot. We followed a hiking trail from where could see the beautiful black sand beach.
The deep blue water sparkling under the sunshine was complementing the black shore of the beach in a way that everything was appearing spectacular under the beautiful sunny weather. Further ahead, we could view the black basalt cliffs overlooking the shining sea with the squeaking birds hovering around.
The hike and also the sunny weather made us feel hot. We had taken off our jackets by now. The sun was shining brightly and sea was all lit up from the sunshine.
We could also see Snaefellsnesjokull which is a glacier capped volcano situated in Snaefellsness National park. The snow capped mountain was a pretty sight to look at but there was nothing unique or exceptional about it.
We did the hike half-way through and returned back as we had other places to visit today.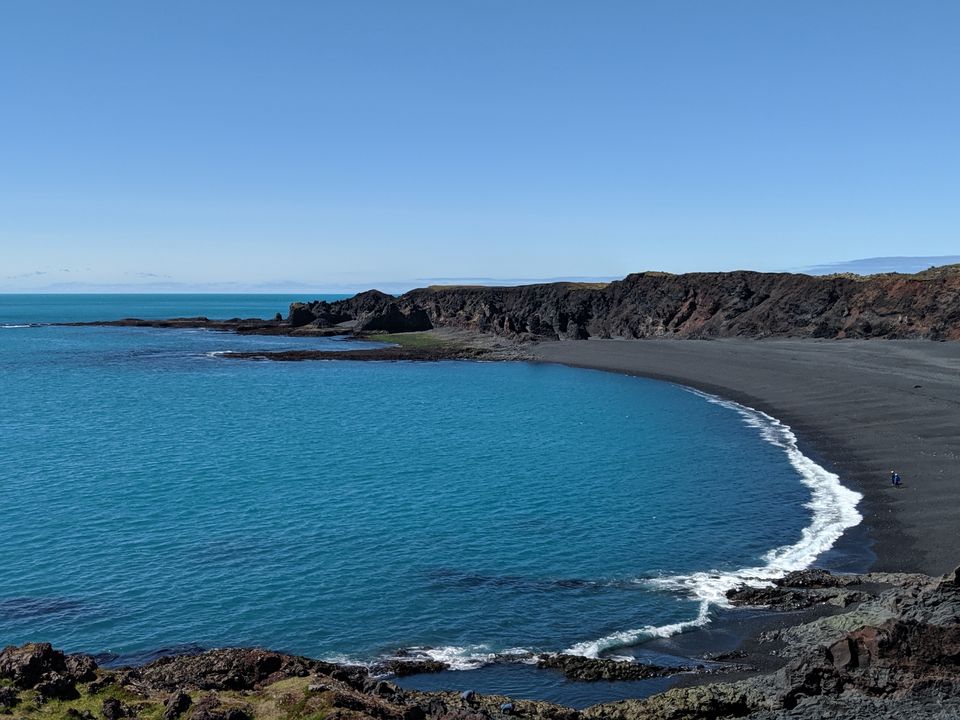 We left from here to a place not very far from here known as Londrangar basalt cliffs. There was a guided path till the viewing points from where we could view the rocky black basalt cliffs in the sea. This is like an extension of the Djupalonssandur beach.
The beautiful cliff formations and basalt columns along the sea looked stunning like a nature'a jewel without a price tag.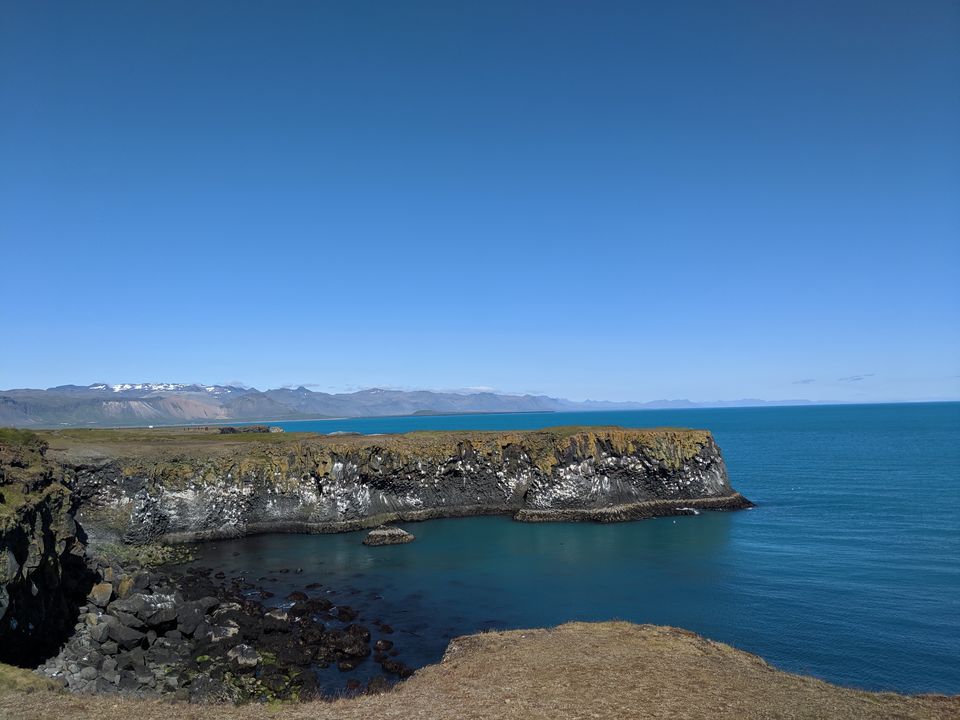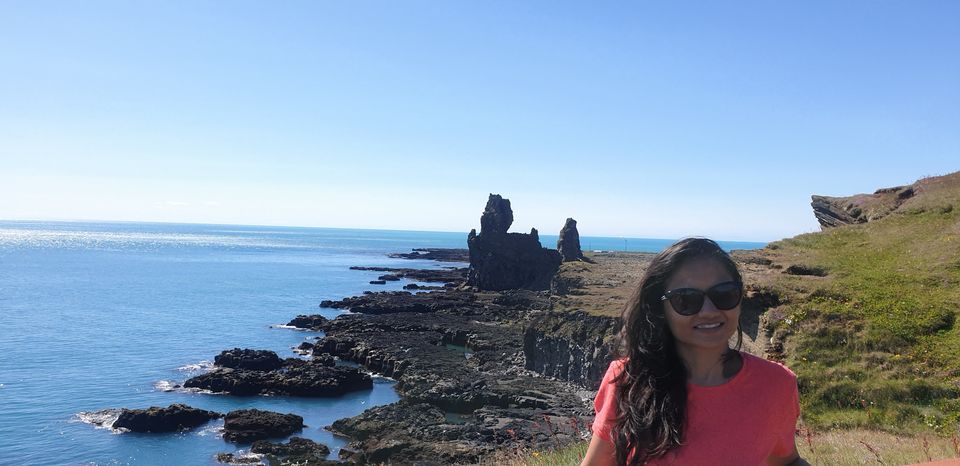 Anarstapi is a small fishing village in Snaefellsness which was our next stop. We first looked for a place to eat as were quite hungry by now. A food truck was selling fish and chips which was more than enough to satisfy my taste buds.
We are now all charged up to do the popular Anarstapi Hellnar trail which is around 6 kms. The walk along the coastline through steep cliffs and lava rocks was a beautiful experience. The sunny weather was an added bliss here.
During the hike, we could view stunning sights of the cliffs and the surrounding glaciers. We reached Hellnar and spotted some seals near the beach. We went down and it was quite a sight to see and hear them playing and making noise.
We returned back to Anarstapi and felt that it was a good hike, just that it was too long as we had to return through the same route.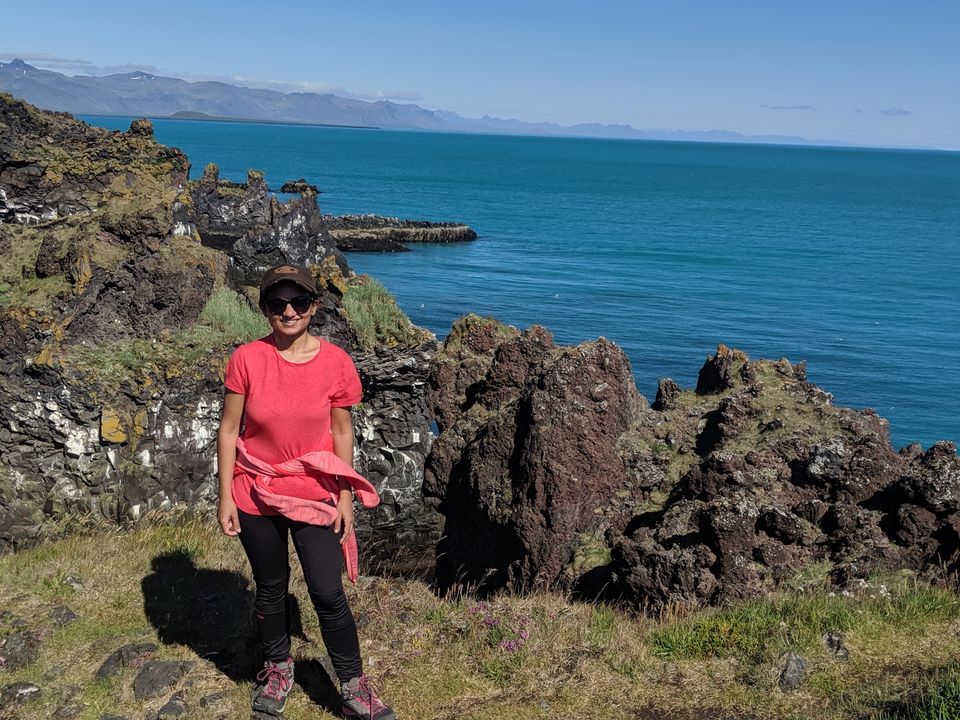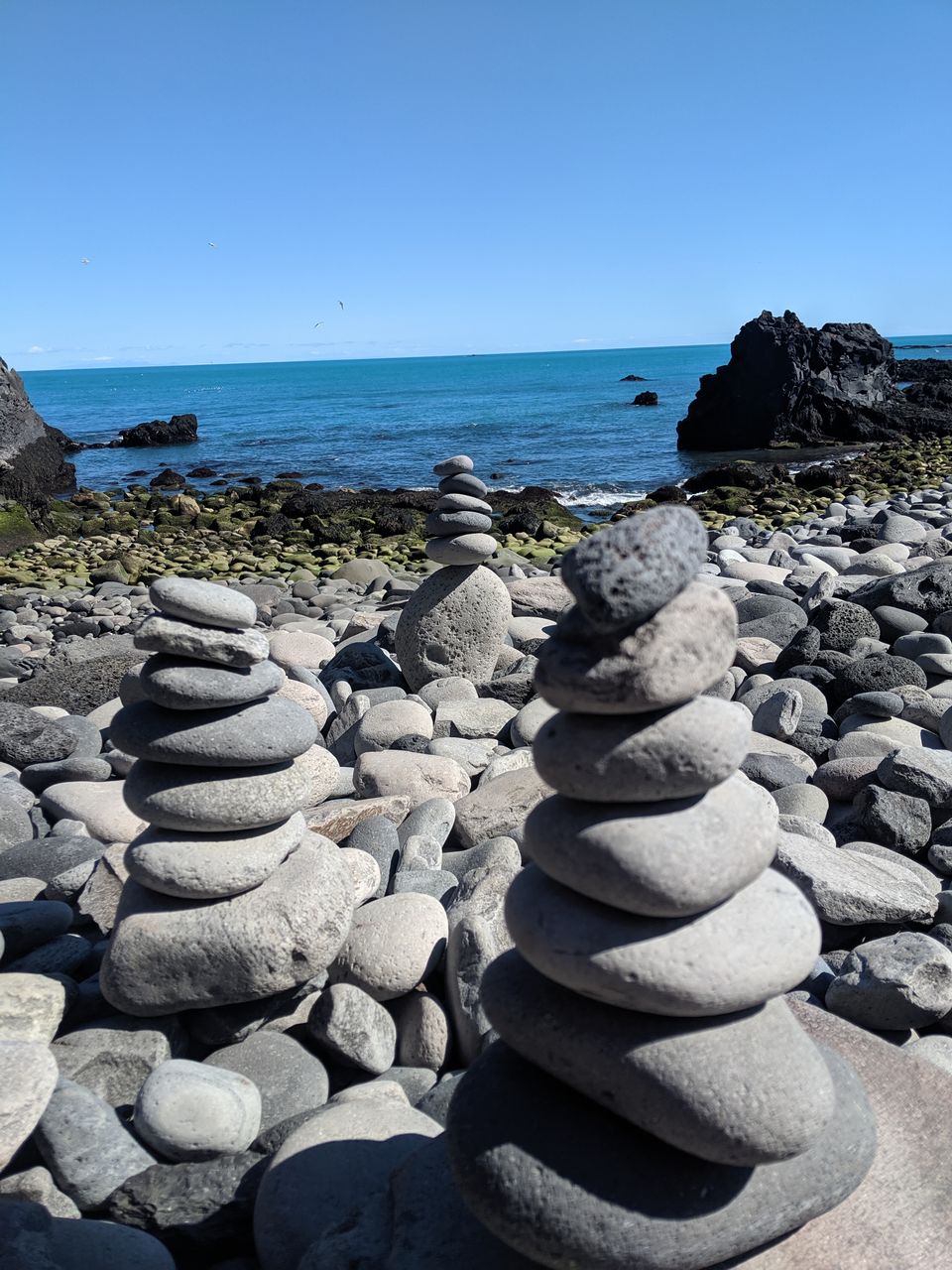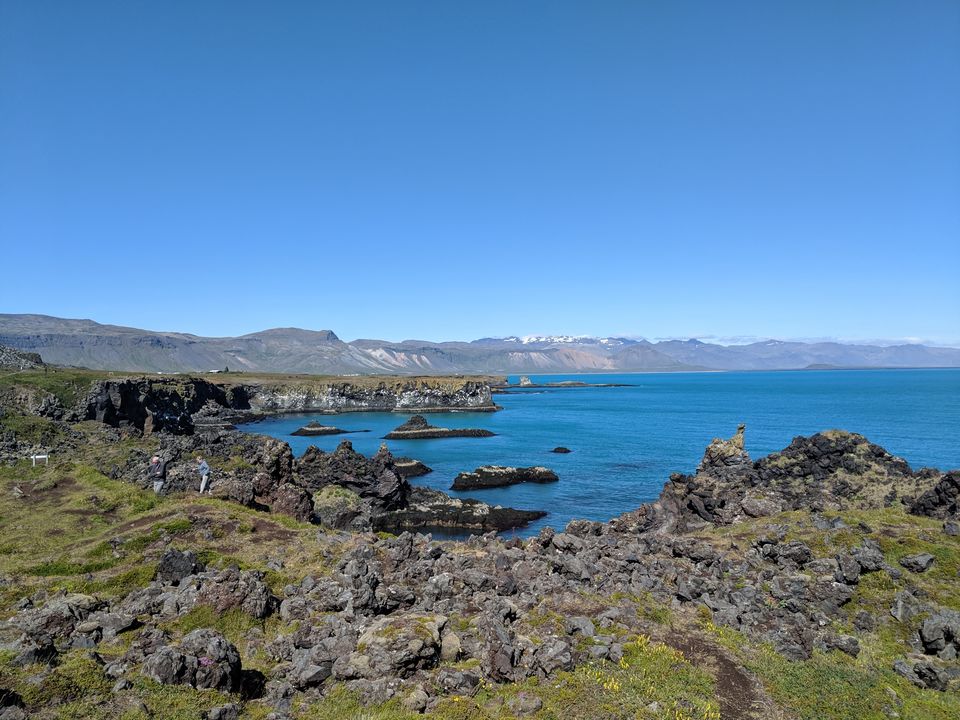 From Anarstapi, We headed back to Reyjkavik to complete the ring road loop.
There was this another spectacular small black church Budakirkja which we visited here before commencing our journey back to Reyjkavik. The church is close to Anarstapi and looks astonishing with the blue sea behind.
The unique sights of blue and black together at different places in altogether different ways with sea, sky, black sands and cliffs, church look perfect beyond imagination.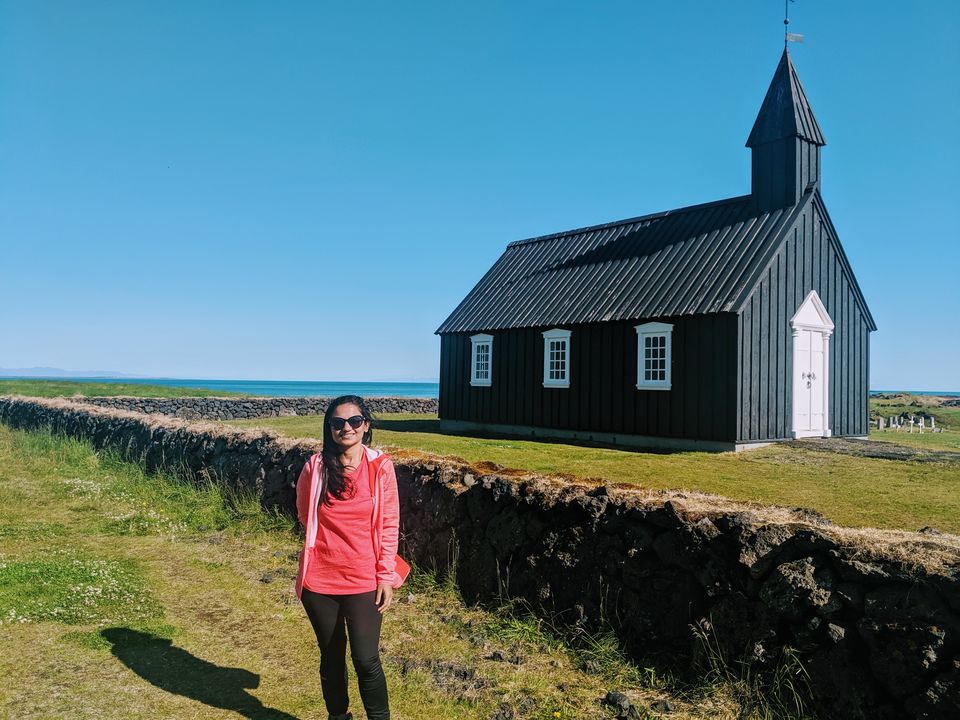 We checked into our airbnb at Reyjkavik in the evening. We were welcomed by the lovely hosts of our house where we booked a room. They were kind enough to ensure we had a comfortable stay at their place.
It was a beautiful house and we had a quiet dinner by heating our ready to eat packets. The sunshine was strong even at 9:00 PM. Since we had to catch our flight the next day, we decided to pack and rest as we already had a long day.
Completing the ring road felt like an accomplishment which was truly rewarding in every sense with myriad experiences in unique places and meeting warm and welcoming people.
Important links for the day:
Airbnb guesthouse at Grundarfjordur
Link to the main blog of Iceland: Hello Iceland