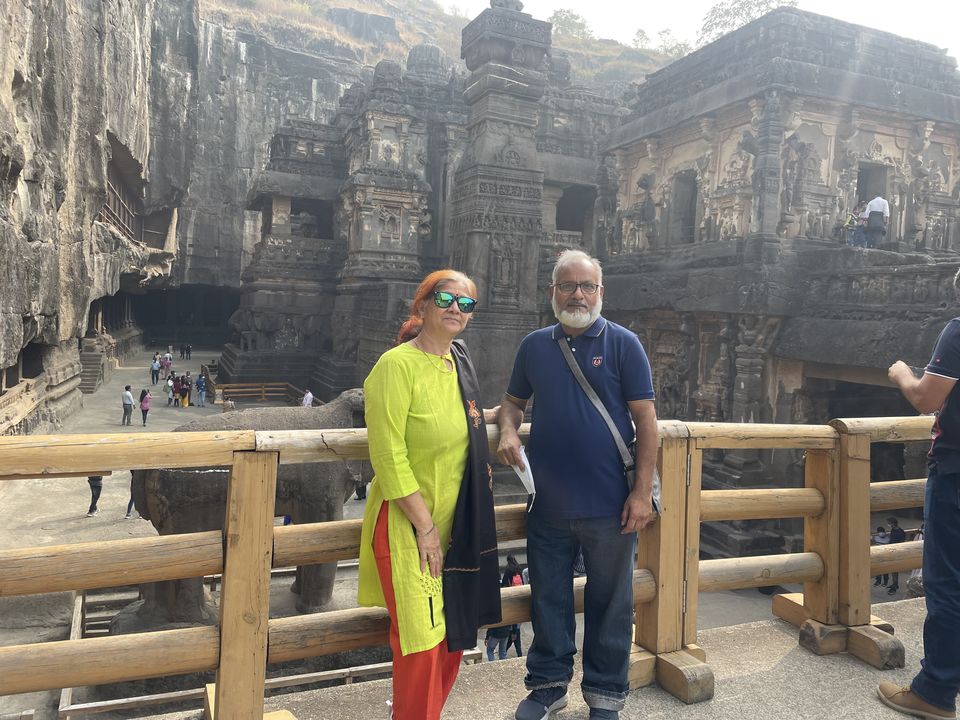 Me and my wife (both senior citizens) decided to tick off 3 more items from our Domestic Tours Bucket List (Girishneshwar Temple - a Jyotirlinga, Ajanta Caves and Ellora Caves both UNESCO World Heritage Sites) last week and we ventured to go to Aurangabad (Maharashtra) despite the threat of Omicron.
We booked our tickets and arrived at Aurangabad in the afternoon, we checked in a hotel and immediately after a small meal, left for Bibi Ka Maqbara by a cab, it was not as described in the books and we were disappointed to see its comparison with Taj Mahal. It needs repairs and is badly maintained. Thereafter, we went to Aurangabad Caves (Leni is the word used for caves in Marathi), though the climbing the hill to see these ancient Buddhist Caves was steep and tough for we seniors but we made it. Our cab driver was not able to believe that we could go upto this top of hill. After seeing the rock cut caves and Buddhists sculpture in these caves,, we came to Panchakki where water from some underground natural waterfalls is lifted by a pipe and a water mill is run (functioning only for display).
Thereafter, we visited Siddhartha Garden which is really beautiful with many life size statues of English film characters where kids take pictures. This garden has a zoo and a toy train also.
Next day morning, we started for Ajanta Caves (a UNESCO World Heritage Site) by a cab which is about 102 km from Aurangabad. Our estimate of travel time of around 2 hours failed as road was very bad and it took over 3 hours to reach Ajanta.
There, from the parking area, you have to take a MSRTC bus for entrance of caves which is about 4 km. We climbed the hill and started seeing these caves one after one. These caves are also dedicated to Buddhism and dates back to 4th and 5th century AD. Many caves have beautiful colour paintings depicting Jatak Stories of Lord Buddha's life. One has to appreciate the architecture, hard work of cutting rocks and fineness of paintings therein. There are total 27 caves and cave Nos. 1, 2, 10, 16, 19 and 26 are really marvellous and one should not miss.
It took about 3 hours to visit all caves and take pictures, we took lunch at MTDC Restaurant there which was average. It was tiring and we came back to hotel which took about 3.5 hours travel time due to bad road (widening and laying of road is underway).
Next day morning, we first visited Girishneshwar Temple of Lord Shiva, one of the 12 Jyotirlingas. Fortunately, due to pandemic there was not much crowd and we had good Darshan without much queue.
Thereafter, we came to Ellora Caves, another UNESCO World Heritage Site, there are total 34 caves, it's entrance is in front of iconic Cave No.16 which is a huge complex cut from a single large rock and it comprises of magnificent Kailash Temple. After seeing the brilliant sculptures of Hindu Gods and Goddesses (Lord Shiva in different Mudras, Different Avatars of Lord Vishnu, Lord Brahma, an elephant, Shivling, Nandi and many more), we were so astonished to see the beauty that we felt that it deserves to be one of the Seven Wonders of the World. Cave No.10 is also good. Many more caves are dedicated to Hinduism. Some caves are dedicated to Buddhism and some to Jainism also. These are amazing indeed.
Thereafter, we had darshan of Lord Hanuman in Bhadra Maruti Temple where the lord is in a lying position.
After that, we came to Daulatabad Fort which is also magnificent. Bharat Mata Temple in the Fort Complex is a must visit. There are many types of old guns in display there near the entrance of Fort.
From there, we came to airport and took our return flight to Mumbai. It takes 3 days to completely see all tourists places leisurely. For meals, there are many options in the city like Bhoj, Naivedya, Swad, Maharashtra Durbar all Veg Thali Restaurants. One can also relish traditional maharashtrian dishes like Misal Paav and Vada Paav etc.
Overall it was a good tour.