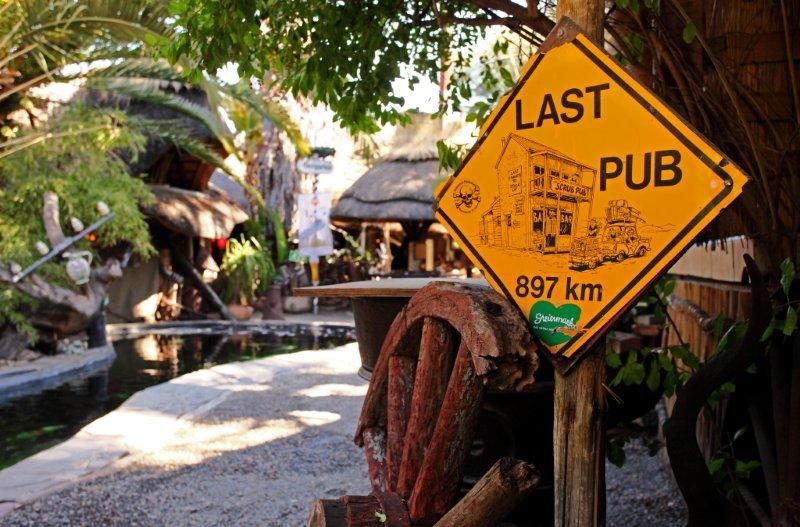 If you go to Windhoek and don't end up visiting Joe's Beerhouse then you've done something very wrong. It's like going to Disney World and not going on any of the rides. To say that it is an institution would be a huge understatement. It's located to the north of the city, but that's irrelevant because just about anywhere in Windhoek is just a short taxi trip away. It seats some 400 people and is perpetually busy. It really doesn't matter when you go there as there are always people coming and going. My first trip to Joe's almost didn't happen. I got stuck in the lift at the hotel I was staying in and it took them ages to get me out. This is not so cool when South Africa are just minutes away from kicking off against New Zealand. When they finally got me out of the lift I caught a taxi to Joe's. Luckily I was just in time to catch the second half of the rugby game. By the way Joe's has an awesome big screen TV behind the bar so if you looking for somewhere to watch sport while you are in Windhoek this is your place.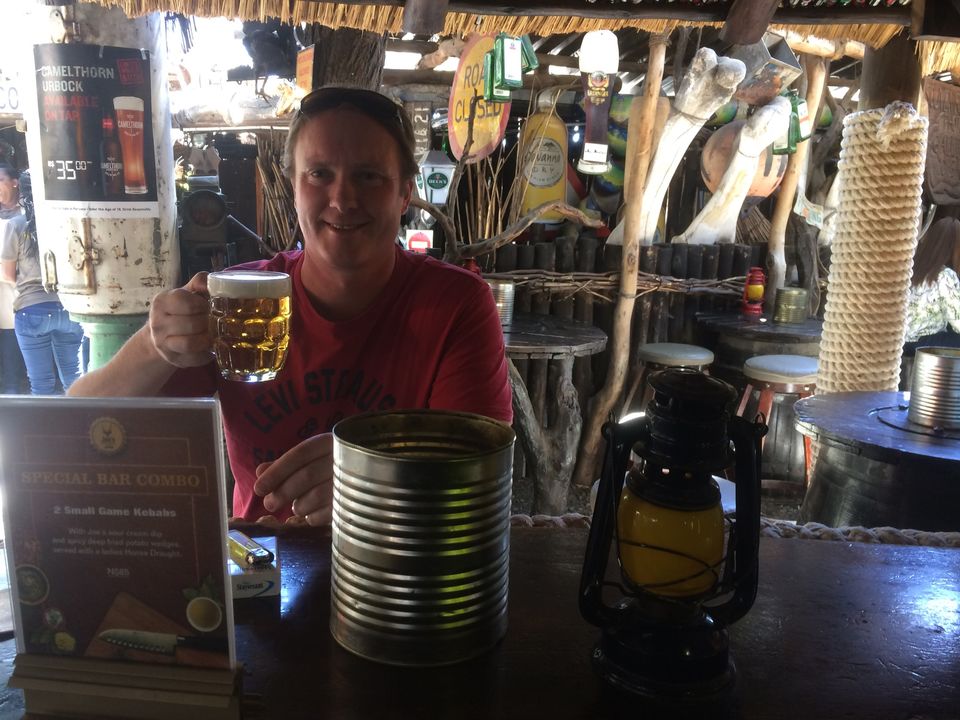 So the question is what makes this place worth a visit? There are a few reasons. To begin with it's different. When I say different I mean totally of the wall kind of different. The decor is crazy. They have funky African decor everywhere. And I mean everywhere. It covers the walls, it hangs from the bar and the ceilings. Bottles of Jagermeister line the flower beds. I could have sworn that there was a skeleton on the wall that looked like it came from a camel. I kid you not when I say that old toilet seats serve as bar stools. You have to see it to believe it. In a world where it's so easy to conform it's really fun to go somewhere this different.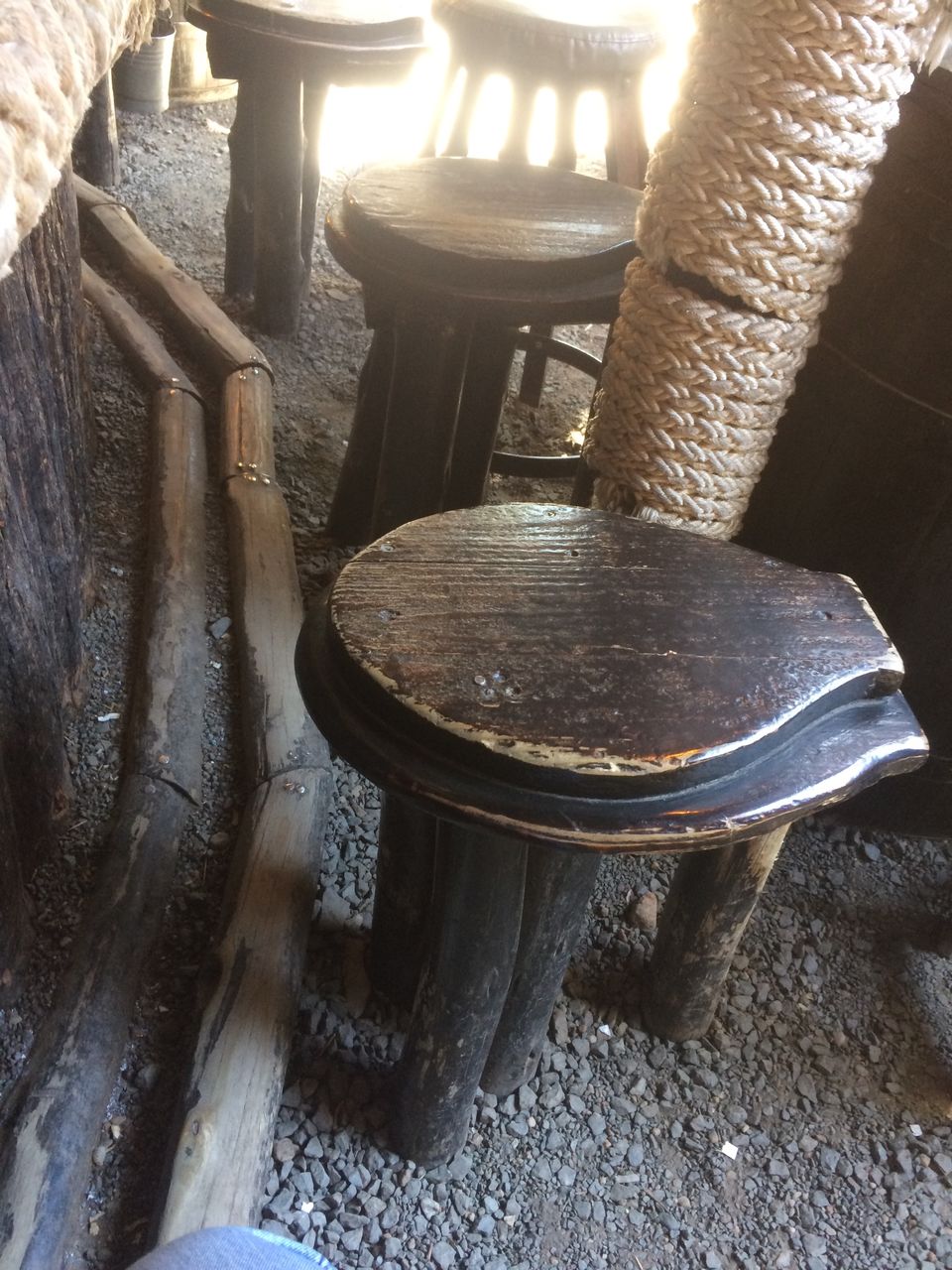 Besides the fact that the place is outrageous and a huge amount of fun the real reason for going there is to sample the food. They serve up generous portions of German and Namibian food. From steak and rib house specialities, Kudu and Gemsbok fillet to sauerkraut and pork fillet you name it they cook it. My first meal at Joe's was a grilled T-bone. It came with garlic butter, deep-fried onion rings and chips. It was an amazing meal fit for a king. While waiting for my food, I chatted with other travellers. That's another very cool thing about Joe's, most tables are community seating, so it's basically guaranteed that you'll meet and mingle with fellow travelers. I am not a huge fan of hotel food and was so impressed with my first meal at Joe's that I ventured back the following evening for dinner. This time I went for Joe's Special Devil's pork ribs. The ribs were delectable and mouth-watering.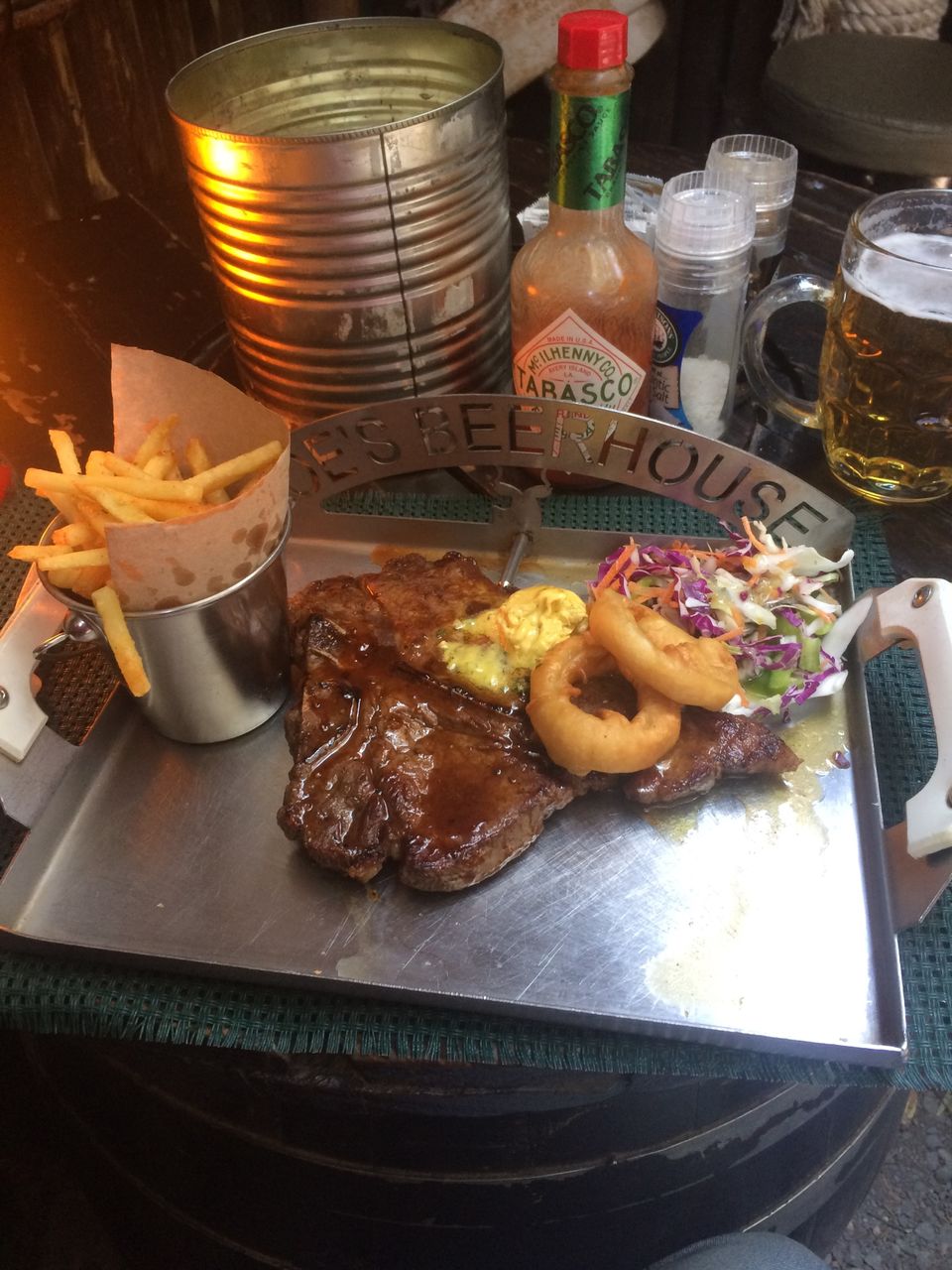 Another very cool thing about Joe's is that they have stories in their menu. I think this one just about sums up the spirit of adventure and fun that is Joe's Beerhouse.
"THE TALE OF THE PORTUGUESE TRAVELLERS
In August of 2009, two brave Portuguese adventurers attempted a mission to drive across Africa in an old Mini. Ricardo Mota and Adalberto Salveira had a dream of proving just how tough the petit Mini is, and this adventure would be their way of paying tribute to the tiny car.
They bought an old Mini in Durban and immediately headed to Maputo in Mozambique. From there, they would drive from the Indian Ocean across Africa all the way to Luanda on the Atlantic coast.
The two intrepid adventurers left Maputo on the 3rd of August, traversing Africa's rough roads in their little Mini. Mota and Salveira travelled about 1,000km per day, crossing the northern part of South Africa and heading into Botswana before making it to Namibia.
Although they didn't encounter any serious problems, the trip was not without its challenges. A couple of flat tyres caused minor problems, but the weak headlights on the old Mini made driving at night challenging, especially with huge swarms of mosquitoes getting in the way!
When they finally made it to the Angola border for the final part of their trip, Fate dealt them a cruel hand. Due to visa problems, they would not be allowed into the country. Mota and Salveira were devastated - their dream lay in shards just a few hundred kilometres from their final destination.
But Fate had another plan in store for them - turning around at the border and heading south through Namibia, Mota and Salveira arrived at Joe's Beerhouse. Here, the two adventurers regaled guests with their tales of adventure on Africa's roads, sipping cold beers and getting the occasional opportunity to converse in their mother tongue with other Angolese visitors to Joe's.
So impressed were the two with the hospitality (and cold beer and delicious food) that they donated their now-legendary Mini to Joe's Beerhouse. Today, Joe's Beerhouse is proud to have been part of this amazing tale of adventure, and our owners eagerly retell the tale of Ricardo Meta and Adalberto Salveira to anyone who asks about the old Mini standing outside."
If you find yourself in Windhoek do yourself a favour and don't miss Joe's Beerhouse.
Colin Chaplin, Cape Town.