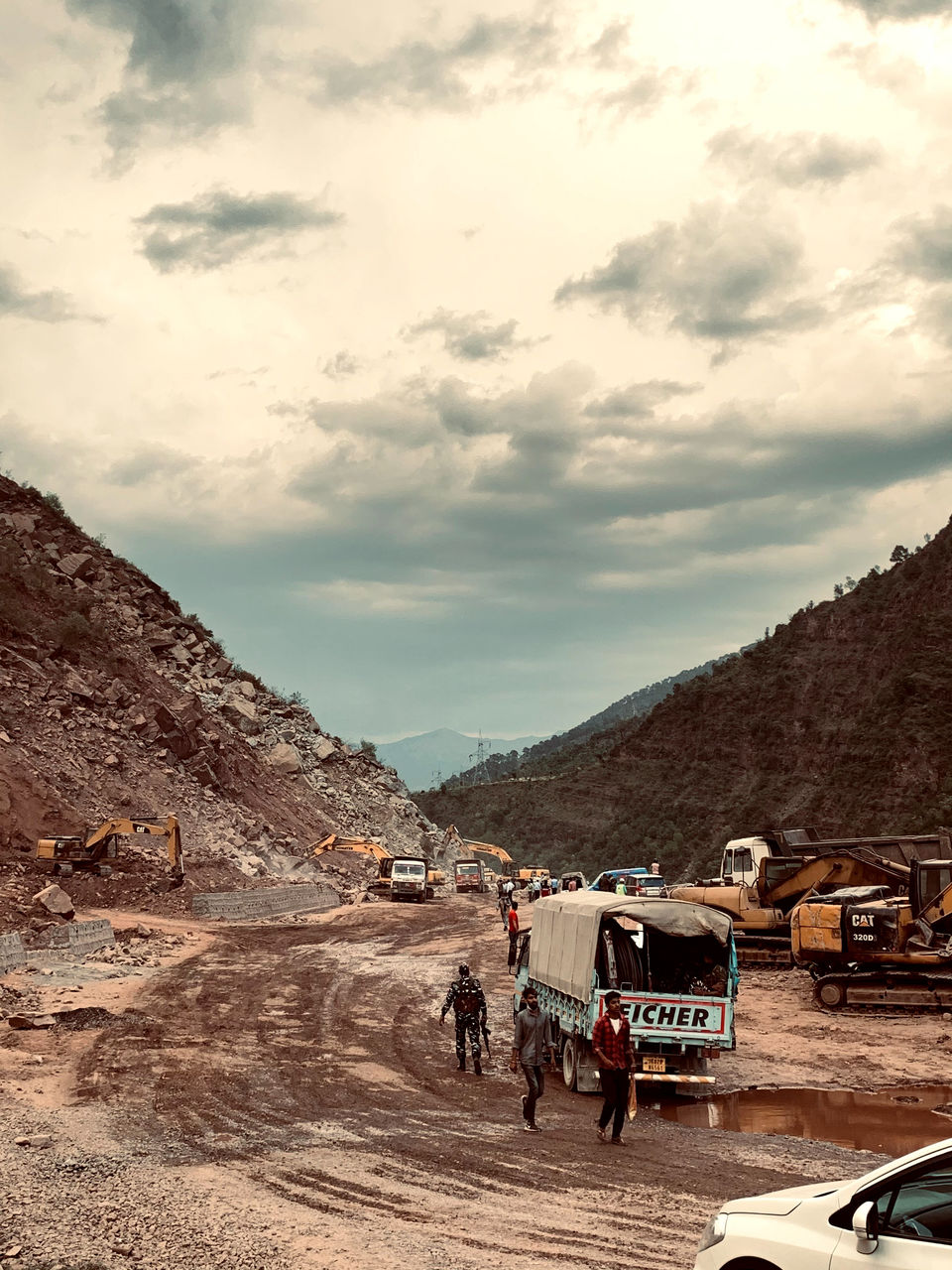 I was never in doubt that an escape was coming through, just needed to get myself in the right place. Since the season was about to end with the second wave spiking hard on us, we had to move things faster. So I got a squad as usual, sprinted through the maps and bam! we were going to Kashmir in two weeks. Corona was a concern yes, not for us but for the beloved relatives I would say. With high expectations and excitement we all boarded on the 10th of April. Oh it was the worst train of all, flocked in between the North Indian workers returning home we found it hard to breathe. Next day it got even worse as the train was going through the longer central Indian route which was like going through the Sahara. Temperature hitting 40 degrees all day and the extreme heat left us trembling. After a long 45hr journey we reached Delhi. We were so exhausted that we had to spend the entire afternoon in our friend's apartment there. Our plan to cover a part of New Delhi was left out as we had to catch our next train to Jammu the same day. Refreshed and recharged we boarded the Duronto express for the overnight journey.
It took us 3 long days to get to the capital city of Jammu. Finally the day time heat had gone down. Cradled around the Tawi river, this North Western city was a new experience. Stepping into the city the first person we met was a Malayali, a solo traveller returning from Srinagar. Always an amazing vibe to meet a mallu on the road. After a chit-chat we moved on to the streets of Jammu. As the name itself specifies the state is divided into two regions, Jammu and Kashmir. The Pir Panjal range of mountains, a section of the Himalayas runs across the state thereby making a division. Only one road through the Banihal pass connects Jammu with Srinagar. This 300Km long NH 44 is one of the most dangerous roads in the country, continuous landslides and rock falls makes it really hard for the roadies. And, as I feared the road was blocked for the day with some maintenance work. We were forced to take a cab as we couldn't predict how many days it would take to reach the destination and eventually it turned out to be a bit expensive. Wasting not much time the five of us left for Srinagar. Upto Udhampur you won't find any better paved mountain roads around the country, with lots of yellow lit tunnels and long four lane stretches. Our excitements though didn't last long, as we were stopped by the JK police from going on any further from Udhampur. A landslide had occured somewhere around and we were told to wait. Two hours passed by and we were desperate to move on. In the end our driver decided to slip in some bucks to the cops and within no time we were allowed to go further. Moving on, our hopes of reaching Srinagar that day was kept alive, but there it was around a curve, tons of rocks and debris piled upon the road. We could only stare at it in despair. More waiting followed. Huge bulldozers and JCBs worked continuously. At last it was evident that we weren't going to make it across for the day. We sort of had a backup plan, such situations being quite normal here. In case the road gets cleared by night we were supposed to reach and stay at Patnitop, which was an offbeat tourist area there. As the landslide had occured way before Patnitop we had to drop that plan too. So we headed back to Udhampur in disbelief and started searching for a room to stay. After finally getting occupied we stepped out on to the streets of Udhampur for a bite. A mix of Kadai paneer and roti from a local dhaba turned out to be the best thing that day.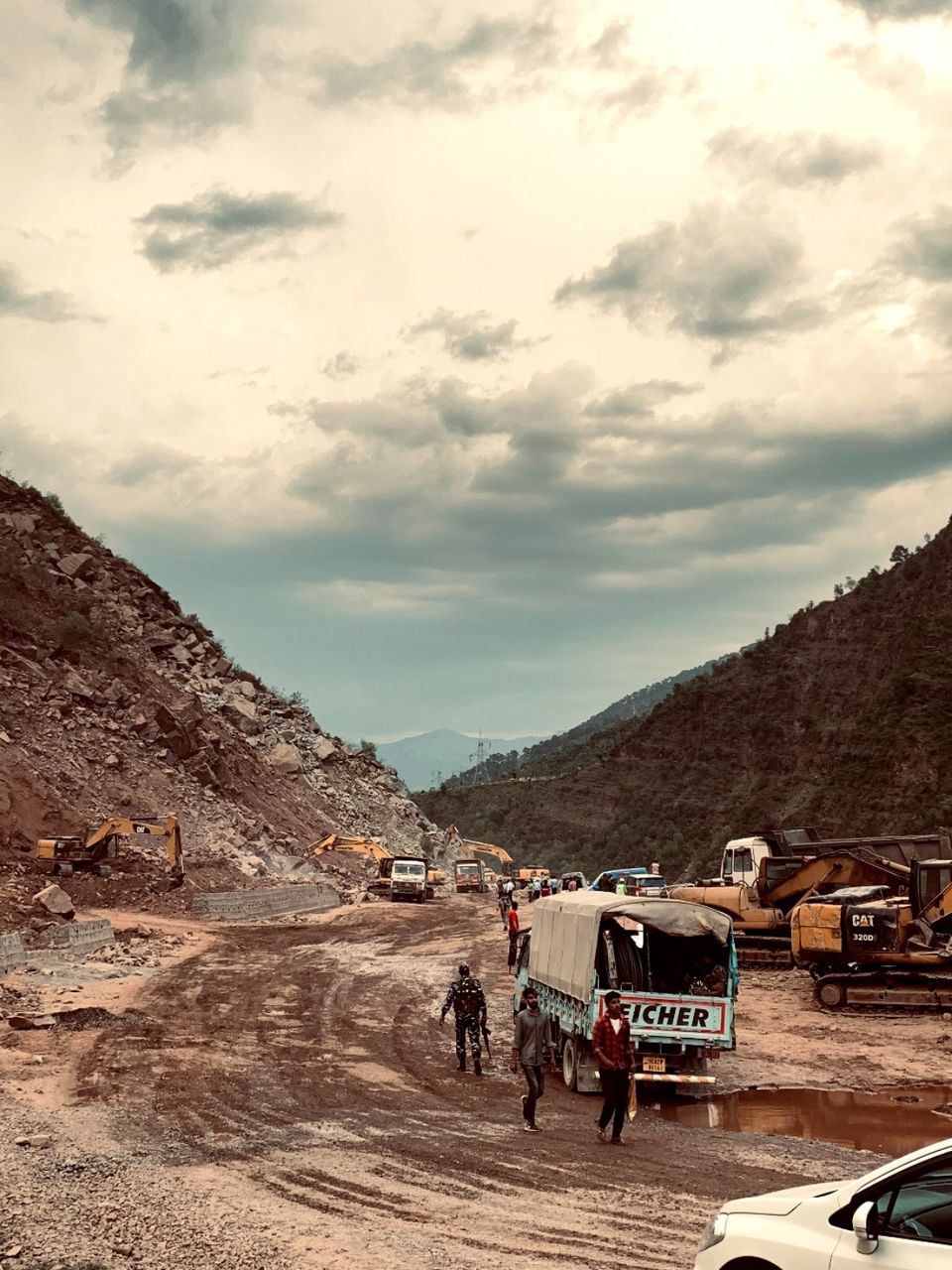 Waking up at 4am to a call by our driver, we were told to packup and leave as fast as possible. As the road could be cleared at any time, we didn't want to be the last to cross. Shivering in the morning chills we arrived at the check post, where we were stopped again. By now the area was packed by people. Buses and cars stood in long queues. We got down and walked through the alley for a quick enquiry. Once again we were left with an awful grim, as we had to wait for four more hours for the road to open. Some people even came over saying to change our plan and go somewhere else. Tired and low on optimism we went over to our car. It had been a nightmare of events, looking out into the deep darkness hoping for a bit of light to cut in, I slowly fell asleep.
It wasn't a while for all of us to get back on our feet. Cars and buses still came swarming in. Time was significant. Each second that passed by was like a drop of sand in an hourglass, clinching on to a ray of hope we survived the inevitable. And then out of the blue, there came an announcement. The Road was reopened. People started running for their vehicles, buses started honking, it was all a rush. I still don't understand why people up there use their horns so much. It's like almost a never ending line of wheels infront and they would still do it. Anyway the tension and disbelief around had made way for relief and joy. We were moving at last. 5 km ahead we reached the area of caution. Covered in rock pelts and debris, the roads were hardly visible. On top of that, dusty winds swooped in to make its mark. One by one all the cars rushed through the cloudy winds up ahead of us. Buried in the dusty air it was getting harder to drive. Inside the yellow tinted aura of the breeze, I felt as if we were on the sets of Mad Max. Where would these fury roads lead us to..?
After three hours of continuous drive across the Pir Panjal range of the Himalayas, we stopped for a quick brunch, from where we had a plate of Roti and Dhal that felt more refreshing than ever. It was starting to get cold outside. Hoodies and jackets took their place. Back on the road, Chenab was now flowing smoothly on our right. Even though yesterday's light drizzle had given away her turquoise blues, Chenab was charming as ever. Passing numerous tunnels and pitstops we finally reached Banihal. Located almost at the centre of this route, this place was really a hidden gem. Banihal pass is a small township of local workers centred around the valley, with numerous side streams of Chenab running alongside. The Kashmir railway line also starts from Banihal, which happens to have the 4th longest railway tunnel in Asia. To our amusement the town was covered with military trucks. We were stopped frequently for the army convoys carrying troops to pass by. It didn't take us long to get accustomed with the army interfering as it was quite common there. It was evident that we were not entering a normal tourist place. Kashmir is a large valley enclosed in between the Himalayas enriched with the finest cash crops like walnut, saffron, and blessed with jaw dropping scenery. The ongoing controversies with the neighbouring countries has clearly made Kashmir one of the most protected areas in the world.
The vegetation changed rapidly after Banihal, with tall willow trees now on to our left and steep coniferous cliffs on the other side. We slowly started to descent. We were approaching the valley. Enclosed by the Himalayas on every side, this capsule of a land had everything. Bright yellow saffron fields with a handful of small wooden settlements were visible now in the distance. The fields got brighter with every gaze. On to our right the Kashmiri railway line had come out of her tunnel. The occasional DEMU express whistled past us with pride resembling the iconic glacier express of the Swiss Alps. Passing numerous villages we finally reached the outskirts of Srinagar, the summer capital of J&K. The fact that it took us almost five days to reach there was amusing. We had pre-booked a houseboat from one of the contacts obtained en-route.
It was a cloudy rainy day and Ameen chacha was eagerly waiting for us at the town centre. Holding a rainbow umbrella and wearing an old fashioned sweater a man in his sixties came up to us. With a pleasant grin he asked us to follow him. The town was quiet and neat, with a few of the local people around. The streets were on the verge of closing. Walking down the canals of the Dal lake, I wondered how we could make up for the one day that has been lost. From the chaotic alleys of Delhi to the soothing boulevards of Srinagar, it is always incredible how certain cities heal you.