Ever since i came back, i haven't been able to stop yakking about Leh ???? It's been a year, well almost, and yet all the memories are still so fresh that it's actually inspired me to start blogging! So here's my contribution to the blogging world and what better way to start with a post about my spectacular journey to the Land of the Lamas (and the Yaks) and beyond..read on and enjoy (or burn with envy haha ???? ) After weeks and months and years of "oh we have to do this trip" conversations it finally happened.
Me and my soul sister Anamika Chauhan (I swear she's the coolest companion one can ask for...stays silent for most part of the journey, breaks into random songs at absolutely odd intervals and most importantly, has complete faith in my driving skills ???? ) had been planning to do the Leh circuit for a while.
I did it as a pillion rider the first time but then the voices inside me (that of a driver) wouldn't stop so this time around I drove..yes, the penultimate drive..Delhi to Leh and back..all in one piece! Woohoo ???? So here we were, Chatter and Chauhan ???? , all set to do this on our own, and boy did we do it our way! Oh and before i start, let me tell you that we did this trip via the Srinagar route, Manali as always was crawling so I thought it better to do this route this time. Manali has been left for our next to Spiti (hopefully before a decade passes by ???? ).
We started from Delhi on July 05th, at about 6am and reached Jammu by 4-4:30pm. Keeping safety and security in mind we decided to stay the night in Jammu. Found ourselves a neat place to check in, Hotel Vivek. This hotel is located right next to the bus stand (there are a couple of more hotels around the same place so finding an accomodation won't be a challenge).
Staying near the bus stand has its perks, you get to know all about your onward journey, routes, weather, travel time, distance, etc. Decent place to stay and good food. Note - by "decent place" I mean, from the perspective of two ladies, safety and cleanliness are the top most priority. Facilities at the hotel (please check with the hotel before booking): AC/Non AC Rooms with TV Room service Attached bath with hot and cold running water Basic toiletries Total cost of stay: 2500.00INR (approx.) including meals Delhi to Jammu offers a comfortable drive, about 600 odd kms.
easily doable in 9-10 hours with ample stoppages for meals, tolls, check posts, selfies etc.. You could also stop at Udhampur which is another hour and a half max from Jammu. Route taken from Delhi to Jammu : Delhi - Karnal - Ambala - Khanna - Ludhiana - Jalandhar (till here it was all NH1) - from Jalandhar it's NH1A (all the way to Jammu) towards Tanda - Dasua - Mukerian - Pathankot - Sujanpur - Lakhanpur (check post and toll, enter Jammu and Kashmir) - Kathua - Samba - Jammu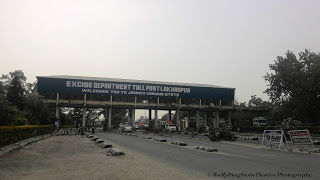 The next day started a bit late. It rained the entire night and was drizzling in the morning as well so we started from Jammu around 07am. The weather was just perfect for a long drive (a very long one here ???? ). Stopped on the way for a cup of tea and parantha, clicked a few pictures and back on the road.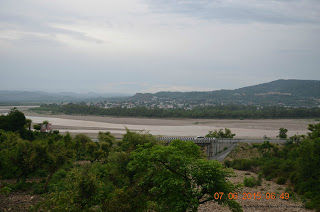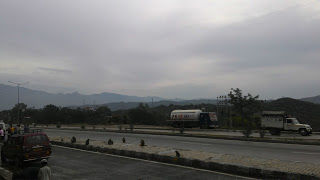 NH1A offers a smooth drive with some really nice views. Once you start approaching Kud, Patnitop, the road gets a little bumpy though. Kud is famous for its sweets and Patnitop is an extremely scenic and popular tourist destination and hence has ample stay options. One can stop at either of the places for some snacking/meals/rest.
There's some construction work (i think they're trying to make some conecting tunnels or something, you'll find out) going on after Patnitop, till about Ramban. So the road gets narrow and extremely dusty. Also, if you are travelling in the month of July, be prepared to face the ongoing/about to start Amarnath yatra traffic. And then you have the trucks with their not so nice drivers, not all of them but some of them drive really crazy ????.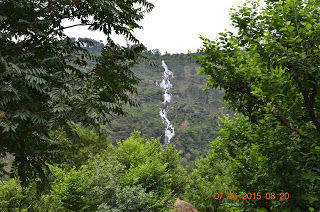 After crossing Ramban, the road to Banihal is easy, some patches here and there but overall a decent drive. The Rajma-Chawal (Rice and Beans) that one gets here (across the Jammu region), is to die for...must eat. Once you've crossed Banihal, the road starts approaching the famous Jawahar Tunnel which connects Jammu to Srinagar (and vice versa) across the Pir Panjal Range.
It's a 2.5 kms (approx.) long tunnel which ensures snow free passage all year round. There is a small check post, say about 2 odd kms before the tunnel, so keep your documents handy, just in case. We crossed over peacefully and landed straight in Kashmir, and what a view! Heaven on Earth it is.
En-route Srinagar..thanks to the rains, we witnessed quite a few of these..
From here on, keep going via Khanabal, Awantipora, Pampore, all the way to Srinagar. Although we had initially thought of heading straight to Sonmarg but we lost a lot of time due to traffic jams. We reached Srinagar late in the afternoon and decided to stay put, in a HouseBoat ???? Our excitement had touched a whole new level and it did not stop here, we went for a Shikara ride as well! *Kashmir Ki Kali kinda feeling* hehe..An amazingly beautiful experience.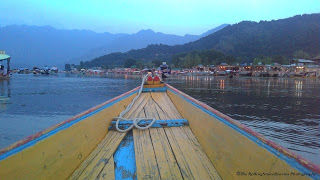 Enjoying an evening of Shikara ride at the Dal Lake..proper Bollywood ishtyle ????
The houseboat guy can arrange the shikara ride for you as he did for us. The houseboat cost us 2500.00INR including food, and the shikara ride cost us 1500.00INR for an hour and a half of extreme bliss. The houseboat had two decent sized rooms and a separate drawing/dining area and a sitting area outside, in the front.
Both the rooms had attached baths with geyser and 24 hour running water. Electricity may not be at its best, depends on the weather. So charge all your appliances while you can, that is if you want to. Network connectivity is fine, may or may not get data services. The month of July can get a bit tricky as far as the weather is concerned. When we started from Delhi it was extremely hot and humid. Then Jammu poured some.
And then Srinagar gave us good two-three hours of heavy downpour. Nature, in its full glory, rocked our houseboat quite a bit. It was a bit scary initially but then we enjoyed it ???? Electricity was back once the storm subsided. Had good homemade food, delivered hot, in the houseboat itself and called it a day.
Jammu to Srinagar via Udhampur - Kud - Patnitop - Batote - Chanderkote - Ramban - Banihal - Verinag (via Jawahar Tunnel) - Qazigund - Bijbehara - Awantipora - Pampore is approx. 300 kms. all of it on NH1A. While exiting Srinagar (to go to Sonmarg, Kargil) you'll have to take NH1D (Kargil - Skardu Road).
Had a lazy next day morning in Srinagar, guess Srinagar has that effect ???? no one's complaining.
Hot and delicious breakfast was served in the houseboat itself, stuffed our tummies and started for our onward journey around 10am. Stuck to NH1D, crossed some beautiful villages on the way and reached Sonmarg in the afternoon around 01:00pm.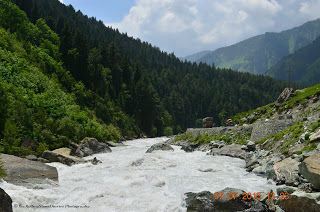 The place does full justice to its name, Sonmarg meaning Meadow of Gold. It is one of the most scenic places i have ever seen in my life. White gushing water, snow clad peaks, and greenery all around *gasp* It gets extremely cold in the winters and is pleasant during summers, may still need light woolens. Has ample stay options, including camps, might want to do advance as the place receives decent footfall during season.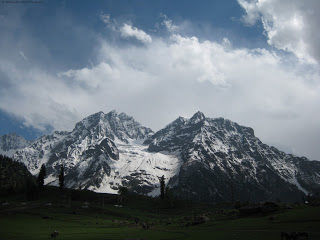 Sonmarg is the gateway to Zoji La, the first pass on the Srinagar Leh highway. Once you reach Sonmarg, check with the army personnel stationed at the check post if it is accessible the same day. Due to inclement weather conditions at the Pass, at times the road is open for one way traffic only.
So one day traffic moves from Srinagar to Leh, the next day traffic is allowed from the other side. We were lucky, the army personnel told us it was open that day and vehicles were moving without any restrictions so without wasting any more time we headed straight to cross our first pass, Zoji La.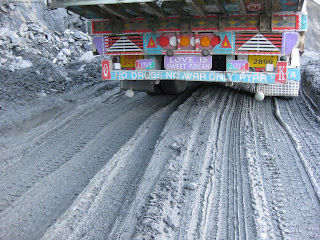 Once you start ascending you will lose network connectivity and it will not get restored till you hit Kargil which is a quite a distance. So make calls, if you need to, at Sonmarg itself.
On the way to Zoji La, you will see green meadows surrounding the pass dotted with colourful tents. That is when you know you have reached Baltal. Baltal is the base camp for the Amarnath Yatris and hence the tents.
The road to Zoji La (yes, there is a road which is a big thing in itself, so do not expect it to be all metalled and shiny) has crater sized water filled holes, slush, mud, stones, rocks from the landslides (at times leaving just enough room for one vehicle to pass), and anything and everything that you can or cannot think of.
So be mentally prepared to drive through all of that. Have patience and drive sensibly, and you will manage to keep yourself, your passenger(s), and your car safe and sound. Also, do not treat this as your regular hill station drive, coz this is sooo not that. Overconfidence is not the best trait to have here.
A harmless piece of advice, when faced with incoming traffic, stop at a safe distance (trust me you would not want to reverse here) and let the other vehicle pass and then you can carry on your journey peacefully. Once you've reached Zoji La, the descent is relatively easier.
The roads are a lot better than what they were while climbing up. At the base, there is a check post where you are required to register your details. Carry your RC and DL, that should do although you should have your insurance and PUC in place. This applies while coming back also. From here on the road (ummm..you'll know), especially the Pandrass region has extremely bad roads and stays that way almost uptil Drass.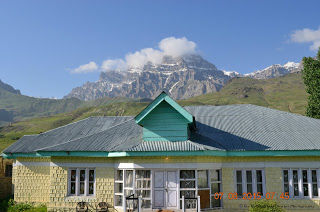 JKTDC Rest House, Drass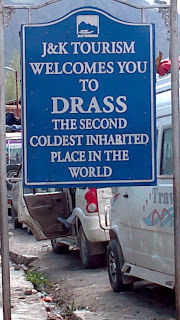 A lot of people prefer staying at Kargil than in Drass, coz accommodations are larger in number in Kargil, and also because Kargil is relatively warmer than Drass. Drass is the second coldest inhabited region in the world, the pipelines freeze during winters and the place is buried (almost) under blankets of snow (unsolicited information gathered from a local source ???? ). Even in July it was pretty damn cold in the night.
I personally prefer Drass over Kargil, merely because it is a very pretty small place while Kargil on the other hand is a bit crowded..to each his own I guess. Stay options are very limited in Drass, we were lucky to get a room in the JKTDC guest house which is completely booked most of the time. Note, you will get just the very basic facilities here across hotels. JKTDC rest house makes for a decent accommodation (definition of "decent" applies here too ???? ). No room service nothing fancy just basic.
One double bedded room cost us INR400.00. You can go out in the market and eat, very basic meals available but delicious nonetheless. We had reached Drass around 03:00-03:30pm, went out in the evening for a stroll, got a bit chilly after sunset so we had an early dinner and called it a day. Srinagar to Drass is approx. 150 kms and is covered via NH1D crossing Ganderbal - Kangan - Gund - Sonmarg - Baltal - Zoji La (pass) - Gumri - Pandras.
The next day was our final leg after being on the road for three days already. Started from Drass around 7am, stopped enroute for our customary breakfast. The roads from hereon are smooth, except for some patches around Kargil. This was a touristy day of sorts for us, with us stopping at memorials and museums and other places for sight seeing. Approx. 7kms. from Drass is the Kargil War Memorial, aka the Vijaypath.
You can see the Tiger Hill and the Tololing ranges (the 1999 Kargil War happened here) from the memorial. The memorial houses a sandstone wall in the open, which has the names of all the Indian Army personnel, who laid down their lives during the Kargil War. The gallery at the memorial has pictures of soldiers during the war and weapons recovered from the Pakistani forces, among other things. A must visit place. Canteen and washroom facilities are available here.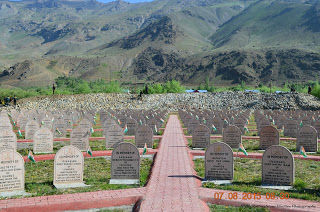 At the Kargil War Memorial...May their souls rest in peace, those who laid down their lives for us to have a better tomorrow..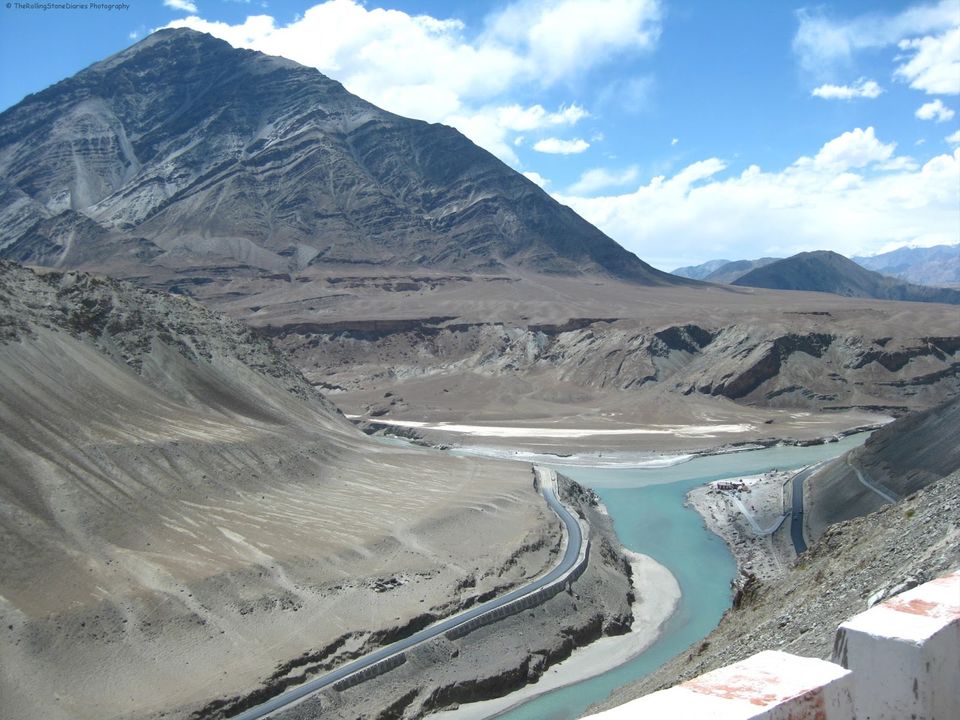 Our next stop was at Sangam Point, the confluence of the Indus and Zanskar rivers.
Leh is another 45-50kms. from here. Enroute we crossed the Mulbekh monastery and two more passes, Namika La and Fotu La. You will know you have reached Mulbekh thanks to the 30ft. tall statue of the Maitreyi Buddha encarved on a huge boulder over looking the highway. Beautiful piece of architecture. The Namika La and Fotu La were not half as interesting as Zoji La (no treacherous roads..yeah that's interesting for me ???? ) so there isn't much meat to write about these two.
Namika La and Fotu La are both at 12,000+ and 13,000+ fts ASL respectively, have awesome roads and are extremely windy. Good places to click pictures and there's a Prasar Bharti relay station located right at the top of Fotu La. I found that pretty interesting coz i didn't think there could be one at that height! After Fotu La, the road starts descending towards the town of Lamayuru.
We stopped at the monastery, prayed and thanked for a peaceful journey, calmed our minds and souls and continued on our sojourn. Around this monastery, there is a very interesting place called the Moonland, the rock formations give the place its name. Hard to miss it coz there's a signboard ????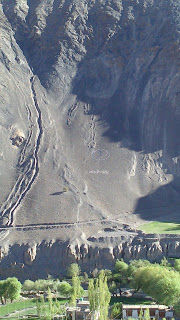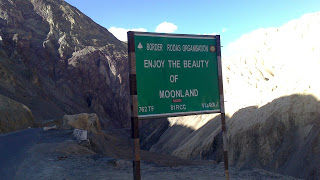 Determined to move forward ???? we reached the famous Magnetic Hill, via Nimmoo - a road as straight as an arrow. Once you cross Nimmoo, look out for a place, a flat land where you see vehicles stopping.
They may or may not have put up the Magnetic Hill sign board, so watch out. It's an absolute delight to drive through this stretch. Once you reach Magnetic Hill, park your car at the specified place (marked on the road), and see the car moving uphill on its own.
It is alleged that the place has a gravitational pull causing the vehicle to move uphill, with the ignition turned off obviously, however some say it's just an optical illusion. We couldn't care less to figure out science there, we just had a lot of fun. ????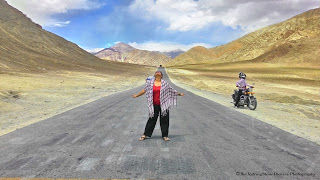 The exceptional partner in crime ????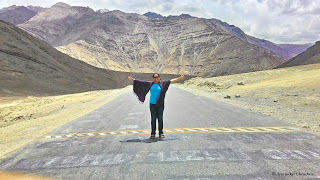 Magnetic Us..at the Magnetic Hill ????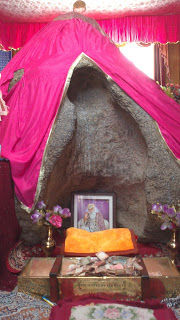 Saint's impression at the Gurudwara Sri Pathar Sahib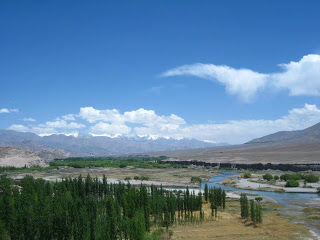 Next up was Gurudwara Sri Pathar Sahib. Legend has it that a demon, while trying to kill Nanak Sahib, had thrown a boulder at him from the hilltop. But when the boulder touched the saint, it softened and rested there taking an impression of the saint, hence the name Pathar Sahib.
The demon still not realizing the saint's powers, tried to push the boulder with his foot but the rock still didn't move and the demon's foot got imprinted on the stone. The stone with the saint's impression as well as the demon's foot impression rest here. This place is now guarded and well maintained by the army. Definitely worth a visit.
After paying our regards at the Gurudwara, we stopped at the Hall of Fame. It has some very interesting things to watch and read about. What I liked most was this huge model of India and its neighboring countries, right in the middle of the hall, with distinguishing features indicating the border areas, the LOC, travel routes - restricted and otherwise, etc.
They have an AV (audio-visual) show at regular intervals throughout the day and they also have audio guides, for whoever might need it. Cameras/Video cameras are allowed but at a nominal price per piece. Bags are not allowed inside but then that's what that big ass SUV is for right ???? From here we headed straight to our destination - Leh. This was the last leg of our journey and the last of sight seeing for the day. Just before entering Leh, you will be able to see the Indus river entering the beautiful valley. It's a beautiful sight to say the least.
This is what i was talking about..
A kilometer or two from here and you have reached Leh. That's a good 300kms drive (approx.), most of it uphill, but the roads are really smooth so it is easily doable. We reached Leh around 4:00-4:30pm from Drass via NH1D crossing Bimbat - Kharbu - Kargil - Mulbekh - Lamayuru - Khaltse - Saspul - Nimmoo. And finally we reached Leh..yoohooo..what a journey! ???? Still gives me the same thrill and excitement.
Checked ourselves in Palu guest house (for whatever time that we spent in Leh), nice and clean place, next to the Wonderland café on the Changspa Road. Cost us about 1000-1200 INR for a night, room only. The hosts are very nice and warm people.
They arranged for our parking as well given that parking is not allowed on the Changspa Road. All the good eating joints are closeby, within walking distance. Had a very comfortable stay here.
Part I of our journey ends here. Watch this space for Part II - Leh and beyond..and don't forget to keep those travel plans flowing in. Infact don't plan, just go for it.. Bon Voyage????
Frequent Searches Leading To This Page:-
honeymoon packages to ladakh, places to visit in leh ladakh in september, famous sports person of ladakh, top est honemoon hotels in leh, ladakh tourism logo