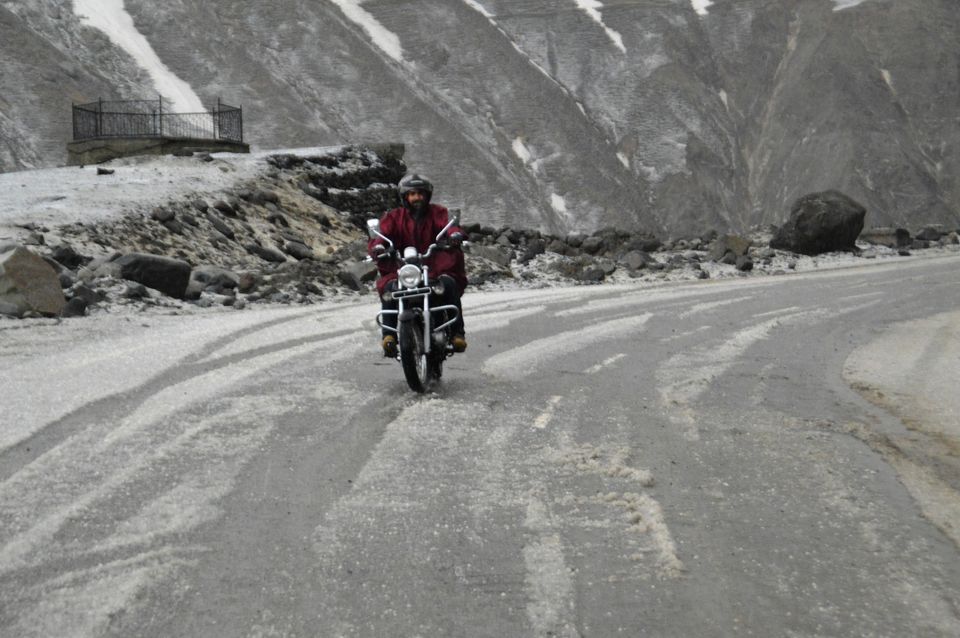 Two years after he took on a passion for biking, a Sopore man completed a solo motorcycle trip from Kashmir to Kanyakumari in eight days.
Sameer Ahmad Dar, a resident of Sopore, who made the trip last month, hopes that the trip is one of many to come.
It all began when Sameer bought a Royal Enfield Classic 350 motorcycle in 2016 and began to nurture dreams of travelling to exotic places like Nepal and Bhutan.
However, as he failed to find a partner, he went on a solo trip to Kanyakumari. The trip has changed his identity in the town from that of a coaching centre manager to a daring solo-bike rider. Asked how he took to long-distance rides, Sameer said it was something that evolved over time.
"After I bought a Royal Enfield Classic 350 and named it Amante, I started riding small distance trips; my first trip was to Rajouri and Poonch in 2016. It was a two-day trip of a few hundred kilometers where I came to discover my love for the road, the people and the cultures and that was the start of my bike riding diaries. I travelled almost all districts of J&K except Reasi," Sameer said.
"The Kashmir to Kanyakumari trip, now, across many states of India, is a preparatory trip for a larger International tours like Nepal and Bhutan followed by Kashmir to Kaaba."
Sameer said that after the small trips within the state, he planned to head out on a long journey but solo riding was not on his mind.
He says, he asked some friends on Facebook to accompany him, but when he set out on July 7, none of the friends who had assured to accompany turned up.
He convinced a friend for a co-ride up to Delhi, so as to assure his family that he isn't alone on the expedition but the friend also left him at Samba in Jammu. Sameer, nevertheless, was determined to make the expedition.
He took the west coast ride and passed through Ludhiana, Jalandher, Delhi, Pali, Rajasthan, Surat, Mumbai, Hubli, Bangalore and Trivandrum making many pit stops along the way before reaching Kanyakumari.
"It took me eight days to reach Kanyakumari but it was a trip of a lifetime," he said. Riding solo came with its own perks, says Sameer.
"While some of the routes have scenic views that will take your breath away, others have you captured in their culture with the food and traditional art forms. I realized that it is important to be well-travelled. It opens new horizons for you," he said.
For such an expedition, a person has to consider many factors apart from the route, such as the best season to travel, the distance to be covered and number of days and what for to be prepared in the journey but in Sameer's case, he not only skipped to consider the factors but also set out without a bike tool kit and a GPS.
"I remained positive throughout the trip and was never scared of anything, and honestly nothing bad happened to me. Whosoever I met welcomed me, helped me to find me right routes and even offered me tea and food, the trip was all about positivity," Sameer said.
"Having a co-rider or pillion brings a sense of comfort and companionship but I had none. Going solo got me to know myself as I truly am, without the help of the many filters that life sets up. I learned to set a pace at my own speed. I also learned what suits me the hard way," Sameer said.
However, he said, there were many ups and downs too, including heavy monsoon rain in different states, a strong windstorm which was "pushing my bike from one side of the road to another", and four punctures. He was also worried about his parents who were not aware that he was travelling alone.
"But nothing stopped me and after completing my trip to Kanyakumari, every risk taken seems worth it, and now I want to head for international trips which include a Nepal and Bhutan and a dream trip from Kashmir to Kaaba. In coming years I will complete these trips, Inshallah," Sameer averred. This "unimaginable respect" he is getting from people these days, is making him feel proud and encouraging him to do more.
A postgraduate in Islamic Studies, Sameer is a manager at a coaching institute at Sopore. He is married and has two kids. He has a message for young bikers.
"Drive but don't fly! A bike is not about losing control but learning to get control over yourself," said Sameer. To others, he says, "Don't stop pursuing your dreams after getting married or getting old because you are never old if you continue to pursueyour dreams."
Frequent searches leading to this page:-
vashno devi family tour package, top kashmir travel agent package, top resorts and hotels in Kashmir, places to visit near jammu, best time to travel kashmir, most visited places in jammu and kashmir, srinagar package for family, solo trip kashmir package from delhi, family trip package to gulmarg, srinagar honeymoon luxury package, kashmir group trek package, top activities in kashmir, best local site seeing in kashmir