#SwipeRightToTravel
It was already late, around 5.30 PM and the cold breeze had made its way, when I left Srinagar, two days after the attacks at Udhampur, in 2015. The atmosphere was full of sorrow, pain and anger when I mounted the last Sumo for the day to head to Sopore. Time hardly mattered for me, as I was in no hurry; I only had to reach my friend's home where a tempting dinner awaited me. It was a drive of at least 3 hours, and I knew better than to save up my phone battery, without listening to music, as I had to contact my friend once I reach Sopore, and you can never tell about the availability of power in Kashmir. I didn't want my mobile to die leaving me in the middle of Sopore for sure! The Sumo waited till more passengers took their seats, and waited a little longer at the stand (maybe because it was the last Sumo to Sopore, and most passengers could be stuck on their way due to the protests, active since the past two days) and set off. The Punjabi music paved it way through the vehicle, and for what reason I couldn't say made me restless. Maybe I wanted things to be calmer, as I was depressed by the newspaper headlines from two days, of how brutal the killings were.
Darkness breaks off soon when the winter is coming, they say. So accurately, it did. I was told by many to stay back in Srinagar that night and to leave early morning the next day, concerned of the situation at that time and of my safety, as I was a foreigner, and for some reason, a girl all by herself in Kashmir traveling the night. With very many visits to Kashmir and independent traveling experiences, I refused. And who can tell there will be no Hartal the next day? I gathered all my confidence and said I must reach Sopore today at any cost, even though there was no emergency whatsoever. Anyway, I couldn't turn back then, can I? The Sumo consisted of two middle aged men, who seemed to know each other, a young man in his 24's with earphones plugged to his ears. I didn't see clearly who was seated at the back. More men, I assumed. Long noses, big sparkling eyes, and glowing skin at any age, and sharp looks, that's how I identify Kashmiris and my guess has never been wrong. It's like a natural connection, that I pick them out among millions of people.
So, technically I was the only lady in the car. I was at the window seat, and next to me sat an old man, probably in his 50's. He was talking to someone over the phone in English, which was really good I must say. Once he was done with the call, I gave him a smile, which he gladly returned back. The Sumo was now passing HMT. He looked at me with a deep look and asked me in Urdu, "Where are you from, you must be from the South?" It wasn't his fault. For most Kashmiris, everyone except a Kashmiri himself, is from South. "I am from Sri Lanka" I replied back in Urdu. The chatting and laughing stopped, and generated heavy silence all of a sudden. I could hear the men in the back seat leaning forward asking the young man whether I really said Sri Lanka and to catch a glimpse of my face. "Sri Lanka!!! Oh Ravan's Lanka!?" the man exclaimed. I smiled as it was not the first time I heard that, and said "Yes you can say that".
The time was 7.15 PM, and suddenly I was the center of attraction. The driver kept turning back to look at me sending shivers over me as I expected him to look forward, since it was so dark and I could hardly make out the sight of the road. The only light that soaked us in was the light of a lamp post every 10 minutes, sometimes which too disappeared. There must be a power cut, I assumed. The young man had removed his earphones, and bent towards me, "We love your Sangakkara, and he is simply amazing. We love all in Sri Lankan cricket team. Are you really from Sri Lanka? But how come, it is so so far away, and Indians themselves do not visit Kashmir. What brought you here? That too all by yourself, at this time of the hour? Do you know where you need to get off at? And by the way your Urdu is perfect, how did you learn it?"
Just before I could answer him, someone from the back seat reached out to me, and said "Is it true that Ravan took Sita away? And kept her in a cave? We had always been curious, do you worship Ravan?" I was only able to tell them that we too had known it merely as a story and Sri Lanka is a Buddhist country, like Ladakh. I had to explain to them that I was living in Delhi, and that I was in Kashmir on a holiday, and also I was traveling around the state to collect information on community development in J&K, as I am myself a community worker back in Sri Lanka. The conversation was so human and warm, I almost felt I was home, and I had known these people from centuries back. We cracked jokes about the politics in India, and I also learnt that the young man's name was Izaat and his sister is living in the US and he had planned to go there. But since his father went missing, he had to stay back to support his mother ever since. He cannot remember his father. He was only 2 years old when his father was taken away, and they found his body later on the side of a lake, tortured to death.
I said it was not my first time in Kashmir, and they were all pleased of my multiple visits, and kept asking me how I felt to be there. "It's like home to me" I replied. "What the media has to pour out every day is not my concern. I am too from a country that faced peace threats for 30 years. I know what it is like to be called a citizen of such a place. I know how they cast the looks upon you. Even after 4 years in Bangalore and 1 year in Delhi which are metro cities, full of all development, I haven't still found a place where I feel safer and protected than in Kashmir. Because I have realized the goodness in their hearts and they would not harm any innocent. They are not fighting people. They are fighting the wrong do. That's why I am here for, basically. To write to the world about you. To cease the wrong perception most people hold about you"
They beamed with broad smiles from left to right. Even with the pitch blackness taking over us, I could see it came from within their hearts. "You are such a smart, brave, young girl. Not because you wander in the dark with 6 men in a car, but because you have taken up this cause that many do not wish to accept even when they know it." The old man held my hand in a fatherly manner and continued "I am Amanullah. I wish my wife was here. You would have loved her. She is beautiful and so talented in knitting and singing. She is at home; I went to Srinagar to buy goods. She must be waiting, with mutton prepared for dinner. Please do come to our small house for dinner today, it will be an honor. I have a daughter just like you, come meet her. Take her with you around the world. I want her to be independent and educated."
I could only be apologetic, having to turn him down, as my friend's family waited for me too. And I had to be there. The young man leaned forward properly, and I could see his face much clearly then. He was handsome. I knew for a fact that any girl would give in her heart to him if he had come to Sri Lanka. But he was so humble and enthusiastic over the conversation, that I couldn't keep track of my mobile. Due to the immense coldness spreading out, the battery was on the verge of dying. I had to force the old man to save my friend's dad; Mr. Hamdani's number on his, before my phone died and I lost the contacts. What more, he called Mr. Hamdani and informed him that Sakie is safe with them and they will drop me off exactly where he waited for me.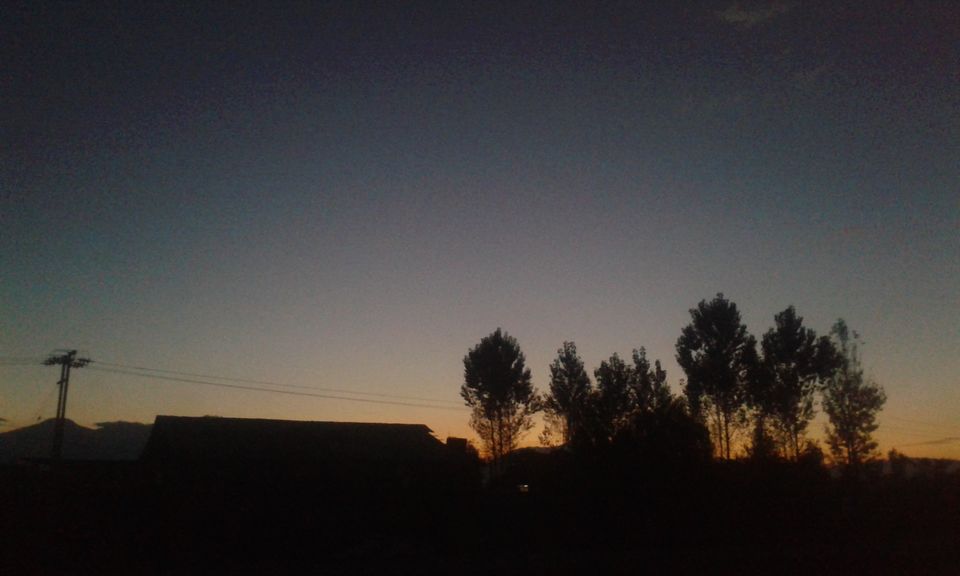 They all took turns in inviting me for tea at their homes, said I was the first Sri Lankan they had met, and felt so happy to see that foreigners understand the goodness of Kashmiris too. They even asked me what crops are grown in Sri Lanka and was surprised to know that we too, call rice "Bath" in our language. They never asked me if I was a Muslim, or a Hindu and paid equal respect towards me just as they would pay for a Kashmiri girl. They did not try to take advantage of the fact that I am a foreigner; moreover they offered to pay for my Sumo ticket, saying "No, no you must accept. Let us buy you the ticket, you have come to Kashmir, you are our precious guest". It was with great difficulty, that I managed to stop them. It was almost 8 PM when our vehicle was stopped at a check point; two army officers came and looked into the Sumo. They ordered everybody to show their identity cards and for the driver to step out with documents. The passengers acted normal, as if it was a daily routine. They kept the warm smile on their face as if to assure me that it is alright. Nobody asked for my identity proof. Maybe because I was the only girl.
We kept moving forward, and at some point I wished we didn't reach Sopore, as I wanted to see these people again and again in my life. I looked outside the window and only managed to make out the leaves of the trees dancing to the wild wind, visible with the pale moonlight as the whole area lied in darkness. Darkness of life, or power one could not tell. I turned back to my gang (we were acquainted well enough by then) and said "I need to get off in front, near the girls' school. My friend's Abbu must be waiting there". The driver nodded and parked the vehicle by the side of the road, which was empty and painted in black. I got off only to find out there was no one waiting for me, I reached for my mobile which had died long ago. Sigh. "Oh not to worry!" the old man in a cheerful voice, "He must be on his way, no power you see. Let me call him." I must say, that with all the bravery aside I was starting to feel a bit nervous of the thought of having to wait for Abbu, alone. This was all my fault, I thought. Had I reached Sopore earlier, I could have managed to take the bus to Shangergund. What bus is running at this hour! I must be mad as hell.
"Is the phone ringing?" the young man asked the old one, worried at him and smiling at me. Bringing comfort, I felt. "Yes it is, he must be on his way. Not to worry, if he is unable to reach, you will come to my place. My wife and daughter will be overjoyed to have you there, and we will make hot hot Nun Chai (Kashmiri special salt tea) for you!" At this moment, the driver got off the car and asked whether I was feeling cold. I looked around and felt uneasy, as I felt all the passengers were getting late to go home because of me. "It's alright Mr.Hamdani, we are with her, take your time. We will not leave until you arrive. We shall have a nice chat with her till then" I heard the old man talking to Abbu over the phone. Izaat lightly held my hand and said "it's my pleasure to meet you. Come back soon." When I waved them good bye the old man shook my hand and said that he said informed the army persons at the check point, that I was his daughter.
I could imagine the scene my mother would have created having known the situation I was in. But I also knew the difficulty in making her understand how these people who are miles apart from Sri Lanka is like family to me. Even among thousands and thousands of people in broad daylight, I haven't felt this happy, safe and sound in Delhi, like this cold, winter night with people I had known for less than 5 hours. Some may think it was a co-incident that I met good people, but I consider after so many trips to Kashmir, with my stubborn travel plans at odd hours, I had learnt better that the warmth of Kashmiri hearts will only grow. For people who ask me sarcastically "You are back from Kashmir, alive?" I only have to say that I had never been this alive when I left. To most people, who look at Kashmir or its people with a negative eye, all I have to say is, open the windows, and unlock the doors of your hearts and ears. Stop buying stories and start discovering. The beautiful Kashmir is truly a heaven and I believe angels are all destined to be in heavens aren't they?
Frequent Searches Leading To This Page:-
guide to jammu and kashmir, glacier trek packages for friends, solo trip kashmir packages from banglore, family trip packages to jammu and kashmir ,kashmir tour packages for family , top kashmir tour packages for honeymoon, kashmir group packages , sports activities in gulmarg , top activities in kashmir , top valley to visit in srinagar , budget hotels in kashmir , best local site seeing in kashmir , srinagar best food , adventure in kashmir