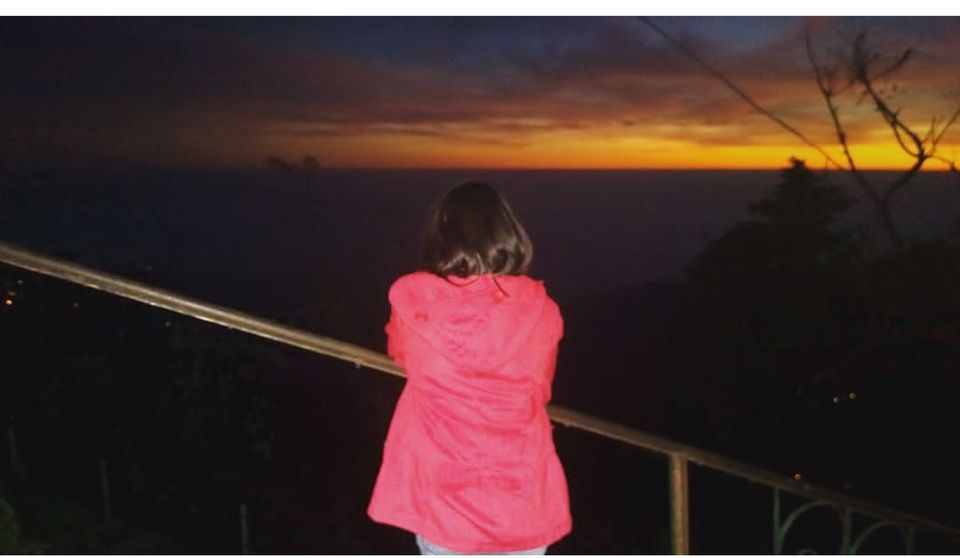 The queen of hills has always been the favourite destination for tourists in north India.
From honeymoon trips to long weekend getaways with family to a fun adventurous trip with your friends, almost atleast one member of every Indian family has a story to tell about Mussoorie.
It's easily approachable, has a lot to offer and is affordable.
This colourful hillstation located at the foothills of Himalayas changes it's shades in every season.
The bright sunny days in summers and the immensely clouded atmoshphere when it rains, the beautiful red winterline during the sunset and the neat white sheet of snow in winters, all of these are the gorgeous phenomenons of our own queen of hills.
Since I have been living in Dehradun for a few years now, visiting Mussoorie every now and then has been a routine for my friends and me. And now that it's time to leave the city, it has already made me so nostalgic that I decided to jot down my list of favourites and must do's in Mussoorie.
Places to visit:
1. The first thing you'll have in front of your eyes is the famous mall road of Mussoorie and needless to say, it is the most colourful sight you can have in Mussoorie. Although the mall road can be extremely crowded sometimes due to the influx in tourists during the weekends, if you're lucky, you can make your best bet at one of the most peaceful and photogenic walk amidst the clouds at the mall road. Also, if you have a special corner in your heart for street food and desserts, please take your time on the mall road. I am sure it's a paradise for you.
2. At a distance of 15 kms from Mussoorie, there's this gigantic waterfall, the Kempty falls, at the height of 4500ft above the sea level. Kempty fall is handsdown the most crowded picnic spot of Mussoorie, specially if it is a sunny day. There are ample amount of taxi's available for the spot at 'Kemptly fall taxi stand.'
3. The Jhulaghar-Gunhill cable car ride. Right in the middle of the mall road is the Jhulaghar, from where you get a cable car ride to the Gunhill top. They charge you Rs. 75 per person for a round trip. Gunhill gives you a complete view of the snowcapped Himalayan ranges on one side and the Dehradun valley on the other. The point is second highest peak of Mussoorie after the Lal Tibba.
4. Company bagh, also known as the municipal garden or the company garden is a very popular attraction for family picnics. It has a beautiful spread of colourful flowers. The park has an artificial lake which is open for boating and also a mini amusement park which has a few rides for the kids. On a typical winter morning, under the comfortable sunlight, you have a few options to have local food at small restaurants, within the park itself. The entry fees for the company garden is Rs. 20 per person. Also, there's K. Dev Bhoomi wax museum, inspired from the madam tussauds, within the company garden, it has a separate entry fee of 100 per person.
5. Lal tibba, being the highest peak of mussoorie is like a heaven for people who love landscape views. It offers you a perfect walk on the white sheets of snow on some winter days. Also, because it is not at all crowded it is the best place to find peace at, with a hot cup of coffee and your favourite book, or maybe your earphone plugged in to your favourite songs with an amazing view in front of your eyes. It is simply serene. (also, don't forget to try the hot coffee at the lal tibba cafe). If you're visiting during the winter season, you're sure to catch the winterline view at the time of sunset. Please stay back to witness this phenomenon. It is said that the winterline is a meteorological wonder which is only visible in two parts of the world, one of them being mussoorie and other one is Switzerland.
6. Landour – Char dukan and the café IVY.
Char dukan, exactly as it sounds like, is four shops next to each other. The shops have been established here for the past 60 years and still serve the best food. You just cant miss out on pancakes and ginger lemon tea at Anil uncle's café. If you visit here, please do not bother the puppies there, they are very very friendly and will not harm you. (I have seen a lot of people create a fuss about these dogs, only because they look huge). Right opposite char dukan is the café IVY. The café is well known for its aesthetic ambience and view. Personally, I feel it is a little expensive, but it is so pretty you just can't not go there.
7. St. pauls church and the Kellogg memorial at landour. Right next to the char dukan there's this mesmerizing peaceful tall structure of st. pauls church. It stands strong with all the backdrop of history from the british era. It does not cover a lot of area, but I think it is one the most prettiest and eye catching places in mussoorie. Almost 350-400 mts away from the church us the Kellogg memorial church, which, also has such a beautiful structure and history associated with it. Both these are a must visit according to me.
8. Trek to the Sir George's everest peak. Home to sir George everest for almost a decade in the mid 19th century, this peak has now become an attraction for trekkers and tourists. Although the hike is only of 500mts, it is uphill and extremely steep, and is absolutely worth the effort.
Other places you can make a short trip to in mussoorie are
1. Bhatta falls
2. Lambi dehar mines
3. Clouds end and hathipaon
4. Landour bakehouse
5. Camel's back road
6. Mussoorie lake
Places to eat at:
There are a countless numbers of cafes, restaurants, food joints and street vendors in mussoorie but there are some cafes which serve really really good food and have been very well known over the years. Some of them are:
1. Kalsang
2. Clock tower café
3. Lovely omelette
4. Anil uncle's café
5. Chic chocolate'
6. Tavern (if you want to fine-dine)
7. First gear cafe
8. Street food stalls near jhulaghar
9. And ofcourse, the pahado vali maggi.
Where to stay?
There are hundreds of options available in mussoorie depending on your budget. If you are low on your budget, I will suggest you to not pre book the rooms and go there because you can get a good deal if you bargain well.
High end hotels:
1. Country inn and suites by Radisson
2. J.W.Mariott walnut grove
3. Welcomhotel the savoy
4. The Sylverton mussoorie
5. Jaypee residency manor
6. Welcome heritage kasmanda palace
7. The claridges nabha residency
8. Rokeby manor
Mid range hotels:
1. Hotel mosaic
2. Seclude mussoorie
3. Starz clarks inn
4. Sterling mussoorie
5. Jharipani castke
6. Vishnu palace
7. Surya kiran
8. Shiva continental
Budget hotels:
1. Hotel deep
2. Hotel broadway
3. Hotel Himalayan club
4. Mussoorie gateway
5. Bunkotel
If you have a few more days to spend in this area, try to visit these places too:
1. Dhanaulty
2. Kanatal
3. Tehri
4. Rishikesh
5. Haridwar
Tips to remember:
1. Always carry an umbrella and warm clothes no matter which season it is.
2. Avoid weekends because it is very crowded.
3. Try the local cafes and food joints instead of the mainstream food chains.
4. Use the natural resources mindfully.
5. Do not, I repeat, do not litter.
Please maintain the cleanliness and greenery in and around the hills. Leave your city life behind and enjoy the solace. Be a responsible traveller.
In case of any query, feel free to DM.
Thanks for reading :)