What happens when an architect and a civil engineer get together ? A state of the art commercial space or an apartment complex with hundreds of dwellings or perhaps a sleek, fancy Mall ?
Surely not a gorgeous traditional house set in a peaceful mango grove in the midst of rural surroundings, far away from the concrete jungle, right ? Well this couple dared to do it differently and left behind the hustle and bustle of the big bad city, for the rustle of the mango leaves and their beautiful home stands amidst the mango trees, as a symbol of their passion for all things traditional and rustic !!!
Ashwini and Sudhakar, hereinafter referred to as AshSudhi, are the proud owners of this 8 acre grove that they have named Mango Mulch, a label that stands for the millions of leaves that carpet the land under the canopy of their monumental mango trees and eventually break down into mulch that organically adds nutrient value to the soil.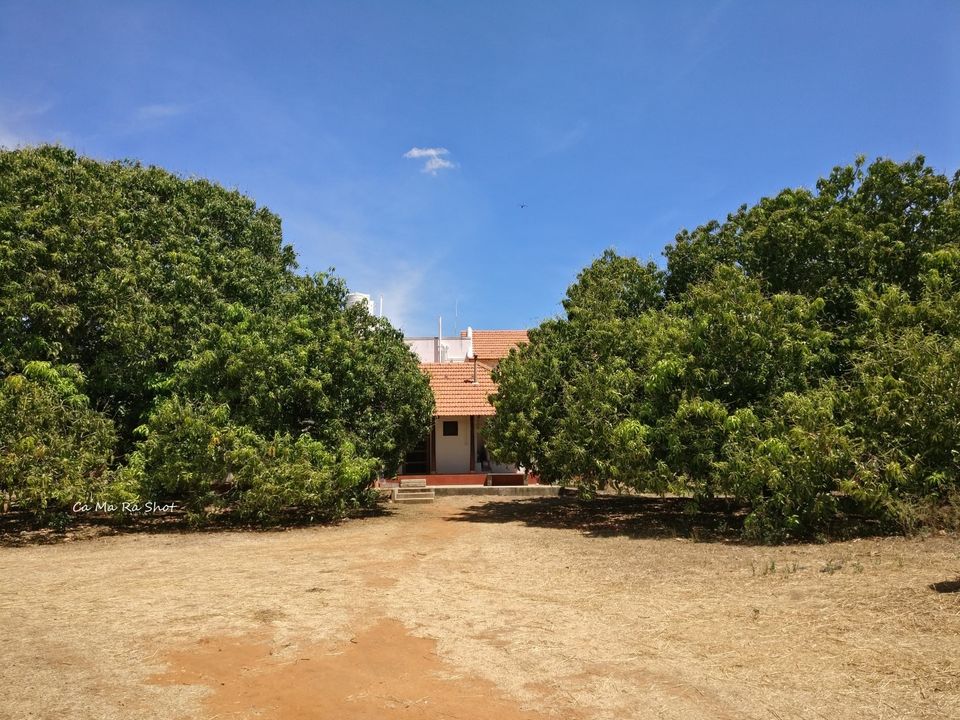 When AshSudhi initially saw this farm, they fell in love with it and decided that this would be home for the rest of their lives. Considering themselves blessed to benefit from this idyllic life, they generously decided that they would also open their doors to like minded people who would appreciate what they had. Thus in Nov 2016, was born their home stay where they treat their visitors like revered guests and share the charming experience of their life.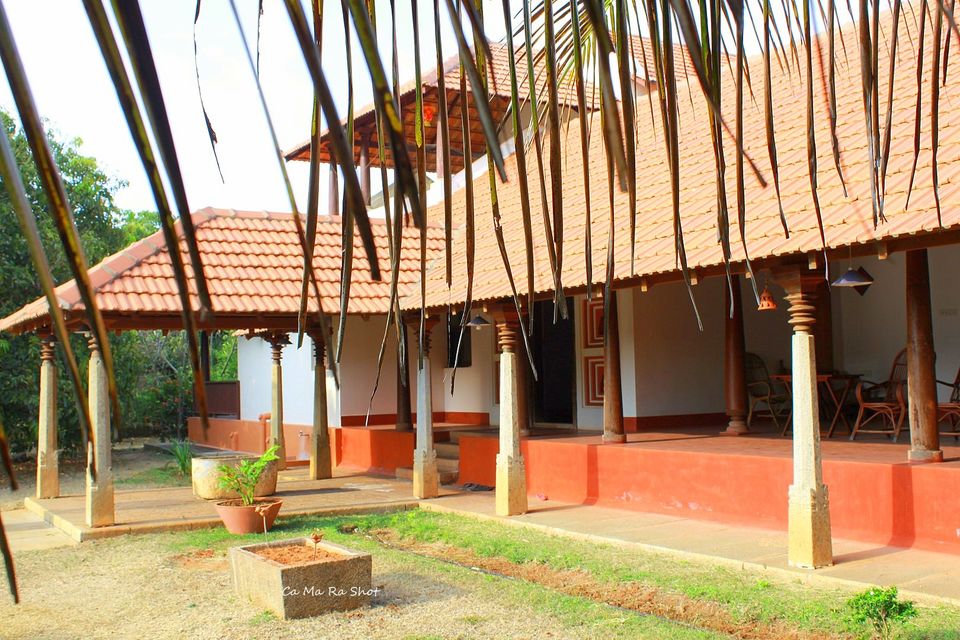 About the home stay –
There are 3 cottages on the farm which follow what is known as a Golghar design, with a Katte which is a stone or concrete seating at the entrance, where people used to relax in the days of yore.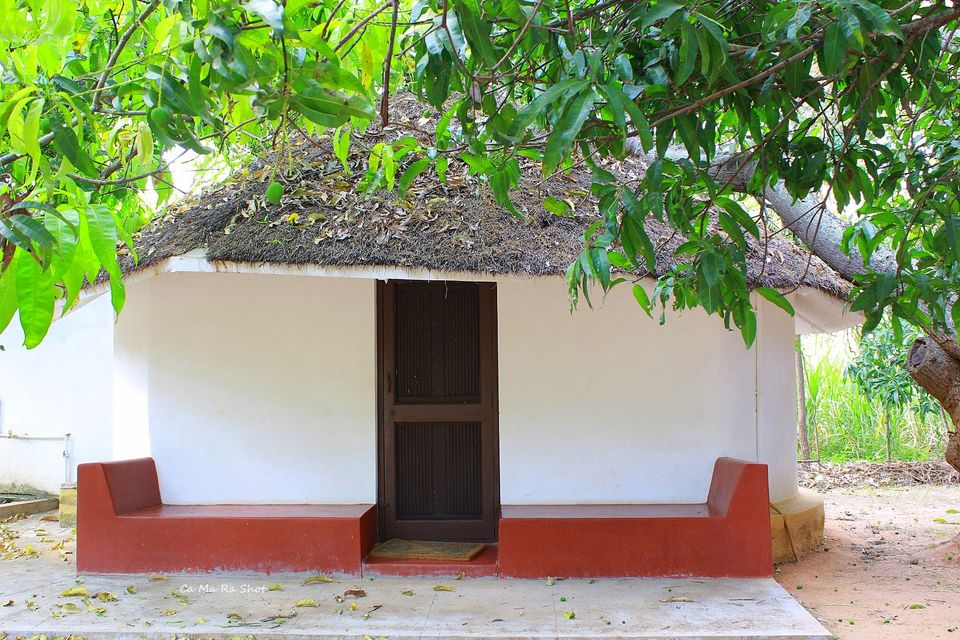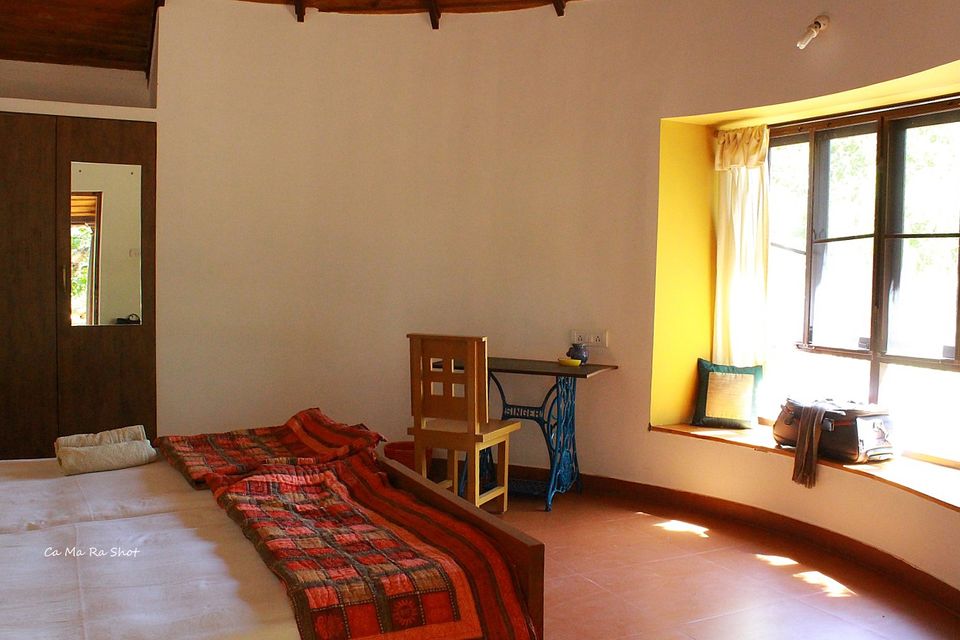 The flooring is of an endearing red oxide and the bathroom though sufficiently modern, is set in stone flooring which adds great charm, besides being skid proof.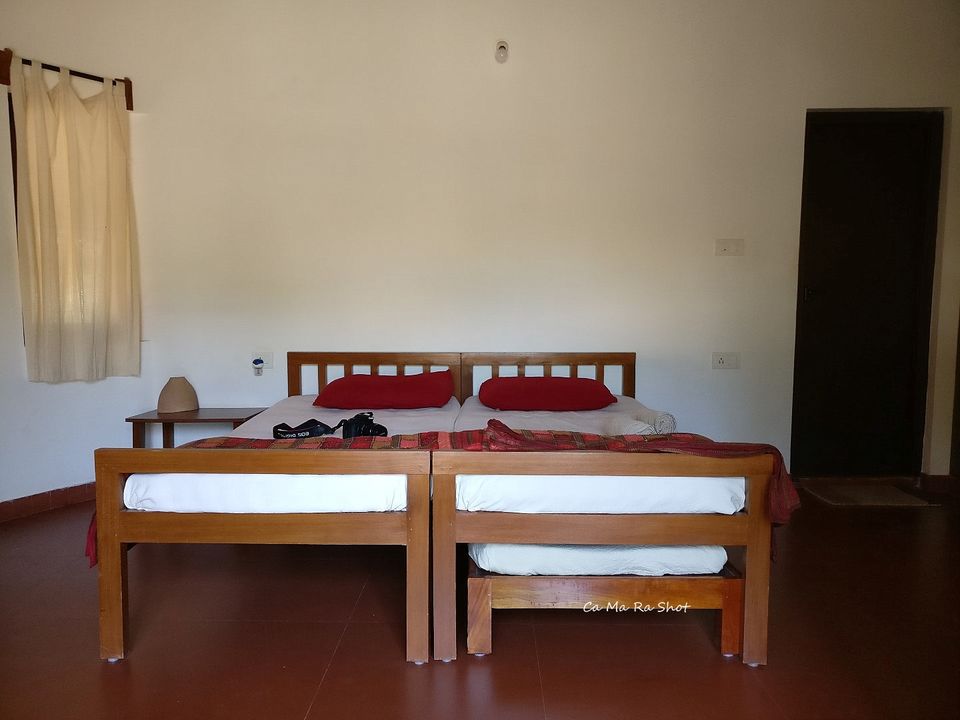 The cottages have a verandah where one can sit and soak in the sun dappled surroundings.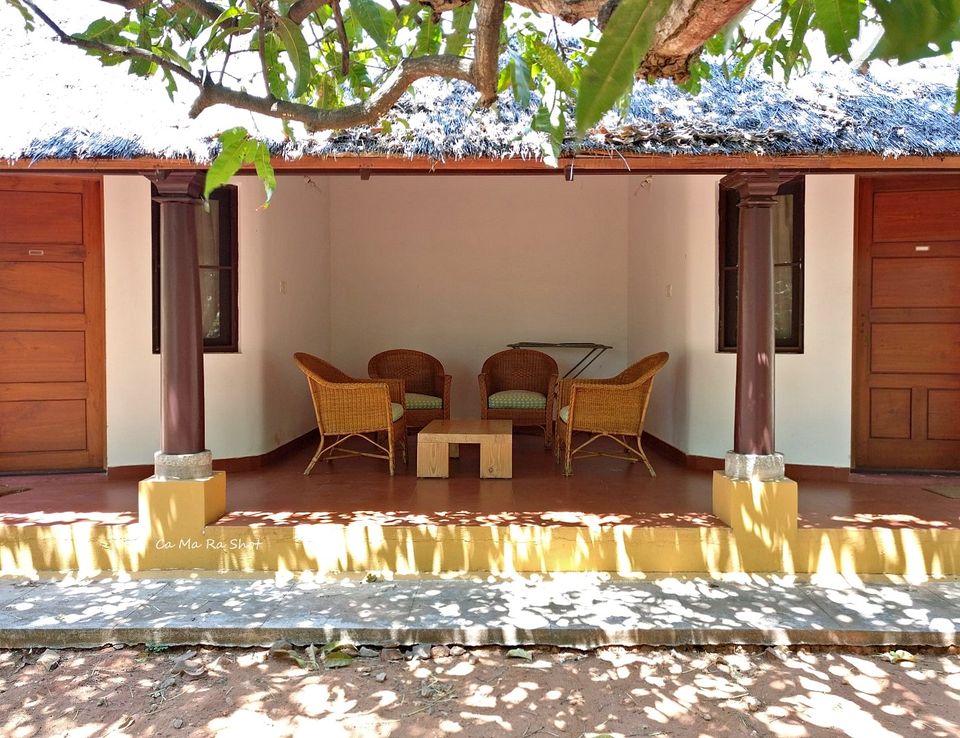 A hammock (but of course) swings between the mango trees.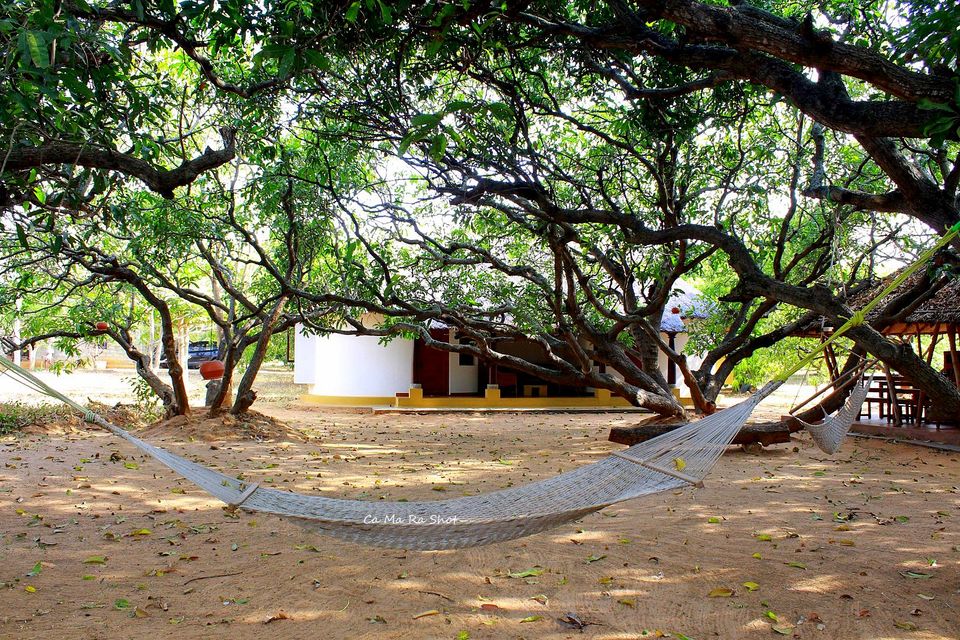 Apart from the mangoes, there are several other fruit trees and plants in the property.
Things to do -
This place is mainly chosen for a quiet holiday. There are a number of birds on the property, including several peacocks that call through the day.
One can stroll into the nearby villages and in the evenings it is highly recommended to do the short walk to what they call the Sunset point (which definitely scores a Brownie Point).
You will be rewarded with breath taking views of the sun sinking into the horizon behind a sliver of river, with the blaze of colors in the sky, glimmering onto the shimmering water of the Kaveri that is restrained by the Madavamantri dam in the distance.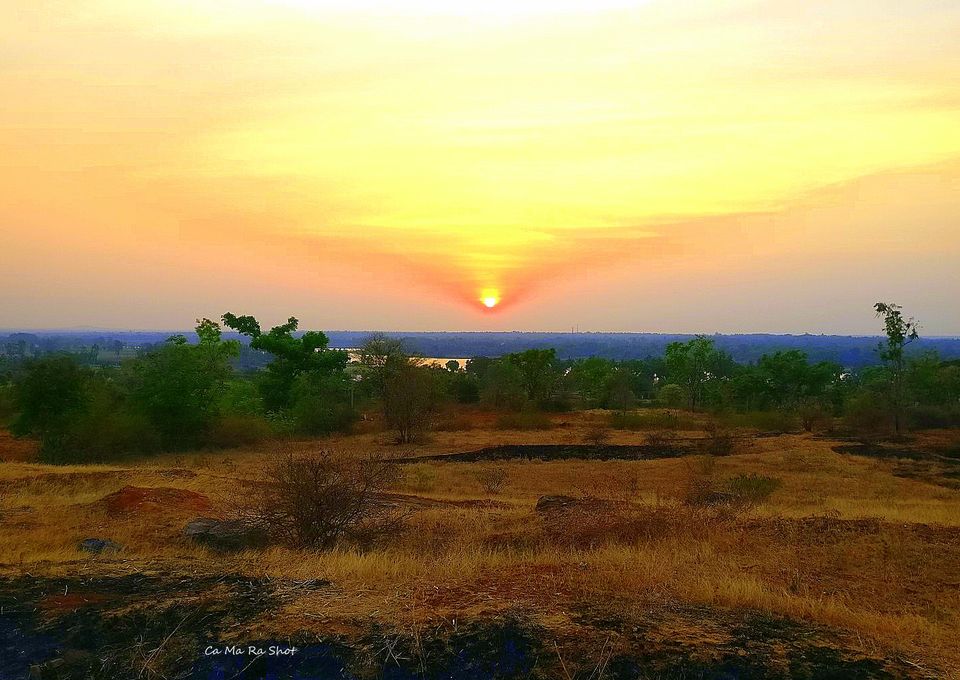 The Kaveri is less than 2 km away and along the banks there are several picturesque locations where one can just spend a few hours picnicking by the waterside in the shade of the trees.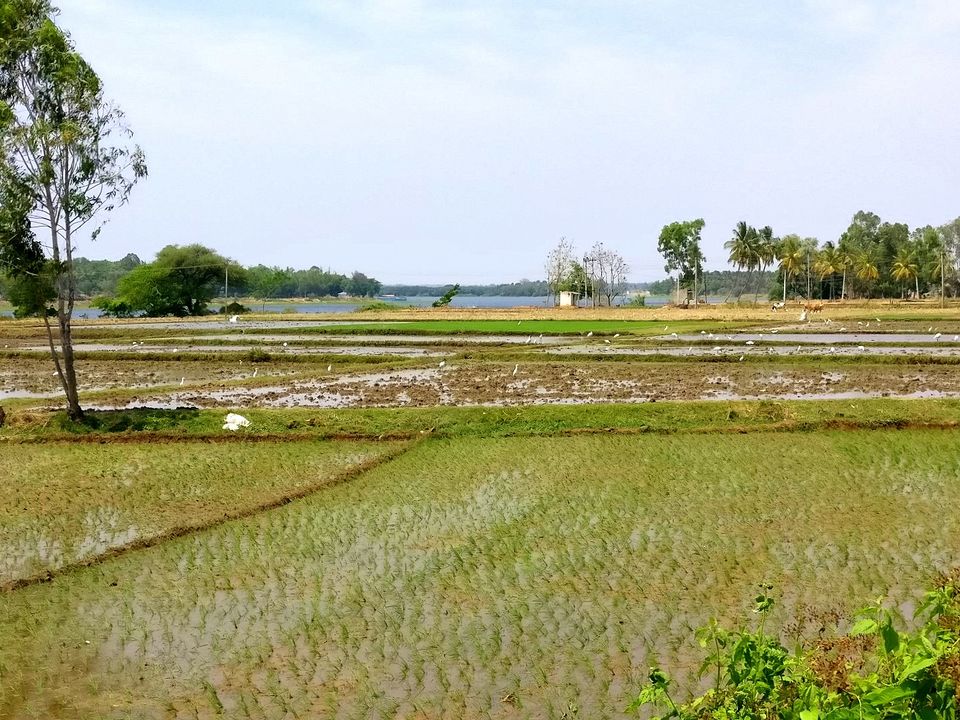 Talakad is a temple town and there are several ancient temples that one can visit, including the Hoysala style Somanathpur temple.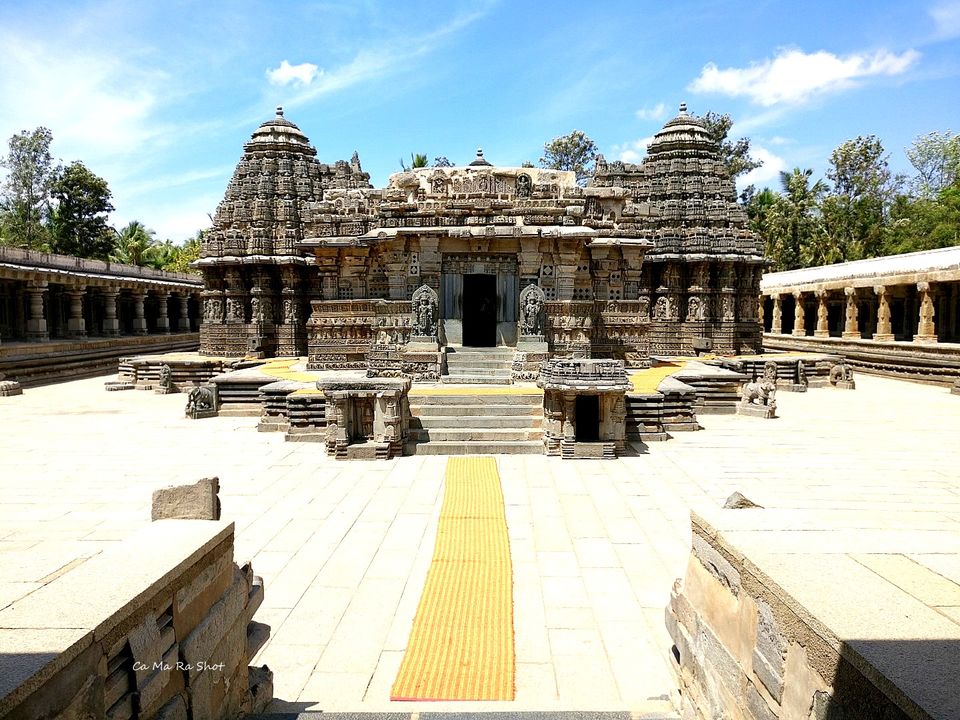 Dining -
The dining space is a thatched 'pavilion' right outside the cottages and one enjoys an open air repast at every meal.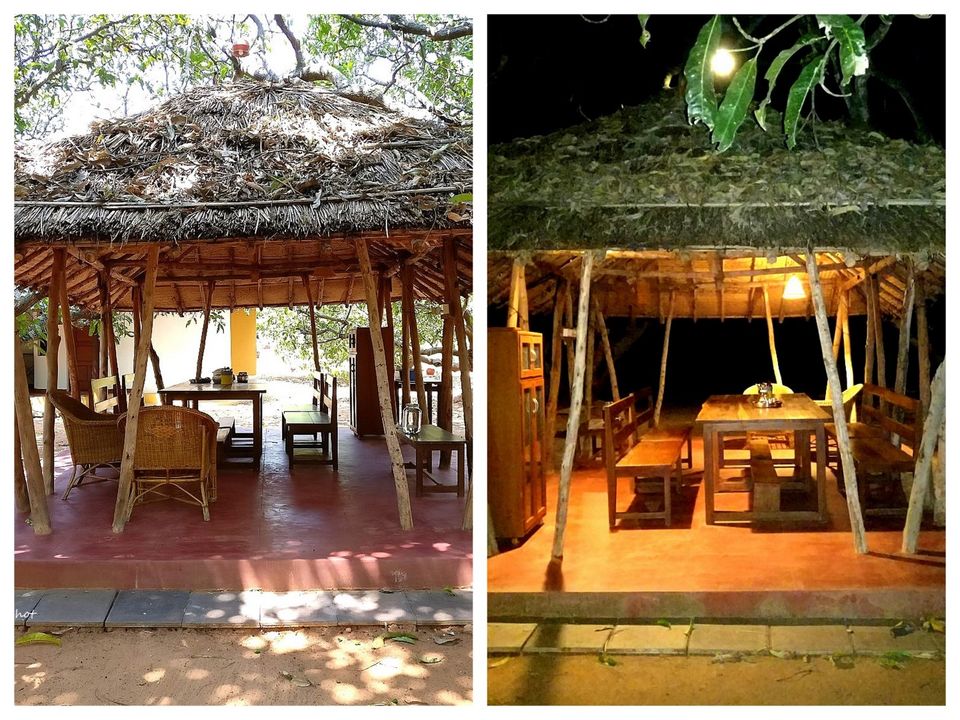 The food is vegetarian, wholesome, flavorful and to every possible extent, prepared from 'straight off the farm' organic ingredients that they harvest.
AshSudhi treat the visitors to the farm like their own personal guests and also serve them whatever they cook for themselves.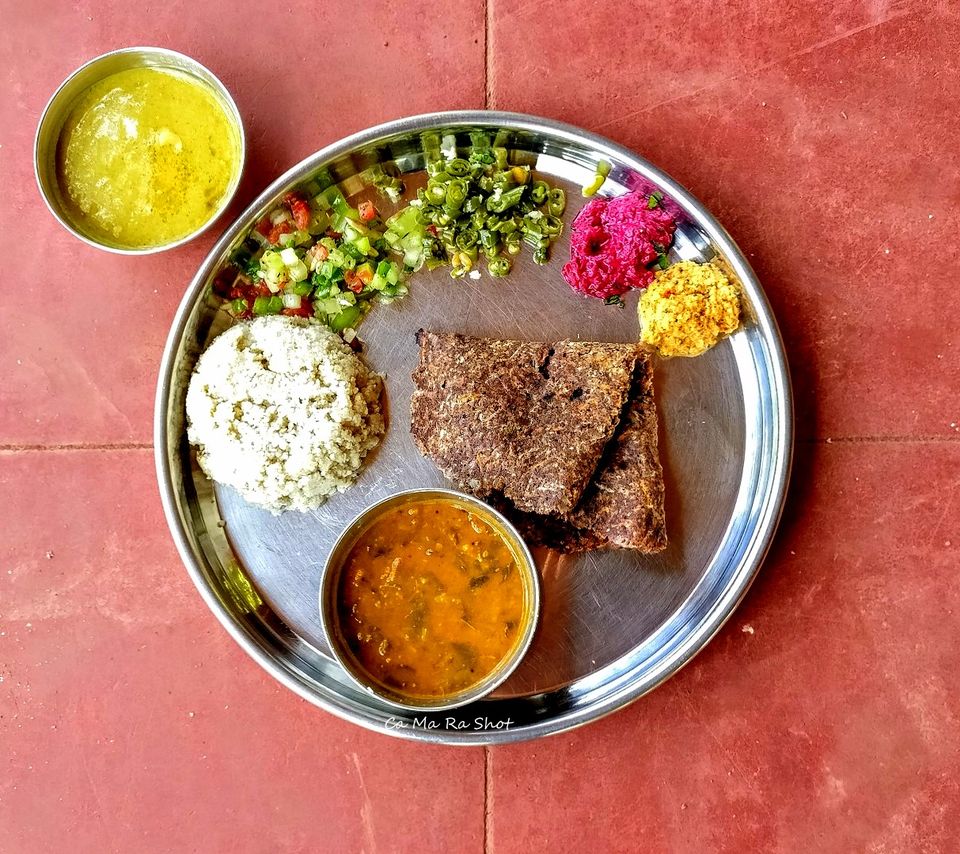 Breakfast is usually traditional South Indian style, lunch is again similar but with the addition of a couple of millet based dishes. Dinner tends towards North Indian, with rotis, basmathi rice and accompaniments.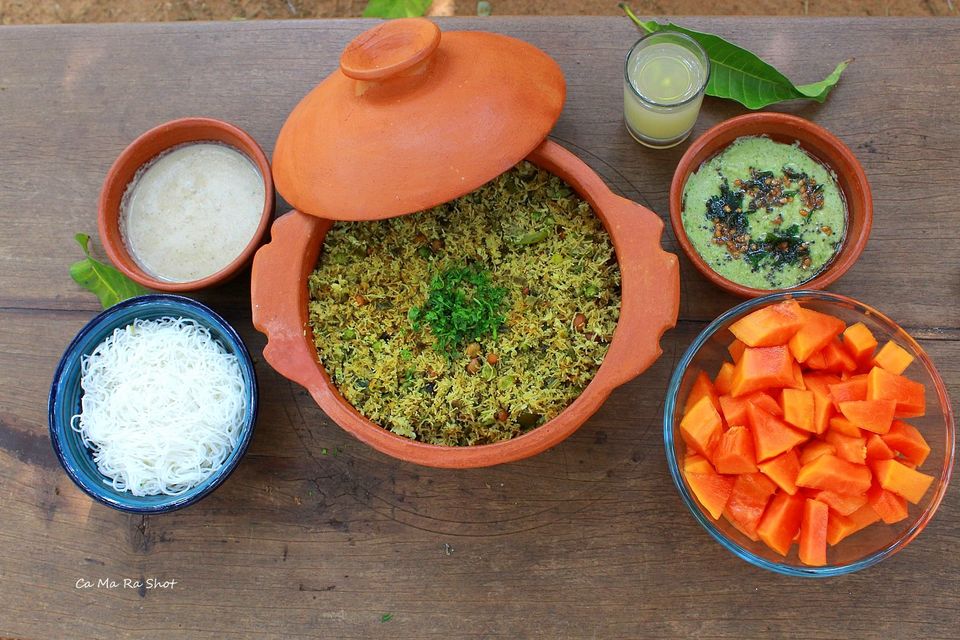 Visitor profile –
This place is an ideal getaway for those who are seeking to get away from the big bad city and spend some time in quietude and calm.
It is also a great place for those families who would want their children to experience rural life and climb a tree or two or play with the cows and dogs or feel the excitement of the peafowl's call … the thrill of the shrill, as I want to call it ????
The food is pure veg and no alcohol is also allowed on the premises.
Best time to visit –
While anytime would be a good time to visit, March, April and May could get a bit warm.
End of May brings the mango harvest and would be a really fun experience.
June to September is monsoon time and would be quite delightful to experience.
Winter and spring of course are everyone's favorite times.
Getting to Mango Mulch –
The best way to get there from Bangalore or Mysore, would be by one's own vehicle or cab.
Bangalore – is 135 km away and is a 2 to 3.5 hour drive depending on traffic and which locality you are leaving from. One would go via South Bangalore and choose to use the Mysore road or the Kanakapura road route.
Bangalore Airport is 175 km away and one can book a cab from there.
Maddur bus stand/railway station is 55 km away and can be accessed in an hour's drive (AC Volvo buses/trains from Bangalore to Maddur take about 1.5 hours).
Mysore Railway station/Bus stand – is 55 km away and will also take an hour by road.
For those who would use public transport, there are a couple of direct buses from Bangalore to Malavalli, a town that is 28 km away. The buses though, are not the air conditioned, express ones and they will take around 3 hours to get to Malavalli, after which one has to find local transport like a local bus or cab or auto.
Buses from Malavalli are available to the nearest town of Talakadu, 5 km from the farm from where one will again have to use Autorickshaws or cabs to get to the farm.
So like I said, cabs or own vehicles are the least stressful way.
Contact -
For booking please check this link
This post was originally published on Currylines
I hope this post was interesting enough for you. I would love to hear your thoughts in the comments. Find more of my stories on my Instagram @currylines and my Facebook Page @currylines