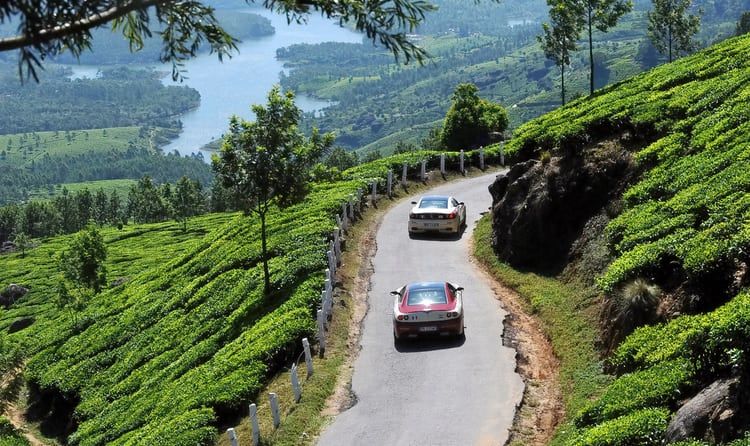 Looking to plan epic road trips across India this year? We've got you covered, check out this page to learn about all the wonderful road trips you can check off your list!
Ootacamund or Ooty teems with an unmatched scenic beauty. Often termed as the Queen of the Hill stations, the place is popular for its Rose Gardens, Annamalai temple, Pykara Falls or Nilgiri Mountain Railway etc. So the only thing that would be pleasurable for you is to hire a Bangalore to Ooty cab. Any Bangalore to Ooty taxi driver will tell you of the three existing routes between these two places.
From the bustling city of Bangalore to the picturesque Ooty, it will be a wonderful journey that will take you closer to an aesthetic overflow. And to cherish the pulchritude of this journey, you must avoid traveling by a train as you cannot stop at the pleasing places. The same is true if travel this nearly 300 km journey by air.
These routes are plentiful in charming places that would snatch your attention naturally. Now you must be cognizant of the routes and decide accordingly which one to choose. Let us check on the routes and the fascinating stops that come on each way.
Mysore-Masinagudi Route
As an oft-taken route, your cab driver might pursue you to choose this one and the distance becomes nearly 288 km taking around 7 hours on the National Highways 275 and 766. Meanwhile, you won't regret your choice because of the enchanting stopovers on this road.
• Kanva Reservoir
Upon reaching Ramanagara, take a slight detour to reach this artificial lake. The sunrise from this reservoir looks splendid. If you start early morning from Bangalore, you can surely be felicitous to witness the sunrise. The place is surrounded by woody hills and makes for a good birdwatching site.
• Janapada Loka
Like an open-air museum, Janapada Loka is famous for its folksy ambiance. With the effort of H L Nage Gowda, this folk art museum became an abode of craft and art. Stop by in your journey to encounter the charm of this place.
• Heritage Winery
Now when you reach Chanapatna, you will come across this heritage winery where your love for wine will reach a new high in the midst of the beautiful vineyards.
• Kokkare Bellur Bird Sanctuary
Near Maddur, you would love to explore this sanctuary for birdwatching in the lap of nature. It is not far away from Maddur.
• Gumbaz
A popular tourist destination at Srirangapatna, Gumbaz is an epitome of architectural excellence and serenity. This is the burial place of Tipu Sultan and his family. Visit the place to experience the heightened historical importance of Gumbaz.
• Mysore Palace and Bandipur Tiger Reserve
These are the two places you can visit upon entering Mysore. If you love nature you will also love to visit Chamundi Hills.
Kanakapura-Kollegal Route
This road makes you travel 298 km. Considering Bangalore to Ooty taxi fare, the route will be a little costly if not much higher. But the scenic panorama on this road will baffle your aesthetic sense. Let us look at what you should expect.
• Mekedatu and Chunchi Falls
These places are worth visiting while you pass Kanakpura. The breathtaking beauty of these places will definitely amaze you.
• Shivanasamudra and Talakadu
Upon taking a minor detour at Malavalli, you can enjoy the scenic beauty of Shivanasamudra Falls and buried temples at Talakadu.
• Somnathpur and B R Hills
On to Bannur from Talakadu, you must witness the beautiful temple at Somnathpur decorated with carved structures of Krishna. As you reach Kollegal, you can drive around these scenic Hills and enjoy it.
Salem-Coonoor Route
This one is the longest route in your journey from Bangalore to Ooty by car but if you believe in poetic justice, you may find that there are a plethora of panoramic places on this route. It takes 9 hours approximately to reach Ooty. Let's take a virtual journey before you visit the best Bangalore to Ooty car rental service.

• Krishnagiri Dam
As you reach Krishnagiri, do not miss visiting the Krishnagiri Dam and breathe the natural fresh air.
• Hogenakkal Falls
At Dharmapuri, you will be amazed to enjoy the abundant falls.
• 1008 Lingam Temple
Near Salem, there are these 1008 Shiva Lingas worth visiting. Pay a visit to seek the blessings of Lord Shiva.
• Dolphin's Nose View Point
While visiting Ooty, you cannot afford to miss this place. The valleys around look outstanding from the place and take you to a heaven-sent beautiful place.
Thus it is up to you what you would like to watch on the way. It is up to you what touches the tune of your soul. Choose wisely and take the best cab service for your journey from Bangalore to Ooty. It is assured the journey will be cost-effective because Bangalore to Ooty cab fare is not much compared to the distance. There are plenty of cab services you can rely on. They keep your journey safe and secure. Choose your route. Choose your journey.