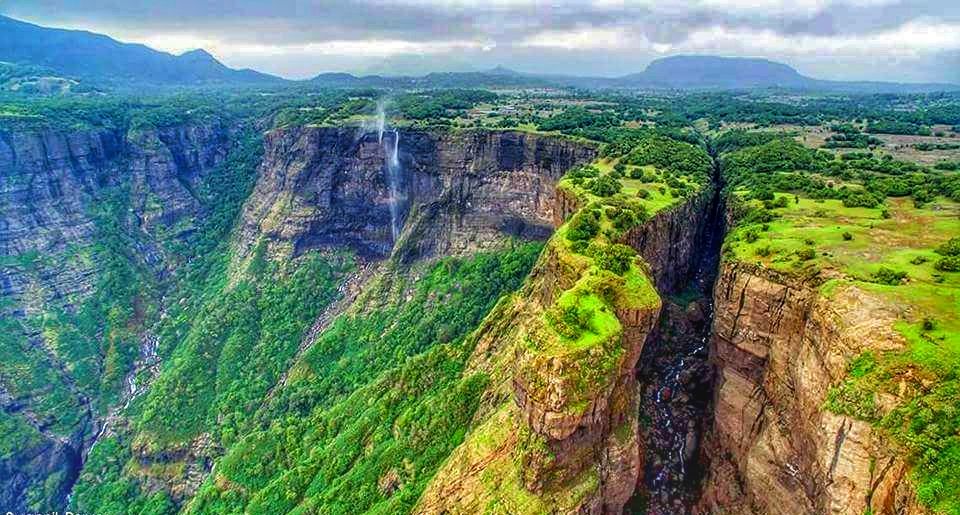 I have lived all my life in North India. As a lover of nature, I enjoyed trekking in Himachal and Uttarakhand. Every season, I would take a few leaves from office to go for a small trek with my friends.
However, last October, I got transferred to Mumbai. I missed my friends, all of whom were in Delhi, and the good times we had together. After taking a month to settle down, I started to look for places where I could take a small hike in nature. A colleague of mine told me about Sandhan Valley. I did my bit of research and decided to head out immediately.
The next day I was in Sandhan, trekking through the narrow stretch of the valley with a group of fifteen co-trekkers. As I stepped on the boulders, memories of my last trek in the Himalayas re-surfaced. Sandhan Valley however, was nothing like that landscape. The valley is an enclosed space, surrounded by high vertical rocks. The trail is a bit of a maze with occasional obstacles in the form of slimy gravel, unannounced streams, sudden showers and tapering outlets, through which one has to find their way out into the open landscape.
Lost in my thoughts, I was trekking on my own. My chain of thoughts was broken by the trek leader's call for refreshments. We stopped for lunch after having trekked for about three hours. The organisers had prepared a nice lunch prepared by the locals. The platter consisted of thalipeeth (a multi-grain pancake), thecha ( green chilly chutney), misal and kokum sharbat, with some bhakarwadi to munch on after the main-course. I had never tasted most of these dishes before, but was surprised how these tasty dishes were unknown to Delhi.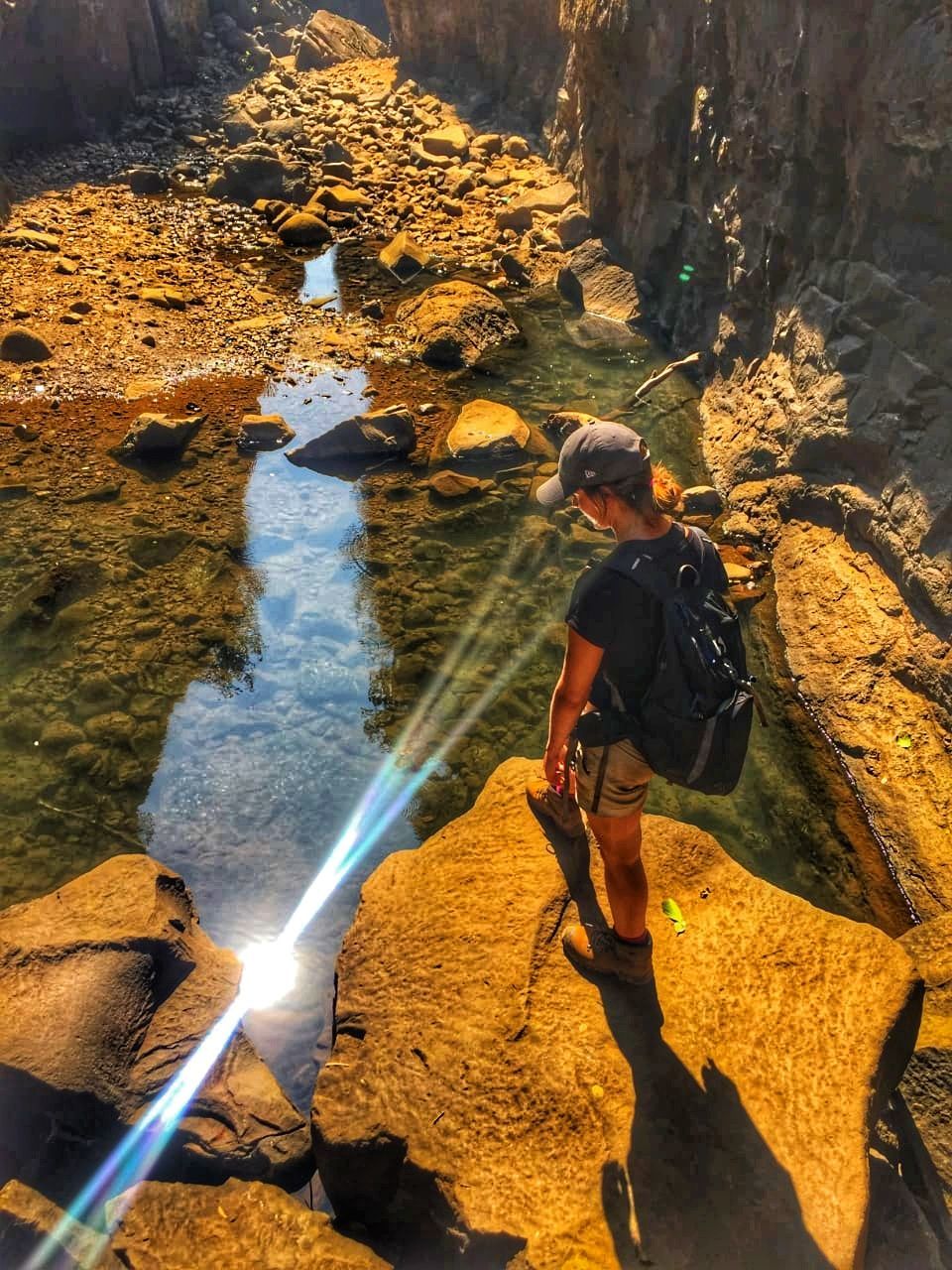 I was about to finish my lunch when a pretty girl standing with a plate in her hand asked if she could sit with me.
Meg was on this trek alone, and was not very comfortable joining others who had come in groups. We were happy to find each other's company. Soon enough, a few minutes of polite conversation turned into a discussion about life, universe and everything.
"Do you like chocolates?", she asked
Meg took out a KITKAT from her bag and offered a finger to me.
We resumed the trek together. At this stretch, we had to trek through a foot-deep stream that flowed through the valley. Meg was quite experienced at trekking, and she had no difficulty setting her feet against the current. I was very cautious about the slippery rocks, and was trying to catch up with her. By this time the sun was directly over the valley shining right on us. The dampness of the feet was countered by the gentle warmth of the sun.
The stress from hiking wore away as we indulged in a lively banter all along. We reached the second base of the trek as the sun was setting, set up our tents and dozed off quickly.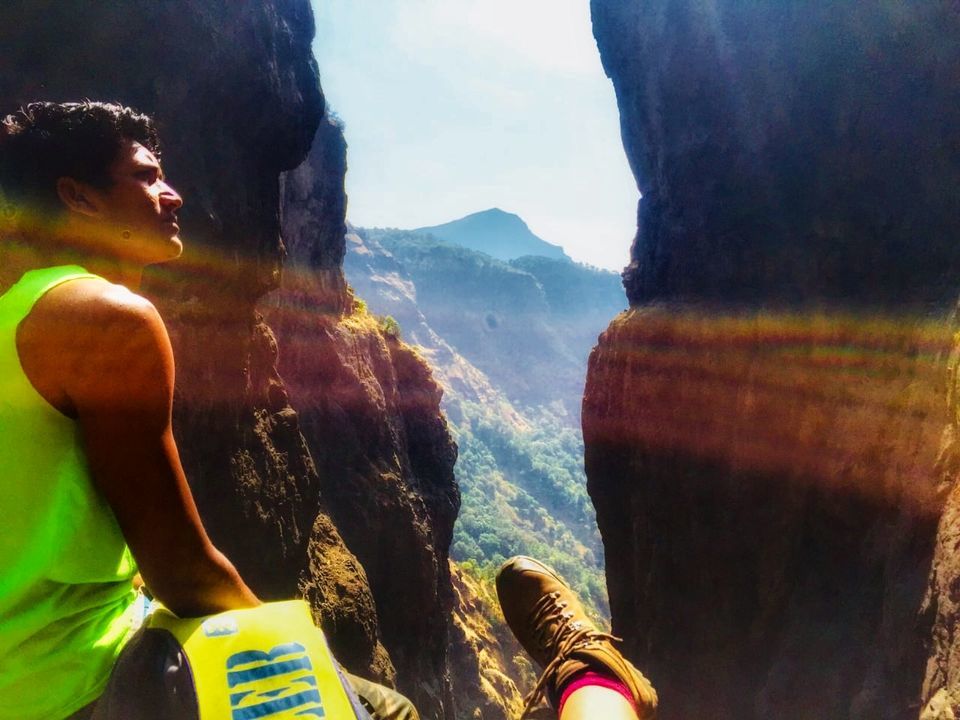 Meg came to my tent before the dinner and asked me to join everybody at the bonfire. Some college students were singing in groups, and Meg joined them. She too sang a song or two. She wasn't great at singing, but I did not tell her that.
The organisers had set up a barbecue for the dinner. After having roasted paneer and chicken, we had a sumptuous meal of Kolhapuri chicken, pithale bhaji and rice.
The next morning, we began trekking downhill for Dehne village which is the final base of the Sandhan trek. Meg gave me some tips and tricks on climbing down. She was pretty good at it. We picked up a pace and were ahead of most of the people, which also gave us the space to have conversation freely.
At Dehne, our lunch was arranged at a small dhaba–Saptashrungi Hotel. The dhaba did not have an elaborate menu, but they had cooked very tasty kanda poha, batata vada and misal pao for us. We were famished and ate a lot.
The organisers asked us if we wanted to shop for local goods at the market at Bhandardara. Most of us agreed as we had enough time in hand, and did not mind going around in the vehicle organised by the trek group. There were fine fabrics like mashru and himroo made by special way of weaving practised only in this region. However, with Meg's help, I bought a paithani silk saree for my mom, which is the most famous souvenir one can get from this place.
After shopping, the vehicle took us to Asangaon railway station. From here we boarded a local train back to Mumbai. On the journey, Meg and I planned our next trek in Maharashtra.
I went to Sandhan alone, but came back with a friend and experiences that I would cherish for the rest of my life.
Have you been to the Sandhan Valley? What was your experience like? Tell us all about it here.
Tick all hidden gems off your bucket list. Check out Kitkat Travel Breaks on Tripoto here.

The readers are hereby informed that the views, thoughts, images and opinions expressed in the article belong solely to the author, and Nestlé India Limited assumes no responsibility or liability for any errors or omissions.