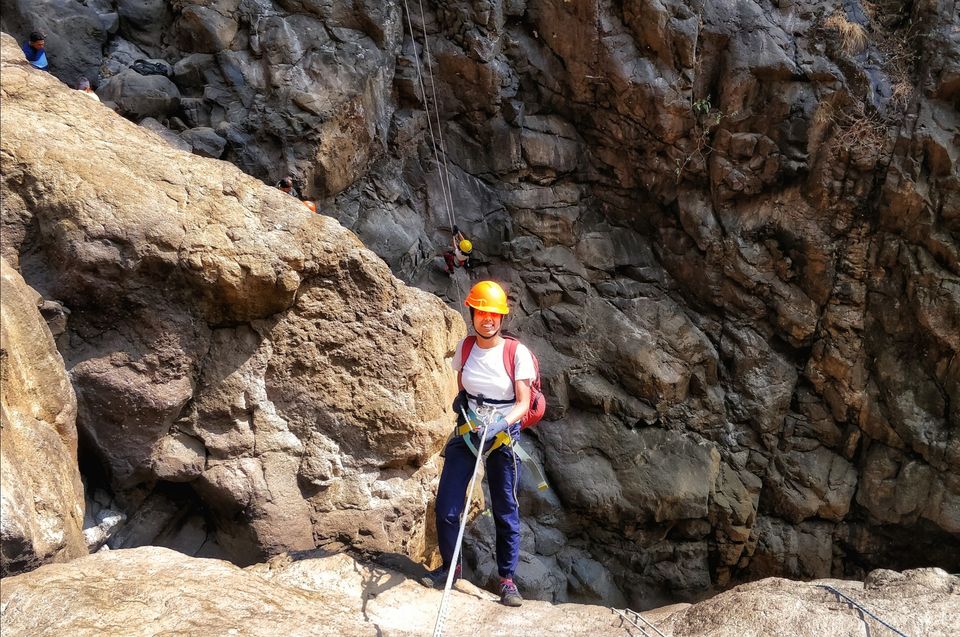 Sandhan valley also known as 'the great canyon' of the Sahyadri Western Ghats is a perfect gateway for adventure lovers. Steep and rugged terrain, deep cut rivers, crystal clear ponds , starry night sky , gigantic stone walls surrounding the valley, cool pleasing breeze and bunch of happy souls are something one just cannot resist.
Looking back to the day when I first heard about this trip from my bff and went crazy to hear so much fun and adventure packed into one trip. I flew all over from Gujarat to Maharashtra for this thrilling trip. It was a two day trek ,first day covered in reaching the base camp and enjoying the bonfire and second day back to the base village. I hopped into the bombay local train with our travel group 'Travel Trikon'. After about two hours of midnight journey we reached destination Kasara station from where we headed to our base village via local transport. It took about one or an half hour to reach the base village. It was a fun ride over the dusty road.
The morning was cold and my nose was freezing, I kept rubbing it to warm up. The village was pretty with clean surrounding, good breakfast and clear night sky. We all just waited for the sunrise to start our trip. Around 7 or 7:30 am we headed towards sandhan valley. In between we had a quick round of introduction and some fun chats! We started descending first and trust me it wasn't that easy as it seemed so. The view was just mind-blowing. Tall steep stone valley walls which was obstructing sunlight from reaching the valley bottom and casting complete shadow within the valley. The steep and sharp cuts were a challenge . Some of them were so differently eroded due to water that we needed some local people help to understand the pattern to cross it. Stony paths made us slow down as most of them were weak stones and a wrong step on a wrong stone would cause anything fatal. So our first hurdle was to overcome a small stagnant river which might have been active during the monsoons. The water was deep and cold. When I step down into it along with my backpack I realized that the surface was uneven with potholes within them were you cannot find the surface with your feet . Shivering and struggling along with my team mates I managed to cross the river. We continued our journey through the rocky paths chit chatting and gossiping about other stuffs too.
About hours later we reached the most awaited frightful sight. We had to now descend down through the valley ,through dried waterfalls and steep slopes. Our legs were shaking and hands trembling to catch hold for support . Thanks to the team leads who helped us guide through out the obstacles ,helping us with techniques and motivation to keep moving on. Slowly we headed towards our second fear, Rappling!! I had done waterfall rappling before and I was scared like hell. This was my second experience and yet I was scared again . With all the motivation from team leads and support people helping the trekkers I climbed down . Once reaching the surface I was relieved yet confident. On my way I saw small crystal clear ponds. The water was so clear that I could see fish, frogs and underwater plants. I rest my hands and feet into the pond just to watch the fish come over and feed over dead skin. Ohh! What a lovely and sweet experience it was for me. It gave me tickles and some sought of inner peace but I wish it would have last forever. I started heading again towards our base camp were we had our tents. Motivating,joking ,giggling and munching over snacks and lunch we moved ahead with our team. Then came our third hurdle , another sort of rappling were you had to just hang down from the rock and with no efforts you would be at the bottom.
In between this struggles we had a hilarious incident were my bff lost her balance and had a big jump into a pond . She was all drenched and came out of the pond in a full bollywood filmy style! Although it could have hurt her as the rocks nearby were sharp but yes the incident made everyone laugh and infused even more energy among us. Heading to our basecamp we reached our last and final hurdle. It was a different technique to climb down those spiral rock structure. The most unique part of Sandhan valley is that after every monsoon the terrain changes with new patterns and new paths. Thanks to water erosion which creates such adventurous patterns every year for we trekkers.
Around noon we crossed the sandhan valley and was exposed to the warm sunlight. We dropped our bags and had a good seat nearby a pretty pond. It was just moments after that ,we all were jumping into the cold water relaxing ourselves and especially our sore feet. That moment was so fun! We dragged each other into the pond , splashed water over each other, laughter and setting sun everything just made that moment so perfect!
It was around 5pm and we reached our base camp were our pretty little tents awaited for us. We quickly changed ourselves into fresh warm clothes and began preparing for the evening. I remember that I was so exhausted that I slept while sitting on a tiny rock. When I woke up the sun had gone down and the sky was filled with endless sparkling stars. It was something which we city people rarely get to see. Surrounded by huge magnificent stone walls from one side, forest from the other and starry sky from the above, nothing more I needed for this perfect location. We munched our dinner which was prepared by local villagers. The dinner was simple yet delicious! Steamy rice with daal and pickle gave me inner satisfaction.
Now it was time for the most awaited moment , The BONFIRE!!! Oh my god we were all so crazy that we just forgot all the exhaustion and sat near the fire for the night to begin! It was the best moment and I wished you could pause it forever!! We played games like mafia ,had jokes over one another and much more. With the fire burning our night continued and seemed endless. We bonded deeply with each other and felt no more like strangers from other place. The fire ignited our souls that night and we lived that moment like it was forever. We all knew that we all would be apart the next day yet we blended ourselves in hope that we would get to see each other again. The night seemed long that day and we didn't want to get back into our tents but we had to have good sleep to be energetic for the morning. The fire went out and hearing to the sound of someone snoring we all went to sweet sleep!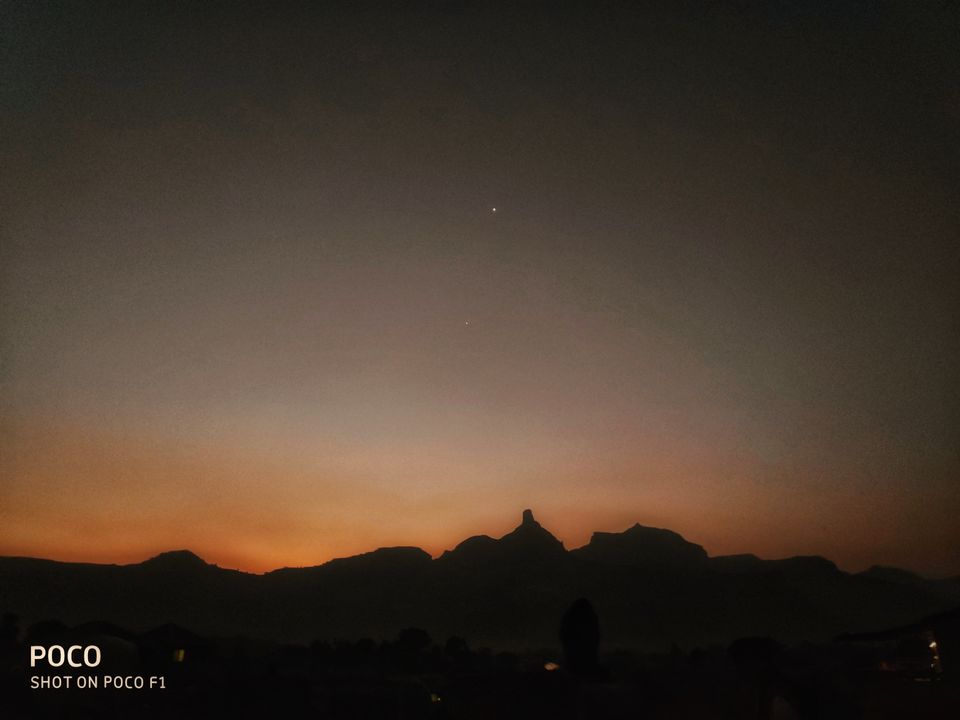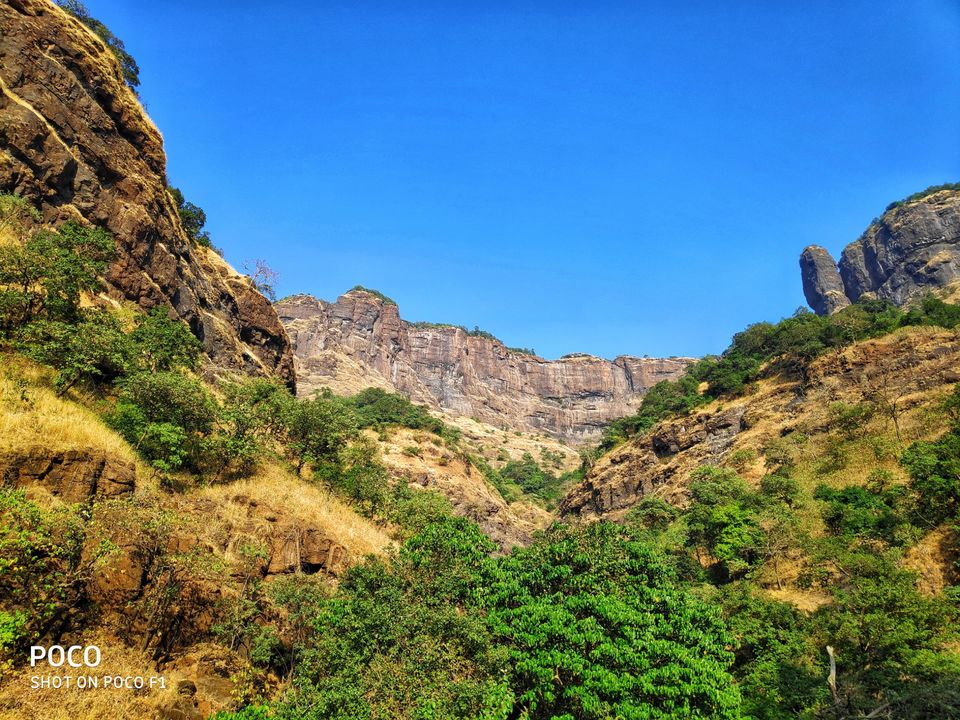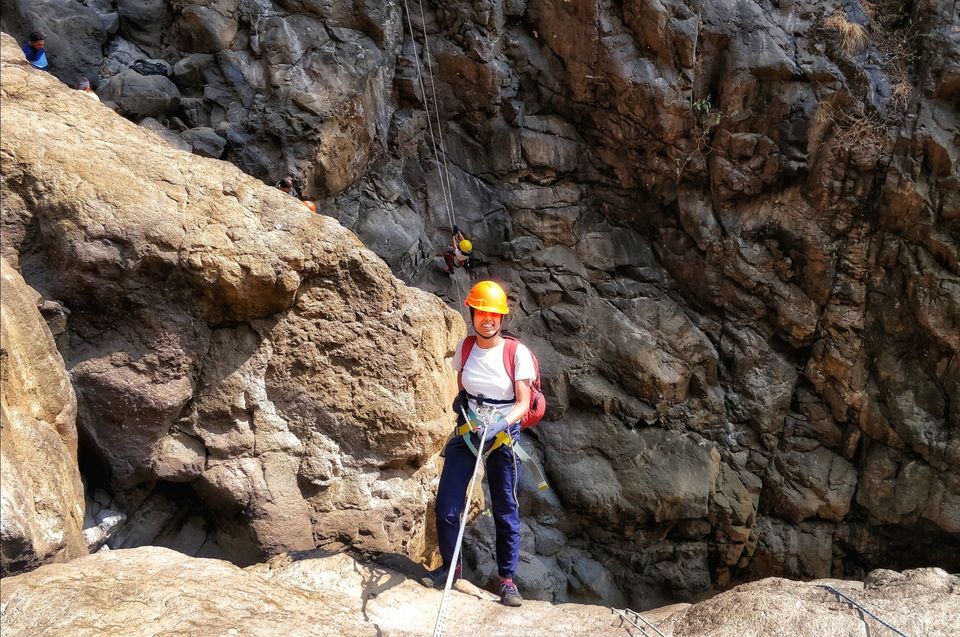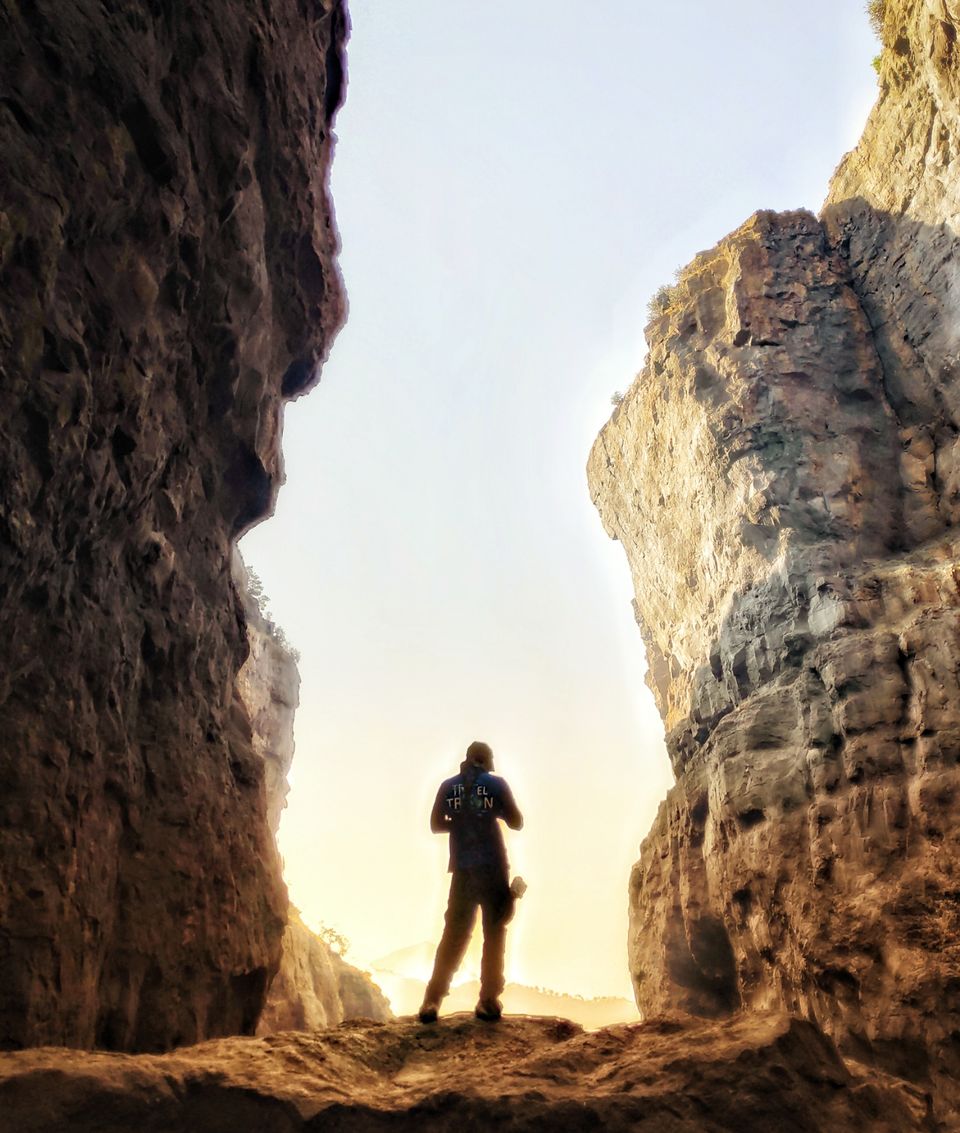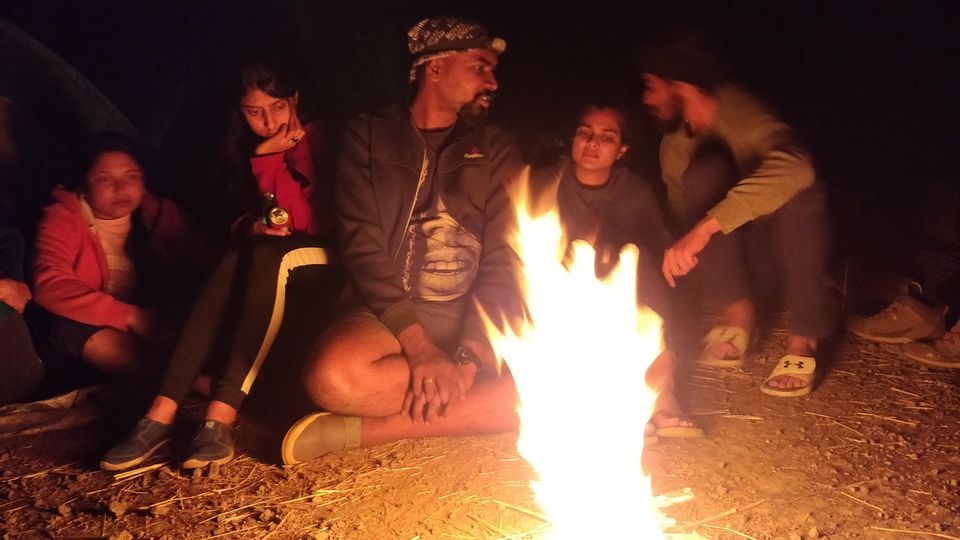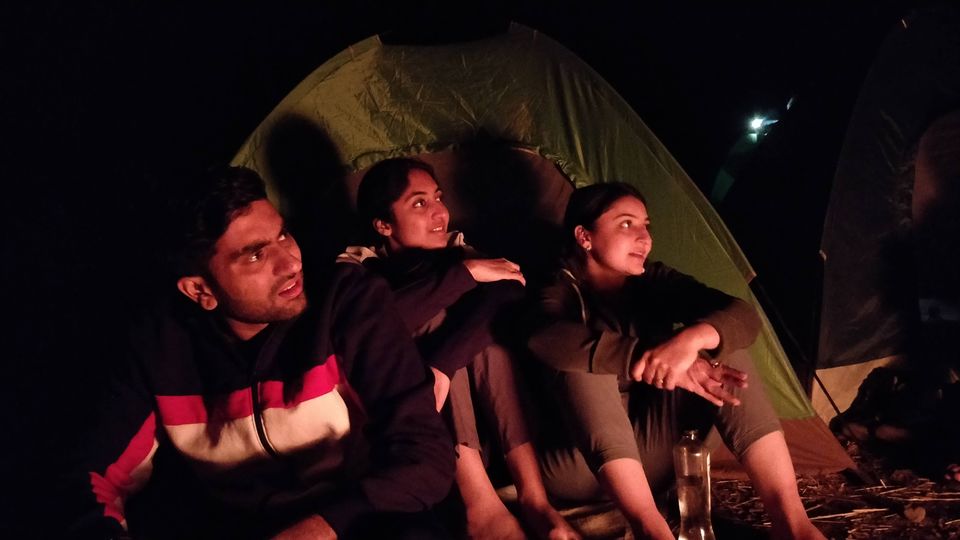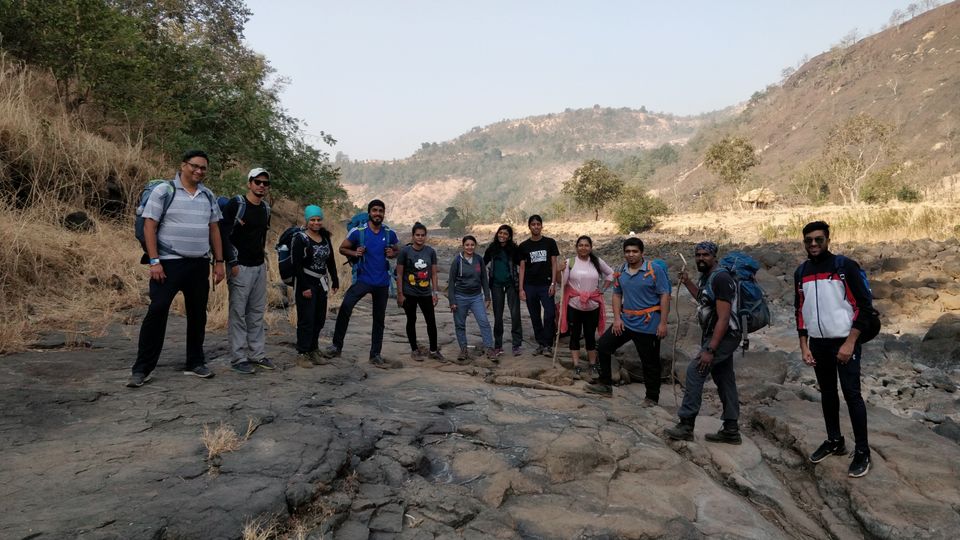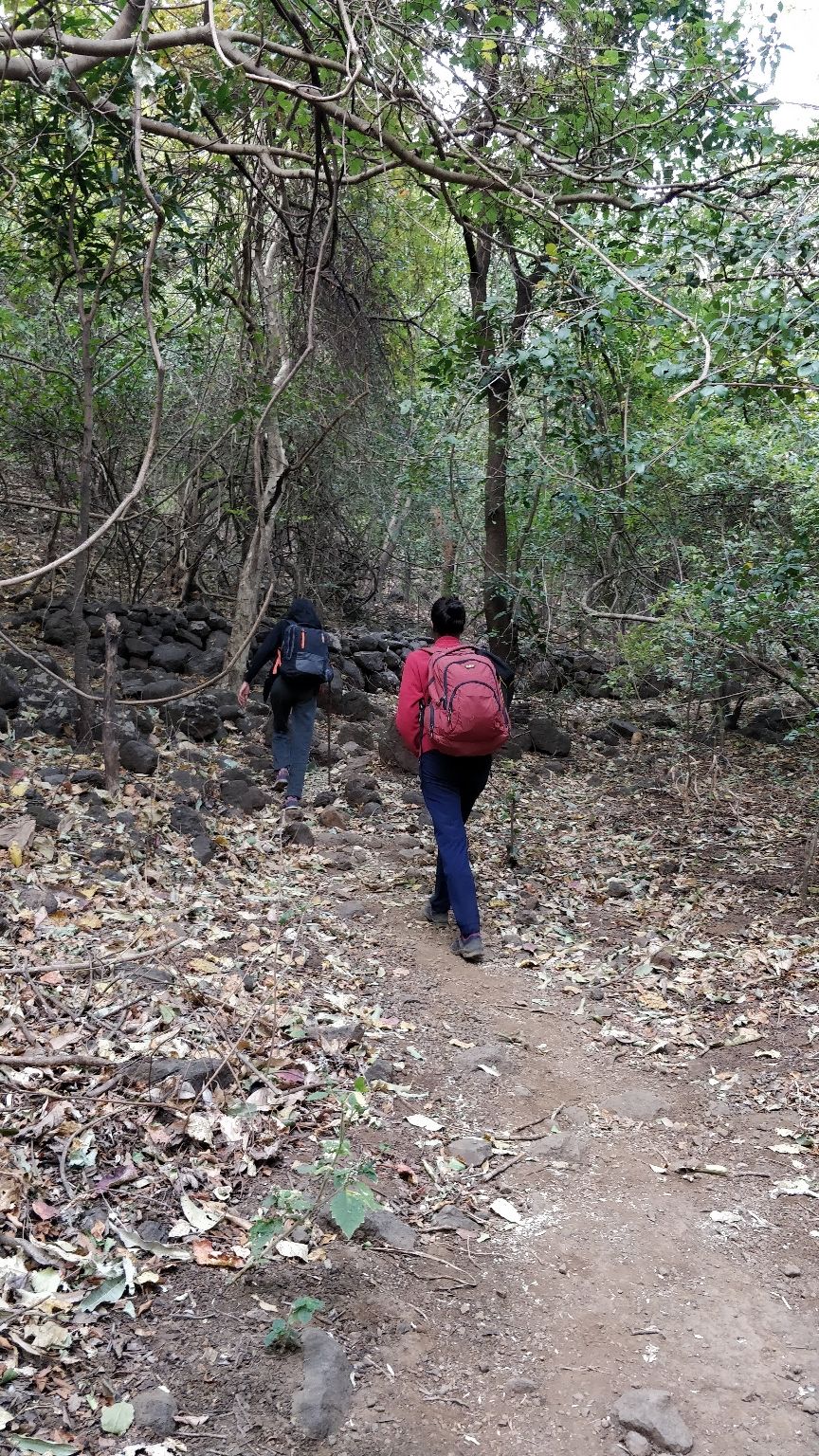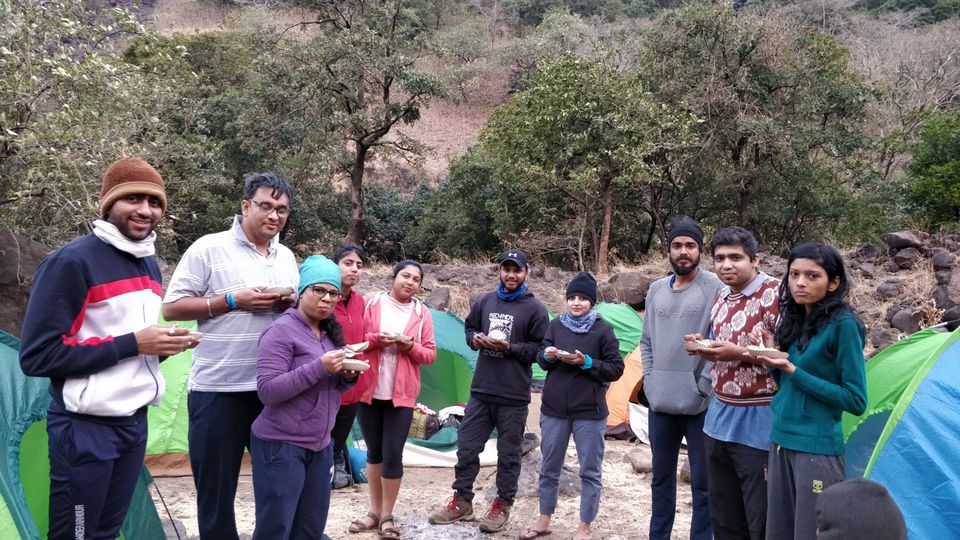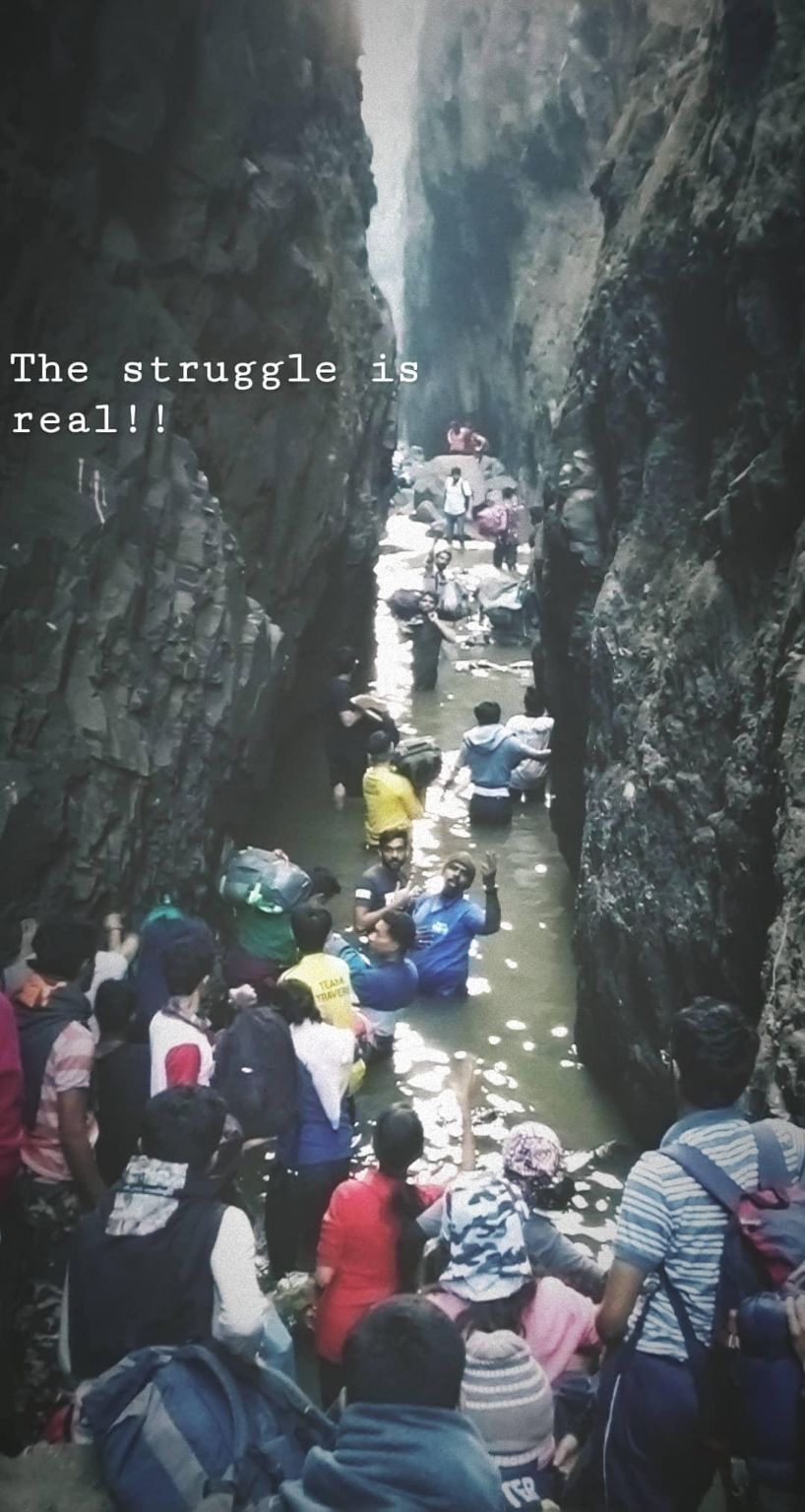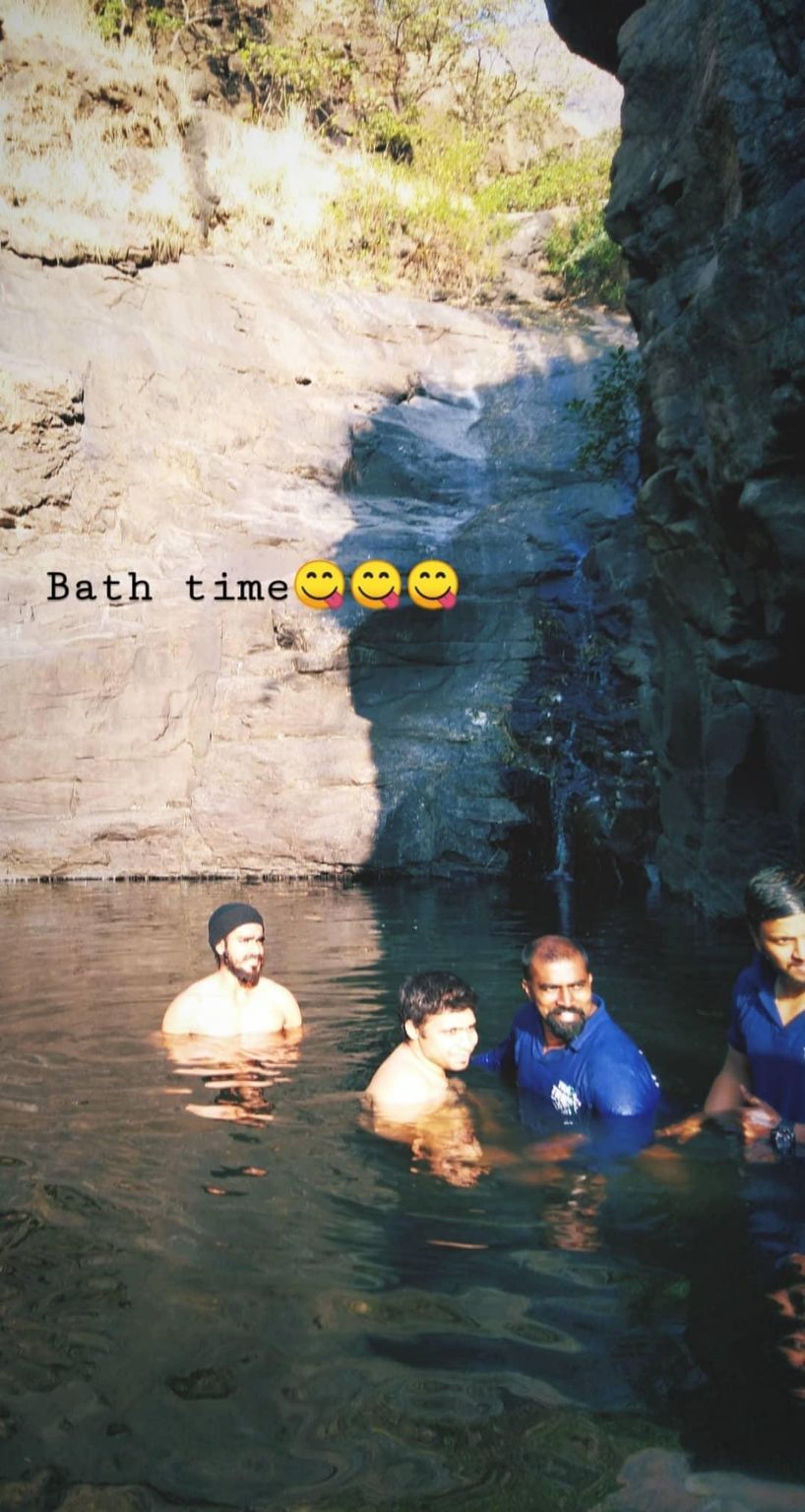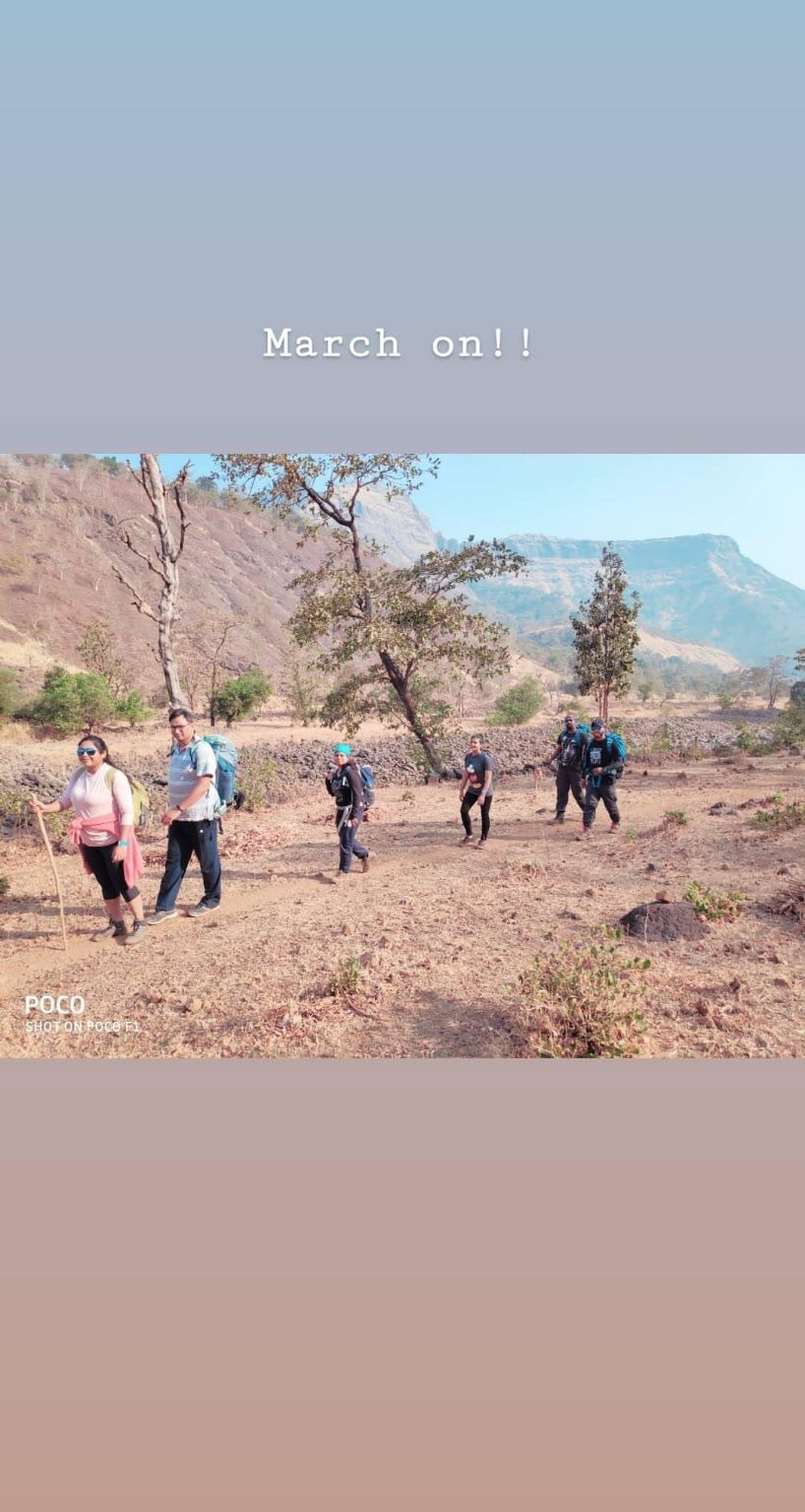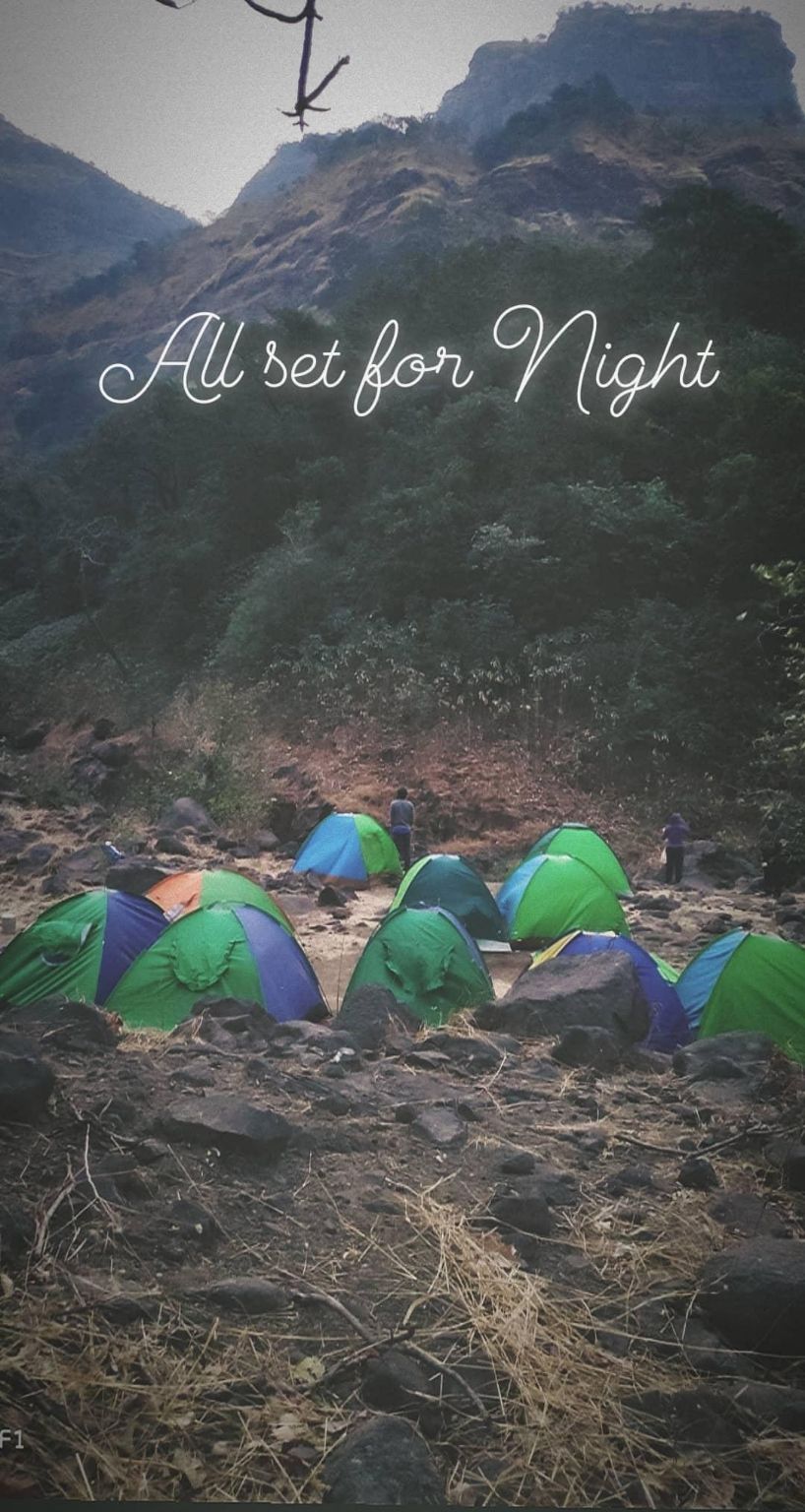 It was morning 4am and I woke up. The wind was strong and chilling and made my legs freeze. I wokeup and went outside. Everyone was sleeping peacefully. I sat there over a rock covered in jacket. I remember just staring at the endless sparkling stars. It was so beautiful that I don't even have words to describe. Everything was so quite except for the breeze and hustle of tree leaves. Endless thoughts were flowing into my mind. Sitting there I just thought about the entire journey and something more philosophical. It was like I never want this moment to end and I never want to leave this place. I waited for my team mates to wakeup. Meanwhile I played my favorite musical tracks one being " something just like this" from Coldplay and The Chainsmokers . This song just perfectly fitted into the moment.
Around 6 am pur trek leads woke up stumbling through the tent. Everyone had heavy sleepy eyes. We freshened up , had our breakfast and packed our bags. We started our way back towards village were we would board the local vehicle for railway station. The journey back was heavy for me because I was heading back from a fairytale to reality!! I just wanted to absorb in every possible moment now. Slowly walking , giggling we reached the destination village. The village was ordinary just like other indian villages. Kids playing around, women doing the household chores, birds chirping and everything seemed calm and homely. The food served reminded me my home. It had flavors from my mom's kitchen. Just like family we sat together had lunch and laughed over the epic moments of our trip!!
Around afternoon we boarded our vehicles for railway station. We got the earliest train to mumbai. Sitting at the local I thought how these two days felt endless. It seemed as if we have been knowing each other for so long like years. How we came together from different states and yet found comfort into each others company. How from strangers we turned into a team and then to Friends with infinite memories. I guess that's the best part of travelling, you get friends forever from strangers which you wouldn't even have thought of!! We blend up and create a new family everytime we travel and that's what excites me to travel more and more!!
Trip to Sandhan valley was a memorable one and I would definitely recommend the readers to do visit this place. If you want you can go with the Travel Trikon the group with whom I joined and the facility are good and satisfying. For more ideas about the place:
1. The trek is moderate for me but can be difficult for beginners.
2. Go with a good travel group which has good experience as how to trek in such terrain.
3. Wear good trek shoes and clothes as Sandhan as really rough terrain.
4. Trekking sounds cool but it demands great mental strength and discipline and for Sandhan valley sticking to instructions by trek leads are necessary.
5. Its cold during the nights and good warm clothes are needed.
6. Have fun among all the hurdles , step out from your comfort zone and enjoy a day admist nature believe me it will be an everlasting memory!