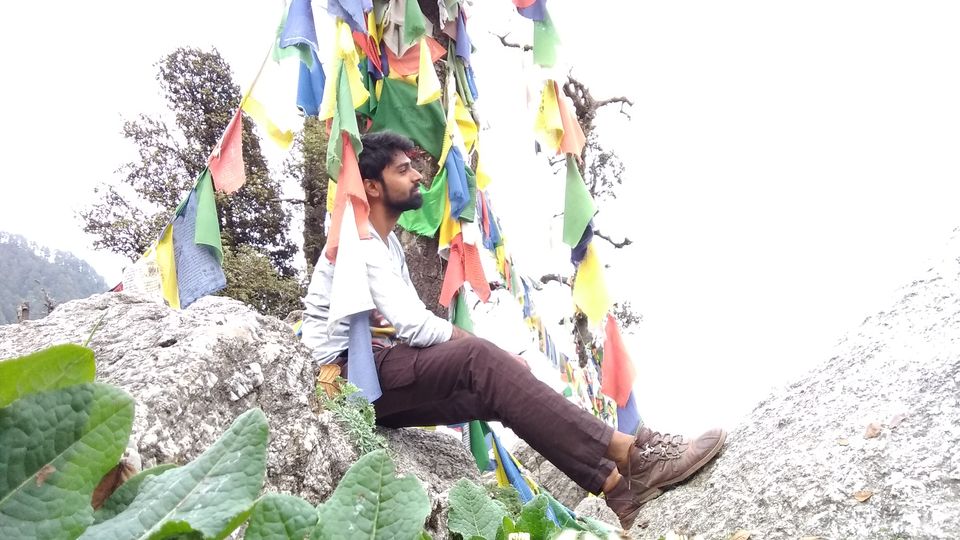 I have always wanted to do solo travelling. For me, if someone asks about going to mountains, it is me only on the road and no one else. I have imaginations, where I am sleeping in to the woods, hallucinated by the soothing lullaby of water falling off the hills, the sounds of birds and cricket and the bonfire.
Thursday night at 10PM, I caught a bus to Pathankot from ISBT Kashmiri Gate. I left my office at usual time and headed there. I checked with few agents but could not get a direct bus to Dharamshala and I was told that I must take a bus to Pathankot and from there I would get the bus to Dharamshala. Well, I found it convincing and did the same. I took a Volvo bus, the ticket price was 1000 INR. I took a sleeper seat, this was my first time I took a sleep seat in the bus but I never knew that it was a shared seat and when I realized this, I refused and asked the conductor to get me a normal seat and offered the sleeper seat to someone else. The bus moved and the journey started. It was totally an unplanned journey like I do. This was my first time that I was visiting this place all by myself and I did not know anything about it. I did not even know where to stay and what to do there. For sometime I listened music on my phone and then didn't know when I fell asleep.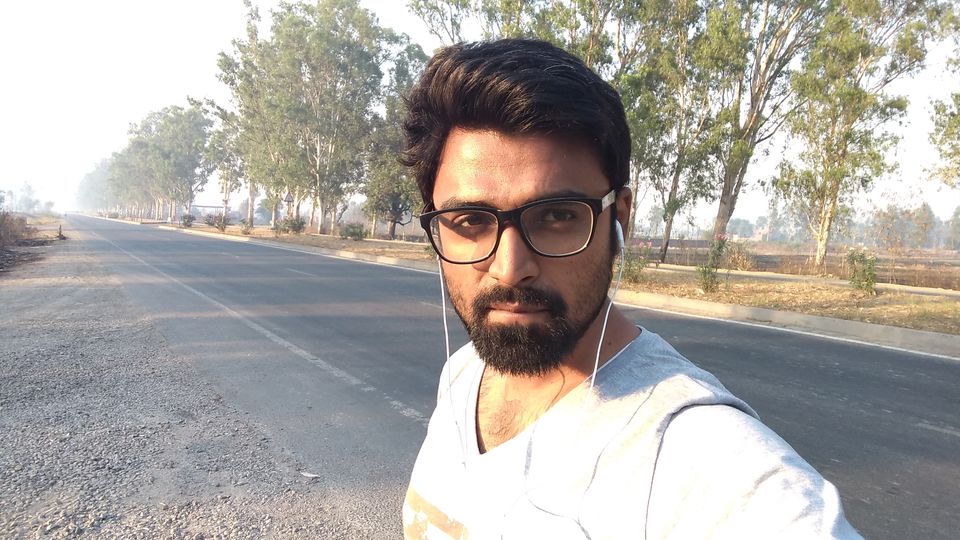 And I reached J&K
I was to get down at Pathankot but I didn't know when I reached J&K. The moment I realized this, I already had crossed Kathua. And when I got down from the bus, Katra was just 50 KM far. I spent some time there and then I took a bus back to Pathankot. I asked the conductor to inform me when my destination arrives.
Pathankot & Ganne Ka Juice
So I took a bus to Pathankot from Kaluchak, J&K. The ticket price was 100INR (if I am not wrong). I was this time little active and awake all the journey. After an hour probably, I reached Pathankot. The conductor as per his promise, informed me that I had reached my destination. I got down from the bus. The day was at peak by the time and sun was on my head. I was done drinking water and I needed some more energy, moreover, I wanted to take shower too as I was drenched in sweat. Thus, at the bus stop, I had sugarcane juice. I had a word with some locals about the bus to Dharamshala. I was informed that bus would come anytime, there is no fix time. So, after waiting for some half an hour, the bus came and I got in.
And I reached Dharamshala
I reached Dharamshala in at around 3PM, probably. I forgot to check the time. Anyways, who bothers about the time when you are at such beautiful place. I roamed in the local market for sometime. I visited a departmental store in the market. I bought two pouches of Head&Shoulder shampoo, a small toothpaste and one toothbrush. I visited another shop and from there I bought one underwear.
I asked the shopkeeper if it was safe to roam around in the night and he told that it was quite safe and there was no problem. I visited one more shop and from there I bought a cargo trouser for trekking. Actually I did not carry anything. I had one compact camera, one point and shoot camera, one action camera, powerbank, a tshirt and cables and chargers. I went to public shochalya (public toilet) and took shower, got ready for next destination, where, I did not know.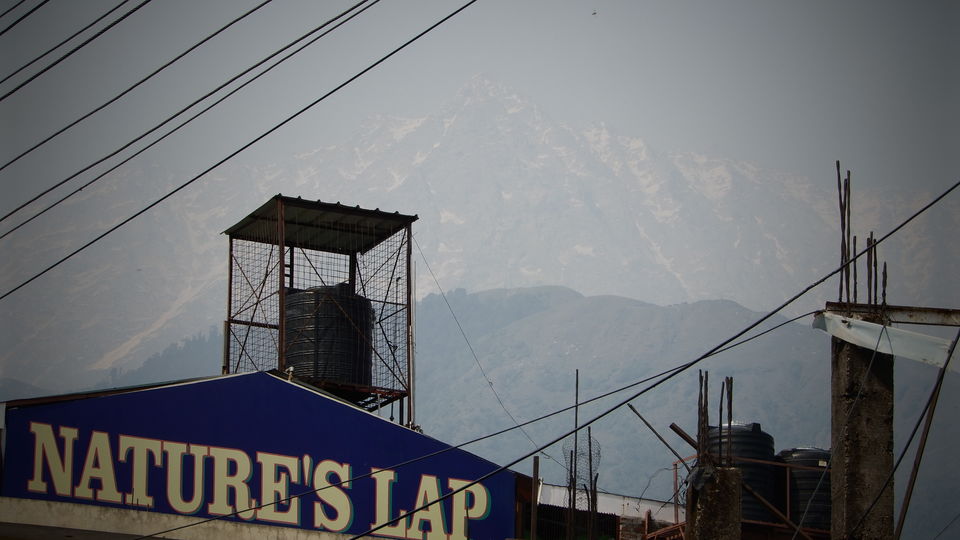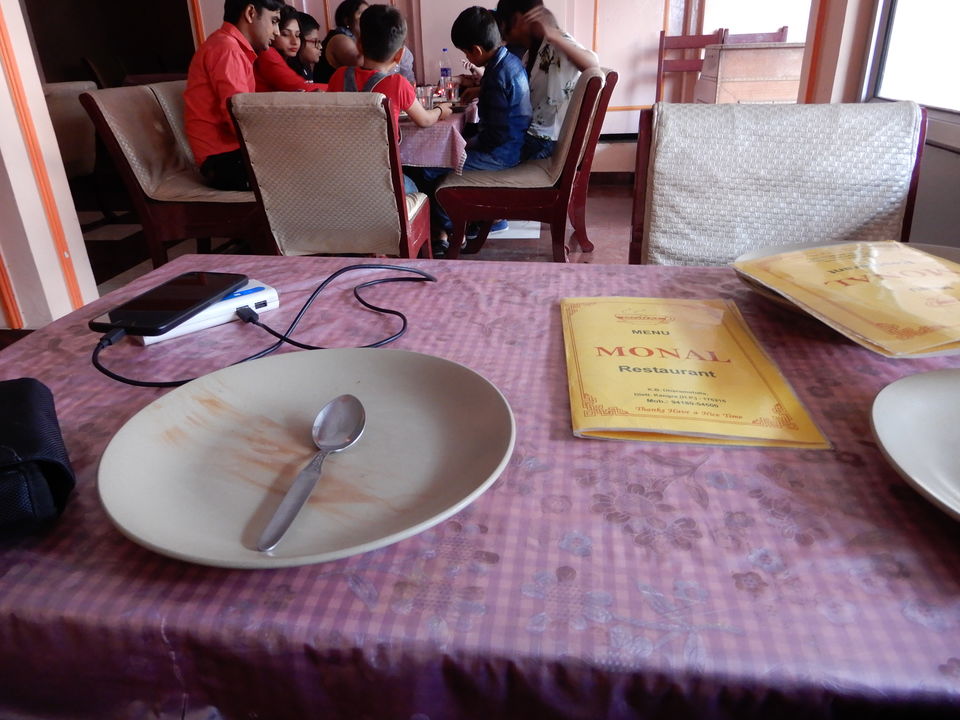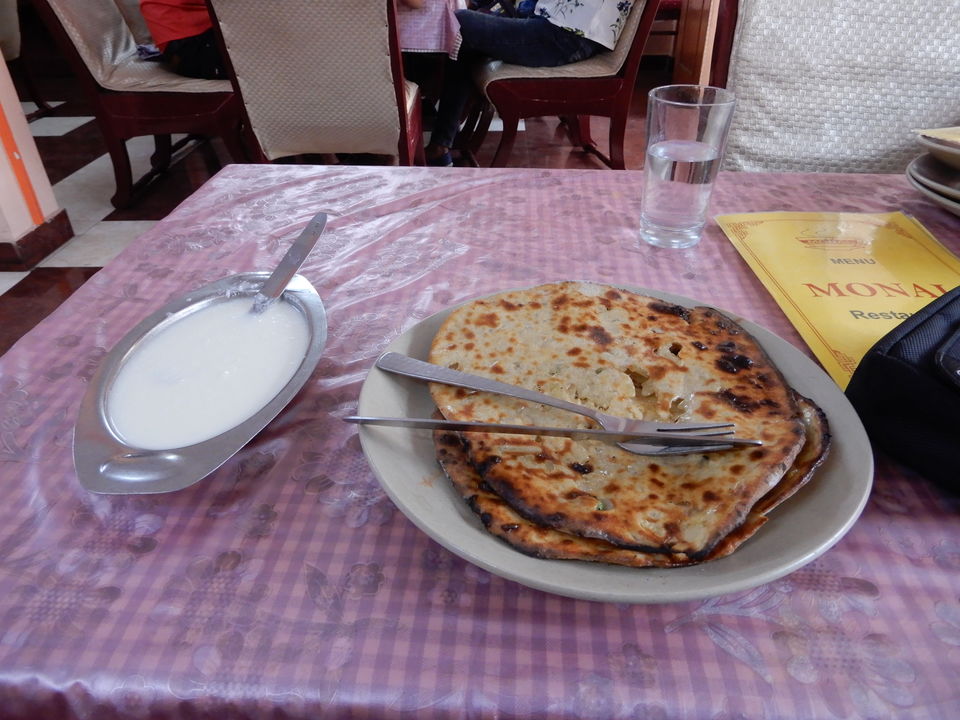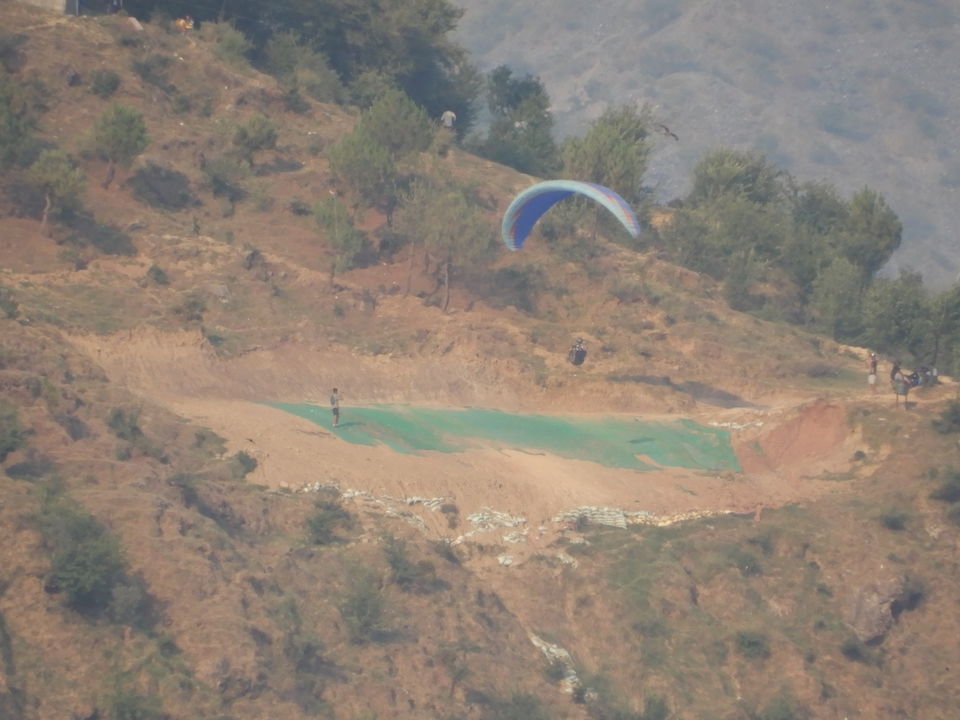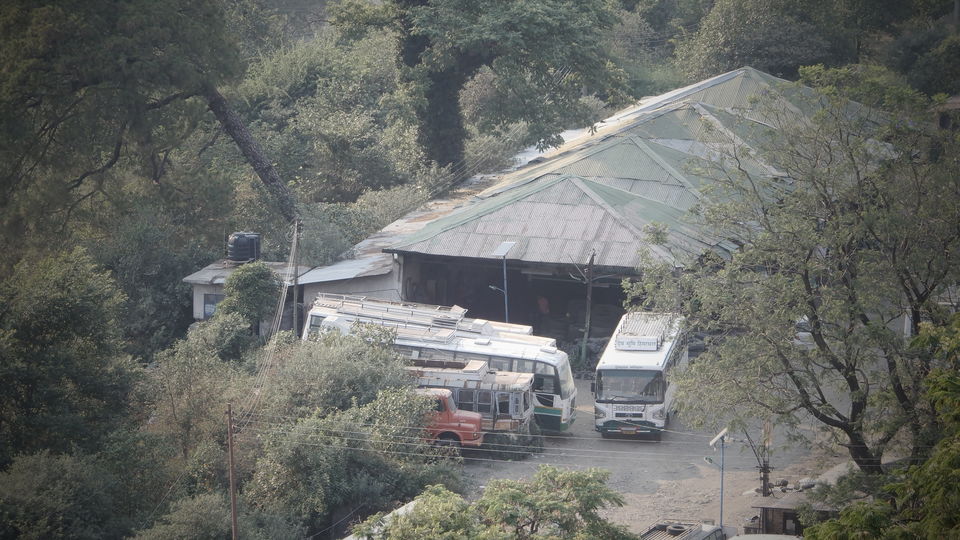 After shower, I went to a restaurant for food. I actually visited there so that I could charge my devices but unfortunately, there was no power in that restaurant (Monal Restaurant) that time. I ordered two aloo parantha with curd. Honestly, I couldn't appreciate the taste of the food. After having food, I kept on roaming around like a nomad, after all I was a nomad there. I must have roamed for next two hours I guess and then I took a cab to Mcleod Ganj.
In McLeod Ganj
I reached McLeod Ganj in next one hour. The drive from Dharamshala to McLeod Ganj was pretty mesmerizing. I enjoyed a lot on the way. I reached McLeod Ganj in next one hour. So this was the place, which has always fascinated me to come and walk here freely, like I have no worldly worries. The holy place of Buddhist monk, the place stuffed with tourists, from nationals and internationals, crowded roads, all booked hotels, restaurants full, I mean life never stops here. The night always keeps awake here. I had my dinner at a restaurant (forgot the name) and asked them if they had a room available, as I hadn't prebooked any hotel, homestay for my journey. They said they had no room available at that time.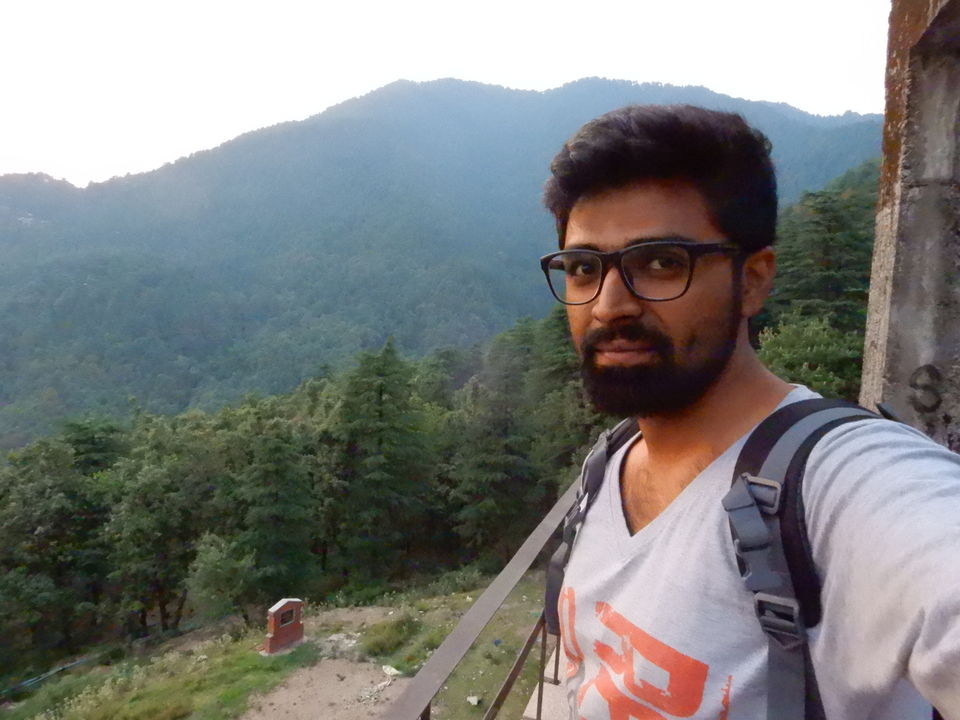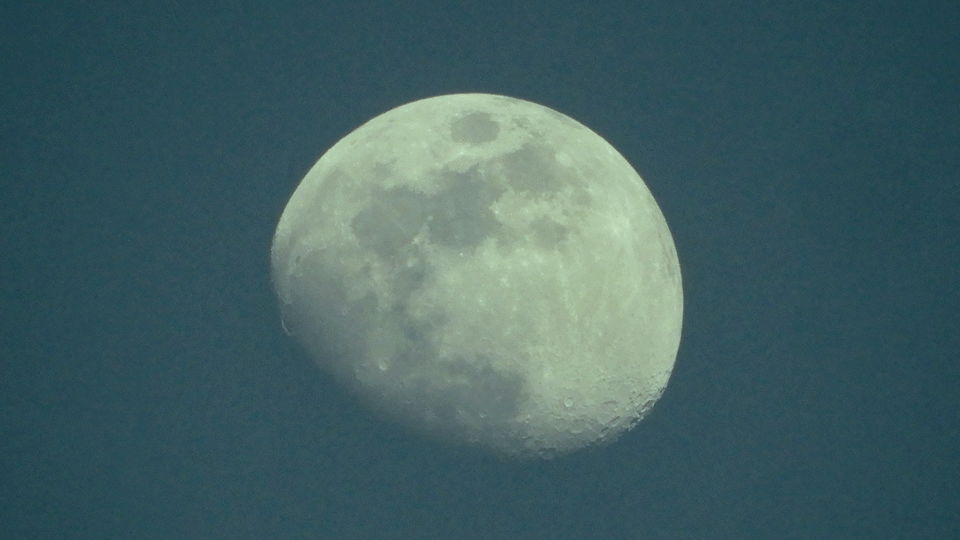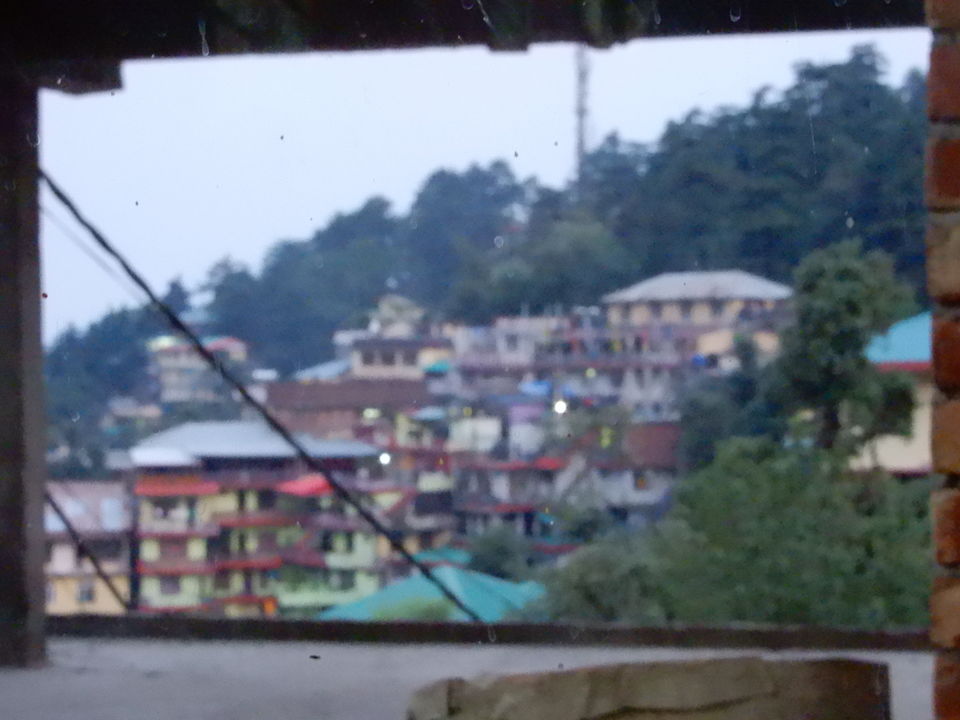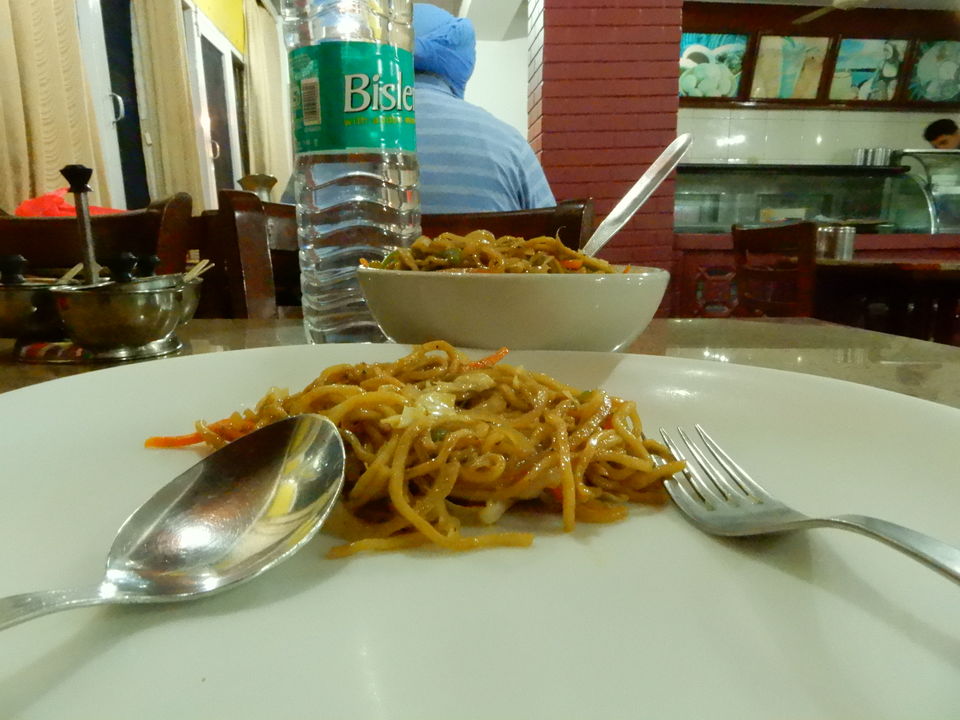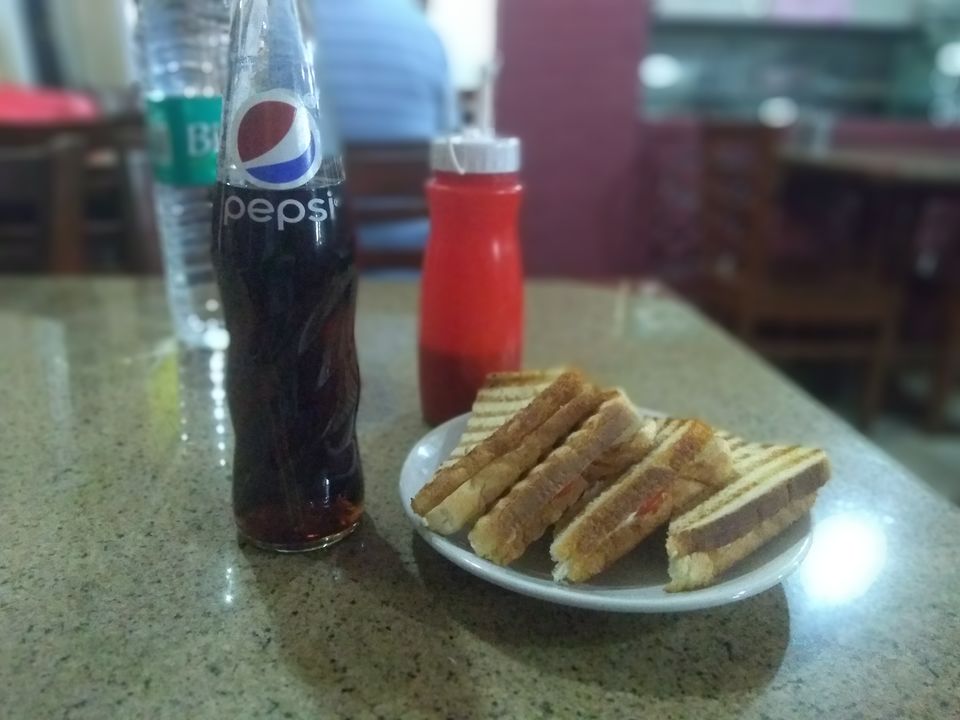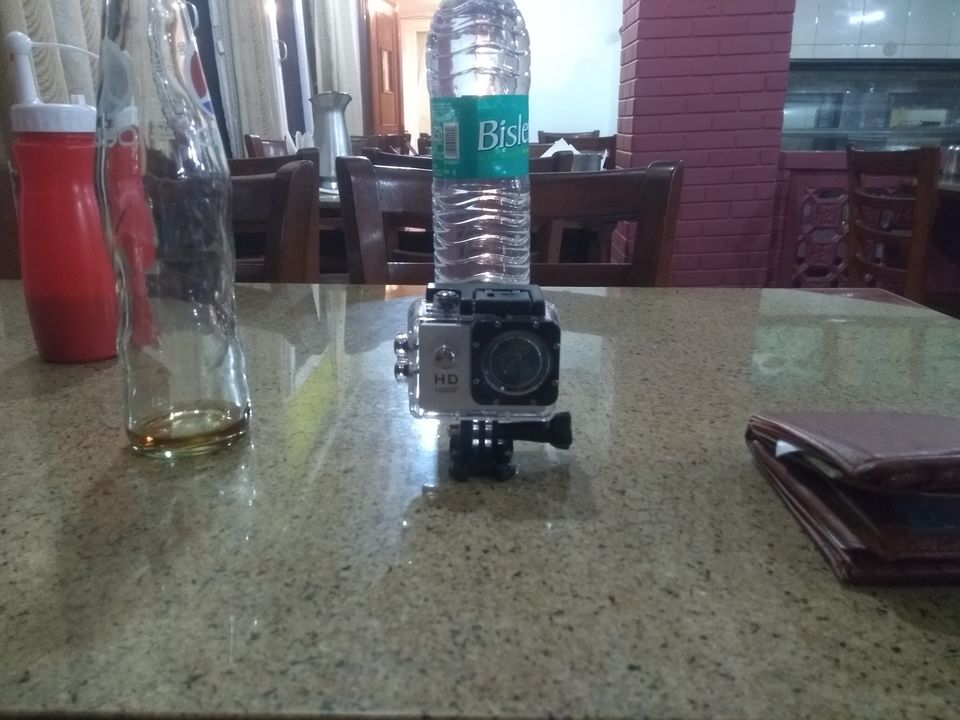 I walked on the streets, asked in some hotels and in some homestays but did not find any place. Then I had a word with some locals, one of them told me that it was Friday night and no rooms would be available. He even suggested me to go Dharamkot and told that I could easily walk up to there. Thus, I decided to walk, though it was all dark at that time and I did not even know if the road I took was straight leading to Dharamkot or not. Thus, I was little concerned and little excited as I was doing this stupidity. But I opted for the positive side and started my journey to Dharamkot from McLeod Ganj on foot in the dark of the night. I kept on walking and walking. After some time, I left the lights and everything behind and then I found no sense of human being, it was all dark and jungle. But I continued walking and I reached Dharamkot.
I made it to Dharamkot
I reached Dharamkot. But by the time, I was all night and there were not many people on the road. I saw no one, thus I kept walking. I saw some local kids walking on the street. I asked them if I could get somewhere to stay, any homestay precisely. And they said all the homestays were booked. Thus, I went to a hotel and asked for room. I was told that there was one room available for 2000INR and I said okay. My main motive was to recharge my devices and take shower. The room was good. It had nice view, the view from balcony was killer. It just justified my spending. I took shower the moment I reached there and recharged all devices. There was a big LED TV but who needs a TV when you have beautiful view outside. I kept on sitting there for long, wrote a song, a poetry. And then came inside and laid down. Somehow, sleep kissed my soul and I lost in its embrace. I woke up at 6AM when my alarms hits me hard.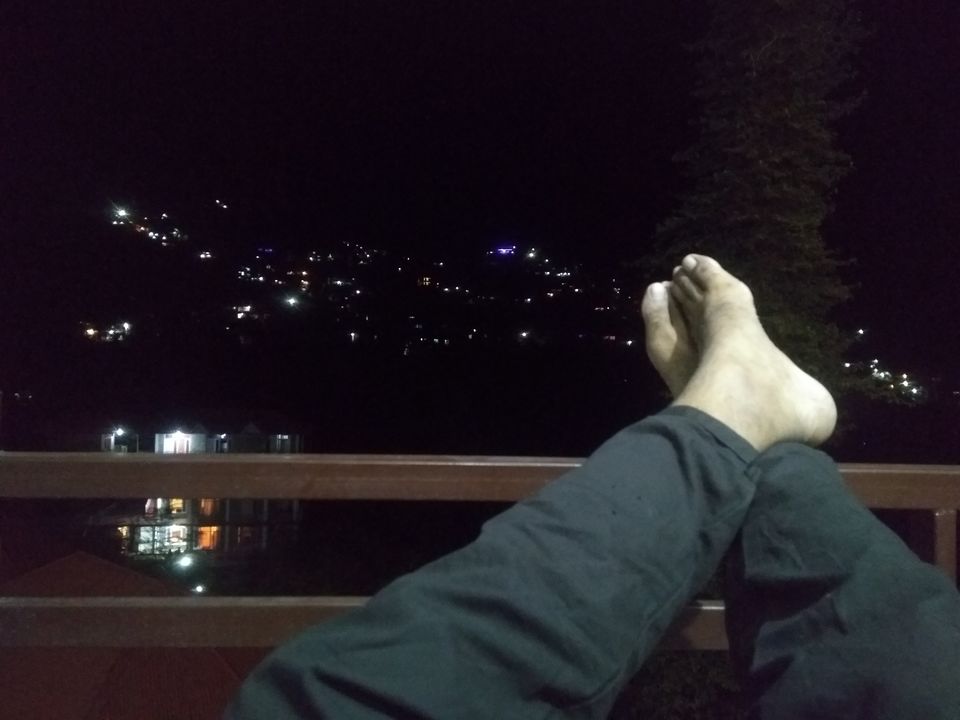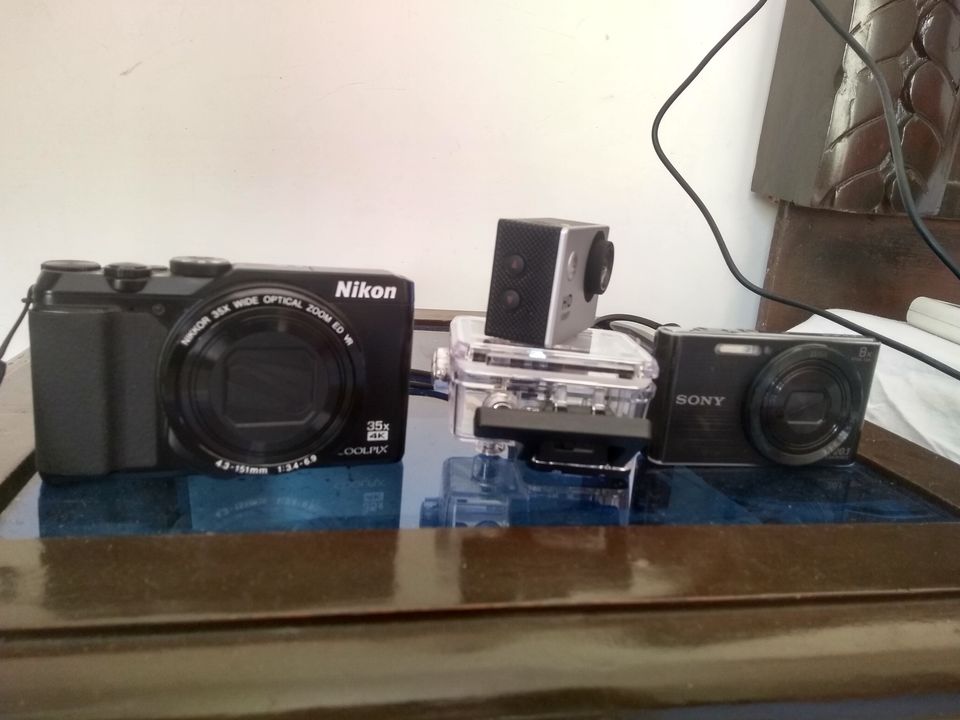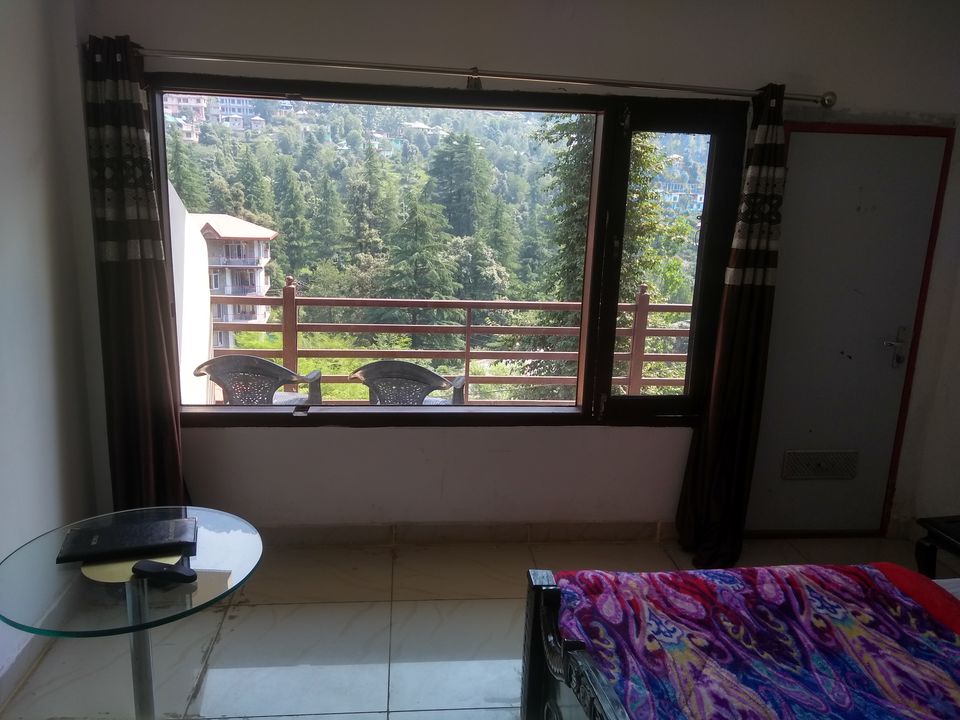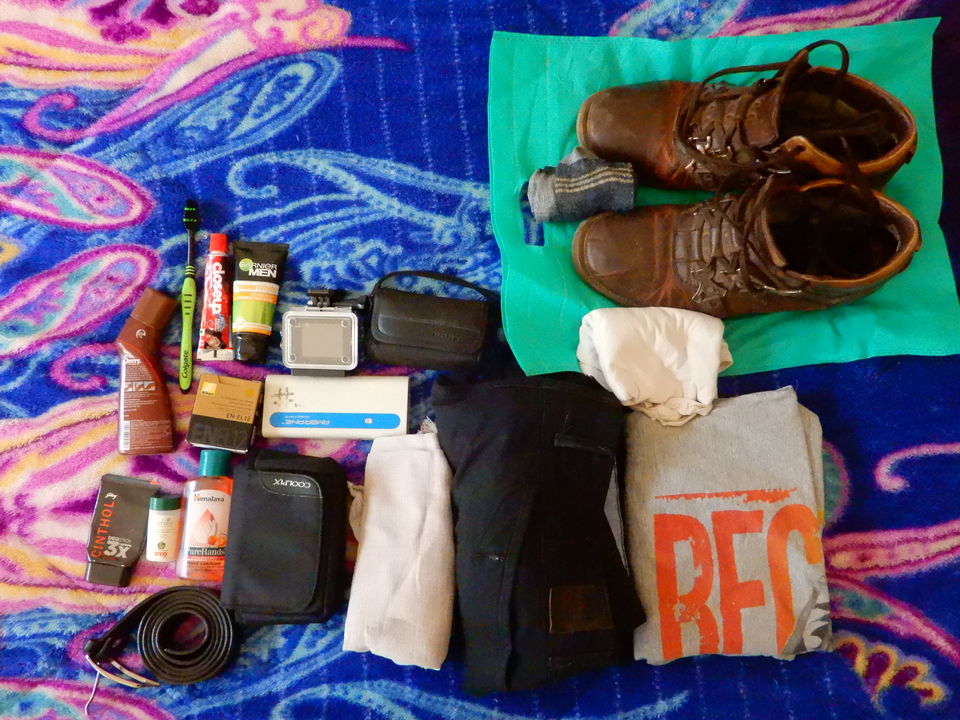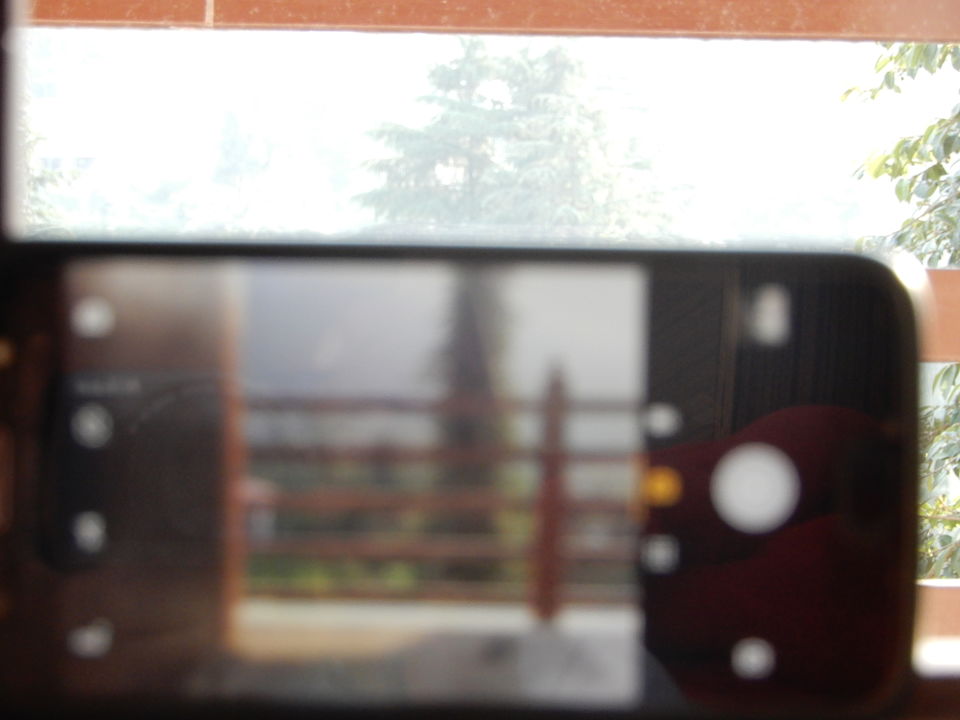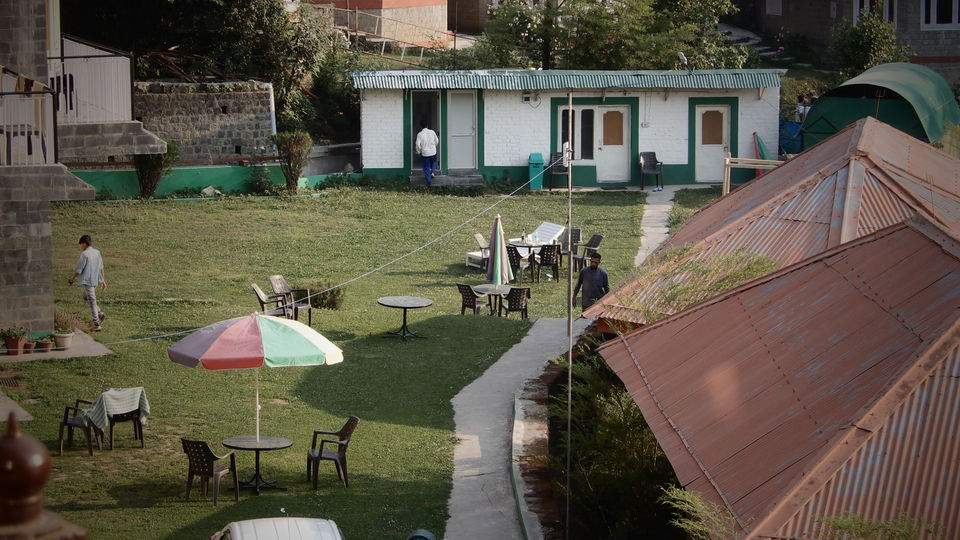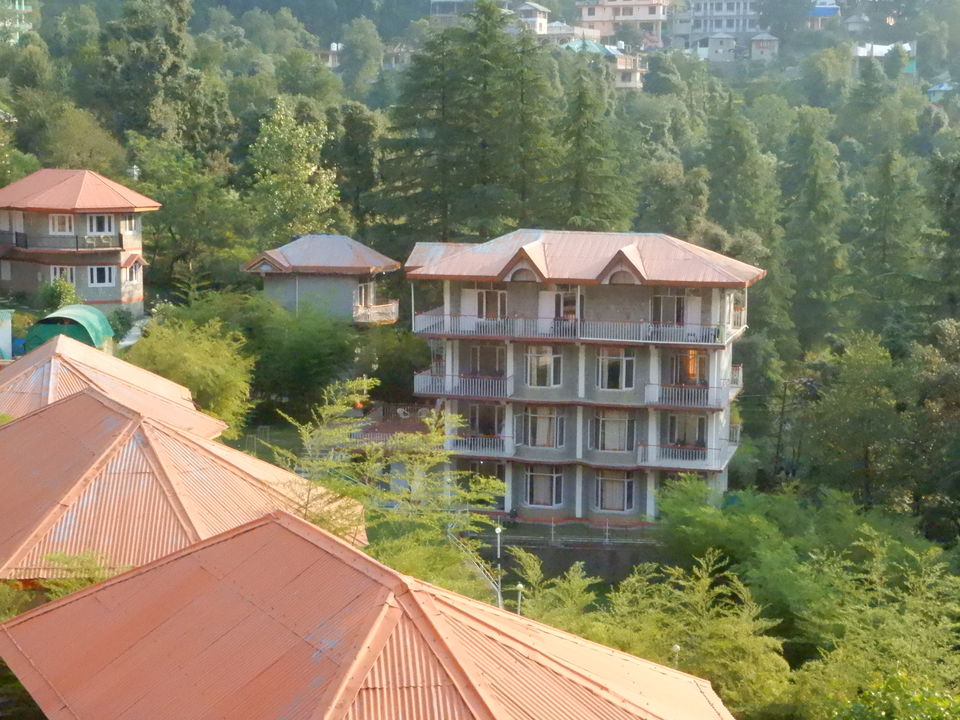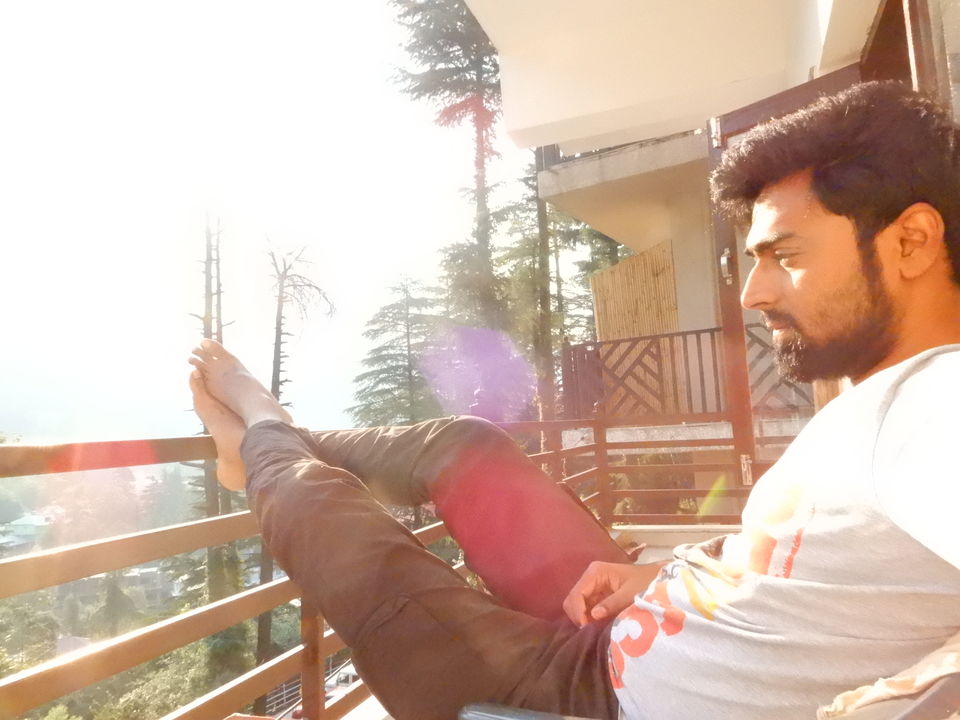 Leaving for Triund
I was staying at The Lodge, Hotel & Restaurant. I had my checkout at 11AM. I woke up, took shower, packed everything and left. I had breakfast in the hotel's restaurant itself. The bill was 180INR for one bowl of curd and two aloo parantha. I asked them the way to Triund and left for the final destination.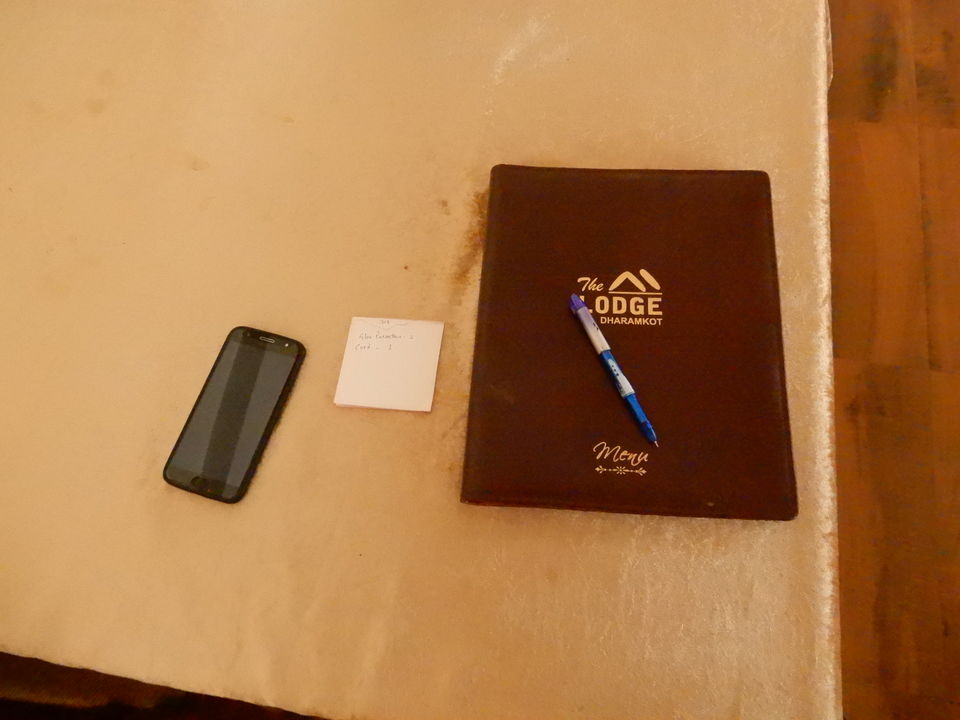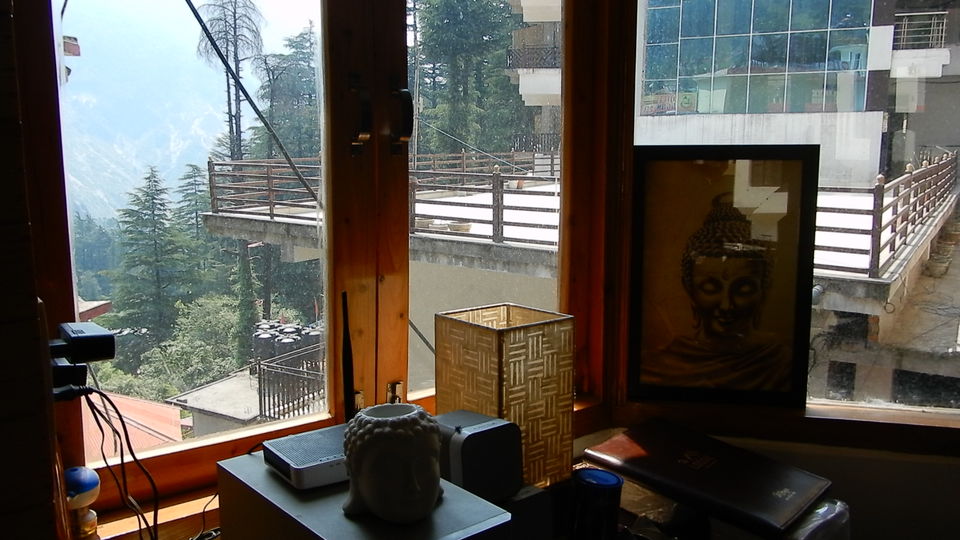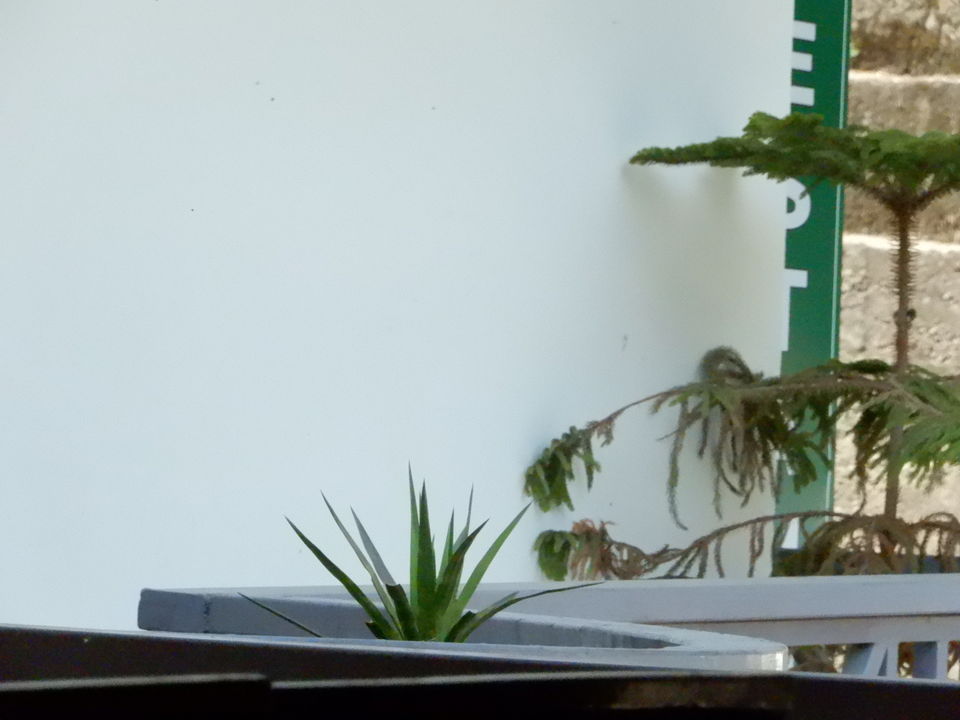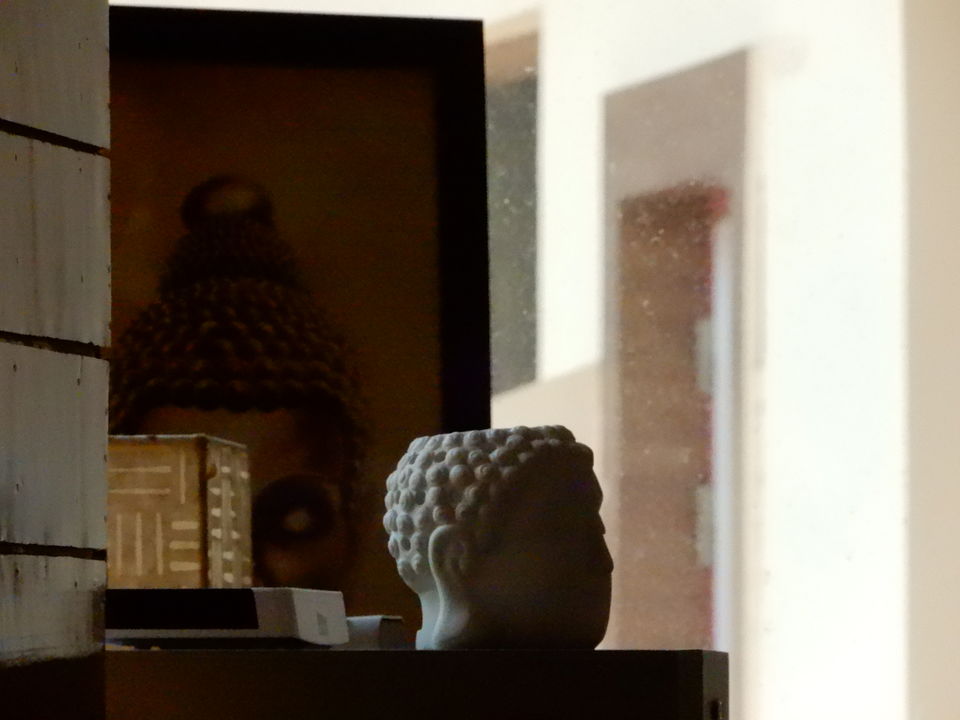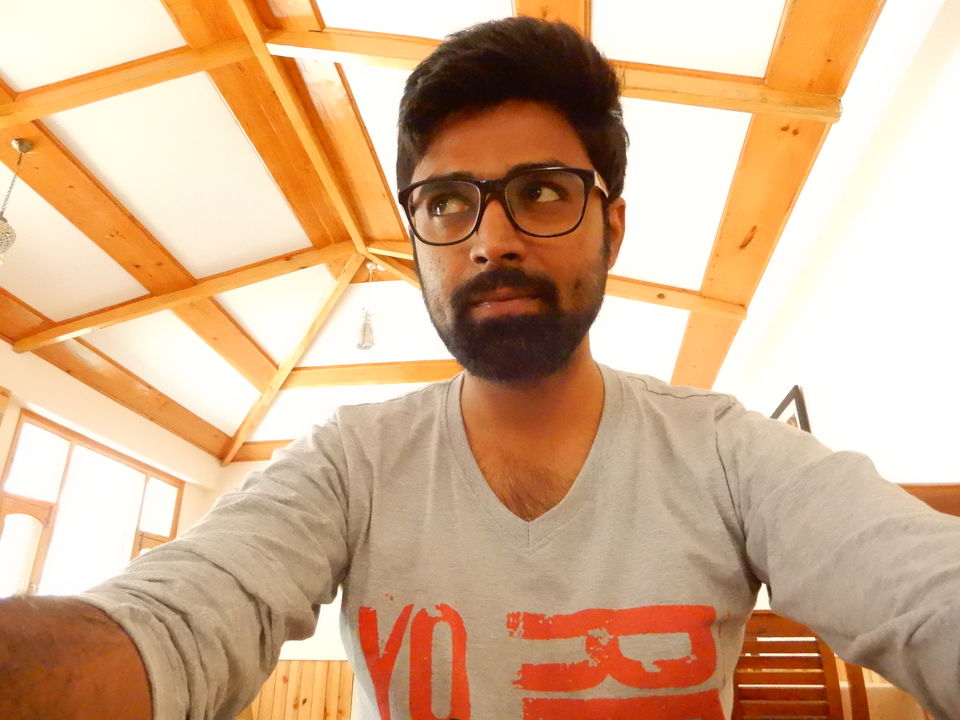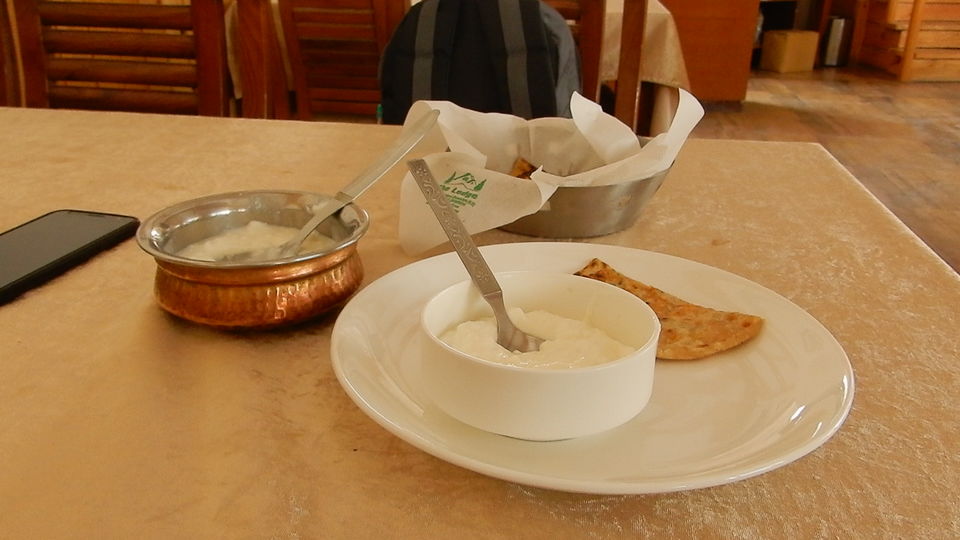 I passed through the village streets and kept on walking. I bought water bottle. There, the price was 30INR per bottle which 10 rupees extra. I bought Sting, the energy drink, considering that I would be climbing, so I would be needing energy. While I was passing through the village, I saw many foreigners cleaning and picking up trash from the streets. It was very surprising to see. I left the village behind and kept on walking and walking. I met a guy on the way and we reached the main point together, from where the trekking starts, Gallu Temple. There was a big queue and I got in. Before me, there was a group of one guy and three girls, they were all friends. And we started talking. Okay, so from here I was no alone actually. I started trekking with them from there. The height was quite challenging. But it was fun, I was trekking with those two girls while the guy and another girl left earlier and we lost them. I bought water bottles on the way, as we move forward, the prices also increases. And I need water all the time. Thankfully, I bought glucose and it kept my energy mechanism active and in working position. With many stops, chitchats, we finally made it to the top. Hell Yeah!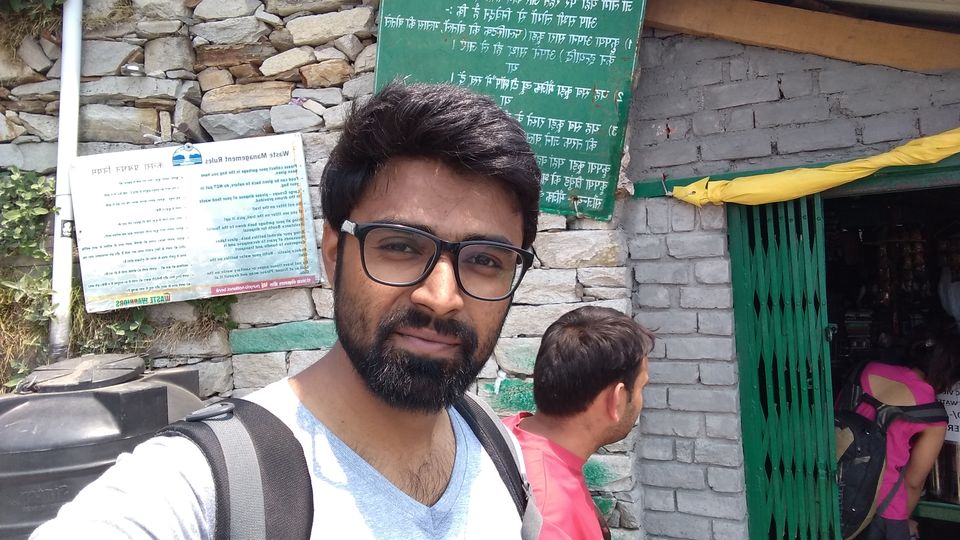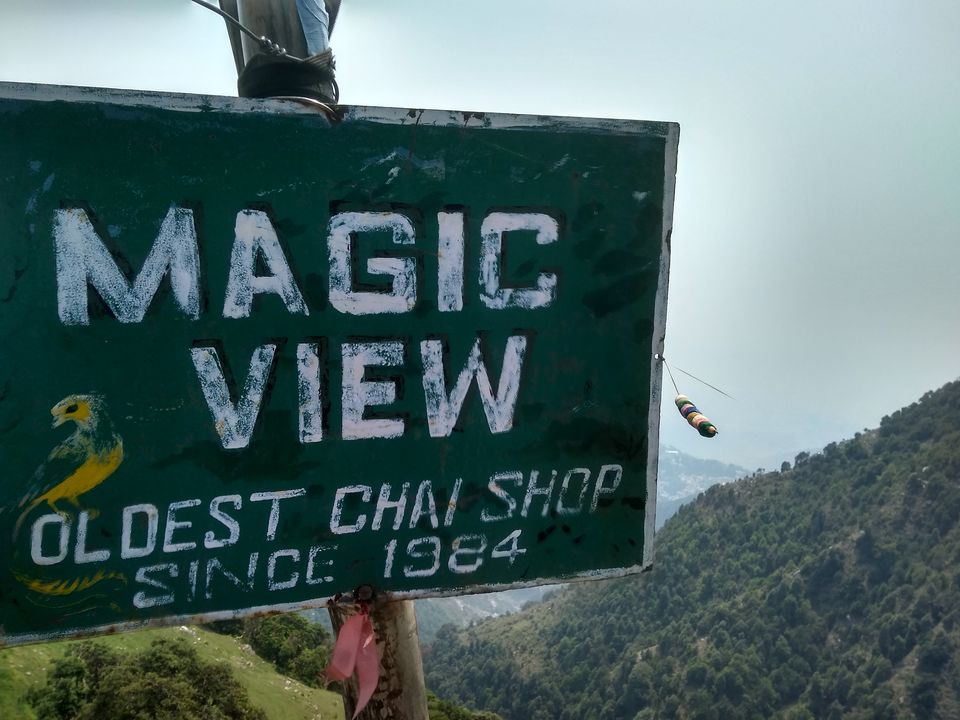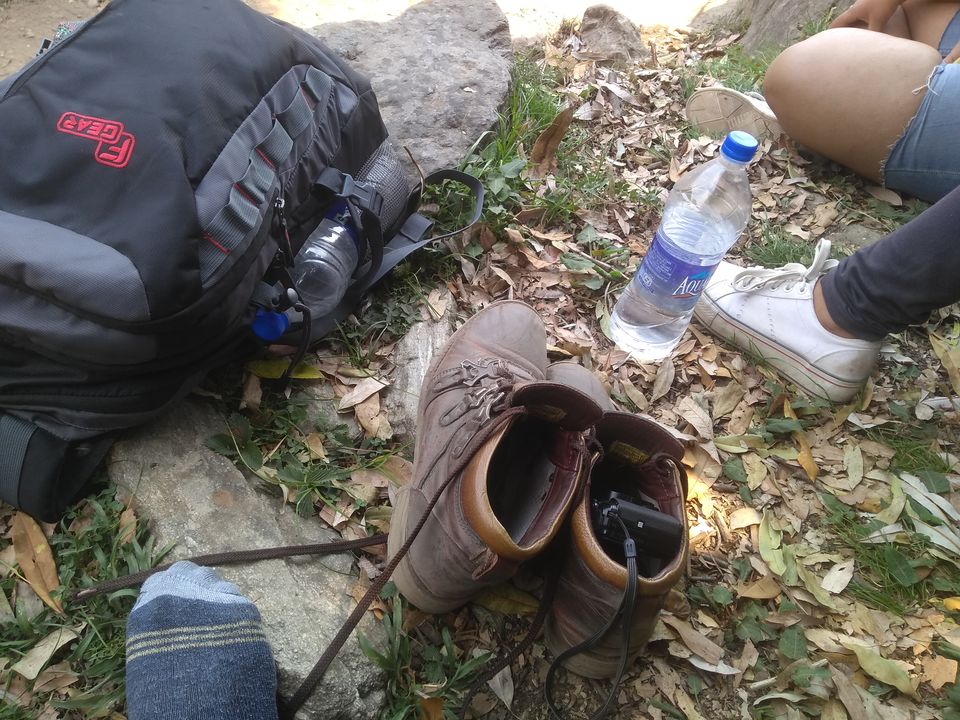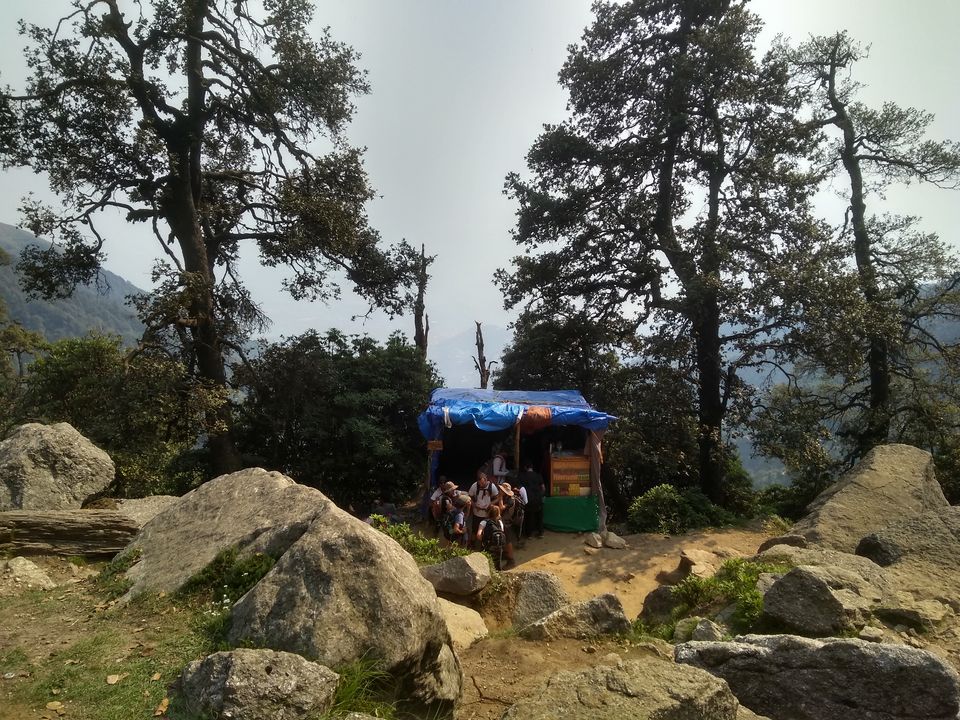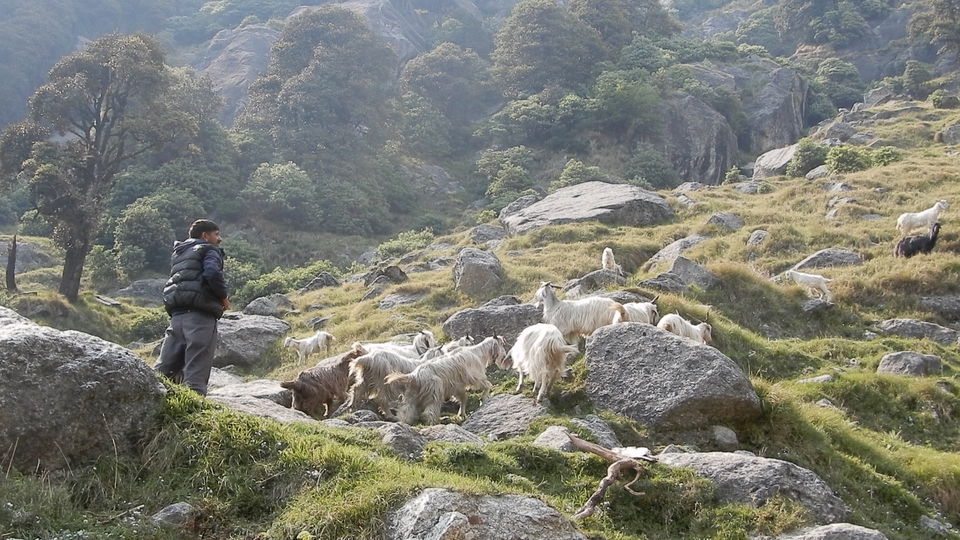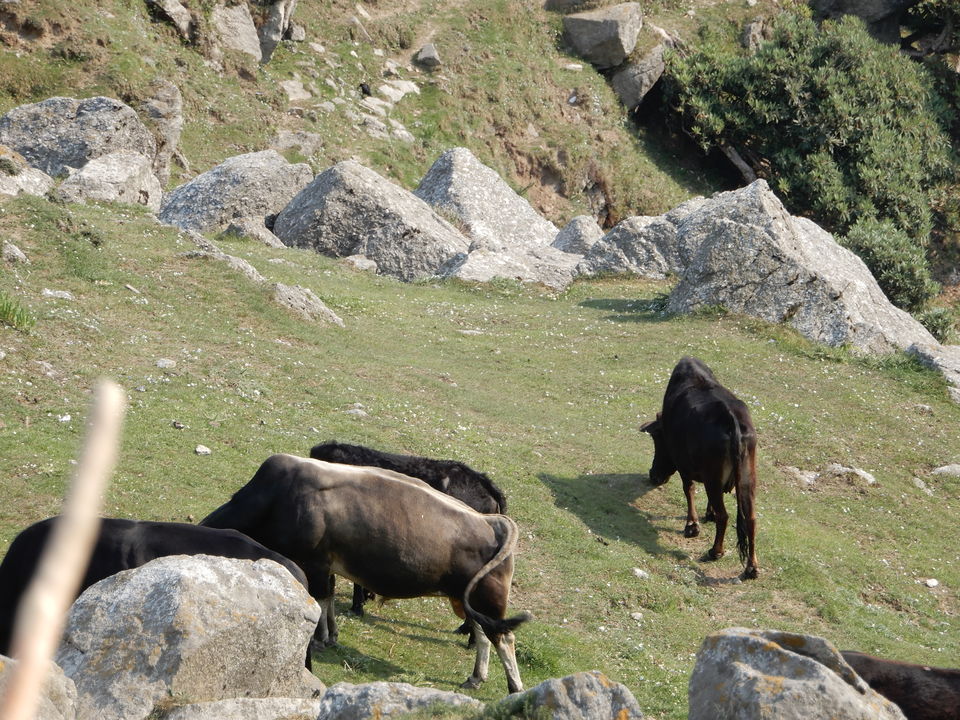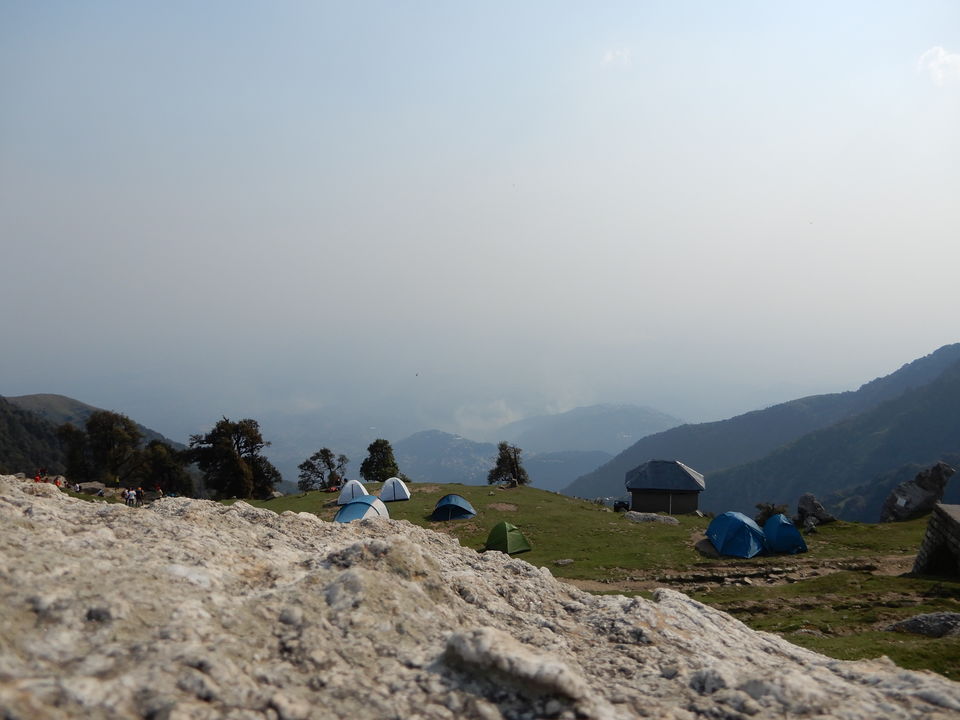 At the top - Triund Victory
When I reached there at the top, I just closed my eyes, opened my arms wide and welcomed the sky. I held my head high and kept like this for a moment. I was at my place. This is where I wanted to be. This is where my soul belongs to. Those two girls also found their friends who had already reached there. We sat down there for a while. Two random guys started talking and asked if we wanted to go snowline with them. The two girls refused and I got agreed. I asked them to come but they didn't. We moved little ahead and I told those guys that I needed to eat badly as I am out of energy and needed to take rest as well. So, I visited a cafe and ordered noodles. By that time, they had left and left me.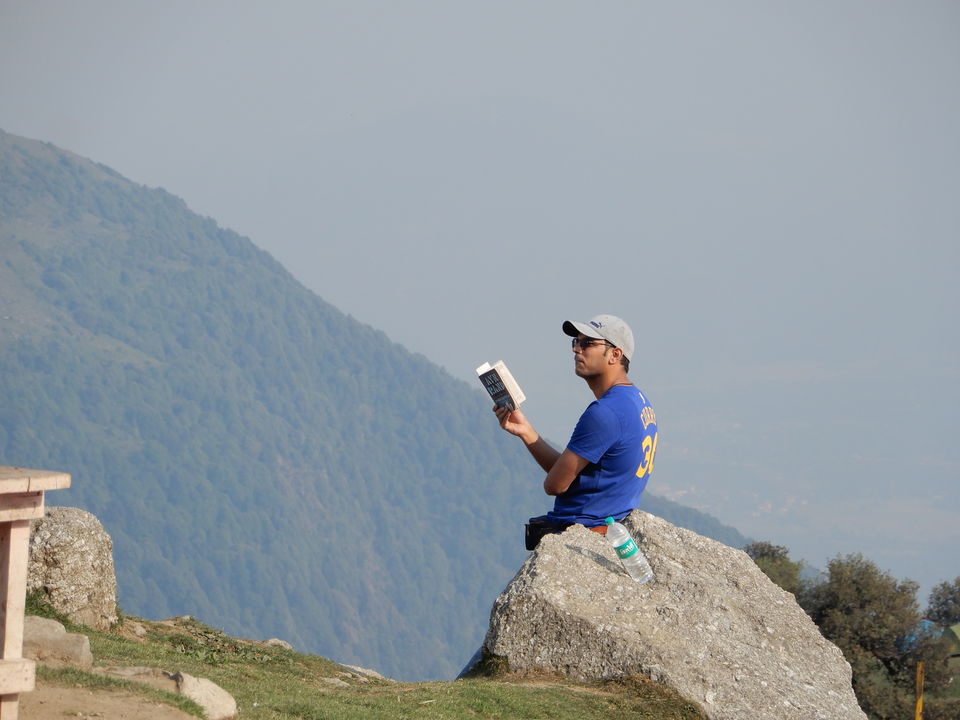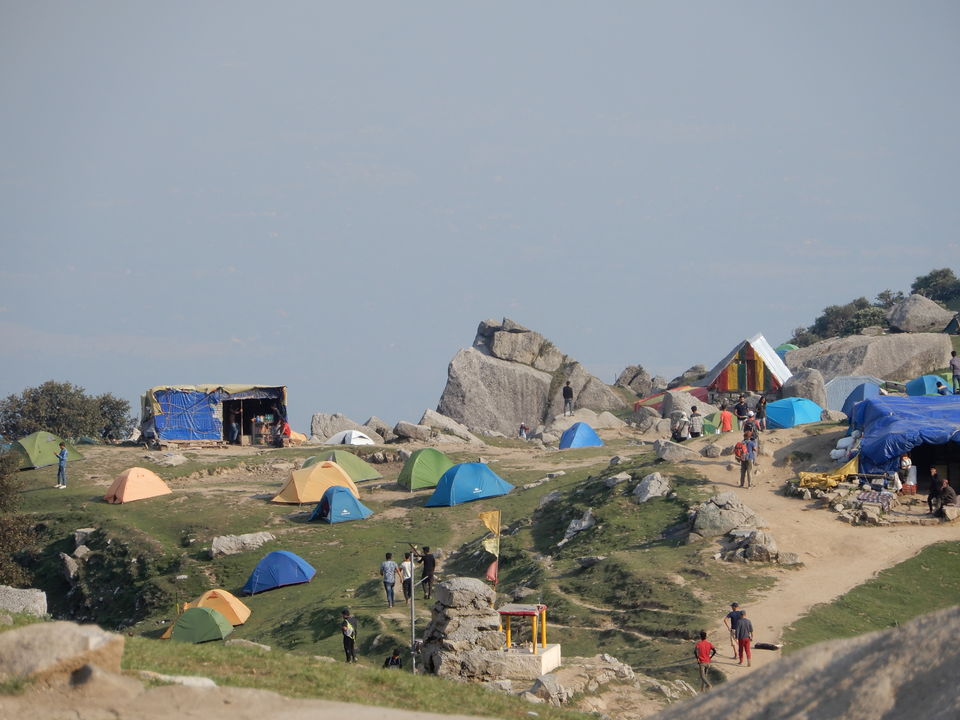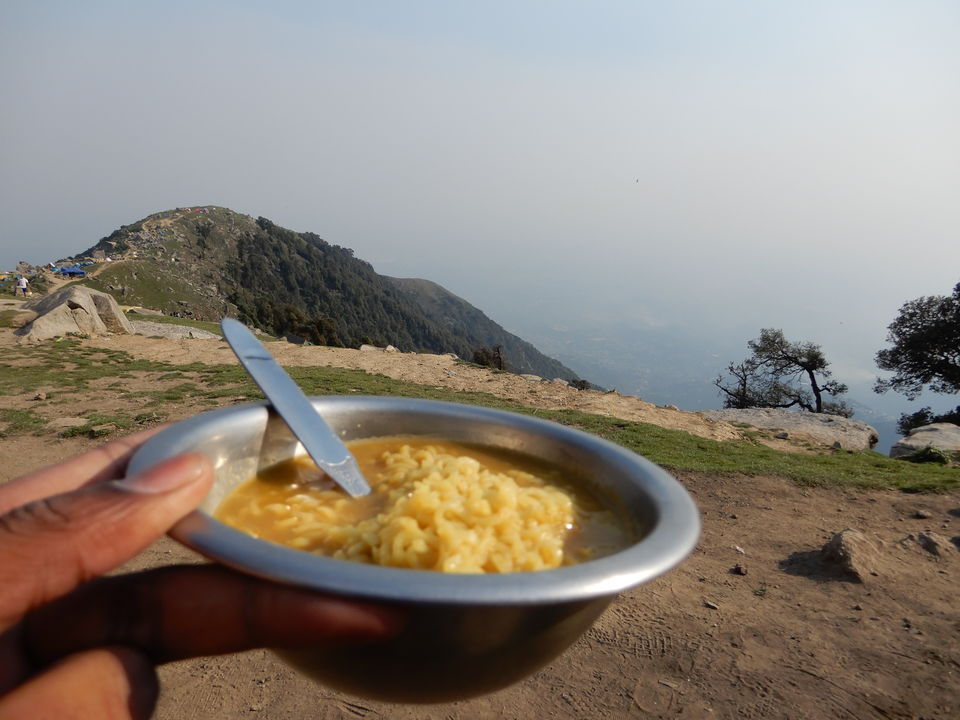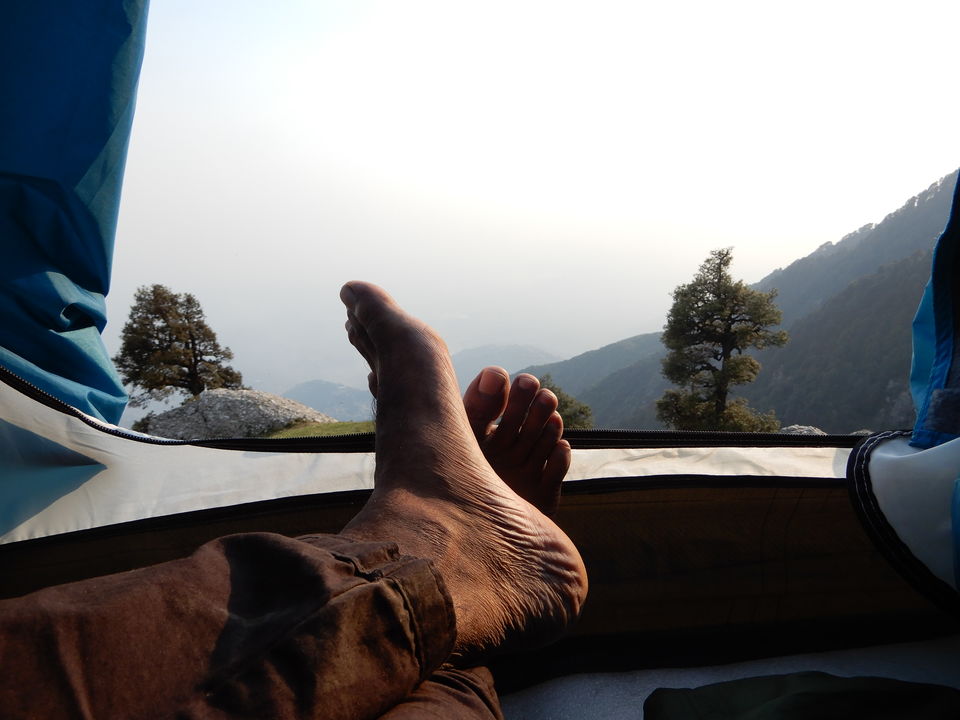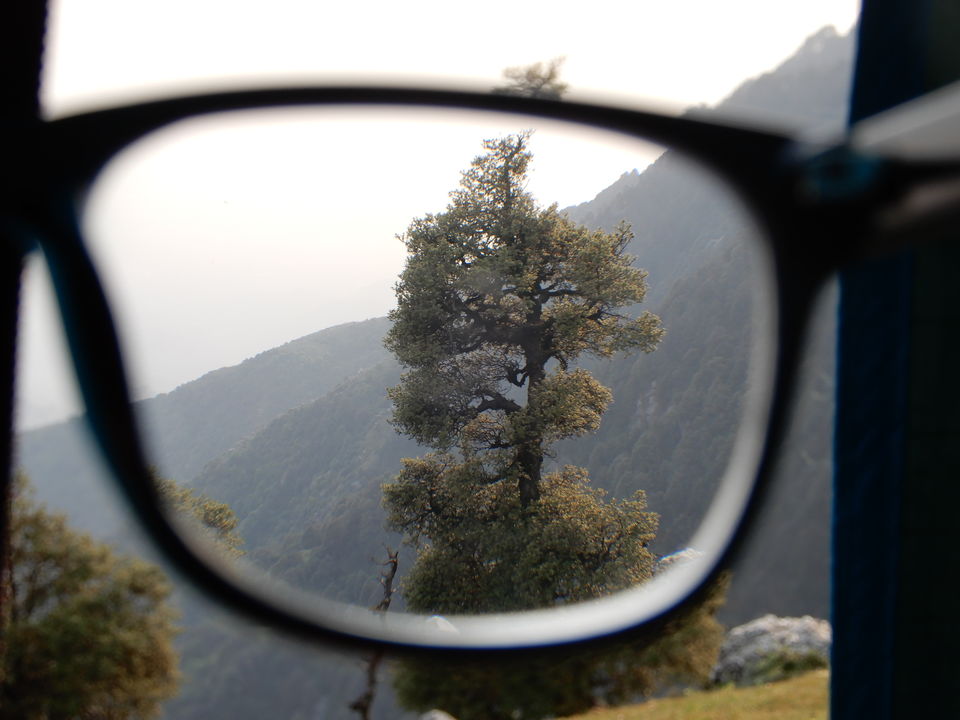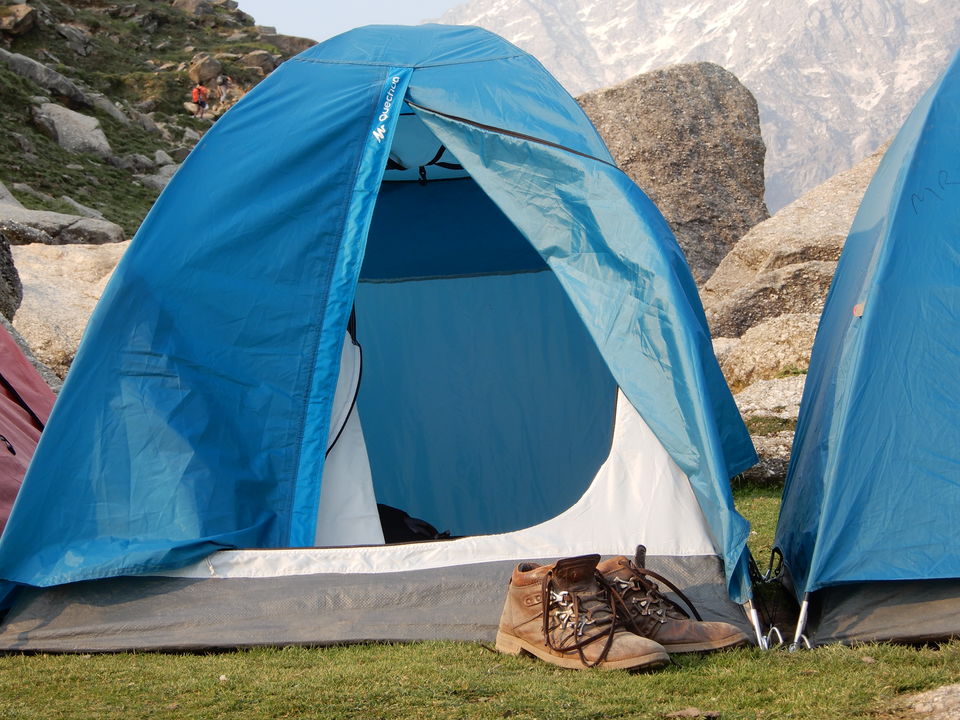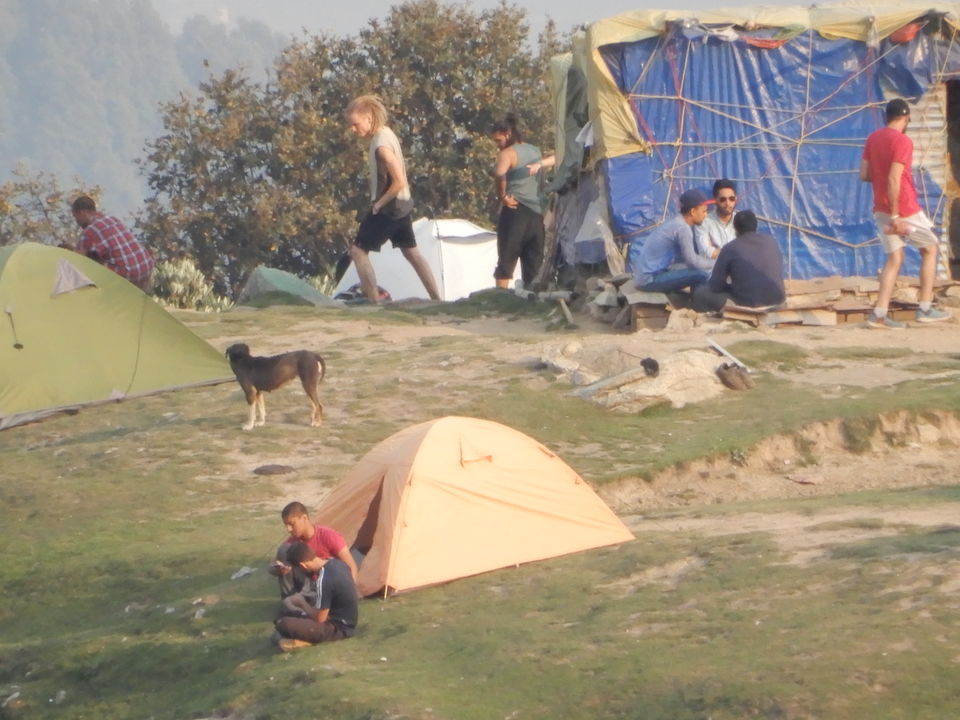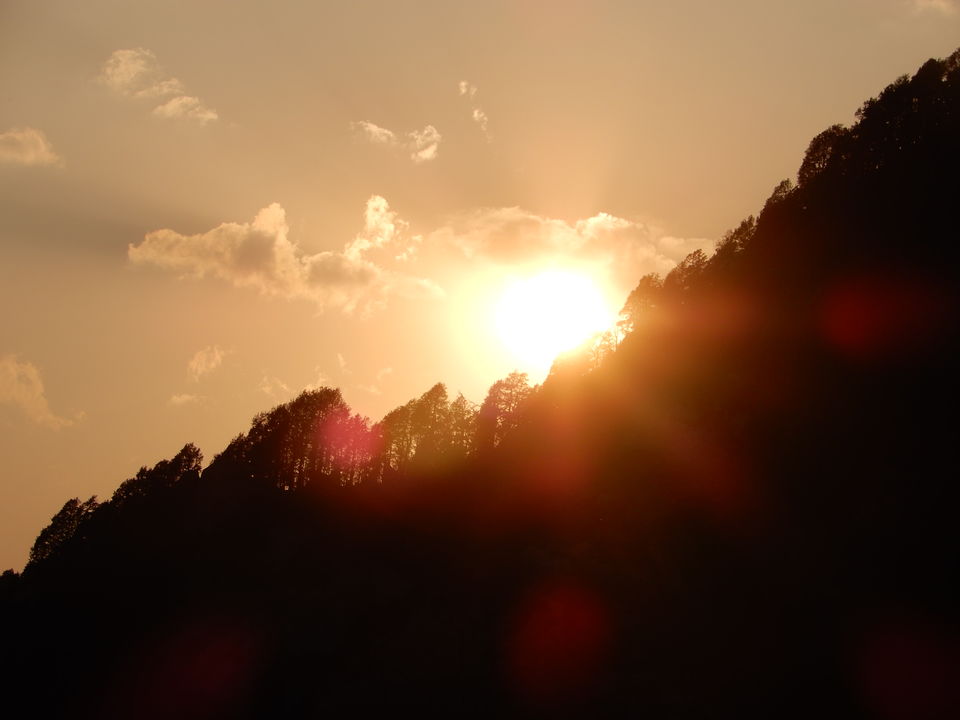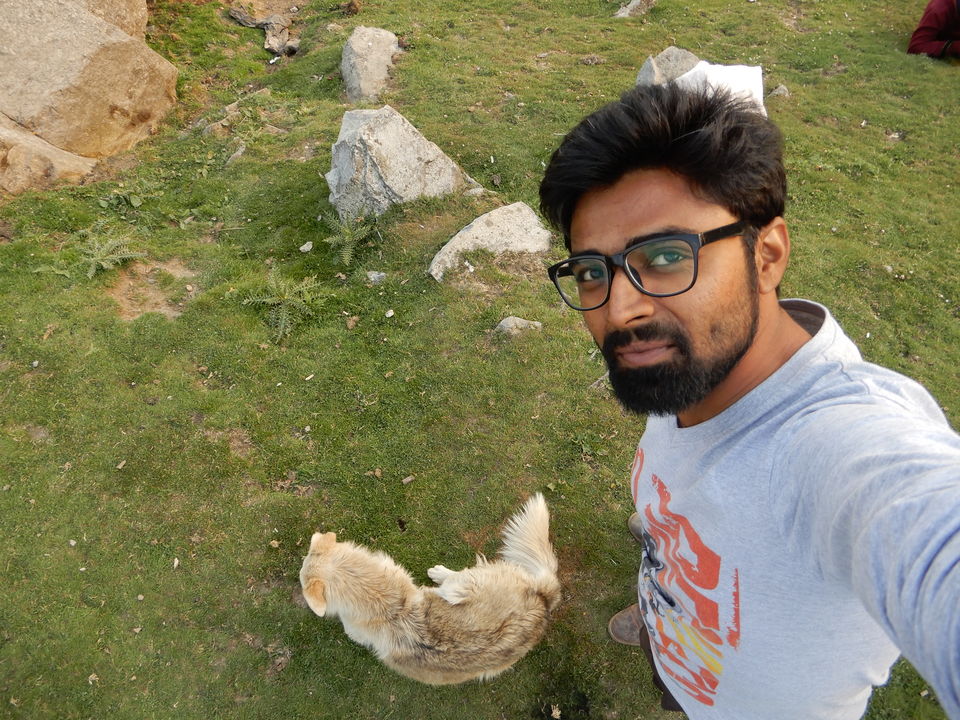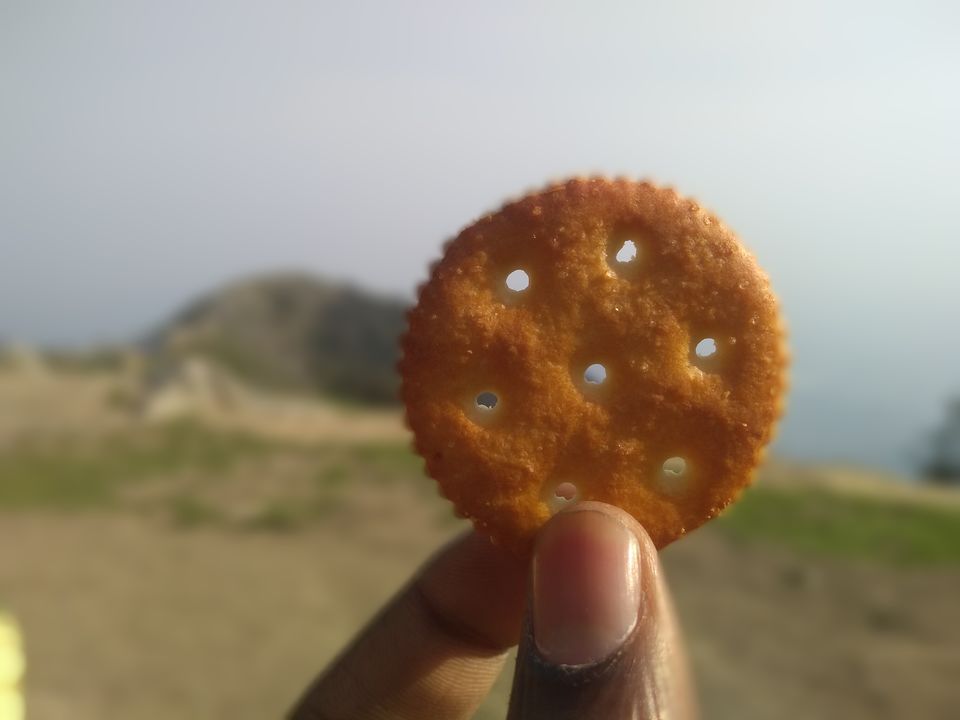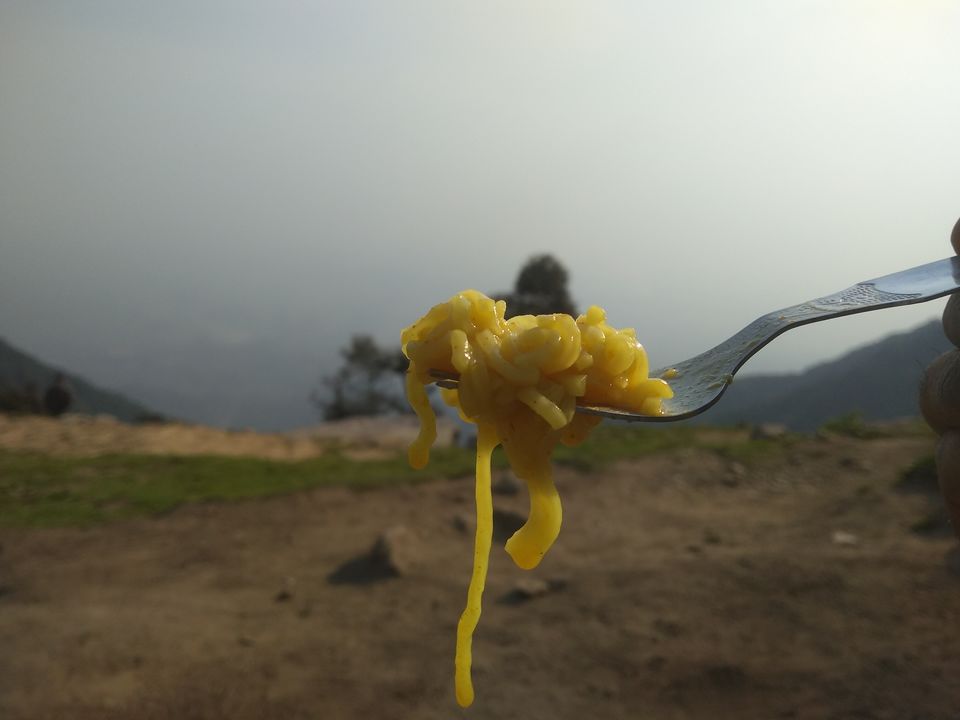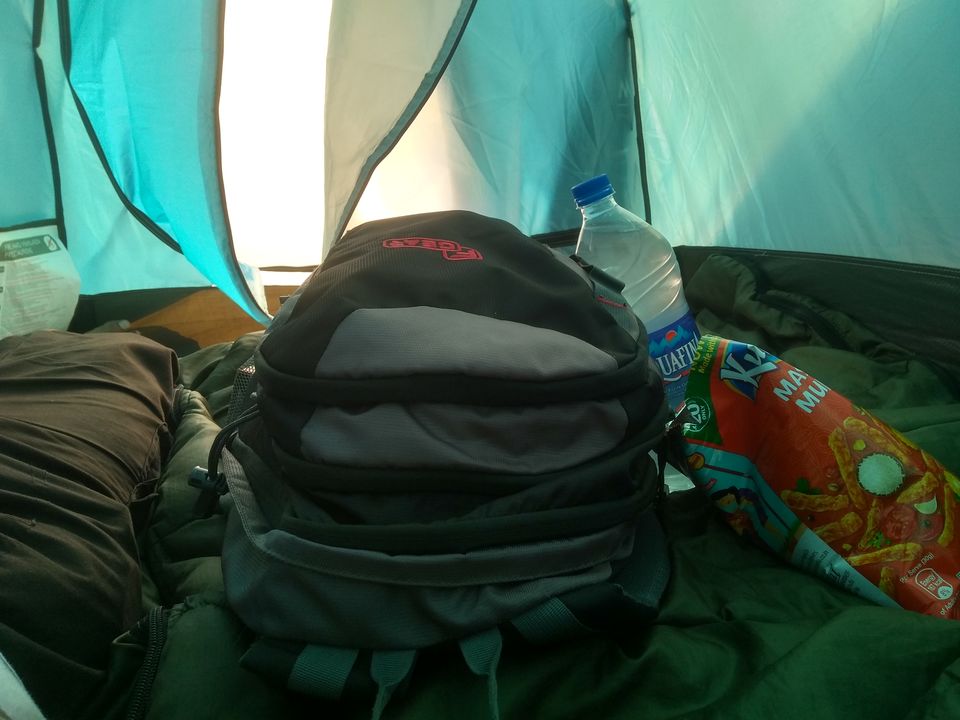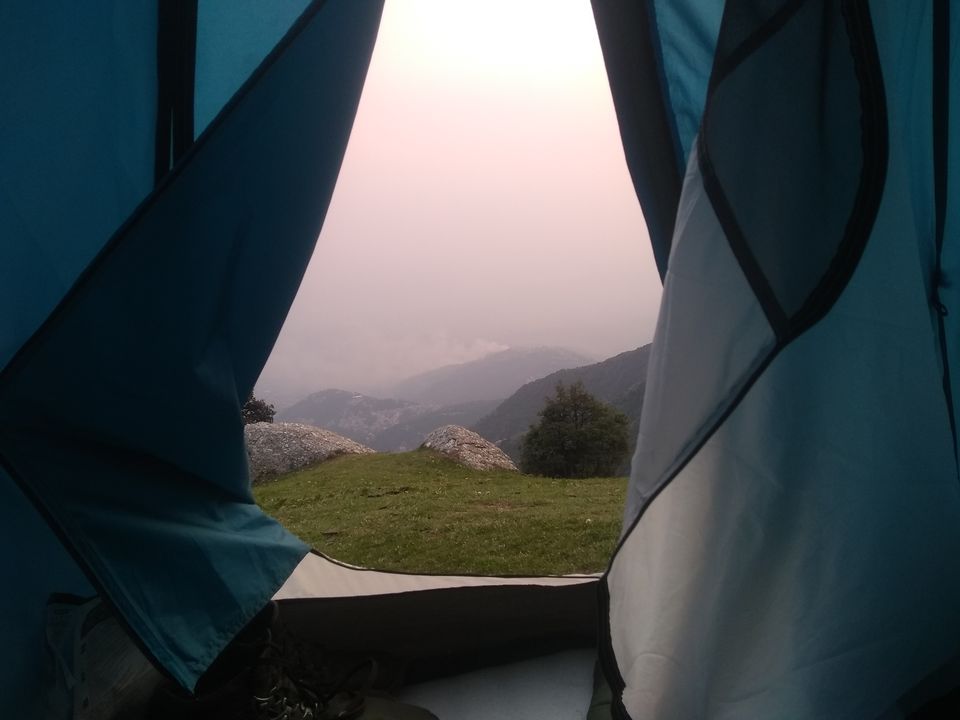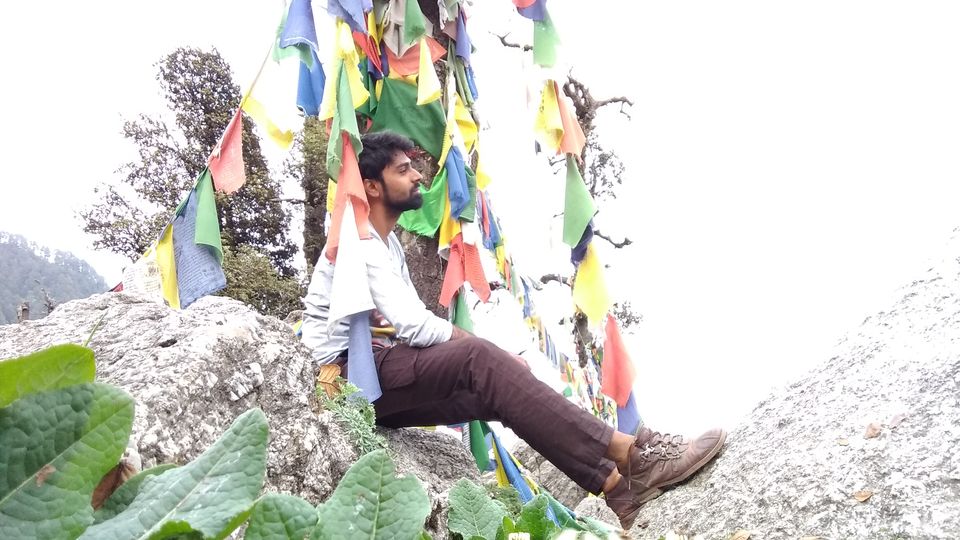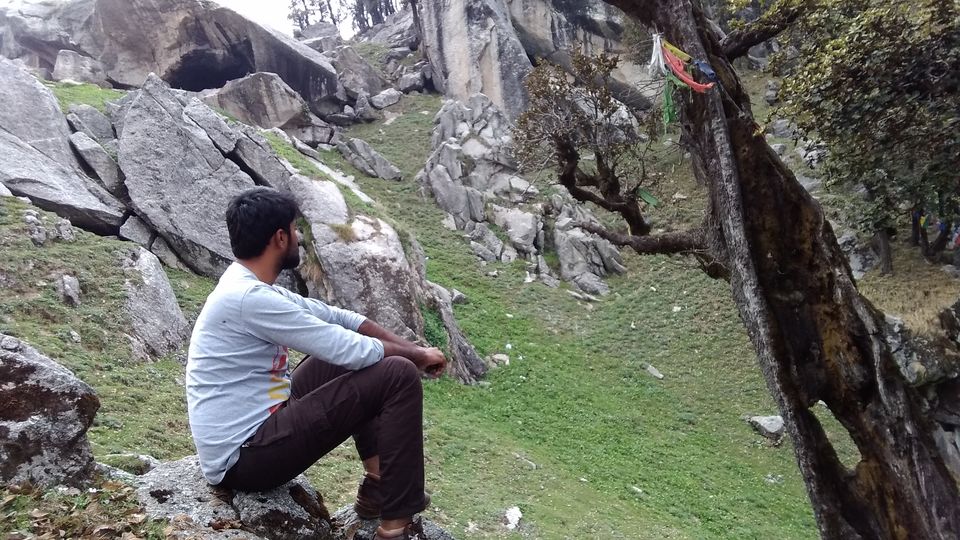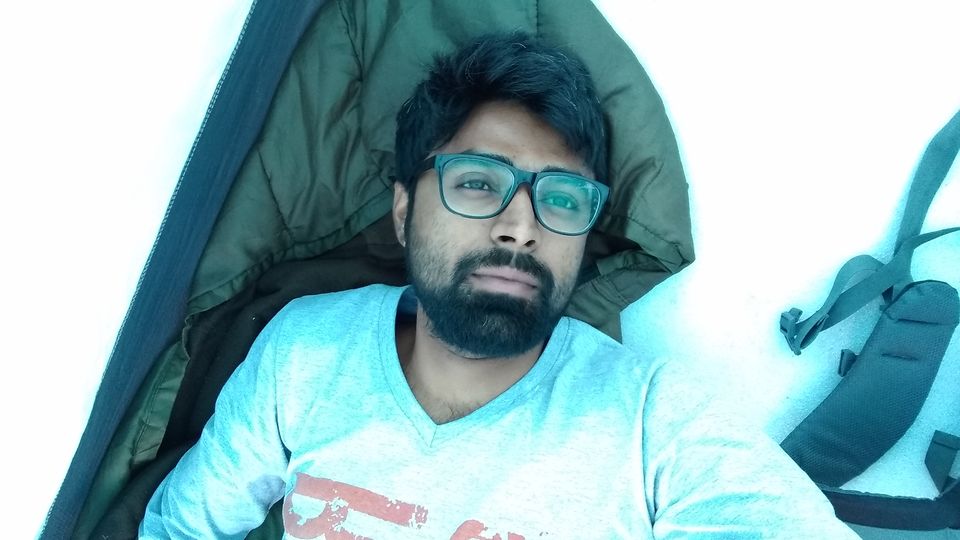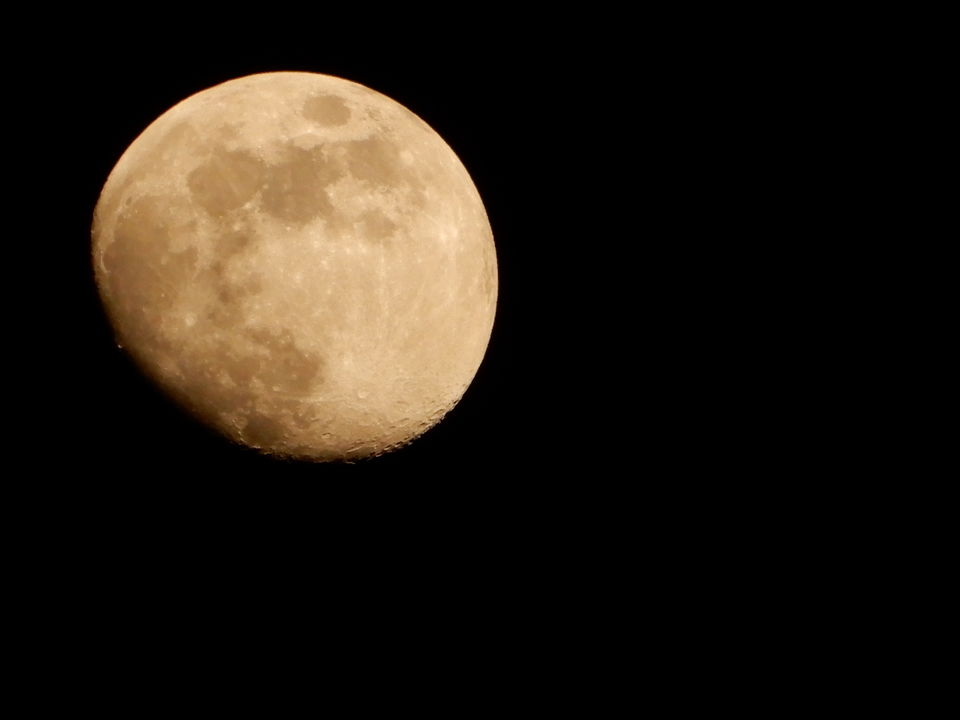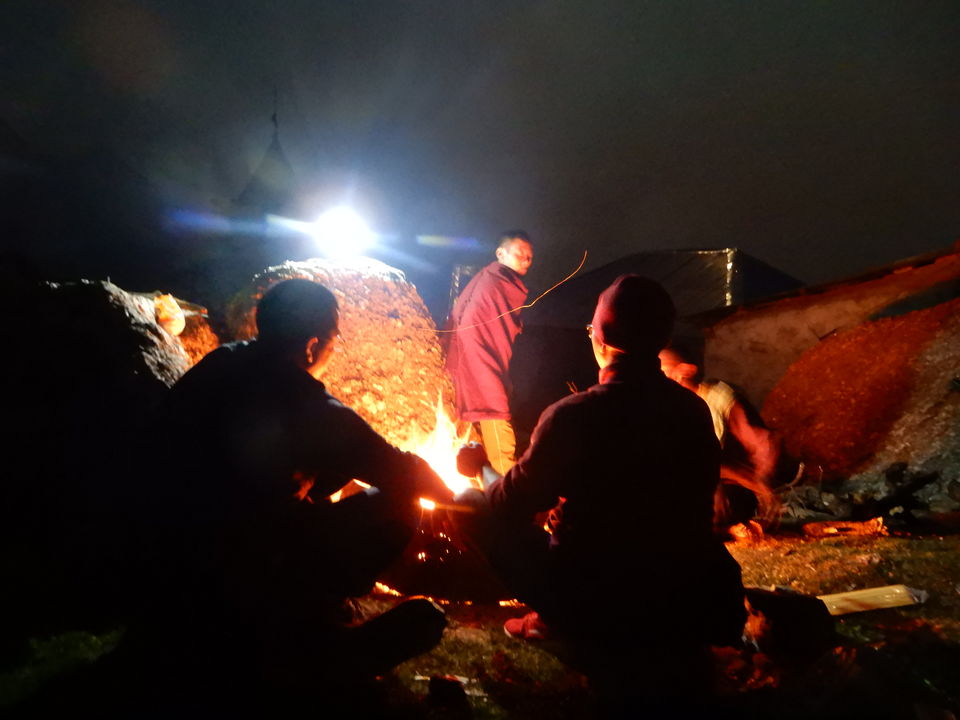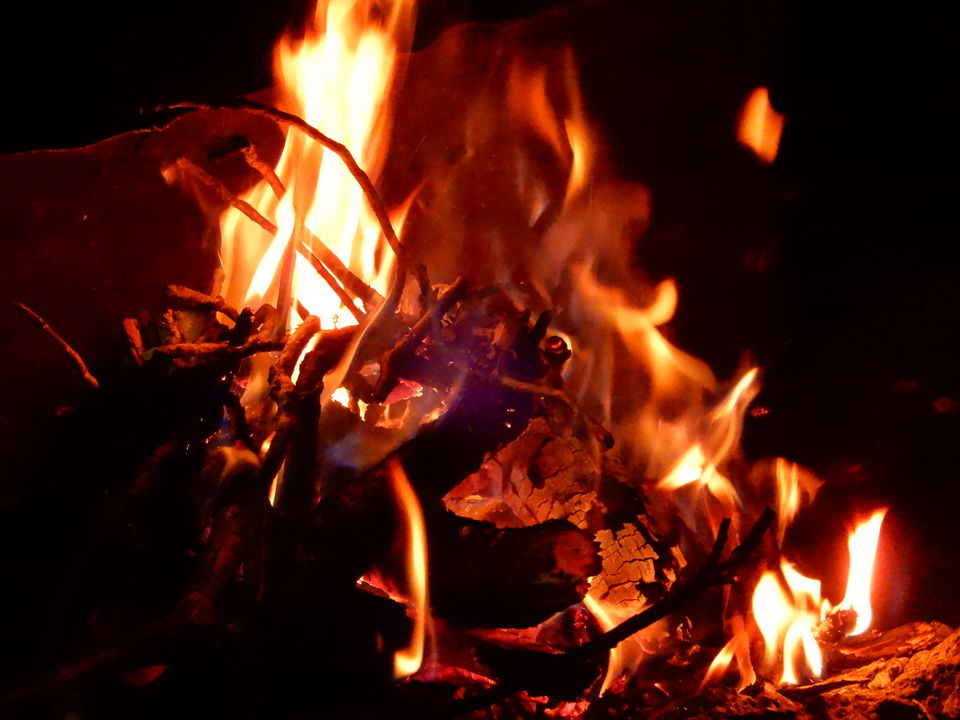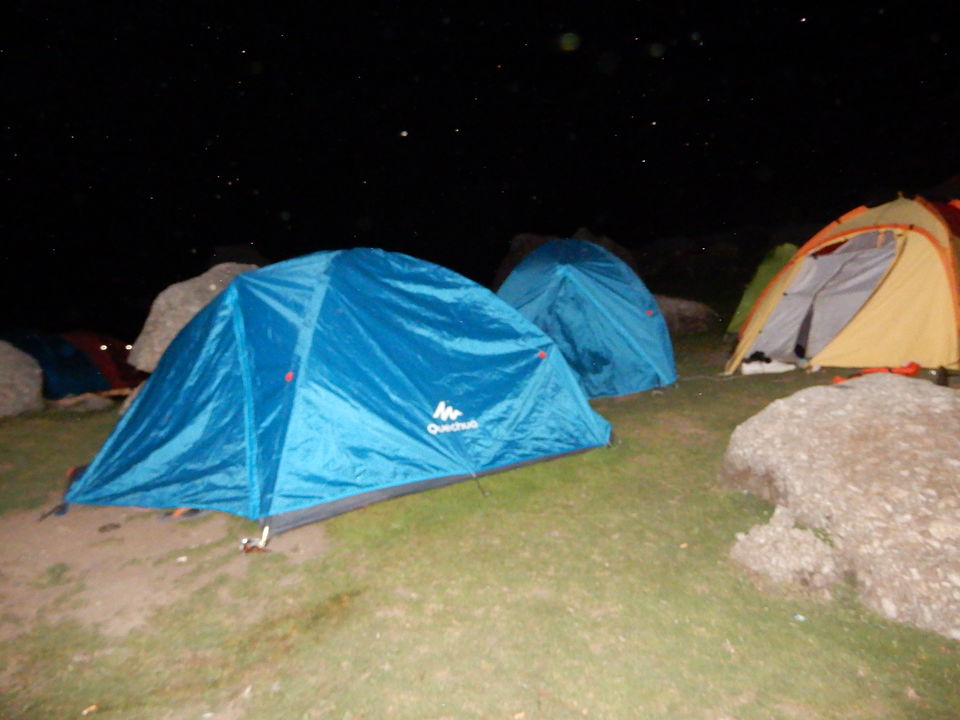 I then thought to go down and see my journey - friends but I could not find. Thus, returned to the cafe. The cafe owner, Sunny, asked me for tent. It was 700 INR for two people. I told him that I was alone and bargained a little. He asked for 600INR at first and then came to 500INR. And I got a tent. A tent! Oh yes! I have watched this in movies and was tired. I needed this badly. Oh holy nature, thank you for blessing me this wonderful day. I took rest for a while and then I roamed around. There was no power availability, there was no phone network. I kept gazing the nature, the green... the sun set, the orange hue, the village down there, the mist, the snow covered peaks... It was such a beautiful view, like the imaginations of an artist, the poem of Frost. Slowly, the day started to turn dark. The night was at the door and waiting for the day to permit it to come in and the day was waiting for perfect time and the perfect time came, day went out and night came in. A night in the camp, away from the hustle bustle of Delhi, away from the noise of traffic, from the piles of work files, away from the annoying noise of keyboard and clicks of mouse, there was a world out there and that was what I was breathing in. The air was so pure, I had never had such air in long time. I clicked so many pictures. And when the night was on its full youth, it's beauty was glorified by the moon, just like a bindi on the forehead of a beautiful girl in complete traditional attire. In dinner, I had chawal daal. It was damn delicious. Oh yes, it was...
The Next Morning - Back to McLeod Ganj
The morning at this place was so refreshing and energizing. I woke up to the soothing sound of nature. The cacophony of nature! There's arrangement of washroom thus you need to get a water bottle go somewhere to attend nature's call. And that's what I did. Sorry, holly nature, I left my shit behind there. One bad thing happened was there was no water in the supply pipe, so I couldn't get to face off my face and brush. The total bill of tent and dinner was 650INR. I paid and started my journey again back to McLeod Ganj. And I started with so many people. But I was alone. While I was about to cross mid point, I saw Akshita, one of the girls I met yesterday... And we then together started trekking and after some time, Akanksha was also there with two boys they met there. And then I told them that I was there only but couldn't find them.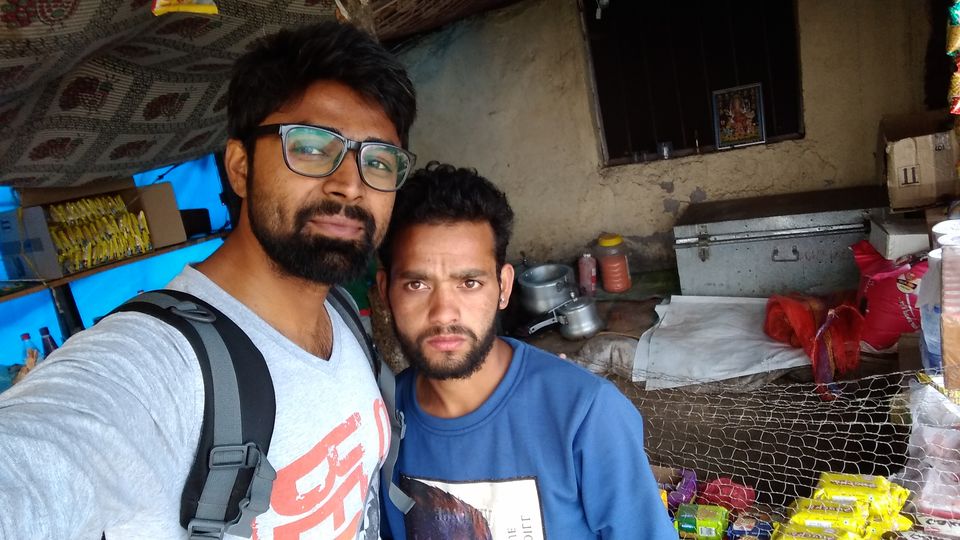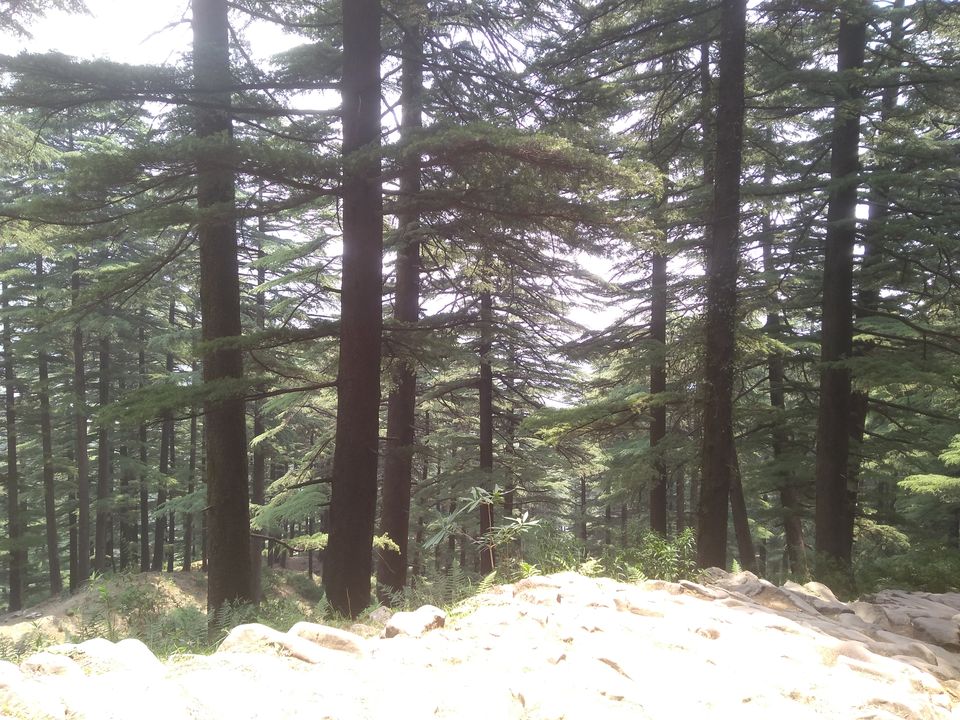 So, we all started together and reached Gallu Temple. From Gallu, Akanksha and Akshita left with their friends. I, Gaurav and Akshay started our journey back to Dharamkot. And from Dharamkot, we walked to McLeod Ganj. I was all planned to leave by the night bus but Gaurav was going Chandigarh and Akshay was going Noida and I too had my office in Noida so after thinking on it, I too decided to leave with them.
McLeod Ganj Monastery, My First Time Experience
Gaurav told that we should visit Monastery and we did. There was one in the market. It was my first time to visit, though I have been a follower of Buddha and even adopted the path personally on one Buddh Poornima some years back. We spent some time there, though it was in the market, but it had serenity, the silence and my all tiredness went off by sitting there for some time. After spending some time, we came out. We took a bus to Dharamshala.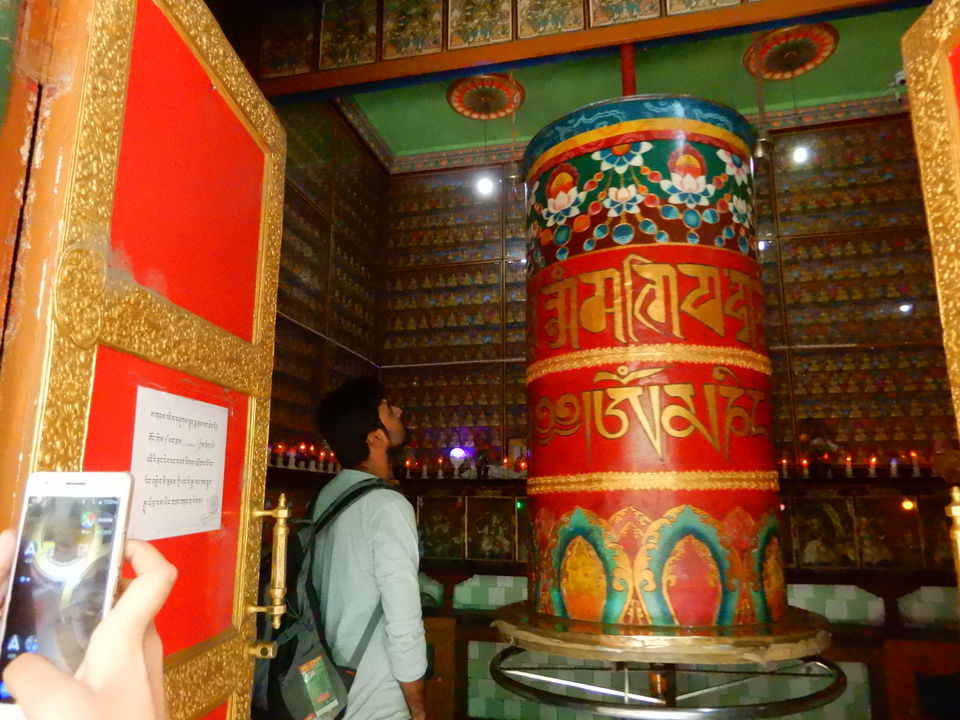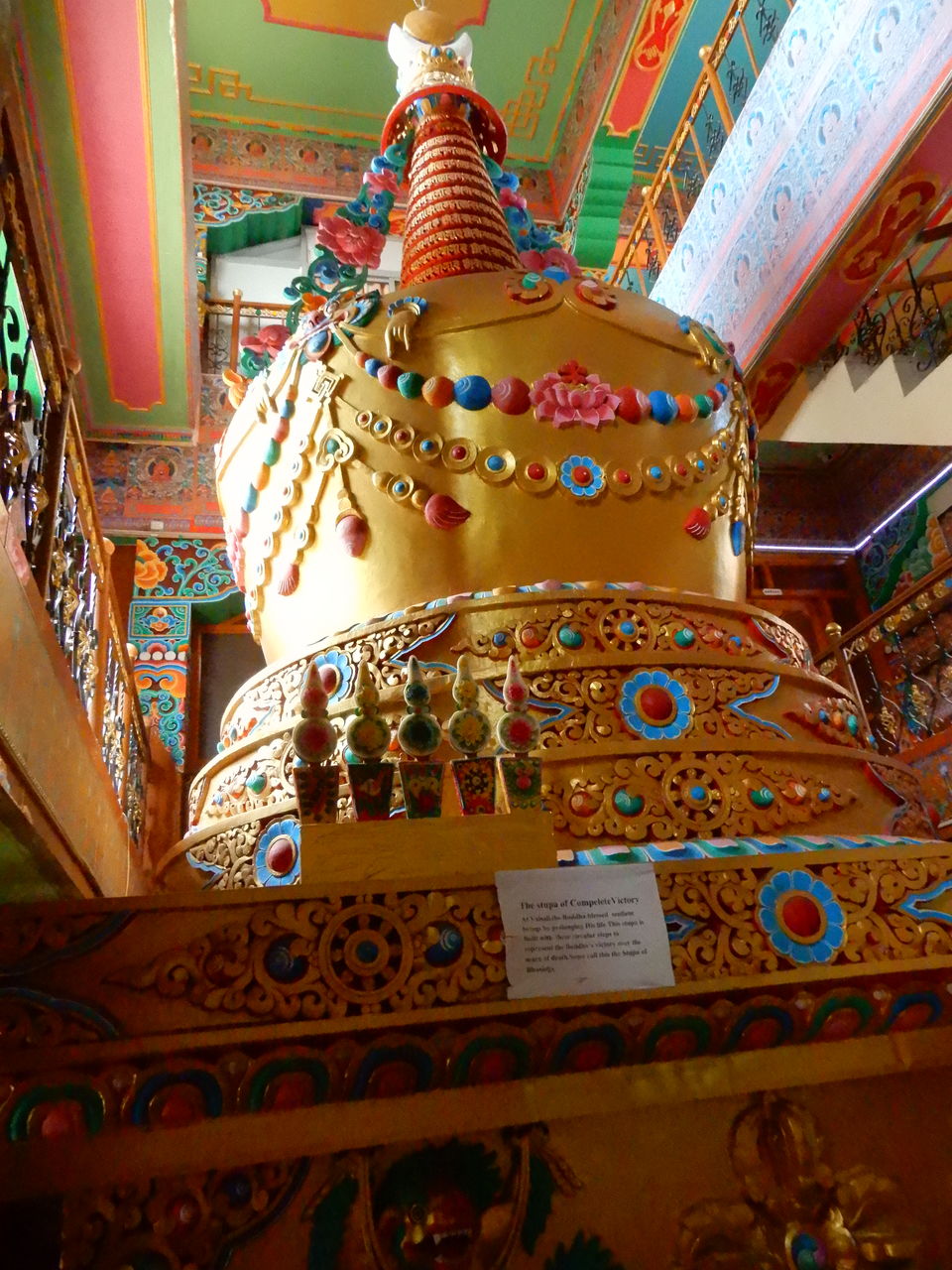 Dharamshala Bus Stand - Bye Bye McLeod Ganj, See You Soon
We reached Dharamshala bus stand and there we inquired about bus to Delhi. But there was no bus. Thus, as per Gaurav's suggestion, we took a bus to Chandigarh. By this time, we were tired. I tried to keep awake for long but surrendered and had to sleep. The bus stopped at several places, road side dhabas and it was very tiring and frustrating. After long, some seven hours journey, we were in Chandigarh.
My First Time Visit to Chandigarh
Okay, I have been close to Chandigarh but never visited in the main city, so this was my first time visit to Chandigarh as well. But it was night and we just had to catch our bus to New Delhi. Gaurav booked Uber and we had to go to another bus stand of the city. Gaurav got down at his place on the way and we reached the bus stand. There, we got a normal bus though I was expecting volvo so that we could sit comfortably and sleep. But it was a normal roadways bus. I and Akshay were damn tired and just needed to sleep.
After long journey, we reached New Delhi ISBT. It was 4AM. He booked Uber. I tried Ola but couldn't, so I took an auto to my place and in next one hour I reached my place. I slept for two hours and got up and went to my office. So, this was journey first time experience to Triund which was quite wonderful and I enjoyed to the fullest.
Frequent Searches Leading To This Page:-
delhi to triund by bike, triund trek for beginners, delhi to triund trek package, treks from delhi to triund, winter treks in delhi