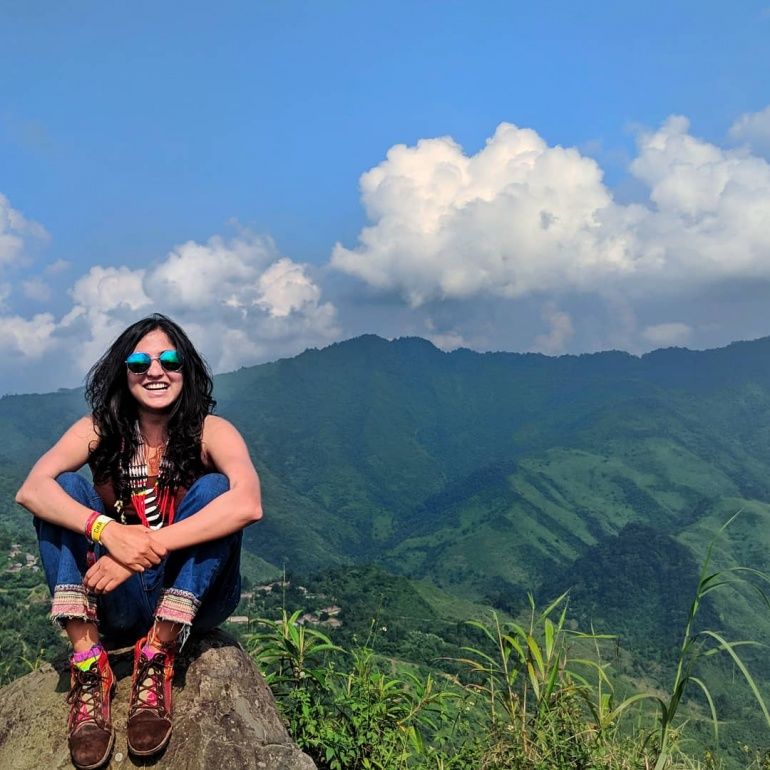 The north east of India is hands down my favourite part of India. I feel a crazy kind of connect with the people of the north east. They are gentle, unassuming and extremely welcoming. I have also found them to be the most accepting. There's very little judgement, a lot of curiosity and above all huge respect for their own culture. They are quite determined to hold on to the last vestiges of traditions that have been practiced there. From the last surviving head hunters of Nagaland to the mask makers of Majuli, from the bronze sculptors to the gun makers, it was truly fascinating to see generations of hunters and craftsmen on my trip. Let me take you through Nagaland and bits of Assam through my eyes.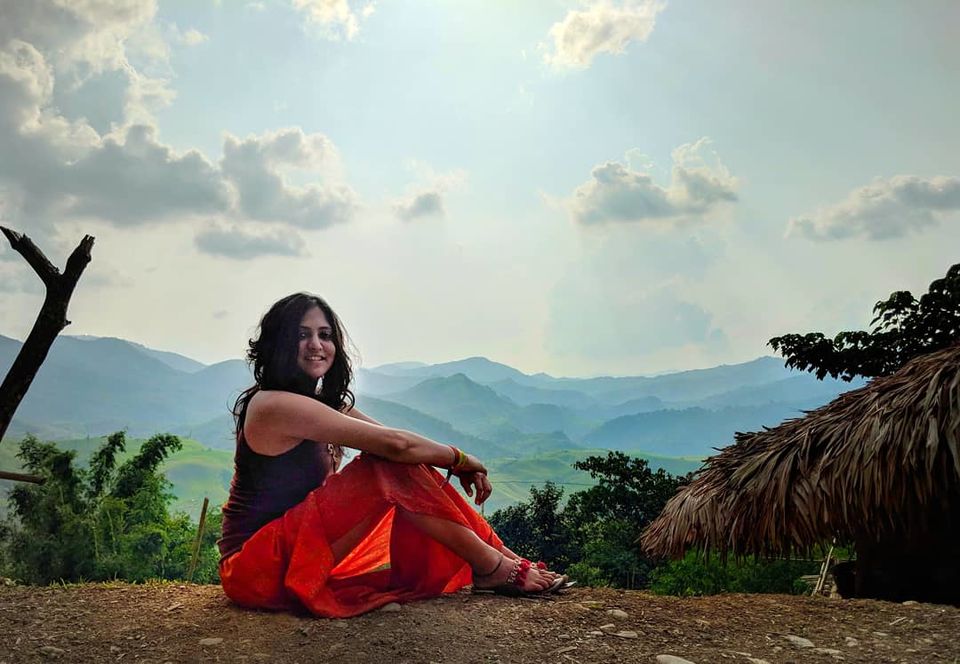 We made our way to Majuli from Ziro where we had just finished attending a hectic 4 day long music festival. We were completely exhausted. We hadn't slept a wink in days because none of us wanted to miss even a second of the incredible experience. We took a jeep into Assam and then a ferry took us over the Bramhaputra to the lovely island of Majuli. As soon as we stepped into Majuli, it was almost like we had stepped into a different world. The life was slow paced, everyone super relaxed. Little bamboo huts on stilts, mud roads and so much quiet. It was the perfect getaway after the intense music festival. The next day we rented bikes and left to explore the island. Our first stop was a Hindu monastery. Interestingly, the monks at this monastery are not allowed to touch anybody. If they accidentally touch you, they have to take a bath. So when I went close to three young monks here, to show them their picture I had clicked, they moved away frightened I might touch them. We had the pleasure of spending an afternoon with them where they served us the yummiest satvik vegetarian lunch. If you end up here, make sure to score a lunch date at one of these monasteries. We then made our way to the revered mask makers of Majuli. They all mostly live on one end of Majuli and have been there for generations. They use natural dyes and materials to make the masks. The expressions are spot on and the the colours super vibrant. We were lucky to have witnessed one of the performances. This is definitely something you must do when in Majuli.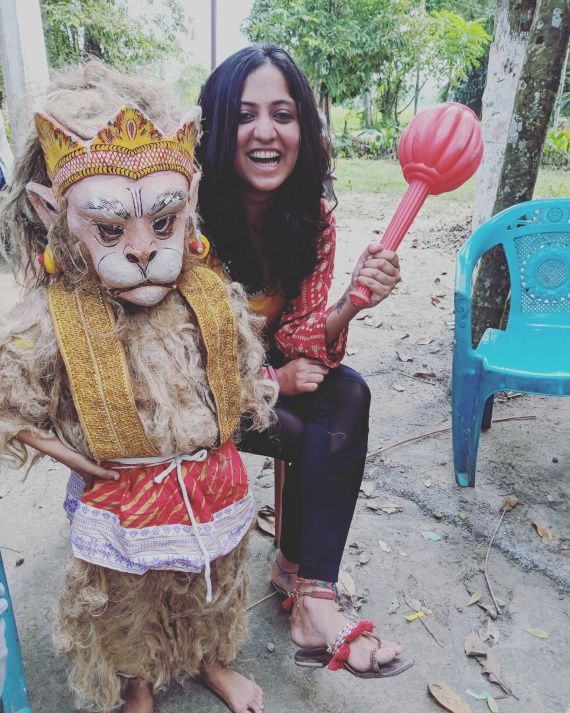 Meeting the Konyaks – the last surviving head Hunters of Nagaland
Meeting the last surviving headhunters of the Konyak tribe was a huge reason why I had decided to do a trip to Nagaland. The practice deemed barbaric and outlawed in the 1930s left behind these tattooed headhunters. Some of these men we met at Mon, had taken heads back in the day and had elaborate tattoos on their necks, faces and chests as witnesses to the fact. Now old, wrinkled, bent over, their legacy seems like a distant memory. The once regal, ferocious warriors have become jaded, old men huddled around a kitchen fire. They came together to meet us and tell us their stories. They loved all the attention they got from us. Beaming at our cameras, exclaiming at the pictures we showed them. I think something about being the centre of it all took them back to the time when they were revered as the brave headhunters who brought back enemy heads as souvenirs. We saw a giant old tree outside the village, that looked right out of a Grimm's fairytale. It resembled an old witch's claw. The enemy heads were hung on display on this tree as a sign of victory. These are the last surviving headhunters in Nagaland. After them, there will be no more tattooed old men to relive the bloody, gruesome days.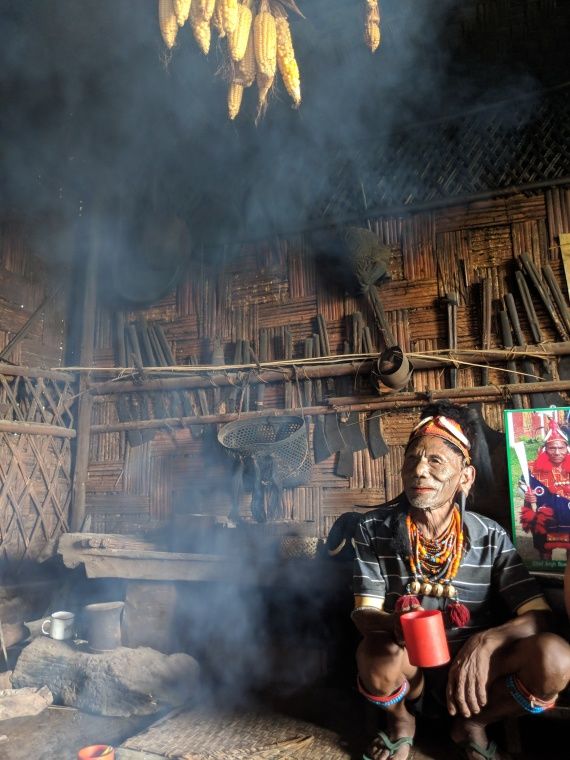 It's funny, I had imagined them to be these badass men with swords and machetes but who we actually met were these sweet, hospitable men who just craved for a little attention. Not a memory easily forgotten. On my right is the "Angh" the King of the head hunters and on my left, the cutest headhunter with a fancy black beret. It's hard to imagine these men taking anything from anyone let alone their heads.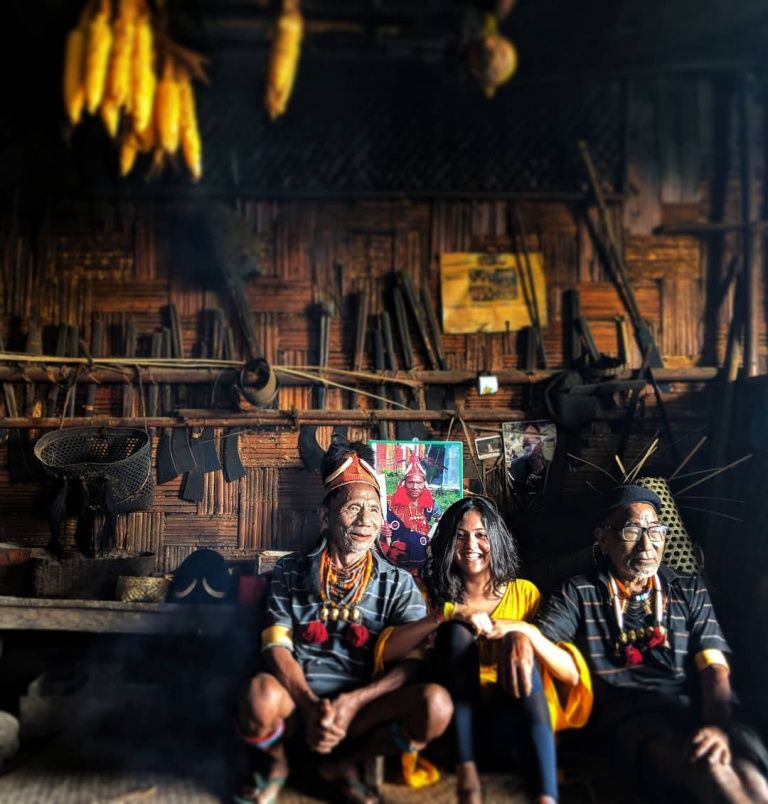 Staying at a tea estate run by a badass woman
We were all exhausted by the painstaking journey from Mon to Shiyong. The roads vanished after a point and we were left with deep slush and muck. The Scorpio we had hired couldn't be trusted to make the journey, so we were picked up by an old, sturdy vehicle instead. This was the day we first had a glimpse of a gorgeous Naga sunset. We decided to stop, take a couple pictures and then hop on top of the vehicle in an attempt to make a grand entry into the tea estate. Soon as we touched the estate we were stunned by the sheer expanse. They looked like large waves of green bathed gently in the evening light.
Phejin Konyak who runs the homestay is a superwoman! She wrote a coffee table book on the last surviving head hunters of Nagaland. She spent 4 years in research where she trekked through mountains and forests to reach the remotest villages of Nagaland to talk and spend time with the headhunters. It needed a ton of time for people to become free and open up to her about this gruesome practice. So she kept at it until she had enough authentic material for her book. Now at 38, she lives by herself in a beautiful wooden cottage in the middle of a cascading tea estate. She spends her time gardening, cooking and writing her second book. A lot of villagers have questioned her single status and she couldn't be less bothered. She is a fierce, independent woman who doesn't give a damn. Living in a conservative village like that surrounded by traditional households can't be easy! She's brazen, super confident and an absolute star. Such an inspiration!
We spent our time at Shiyong taking long walks to the village, through tea estates and star gazing at night. We would lay a mat out and lie on it for hours counting stars as they whizzed past us.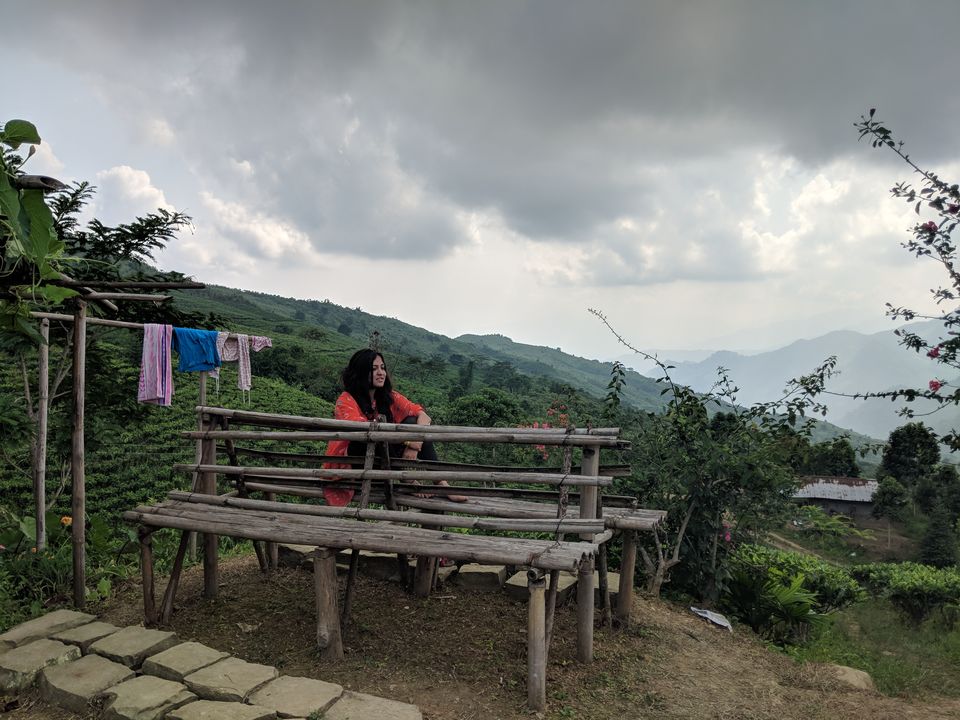 Chilling at the Burma border
Longwa is right at the Burma border. In fact the King's house is half in Burma and half in India. They say he eats in India and sleeps in Burma! We stayed at a cozy homestay here run by a childless couple who have adopted two dogs as their babies – Jack and Jimmy. We would all crowd around the kitchen because in a Naga house that is where all the action is – around a fire. With layers of meat hung above it to smoke, a kettle with black tea always on. Cats, dogs, humans- are all in that space. I have always loved the fact that food is such a ritual in the Indian culture and the Naga kitchen is the perfect embodiment of it. The whole day is planned around food and the space where food is cooked and eaten is where life is.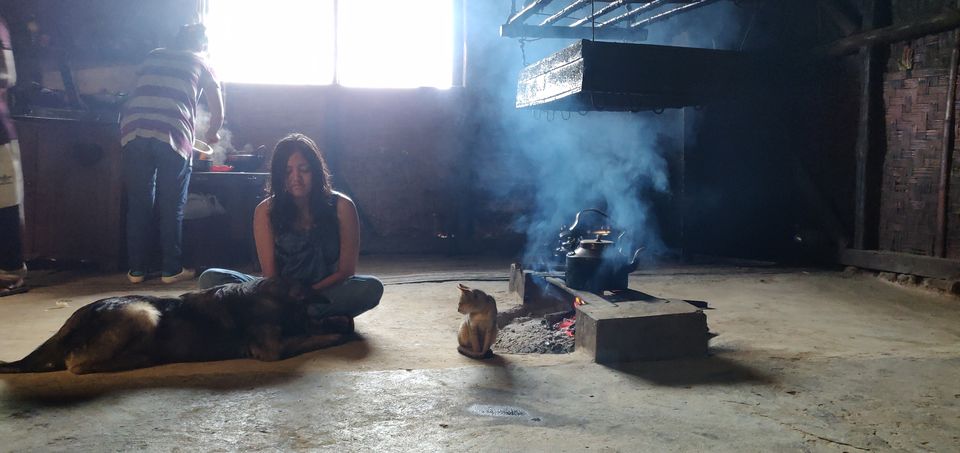 Pork cooked with bamboo shoot and bhut jolokia is a staple. And man is it flavorful!! Bhut Jolokia has been deemed the spiciest chilli in the world. It is mouth (and ass) burning spicy but also has excellent flavour. Because the Naga consume a lot of smoked, dried and fresh meat, they always have boiled squash (a gourd-like vegetable) that they eat to kinda make up for the lack of fibre in their food. For vegetarians there are usually a couple options like dal, rice and vegetables so you don't have to worry too much about not finding veg food in Nagaland. We spent two days here just getting in the flow of things and by the second day it was almost as if I had always lived this life. It felt so organic, so real, so right. For me Nagaland will always be this Naga kitchen with the smell of ash, smoked meat and the warmth of Jack lying on my feet.
Longwa was our last stop in Nagaland. We made our way to Simulguri station in Assam where we caught an overnight train back to Guwahati.