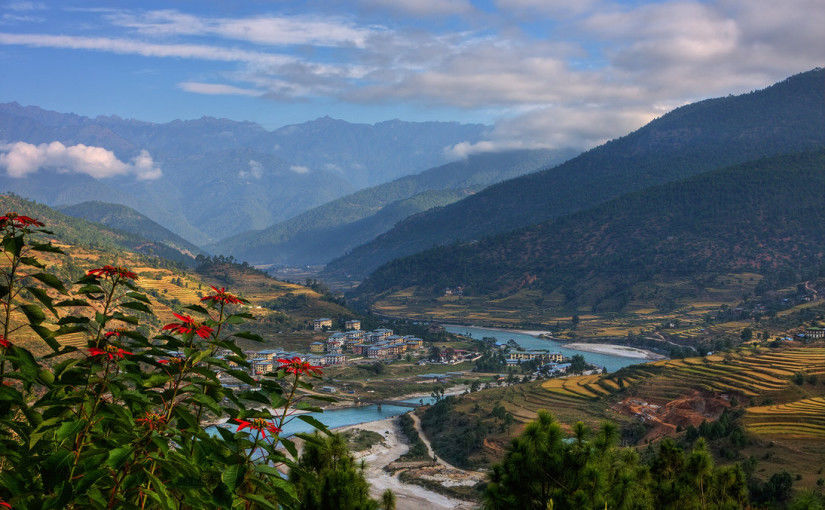 When you visit a nation where the development is measured by Gross National Happiness, you are bound to be intrigued. I am talking about my recent tryst with the Himalayan kingdom of Bhutan. We, the young and restless, love the word 'wanderlust' although many times we miss out on travelling to places which are in proximity. The distance from Siliguri to Paro, Bhutan is around 320 kms only by road yet I got the opportunity to make some memories in the beautiful valley at the age of 21.
Paro comes across as a clean, pollution free and serene city. The roads are majorly broad and well maintained. Even a weekday looked like a weekend because it felt time slowed down. The people are seen playing games, strolling around or just relaxing in their courtyards. Bhutanese residents are courteous and hospitable and it was admirable to notice their reverence for His Highness, the king of Bhutan. They lead simple lives and are very contented unlike many of us.
It has large pockets of paddy cultivation owned by the local farmers. The brook flows at the centre of the valley beside the iconic Paro airstrip which connects the nation with the regional countries. You are bound to be awestruck by the blanket of a gazillion stars on a clear night skyline. The valley looks picturesque and talks silently of a legacy deep rooted with the Buddhist way of life. Within few hours of travel, I experienced an exotic feeling from a place meditating away from the maddening consumerist lifestyle and Western influences. Chelela Pass, near Ha is an exciting 1.5-hour drive from the downtown Paro which experiences snowfall frequently and the view from the point looks majestic.
The Land of Thunder Dragon truly justifies the adage- Small in beautiful! The strangeness just disappears when you see a kid waving you, a connection gets established when you exchange a smile with an aged person who is holding his cat on one arm and his granddaughter in another. Due to lack of time in my hand, I missed on exploring the capital Thimpu and also the trek to the illustrious Taktsang Monastery, also known as the Tiger's Nest. This also gives me a reason to explore ancient fortresses and sacred virgin mountains again very soon. And yes, we Indians have a lot to learn from our neighbour! The preservation of the environment and giving primacy to the will and happiness of the people could be some of the important values we could improve on.
This post was originally published on 'Like a Prism'.