Mysore is also known as the "Garden City" or the "City of Palaces". Every year, We used to visit Mysuru during Dasara festival. This was our 5th Consecutive year. We started our journey around 10Am from Kanakapura raod. And it took 2 hours to reach to our destination from Bangalore. First we visited The Srirangapatna temple which is dedicated to Lord Vishnu and is one of the largest temples in Karnataka. This is the prime attraction in Srirangapatna. The entire town is surrounded by the river Kaveri to form a river island. Hindus come from far and wide to Srirangapatna to immerse the ashes of their dead relatives.
Then we visited the place where the body of Tipu Sultan was found.
After visiting Srirangapatna, we started our journey to mysuru where we visited Church and mysore Zoo. The architecture of St. Philomena's Cathedral church is stunning. It was constructed in 1936 using a Neo Gothic style and its architecture was inspired by the Cologne Cathedral in Germany. This is one of the tallest churches in Asia (Source: wikipedia). The church was designed by a Frenchman named Daly. And it is considered as 2nd largest church in Asia. Mysore Zoo (Now Mysuru Zoo) (officially known as the Sri Chamarajendra Zoological Gardens) is a 157-acre zoo located near the palace in Mysore. It is one of the oldest and most popular zoos in India, and is home to a wide range of species (total 168).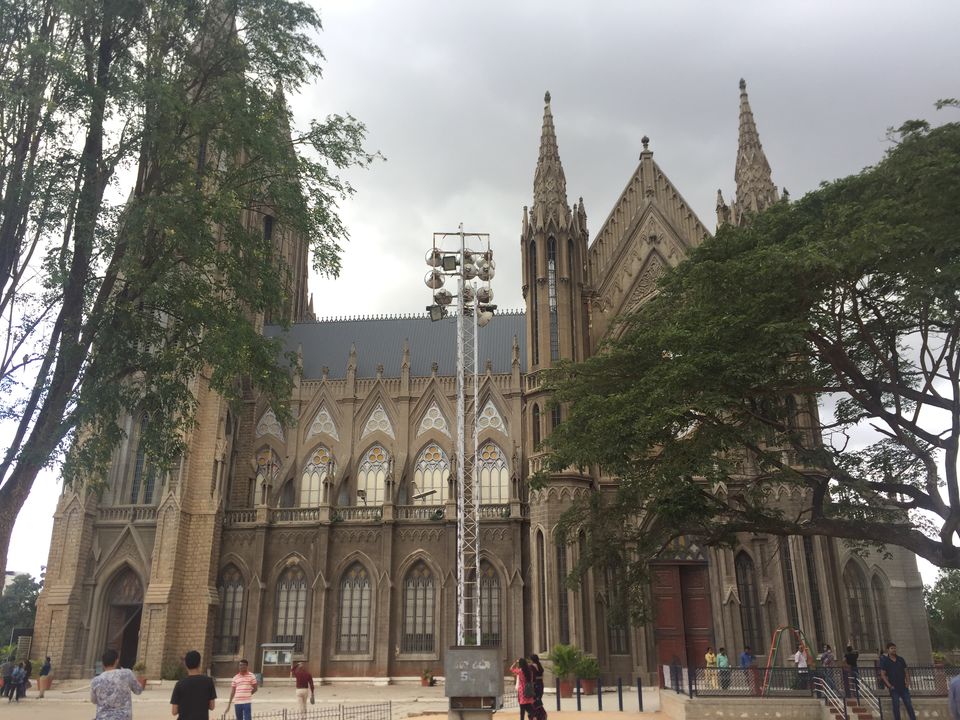 And finally we went to visit Chamundeswari temple which is situated on Chamundi hill. One can view the whole city from the top of the hill. The temple was named after Chamundeshwari or Durga, the fierce form of Shakti. Chamundeshwari is called by the people of Karnataka as Naada Devathe which means State Goddess. It is said that the hair of Sati Devi fell here. There is a huge granite Nandi on the 700th step on the hill in front of a small Shiva temple a short distance away. This Nandi is over 15 feet high, and 24 feet long and around its neck are exquisite bells. One should wait to glaze the city from top in the night. It's really look shinning star from the top. The Dasara festival in Mysuru completed 408th anniversary in year 2018, while evidence suggests the festivities were observed in Karnataka state by the Vijayanagara Empire kings in the 15th century. The main attraction of the ten-day Mysore Dasara festival is the Mysore Palace which is illuminated daily with nearly 100,000 light bulbs from 7 pm to 10 pm on all days of the festival. Various cultural and religious programs highlighting the dance, music and culture of the State of Karnataka are performed in front of the illuminated Palace. We returned to Bangalore on the same day. You must visit Mysore during Dasara festival.